Fall Decor: So I have to confess, I am NOT the best fall decorator. I have such a hard time saying goodbye to summer, plus with the daily shenanigans of having three kids for years and younger, it slides off my radar. And orange isn't really my thing. Nevertheless, it is really fun to add some seasonal fall decorations to get in the mood. So today, I am going to share an easy fall tablescape that has zero orange!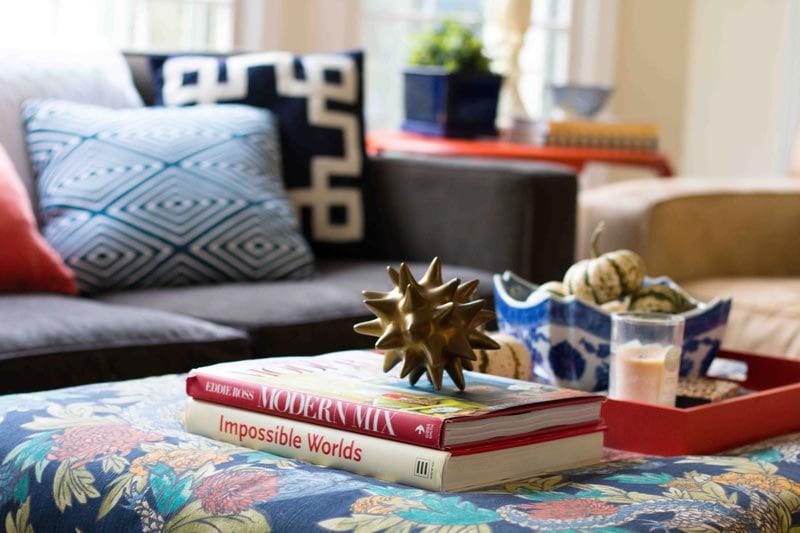 A simple collection of small gourds (white pumpkins or white and green pumpkins work great) in a pretty bowl, displayed with a festive candle, tray, and books can make your house seem decorated even though it took one minute! Caveat: I had to remove the matches, candle, and ultimately relocate the bowl of pumpkins because Jack decided that the small pumpkins were perfect things to throw at short range at his sister's head. So the seasonal decor was relocated to a higher perch.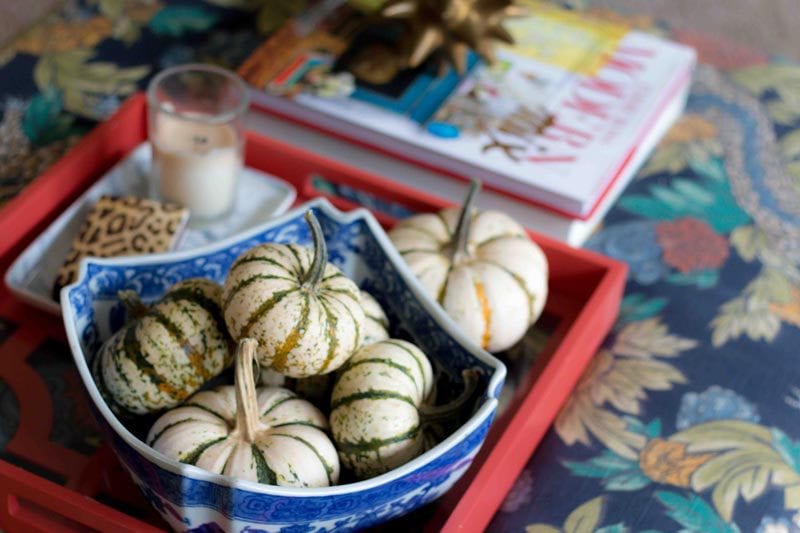 Some things stayed out though, like pretty books which are not as good as missiles 😉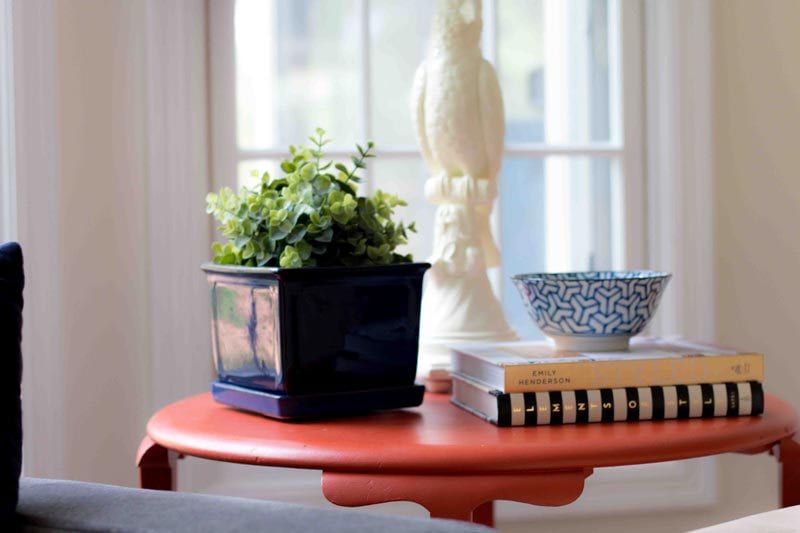 I brought out our cashmere tartan throw, which I usually save for Christmas but with the warm hues of fall, it works together. The colors in our family room are primarily blue and white, with a splash or red/orange, the gold accents and cozy white throws work really well. Plus, all of the gold accents are perfect for Christmas too!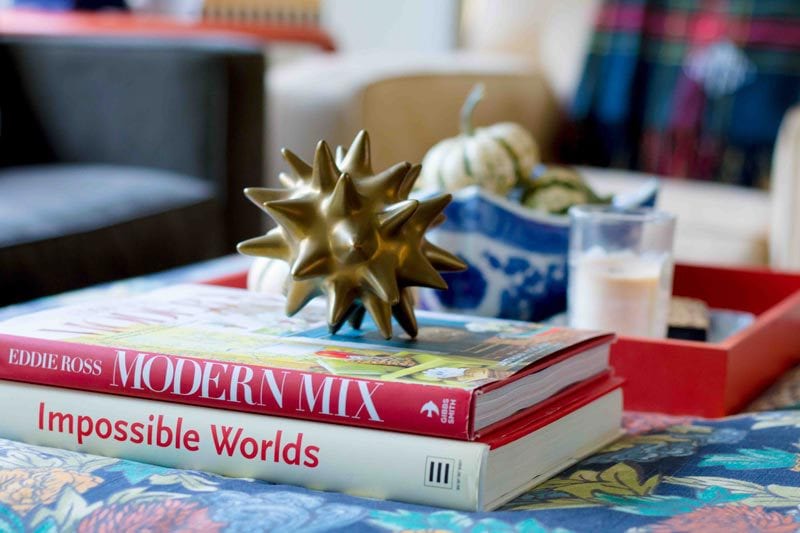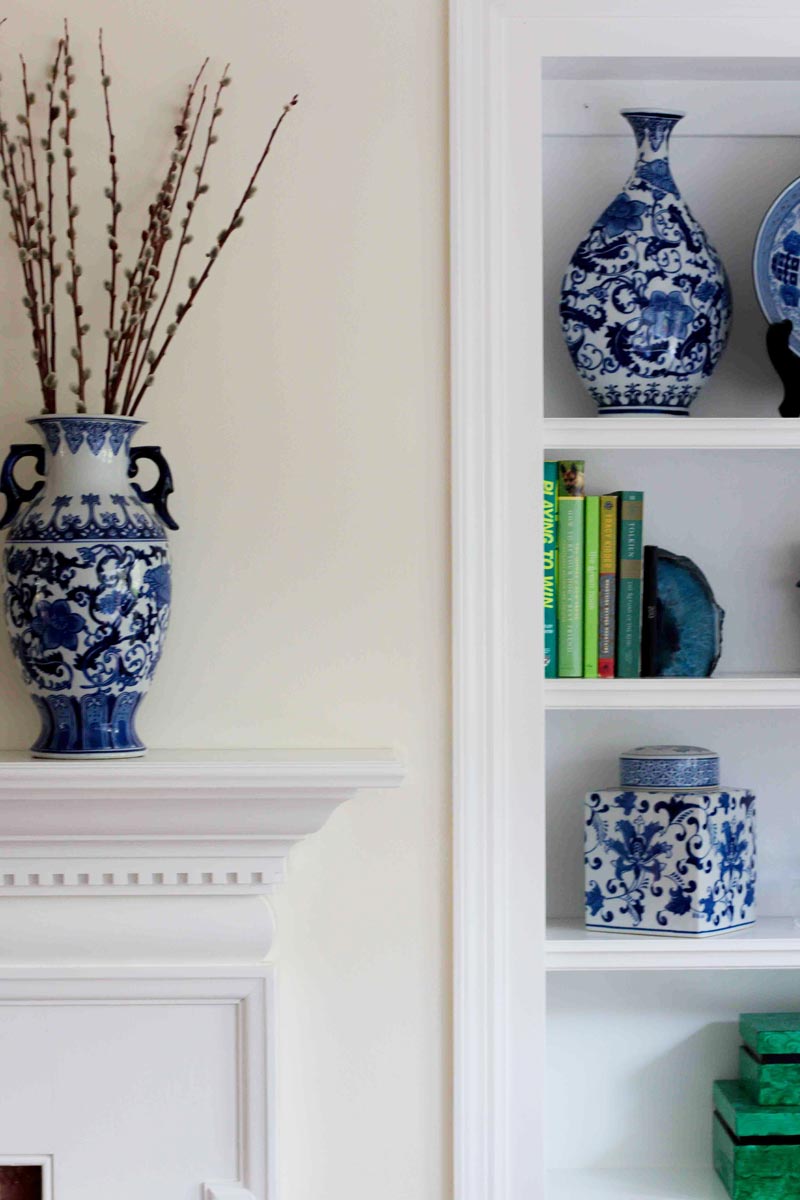 For our fall tablescape (something I have never done before) I picked up some inexpensive gold chargers, paired them with our gold flatware, and some antique Willow Wood china that I grabbed at the flea market, and plopped some more monochromatic pumpkins down!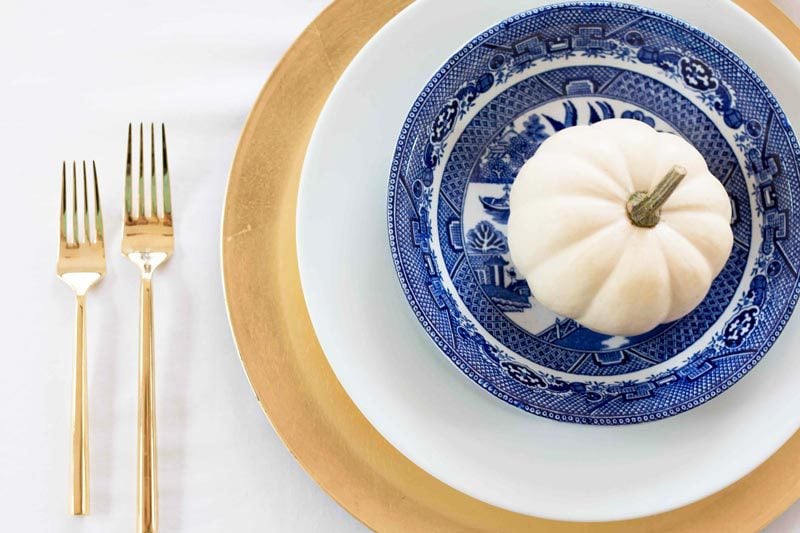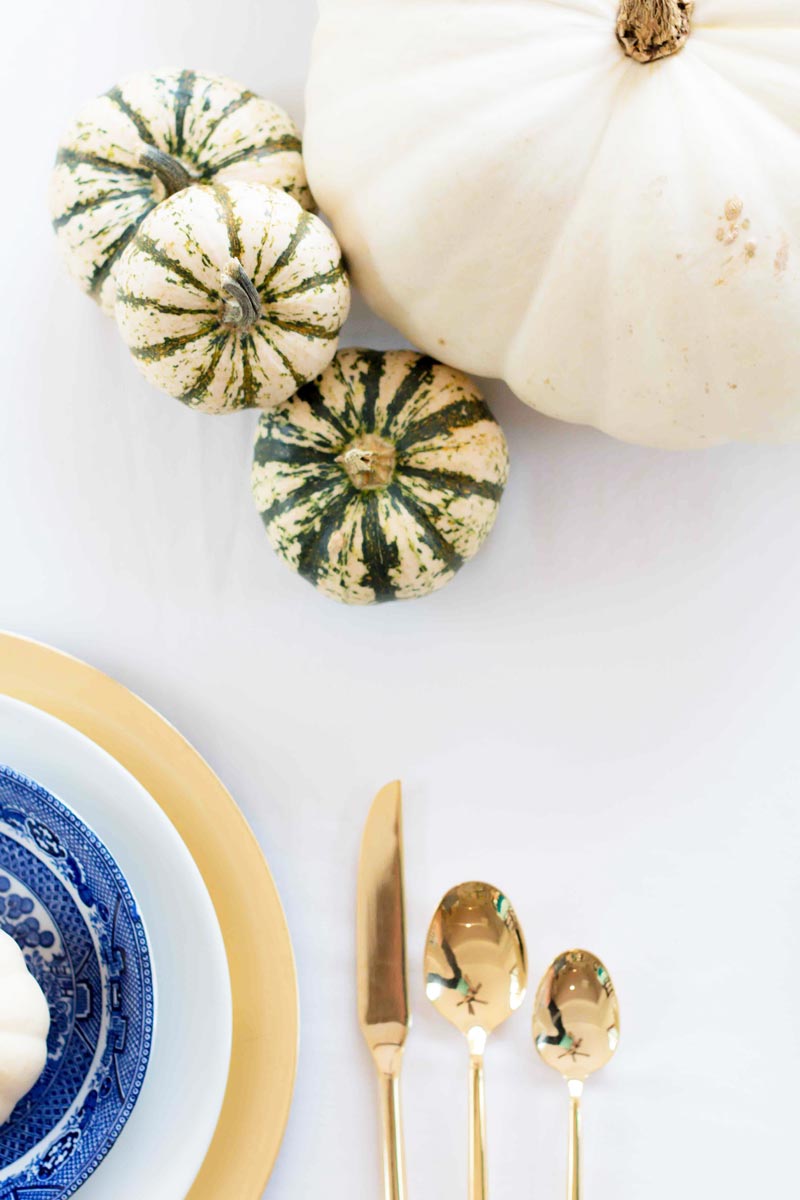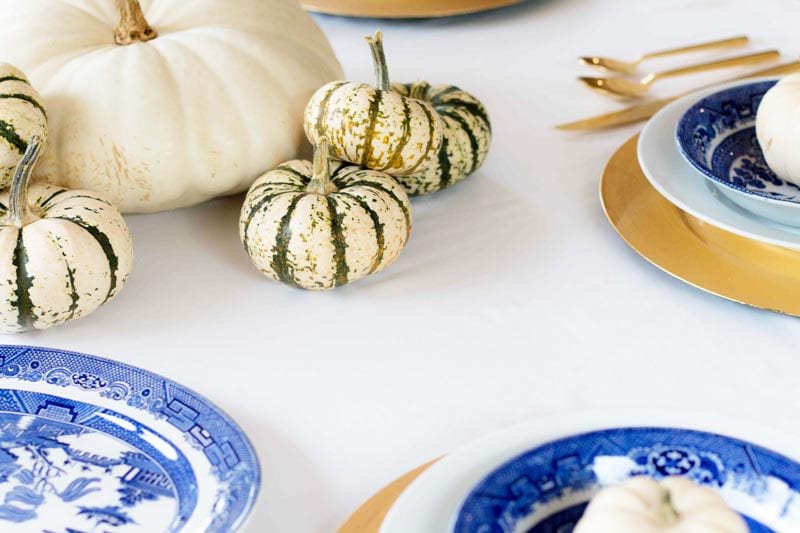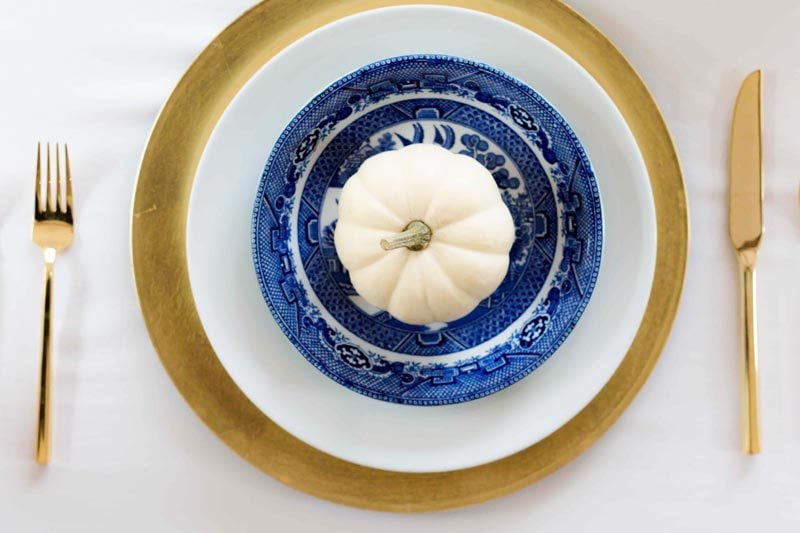 This is such a luxe look but it was so budget friendly! The gold flatware is old but still available, the gold chargers I picked up at Michaels for $1-$2 a piece; but you can also pick them up here. And all the white and green pumpkins I bought at Walmart for $2.99. And the blue and white Willow Wood china was a flea market find for a couple dollars paired with our normal dinner plates.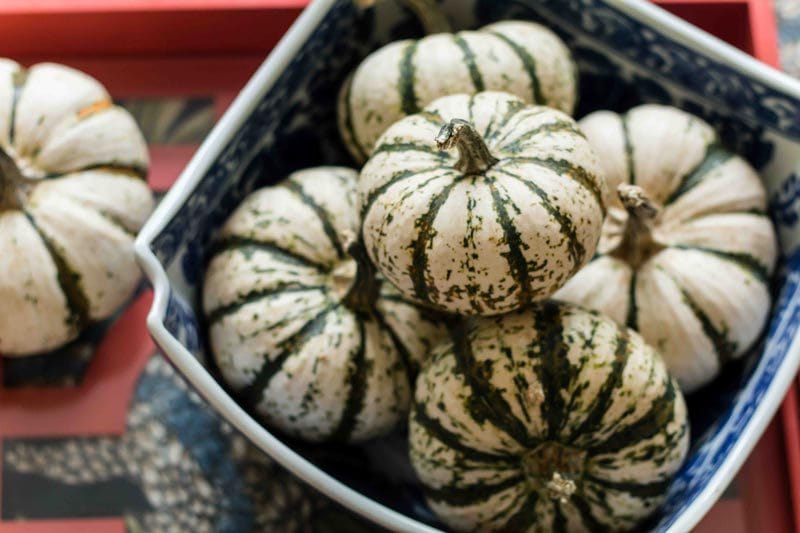 In our living room, I brought out our white cashmere blanket which warms me up on cool mornings. All of this to say, if you hate pumpkin orange like me, fear not! Just work with what you have already in your house, and emphasize the warm soft colors, cozy textures, and fun pops of gold.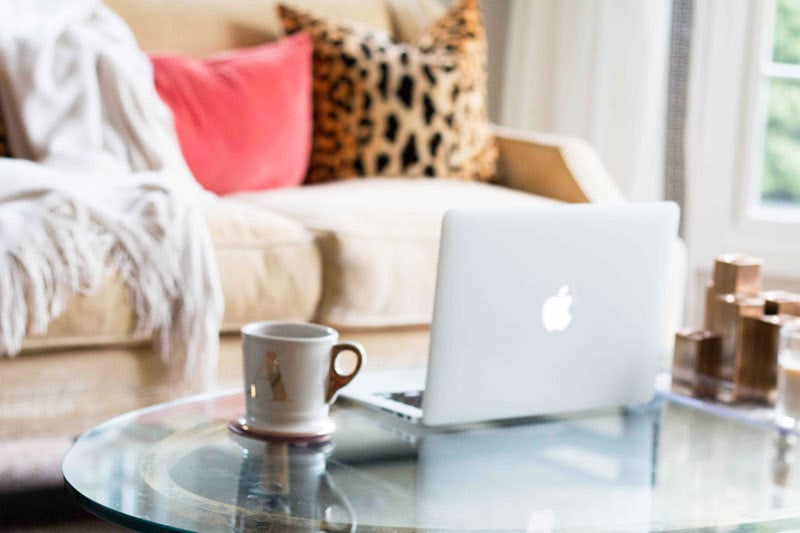 If you want the look, I rounded up some fabulous pieces that will work in any house (scroll down.) Gold is such a fantastic neutral, that pairs well with everything, and is a great tasteful and high-end substitute for the more ubiquitous fall decorations.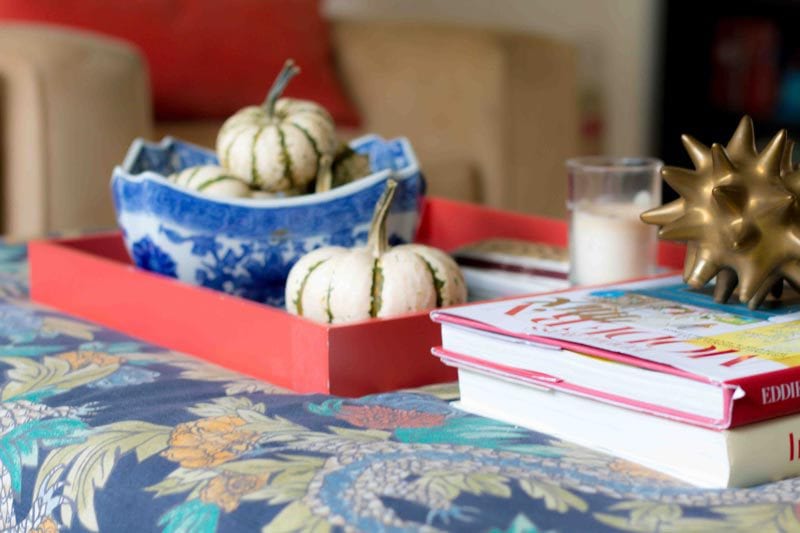 Coffee table books are a decorating staple around here, and for easy fall decorations I just collected several books that have festive fall color schemes of gold, black, white, and red! Now, time to get the look:
GET THE LOOK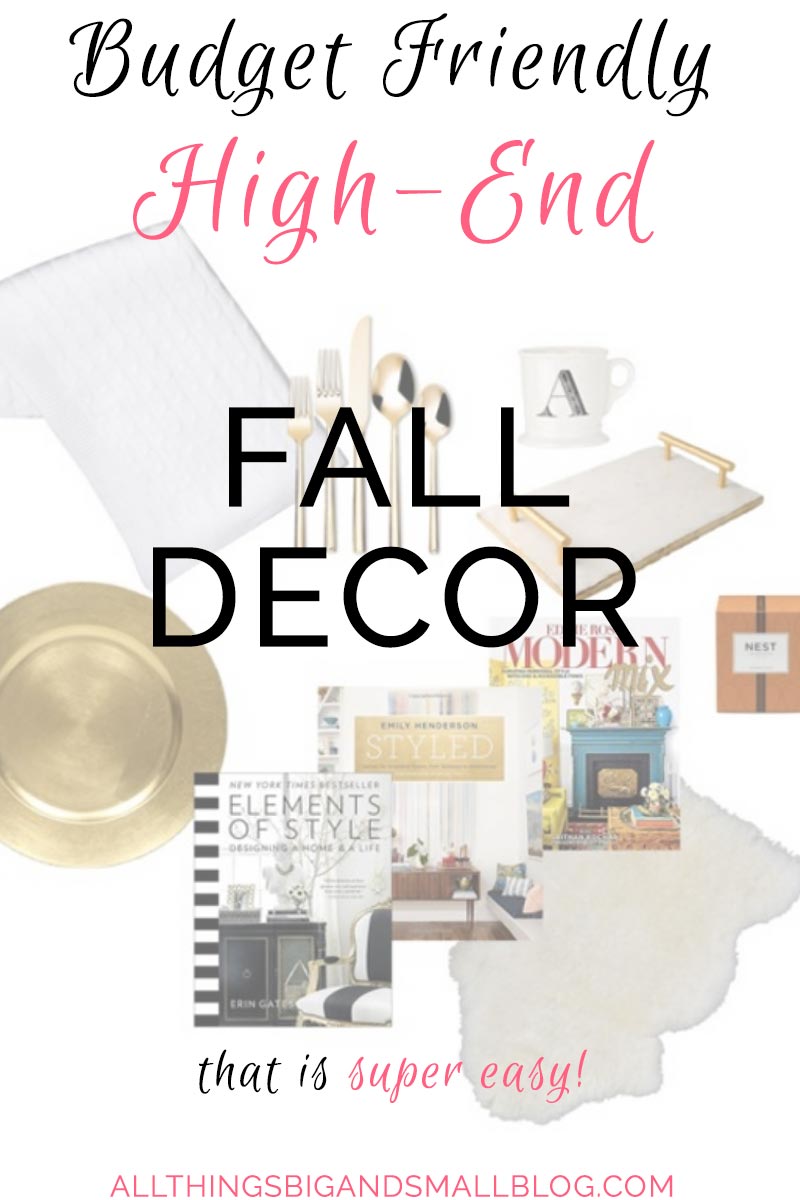 *contains affiliate links to read see my full disclosure policy
gold chargers, gold flatware, gold urchin,
marble and gold tray or super budget friendly version fantastic design book, and design 101 staple, and my home decor bible, we have one of these sheepskin throws and use all over the house, my favorite monogram coffee cup in black, a festive fall candle that I am dying to try out
What do you love pulling out every fall? Tell me in the comments below and if you love it, please pin it!