This post is sponsored in partnership with SANUS. All thoughts and opinions are mine alone.
33 Mom Hacks for Amazon Echo: How many times as a mom do you just wish you had an extra pair of hands? While our Amazon Echo, Alexa, canh't lend a literal hand, she does help me on a daily basis and frees up my hands to do other things: She entertains my children, answers my questions, reminds me of appointments, tells me the weather, and plays music at my command. She is my daughter's secret keeper, dino expert, and question-answerer.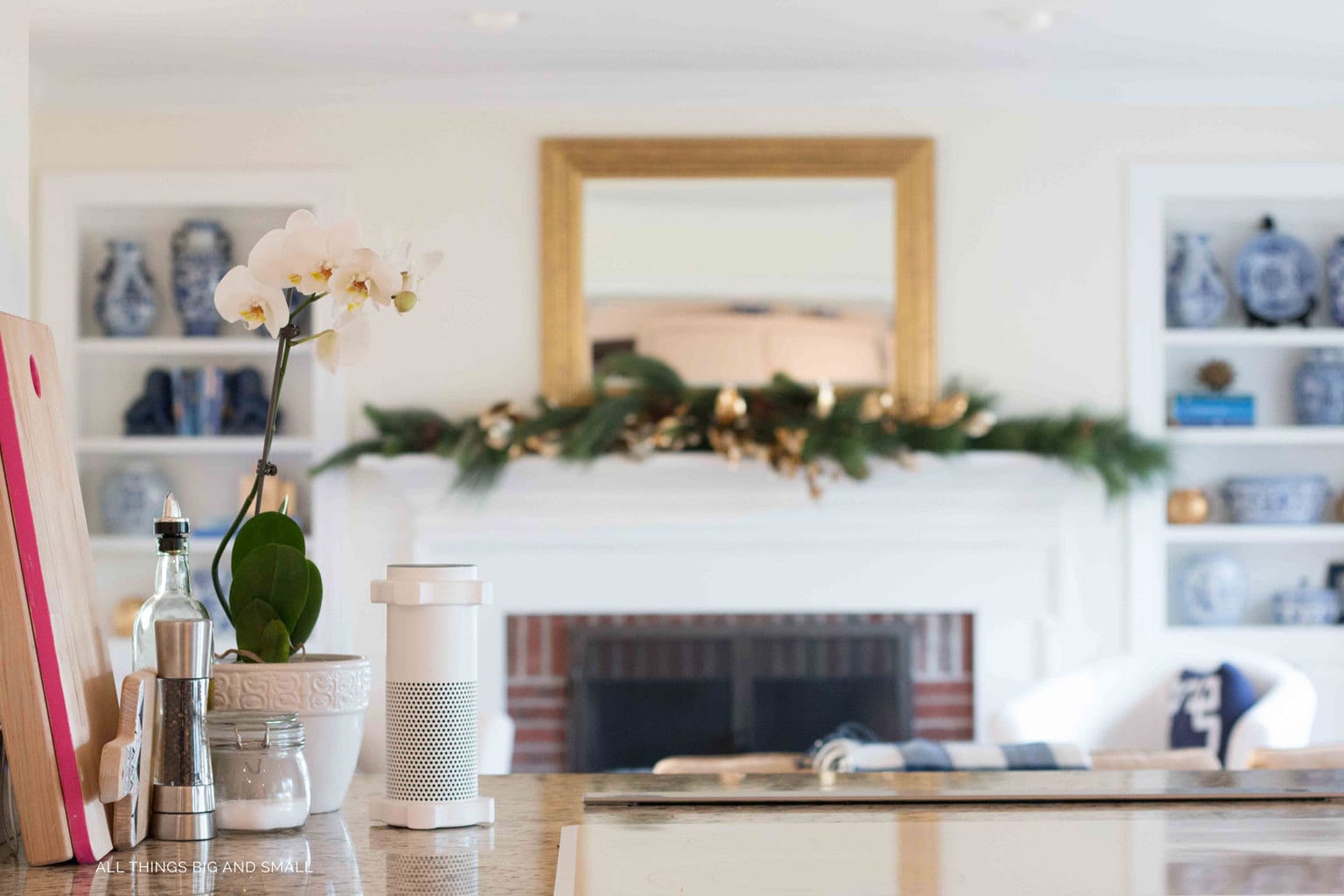 The first day we got our Amazon Echo, my four year old daughter, Bowie, spent a good 45 minutes talking to Alexa. She told her all sorts of things, like "Alexa, did you know what? My mommy's name is Annie." and "Did you know what? I have a little brother and a little sister name Brooke."
"Did you know what?" is Bowie's telltale phrase that indicates she is not really asking you a question; but, going to tell you something. Bowie loves being a teacher and Alexa happily plays along. Usually, Alexa politely informs us that she does not know the answer but listens quietly or tries to look up something related to what Bowie told her. When Bowie informed her that "[Bowie is] a wonderful artist scientist, and rockstar," Alexa rattled off famous rockstars. Bowie smiled and simply kept on talking, happy to have an eager listener hanging on her every word.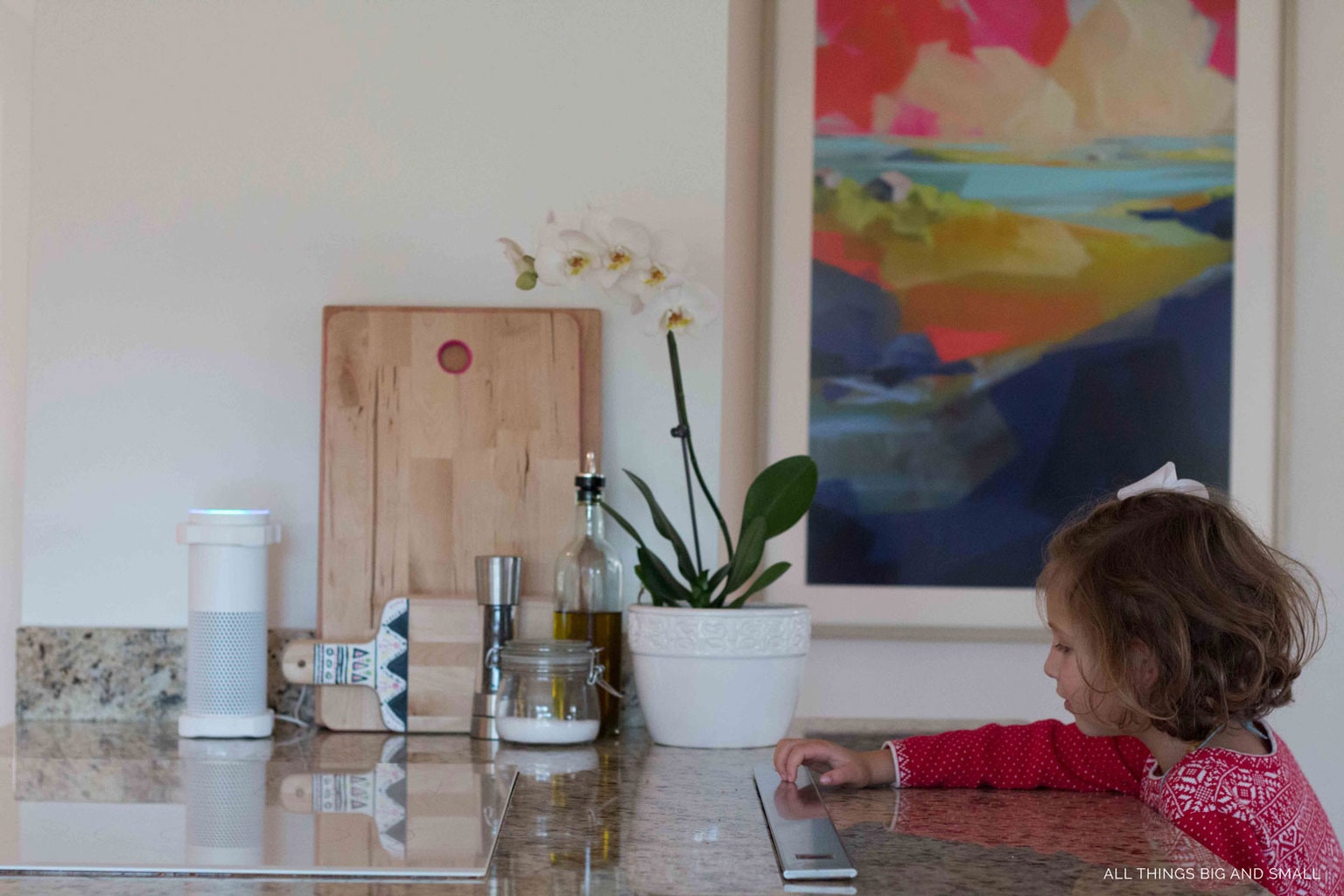 The key with having Alexa around with kids is keeping her safe. Our house is a bit crazy. At any time, there might be a horse race happening, pirates stealing a ship, or astronauts preparing to go into outer-space. Foam swords are brandished, and sometimes even swung.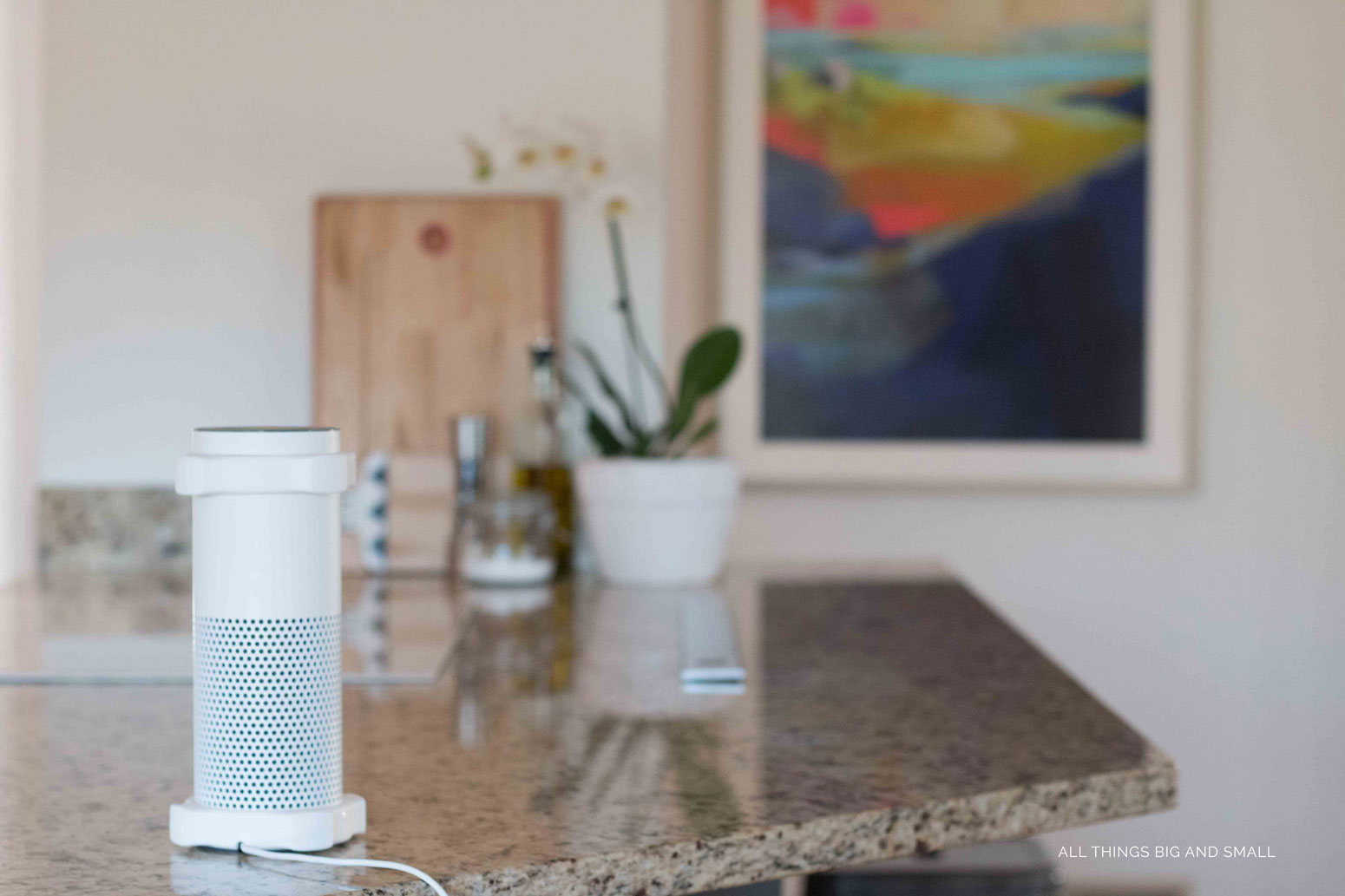 Alexa is a bit top-heavy and unstable, and has come dangerously close to be knocked over many times by the kids. Thankfully, we have our SANUS bumper guards. SANUS bumper guards increase the stability of our Echo by 25% with premium shock-absorbing silicone. The SANUS Echo accessories are designed so it looks like a natural extension of the device and does not interfere with the sound quality! SANUS also offers a Dot mount which has a press-fit design with hidden 3M command strips which allows it to be easily installed and reinstalled in any location around your home.
What I love most, is that I know that Alexa is not going to get damaged by a certain rambunctious two year old boy or an inquisitive four year old girl (or a precarious wagging Great Dane tail which has been known to knock-over wine glasses.) The SANUS bumper guard allows us to have Alexa front and center in our kitchen, where Bowie says "she lives in a box on our counter." There she is able to help me in our daily lives with these 33 mom hacks–I bet you didn't know she could be so helpful, did you?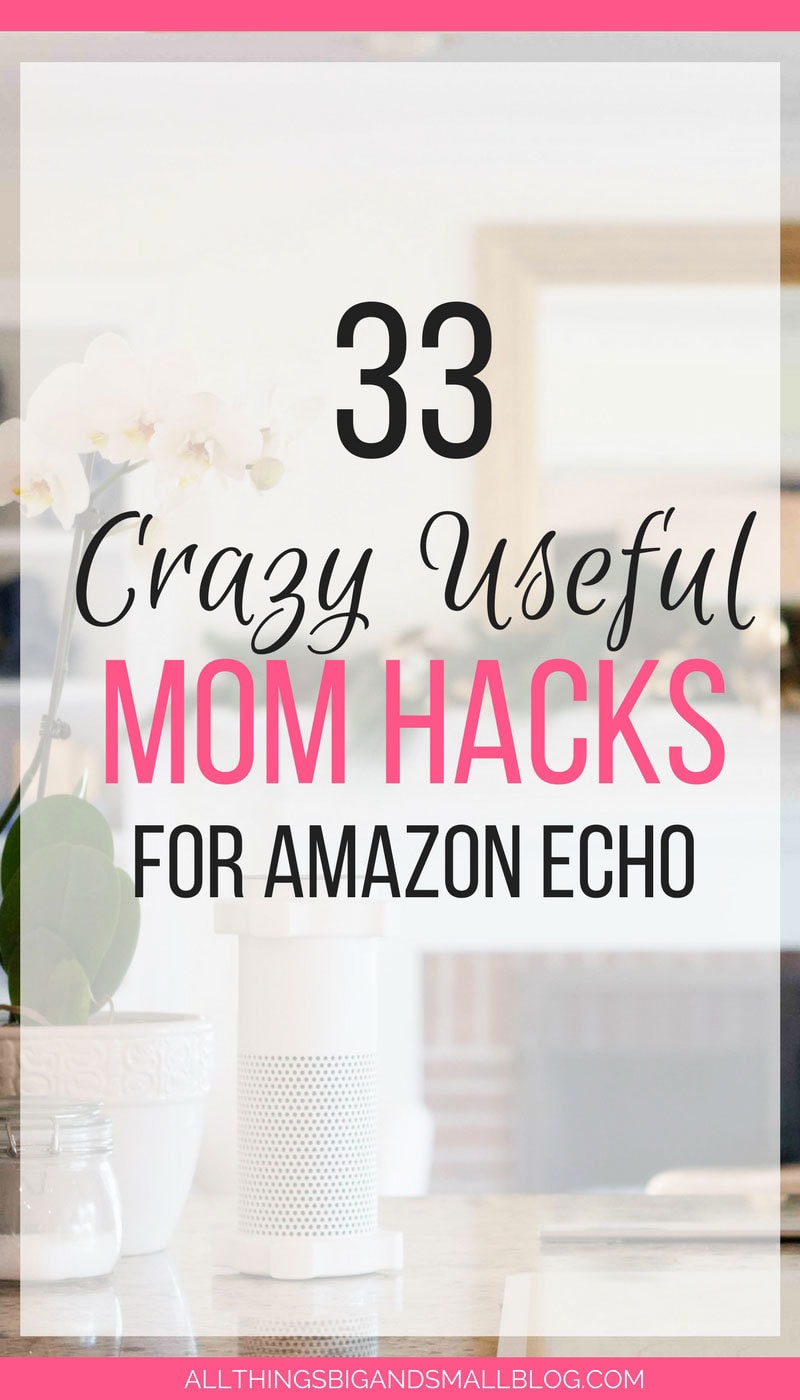 MOM HACKS FOR AMAZON ECHO
1.) Measurement Conversions: I use this ALL THE TIME. Instead of having a clunky magnet on our refrigerator, I just ask Alexa for the conversion. This is so helpful when you are in the middle of cooking a recipe and have a baby in one arm and a toddler hanging off your leg (not that that EVER happens in our house) and don't have a free hand to take out your phone and look up the conversions.
2.) Set a Timer: I find that giving Bowe and Jack concrete numbers to work with helps them take turns. When they are fighting over a toy, I find that setting a timer helps them wait their turn more patiently. I will often tell Bowe, that she gets a toy for five minutes and will ask Alexa to set a timer for five minutes. Bowie knows that when the alarm goes off, it is Jack's turn. Or if I am working, and she wants my attention, I will tell her she needs to read or color for 20 minutes and then I am all hers. I also use the timer for cooking! It is so much easier to set Alexa than it is to set our old oven timer because I can set it and turn it off with a simple voice command.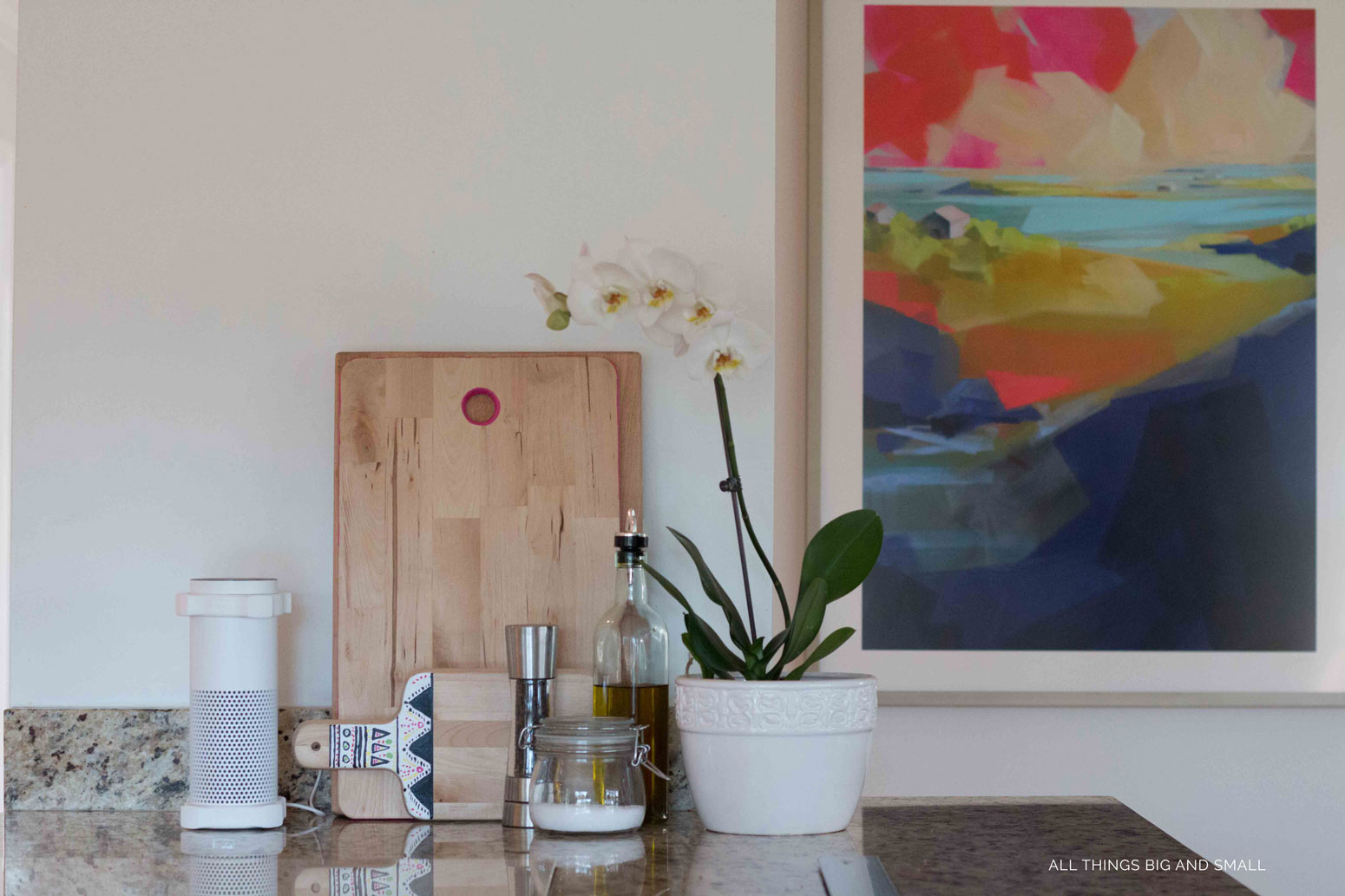 3.) Find a Recipe: Alexa has a ton of recipes that you can have her look up. One of our favorites that she recommended to us was the 3 ingredient peanut butter cookies (1 C. Peanut Butter, 1 C. Sugar, and 1 egg!) It is so easy–plus it is super kid friendly because there is no mixer involved!
4.) Turn on/ off an Smart Plug Outlet: We have linked our Amazon Echo to several smart plugs in our house. I can easily say "Alexa, turn on the lights" and all of the smart lights come on in our house–which is great when we come home to an dark house at night.
5.) Turn on your robot vacuum: With three kids four years and under and a huge Great Dane, things get messy real quick at our house. I can order our robotic vacuum to start through Alexa. Plus, the kids LOVE watching it work plus they have to hurry to pick up their toys before the vacuum gets it 😉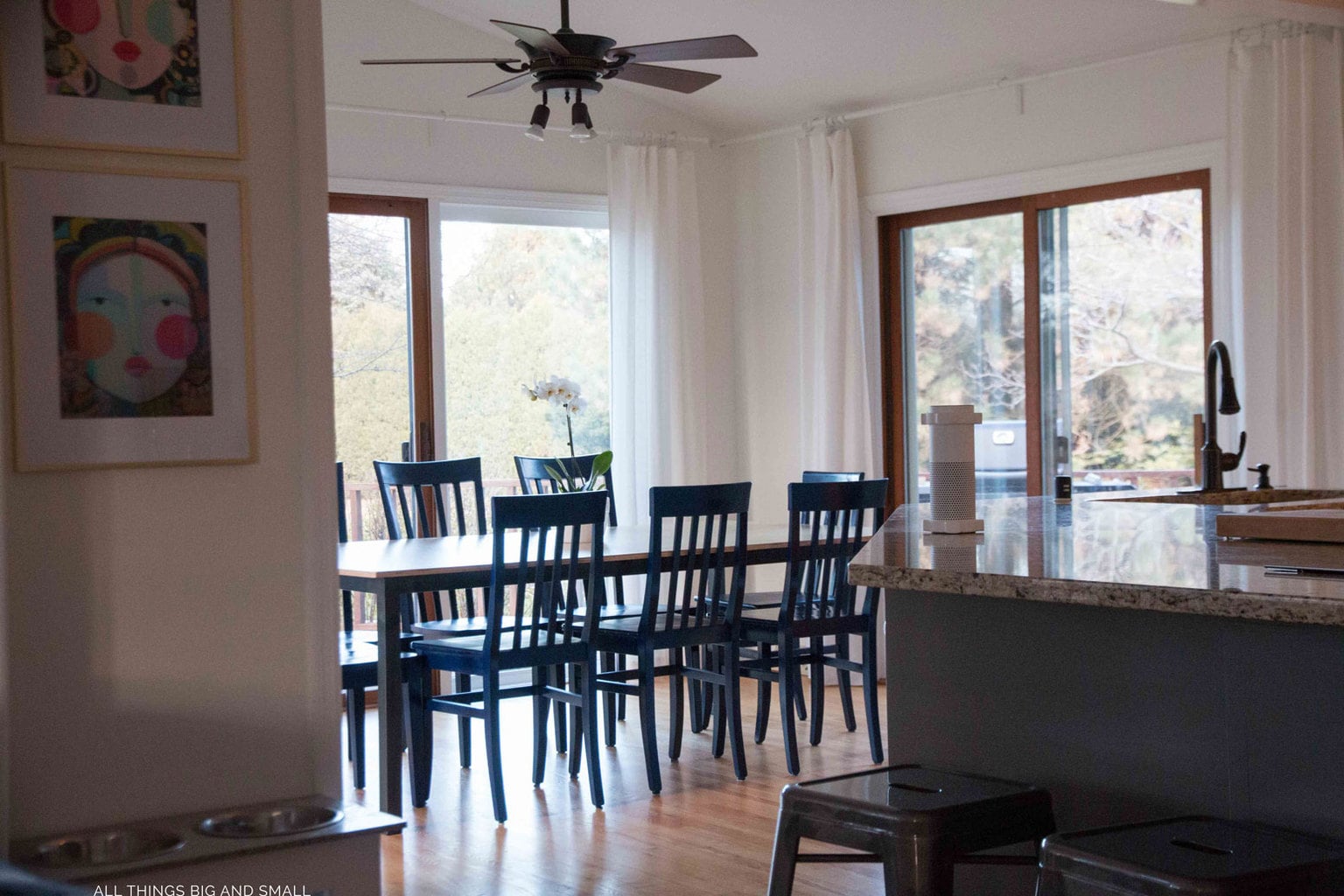 6.) Turn on/ turn off your smart thermostat: In our effort to simplify our lives, and make our home smarter, we have upgraded to a smart thermostat. Our thermostat is integrated with an app on my phone but is also Alexa compatible. I can easily ask Alexa to adjust the heat just by saying it–perfect for when your phone isn't nearby and you have a sleeping toddler or baby on your lap and you can't move a muscle!
7.) Tell me a dinosaur fact: This is by far the kids' favorite function of Alexa! I consider myself a dinosaur expert thanks to her many facts. All they have to do is sidle up to Alexa and ask her "Alexa, tell me a dinosaur fact!"
8.) Tell me a story: Alexa can tell simple stories for kids which typically last about five minutes. They are best for slightly older kids than mine, as Jack especially enjoys looking at pictures in books.
9.) Tell me a joke: Alexa is the perfect joker-teller for toddlers and preschoolers.
10.) Play music: This is by far the most common task we have our Amazon Echo do. And because of her, we listen to 50% more music than before which I love! Every morning, I like to turn Alexa on and ask her to play a different classical composer.
Bowie loves to ask Alexa to play her favorite artists which is currently Taylor Swift. You can see Bowe knows how to rock some serious dance moves.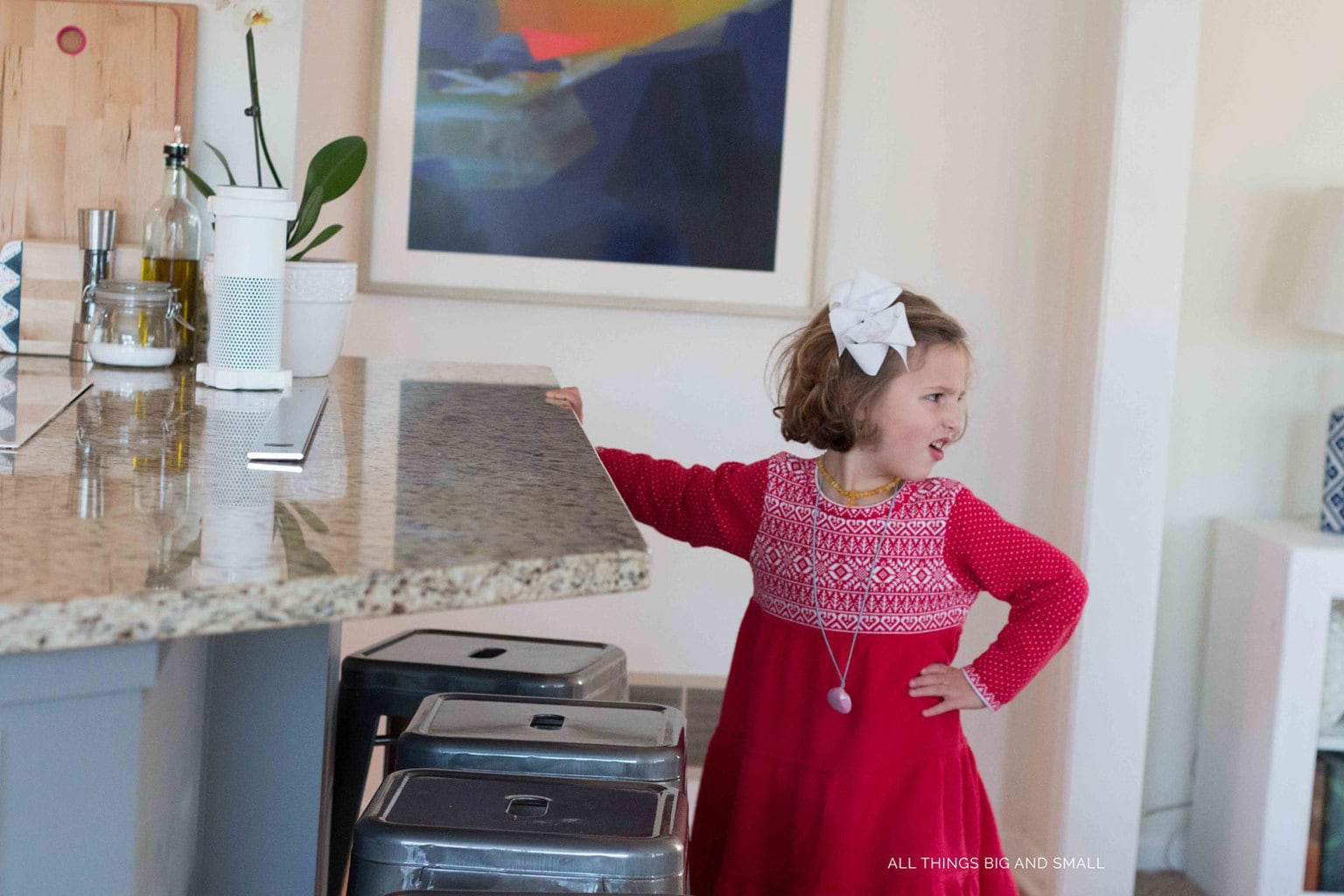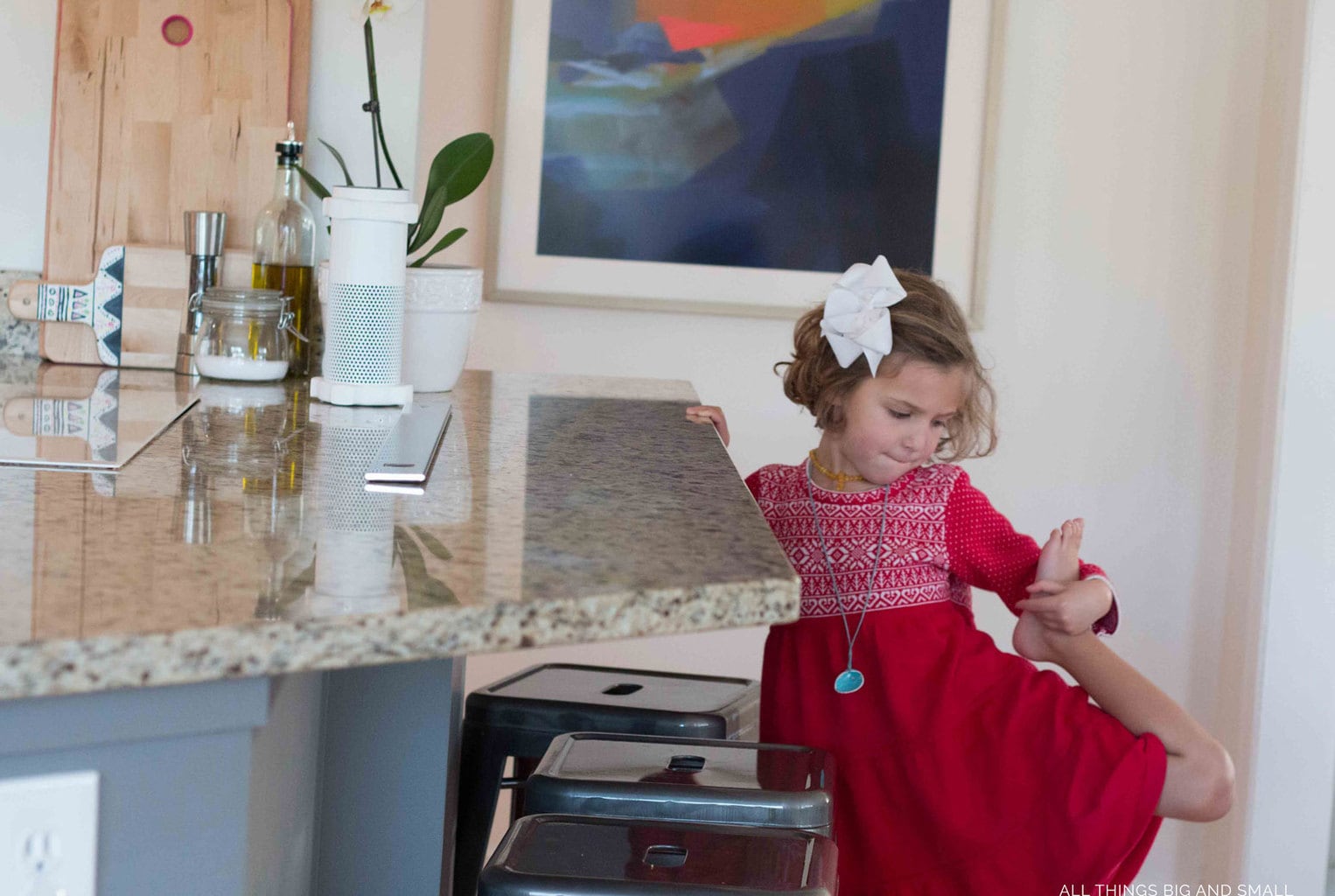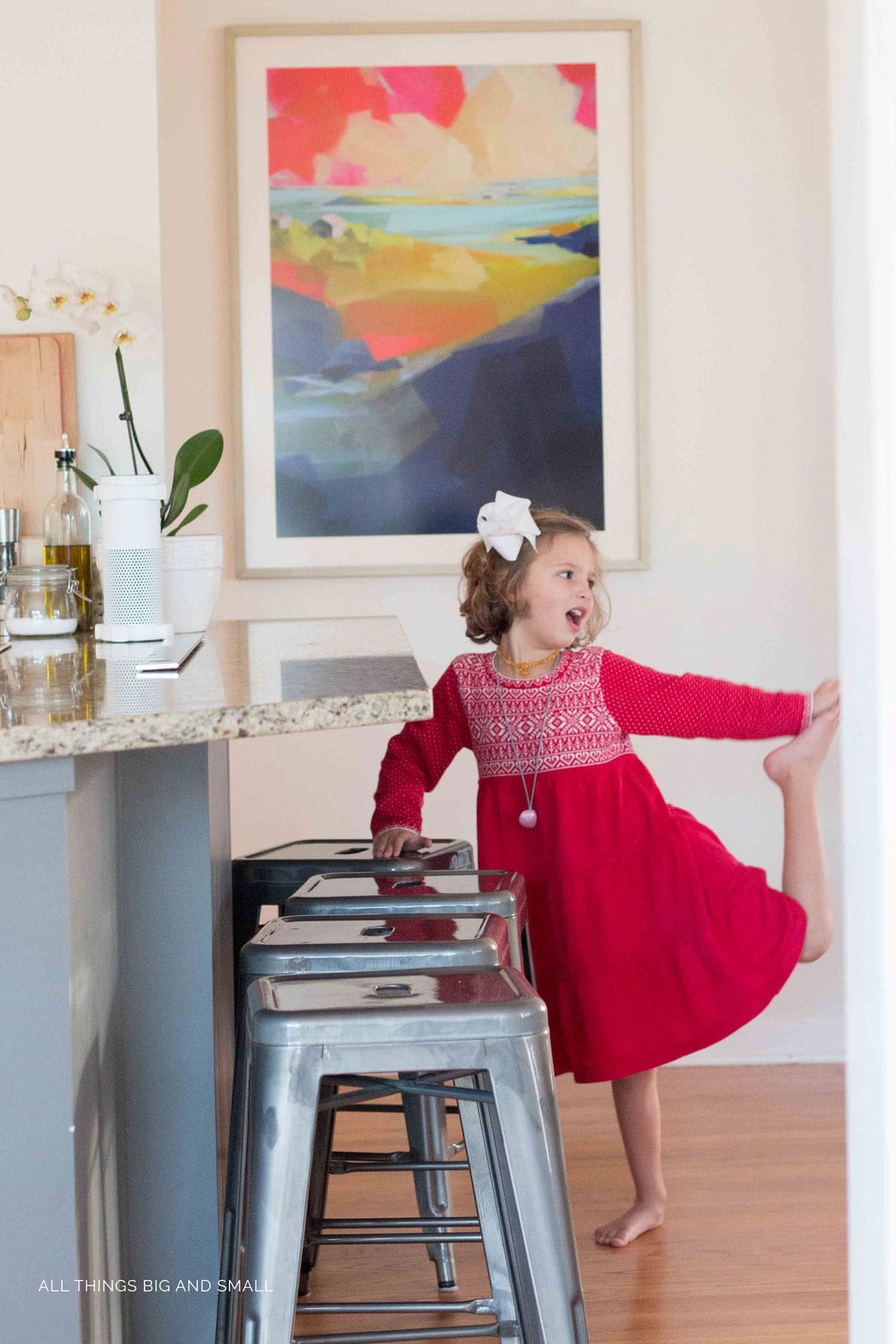 11.) Use the To-Do list function of Alexa for an on-the-go hands free to-do list: While I love my paper planner, I don't always have it around (and I have found that if I keep it out in reach of the children, they will inevitably color all over the pages!) When I remember something while I have my hands busy (cooking, cleaning, doing dishes, or picking up) I will tell Alexa to add an item to my to-do list. When I am out and about, I can reference it because it is mobile.
12.) Add items to shopping cart/ reorder subscription services: Most of the time, I will remember that we need to order something when I am not near my computer or shopping list. So, I will just tell Alexa to add laundry detergent or dish soap to our cart. She can order stuff for you or you can also just have her put items in a cart and you can check out later. Note:
if you enable purchasing through your Amazon Echo, make sure to use a PIN to purchase items otherwise your kids could easily order stuff!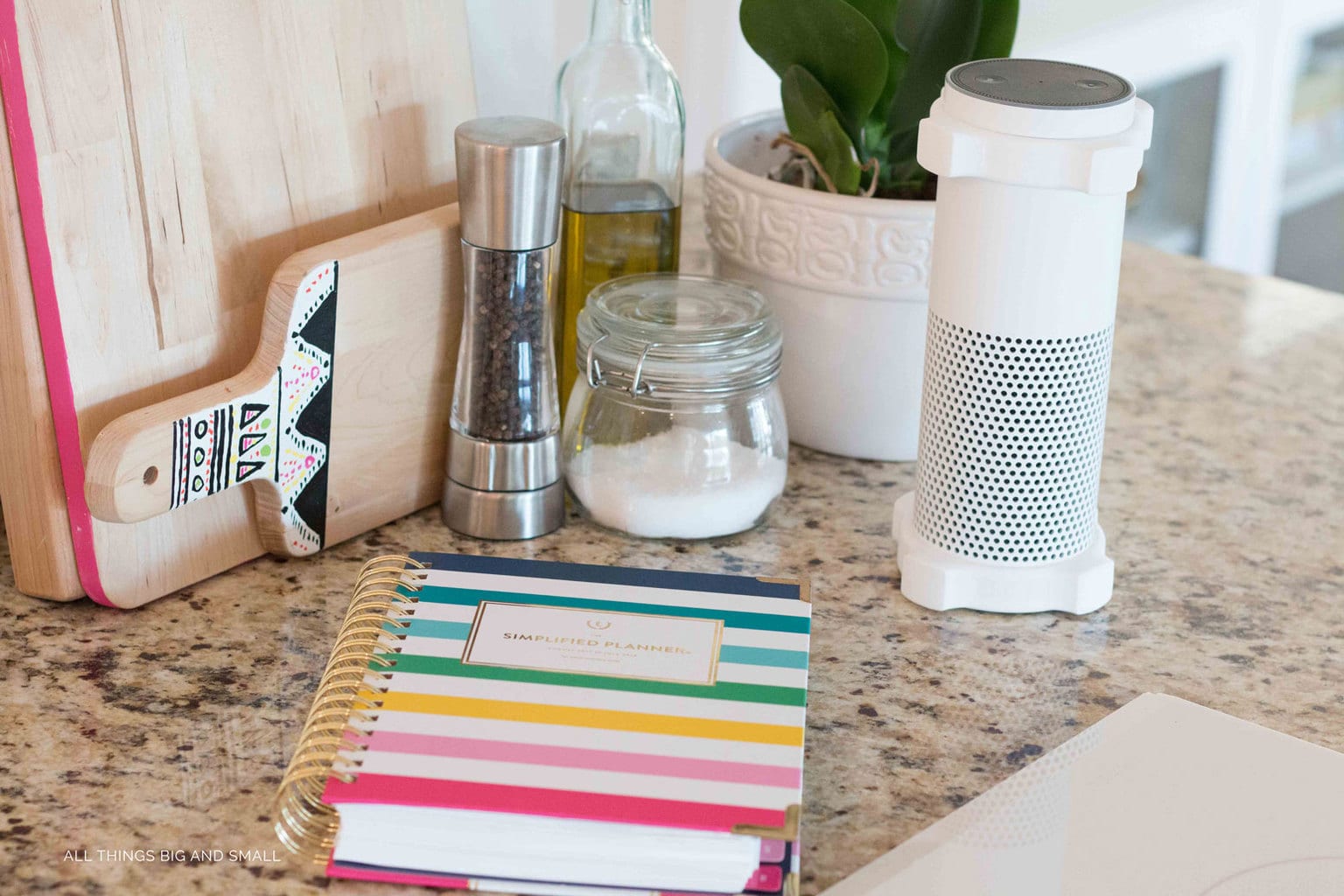 13.) What is the weather?: I use this function every single day when I am getting outfits ready for the kids to wear to school.
14.) Hear what happened in history on this day by saying "Good morning Alexa!" or the History Channel's This Day in History Skill: This is a neat function of Amazon Echo that builds up my (very shaky history knowledge base!) Hey, I wasn't a history major and think that most of my history knowledge comes from high school!
15.) Learn new skills: Amazon Echo is constantly adding new skills, keep up to date with new capabilities by simply saying "Alexa, good afternoon."
16.) Use it as a calculator: My mental math skills aren't as sharp as they used to be. It is easy to ask Alexa to perform (our double check) a calculation.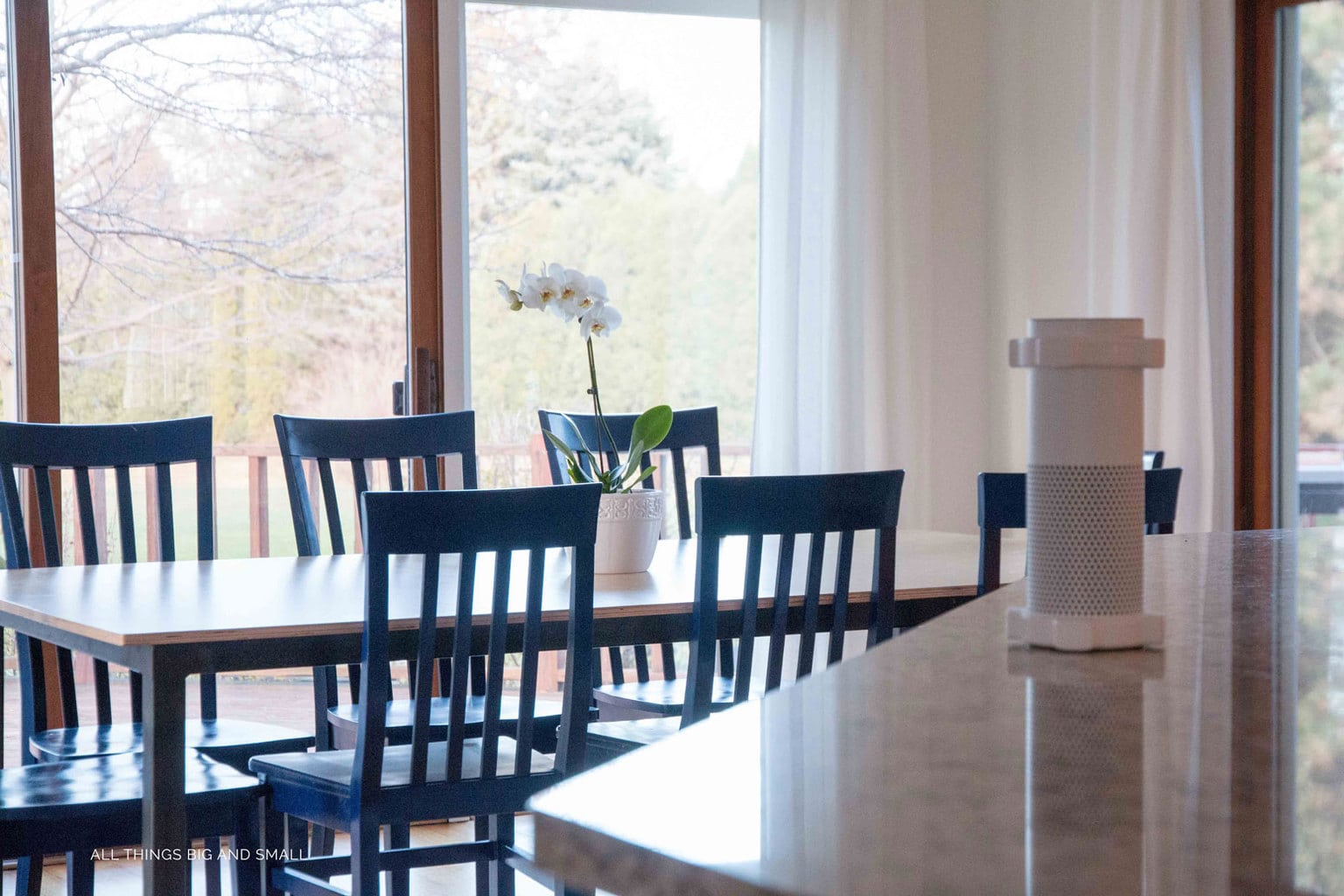 17.) Read a book aloud using Storytime Skill and Amazon Storytime or Audible (suitable stories from ages 5-12.) We have had Alexa read A.A. Milne's Winnie the Pooh to the kids, which worked well for Bowie; but, not quite as well for Jack.
18.) Learn the letter of the day with Elmo from Sesame Street: We love Sesame Street, and any extra attention to pre-literacy skills is awesome in my book!
19.) NASA Mars Skill– our budding astronauts love learning about outer-space. Alexa answers questions all about Mars and the Rovers roaming it with the NASA Mars Skill (it is a function within the Alexa app).
20.) Word of the Day Skill- I love this vocabulary builder for myself. I often feel like my vocabulary has plateaued or decreased since having kids because I no longer read as much. This helps me feel like I am learning new words. This is a great app for older kids too!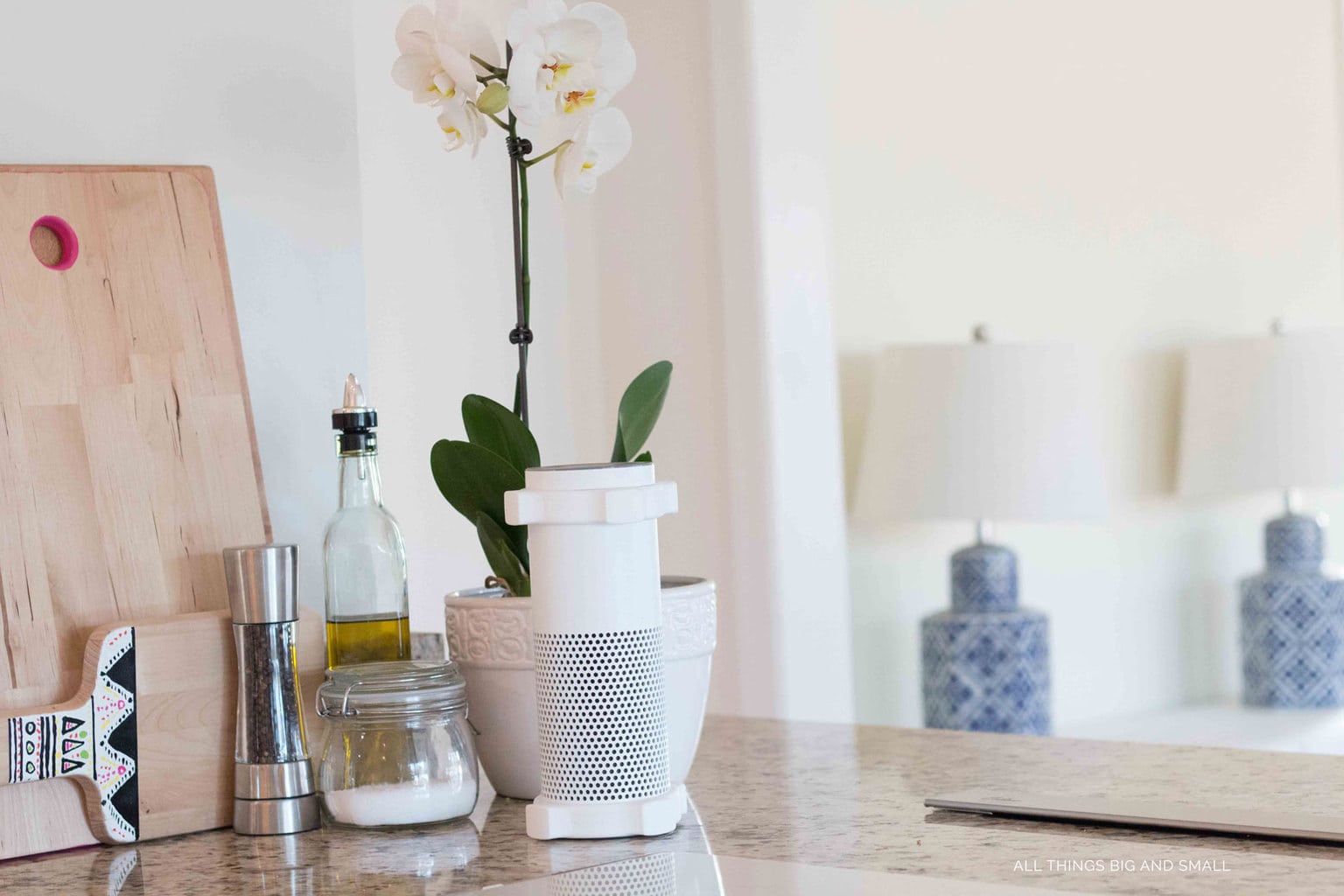 21.) Animal Game- The kids love to guess which animal Alexa is describing. Jack and Bowe love this skill of Alexa's because they are crazy about all things animals! We go to the zoo weekly, so Alexa entertains them by playing a sort of 20-questions game by describing animals. This is a little old for a two and four year old, so it is best to play it when I am prepping food and am nearby to help the kids out.
22.) The Magic Door interactive story: This is a great story app for kids to help create a custom story. They can change the direction of the story by answering different questions.
23.) Curiosity App- learn about thousands of different topics. With their insatiable curiosity (which we love) I often find myself not knowing the correct answer to a topic. The Curiosity App on Amazon Echo helps me learn new facts everyday.
24.) Guess the Number Skill- guess the number between 0-100 and Alexa will tell you if it is higher/ lower each time. We don't play this certain game mostly because my kids are too young, but it would be perfect for kids 7-10 who have a better grasp on numbers.
25.) Bedtime lullaby playlist: My kids go to bed at 7:30-8:15 every night. So at 7 PM, we turn down the music and play lullabies on the Amazon Echo. We love the station by Rockabye Baby which has popular songs turned into sweet mellow lullabies for kids. It helps everyone calm down after a crazy day and mellow out for bedtime.
26.) Turn on/ off the TV: We have connected Alexa to our FireTV on our Smart TV. I can easily order the TV to be turned off which helps when you can't find the remote control!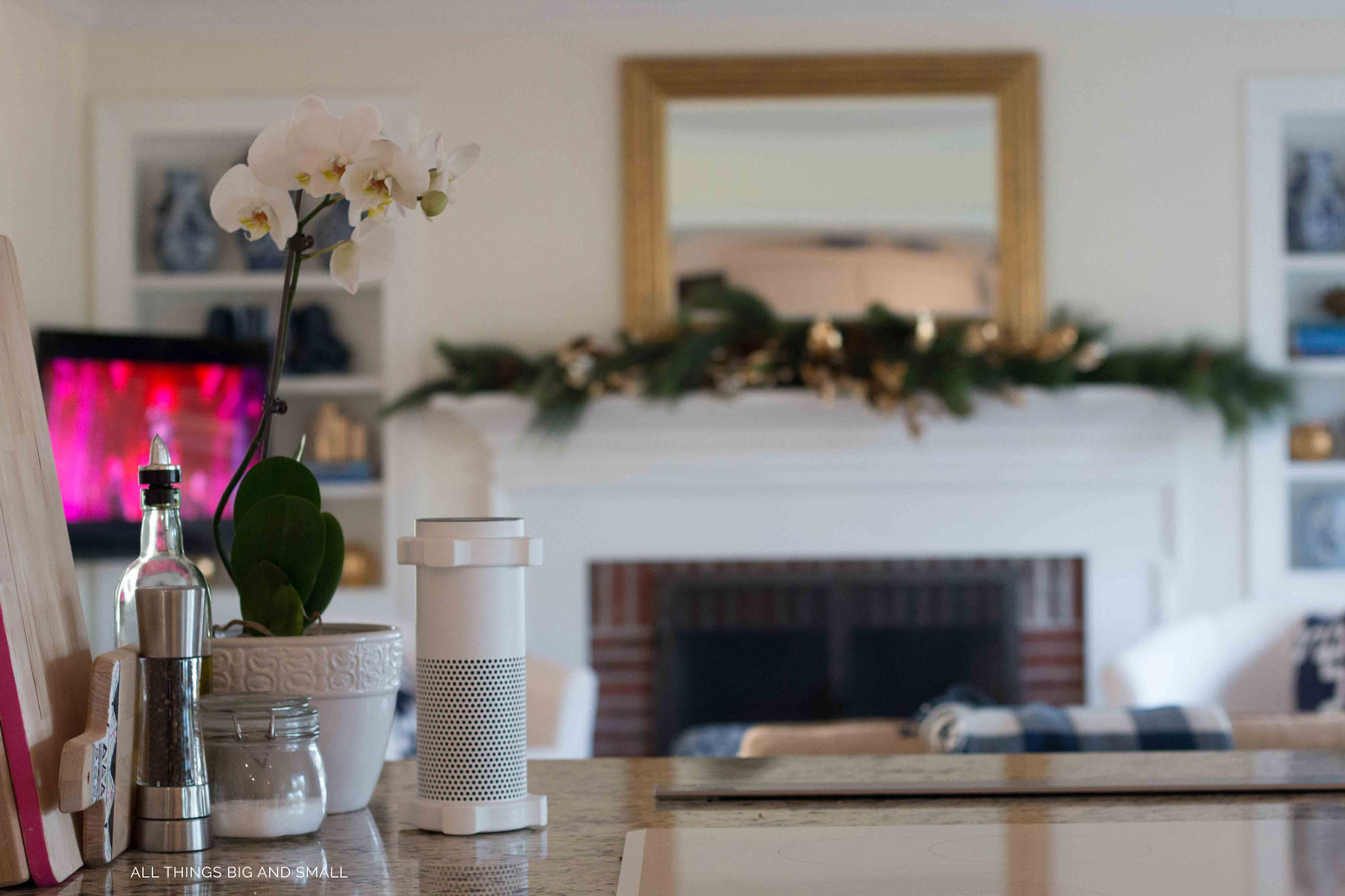 27.) Use Google Calendar– make appointments and update appointments and reminders, by asking "Alexa, what's on my calendar this weekend?"or "Alexa, when is my next event?" I keep my blog schedule on my Google Calendar, and by asking Alexa what is on my calendar, I can easily know what tasks I need to do a certain day.
28.) Set an alarm for a certain time: How many times do you know you need to leave the house at a certain time but lose track of time? I love asking our Amazon Echo to set an alarm for ten minutes before we need to leave the house, so we are more on time–emphasis on the "more."
29.) "Alexa, what's new?" We do not have our Smart TV connected to national broadcast networks, so aside from reading News on my phone, I sort of live in a news vacuum. Amazon Echo helps me keep abreast of current topics, by easily briefing me in the morning on what is new.
30.) Listen to a podcast: Listening to podcasts is one of the primary ways I continue to learn and further my business. I love listening to podcasts to expand my knowledge but also for entertainment when I am doing monotonous tasks like folding laundry, wiping down counters, or putting away dishes.
31.) Find hours of local businesses, restaurants etc. There is NOTHING worse than packing the kids up in the car and driving somewhere, only to find out that it is in fact closed. I can ask Alexa to find the hours for a nearby store or restaurant easily before we start getting the troops ready.
32.) 7 minute workout: I might not have much time for a workout but I do have seven minutes. With the 7 minute workout app, Alexa can lead you through the different exercises.
33.) Pause kids internet via Circle: Again, a function we don't use yet because we don't have a Circle but when we do need one, you can bet I will be using this integration!
So there you have it, 33 mom hacks for your Amazon Echo that make your life simpler! Like I said before, all these hacks are fantastic but I would not recommend having an Echo without the SANUS bumper guards! They make sure that Alexa is safe even in our crazy house! Learn more about the SANUS bumper guards here on SANUS's blog, shop for SANUS bumper guards here, and follow them on and Twitter and Facebook.
Tell me, what is your favorite Alexa function?
LOVE IT! PIN IT!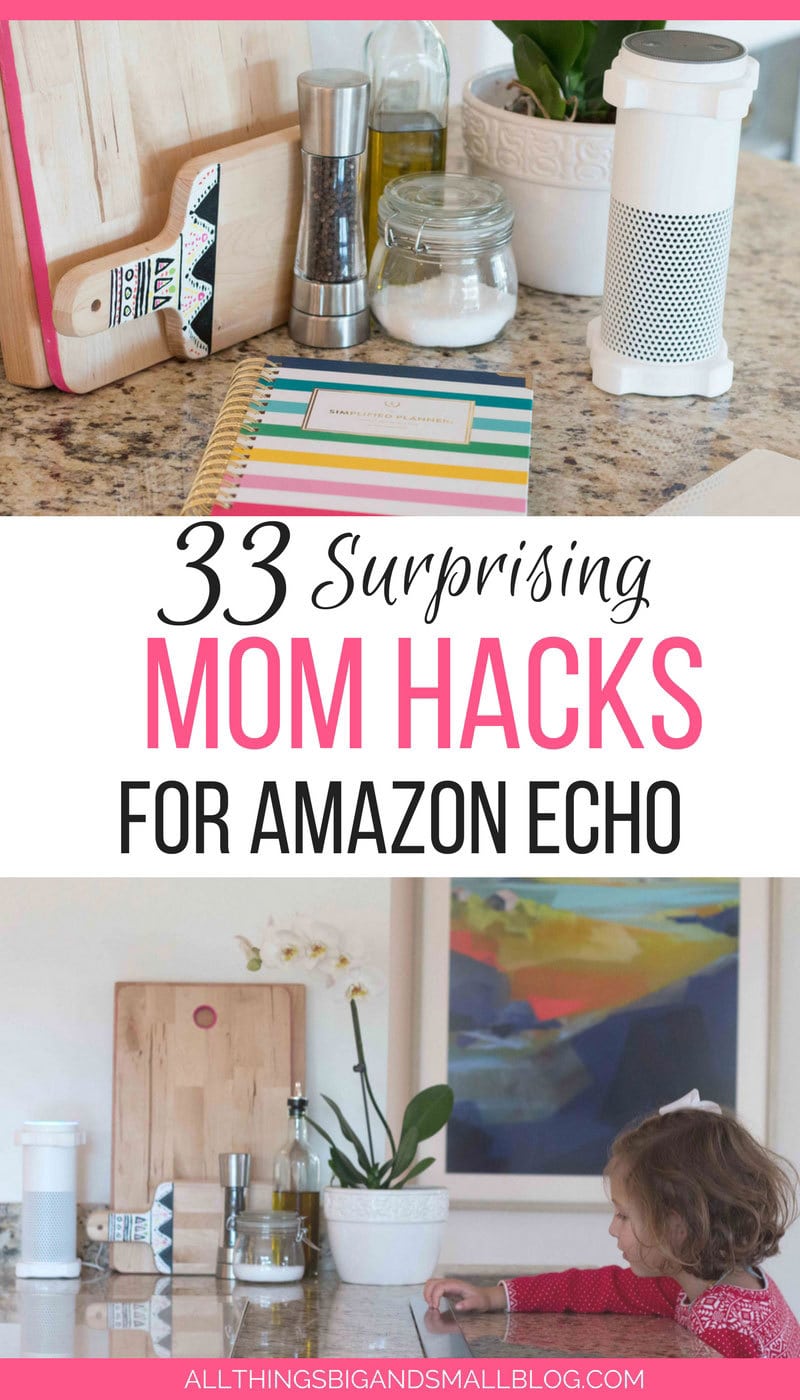 This is a sponsored conversation written by me on behalf of SANUS. The opinions and text are all mine.