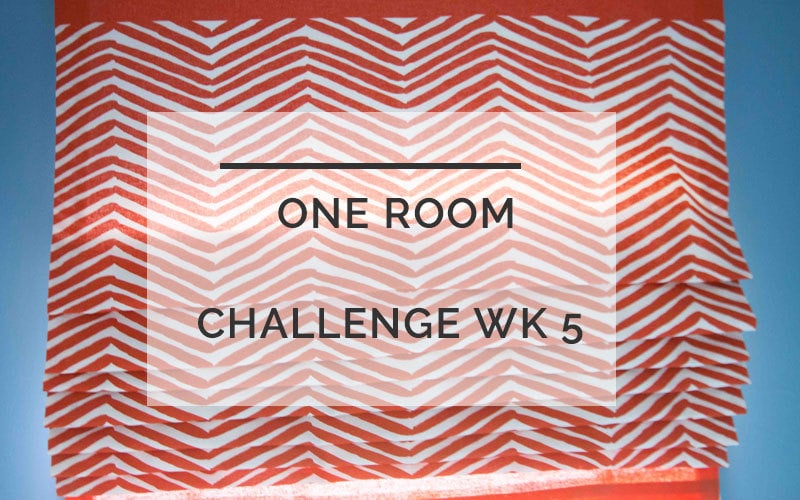 Hello and welcome to week five of the One Room Challenge! If you are new here, welcome! And if you want to see the previous weeks check out Week 1, Week 2, Week 4! We are making over our kids' bathroom on a small budget (like $250 or less) in six weeks with two children 3 and under! #Sendallthecaffeineandwine Thankfully, my in-laws have helped babysit, woodwork, and sew! It seriously takes a village! And as you can see, when DIYing. Some things slip. This is real life with children and a to-do list that never ends! I will be back tomorrow for a Five for Friday with a weekly update on everything other than DIY we did the past week–A LOT!
So I am still working on the post for the complete Step-by-Step Tutorial for the fixed Roman shade. I want it to be an amazing post with free printable directions, and in reality that takes time, which I don't have enough of this moment…Instead of writing, I have been painting my #$% off. So please hang tight, it is in the works. There simply aren't enough hours in the day when you are painting, caulking, and momming! But, I will tell you that is going to be worth the wait. Because, this fixed DIY Roman shade cost a total of…$18! No, I am not missing a zero. I made this DIY fixed Roman shade out of an old H & M tablecloth that I bought for $17.95. How is that for bang for your buck?! It looks a whole lot like Alan Campbell's Quadrille fabric right? It would have cost $340 for the real deal fabric alone! And I even used a piece of an old bed sheet (that I was going to throw out) for the liner. But, here are the final photos of it and a current status report on the bathroom: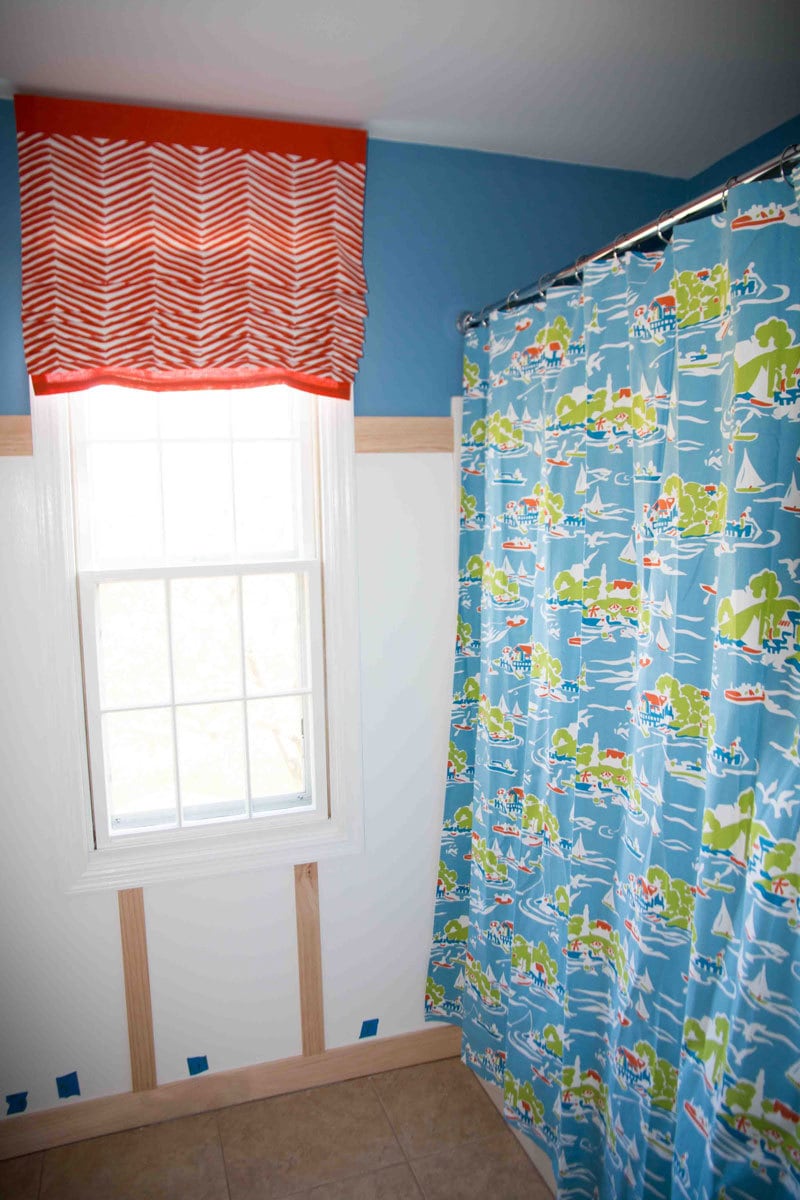 This past weekend, we put in the board-and-batten, installed new mirror trim, installed a new light. Throw a preschool fundraiser, an anniversary, and a one year old birthday party and you have a lot going on!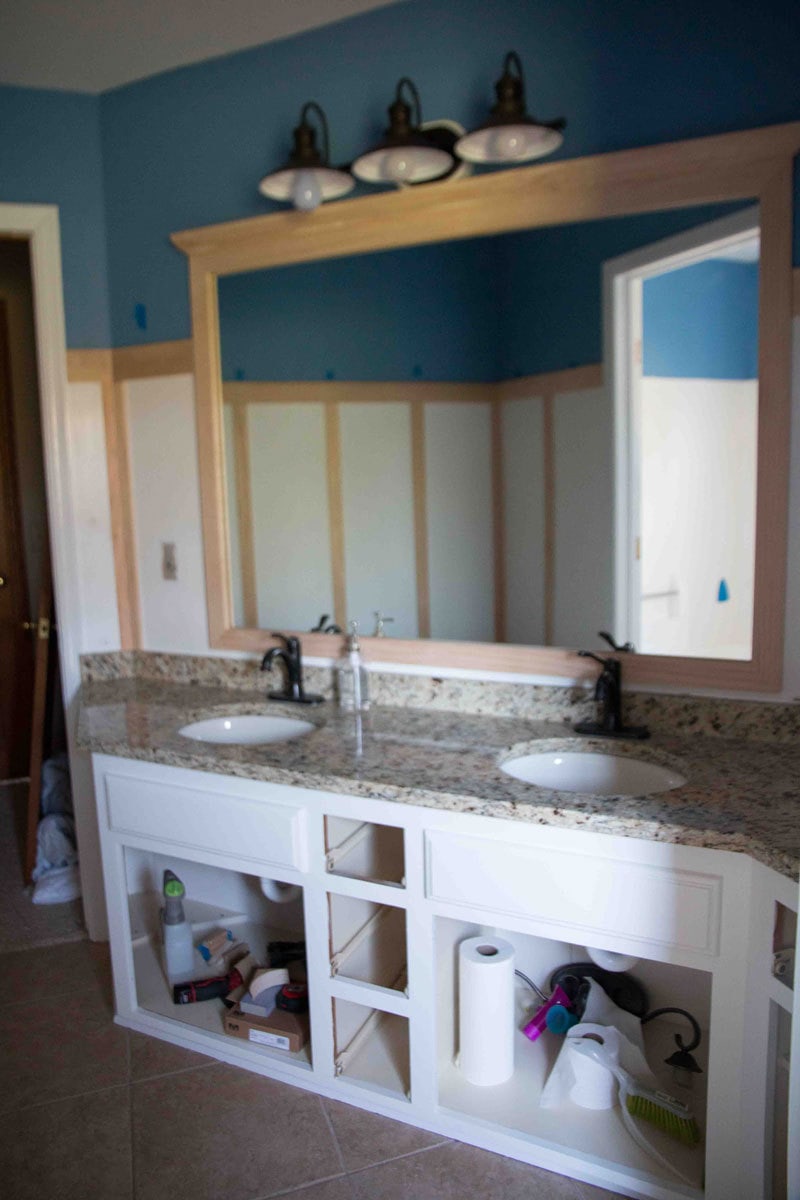 So I do have to point out that this is no "do this board-and batten in 2 hours with $50 MDF board." NOPE! This is the real deal and it shows. It looks amazing now that is is painted and is QUALITY! I have to say this because SO MUCH of what you see on Pinterest is "do this project in 20 minutes for $3!" I am all for saving money and doing stuff quickly. Heck, I just bragged about how cheap the fixed Roman shade is. But you know what, that is still quality. It is made out of real fabric, and is professional looking. The problem is that with so much stuff on Pinterest, when you do it yourself and don't have tons of filters on it, it looks cheap. There are a lot of DIY out there that give DIY a bad name, all inspired by shows like "DIY on a Dime." I am not going to lie. This project took a lot of time. My husband worked on it nearly the entire weekend. And you know what, it was worth it. It looks way better than those cheapie "DIY Board & Batten in 2 hours or less." This is a project that not only looks really good but is improving the value of our home. I will never put wrapping paper on a wall and call it wallpaper because that is not going to stand up to our kids and our rough-and-tumble daily lives.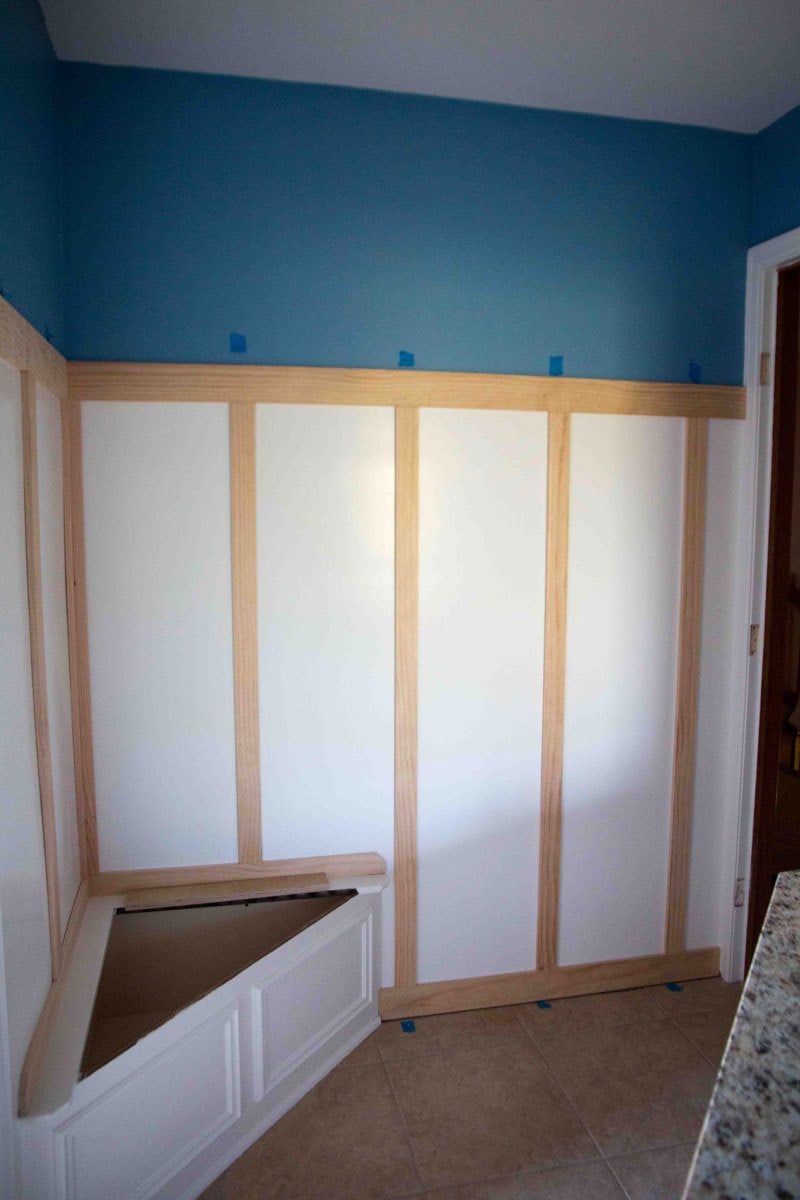 The past few days I have been priming and painting all of the new boards white and it looks AMAZING! Follow me on Snapchat for behind the scenes snaps! Username: AnnieThompsonAT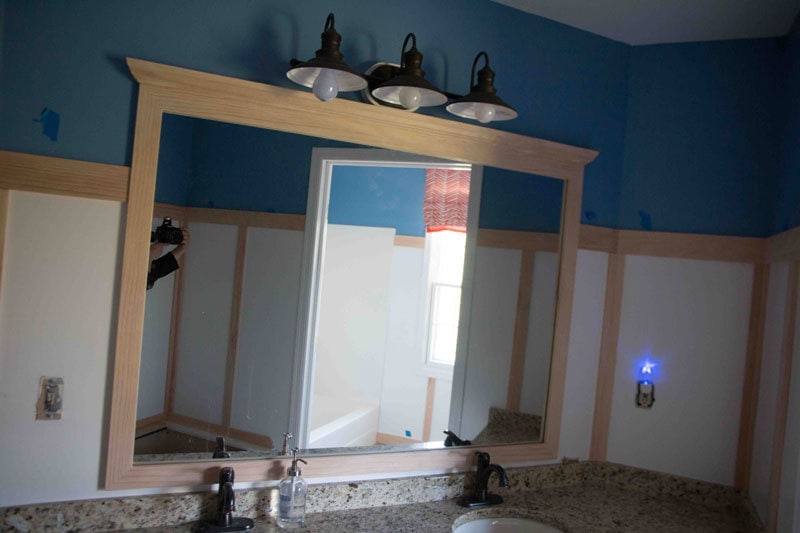 Alright, real life here folks. No, this is not a perfectly organized bathroom cupboard. It usually doesn't look THIS bad (because I stuffed everything from below the sink in here too) but it is a mess and needs to be organized. I just need to re-launch my Organize Your Life Challenge and do it to our closets (I concentrated on our daily use areas first!)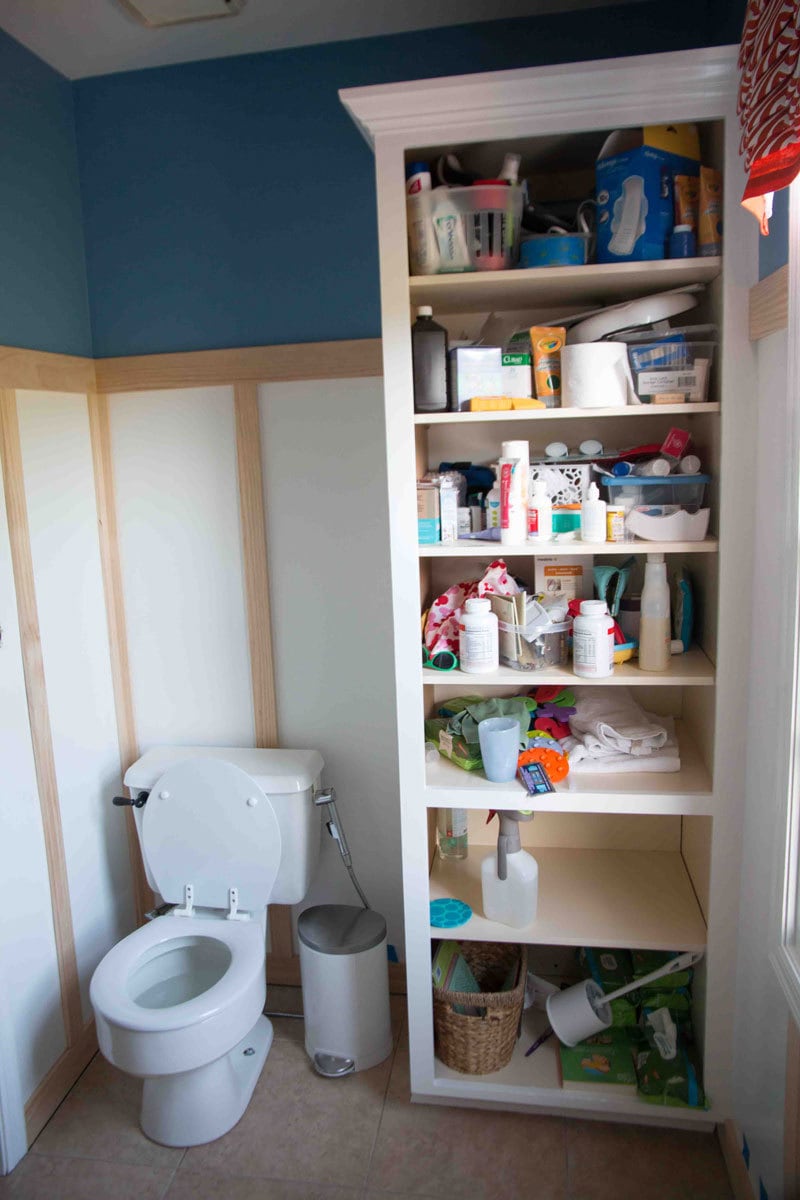 Alright, and here are the "pretty" pictures. You can see the DIY fixed Roman shade and our new shower curtain!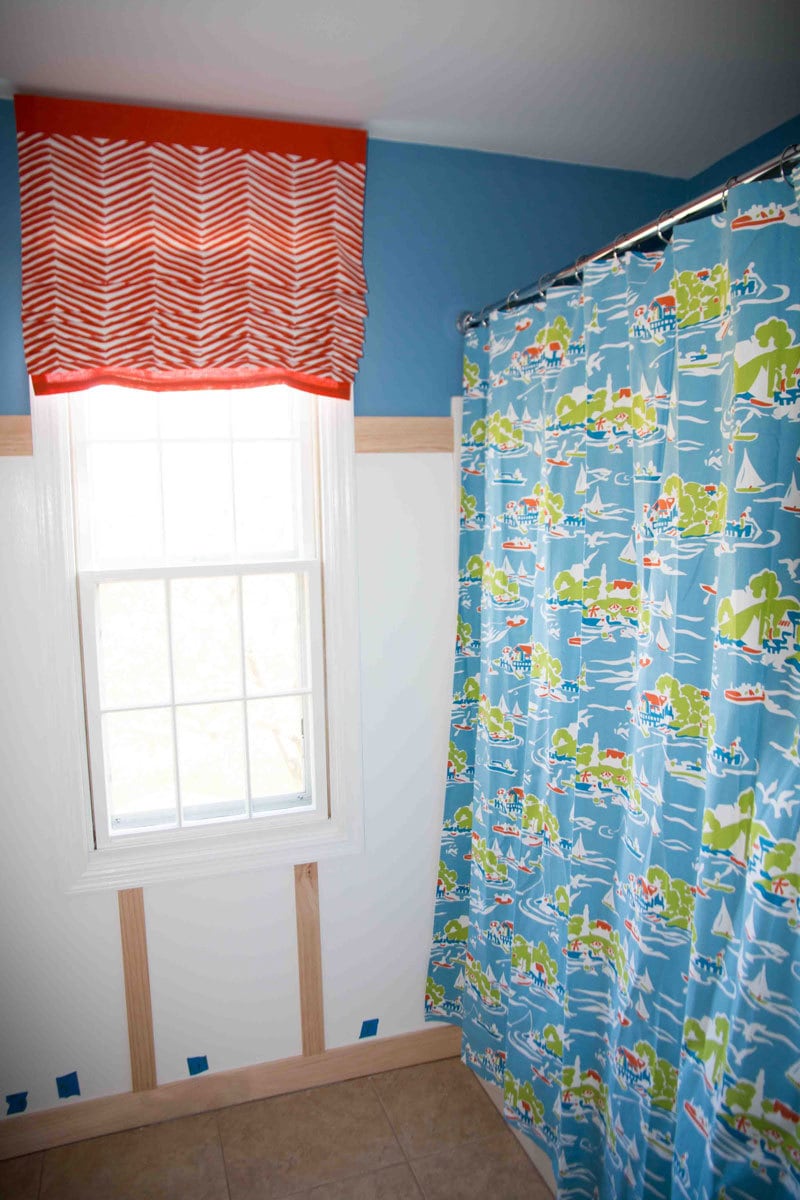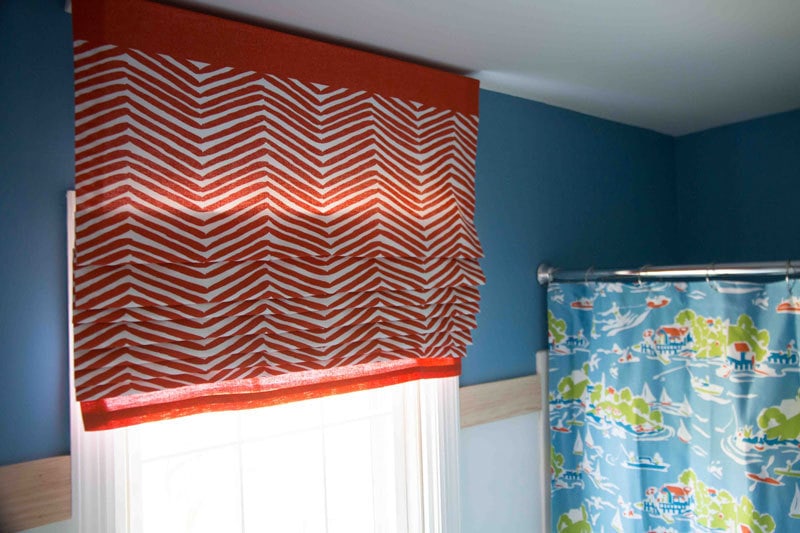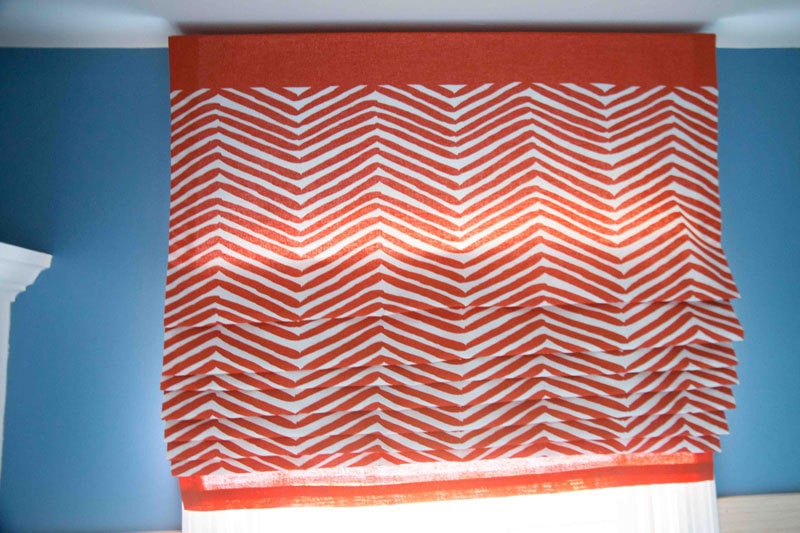 So with that, I am out. I am going to put Jack down for his morning nap and do the final coat of paint on all the trim! Then, I get to caulk and give everything a final clean (there is a ton of saw dust even on the walls!)
Make sure to check out all of the One Room Challenge guest participants on Calling It Home! Everyone's projects are coming together and they are looking so good! I can't wait to reveal the entire finished project next week! And I PROMISE, I will have the full tutorial on the fixed roman shade next week!