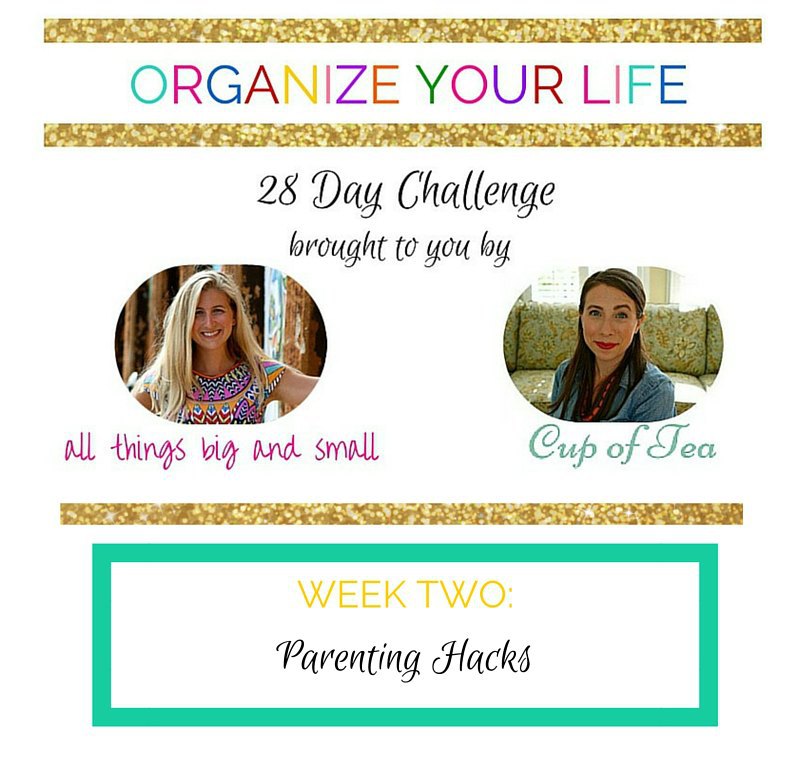 Welcome back to Week 2 of the Organize Your Life Challenge! Katie and I have been blown away by the enthusiasm, and I for one couldn't be more excited about this weeks topic–parenting hacks! As a stay-at-home mom, you think you are have a ton of time each day and then the reality of the everyday sets in. Somehow, you only finally sit down at 8:30 PM and realize that it is the first time you've actually sat down all day. So anytime I see other moms' parenting hacks I take note (make sure to check out Katie's after reading this!) Being a mom is the most rewarding job; but, it is certainly not an easy one! Some of the best tricks I have learned from other moms (many other bloggers!) So here are my favorite parenting hacks!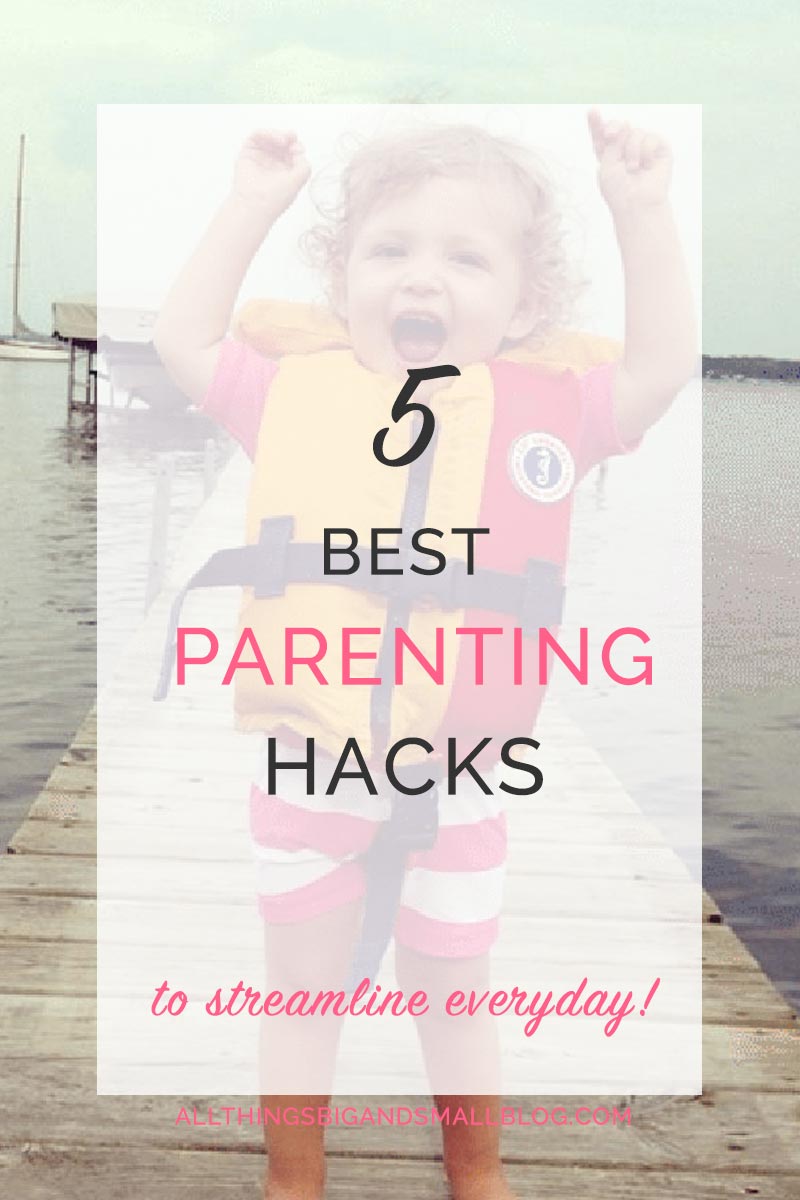 1// Contain the Situation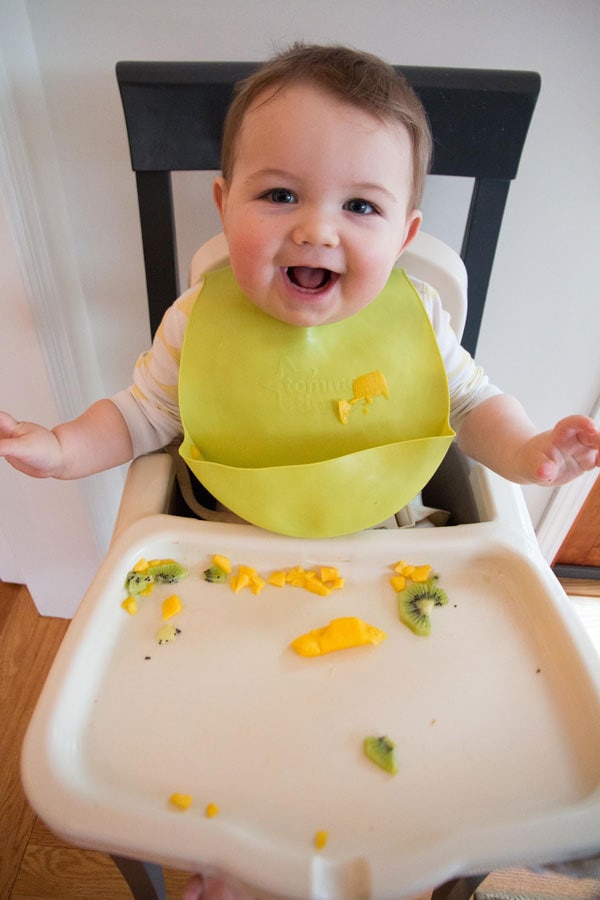 No, I am not talking about dirty diapers–that in itself is another entire post! I give Jack toys to play with in his high chair so I can do the dishes and prep the meals. Bowe will often color at the same time, which helps occupy him as well. This way, I can hammer out some kitchen work and have both kids in the same room and know that they aren't making more mess. If your baby gets antsy, then put them on the floor in the kitchen with some good ol' pots and pans (silicone cooking utensils are a favorite as are colanders!) Baby gates also work well for younger kids; but, I know Bowe will eventually figure out how to open ours. Even if the kids are making a mess in one area of the house (the kitchen table) it is a lot easier to clean up than a mess all over the house!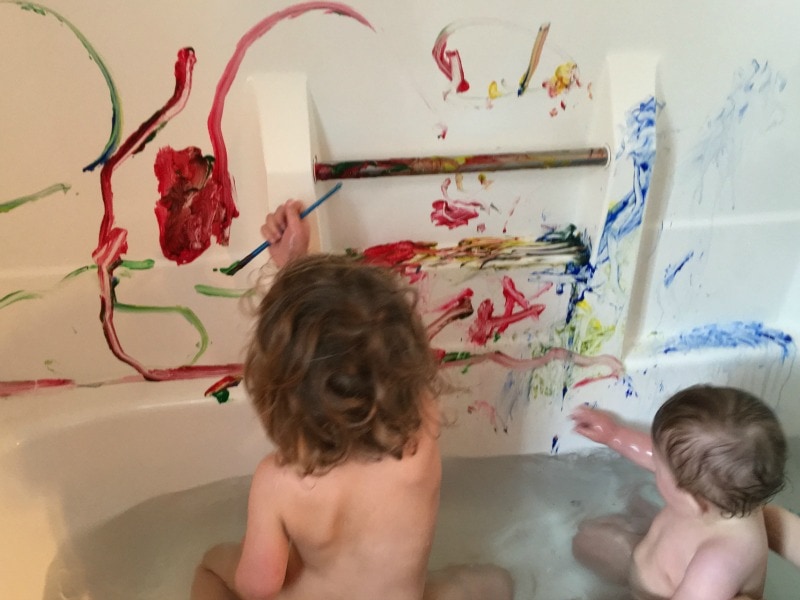 This also goes for messy craft projects like painting. This weekend to occupy the kids (one of whom was sick), we did a nice hot bath and let them paint with fingerpaint in it. In the past we have even let the kids paint pumpkins in the bath. But just don't make the same mistake I did and forget that the paint is washable. I put the pumpkins out on the front sidewalk and it rained, and all the kids hard work washed away. #momfail
Need to unload the groceries from your car and have the kids too? Unload the groceries first and then the kids if at all possible. Now, I do not mean unpack the groceries from the bags! I mean simply to bring in the groceries from the car first and leave them inside the house, right by the door. This way, the kids are not left unattended. They are safe in the car (as long as it is not summer!) It's not like you are leaving them in the car for an extended time I am talking 1 minute extra! This literally takes 60 seconds for me to do; but, it saves a lot of headache with having the kids in the house rifling through the groceries and me trying to keep everything organized.
2// Avert Dinnertime Disaster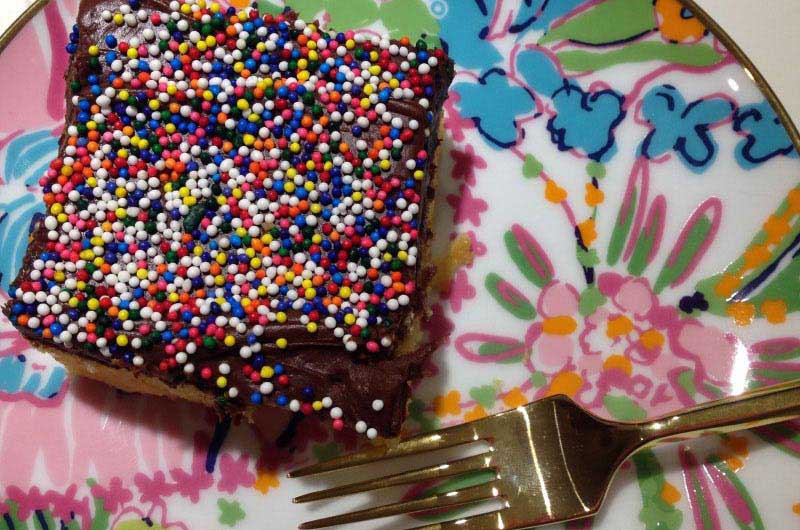 So this is a hack that has only taken effect in the last several months; but it has had a dramatic effect on our dinnertime. Bowe has four meals a day (breakfast, snack (around 10:30), lunch, and dinner. We really try to limit how much she snacks because I don't think it is good to have kids snack all day (more on our food philosophy here and here.) She used to have a snack after her afternoon nap but then I found that she wasn't ever hungry for dinner. So now, we have eliminated it for the most part; instead, we eat an early dinner. Eating before or at 6:00 PM isn't easy but it rewards us in dividends with fewer meltdowns and tears. We are fortunate that Evan gets home early enough most days to make this a possibility. And by prepping dinner during lunchtime (when the kids are still eating/ playing) and are happy instead of waiting until 5:00, it is so much smoother!
3// Auto-populate the Schedule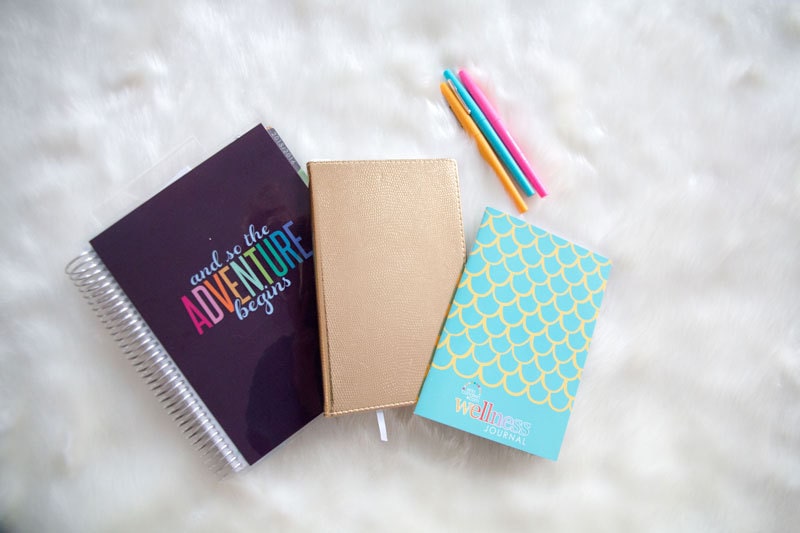 Keeping a routine helps all of us function. Bowe has school three mornings a week, and we try to go to to the library one morning a week as well. That leaves on weekday open for playdates and other outings, which we schedule mid-morning as well. By keeping a routine (or trying to) it takes the guesswork out of figuring out what we are doing everyday. And it helps the kids expectations of each day. Kids thrive on routine, and it is no coincidence that on our routine days, we have fewer meltdowns. In the summer, we try to go to the pool everyday at the same time.
4// Minimize Barriers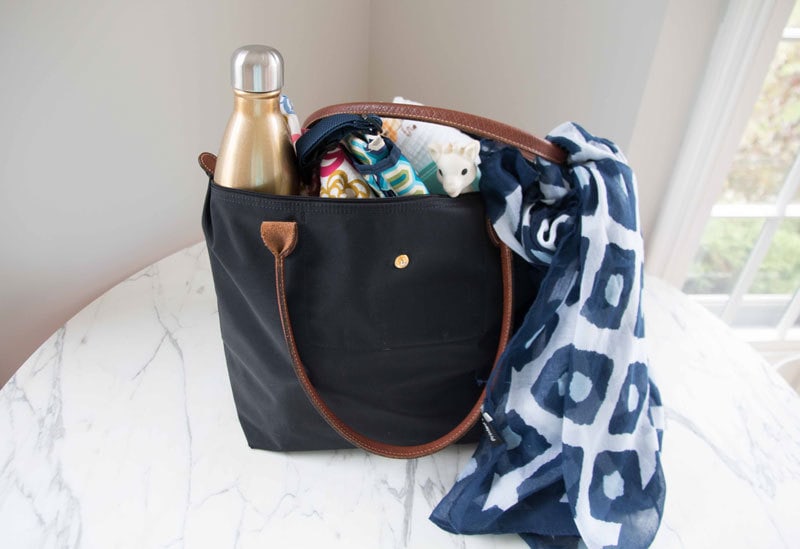 One of the most frustrating things about having kids is how much time it takes to leave the house. No longer can you just grab your keys and go; instead, you have to get several other human beings clothed, pottyed, and into outwear. So streamlining the process as much as possible saves a lot of time and headache. I try to have my diaper bag ready to go at all times. The kids jackets and shoes always go in the same place, as do my car keys, purse, and diaper bag. The worst I will have to do is to make sure to pack a few extra diapers if I know I am running low. Somehow, I forgot my diaper bag at the library a few weeks ago and I kid you  not, I was way more worried about trying to replace all the contents of the diaper bag than the material loss. It is my lifesaver and everything is in there. If you are at all interested, what I keep in there check out this post! I even made a printable checklist! AND new styles were just added to the Winter Sale and you can save as much as 40% off!
5// Keep it Silly and Distract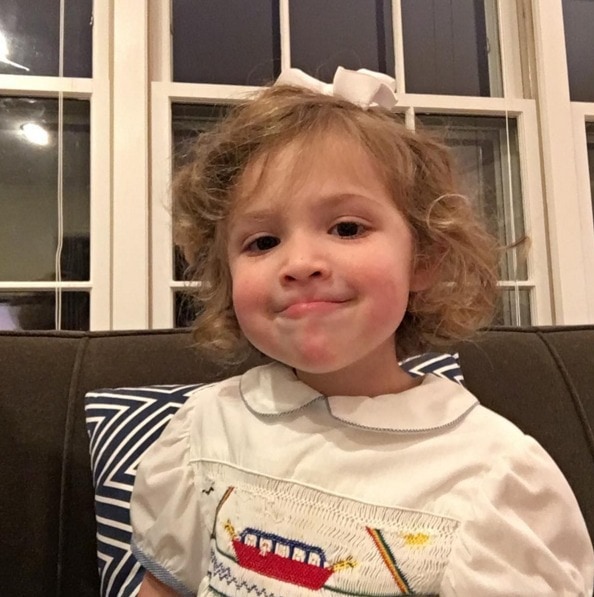 Whenever I sense a meltdown coming on, I try to pre-empt it by being really silly and/ or stupid. Even if it doesn't work 100% of the time, creating a distraction tends to lessen the pushback. For example, when I tell Bowe (let's be honest, Jack isn't a problem yet!) that we need to go to upstairs for nap, she usually gets upset. So instead, I will make it a game. We are huge Frozen fans. So one of our favorite imaginary schemes is running away from the Snow Monster and the stairs are The North Mountain. Seriously, we have been doing this for months and it doesn't get old. She gets more and more into it and the game more elaborate every week. And if that doesn't work, sometimes playing dumb does. Like yesterday, she didn't want to get changed into her pajamas for nap time (I know, I am a bit excessive but I am a total germaphobe! so there are no outside clothes permitted in the bed!) So, instead of forcing her into it, I started being silly and asking her, "ok, now these pants go on your ears, right?…Oh, no, they go on your hands…" Eventually, I ask her to show me how she puts them on.
6// Entertain on the Road
Each week when we go to the library, Bowe gets to pick out a new audiobook. Listening to audiobooks is a great way to keep the kids occupied in the car even if it is just around town, and by switching up the audiobook every week, it helps you avoid pulling your hair out! Because there are only so many times you can listen to The Little Mermaid! When we go on long road trips, I make sure to grab the road trip bag of entertainment and her tray (read all about it here.) These tricks help occupy the kids for long car trips (we drove over 80 hours this summer!)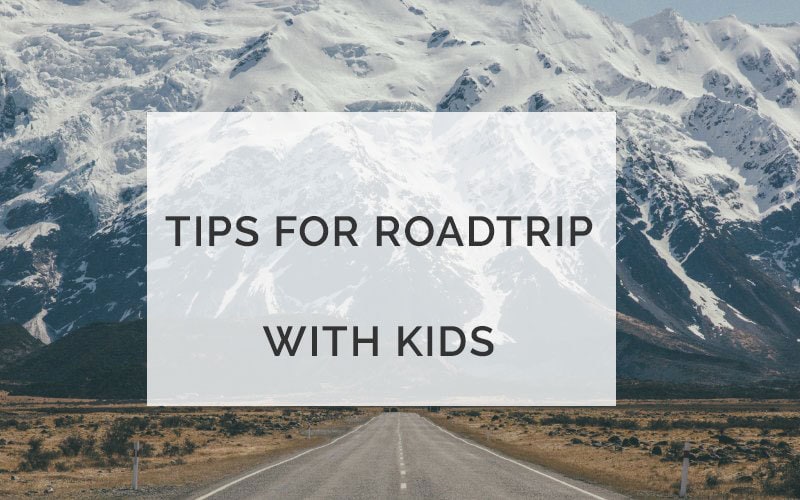 So please spill! What are your absolute favorite parenting hacks? Make sure to check out Katie's as well! She always has amazing tips!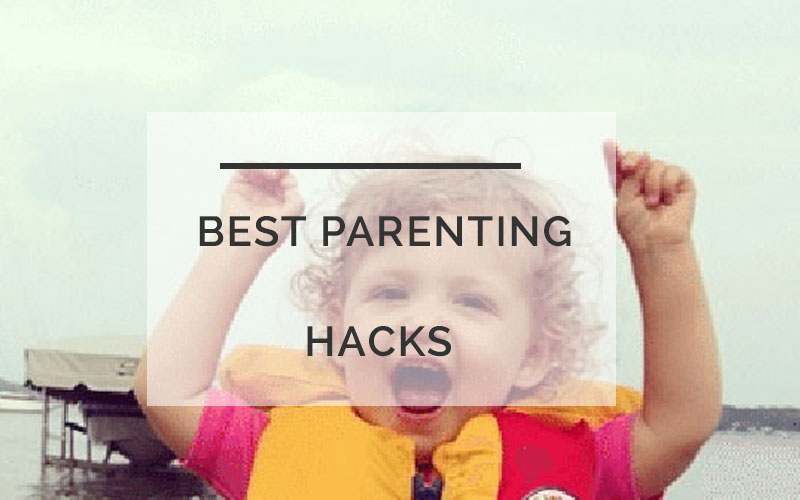 *this post contains affiliate links