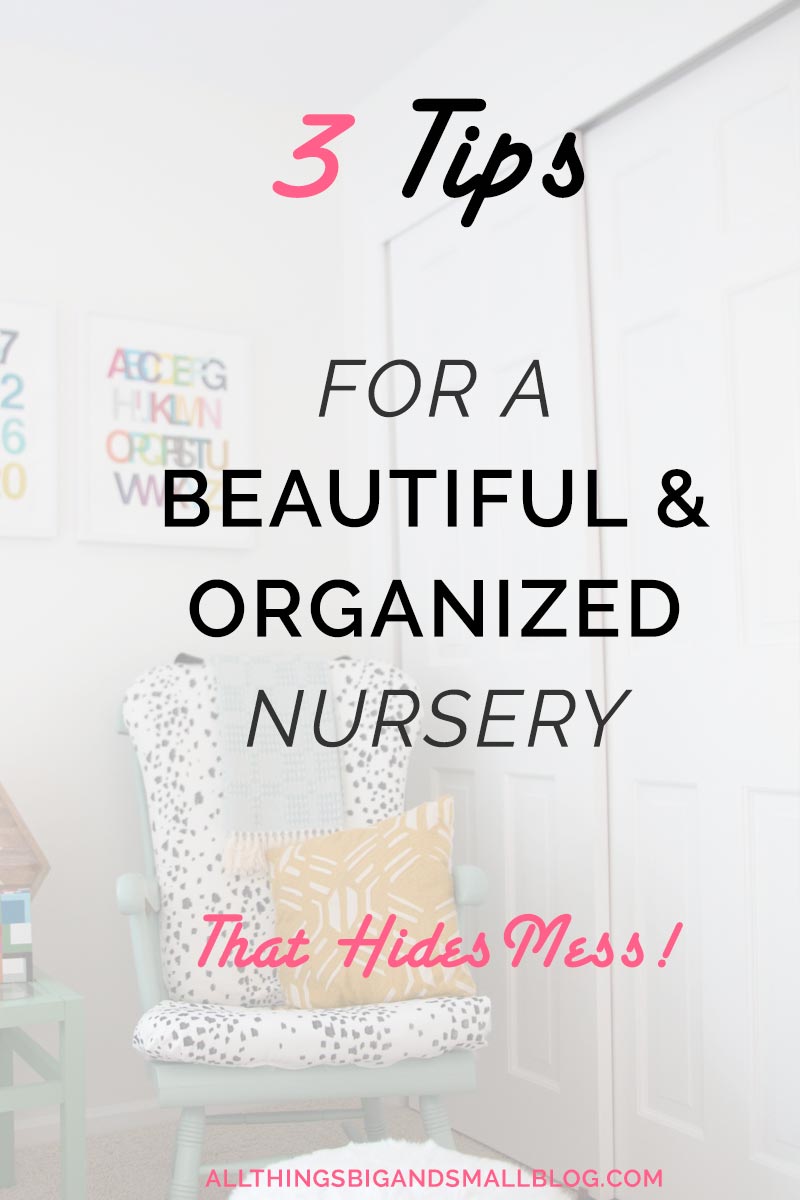 Ok, I have this thing with nurseries. I love love love seeing beautiful organized nurseries. I even have an entire board dedicated to them on Pinterest; but, when I start really looking at it, I wonder how does a kid actually live here? Where are his toys? Umm, that lucite changing table is gorgeous but the hell are his diapers stored? Where are his burp cloths? How does this space actually work? When you are setting up a nursery, not only does it need to be beautiful; but, it needs to be easy to maintain and organize. If you have beautiful folded burp cloths color coded in open storage, are you going to want to do that when you have only slept four hours and have been up every hour feeding the baby? Nope, that is going to be the FIRST thing to go (along with your patience!) That beautiful color coded display of OCD folded burp cloths is going to look like a color explosion of unfolded laundry. So, these are a few things to rules to keep in mind in creating that organized nursery, (all things that we have learned after having two kids and setting up three nurseries) and my nannying for six years and seeing what worked and what didn't in other people's nurseries.
Three Rules to Create a Beautiful Organized Nursery: That You can actually live in!
1.) Open Storage Vs. Closed Storage: Display the Pretty Stuff and Hide the Necessary Evils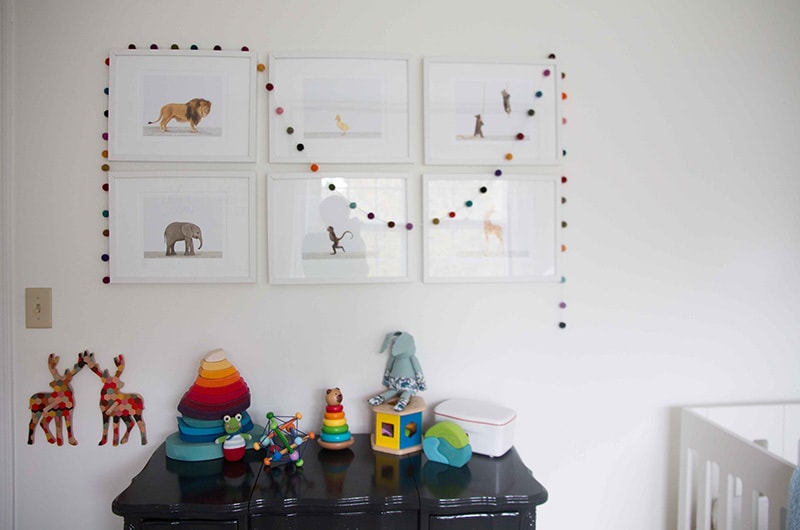 Toys can be laid out on a beautiful surface and some cute stuff too. But, notice that these toys are high enough that the kids can't get to them all the time (Bowie can but she is learning one toy at a time!) Things that are kid accessible are lower maintenance (throw one piece toys and books in open top baskets). No puzzles or toys with a million parts that take forever to put away are easily accessible.) This way, I can control how many toys are out at a given time, and when I need to put stuff away it doesn't take forever.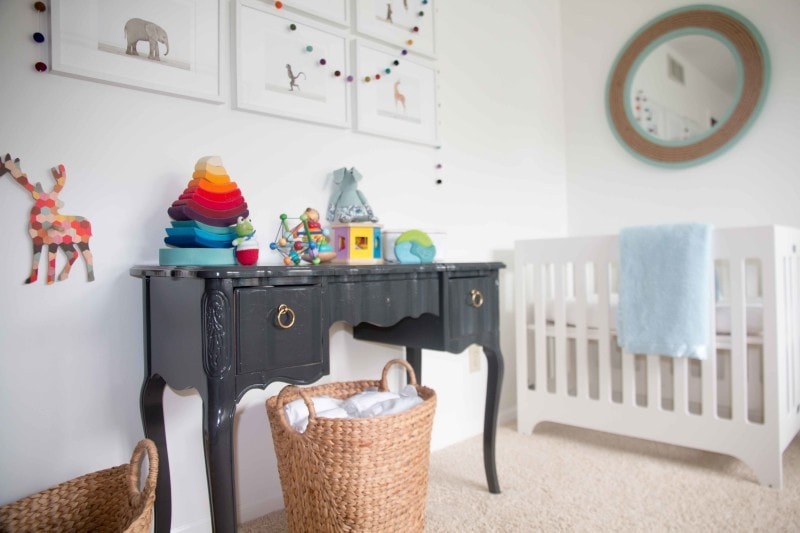 The stuff that doesn't look nice isn't visible. Ointments, snot suckers, and creams are all hidden from view (in the drawer of the changing table). I store cloth diapers in a visible (and easy-to-reach) basket because there isn't much "organizing" necessary. If Jack topples to basket over, I can easily throw everything back in. Invest in cute enough accessories to hide the unsightly stuff (wipes boxes with branding all over) and a diaper caddy if you want to keep your diapers out. In our old apartment I used these cute boxes to corral all the ugly breastfeeding supplies (and everything else because the nursery didn't have a closet!) You can see that in the pic below (see more of Bowie's old nursery in our old apartment.)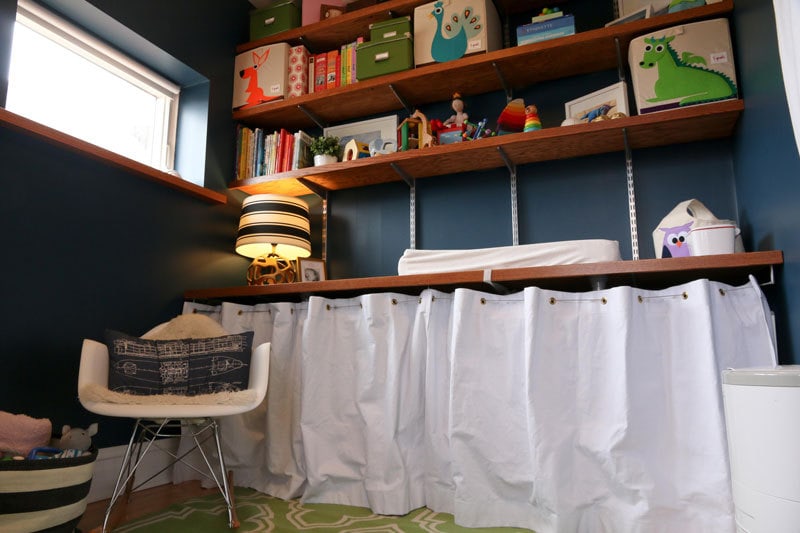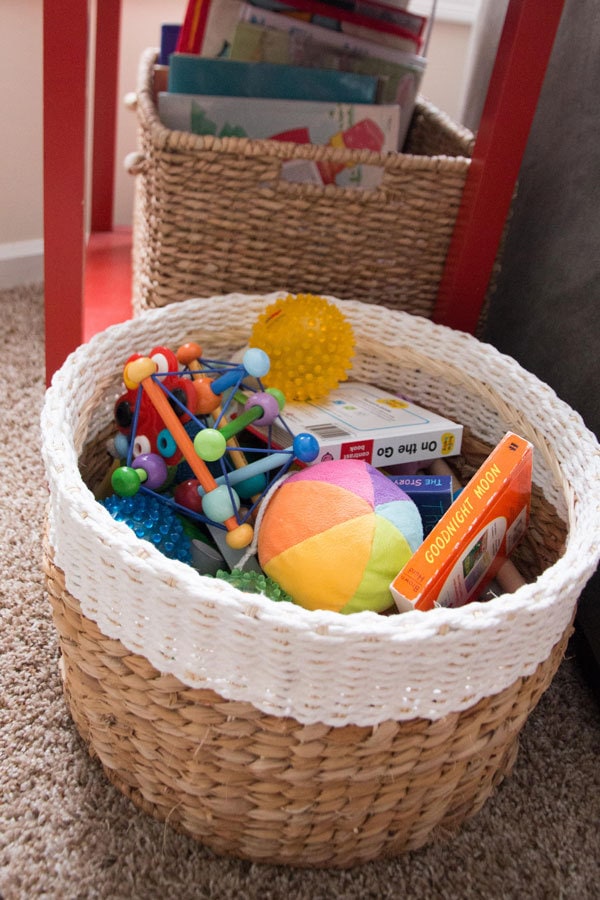 I still use these open-top baskets in our family room to corral toys (see pic above) that I can easily toss. Jack can empty this basket, and it literally takes me seconds to throw everything back in. Anything that is work intensive to put away shouldn't be visible or accessible. If it is work-intensive yet pretty, put it out of reach of the kids. Things that are within kid reach and visible should be very easy to put away. The cabinet below is from our family room. Jack can't open the doors yet, and if I don't put everything back neatly, I can still just shut the door!
I hate hate hate folding laundry. I don't know why but when I do, honestly, it just has to be "good enough" so perfectly organized piles of laundry are so not going to be on display in our house. Concealed storage is my friend! Close the door and forget it!
2.) Keep it Simple Stupid!
In Jack's nursery, we have three colors: white, black, and sea foam green. By having most of the stuff be white, not only did we keep everything gender neutral, and easy to clean (bleach out any stains!) But, everything looks intentional and pretty pulled together. When everything matches, it lets your eyes "rest." Your eyes aren't bouncing from thing to thing. The room already looks organized. I wrote a little more about this, in this post "How to Add Color to a Gender Neutral Nursery." Even in our tiny old nursery, it had three color: navy blue, green (rug), and white!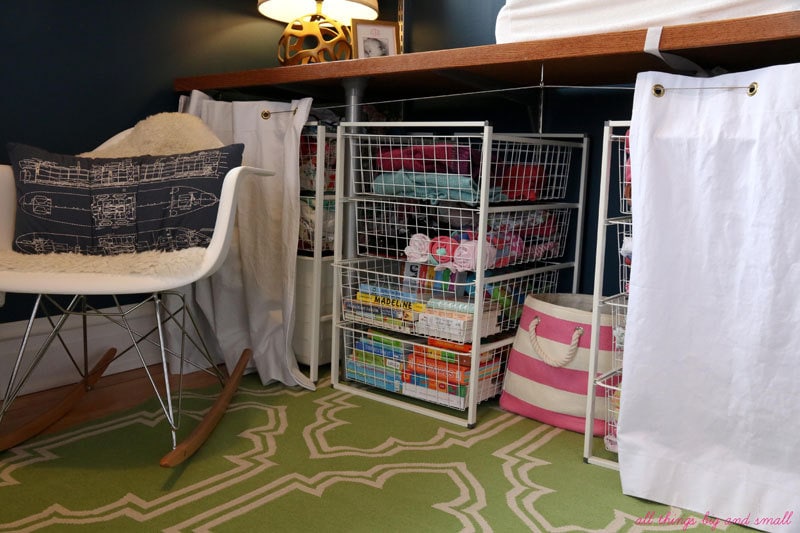 (and notice the concealed storage believe me those wire drawers didn't usually look like that!)
3.) Think about Real Daily Life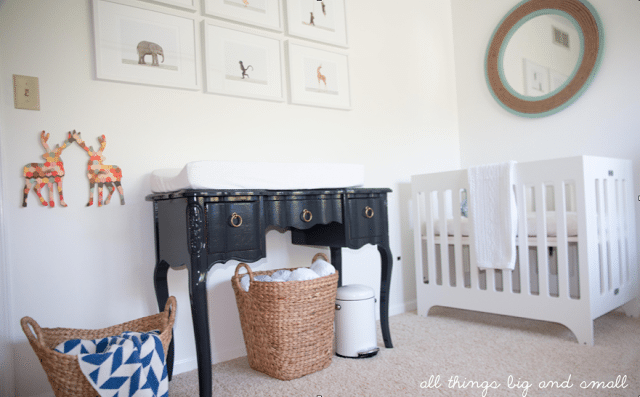 What do babies do a ton of? Sleep, nurse, and poop. So your changing station needs to be pretty and functional. Again, hide the necessary stuff and invest in cute accessories that make it look better. If you use a dresser, put your diapers in the top drawer. I have never had the luxury of using a full dresser for a changing table, so I use baskets and hidden storage to hide the supplies. In Jack's room, I use his two drawers to hold disposable diapers and all the lotions and ointments (diaper rash cream, eco-friendly petroleum balm, DHA and Vitamin D drops.) But wipes are on top and always accessible because I those constantly! So make sure you have an easy to use changing station with all the supplies in an arm's reach because you don't want to have to run to the bathroom to find the diaper cream with a baby with no diaper!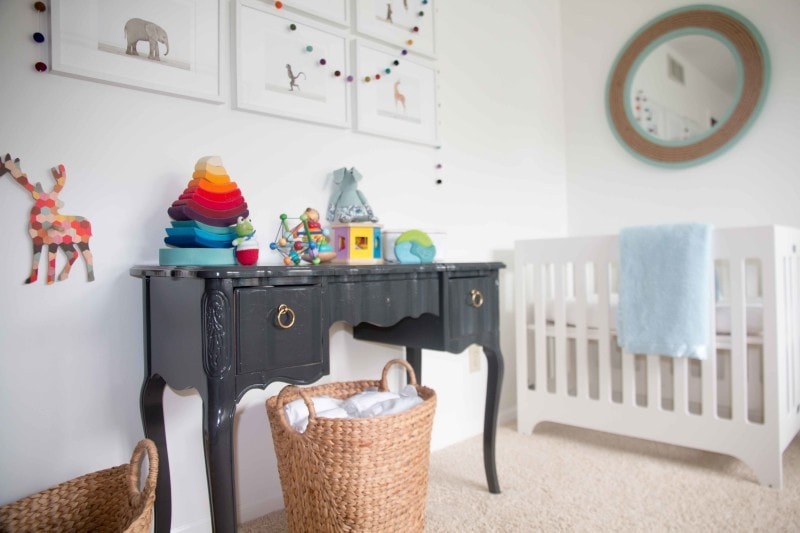 (how the changing table has evolved since Jack started rolling over, I now change him on the ground in front of it.)
For nursing, make sure you have a comfortable rocking chair (our DIY upholstered rocking chair) with a small table or something to rest a drink, a book (or Kindle), and a soft light. I have used this himalayan salt light in the past as a nightlight with both my babies I figured it is always helpful for the air quality as well as the soft light it emitted. I put it away after the four month mark so the room is darker for sleeping. And I feel better about running the electronics in there too (monitor and noise machine.) I know it is probably super hippie of me, but it makes me feel good. A little stool is helpful for resting your feet on and gives you a nice angle for breastfeeding. I have never had a nursing stool per se, but this cute faux fur one (from Target years ago) looks cute and does the job (and cost less than $20!)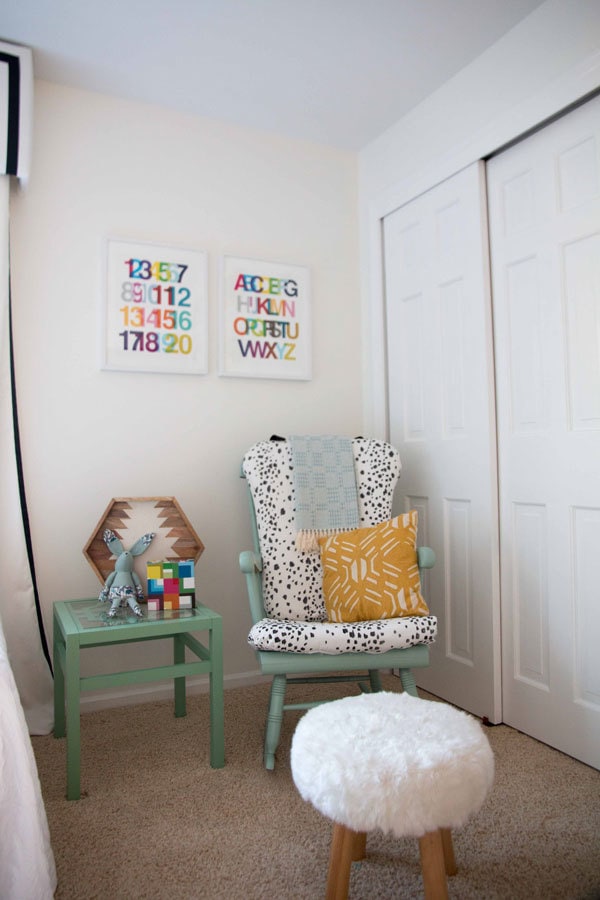 Books are beautifully displayed but also (there aren't that many if you count them!) If Jack happens to empty the entire shelf, TOPS he is going to have pulled down 10 books. TOPS. And it is super easy to just throw them back up there.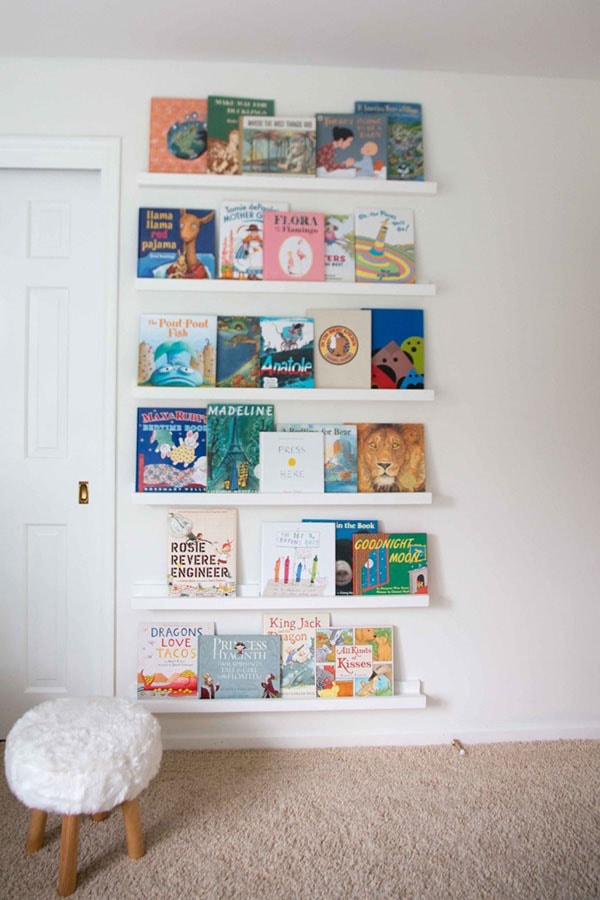 Bowie's bedroom has the bigger bookcase and Jack isn't in there all the time, so he can't do a clean sweep of the books. With that bookcase, he could easily pull down 30 books.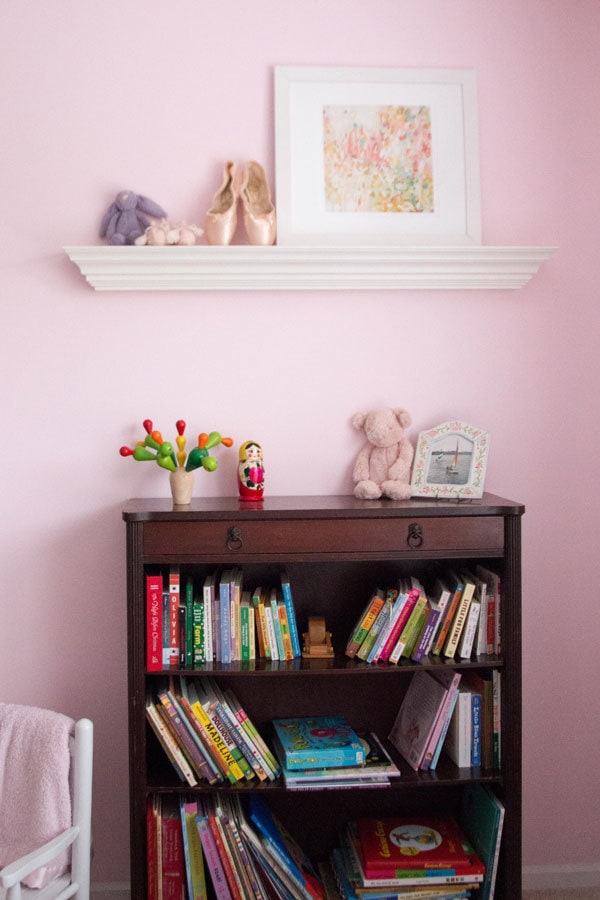 Now, how about you? I have already confessed that our drawers are usually a bit of a hot mess! Evan doesn't understand it, he's the neatest laundry folder in the world! Seriously, he could work retail. Me, on the other hand…What is your weakness? What are your rules for an organized nursery? How do you keep your nursery looking beautiful yet functionally organized? Get ready for tomorrow, Katie and I are going to share our best parenting hacks!