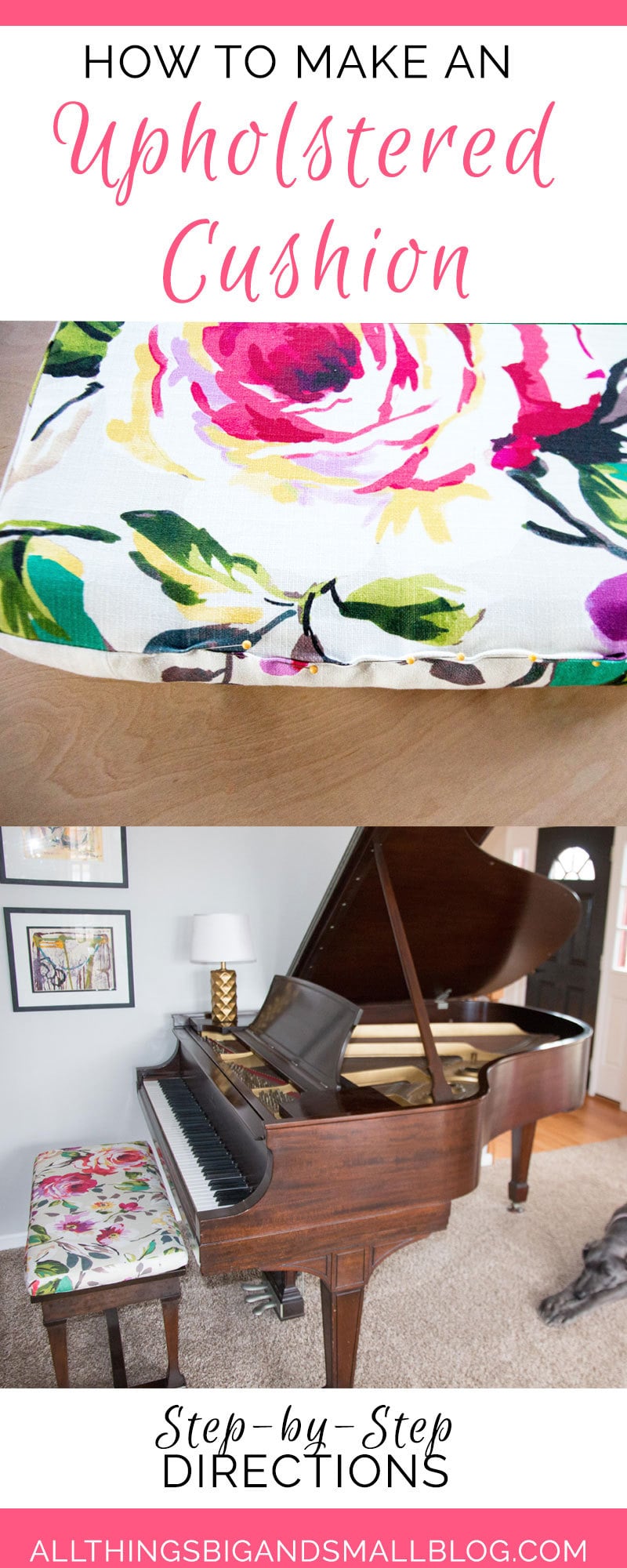 Happy Monday everyone! Today, I have a great how-to DIY upholstered cushion. Next Monday (all Mondays will be DIY/ decor), I have another design tip coming at ya so get excited! But today is all about the base 😉 I mean the DIY upholstered cushion for our piano bench.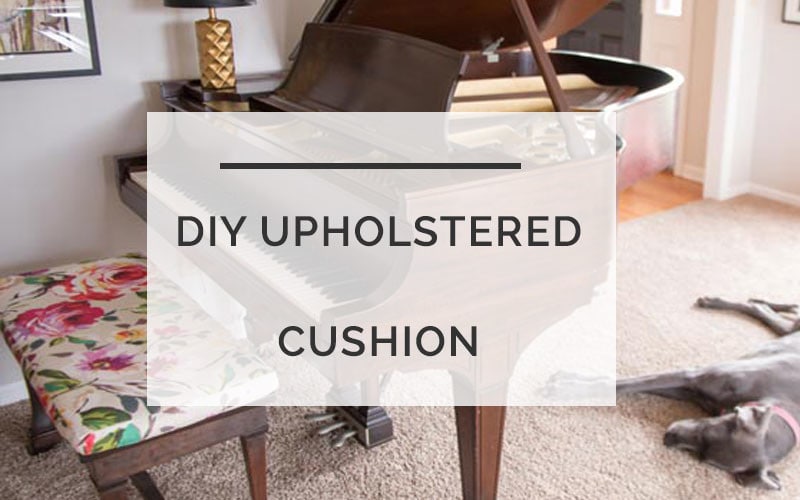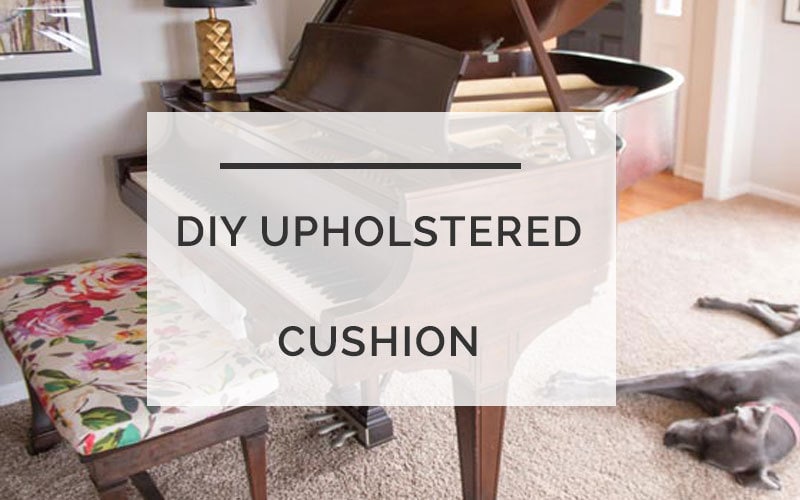 We were recently handed down a beautiful family heirloom piano, an almost 100-year old Steinway that was my husband's great-grandmother's (passed to his grandmother, passed to his father, passed to us!) So we were absolutely thrilled to carry on the tradition and have it in our house. The only thing was that the upholstered cushion that went with it, just didn't fit with our living room decor. So, I seized the chance to use a fabric I have been dying to use–Lewis & Sheron's Claribel. It is a fun twist on chintz, and with its over scale flowers it updates a classic. It looks great with the other fabrics in our room, who else loves leopard as much as I do?!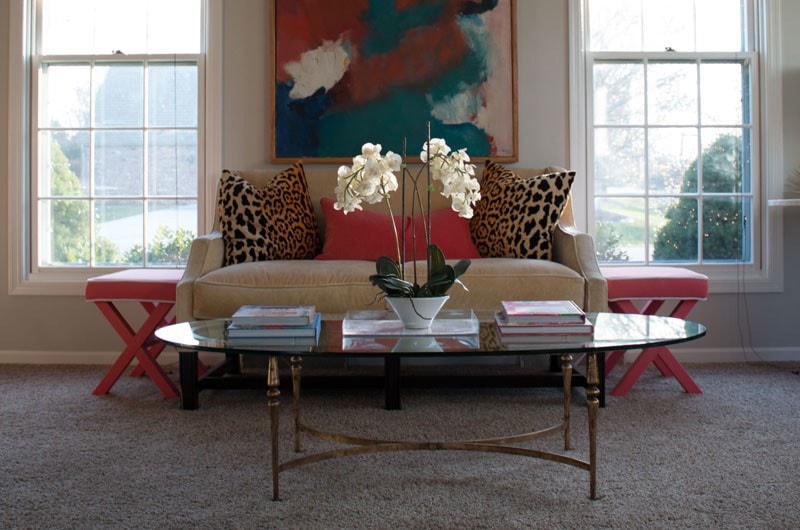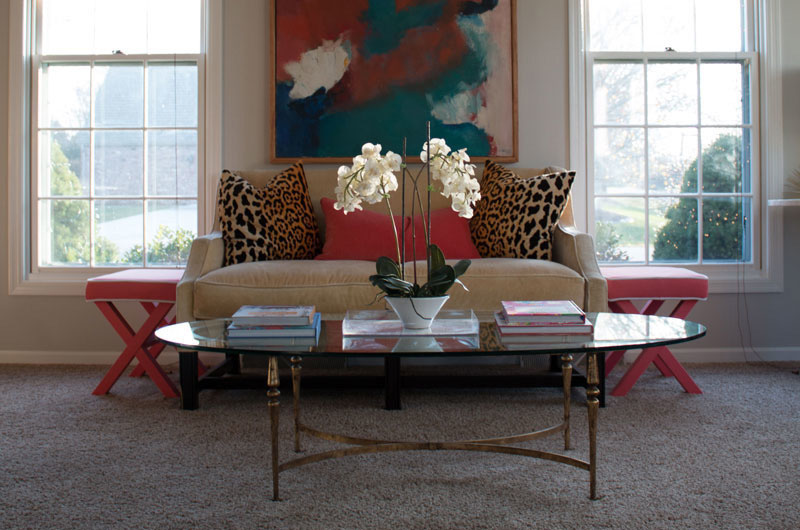 Full disclosure for you #diymamas: I did this with my mother-in-law. Without her this project wouldn't have happened because with a 10 month old and a 3 year old, they are a full-time job and for some reason my kids never nap long enough! #truth #momlife One of us worked on the project, and one of us watched the kids because that is the only way diy projects get done in our house these days! So if you are feeling like you never get anything done, and questioning how I do it, well, I will be honest with you! These projects don't get done unless I have help or my husband takes the kids on the weekend! And that is a huge reason why there have been fewer DIY projects lately! Mobile Jack= all hands on deck!
How To Make a DIY Upholstered Cushion
Materials:
Scissors, sewing machine, 1 Yd. fabric, foam for cushion, batting (to cover cushion), pins, thread, and right angle or yard stick.
Directions:
1.) Lay out the fabric and decide where you want your pattern to be. You need to try to visualize what part of the pattern you want to show on the top of your cushion.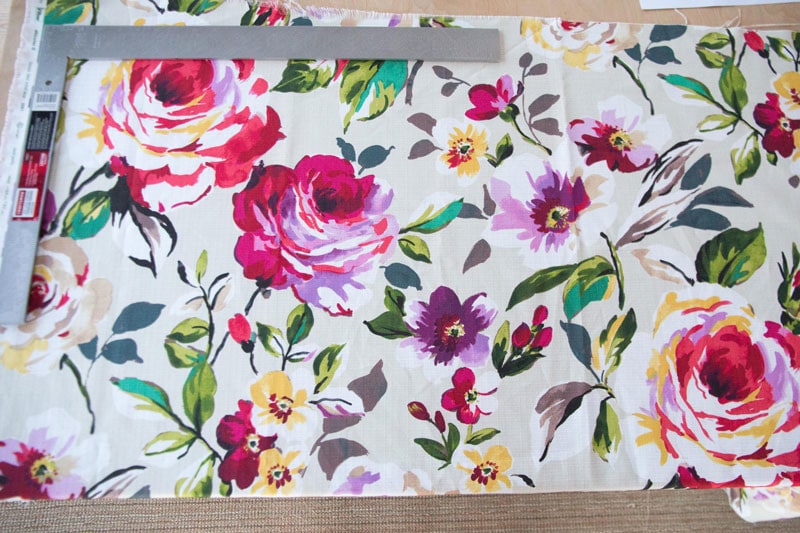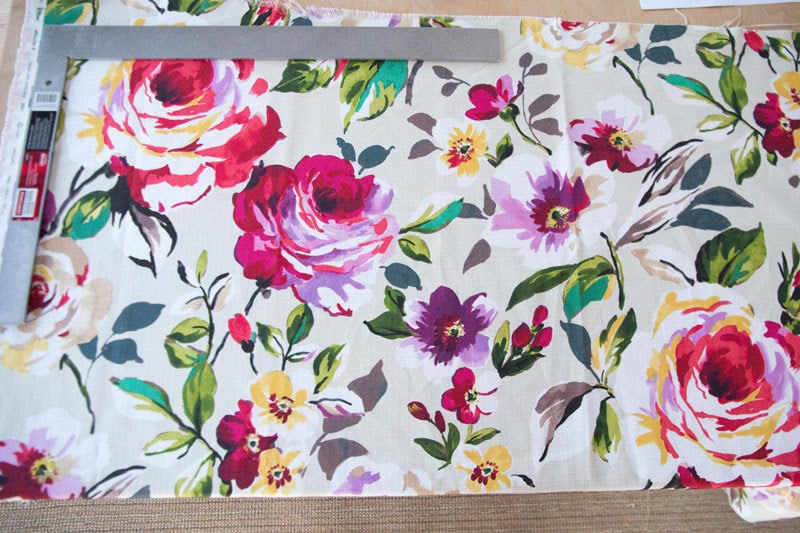 2.) Measure and cut. Cut enough for the sides of the cushion as well. Leave 1/2 inch seam allotment on each side so you can sew the pieces together!

3.) Stitch together the sides of the cushion.

4.) Sew the two pieces together on your sewing machine.

5.) Iron the seam so it is nice and crisp!

6.) Now place the border (sides of the cushion) along the top of the cushion using pins to keep it in place. Now you have the top and the bottom pinned together.


7.) Sew it together using your sewing machine.

8.) Iron it out so it is nice and has crisp edges!

9.) Pin together the bottom of the cushion to the sides, same as before. Sew together, and then reverse the cushion (it is inside out, so make it right-side out!)

10.) After flipping the cover right-side out, squeeze the pillow form/ foam cushion in through the opening.

11.) Hand-stitch it closed! A DIY upholstered cushion for only the cost of the fabric!

So this project only cost me $42 ($35/  yd for the fabric plus shipping and handling!) I think for just over $50 it looks great and really complements the other fabrics in the room! It gives the beautiful antique a little splash of color and livens the corner up! If you like diy upholstered projects, make sure to check out my other posts!
DIY Upholstered Headboard (twin)
DIY Upholstered Headboard (queen)
DIY Upholstered Bench (leopard)
DIY Upholstered Bench (buffalo check step-by-step!)