'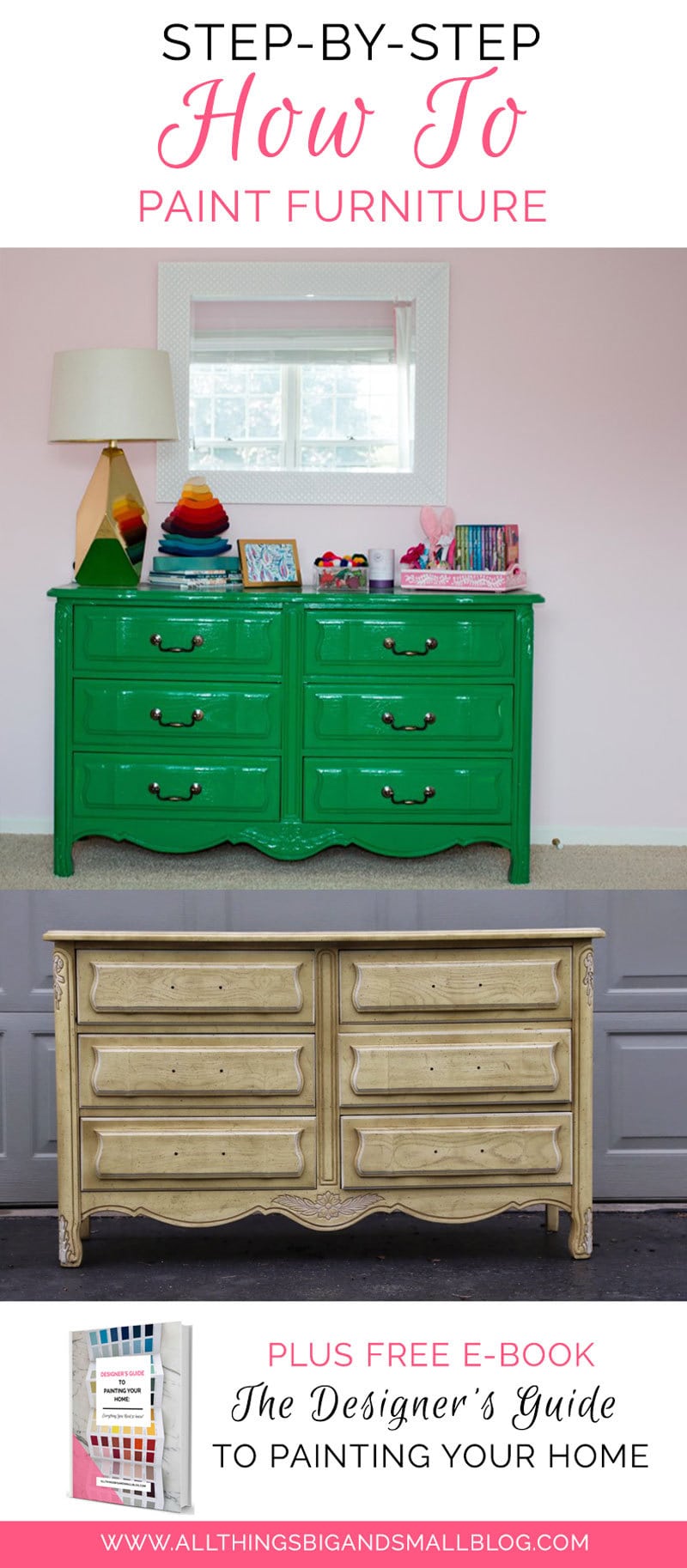 One of the perks of having a mother that is in real estate and a furniture
hoarder
collector is that she gets first dibs on some great pieces from houses she has listed. This piece was a good friend of her's grandmother who passed away and had a bunch of good quality mid-century modern furnishings. I am talking about an amazing lucite TV stand (back when they weren't mounted to the wall), embroidered couches, and this bedroom set (a desk and a dresser.) For B's room, we tackled the dresser before moving it in and I couldn't be happier with the result. I still have to finish the desk and move it out of the garage. But let's get back to the dresser.
Let's look at that gorgeous before again, shall we? Unfortunately, E was too productive and removed the old hardware before I got around to photographing it. I kept it just in case it ever came back in style but let's just say it was VERY ornate. This was one of the first projects we did in the new house, merely, because I wouldn't move it upstairs and downstairs two times (that thing is HEAVY). So this had to happen fast in order for B to have some drawers and so we could get it out of our garage.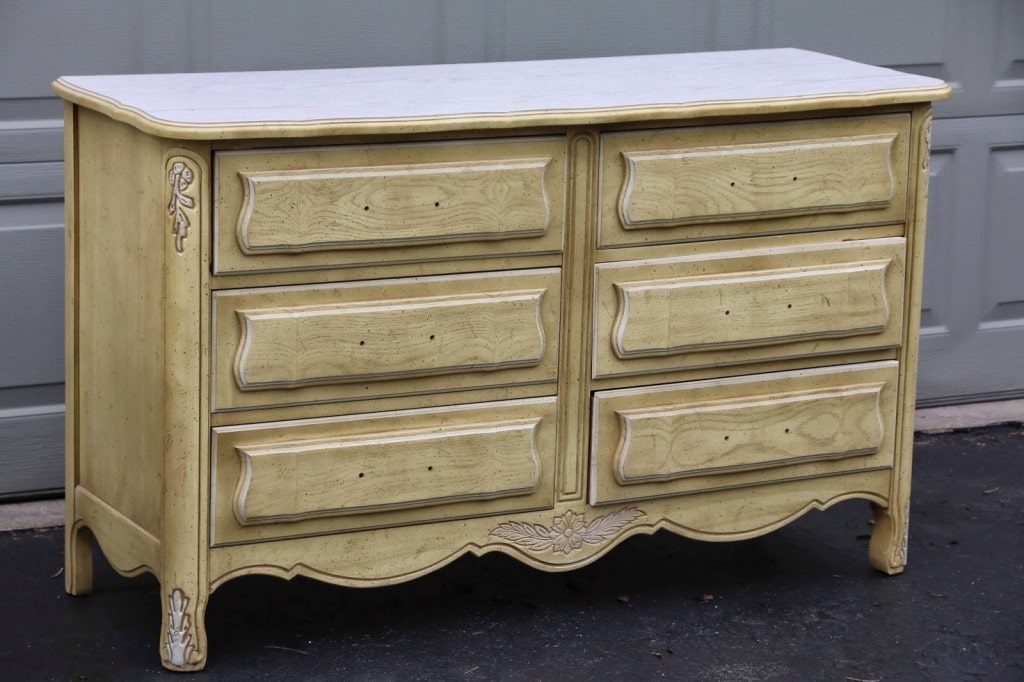 And after, a coat of primer (Zinsser's Smart Prime with zero VOCs) and three coats of Benjamin Moore Advance (zero to low VOCs) paint in high gloss Jade Green. I used a foam roller for the flat surfaces to help keep the glossy finish, and a foam brush on the other parts.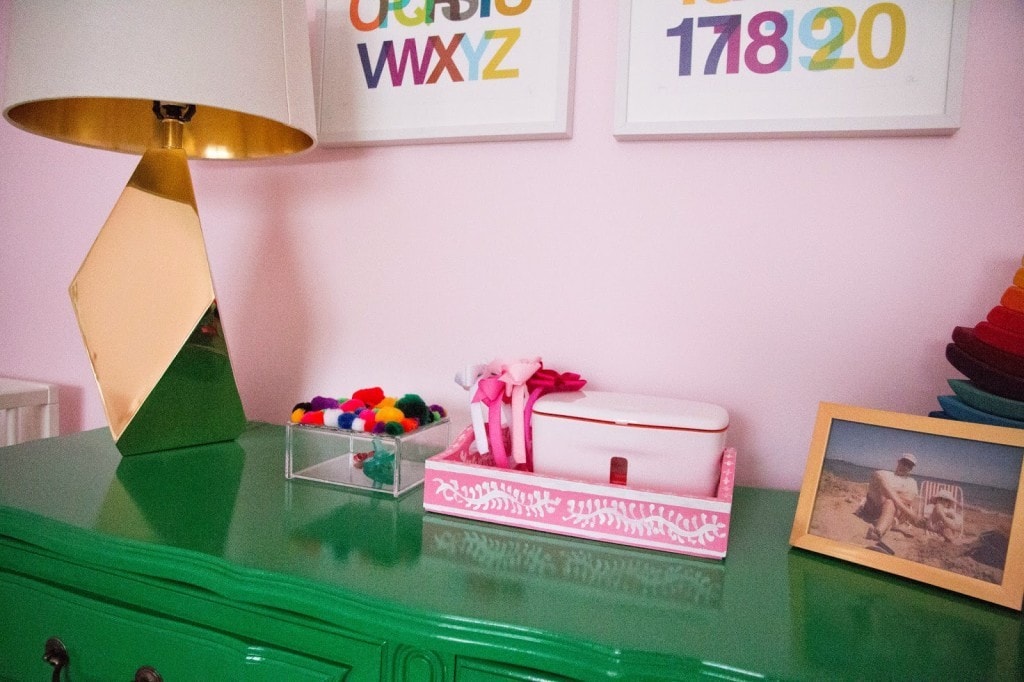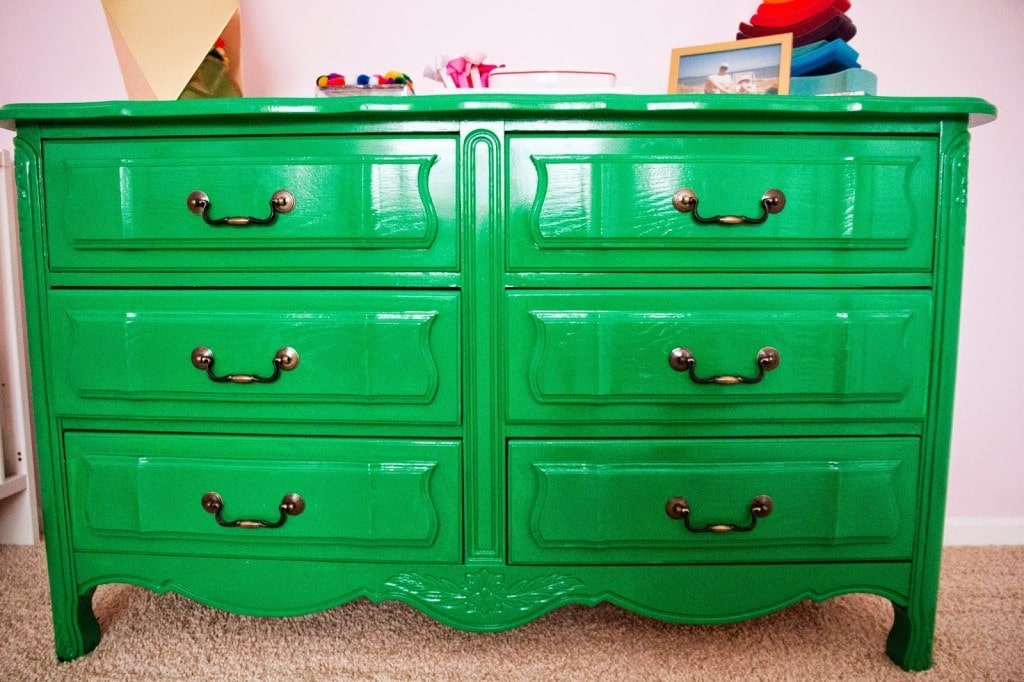 The unifying green color (not speckled yellow paint) really shows off the fun curves of the piece.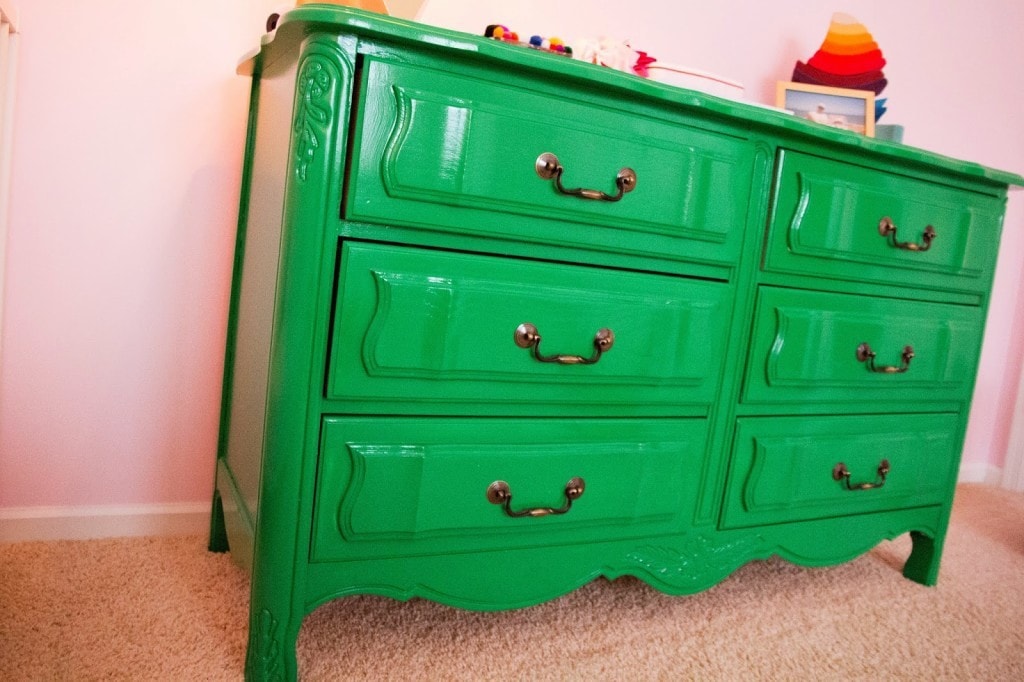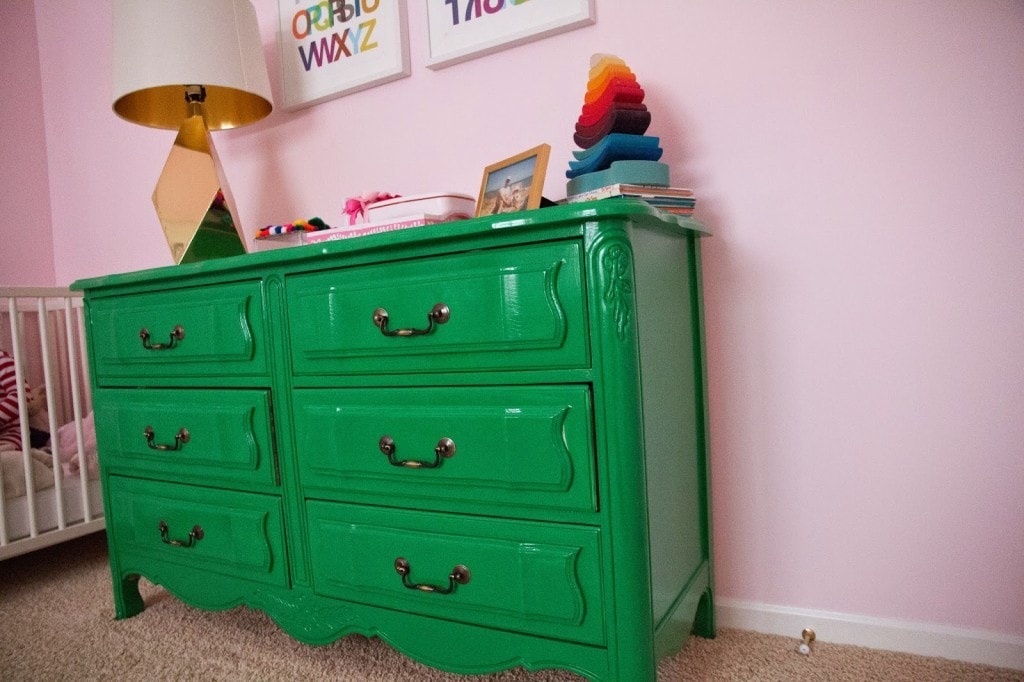 It really does have a mirror like finish that I didn't think was possible without spraying it. But it is! Just lots of thin layers. (Imagine me saying this in a fitness informercial voice: "You too can have these results! 😉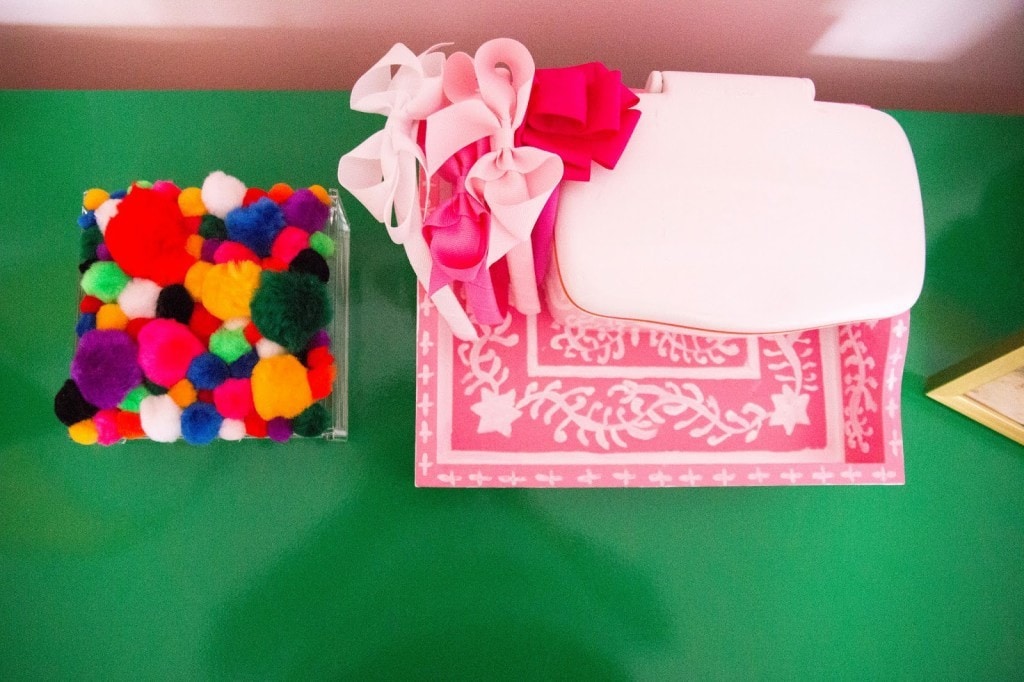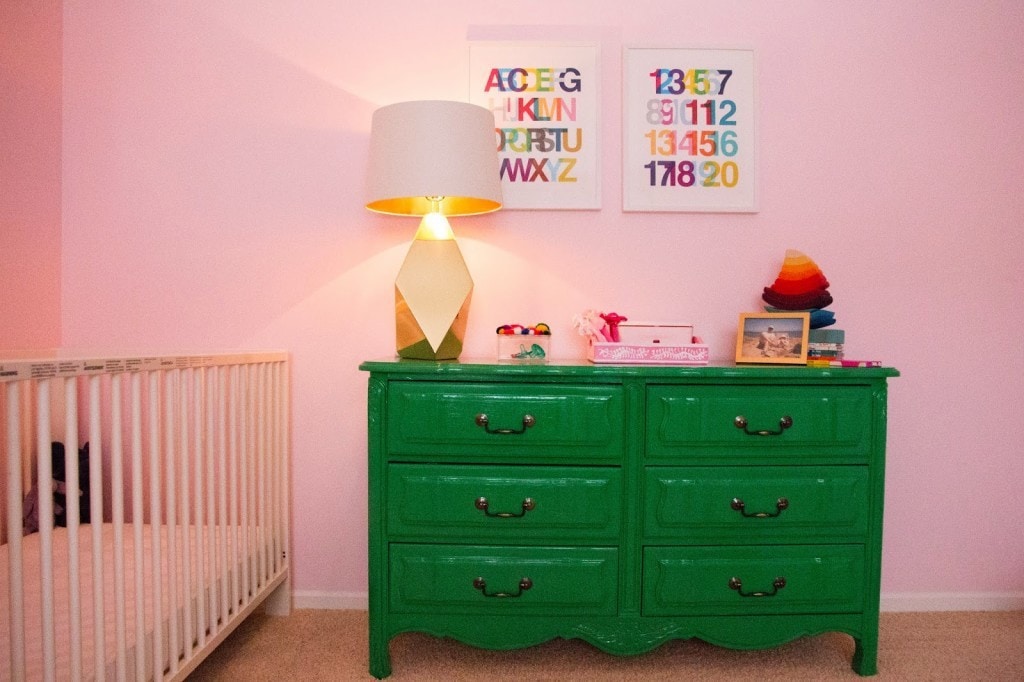 The length between the holes was irregular, and while I would have loved to have thought this through beforehand, I didn't. In retrospect, I maybe should have wood putty'd the holes and picked out some hardware that I really was crazy about, and then painted over it. But I am not sure that would have looked right. I worry with the high gloss that it picks up any imperfections, and it would have looked bad. Luckily, my mother-in-law found some faux antique brass pulls online for $1.85 each that fit perfectly. They aren't as modern as I would like–something gold and lucite would have been amazing; but, it was the right price and fit the pre-drilled holes. I can always change it down the line.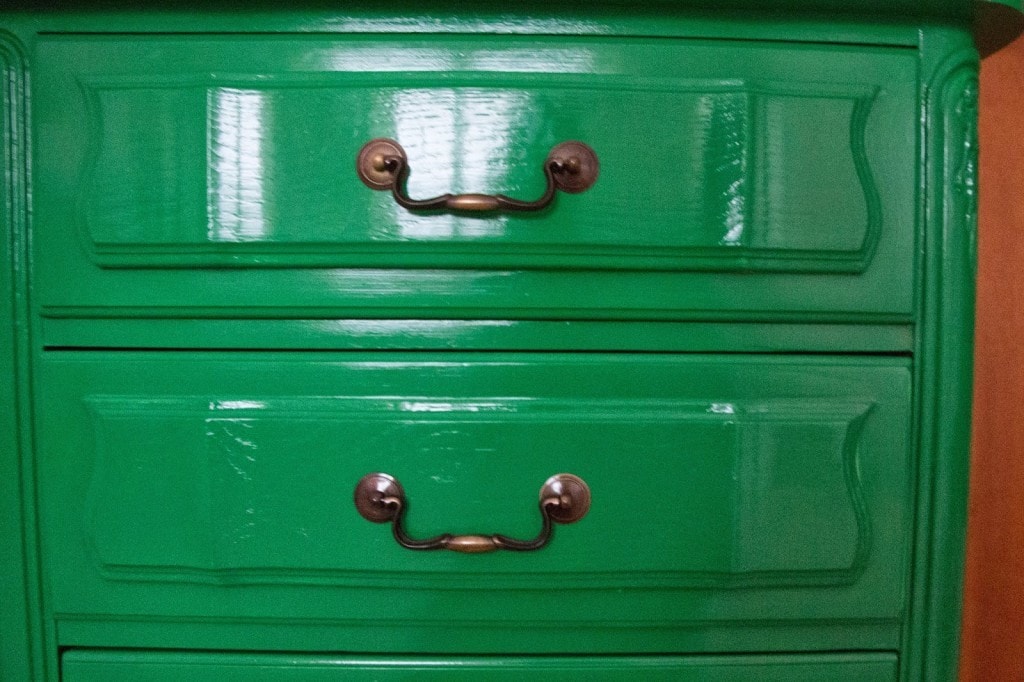 All in all, a great before and after only for the cost of paint and new hardware ($12)! And it holds two of my other DIYS: t
he pom pom box
(or the paci box as we call it and this is the second edition because the first was unceremoniously thrown down the stairs the first week we moved in) and DIY faux inlay tray (next week). What have you been doing lately (or in my case in the past six months 😉