We have been at the pool and beach a lot this summer. And while having Jack at the end of April was good in some ways (not flu season!), I wished I had had a longer time to get back to my regular weight before swimsuit season began. And for the first month, I was pretty self-conscious about wearing a swimsuit, even my trusty one piece that I bought this year. I love wearing it because I don't worry at all about popping out (thank you breastfeeding boobs), being self-conscious of my tummy while bending over, or the swimsuit falling off while swimming. It fits me in my five- ten pounds heavier than normal weight and it is the perfect postpartum suit and is so good looking I would never call it a momsuit. Unlike momsuits, it is fitted, flattering, and emphasizes my assets (ahem, breastfeeding boobs). Have I mentioned them? For a small chested gal like me it is very exciting! The legs are high so it elongates the legs and doesn't cut them off like a boyleg swimsuit would or a skirt. And the ruching is very forgiving on the tummy.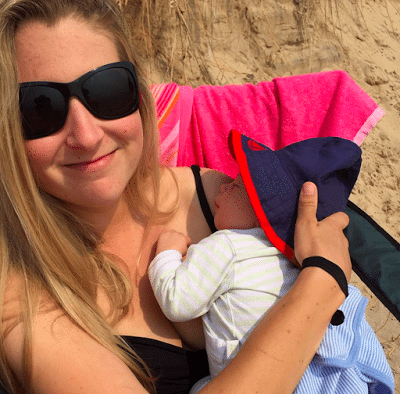 La Blanca swimsui
t on SALE right now for $39. I paid $80 and was happy compared to the $119 list. So it is a steal! Seriously, you will not regret it.
Now at the end of summer I am proudly rocking my bikinis again (ones that have more coverage up top). My tummy isn't as flat as it was last summer, or the summer before that, but it is good enough and I need to show my daughter that I am confident and not hide. But, it wasn't until I saw other moms rocking bikinis at the pool and I saw their confidence that I got the courage to wear mine. They don't have perfect bodies but they wore them proudly, and that is hot.
I will continue to wear one-pieces when I want to be comfortable and only wear flattering ones; but I will be damned if they are frumpy looking. However, I will stop hesitating to wear my bikinis because I know that I am a hell of a lot more critical of how I look than anyone else and if someone is more critical, well then screw them. I just had a baby.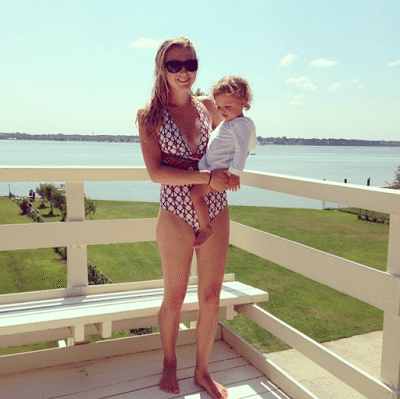 Me with Bowie last year in another great one-piece swimsuit. Similar one
here
 and another similar one on sale
here
.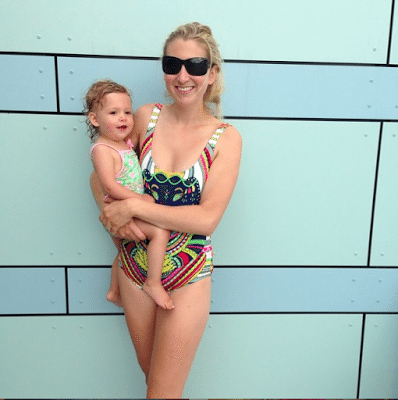 One of my other favorite one-piece swimsuits from Mara Hoffman.
Lucky for you all there are a ton of awesome one-pieces and bikinis on sale now. You can still wear them the rest of the summer and next year. So check 'em out! Some are 70% off! See all of my picks below!
All of this is to say, mamas wear your swimsuit proud. Confidence is the sexiest thing around. And even if you don't want to wear a bikini, wear a flattering one piece. No swimdresses allowed!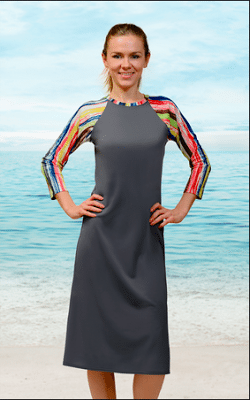 Hell no.