Best Navy Paint Colors: The most common of the question I get from readers and friends is "what paint color should I use?" Picking a paint color can be so nerve wracking–especially when it comes to the best navy paint colors! If you go too dark and, the navy blue seems black, or purple, and you go too light and it looks more "primary school colors" than sophisticated.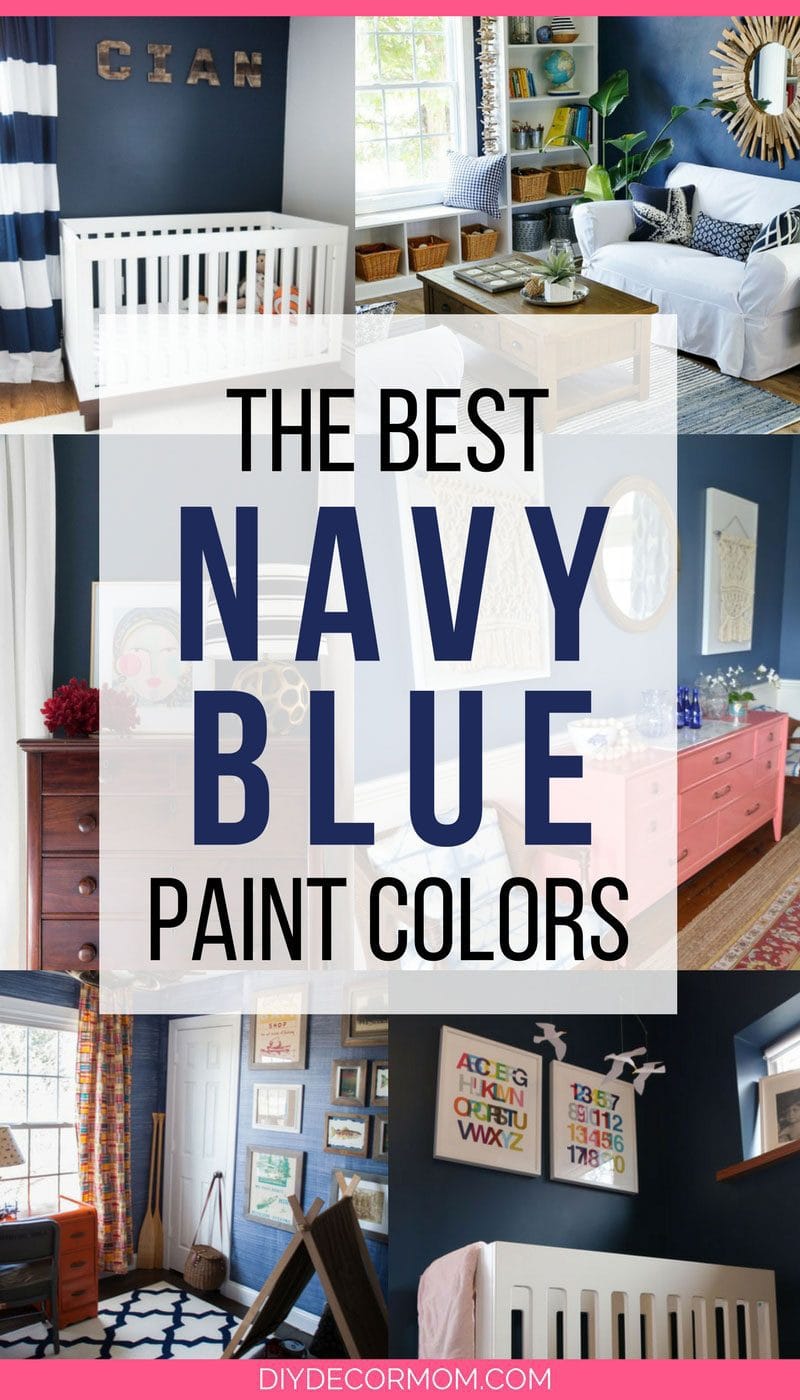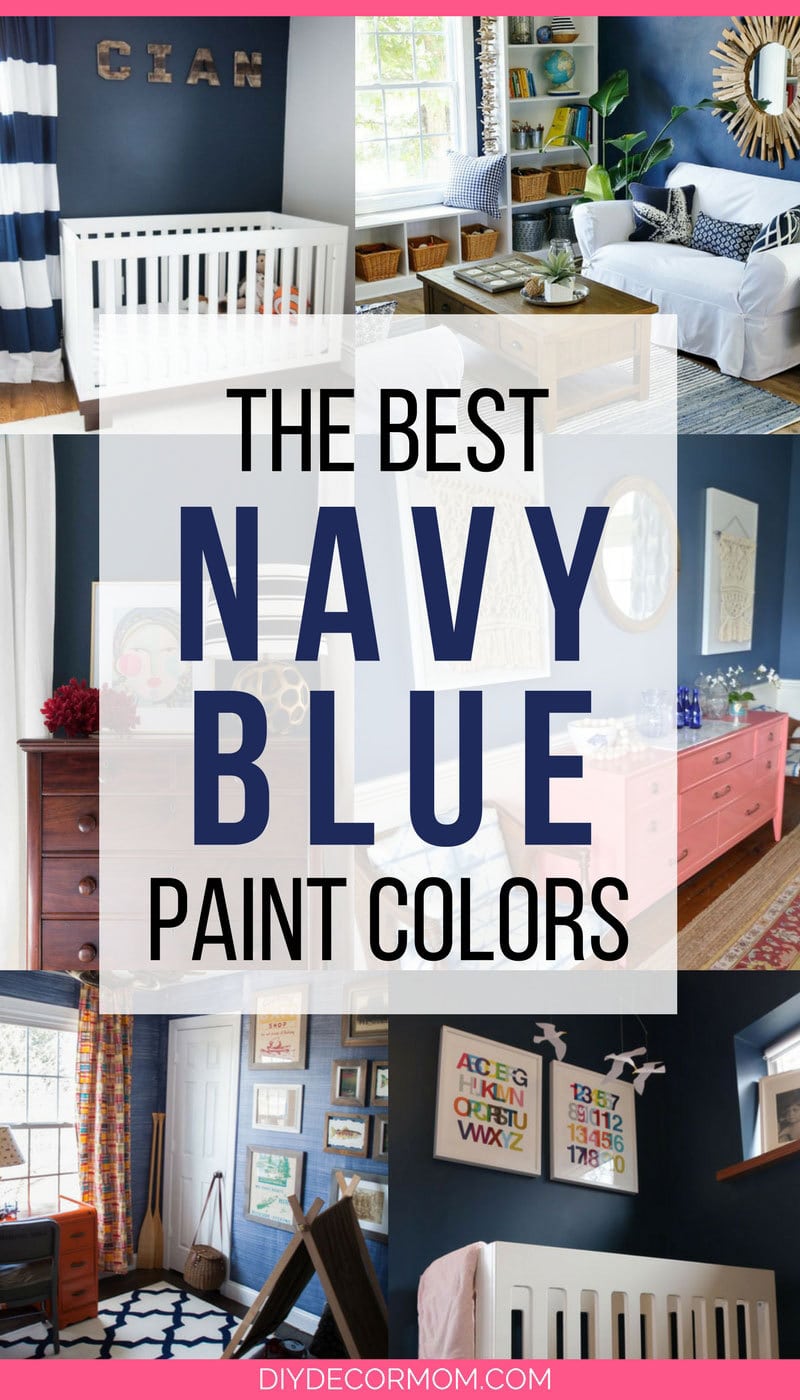 Although paint is cheap, the time you invest painting a room is not (even if you do it yourself like me!) Believe me I get it! I repainted our old living room THREE times! The first time I painted it too intense of a bright blue, the second time I diluted the light blue (so it looked better), and the third time I got smart and painted it a light grey. Let's say it was a good crash course on picking out paint colors (thank God I didn't have any children then!)
Since then, I've gotten smarter (and older–eeks) and developed a much better system for picking out paint colors. Also, I have lost the fear of picking out the wrong paint color and painted three rooms navy blue (and loved each one!) So today, after talking with some of my blogger friends who have also painted rooms navy blue, I had them dish their share their best navy paint colors!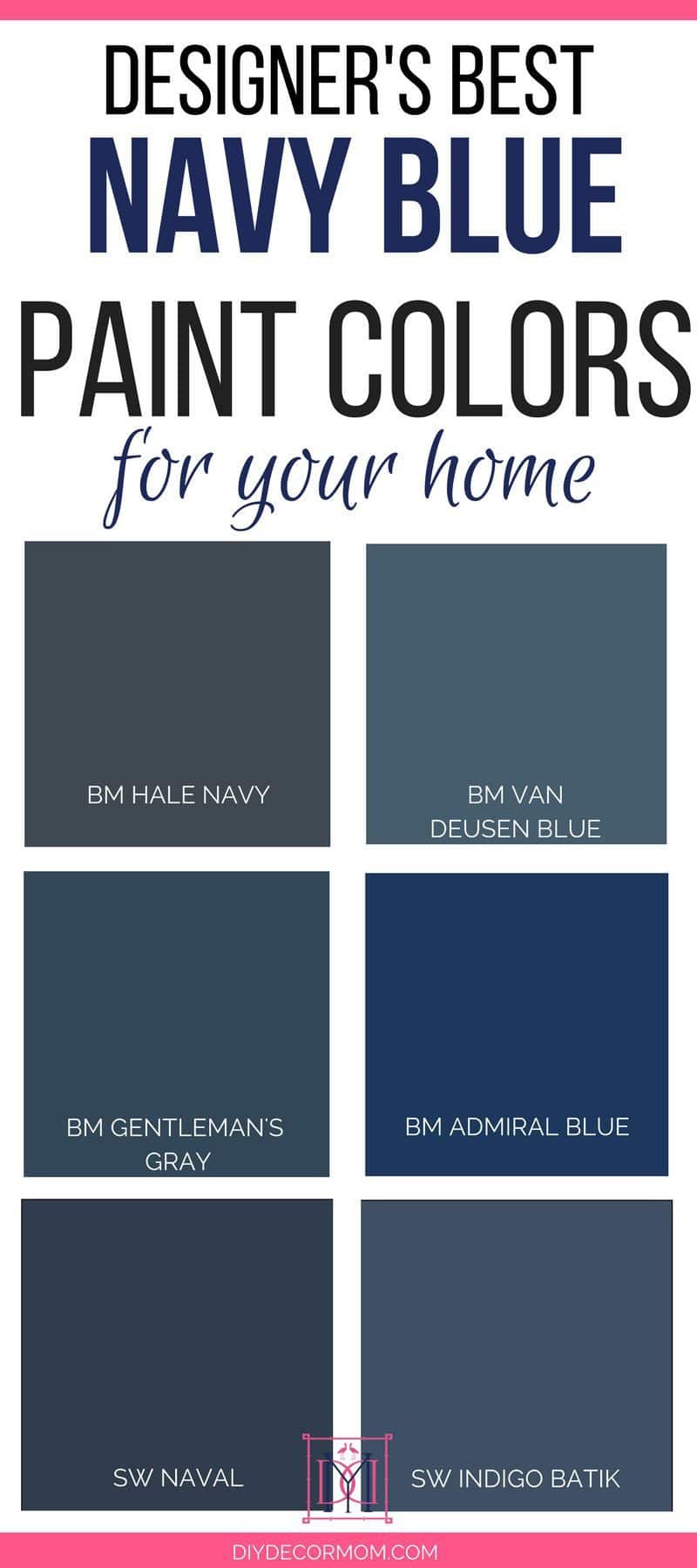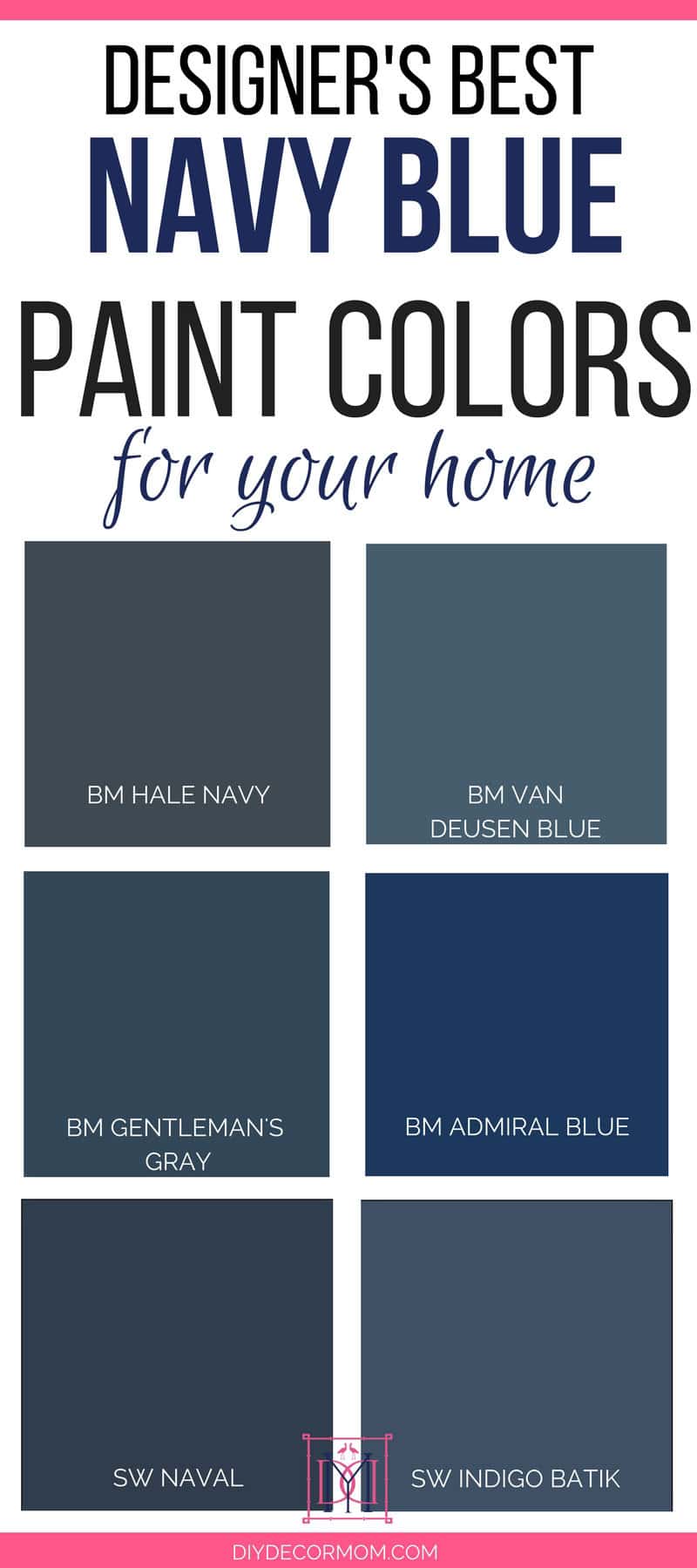 BEST NAVY PAINT COLORS
BEST NAVY PAINT COLORS: BENJAMIN MOORE
BENJAMIN MOORE HALE NAVY: The ultimate classic navy paint color is hands down Benjamin Moore's Hale Navy. We painted our guest bedroom Hale Navy, our laundry room Hale Navy, and countless other bloggers have used it in their homes!
Hale Navy in our Guest Bedroom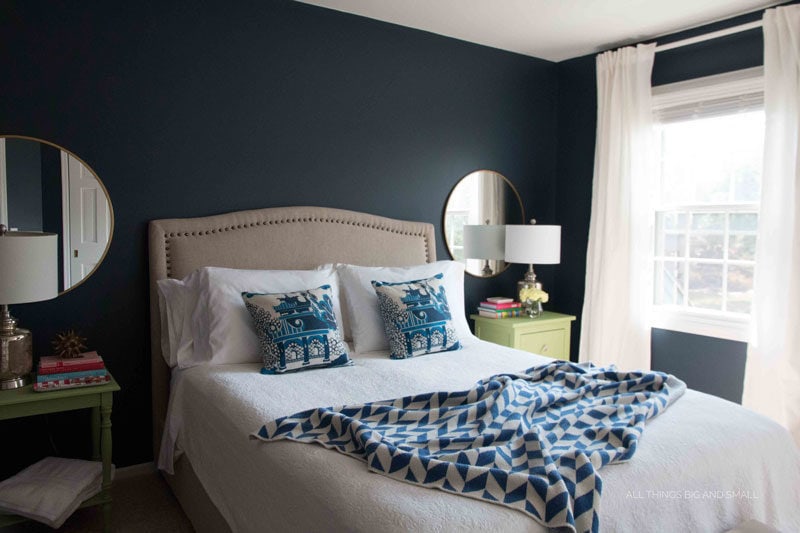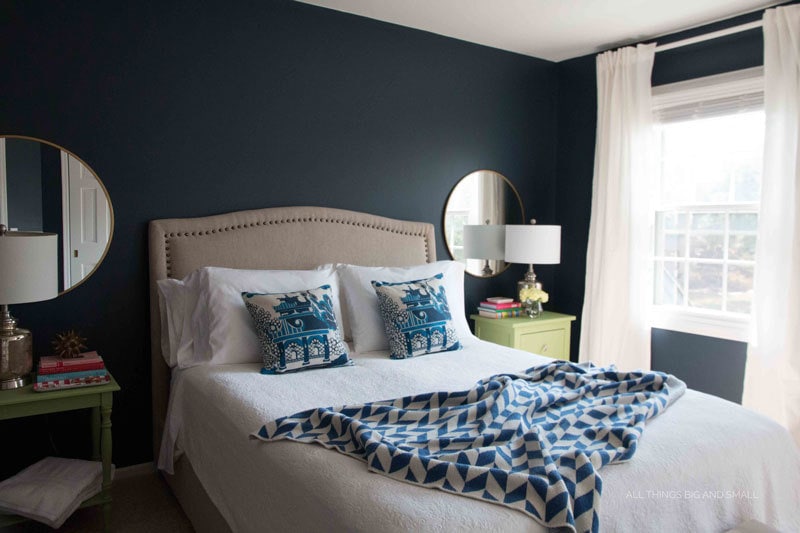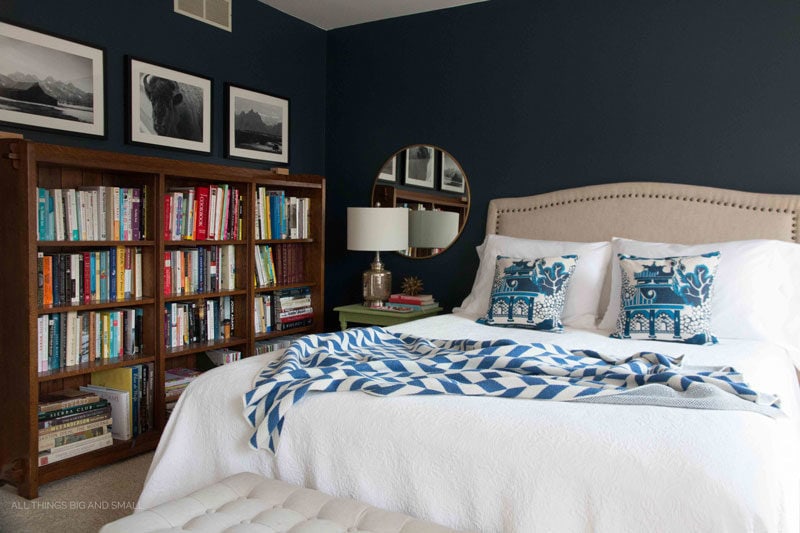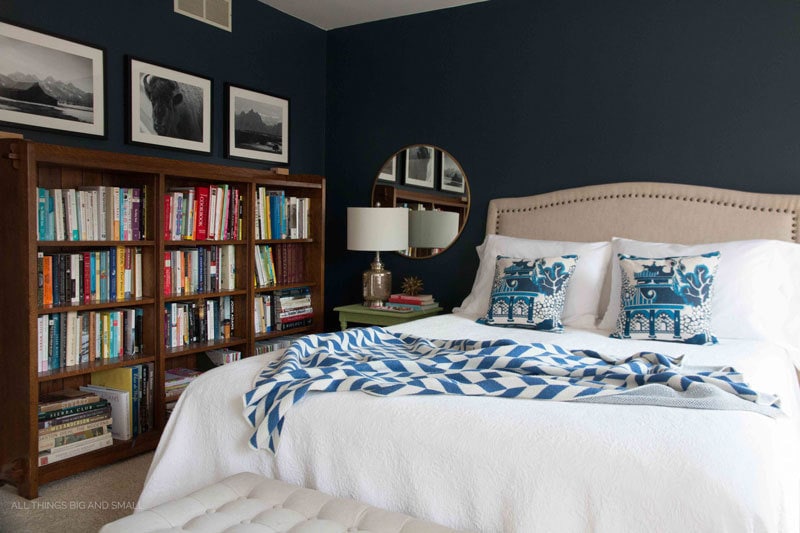 Benjamin Moore Hale Navy in our Guest Bedroom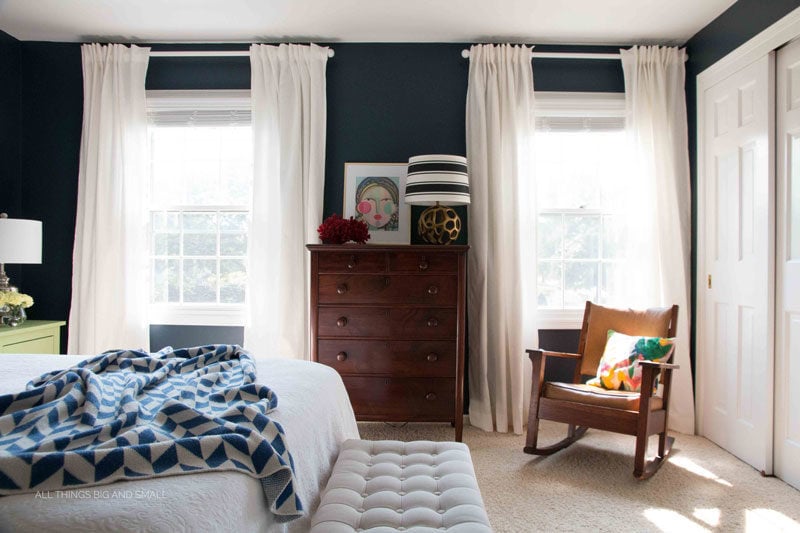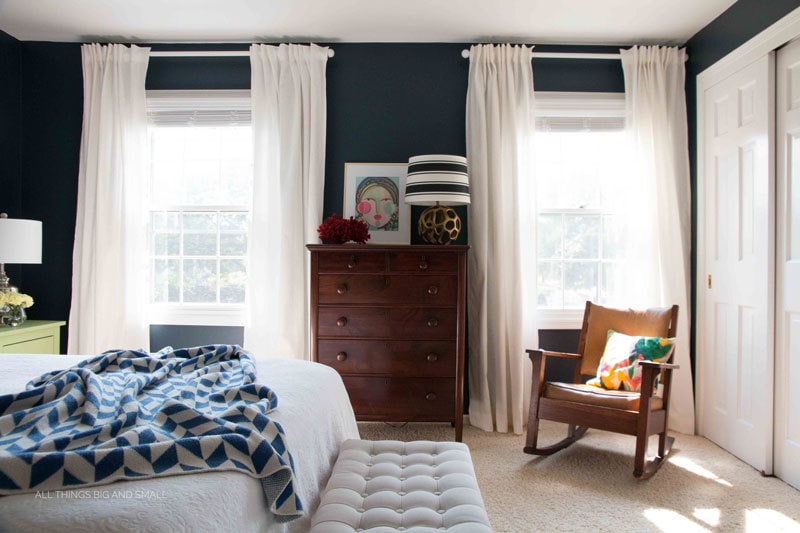 BM Hale Navy in our laundry room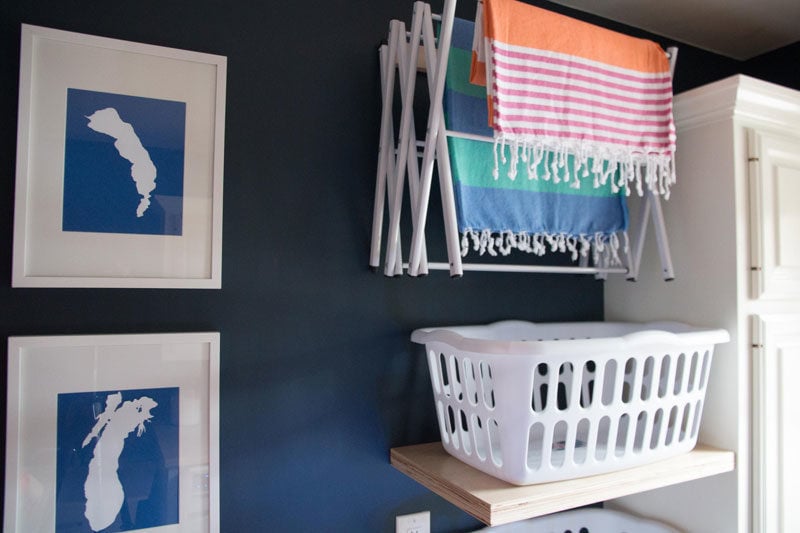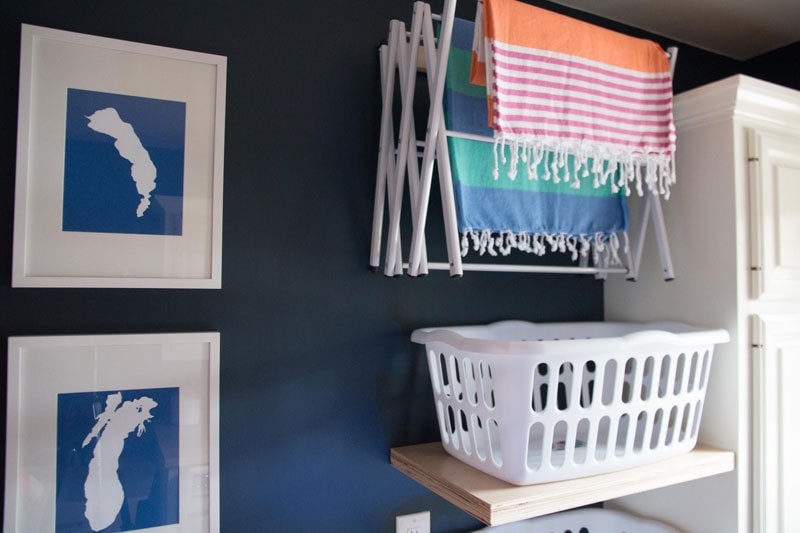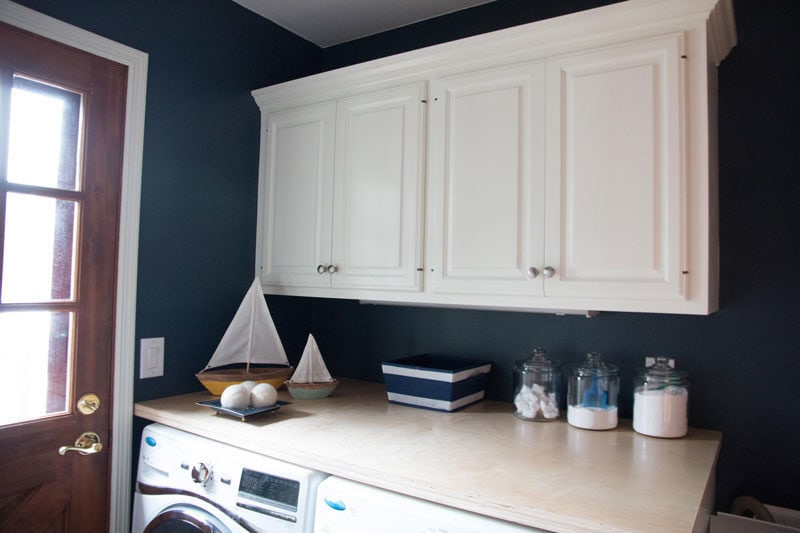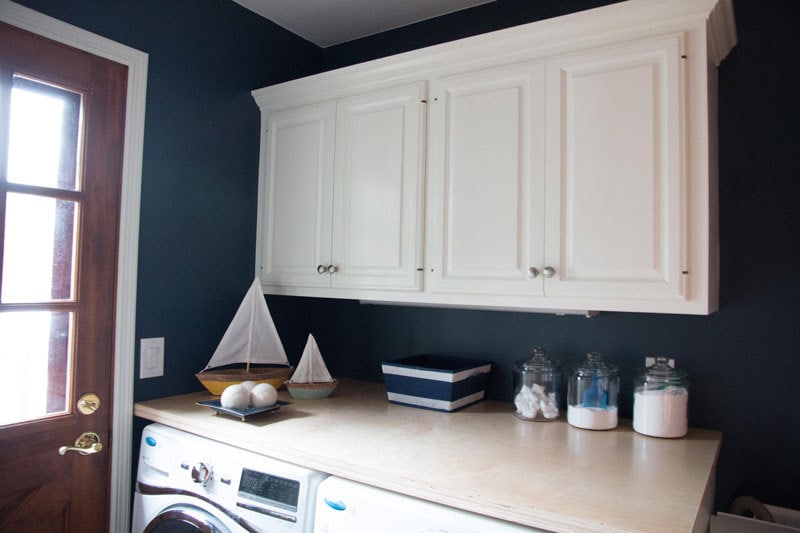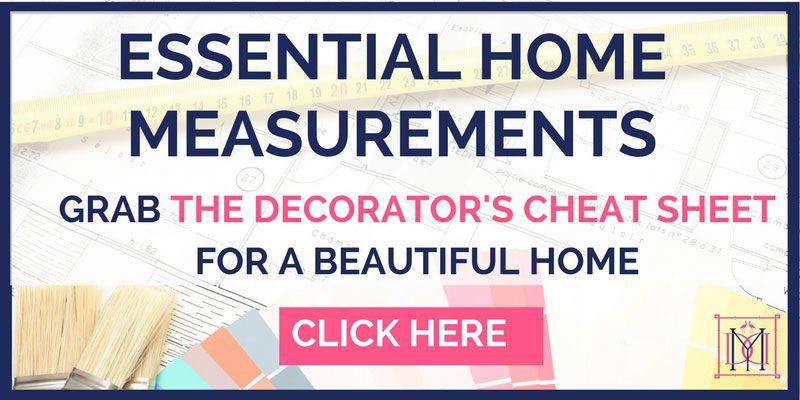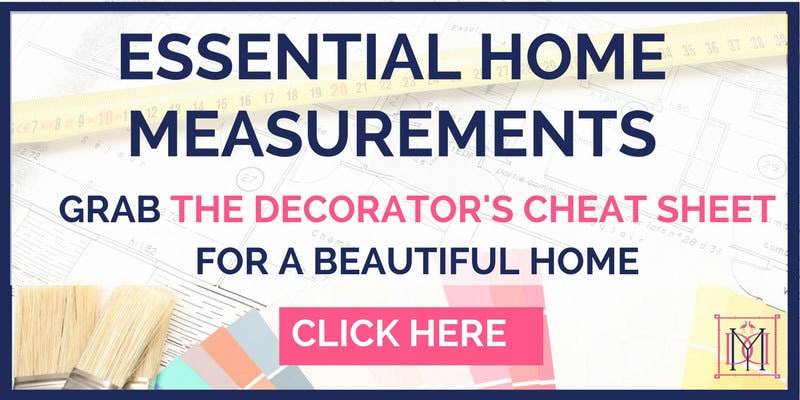 BENJAMIN MOORE GENTLEMAN's GRAY: If you love a dark and moodier navy blue like Farrow & Ball's Hague Blue then Benjamin Moore's Gentleman's Gray is a really close match! We used BM Gentleman's Grey in my daughter's nursery in our old apartment and it was fantastic–a very sophisticated navy blue with a good dose of green in it, gives it many layers!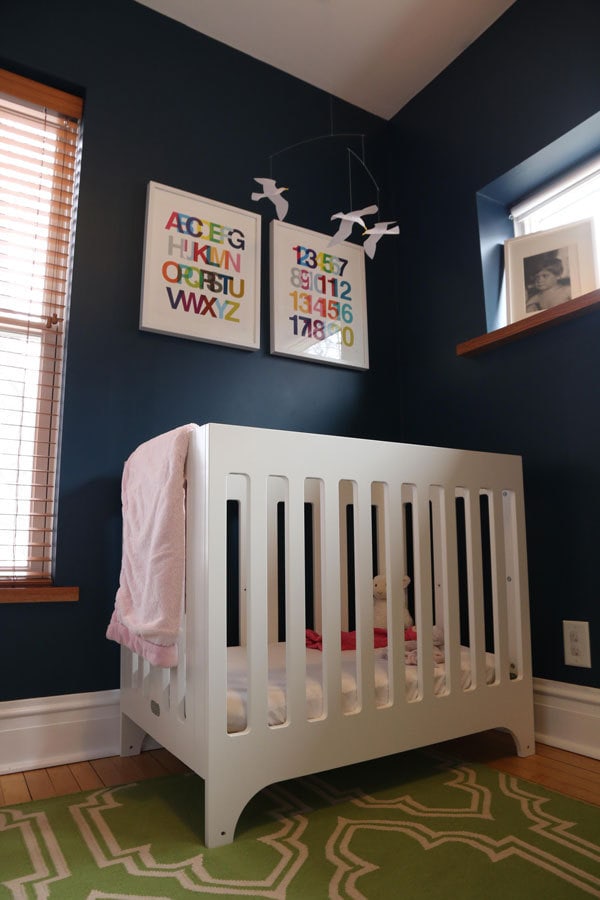 Benjamin Moore Gentleman's Gray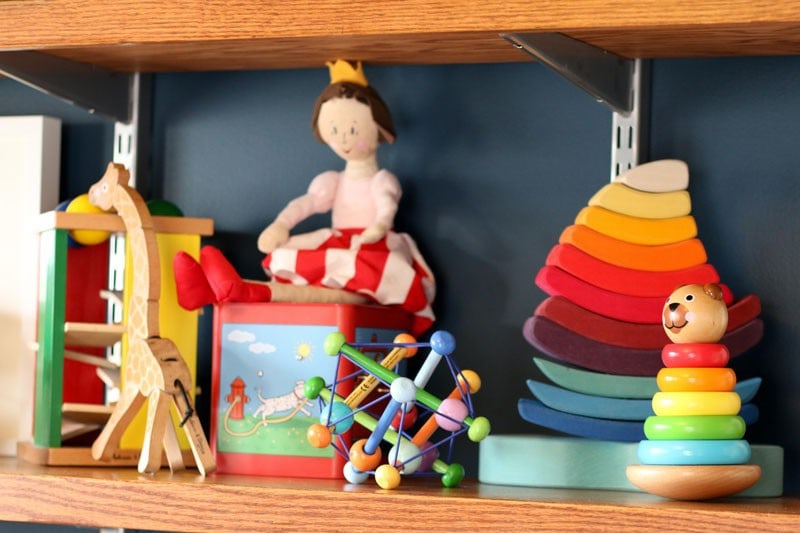 BM Gentleman's Gray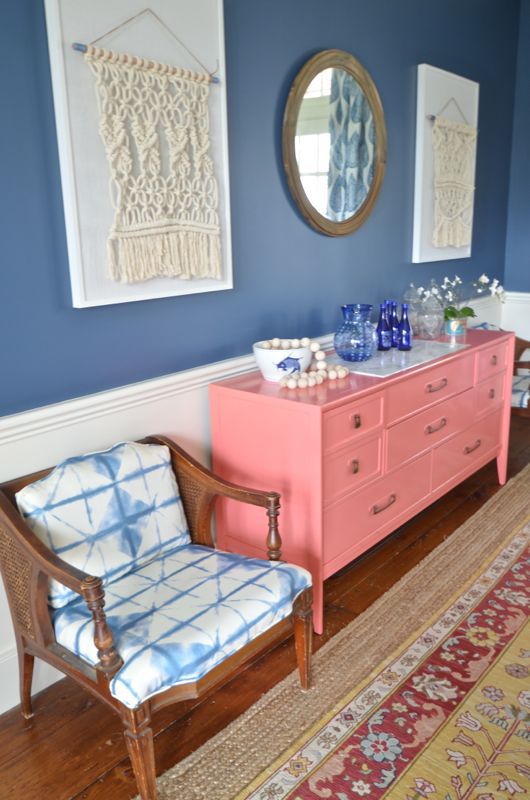 BM Van Deusen Gray shown in At Charlotte's House Dining Room

BENJAMIN MOORE ADMIRAL BLUE: For our playroom makeover, I used Benjamin Moore's Admiral Blue in high gloss navy paint on a vintage mid-century dresser for our dining room –> playroom. It is a fabulous navy blue paint color, and I love how fun it is–it is considerably lighter and brighter than Hale Navy, making it perfect for a playroom!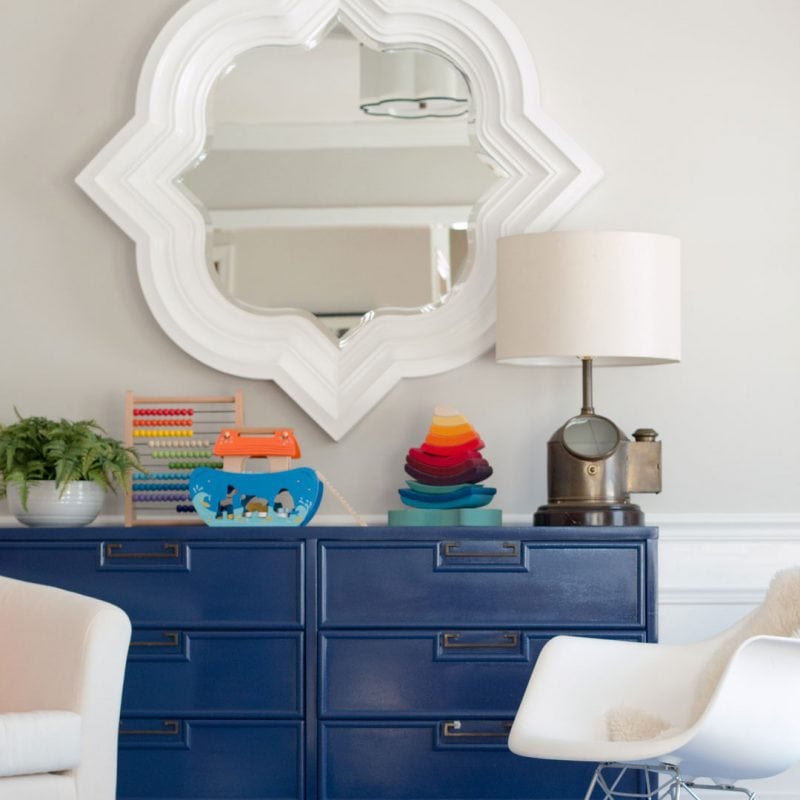 BM Admiral Blue on dresser (walls are BM Balboa Mist on top and BM Simply White on bottom.)
BEST NAVY PAINT COLORS: SHERWIN WILLIAMS
Sherwin Williams Naval: Wife In Progress shares her stunning navy blue nursery here. By using one of the best navy paint colors on an accent wall, she drew attention to her darling curtains and lettering. See her entire navy blue and gray nursery here!Sherwin Williams Naval shown in Wife In Progress's Nursery
Benjamin Moore Naval continued: And here is another view of Sherwin Williams Naval paint in Sand & Sisal's nautical media room makeover. Isn't it stunning?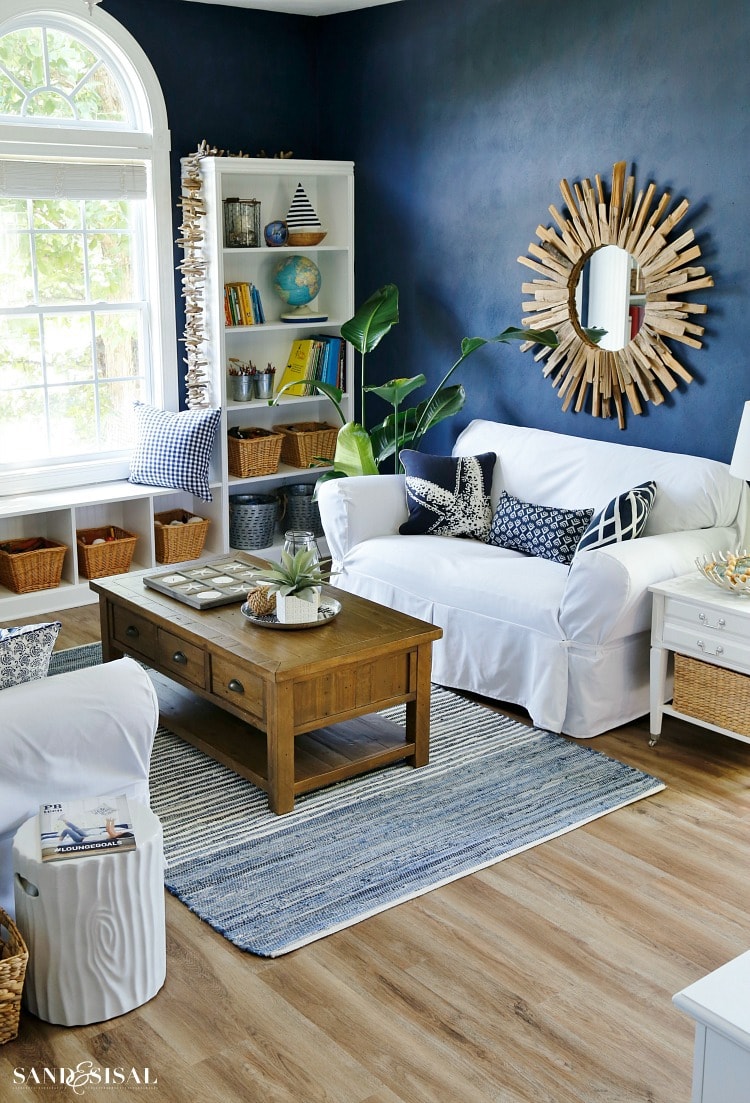 BM Atmospheric in Sand & Sisal's Media Room
Sherwin Williams Indigo Batik: The Heathered Nest shows how you can make a denim faux finish in her son's bedroom using SW Indigo Batik–it looks so similar to grasscloth for a fraction of the price!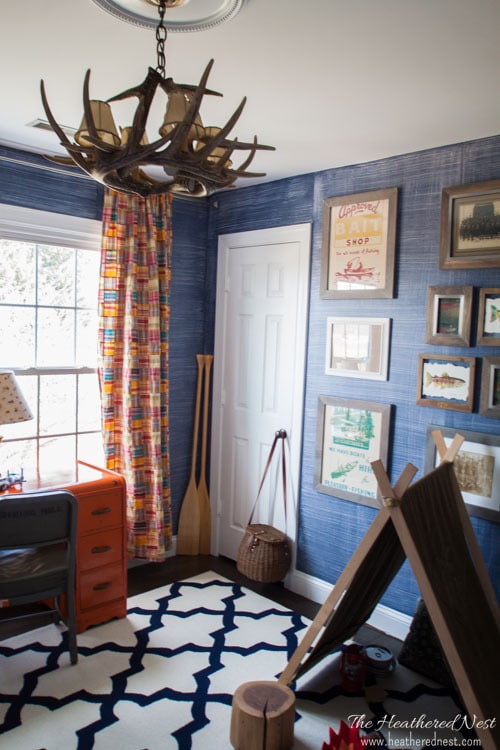 Sherwin Williams Indigo Batik in The Heathered Nest's home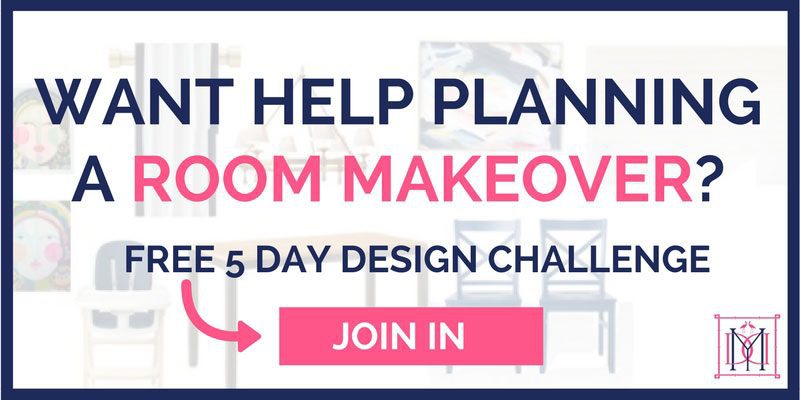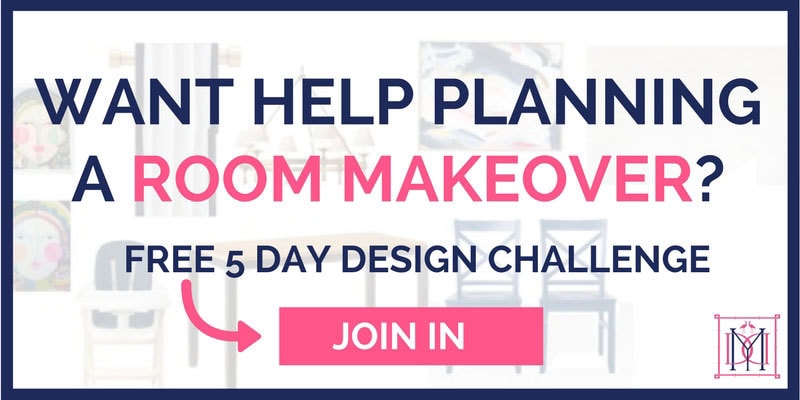 Looking for more guidance on picking out navy blue paint colors?
See these two articles on it from other bloggers: