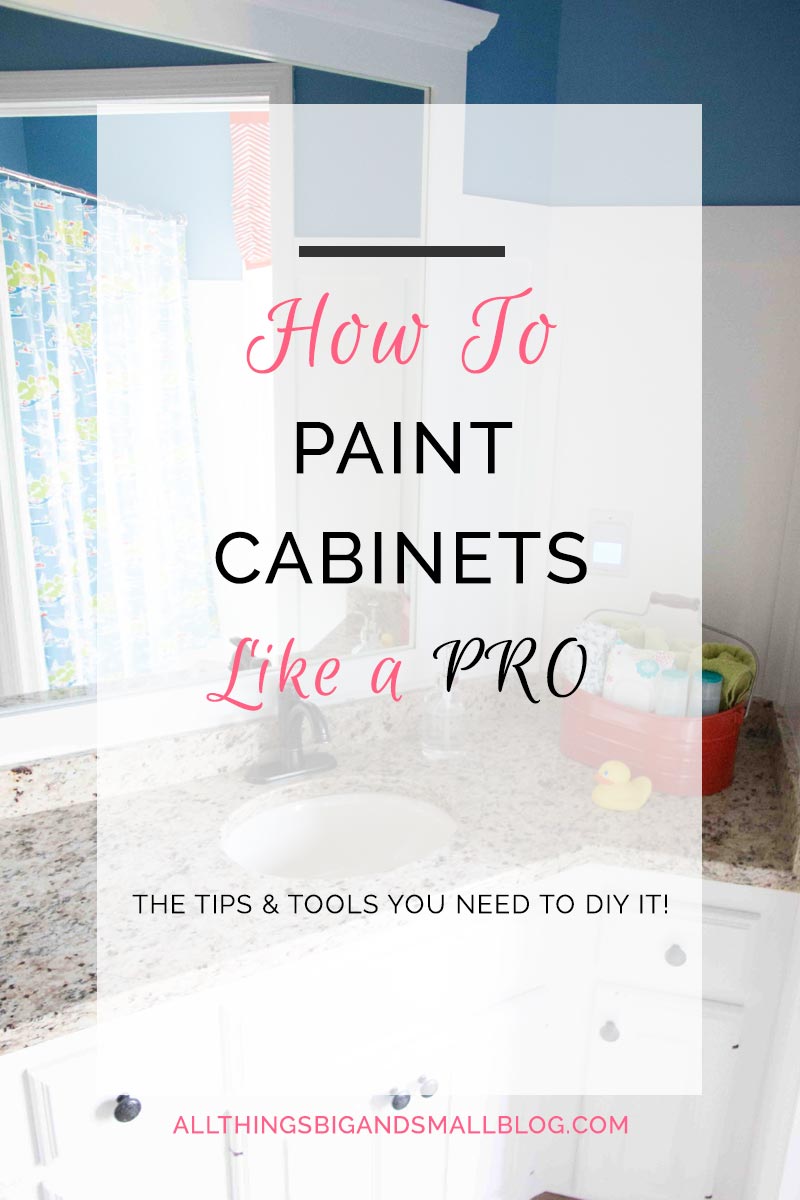 How To Paint Cabinets Like a Pro:
The DIY tips and tricks to make it look professional including all the tools you need! I cannot emphasize enough how big of an impact a gallon of paint can have on a room. Brightening up old outdated cabinets (something quite expensive and work-intensive to replace) couldn't be cheaper or easier than painting!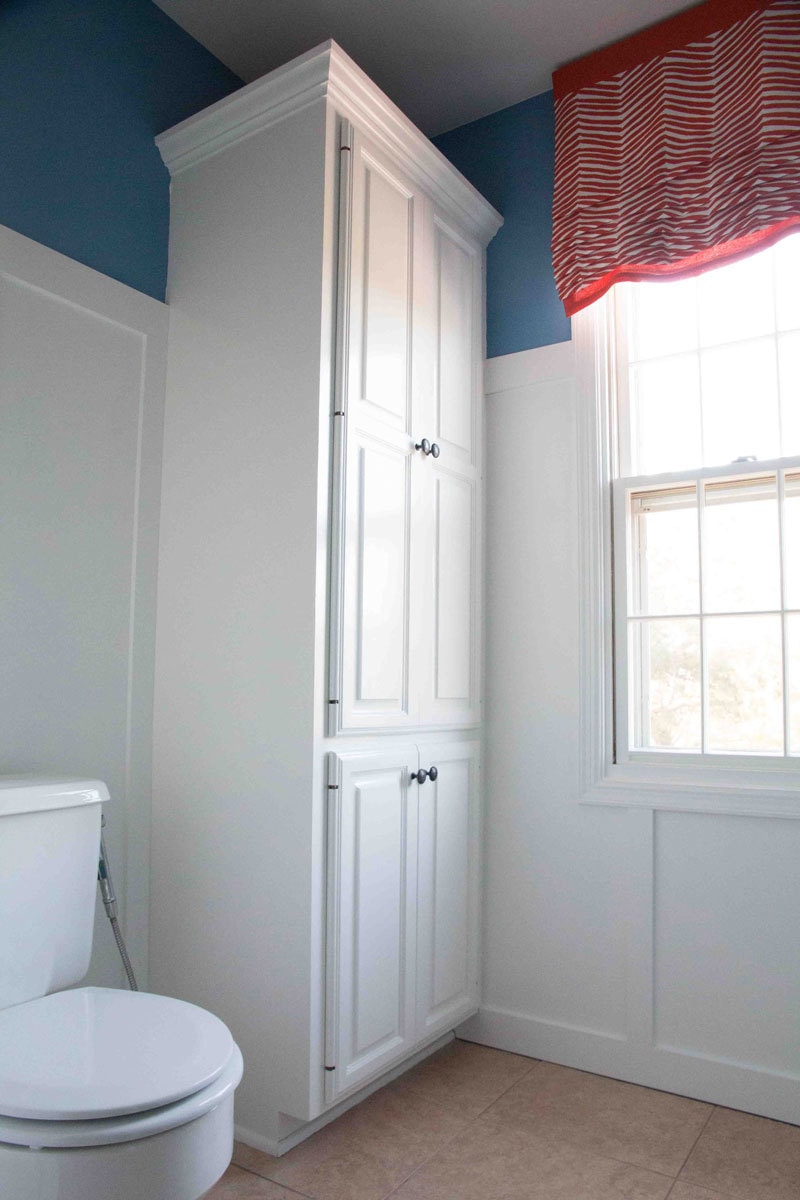 When we redid our kids' bathroom this spring, in addition to adding board and batten, we painted the old oak cabinets a fresh white (Benjamin Moore Simply White) and the effect was amazing! Check out how different our sink looks before and after!

Keep in mind the fact that we didn't touch the countertops, the floor, or the faucets! We just painted the cabinets and added board & batten, and replaced the light fixture for it to look completely different! It wasn't fast but it wasn't expensive! The entire room came in under $400! Talk about #sweatequity!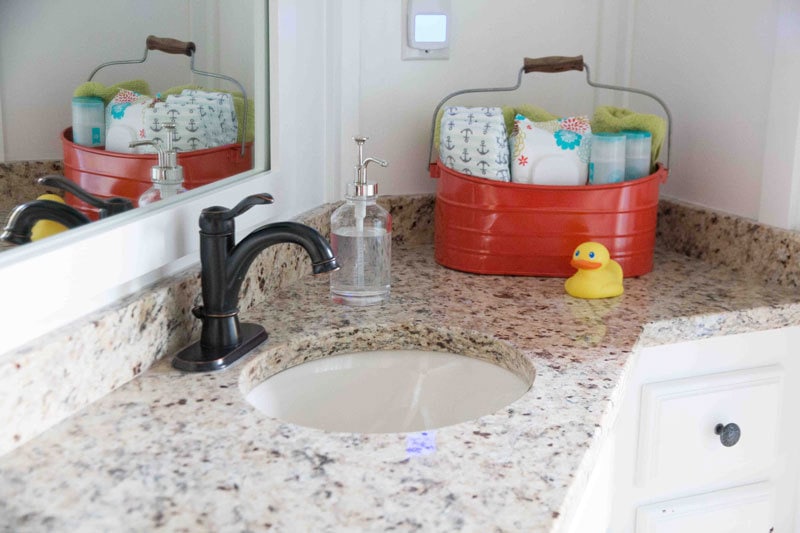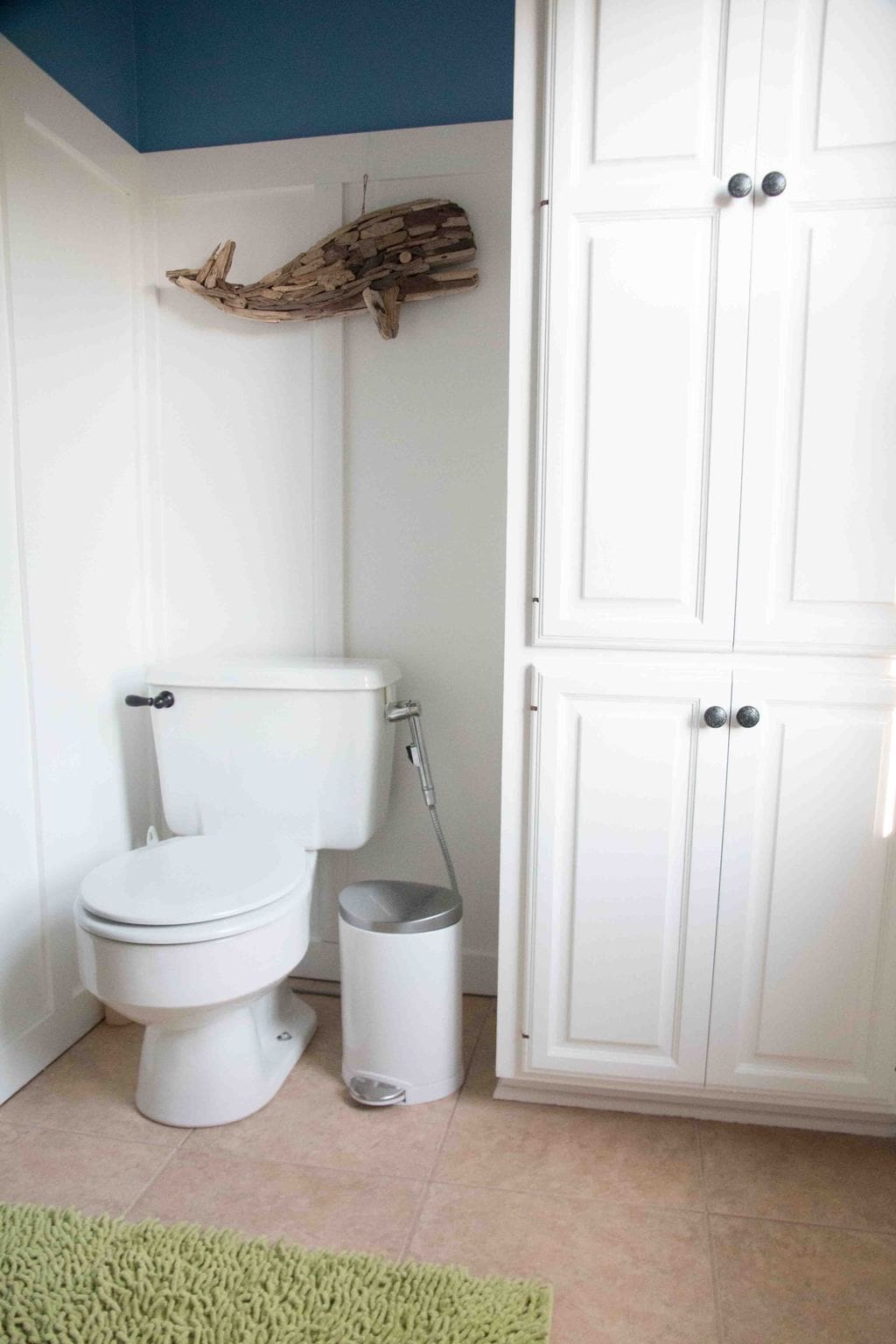 But, I have a little SECRET to tell you on how to pain cabinets like a pro –your results will vary depending on what what type of paint you use! The previous owners of our house (being house flippers) painted our outdated oak cabinets in the kitchen. What they didn't know (being new house flippers) is that you should use a special type of paint specifically formulated for cabinets. The harder paint will hold up better, won't chip as easily, and will lay more evenly. Two years later, and our cabinets look like crap because they have so many paint chips missing. We will definitely have to paint them down the line; but, we are toying with the idea of my husband, E, building them himself in our workshop downstairs. Let's just say it would be an excuse for him to buy some more tools 😉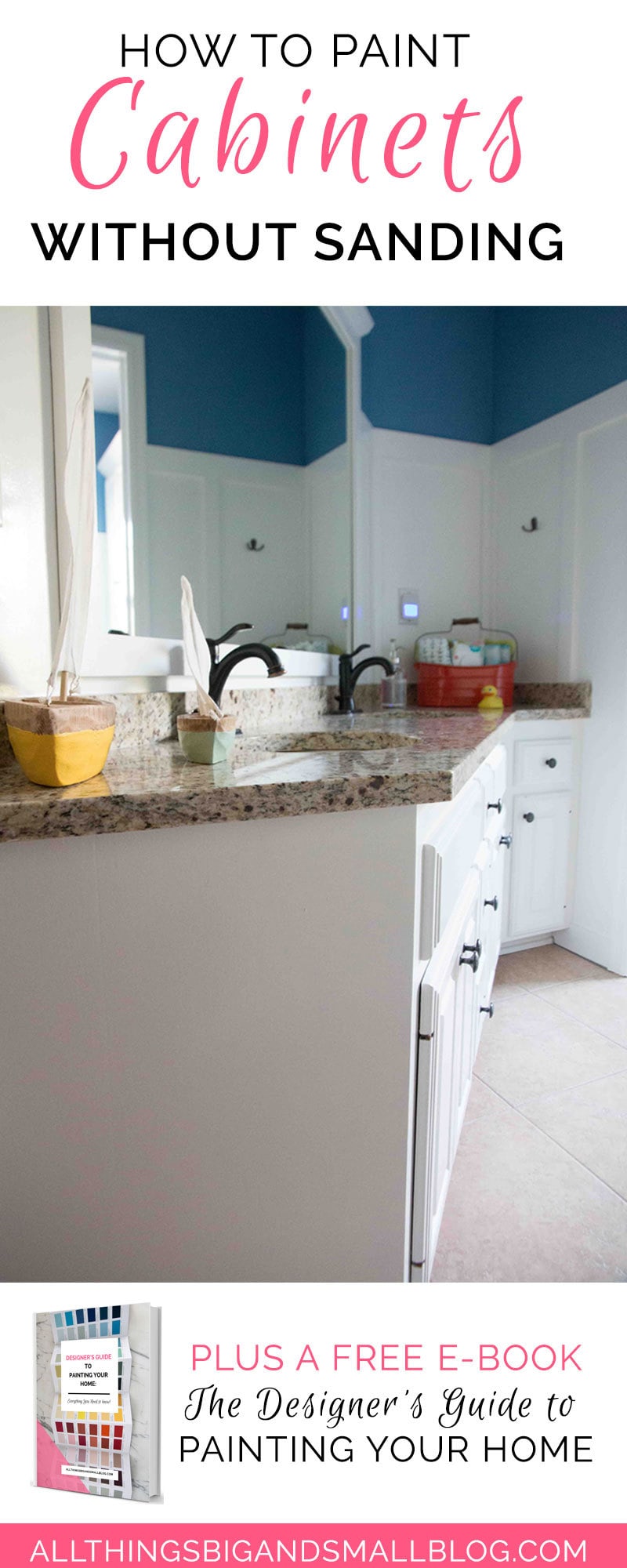 I cover how to paint cabinets like a pro and more in my free E-Book, The Designer's Guide to Painting Your Home. Grab you free copy now and get all my best tips, tricks, and tools! It is packed with 20 pages of tutorials, resource lists, and tips for painting everything in your house!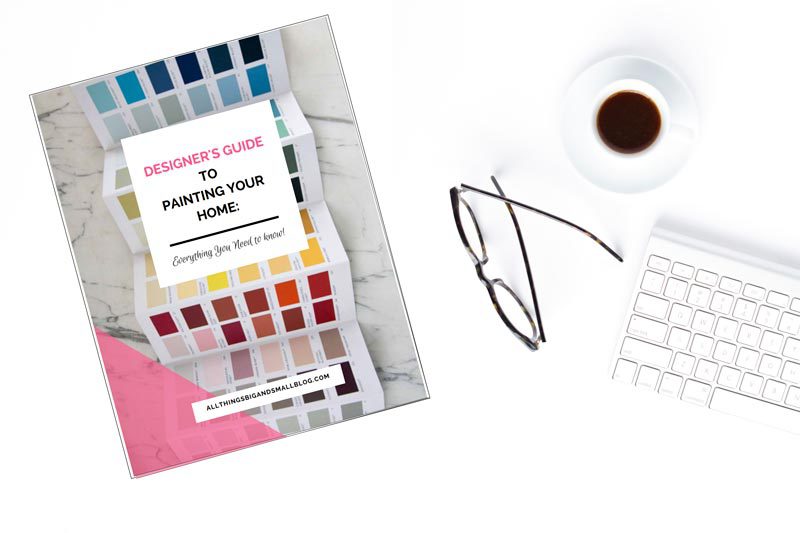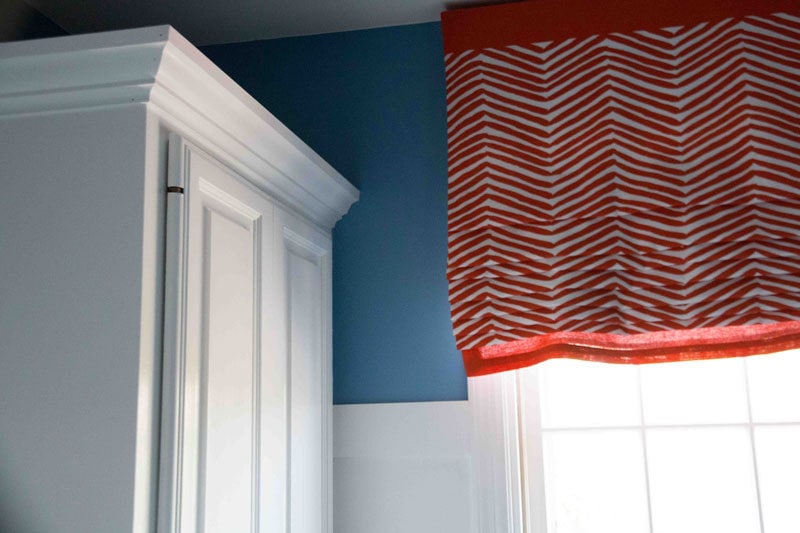 So for this project, and any other paint project, that requires items that are going to get heavy wear and tear, you need to use cabinet paint. I love Benjamin Moore's Advance Paint because it is low-VOC (important for air quality for kids, pregnant ladies, and anybody interested in their health!) I know that oil paint is harder wearing (and if we were to do the kitchen, maybe we would do it in that;) but, the VOCs are much nastier and oil paint is really hard to work with. *If you get oil paint on anything it is much harder to get out! So for us, and anybody who is just starting to venture into cabinet painting, use latex-based cabinet paint (with low to zero VOCs!) That way, I don't stay up late at night worrying about the kids' brains being damaged from exposure to VOCs. And yes, that is something I totally worry about!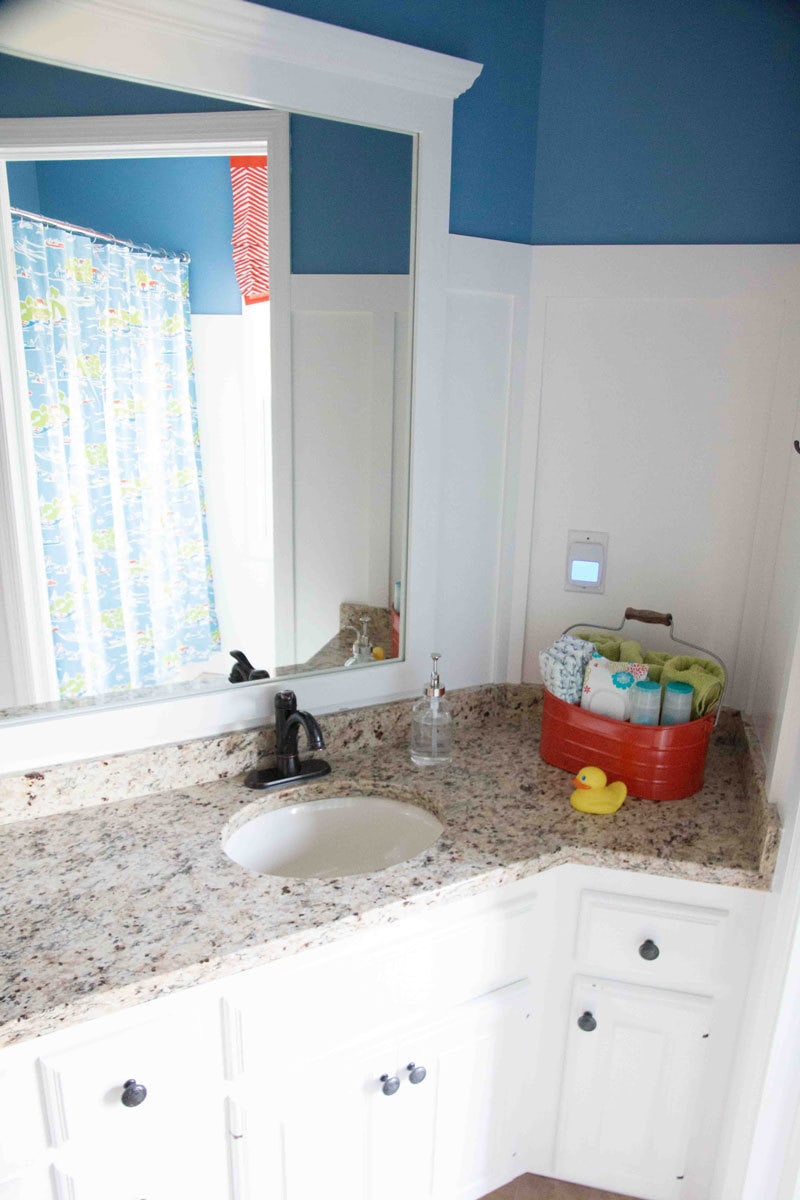 For the walls and trim because it isn't such a heavily used room (second floor kids' bathroom) we used Benjamin Moore Natura semi-gloss on the walls for the board & batten and the trim.
Related to this How to Paint Cabinets like a Pro post: How To Paint Anything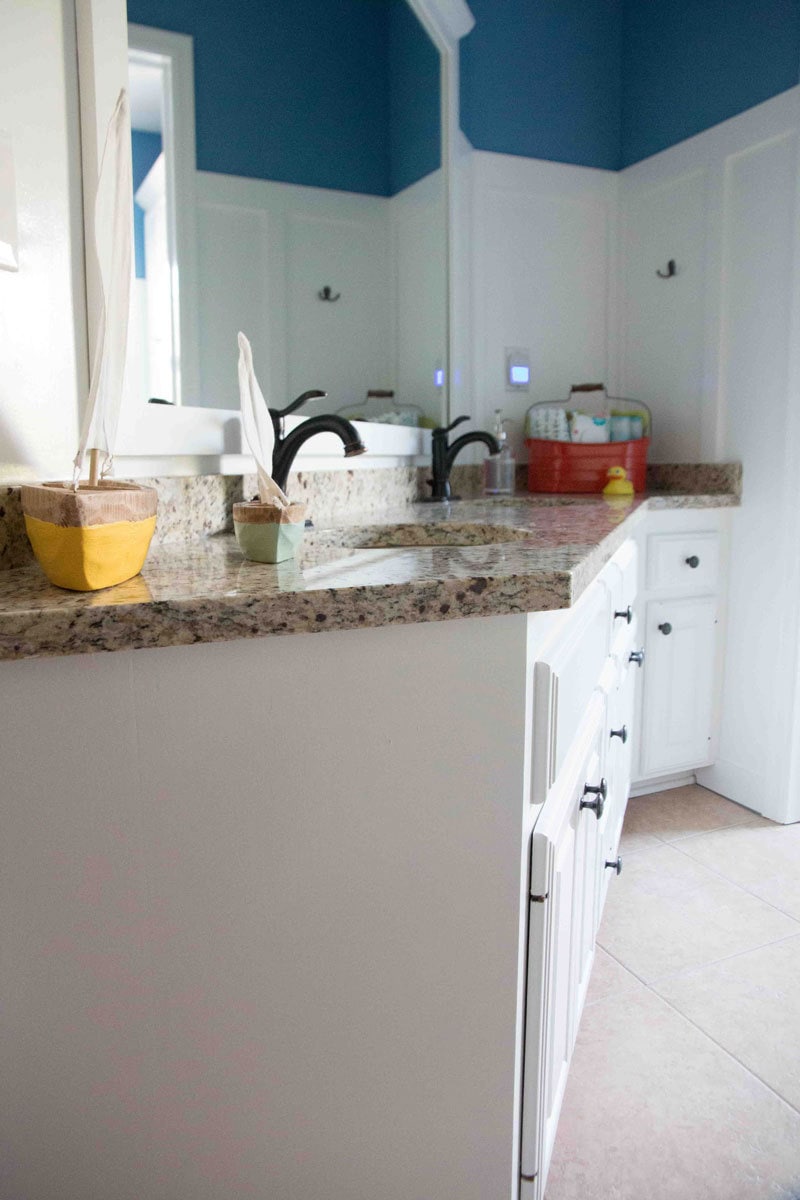 We used the same paint (in the same exact shade–Simply White by Benjamin Moore) in our dining room on our built-ins and it has held up very well there too. Like I said, it isn't going to be ironclad like oil paint (which is a bit harder), so you still have to be careful not to draw your nail across it especially early on. But, we have had no problems so far!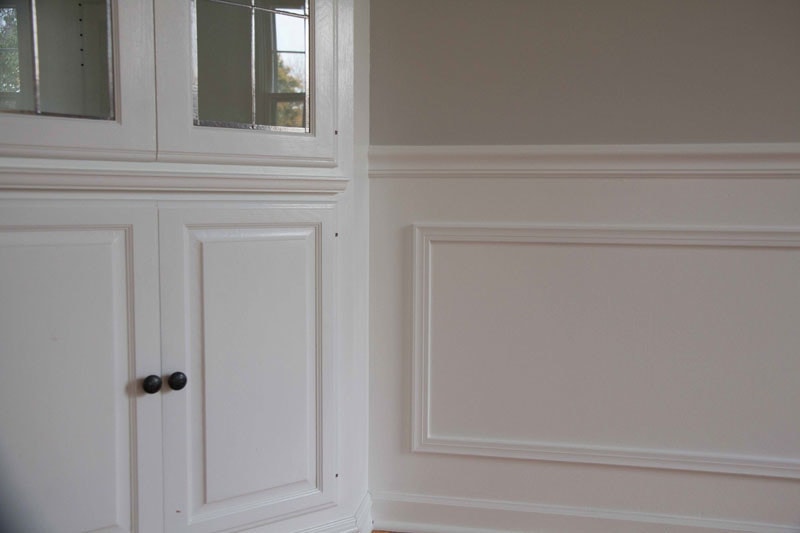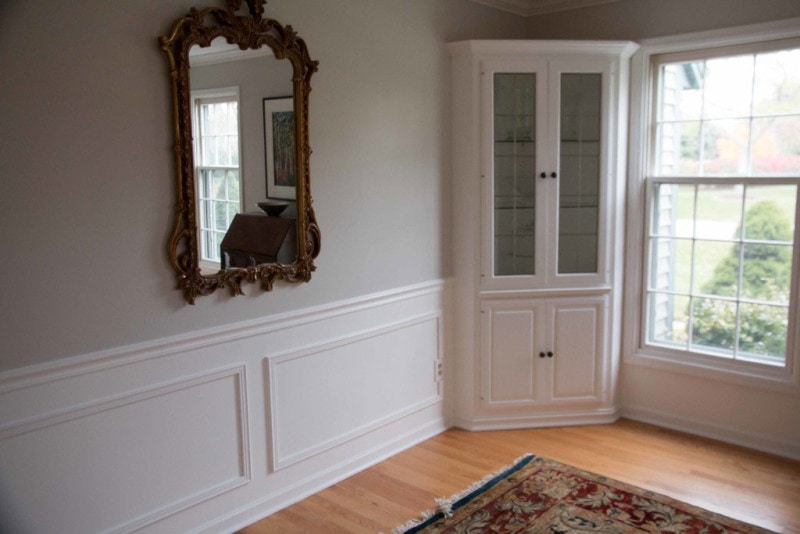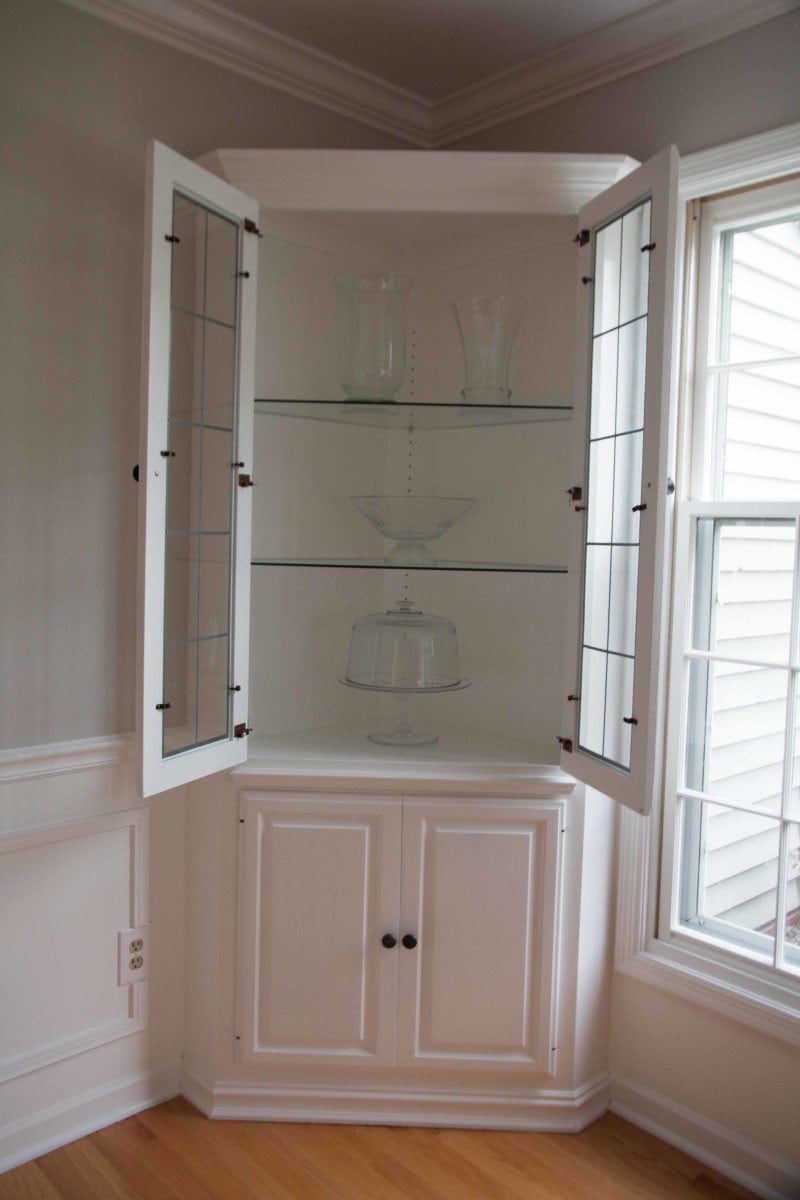 Read all about our dining room DIY Wainscoting here!
Ready to get to it?
HOW TO PAINT CABINETS LIKE A PRO
Materials Needed:
Paintbrush
Primer (Smart Prime by Zinnsser is my favorite) you can buy it at your local paint store
Paint (my favorite is Benjamin Moore Advanced line in semi-gloss)
Roller if desired (I just did it with a paintbrush
Paint tray
Drop cloths
Ratty clothing 😉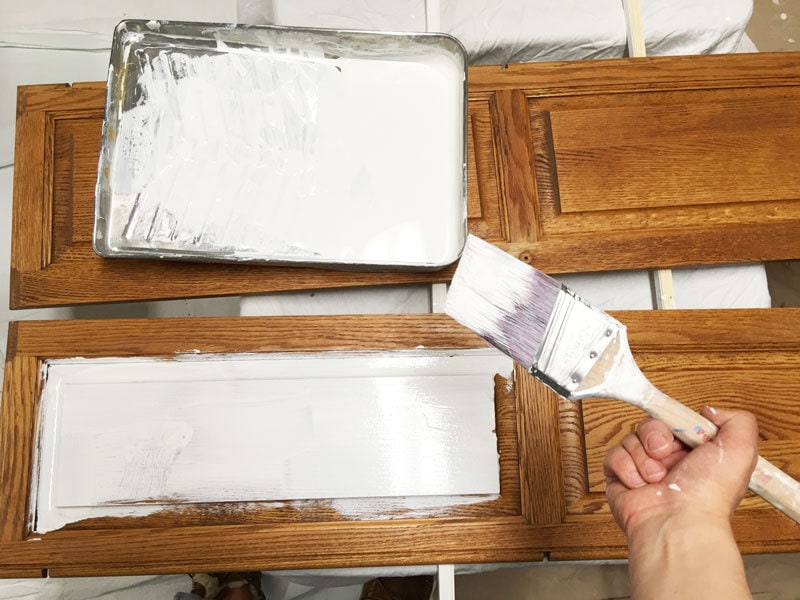 HOW TO PAINT CABINETS – DIRECTIONS:
1.) Remove doors from the frames. Wipe down the cabinet doors and the cabinet with a wet cloth. Ours were pretty clean, and I used an clean but you can also use just a mixture of vinegar and water.
2.) Next, it is time to prime the wood. Two coats of primer should do it for very dark oak wood like ours. The goal of the primer is to adhere to the wood and to block out the color underneath. Because primer is a lot cheaper than paint (a gallon is about $20-25 for primer) vs. the $42-45 for a gallon of cabinet paint, I always do two coats of primer + two coats of paint.
3.) Paint light, even layers making sure to spread out with your paint brush any drops or puddles. You want to draw the paint out, start in the corner of the panel and move out. That way, paint won't pool in the corners.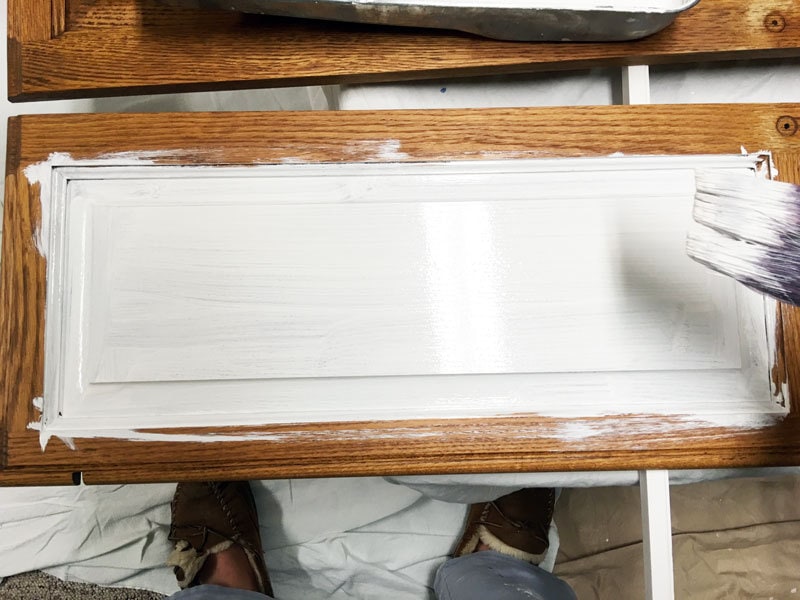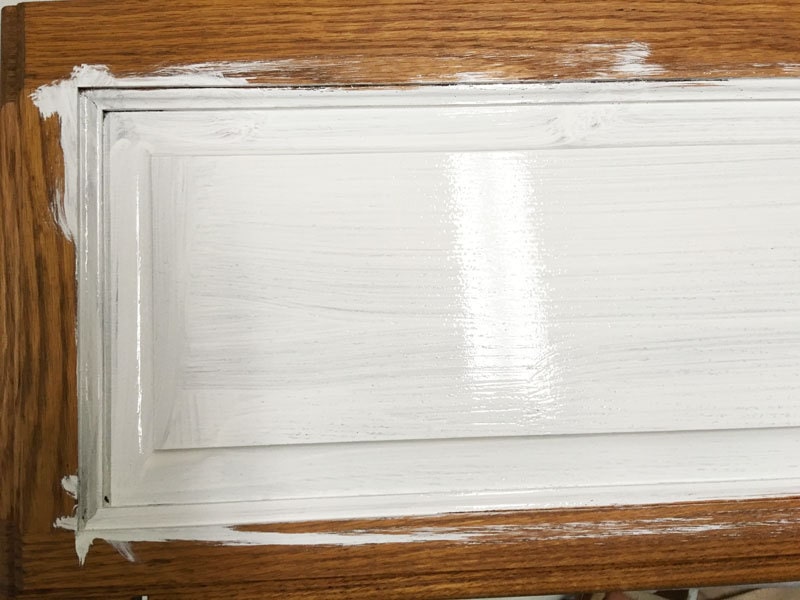 4.) After two coats of primer, it is going to look like this. You can see in the picture below, that I did the windows at the same time. The window has two coats of primer plus one coat of paint, so you can see the difference just one coat of paint makes. Now, it is time to paint with the cabinet paint. Do two coats, letting it fully dry in between and making sure to avoid any drips.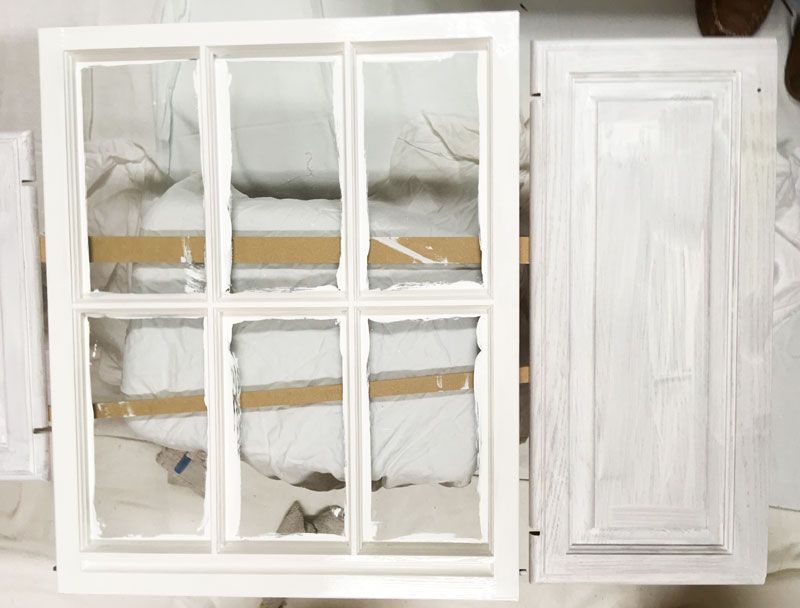 5.) Let the paint harden for at least 24 hours. I let ours harden for a good 48 at least before I screwed the hardware back into it and mounted the doors to the frames.
If you liked this post, please PIN IT for later! And don't forget to download my free E-Book!
GET STARTED NOW