How to Paint Bathroom Cabinets: Why You Shouldn't Sand Your Bathroom Cabinets. Looking to learn about painting your cabinets? This step-by-step guide will show all the materials, prep, and steps on how to paint your bathroom cabinets. And answer whether or not you should use cabinet paint!
HOW TO PAINT BATHROOM CABINETS
Contrary to popular belief, if you have old stained oak cabinets, you should NOT be using sandpaper on them prior to painting them white! Yes, I know this goes against a lot of what you hear elsewhere. But, I can tell you for a fact that if you sand your cabinets you run the risk of a bad paint job. I speak from experience!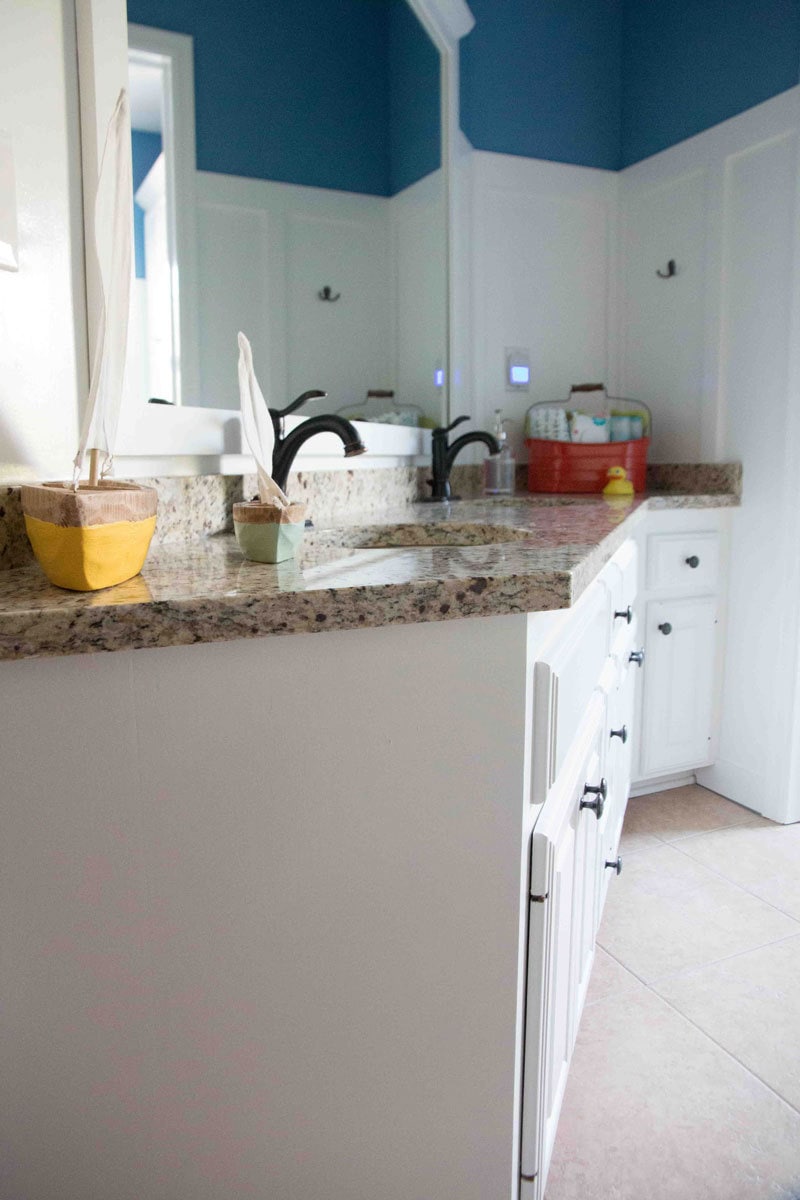 We have painted a lot of wood trim and wood cabinets in our house (see our most popular post–painting wood trim white here.) To date, we've painted thirteen rooms in our house all with old oak wood trim, including a pantry, a laundry room (with built-in cabinets) and two bathrooms. Along the way, we've experimented with different primers and different sanding techniques to get the best finish. We've even written about how our experiments with Benjamin Moore Cabinet paint have stacked up compared to other brands.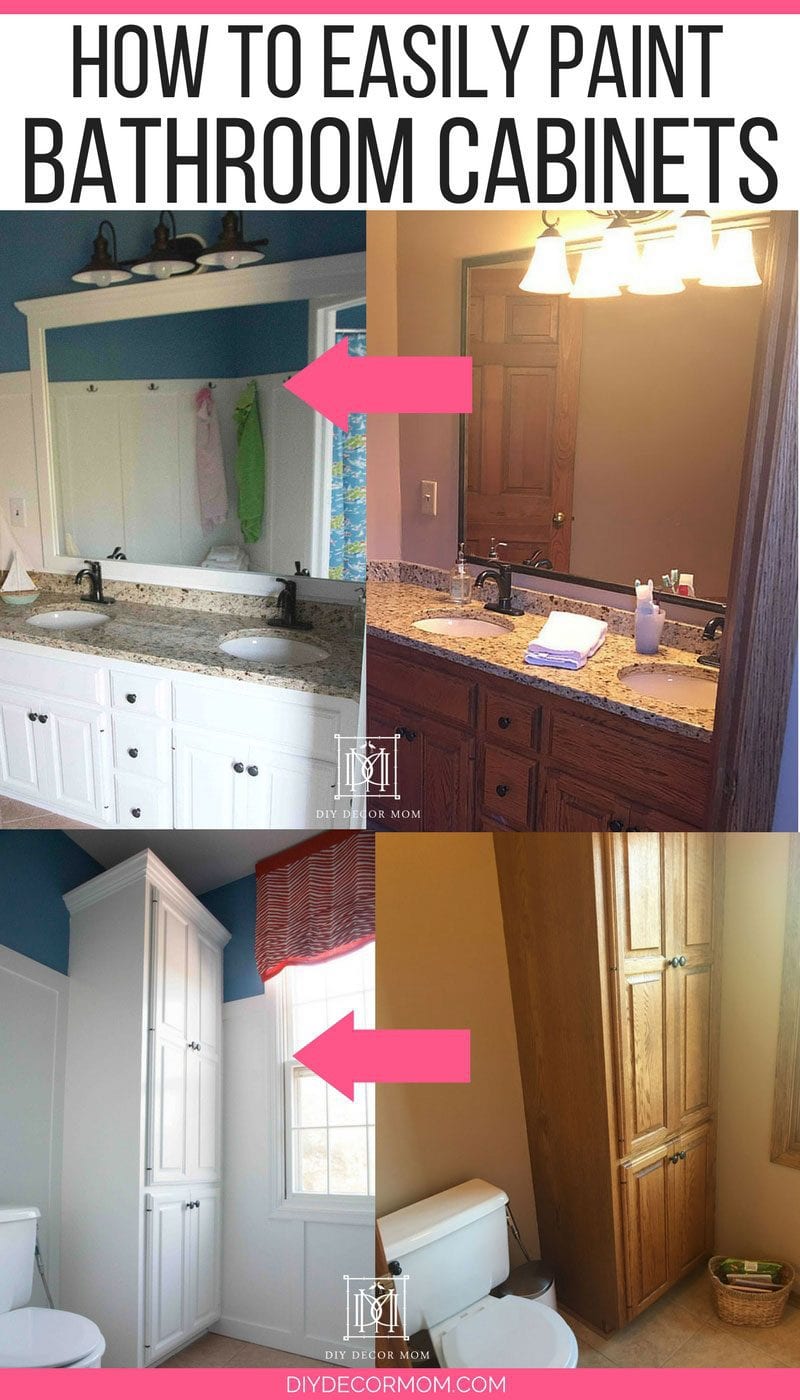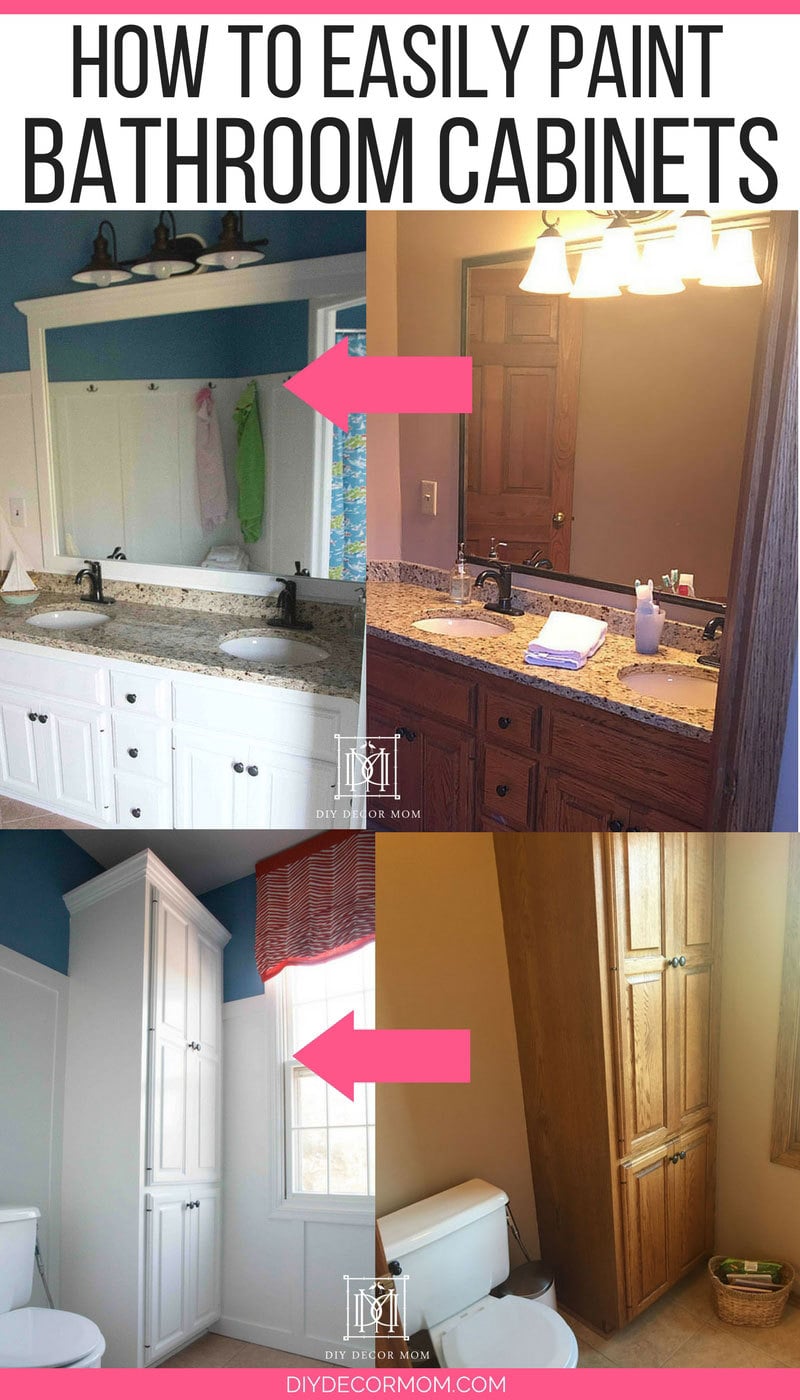 So what I'm going to share here is the best practices for how to paint bathroom cabinets and update your bathroom vanity. There are a lot of tutorials out there on how to paint bathroom cabinets; but, we didn't find one that was specifically for stained oak cabinets. While, we aren't experts, we speak from hours and hours and hours of experience, and have tested what's held up over time the best in our own home with three kids and Great danes. We've also experimented spraying it with a paint sprayer and hand-brushing (so you can see what works with both situations.)
*this post contains affiliate links at no additional cost to you disclosure policy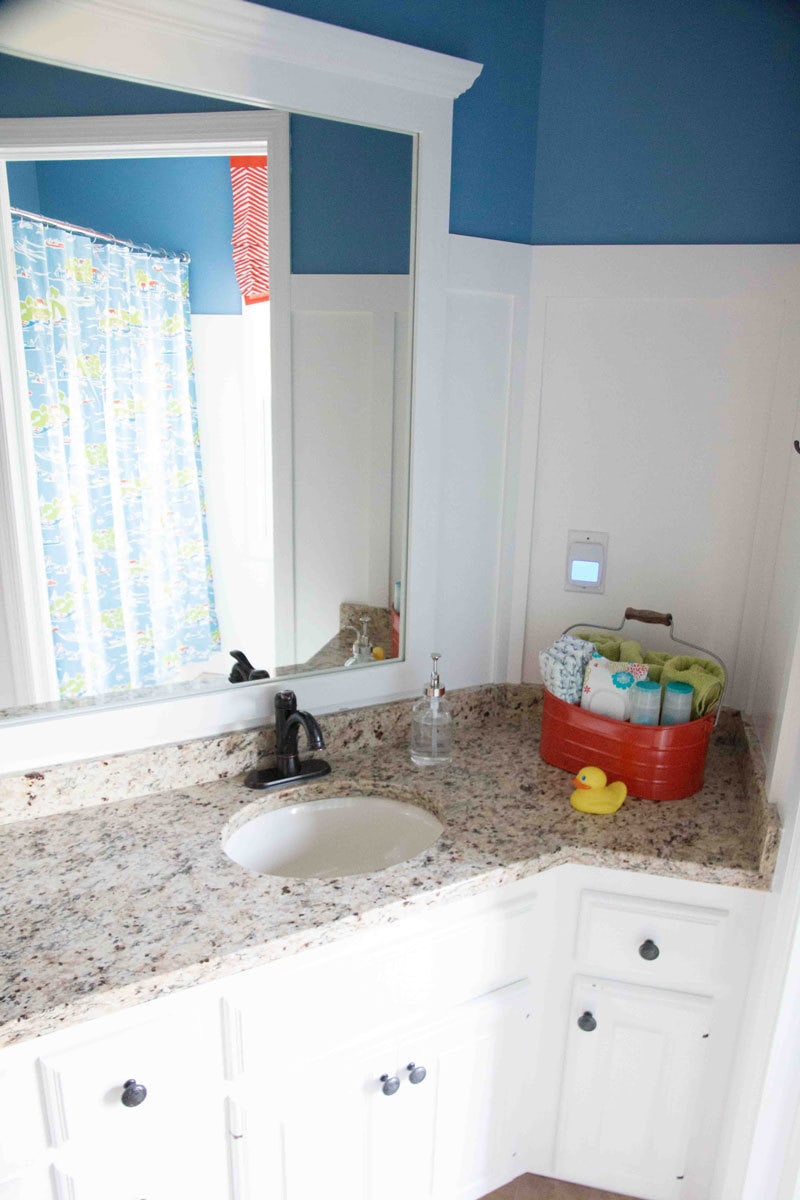 MATERIALS FOR PAINTING CABINETS
Paint Brush- use a 3″ angled trim brush
Wood filler- fill in any nail holes or dents beforehand for an even finish
Primer and Paint– use a cabinet paint (see why I recommend Benjamin Moore Cabinet Paint here)

Smart Prime by Zinnsser was my favorite but it has been discontinued) Bullseye 1-2-3 is the current replacement I recommend along with Sherwin Williams primer
Paint– my favorite paint for bathroom cabinets is Benjamin Moore Advanced line in semi-gloss (I use Simply White color to match my painted wood trim) Benjamin Moore Advance line is a waterborne alkyd paint that produces an hard enamel-like finish

Roller or Paint Sprayer (decide which is best for your situation)-

Our paint sprayer of choice is this one

Paint tray and pail
Drop cloths
Mask (if you are using the paint sprayer)

STEPS FOR PAINTING BATHROOM CABINETS
1.) Remove doors from the frames and the hardware. Wipe down the cabinet doors and the cabinet with a wet cloth. Ours were pretty clean, and I used a microfiber cloth; but, you can also use just a mixture of vinegar and water to clean it.
2.) Gently wipe down the surface with this easy scuff pad gently "roughing up" the varnish. You are giving it a slight sanding, more of a once over than a thorough job–all you are trying to do is to give the primer a little texture to hold onto.
3.) Next, it is time to prime the wood. Two coats of primer should do it for very dark oak wood like ours. The goal of the primer is to adhere to the wood. Because primer is a lot cheaper than paint (a gallon is about $20-25 for primer) vs. the $42-45 for a gallon of cabinet paint, I always do two coats of primer + two coats of paint.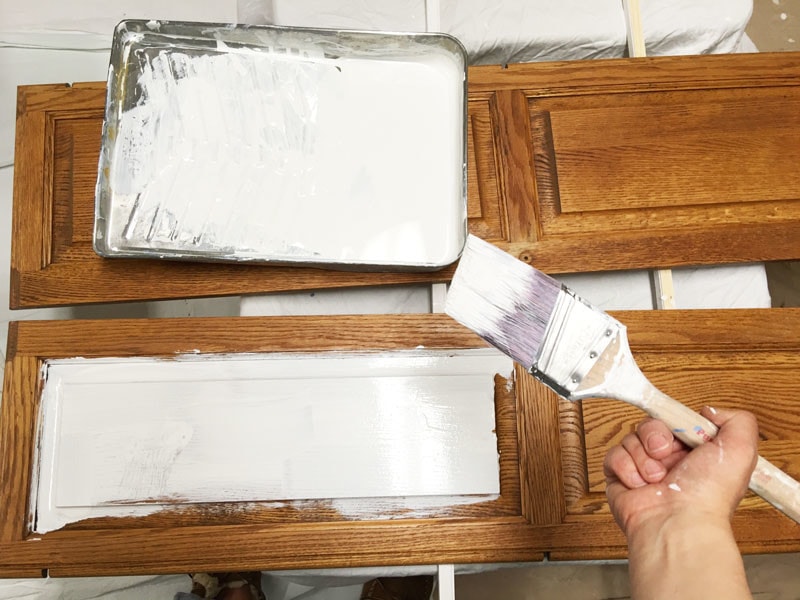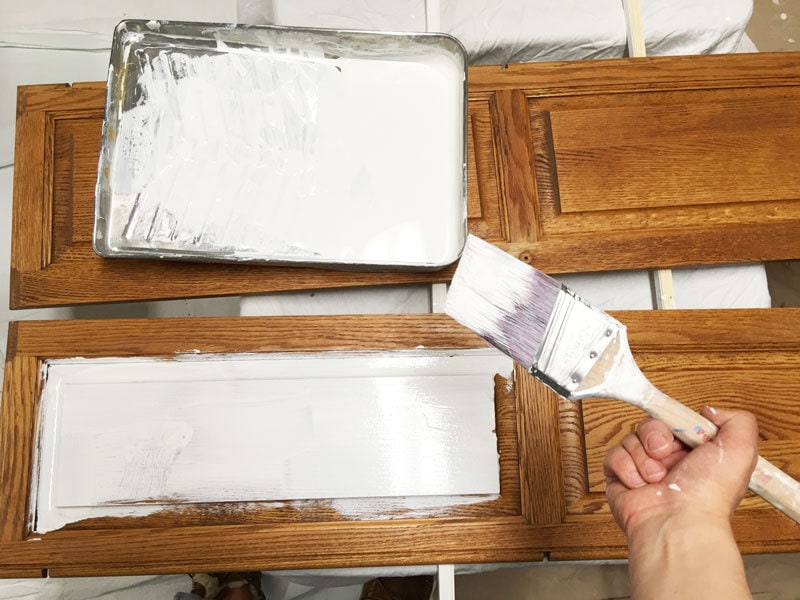 4.) Paint light, even layers making sure to spread out with your paintbrush any drops or puddles. Paint with the wood grain. You want to draw the paint out, start in the corner of the panel and move out. That way, paint won't pool in the corners.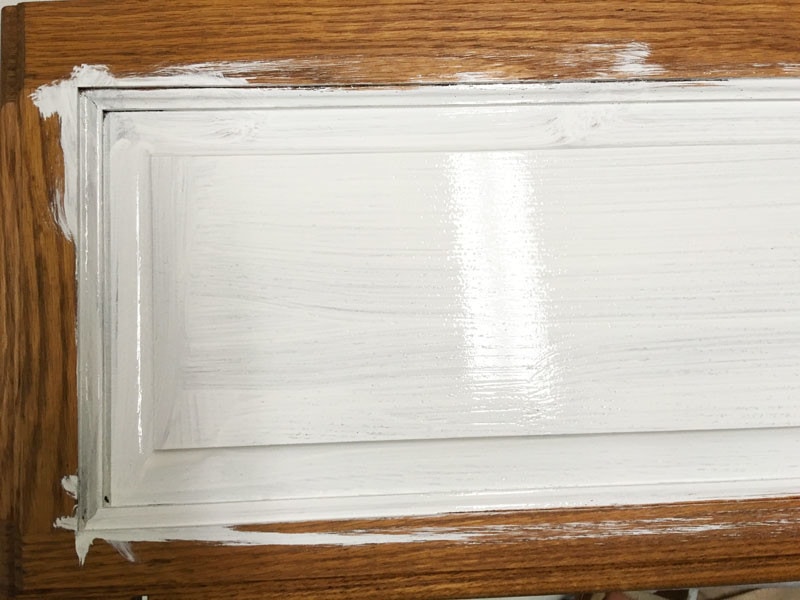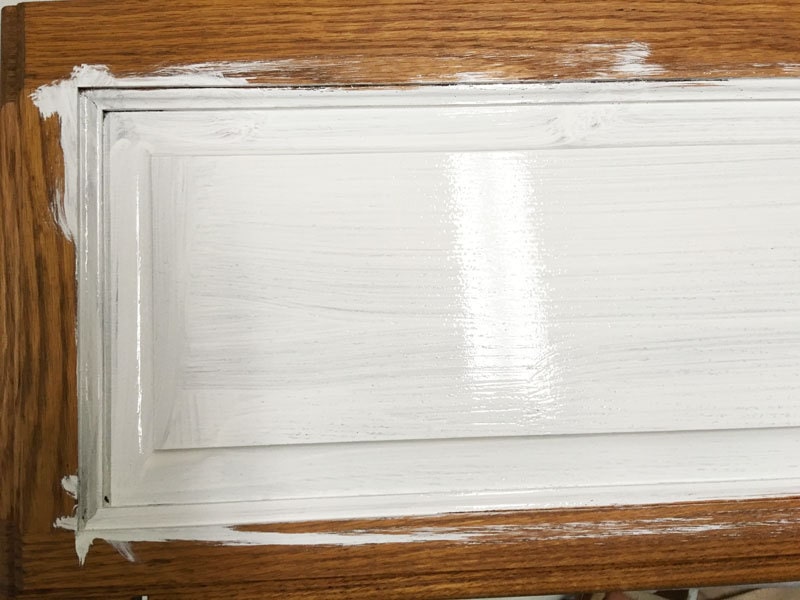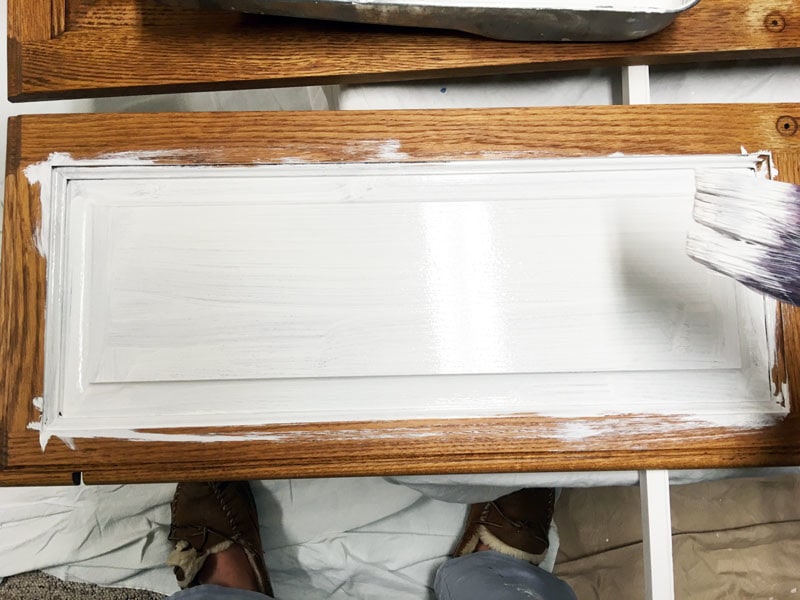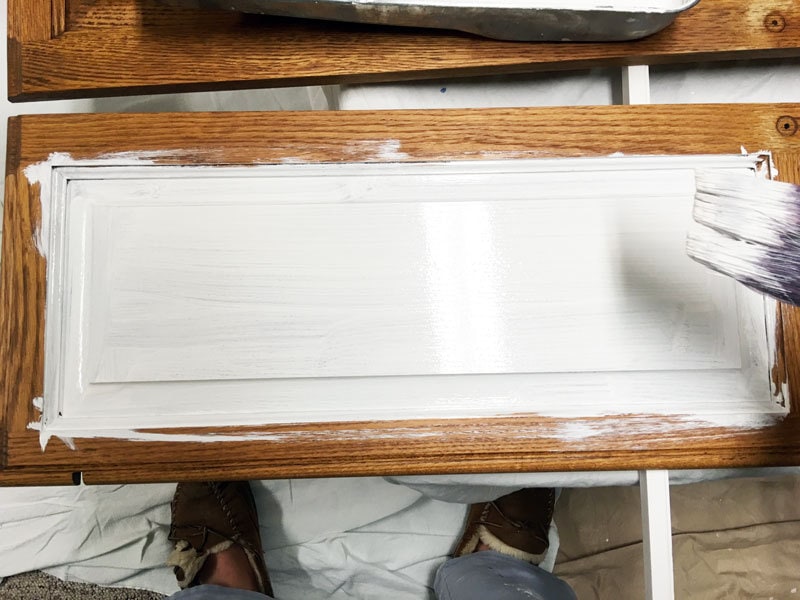 5.) After two coats of primer, it is going to look like this. You can see in the picture below, that I did the windows at the same time. The window has two coats of primer plus one coat of paint, so you can see the difference just one coat of paint makes. Now, it is time to paint with the cabinet paint. Do two coats, letting it fully dry in between and making sure to avoid any drips.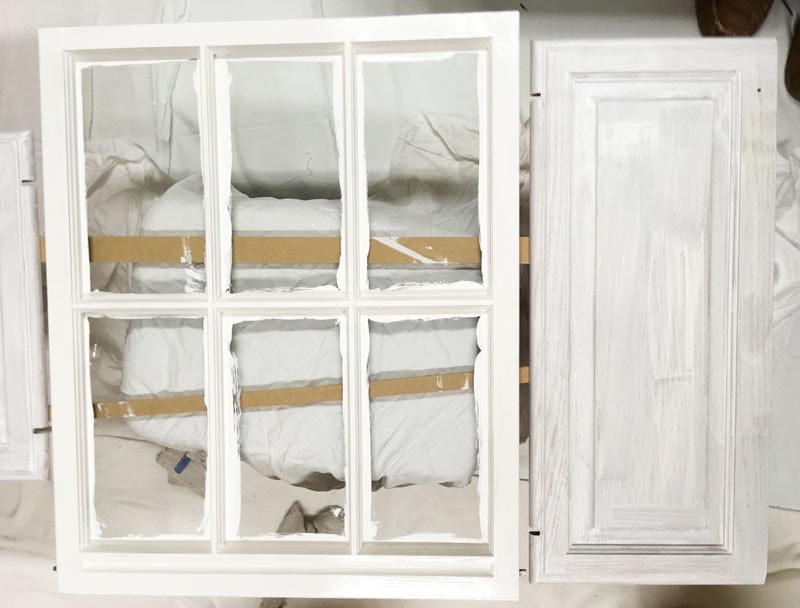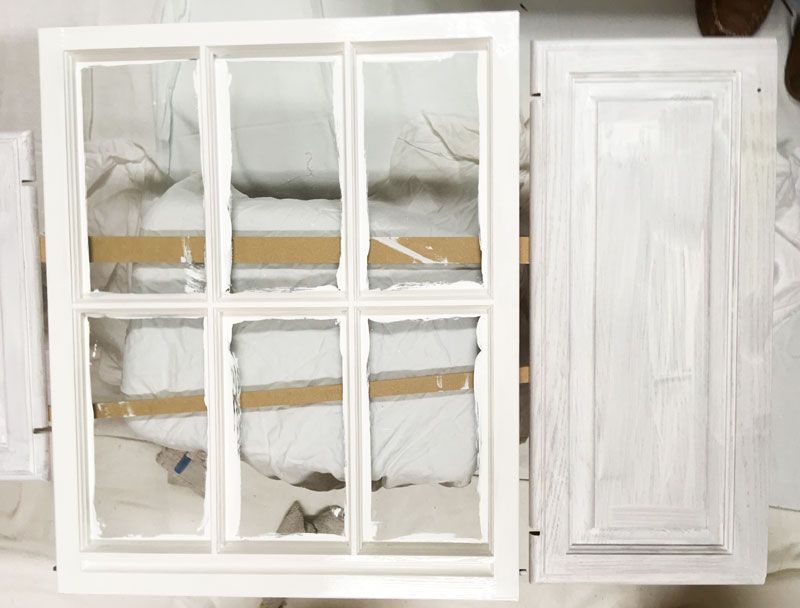 6.) Let the paint harden for at least 24 hours. I let ours harden for a good 48 at least before I screwed the hardware back into it and mounted the doors to the frames. For our pantry, I waited seven days before I re-hung our pantry doors. The longer you give it to cure, the better. Some say that the paint doesn't completely harden until three weeks after painting.
TIPS FOR PAINTING BATHROOM CABINETS
The number one thing we have learned is that you should not use sandpaper too vigorously. We recommend you use these instead (plus they are cheaper!) Give your bathroom cabinets a once-over with 'em and call it a day!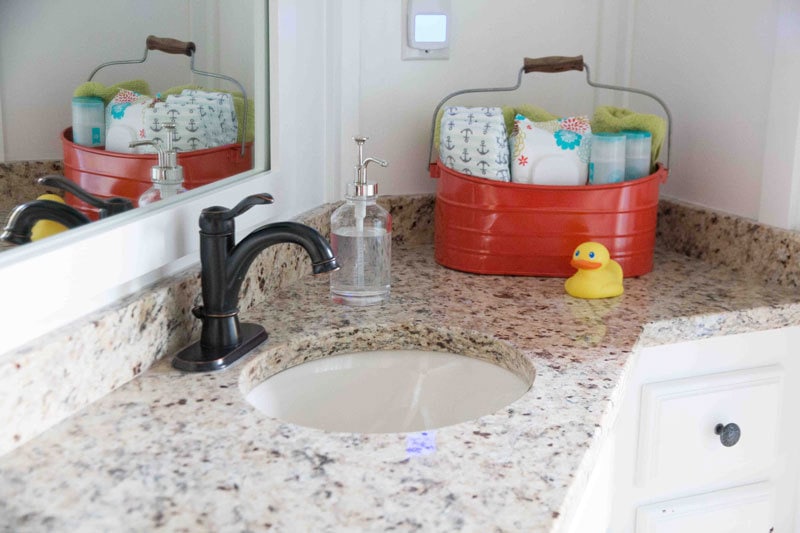 We used sandpaper and thoroughly sanded our laundry room cabinets and one year later, we still have a significant leak through. The white paint has weird striations and looks yellow in many parts. This happens when you sand down the top layer of varnish on old stained oak cabinets or wood trim and open up the layer of the wood stain. The wood stain is going to permeate all of the layers of paint if you reopen that layer up.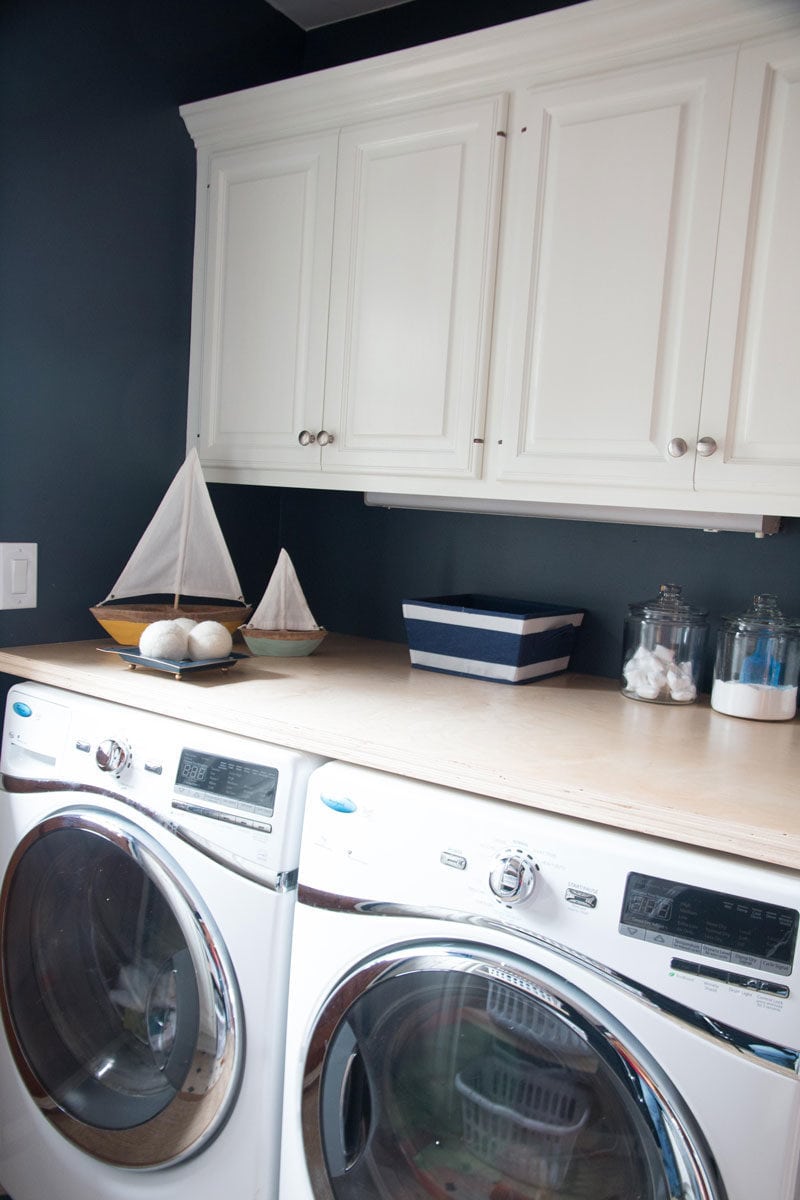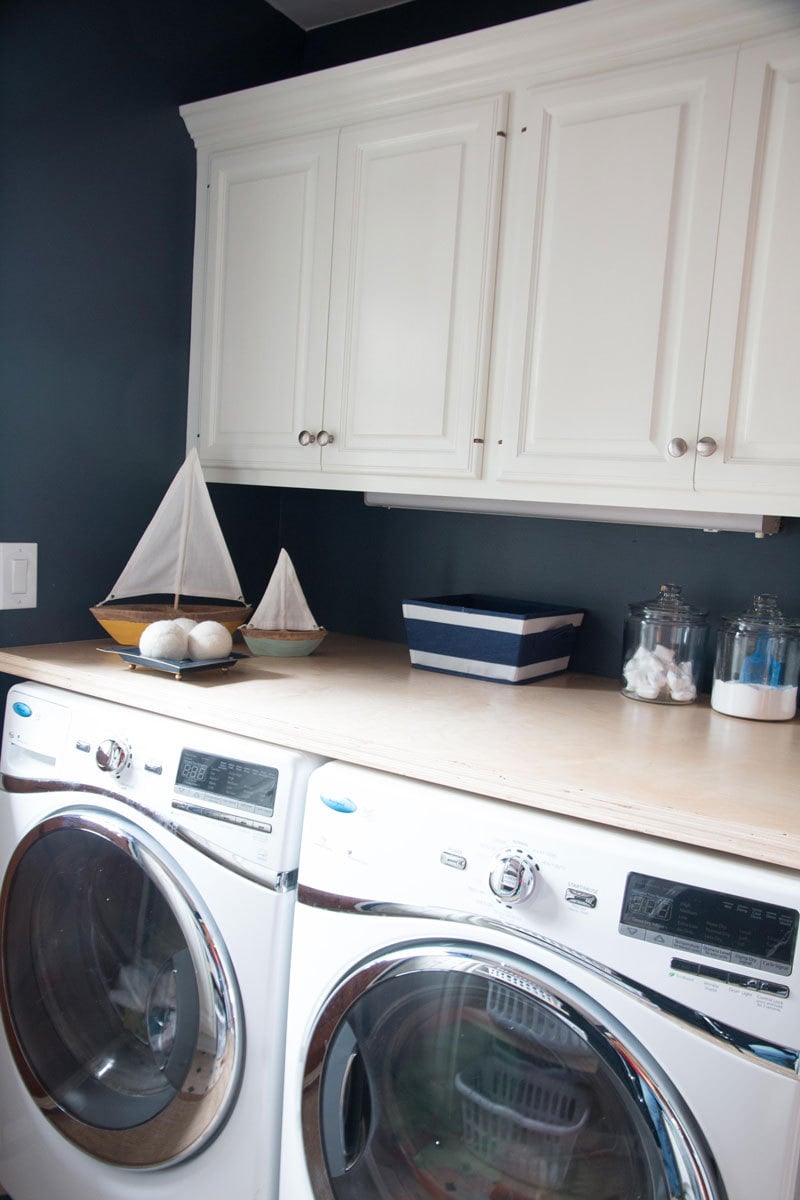 Instead, what you want to do is use these sanding pads to simply scuff up and knock-down any uneven spots. Do not try to get all of the varnish off. The objective here is to rough up the surface so the primer has something to grab.
FAQ'S ON HOW TO PAINT BATHROOM CABINETS
Does it matter which primer I use?

Yes! Talk to the sales associate at your local paint store. Our local Benjamin Moore paint store associate actually recommended a different primer to use on all of our wood trim, which I opted against because it had high levels of VOCs. This was a personal decision for us, but with little children in the house and as I have been pregnant each time I painted these rooms I had to do what was best for my own health and my family's. Weighing the risks, we chose to use Zinsser's Bullseye 1-2-3 which is low VOC on our cabinets and wood trim (Smart Prime is no longer available which was our first choice.)

What grit sandpaper should I use on my wood?

Don't use sandpaper! Use these abrasive hand pads instead. They are cheaper, and are easier to use!

What type of paint do you use for painting a bathroom vanity?

To paint a bathroom vanity or bathroom cabinets, I use Benjamin Moore Advance–a special type of paint that is specially made for cabinets. (See my complete review of Benjamin Moore Cabinet Paint here). It has a harder finish and is more robust than typical semi-gloss that I use on my wood trim. It has "self-levelling" capabilities which means that it is supposed to go on more evenly. If your cabinets don't get much wear-and-tear, you could also get away with using a semi-gloss but it won't be as robust in the long run. In our own house, the previous owners painted the kitchen cabinets the wrong type of paint and two years later they look horrible–paint chips and scratches everywhere!

What is the difference between cabinet paint and regular paint?

Cabinet paint like I explain above is a more robust paint that is self-leveling, has a harder finish, and goes on thicker than normal paint. My favorite is Benjamin Moore Advance (a waterborne alkyd paint); but, I have also used Sherwin Williams Water-based Enamel Paint. Comparing the two, I liked BM better but SW dried quicker and had a harder finish initially.

Should I use oil paint to paint my bathroom cabinets?

I personally don't work with oil paints because I am a clutz and would worry about oil paint getting on my house; secondly, in our area oil paint is only used by professionals. Third, for air quality concerns I choose to only work with zero to low VOC products in our house. If I were hiring it out and starting from scratch, I would definitely commission a kitchen painted with oil paint because it's the hardest finish. As it is right now, I am happy with low VOC alternatives. In the past several years, professional painters have eschewed oil paints in favor of interior alkyd cabinet paints which are low-VOC like Benjamin Moore Advance paint.

Should I spray my bathroom cabinets with a paint sprayer?

Spraying the paint with a paint sprayer (we have this one) will give you a more flawless finish than hand-painting or hand-rolling them. We used a paint sprayer in our back hallway and with our pantry doors and the finish is definitely better than our by-hand cabinets. That being said, spraying is a big undertaking with all the set-up involved. If it is a small project, I would recommend hand-painting with a roller and a paint brush and if it is a bigger project then using a paint sprayer will save you time.
YOU'LL ALSO LOVE THESE POSTS: