Best Paint for Kitchen Cabinets: Thinking about painting your kitchen cabinets? It's one of the most budget-friendly ways to improve your kitchen–and the best part is, it's not that hard! While it takes time, it's not a hard job. The key is having the right materials and paint! Below, I've rounded up some of my favorite kitchen cabinet makeovers so you can get all the details, and I'll share what we personally use to paint our cabinets.
BEST PAINT FOR KITCHEN CABINETS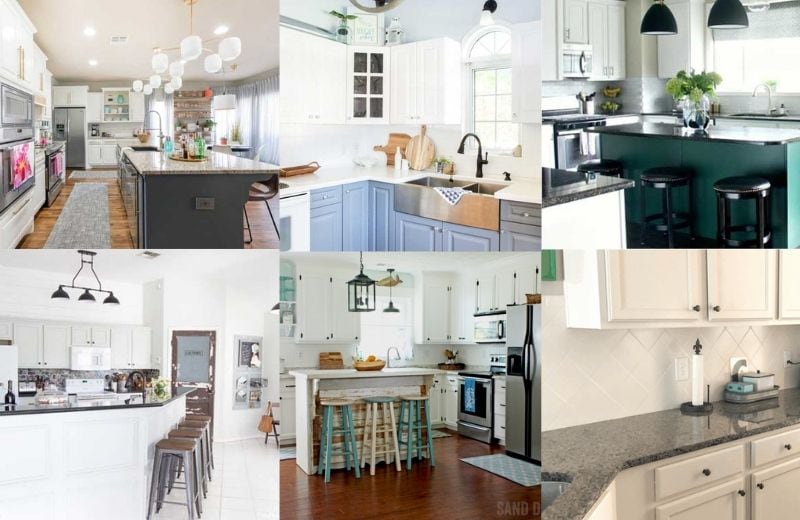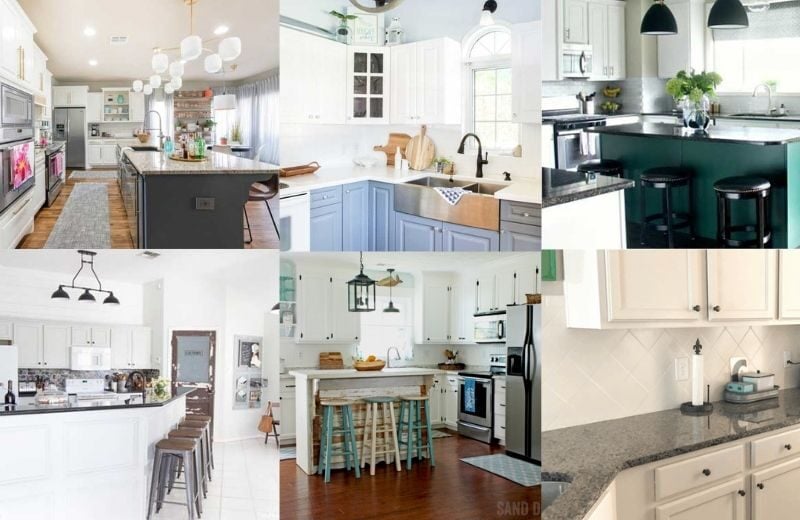 For the painting cabinets in our house, we use this paint sprayer (it gives the best finishes with the least overspray) and Benjamin Moore Advance Cabinet Paint in semi-gloss finish. We painted our Bathroom Cabinets four years ago and they are still in pristine shape! We used brushes to apply the paint, but now recommend using a paint sprayer for a more uniform finish. This post goes in depth on my comparison of Sherwin-Williams alkyd paint and Benjamin Moore interior alkyd paint (the Advance line), and which one we ultimately prefer.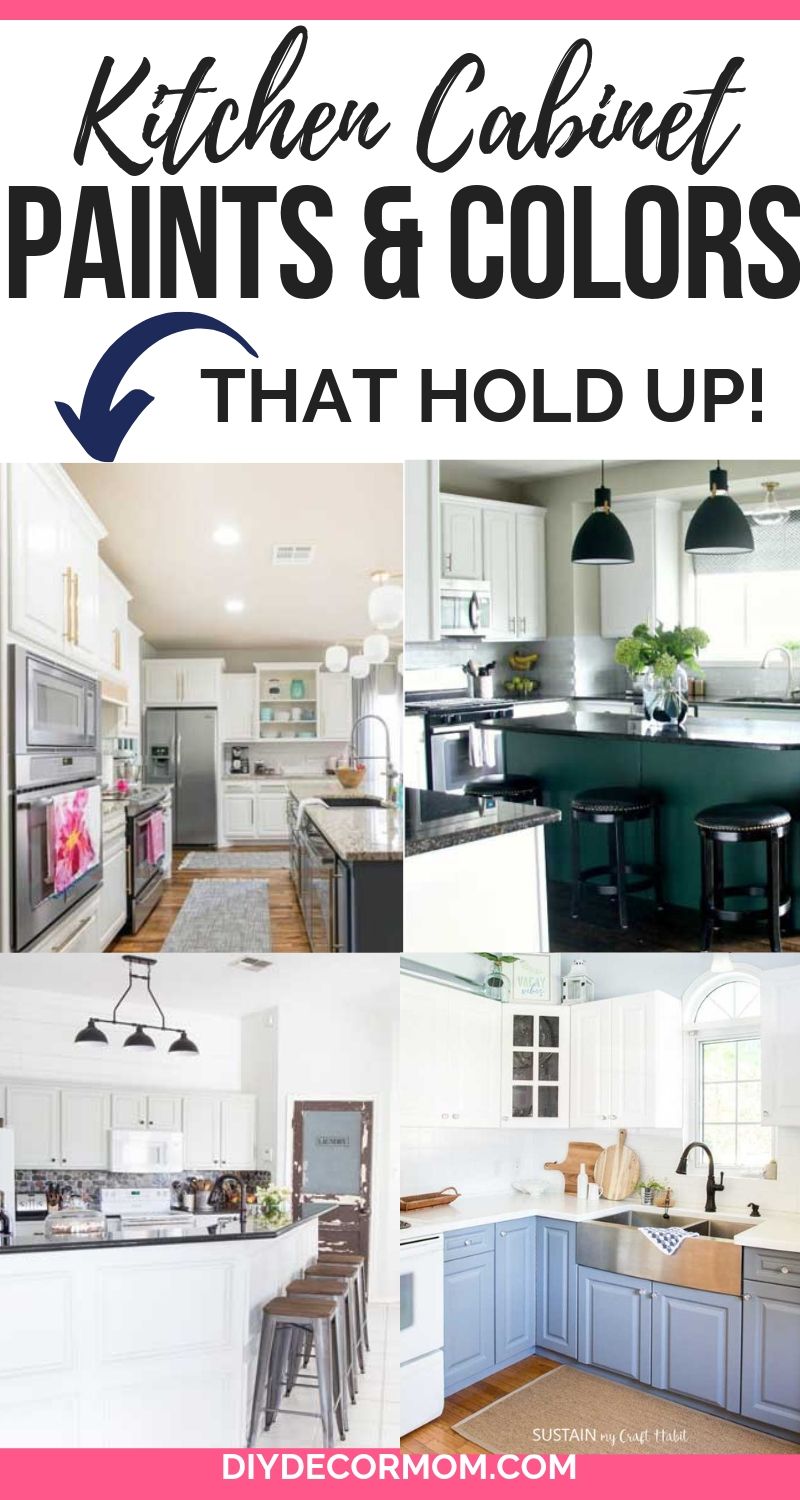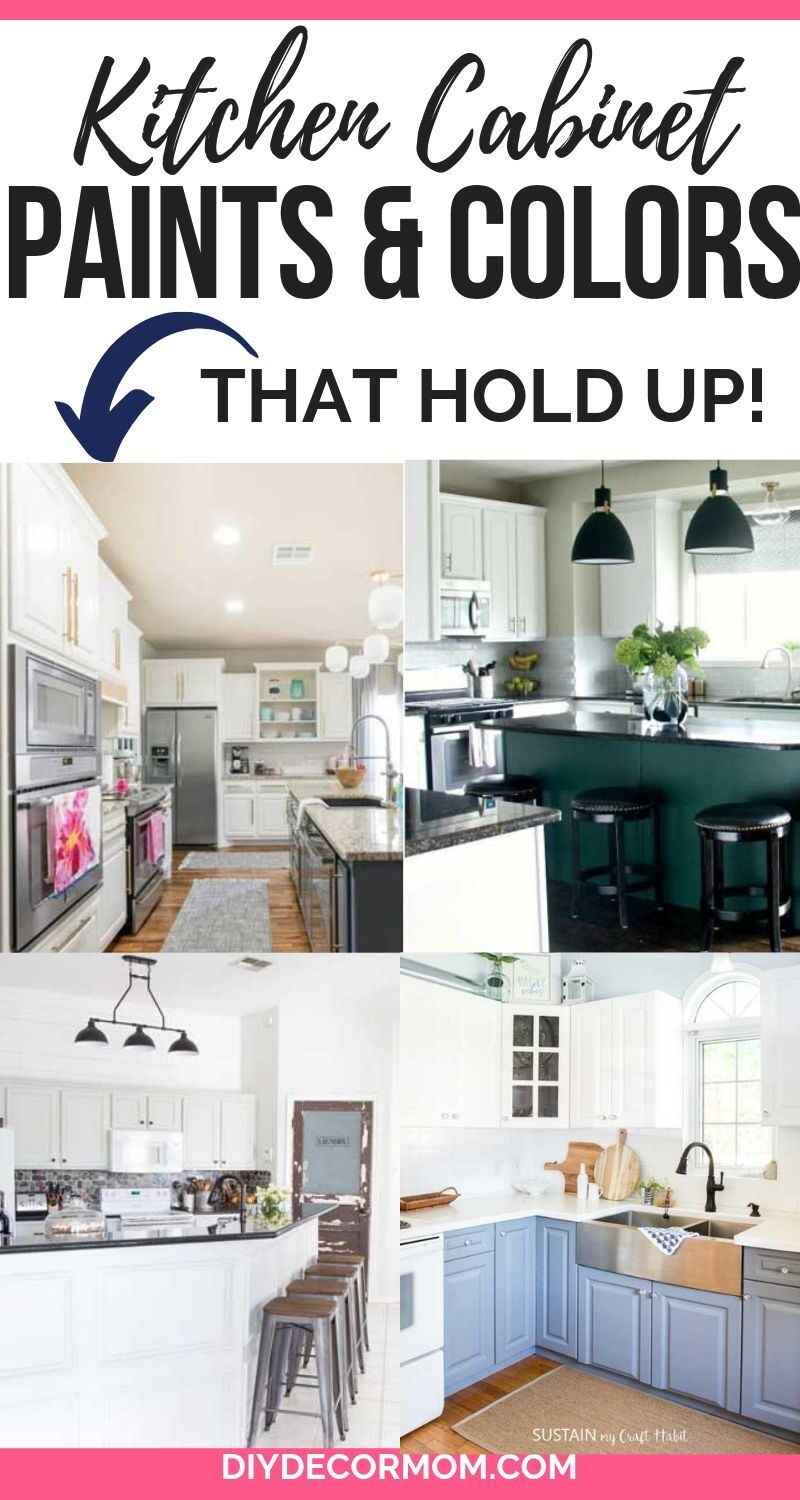 BEST BRAND OF PAINT FOR CABINETS:
Personally, we've had the best longterm success with Benjamin Moore Advance interior alkyd paint. It is very similar to Sherwin-Williams interior alkyd paint, but the Advance paint line smells less, has truer colors, and holds up better in our experience. The important thing to look for is that it is an alkyd paint–this will give you the hardest finish. Benjamin Moore Advance cabinet paint is self-leveling which helps the paint avoid pooling in corners or dripping. I urge you not to use regular semi-gloss paint for your kitchen cabinets (or any type of cabinets, for that matter). Why? Because it won't hold up half as well. The previous owners of our house use regular paint in an eggshell finish for our kitchen cabinets and four years later they look HORRIBLE. Regular paint doesn't hold up well to the abuse a kitchen cabinet goes through. Investing a couple of extra dollars into the right type of interior alkyd paint will make your painted cabinets last for years without chipping!

HOW TO PAINT YOUR KITCHEN CABINETS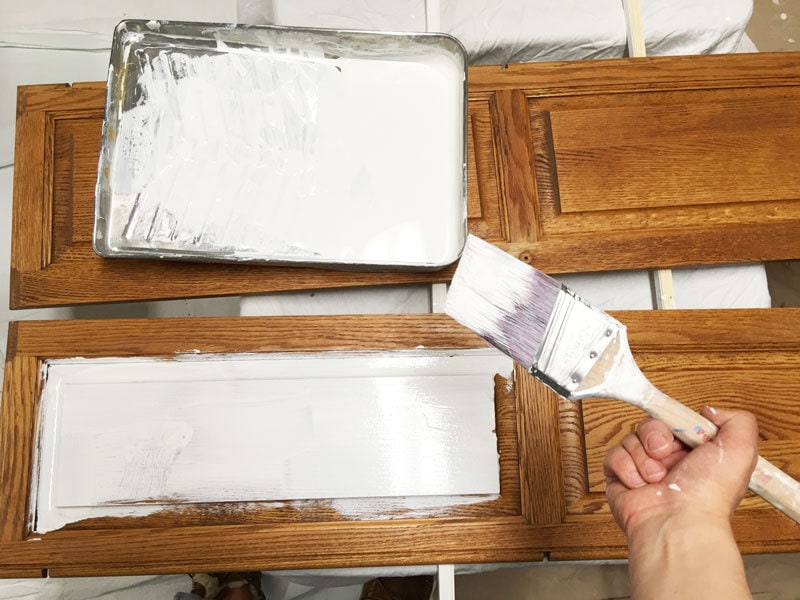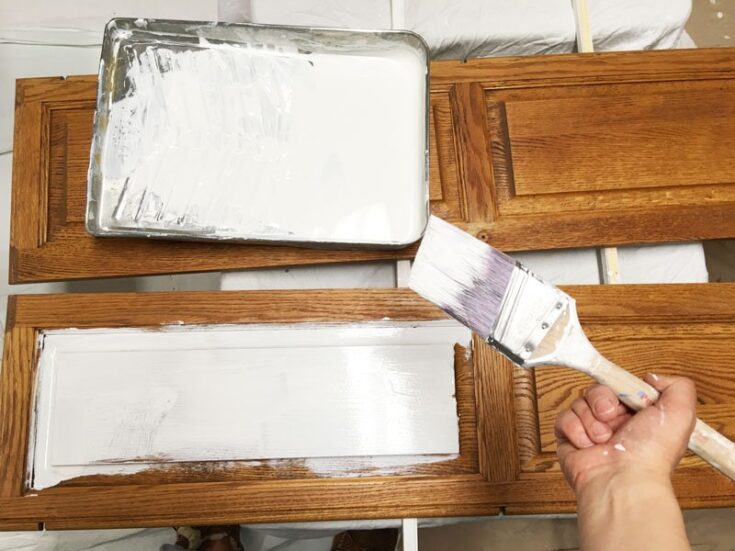 How to Paint Your Kitchen Cabinets
See the best paint for kitchen cabinets and the directions that will give your cabinets a professional looking finish!
Materials
Tools
Paint Tray and Pail
Drop Cloths
Protective Equipment (eye glasses and mask)
Instructions
Remove kitchen cabinet doors from the frames and remove the hardware. Wipe down the cabinet doors and the cabinet with a wet cloth and TSP. give a rough sanding
Gently wipe down the surface with these general purpose hand pad gently "roughing up" the varnish to give the primer something to hold onto.
Next, it is time to prime the wood. Two coats of primer should do the trick for very dark oak wood like ours. The goal of the primer is to adhere to the wood. Because primer is a lot cheaper than paint (a gallon is about $20-25 for primer) vs. the $42-45 for a gallon of cabinet paint, I always do two coats of primer + two coats of paint. Applying the primer and the paint with a Paint Sprayer will give you the hardest and most professional finish possible.
Apply several layers of paint on your kitchen cabinet doors with your paint sprayer. If you can spray the frames of your cabinets, then that's great; otherwise, paint them using a foam roller and a paint brush. Apply thin coats in the direction of the wood grain for the best finish.
Sand with light sandpaper (the general purpose hand pad) to knock down any paint drips in between coats of paint.
Let the paint harden for at least 24 hours. I let ours harden seven days before I re-hung our pantry cabinet doors. The longer you give it to cure, the harder the finish. Some say that the paint doesn't completely harden until three weeks after painting. As hard as it is to wait, I urge you to give it time to harden! You don't want to damage all your hard work by being impatient!
Recommended Products
As an Amazon Associate and member of other affiliate programs, I earn from qualifying purchases.



KITCHEN CABINET PAINT COLORS
Since I only have one kitchen (ha!) I asked my friends to share their amazing painted kitchen cabinet makeovers with you, so you can see different paint colors and paint combinations. My personal recommendations for the painting kitchen cabinets and methods are above, so to see the details of what type of paint they used, go to the source listed below the picture. Some of them have had great success with chalk paint, something I personally, have struggled with using.
Amazing Painted Kitchen Cabinet Makeovers
FAQs About Painting Kitchen Cabinets
What is the best paint to use for kitchen cabinets?
I personally (along with professional painters) recommend using Benjamin Moore Advance paint–it is their version of cabinet paint and it holds up very well with daily use. Choosing the right type of paint is the key to a good finish!