Benjamin Moore Cabinet Paint: Painting cabinets is a great way to update your kitchen, bathroom, or even your laundry room without spending a lot of money. In this article, I will share everything you need to know about painting your cabinets using Benjamin Moore Cabinet Paint including if it's worth spending the money on, whether or not you truly need "cabinet paint," what primer to use, whether you should sand it or not, and if you should use a paint sprayer or hand brush it!
Plus, I'll even compare Sherwin-Williams cabinet paint and Benjamin Moore cabinet paint so you can get a good idea of which one is better and why! See my secrets for the how to paint bathroom cabinets here!
BENJAMIN MOORE CABINET PAINT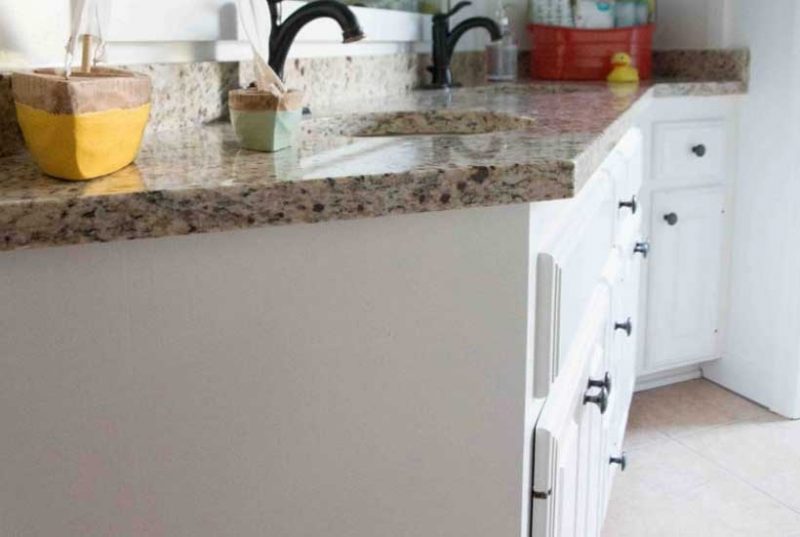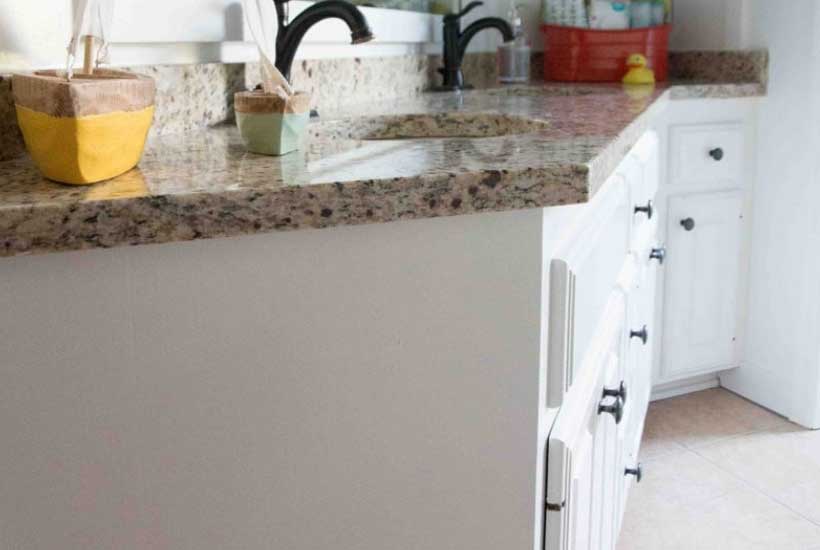 Benjamin Moore cabinet paint line, Advance, is slightly more expensive than their other paint lines. We always use their zero or low-VOC line, Natura, in our house which isn't cheap either; but, we have found that you get what you pay for. The Benjamin Moore Advance line holds up well year after year, it's easy to work with and is low VOC which is always a concern in homes with small children.
*affiliate links have been used at no additional cost to you see my disclosure policy here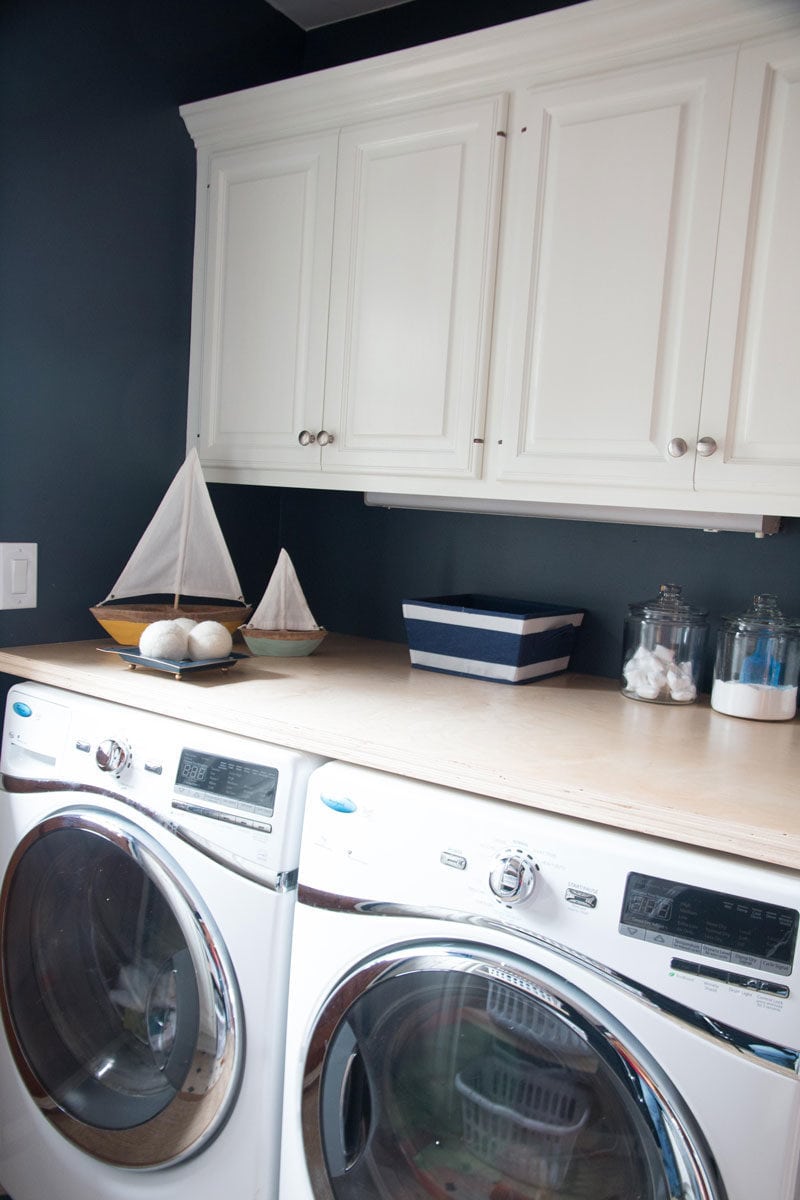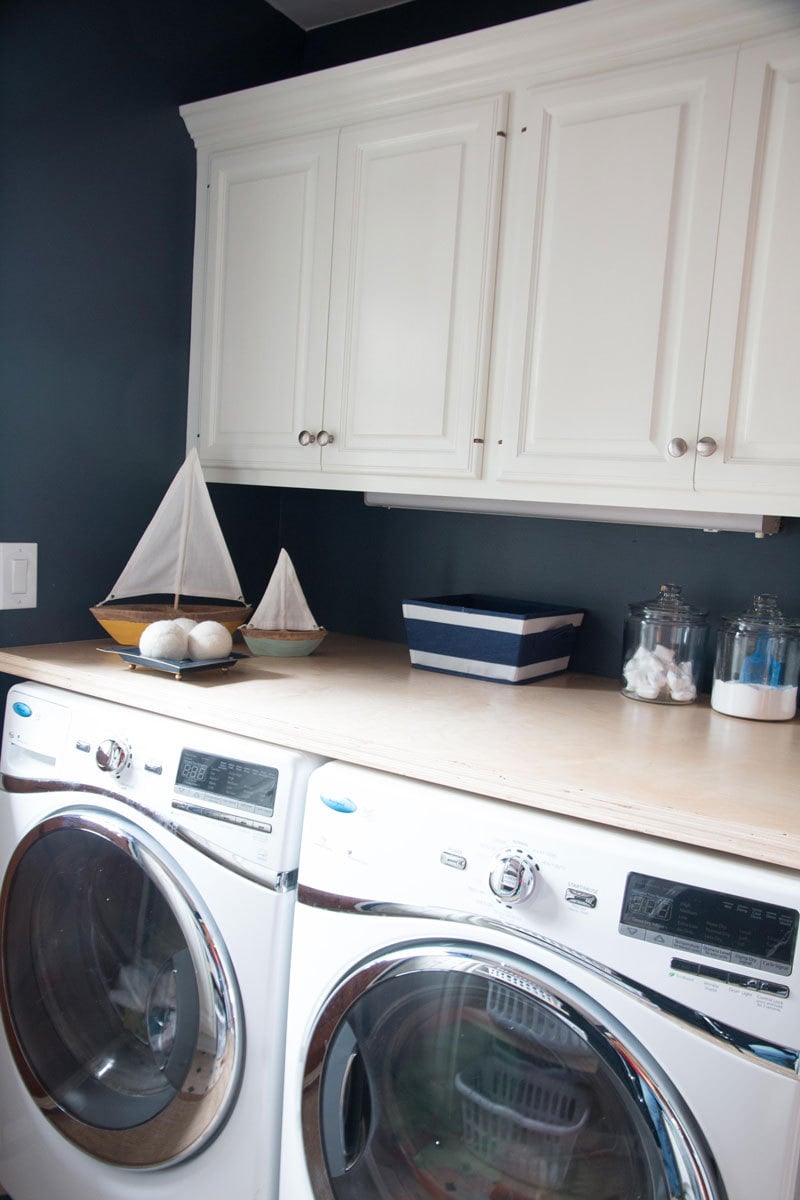 Why you should use cabinet paint:
Cabinet paint is designed to sustain more wear and tear than regular paint. On our trim in our house, we use Benjamin Moore Nature Semi-Gloss in Simply White. While it's pretty good, it definitely chips and wears over the years. The glossier the product, the more it will withstand wear and tear. Should you use high gloss then on your trim or cabinets? I wouldn't recommend it unless they are spotless—and definitely not if you are painting old oak cabinets or trim.
While gloss adds protection, it also emphasizes imperfections. We've used high gloss on a number of vintage furniture pieces and the shine really emphasizes any nicks, scratches, or dents. So, I wouldn't recommend it for something as heavy use as trim or cabinets.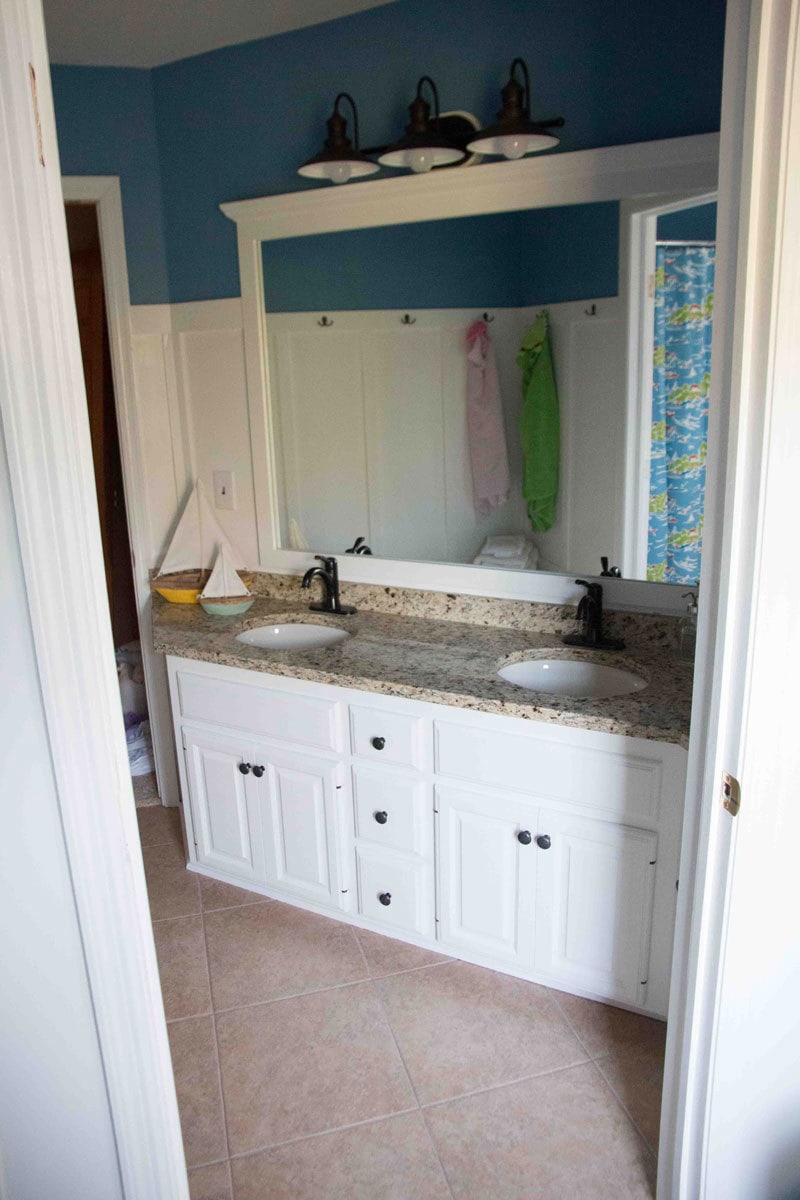 Should I use cabinet paint on my trim too?
Cabinet paint would be tougher than regular Semi-gloss paint but I think it would be overkill. Plus, it would really add up over the expanse of an entire house. Cabinet paint is meant to cure longer than regular paint which could be a problem for trim. We like to let our cabinet paint dry for at least 5-10 days (it can take up to 14 days to fully harden). The longer you let it "cure" or harden, the more robust it is going to be.
Should I sand before using cabinet paint?
If you are painting oak trim or oak cabinets, I do not recommend sanding. I speak from firsthand experience. When we have sanded, we have experienced lots of stain bleeding through from the wood stain below. It will cause your perfectly white painted cabinets, furniture, to have blotchy stains on it from the stain in the wood seeping up through the paint. It's happened to us on windows, on vintage bookcases, and even our laundry room cabinets which stinks. Instead, I recommend lightly scuffing up your cabinets with these abrasive pads. Painting cabinets is a lot of work and I am not looking forward to painting them again anytime. See how to paint wood trim here.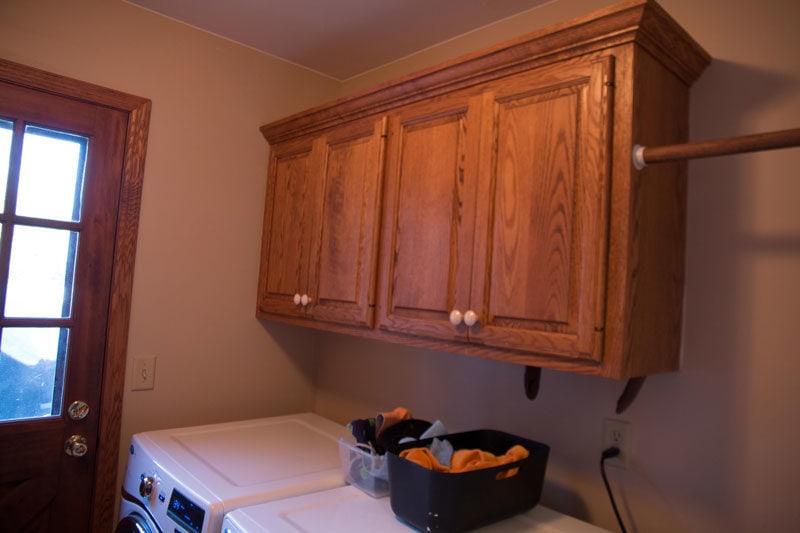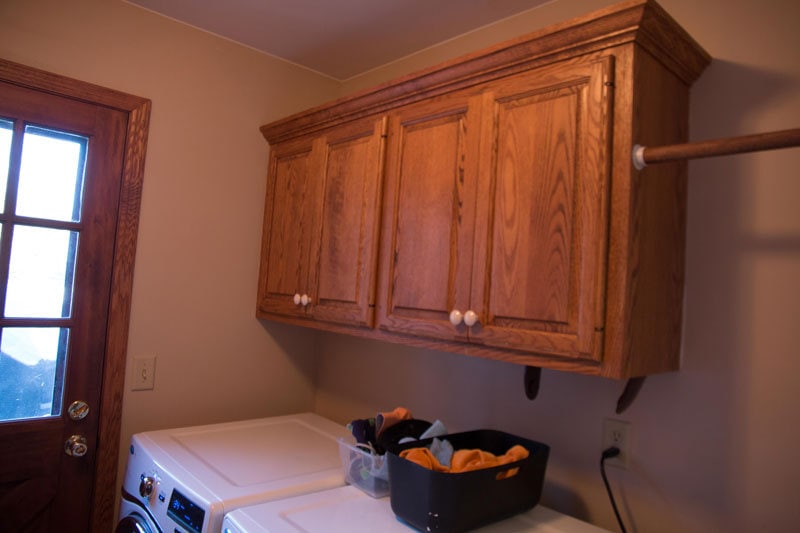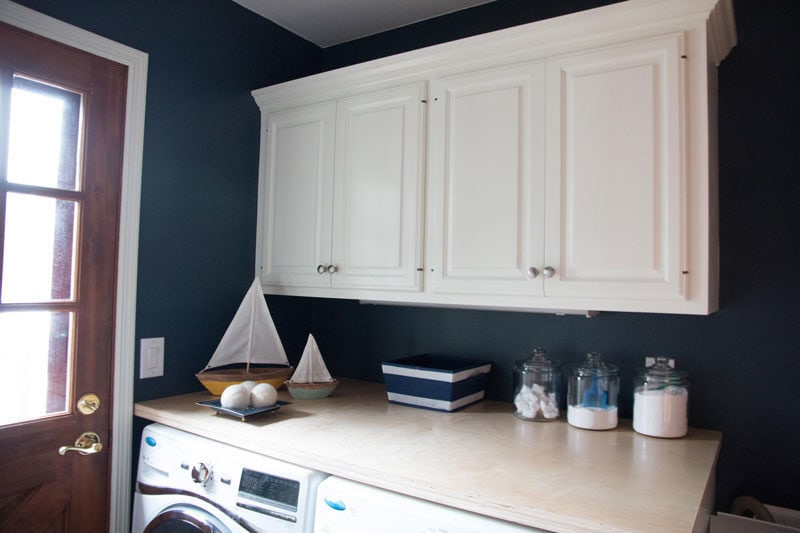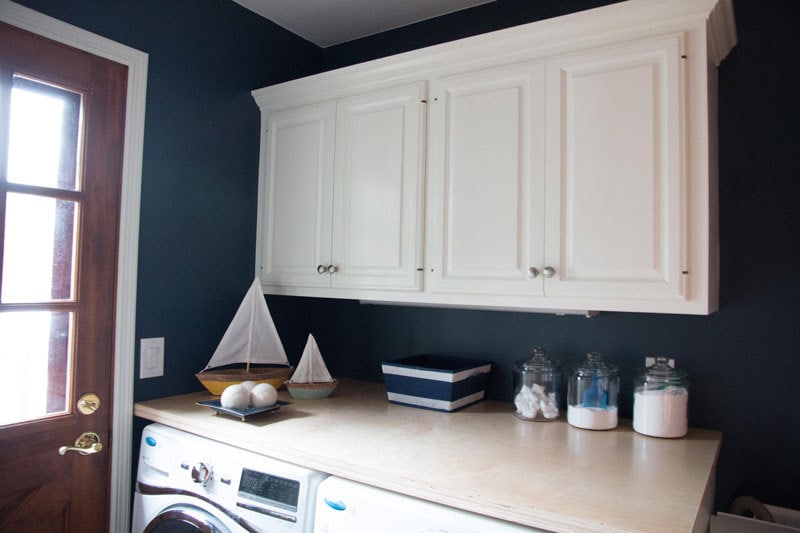 MATERIALS FOR PAINTING CABINETS
Scotch-Brite General Purpose Hand Pad- I recommend using these to scuff up your cabinets before painting
Paint Brush- use a 3″ angled trim brush and an ultra-fine foam roller
Wood filler- fill in any nail holes or dents beforehand for an even finish
Primer and Paint

Paint– my favorite paint for bathroom cabinets is Benjamin Moore Advanced line in semi-gloss (I use Simply White color to match my painted wood trim) Benjamin Moore Advance line is a waterborne alkyd paint that produces a hard enamel-like finish

Paint Sprayer or Ultra-Fine Roller (decide which is best for your situation)- a paint sprayer will give you a more flawless finish but it takes a long time to set up
Paint tray and pail
Drop Cloths
Mask (if you are using the paint sprayer)
Benjamin Moore Cabinet Paint vs. Sherwin-Williams Cabinet Paint:
We have used Benjamin Moore Cabinet Paint Advance line on several rooms in our house and lots of furniture. We've even used it on our kids' bathroom cabinets which put up with a LOT of wear and tear. So far, we've been incredibly happy with the results. The cabinets are hard to the touch, the paint covered well, and the color is true to form.
We used Sherwin-Williams Alkyd line in our laundry room and did like that it hardened quicker than the BM Advance cabinet paint. It covered well and was easy to work with. However, I noticed that it smelled more (it wasn't as low VOC as the Advance), and the consistency wasn't as easy to work with as BM Advance Cabinet Paint.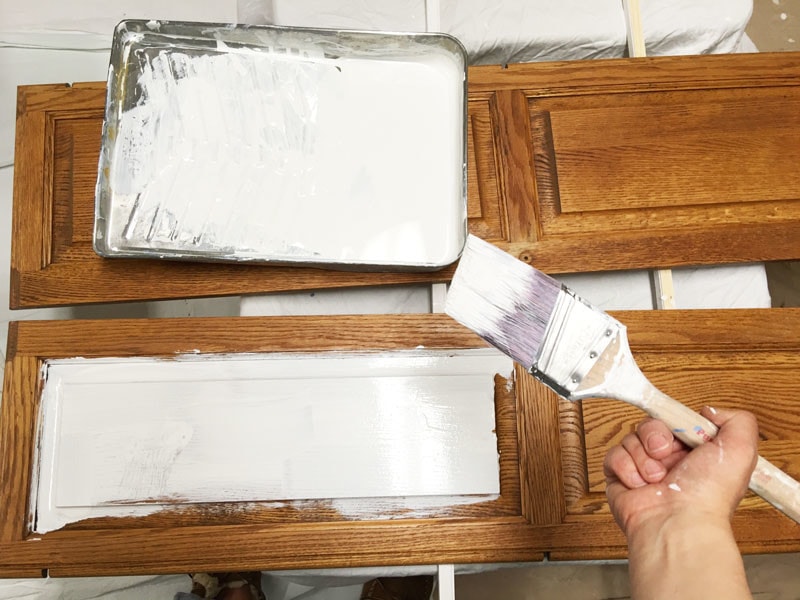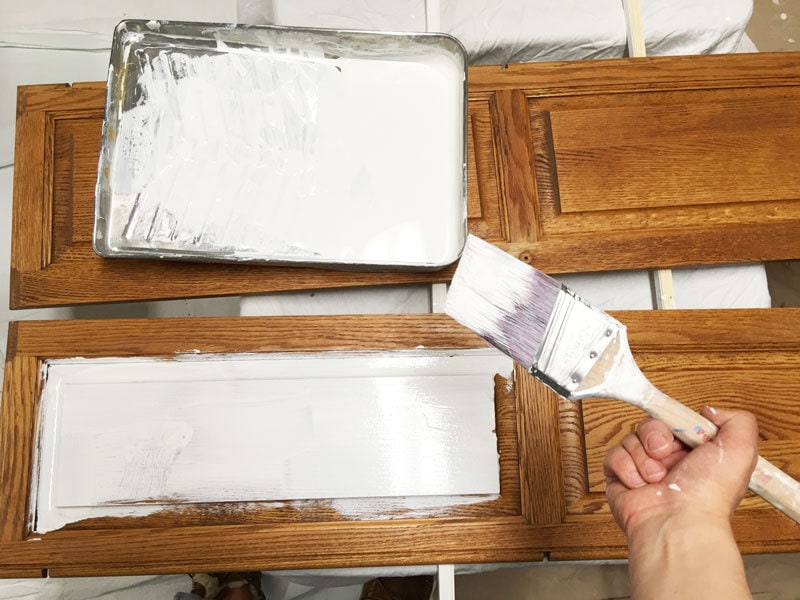 FAQs ON BENJAMIN MOORE CABINET PAINT
What does Benjamin Moore cabinet paint cost? What does Sherwin-Williams cabinet paint cost?
At our local Benjamin Moore paint store (which I absolutely LOVE—I call in my order ahead of time and it's ready for pick up!) a gallon of BM cabinet paint, Advance costs $45.85. A quart costs $20.20. Comparatively, at Sherwin-Williams, a gallon of their comparable cabinet paint costs $83.49 and a quart costs $32.59. When it's on sale (they often have 30-40% off sales regularly) the prices are very similar.
What primer should I use with Benjamin Moore Advance cabinet paint?
For years we used Zinsser's Smart Prime but they discontinued making it a year or two ago. Since then, we have been using Zinnsers Bulls-Eye 1-2-3 which is very good as well. We have also used Sherwin-Williams primer and felt that it was a fine substitute although it had more fumes than the Zinssers (which wasn't a hit when I was pregnant with our third.)
Should you use a paint sprayer to paint your cabinets?
If you want a very robust finish, yes. We have tried both methods: hand painting the cabinets with a foam roller and brush and using a paint sprayer. It takes roughly the same amount of time. With a paint sprayer (here's the one we have), you spend more time setting up your workspace; but, it takes a fraction of the time as painting.
With hand painting, you can easily paint anywhere with a drop cloth and don't need to tent the entire room off with plastic sheets to protect from overspray or airborne particles.
If I was painting my kitchen cabinets, I would buy a paint sprayer. If I was painting a bathroom vanity cabinet, I would just hand paint them. The finish you get with a paint sprayer is much more professional looking, harder, and actually has less paint on it than hand painting.
How do you paint cabinets?
See my step by step tutorial on how to paint cabinets here. I go through everything you need to know.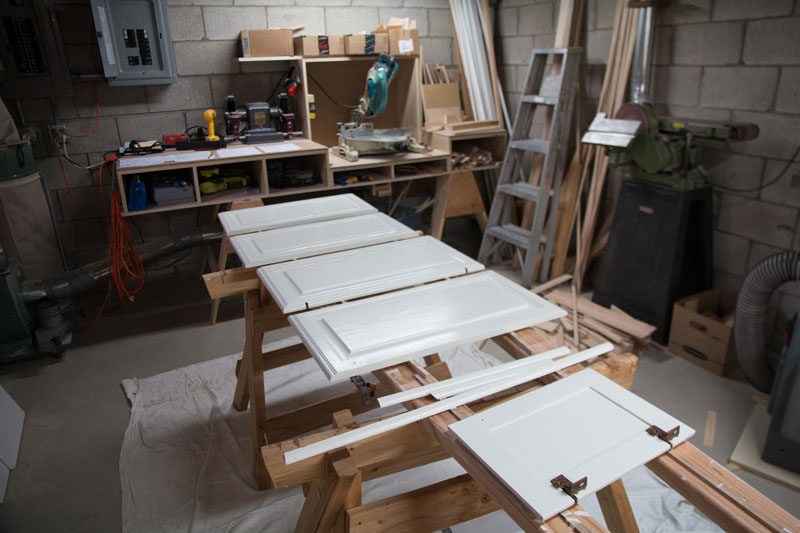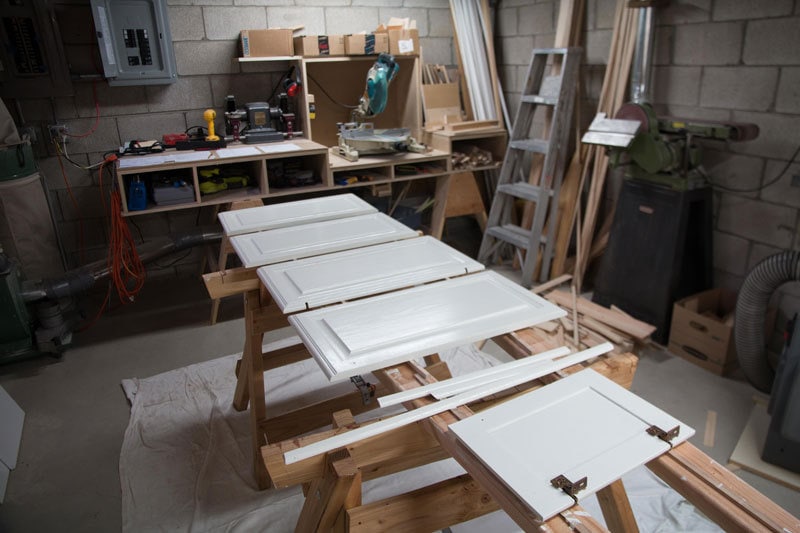 BENJAMIN MOORE CABINET PAINT EXAMPLES
See these fantastic examples of Benjamin Moore painted cabinets from several other amazing home decor and DIY bloggers: Kitchen Cabinet Colors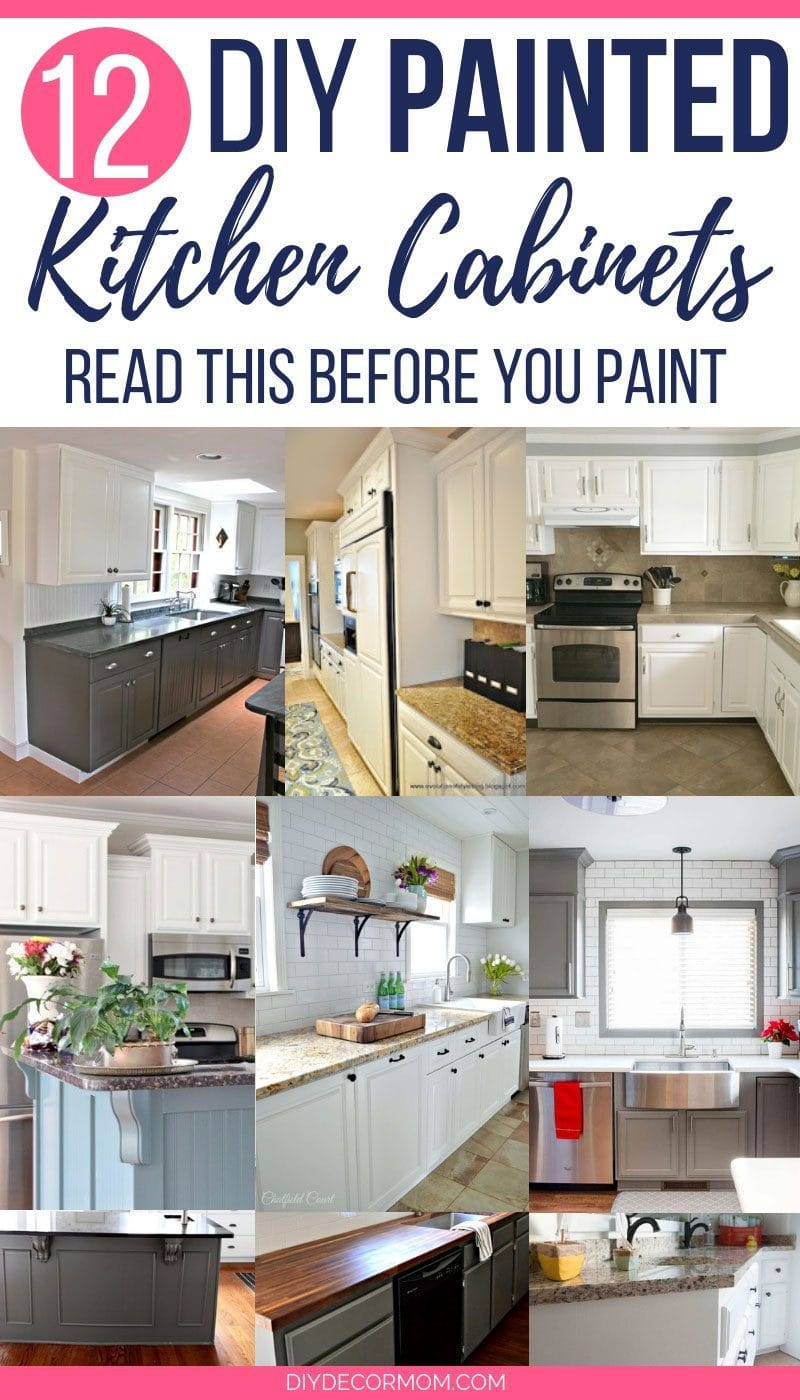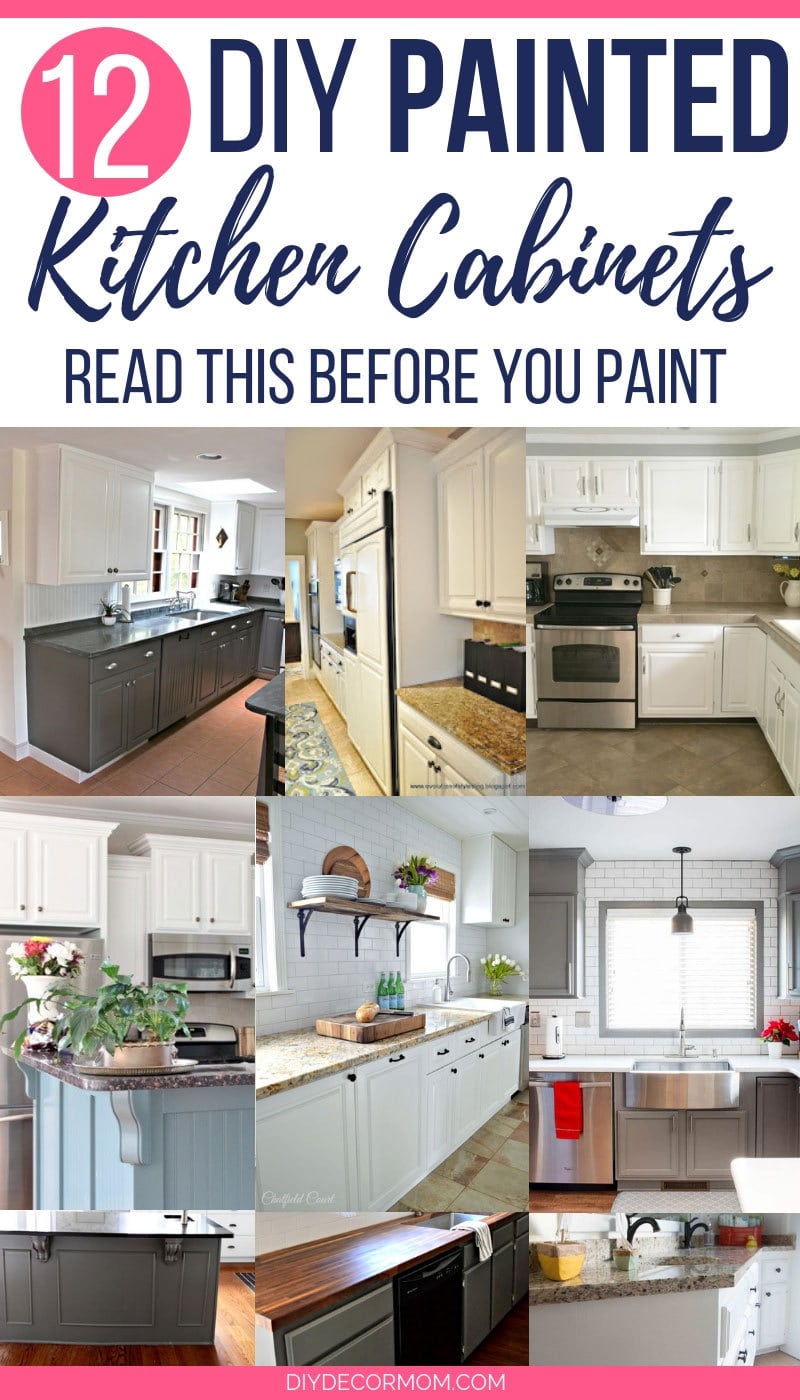 You'll also love these posts on painting:
Chatfield Court shares her painted kitchen cabinets using Benjamin Moore Advance White Dove in her DIY kitchen remodel.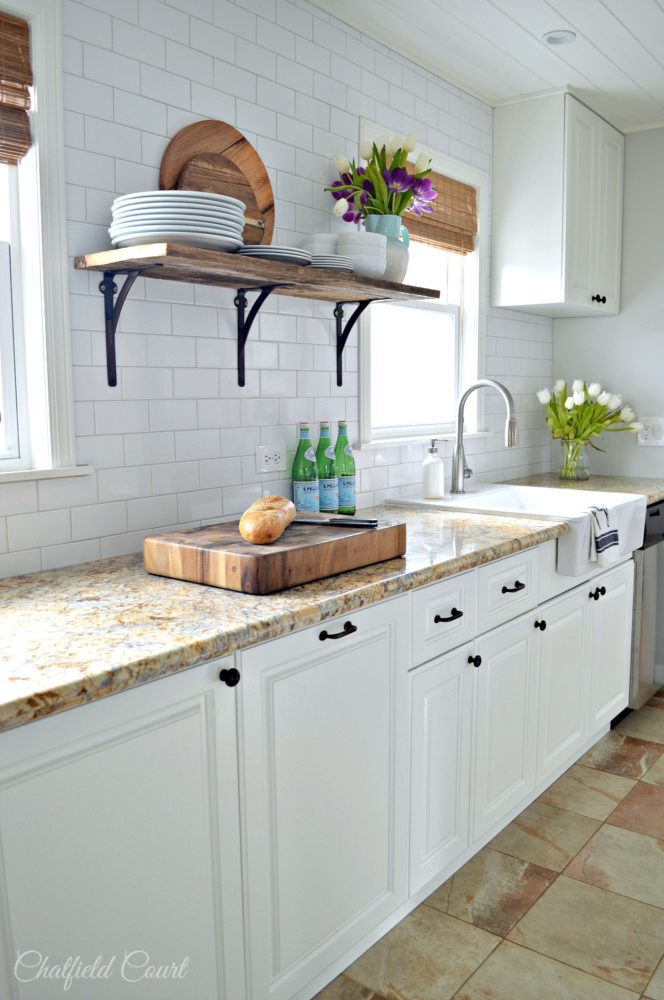 Just Call Me Homegirl used Benjamin Moore's cabinet paint, Advance, in Simply White to used a paint sprayer on her kitchen cabinets here.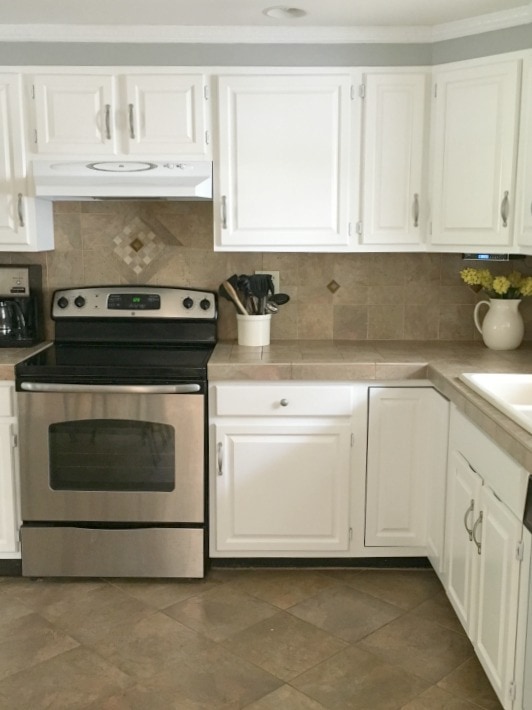 Southern Hospitality painted her kitchen cabinets Benjamin Moore Knoxville Gray and Benjamin Moore White Dove in BM's Advance paint below.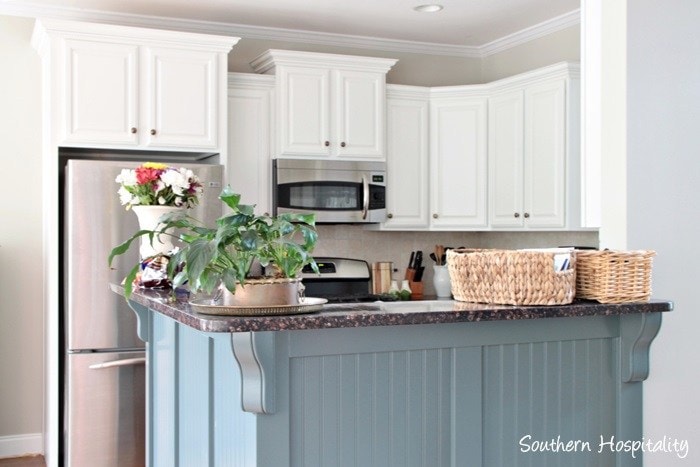 Jaime Costiglio used Benjamin Moore Advance cabinet paint in Iron Mountain and Simply White in her in her kitchen model makeover here.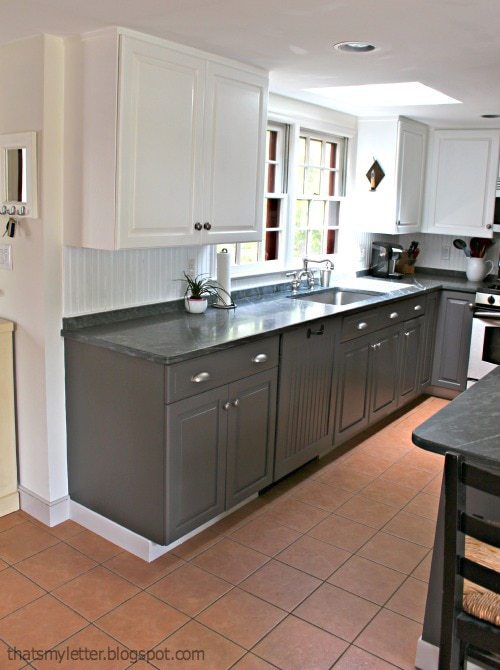 Inspiration for Moms used one of my favorite grays, Benjamin Moore Chelsea Gray in the Advance paint line to paint her kitchen cabinets here.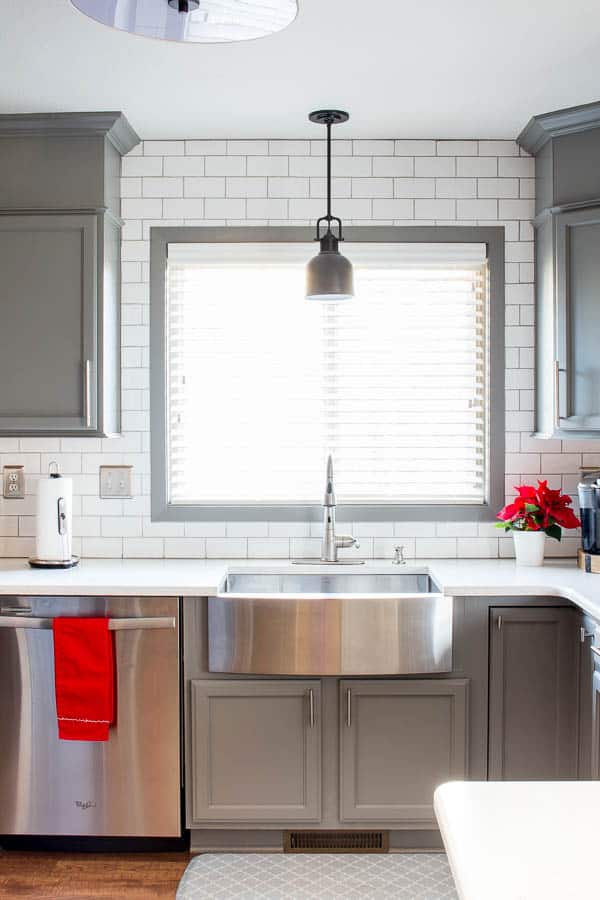 The Ugly Duckling used BM Advance cabinet paint for painting her kitchen cabinets without sanding here.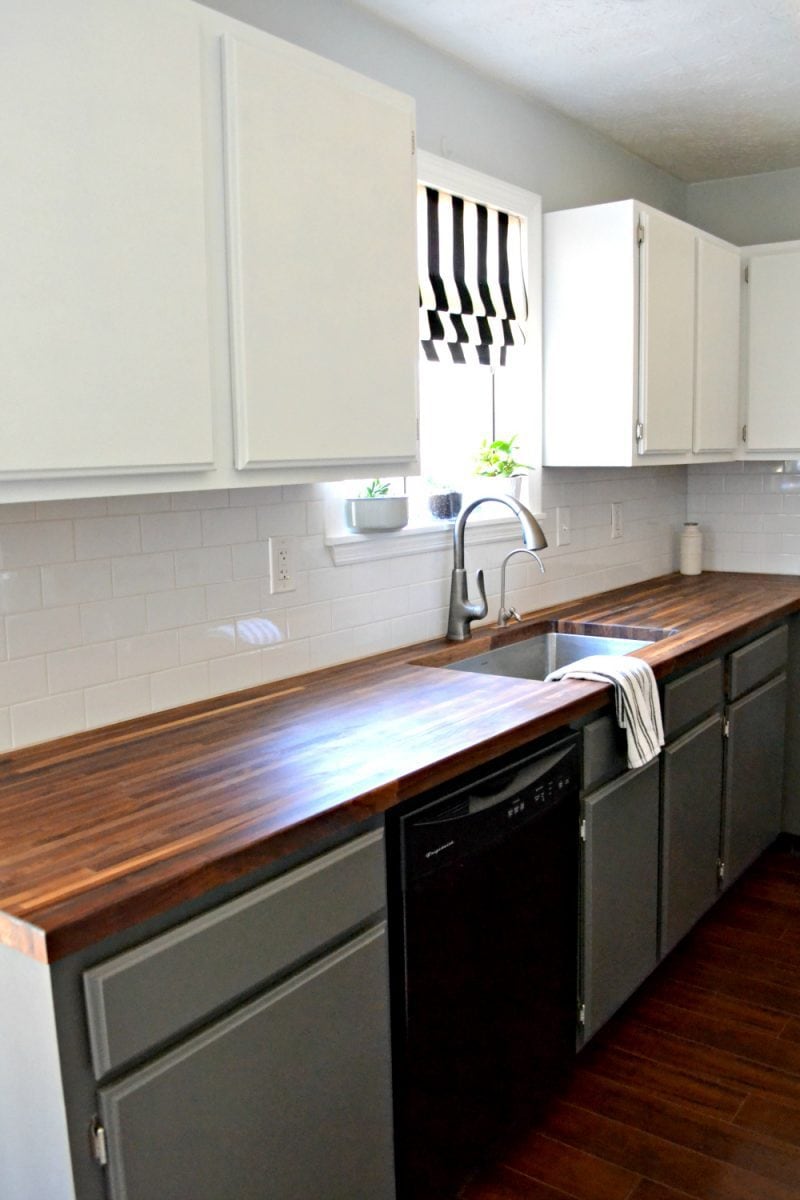 Rain on a Tin Roof used Benjamin Moore's cabinet paint, the Advance line on her kitchen cabinets here, under the heading "Alkyd Paint." You can see how she compares different types of paint for cabinets and their pros and cons in the article as well.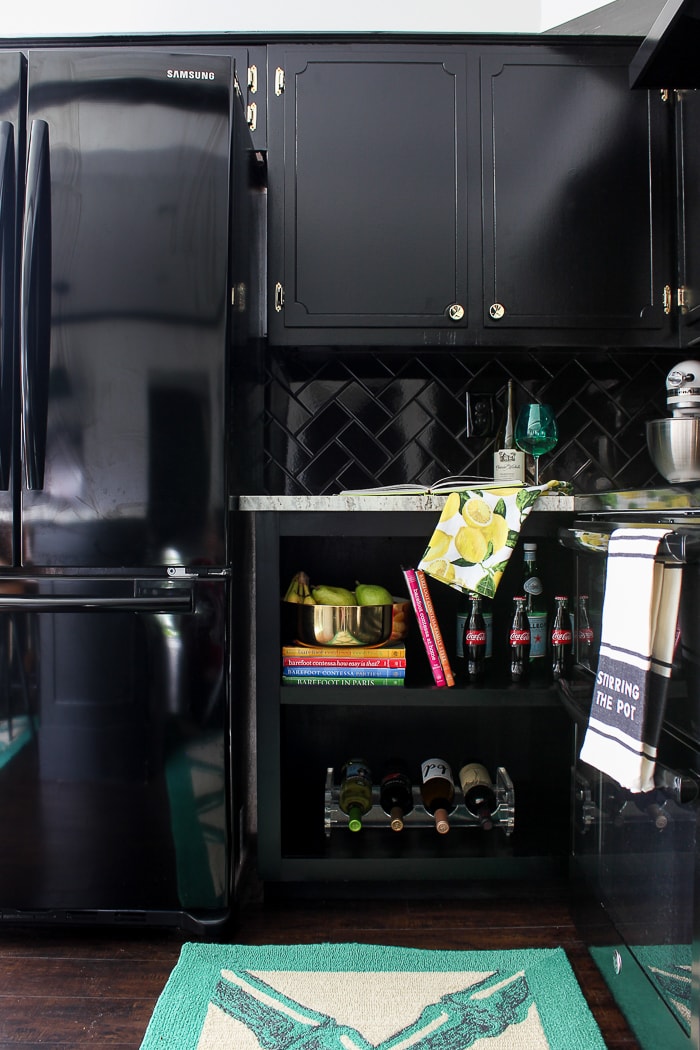 Bower Power compared Benjamin Moore Advance cabinet paint and Sherwin-Williams cabinet paint in this post shown in the picture below.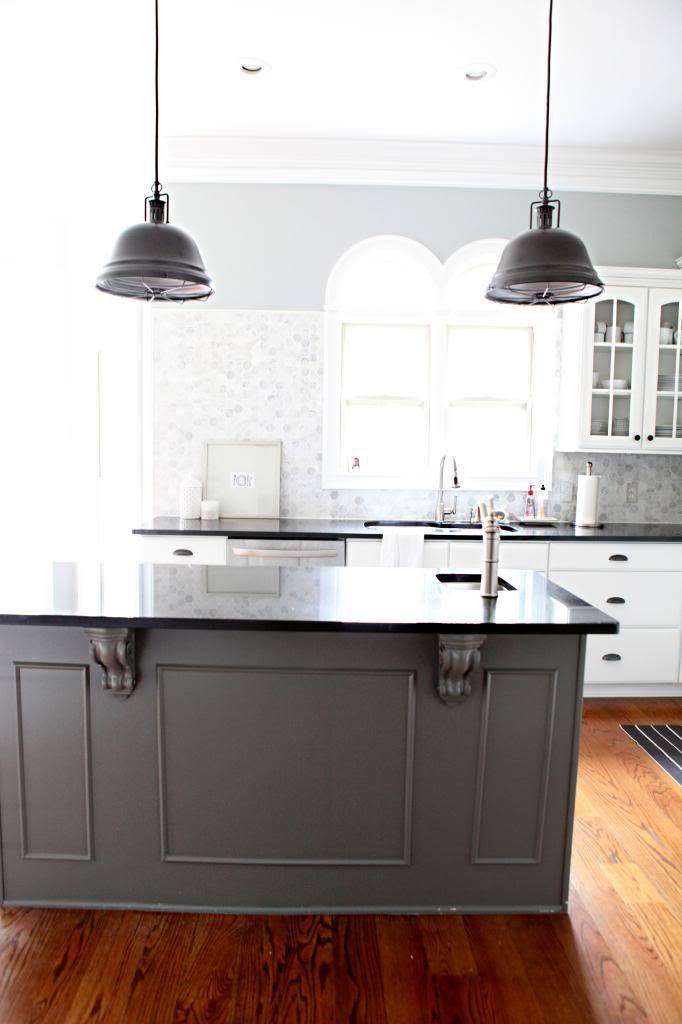 Young House Love used BM Advance paint to paint their kitchen cabinets in their second house here.
Thrifty Decor Chick showed how she painted her kitchen cabinets using Benjamin Moore cabinet paint here and she had amazing results!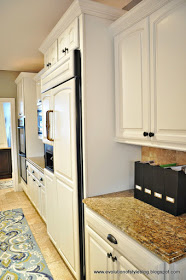 What you'll need to paint your cabinets: here are all my favorite tools that save me loads of time!
Don't Miss these Other Posts: