Breakfast Room: How we transformed our dark eat-in kitchen to a beautiful breakfast room perfect for our family. Looking for ideas for making your own breakfast room or breakfast nook in a kitchen? See this amazing before and after and learn how you can make your eat-in kitchen work for your family.
BREAKFAST ROOM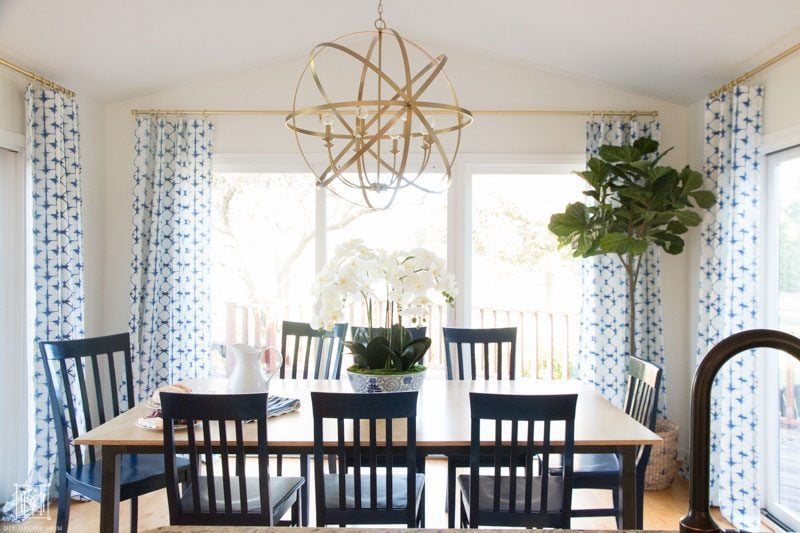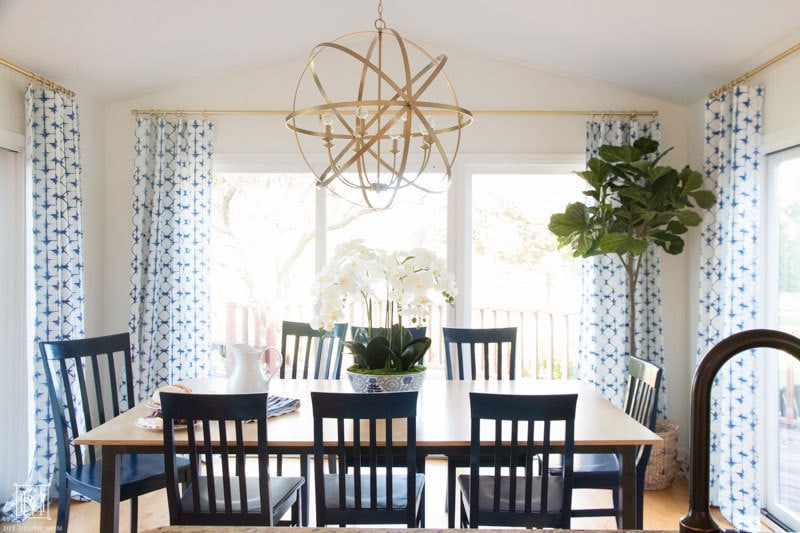 *This is a sponsored post by Roostery all thoughts and opinions are mine.
When we bought our house, most of the rooms were painted a dark khaki color and all the wood trim was exposed. The house felt dark, and our breakfast room right off our kitchen felt cold and bare. Since we made the dining room a playroom, and we use the breakfast room for all of our sit down meals, we wanted to create a room that fit our family and our style. Here's exactly what we did:
BREAKFAST ROOM MAKEOVER:
Painted walls Benjamin Moore Cloud White
Installed and spray painted new dining chairs
DIYed a plywood table
Replaced lighting
Hung curtains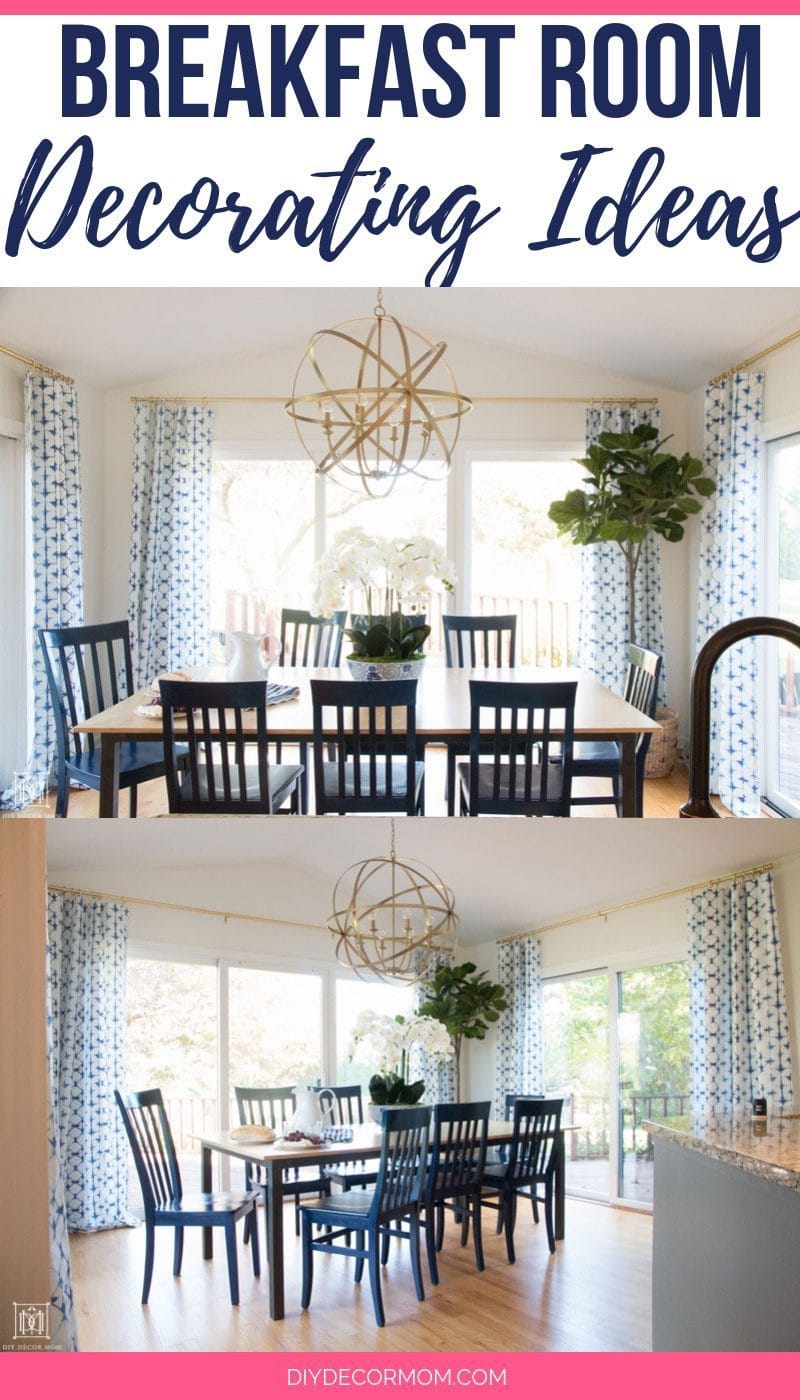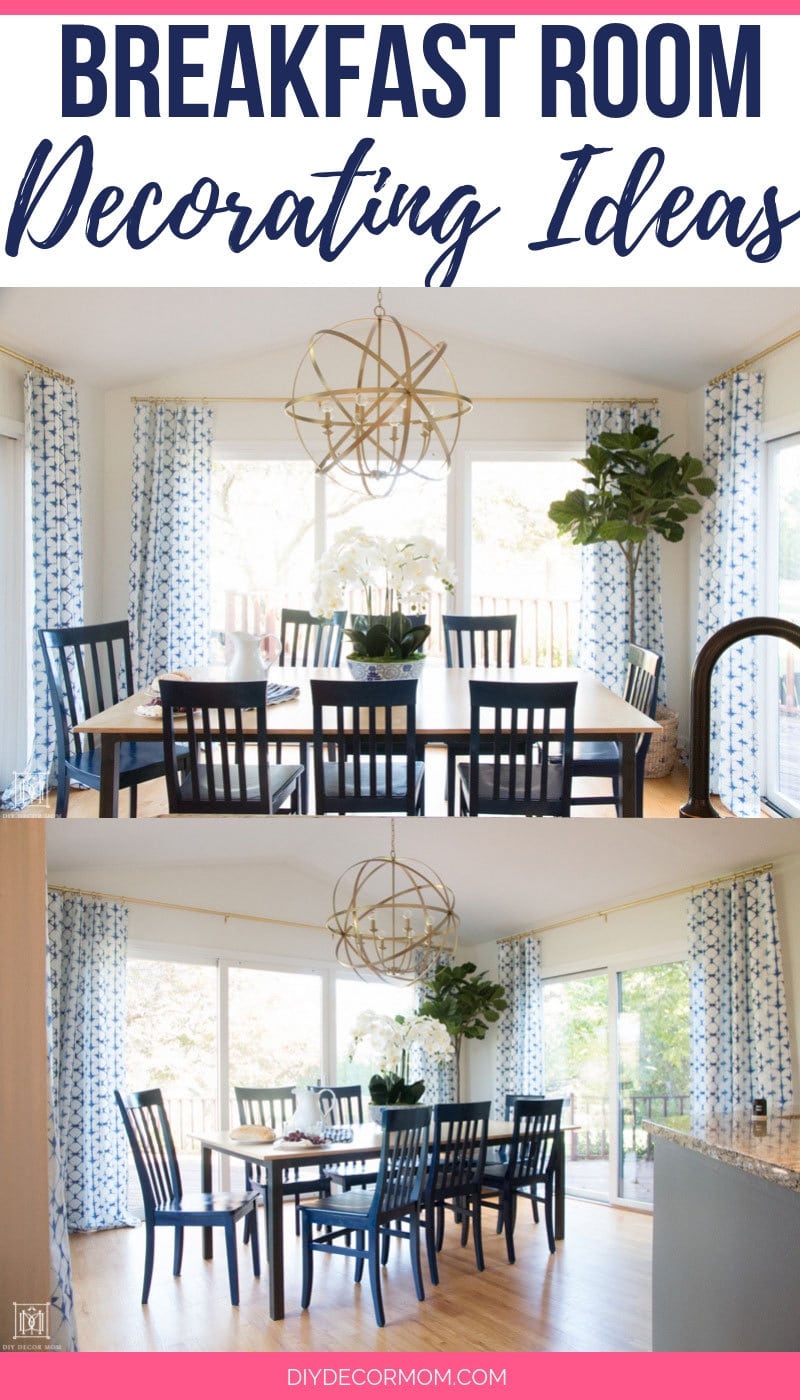 BREAKFAST ROOM BEFORE AND AFTER:
The first winter we lived in our house, we hosted my daughter's second birthday. Yep, it's a lot of brown.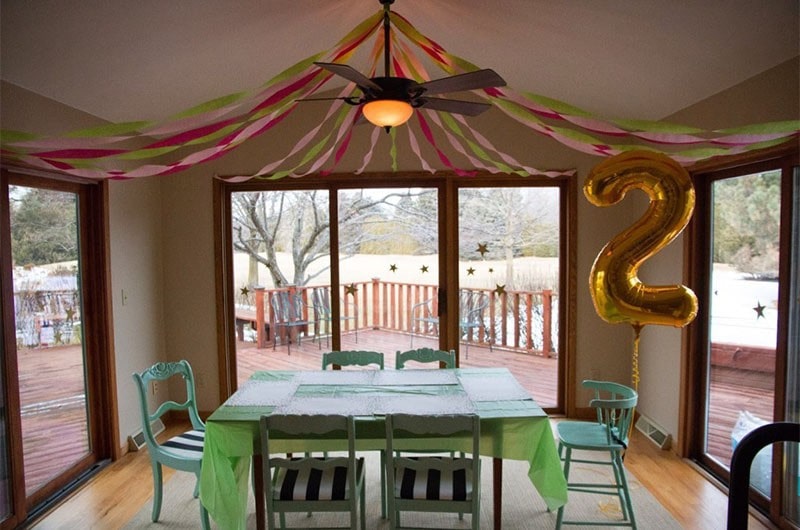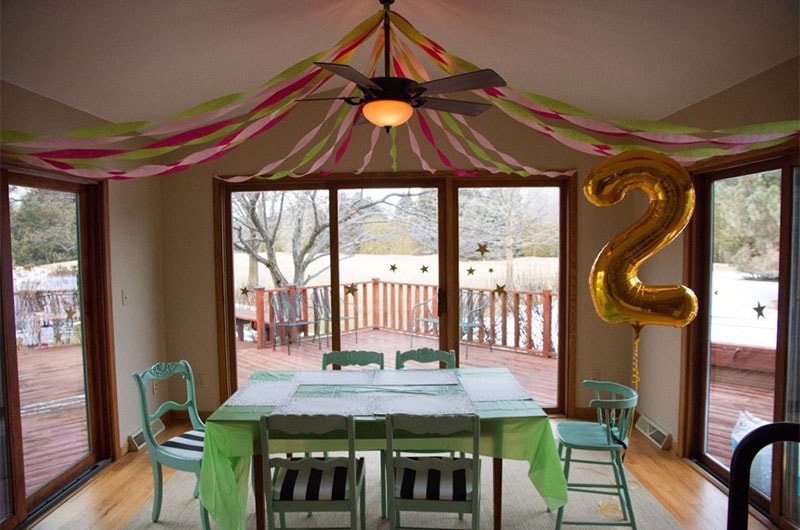 Shortly after, we decided to paint all the wood trim except the sliding doors and paint the walls. The paint made a huge difference! (See my tips on picking out a whole house color scheme here!) We lived with it like this for several years. The sliding doors were difficult to paint and we just kept putting it off but they bugged me every single time I looked at them!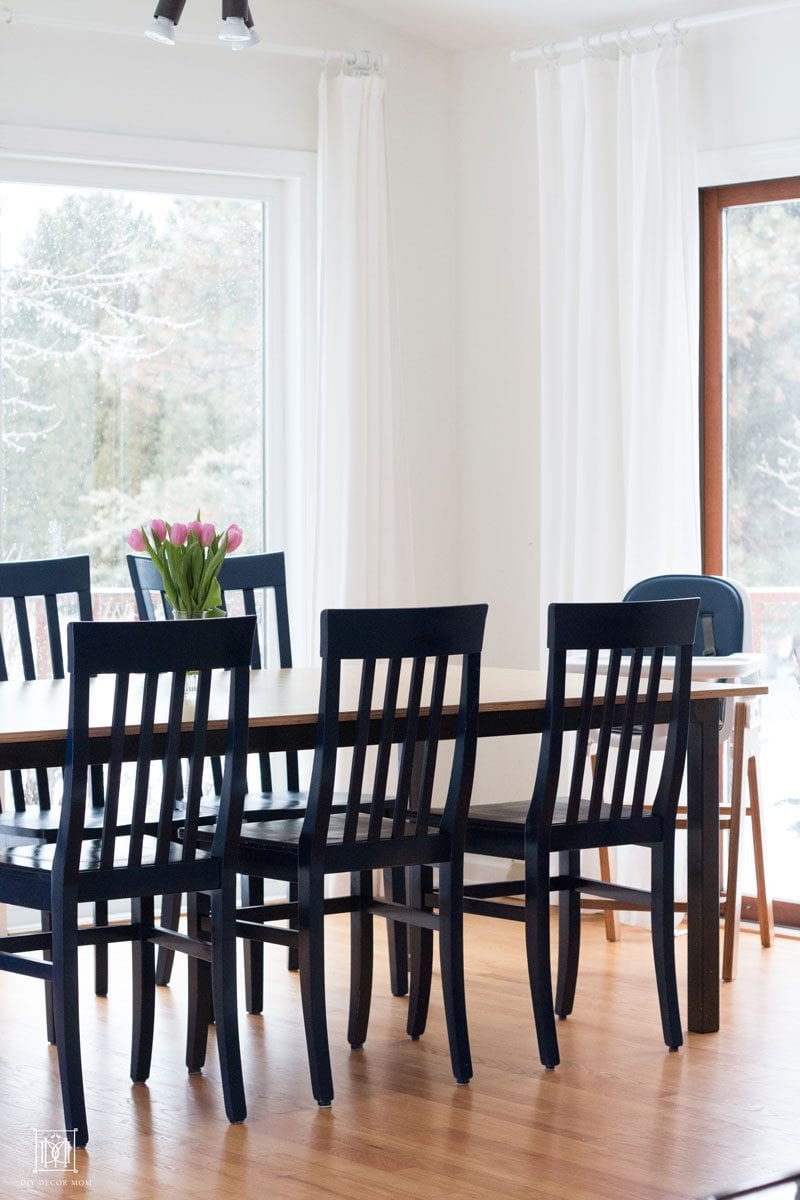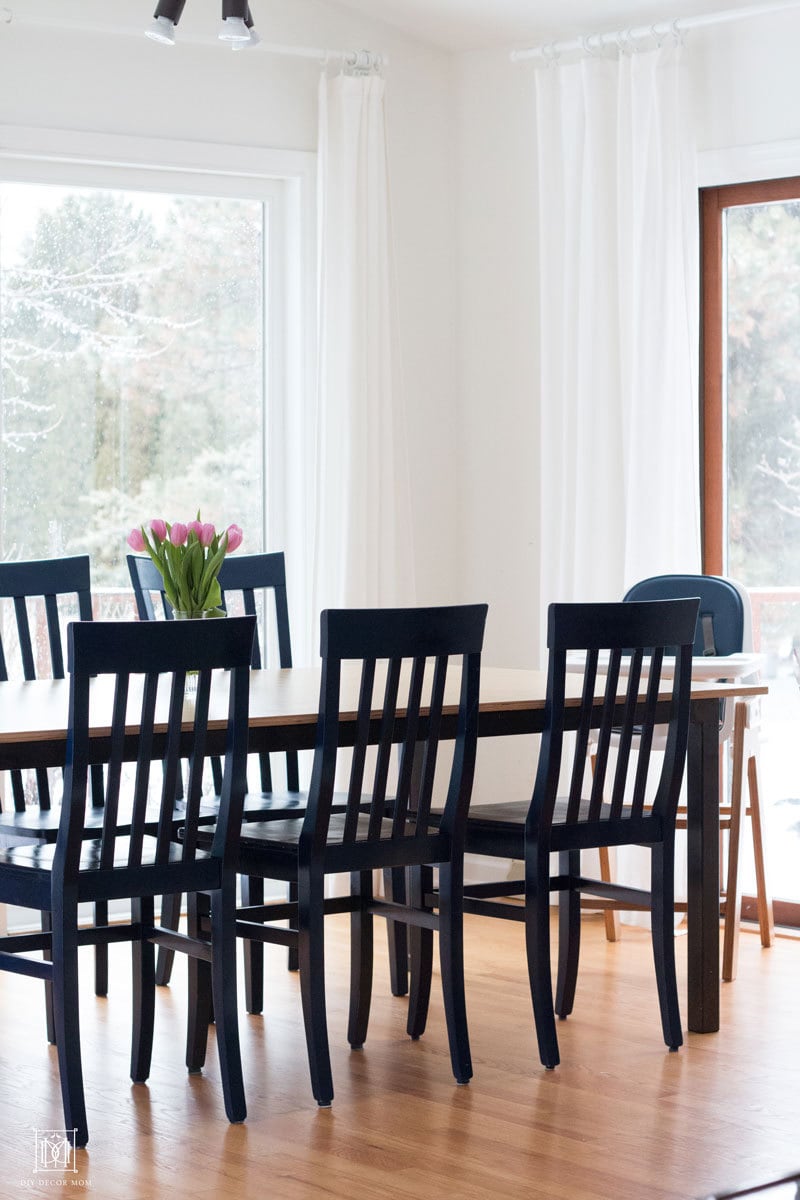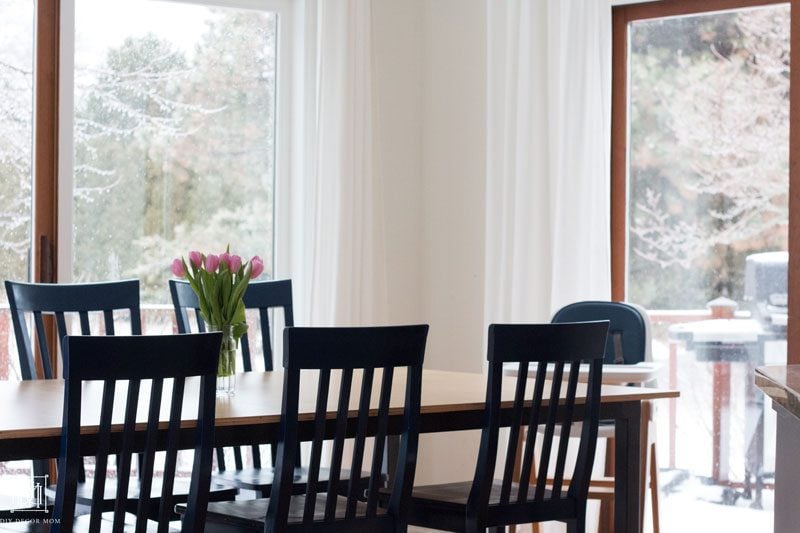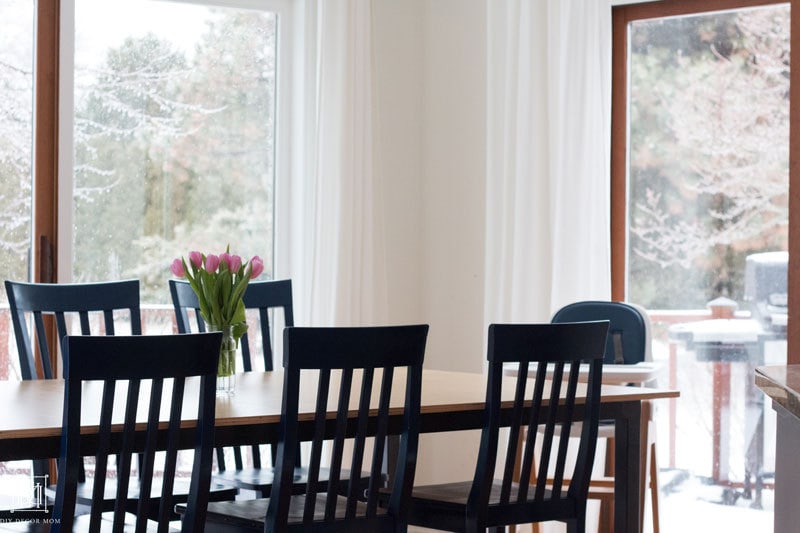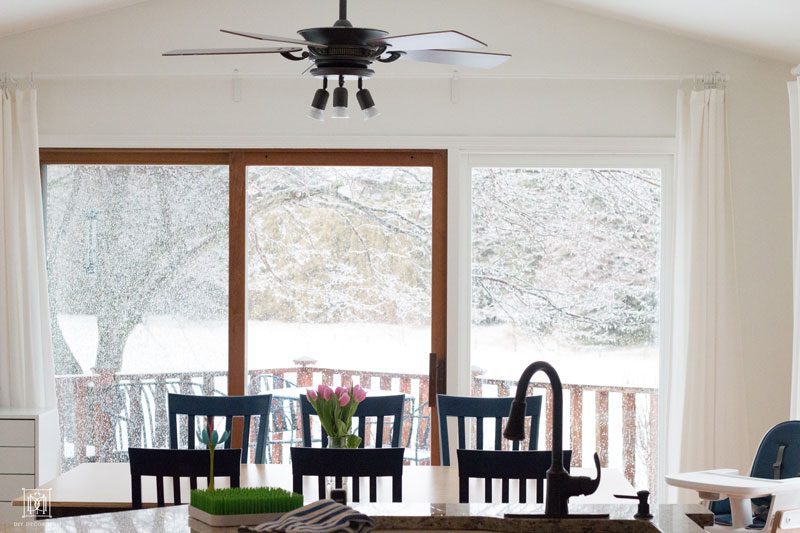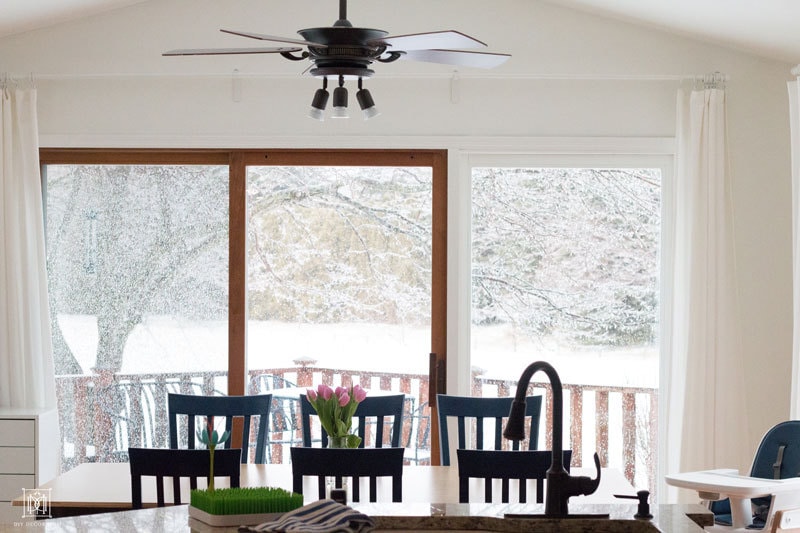 Then this past month, we replaced the fan with this chandelier, painted the sliding doors (hallelujah!), and replaced the cheap Ikea curtains with beautiful ones from Roostery Home. Now, the breakfast room finally feels like a natural extension of our house. We love eating meals there and it feels cozy and spacious at the same time! Plus, the new curtains "frame the view" of our yard that we love so much!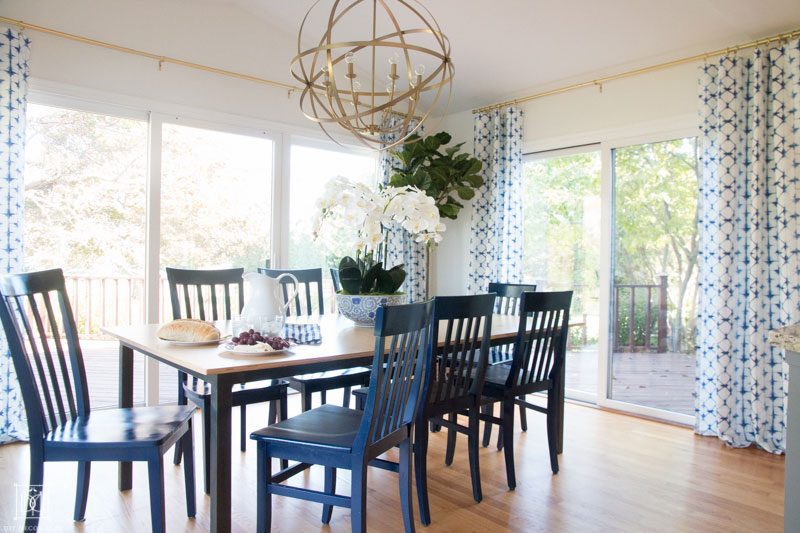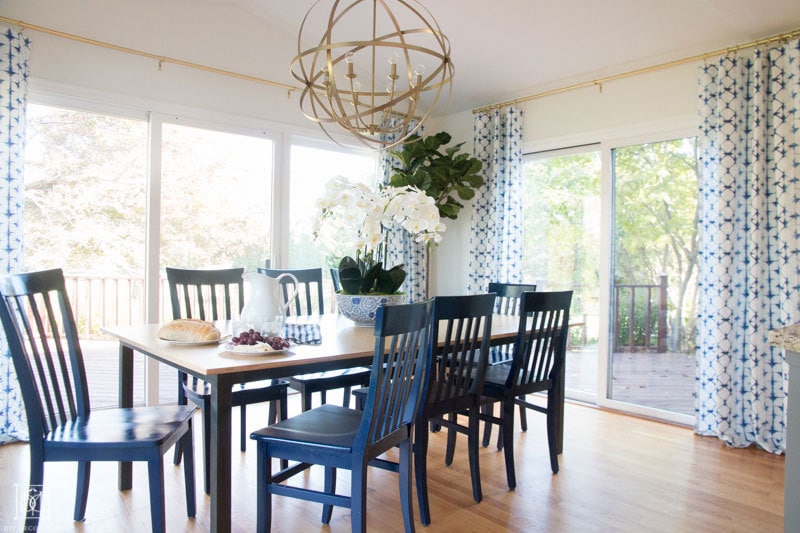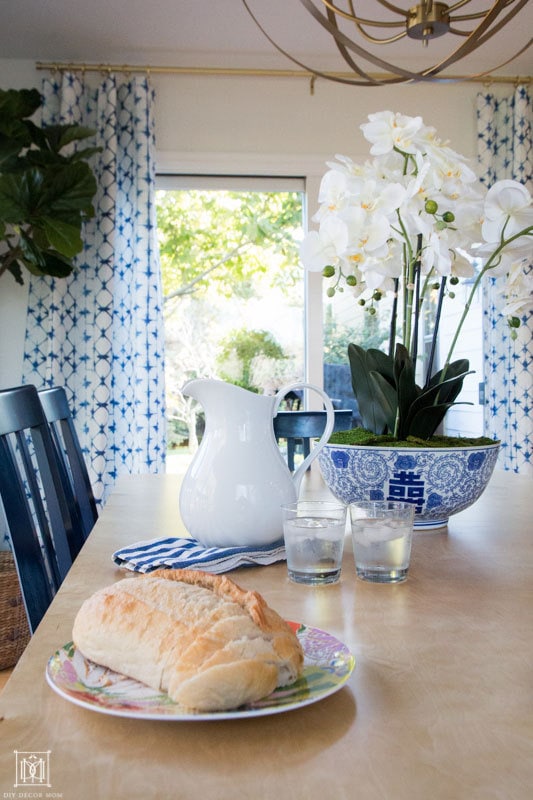 How to add style to your breakfast room:
By adding the following decorative touches to our breakfast room, we were able to take a sterile sunroom and make it a warm welcoming breakfast table people want to eat and congregate around!
First, we added a faux fiddle leaf fig (buy my exact one here). It added a bit of life to the room and gave the stark white room some necessary life!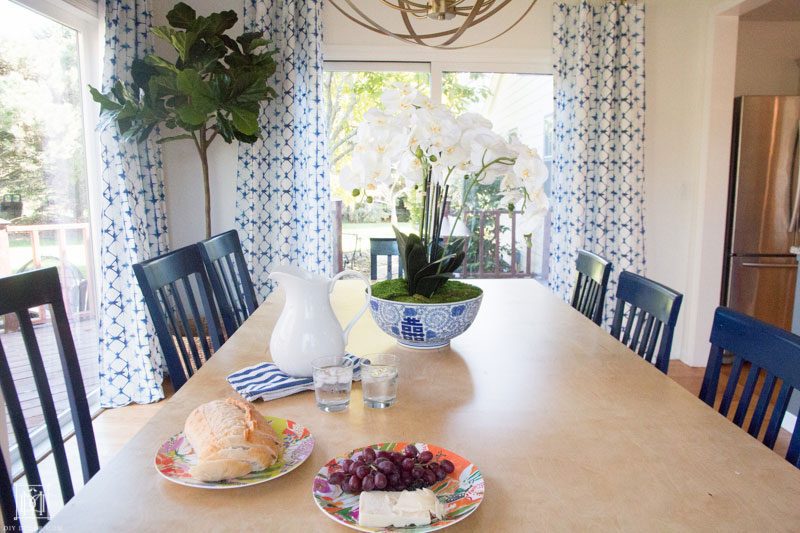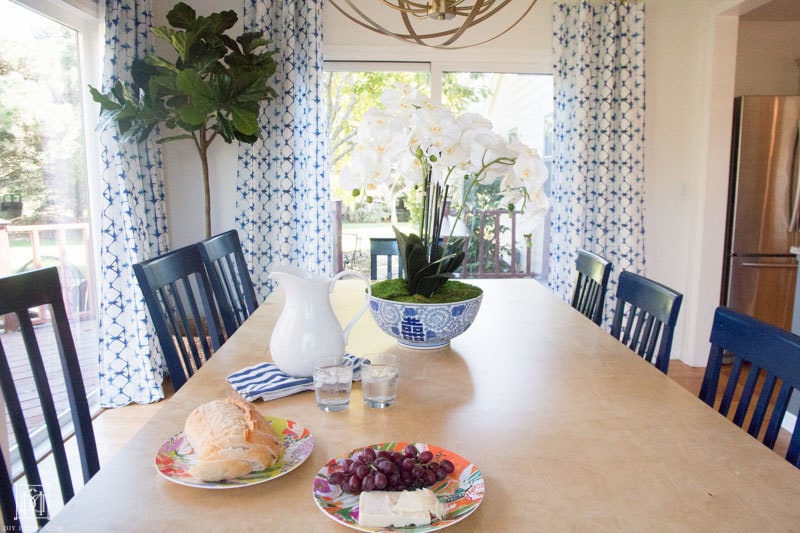 Then we replaced the white curtain rods and clips with more elegant champagne gold curtain rods and rings.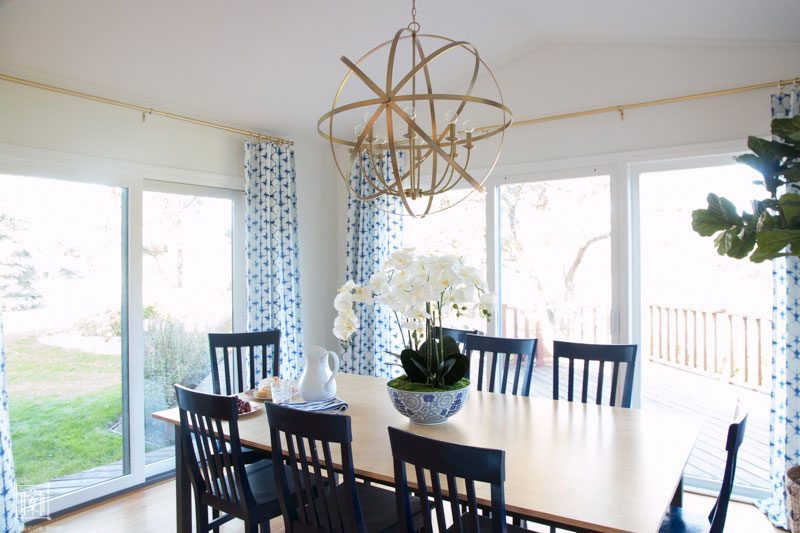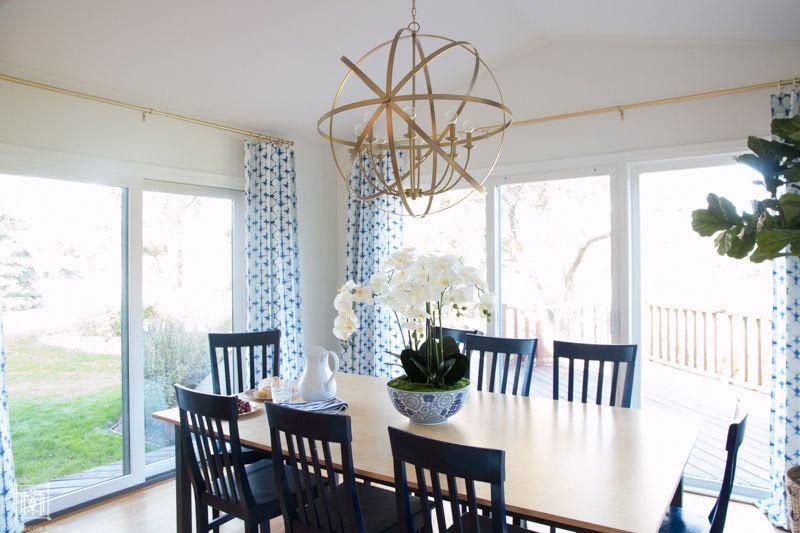 Next, we replaced the boring (and ugly) fan with a bright and large chandelier.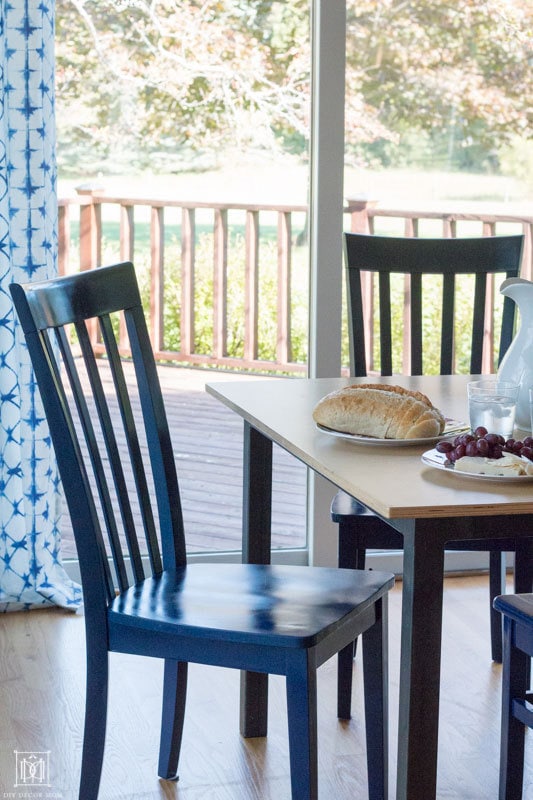 Finally, we pulled the room together by installing these beautiful custom curtains from Roostery. You can see what a difference the curtains make in making the breakfast room feel like a real room in the progress shot below. Although we love having the sliding doors on three sides, it often made the room feel cold and separated from the rest of the house.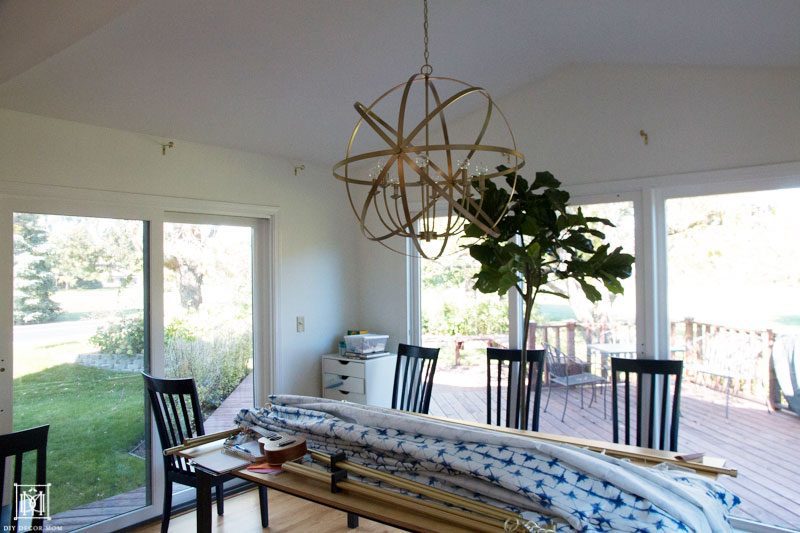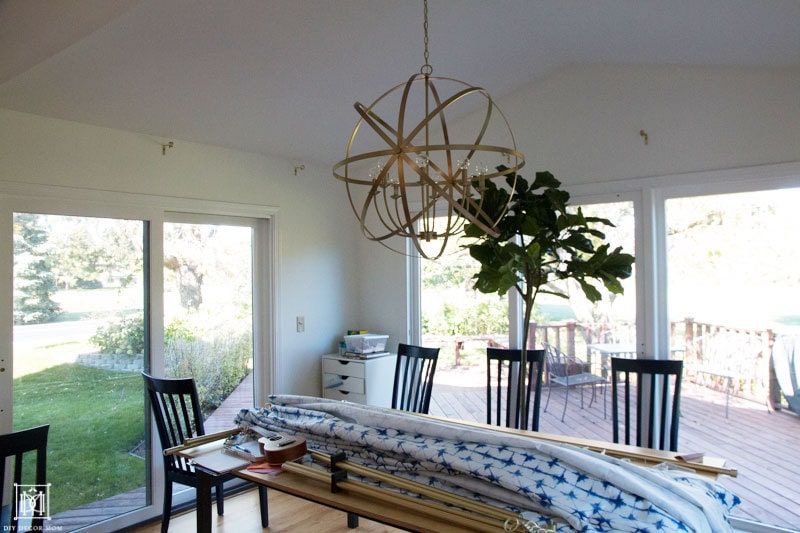 With the new curtains from Roostery Home., the room feels cozier and larger at the same time! By hanging the curtains high and wide (remember to always hang curtains as high as you can–about 3″ down from the ceiling, and 9-11″ wider than the window) the room feels taller and the sliding doors even wider than they were before. But, now the expansive view is "framed" by beautiful curtains.
The chandelier elevates the room by not visually cutting your vision off with the fan blades. Remember how it looked before?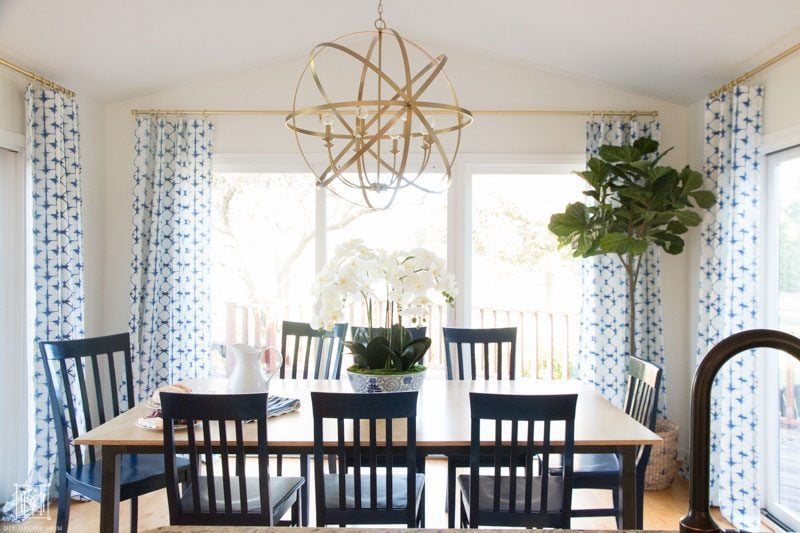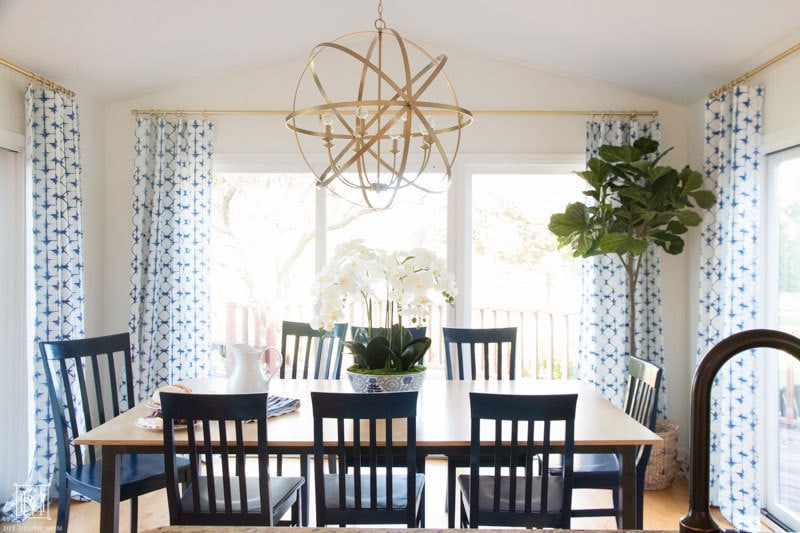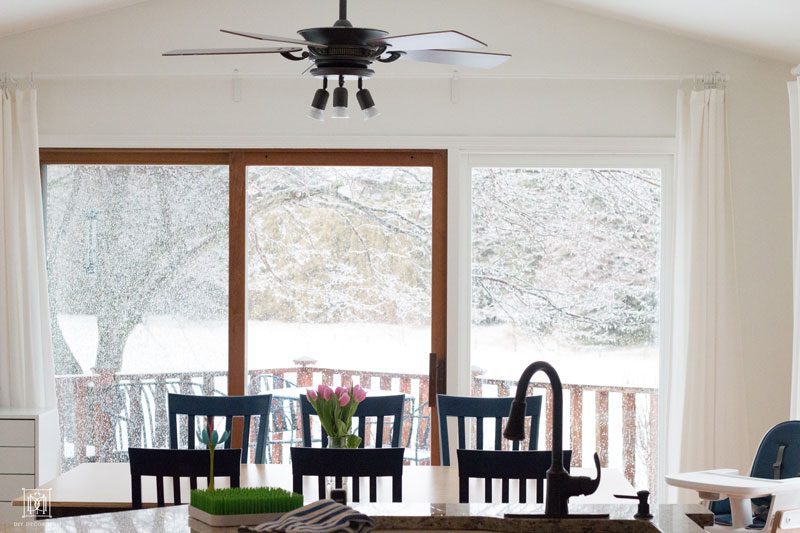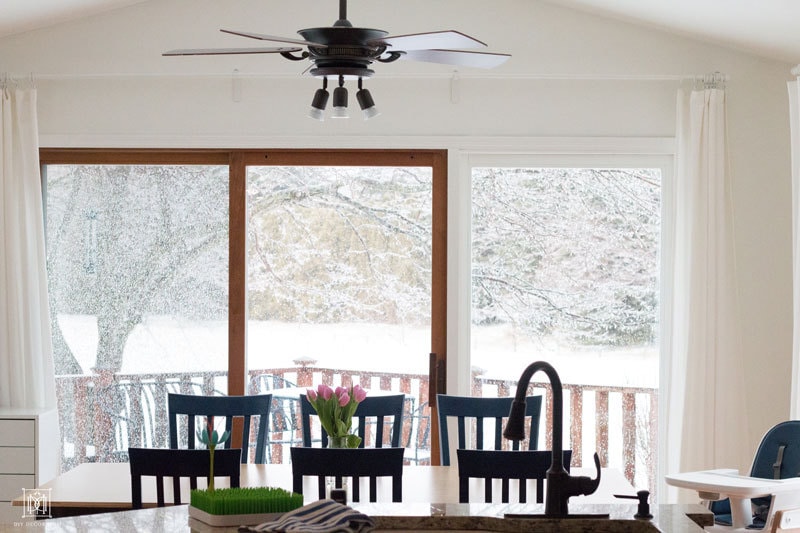 A sister company of Spoonflower, Roostery offers tons of choices for beautiful home textiles made out of the same fabulous patterns you can find on Spoonflower–and the best part is they are already made for you!
We've used their amazing products before when we decorated Jack's room with the blue bunnies wallpaper and pillow in his nursery. Roostery's quality is amazing, and honestly, better than I could DIY myself! Take a look at all their Roostery Home.. They have dish towels, tablecloths, curtains, bedding, and pillows to name a few!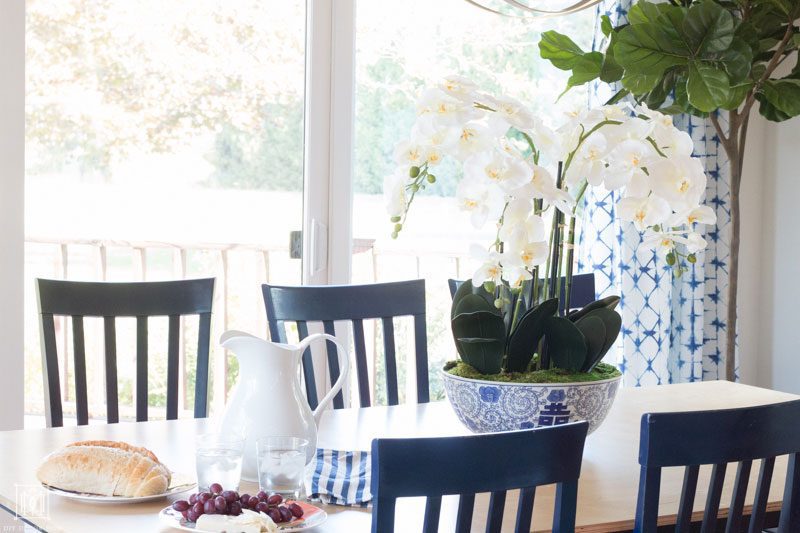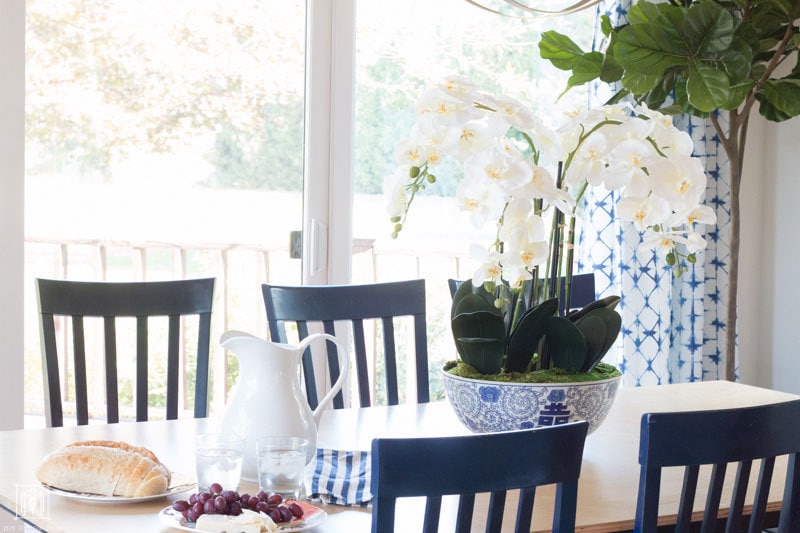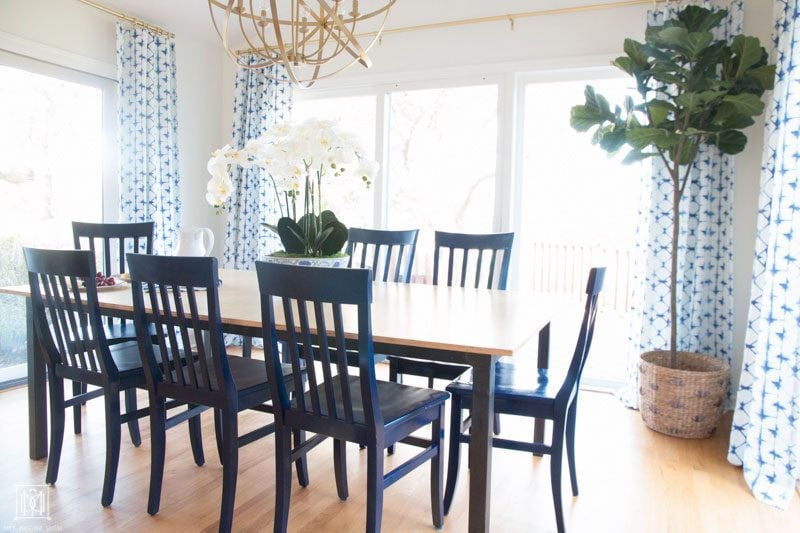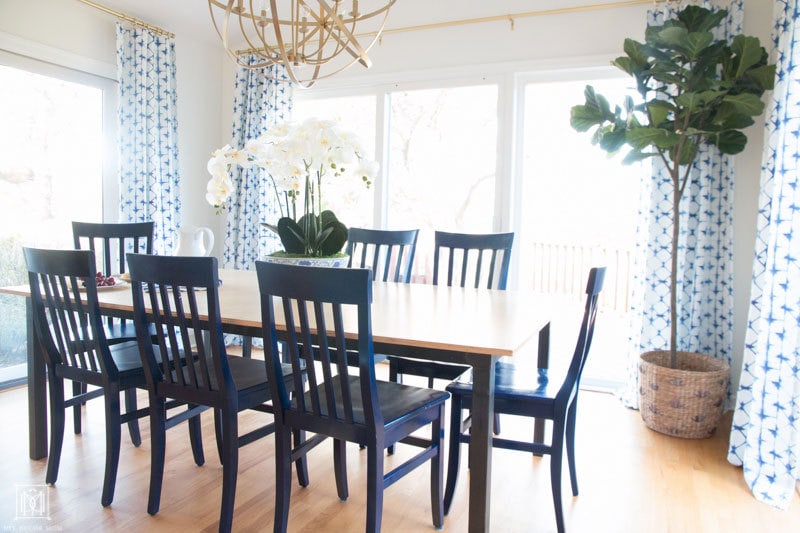 Breakfast Room Decorating Ideas:
Add plants–they don't even have to be real (it's all faux plants in our house!)
Add curtains that have some pattern!
Add comfortable seating
Add a rug if you want (we can't with the little kids)
Don't be afraid of color–your breakfast room should feel like an extension of your kitchen. Make it represent your style!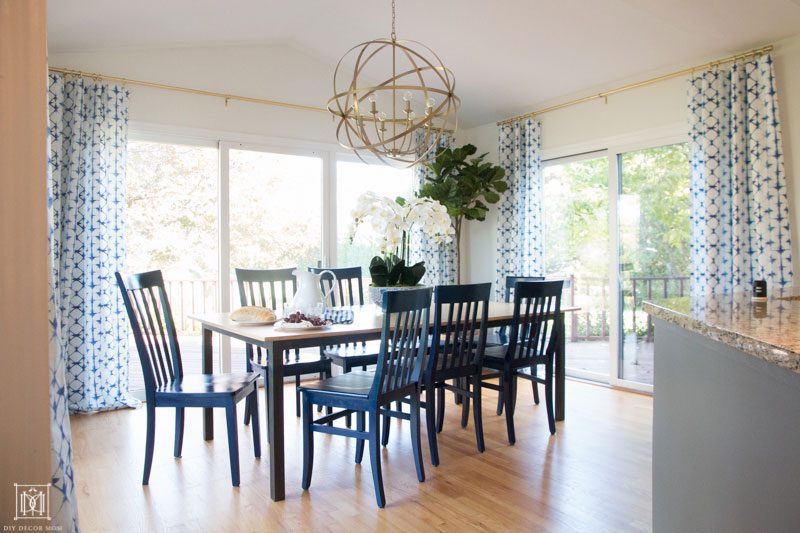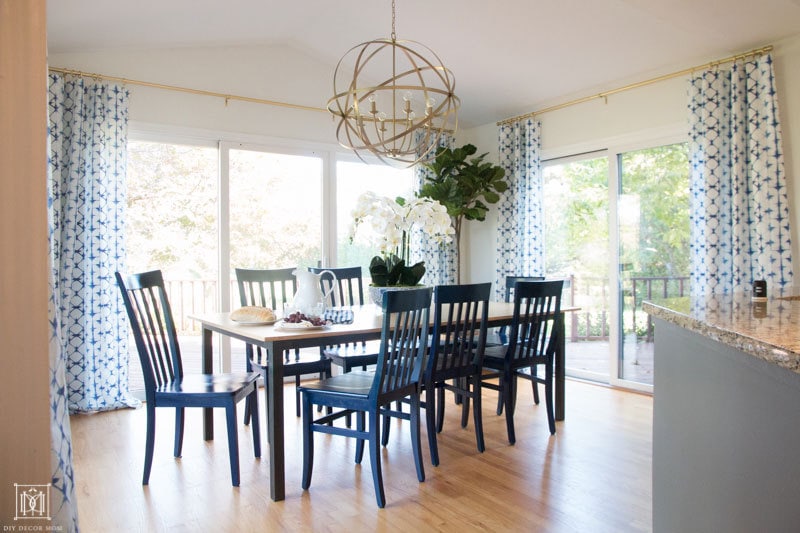 Breakfast Room Sources
Jack's room with the blue bunnies wallpaper and pillow in his nursery
paint color: Benjamin Moore Cloud White
trim color: Benjamin Moore Simply White
table: Room and Board Parsons table with DIY plywood top