Baby Boy Room Decor: Adorable baby boy room decor for a timeless baby boy nursery that's all about french blue, white, and navy! This perfectly preppy boy nursery with a gorgeous accent wall is the perfect combination of cute and function and will give you tons of baby boy nursery decor ideas!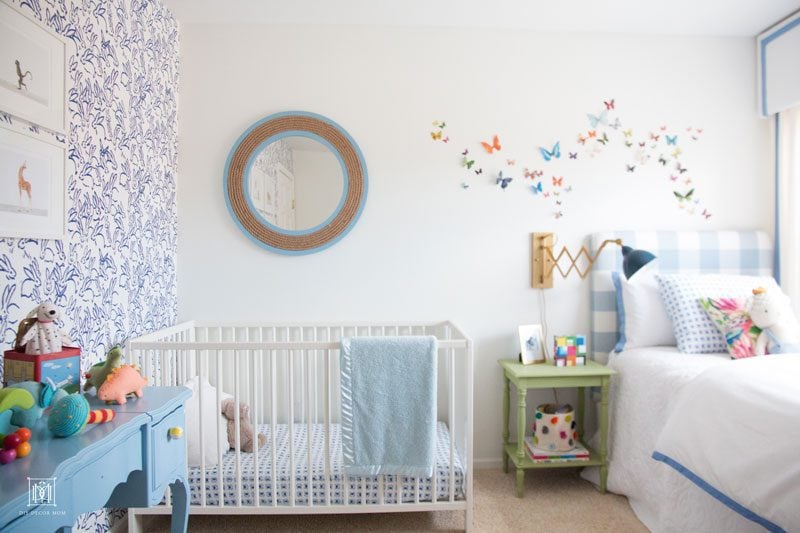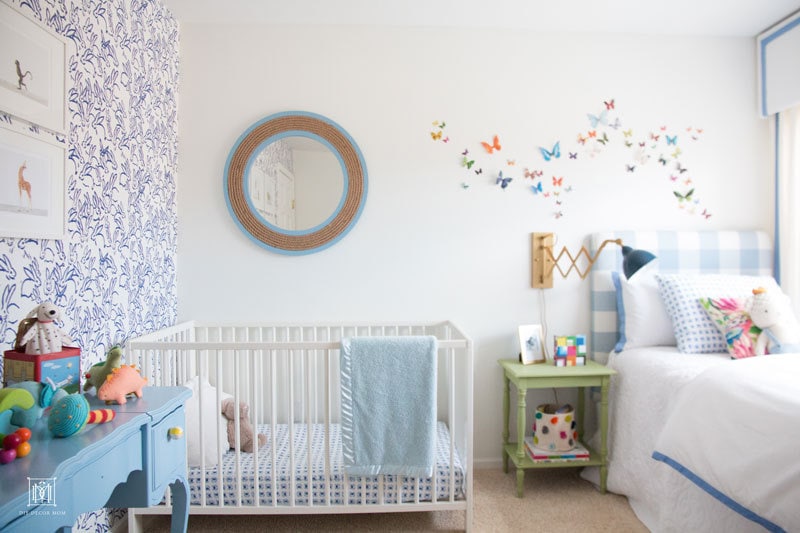 BABY BOY ROOM DECOR
Alright, so I know Jack is not a baby boy anymore–goodness, he's almost three but he is still happily in his crib and he will be in this room until we (if we do) have a fourth baby. The great thing about this room is perfect for a boy and can easily be turned into a big boy room by replacing the crib with a bookcase, and Jack can sleep in the big boy bed that's already in there.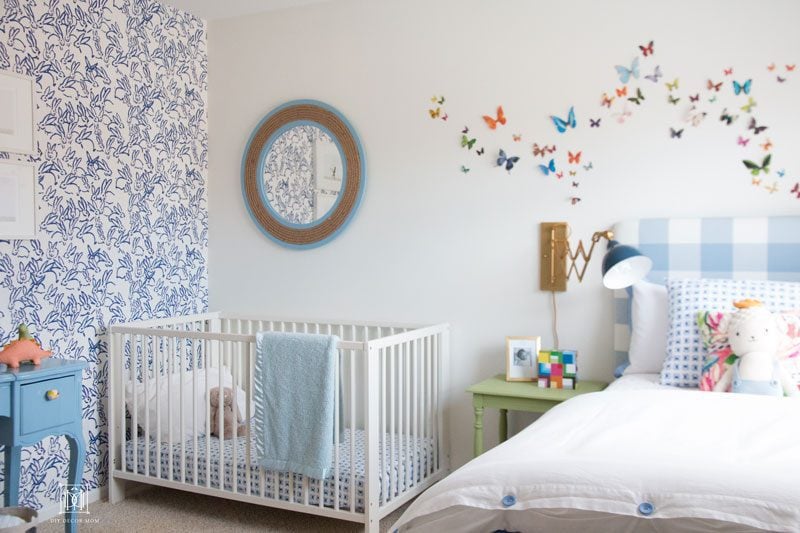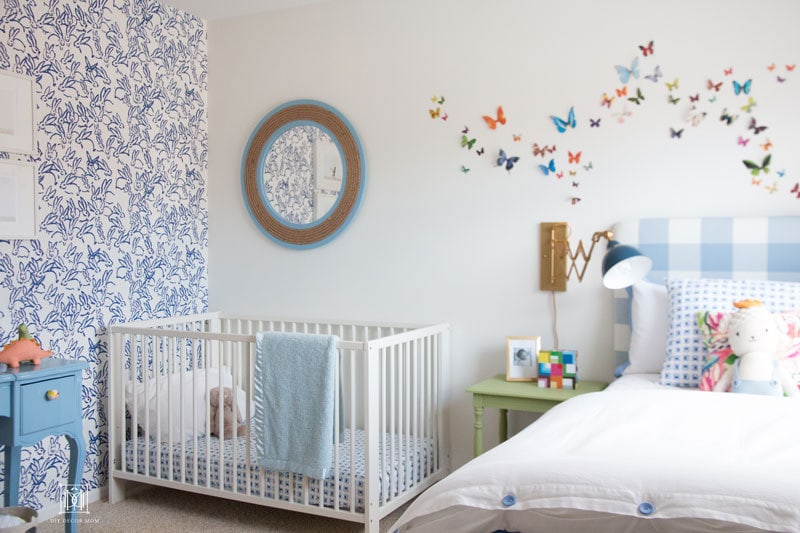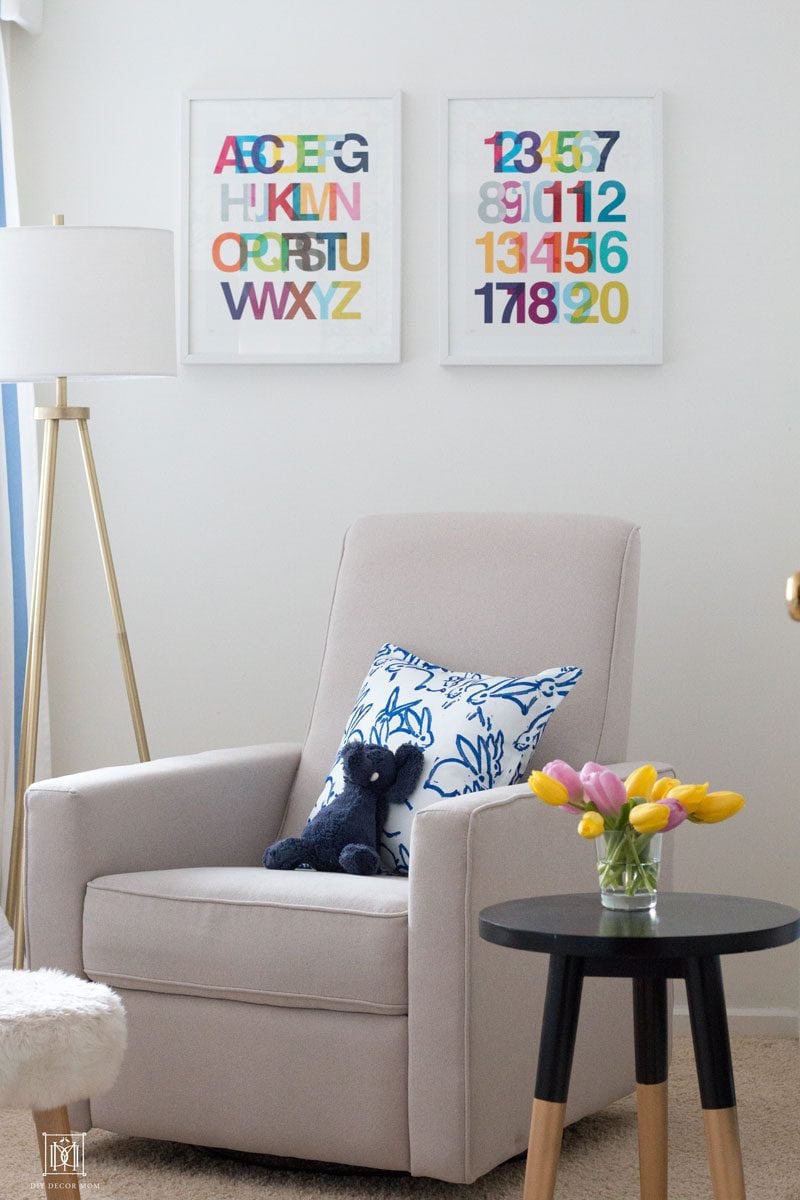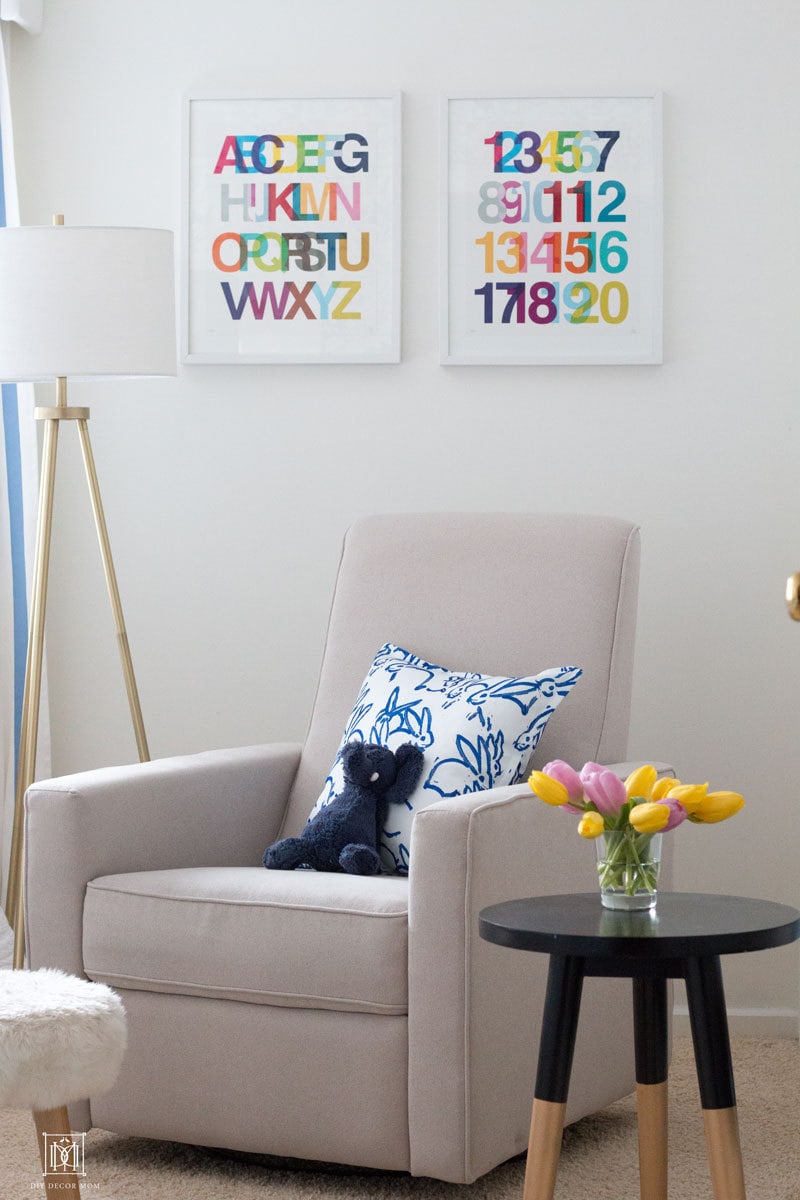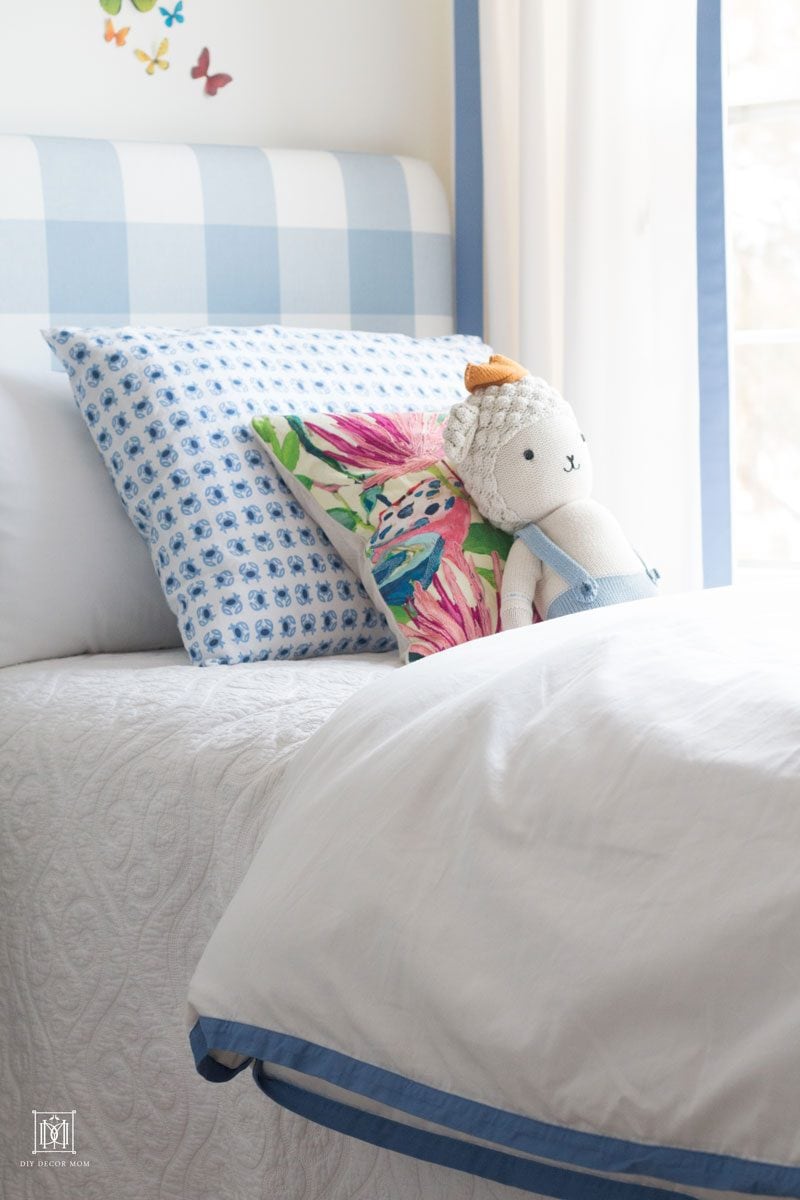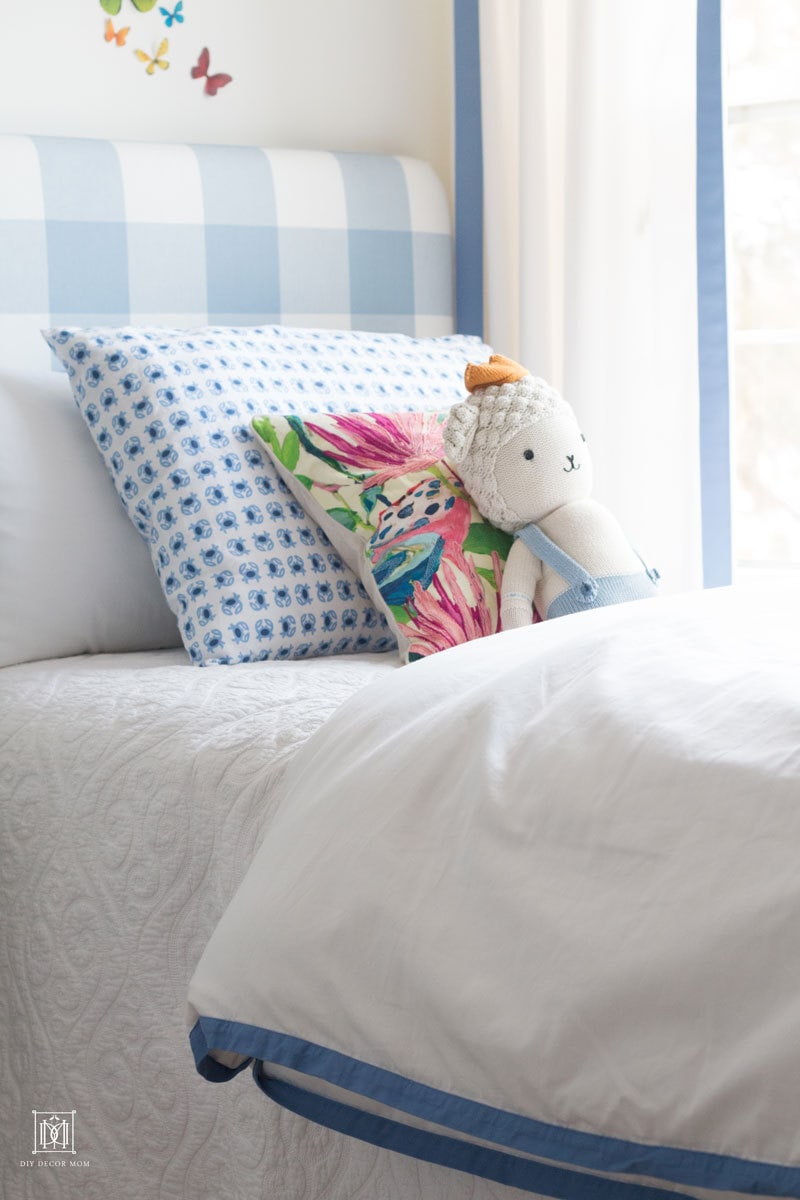 *affiliate links have been used at no cost to you vintage changing table
FRENCH BLUE BOY NURSERY
I always love french blue and white, and together with a touch of navy, it makes the perfect baby boy nursery decor! If we have a girl in the future, we can always just add pink pillows, pink bedding, and some cute girly accents but right now this is all baby boy room!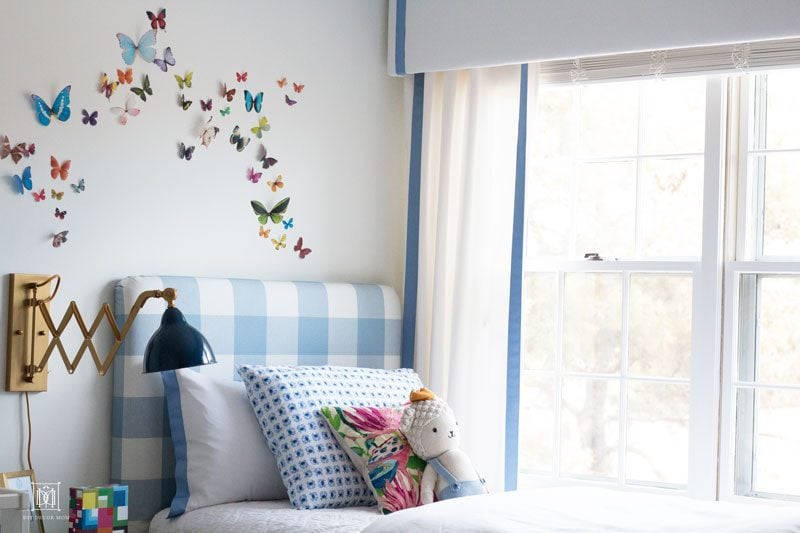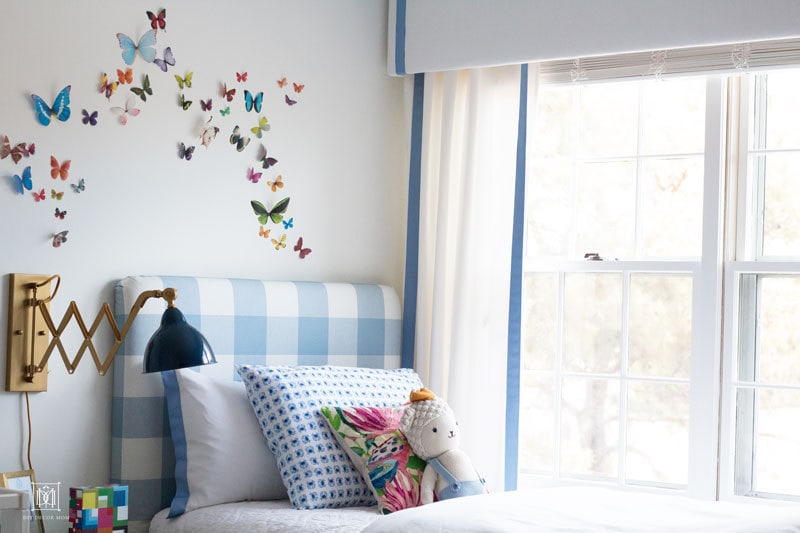 NURSERY DECOR BOY
ACCENT WALL
After seeing the Hunt Slonem Bunnies fabric and wallpaper which retails for ($493/double roll), I knew I wanted something similar, and lucky me, I was able to find it at an affordable price from Spoonflower (c/o). The bunnies wallpaper has become my favorite thing in our entire house and I am over the moon with how it turned out! It is the perfect nursery accent wall!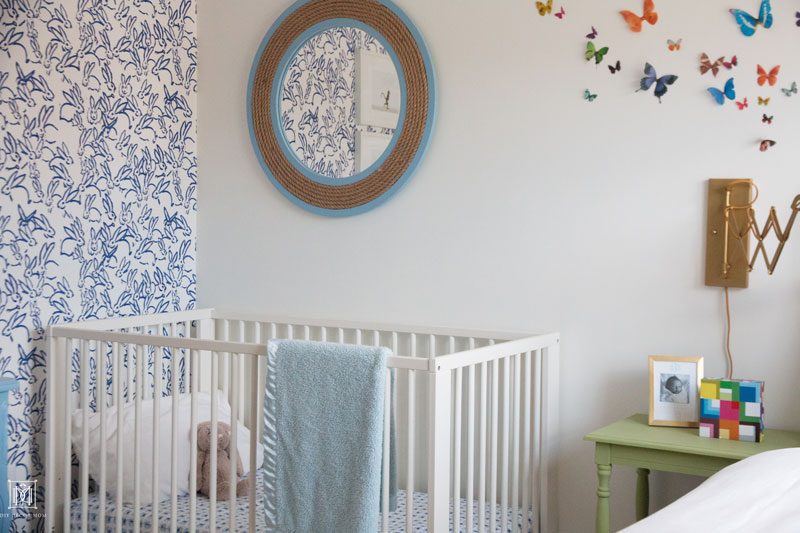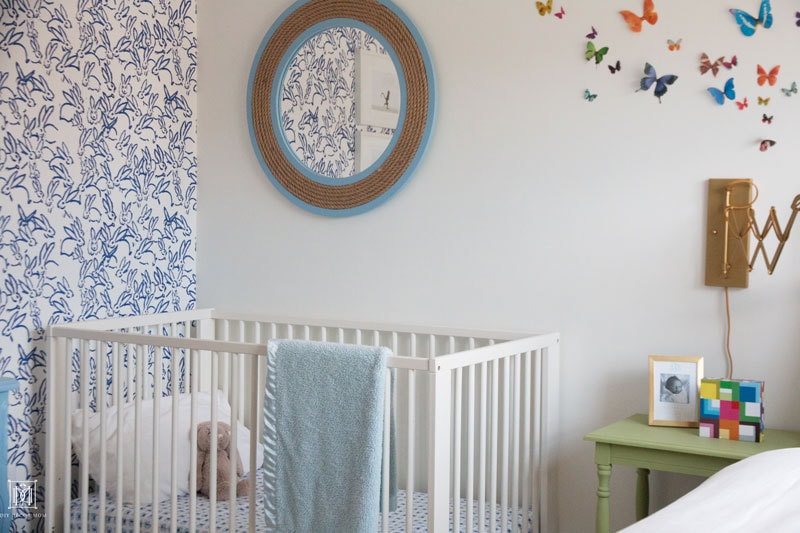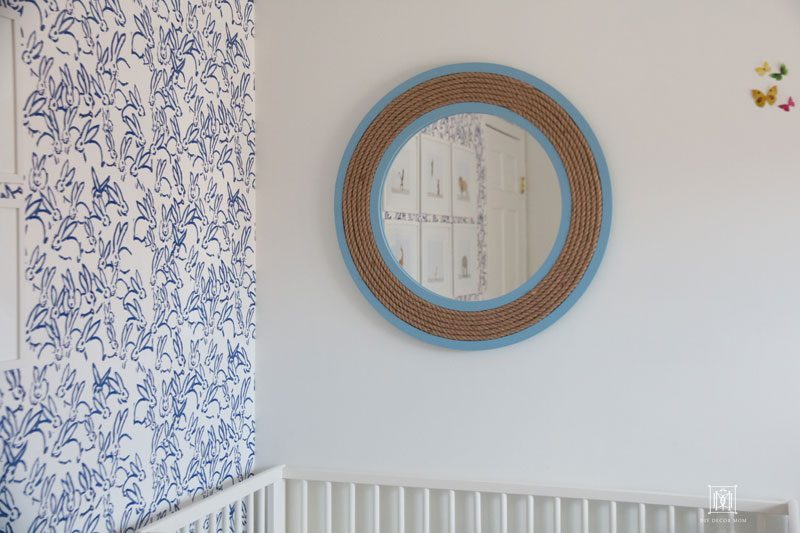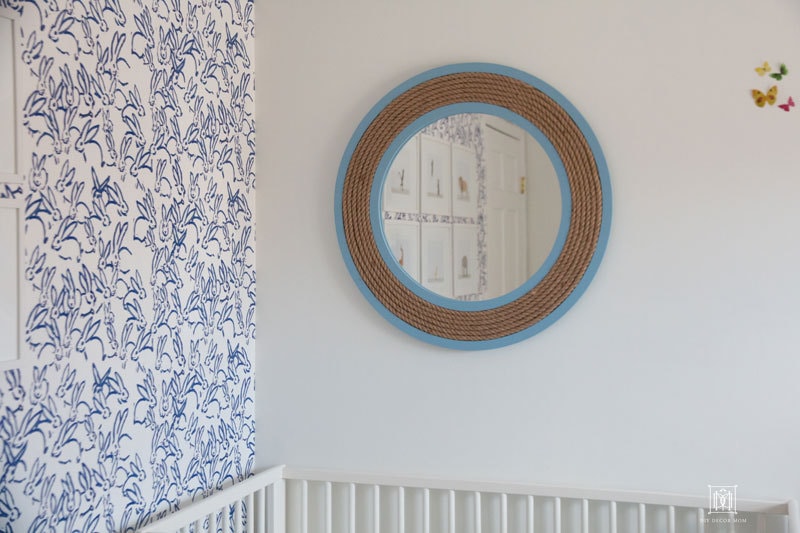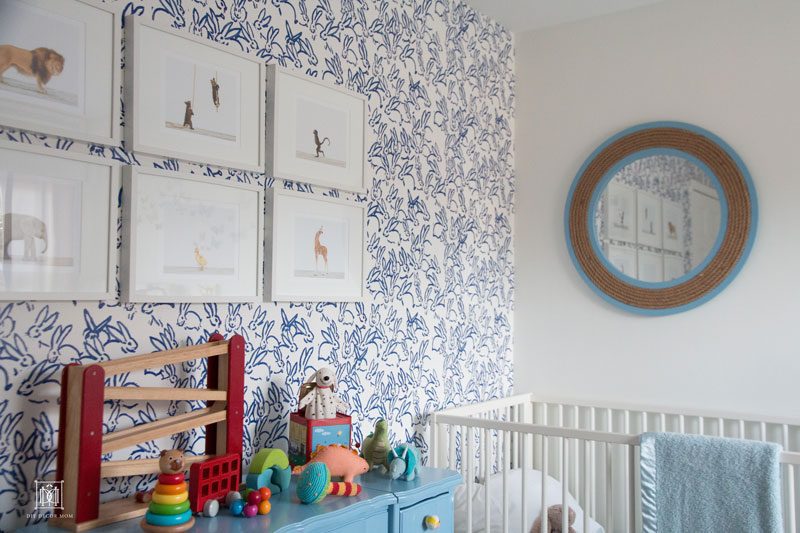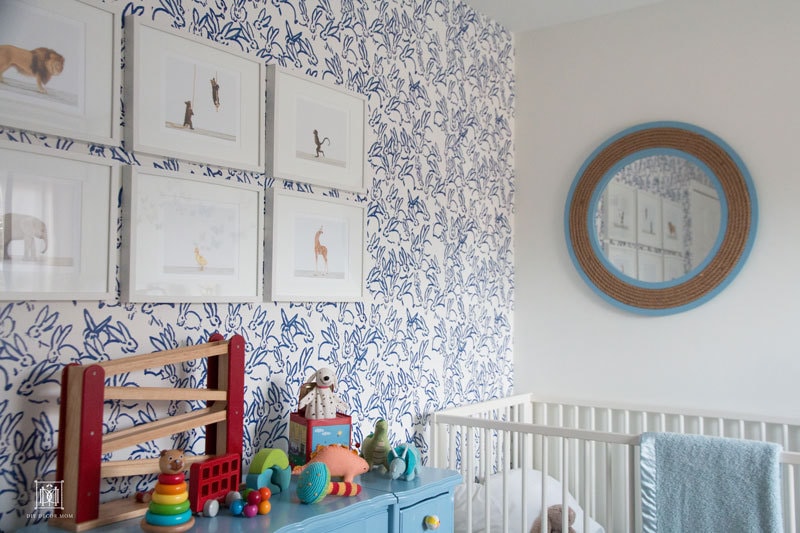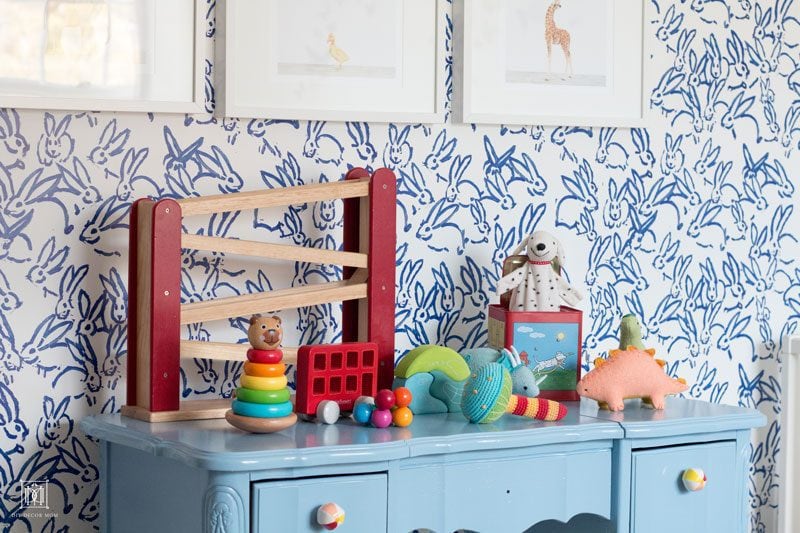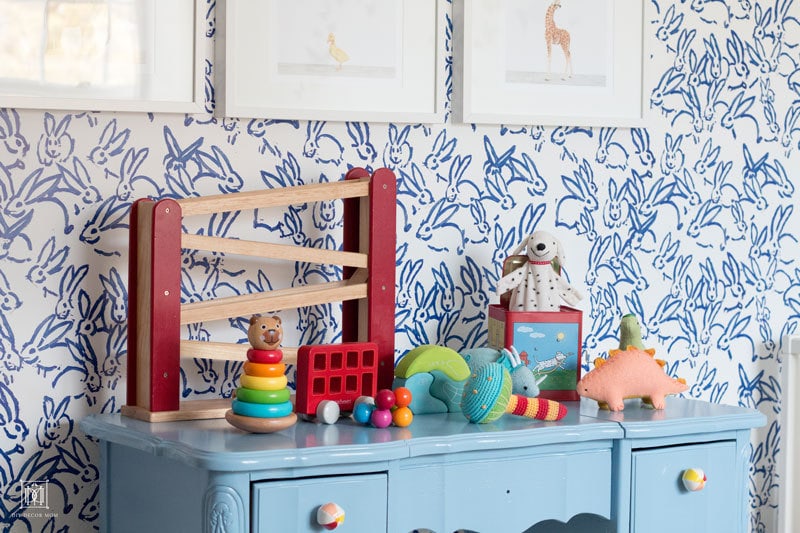 I am constantly amazed by all the amazing unique wallpaper and fabrics I can find online Spoonflower.com. I've used their amazing fabrics for the upholstered rocking chair in our girls shared bedroom, our DIY Headboard in our master bedroom, and fabric and gift wrap in our playroom decor (all unsponsored and I paid full-price).
But, the Blue Bunnies Bunny Rabbits wallpaper (c/o) takes the cake on the biggest impact–it has completely transformed this room! And as cute as it is (and perfect for baby boy room decor,) I know it will age well for a big boy room too!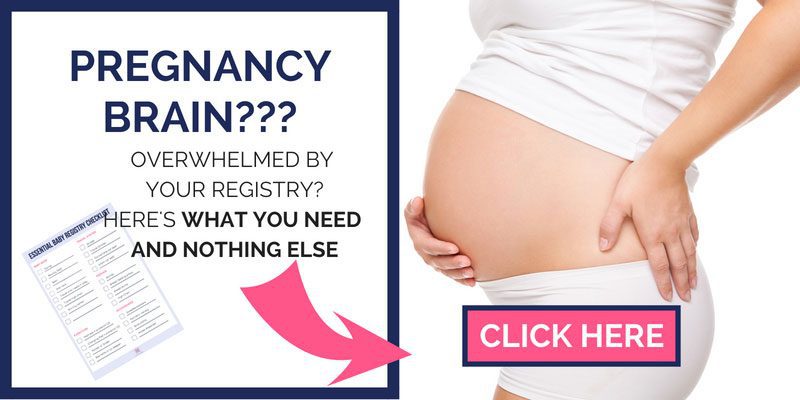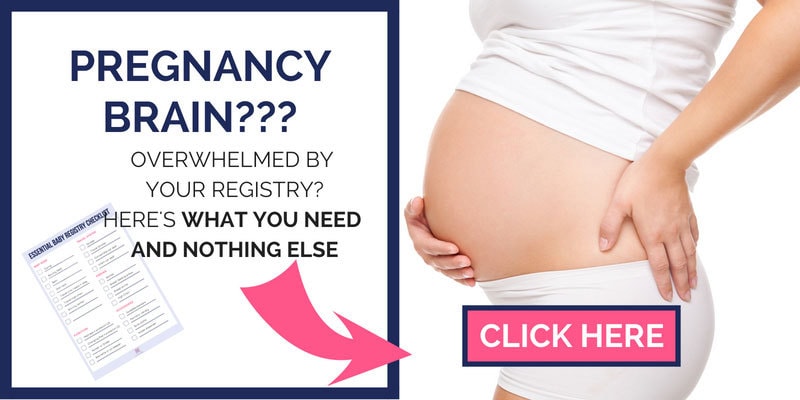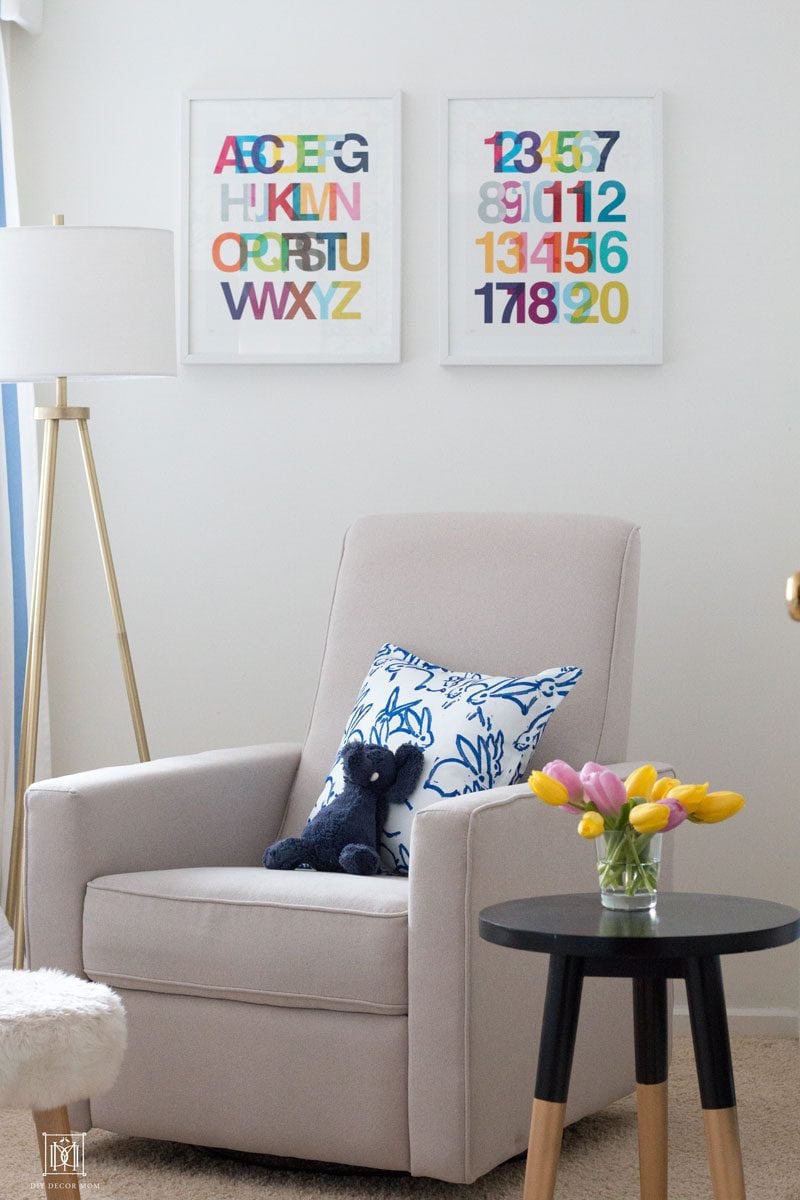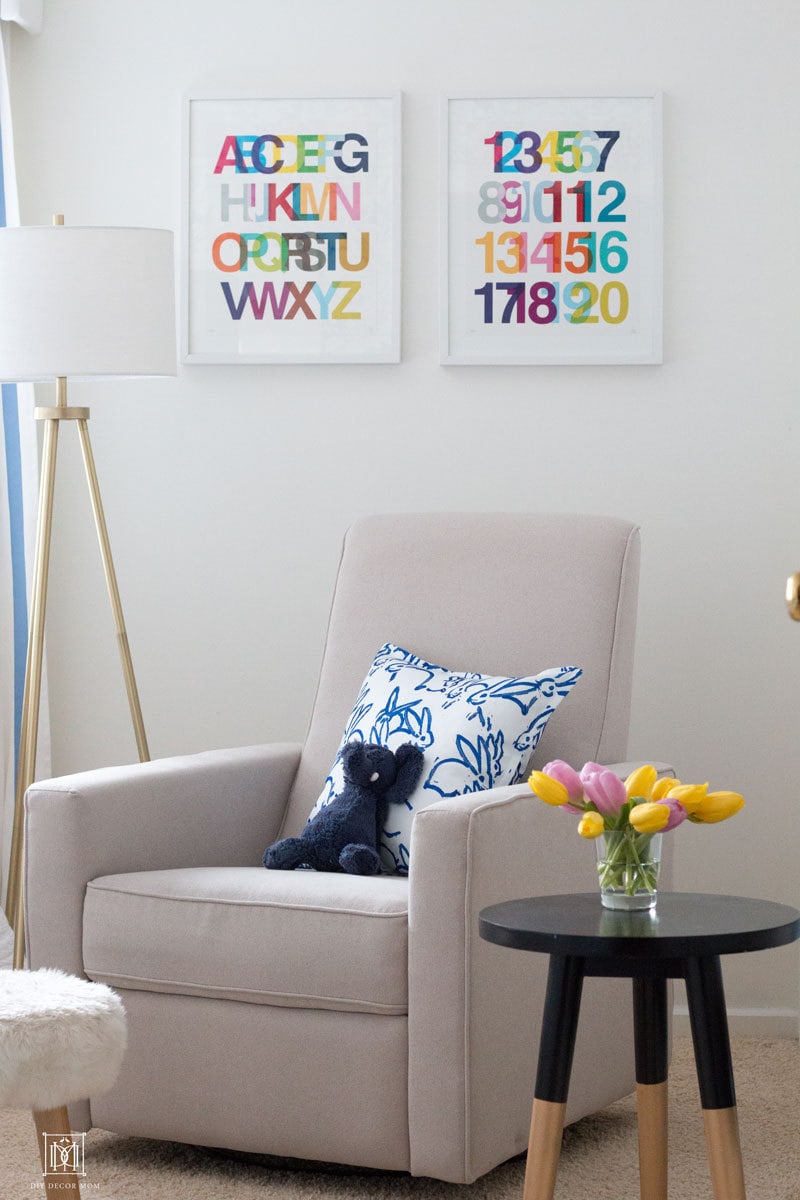 PILLOWS
To bring the bunnies in and the other side of the room, I added a beautiful pillow from Spoonflower's sister company in the same fabric, Roostery. It brings the theme to the other side of the room, ties into french blue, white, and navy bedding.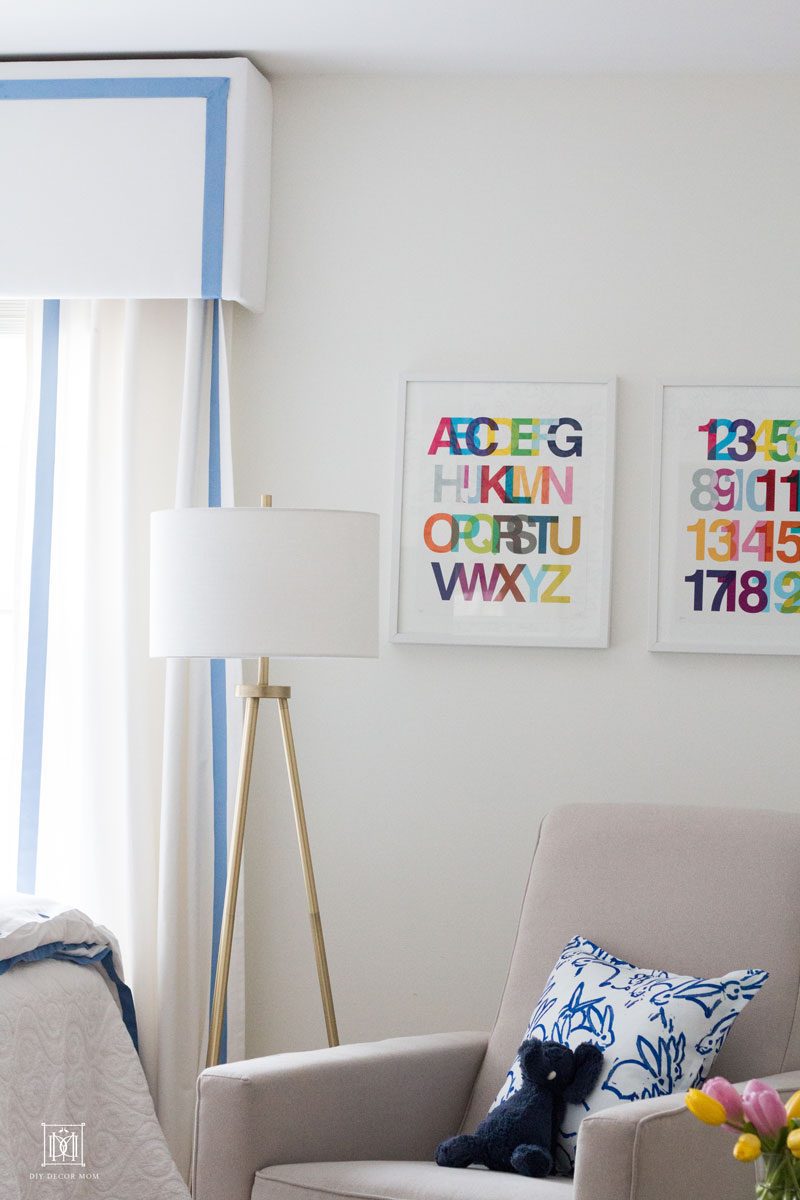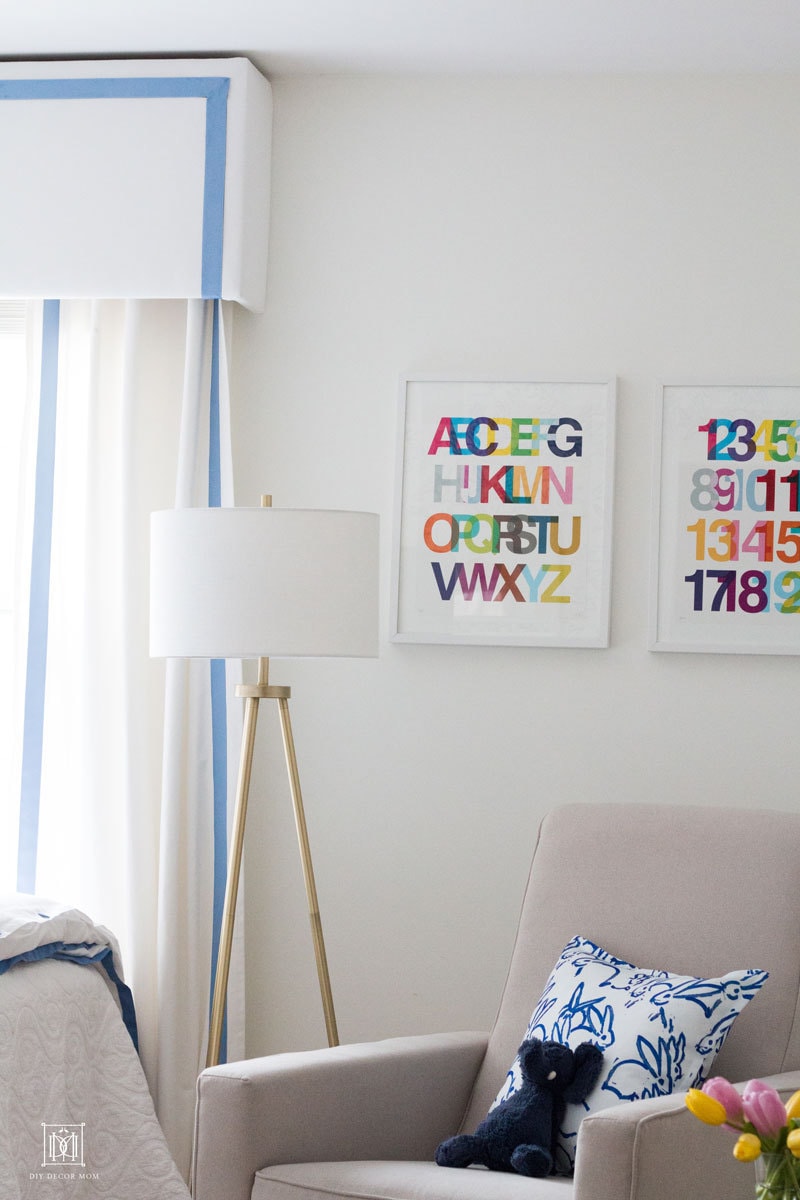 BABY BOY ROOM DECORATIONS
ARTWORK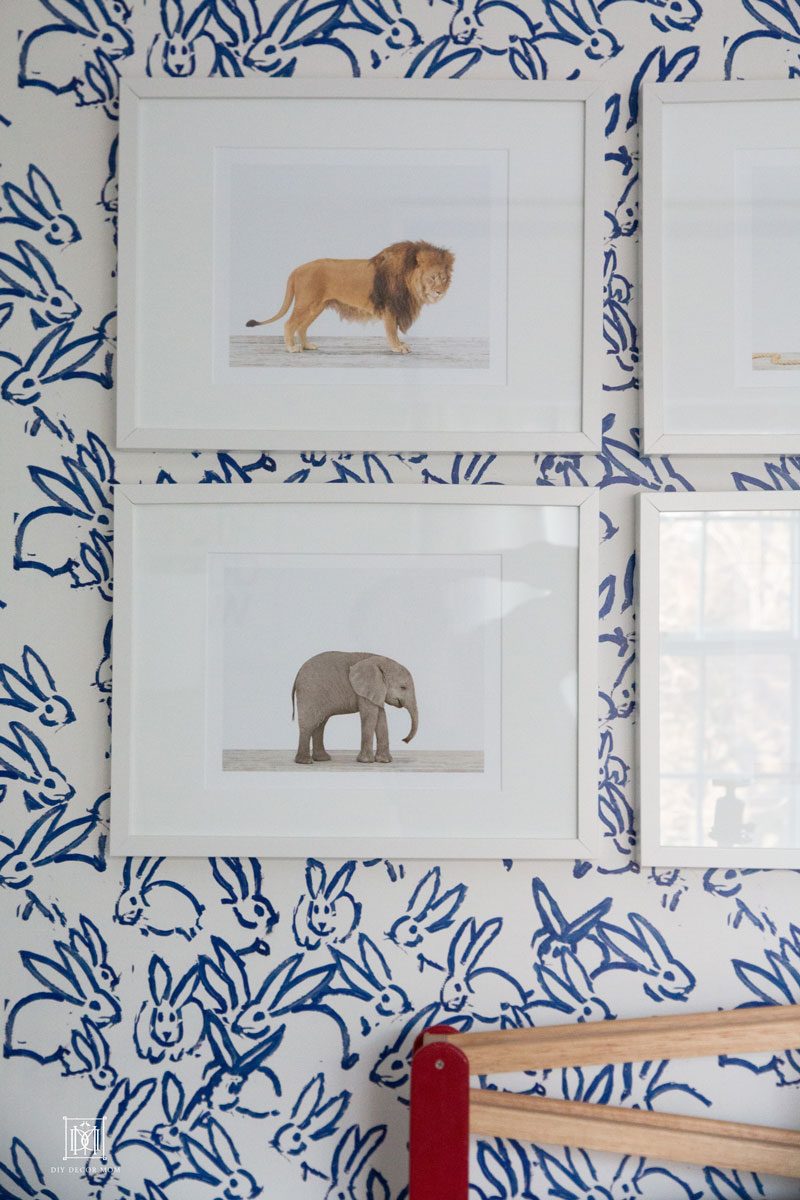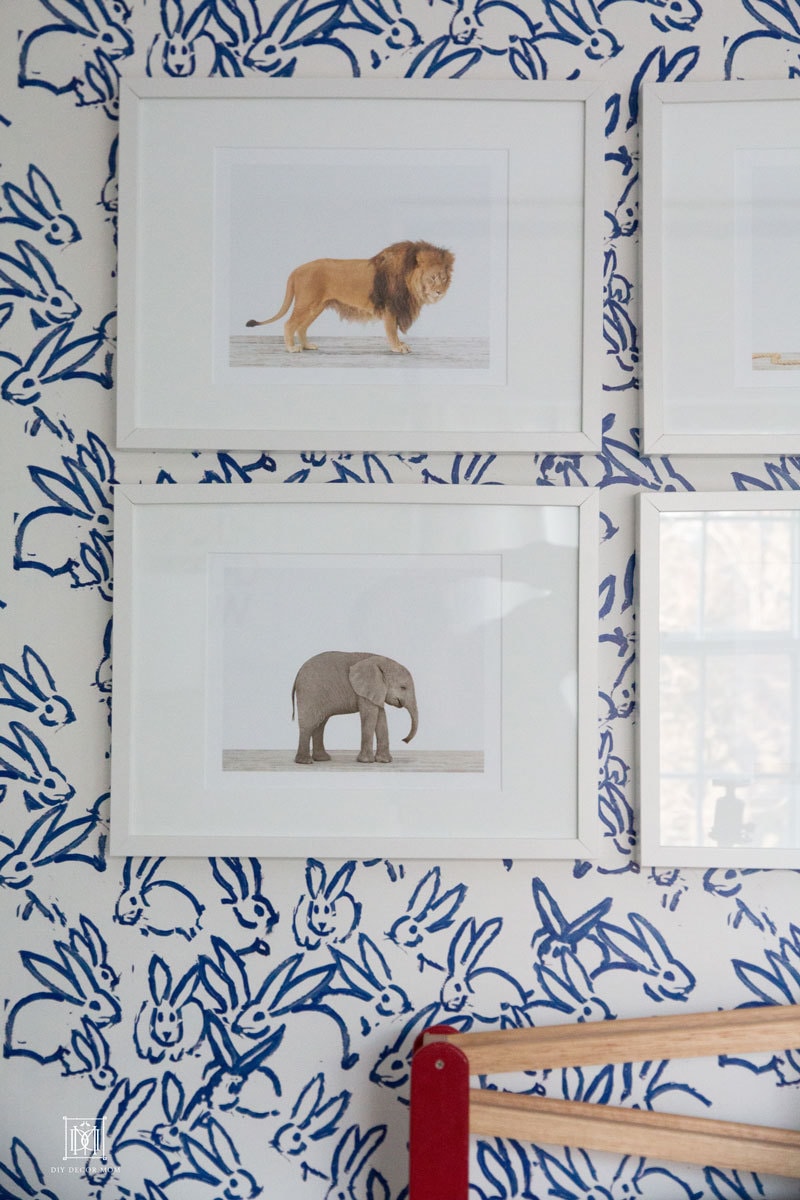 You can't have a baby boy nursery without some animals, right? Well, we wove a theme of nature in the animal photographs on the wall, the blue and white bunny accent wall, the butterfly wall decor–which adds a fun touch of color and ties in the multi-color artwork above the rocking chair and the multi-colored pom poms on the baskets.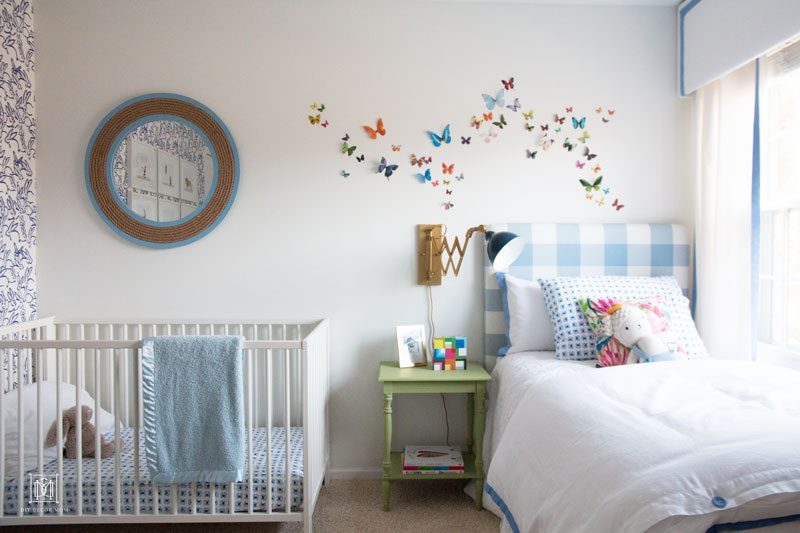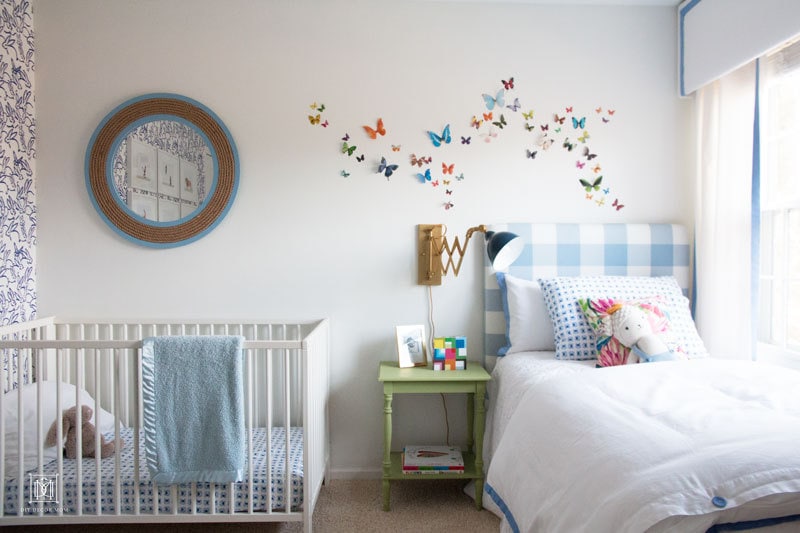 The animal-theme is perfect for Jack's personality because this boy LOVES animals! He spends hours lining up his animal figurines and his favorite place in the world is our local zoo. We go once a week at least!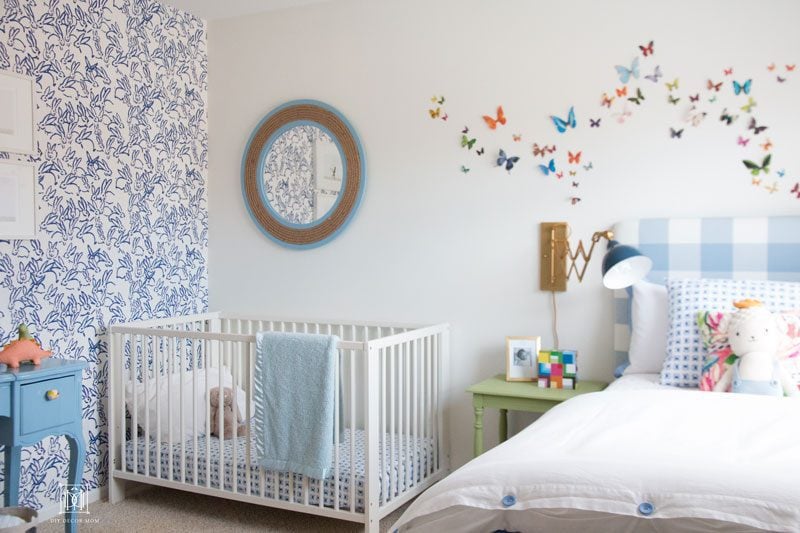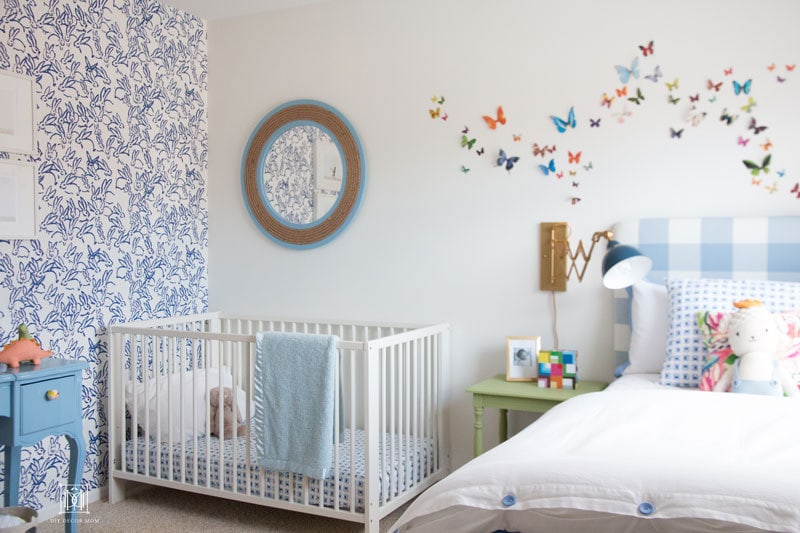 FURNITURE & STORAGE
In the future, we might switch out the vintage changing table with a white campaign style dresser; but, for now it works great! I store diapering toiletries in the two drawers (Anthropologie knobs) and diapers, dirty clothes, and books in the baskets below. On top of the vintage changing table (really it used to be a vanity table), we display all of Jack's favorite toys (see all of our favorite toys here.)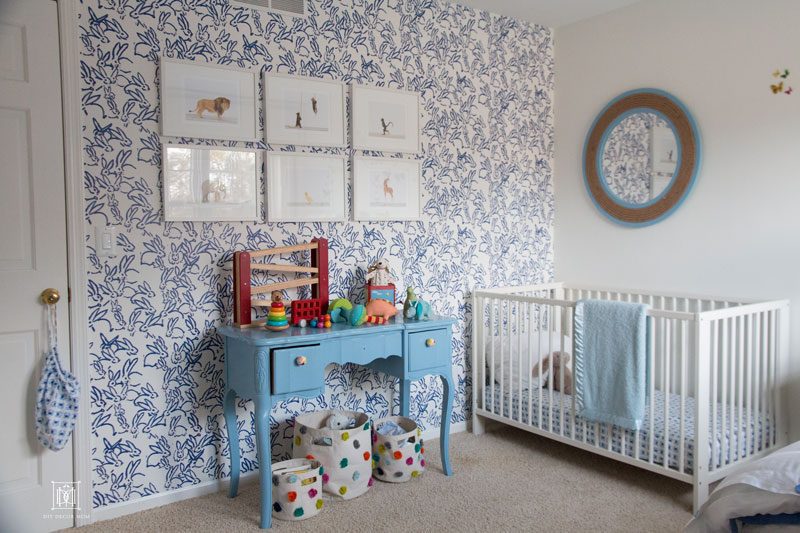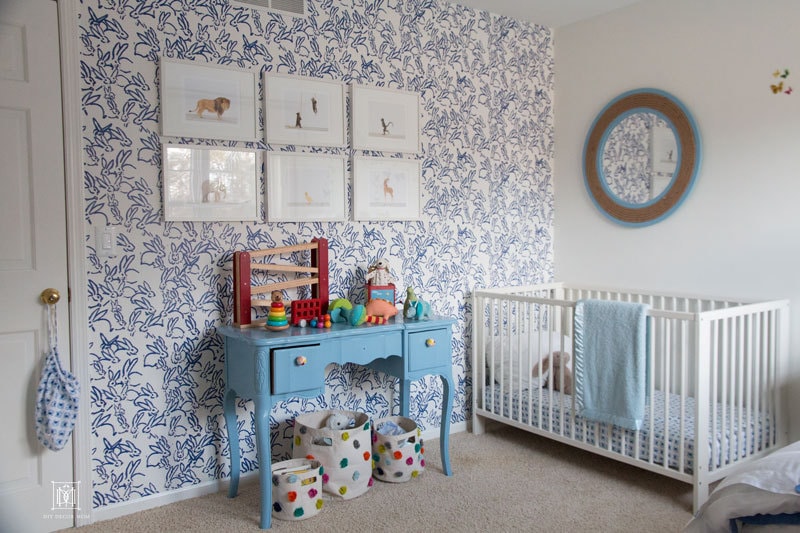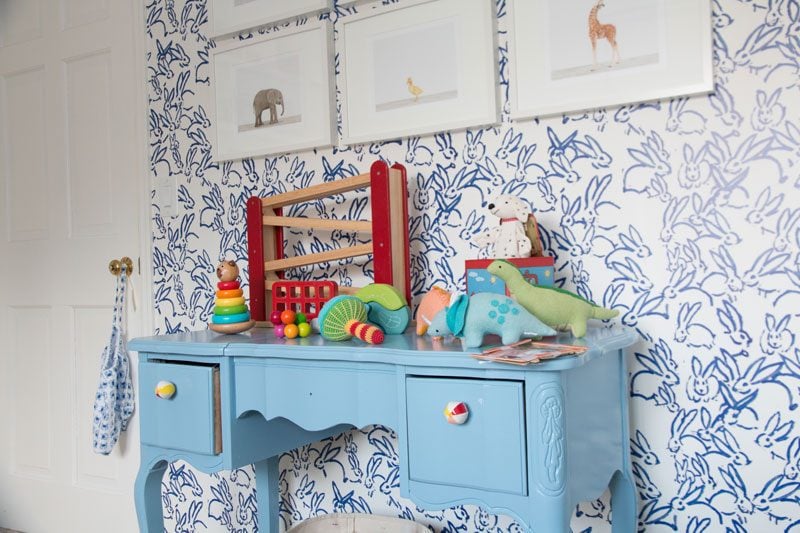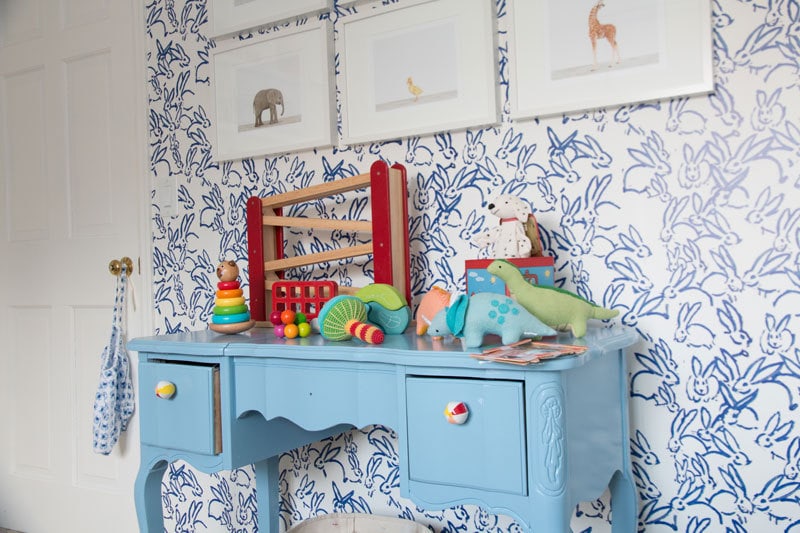 BOOKCASE & BOOK LEDGE
The bookcase and DIY book ledge provides lots of storage for our favorite children's books and adds pops of colors with the book covers. The kids love being able to see the covers of all their books and it's held up really well over the last three years. Plus, the books are cheap nursery decor!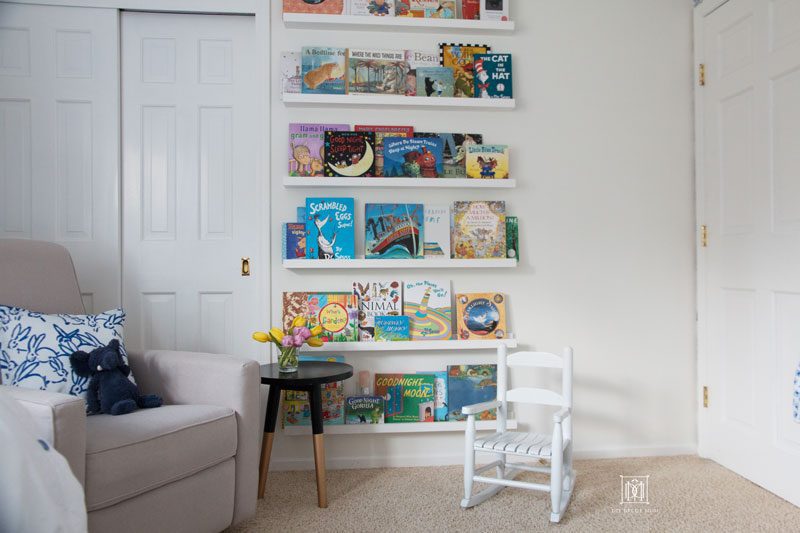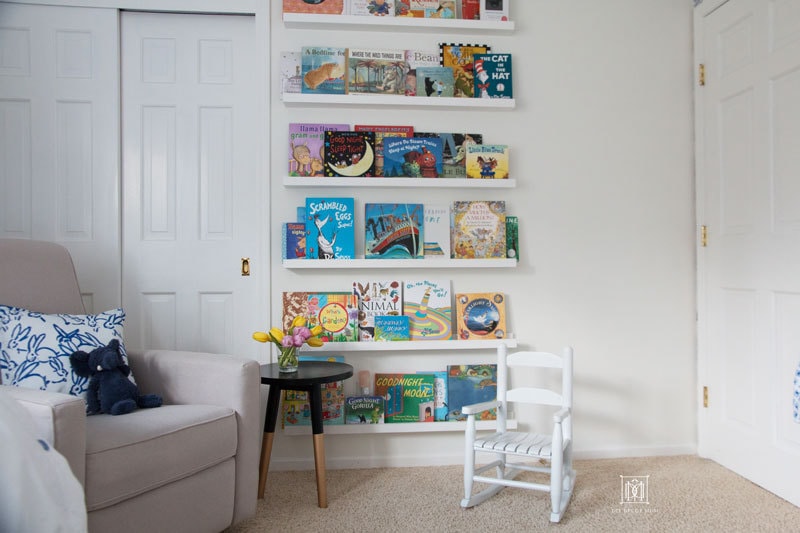 CURTAINS
See how we made his DIY pelmet box here. We added the french blue grosgrain ribbon curtains to tie-in with the DIY Upholstered Headboard and the frame border duvet.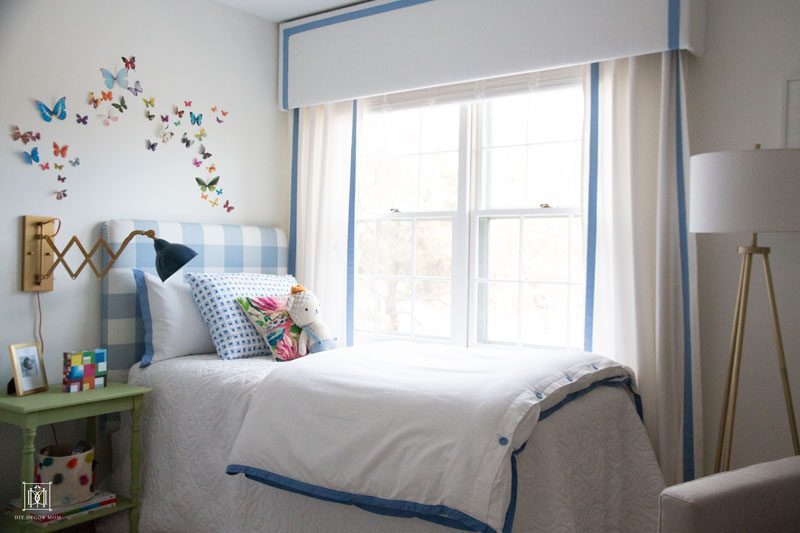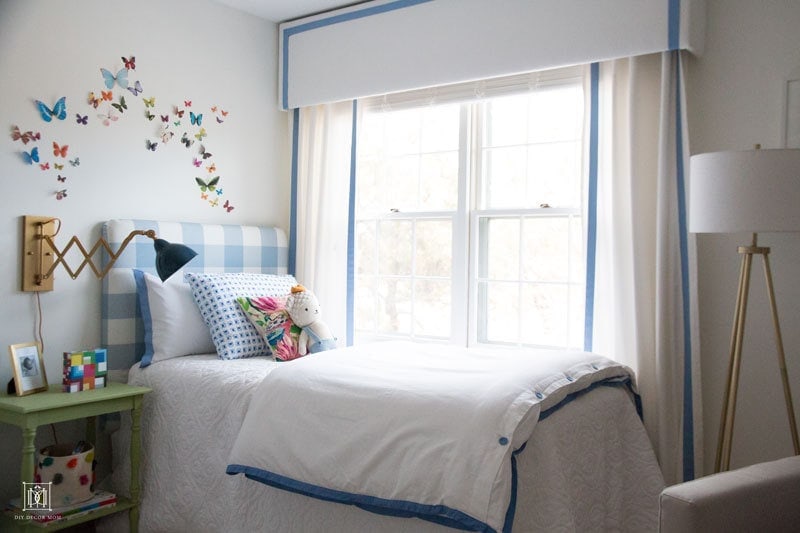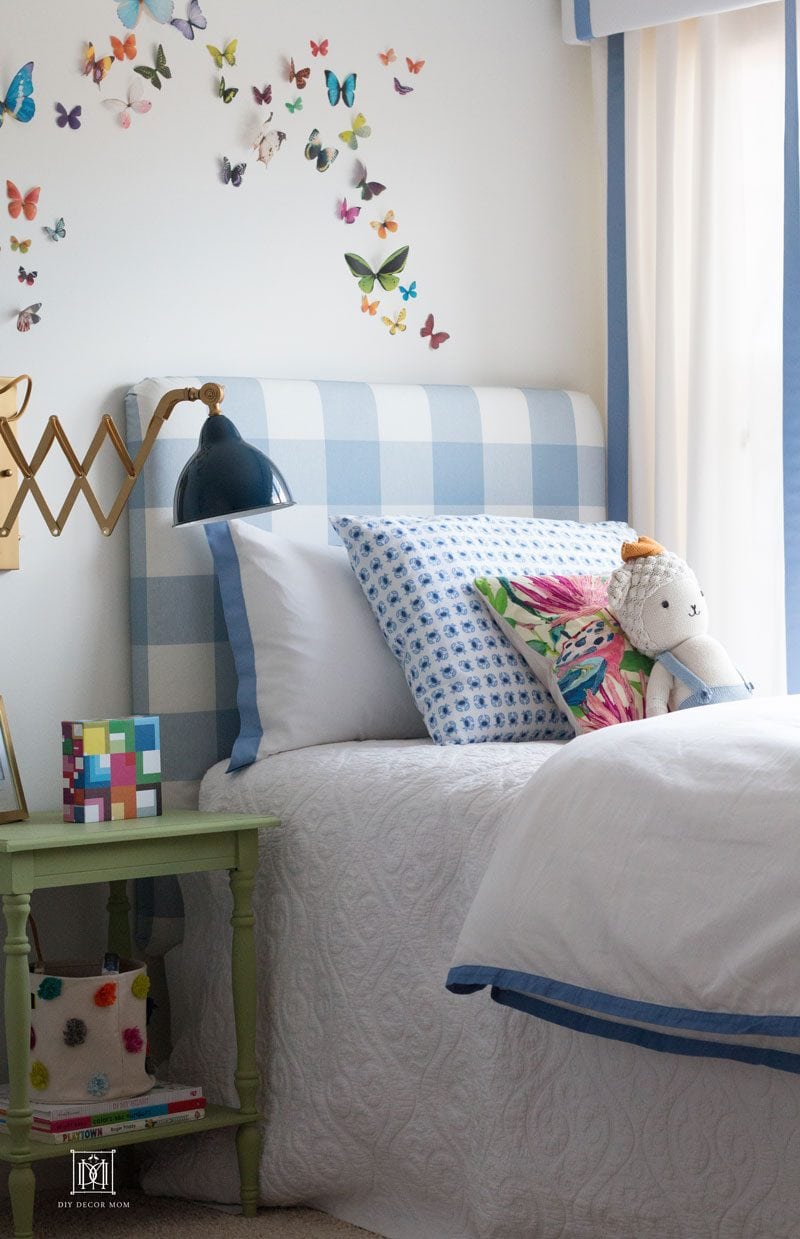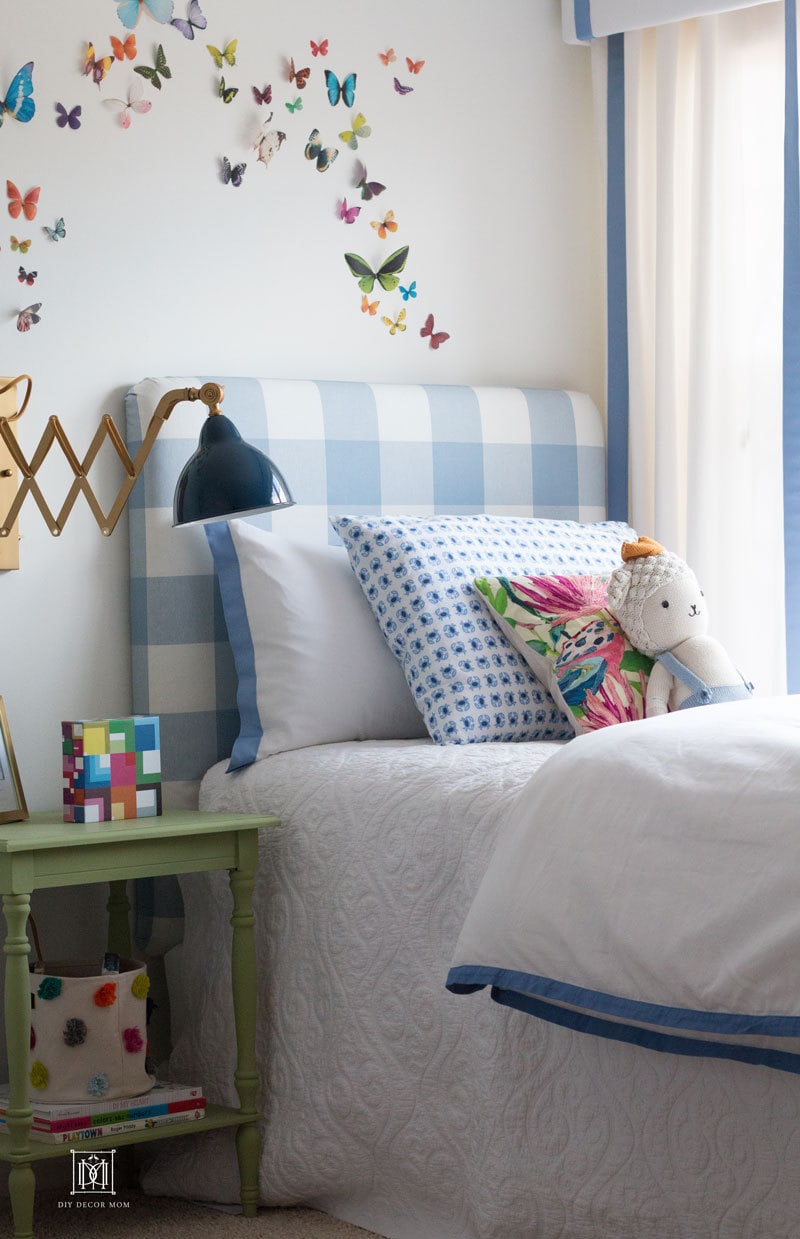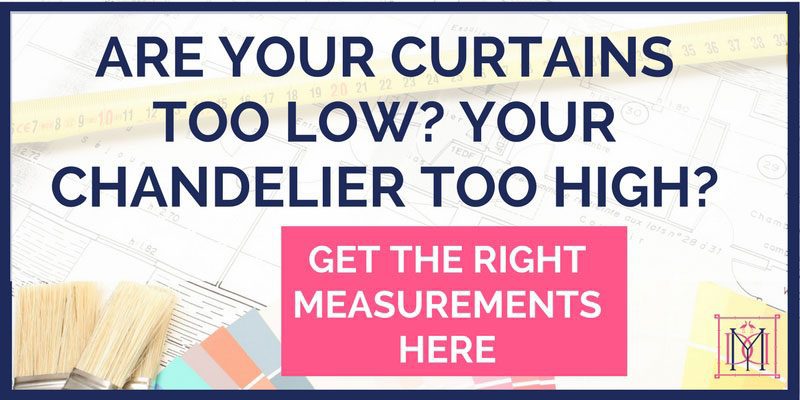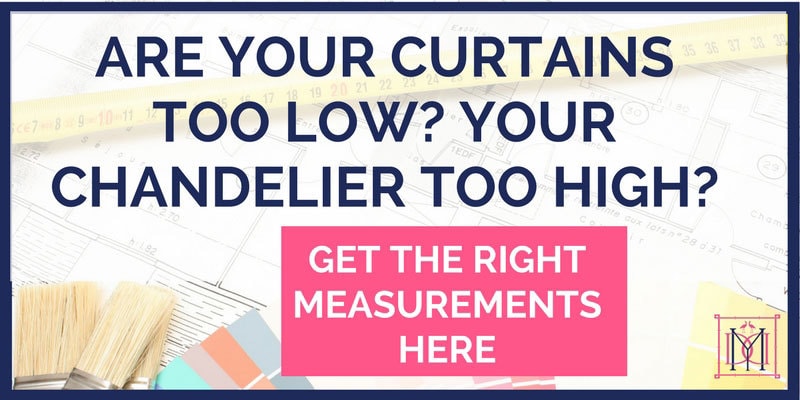 CRIB BEDDING & BED
Like I said above, Jack is still happily in his crib and so far has only tried to climb out once. I think he feels like it's his own little nest! Down the line, we will transition him to the big boy bed (and probably build it into a trundle bed). If we use the room again as another nursery, then we will keep the crib in the same place.
Our crib is an inexpensive Ikea Gulliver crib upgraded with this crib bedding (and I have matching sheets for the single bed as well).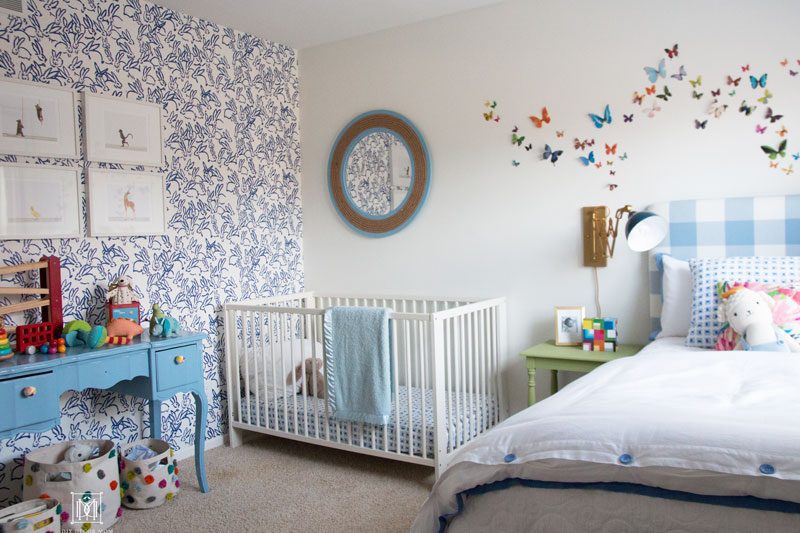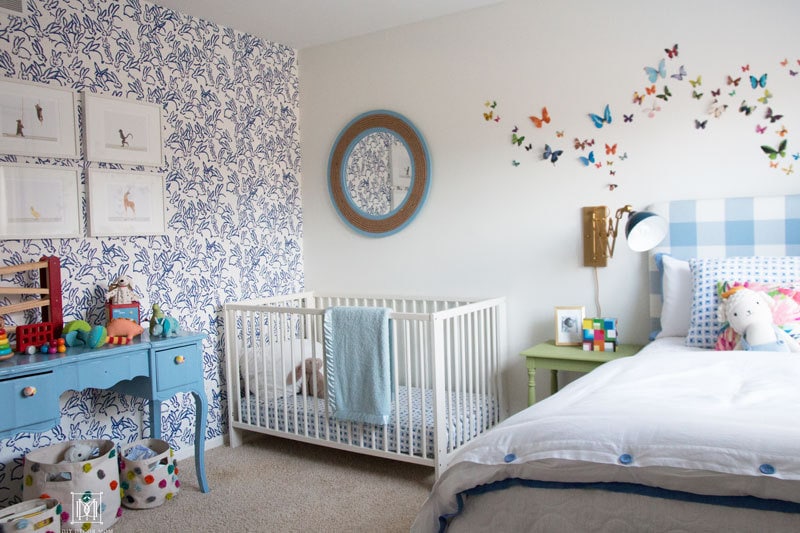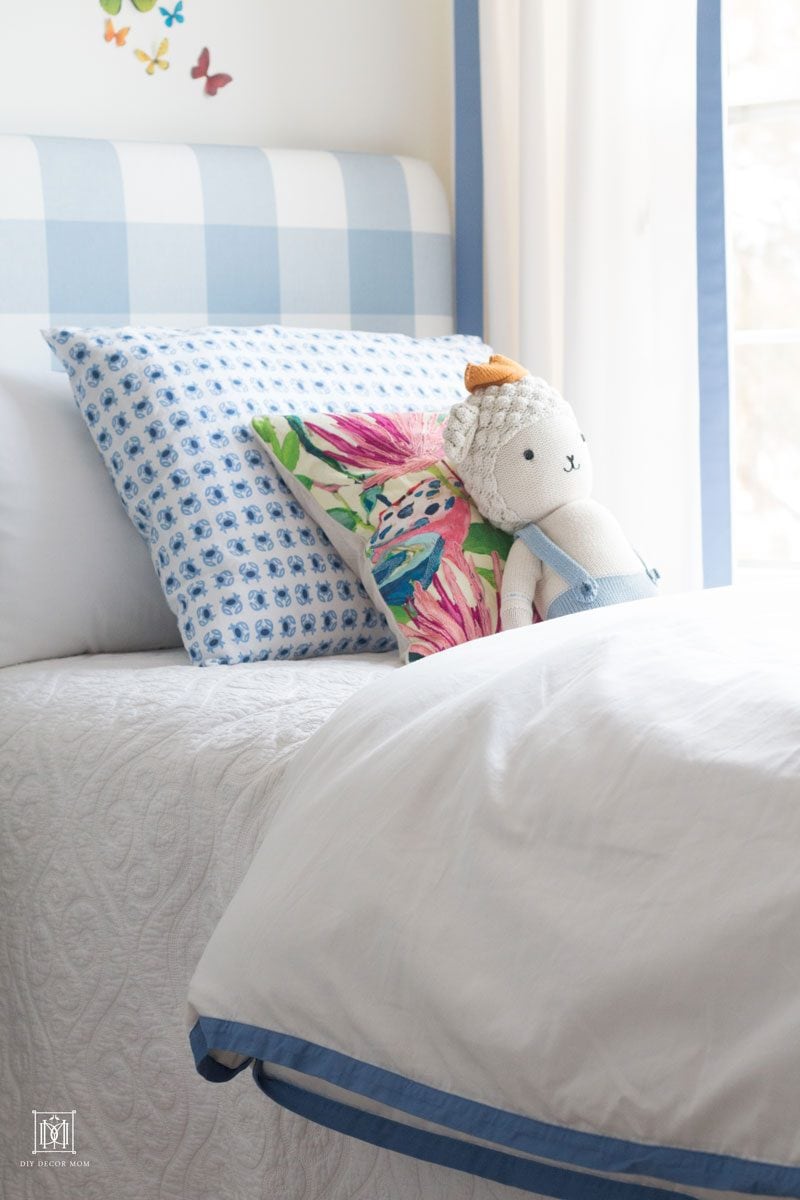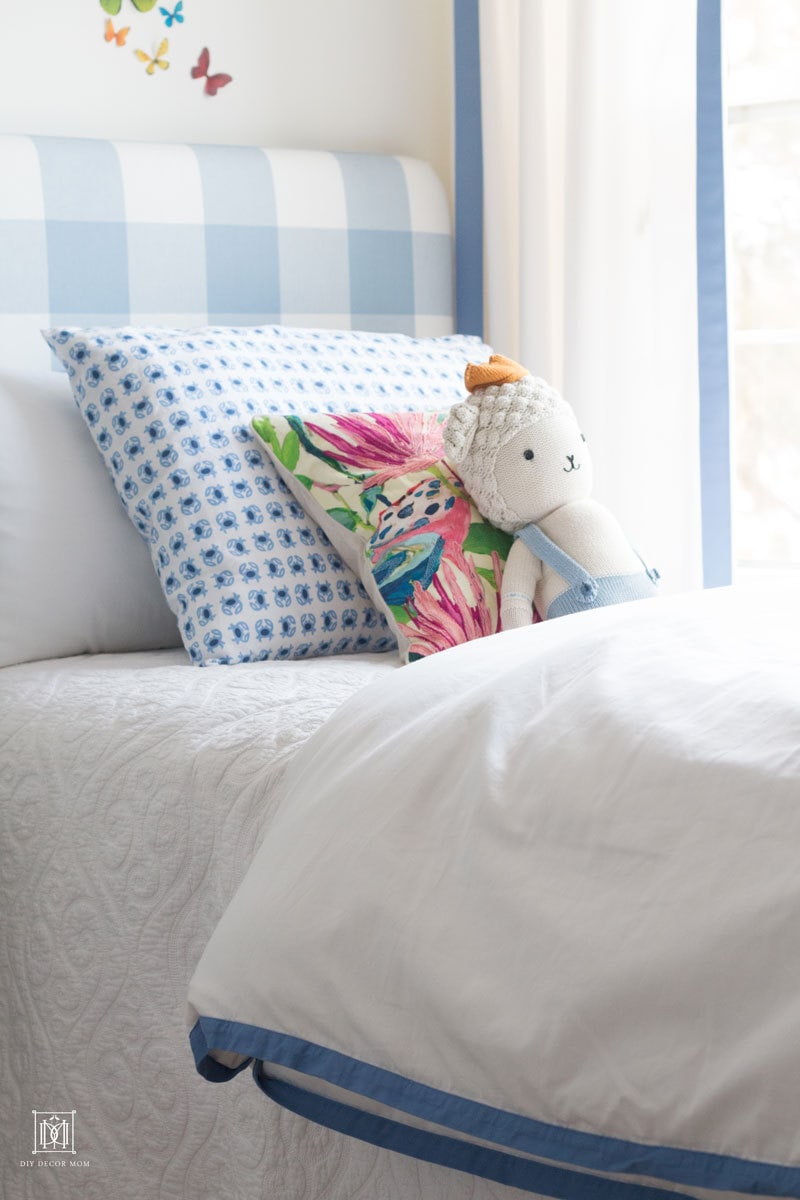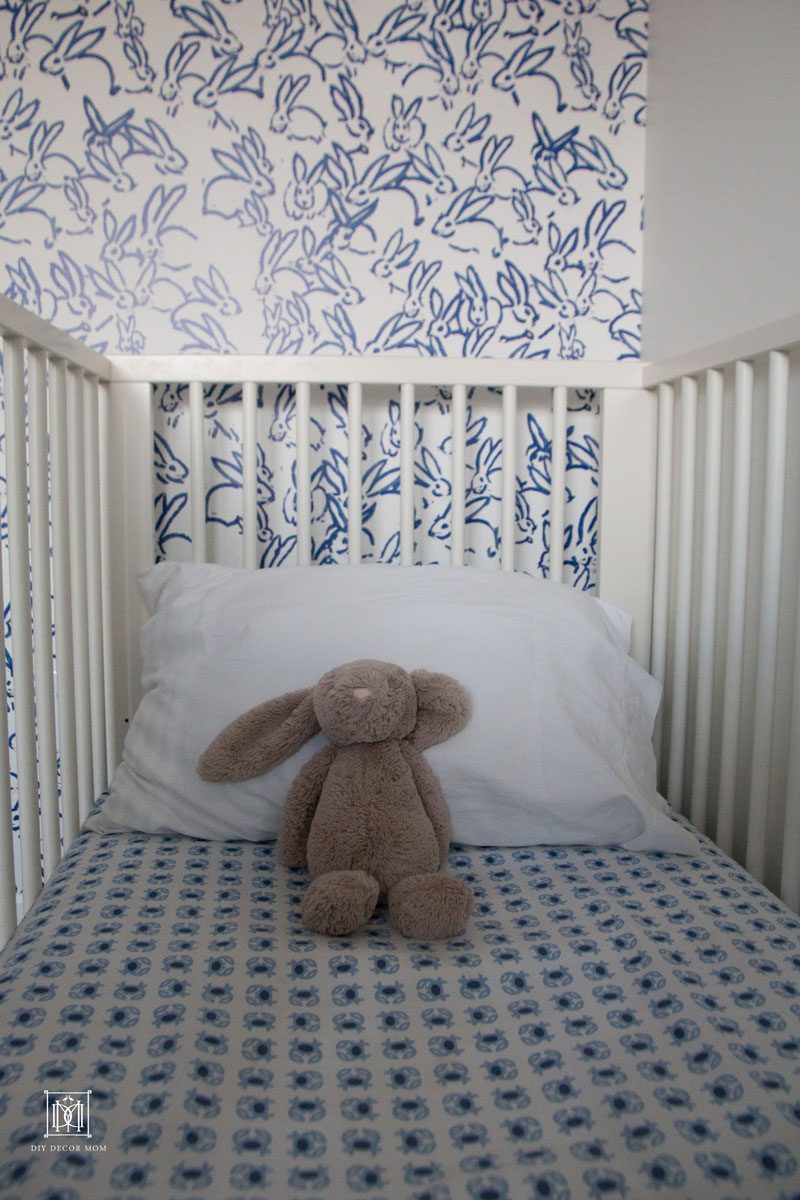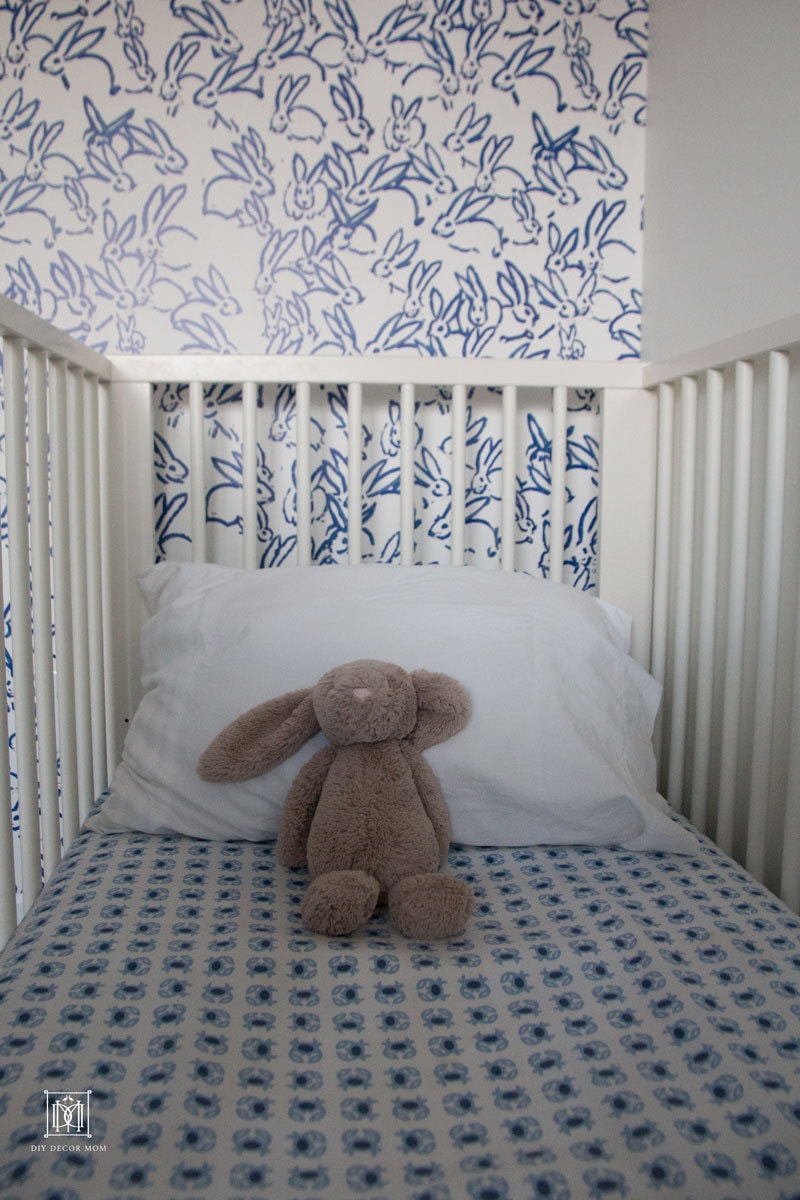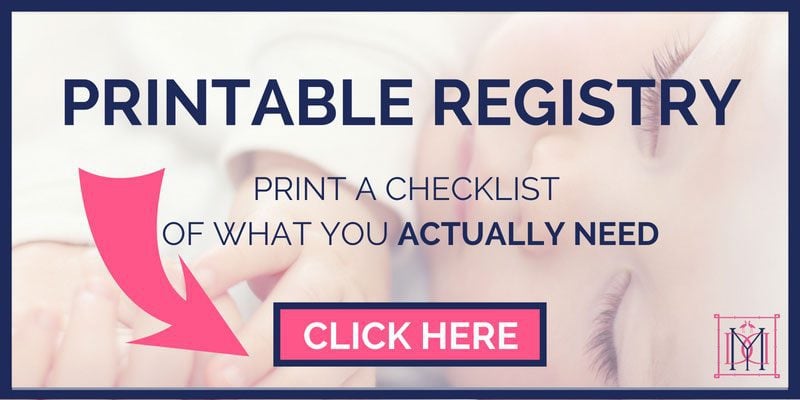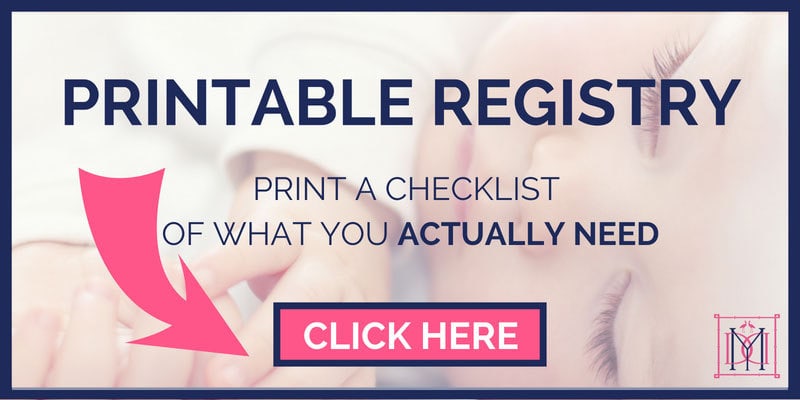 SHOP BABY BOY ROOM DECOR HERE
Shop all the entire baby boy nursery here!
Wall color: Cloud White by Benjamin Moore
Trim: Simply White by Benjamin Moore
Wallpaper: c/o Spoonflower
Crib: Ikea
Bedside table: HomeGoods, Mirror: HomeGoods (see similar below)
Headboard: DIY Upholstered Headboard using this blue buffalo check fabric
Bunny Pillow on Rocking Chair c/o Roostery
Picture frames: Ikea
Bookcase: DIY Book Ledge
Curtains: DIY Pelmet Box
Changing table: Vintage (see how to paint vintage furniture here)

DON'T FORGET THIS POST–PIN IT FOR LATER!
MORE POSTS ON NURSERIES: