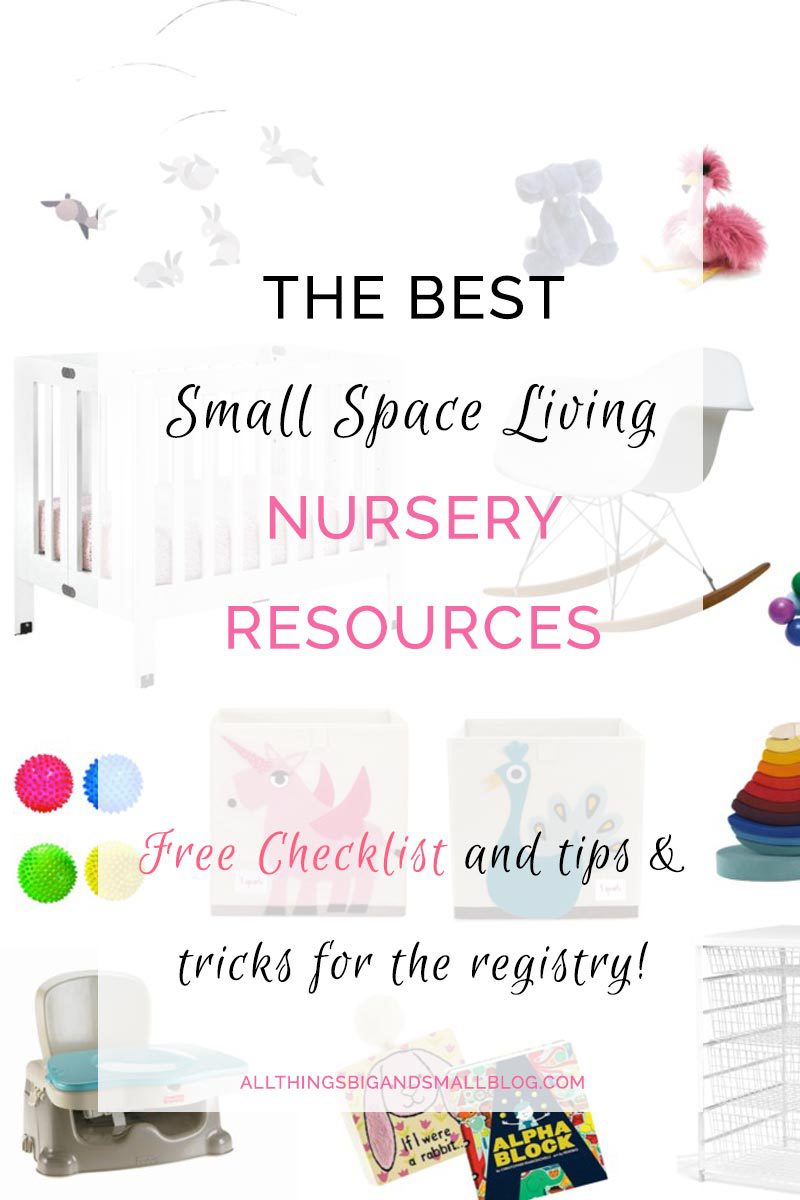 SMALL SPACE LIVING WITH A BABY: Raising a family in a small space is not the easiest feat, so today I have compiled all my best tips, tricks, and resources for setting up a small nursery in a tiny apartment. PLUS all the Best Resources at the end!
When we first got pregnant, after congratulating us, most people would then politely ask "so are you guys thinking about moving?" We decided to stay in our small space for another year and a half for number of reasons, and as challenging as it was living in a smaller apartment with a kid and two great danes, the benefits outweighed the cons until my husband changed jobs and we moved to Wisconsin. (see our new house here)
SMALL SPACE LIVING WITH KIDS

SMALL SPACE LIVING – SMALL NURSERY TIPS & TRICKS
This small space living post contains some affiliate links for your convenience. Click here to read my full disclosure policy.
1. Skip the Unnecessary Items
Keep the baby stuff to a minimum. Skip certain optional items (e.g. a seat)that other things that can serve the same purpose (a high chair, and a bouncer). Buy fewer items: we bought six bibs instead of twenty and used a ton of burp cloths (which are multi purpose item–see #4).
Related Post: See what I recommend as a second time mom to register for see this post with a free printable registry checklist!
2. Go MINI!
We bought a mini crib instead of a typical size. Standard cribs range in size from 53.5″ x 29.5″ to 57″x 32." Our mini crib (we chose the Babyletto Mini-Crib) measures 39″ x 25″. Our small nursery only measures 7'x9′, so it takes up a substantially smaller footprint than a bigger crib would and we kept her in it until 18 months old.
We also skipped a large rocker. As I mentioned here, we chose to purchase a small rocking chair that takes up less space and goes with our mid-century modern aesthetic. It is a fantastic price and very comfy (obviously, not as comfy as a glider but it is way cheaper and smaller!)
Want the FREE BABY REGISTRY CHECKLIST?
3.) Multi-purpose systems:
That sounds way more complicated than it is, simply put we put things to multiple uses. We skipped a changing table (single function) instead we use our former built in desk (shown above) as a surface to change the baby. Below the desk surface we store drawer units in which her clothes, blankets, and toys reside.
We use a highchair that buckles onto another chair, thereby not taking up any more real estate than a regular chair. And when we need the extra dining room chair, we simply unbuckle the highchair and stash it in a closet. We still use this same high chair three and a half years later!
We use an old iPhone for her sound machine. It is small, not too loud and was free! I downloaded a white noise app and voila! Discrete noise maker. I would also recommend this inexpensive one that we now use in my son's nursery.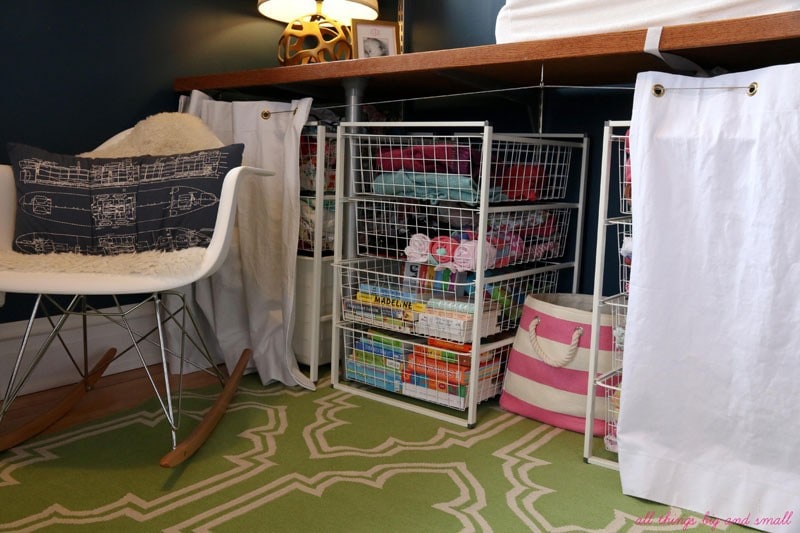 4.) Hidden Storage
We squeezed in storage everywhere we could: Underneath the built in desk and behind some handmade curtains, we hid four small drawer units from Ikea (creating the equivalent to entire wall of drawers.) Inside those (similar here) we stored all of her clothes, her books, her diapers, sheets and blankets, and outgrown/ or too big clothes, and building blocks. Above the desk, we have (Elfa brackets with DIY Custom wood shelves similar here) that span wall to wall and on those we keep a ton of stuff in decorative baskets and boxes. In those we keep books, cookbooks (for us–she isn't that helpful yet!), extra supplies (disposable diapers, breast milk storage bags), baby carriers, and outgrown and too big clothes.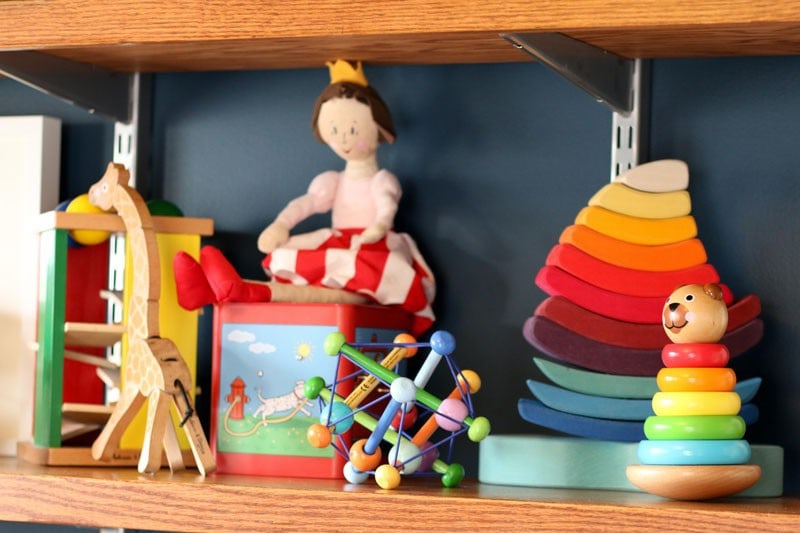 5.) Minimize it and/ or buy quality items:
Keep toys to a minimum, buy ones that are beautiful ones so they aren't an eyesore to look at. Buying wooden toys that are aesthetically pleasing and eco-friendly, helps the environment and looks nicer! Three and a half years later, we are still playing with the same toys and have hardly bought any new ones for our second baby.
6.) A place for everything, and everything in its place…
That was our motto. We constantly purged stuff, relocated stuff to the storage in the basement when we no longer used it, and put stuff away. Outside of her room, she only had two baskets for toys (one large one for toys in the living room) and a small one for books. We also let her keep her puzzles out in a neat pile next to our DVD player because it fits nicely. Kids don't need a lot of toys and keeping less around is good for clutter as well as creativity.
7.) Keep things cohesive and neutral:
We opted for white crib sheets, white curtains, white changing pad covers to keep things looking light and pulled together. In such a small space, it could easily go from looking cute to looking like a pack of Crayola crayons exploded! We inherited a neutral bouncer which blended in well with our furniture (it didn't scream kids live here!) We also inherited a neutral looking swing (similar but if you have the money go for either this one or this one!) from our gracious friends, which we used for the first four months with B. I take pride in the fact that besides the two baskets in the living room and a high chair, you don't really notice that a kid lives here when you first enter our house.
8.) Put it away!
We quickly transitioned her from our bedroom to her bedroom, allowing us to put away the hand built wooden co-sleeper (more on that in a different post). By 12 weeks, B was sleeping by herself in her bedroom for the majority of the night, which allowed us to put away the co-sleeper. One less thing out! As soon as she was sleeping in longer than 4 hour spurts, we started putting her in her crib because it meant that I would only have to get up a handful of times to nurse her. We also transitioned her early out of the swing (she used to love to take her naps in there), and were able to put it away by 14 weeks. We pushed this early on because I wanted to develop healthy sleep habits and no reliance on a swing but also because we were taking a trip to NY and I didn't want to lug the damn swing on the plane or have to check it.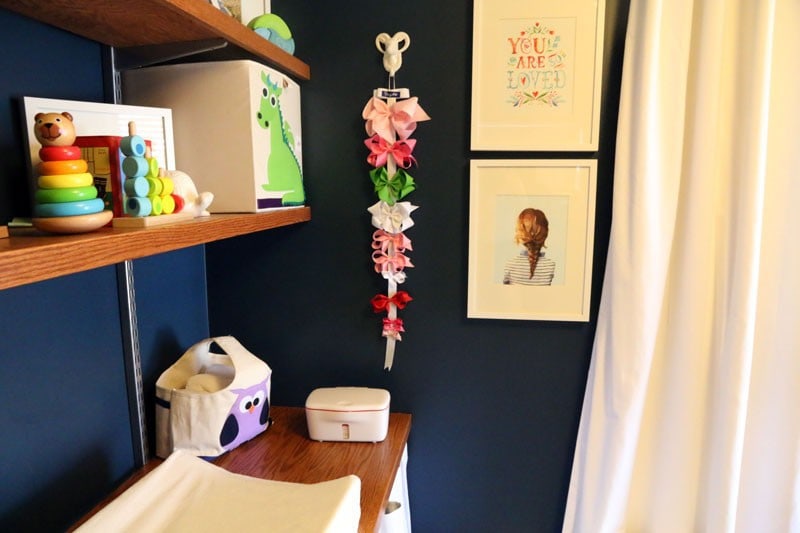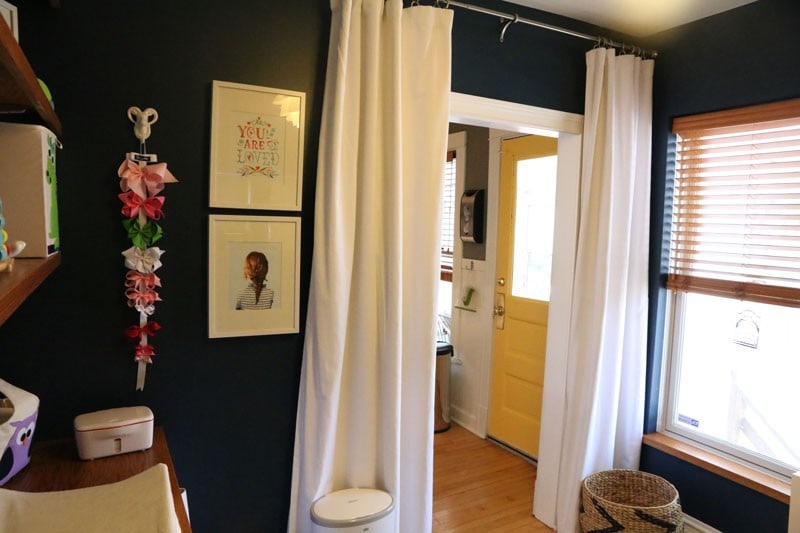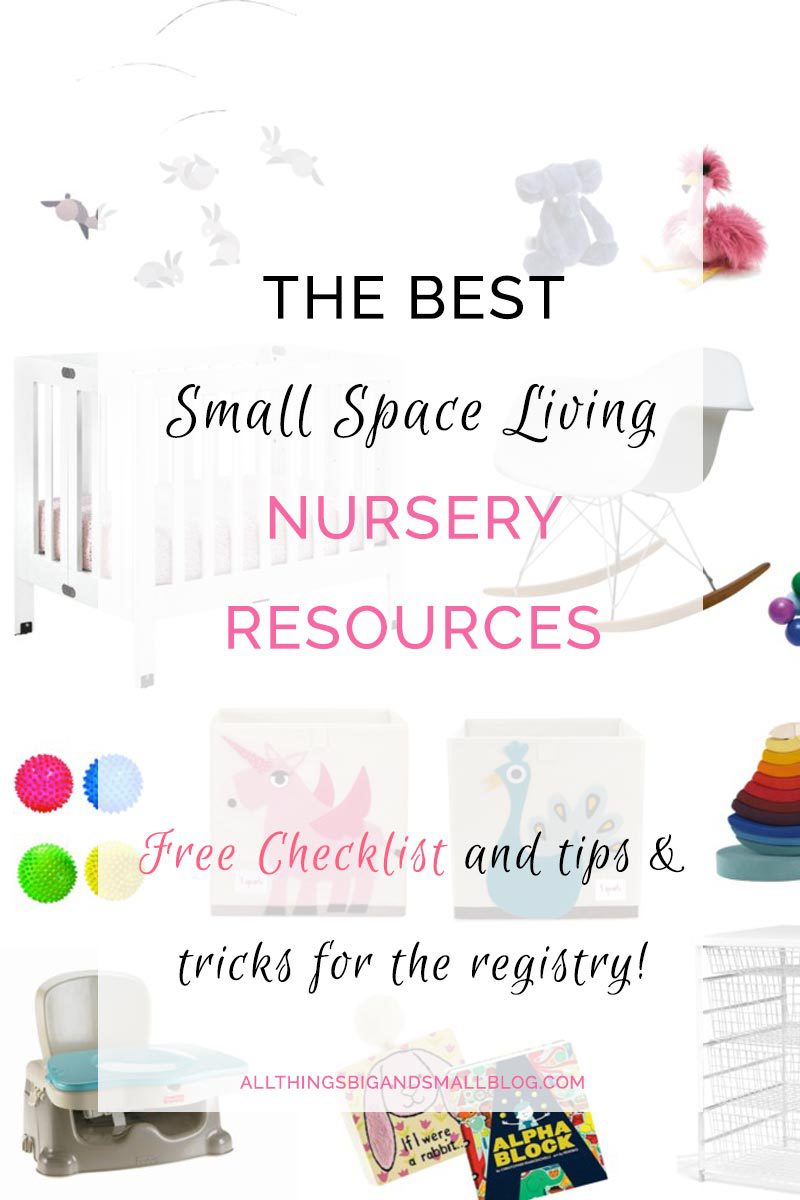 SMALL SPACE LIVING – NURSERY RESOURCES
Want the FREE BABY REGISTRY CHECKLIST?
STORAGE:

Wire Shelves (or buy Ikea ones)We hid Ikea ones behind a handmade curtain under the built-in DIY desk
Elfa Shelf Bracket

We DIYed shelves and used these Elfa shelf brackets (also available at the Container Store.)

Green Storage Boxes: Ikea
Basket on the Floor: Target
BEDDING:

Mini Crib

We bought the Babyletto Grayson which has since been discontinued the Babyletto Origami Mini is very good! We still use our mini-crib and keep it in our closet for when company comes over.

Changing Pad

This is a standard size changing pad and it has held up extremely well even 3 and a half years later

Crib Sheet
Buy portacrib or mini crib sheets for the mini crib. I bought Tadpole Organics mini crib ones but I can no longer find them. Naturepedic is a wonderful company though (linked above.)

NECESSITIES:

ART & DECOR
Want to save some money on setting up your nursery? See our post on how we saved money on baby stuff. Interested in how we give our baby a bath without a bathtub in our tiny apartment read about it here! And for more small space living posts check out our living room, dining room/ office, and kitchen! Living in a small space pushes your creativity and makes you question every assumption you hold!
LOVE IT? PIN IT!


<
>