This semi flush ceiling lights post is a sponsored post in collaboration with Lamps Plus. All thoughts and opinions are mine alone.
Semi Flush Ceiling Lights: if you have standard 8 ft. ceilings semi flush ceiling lights are the perfect lighting solution. Nothing says "devoid of personality" like builder grade boob lights. By replacing ugly and outdated ones with beautiful light fixtures that reflect your style, you not only are upgrading your light quality but you are putting finishing touches on a room. Believe me, I speak from experience! It is amazing what a difference having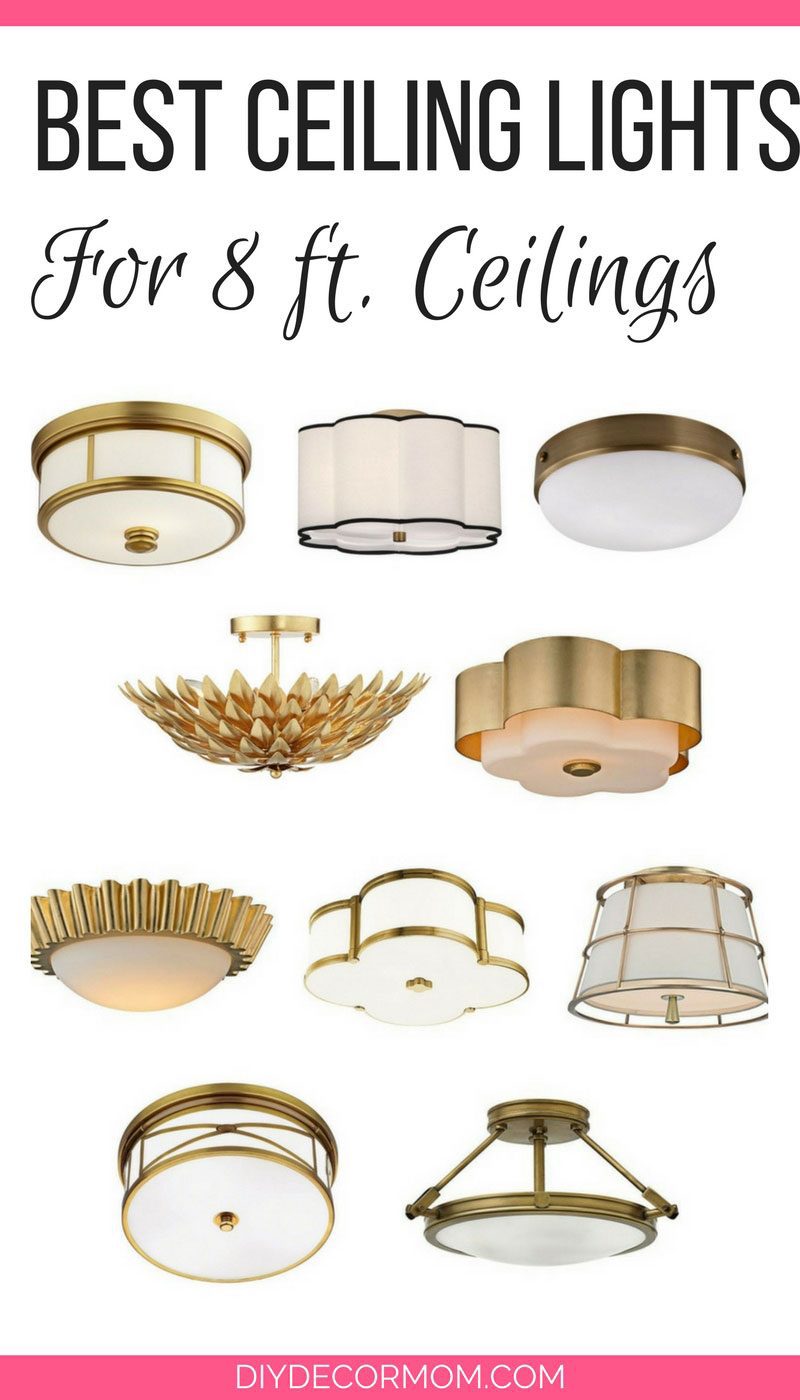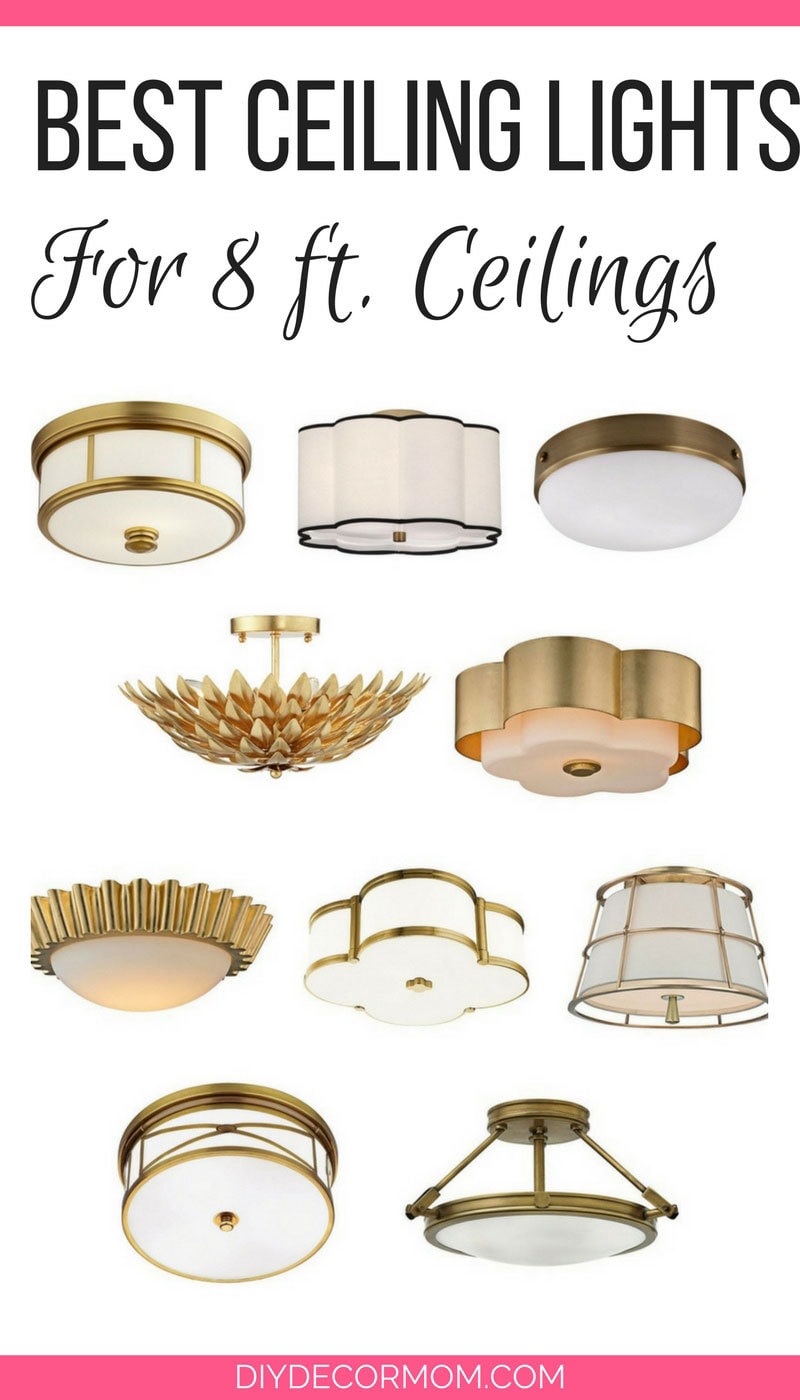 good lighting can make!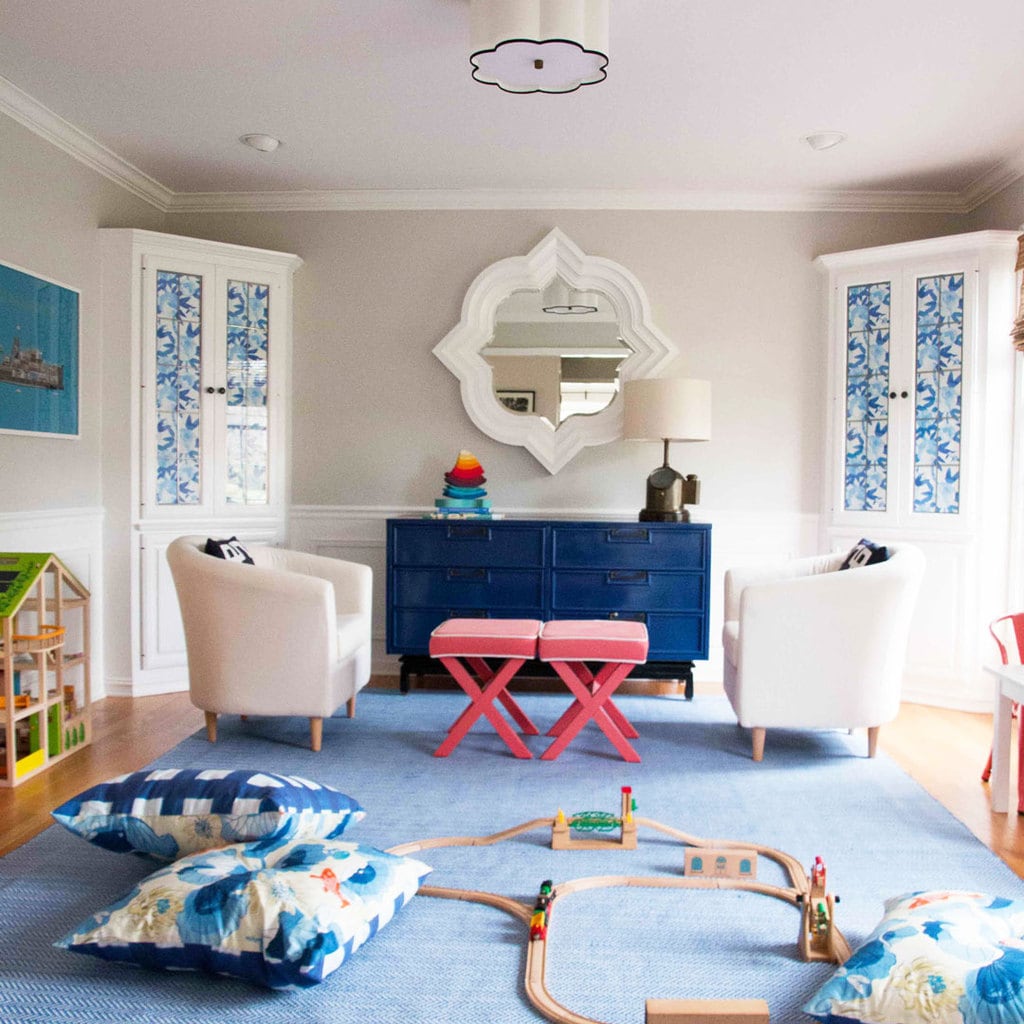 UPGRADING THE PLAYROOM
Last month, when we tackled the playroom for the One Room Challenge, we decided to replace the hanging pendant that we were constantly hitting our heads on with a semi flush ceiling light that would provide more light and be more functional (did I mention we were constantly walking into it?) The old light fixture was really cool and would have worked if we used the room as a dining room; but, at this stage in our life we need a playroom more than a place for dinner parties! With our 8 ft. ceilings, we needed a semi flush ceiling light–a light fixture than hung down a little bit from the ceiling and gave some character to the room (but didn't impede traffic!)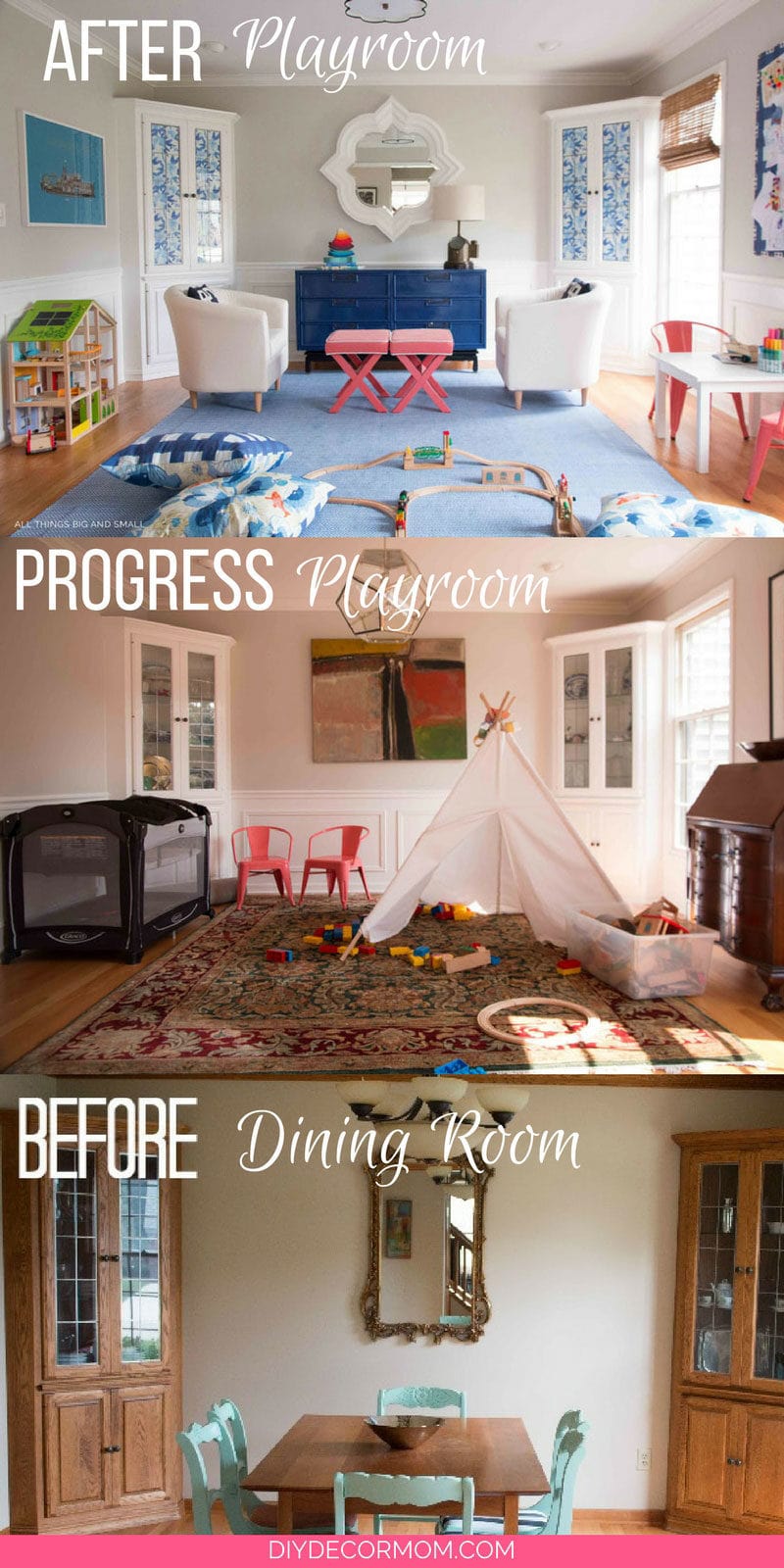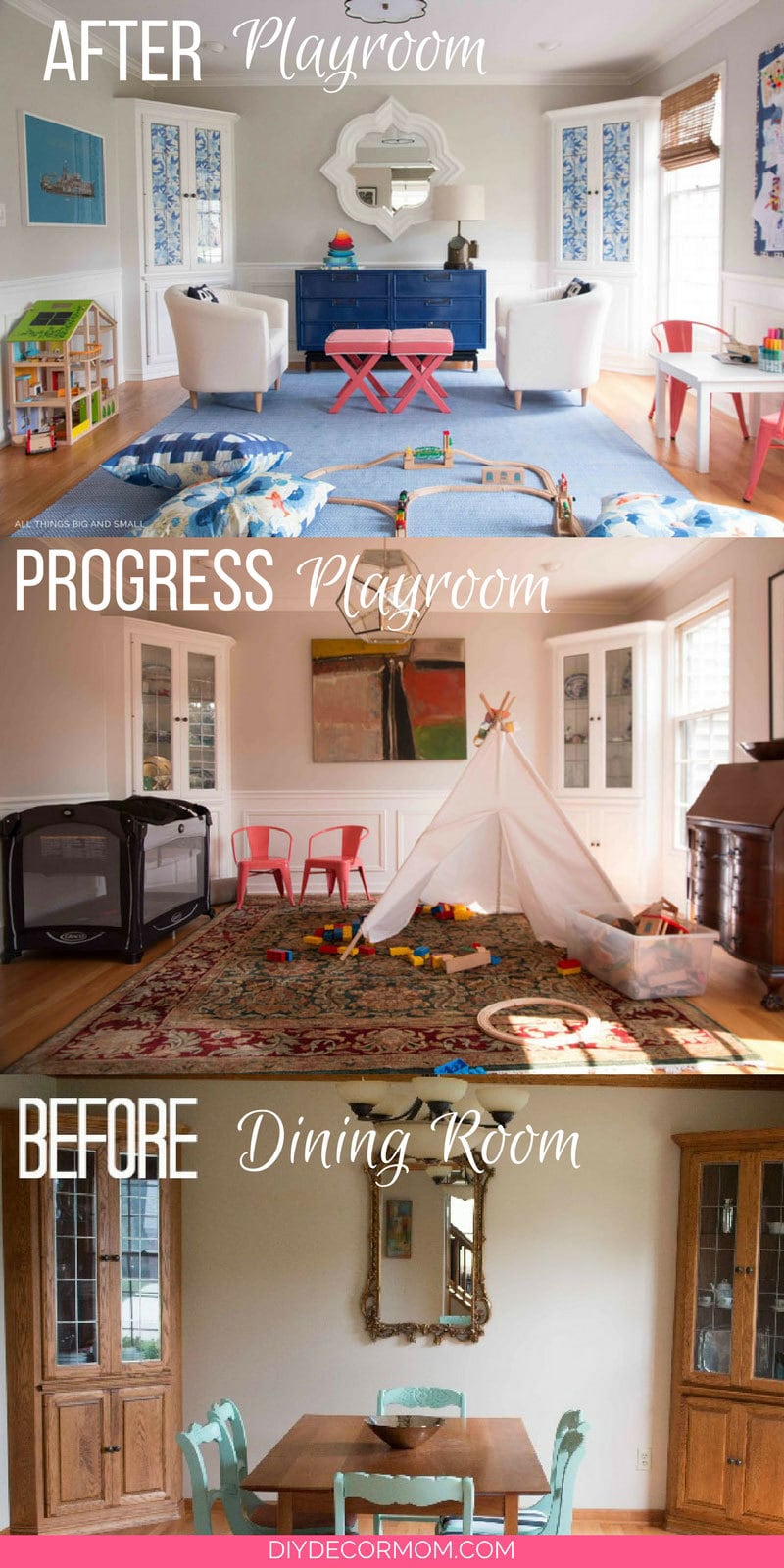 After pinning this light fixture for years and always wanting to use it in my own home, I was thrilled to find a place for it! I had originally planned on using this equally nice brass semi flush ceiling light which went with the subtle nautical theme of the room; But, once I installed it (I really should say my father-in-law installed it,) we realized the scale was off for the space–it's a huge room!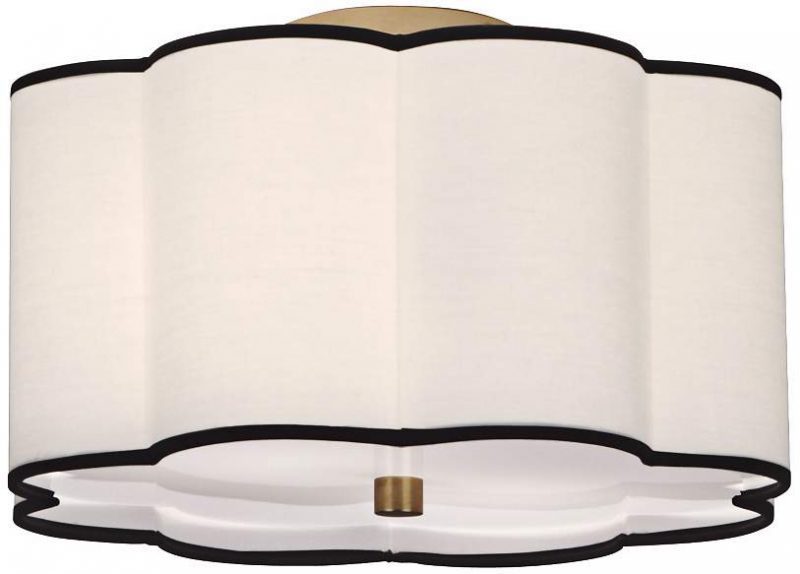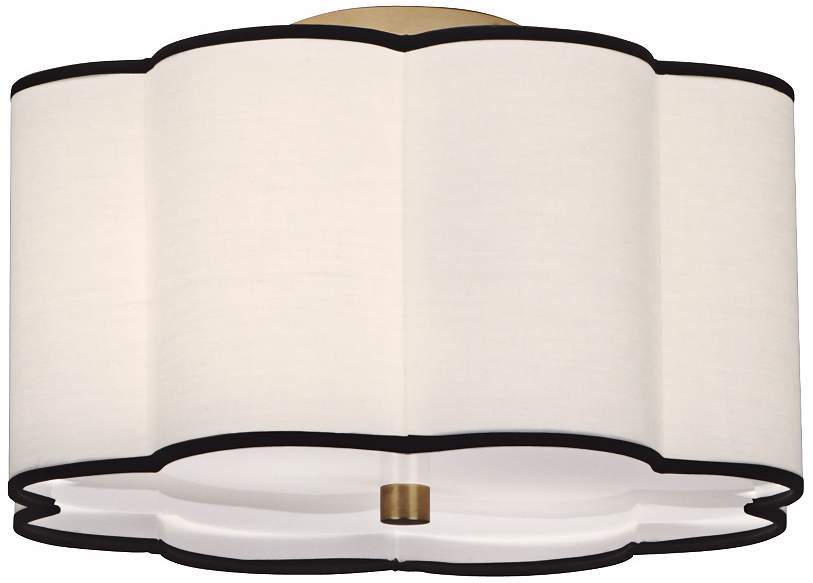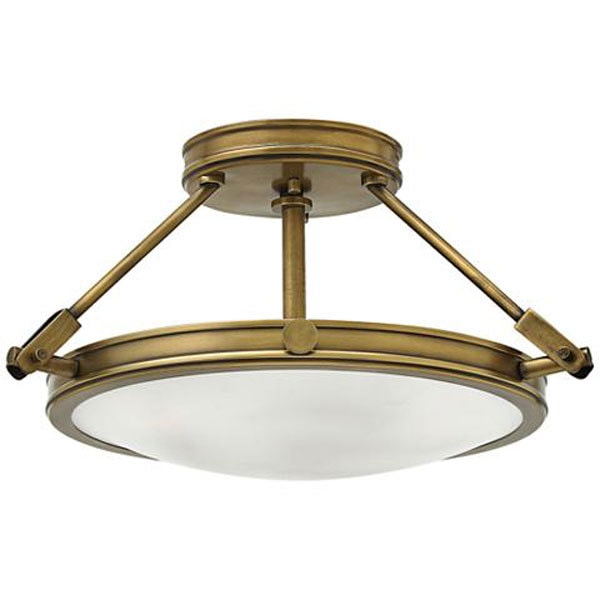 Hinckley Collier 16 1/2″ High heritage Brass Ceiling Light
This one would have looked beautiful too!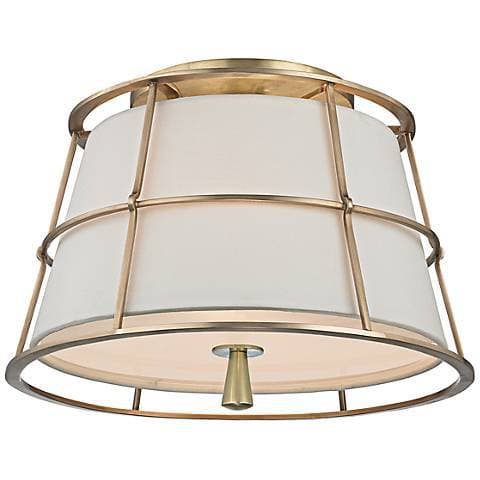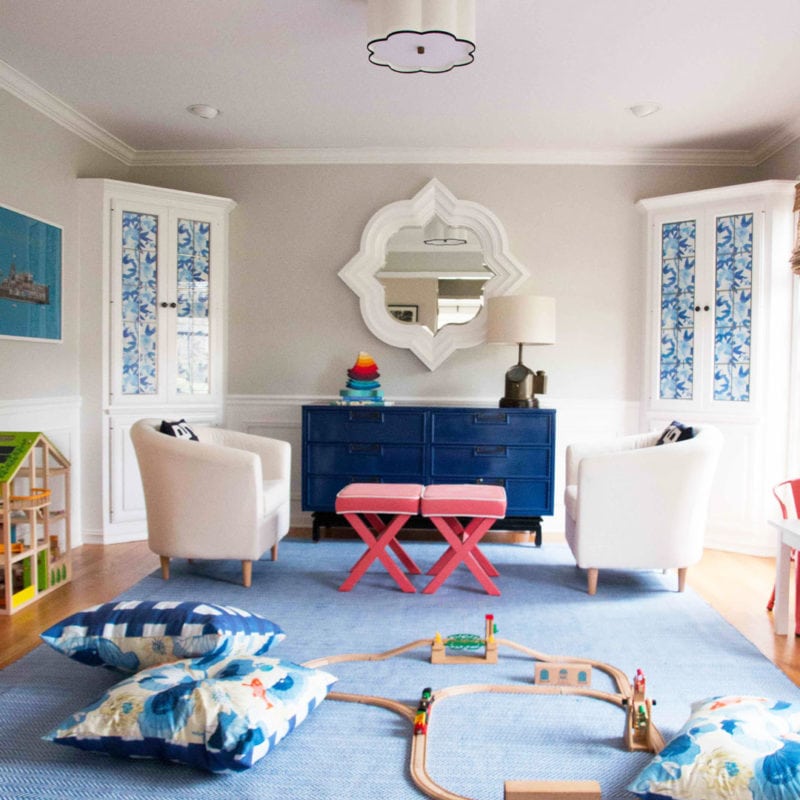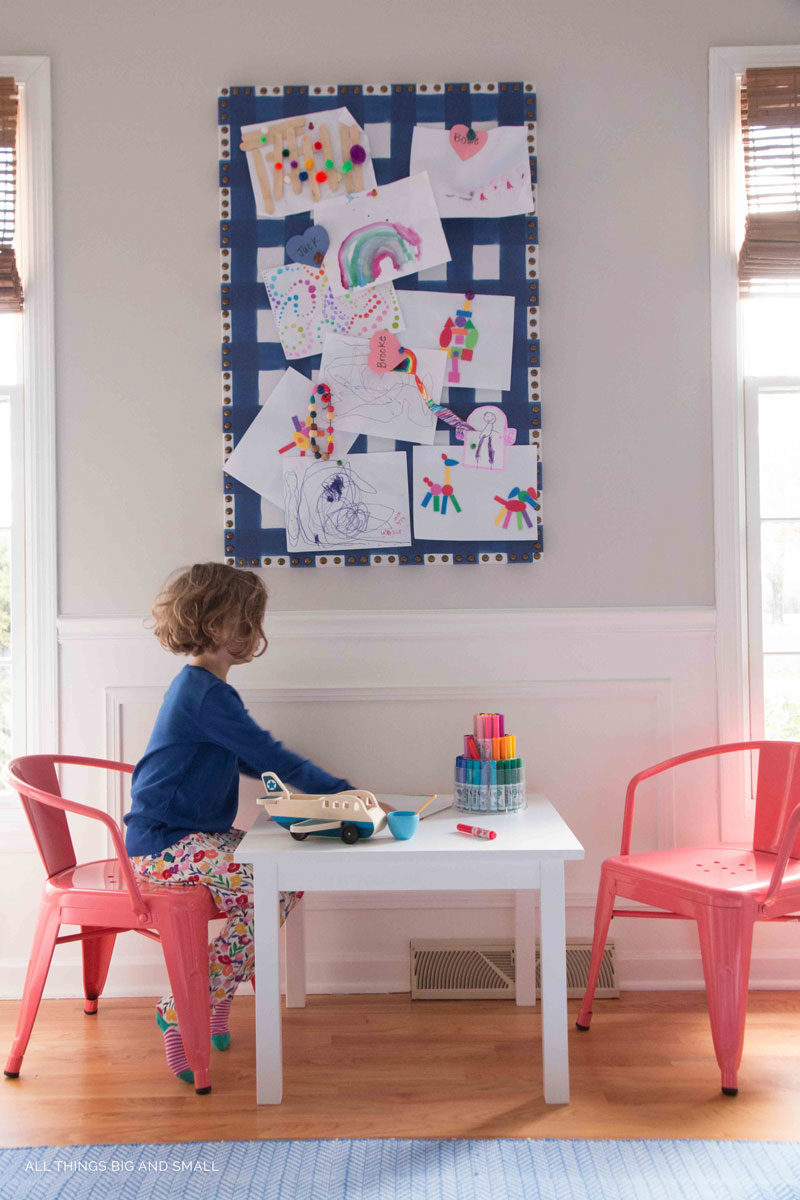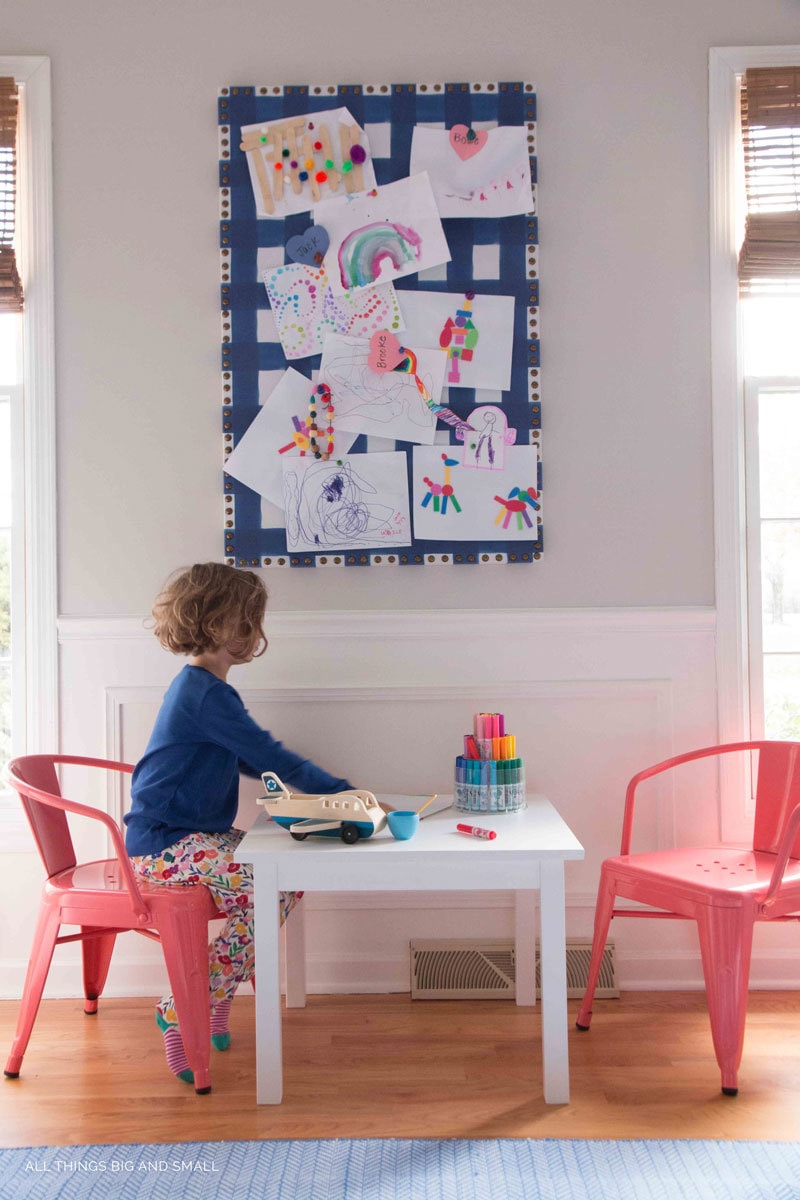 The Hinckley Collier 16 1/2″ High heritage Brass Ceiling Light would be a fantastic fixture for a smaller room like a powder room, or a narrow hallway; but, it was dwarfed by this large room (see it above.) While the Robert Abbey semi flush ceiling light is actually slightly smaller, the extra detail and the height of the shade makes it appear larger than 16″ so it takes up more visual space.
UPGRADING THE FRONT ENTRY
Of course, once I replaced the playroom light fixture, the front entry hall light was just calling for a replacement too. The ugly brown semi flush mount ceiling light was so dark it hardly cast any light, and the large shade always trapped dead bugs. YUCK! Right? Like who wants to always be vacuuming their ceiling light–or horror, have someone walk in your front door and immediately see dead bugs in your lights? So, I switched my favorite light fixture from our master bedroom into the hallway. Again when I say "I," I really mean my kind father-in-law who helps out with most of the electrical upgrades in our house!
BEFORE: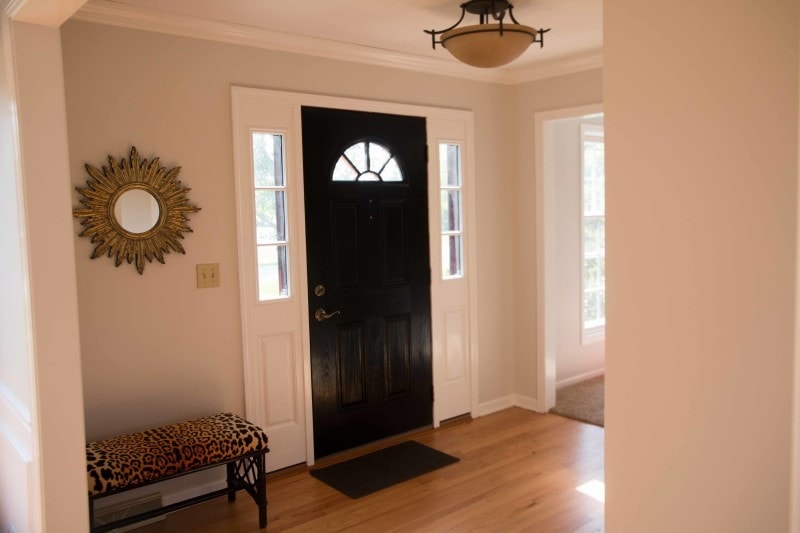 AFTER: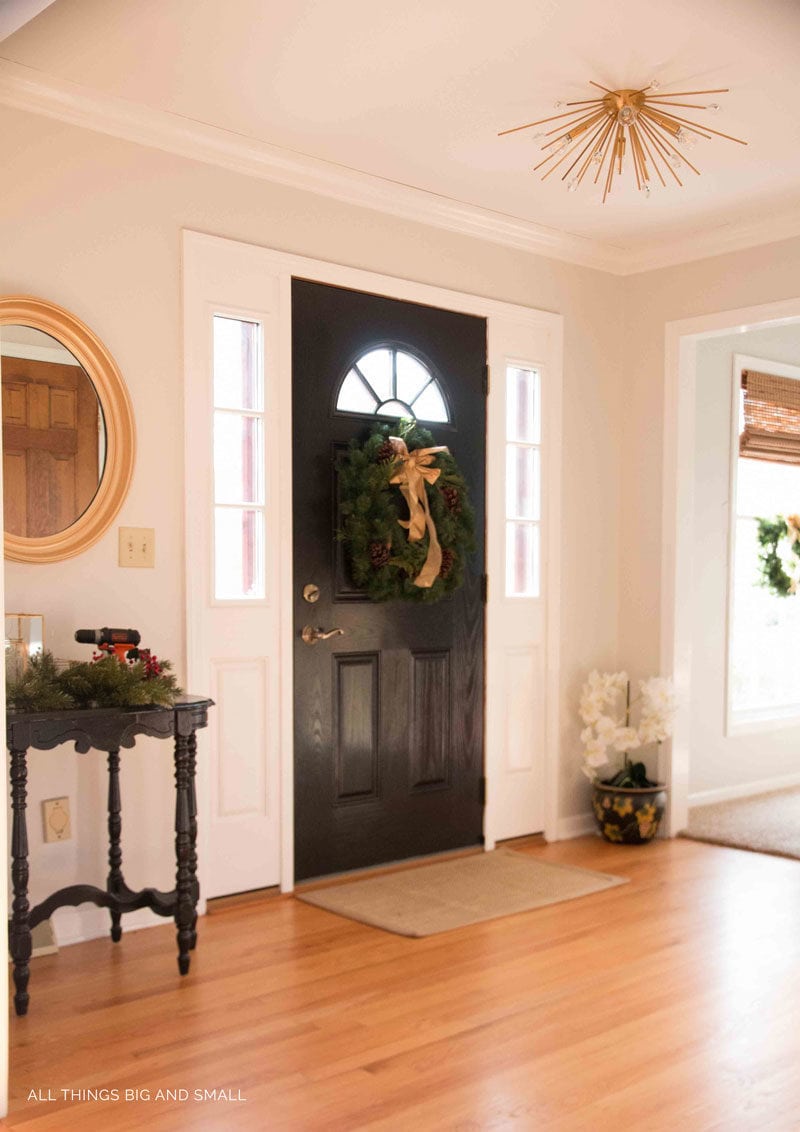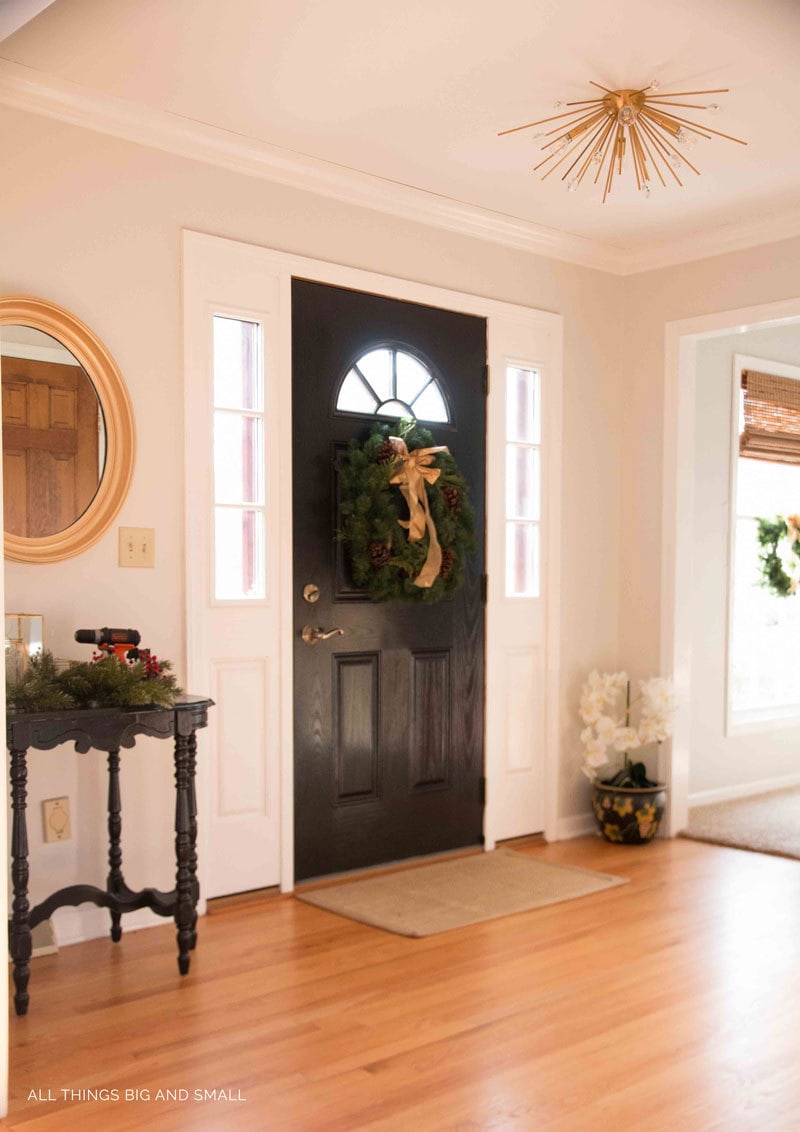 Even though I LOVED the light in our bedroom, I felt like, our beautiful light fixture (similar model–our's is no longer available) needed to be somewhere it would shine. Everyone sees it when they walk in our front door, and now it shows our personality right away! In our master bedroom, it was perfect but, well, only my husband and I ever saw it.
Our exact light fixture is currently unavailable but you can still purchase the chandelier option, or these semi flush ceiling lights would look gorgeous as well!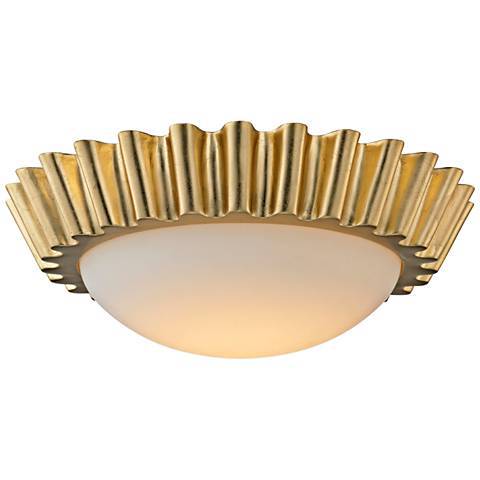 Reese 15 1/2″ Wide Gold Ceiling Light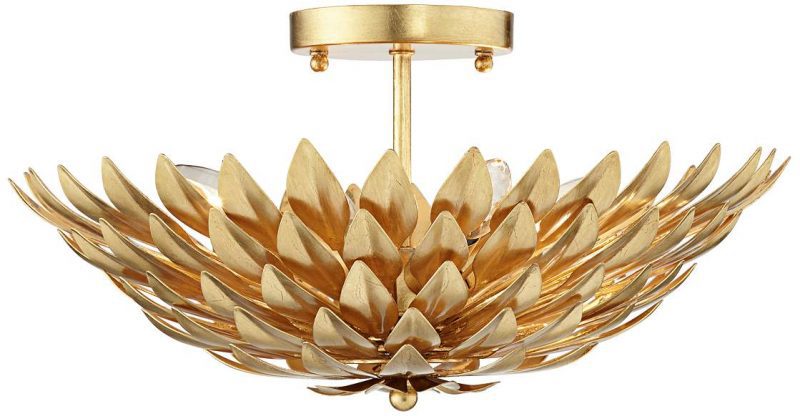 Crystorama Broche 16″ Wide Antique Gold
Designer Tip: A front entry should set the tone for the rest of the house.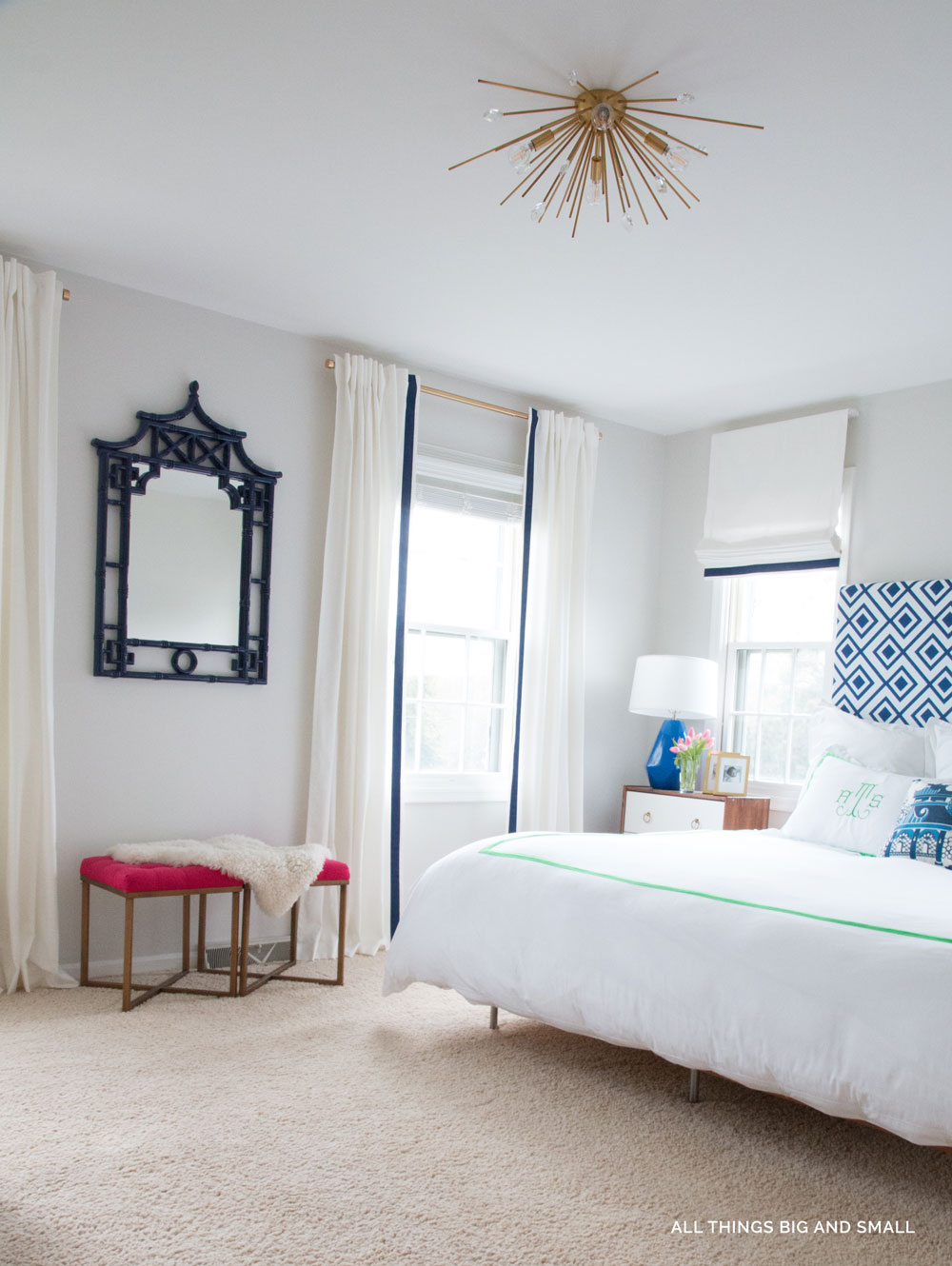 UPGRADING THE BACK HALL (in progress)
And while we were replacing light fixtures, we decided to give a serious face lift to our back hall. It is the door we use most often to enter the house because it's connected to the garage. It's truly the workhorse of the house: it houses our pantry, our laundry room, our first floor bathroom, and our office. The only problem was that it is always so dark in there!
BEFORE: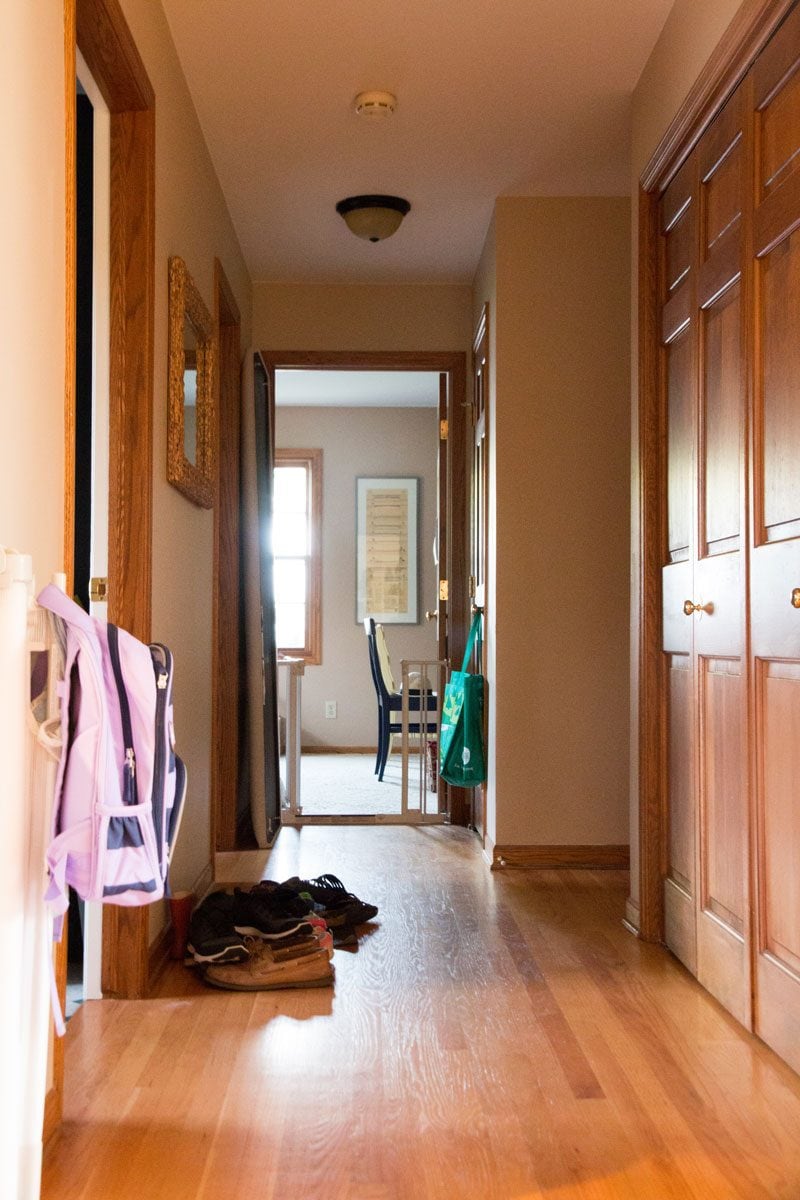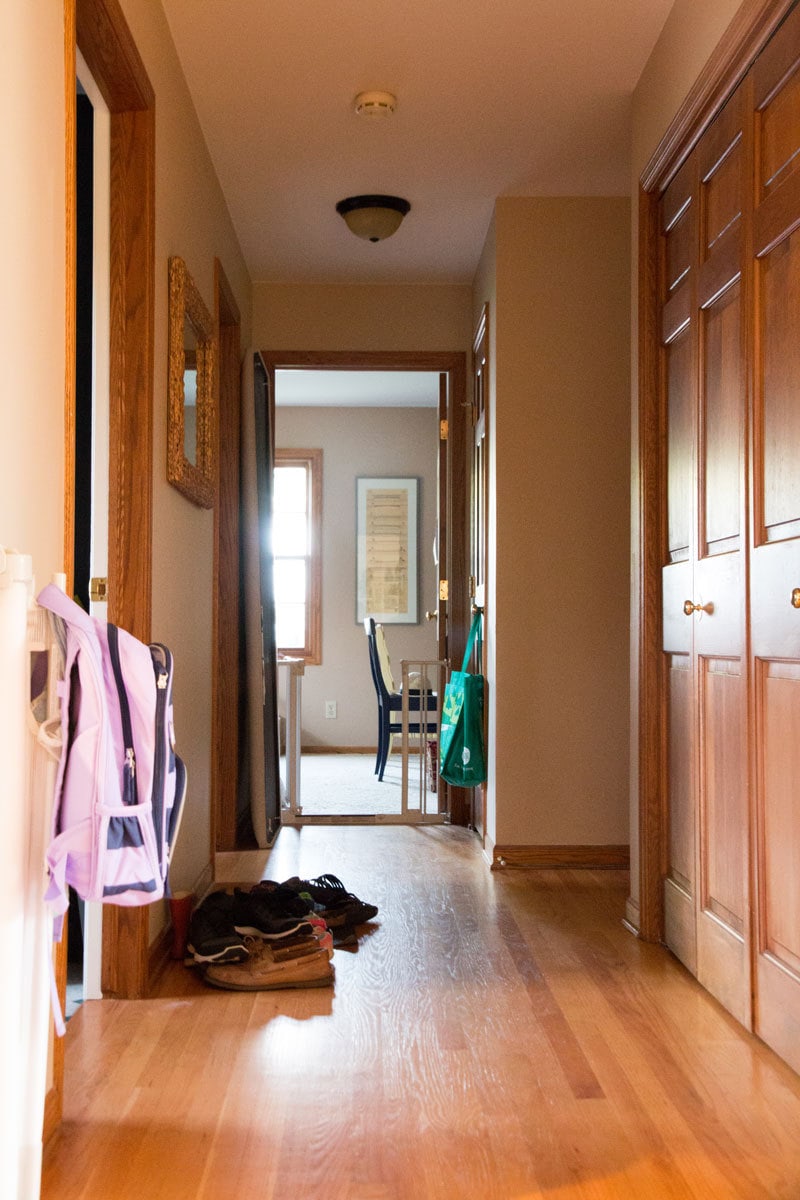 AFTER/ PROGRESS: We are still working on it–we need to build a bench, hang hooks, and paint the walls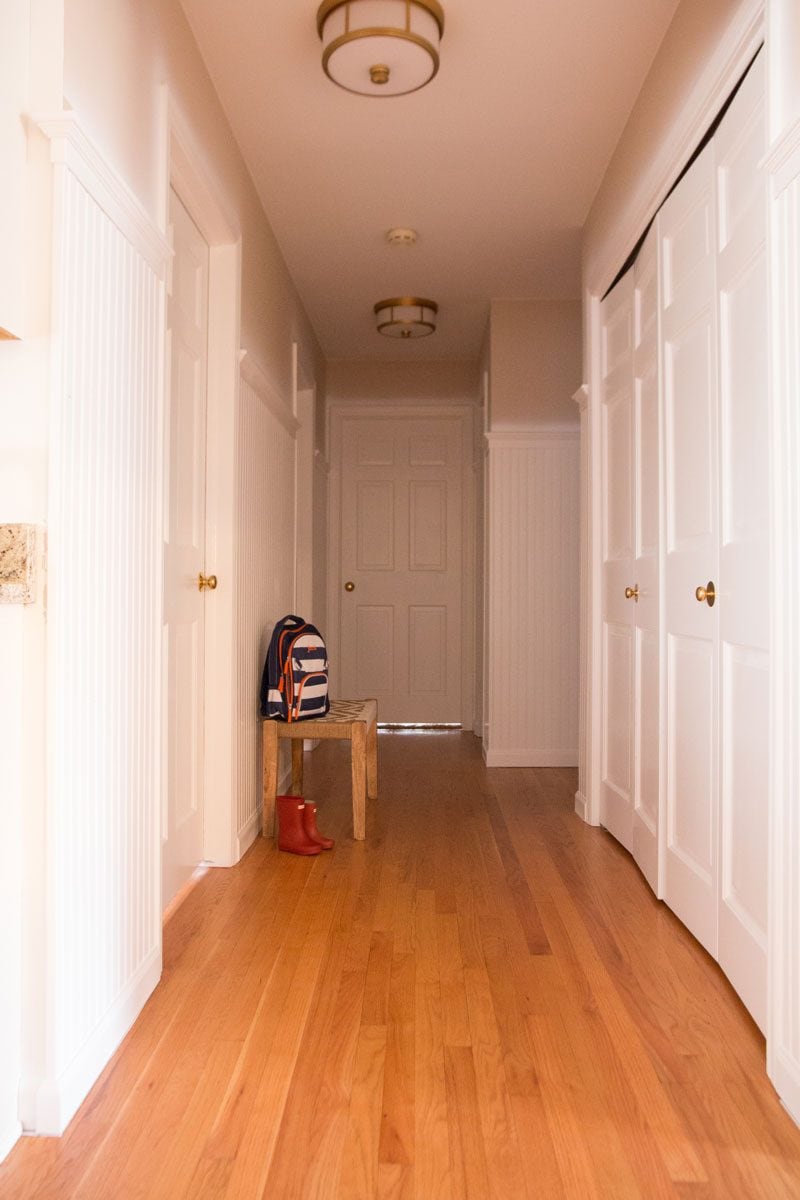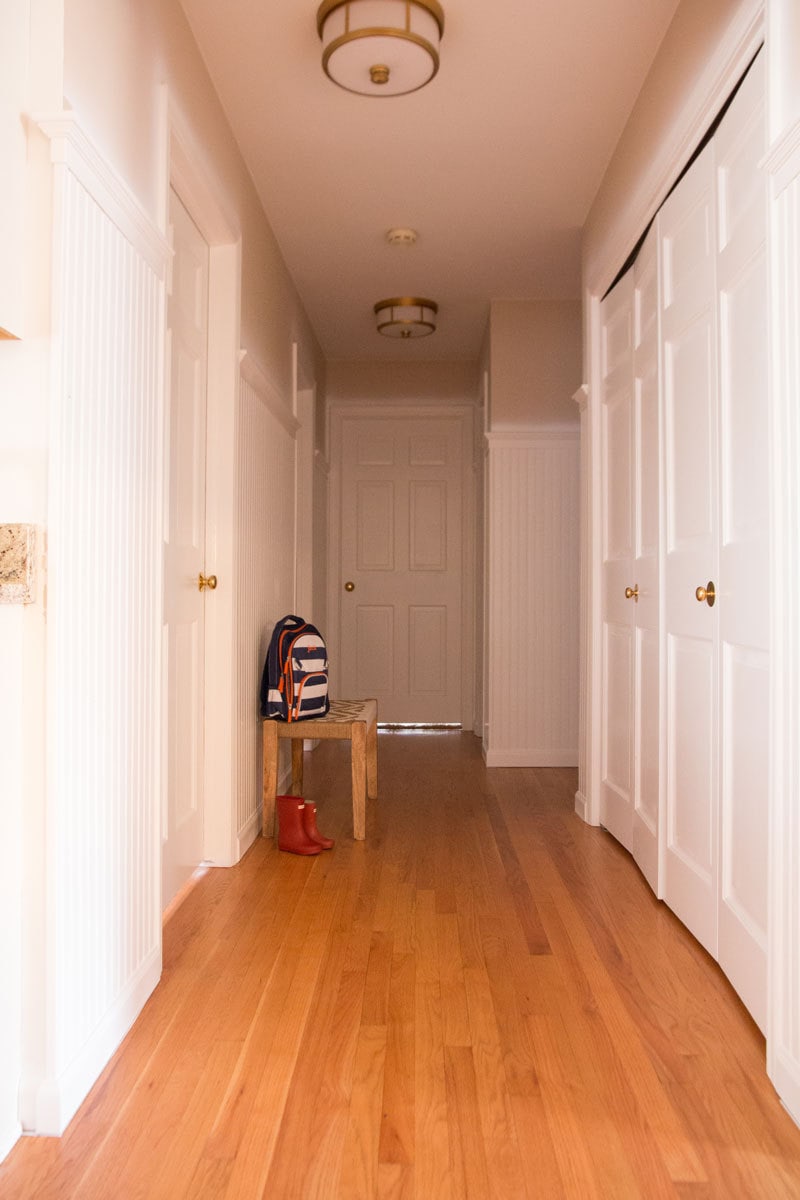 So, when I partnered with Lamps Plus again, I knew it was the perfect opportunity to upgrade the ugly builder grade ones (I kid you not, they were 2 for $20 on sale at the home improvement store) and put in something that provided more light and reflected our tastes. These Harbour Pointe flush ceiling lights are absolutely perfect AND they are quite budget-friendly.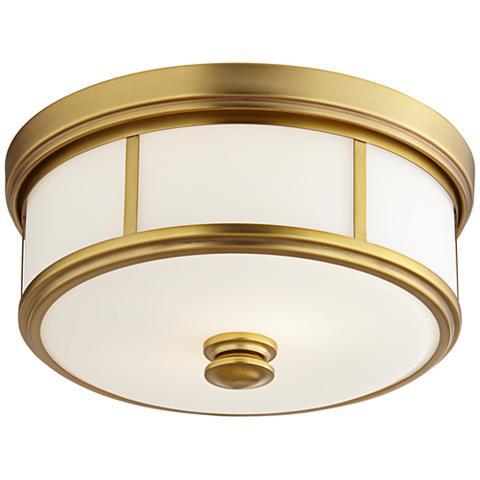 Harbour Point 13 1/2″ Opal Glass Ceiling Light
I also thought these were beautiful but they were out of the budget for us.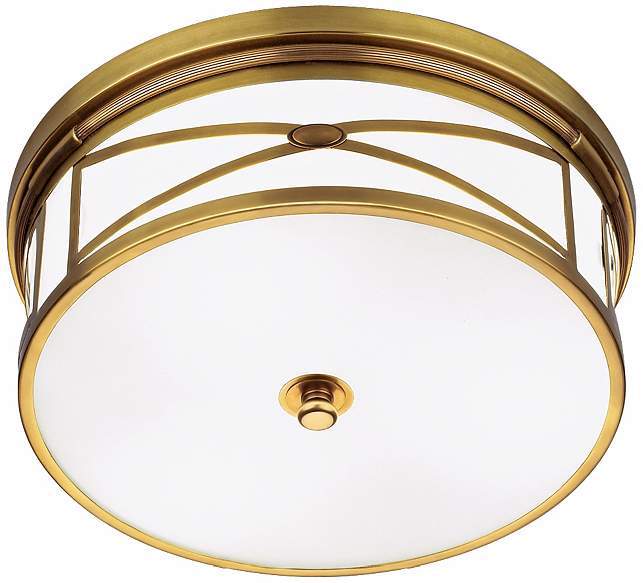 Robert Abbey Chase 15″ wide brass flushmount
SEMI FLUSH CEILING LIGHTS
Now how do you ask, do you connect all of these rooms even though they all are so different? Finishes on the light fixtures and colors weave together the different rooms of our house. Each room has touch of brass and/or gold–even the playroom!
Designer Tip: To make a room with different finishes look deliberate (and not just happenstance) repeat each design element at least twice!
MASTER BEDROOM
See the master bedroom–the gold semi flush ceiling light is echoed in the curtain rods, the gold picture frames, and the brass legs of the stools. We replaced the light with a similar light fixture to this Hudson Valley Chandler 16 3/4″ Light.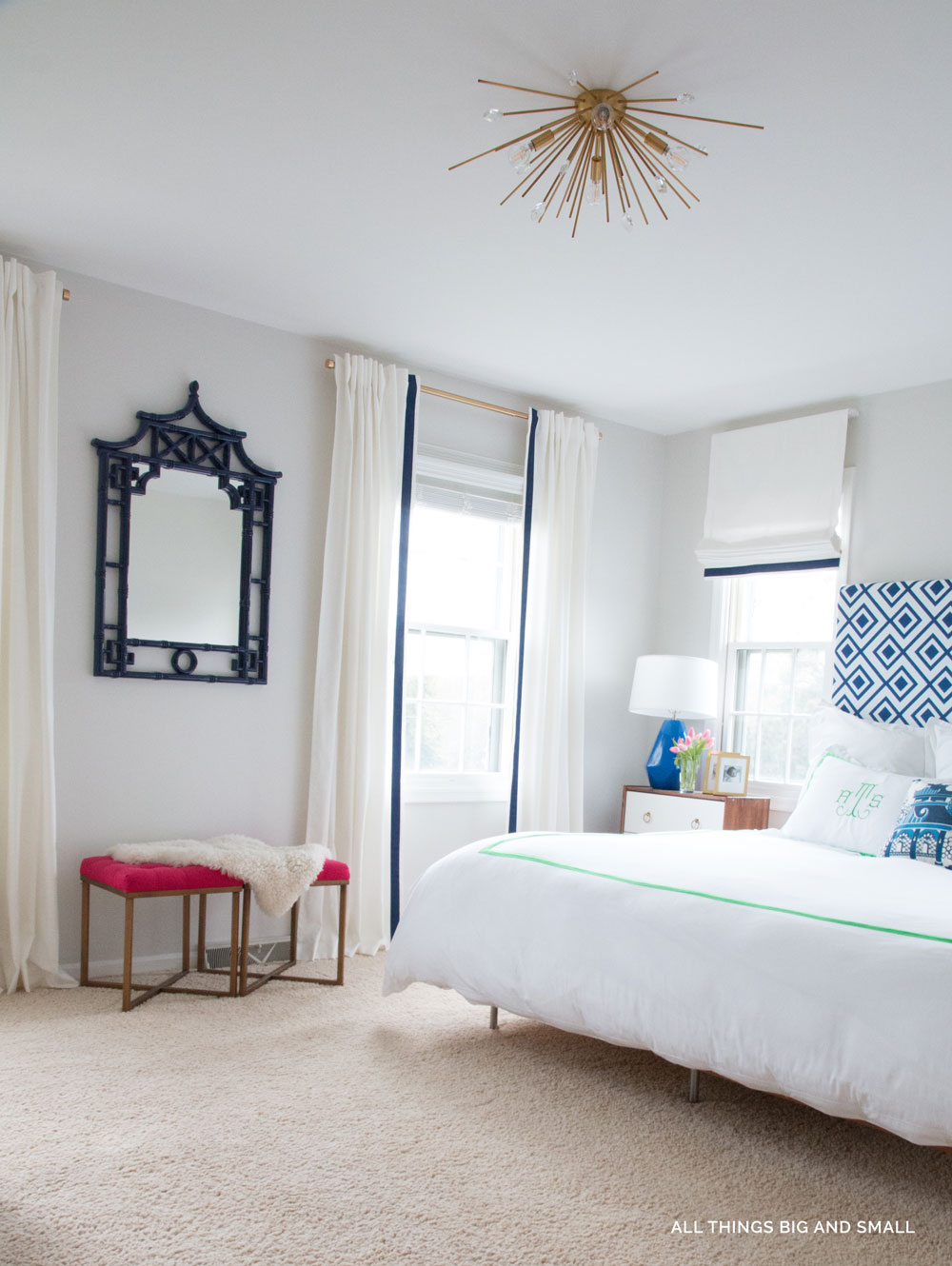 FAMILY ROOM
You will find gold and brass elements everywhere in our home. See it below in our family room on the mantel and bookcases.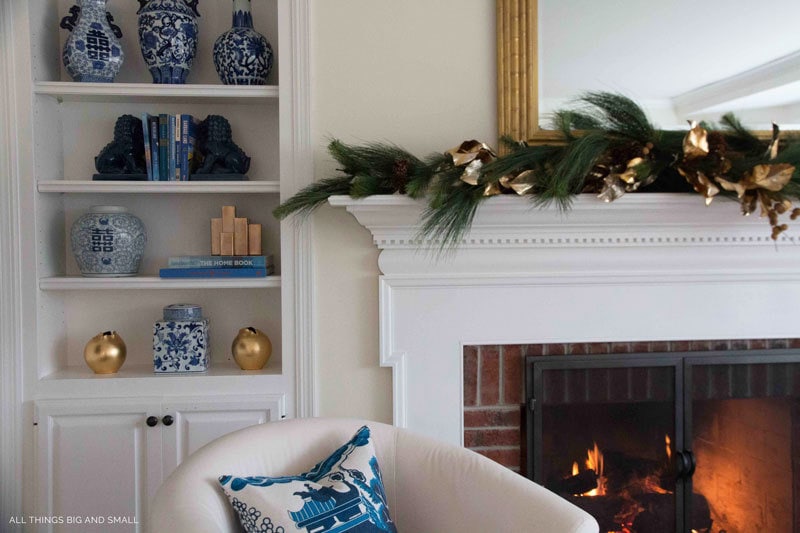 PLAYROOM
You will find the same gold and brass in our playroom in the antique lamp and the gorgeous new ceiling light.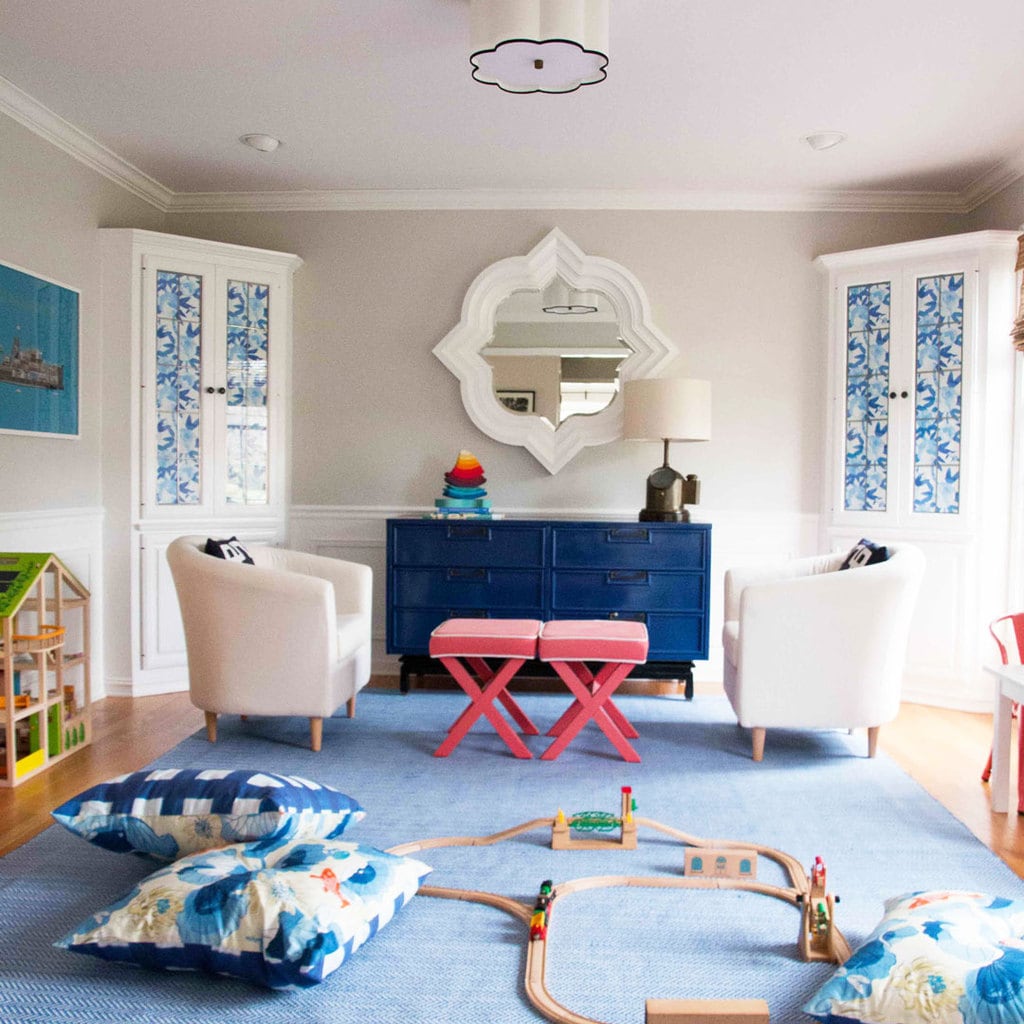 FORMAL LIVING ROOM
Again, gold and brass is repeated in the formal living room with the gold bamboo art frames, and gold table legs.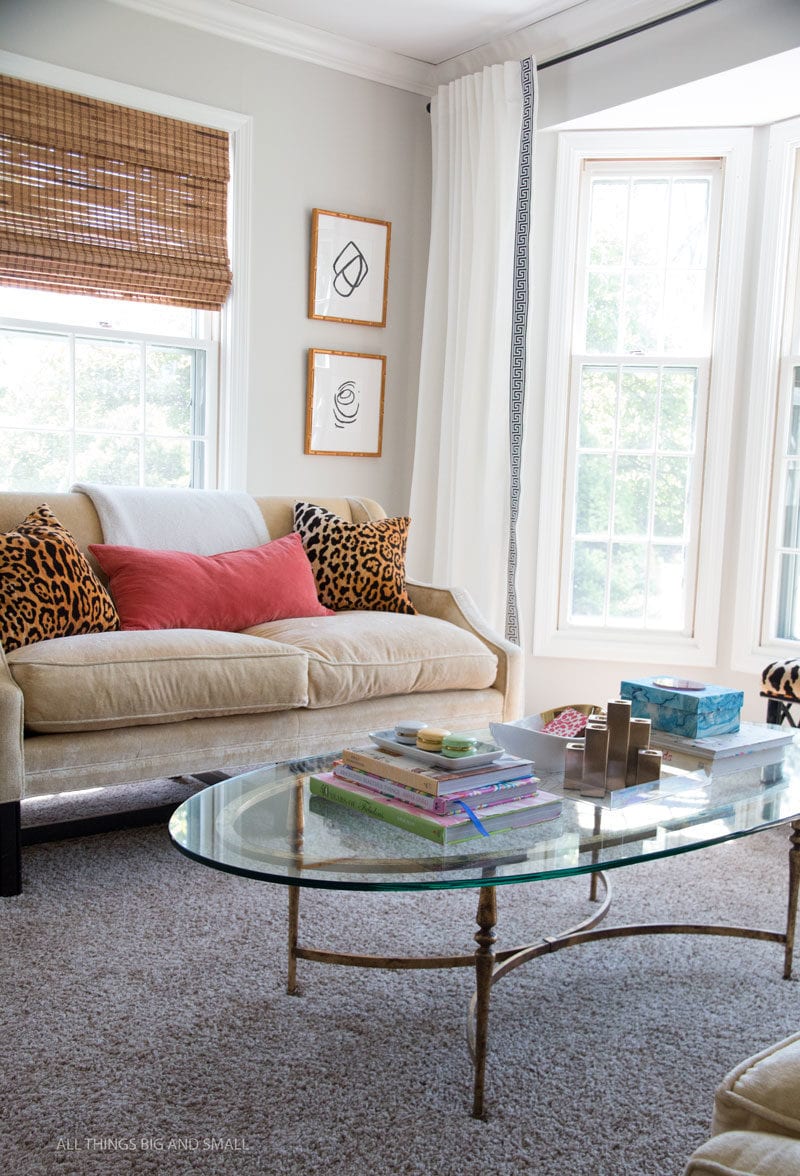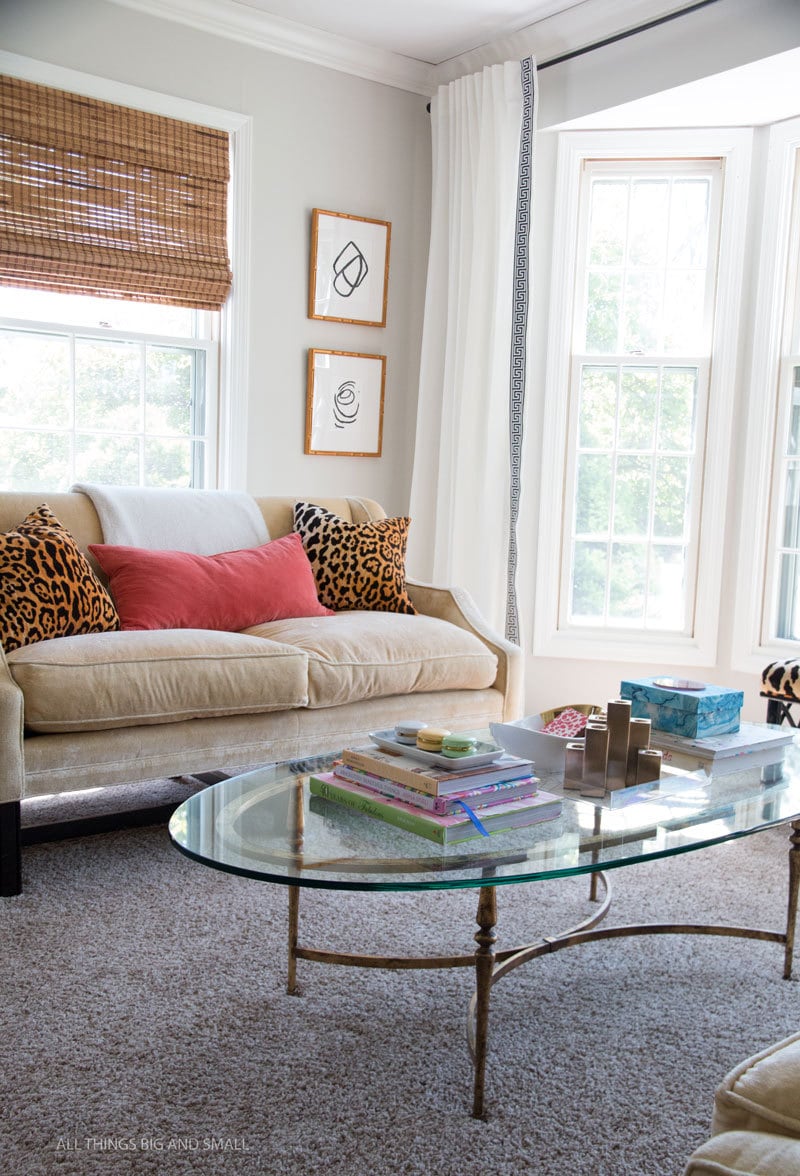 FRONT ENTRY
In the adjacent front entry, you see gold again in the mirror and the overhead light.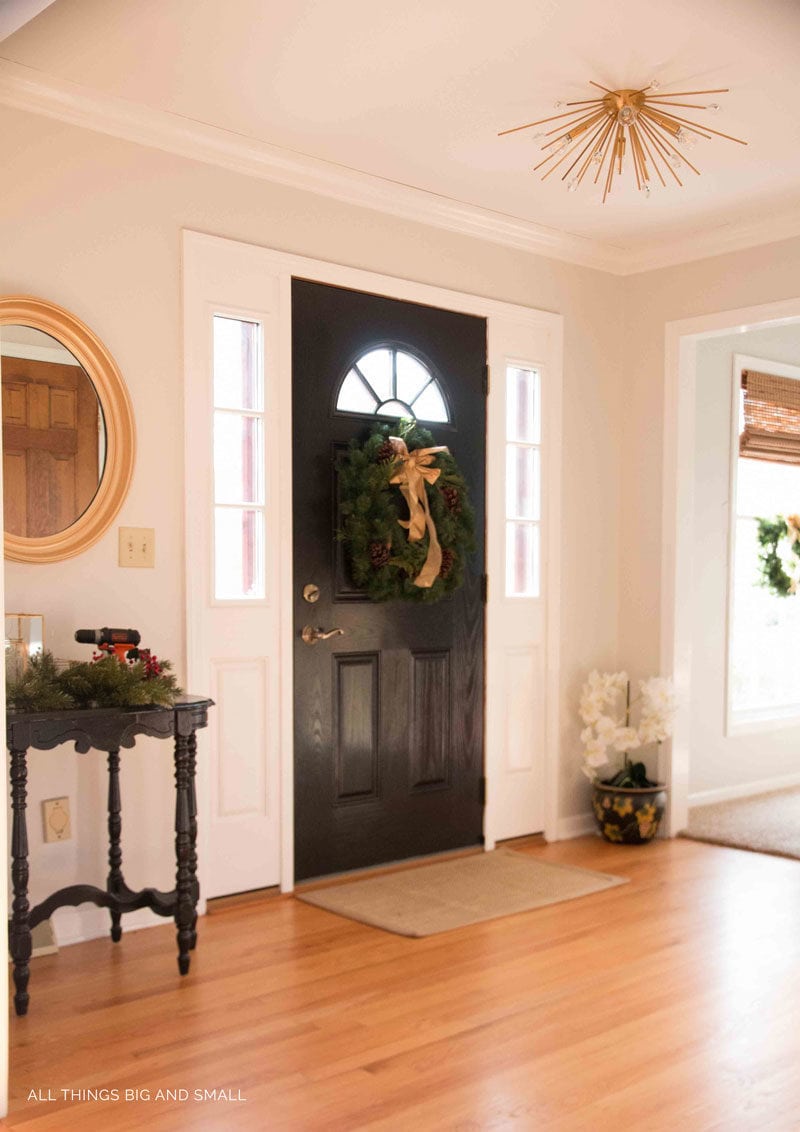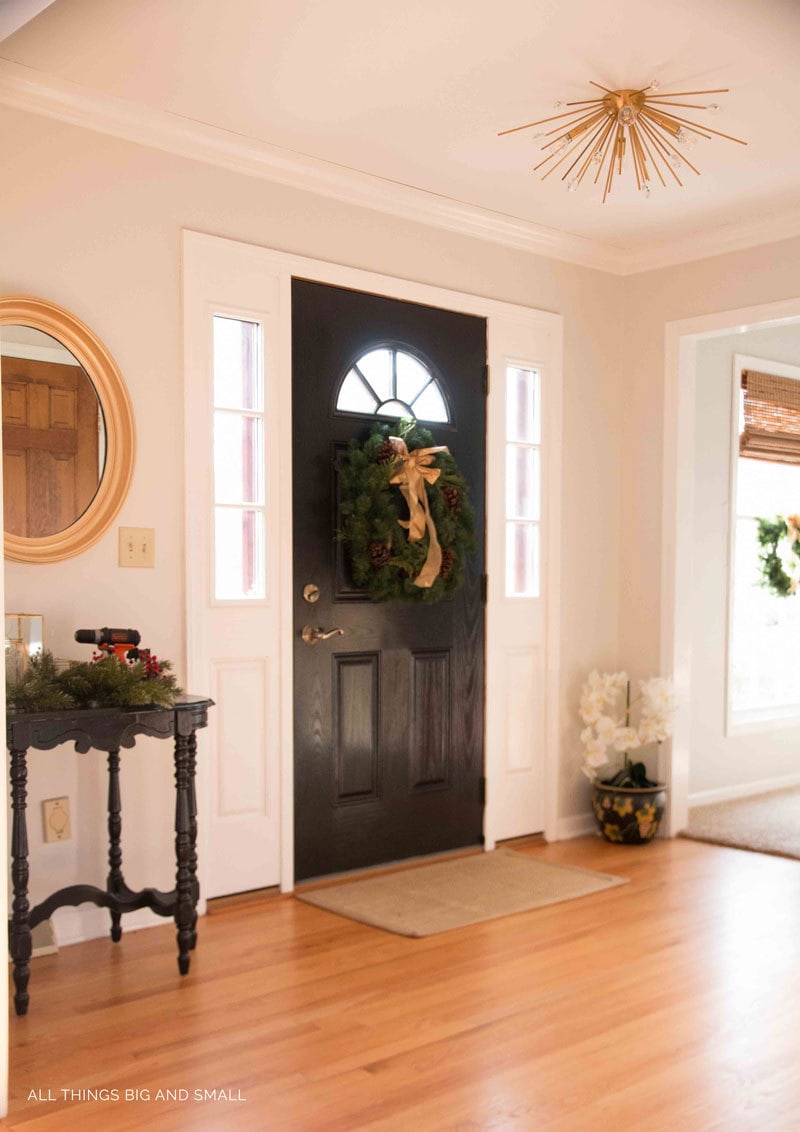 MUDROOM/ BACK HALL
In our back hallway, I plan on utilizing brass hardware on the pantry doors and the kitchen hardware, (and one day replace the kitchen lights with brass lanterns and a huge chandelier like this.)
THE BEST SEMI FLUSH CEILING LIGHTS
Below, I rounded up my favorite semi flush ceiling lights available on Lamps Plus!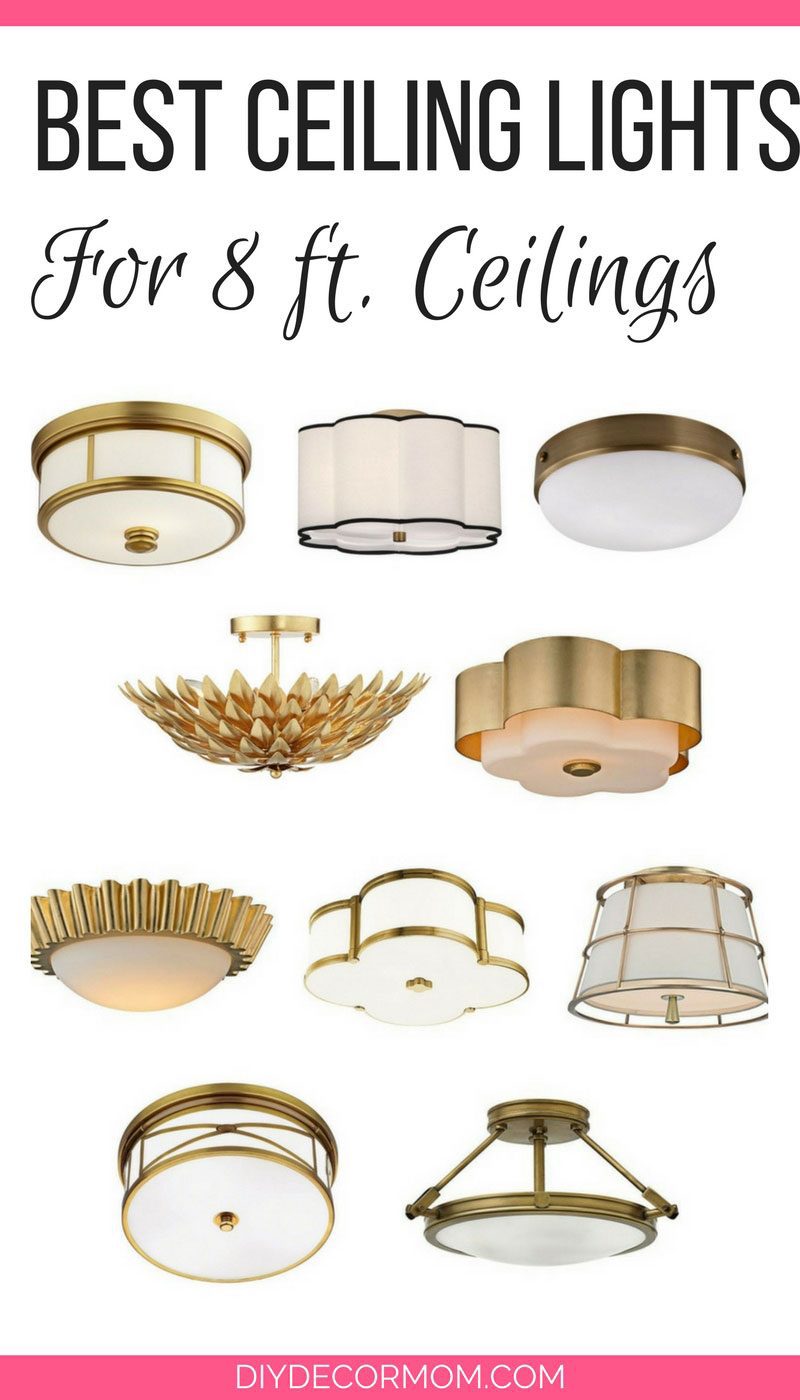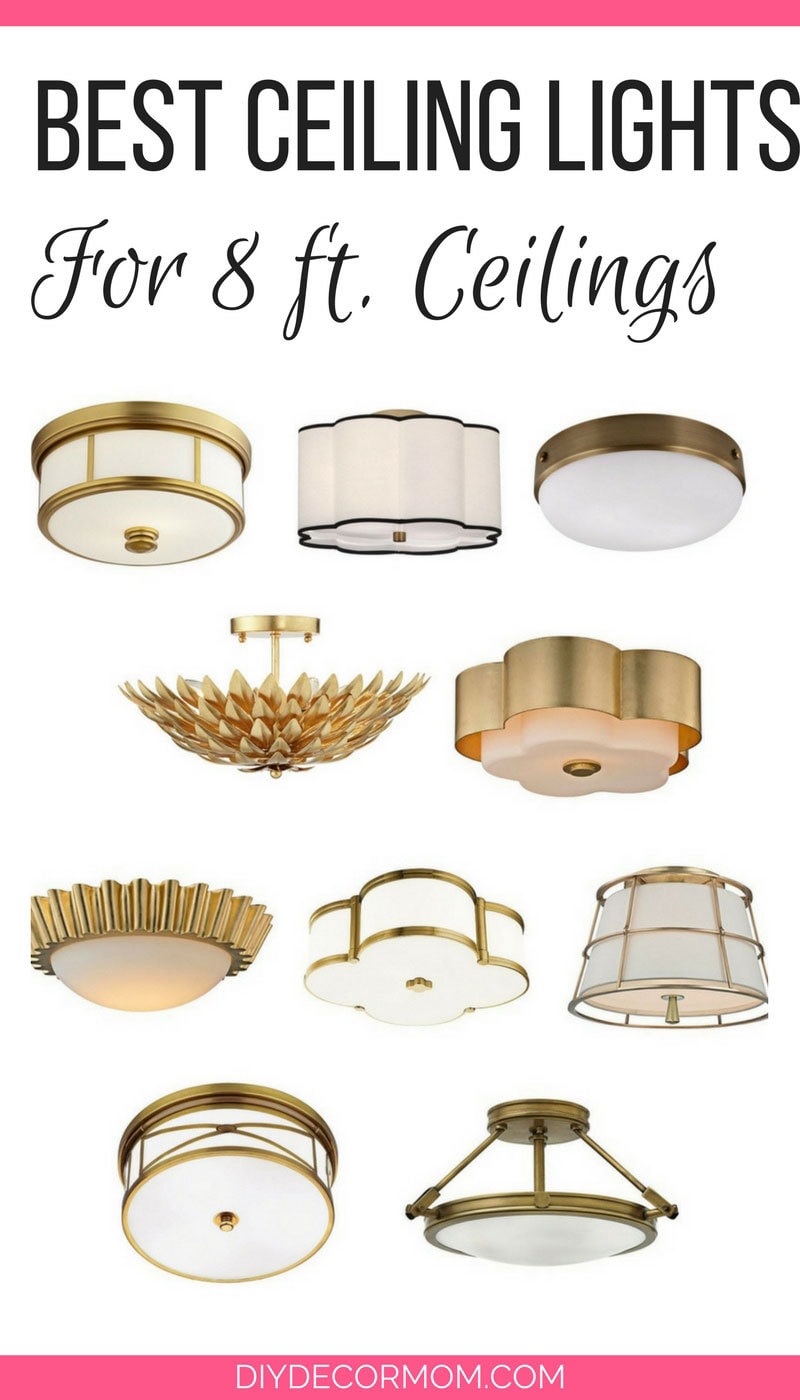 Harbour Point 13 1/2″ Opal Glass Ceiling Light/ Robert Abbey 16″ Axis/ Feiss Cadence 13″ Ceiling Light
Crystorama Broche 16″ Wide Antique Gold/ Allure 13 1/2″ Gold Leaf Light/
Reese 15 1/2″ Wide Gold Ceiling Light/ Hudson Valley Chandler 16 3/4″ Light/ Hudson Valley Savona 14 1/2″
Robert Abbey Chase 15″ wide brass flushmount/ Hinckley Collier 16 1/2″ High heritage Brass Ceiling Light
PIN THIS IMAGE AND SAVE FOR LATER!