Toy Ideas: aka the mom's guide to how to survive long winters with kids. You think I am kidding, but, I am not. Our winters are LONG here in Wisconsin, especially our part because we are right on the lake. Our spring comes a good three weeks later than inland Wisconsin and we are regularly six weeks behind the South. While we try to get the kids out as much as possible (we try for every day) let's be honest–there are some days when it is a) too cold for the kids and/or 2) too hard to get them outside, bundled up, and kept warm (sub-zero days I am looking at you! Thank goodness for finished basements because man, my kids would go crazy without our's!
Here are great toy ideas for getting the wiggles out during the long winter months, and if you already read my outside toys that kids actually play with, you will notice a bit of crossover. It is perfectly acceptable to bring your outside toys inside for the winter to get some exercise!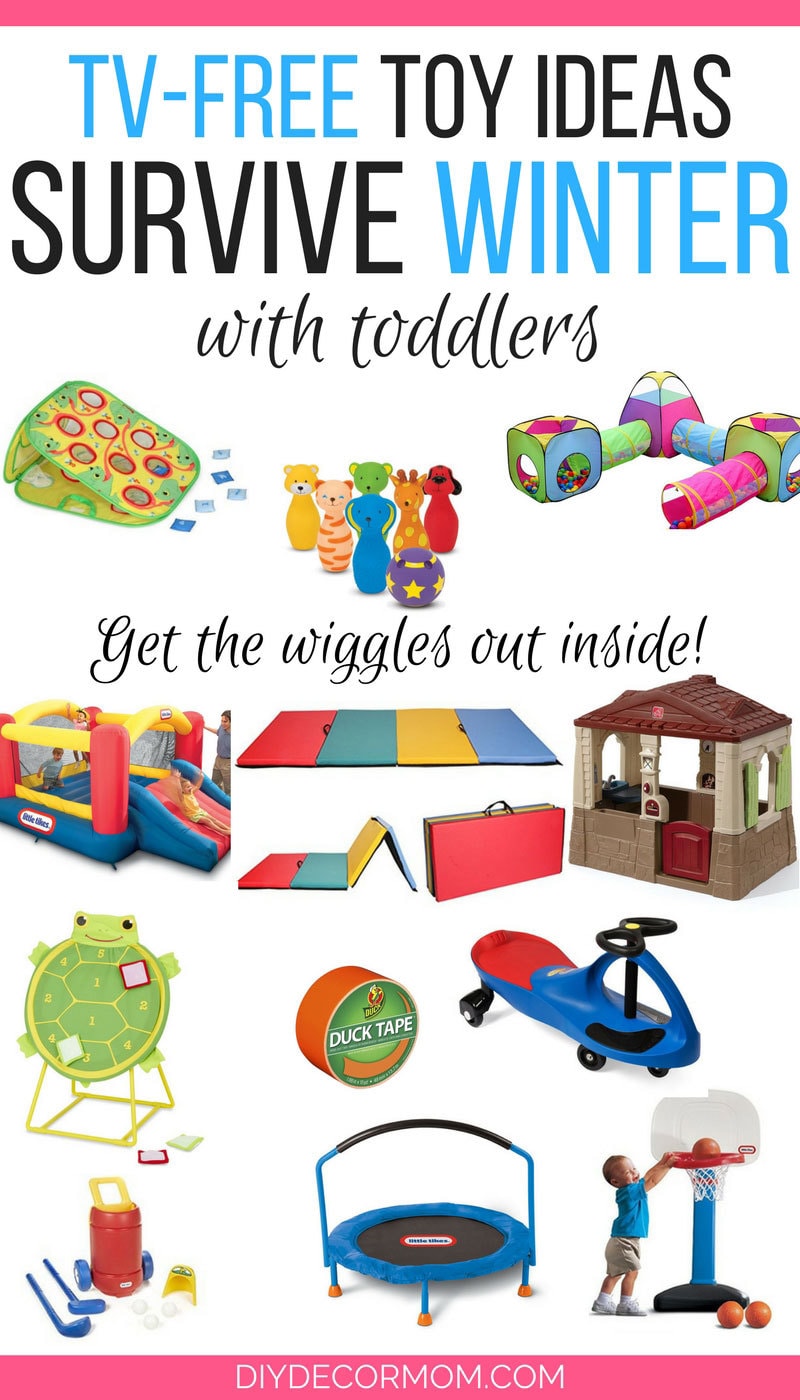 TOY IDEAS DETAILS
turtle toss beanbag game/ bowling set/ playhouse tent/ bounce house/ tumble mat/ kids playhouse/ bean bags/ duct tape/ plasma car/ golf set/ trampoline/ basketball hoop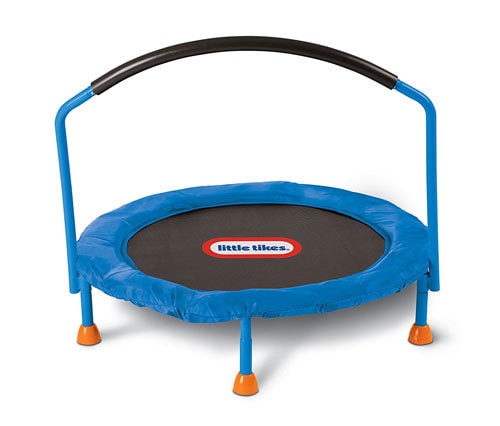 Several of our friends have one of these trampolines for their kids. I thought they were crazy until I had Jack. Well, after seeing how much energy little boys can have (and how absolutely different they are than girls!) I can understand why! This one has great reviews and I like the handlebar feature.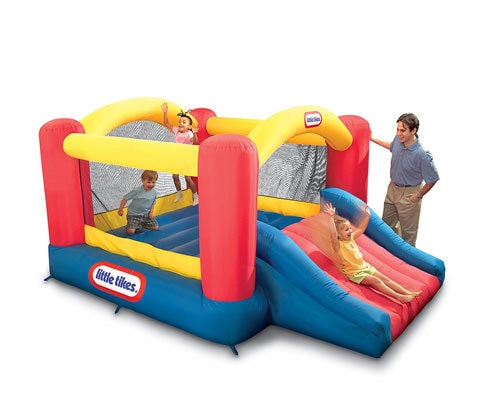 Two of our friends also have this bounce house. My kids LOVE going over to their house and playing in it! Every night when my kids are going stir crazy and running around in circles around our house, I think, should we get one?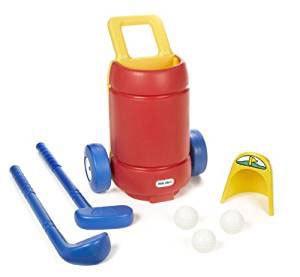 One day this fall, we headed down to Chicago to take the kids to the Peggy Notebaert Nature museum. Inside, they had a darling mini-golf course. My kids LOVED it and spent a good 20 minutes on that activity alone which made me think they would love this golf set. Trying to hit the small plastic golf ball with the club would be a great activity for fine motor development–and you could always start out with bigger balls if they kids were having difficulty with the plastic golf balls provided. Think of how fun this would be and you could make your own indoor mini-golf course and have the kids design it!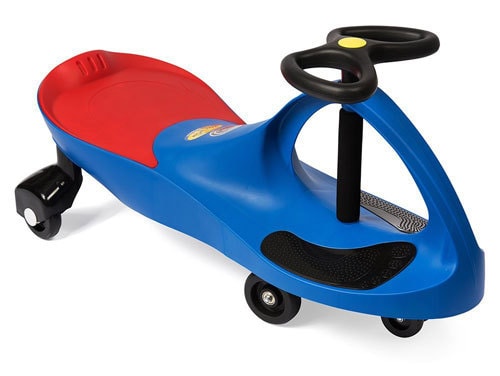 One of the families I nannied for after college had two of these plasma cars. They made a race course in their unfinished basement for their kids to race around. The kids had a blast and so did the adults! Real plasma cars can support adults! To make the car go, you wiggle the front steering wheel but you can obviously also just use your legs. This is a class toy idea that is perfect for inside and outside play!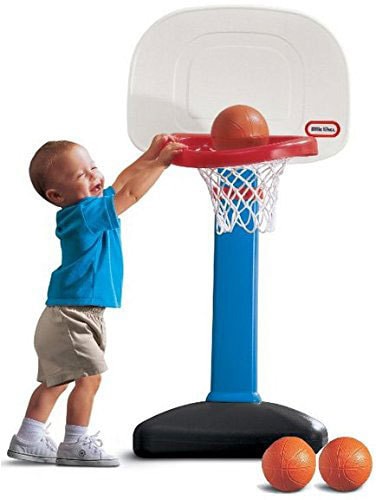 This was a favorite in my favorite kids outdoor toys post for good reason! It is a great toy idea for both outside or indoor play–just rinse it off and wipe it down before you bring it inside!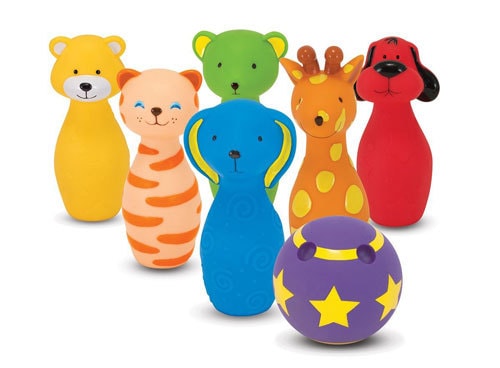 We have one of these bowling sets and the kids love setting them up and knocking them down. It is an easy toy idea that you can adjust for the age of the child–have them go closer to the pins if they are younger, and farther away from the pins if they are older.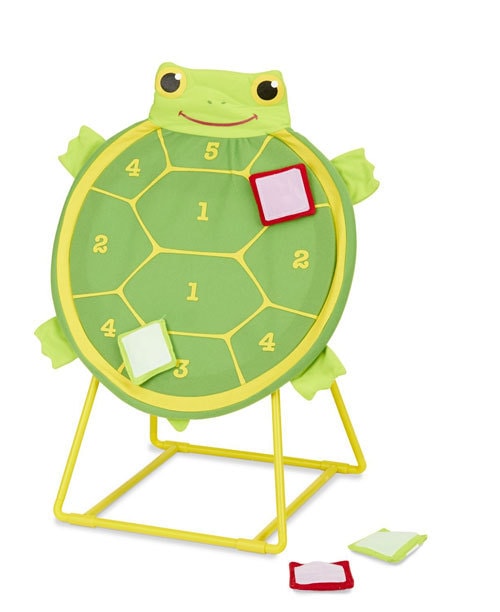 I haven't seen this turtle toss beanbag game in person but it looks like a fun toy idea that would be perfect for having in your basement (don't want kids throwing the bean bags anywhere near nice lamps or home decor!) It is a fun twist on another preschooler and toddler favorite–the bean bag toss! What I like about this model for bean bags is it is foldable!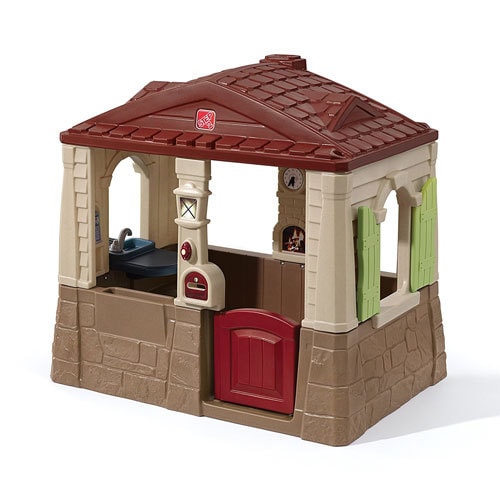 My kids do not have a playhouse. But, if we did, I would most likely put it in our basement instead of having it outside because they could play with it all winter long! Another one of the families I used to nanny for had this kids playhouse in their basement and oh my goodness, the hours we spent playing in it!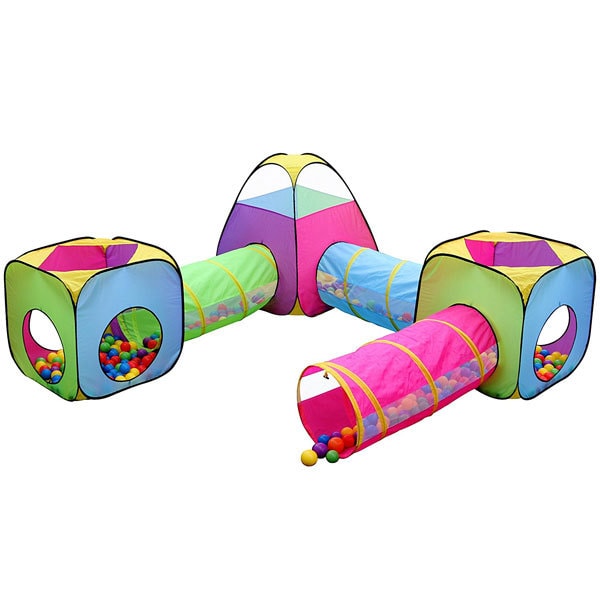 Tunnels, tents, and plastic balls. It sounds like heaven to my kids! This big playhouse tent would be a great toy idea for preschoolers and toddlers who need to get some wiggles out!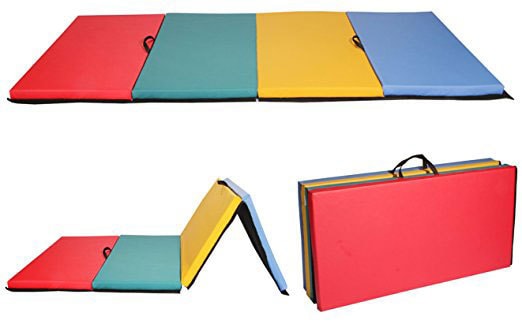 We had one of these tumble mats growing up, and it really came in handy when we as kids would practice gymnastics and dance (or just doing somersaults and splits!) What I like about this one is its more affordable price point, the fun colors, and that it easily folds up.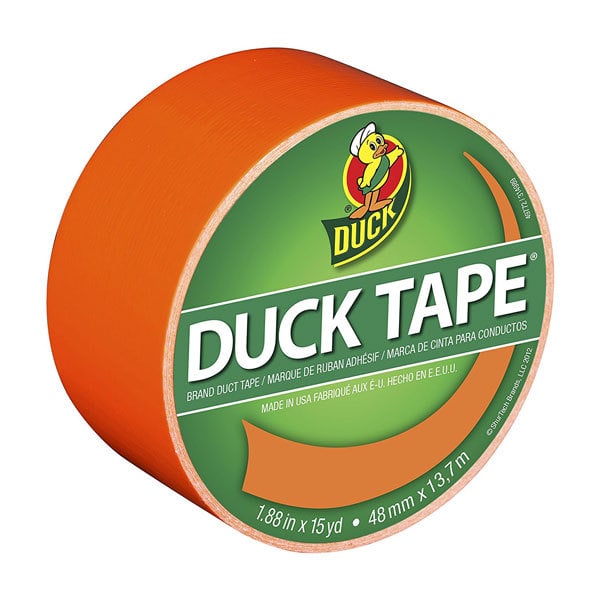 Duct tape??? Yep, good ol' fashioned duct tape. And no, my kids are not allowed to play with it unsupervised. However, it is a great add-on activity that you can do to make lines on carpet or basement flooring, an obstacle course, a huge spider web, or hopscotch! At our annual Halloween ball that I organize for our kids preschool, we made a line on the ground with this duct tape that the kids had to walk along, another line they had to bowl behind, and boxes they could jump in and out of. One of the cheapest and most versatile toy ideas ever!
What about you? Do you have any toy ideas you want to share? Let me know in the comments below!