Small Entryway Mudroom: For the longest time, we struggled with our garage entryway hallway: coats were always being left on the floor, shoes piled up, and there was nowhere to hang your purse. We desperately needed a better organized entryway with a small mudroom bench and coat hooks so we could use our narrow hallway and it wasn't just a drop zone!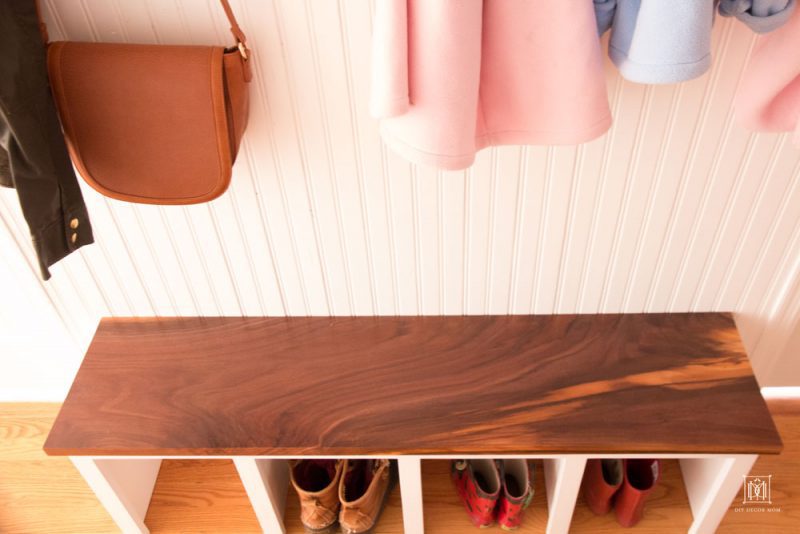 SMALL ENTRYWAY MUDROOM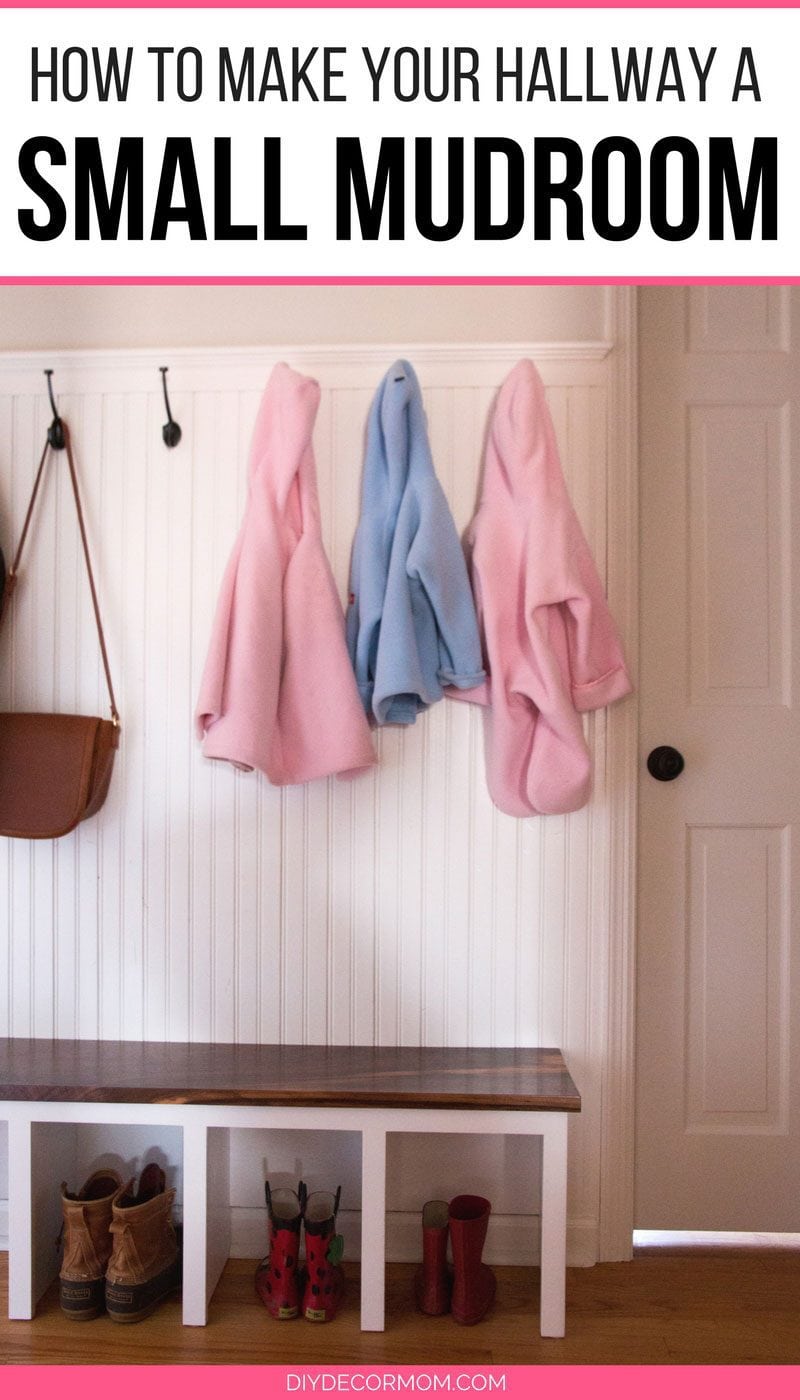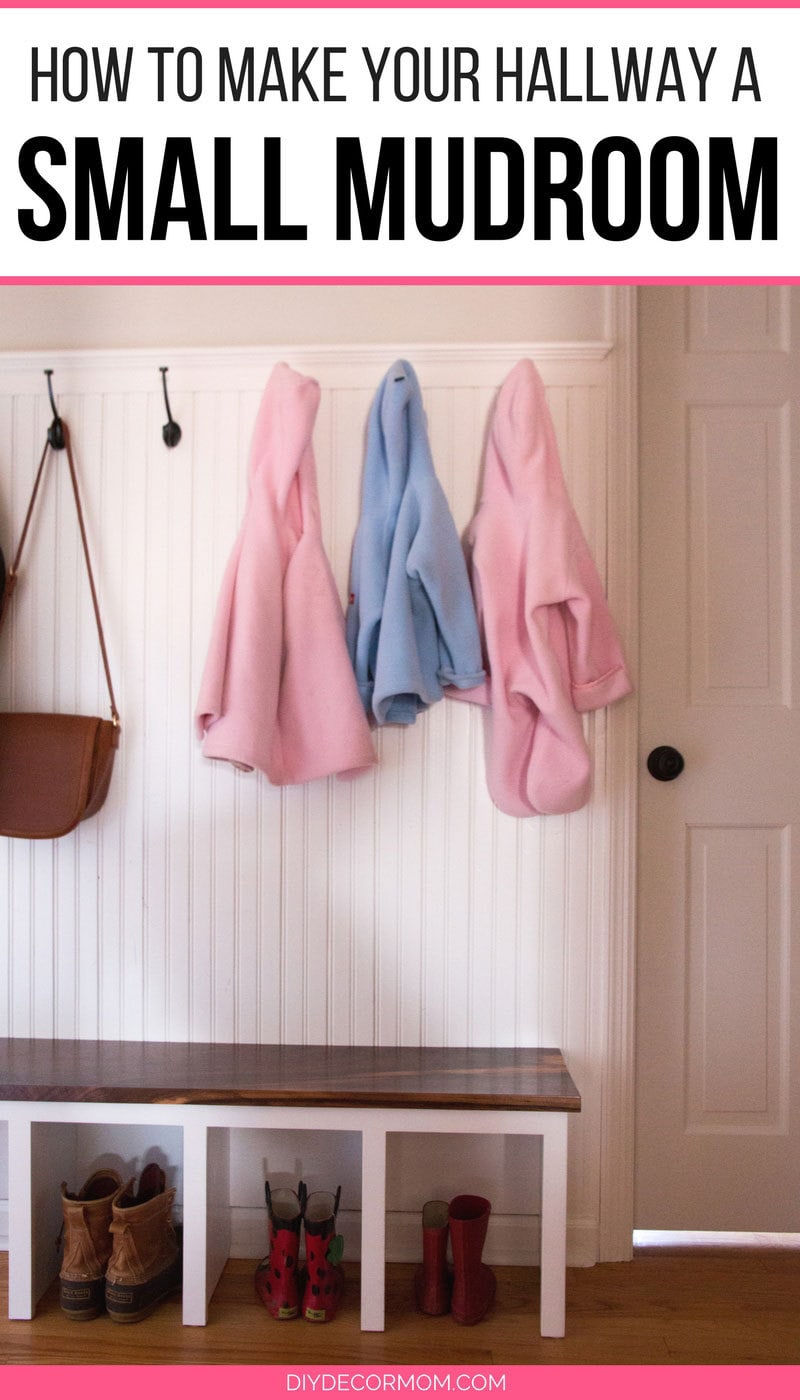 PIN THIS SO YOU DON'T FORGET!
WHY WE NEEDED A NARROW MUDROOM
If you have small kids like us, you know that you have your hands full when you get in the door so adding three more steps and trying to get the kids to open the closet, hang up their coats, and then closet the closet is not going to happen! We needed an easier system–we needed a small entryway mudroom.
I scoured the internet for ideas (follow me on Pinterest here and see my mudroom inspiration board), and settled on plans to make a small space mudroom with a simple bench for putting on shoes, some hooks for coats and backpacks, and some cubbies for shoe storage. And now after living with the entryway bench for several months, I can tell you our small hallway is so much better organized and getting in the house with all the kids is much more streamlined. If you have small kids you know what a headache it is to get out the door. Whoever thought that going somewhere could be so difficult? Well, this little mudroom makes it a bit easier to get everyone out the door!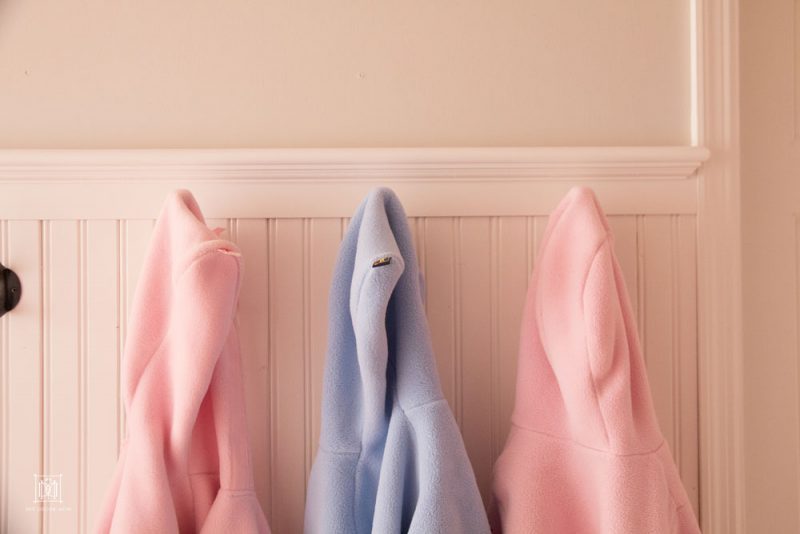 Each child gets a hook for their coat, and one for their backpack. As far as cubbies, since only two of our three children are walking yet, we don't need more than two. Eventually, my husband and I might store our shoes in the closet (as adults, it's easy for us to complete the extra step of opening a closet door 😉 but for now, it works for us! We store our extra shoes in a shoe basket in the hallway closet.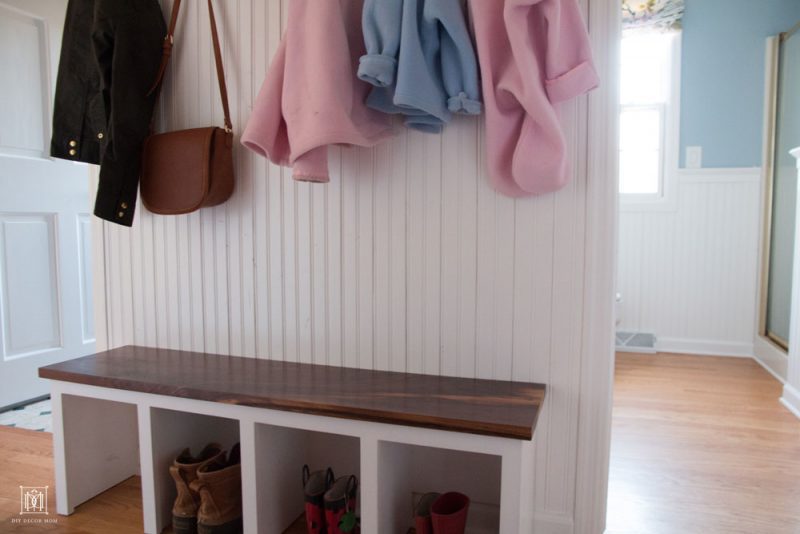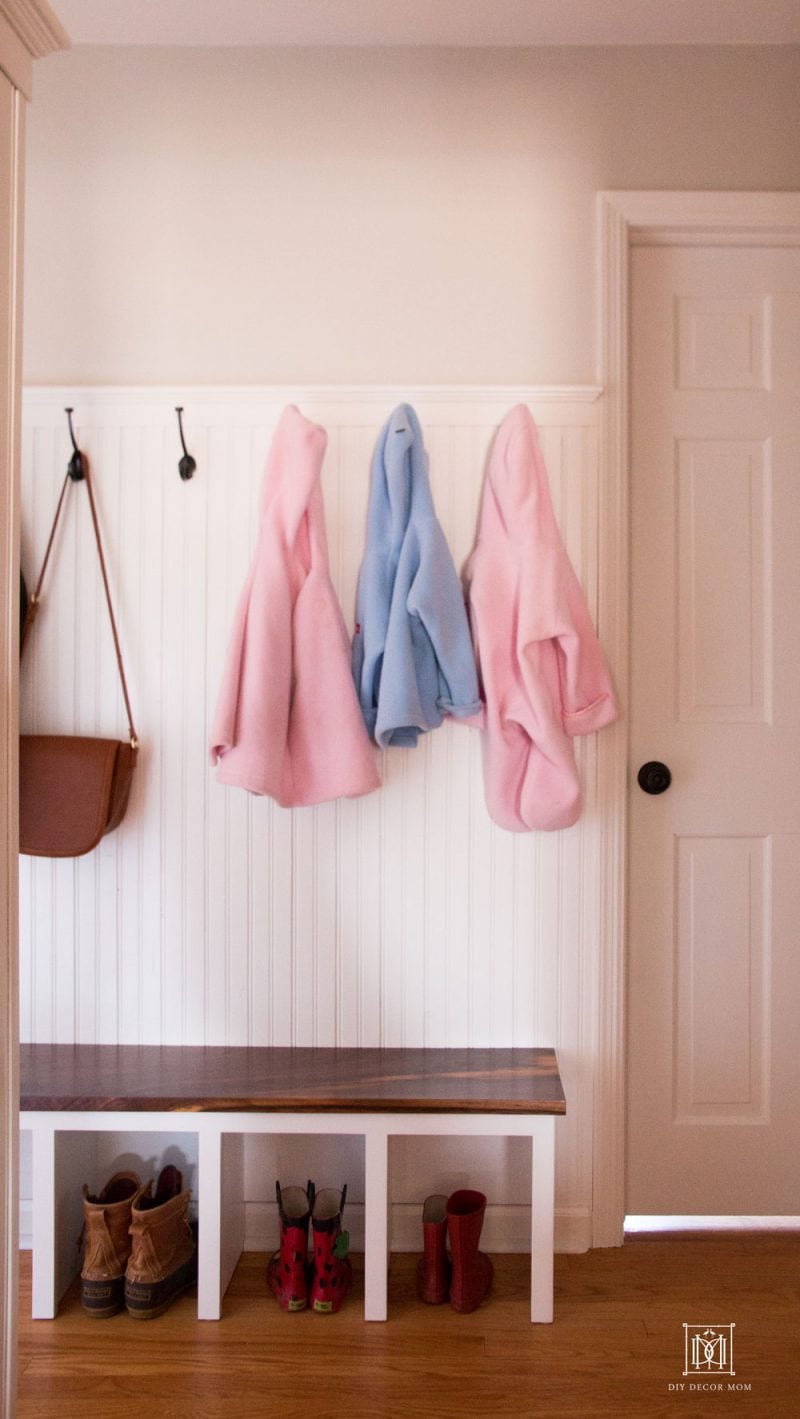 I know you will ask, "where do the other coats, hats, and shoes go?" They go in the back hall closet. Each of the kids has their one or most frequently worn jackets in the back hall. Since it's spring in Wisconsin that means that their down coats are still out, and some fleece coats for warmer days (when I took these pics they were at school so they had their winter coats and backpacks with them.) Their rain boots stay in the hallway closet as well as sneakers. Since they wear their snow boots everyday, those go in the bottom of the shoe cubbies.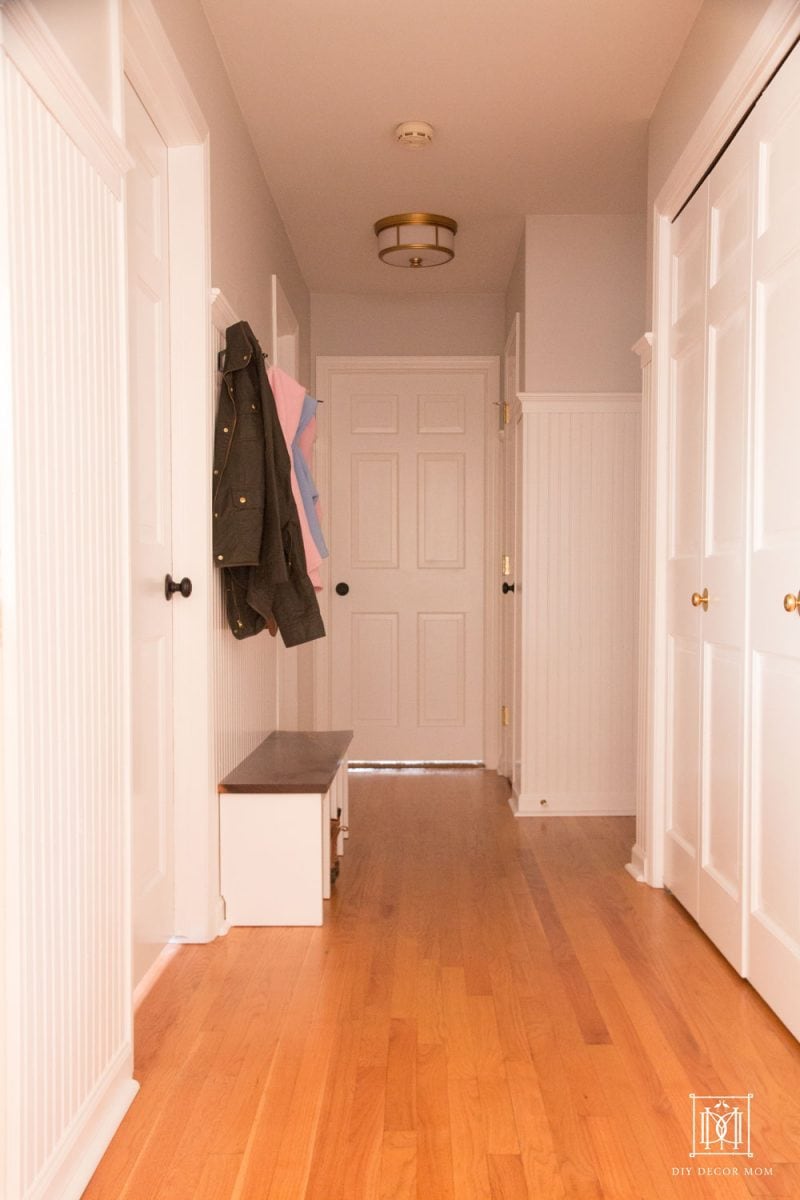 BEFORE AND AFTER HALLWAY MUDROOM
Let me show you some pictures of the before and after.
You can see how dramatic the small entryway mudroom makeover was–it was so dark before! By painting the walls, adding DIY bead board, some hooks, building a small mudroom bench (tutorial to come), and updating the door hardware and lights, it looks like a completely different hallway!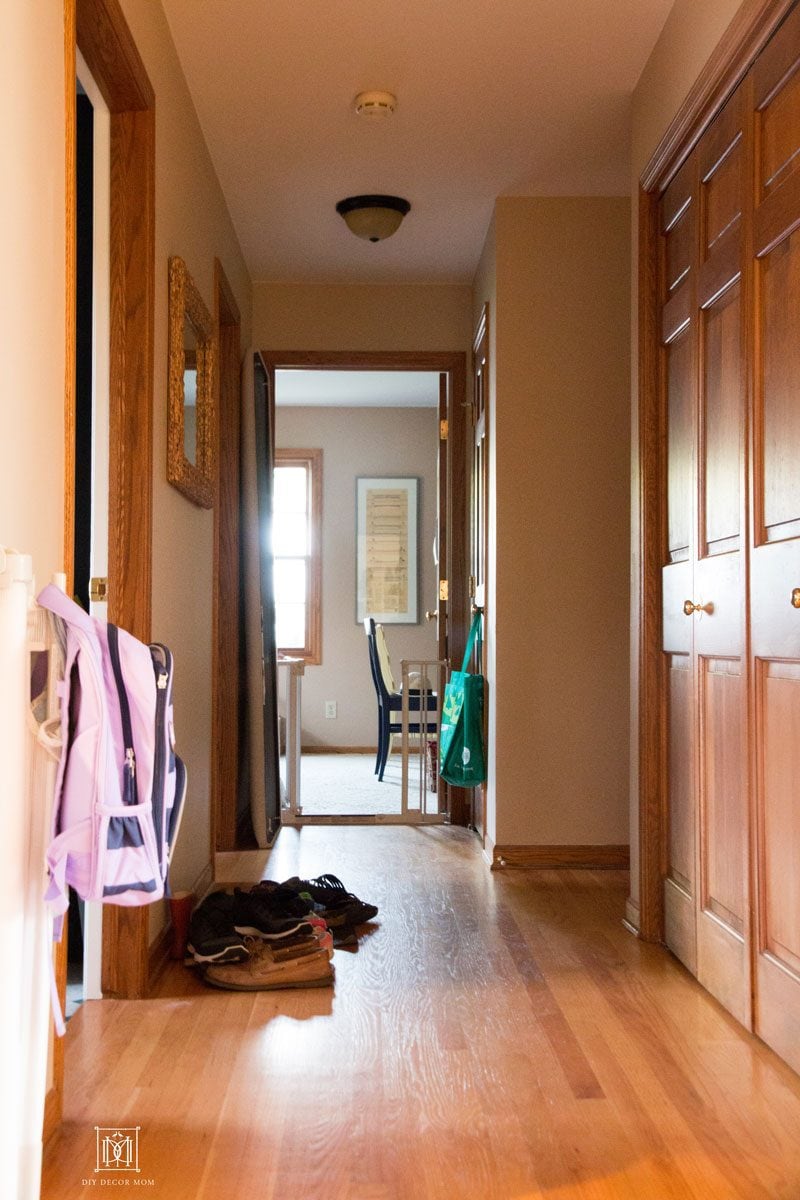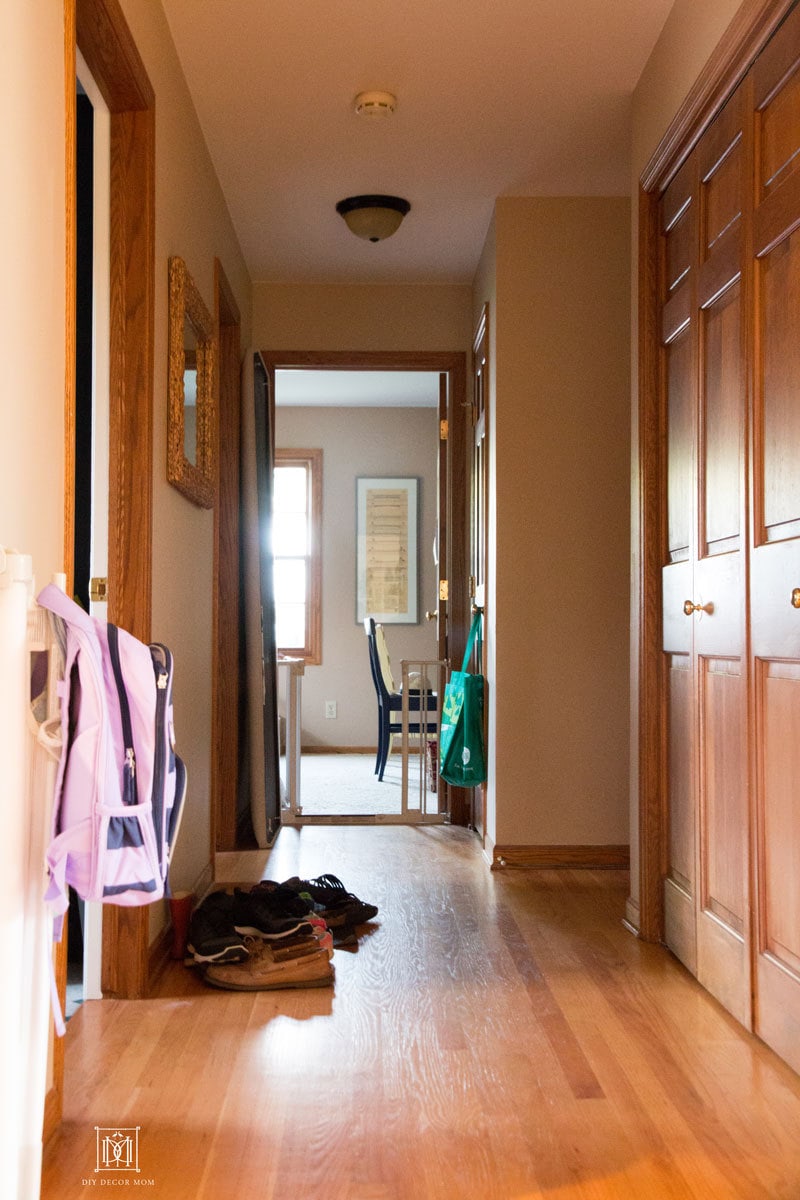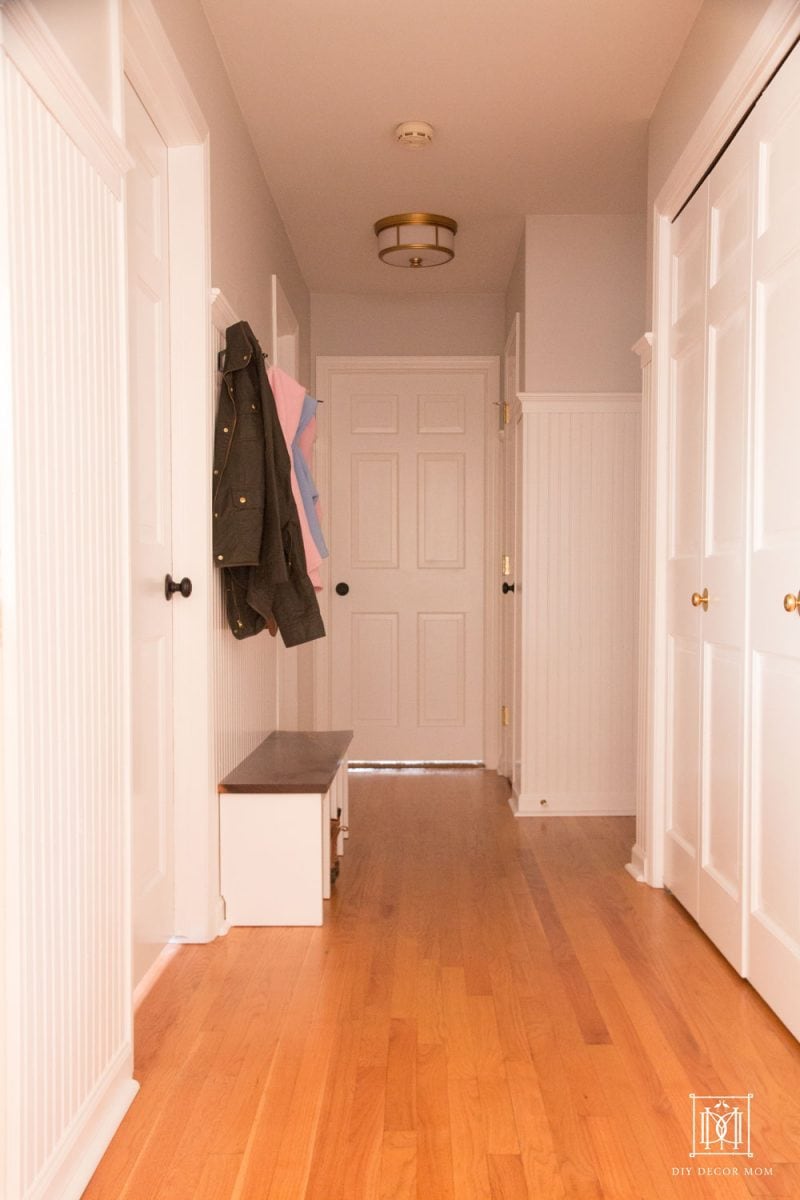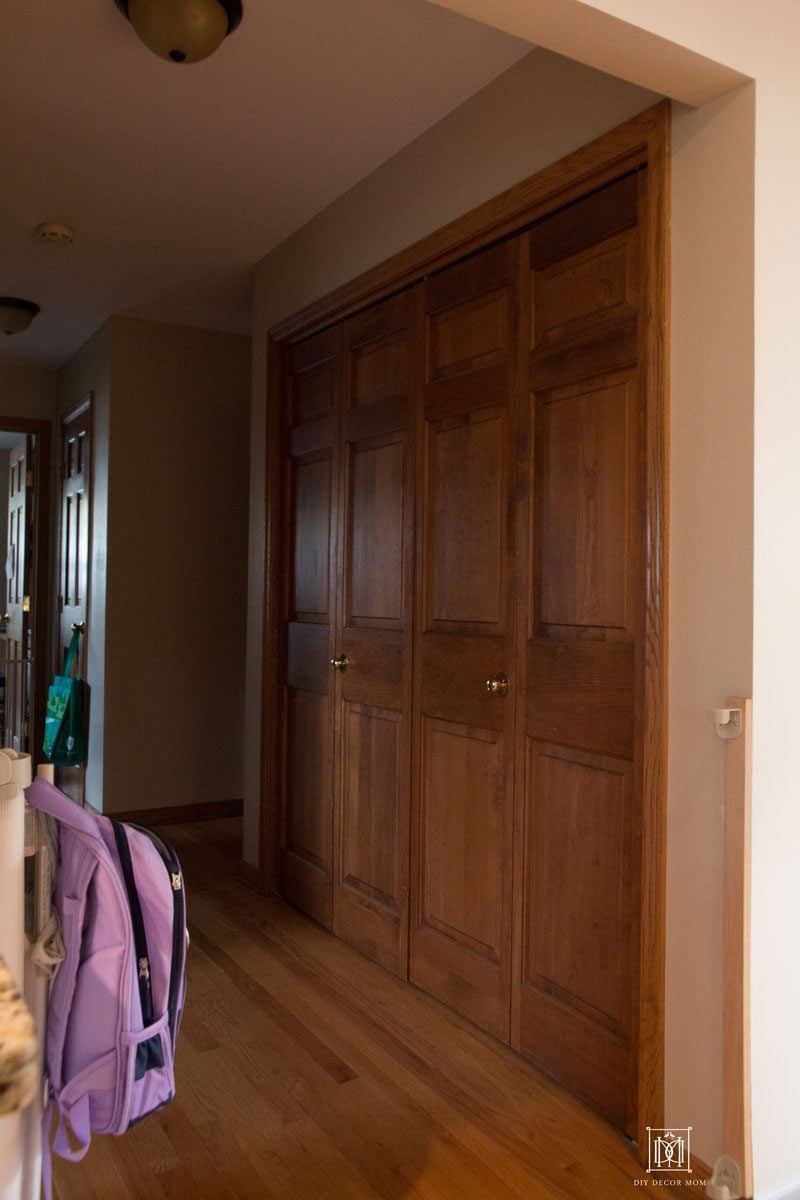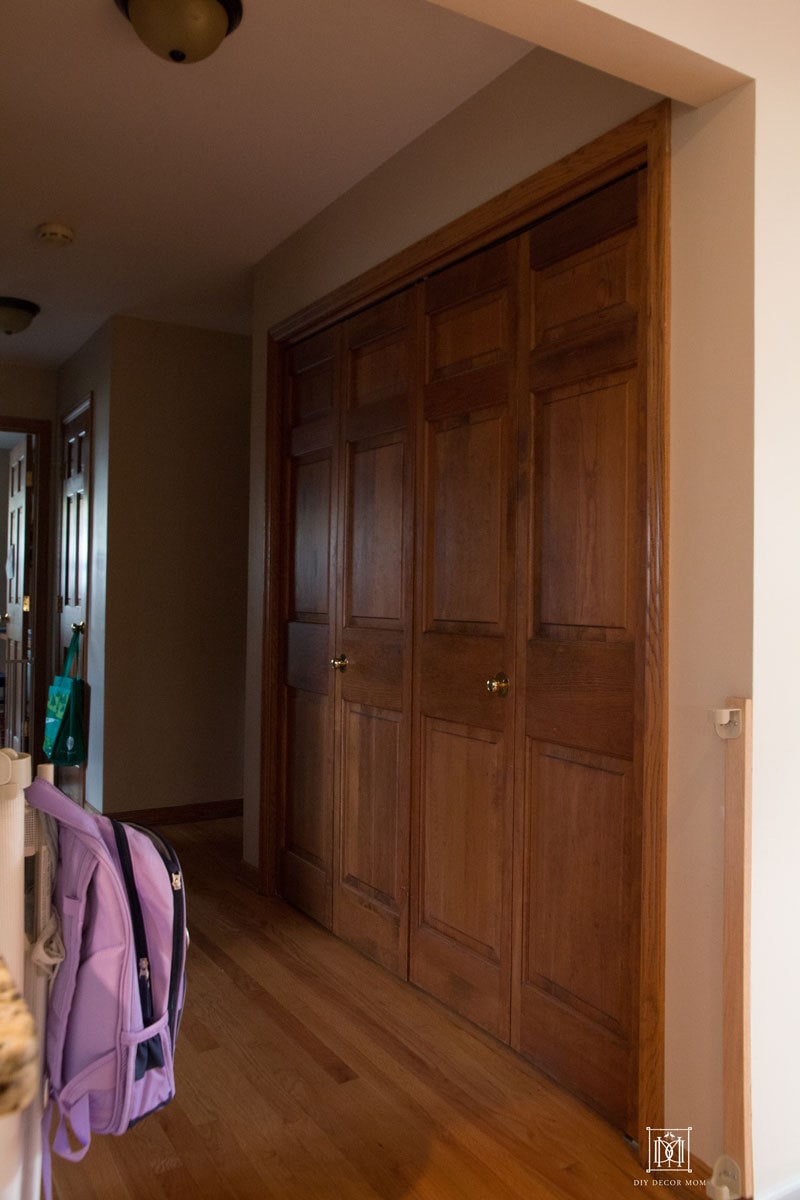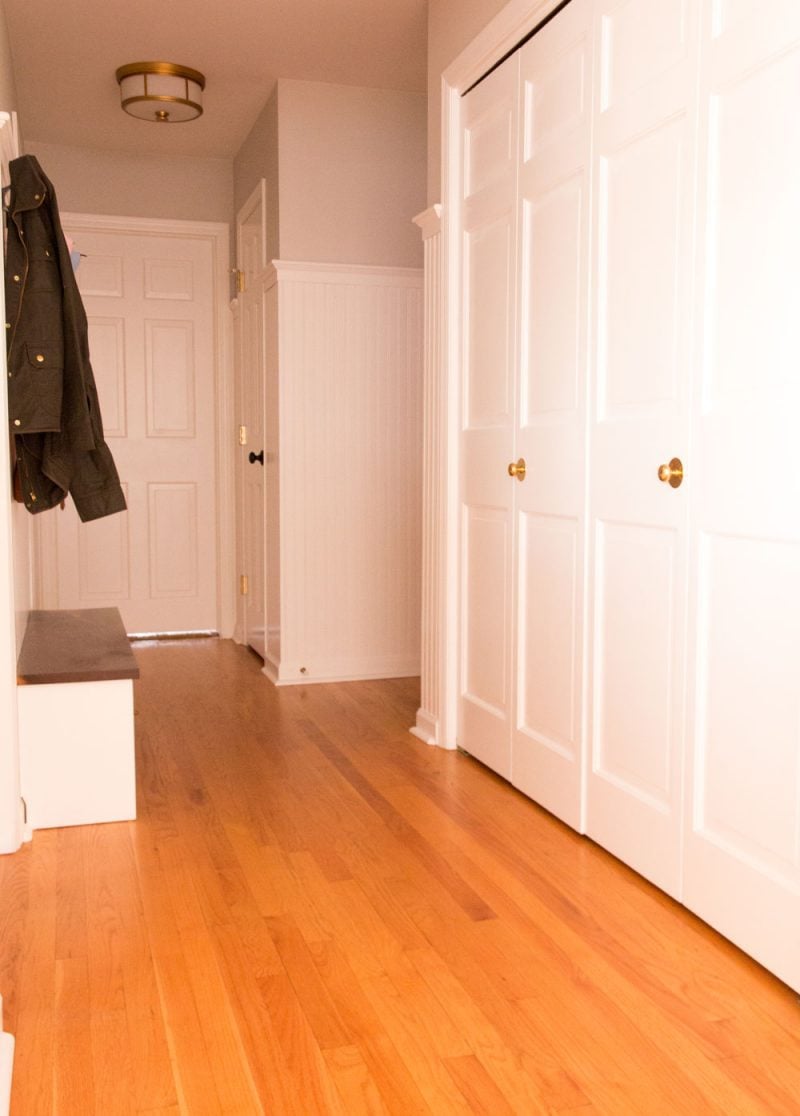 It was so incredibly dark back there and always felt "dirty." Since there was no dedicated shoe place, the shoes always ended up in a pile on the floor!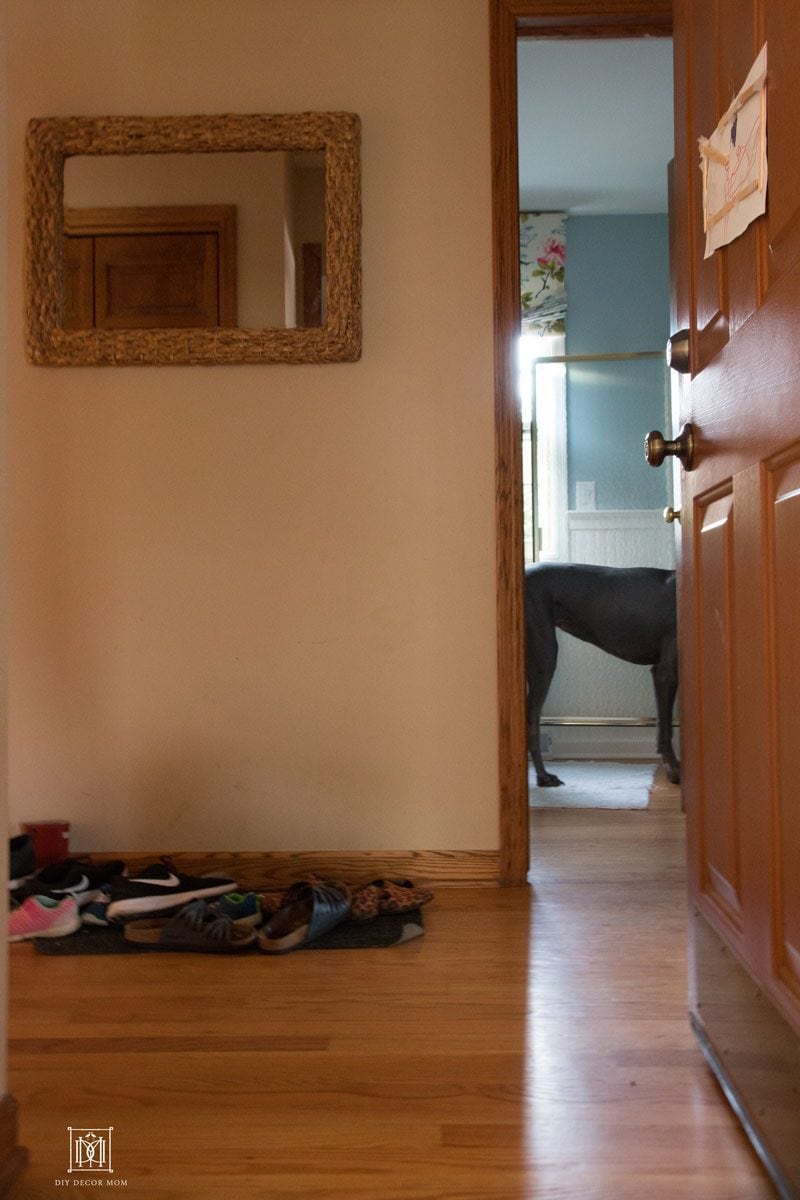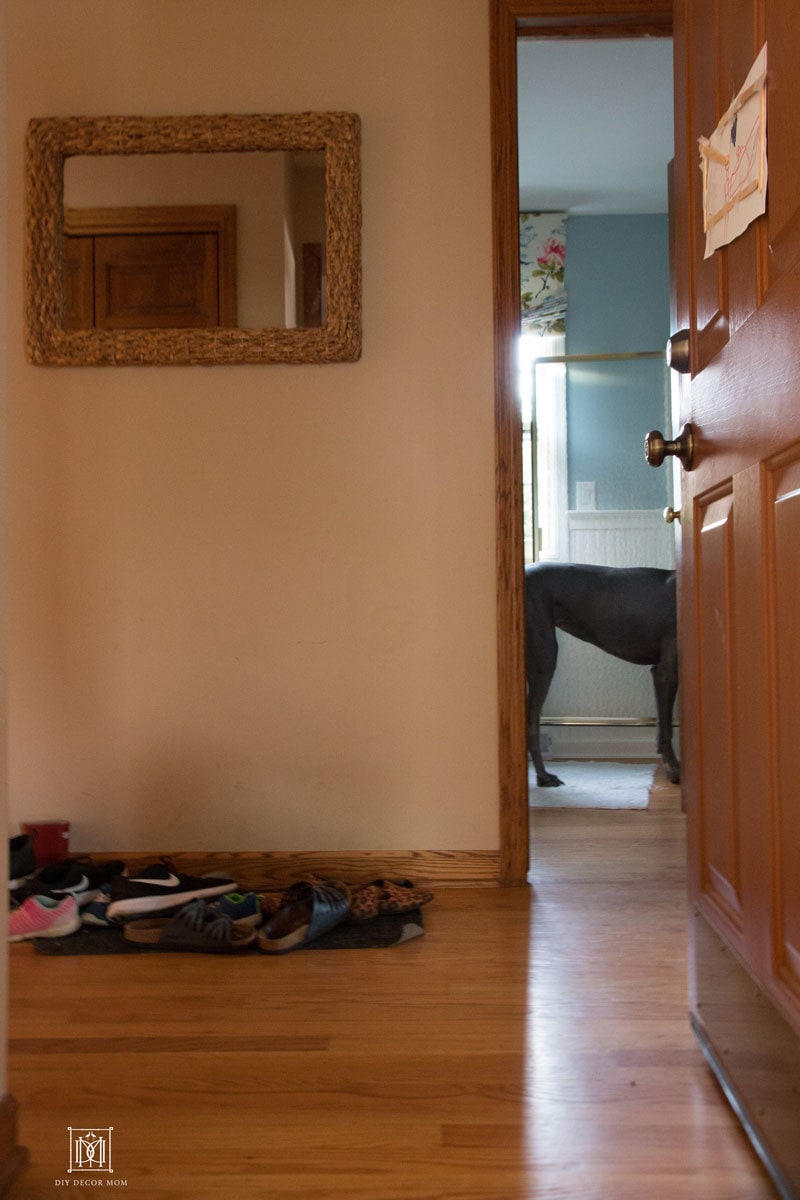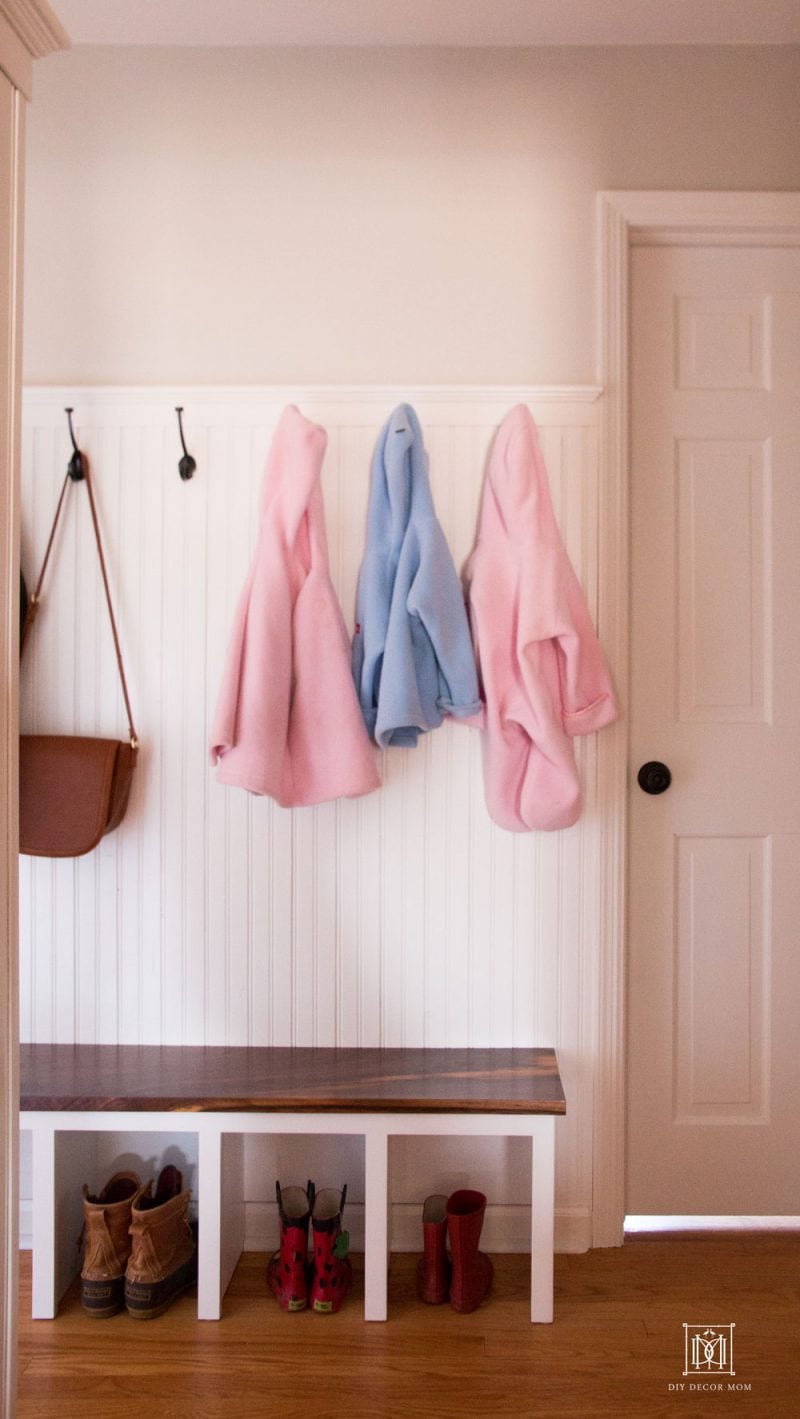 And this is what I saw every time we entered the house. Now, this is what greets me at the door (Great Dane excluded because she always meets us there!)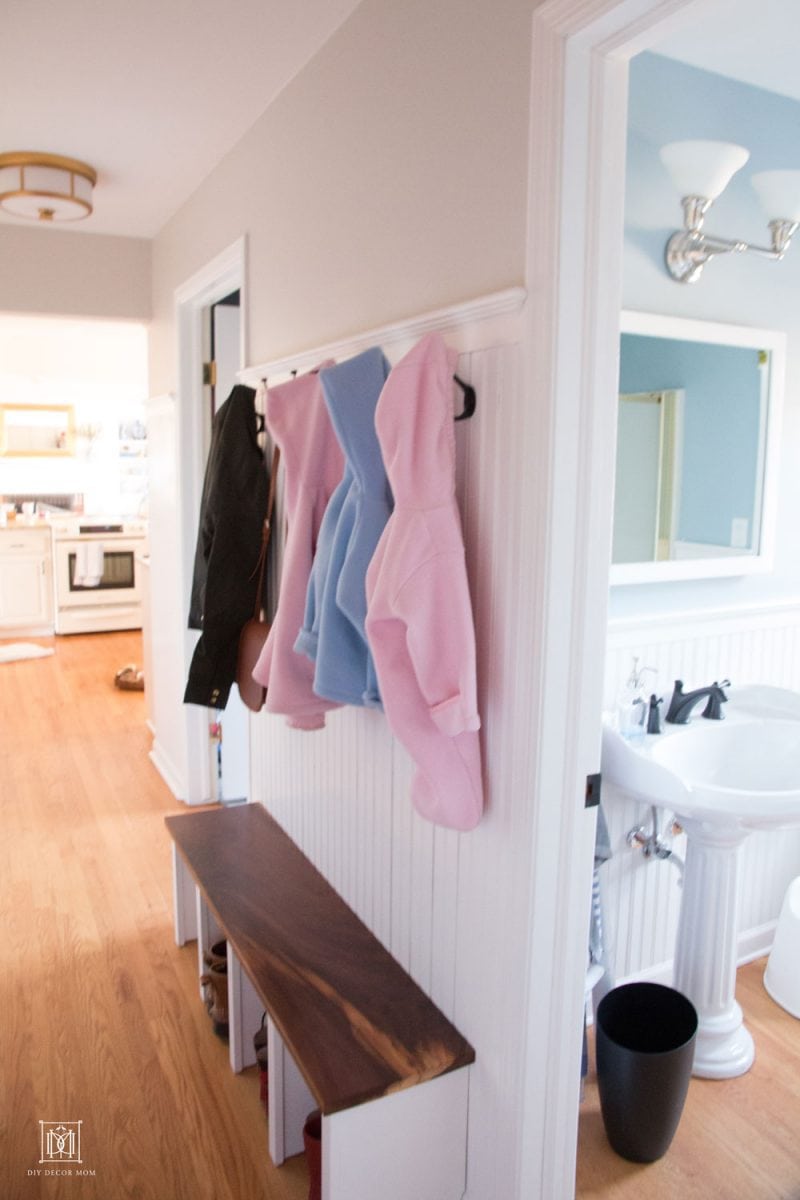 I can't explain it better than that, but no longer am I confronted by a mess the minute I step in the door. There is no pile of shoes and coats staring at me on the floor. The children are able to hang up their coats, backpacks, and put their shoes in their cubbies which helps us stay organized and get in and out the door in time for school! (Or just only a little late for school 🙂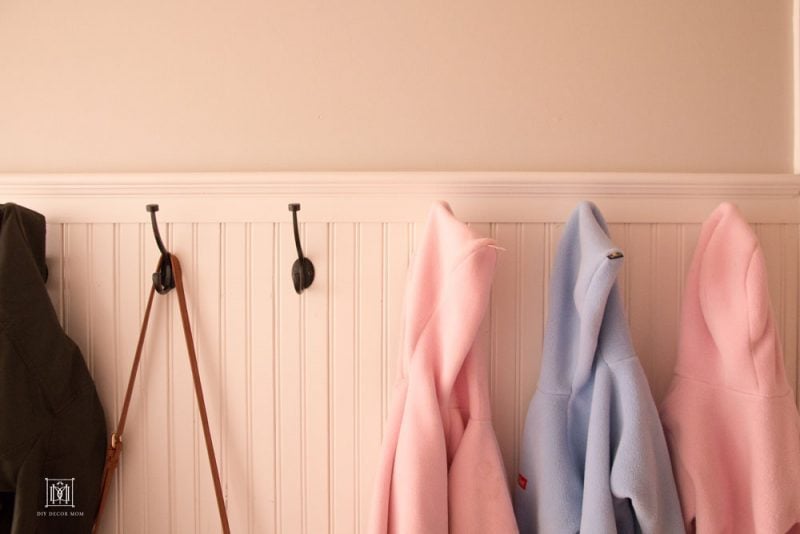 BUILDING AN ENTRYWAY MUDROOM
If you have a narrow entryway and are searching for a simple solution to add more function to your small space, I would highly recommend building a DIY Hall tree bench like we did. It didn't cost much and has made our back hallway a veritable small mudroom!
SOURCES
Wall color: Benjamin Moore Classic Gray
Trim color: Benjamin Moore Simply White
Lights: Harbour Point 13 1/2″ wide etched glass flush mount light fixture
Hooks: oil-rubbed bronze 6.5″ coat and hat hook