Benjamin Moore Classic Gray: The most common question I get asked is "what gray paint should I use in my home?" My quick answer is to use Benjamin Moore Classic Gray. It's one of my favorite neutral light gray paint colors because it is such a universally flattering paint color for the walls in any room of your house.
It gives your walls the homey warm glow you want–without any darkness! It behaves more like a warm white than a true gray–that's why it's my favorite all around neutral paint!
BENJAMIN MOORE CLASSIC GRAY
My long answer to that question is to see my accompanying post, the best gray paint colors–no-fail favorite neutral grays that look good anywhere. In that post, I round up my favorite gray paints that I go back to time and time again, and the ones that I find in all my decor friends' homes!
*This post contains affiliate links at no cost to you. See my disclosure policy here.
GET A SAMPLE OF CLASSIC GRAY HERE
But, if you want the short answer…use BM Classic Gray. It's the most universally flattering and sophisticated gray color there is!
It's my favorite true light gray paint color that doesn't have greige or blue tones. Benjamin Moore Classic Gray is a creamy pale gray with warm undertones that is just right!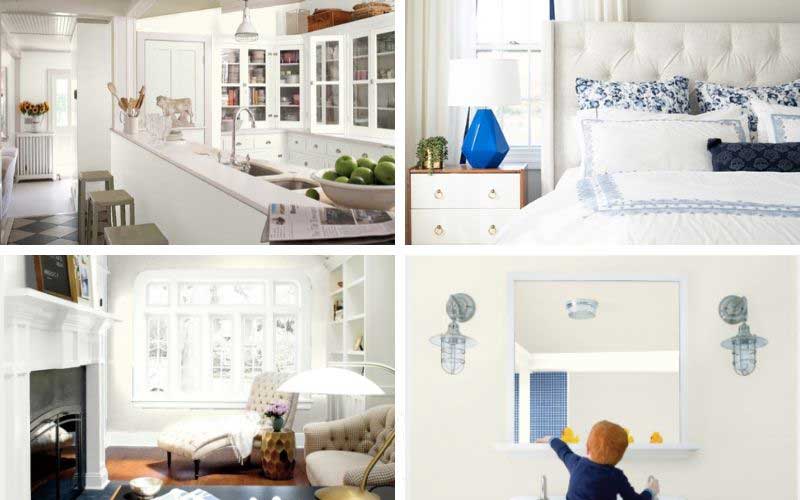 Unlike other grays, it isn't bluish which can read cold. As much as I love blue, I don't want my rooms to ever feel "cold" especially in the low-light winter months.
BENJAMIN MOORE CLASSIC GRAY SAMPLES
Is Classic Gray right for your home?
The best way to see if a paint color is the right one for your room is to get a sample–and the easiest way to get them is to order from Samplize!
It requires no schlepping to the paint store, no washing paintbrushes, and no wondering if you painted enough (ensuring you have a true representation of the color…)
Samplize will send you 12″x12″ paint samples that you peel and stick on your walls. At $5.99 a sample, it cheaper than my going to the paint store, buying samples, brushes, and poster boards. Plus, it's way EASIER and LESS MESSY!
NO MESS or Clean-up
Color correct–they are a true representation of the colors because they are made with two coats of paint.
More affordable and time-friendly than buying samples/ making samples.
Samplize samples will arrive at your doorstep within 1-3 days from the time you order them! and of course easier and way less messy
BM CLASSIC GRAY UNDERTONES
The easiest way to see a paint's undertones is to get a sample and look at in your home, like I showed above.
The second easiest way to see undertones is to look at a paint chip! Above, you can see how much taupe there is in Classic Gray. BM Classic Gray is the one all the way to the right. At the other end, you have the most concentrated colors. Those are the undertones of Classic Gray at the highest saturation!
OC-23 IN REAL ROOMS
CLASSIC GRAY BEDROOMS
BM OC-23 is the perfect airy but warm color for your bedroom! It gives the feeling of an off-white room but it is cozier. It is one of the top paint colors for master bedrooms.
You can see BM Classic Gray- OC 23 in a variety of rooms in our home. See it below in our master bedroom. We have BM Classic Gray on the walls and BM Simply White on the trim. This is a South and West facing room so it gets a lot of sunlight. It always seems warm, clean, and cheery!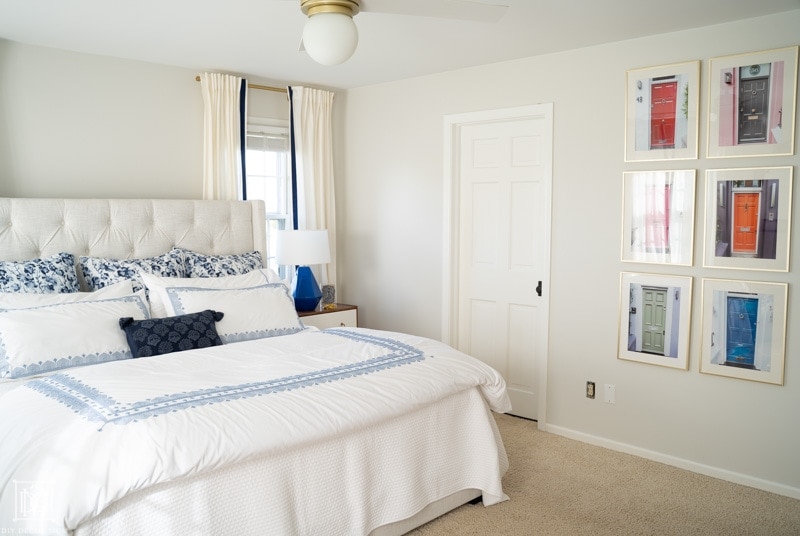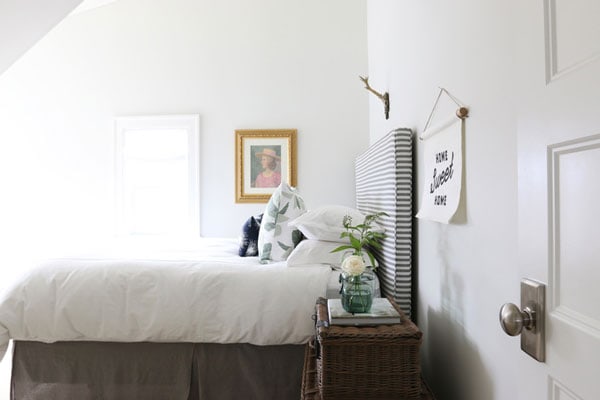 CLASSIC GRAY ENTRY AND HALLWAYS
We've also used Benjamin Moore Classic Gray on the walls in our front hallway (see all the paint colors we used in the graphic below.) It is the perfect color for an open-concept house including a foyer.
Again, we used Benjamin Moore Simply White on all the trim in our house, and you can see that it goes nicely with BM Classic Gray.
We also used Benjamin Moore's Classic Gray OC 23 in is our newly finished mudroom hallway. It is an interior hallway and gets zero natural light. Even so, the room remains cheery and bright with lots of light reflecting off the beadboard and the light gray walls.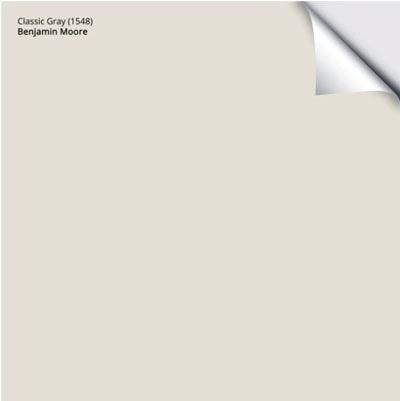 GET A SAMPLE OF CLASSIC GRAY HERE
BM 1548 CLASSIC GRAY KITCHENS
Benjamin Moore Classic Gray is the perfect clean but warm color for a kitchen! As Studio McGee shows below, Classic Gray is one of those colors that warms. upa room without making it feel closed off! It's the perfect light gray shade!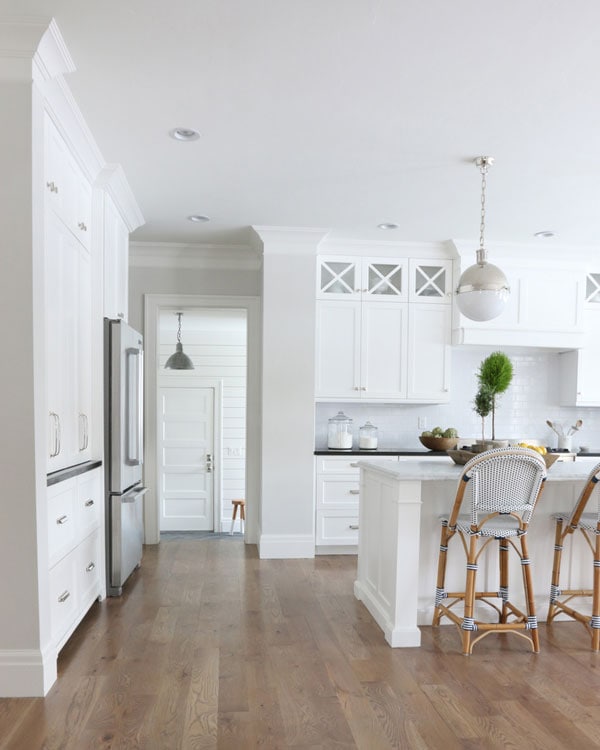 BM 1548 DINING ROOMS
Dining rooms are often a fun room to do bold–but many people like to keep it airy and neutral–especially if you have an open concept home. Studio McGee shows how OC-23 is a lovely neutral paint color that looks almost ethereal in this dining room below. You can also see how well BM Classic Gray goes with warm wood tones.
BM OC-23 LIVING ROOMS
Is Classic Gray a good pick for a living room? BM 1548 is one of the most universally flattering paint tones around, and it looks beautiful in open concept or traditional living rooms. It goes with warm wood hardwood flooring and cooler washed out lighter floors as well!
BM CLASSIC GRAY OC-23 UNDERTONES
Most often, when you are deciding on what light gray paint to use, you aren't deciding in a vacuum! You have several other contenders. So let's talk about those and which one you should choose! This also will give you a better idea of the undertones of each!
In our living room and our dining room, we use a very close paint color–Benjamin Moore Balboa Mist, Benjamin Moore Balboa Mist, which is a slightly darker version of Classic Gray. Here they are back to back. Most people, including my husband, thought they were the same color!
Upon closer inspection, you can tell that BM Classic Gray vs. BM Balboa Mist is darker. This is reflected in the slightly lower LRV of Balboa Mist. In a room that gets a lot of light and you want it to make more of a statement, then you want BM Balboa Mist instead of BM Classic Gray.
BM PALE OAK VS. CLASSIC GRAY
You can see from the paint chip above that pale Oak and Classic Gray are very similar. We had a very hard time deciding between the two colors. Ultimately, what helped was getting samples of each and putting them head to head. GET YOUR SAMPLE HERE!
What I noticed when I had both next to each other was that Pale Oak is slightly darker and has slightly more brown in it than Classic Gray. Classic Gray is slightly cooler and airier.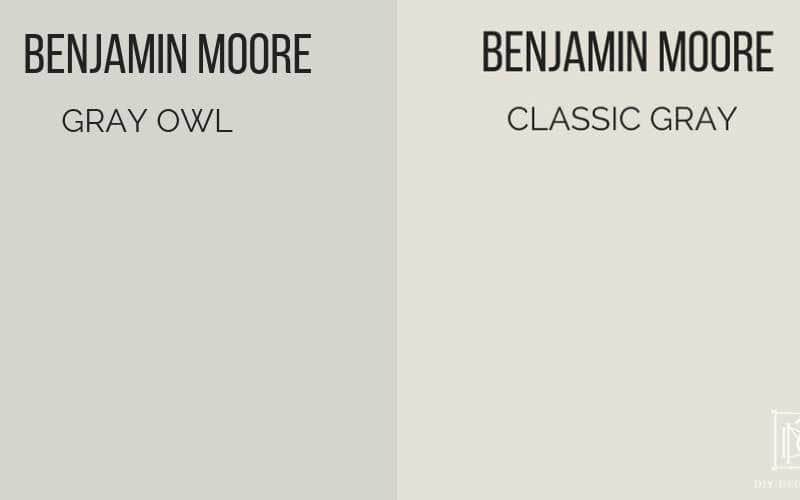 BM Gray Owl is another one of Benjamin Moore's most popular paint colors. It. isa slightly cool light gray with much more blue in it than Classic Gray.
It is also significantly darker as shown in the lower LRV values (65 vs. 75.)
Benjamin Moore's Edgecomb Gray is another one of my favorite light gray paint colors. It is a gorgeous neutral gray that warms up rooms. It. is considerably warmer than Classic Gray. I consider it a "greige" instead of a light gray.
Whereas, Classic Gray could be considered an off-white, BM Edgecomb Gray is a greige. It is quite a bit darker than Classic Gray as you can see in the LRV values below.
COLORS THAT GO WITH CLASSIC GRAY
The following is a sample of all the colors I have in my house–they go together flawlessly!
BUT WAIT! BEFORE YOU GO! I have to tell you about the best three tools that have cut the amount of time I have to paint rooms in half!
TOP TOOLS FOR PAINTING ROOMS FAST
This post contains some affiliate links for your convenience. Click here to read my full disclosure policy.
P

aint Trim Guard

I use Red Devil 18″ Dual Edge Painter's Edge Guard (You are going to want this if you have wall-to-wall carpeting or hardwood floors that you want to protect. I use it along with Painter's Tape to ensure that I don't have drips on my floor.

Paint Edger-

Stop spending hours cutting in! My father-in-law purchased this for us four years ago, and we still use it today. Before we first used it, I was super skeptical. It must be a hoax. But you guys, it works! And cuts in lines so much sharper than I could ever do by hand!

Paint Tray

Having a real metal paint tray will make your life so much easier! Ditch the flimsy plastic ones which are always spilling. I don't even use plastic liners in mine, I just rinse it out after each coat and call it a day! Plus, you save plastic from going to the landfill!
You'll love these posts on painting tips and tricks