This is a sponsored post written by me on behalf of VELUX Skylights. All opinions are 100% mine.
How to Brighten a Dark Room: Do you have a dark room you want to lighten up? Our first-floor office has been completely neglected since we moved five years ago. It's a rather small and dark room off the back mudroom hallway that inevitably gets piled with boxes to return, mismatched furniture, and piles of paper to go through.
HOW TO BRIGHTEN A DARK ROOM
Our office is the ugly duckling in our house, and to be honest–I am embarrassed to even show it to you! But, I will show you it and give you a sneak peek with all of our plans to make it better and solutions for brightening up a dark room in your house!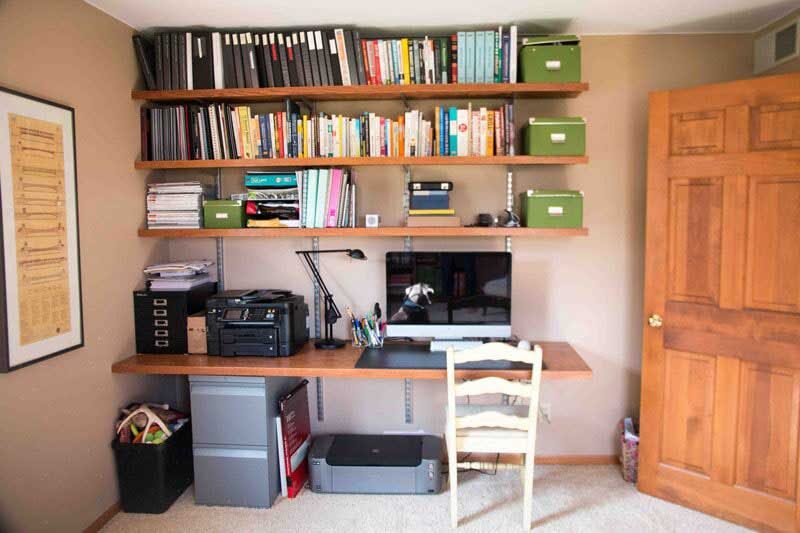 It's not a bad room by any means and we are incredibly lucky to have the extra space–it's just dark and the paint colors and wood finishes don't help it at all. We plan on installing white built-ins where the desk is above and have two desks with a TV in the middle, so we can use the room as a cozy den too.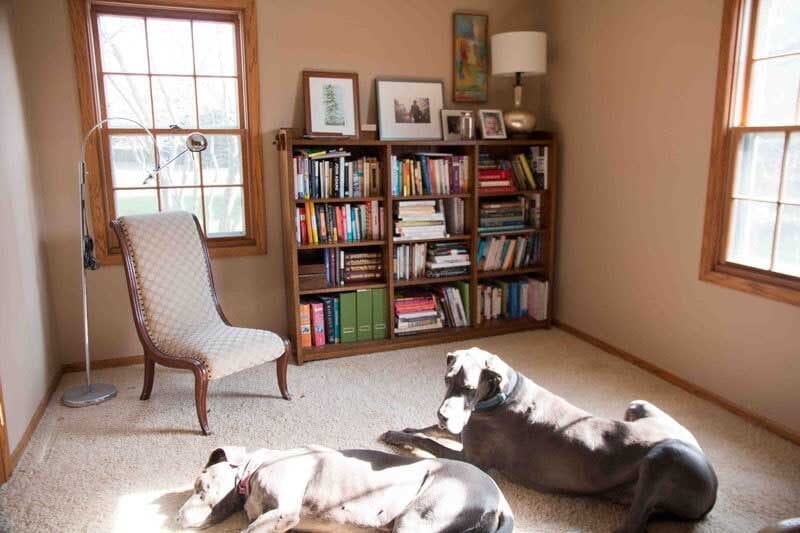 On the opposite wall (where the bookcase is above), we plan on having a sectional sleeper-sofa go from wall to wall. This will provide a comfy place to sit and also a pull-out bed for guests.
We will paint all the wood trim white, install wallpaper (see below), and update artwork with our current aesthetics. I think by doing these things and the items listed below, the room will feel a lot cozier and happier!
TIP 1: Employ Light-Reflecting Paint Colors and/or Wallpapers
We plan on installing this wallpaper that has a lovely white background that is similar to Benjamin Moore's Chantilly Lace–a cool clean blue with an LRV (light reflectance value of 92.2.)
What is LRV? LRV is light reflectance value and you can think of it as a percentage of how much light a certain paint color reflects. The higher the LRV, the higher the percentage of light it reflects. White paint colors typically have LRVs of 85+ and this is no different with an LRV of 92.2.
Paint colors with a high LRV will reflect more light and make your room feel brighter.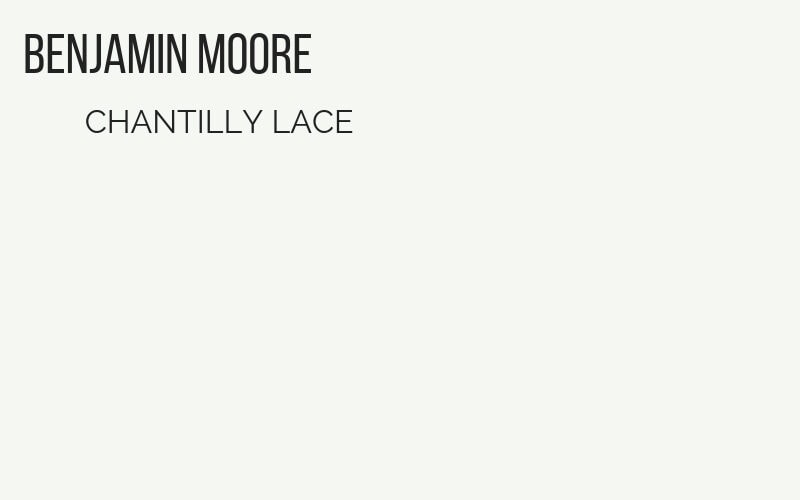 If you are looking to paint a dark room, look for colors that have an LRV of 70 or more. Here are a few of my favorites:
In his lovely midcentury modern house shown above, Brian Patrick Flynn uses white paint to reflect lots of light from his VELUX Skylights to create a fresh bright modern look and he draws your eyes to nature with those fabulous windows!
TIP 2: Install Skylights to Add Natural Light
Well, this is the biggest change you can make in a dark room–by solving the lack of natural light. Our office only has two windows, unlike most of our other rooms which have at least four which makes it a lot darker.
Since it is a bump-out from our standard saltbox colonial floorplan, it isn't under the second floor, so we could easily add a skylight or two in the ceiling. And since VELUX No Leak Solar Powered "Fresh Air" Skylights can be installed in non-vaulted ceilings we don't have to worry about vaulting the ceiling (see picture below for an example of a standard ceiling with VELUX Skylights.) Find an installer near you who can talk to you about all of your options and don't forget to enter the Daylight Renovation Sweepstakes!
I was initially concerned about light waking up guests who are sleeping over. No one wants to wake up to light streaming into their eyes. But you can add solar-powered blinds that come in more than 75 colors and patterns, so there are tons of options. I can close the blinds using a remote at night, and use the room-darkening blinds so guests will be very comfortable (and they can adjust them as they would like.)
During the day, VELUX Skylights would make the small space feel much larger and would help with me with productivity. I find myself incredibly sensitive to light conditions. This would fix that and help me be more focused and happier when I am in the office.
Another feature that I love about the VELUX No Leak Solar Powered "Fresh Air" Skylights is that they can open and let in fresh air. This can be automated and controlled by the VELUX ACTIVE with NETATMO smartphone app (and work conjunction with both Apple HomeKit and Google Home.) So anyone staying in the office overnight can control the temperature easily and decide if they would like more airflow.
TIP 3: Use Mirrors to Bounce and Reflect Light
Even well-lit rooms need a mirror; but, dark rooms especially need them! Mirrors reflect and bounce light off walls and will make your small dark room feel a lot larger! I plan on adding a mirror above the sectional couch (hung horizontally) and it will reflect the bright white built-ins on the opposite side. See all my favorite mirrors here.
4. Maximize Light Sources
In addition to adding more natural light with VELUX Skylights, you can also improve the brightness of a room by adding more artificial light sources–and no, I am not telling you to go get a bunch of high wattage CFLs! EEKS!
Add warm soft-white light sources several artificial light sources (task lighting, table lamps, and some overhead lights.) I plan on adding some task lighting with swinging sconces over the couch, and some wall sconces on either side of the window.
Emily Henderson does a lovely job of this below as you can see. She uses a combination of light sources including an overhead light, task lights, and tableside lamps. These artificial light sources complement the lovely natural light from the VELUX Skylights.
5. Use light-colored textiles and fabrics
While I obviously love blue, the main textiles in the room will be neutral or light-colored. This will keep the room feeling light. See how the designer did it in the room below (and note how they tied the blue shades on the VELUX No Leak Solar Powered "Fresh Air" Skylights in with the throw pillows and blue chairs!) The end result is absolutely gorgeous!
I plan on using light-colored bamboo blinds on our windows, blue room-darkening blinds on the skylights and then using blue and white throw pillows on the couch to tie everything together.
6. Integrate Nature with Sky Views, Natural Elements, and Greenery
Another way to make a room overall brighter and happier is to incorporate nature. The first way to do this is to open your shades. Capitalize on your views of nature or the sky and let nature in! VELUX Skylights allow you to see the sky. And the effects of being able to see nature are fantastic for your overall well-being.
Add live (or faux) plants into your room to bring in some natural greenery. A few potted houseplants or a faux fiddle leaf fig look lovely in any room.
IN CONCLUSION
As you can see, a dark room is not a lost cause! There are lots of improvements you can make to brighten it up and make it more pleasant including installing VELUX Skylights! We plan on adding some of these improvements to our office later this year and I can't wait to share more. Don't forget to enter the Daylight Renovation Sweepstakes for a chance to win two VELUX No Leak Solar Powered "Fresh Air" Skylights with solar blinds and installation (Sweepstakes open through 11:59 pm on Tuesday, Feb. 4.)