Benjamin Moore Chantilly Lace: Want a clean bright white paint color for your home? Look no further than Chantilly Lace OC-65! This delicate cool white paint color provides a neutral paint color for your home that is as elegant as its namesake! See how BM OC-65 compares to White Dove, Simply White, and Decorators White as well as other popular Benjamin Moore white paint colors!
BENJAMIN MOORE CHANTILLY LACE

Benjamin Moore Chantilly Lace is a beautiful cool white paint color with slightly bluish undertones. It is a favorite amongst interior decorators and homeowners because of its lovely bluish gray undertones. If you want an elegant white paint color that looks good with blue tones and any light condition, then pick up Chantilly Lace OC-65.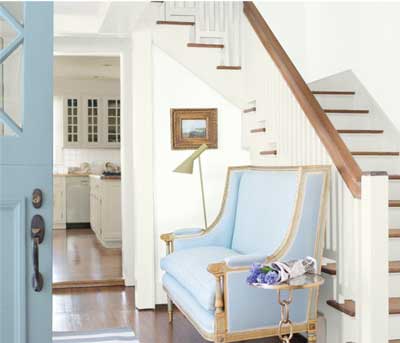 To best understand BM OC-65, it's easiest to look at its undertones and coordinating paint colors, and compare it to other popular white paint colors like Benjamin Moore Simply White, BM Cloud White, BM White Dove, and BM Decorator's White.
*affiliate links have been used at no cost to you see my disclosure policy here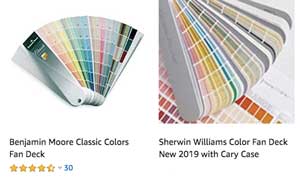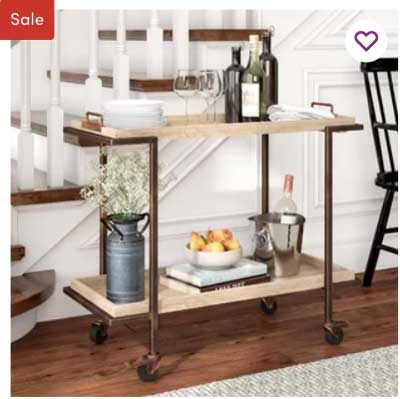 SHOP THE ROOM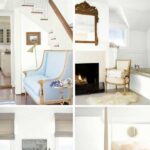 What is the LRV of CHANTILLY LACE?
Chantilly Lace has an LRV of 92.2, which means that it very bright color (as one would expect from a white.)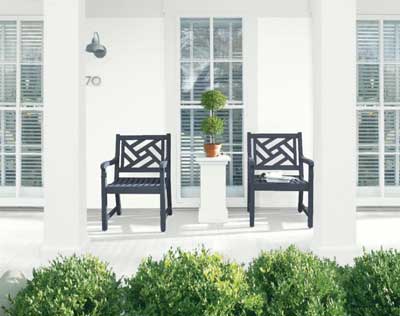 Chantilly Lace siding with BM White Diamond trim and BM Hale Navy chairs (similar chair here)
What does LRV mean?
LRV means Light Reflectance Value (basically the percentage of light a paint color reflects off the wall.) The higher the LRV, the lighter the color. So a LRV of 92.2 is very bright (and quite typical for white paint colors. If you want a light and airy paint color, you will want a high LRV.
OC-65 walls, and Decorators White trim, blue door= BM Exhale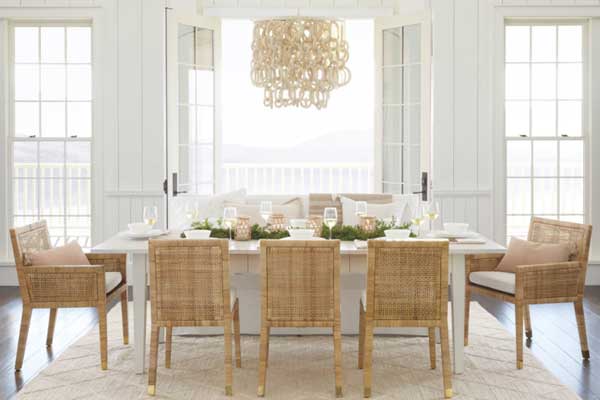 SHOP THE ROOM
INSERT ADTHRIVE VIDEO OF BEST WHITE PAINT COLORS
BM CHANTILLY LACE UNDERTONES

The easiest way to find the undertones of a paint (those little tones you get from a paint when you look at it) is to look at a paint chip. You can see above that Accessible Beige has a lot of brown in it. To find the undertones of any paint chip, look at the most concentrated/ saturated tones on the same paint chip. It will show you what the true undertones are.
✅ This specific painting tool is the top seller with our readers!
It has saved me hours of work and I wish I bought it sooner! Seriously! So many disagreements with my husband over painting would have been avoided!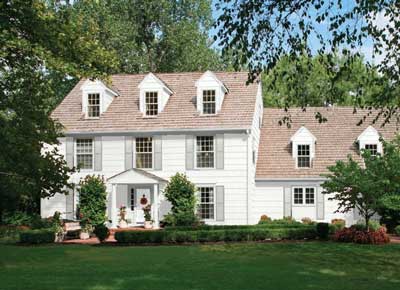 Chantilly Lace OC-65 siding with Stonington Gray trim
Is Chantilly Lace a warm or cold white paint?
BM Chantilly Lace is a cooler white paint color. It has grayish and bluish undertones that give it a much cooler feeling that BM Simply White which has much more yellow undertones.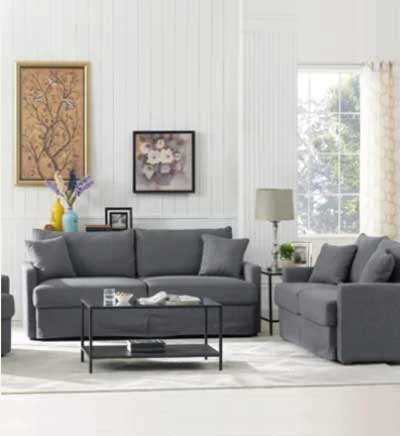 SHOP THE ROOM
CHANTILLY LACE & POPULAR WHITE PAINT COLORS
Now, let's see how Chantilly Lace stacks up to similarly popular Sherwin-Williams and Benjamin Moore white paint colors. These are the most popular white paint colors, so it is good to see how they look together!
WHITE DOVE vs. CHANTILLY LACE

Comments: You can see at the right how Chantilly Lace and White Dove look together–they make a lovely combination. White Dove is much more saturated than Chantilly Lace and is slightly warmer with its greater gray undertones. This is reflected in the lower LRV.
LRV compared:

White Dove LRV: 85.38
Chantilly Lace LRV: 92.2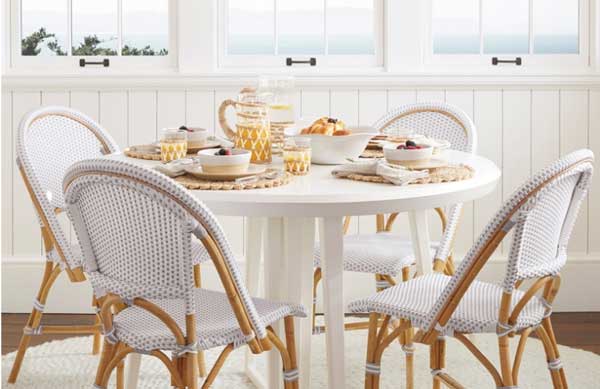 SHOP THE ROOM
SIMPLY WHITE vs. CHANTILLY LACE

Comments: BM Simply White is a much warmer white paint color than Chantilly Lace as you can see in the two paint chips to the right. Simply White has a lot more beige in it than Chantilly Lace. In our house, we use BM Simply White on our trim, but conversely, you could easily use BM Chantilly Lace instead.
LRV compared:

Simply White LRV: 91.7
Chantilly Lace LRV: 92.2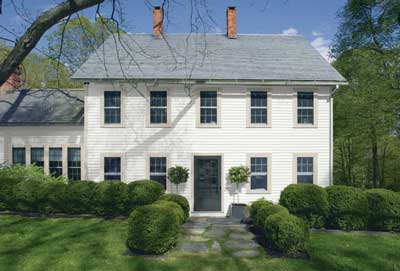 BM Chantilly Lace OC-65 cedar siding with Edgecomb Gray trim and Narraganset Green door
CHANTILLY LACE VS. DECORATOR'S WHITE

Comments: You can see at the right that Decorator's White has a lot more blue and gray in it than Chantilly Lace which is a bit lighter. The two paint colors go lovely together and would be great to use as a trim and wall color (Chantilly Lace on the walls.)
LRV compared:

Chantilly Lace: 92.2
Decorators White: 84.61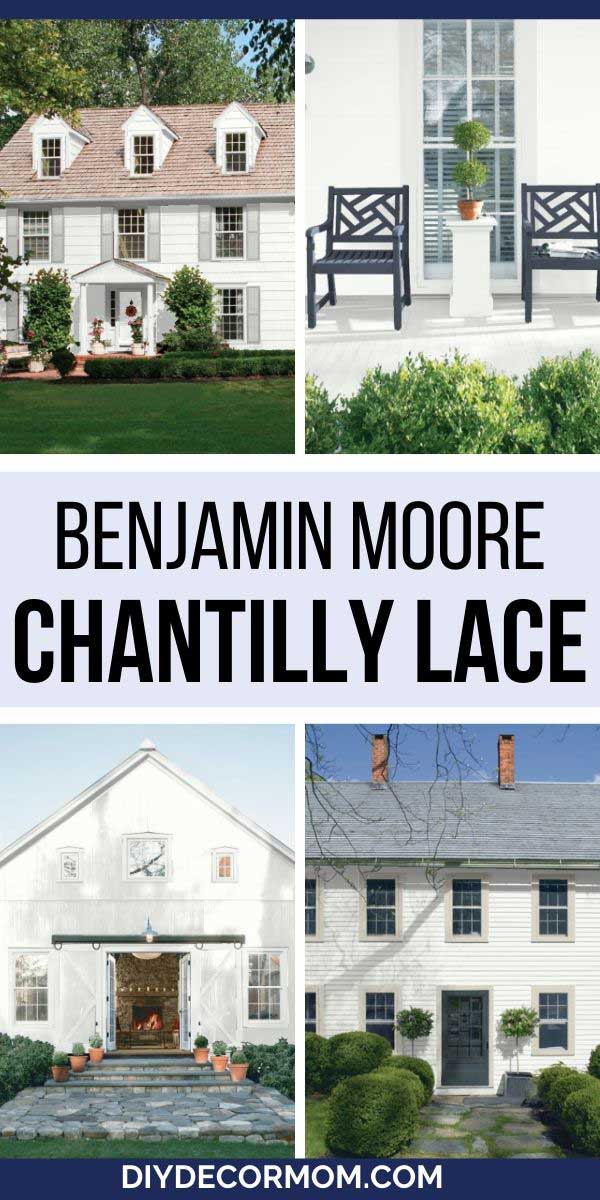 CHANTILLY LACE VS. LINEN WHITE

Comments: Although one might think two white paint colors would be very similar, you can see the different undertones when compared alongside. Chantilly Lace is much cooler and Linen White is much warmer.
LRV compared:

Chantilly Lace: 92.2
Linen White: 82.9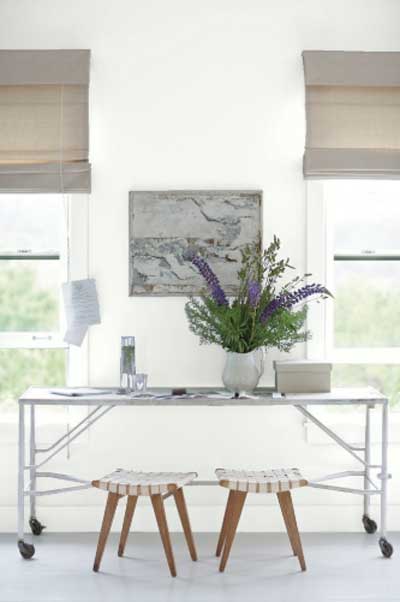 COLORS THAT GO WITH CHANTILLY LACE
White paint is just white paint right? Yep, that's a hard no! White paint colors are tricky to pick out! You never realize how subtle the difference is between white paint colors until it's time to pick the right one! Go to stark and your house feels like a hospital, go to beige and it feels like, well…beige!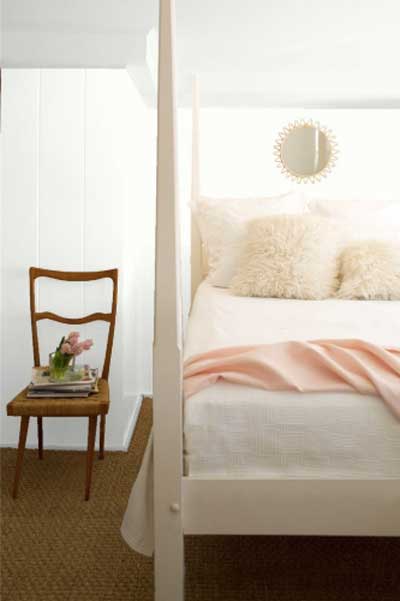 Picking out colors that go with a paint color is half the battle when considering paints. You don't want to have one room of your house that feels completely disjointed and inconsistent with the rest of your house! That's why I always recommend doing the process outlined in "How To Pick a Paint Color Scheme for Your House"
INSERT PAINT COLORS THAT GO:
Benjamin Moore Grant Beige
Benjamin Moore Stonington Gray
Benjamin Moore Chelsea Gray
Benjamin Moore Decorators White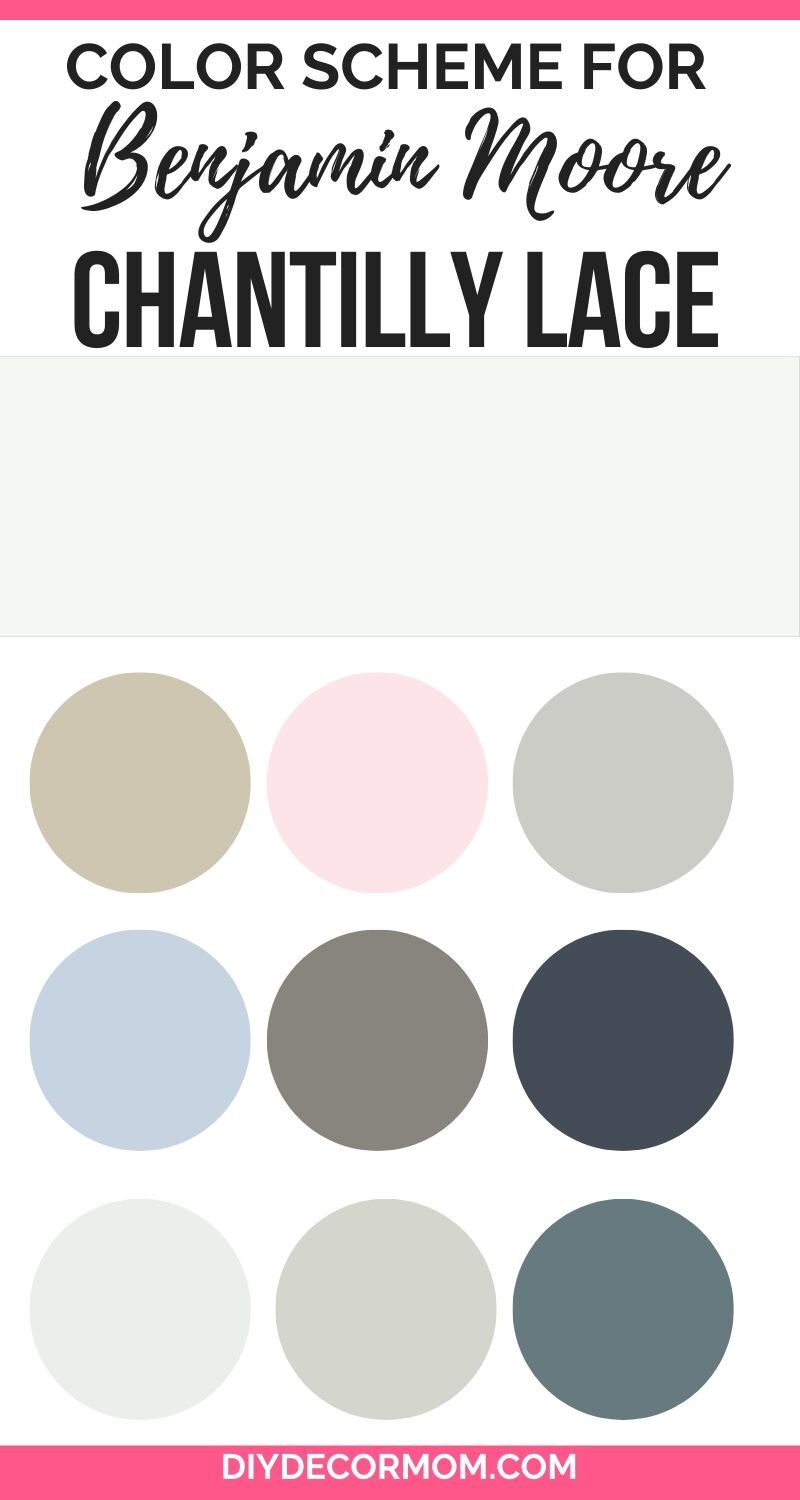 BM Chantilly Lace on Walls
Benjamin Moore's Chantilly Lace 2121-70 is a lovely cooler white that looks good in kitchens, dining rooms, living rooms, and even bathrooms. This fresh neutral white paint color is a fantastic choice for your home. See these gorgeous rooms below and to read more, click on the blue "Read More" button!
Photo Credit: www.studio-mcgee.com
See this stunning kitchen by Studio McGee with Benjamin Moore's Chantilly Lace walls.
Photo Credit: www.makinghomebase.com
See Chantilly Lace walls in this beautiful living room designed by Making Home Base.
Photo Credit: www.shineyourlightblog.com
Shine Your Light shows how stunning BM Chantilly Lace looks on her walls and cabinets in her kitchen makeover!
Photo Credit: kristywicks.com
Kristy Wicks shares her entire house palette--Benjamin Moore's Chantilly Lace and shows how elegant and airy white paint can be!
Photo Credit: stylebyemilyhenderson.com
Emily Henderson shows how fabulous Chantilly Lace looks in a bathroom makeover!
Photo Credit: juniperhome.com
Juniper Home and Studio demonstrates Benjamin Moore's Chantilly Lace on the walls of this midcentury modern eclectic living room.
Photo Credit: beckiowens.com
Becki Owens's amazing Double Eage Project shows how fantastic BM Chantilly Lace looks in this stunning new build!
FAQs on PAINT COLOR
You'll Love These Posts on Paint Colors: