Benjamin Moore White Dove: Is White Dove OC-17 the perfect soft white paint color for your home? See how this perfect neutral paint color looks compared to other creamy off-white paints from Benjamin Moore and Sherwin-Williams. We've used it in our home below, and it continues to be one of my favorite white paint colors!
BENJAMIN MOORE WHITE DOVE

BM White Dove is one of the most popular paint colors for good reason, it's a lovely soft white but not as yellow as Cloud White; but, significantly warmer than BM Simply White and BM Chantilly Lace.
When you want a soft white room with some warmth, that still looks "clean," use White Dove.

*affiliate links have been used at no cost to you see my Disclosure Policy here. 
It comes across as a slightly grayed warm white, which makes it a favorite paint color to use in rooms where you want just a little touch of warmth! It has slight green undertones which make it highly compatible with other neutral paint colors like warm gray paint colors and pale grays. See how it transformed our family room and master bathroom below; plus, compare it to other similar warm paint colors and see it in real houses!

We paired it with Benjamin Moore's Simply White trim on all of our woodwork (see how to paint wood trim here,) and the combination looks lovely! The white paint reflects light in this dark room in our house, and has made the room feel fresh, bright, yet still warm and cozy!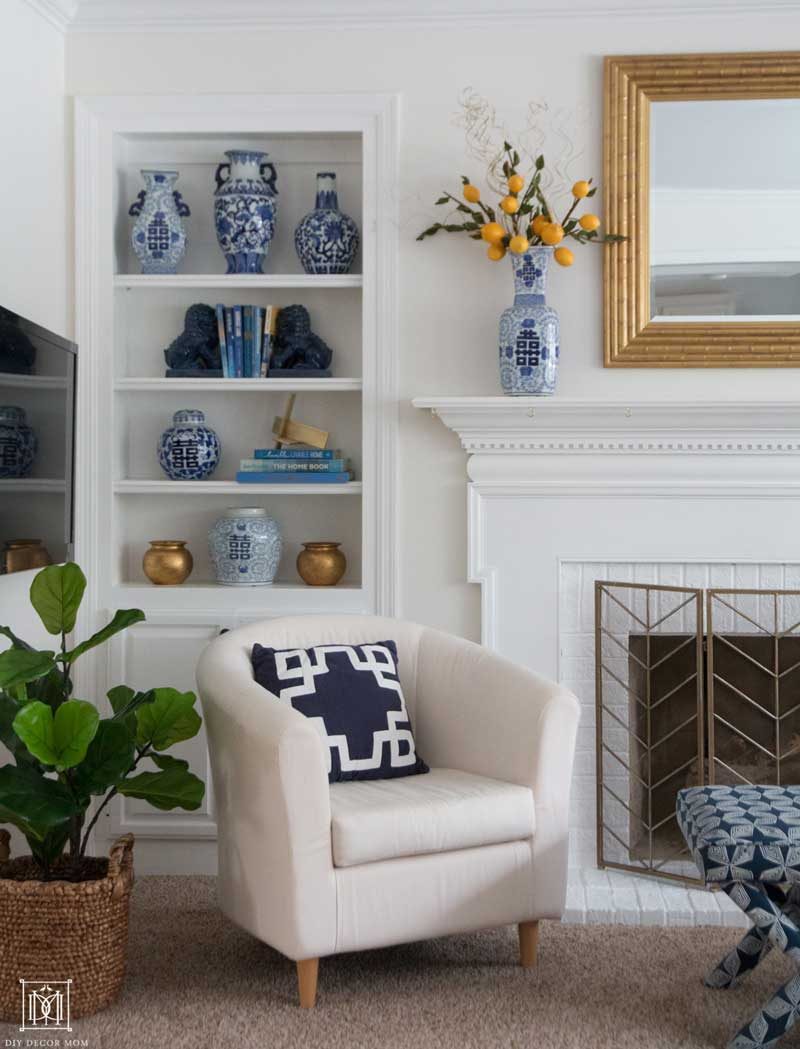 White Dove OC-17 is a clean white with only subtle yellow undertones–nothing like what we had before (Behr White Chocolate.) It's slightly grayish with a hint of yellow undertones make it a "warm white" in my book. But, let's break it down further by examining the LRV below!
Samplize will send you 12″x12″ paint samples that you peel and stick on your walls. At $5.99 a sample, it cheaper than my going to the paint store, buying samples, brushes, and poster boards. Plus, it's way EASIER and LESS MESSY! 
Reasons Why I Love Samplize:
NO MESS or Clean-up
Color correct–they are a true representation of the colors because they are made with two coats of paint.
More affordable and time-friendly than buying samples/ making samples.
Samplize samples will arrive at your doorstep within 1-3 days from the time you order them! and of course easier and way less messy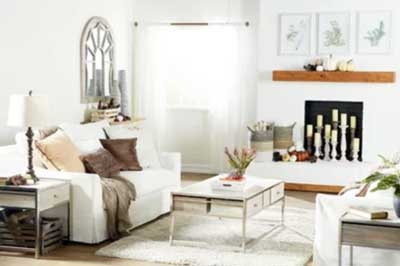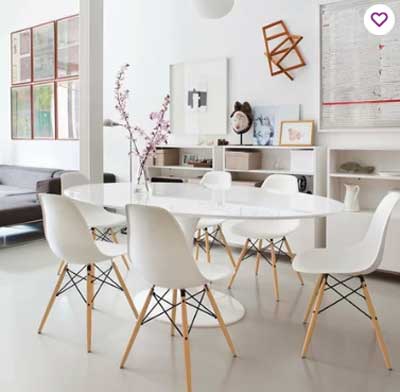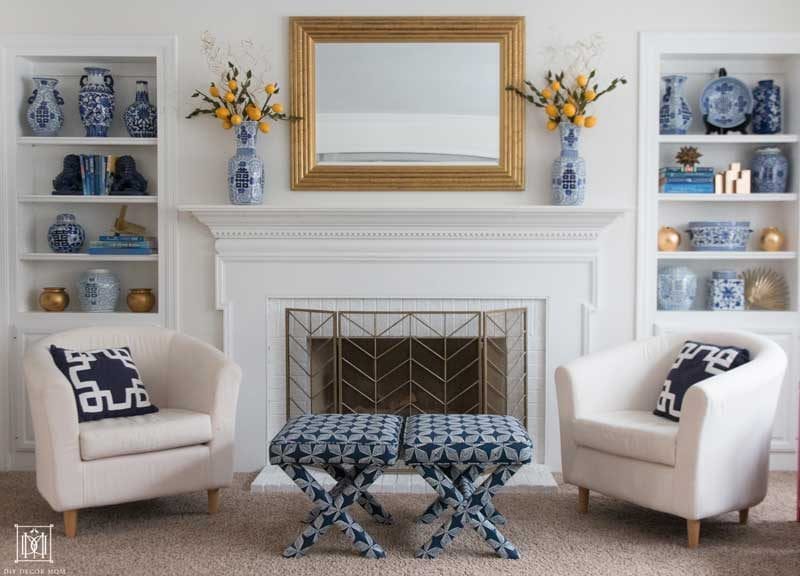 BENJAMIN MOORE WHITE DOVE LRV
White Dove's LRV (Light Reflectance Value) is 85.38 which makes it a nice bright white (but warm).
What does LRV Mean? LRV is basically a percentage of light a given paint color reflects. The higher the number, the brighter the color! Most white paint colors have an LRV between 80-95. OC-17 (White Dove) has a good LRV in my opinion–bright but not too bright at 85.38.
WHAT ARE WHITE DOVE'S UNDERTONES?
The best way to look at undertones is to examine White Dove's paint swatch and see similar colors within its color family. Another way is to compare it to some more of the most popular white paints, to help you make a decision! We will do both today. You can see in the graphic below, that it has just a hint of yellow. This is what makes White Dove such a fantastic paint color.

Like I said above, White Dove has a slight light gray and green undertones with just a hint of yellow. This is what makes White Dove such a fantastic paint color.
White Dove's undertones lend it versatility and it pairs wonderfully with light gray paint colors! 
IS WHITE DOVE A GOOD FARMHOUSE COLOR?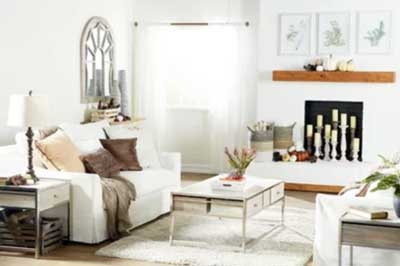 OC-17 is the perfect color for white walls if you are looking for a "Fixer Upper" look. It is warmer than many stark white paint colors, but will brighten any room and looks fantastic on shiplap! It goes with any style of decor–modern, traditional, transitional, and farmhouse.
BENJAMIN MOORE WHITE DOVE VS. CHANTILLY LACE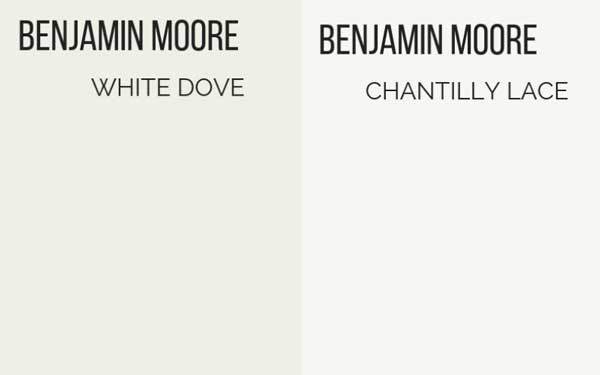 Another popular soft white color is Chantilly Lace. You can see in the side-by-side comparison of White Dove and Chantilly Lace above with the paint chips, that White Dove is more saturated and has more gray in it.
Personally, I prefer White Dove because I like a little contrast between the walls and the trim in our house (all our trim is Benjamin Moore Simply White.) Chantilly Lace is a bit cooler of color and has more bluish undertones.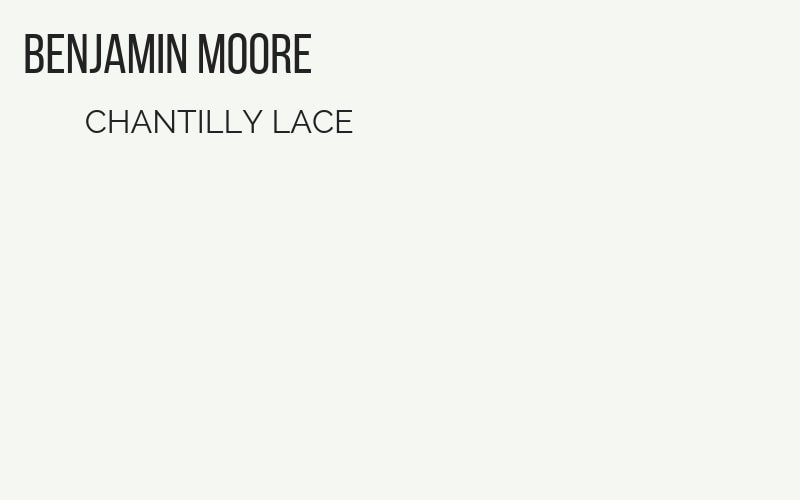 BENJAMIN MOORE WHITE DOVE VS. CLOUD WHITE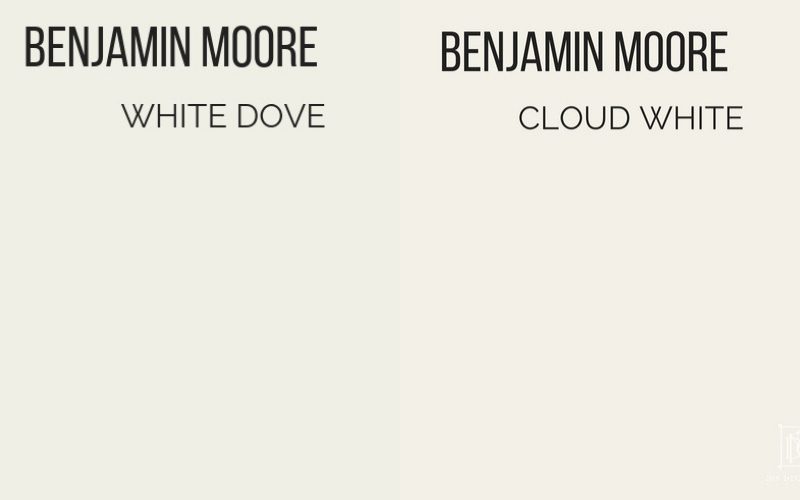 We have painted several rooms Cloud White over the years. While it is a lovely color, it has quite a bit more beige in it than White Dove, which almost has green undertones when you look closely at it.
I prefer to use Cloud White for rooms that I want to feel warmer–like our nursery, and White Dove for rooms like our family room that I want to appear fresher. If you want a warmer white, consider Cloud White. But, if you want a cleaner soft white, use White Dove.
SIMPLY WHITE VS. WHITE DOVE: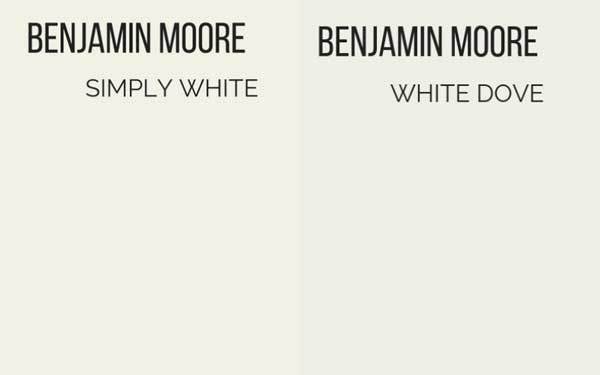 Above, you can see our combination of paints–BM White Dove walls (eggshell finish) and BM Simply White trim (in semi-gloss). There is a nice contrast between the two and it looks lovely. White Dove appears slightly darker and cooler than Simply White, which provides a sophisticated combination to the room.

BENJAMIN MOORE WHITE DOVE VS. DECORATOR'S WHITE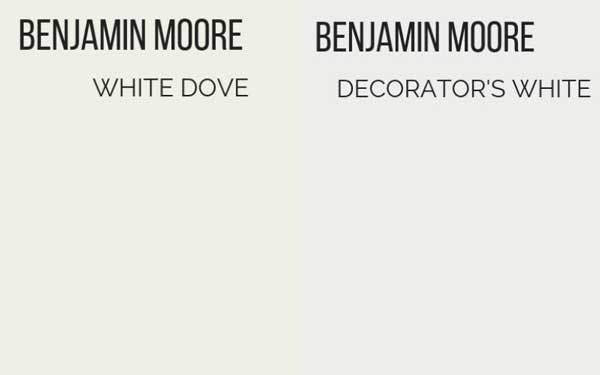 Two very similar, and very popular soft white colors are shown above back-to-back, so you can see the difference. Decorator's White has more of a bluish undertone than White Dove but is a lovely color to use and you could even use it on your trim as well. Side by side, you can see that White Dove has a little more green in it than Decorator's White.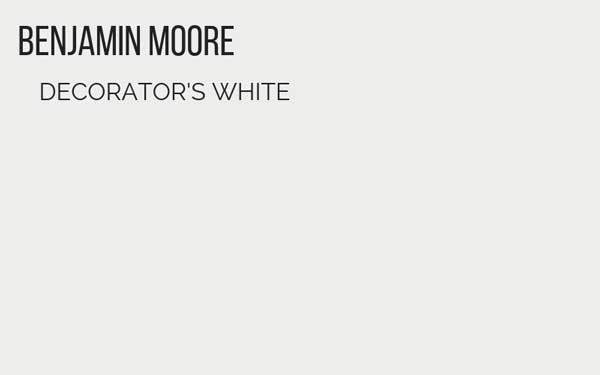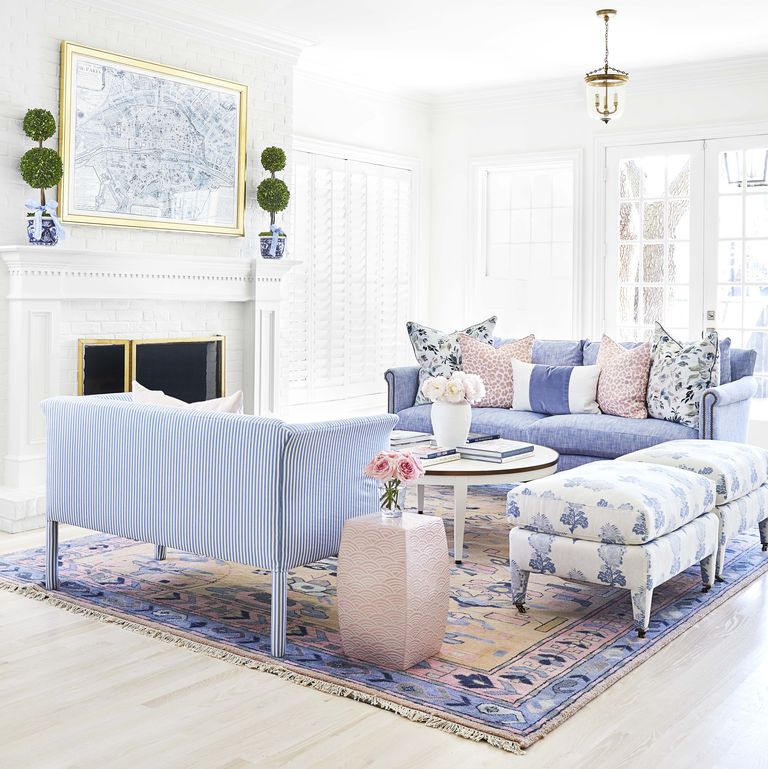 WHAT COLORS GO WITH WHITE DOVE?
OC-17 White Dove by Benjamin Moore is one of those colors that goes well with almost everything! Below, I've made an easy whole house color scheme for you! These are colors I've used in my house and love!
In general, colors with green undertones pair nicely with White Dove.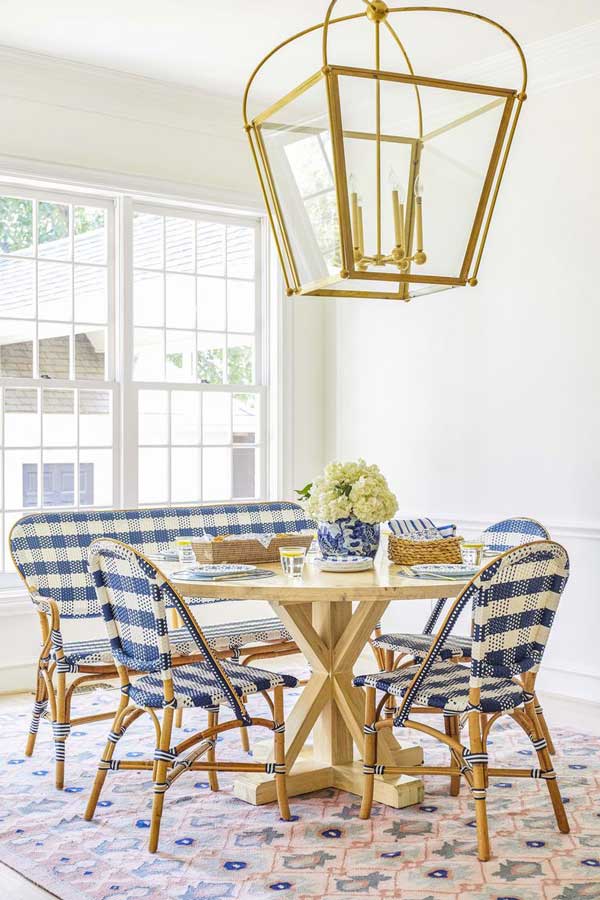 MY FAVORITE TOOLS TO PAINT A ROOM FAST
This post contains some affiliate links for your convenience. Click here to read my full disclosure policy.
These tools have literally saved me DAYS of painting and cut my time painting by 66%! I only wish I knew about them and made the under $10 purchase before!
Use this instead of sandpaper. Using sandpaper will rub off too much of the varnish and the stain on your oak wood trim will permeate your newly painted white paint. We use these abrasive pads everywhere instead of sandpaper.
Paint Pad–– save yourself HOURS by buying this under $10 painting tool! Paint Trim Guard
You are going to want this if you have wall-to-wall carpeting or hardwood floors that you want to protect. I use it along with Painter's Tape to ensure that I don't have drips on my floor.
White Dove on Walls
See how wonderful White Dove looks on walls in these gorgeous rooms below! From kitchens, living rooms, and bedrooms, you will see how this perfect neutral paint color looks good anywhere!
FREQUENTLY ASKED QUESTIONS ABOUT WHITE DOVE:
What number is Benjamin Moore White Dove?
Benjamin Moore White Dove OC 17
Is Benjamin Moore White Dove warm or cool?
White Dove is a warm white without the yellow typically associated with soft whites.
What color trim with White Dove walls?
We used BM Simply White in semigloss on our trim (see how to paint wood trim here), and you can see how nice it looks with BM Dove White walls.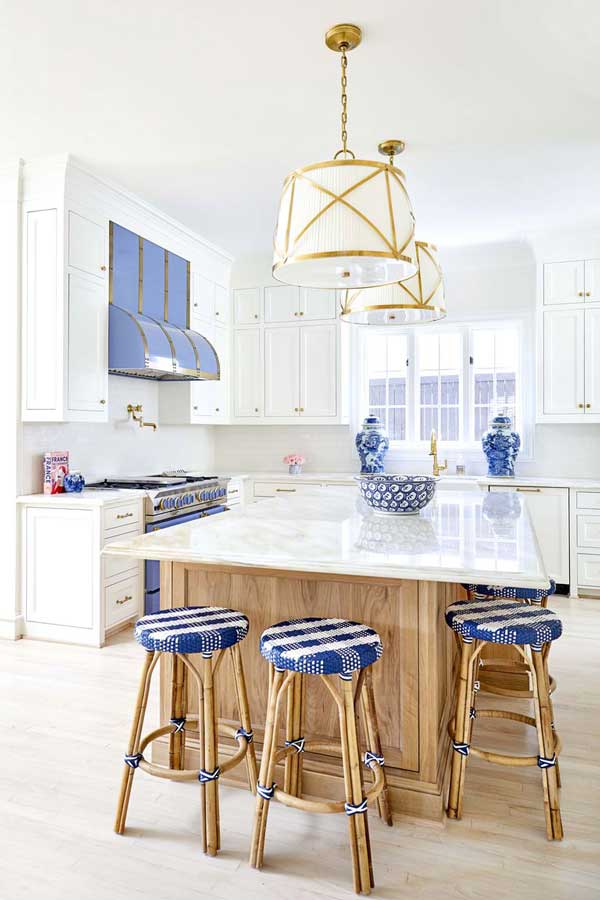 Is Dove White a good trim color?
Yes, while I prefer a whiter trim color, (BM Simply White), White Dove would work as a trim color in an older home with detailed moldings.
Does Benjamin Moore White Dove have yellow undertones?
Not really. It has a little yellow, but it has more gray in it than Simply White and Cloud White. I consider its undertones grayish/ green.
Is White Dove too white?
No, White Dove is actually quite warm. I think of it as a warmer white color than most others that are cooler like Decorator's White and Chantilly Lace.
Should white cabinets match white walls?
I like my white cabinets to match my white walls personally, and it's something I recommend doing in my how to paint cabinets tutorial. If you use something similar but not different enough, one of the components (either the walls or the cabinets) has the possibility of looking dirty or dingy. Instead, use the same white paint color and create a harmonious space!
Want to see more of my favorite neutral paint colors? Check out these posts!