Edgecomb Gray: Looking for the perfect greige paint color? Benjamin Moore Edgecomb Gray HC-173 is a fantastic warm light gray paint color that works well in any room of your home. See how it compares to other popular light gray paint colors like Balboa Mist, Revere Pewter, and Classic Gray.
EDGECOMB GRAY

When we bought our house, all the walls were a dark khaki. It felt so dark and depressing! So we wasted little time painting the walls light gray paint colors. We wanted a warm, airy feeling to our house, so we chose warm light gray paint colors "greige" paint colors.
After painting our living room and dining room Balboa Mist, we were happy with the airy yet warm hues. Between living in a cold climate (Wisconsin) and the fact that we want our house to feel cozy, we gravitated towards warmer grays in lieu of cooler (blue-toned) gray paint colors.
*This post contains affiliate links at no cost to you. See my disclosure policy here.

Is Edgecomb Gray a warm gray?
Edgecomb Gray is a lovely warm gray paint that Benjamin Moore describes as "a go-to gray that's timeless with a modern edge, this earthy, organic neutral is soft and stylish, creating a setting that feels distinctly personal." That's the kind of paint color I want in my home!
Is Edgecomb Gray a light gray?
Edgecomb Gray LRV= 63.88
Yes! Edgecomb Gray is a darker light gray. Its LRV (light reflectance value) is 63. The higher the LRV, the higher the percentage of light a paint color reflects. White paint colors often have LRVs in the 80s-90s. Conversely, popular navy blue paint colors have LRVs in the 10s!
But what about its undertones? I'll share next on the best way to figure out a paint colors undertones!

BENJAMIN MOORE EDGECOMB GRAY UNDERTONES
Edgecomb Gray HC-173 is a nice airy yet warm gray paint color. Its tawny tone is the perfect tone between beige and gray. Like most grays, it has subtle undertones that you only notice upon close inspection.
The easiest way to see a paint color's undertones is to get a paint sample and examine it in your own house and to compare it to similar paint colors. This way, you'll have the best idea of what it looks like in your own home before actually painting!
I used to recommend going to your local paint store and buying a sample and getting a Dollar Store poster to paint on it–but I recently found a much easier way..
The easiest way to get paint samples (that are accurate with no mess)….SAMPLIZE!
Samplize will send you 12″x12″ paint samples that you peel and stick on your walls. At $5.99 a sample, it's cheaper than my going to the paint store, buying samples, brushes, and poster boards. Plus, it's way EASIER and LESS MESSY!
It requires no schlepping to the paint store, no washing paintbrushes, and no wondering if you painted enough (ensuring you have a true representation of the color…)
Reasons Why I Love Samplize:
NO MESS or Clean-up
Color correct–they are a true representation of the colors because they are made with two coats of paint.
More affordable and time-friendly than buying samples/ making samples.
Samplize samples will arrive at your doorstep within 1-3 days from the time you order them! and of course easier and way less messy
To understand a paint color's undertones it is best to get several similar paint color samples and compare them–it will give you the most options and help you understand what undertones there are.
EDGECOMB GRAY HC-173 COMPARED

EDGECOMB GRAY HC-173 VS. REVERE PEWTER
Benjamin Moore Revere Pewter and Benjamin Moore Edgecomb Gray (HC-173) are very similar greige paint colors; but, when you see the two paint colors next to one another you can see that Revere Pewter is much more saturated. There is significantly more brown in Revere Pewter.
You can see with BM Edgecomb Gray walls and BM Revere Pewter ceiling, and Simply White trim is a nice example where you can see both paint colors close to one another.
You can see below that the LRV values are significantly lower for Revere Pewter than Edgecomb Gray, which means that it is much darker color.
BENJAMIN MOORE GRAY OWL VS. BENJAMIN MOORE EDGECOMB GRAY
Benjamin Moore Gray Owl (see my complete review here) is one of Benjamin Moore's most popular and best gray paint colors for good reason it is a lovely light gray paint color.
However, it is quite different than Edgecomb Gray (EG) with its undertones of blue. Edgecomb Gray is a much warmer light gray paint color than Gray Owl, and is more of greige paint color with much more beige in it.
BENJAMIN MOORE EDGECOMB GRAY HC-173 VS. PALE OAK
Pale Oak is another warm light gray paint color that has a similar feeling as Edgecomb Gray. Next to one another, you can see that Pale Oak is a bit cooler and has more blue than HC-173, which is warmer.
EDGECOMB GRAY VS. BALBOA MIST:
Comments: Similar to Pale Oak, Balboa Mist is a light gray paint color that while being a warm gray paint color, pales in comparison to the warmth of EG. Balboa Mist has more bluish undertones as you can see in the side-by-side paint chip comparison below.
As you can see below, Balboa Mist is slightly lighter than EG (67 LRV compared to 63.)
EDGECOMB GRAY VS. CLASSIC GRAY: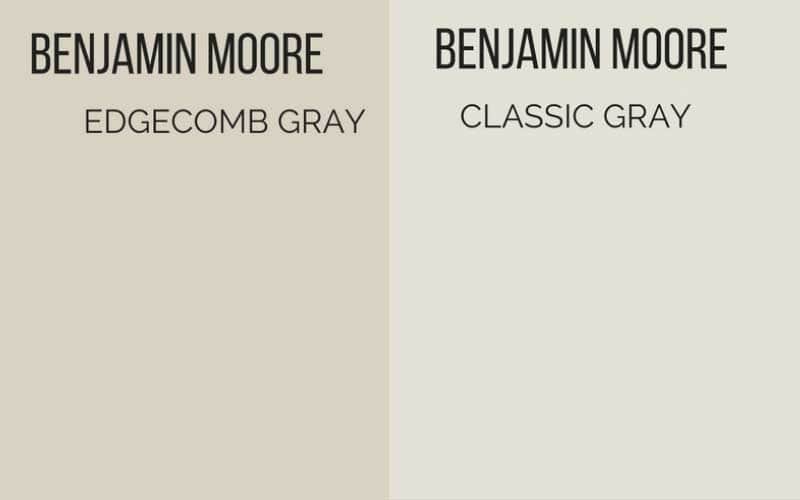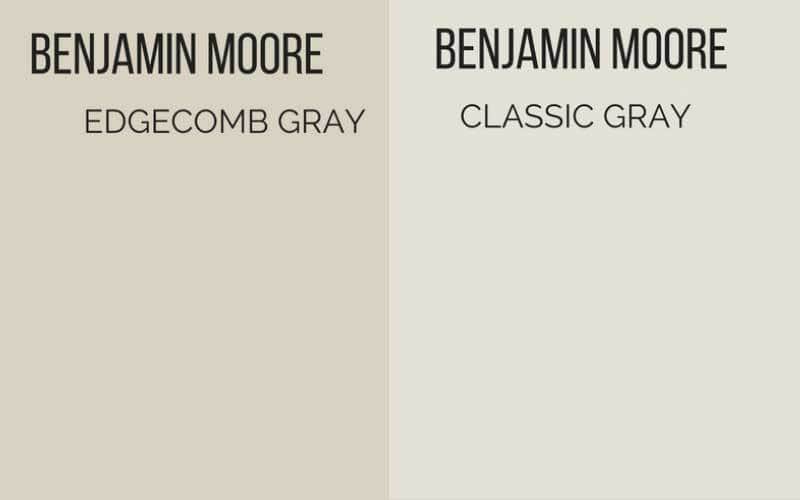 Both Classic Gray and HC-173 (shown below) are both wonderful light gray paint colors–two of my favorite paint colors and best gray paint colors.
Classic Gray is much less saturated than Edgecomb Gray and a much lighter paint color than Edgecomb Gray; but it lacks the brownish undertones which gives Edgecomb Gray its warmth and tawniness. We've used Classic Gray in our bedroom; but, have thought about using EG as well because it is such a lovely color!
BM EDGECOMB GRAY VS. SHERWIN-WILLIAMS AGREEABLE GRAY
Agreeable Gray, one of Sherwin-Williams most popular greige colors is shown side-by-side with HC-173, shows by contrast that Agreeable Gray has more purple and gray in it than HC-173 (EG).
EDGECOMB GRAY IN REAL ROOMS
Want to see BM HC-173 in real rooms? See how prominent DIY and home decor bloggers have used it in their own homes below! You'll see the color in a variety of lighting conditions and see if it's the overall aesthetic you are looking for!
FOYERS AND ENTRYWAYS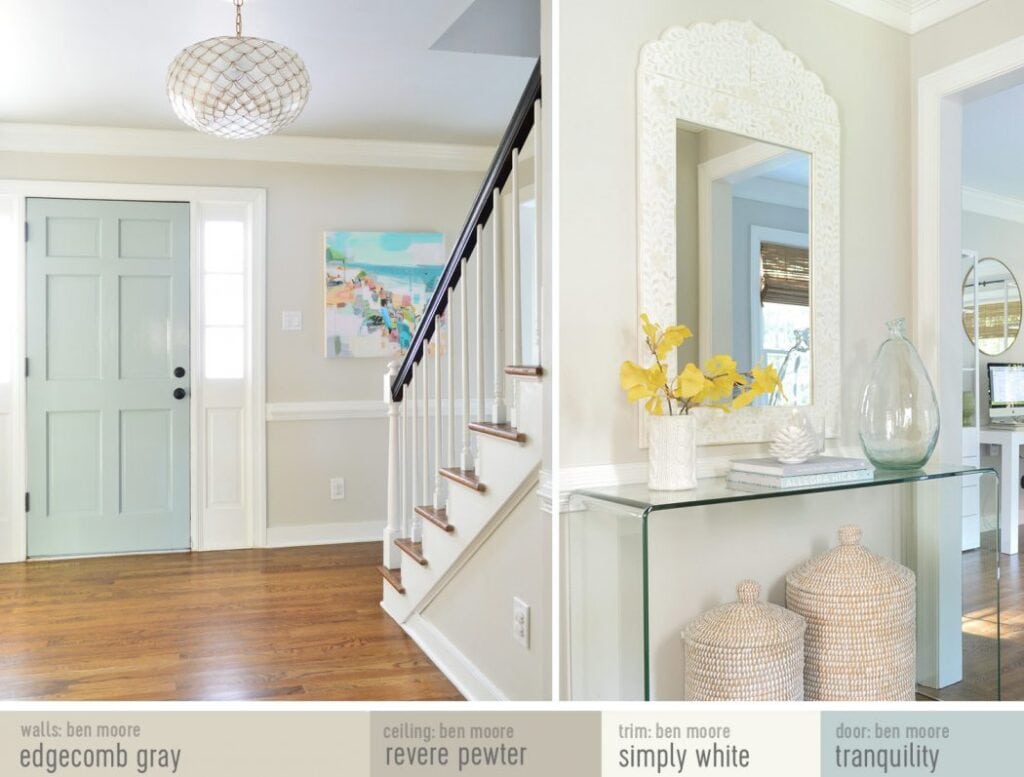 KITCHENS
BM Edgecomb Gray HC-173 looks lovely in these kitchens and is very complementary with the white cabinets–or as a stand alone cabinet color!
LIVING ROOMS
Whether its for a living room, a family room, or an office–Benjamin Moore's Edgecomb Gray is the perfect greige that warms up a space while maintaining an airy feeling!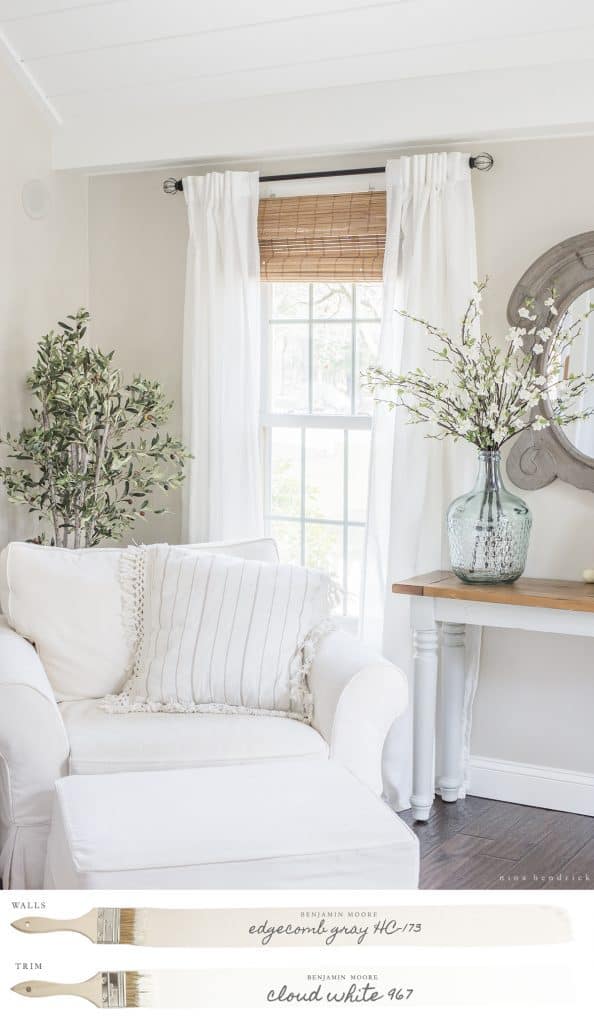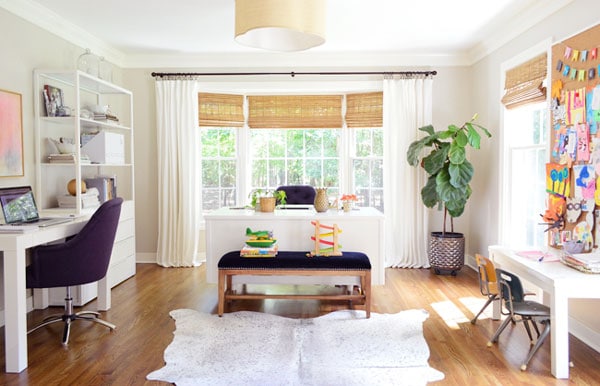 BEDROOMS
With a slightly warm tint, Edgecomb Gray is the perfect greige master bedroom color that feels cozy and serene at the same time.
EXTERIORS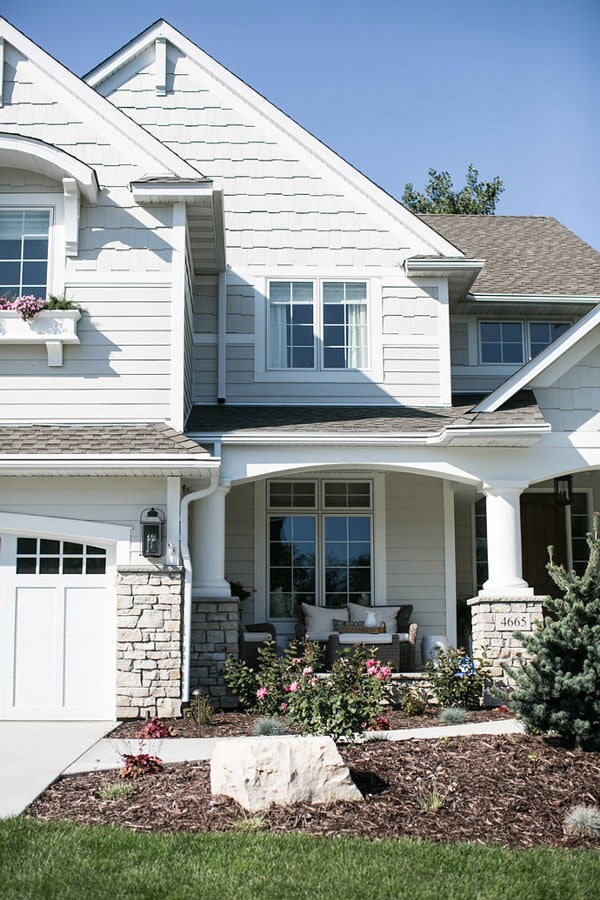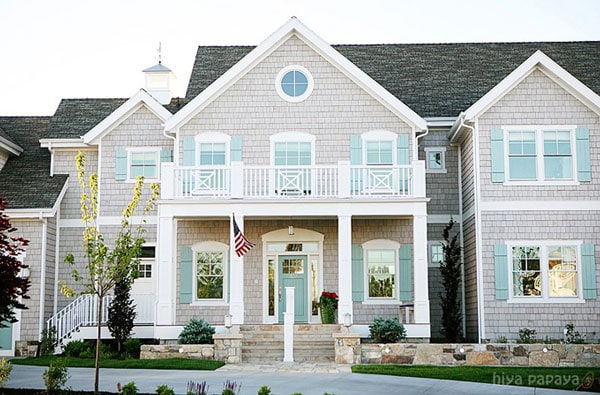 COLORS THAT GO WITH EDGECOMB GRAY
Want a paint palette that works with HC-173? These paint colors are very complementary of BM HC-173 and go in any type of house!
Below, I've put together a custom whole house color palette that highlights my favorite paint colors and looks good with Edgecomb Gray! These fantastic paint colors are the best of the best and many are reviewed elsewhere on my site (click on the name to see the complete color analysis!)
HOW TO PICK OUT THE RIGHT GREIGE PAINT
Struggling to make the choice with paint colors? Afraid to make a mistake? I get it! I've been there and goodness knows, before I learned to pick out paint colors, I made lots of mistakes which led me to paint our old living room three times in the span of two months. See what changed and how I figured out the trick to picking out the perfect paint color!

BUT WAIT! BEFORE YOU GO, SAVE YOURSELF HOURS OF WORK!
FAQs on HC-173
Is Edgecomb gray beige or gray?
Edgecomb Gray in my opinion is a greige. A gray-beige. There is so much gray in it, I hesitate to call it a beige. If pressed, I would say it is more of a gray than a beige.
Is Edgecomb Gray lighter than Revere Pewter?
Yes, EG has an LRV (light reflectance value) of 63 which is higher than Revere Pewter's LRV of 55. The higher the LRV the greater the amount of light a certain paint color reflects.
What does Edgecomb Gray look like?
he easiest way to see what HC-173 looks like in your house is to get a paint sample and put it on a variety of walls. However, you can get a pretty darn good idea of what it looks like in rooms by looking above at all the lovely painted rooms I shared.
Who makes Edgecomb Gray paint?
Benjamin Moore makes EG and you can purchase it at most Benjamin Moore paint stores as well as some Ace Hardware locations.
Can you color match HC-173?
While you can color match, I don't recommend it (I've been burned too many times!) If you are going to color match, make sure you do a paint sample and compare it to the chip. Believe me, it's a whole lot less work than painting all the wood trim in a room only to realize that it is too yellowish!
Is gray paint going out of style?
I don't think gray paint colors will ever go out of style. They are classic. With that being said, I do see a general trend moving back to warmer paint colors (including warm gray paint colors) and a return of beige paints. See my trend predictions here: 2020 paint color trends.
See these other great Benjamin Moore gray paint colors here: