Edgecomb Gray: Looking for the perfect greige paint color? Benjamin Moore Edgecomb Gray is a fantastic warm light gray paint color that works well in any room of your home. See how it compares to other popular light gray paint colors like Balboa Mist, Revere Pewter, and Classic Gray.
EDGECOMB GRAY

When we bought our house, all the walls were a dark khaki. We wasted little time painting the walls light gray paint colors. We wanted a warm, airy feeling to our house, so we chose warm light gray paint colors "greige" paint colors. After painting our living room and dining room Balboa Mist, we were happy with the airy yet warm hues. Even though we had already painted our living room (Behr's White Chocolate,) I am seriously considering repainting it Benjamin Moore Edgecomb Gray so feels cleaner and warmer.

BENJAMIN MOORE EDGECOMB GRAY UNDERTONES
Benjamin Moore Edgecomb Gray is a nice airy yet somewhat muddy gray paint color. Its tawny tone is the perfect tone between beige and gray. Without paint samples next to one another, it is hard to compare paint colors, so below, I will compare side by side paint chips so you can see any undertones in Edgecomb Gray.

EDGECOMB GRAY VS. REVERE PEWTER
Benjamin Moore Revere Pewter and Benjamin Moore Edgecomb Gray are very similar greige paint colors; but, when you see the two paint colors next to one another you can see that Revere Pewter is much more saturated than BM Edgecomb Gray. There is significantly more brown in Revere Pewter than Edgecomb Gray, which almost has a greenish undertone comparatively.

To see the two paint colors close to one another, see Young House Love's foyer where they painted the ceiling Benjamin Moore Revere Pewter and the walls Benjamin Moore Edgecomb Gray.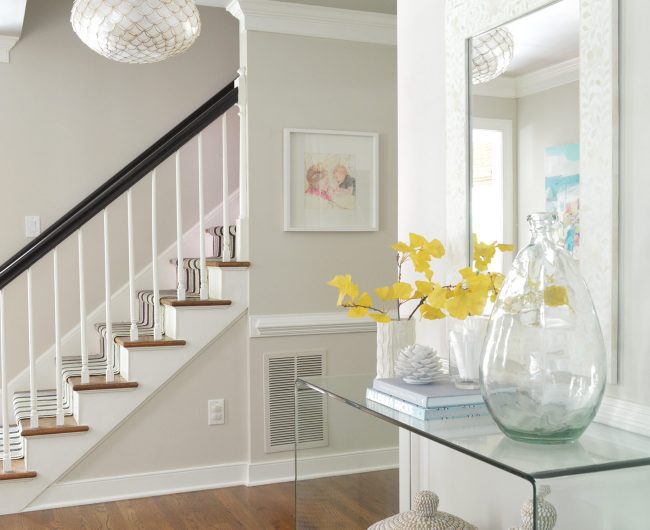 Young House Love's foyer with BM Edgecomb Gray walls and BM Revere Pewter ceiling, and Simply White trim.
BENJAMIN MOORE GRAY OWL VS. BENJAMIN MOORE EDGECOMB GRAY
Benjamin Moore Gray Owl (see my complete review here) is one of Benjamin Moore's most popular and best gray paint colors for good reason it is a lovely light gray paint color. However, it is quite different than Edgecomb Gray with its undertones of blue. Edgecomb Gray is a much warmer light gray paint color than Gray Owl, and is more of a greige paint color with much more beige in it.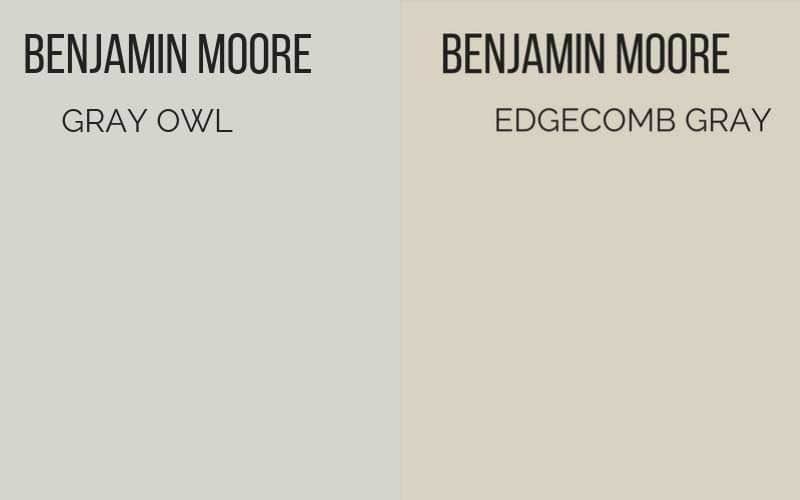 BENJAMIN MOORE EDGECOMB GRAY VS. PALE OAK
Pale Oak is also a warm light gray paint color that has a similar feeling as Edgecomb Gray. Next to one another, you can see how much more beige Edgeomb Gray has than Pale Oak. If you want a warmer and more saturated gray paint color, then go with Edgecomb Gray over the cooler colors like Pale Oak, Classic Gray, and Balboa Mist.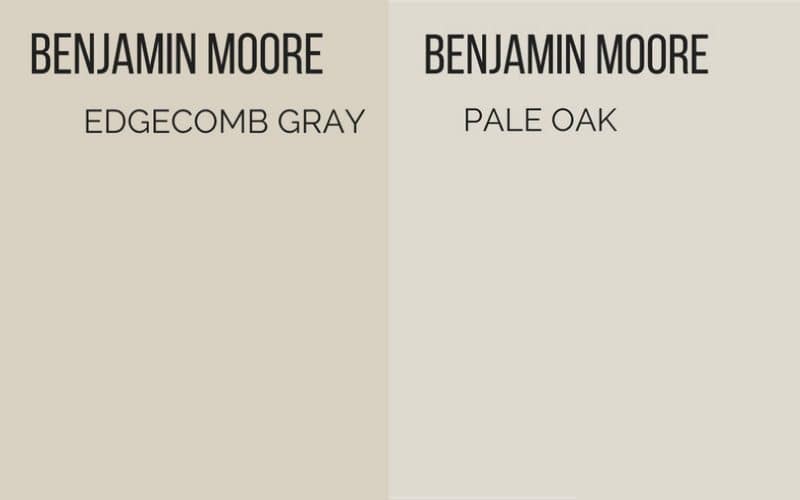 EDGECOMB GRAY VS. BALBOA MIST:
Similar to Pale Oak, Balboa Mist is a light gray paint color that while being a warm gray paint color, pales in comparison to the warmth of Edgecomb Gray. Balboa Mist has significantly more bluish undertones than Edgecomb Gray.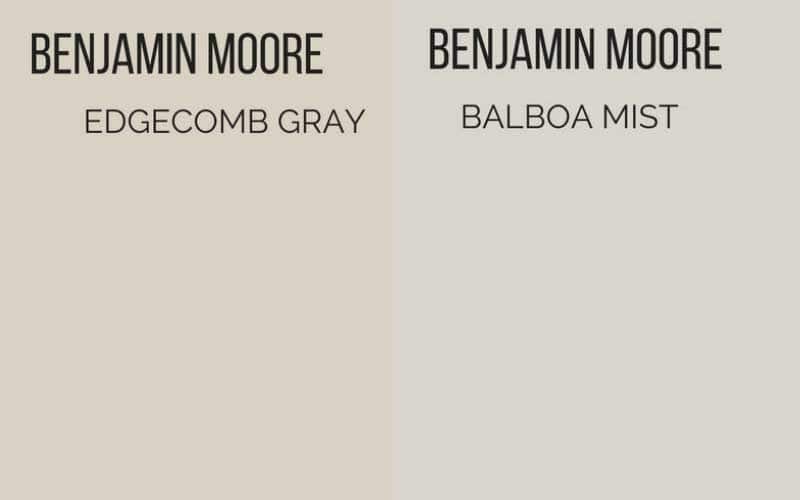 EDGECOMB GRAY VS. CLASSIC GRAY:
Edgecomb Gray and Classic Gray are both wonderful light gray paint colors–two of my favorite paint colors and best gray paint colors. Classic Gray is much less saturated than Edgecomb Gray and a much lighter paint color than Edgecomb Gray, but it lacks the brownish undertones which gives Edgecomb Gray its warmth and tawniness. If you want a room that is cozier, then I would go with Edgecomb Gray like we plan to do in our fmaily room.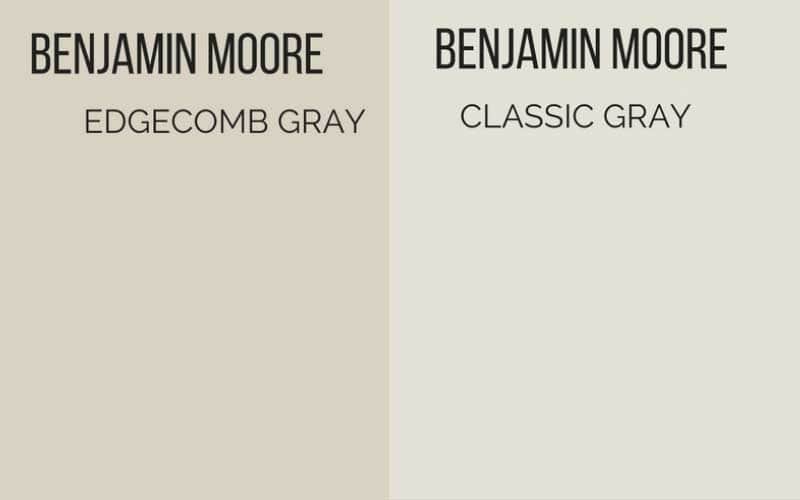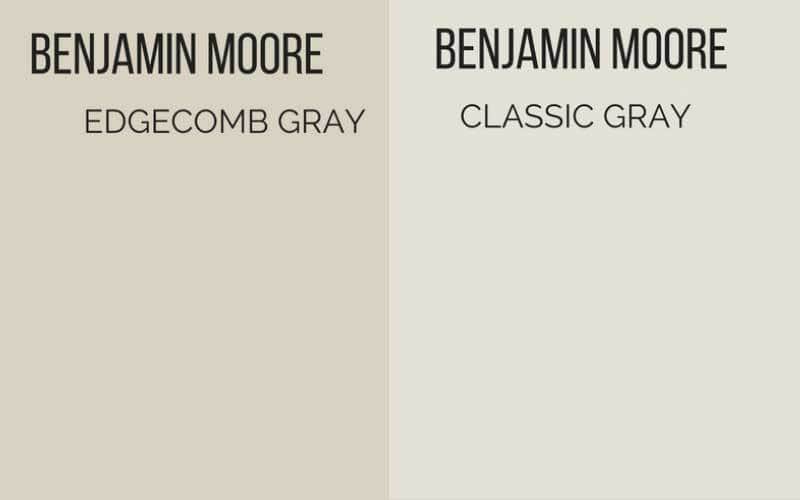 EDGECOMB GRAY VS. SHERWIN-WILLIAMS AGREEABLE GRAY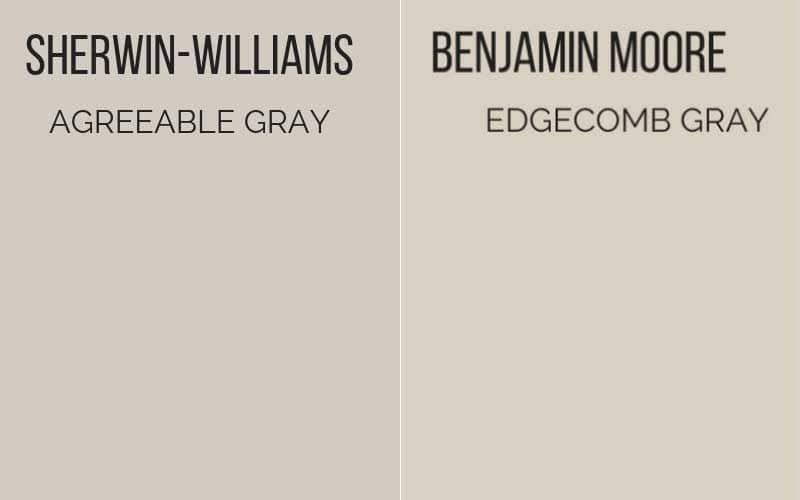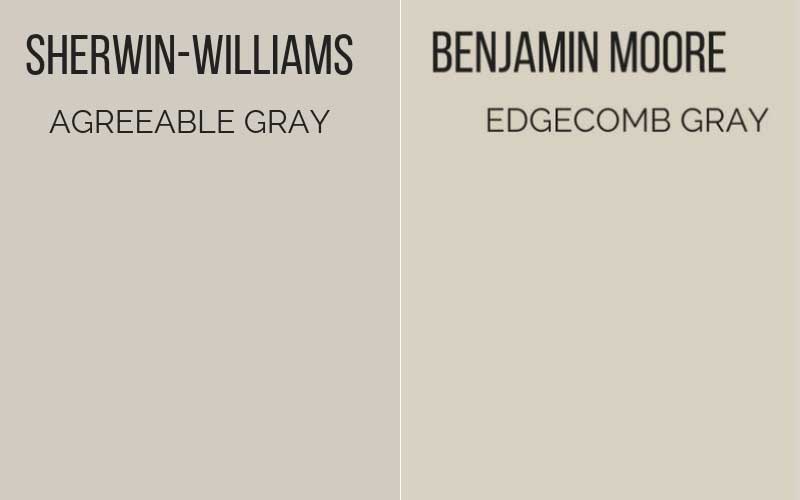 One of Sherwin-Williams most popular greige colors side by side with Edgecomb Gray, shows by contrast that Edgecomb Gray has significantly more of a yellowish/ greenish undertone than Agreeable Gray–I think leading to a very sophisticated palette. See my complete review of Agreeable Gray here.
EDGECOMB GRAY IN REAL ROOMS
Want to see Edgecomb Gray in real rooms? See how prominent DIY and home decor bloggers have used it in their own homes.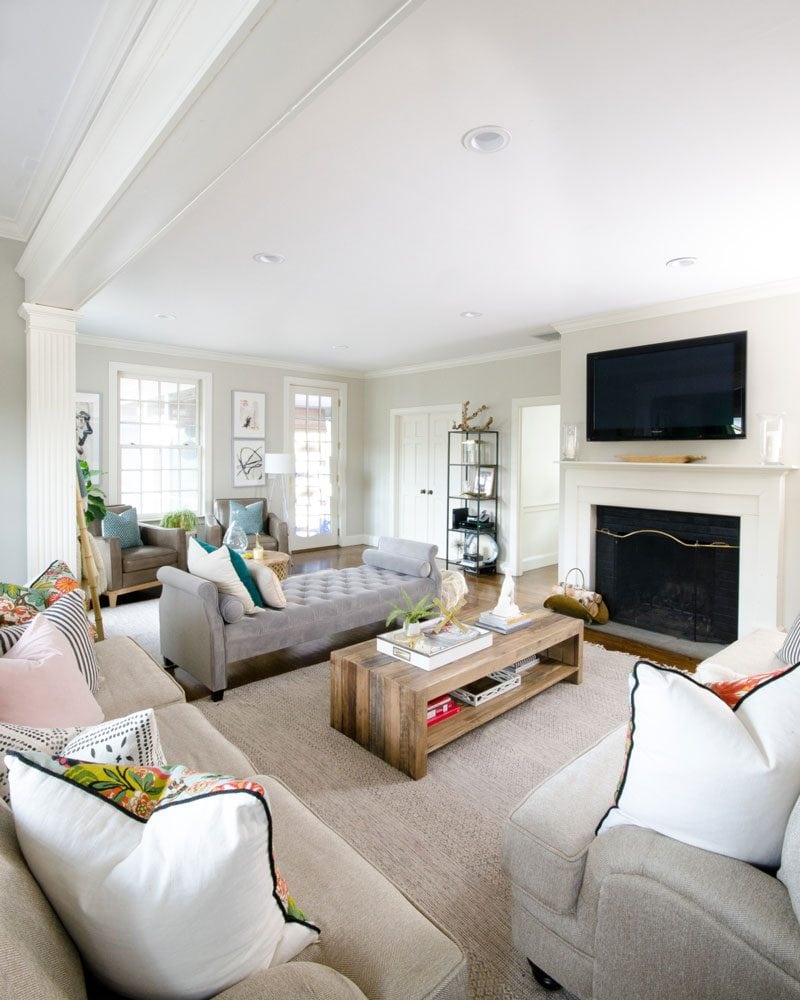 Chronicles of Home shows how lovely Edgecomb Gray looks in her family room above–a warm yet airy perfect shade of light gray.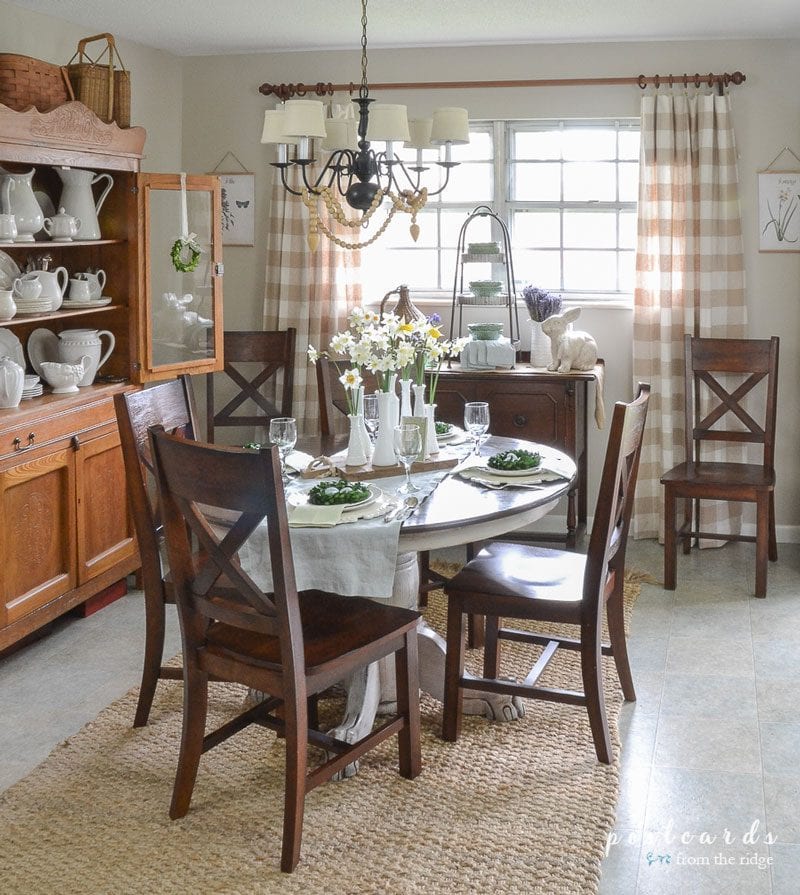 Postcards from the Ridge shows Edgecomb Gray in her dining room. It's a lovely light gray color that has a lot of beige in it to keep it from looking cold.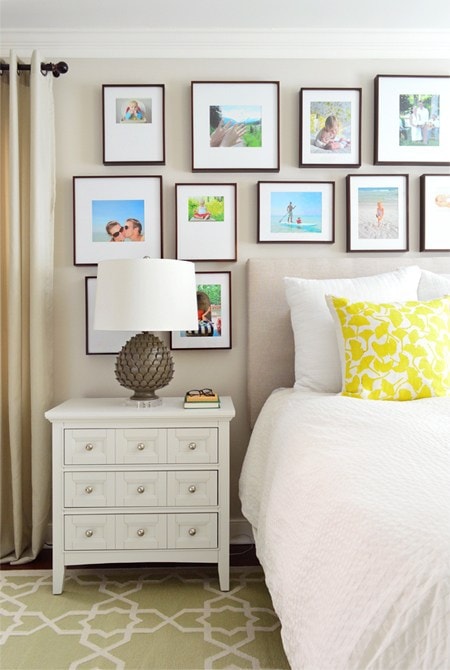 Young House Love shows how lovely Revere Pewter looks in their master bedroom. With the warm greige walls, their master bedroom feels warm and clean at the same time.

Nina Hendrick shows how fabulous Edgecomb Gray looks in her family room in her classic New England home.
Struggling to make the choice with paint colors? Afraid to make a mistake? I get it! I've been there and goodness knows, before I learned to pick out paint colors, I made lots of mistakes which led me to paint our old living room three times in the span of two months. See what changed and how I figured out the trick to picking out the perfect pant color!

BUT WAIT! BEFORE YOU GO, SAVE YOURSELF HOURS OF WORK!
Here are my top tools that help me paint rooms quickly! No more spending entire weekends painting a single room!
TOP TOOLS FOR PAINTING ROOMS FAST
This post contains some affiliate links for your convenience. Click here to read my full disclosure policy.
Abrasive Hand Pad

Use this instead of sandpaper. Using sandpaper will rub off too much of the varnish and the stain on your oak wood trim will permeate your newly painted white paint.

Paint Brush-

use a 3″ angled trim brush

Paint Trim Guard

I use Red Devil 18″ Dual Edge Painter's Edge Guard (You are going to want this if you have wall-to-wall carpeting or hardwood floors that you want to protect. I use it along with Painter's Tape to ensure that I don't have drips on my floor.

Drop Cloth

Painter's Tape

Paint Tray

Having a real metal paint tray will make your life so much easier! Ditch the flimsy plastic ones which are always spilling. I don't even use plastic liners in mine, I just rinse it out after each coat and call it a day! Plus, you save plastic from going to the landfill!
See these other great Benjamin Moore gray paint colors here: