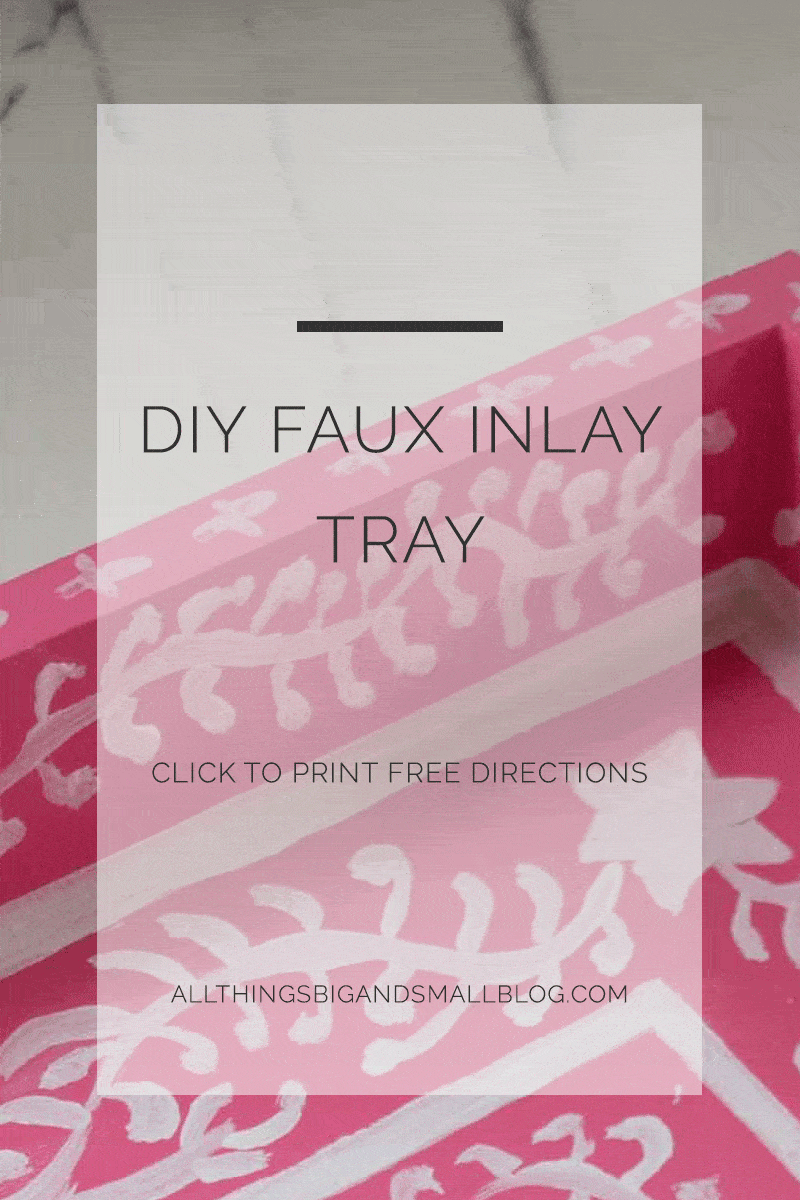 This was such a great DIY project and was way easier than it looks! Below, are the complete step-by-step instructions, but if you want to print it out for reference later, simply go to the
Free Printable Library
 and you can print this and tons more DIY instructions, checklists, and tips & tricks to your heart's delight!
 [wpbuttons ids="1_1″]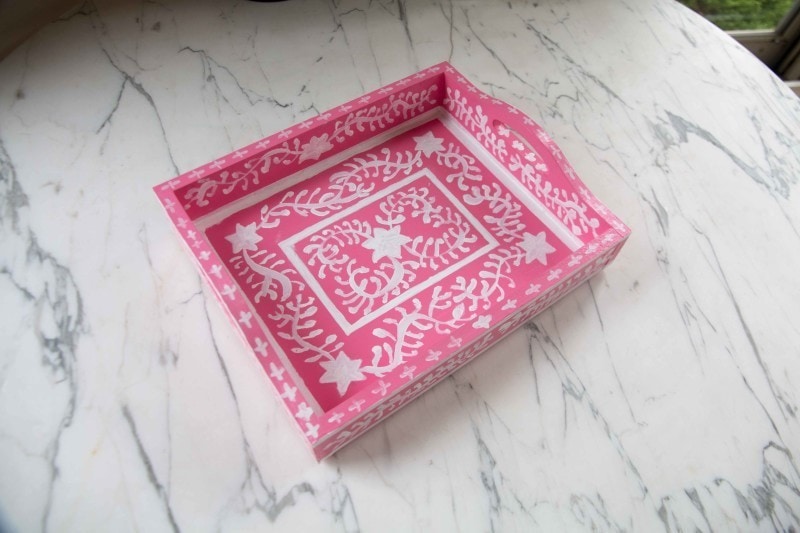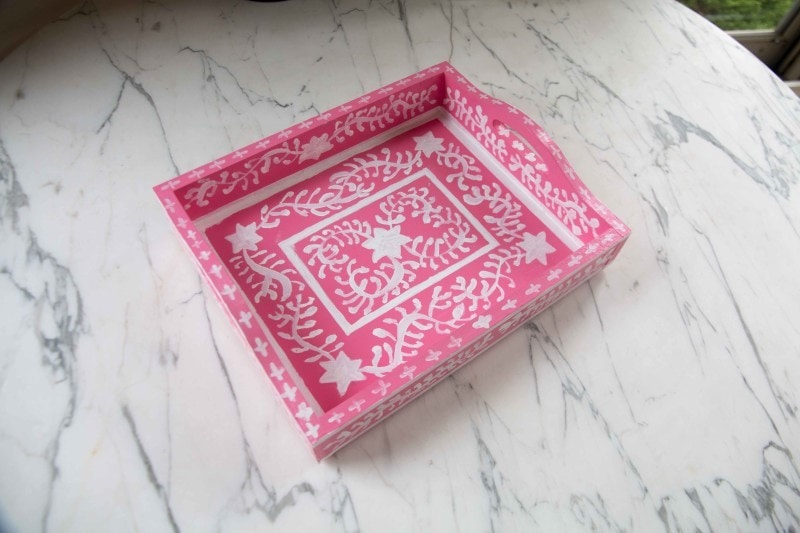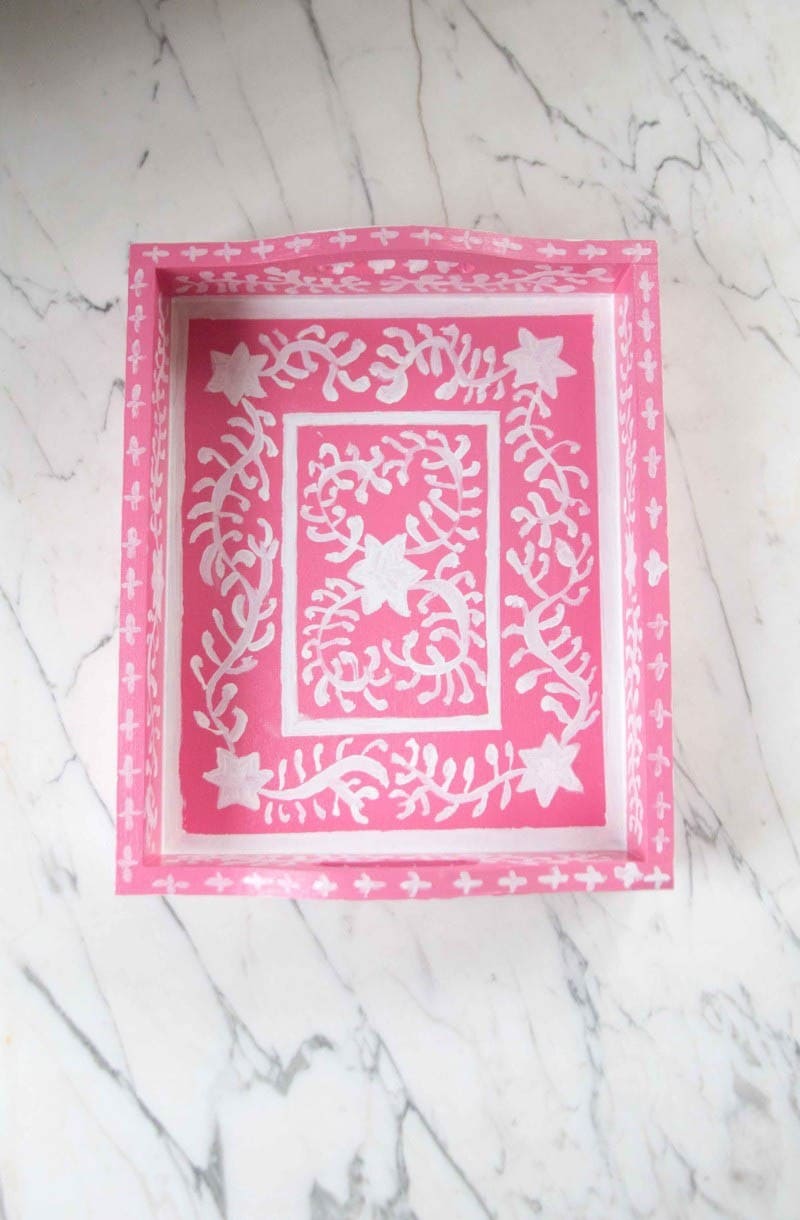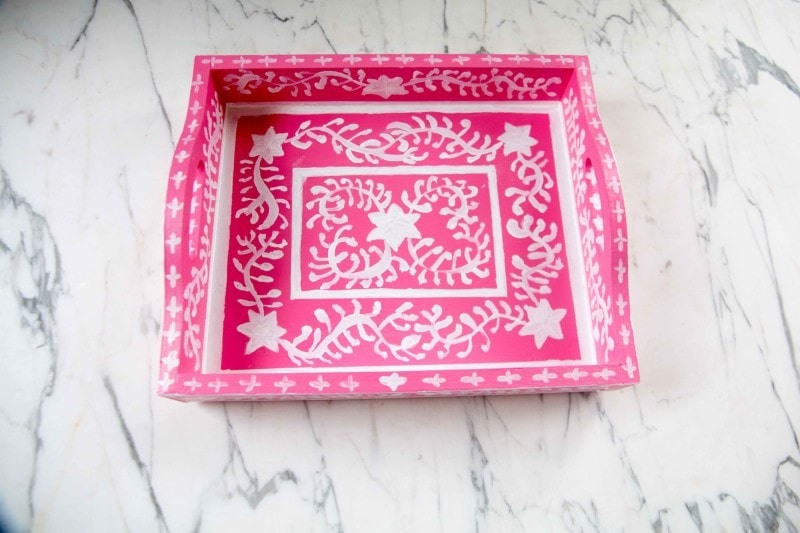 As you may have guessed from my ode to faux inlay or bone inlay pieces from
this post
, I adore the aesthetic. I think in the right circumstances it is a killer accent piece and I have been dying to try to DIY a version for our house. I seriously gasp every time I see Furbish's pink faux bone inlay tray appear. Look how amazing it is: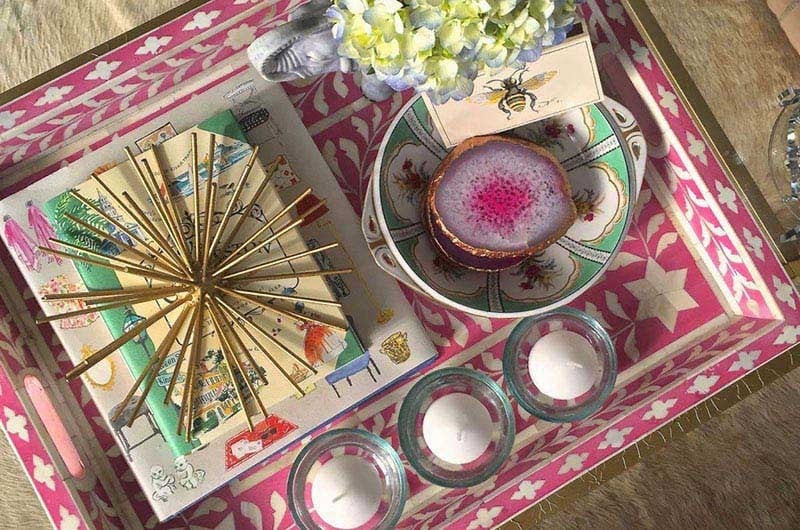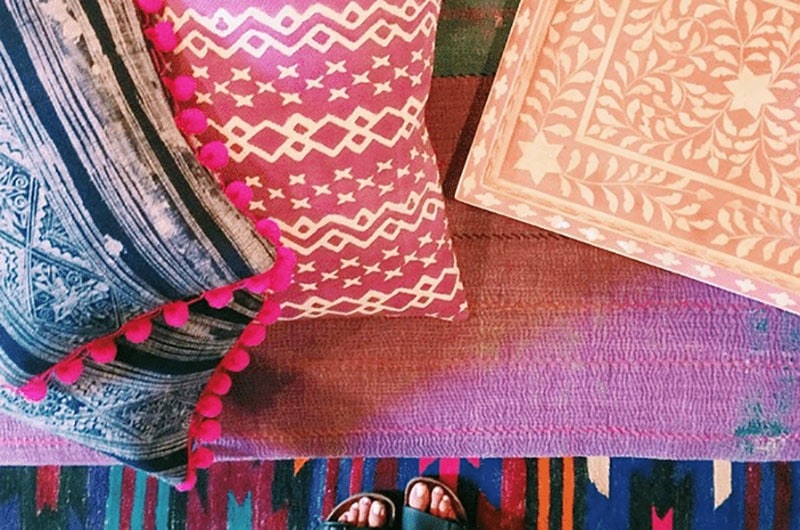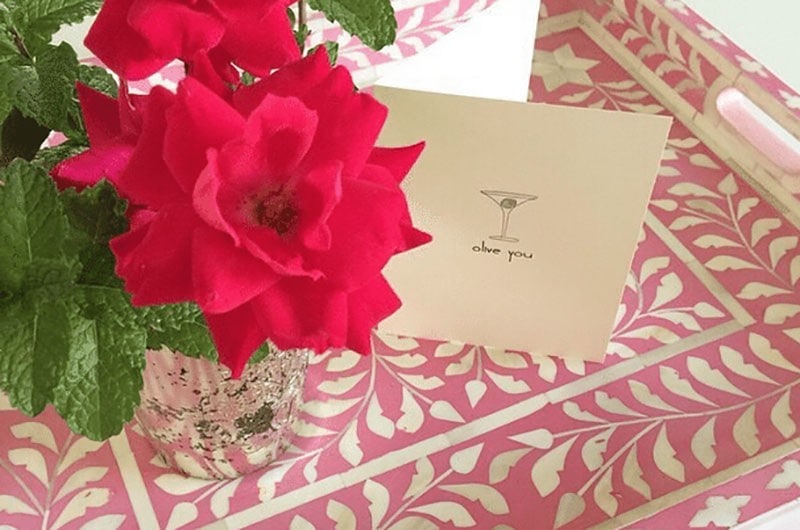 Unfortunately, I can't justify the cost at $195 even with a 20% off sale (often around holidays they will run a sale sitewide.) So instead, I went to
Joann's
and bought a unfinished wooden tray for $7.99 and two tubes of Martha Stewart's acrylic paint for $3.99 (pale pink and white,) and a Sharpie paint in white ($2.99).  I used primer I had on hand from other projects (
Zinsser's Smart Prime
) for the first coat. I used a regular paint brush because I wasn't too afraid of paint strokes because I figured it was a wood piece anyhow. I had the primer, so my total for the project was $15 or $19 if you needed to buy two tubes of Martha Stewart paint at full price (always look for 50% off coupons at
Retail Me Not
.)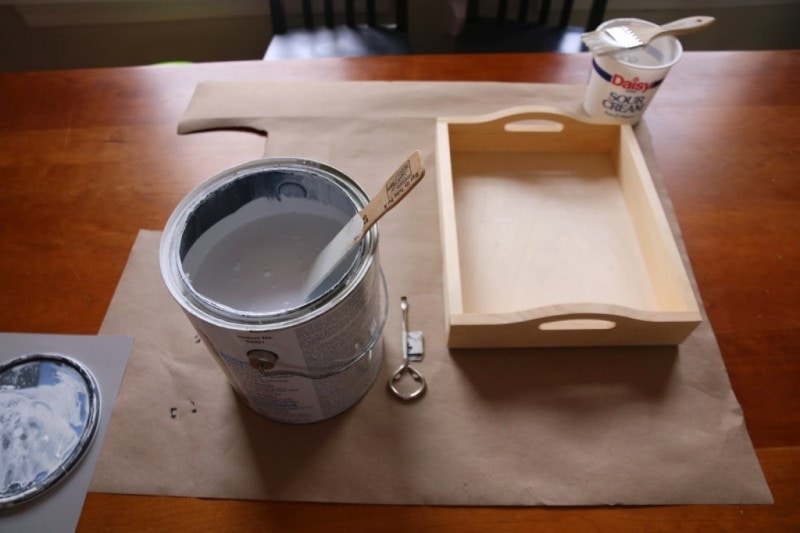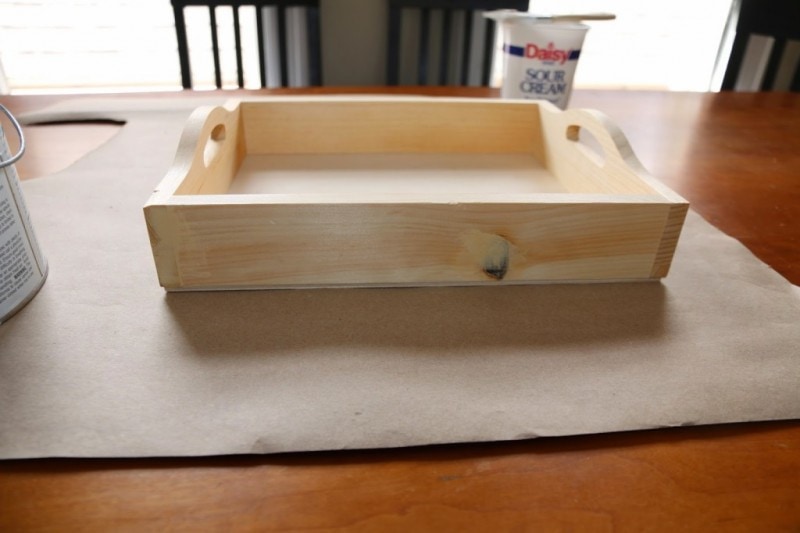 After priming it and giving it two coats of pink, it looked something like below (but not as bright or purplish fuschia in person). I actually bought a sharpie paint brush for the project thinking I could use it and have more control, but as you can see below, the lines were inconsistent and it took forever.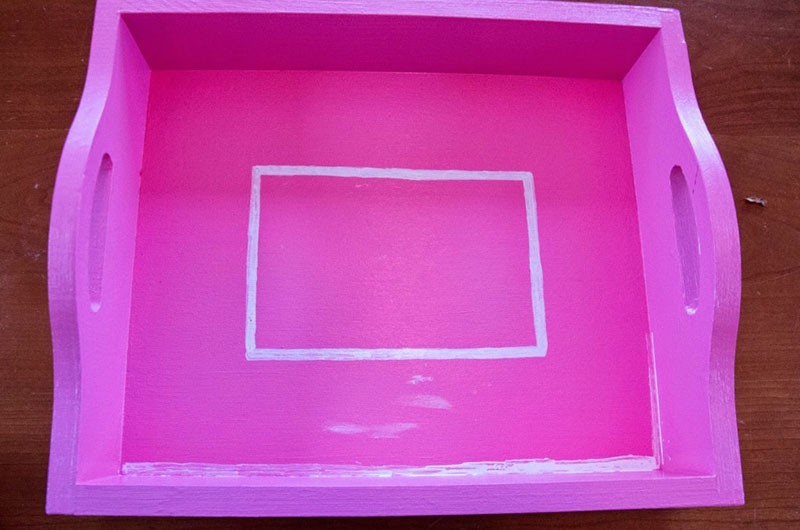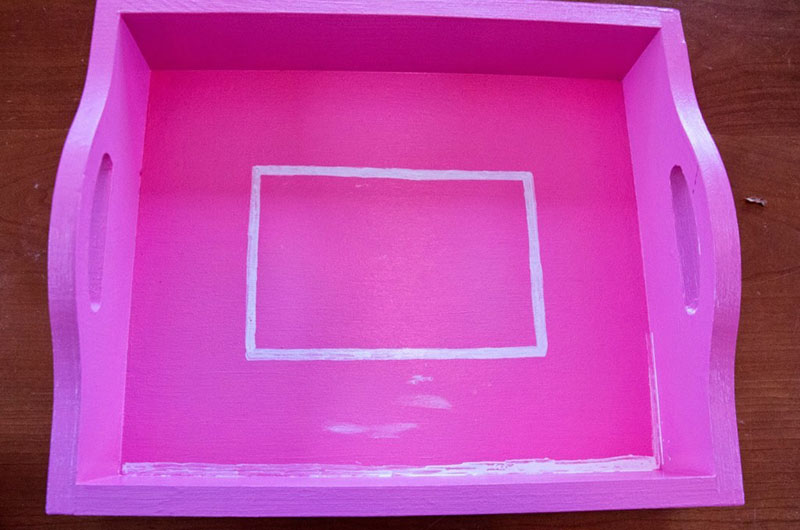 So I brought out the big guns (paint brush, Frog Tape, and regular ol' acrylic paint.)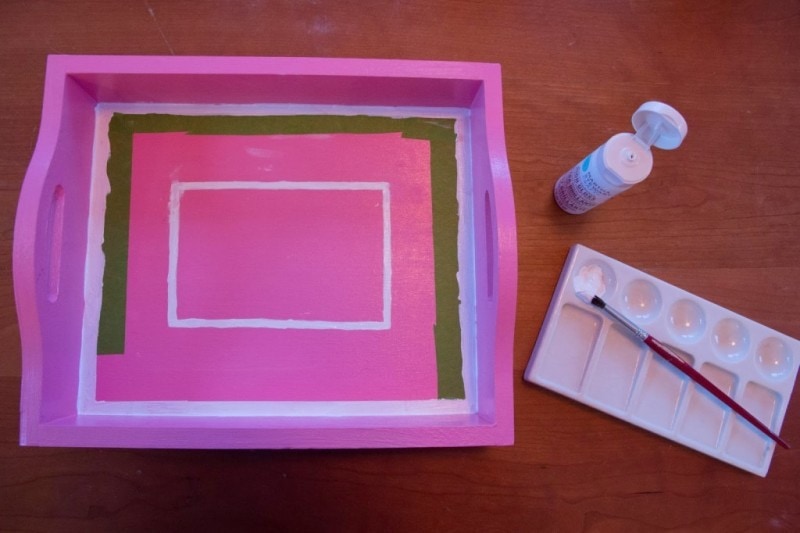 Much better. Sorry for the difference in pictures. I did the first two during B's nap and then the rest after she went to bed for the night. #reallife The first two pics are really hot pink for some reason. The real version is much more sedate and not fuschia!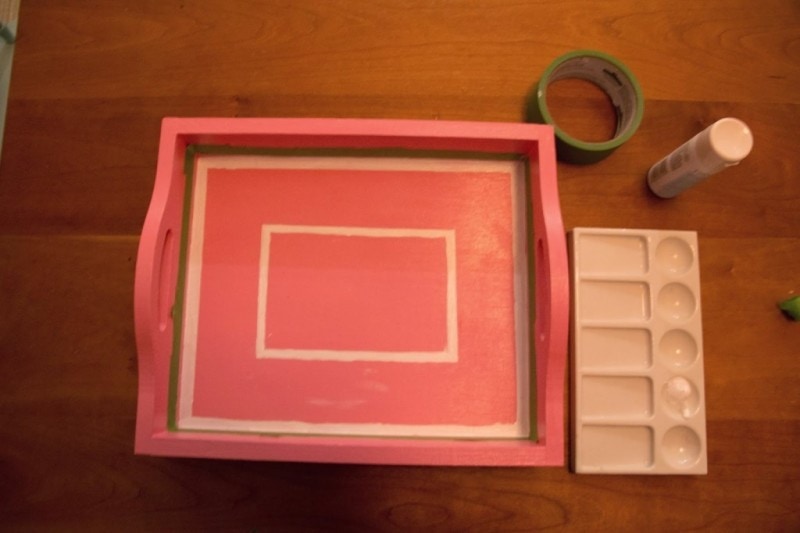 After completing the two rectangles in the desired thicknesses, I freehanded the stars (I found that doing it first a couple of times on paper, and then outlining them with the paint Sharpie helped.) They aren't perfect and some kind of look like the Star of David but whatever.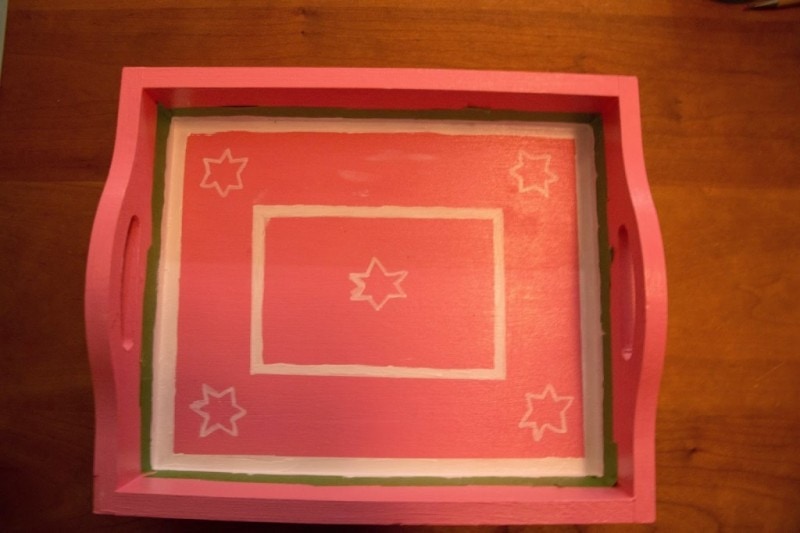 Next, after filling in the stars, I took to the outer border vines/ leaves.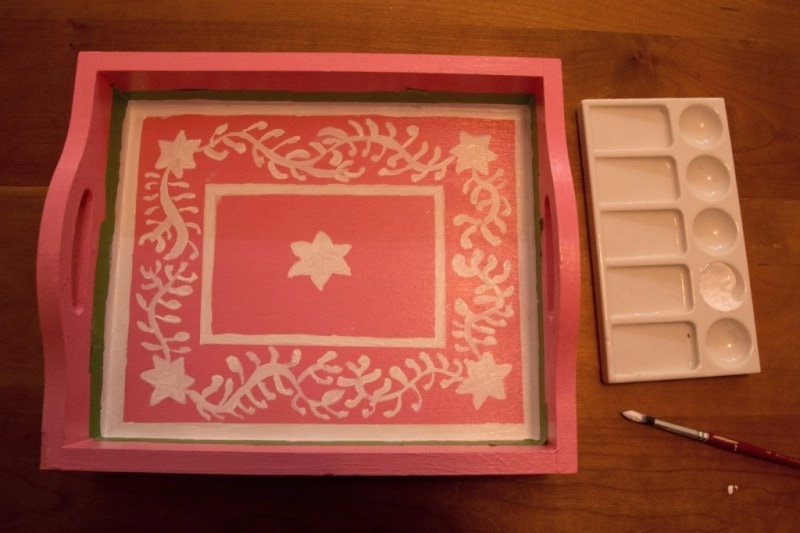 Then, the inner rectangle vines and leaves and the interior sides.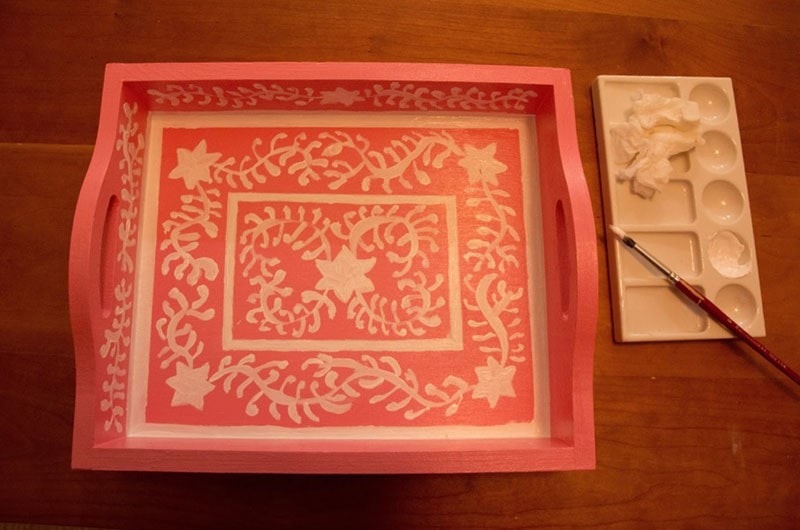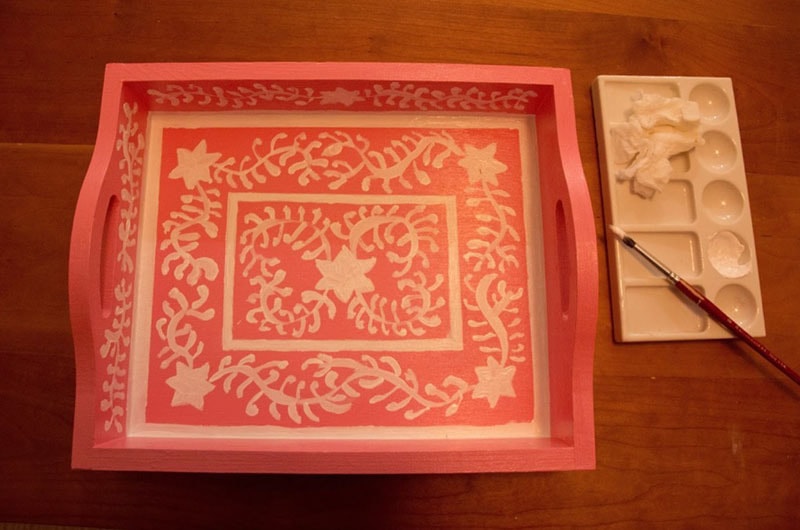 Next, I did hatch marks on the upper lip with the Sharpie marker but you could use a fine paintbrush.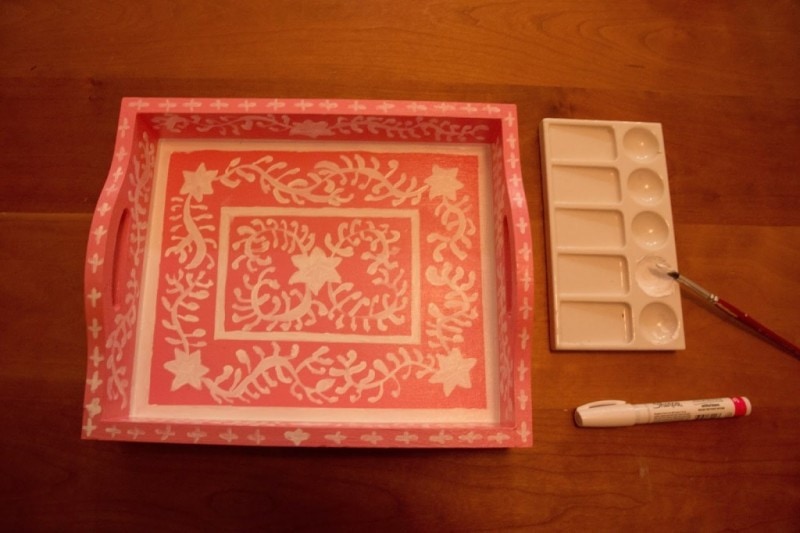 And finally, working my way out of the interior of the tray, I taped the sides with Frog Tape creating a line below and above it.
Finally, after adding the vines/ leaves to the outer edges. Boom! Done! I didn't do a protective layer of clear polyurethane (I usually use Safecoat Acrylacq because it is zero VOC and we have a quart for all of our projects); but, I didn't think it was necessary here.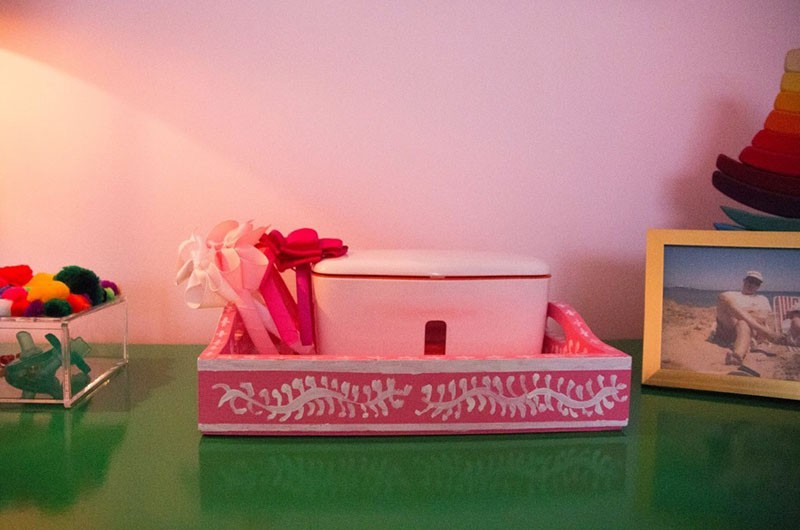 And here is an aerial.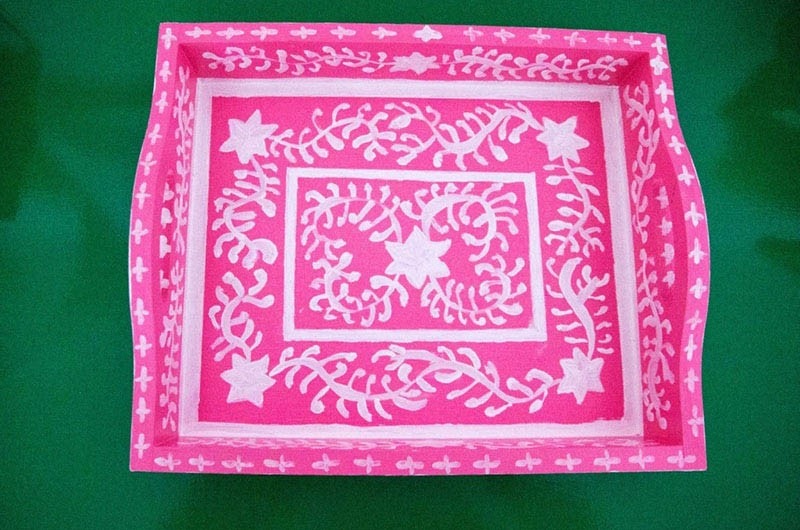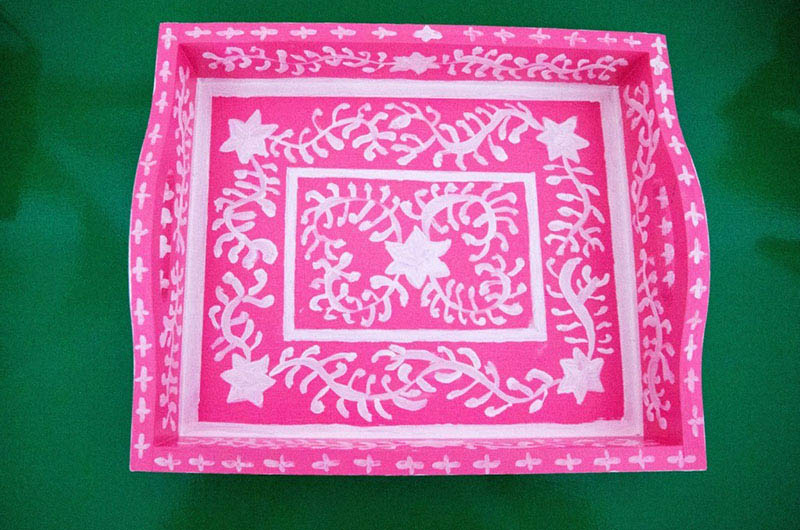 And head on…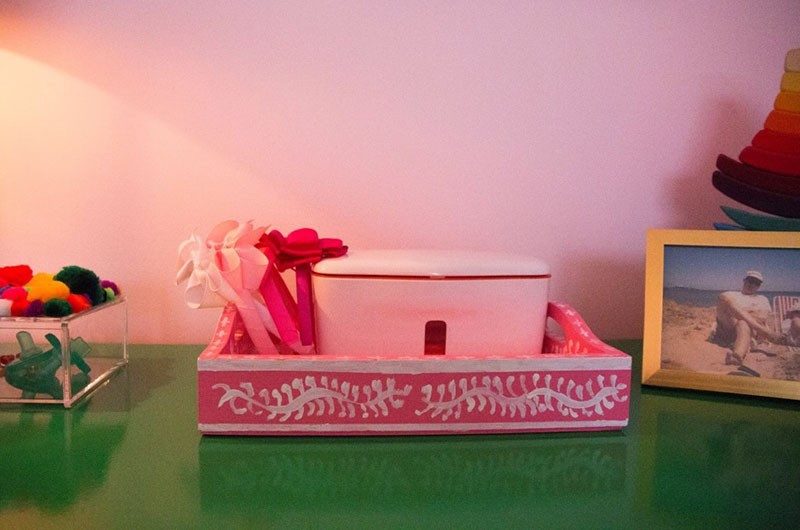 And quarter turn… "fierce" like Tyra says (sidenote: is that even on still? They must be on ANTM season 50!)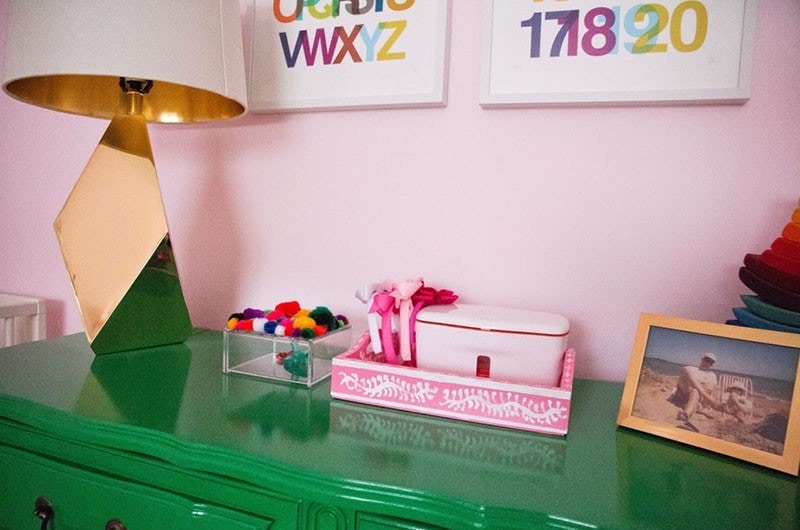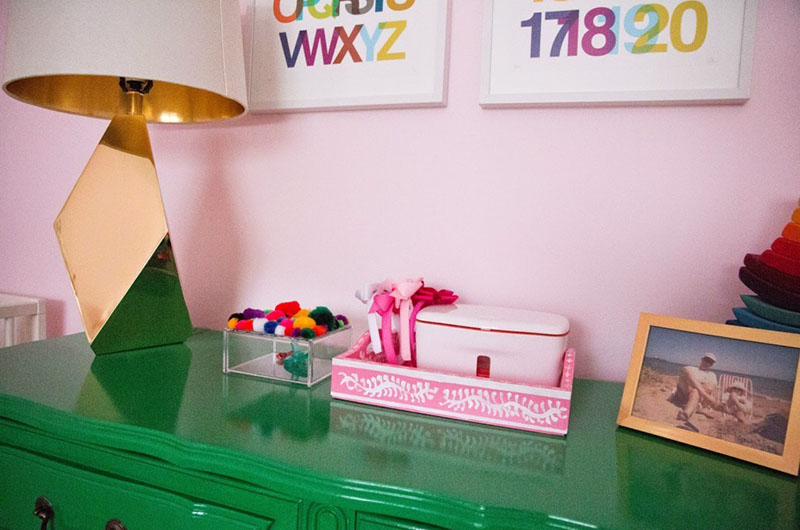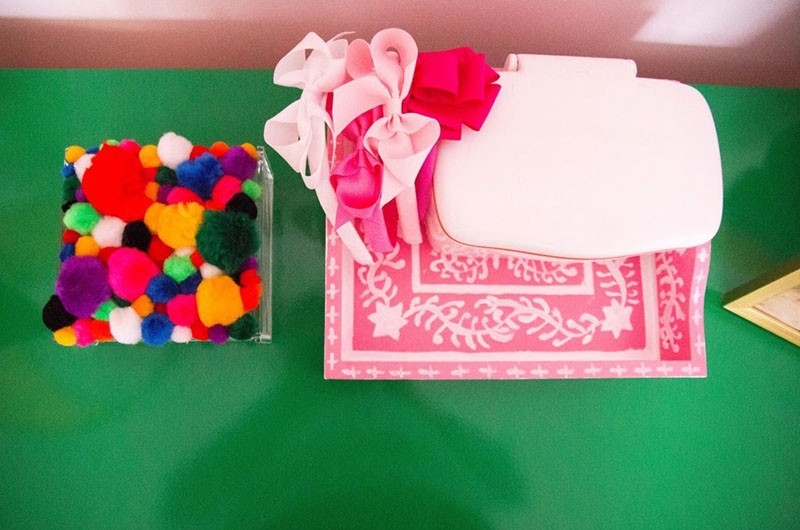 Recognize that DIY pom pom box (pacifier box?) The tray is perfect for keeping the diaper wipes and her headbands corralled. Plus when she is sick, I keep her ointments on it (honest healing balm, California Baby diaper rash…)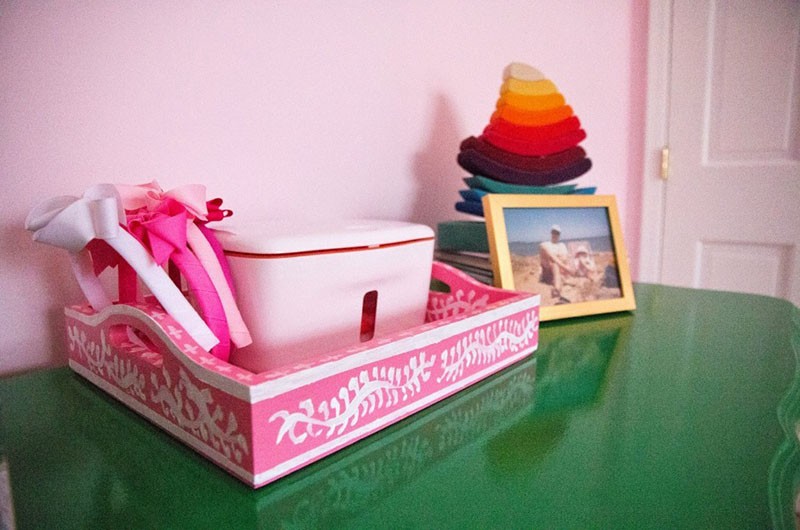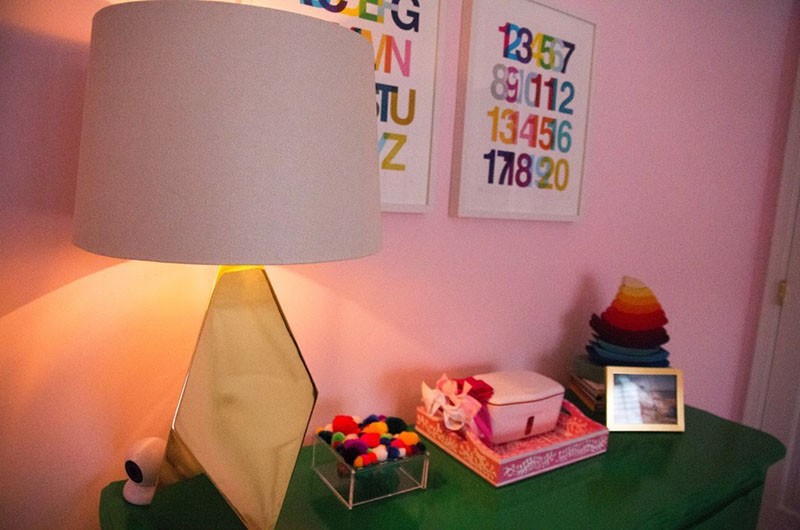 Mommas, did you notice the monitor camera at the far left behind the gold lamp in the pic above?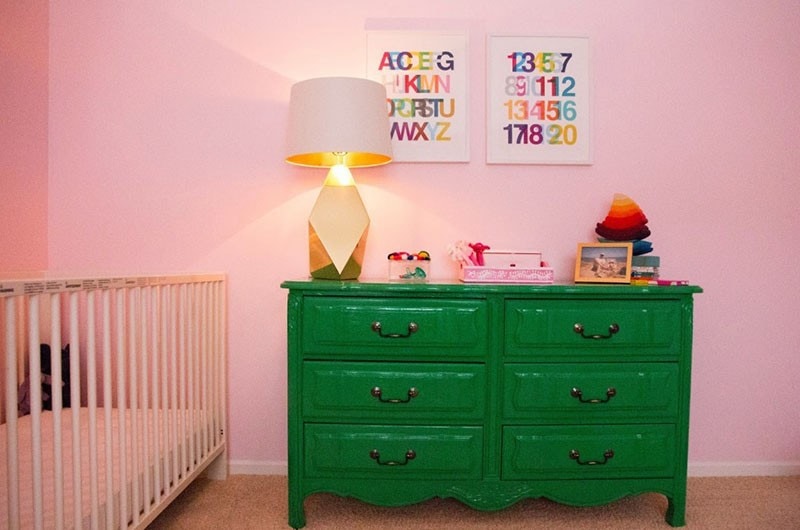 For $15 I am extremely happy with this project. It isn't as gorgeous as the real deal but I made it, and it is perfect for what it needs to be. Have you been pining away for the real deal and finally just DIYed it? Please share!
For the other DIYs featured in this room, see the 
pom pom box
 and the v
intage dresser makeover
 and see all of B's room
here
. And to see all the printable downloads, click on the button below.
[wpbuttons ids="1_1″]