This is a sponsored post by Lime & Leaf but all opinions are mine alone.
We all have that room that has great potential but just hasn't been touched–you know it won't take much to make it look better; but, somehow with a perpetually packed to-do list, it never makes the cut and is ignored for, well, years. In our house, it was our guest room. And funny enough, our guest room is one of the most used rooms in our house! We hardly go a week without family staying over, so it was long overdue to give this room a refresh–especially because this all happened in a weekend! With some new bedding and some new paint, the room was transformed!
HOW TO REFRESH YOUR GUEST ROOM IN 48 HOURS
Replace any worn or outdated bedding with fresh bed linens

Never underestimate the power of fresh new white linens! These from Lime & Leaf are my new favorite. White linens are always my favorite because they go with everything and can be easily cleaned (or bleached if necessary if you have kids!)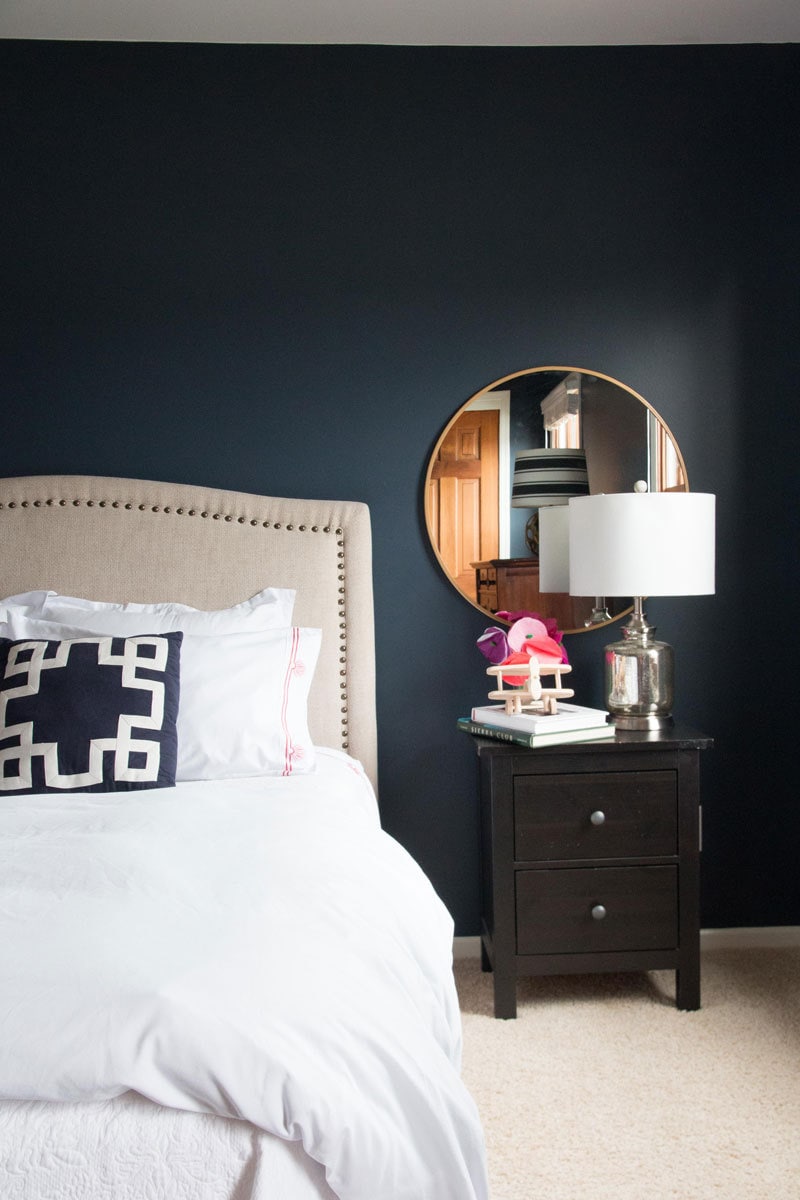 When we moved, we inherited some hand-me-down bedding from my mom (the duvet and the shams, for which we were so thankful because we all know how expensive it is to move and furnish a house), but it wasn't down and with the way we keep our temperatures at night (62 at night in the winter) a down blanket is necessary. So I always ended up throwing on an extra down comforter on top of the other duvet whenever we had guests; but, it never looked pulled-together.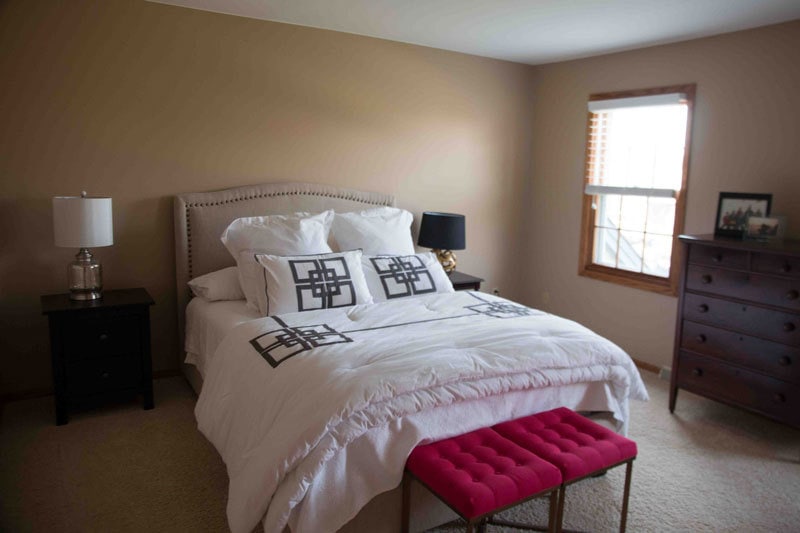 So when Lime & Leaf contacted me, I was thrilled! I will admit it–I am a bedding snob and to have beautiful linens that are nature inspired and 100% crafted in the U.S.A. is such a treat! And I can tell you after sleeping on them (we had a little nighttime visitor one night who ended up getting the stomach bug in our bed–oh the joys of parenthood!) that the linens are as comfortable as they are beautiful! The stitching is gorgeous, and the sheets are so soft! With new beautiful bedding, I knew it was time to do a quick weekend project and paint the room!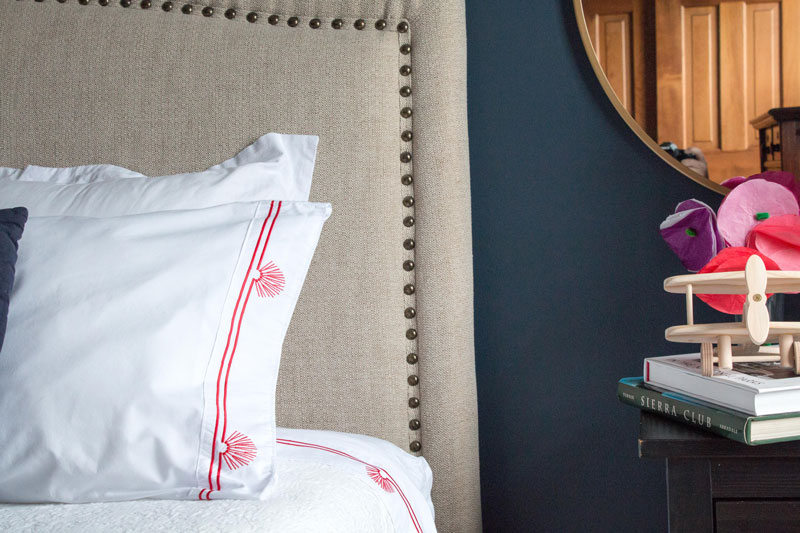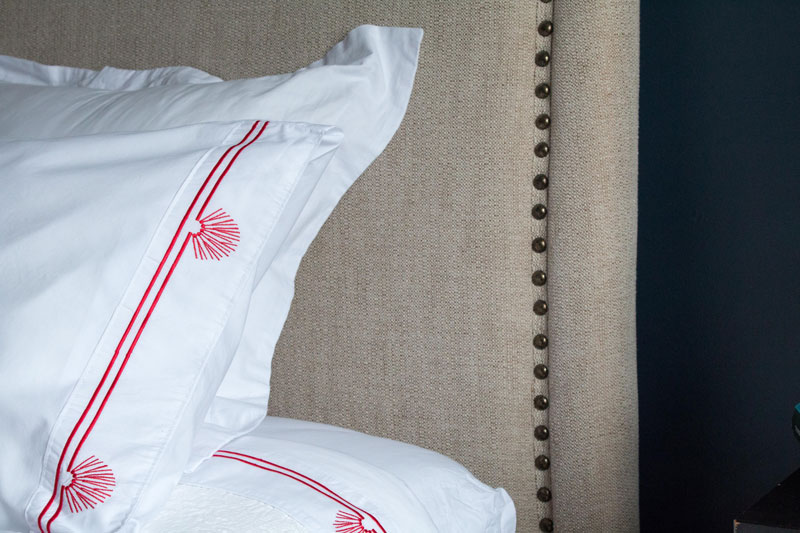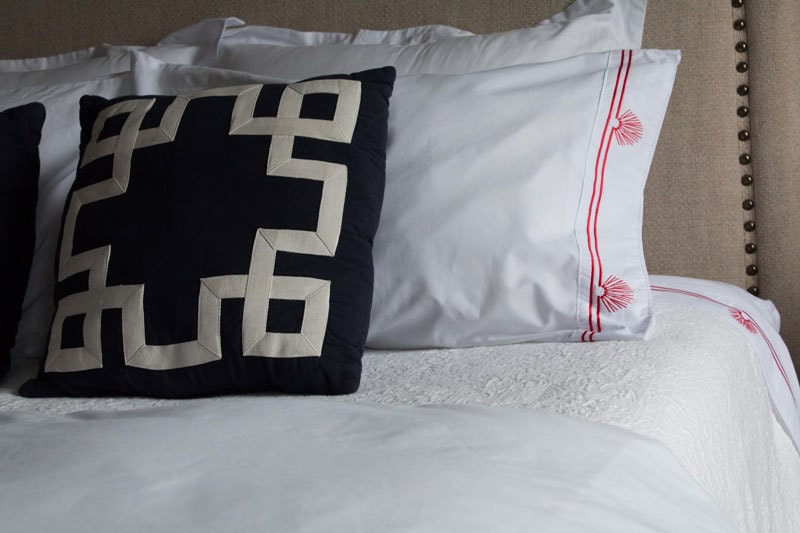 Lime & Leaf takes all of their inspiration from nature and it was founded by two sisters from New Jersey (how cool is that!) So when I saw their Fan Shell Embroidered Sheet, I knew without a doubt that it would be perfect in our new nature/ nautical-themed guest room! And their Garment Washed Duvet Cover is absolutely perfect (and now our guest room is warm and pulled together!) The clean white goes perfectly with the newly painted navy walls! And I love knowing that by supporting this company, I am supporting the American textile industry and a company founded by two amazing women! Plus, you all know that I love the beach–so finding a company founded by two beach loving sisters is icing on the cake!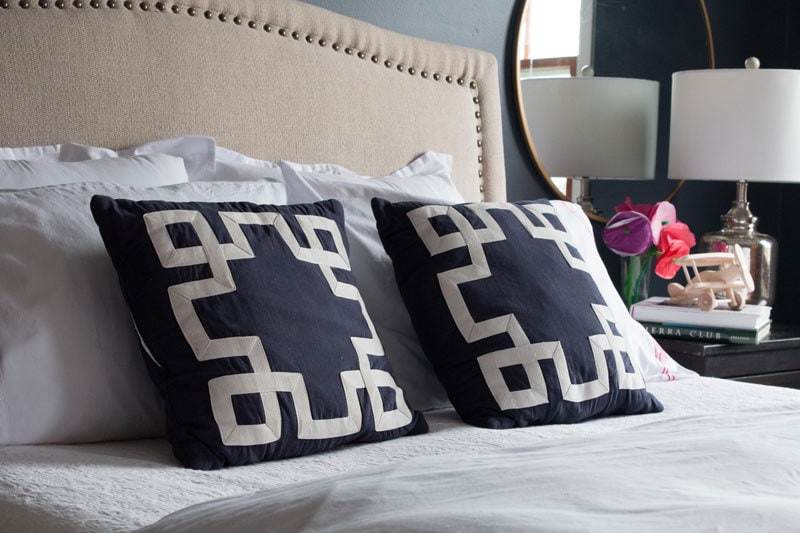 Update your wall color–say goodbye to boring old brown!

By choosing a complementary yet bold wall color, I made the white bed linens pop and the natural wood in the guest room stand out. Navy blue is always good with natural wood tones–see how I used it in B's old nursery in our first apartment. And the guest bedroom is a great opportunity to choose a riskier paint choice–something that you might worry about tiring from in your master bedroom. This room is one of the sunniest in our house, so I knew it could handle the dark color of Benjamin Moore's Hale Navy.
Add some flowers (or in our case, some handmade tissue flowers from my 3.5 year old for a pop of color)

Yeah, sometimes you can't leave the house and the pickings are slim at nearby grocery stores according to your husband. So, dive into your kids' craft drawer! Fresh (or handmade) flowers always add a nice touch to a guest room! I also staged one of E's handmade airplanes he made for the kids (which has since been relocated to the playroom!)

Add fresh (clean) towels

I love having white towels in each of our bathrooms, so whenever guests come over, I just go and grab a couple for our guests and put it in their bedroom. Make sure to include enough bath and hand towels for each of your guests.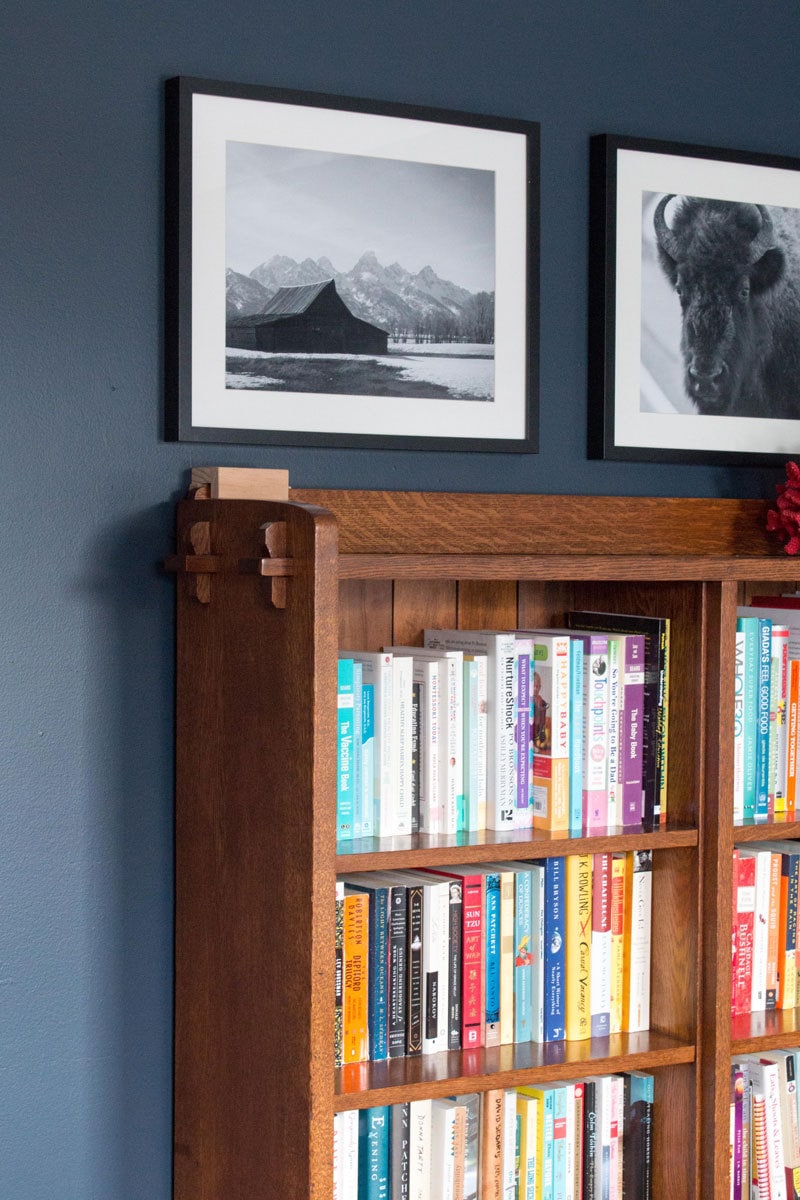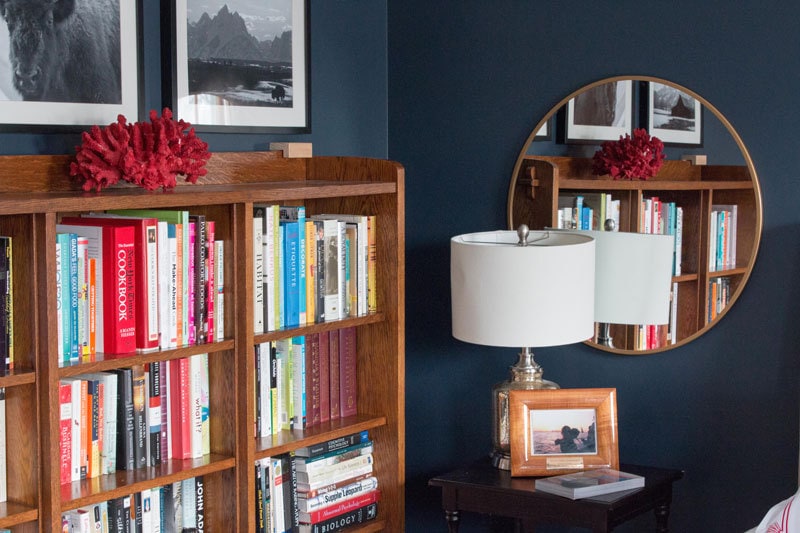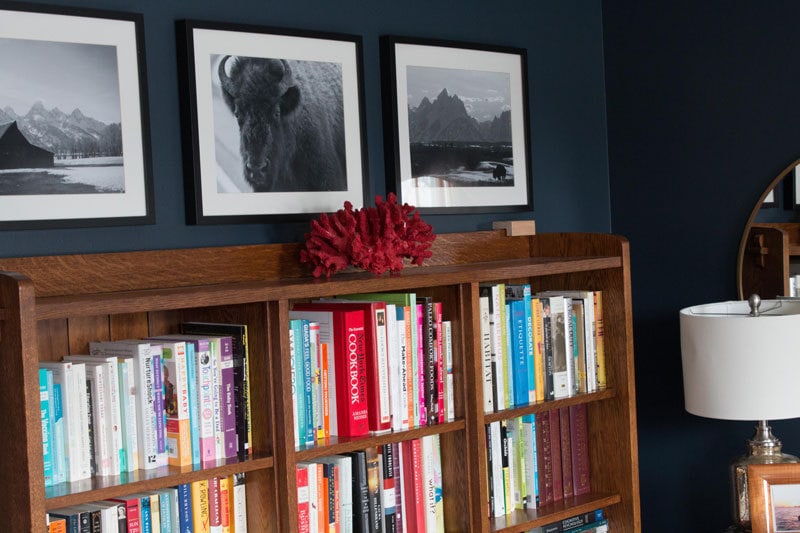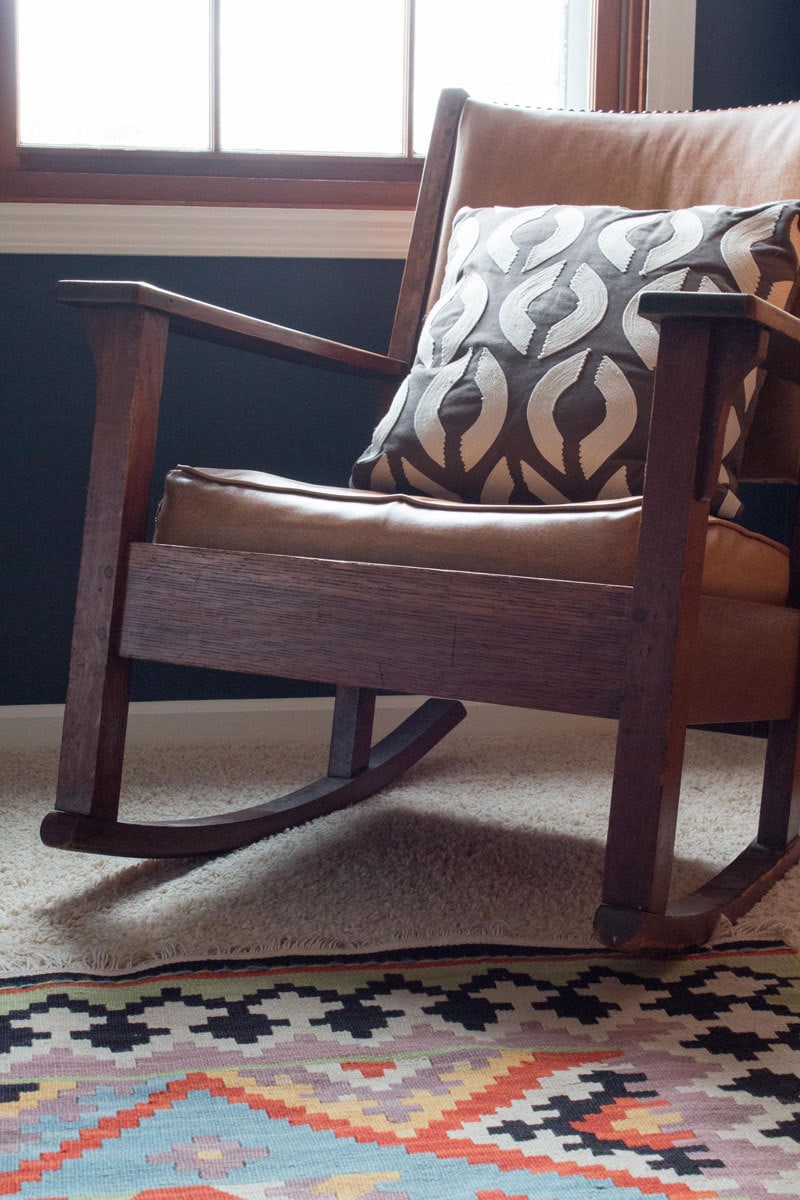 Use What You Have and Give Yourself a Break!

So I still have some more DIY projects to go (those bedside tables have to be painted ASAP as well as the and doors), curtains need to be installed, windows need to be painted–it was 5 degrees when I painted the room so taking out the windows was impossible, and some more artwork added over the dresser.) But in a short 48 hours, it is amazing how much you can change a room!

We used all the same furniture that we had in there previously, but with the new clean bedding and the sharp walls it looks completely different! I did add two mirrors to the bedside; but, short of that everything is the same!

I will share more as I make more progress on the room; but, I think that the new bedding has made such a difference in this previously neglected guest bedroom! And because the lovely ladies at Lime & Leaf are so amazing, they have offered an exclusive 15% coupon code ANNIE15 for 15% off any purchase! So make sure to check out these fantastic 100% American made linens!