How to Paint Baseboards: Do you want help painting your baseboards? This post will answer these questions: how to paint baseboards, what kind of paint to use to paint baseboards, what kind of paint to use on trim and doors, and the best way to paint baseboards with carpet! Plus, I'll share my three favorite must-have painting supplies that will save you HOURS.
HOW TO PAINT BASEBOARDS
When we moved into our house, all the woodwork was bare and I wanted to paint it all white. So slowly and surely I made my way through the house painting wood trim white. To date, we've painted almost all 3,000 square feet of our house with only three more rooms to go–now that's a lot of baseboards! Along the way, I've learned some tips and tricks that make it faster and guarantee a better and more professional finish.
Related: See the 12 best white trim paint colors here
To be honest, I sometimes squirm when I go into rooms I did first when I was still learning and compare them to how my baseboards look now. I've learned a lot and gotten better–but you can learn more quickly following these tips!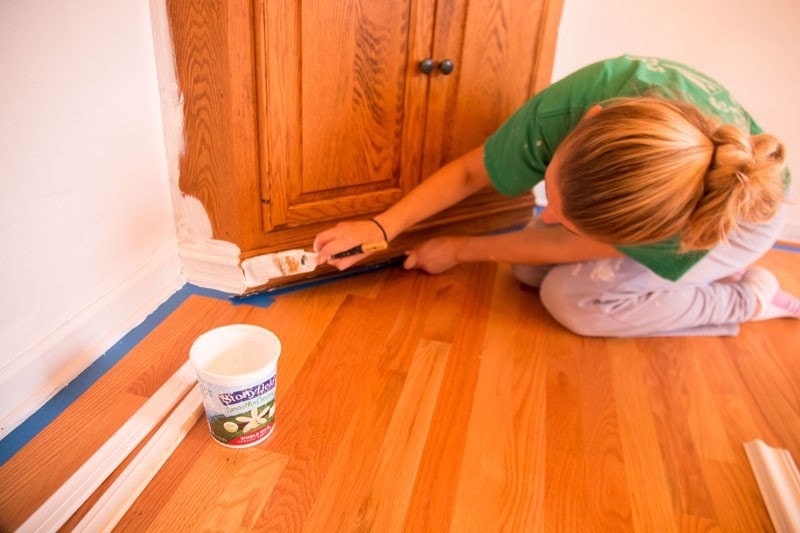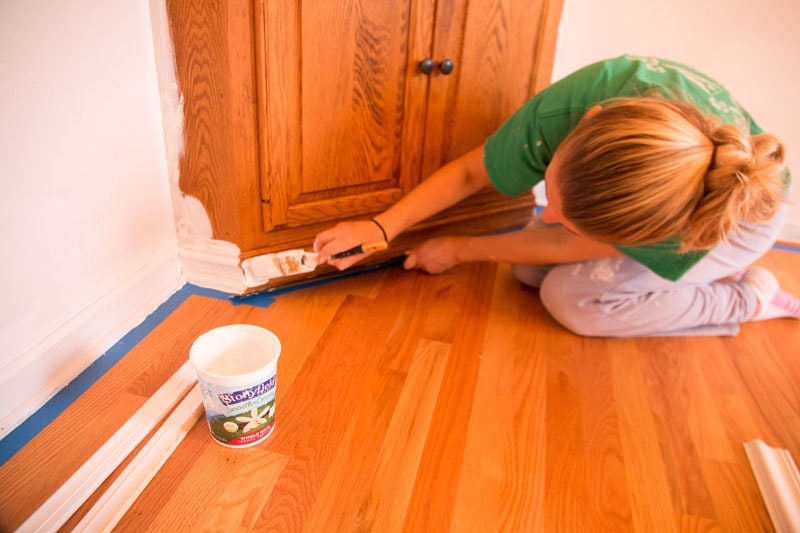 3 TOOLS THAT MAKE PAINTING BASEBOARDS WAY EASIER
*affiliate links have been used at no additional cost to you see my disclosure policy here
First, let's start with the tools that make painting baseboards way easier (and look better!) In addition to the regular stuff (paint, drop cloths, paint brushes) you want to make sure to pick up these three things:
abrasive hand pads (take my advice and skip the sandpaper!) we ordered these exact hand pads (the whole thing) and have used them on everything from our wooden doors, to preparing vent grates to be spraypainted, and even scuffing up vintage furniture to be painted high gloss! Trust me, you will use them!
You also don't want to attempt to paint without this handy paint shield. It is an absolute lifesaver if you are painting baseboards over carpet. We have wall-to-wall carpet in over 50% of our house so this thing has logged some miles! It is also handy even if you have hardwood floors through to protect your beautiful wood floors!
Third, if you are painting your baseboards, I am guessing you are going to be painting your walls too! Well, this tool makes it go 10x faster. I totally thought it was a scam until we started using it. GAMECHANGER! It is worth its weight in gold and is seriously the only reason my husband will help me tie-in or edge a room!
I know painting is tough–take my word for it these three tools will save you HOURS of work! Alright, now let's get to exactly what you need to paint those baseboards!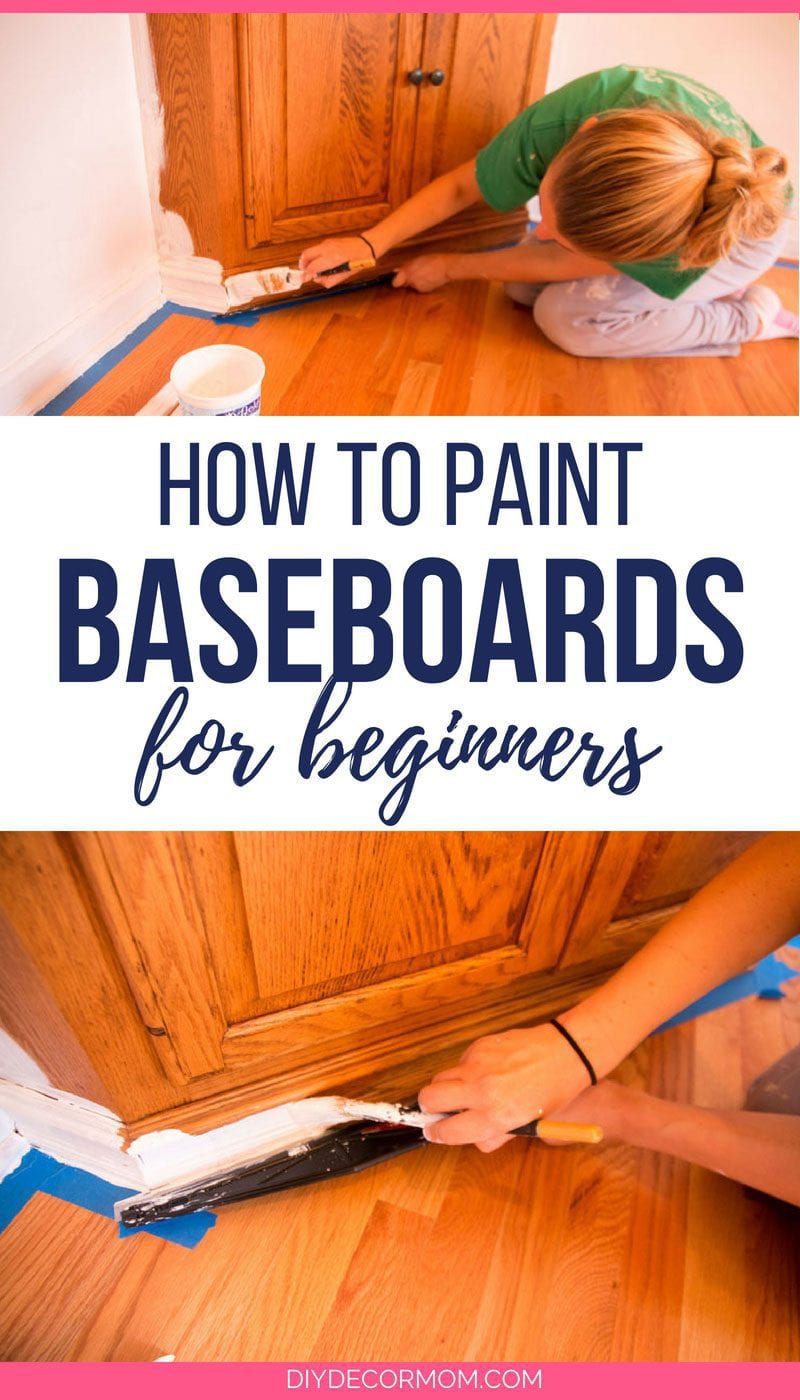 MATERIALS FOR PAINTING BASEBOARDS
This post contains some affiliate links for your convenience. Click here to read my full disclosure policy.
Primer

I recommend Zinsser Bullseye 1-2-3. Sherwin Williams waterborne alkyd primer is a good alternative as well.

Abrasive Hand Pad

instead of sandpaper

Use this instead of sandpaper. Using sandpaper will rub off too much of the varnish

Paint

Benjamin Moore Semi-Gloss Natura in Simply White (what we use for all the trim in our house)

Paint Brush

–

use a 3″ angled trim brush

Paint Trim Guard

I use Red Devil 18″ Dual Edge Painter's Edge Guard- GAMECHANGER PEOPLE!

Painter's Tape

I use painter's tape on the hardwood floors, over the plastic window inserts, and around the shower. Otherwise, I just cut in by hand. But painter's tape is a necessity in every home and I never do a project without it.

Paint Cup

– the magnetic paint brush holder on this is super helpful for doing trim work!

Drop Cloth

and a damp rag for wiping the paint trim guard
Microfiber cloths and all-purpose cleaner or vinegar solution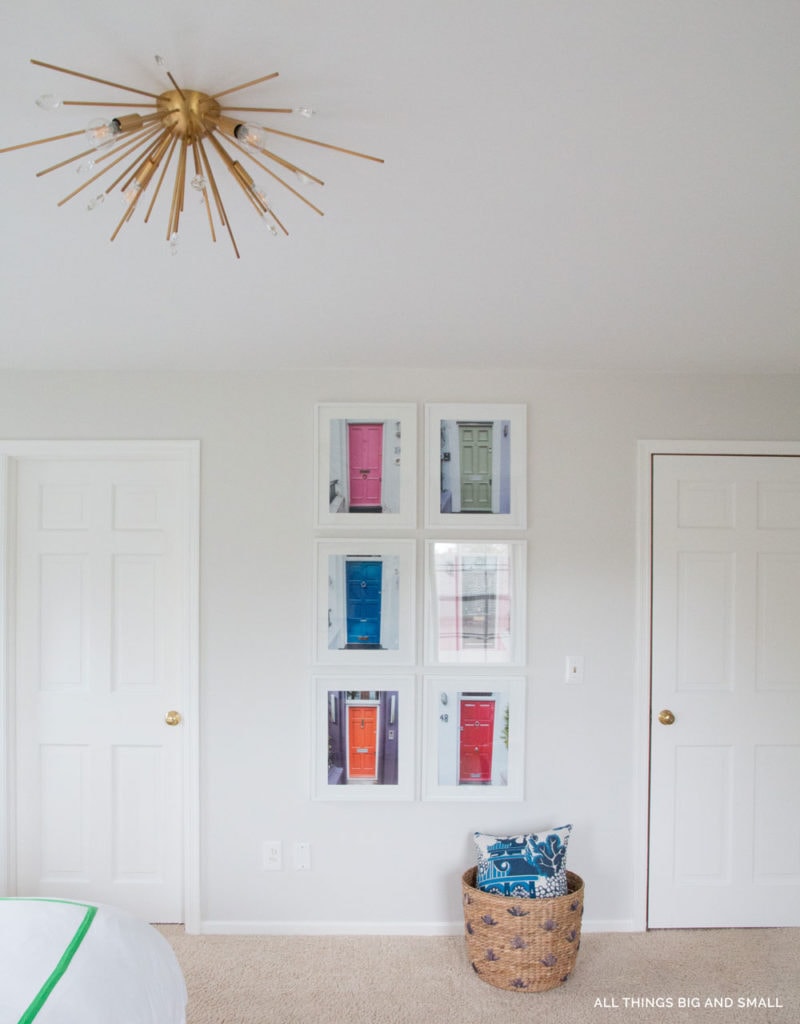 DIRECTIONS FOR PAINTING BASEBOARDS:
1.) To paint baseboards, first vacuum and wipe down baseboards with either a vinegar and water solution (1/2 cup of vinegar and 1 gallon of warm water) and a damp microfiber cloth.
2.) Gently scuff up the baseboards with an Abrasive Hand Pad giving the baseboards a light buffing. You want to be careful if you have stained wood baseboards. If you sand too much then you will end up having the stain bleed through (read my tips here on painting wood trim.) Basically, rough them up a little bit so you give the primer something to hold onto. If you are repainting baseboards, you will want to use the abrasive hand pads to even out any gouges, dents, or scuff marks with peeling paint.
3.) Wipe down the baseboards again with a clean microfiber cloth (this will remove any particles left on there from the abrasive hand pads.
4.) If you are painting baseboards on a hardwood floor, then you should apply the painter's tape beforehand along the quarter round making sure to carefully seal the edge so there isn't any bleed through. I always use a paint shield and painter's tape when I paint baseboards on top of hardwood floors. If you are painting baseboards on top of carpet then just place down your drop cloth. Please read the FAQ's for my specific tips on how to paint baseboards with carpet.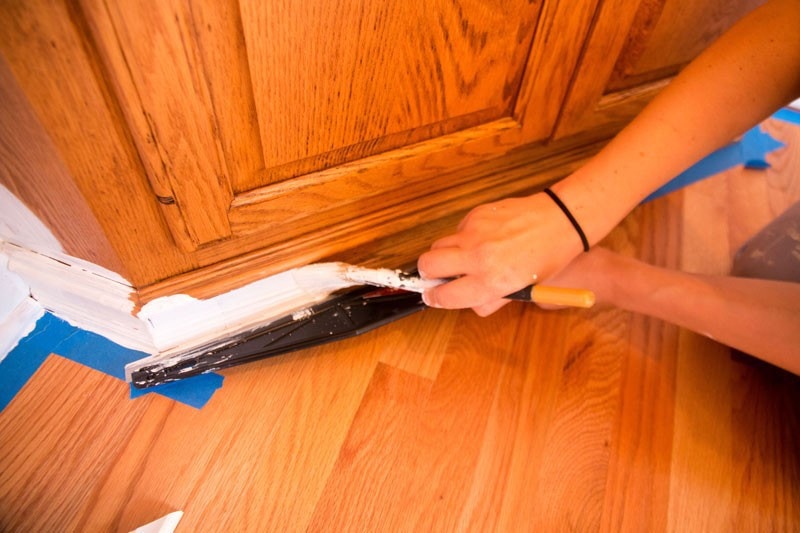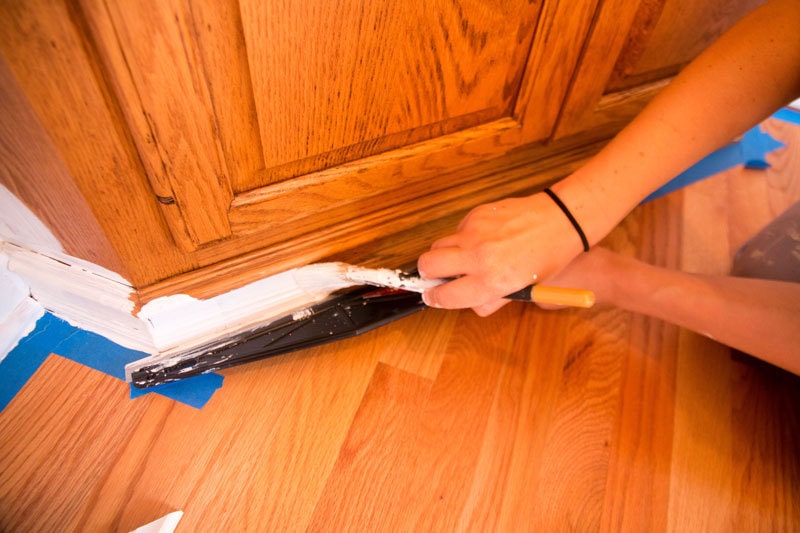 5.) Get your paint shield ready. You will work with one hand on your paint shield, and one hand on the paintbrush working your way around the room in one direction applying primer, then two coats of semi-gloss paint. Paint approximately two to three feet.
6.) Do about three feet of baseboard a time with the brush and the paint guard. Work yourself around the room.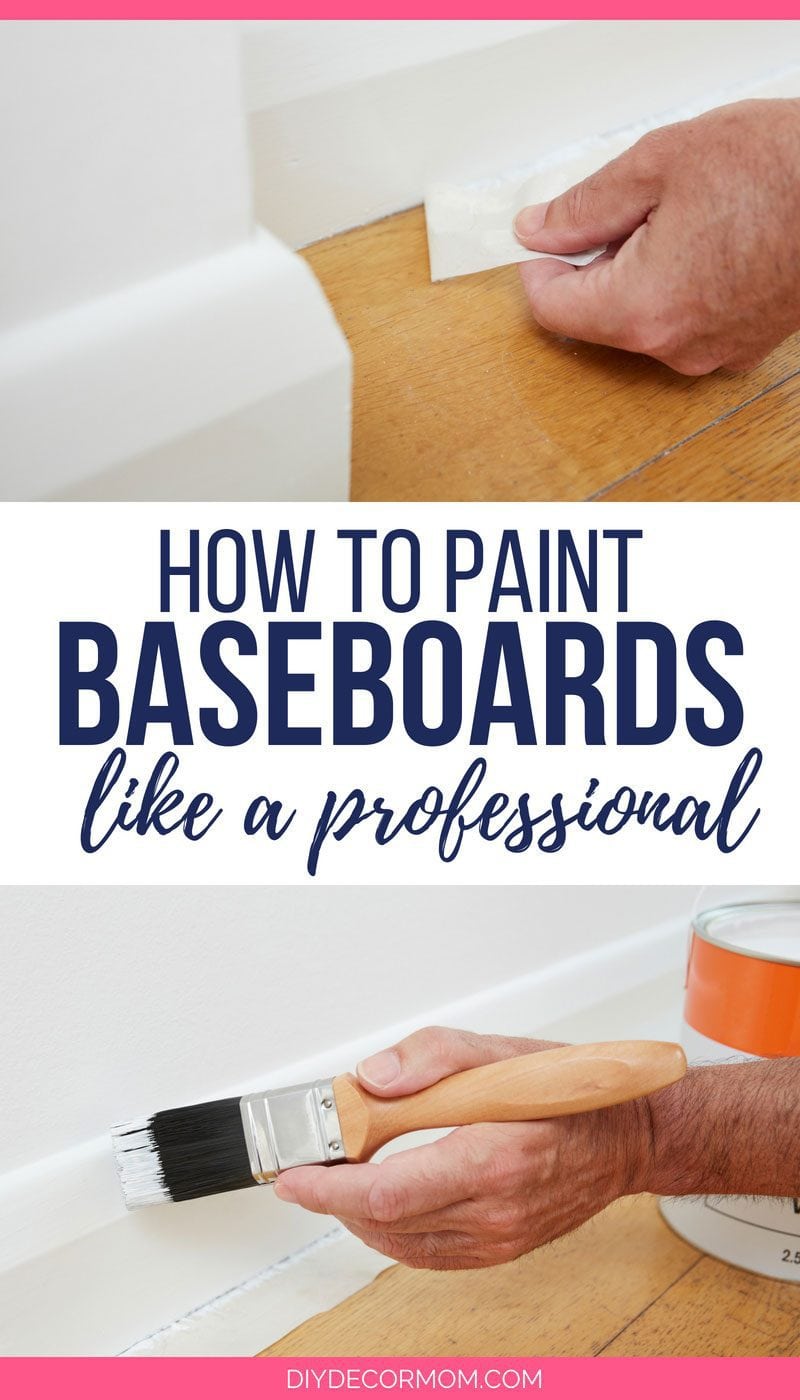 HOW TO PAINT BASEBOARDS WITH CARPET:
What you need to know about painting baseboards with wall-to-wall carpet:
First of all, it can be done! Second: It won't be perfect and you need to understand that going into it. You will have some carpet fibers that get paint on them. You will also have some carpet fibers that get stuck to the wet paint baseboard and it will dry that way. I will go over what to do in both circumstances (because both will happen!)
Directions for Painting Baseboards with Carpet:
1.) Place the paint shield in between the baseboard and the carpet. Angle it so it pulls the carpet fibers away and gives you enough space to insert your paint brush (follow the same process as above–wash, dry, prime, paint).
2.) Paint with your paintbrush
3.) Slide down the wall with your paint shield (or take your paint shield up, wipe it down with a paint rag) and start again!
FAQs: HOW TO PAINT BASEBOARDS
What type of paint to use on baseboards and trim?

Use semi-gloss paint in the same white paint you use on the rest of your house. For me, I always recommend Benjamin Moore Simply White; however, Benjamin Moore Decorator's White is another great alternative with a bluer tint. (See all my favorite neutral paint colors here)

What kind of brush do you use to paint baseboards?

I prefer to use my 3″ angled trim paint brush. It covers enough area while still giving me the detail work I need with the angled brush to cut-in.

What should I use to clean baseboards before painting?

I recommend using a vinegar and water solution or a Norwex envirocloth.
You want to get all the grime off your baseboards before you paint so your primer has a good foundation to stick to! Vacuum first and then wipe down the baseboards.
What kind of paint to use on trim and doors?

I recommend using a semigloss paint (zero or low-VOC) on trim and doors. I have used cabinet paint before as well but it's pricey. You can use oil paints but I never personally have used them. With small children in the house, I am not comfortable with the VOCs (volatile organic compounds). Also, clean up is much harder with oil paints. However, oil paints are much harder. That being said, if you want a really long lasting wear paint, you could try cabinet paint on the baseboards. I use semi-gloss with no problems.
Painting baseboard heaters: How do I paint the air vents and registers on my heaters?

Personally, I remove our baseboard heaters/ air registers and vents and spray paint them with this Krylon appliance spray paint. Their white spray paint color is very similar to BM's Simply White which is the color of our trim.

Should I remove the quarter-round before I paint the baseboards?

If you want a spotless finish that looks like new construction–yes. We have done it both ways. It is a bit cleaner with the quarter-round finished but it isn't necessary in my opinion. With good painters tape and a paint shield, it is just as good in my book! Plus, it saves all the time from removing it, painting it by hand on a platform, and then reinstalling it and caulking the new nail holes.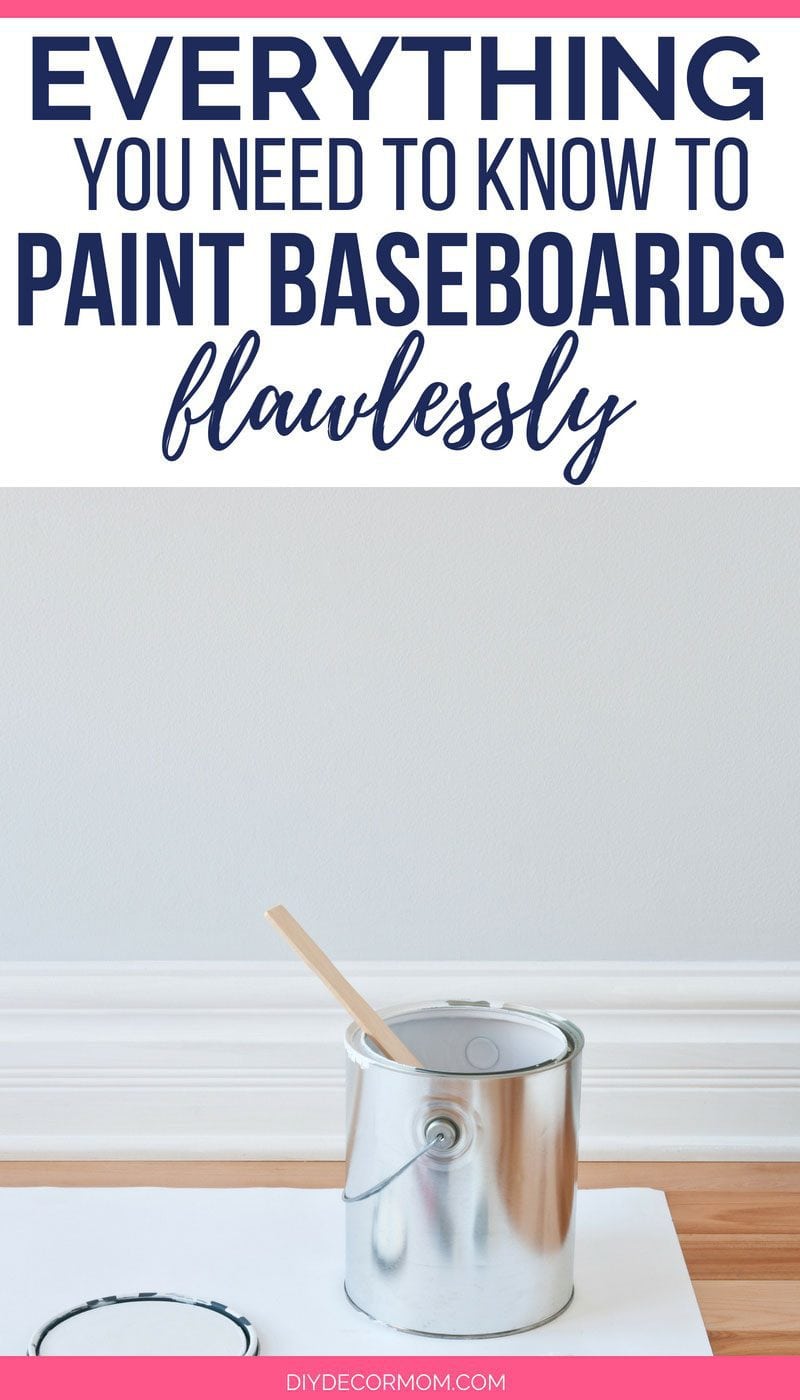 If you liked this, don't miss these other great painting posts:
How to Paint Wood Trim Without Sanding
How to Paint Cabinets Like a Pro
Best Gray Paints for Your Home