Gray Paint Colors: Looking for the perfect light gray paint color? These are the best neutral gray paint colors from Benjamin Moore and Sherwin-Williams that look fantastic in any home–including Revere Pewter, Benjamin Moore Balboa Mist, Pale Oak, and Classic Gray!
GRAY PAINT COLORS
I love to use light grays paint colors throughout our house to give it a spacious airy feeling, and then layer in colorful pieces on top. That way, if I ever tire of them, they are easy and inexpensive to switch out! But picking out the best gray paint color isn't easy.
Gray paint has a funny way of turning bluish, greenish, or brownish–gray paints can have so many different undertones. Heck, then there's a whole other category of greige paints to contend with! So when it was time for me to paint our house, I researched the heck out of it–and tried a ton of swatches!
For this post, to keep it simple I have organized it in the following way. First, I will share my favorite gray paint colors by Benjamin Moore, highlighting rooms that show each of them. Next, I will share the best gray paint colors from Sherwin-Williams.
See how the most popular gray paint colors compare side-by-side. Use this graphic below to see greenish undertones, blue undertones, and brownish undertones in the most popular gray paint colors.

LIGHT GRAY PAINT COLORS
After many requests on my favorite light gray paint colors, I have compiled my go-to list and even asked several of my design blogger friends to share their favorites as well. Each of these colors will be shown in greater detail below, with a photo and a link to a room painted that color and even paint swatches comparing them.
–>>>PSSST! Before you start painting, save yourself hours by GRABBING THIS–it has saved me so many hours and hours of work!
BENJAMIN MOORE LIGHT GRAY PAINT COLORS:
Pale Oak
November Rain
Stonington Gray
Wickham Gray
Metropolitan Gray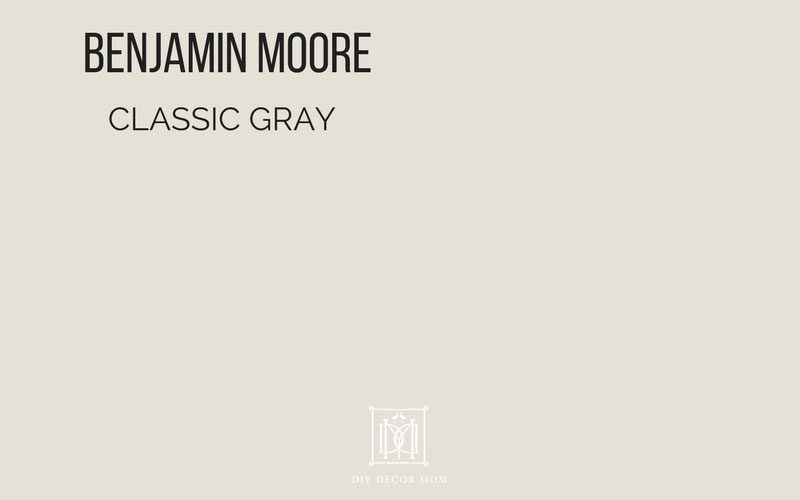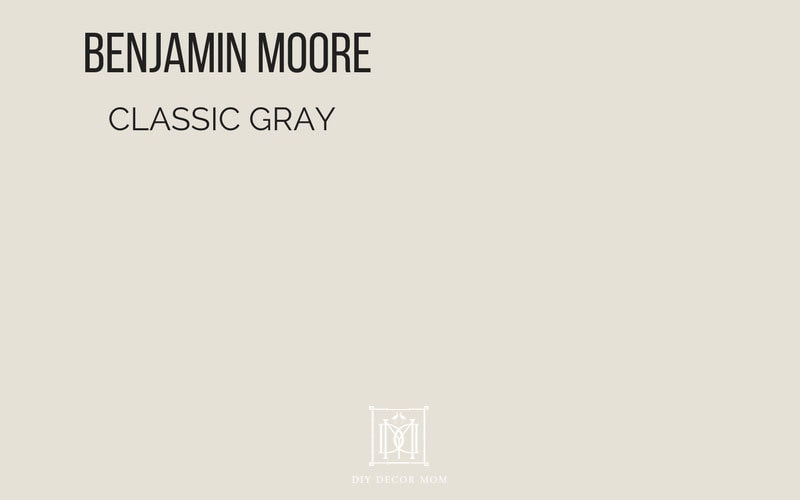 Benjamin Moore is probably my favorite light gray color. Heck, I even did a complete post on it see it here: Benjamin Moore Classic Gray.
We have it in our current house's entry and will paint it throughout the entire second-floor hallway as well! It is a gray that you can't go wrong with. It isn't too bluish or too beige!
Last spring, we painted our master bedroom it as well, and it turned out magnificent! Just enough color and warmth while still being serene.
If I had to choose my best gray paint, I would choose Benjamin Moore Classic Gray. You could easily paint your entire house it and be happy–not too dark, not too light.
See my complete review on Benjamin Moore Balboa Mist in this post, which shares exactly how it looks in our living room and dining room. We wanted something similar to Classic Gray but something with a little more drama, so we went with Balboa Mist (see the graphic below comparing the two.)
This is another one of my favorites, it goes very nicely with Benjamin Moore's Simply White which is found on all of our white trim (that I painted–read more here: The Ultimate Guide to Painting Wood Trim Without Sanding.
BENJAMIN MOORE PALE OAK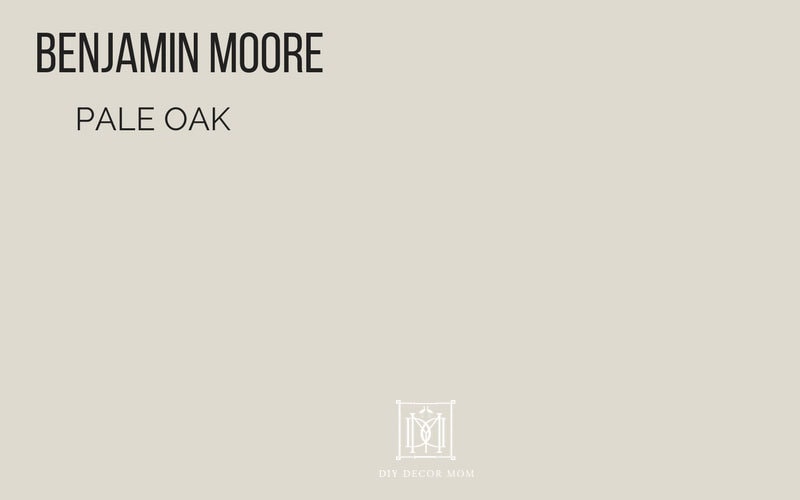 Benjamin Moore Pale Oak is a very sophisticated pale gray paint color that has a bit more sage in it, I would say than Classic Gray. It was a top contender for our living room and dining rooms in place of Balboa Mist.
BENJAMIN MOORE NOVEMBER RAIN GRAY PAINT
Benjamin Moore's November Rain is a really nice gray paint color that is warm and plays well with wood tones. We had a lot of original wood trim in our old 1920s craftsman bungalow in our first home, and November Rain went really nicely with the warm cherry wood. Fun fact–our first apartment was only 750 sq. ft. and we lived there for 4.5 years with our two Great Danes and a baby!

BENJAMIN MOORE REVERE PEWTER

In the same family, Benjamin Moore Revere Pewter is another one of the best gray paint colors. It has a lot more beige in it than Sherwin-Williams Requisite Gray.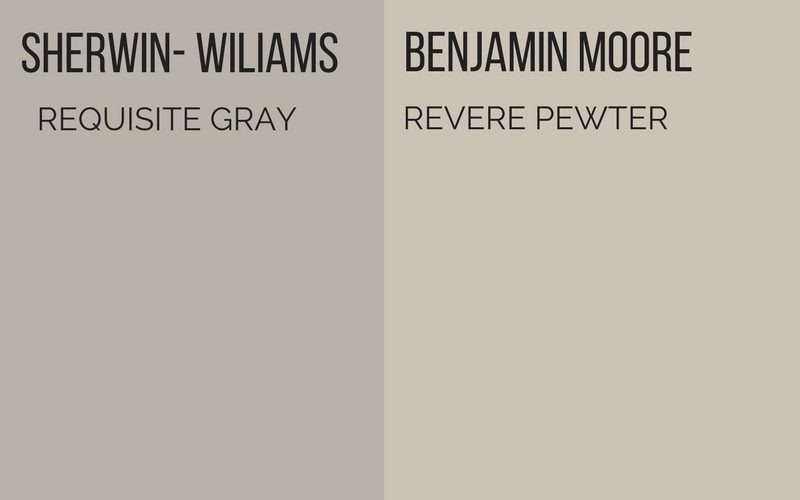 BENJAMIN MOORE STONINGTON GRAY PAINT
Benjamin Moore's Stonington Gray is another classic gray paint color. It has a bit more blue in it than the other's, which is why I have shied away from it. It would look lovely in a house with more blue tones. You can see how lovely it looks in Wife in Progress's Benjamin Moore Stonington Gray below and see how she painted several rooms in her house here.
See how Stonington Gray vs. Wickham Gray compare in the paint swatch comparison above.
BENJAMIN MOORE WICKHAM GRAY PAINT
BM Wickham Gray is another fantastic gray color. It too has a lot of blue undertones as well, but is lighter than Stonington Gray (as you can see above.) See how lovely Wickham Gray looks in Nina Hendrick's gray bathroom below.
BENJAMIN MOORE METROPOLITAN GRAY
Benjamin Moore's Metropolitan Gray is another amazing gray paint color with a little more depth and darkness than the colors discussed above. See the paint-swatch graphic below, and make sure to check out Blue I Style's glam bathroom makeover using Benjamin Moore's Metropolitan Gray.
BENJAMIN MOORE GRAY OWL
Benjamin Moore Gray Owl is another fabulous light gray paint color. It has a bit too much blue in it for my house but you can see how wonderful it looks in other people's home. DIY Playbook used in in a bedroom shown below. Isn't it fabulous?
BENJAMIN MOORE EDGECOMB GRAY
Edgecomb Gray is another amazing light gray paint color. It has a more "greige" tint to it than other's and reads warmer because of the amount of beige in it. You can see how nice and beige it reads in the photo below in Young House Love's master bedroom.
SHERWIN-WILLIAMS LIGHT GRAY PAINT COLORS
Repose Gray
Agreeable Gray
Mindful Gray
SHERWIN-WILLIAMS REPOSE GRAY
I don't have Sherwin-Williams Repose Gray in our house but it is a wonderful warm gray tone. You can see how it is similar but different to my favorite BM Balboa Mist in the full review here (plus how it looks in real blogger's homes here!)–it has slightly more green in it and is slightly darker. My friend, Jenna from Wife in Progress has it in her home though and you can see her review on it here: Repose Gray Sherwin Williams
SHERWIN-WILLIAMS AGREEABLE GRAY
Sherwin-Williams Agreeable Gray is another designer favorite. It is a lovely light gray paint color that looks good everywhere. (See my complete review of Agreeable Gray here). Green with Decor shows how airy Agreeable Gray Sherwin-Williams looks in her foyer below.
And then see how it looks in Lemons Lavender and Laundry farmhouse office makeover here using the same color- SW Agreeable Gray .
SHERWIN-WILLIAMS MINDFUL GRAY
Another beautiful gray paint color is Sherwin-Williams Mindful Gray. See how This Is Our Bliss used it in her son's room below.
MEDIUM AND DARK GRAY PAINT COLORS
These medium gray paint colors have a bit more depth (and read a bit darker) than the light gray paint colors discussed above. See how they add drama and warmth to a room, and can instantly make a room seem more intimate, more dramatic, and cozier.
BENJAMIN MOORE CHELSEA GRAY
And next we have one of the best and warmest deep grays. If you want a warm deep gray color for your room, that adds drama and depth–paint it Benjamin Moore's Chelsea Gray! It is a moody yet cozy gray that doesn't feel depressing. We used in our old apartment's itty bitty kitchen and on our current house's kitchen island. It is warm, plays well with both brown, gray, and wood tones and is a classic! I don't think you can go wrong with it!
BENJAMIN MOORE KENDALL CHARCOAL
For a moody and dramatic room, Benjamin Moore Kendall Charcoal is a great bet! It would look amazing in a powder bathroom or even a den–perfect for TV watching!
See how lovely it looks in for her front door? Just perfect!
SHERWIN-WILLIAMS REQUISITE GRAY
Hey There Home used Sherwin-Williams Requisite Gray in her beautiful living room above. You can see how it is a lovely medium gray paint color.
HOW TO PICK THE PERFECT GRAY PAINT COLOR
Does all this have your mind spinning? Do you feel like they all look the same but are afraid to commit to the "wrong one?" Or maybe you're gun shy having made the wrong choice before and are still living with a wall color you hate. I've been there.
When I was just out of college I made the mistake of painting my living room this horrible light blue. I wanted a Jonathan Adler vibe and well, I missed the mark and it looked more like a Smurf.
Before you go, Don't Forget to Grab all Your Painting Supplies!
Want more paint color help? See all my favorite PAINT COLORS HERE (with complete analyses and comparisons of each shade)! You'll also love the following posts: