Baby Registry Essentials: Many of my friends are now getting pregnant, and when I did the first time around, I wanted to know how to get truly the essentials. After a lot of research (scroll to bottom for the sites I used and found were helpful) and talking to good friends who already had kids, I feel like I have a good handle on baby registry essentials. These are all baby registry essentials I would register for again, or are planning to buy this time around. If you want a free baby registry essentials printable checklist complete with brand recommendations click the button below. It will take you to the Free Printable Library (where I share directions for tons of DIYs, and My Favorite Baby Registry Checklist and What's In My Diaper Bag!)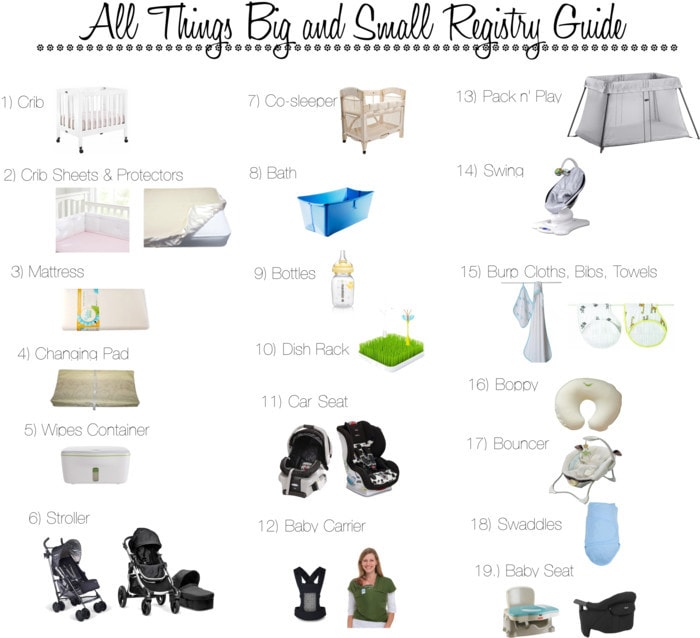 Want the FREE BABY REGISTRY CHECKLIST?
1.) Crib:
We registered for a mini-crib which wasn't cheap but it was totally necessary. B's old nursery was only 7 x 9 ft so every bit counted! Make sure your crib is non-toxic and isn't made with pressed board (pressed board can off-gas formaldehyde) but many manufacturers use zero off-gassing pressed board like Babyletto (who made our crib) and even Ikea's cribs are formaldehyde free. Also make sure that non-toxic paint is used as well. Some good websites to learn even more about this were Healthy Child Healthy World and Young House Love's crib search post (circa 2010).
2.) Crib sheets and crib mattress protector:
I found that four sheets was the perfect number for us. I made sure to get 100% cotton, organic sheets and I washed them prior to use with Seventh Generation Free & Clear (what I use for everything). If you are even greener, then you can even wash all your laundry with Charlie's Soap (the same stuff we use for our cloth diapers.) I bought these Tadpoles minicrib sheets in ivory, but when we moved up to the new full size crib, I purchased these Pottery Barn organic sheets. We also registered for two mattress protectors. I liked Naturepedic because they have wonderful reviews, are all organic and have no plastic. It seems silly to spend that much on a non-toxic mattress and cover it in plastic right? The pad is really nice (we have a similar minicrib one–it looks like ours was discontinued but it had fitted corners) but the original is great too and they have held up for now two years being washed a lot!
3.) Crib mattress:
Babies sleep A LOT. While we don't have an organic mattress for our own bed (I couldn't justify the cost seeing when we bought our king right out of college), I figured for a little one who's body is so much smaller and spends more time in bed than anywhere else it is really important. We used the Colgate Eco mini one for the mini-crib and I would recommend their regular size one as well, or if you are ok to spending a little more go for the Naturepedic or the Lullaby organic (what we bought for B's standard size crib.)
4.) Changing pad:
Buying a non-toxic changing pad was important to me as well but I didn't want to spend as much as the Naturepedic one, so I went with the Colgate Eco and it has been great. For covers, I just ordered regular ones (non-organic) because I didn't want to spend that much and I washed everything with a vinegar rinse prior to use (supposedly it helps wash away some of the pesticides typically used in conventional sheet manufacturing.)
5.) Wipes Container:
This might seem stupid to some but seeing as many times as you change a baby's diaper, I wanted it to go smoothly as far as opening and extracting wipes EVERY TIME. I hate how regular wipes containers have their names/ ads all over so I bought the Oxo one. It doesn't heat the wipes or anything but it looks much nicer out and always gives me one or two wipes not five.
6.) Stroller:
Per the advice of our friends who had just bought new strollers when they had two kids, we registered for a convertible stroller, Baby Jogger City Select. I have had other friends who bought the Uppababy Vista; but, after using it while babysitting this summer for two kids and experiencing how limited the seating arrangements are, I am happy that we went with the less expensive Baby Jogger, which has many more configuration options. We only have one seat right now but it has served us really well over the last two years and now that we are having Baby Thompson 2 we only have to spend $160 to get another seat and not buy a whole new stroller ($300+). Eventually, we can even add a glider board to transport a third kid.
We also registered for an umbrella stroller. After a lot of research, we went with the Uppababy G-Luxe. It has similar reviews and is a similar weight to the Maclaren Triumph; but the baby can lie completely flat which isn't always possible with the Maclarens. Go for the G-luxe and not the G-Lite because seriously it is plenty light and the G-Luxe has some nice features that the G-lite doesn't (and after pushing both of them) the G-luxe is much nicer.
7.) Co-sleeper:
We didn't register for a co-sleeper because we wanted to see what we would decide to do. After a couple of days of B sleeping in our stroller's bassinet (newer version) on the floor of our bedroom next to the bed, E decided to build a co-sleeper for her. Now obviously, everyone can't build one so I would recommend Arm's Reach Co-sleeper (my best friend has used it for her last two kids and loved it!) Always check Craigslist because this is such a short-lived piece of furniture the wear on it shouldn't be much and you can save a lot of money.
8.) Baby Bath:
We went for this one (similar here) because it folded up and just added this newborn insert. I love that it folds and can be moved out of sight. For how we did bath time without a bath, see this post.
9.) Bottles:
Don't register for too many of any specific model because you never know what your baby will like. I bought a bunch of these but B ended up never getting the hang of them, and I ended up buying a Medela Calma instead which she used the most.
10.) Bottle Drying Rack:
Whether or not you are breastfeeding or bottle-feeding you are going to have little parts out all the time. You may as well have one that looks pretty. We use this Boon dish rack and bought a flower to hold bottle parts/ pump parts.
11.) Infant car seat or convertible car seat:
We were able to borrow an infant car seat from our dear friends, so we registered for a convertible car seat that we would switch to when B outgrew the infant one (around 9 months I think). Since we recently gave back the infant car seat to our friends (who just had their third kid) we are in the market for a new infant car seat, and we are deciding between these two: Cybex Aton (has stellar reviews from the CarSeatLady and is so light and sleek looking.) But unfortunately, it won't go with the Bob Revolution Duallie that I want to get so I can run with both kids ;( Luckily, the Graco Snugride 30 has great reviews from the CarSeatLady as well as being much cheaper and it is compatible with everything we own and want (with the purchase of some new adapters.) Finally, another good contender is Chicco Keyfit (the kids I used to nanny for had one and it was very easy to use and has great safety ratings.) When we make our decision, I will be sure to share with all the decision points and research!
As far as a convertible car seat, we went with the Britax Marathon (here is the new version in our same print). It gets amazing reviews and is still under $300, which is understandable because they will fit it in it for a much longer time.
12.) Baby Carrier:
Moby wrap or Solly wrap. From what I have heard the Moby wrap stretches out a little more than the Solly wrap. For us it wasn't a problem, though. And I often would tie it later on in an outward hold so B could look out and see what we were doing (which she always preferred). It was comfortable for short periods of time but I wouldn't recommend it like that for long periods of time. We also registered for a Boba 4G because of its awards and good reviews from people like the Baby Gear Guy. It has held up really well, and the nice thing as opposed to the Ergo (which is very similar) is that we didn't need any special newborn insert. This time around, we are buying a Beco Gemini carrier to add to our arsenal. The option to do a forward facing hold when they are older is really nice and comes in handy when you have a kid like B who doesn't want to just watch you. I will talk about my views on hip development and baby carriers in a later post.
13.) Pack n' Play:
We opted for a more expensive travel pack n' play knowing that we travel a fair bit and I liked the construction of the Baby Bjorn better than the Graco or the other basic pack n' plays. The big difference is that with the Baby Bjorn, the mattress rests on the floor. Whereas, with the other less expensive pack n' plays, there are bars that support the pack n' play mattress off the floor. I used to nanny for a 3 yr old who would nap in one and he would lift up the crib mattress and then sleep underneath across the bars! Who knows how it was possibly comfortable but he always would worry me! Also, the Baby Bjorn is super easy to set up (grandparents can do it without googling the instructions!) And it is really light. It fits in a suitcase (not carry-on) but is significantly lighter than the cheaper pack n' plays. Now the downsides: because it isn't elevated it doesn't make for a great sleeping solution for newborns when traveling. You want something you don't have to bend down all the way to the floor with, and this doesn't work for it. When she was little, we would actually travel with a foldable bassinet from Brica that was given to us. It was great for the first three months and is super light and inexpensive. From then on we traveled with the Baby Bjorn. Another small downside with the Bjorn is that you cannot use it like a play yard. It isn't space efficient in that sense and the sides are rather flexible. I mean you can, and we did for certain short periods of times of B's life, but it wasn't ideal because the sides are too flexible.
14.) A Swing:
We were loaned a swing by our generous friends (see more here); but, this time are thinking about buying one for ourselves. B was addicted to it until about 14 weeks when we had our first trip and I had my goal to wean her off of it before then. I could always count on a longer nap if she was in the swing. This is the one we used, which was great, although it has a large footprint. We are thinking about trying out the Mamaroo for its smaller footprint so I could use it on the first floor in the family room.
15.) Burp cloths, towels, onesies:
Stick with the basic stuff. We only had two towels for B when she was little, we registered for the Aden & Anais towel with the washcloths. It was great but we also used one from Target that we were gifted. People love giving receiving blankets, burp cloths, and lovies so unless you are really specific about which one you want, I wouldn't bother with asking for too many. And buy the Gerber burp cloths that are more expensive (opt for the 6-ply vs the 3-ply). The cheap ones are really crappy and are horrible for absorption. I would recommend buying one or two of these burp cloth/ bibs because they don't have velcro and then supplement with the Gerber pre-folds (between that and all the ones you are gifted you should be all set!) Velcro is my nemesis and the Aden & Anais burp ones are really absorbent and can be used as a burp cloth. Win-win!
We used a Boppy and will use it again for this little pumpkin. I liked that it can be used to prop the baby up after a feeding when they are really little (reducing the likelihood of a spit up).
17.) Bouncer:
This is similar to the one we used. Ours was great but it has started not vibrating (not a surprise since it is six years old and has been used for three kids.) The only downside with this bouncer is that it is fairly wide and doesn't bounce quite as easily as the narrower and longer bouncers. I love the neutral colors though, and would definitely recommend it. You can buy a toy attachment which is genius and the babies love it.
18.) Sleep sacks/ Swaddles:
We went through a number of swaddles and my favorites were the Miracle Blanket (look on baby flash gear websites for the best prices–I paid about $20 which is 30% off). We had two and they were constantly in use. We then progressed to the Woombie which wasn't cheap either but is occassionally on sale (we bought ours full price out of desperation online one night 😉 It is less rigid than the miracle blanket and the baby has loose arms that can touch each other but can't get out. We used it to wean her off the swaddle. And then we just went down to a blanket swaddle to fully wean her (we used a blanket swaddle when she was really little and not too strong.) The Aden & Anais blankets are great for that because they are light and give a little but can be pulled nice and tight unlike a real thick blanket.
19.) Baby Seat:
Listen, you don't need this thing for six months, so if you don't want to store it until then hold off! We used this Fisher Price highchair. It attaches to the chair itself which is really nice because you don't give up any other real estate. It is easy to clean and it is cheap! From the advice from all of my friends, one who even had a Svan, they recommended buying this one and I agree. It is also portable, but we bought an additional one just for traveling that folds up and is more compact. We have one of these at my mother-in-law's and one at my parents. I nannied for a boy who used the Stokke Tripp Trapp and even as beautiful as it is, and how nice it is, there was always food ALL OVER the place. I would not recommend merely for that reason and its expense. Without a tray right up against the baby, a lot of stuff gets lost. I know you can buy a tray but isn't the point of the Stokke to eat at the family table?
For traveling, as I mentioned above, we always use the Inglesina Fast Table Chair. It was great when B was too little for restaurant seats (they often have a ton of room and if they aren't great sitters–B wasn't until 8 or 9 months) the restaurant high chairs don't give a lot of support. This one does, and we liked it better than the Phil & Ted's lobster. It cost less and felt a lot more solid. E who went to graduate school for product development preferred the Ing Inglesina esina for a number of reasons, and overall felt that it was of higher quality than the Phil & Ted's. (Just our two cents.) We normally wipe this sucker down with a Norwex cloth right afterwards, or wet ones during the meal if there is a big mess. But, we recently ran it through the wash and it looks as good as new!
20.) Things to NOT register for:
by all means get this stuff but insurance should cover the breast pump with a doctor's prescription, and your FSA or HSA should cover all the expendable breast feeding supplies if you have money left over.


For more baby gear posts see these:
What to Buy for Baby 2
Newborn Essentials Part I and II
Favorite Breastfeeding Gear
How We Do It: Setting Up a Nursery and Saving Money
How We Do It: Saving on Baby Gear
How We Do It: Cloth Diapering and Cost Breakdown
How We Do It: Baby/ Toddler Travel Essential Gear
Starting Solids Essentials
Sippy Cup Reviews
How We Do It: Sick Kid Essentials
How We Do It: Traveling with a Toddler
**Some of the links are affiliate links, which doesn't cost anything to you but gives me a small commission if you choose to buy it from my link. As always I only link up products that I truly believe in, and in this case, own or are going to buy.