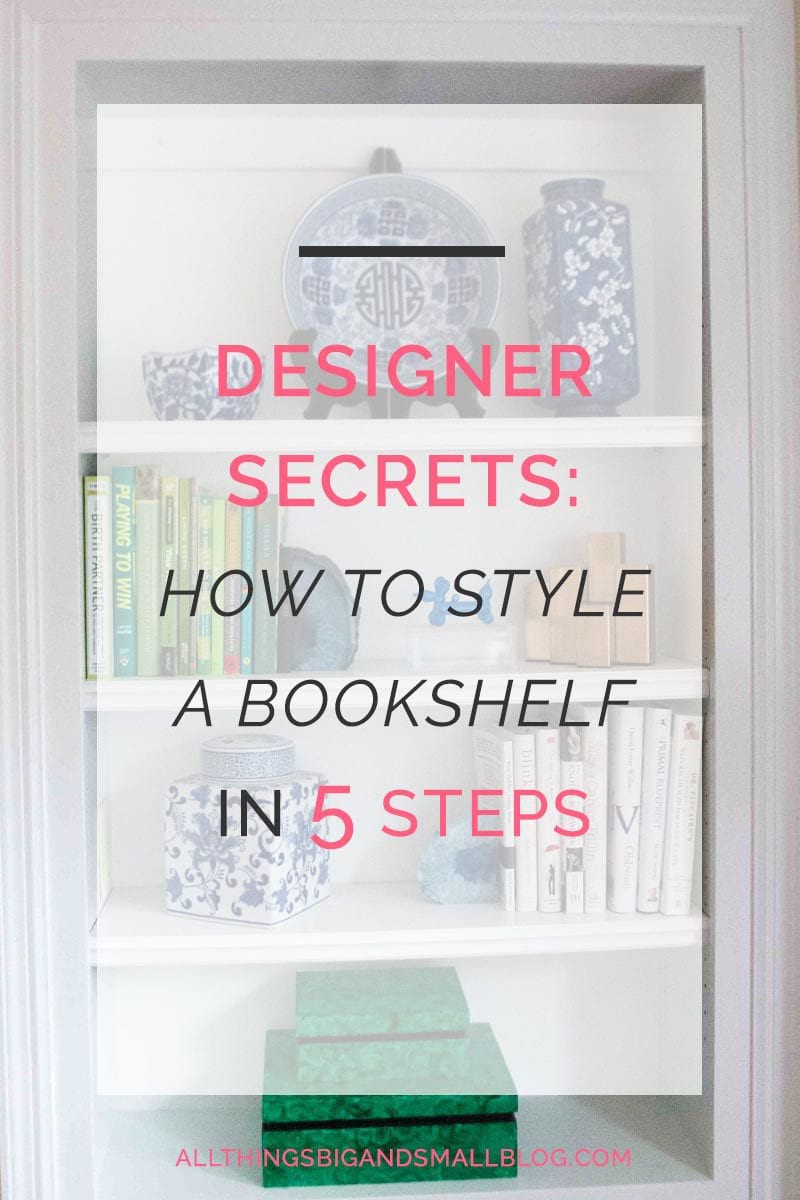 We all love those beautifully styled bookshelves in the photoshoots for House Beautiful, yet we all wonder how exactly to style one for their own home. So for this week's installment of Designer Secrets stems from some recent improvements I made to our living room bookshelves. After adding a few more blue and white ceramics, the bookcases were looking a bit too busy! And since we cancelled cable, we no longer need to store the ugly cable box! So we pared it it back, rearranged, and are so much happier with the results! Since styling bookshelves is such a common question, I thought I would use my recent restyling as a demonstration on how to style a bookshelf! And if you missed the first two installments of Designer Secrets check them out here: Number One Tip & Mixing Patterns.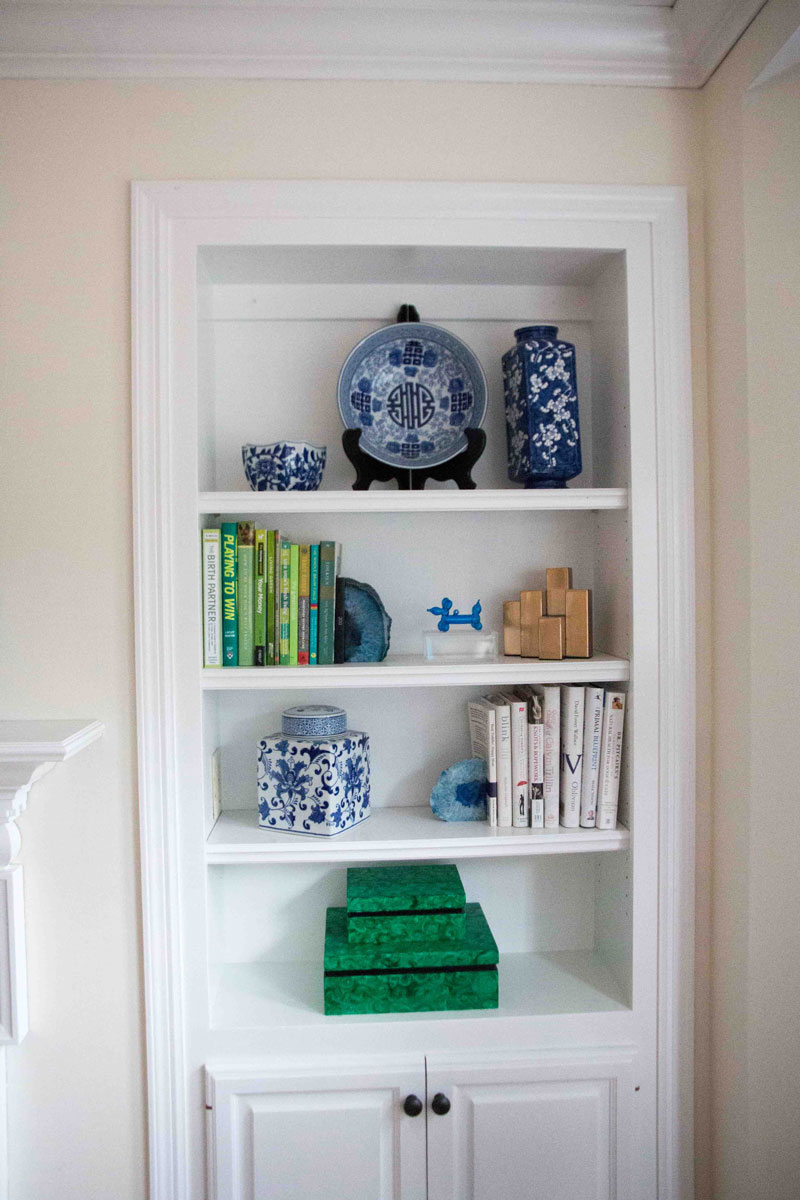 How to Style a Bookshelf: 5 Easy Steps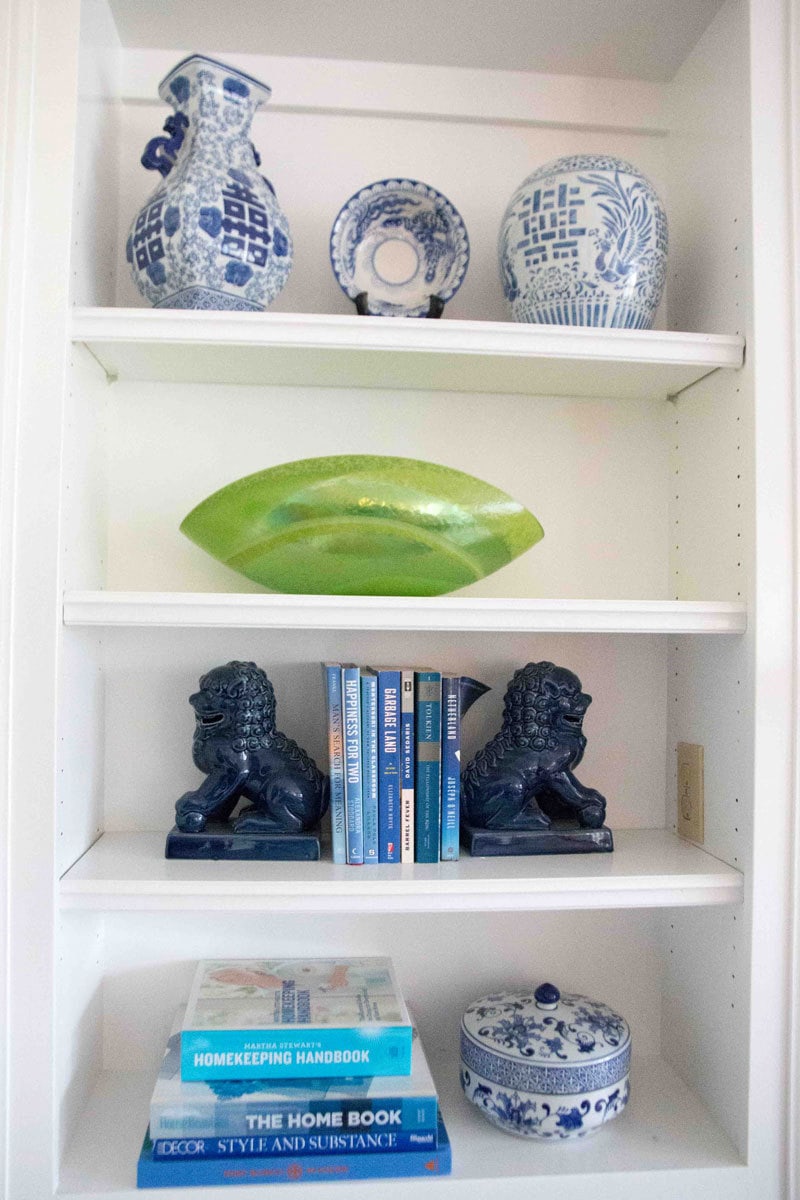 1.) Pick and Arrange your colors
Select the colors you want for your bookcase. They should tie into your room's color scheme (when in doubt limit it to three!). You can see for our bookcase the three colors are blue, white, and green. Don't be afraid to do an accent color here! Green isn't really in our room other than the DIY Ottoman, so it is our accent color for the bookcase. Before, there were too many colors going on, so we pared it down to three and it is much better! Less hodge podge more sophisticated collection!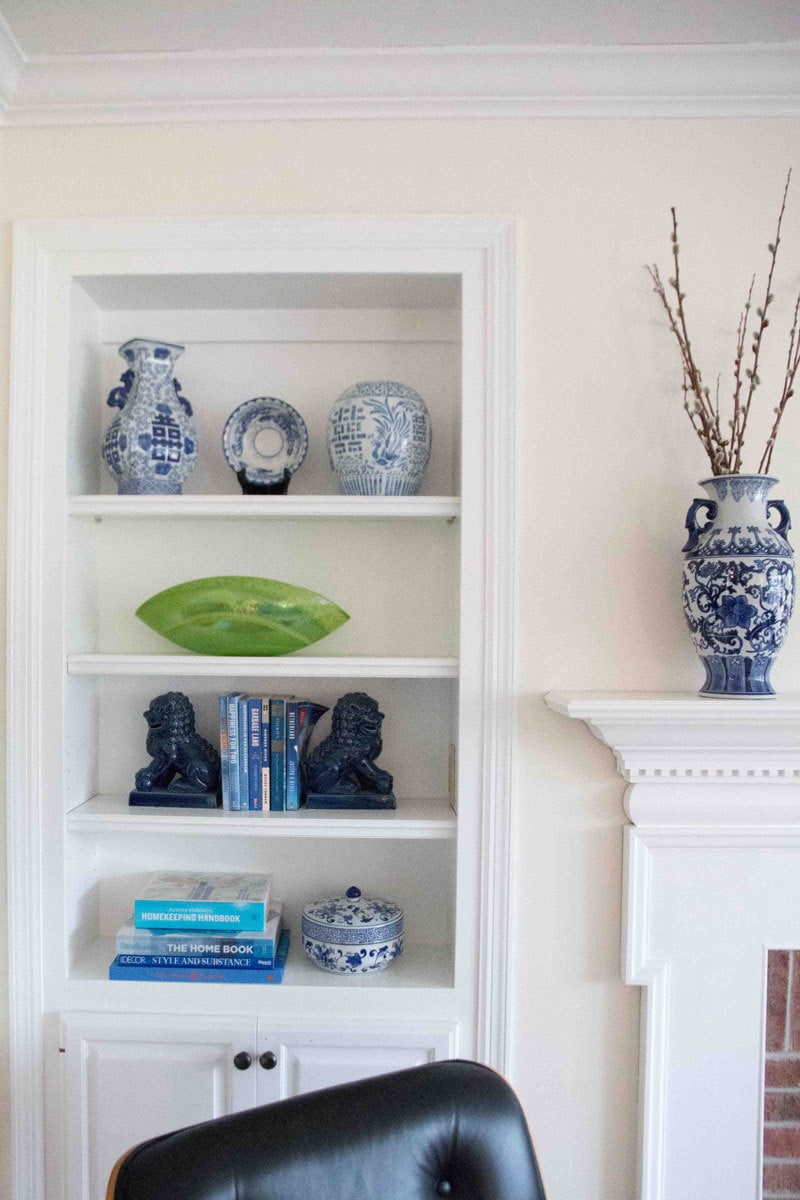 Next, group your books according to color. Your husband will roll his eyes; but, trust me they will look much more cohesive! This is such a quick tip for any bookcase, and even if you don't want to do any of the rest, do this and I promise you will be happy with the results!
Here is a picture of a bookcase in our old house in which we grouped all the books by color.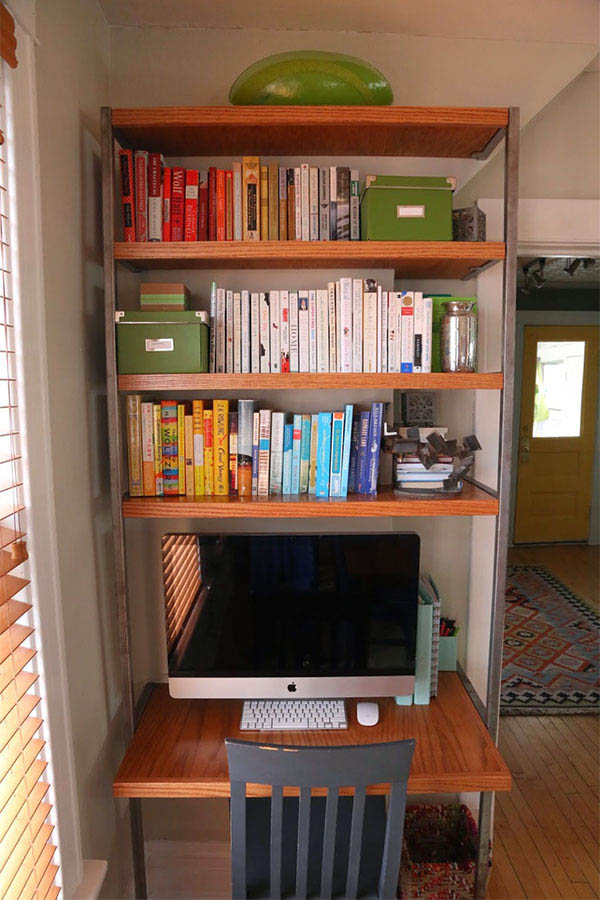 (DIY DESK- my husband desined built this from scratch including welding the braces!) #handyhubby
2.) Put Your Biggest Pieces In and Embrace Symmetry
You are going to want to balance the large pieces. Whether that means stacks of large books (lie them on their side) or large vases, or framed pictures, you are going to want some semblance of balance so your bookcase doesn't look like it is going to topple over. With two bookcases flanking the mantle, I embraced a lot of symmetry. Both bookcases have a top row consisting only of blue and white pottery.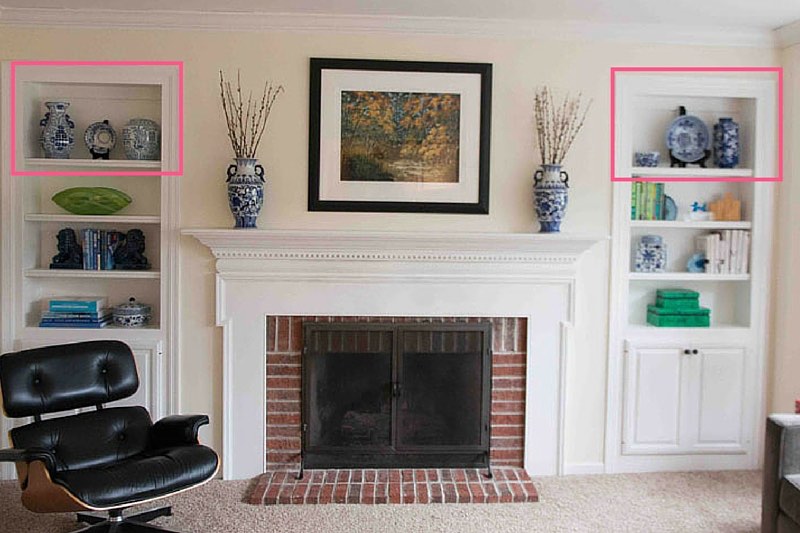 3.) Mix it Up and Know Your Numbers!
You don't want everything to be perfectly symmetrical. That would be boring! Lay stacks of books horizontally, alternating with vertical rows. Although balance is good for the big stuff, and it should be pretty symmetrical, alternate the side of the bookcase on which you stack the books. Thirds are good for pictures and are good for style arrangements. You can see, each of the sections is broken down loosely into thirds. This was not deliberate but was a pattern I noticed afterwards.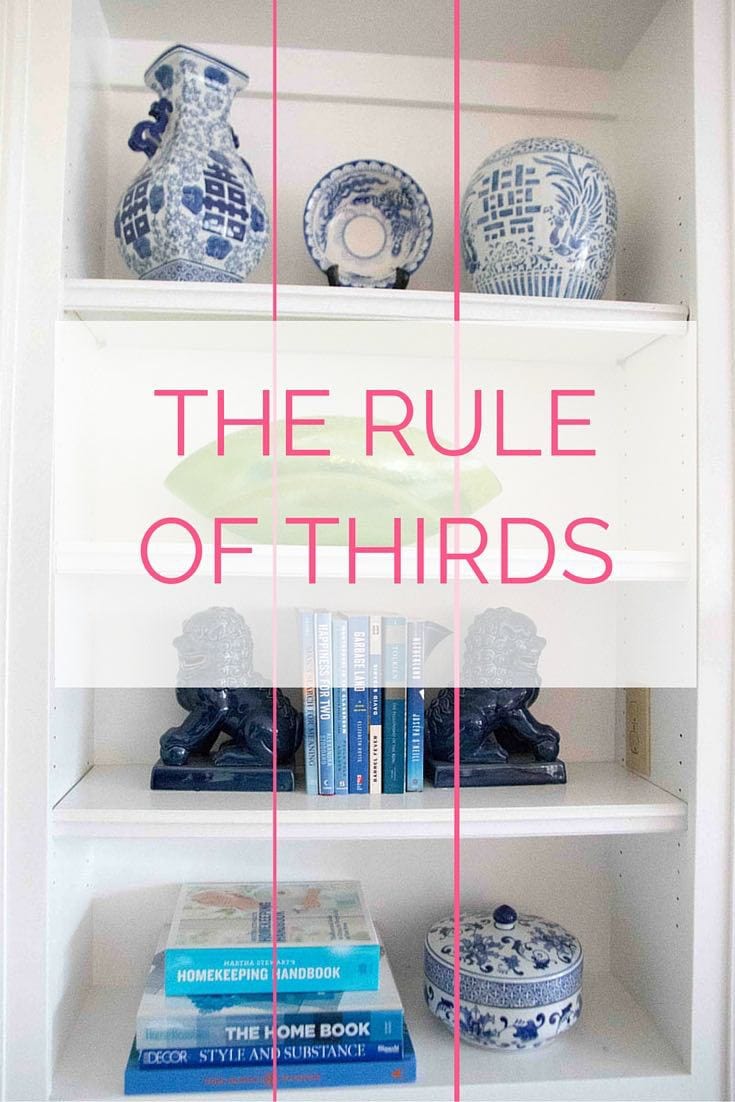 4.) Add the small pieces


Add decorative objects to the tops of book stacks or lay picture frames across it. The small pieces should bring a little fun to the bookcase. Don't be afraid to be a bit eclectic! Mixing it up in terms of objects is good for the small pieces because it keeps it interesting and will make your bookcase look more collected over time.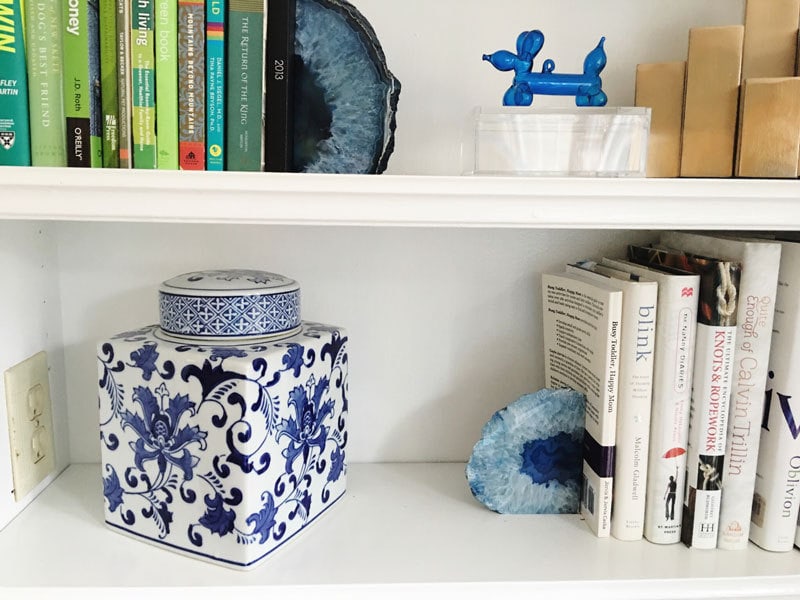 Great small pieces that always work on a bookshelf are see urchins, lucite boxes, picture frames, gold spikes, white ceramic animals, and small pieces of pottery. HomeGoods, Design Darling, and Target are all great places to find these pieces. You want to add some visual interest and texture with these objects.
5.) Rearrange and Re-assess
If something doesn't feel right in your gut, it probably isn't. You aren't going to nail the design on the first try. I didn't and I don't know any stylists that do. Take a step back, go get a cup of coffee, and come back 10 minutes or more later. Giving yourself space and fresh eyes will help you immeasurably! Trust your gut and rearrange. See the evolution of these bookcases below from when we moved in, to when we painted, to the progress shots, and now!