So I finally have all the photos to show you guys! As part of the One Room Challenge, we had six weeks to completely redo a space from start to finish, and one of those weeks we were out of town! Because the bathroom functioned well already, we just focused on cosmetic changes. And we tried to keep it as cheap as possible; but, we were able to completely change the entire feel of the bathroom for $400! If you want to see where we started, check out these ugly pictures before and see the progress here: Week 1, Week 2, Week 4, Week 5 and the reveal below! It was brown brown brown! Brown wood trim, brown walls, and brown fixtures–even brown lights!

We painted the walls, painted the cabinets and wood trim, replaced the light fixture, made curtains, and installed board and batten to give the bathroom some architectural interest. We also replaced the baseboard, built a custom mirror frame, and finally added some towel hooks (there were none before!), and some cute storage accessories for the kids toiletries!
With the fresh white paint everything looks different in the bathroom–even the granite counters look completely new!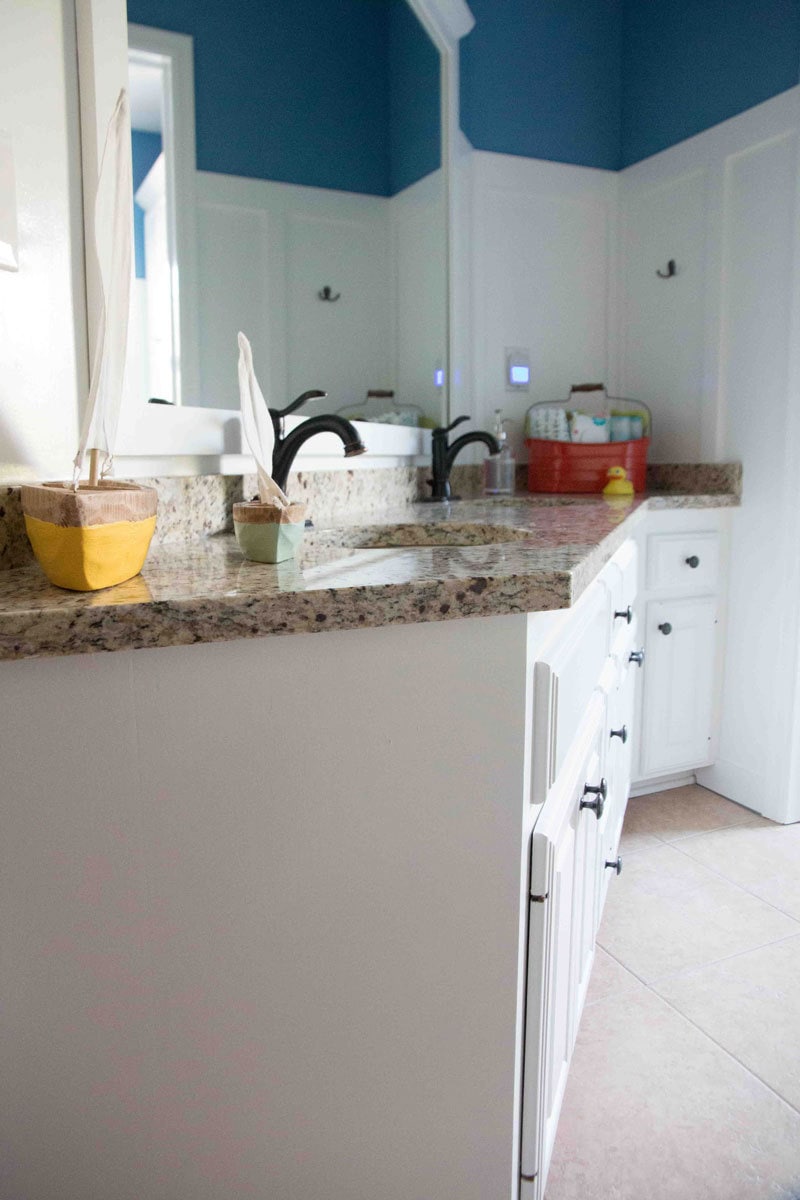 yellow sailboat/green sailboat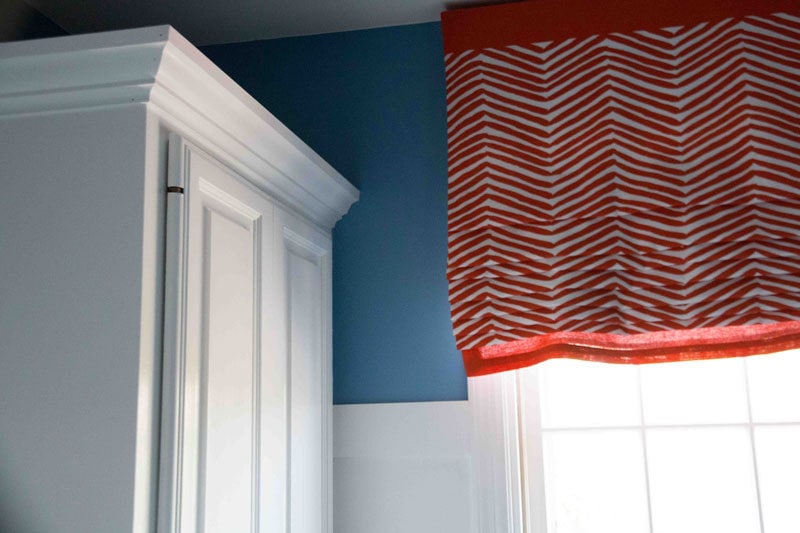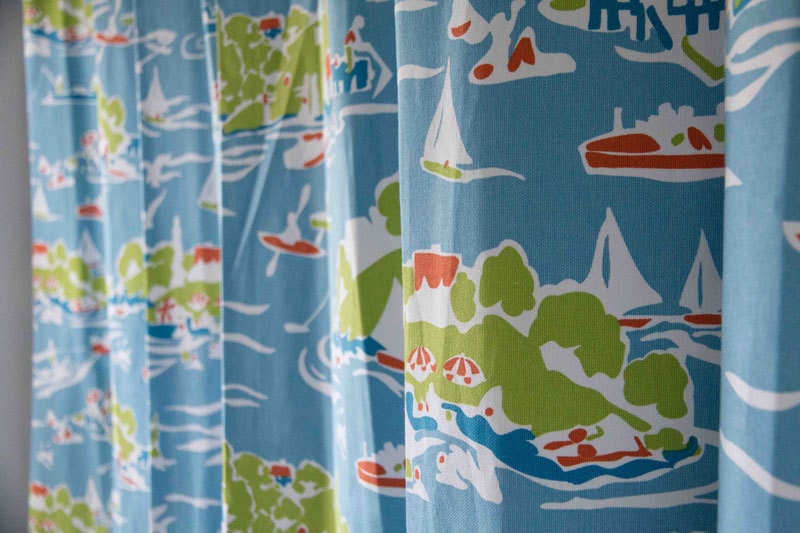 Serena & Lily shower curtain on sale right now!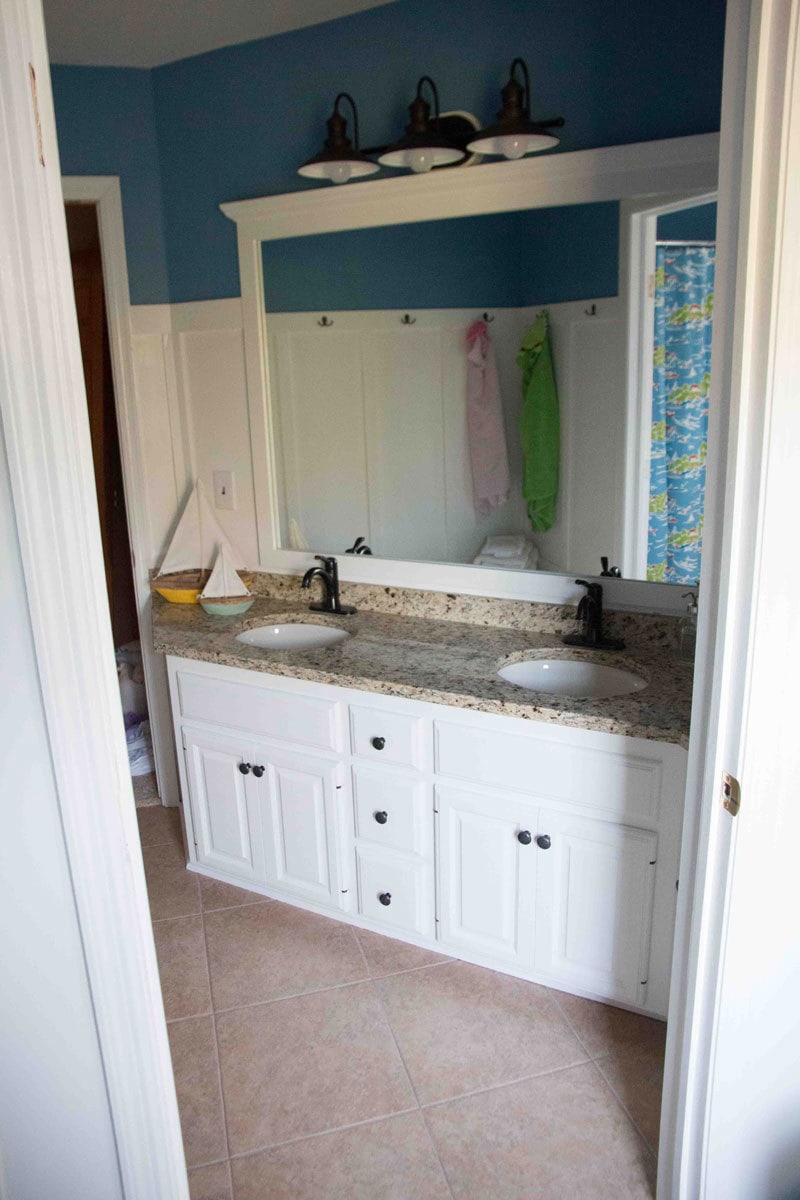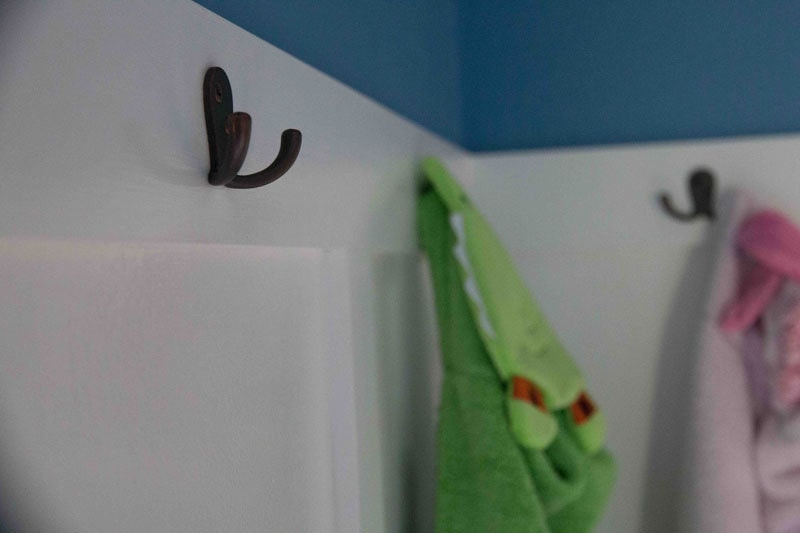 towel hook super budget friendly!/ alligator towel/ horse towel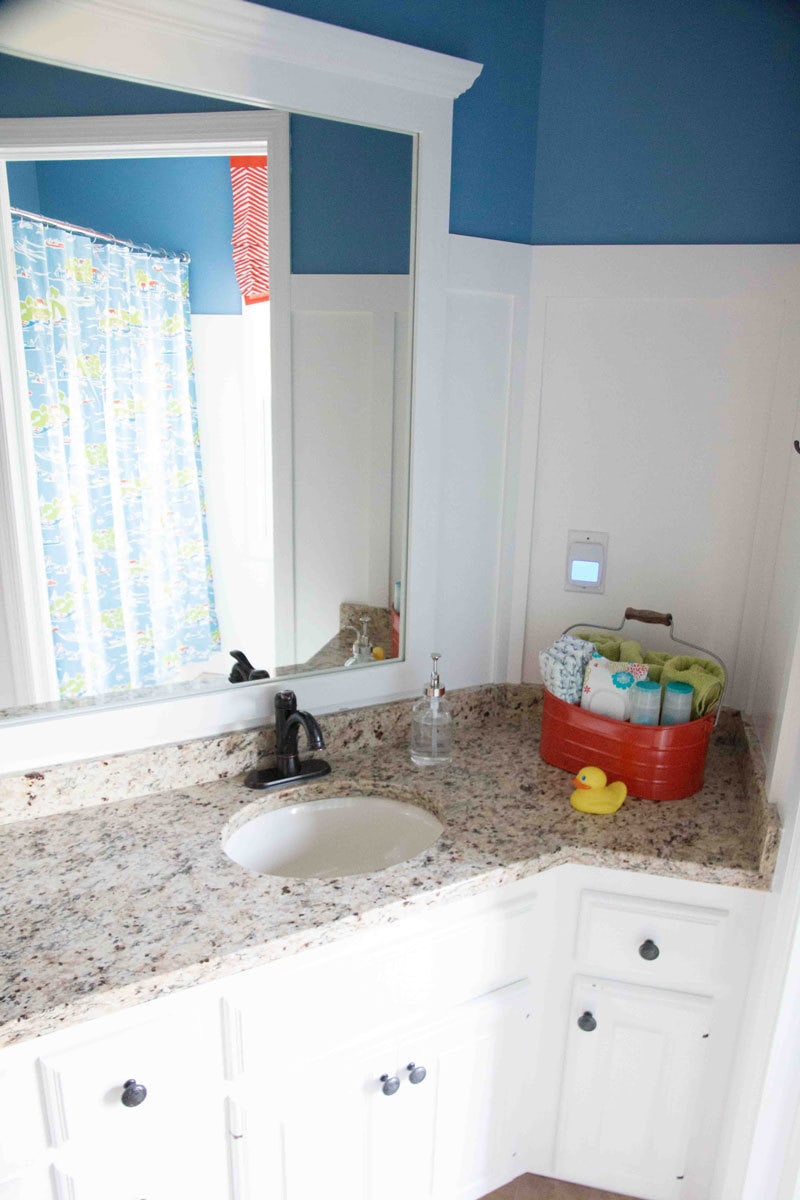 bucket found at HomeGoods/ green hand towels/ diapers and creams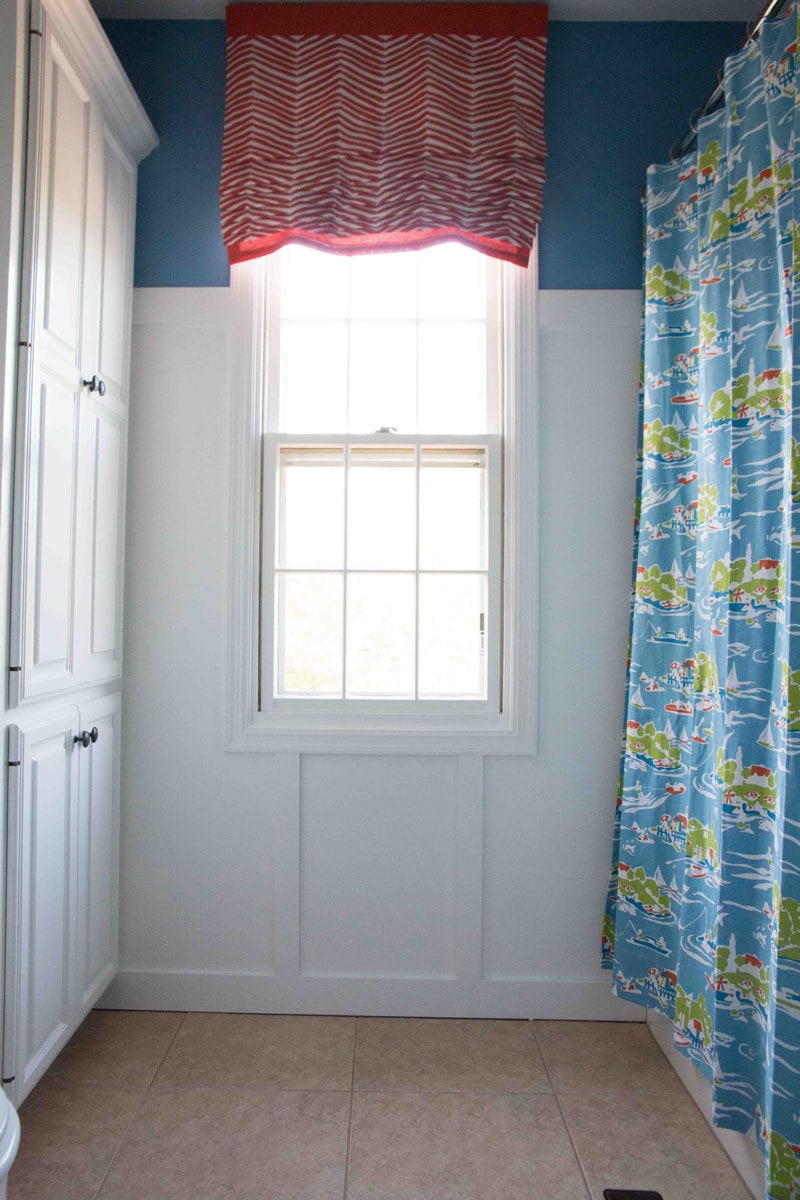 $18 DIY Roman Curtain with free printable directions
Click Here to Download the FREE PRINTABLE DIRECTIONS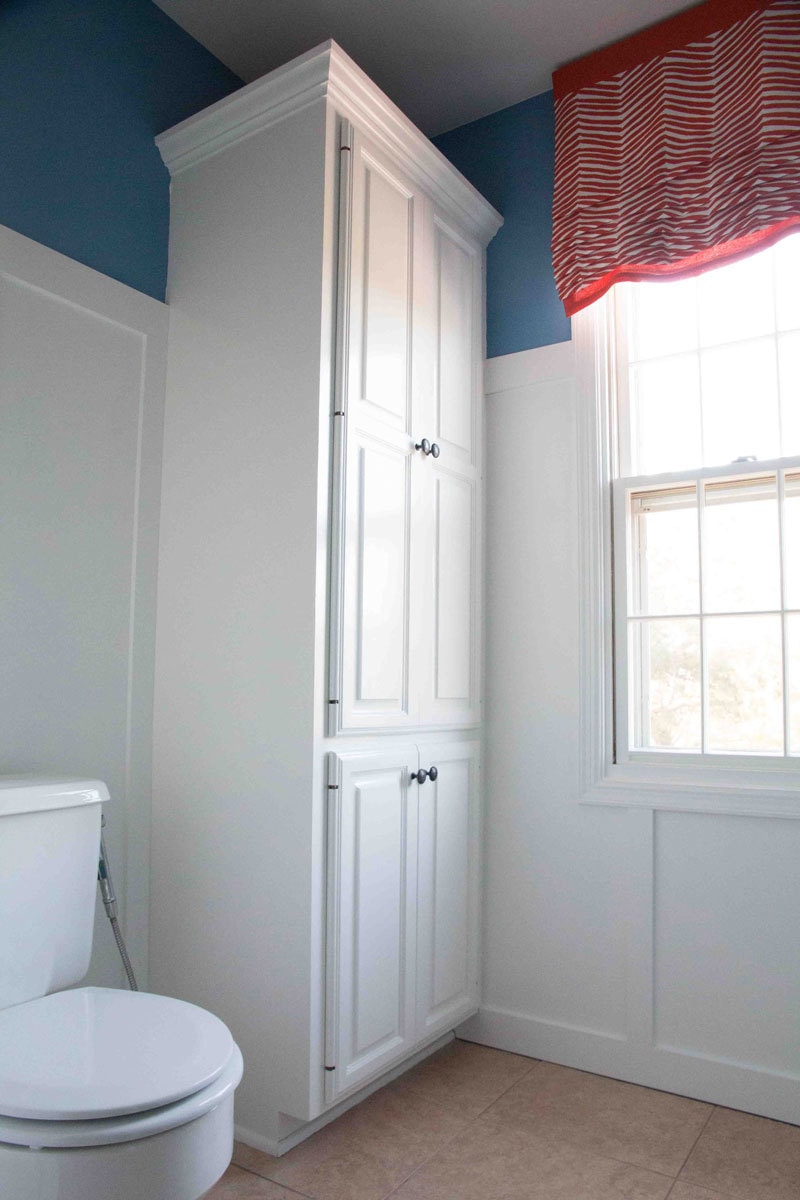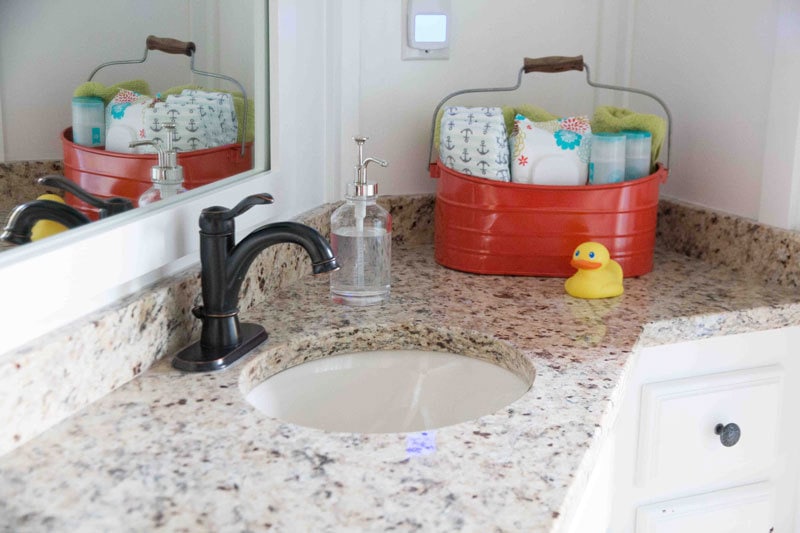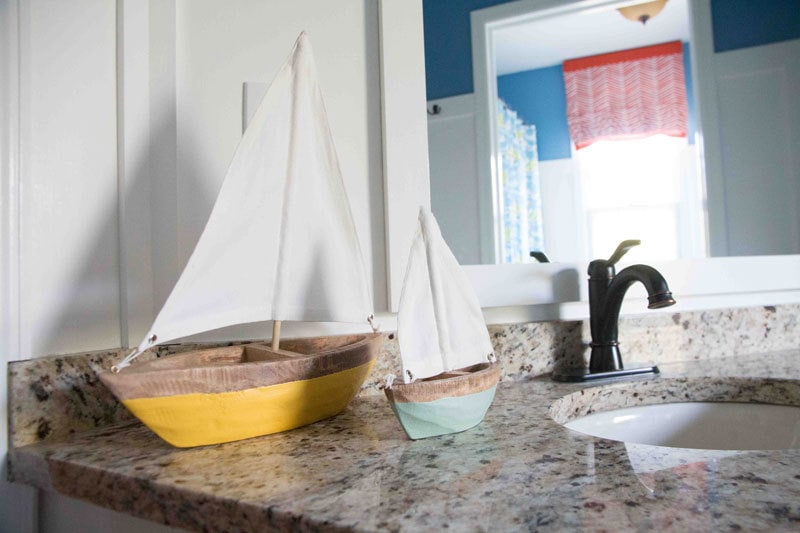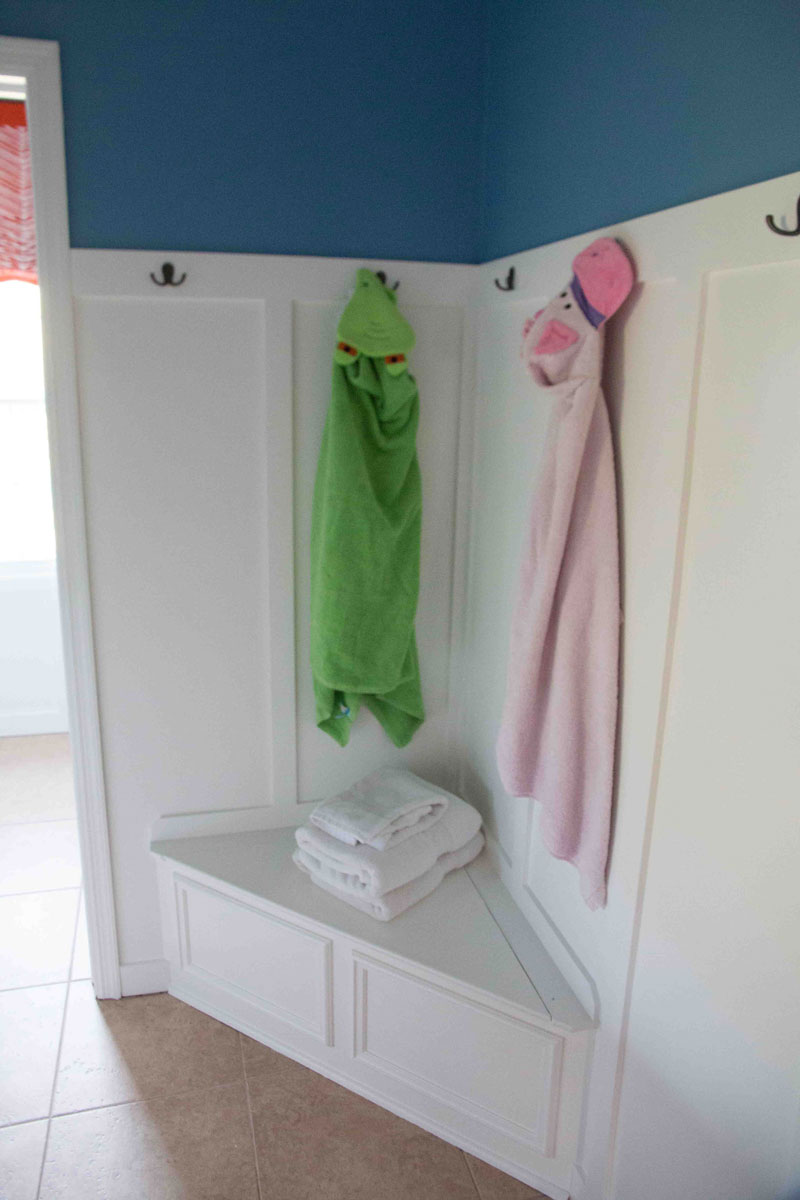 We painted the bench that was already there, and just added the board and batten trim above it to give the walls some more interest. Then we were able to add some towel hooks for some much needed towel storage! There was not a single towel rack in the bathroom before (or a toilet paper holder either!)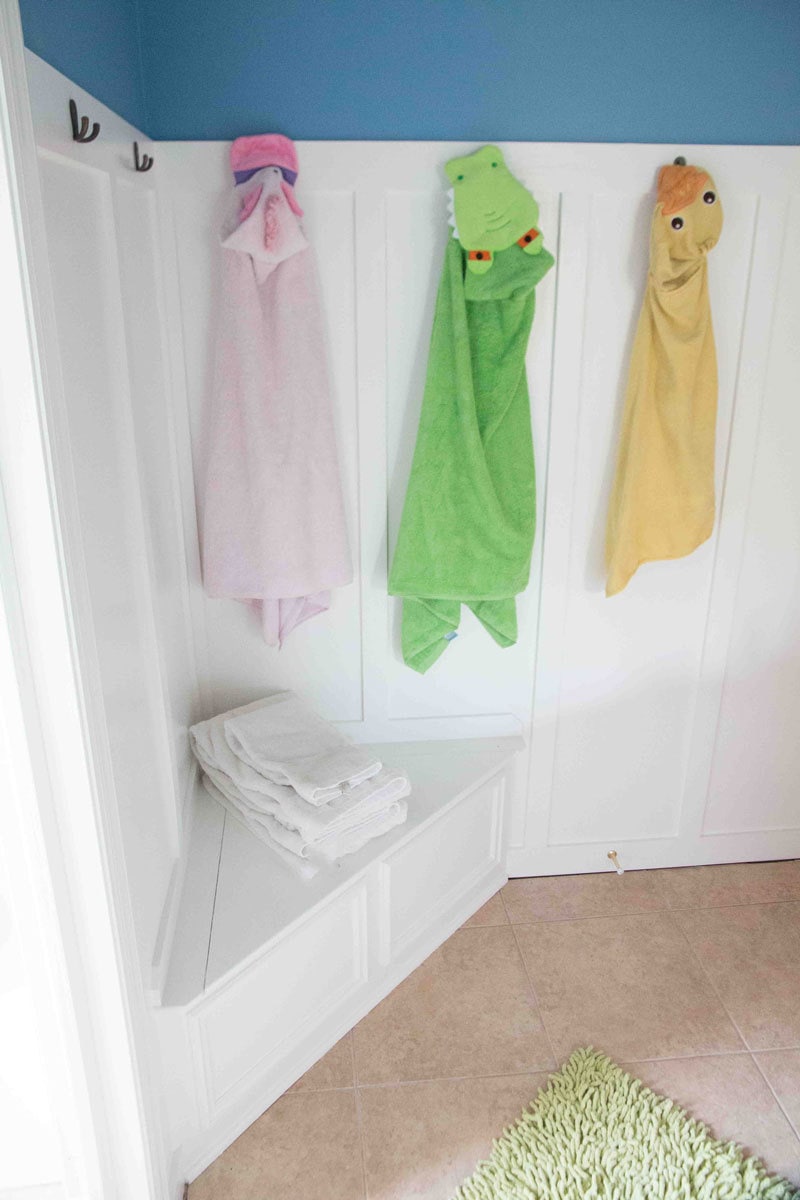 alligator towel/ horse towel / yellow duck towel/ green bath mat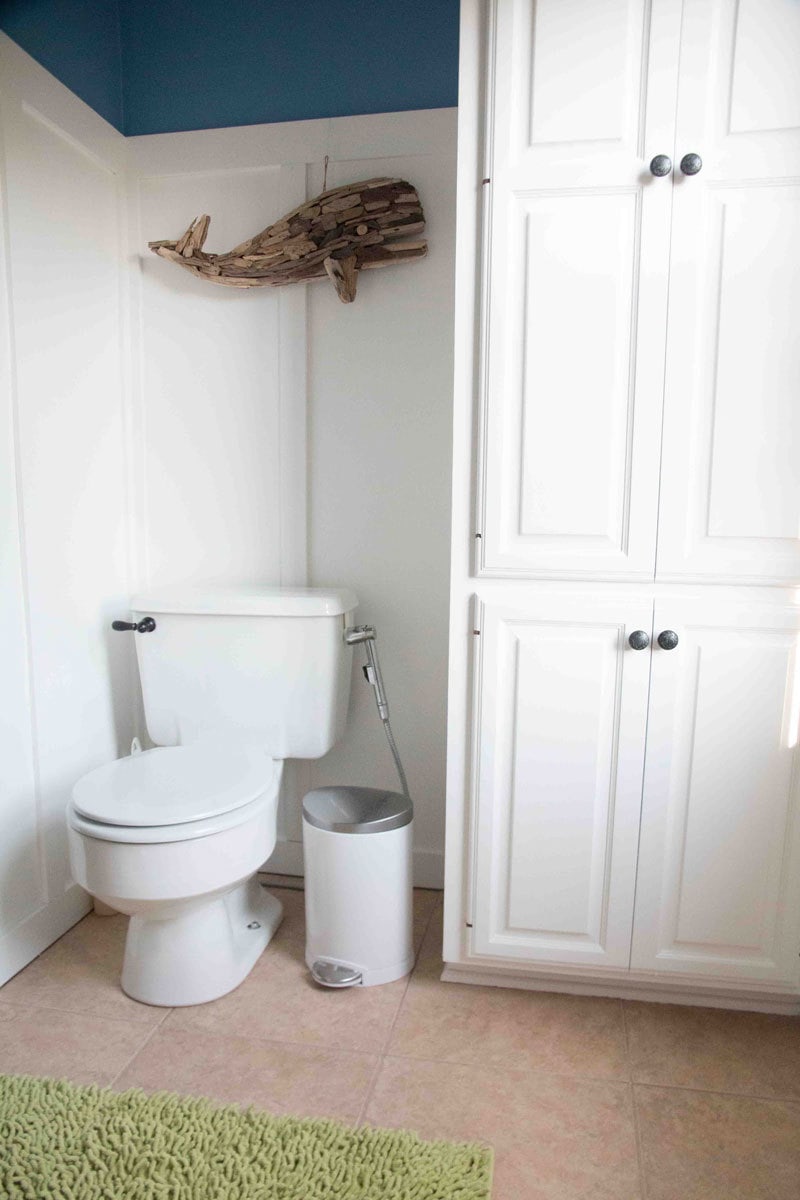 whale from Home Goods/green bath mat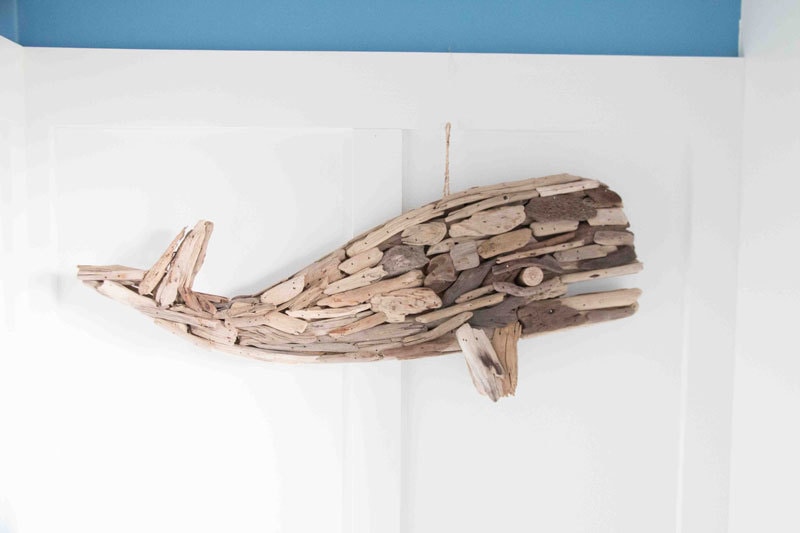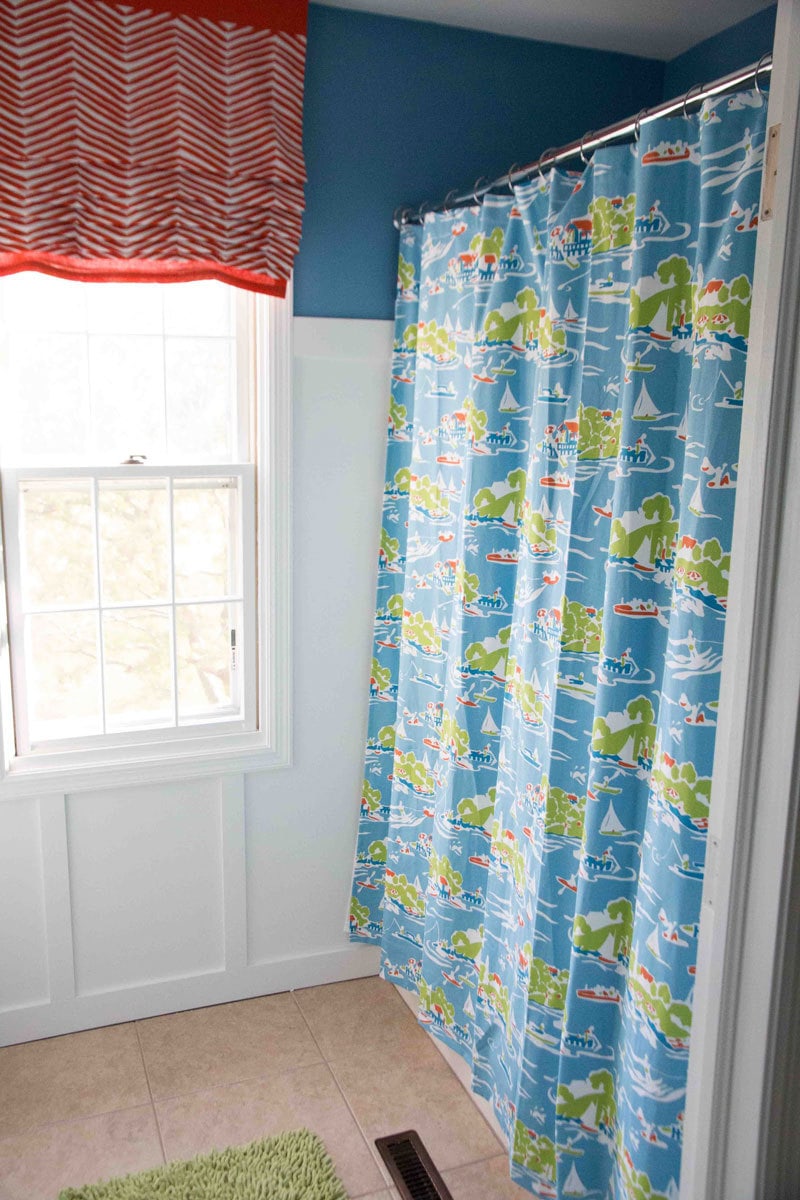 All in all, it was $400 well spent! The entire room feels completely different! I mean, look at where it began: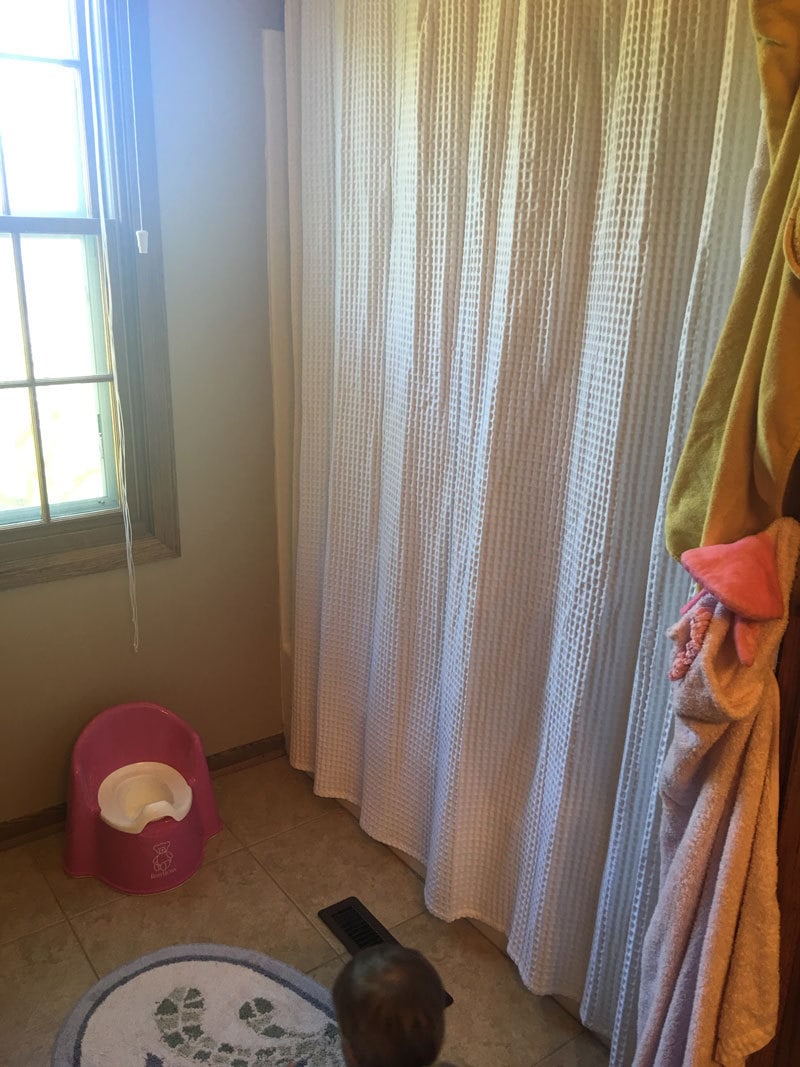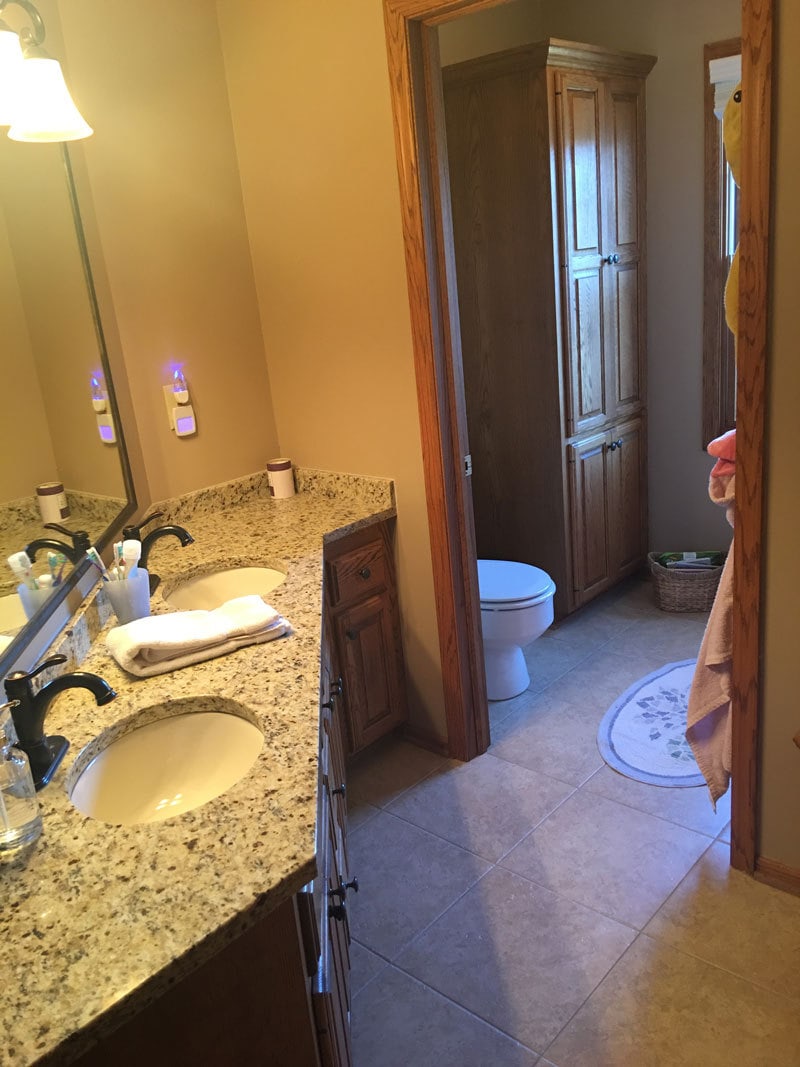 Brown everything!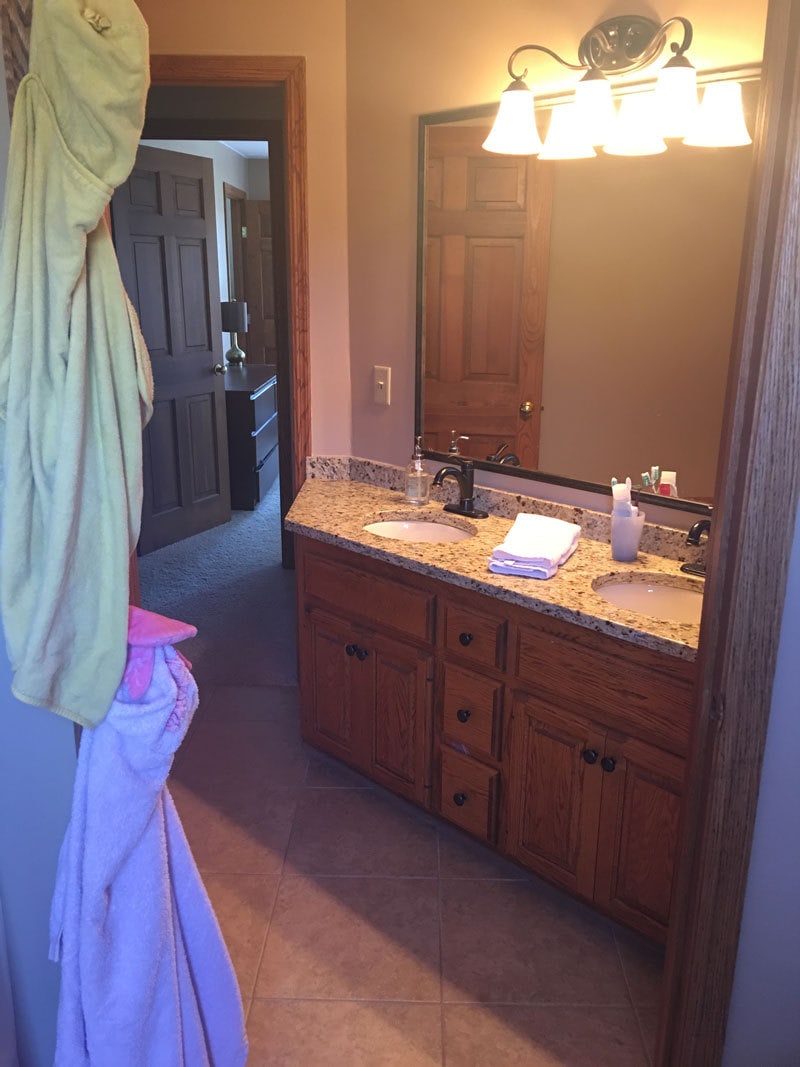 And it was so dark in there all the time! I had to turn the lights on to get a picture! Now, the white walls reflect so much light, we hardly ever have them on!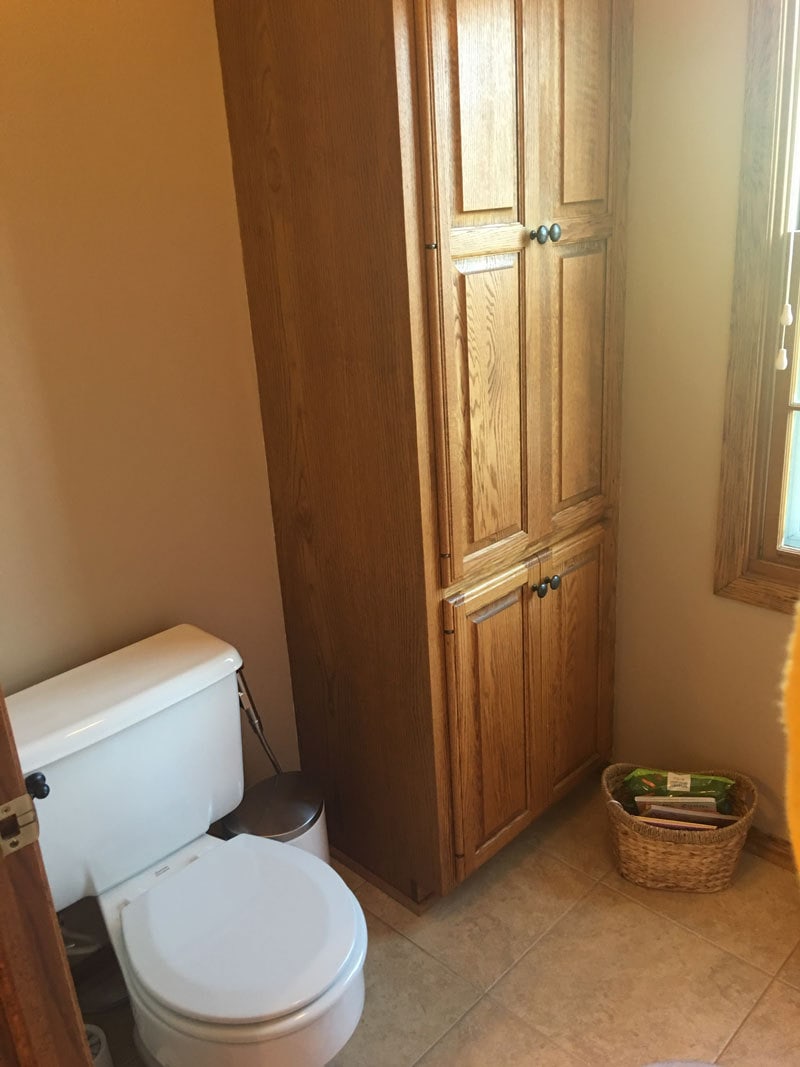 The only problem now is that I want to do this to the rest of our house which means a LOT of work 😉 If you like it, please consider PINNING the image below! Thank you so much for supporting All Things Big and Small!

So what projects are you working on? What is next on your list? Like I said, now I want to do this to the back hallway and downstairs bath–I don't think E is quite ready for another project though (nor one of that scale!) Maybe in October for the next One Room Challenge 😉
*affiliate links have been used at no additional cost to you. For sales resulting from these links, I get a very small percentage commission, which helps All Things Big and Small keeping running! Thank you for your support!
Linking up with Amanda at Meet at The Barre, High Five For Friday with Katie, Tif, Della, Caitlin; Oh Hey Friday with Karli and Amy; Five on Friday with Liz & Christina.