AFFORDABLE ARTWORK: Finding affordable artwork that you love is one of the hardest things about decorating a home. A house doesn't feel like a home with bare walls–It just feels unfinished! Here are the best sources for artwork that you can buy as prints or large scale reproductions–plus how to DIY some yourself!
AFFORDABLE ARTWORK
Finding large scale affordable artwork is hard, which is why I advocate buying a print of something that you absolutely love–or DIYing one! While I love supporting artists (my mother-in-law is an artist), we personally don't have the bank account to use all original art in our home.
*affiliate links have been used, read my complete disclosure policy here.

WHERE TO FIND AFFORDABLE ARTWORK:
#1 OPTION: ETSY
Etsy is the least expensive; but, the most intimidating to me, to find affordable artwork. Because so many artists are on Minted, it sometimes feels a bit daunting. That's why I love following specific artists on Instagram and then going straight to their Etsy stores to purchase items. While many of the artists here sell on One Kings Lane, I find that buying prints directly off of Etsy is the least expensive route.

#2 OPTION: MINTED
There are tons of sites out there to find art prints; but, I haven't found one yet, that rivals Minted.com between their customer service and their selection. For this post, I tried to go through their entire inventory and pick out my favorites, and let me tell you, it took a long long time! Basically, I could fill all the walls in my house with them and still want more!

First, go to Minted.com and click on Minted Art. From there you want to select "Fine Art Prints," and then "Shop Fine Art Prints."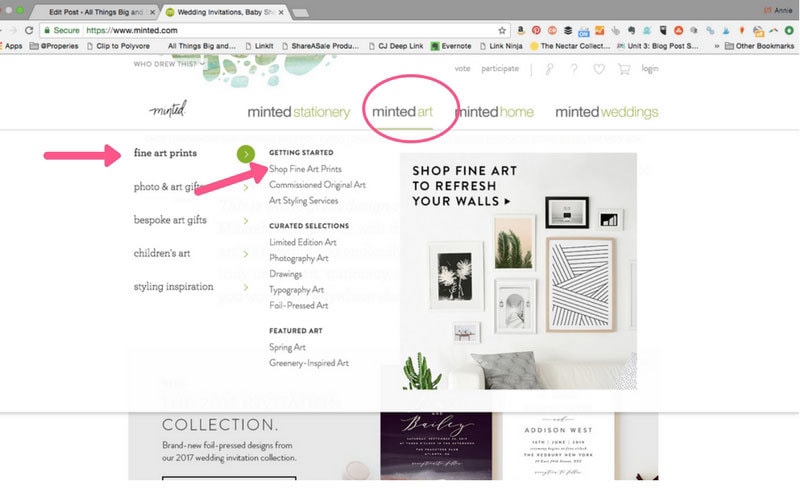 Then you'll come to something like the following page. I tend to like abstract prints; but, I also like photography. So I usually select those two options. You can even select which orientation you want the artwork to be (portrait/ landscape/ square) which is really helpful if you are searching for a piece for a specific spot. If you have an artist that you love, you can even browse for their prints by selecting their name!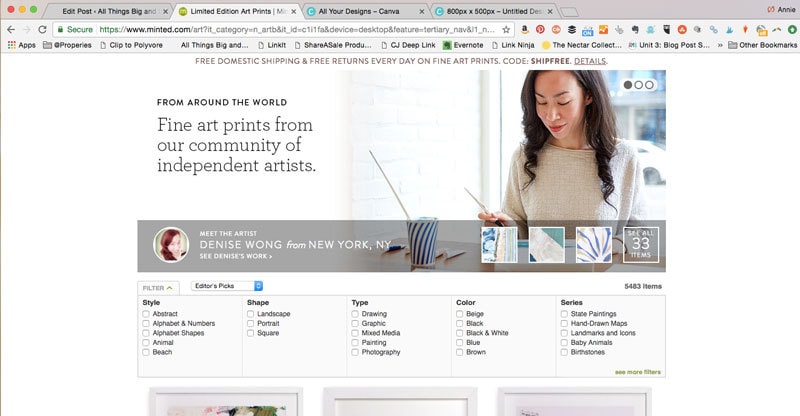 OPTION #3: Big Box Stores
I'd never have thought about shopping at some of these stores until lately. They have really upped their abstract artwork game! While some of the prices are higher, some are definitely lower than you would be able to get anywhere else! Also, make sure to check TJMaxx and HomeGoods for abstract art prints–they tend to have very large scale canvases for cheap.

OPTION #4: MAKE YOUR OWN GALLERY WALLS FROM BOOKS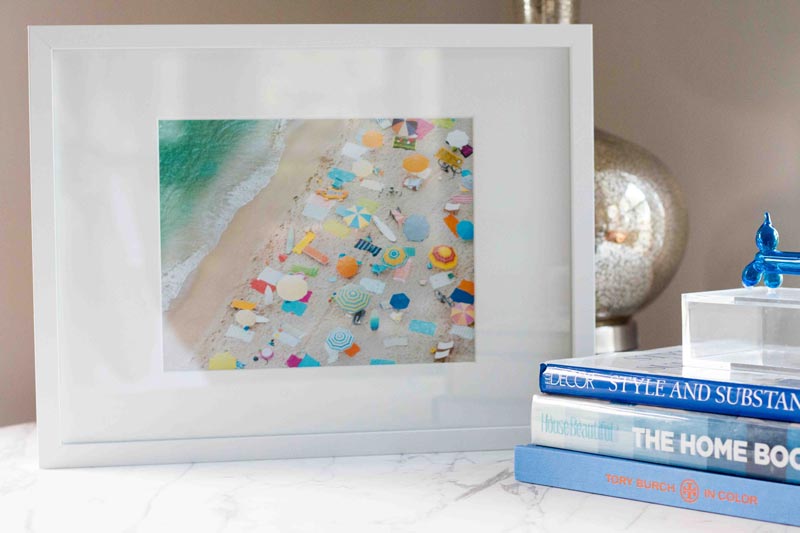 I used this method to make some DIY Aerial Beach Art on the cheap! While I love Gray Malin's artwork, I couldn't swing paying for one of his original pieces. Instead, I bought his book and ripped out a few pages and then framed them! VOILA! Framed art for less than $24! Both of his books are great sources for art, as well as the other two books I have listed below (one is yet to be released–but I've pre-ordered it) and the other is great for aerial photography.

HOW TO MAKE AFFORDABLE ARTWORK
I am no artist–heck, the last art class I took was in 8th grade! I took art history in high school and college to fulfill my art requirement because zero hands-on art was required! It's ironic because I've made most of the artwork in our house–which goes to show you that you don't need any experience to do these art projects!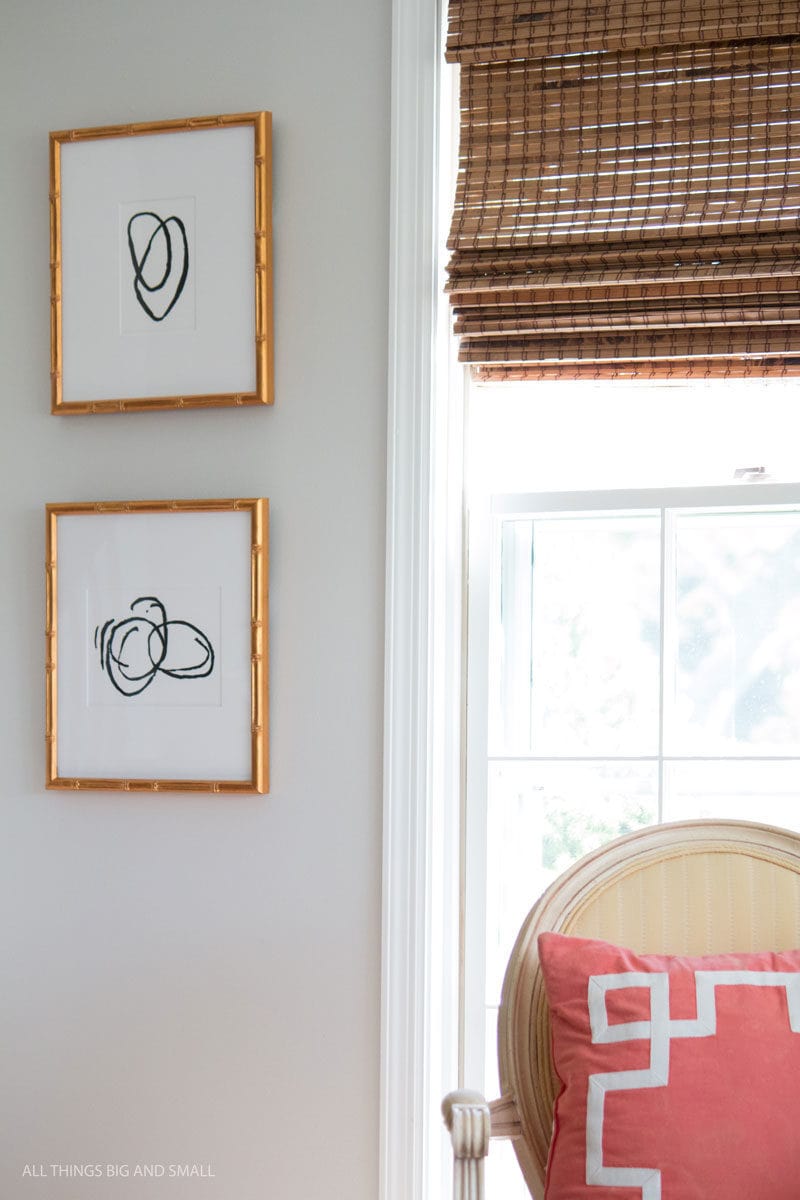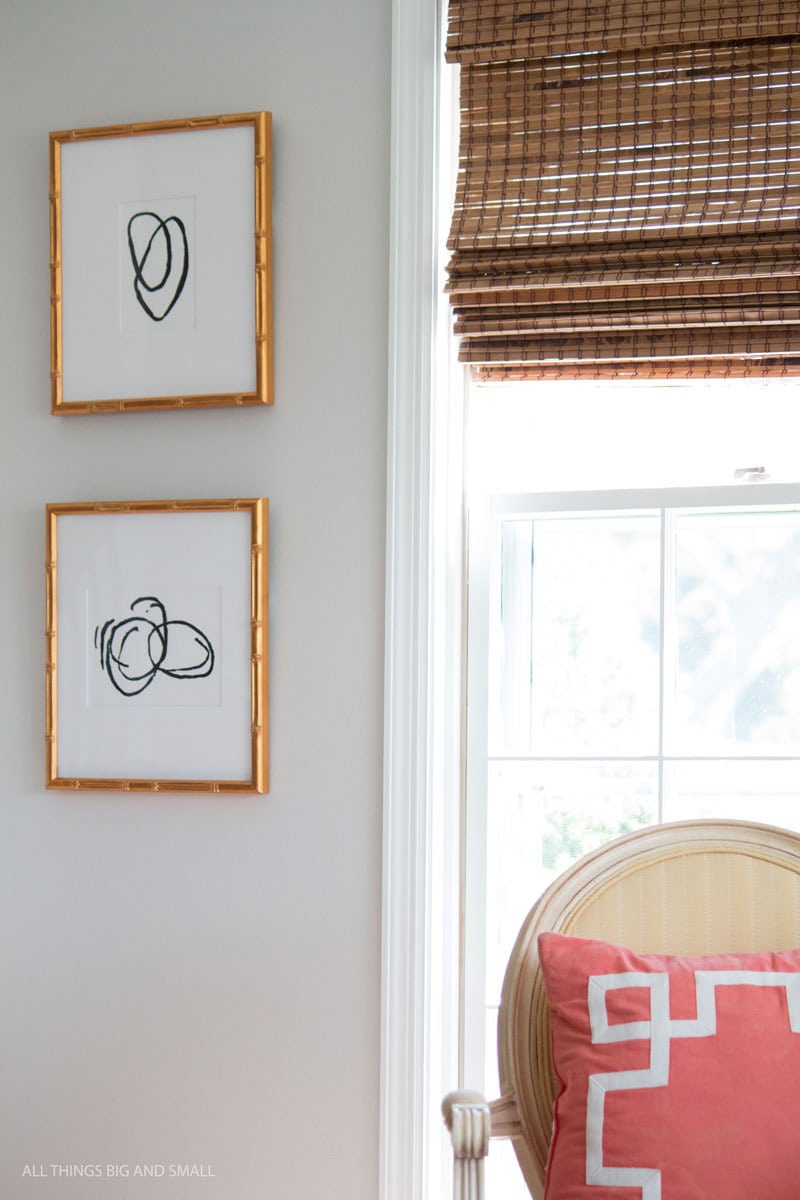 DIY Black and White Abstract Artwork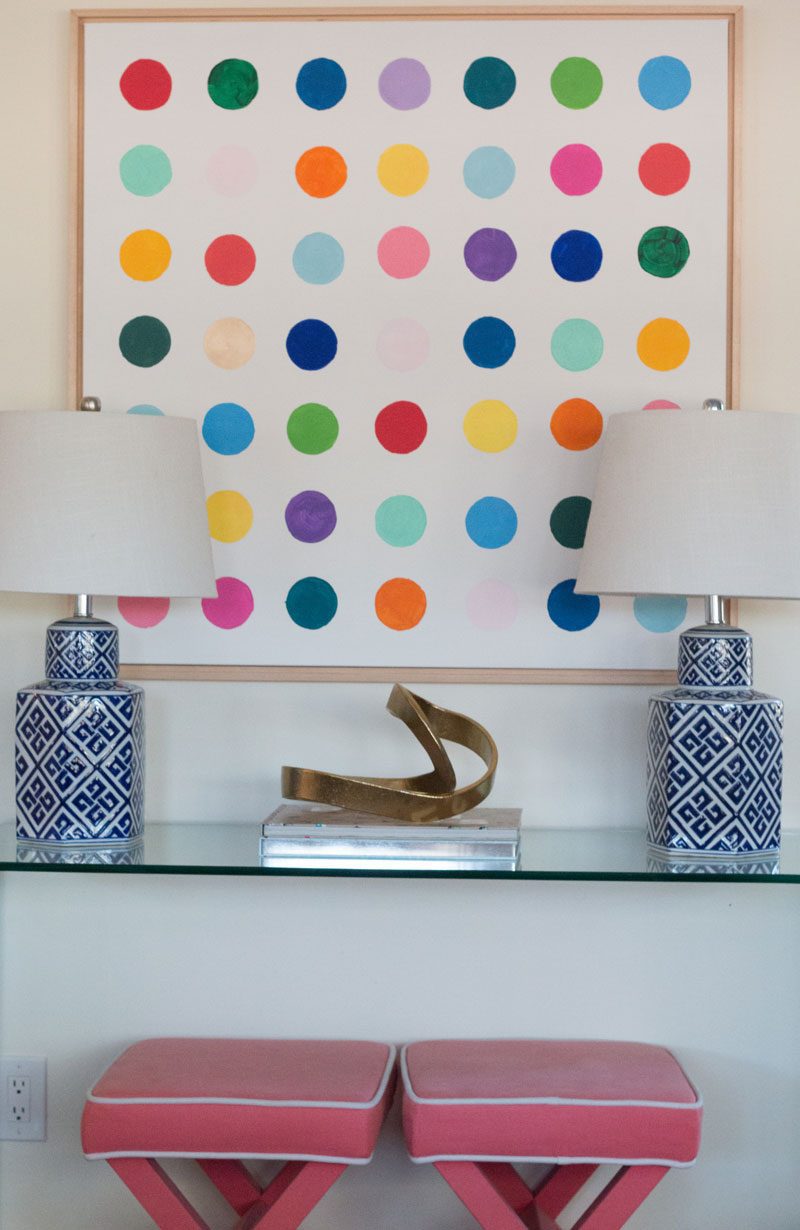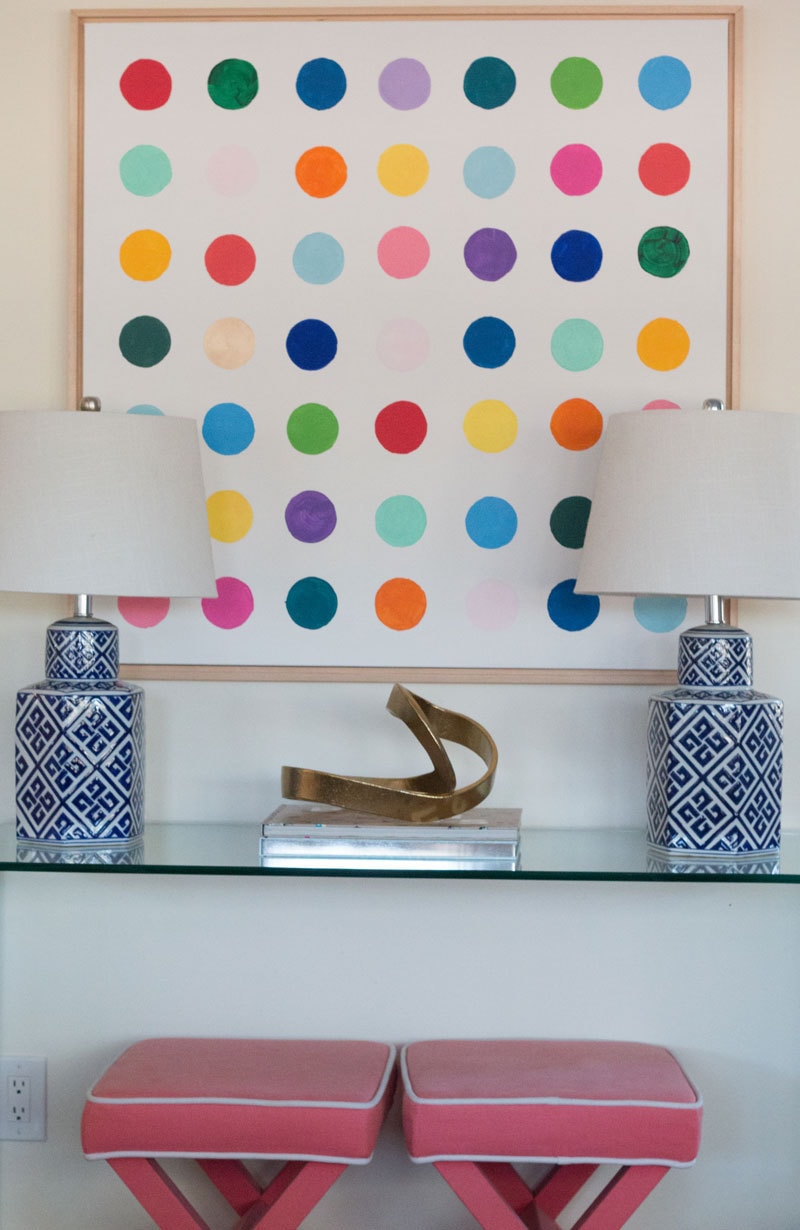 DIY Wall Art–Large Geometric Wall Art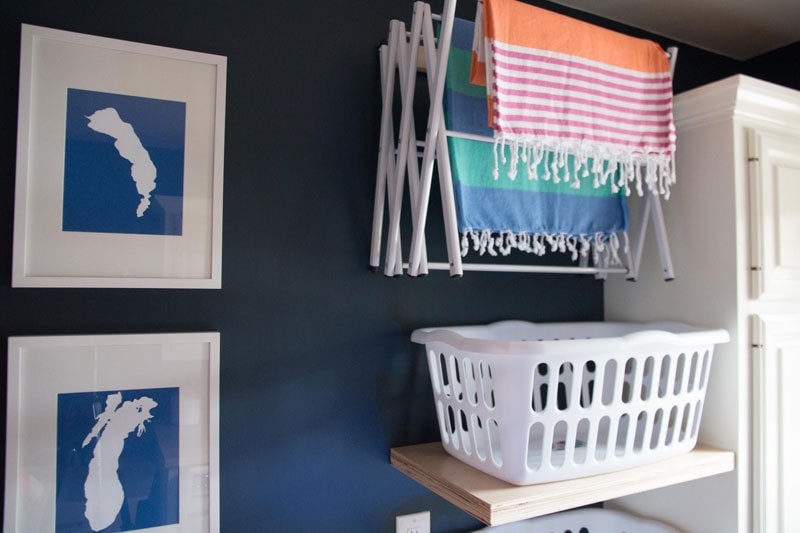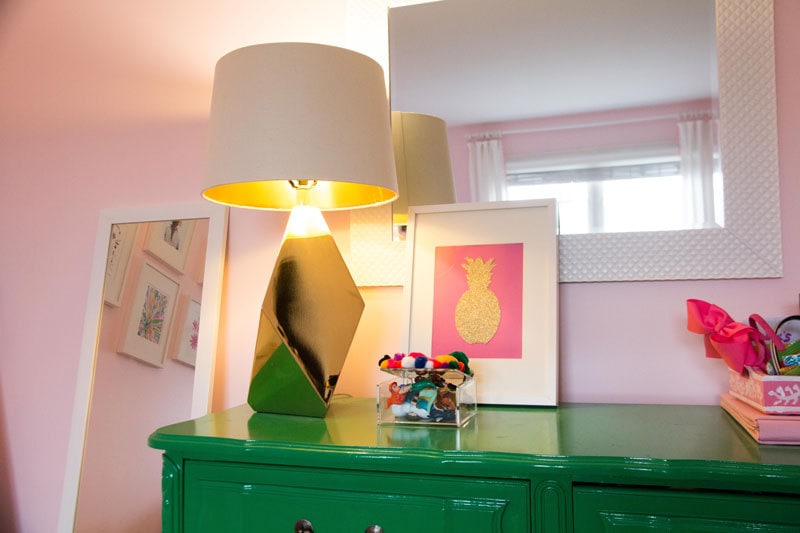 HOW TO FRAME AFFORDABLE ARTWORK:
Remember, you can always put an original in a store-bought frame! Most of the frames in our house are either DIYed, from Ikea, or from Target. Custom framing from places like Framebridge, I save for bigger budget projects.
Below are my favorite frames I use over and over again in our house! You can't beat their prices!

HOW TO PICK OUT ARTWORK
Picking out affordable artwork that you absolutely love is so much easier now! I tend to know my style pretty well–I like punches of bold color, and my favorites are pink and blue. But, if you don't know what your style is, then think about the space you are decorating.
Could it use some color or do you need more neutrals?
If you are completely stuck and don't know where to start–look for colors you like! Your wardrobe says a lot about your favorites–mine is mostly blue with pink accessories. Then pick out pieces of art that make you happy, and that are pleasant to live with. That was the motto of one of the most amazing art collectors of the 20th century–Henry Clay Frick. He always picked out paintings that were "pleasant to live with" not necessarily what art collectors told him to buy!