Console Table Decor: The Secret to Styling a Console Table and What You're Messing Up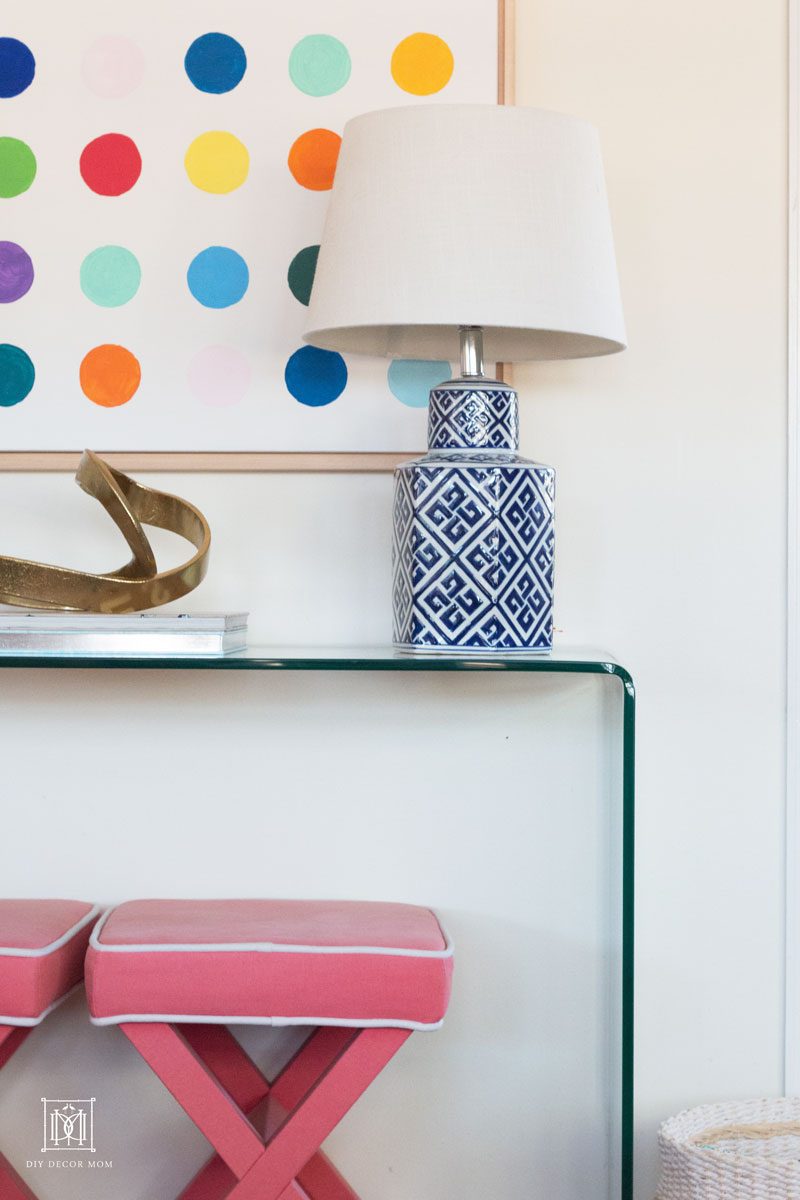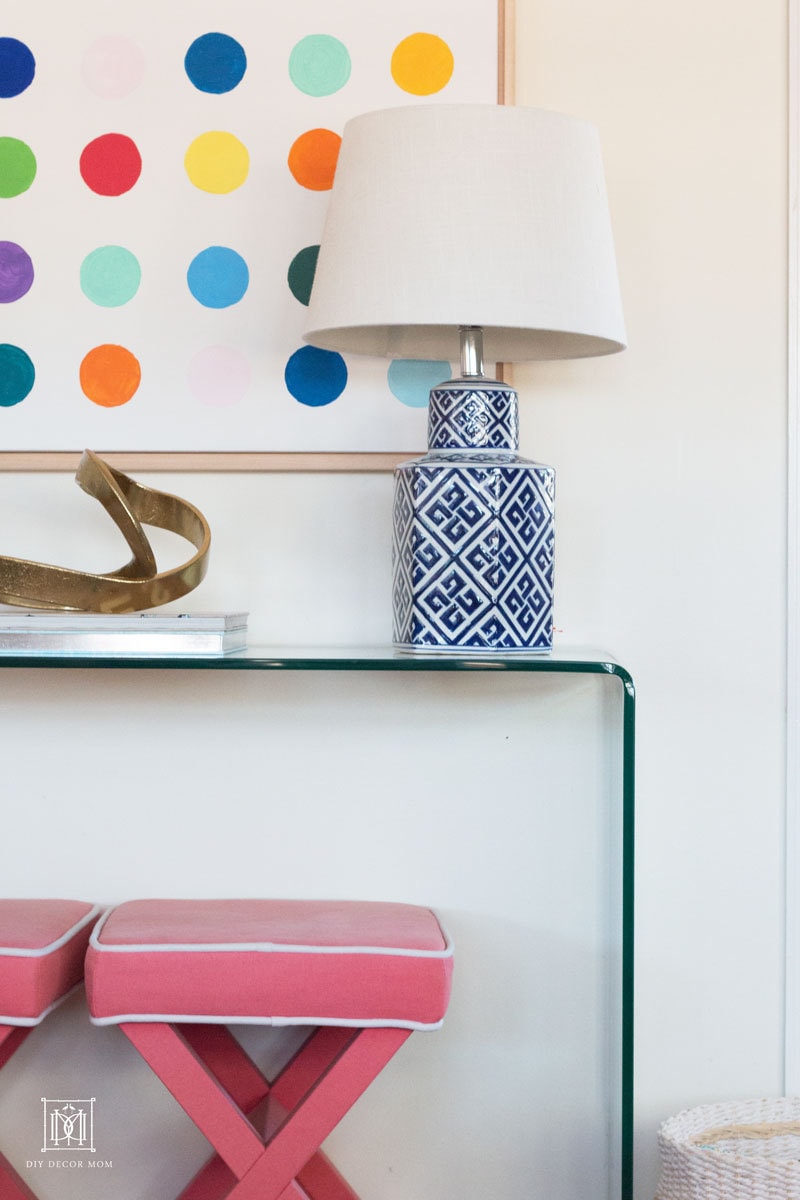 *This post is a sponsored post in partnership with Steinhafels. All thoughts and opinions are mine alone.
Most of us have a console table or two somewhere in our house. We might have one in our entryway, behind a sofa, or on a wall along a walkway in our family room like we do. After hemming and hawing over what to do with this odd space next to our kitchen and along the wall into our family room, we finally decided on a glass console table.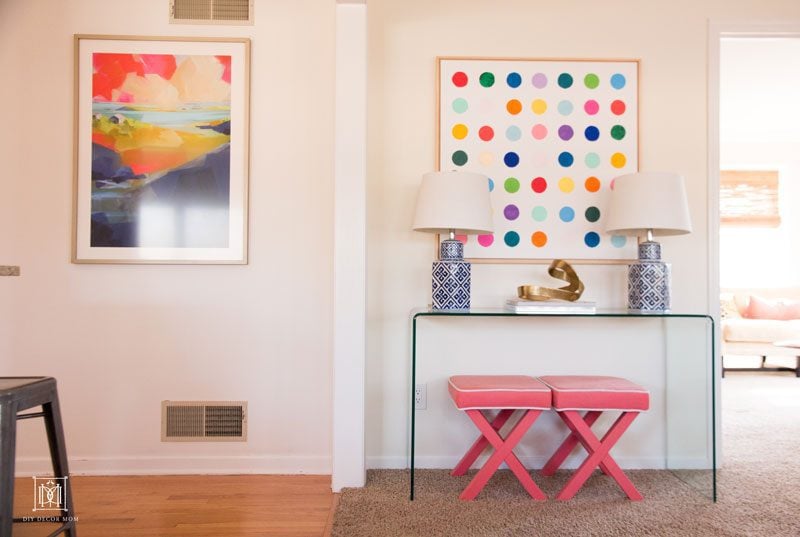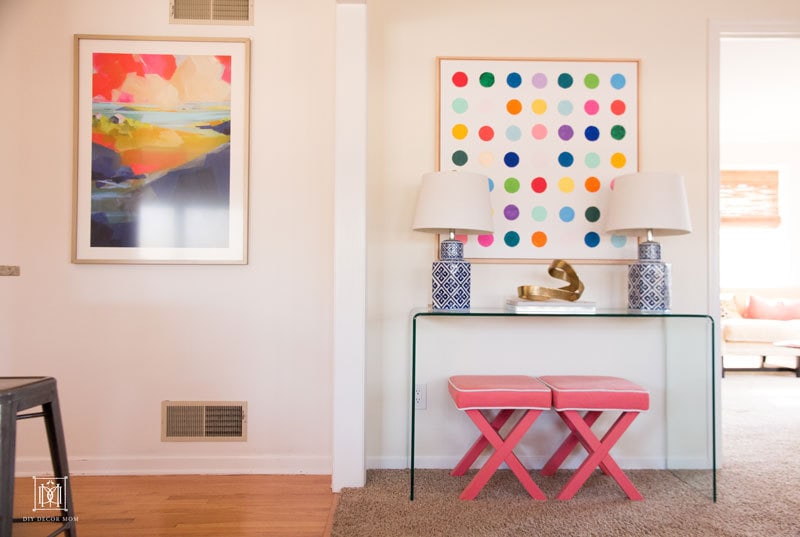 Clarity Sofa Table from Steinhafels.
Previously, we had an old dark black low bookcase from my college days. Yes, it was the first piece of furniture I ever bought and well, it looked the part! It had dog teeth marks from when our first great dane was a puppy, the veneer was coming off, and it just collected dust! Well, dust and dinosaur figurines. You better believe I was so ready to throw it out; but, I didn't know what to replace it with. (See below how dark it was–it just looked way too heavy for the space!)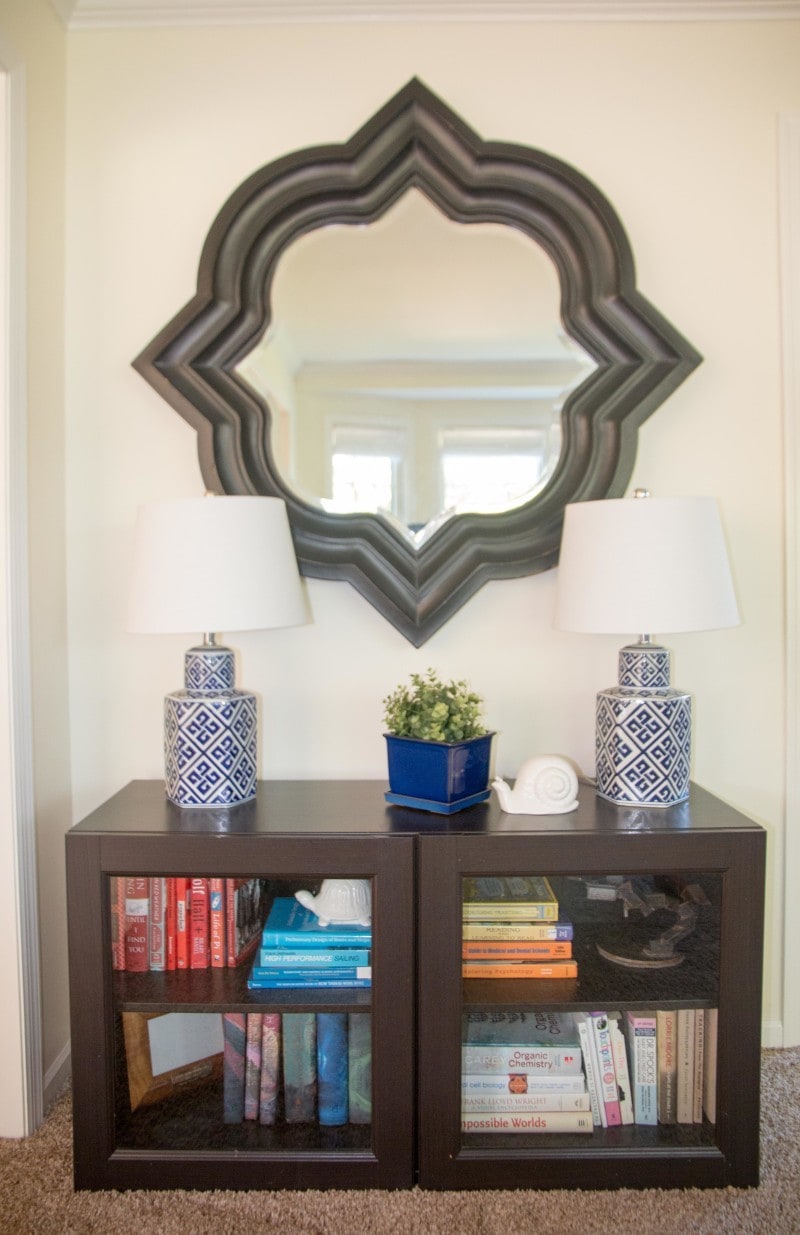 This past fall, we got rid of the old mirror (actually we just painted it and relocated it to the Playroom), and then upgraded the console table with the Clarity Sofa Table from Steinhafels and I am in love. It looks so much better!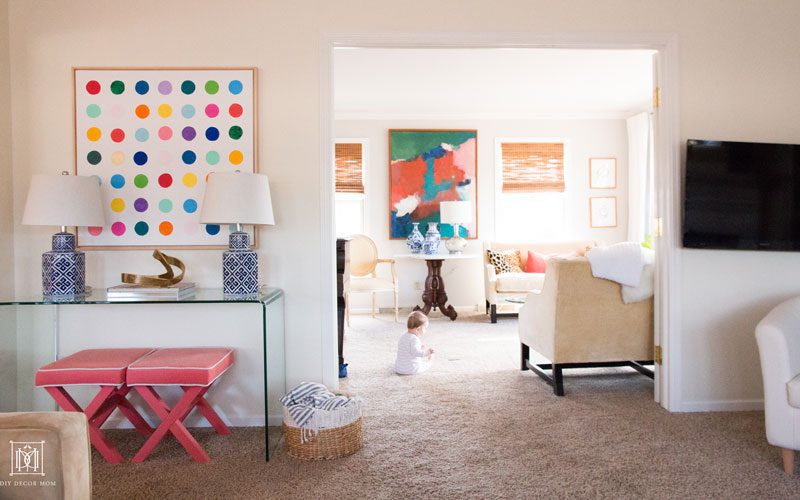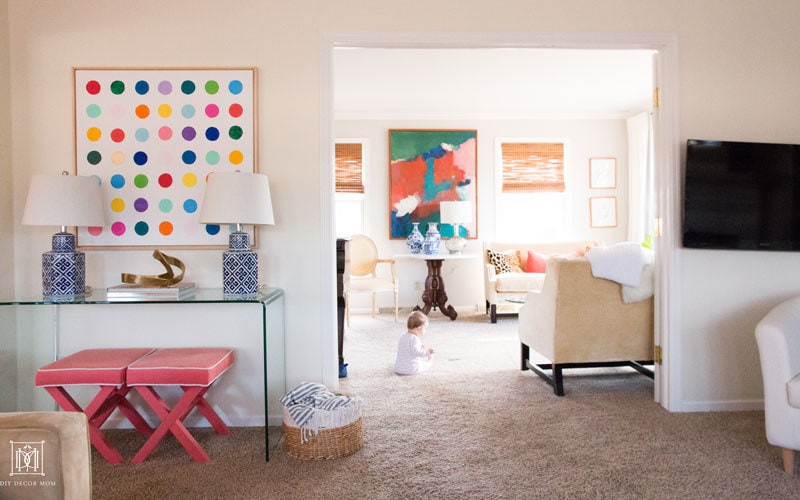 With clean lines and glass, it seemingly floats the two lamps we need for light. Its elegant curved legs visually take up less space than it in really does. Now, let's get into how to style it!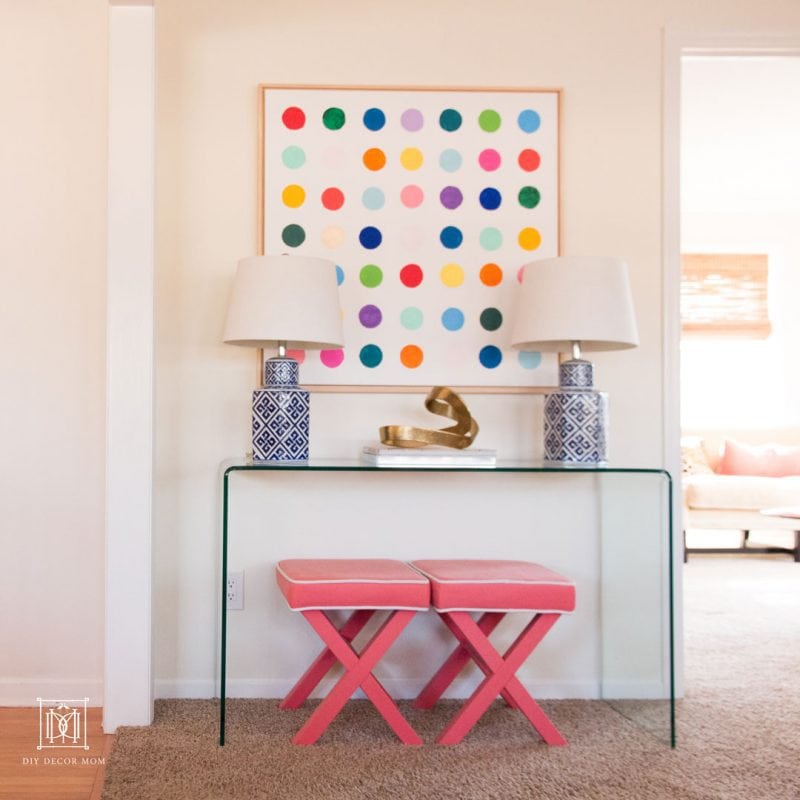 CONSOLE TABLE DECOR: HOW TO STYLE A CONSOLE TABLE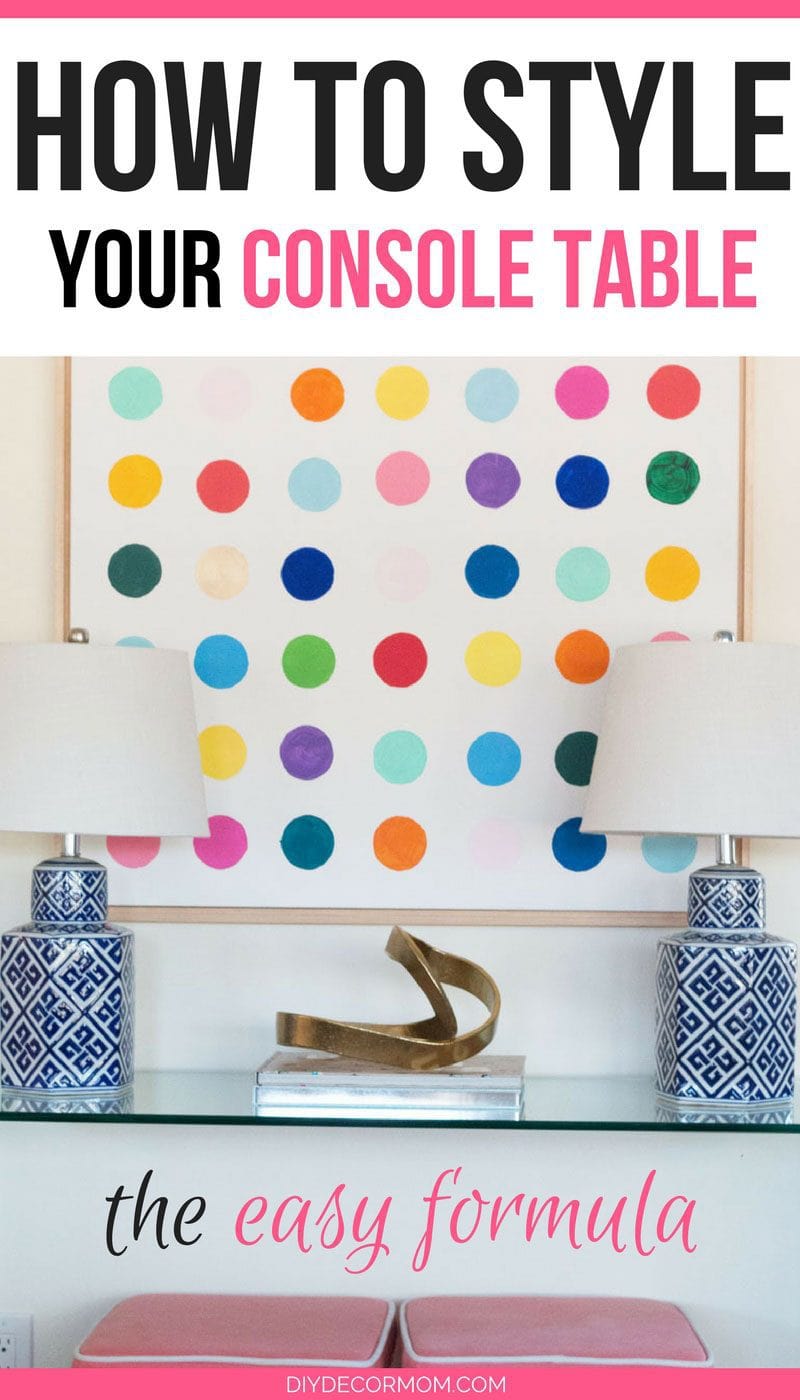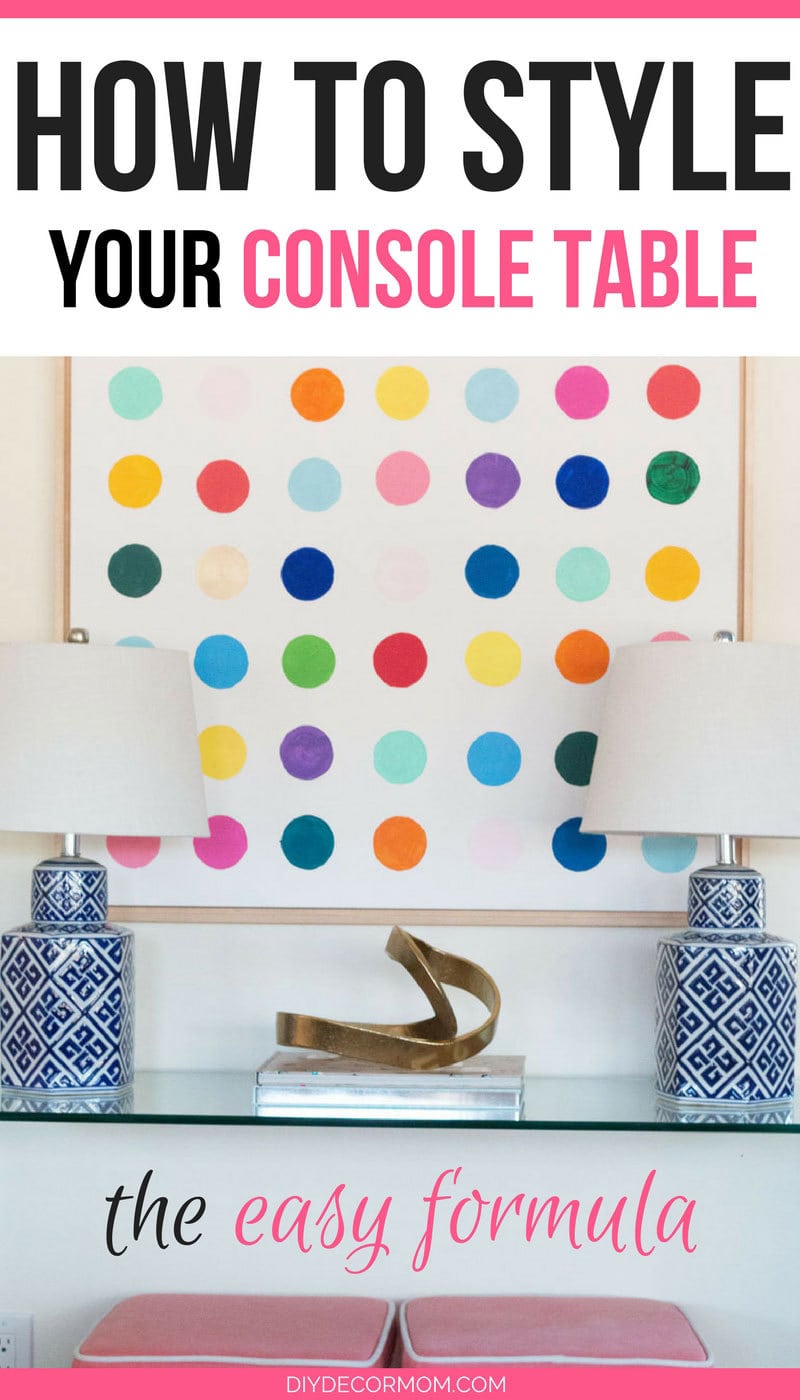 STEP ONE TO CONSOLE TABLE DECOR: PRIORITIZE

What are your aims for the console table space? Is it merely a landing spot for your car keys and purse when you walk in the door? Is it to hold drinks and a lamp behind the sofa? Or is it to light up your room and provide some visual interest?
Whatever your purpose for the piece is, you are going to need to remove everything else. Start with a blank space and then layer on.
For us, the most important function of the console table was to hold our two blue and white lamps. We rely on these lamps and the other two flanking the couch for 95% of the light in our family room, so whatever console table we chose–it had to look good with our existing lamps.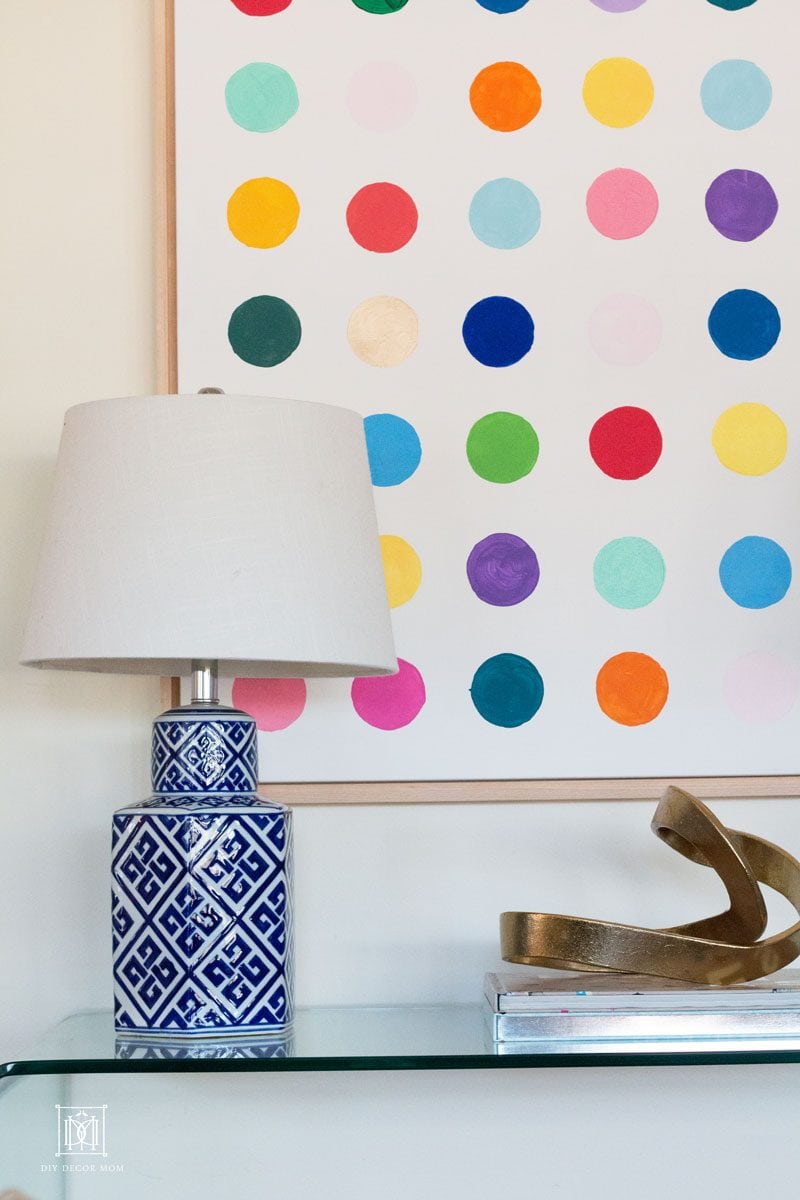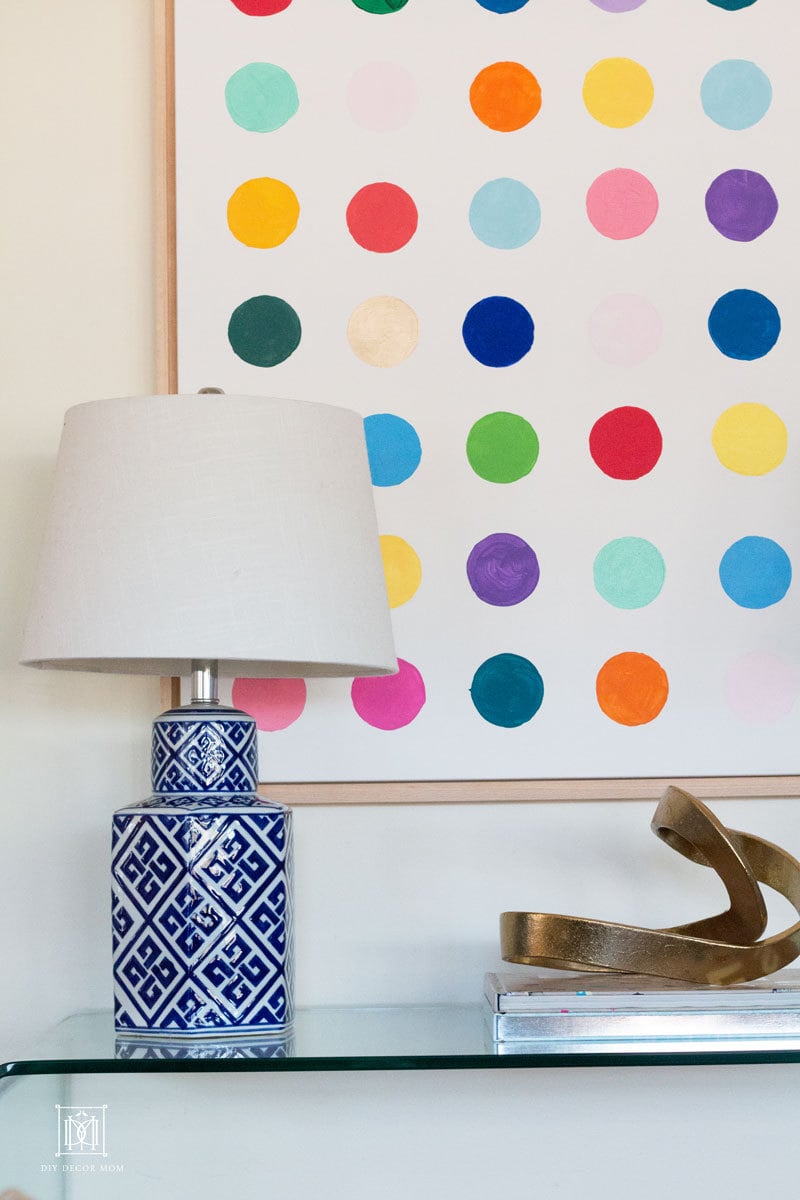 STEP TWO: CLEAR THE CLUTTER

So often in our homes, every horizontal surface becomes a cluttered mess. We wonder why our homes don't feel good and look good. Well, this is why! Clutter takes up not only your brain bandwidth but also takes a hit on your home's aesthetics.
Find other homes for the stuff that you currently keep on top of your console table that you don't need nor want–whether it is in our out of your house (drop off extra items to your local charity!)

STEP THREE: BALANCE THE BIG ONES

Add the big things back in. These are the non-negotiables and are key to the console table providing function in your home. Balance the large items visually by either creating a symmetric arrangement, or counterbalancing them by creating groupings of several small objects to balance one large object.
If you have an open console table like the Clarity Sofa table by Steinhafel's, consider storing small accent stools or ottomans underneath. Another option for underneath storage is large baskets which can be useful for corralling throw blankets, extra pillows, or kids toys (you can guess what we store 😉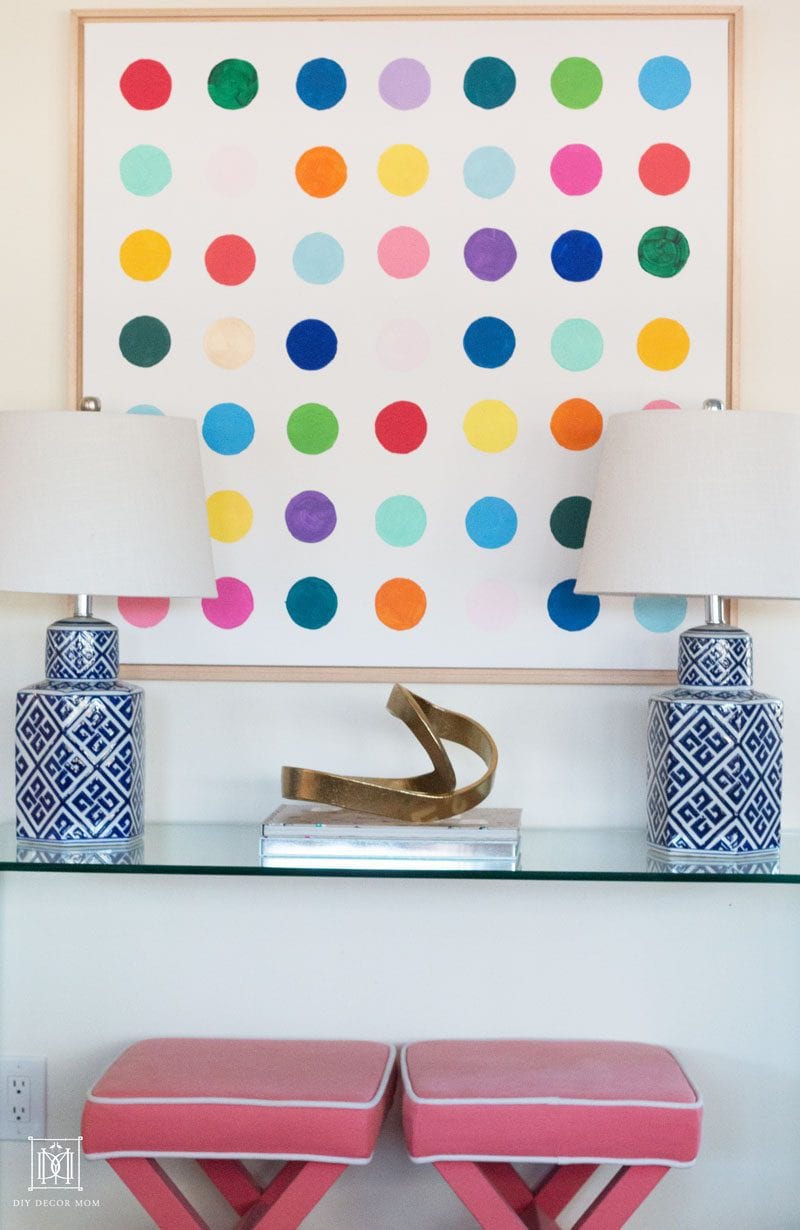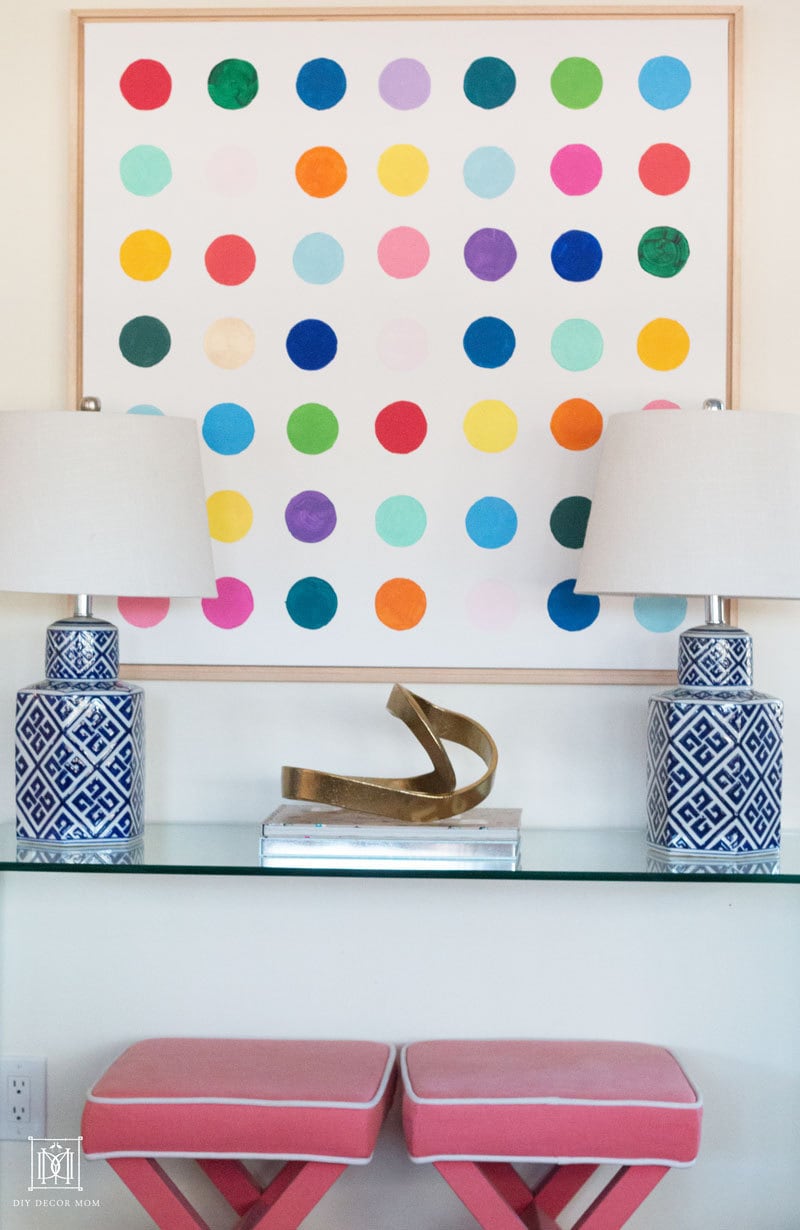 STEP FOUR: ADD A TRAY OR LARGE BOOKS

Add back in your middle-range size objects. We added in a lovely tray I was gifted from my sister-in-law for Christmas, and centered in in between the two lamps.
You can also add in a large stack of hard-cover books horizontally. Choose similarly colored large coffee table books for the best results.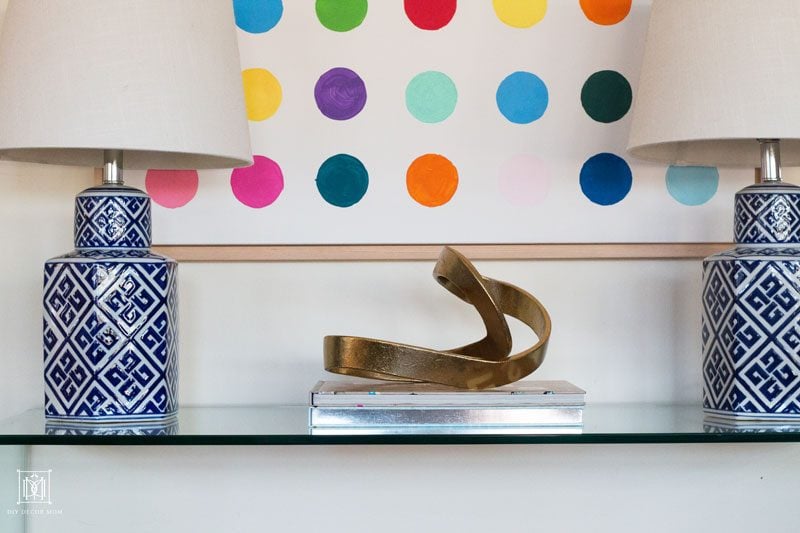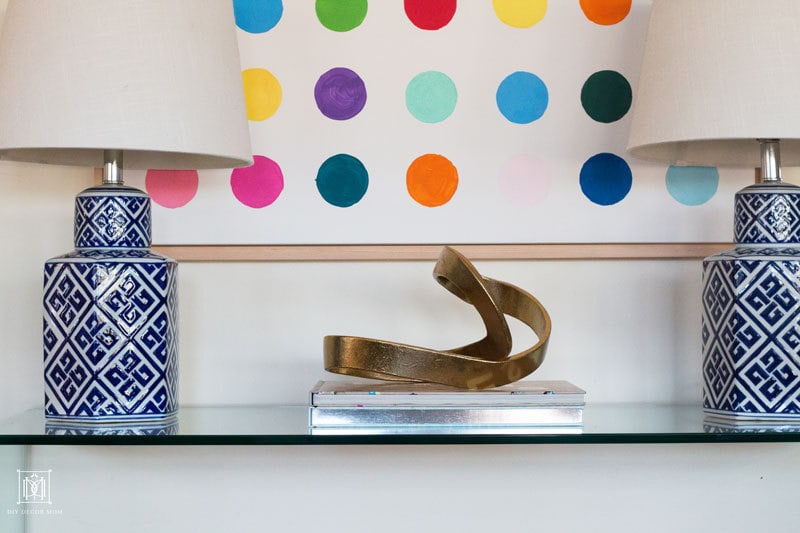 STEP FIVE: ADD SMALL DECORATIVE OBJECTS

Lastly, you want to add in small decorative objects (I will not use the word tchotchke here!) These might consist of pottery and vases, live plants (succulents, air plants, or potted plants all work well), or decorative objects like sculptural art, home accessories (a magnifying glass, a metal object, or a large sea shell.) You want to mix it up with these objects so it gives your console table some life. Play with textures and colors–smooth, and rough or metallic vs. matte.
You can see, I added a large decorative object on top of a smaller stack of books to create a simple statement. With a "loud" abstract piece behind it, I wanted to balance the sharp geometric look with something smaller and add a touch of gold to connect the rest of the room and mantel.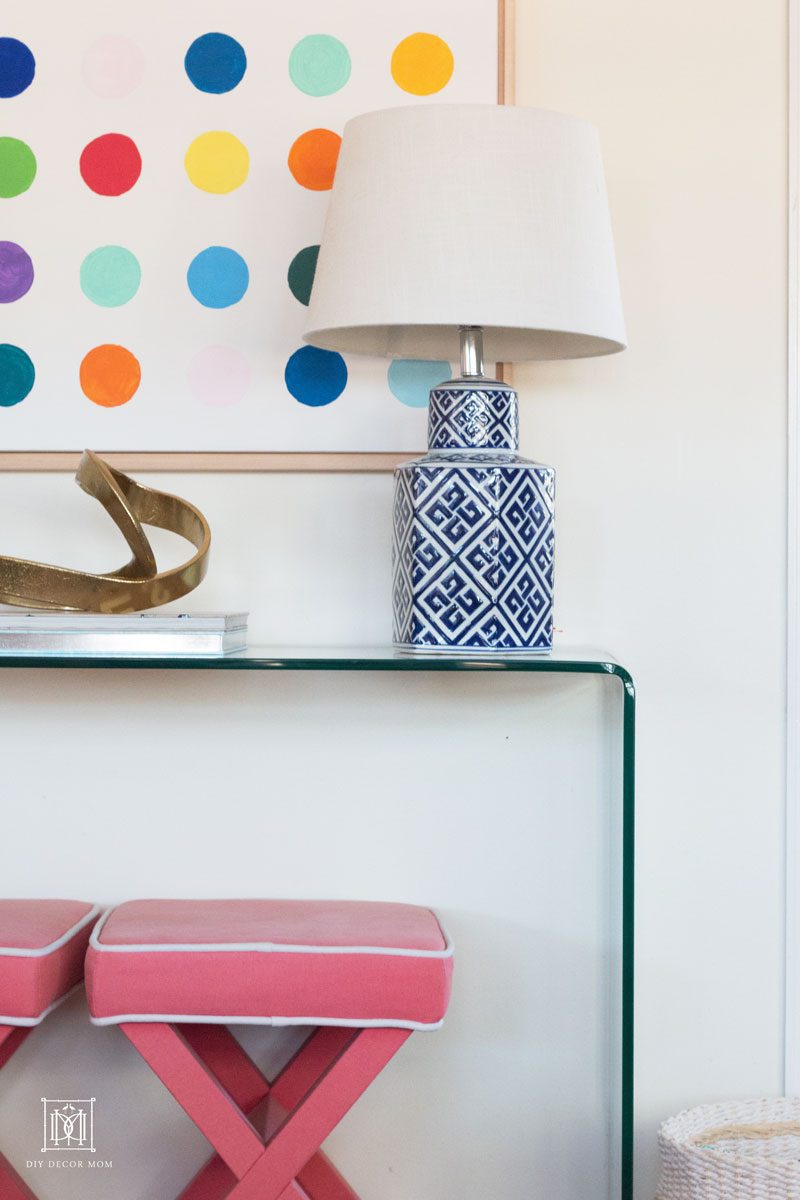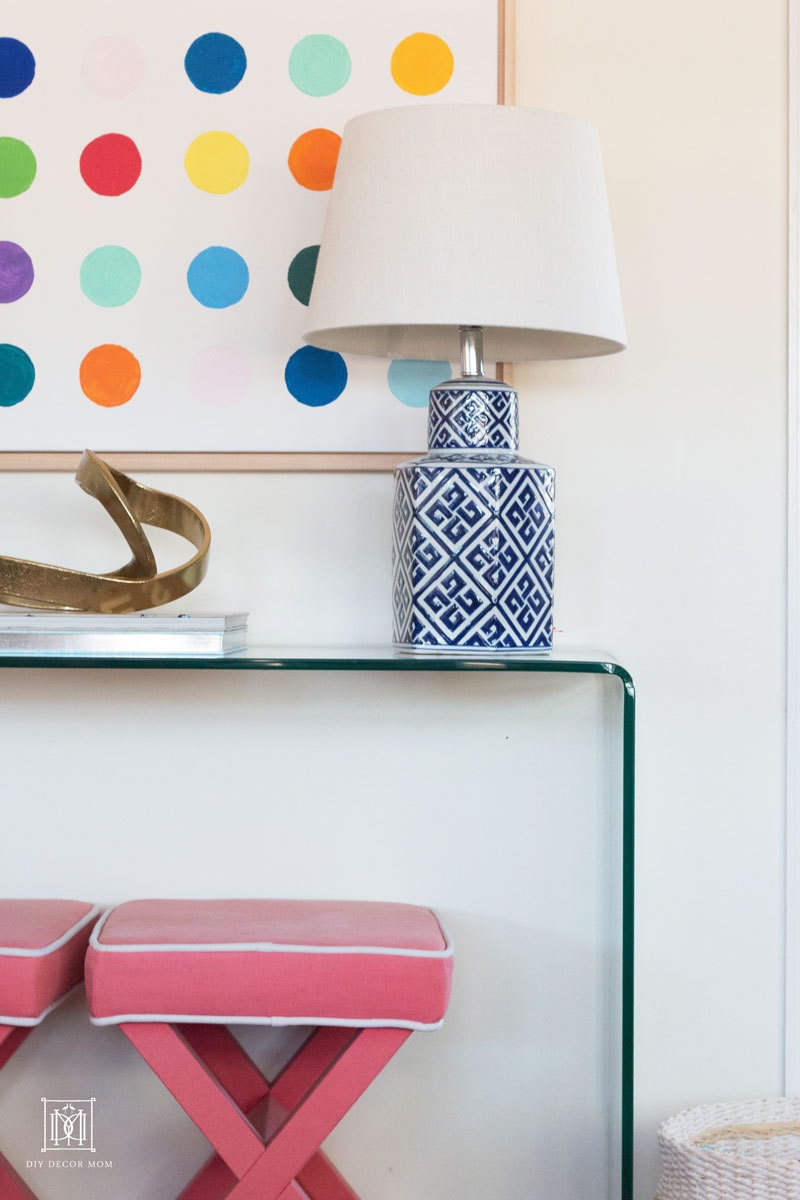 If you are in Wisconsin and looking for home furnishings, you really should look into Steinhafels! I went there with all three kids one afternoon and I was blown away by their selection, the quality of furnishings, and the style! Plus, they couldn't have been more helpful or easier to work with! For families it is a great place to shop: they carts to push the kids in so I could look at all the furniture (you better believe I took lots of pictures so I could convince my husband we need a new couch!) And they even have a play space for little kids. They even helped me out to the car! Let's just say that my first time shopping there was an amazing experience and I will definitely be returning 😉

LIKE THIS POST? YOU'LL LOVE THESE:
PIN THIS SO YOU REMEMBER IT FOR LATER!