Free Printable Grocery List and Meal Planner: This easy to use grocery list template and meal planner will finally get you organized, so you don't have to start your list from scratch every week and you can stop running out of food at your house and eating out! As a mom of four, this printable list is a lifesaver!
FREE PRINTABLE GROCERY LIST
Using this grocery list template (we printed our's out and laminated it so we can use it with these dry erase pens these dry erase pens)* has streamlined our family's meal planning! No longer do I panic when it's time to go grocery shopping–we've added to it through the week as we run out of things, plus it's organized by food category so it makes shopping easy, and we've stopped impulse buying at the grocery store. It started with a simple piece of paper taped to the side of our kitchen cabinet opposite our family command center, and has grown into an easy to use system! *affiliate links have been used at no cost to you–see my complete disclosure policy here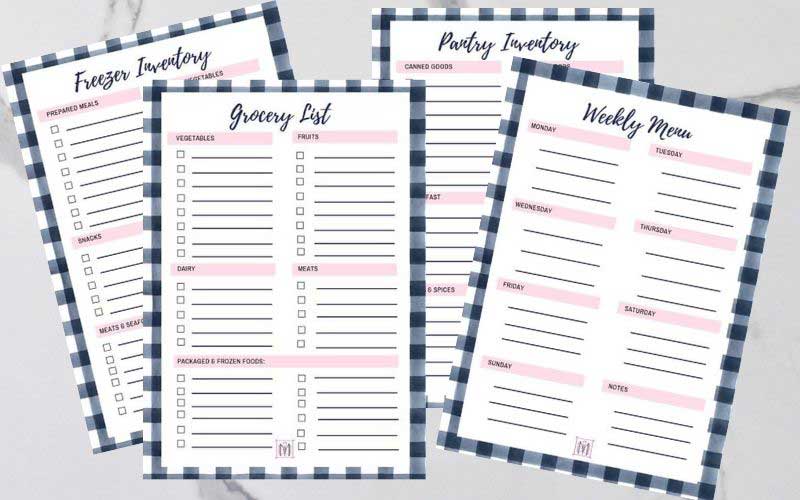 Now I have to admit that I am a late adopter. I am not a natural planner by nature, so weekly meal planning totally freaked me out. All my friends had been telling me for years that I need to do a simple meal plan and have an ongoing grocery list. Well, after using one for several months I am converted! This system has saved me so much worrying about "what's for dinner?" and "do we have everything we need?" Now, I want to kick myself for not doing it earlier!
We usually go grocery shopping two times a week for our family (usually Monday and Thursday.) My husband often does the grocery shopping because Meijer is right by his office. And using this has made the shopping part go twice as fast! We love shopping at our local Meijer, because they have the best produce–and they make it easy if I want to do curbside pick up or delivery (such a blessing with young children!) So whether or not you want to do the grocery shopping yourself, or have it delivered–the free printable grocery list will save you time!
*Full disclosure: Although I am a Meijer ambassador, this is NOT a sponsored post. I just absolutely love them and that's why I recommend the company (hence why I am always talking about them!)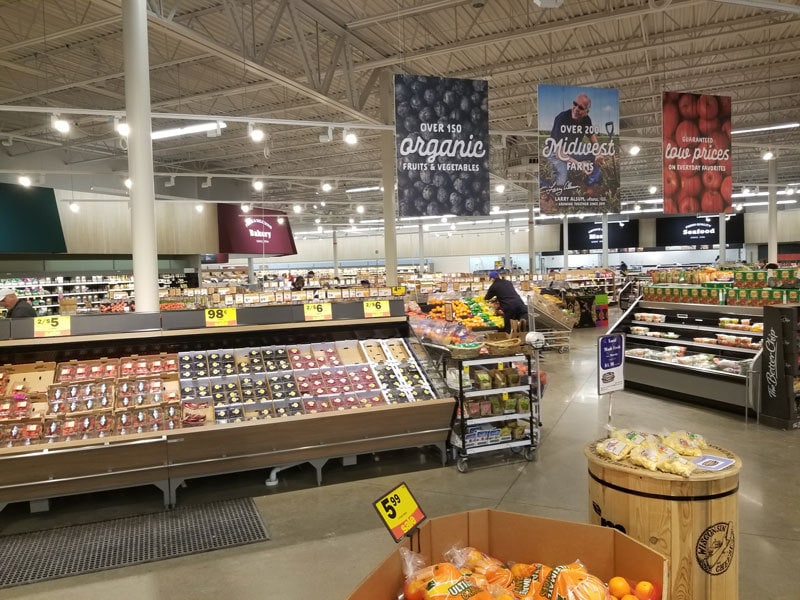 For a busy family with four kids under six, this meal planner and grocery list printable has saved me so much stress! I know in advance what we are having and that we have all the ingredients. No more panicked calls to pick up a missing ingredient to my husband on his way home from work! So he is happier too!
In addition to our grocery list printable and our weekly menu plan, I created a freezer inventory and a pantry inventory printable. You can grab all four for free by clicking the image below! Having these all together has made such a difference in our daily lives. And the freezer and pantry inventory sheets are fantastic for people that bulk buy–no one wants to eat chicken nuggets they bought three years ago! EEKS!

HOW TO USE YOUR PRINTABLE GROCERY LIST

There are two ways to use this printable grocery list:
One way you can use it is to only put things you run out of on the list. Just remember, every single time you run out you need to put it on the list. I tend to do this for odd ingredients that don't have a high turnover rate (paprika?)
Another way is to input "perpetual items". We always need bread, bananas, apples, and yogurt, and cheese sticks, so those items are on the list already. When you are about to go grocery shopping, just double check if you need those items or not.
Either way, you'll want to do the following to use the grocery list effectively:
Print out the grocery list (print out several copies–at least a month), or laminate your copy so you can reuse it (what we did). Using this system for at least three weeks in a row will help cement your new habits!

To print out the list, click on the button below and enter your email address.
The free printable grocery list and weekly meal planner will arrive in your inbox within a few minutes, and you can print it from there on standard 8.5 x 11 computer paper. It's a .pdf so you can open it on any platform!

When it's time to grocery shop, either take a picture of your list with your phone or take the hard copy to the store! If you like to use grocery delivery services, it's super easy to input your ingredients and use the "buy again" section!
USING YOUR GROCERY LIST WITH A WEEKLY MEAL PLANNER
To be honest, we don't cook that much in our house during the week. I usually end up feeding the kids before my husband gets home, and he and I both usually just eat some variation of grilled meat and a vegetable and rice each night. And we eat a lot of leftovers!
The following day, the kids will often eat leftover meat for their lunch or dinner. So I use our weekly meal planner as a space to make sure the kids' meals are varied and we have all the ingredients.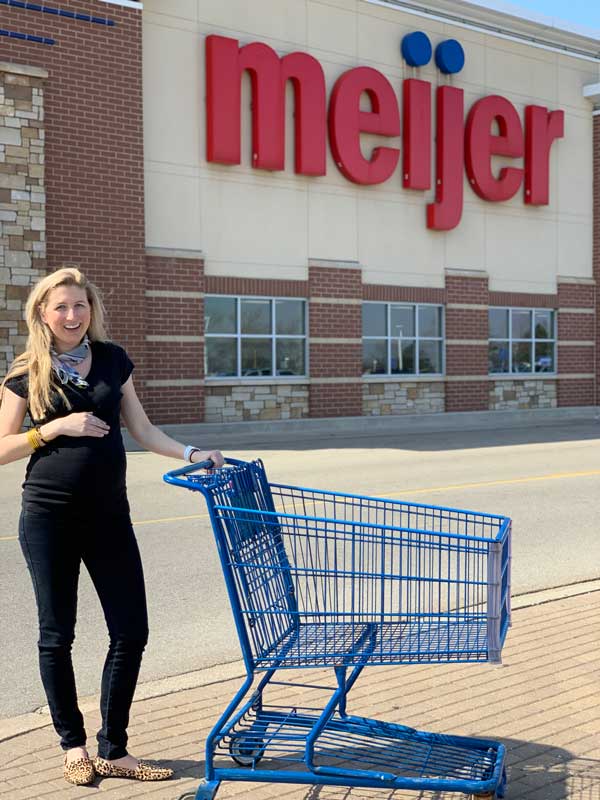 For example, in a typical week here will be our dinners: you can see it's nothing fancy at all!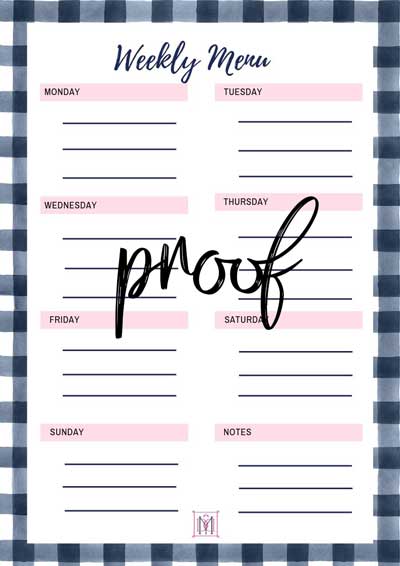 Monday:

Breakfast: Frozen pancakes (I make a double batch alternating weekends)
Lunch: PB&J and fruit
Dinner: Spaghetti and meatballs

Tuesday:

Breakfast: Yogurt with fruit
Lunch: Mac n' Cheese and fruit
Dinner: Tacos

Wednesday:

Breakfast: Toast and bananas with PB
Lunch: Hot dogs and applesauce
Dinner: Leftover grilled meat with sweet potatoes

Thursday:

Breakfast: Frozen French toast (I make a double batch alternating weekends)
Lunch: Cheese quesadillas and vegetables
Dinner: Chicken nuggets and carrots

Friday:

Breakfast: Oatmeal
Lunch: PB&J or ham sandwiches
Dinner: Pizza night with applesauce

Saturday:

Breakfast: Cinnamon rolls with fruit
Lunch: FLEX
Dinner: Hamburgers and sweet potato wedges

Sunday:

Breakfast: French toast or pancakes
Lunch: Leftover hamburgers and sweet potatoes
Dinner: FLEX
TIPS FOR USING A WEEKLY MEAL PLANNER AND GROCERY LIST
These are several key tips that I have found made the difference for our family in actually using (and sticking to) the meal plan!
Don't try to plan for every meal!

Build in some flexibility into your weekly plan–if you want to go out one night for dinner, your meal plan shouldn't stop you!
Put in a flex night–everything can shift around one night that you don't have any plans. This leaves room for spontaneity and also for leftovers!

Don't be over ambitious

This is something I've struggled with. When I first started using the grocery list and meal planner, I put myself down for way too much cooking. At this stage in our lives, complex meals are not happening if they require an hour of work at the witching hour. I do however use these timesaving tools for moms a lot! This exact timesaver has been a gamechanger with making our meals fast!
Limit your dinners to meals that you could practically make in your sleep! During the week is not the time to experiment (in my opinion–as a mom, it's easier to do big drawn out meals on the weekend when my husband is home!)

Make a family routine fun

My kids love looking forward to cinnamon rolls Saturday morning, as much as they do Friday night pizza! Knowing what to expect helps me populate the list and I know that they will eat the meals.
Some easy themed nights include Meatball Monday (our favorite), Taco Tuesday, Pizza Friday, Cinnamon Roll Saturday…
✅ Want to CLICK HERE TO SEE THE EXACT THINGS that help me get a million things done everyday?
Alright, that might be an exagerration but these help me run our house almost on autopilot (aside from the four kids 😉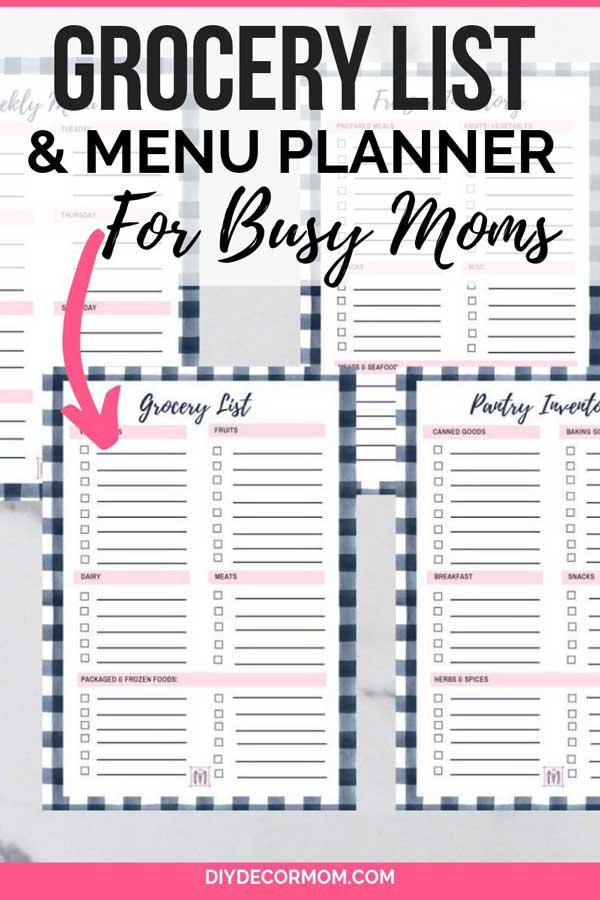 SHOPPING LIST FOR A WEEK
Sample Perpetual Grocery List of our favorites (perfect for families with young kids!) This is what our grocery list looks like most days. I leave the things we go through constantly on the list, and then just cross them off or erase them if we don't need them when I screenshot a picture to my husband. Once he goes shopping, I erase any odd ingredients we don't usually need, and it's ready to use again! And because we have a marker fiend, we keep the dry-erase marker out of my two-year old's reach by resting it on top of the beadboard. See my kids daily routine and chores here.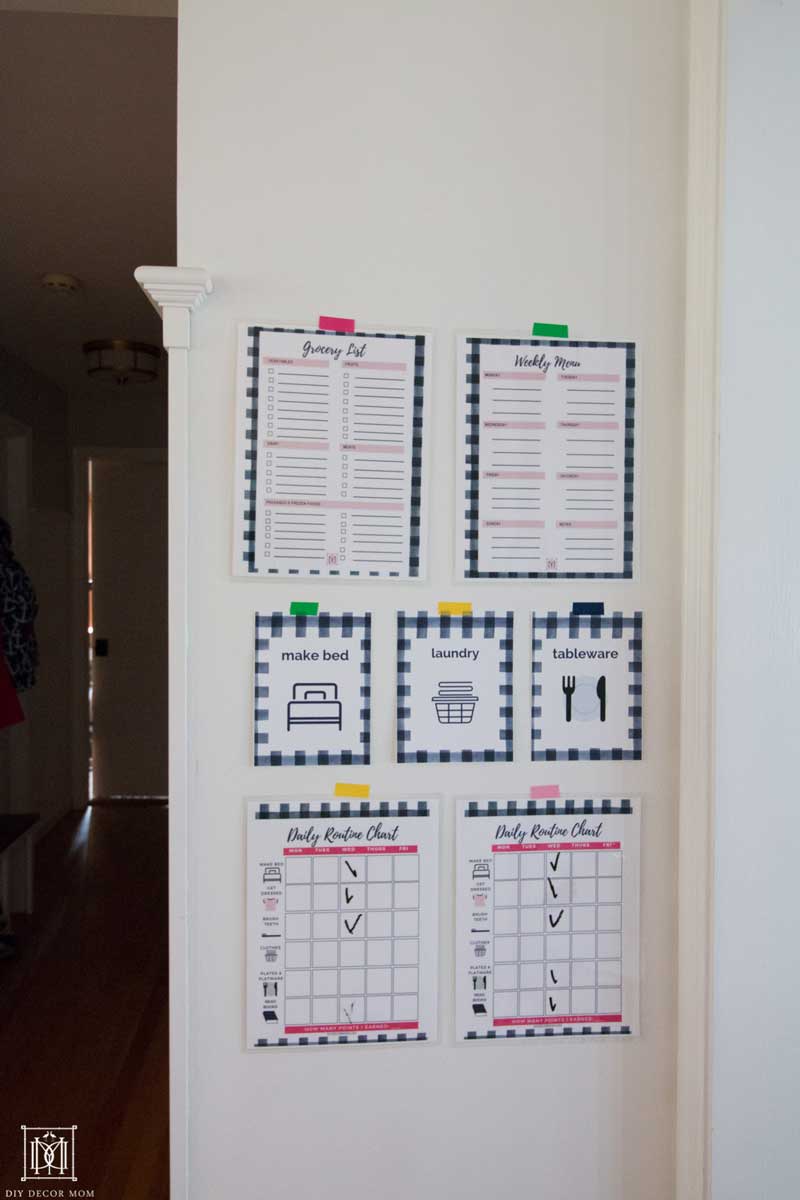 Here's what on our perpetual list (my handwriting is too sloppy to show it well!):
Vegetables:

onions
garlic
sweet potatoes
peppers

Fruit:

bananas
apples
strawberries
grapes

Dairy:

yogurt
milk
cheese sticks
chihuahua cheese

Meats:

boneless skinless chicken thighs
ground beef
deli meat

Packaged & Frozen Foods:

chicken nuggets
bread
tortillas
applesauce
pretzels
THREE WAYS TO SAVE TIME GROCERY SHOPPING:
Outsource Your Grocery Shopping:

My biggest tip to save time grocery shopping is to outsource it–whether it's to your husband, to an assistant or a babysitter, or to a service like Shipt (who ShopMeijer, uses.) Here are three ways to outsource your grocery shopping:

Family member or friend (you could always team up with a girlfriend and swith off weeks to go shopping)

Husband
Babysitter
Neighbor or Friend

Service:

Streamline Your Grocery Shopping

Using a grocery list like the one we use will help you navigate the store faster, and remember all the things! No one has time to peruse all the aisles–plus you'll save money by not impulse buying stuff!
Stick to your list!
Bag it yourself–depending on the lines, I will often bag the items myself. That way, I can group refrigerated items together, pantry items together, and fresh fruit. It helps me unpack faster!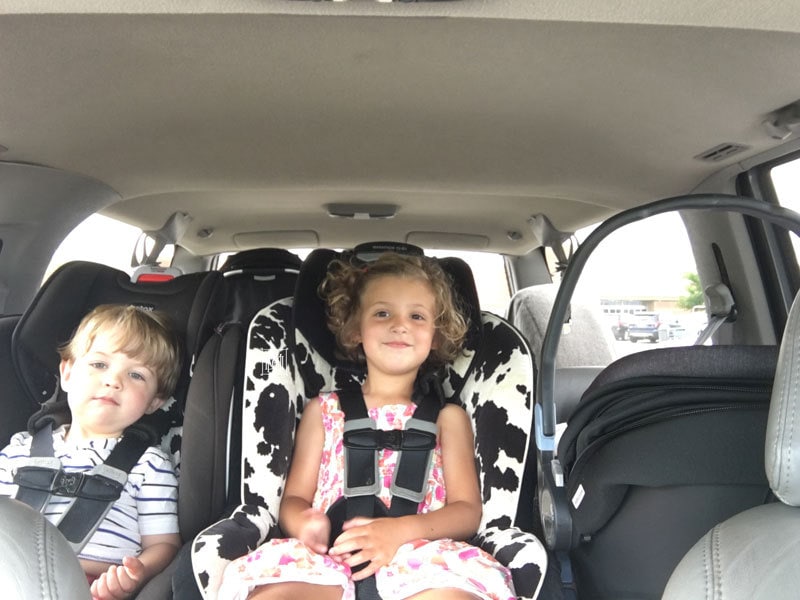 Want more time saving tips and tricks? See the ultimate busy mom timesaving tools and tricks here!
TIPS FOR OUTSOURCING GROCERY SHOPPING
Whether it's outsourcing grocery shopping to your husband, a babysitter, or a professional service like ShopMeijer, here are some tips that will help you get off on the right foot!
Like I said above, we love using Meijer's Curbside Pickup–it makes it super easy to pick up groceries and I don't have to unload all the kiddos!
Be highly specific–give brand names, sizes, and any special instructions: do you like your bananas yellowish green or spotted with brown dots? Using a shopping app does this automatically; but, if you are using your free printable grocery list–just write in specifics.
Give grace! You are saving time and energy by not doing the shopping yourself! It may not be perfect right away; but, you will perfect the system!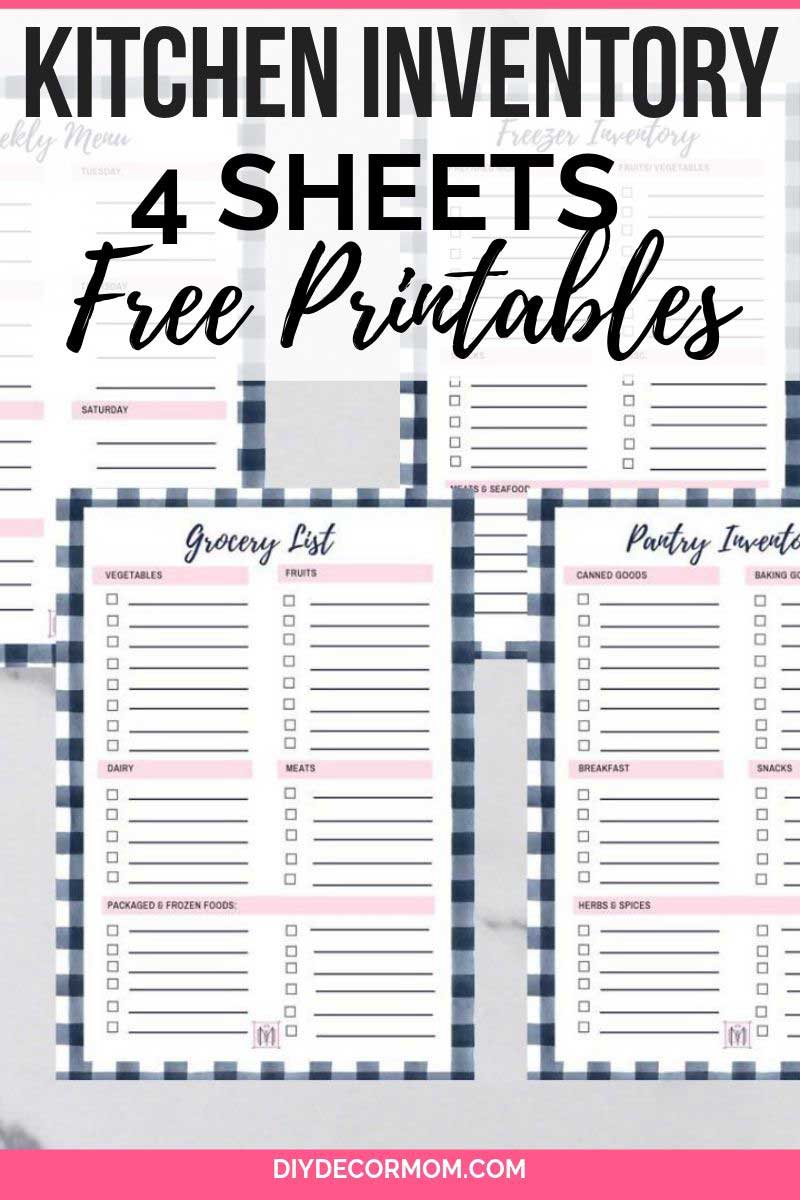 Like to buy in bulk…
Organize your pantry and freezer by printing out my free printable freezer and pantry inventory lists!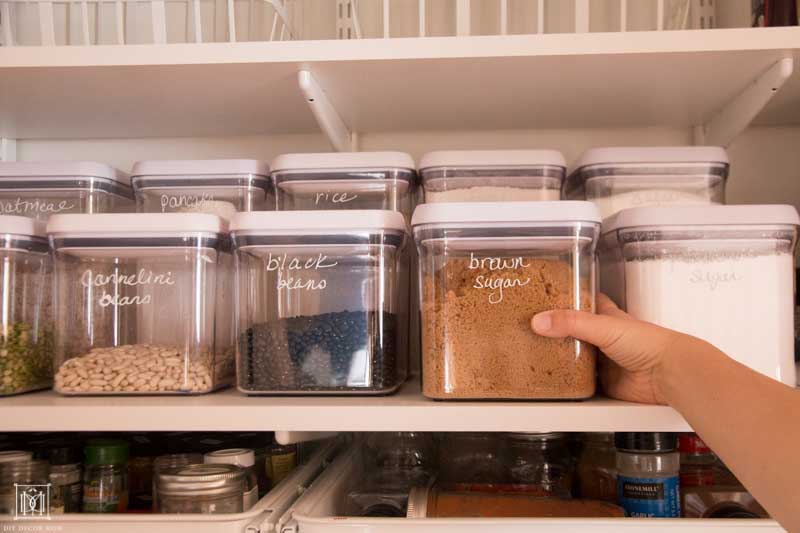 How to Organize a Pantry with Deep Shelves
PANTRY INVENTORY PRINTABLE:

Like most large families, we like to buy certain things in bulk when they are on sale. Luckily, we have a large pantry that we organized last year that has enabled us to keep everything organized a whole lot better! Even with the new pantry organization however, I found myself forgetting whether we had certain things on hand. That's when I made the pantry inventory. It's great for filling out dates on when things were opened for less often-used items like almond flour and spices. Simply write the date you opened it (or bought it) next to its name. Print it out and keep it on your pantry door, so it's easily accessible with a pen or dry erase marker hanging nearby!
TIPS FOR USING THE PANTRY INVENTORY PRINTABLE SHEET:
Use this in conjunction with your grocery list printable! Double check your bulk items before you add something to the list. We do this for the less often purchased pantry items like canned tomatoes, and other processed foods that I don't see on a daily basis.
Keep with it! Use this for a solid three weeks before you decide it's not for you.
Use it in conjunction with the freezer inventory printable as well so your whole kitchen inventory is organized!
PANTRY INVENTORY BY CATEGORIES:
canned goods
baking goods
breakfast items
snacks
herbs & spices

FREEZER INVENTORY PRINTABLE:

Even harder to manage is our basement freezer because I don't go into it as often. That's not an excuse to be disorganized though! Use this printable sheet to keep track of all your frozen items. For years, we have picked fruit in bulk when it's in season, and then froze so we could use it year round. How else are you going to go through 45 lbs. of strawberries? With this freezer inventory you won't forget what's in your deep freeze whether you buy meat in bulk or just ice cream 🙂
CATEGORIES FOR FREEZER INVENTORY:
Prepared Meals

Homemade meals like frozen lasagnas, soups, and meatloaf
Pre-made meatballs, frozen pizzas, sausage

Fruits and vegetables

Raspberries, blueberries, sliced bananas, frozen spinach
Frozen pesto, peas, broccoli, cauliflower and steam microwave meals

Snacks

Cheese sticks, yogurt sticks, frozen sandwiches (like Uncrustables)
Frozen desserts

Misc.

Bakings supplies (gluten free flour, butter…)

Meats & Seafood

Ground beef, chicken breasts, chicken thighs
Freezer meals that are already cooked and just need to be warmed
Want your home to be better organized?
Print out all these sheets in one .pdf document!
Make sure you check out these other household organization posts: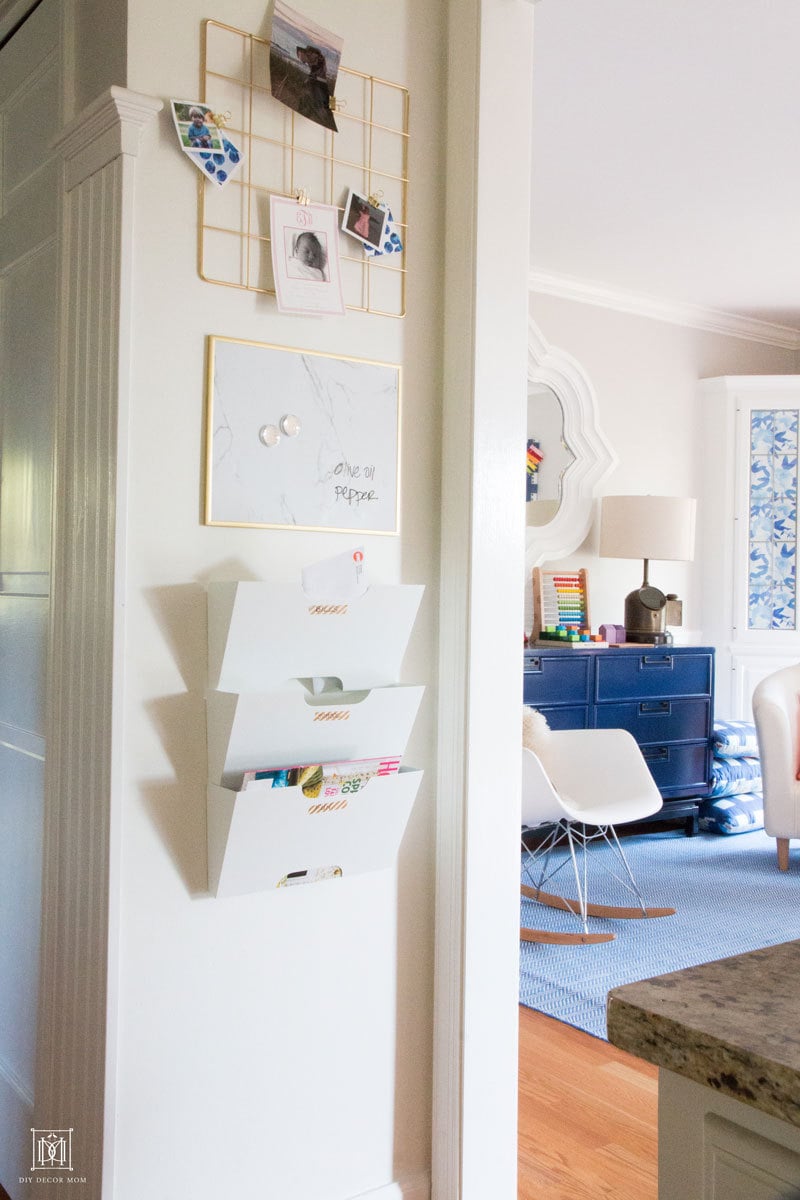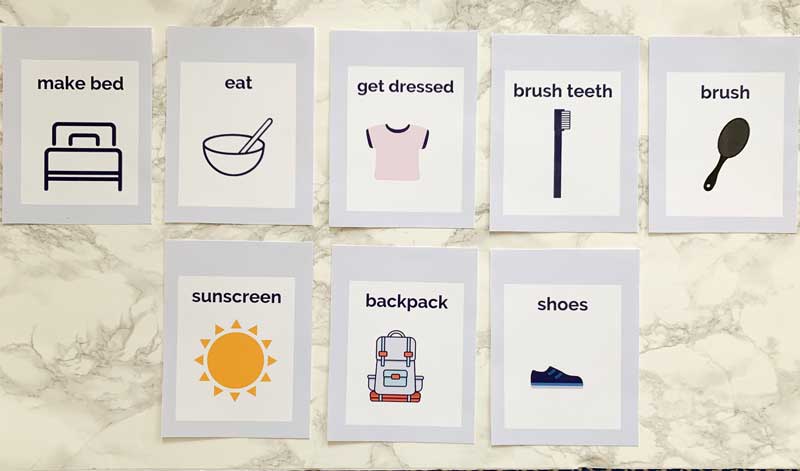 Daily Cleaning Schedule for Busy Moms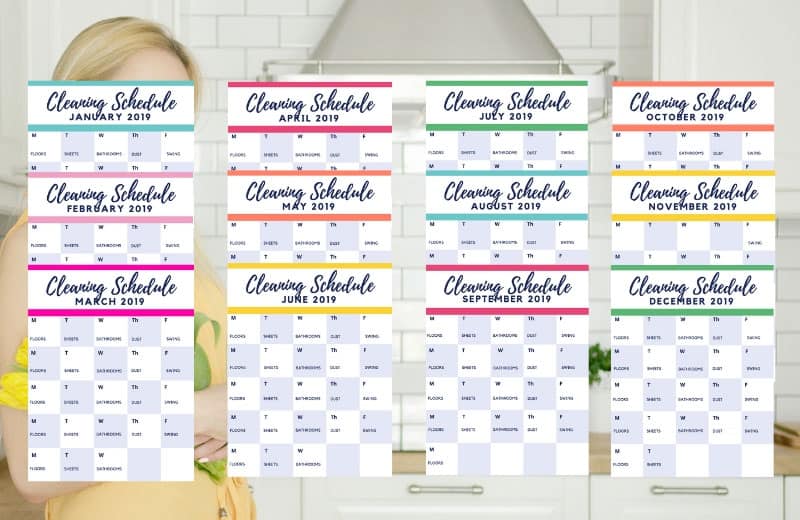 Spring Cleaning Checklist–good for year round cleaning!