Home Organization Tips for REAL Moms Alright, I am going to just put it out there. I am no organization expert. Unlike some popular accounts on Instagram and Pinterest, where you might find carefully curated closets full of color-coded items, each with their own individual label, my house is ACTUALLY LIVED in.
During the little free time I have as a mom of three, I choose not to obsess over decanting my groceries into Pinterest-worthy clear containers. Nor do I have a ridiculous amount of money to spend at the Container Store, no matter how nice a matching pantry-full of Oxo bins might look!
So if you are expecting that, you're out of luck.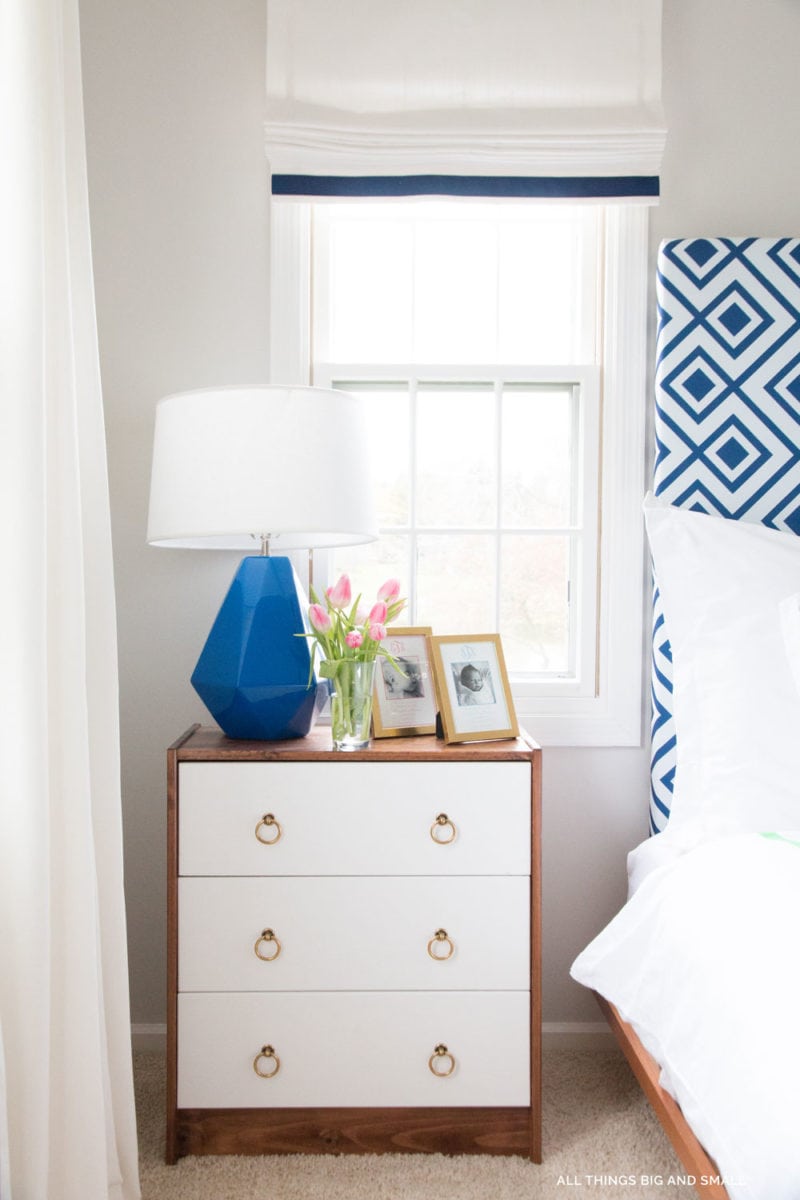 I am just one REAL mom over here trying to keep it together and make my home a beautiful and functional place to live. But, I do believe in an organized home because it makes everything else easier–you don't have to spend time searching for things when you know where they are (not that I don't use this on a daily basis to find my phone;)
I believe in an organized home because well, it's prettier and less-stressful. Clutter stresses me out. Just ask my family around Christmas time. #allthethings #thankgodthereswine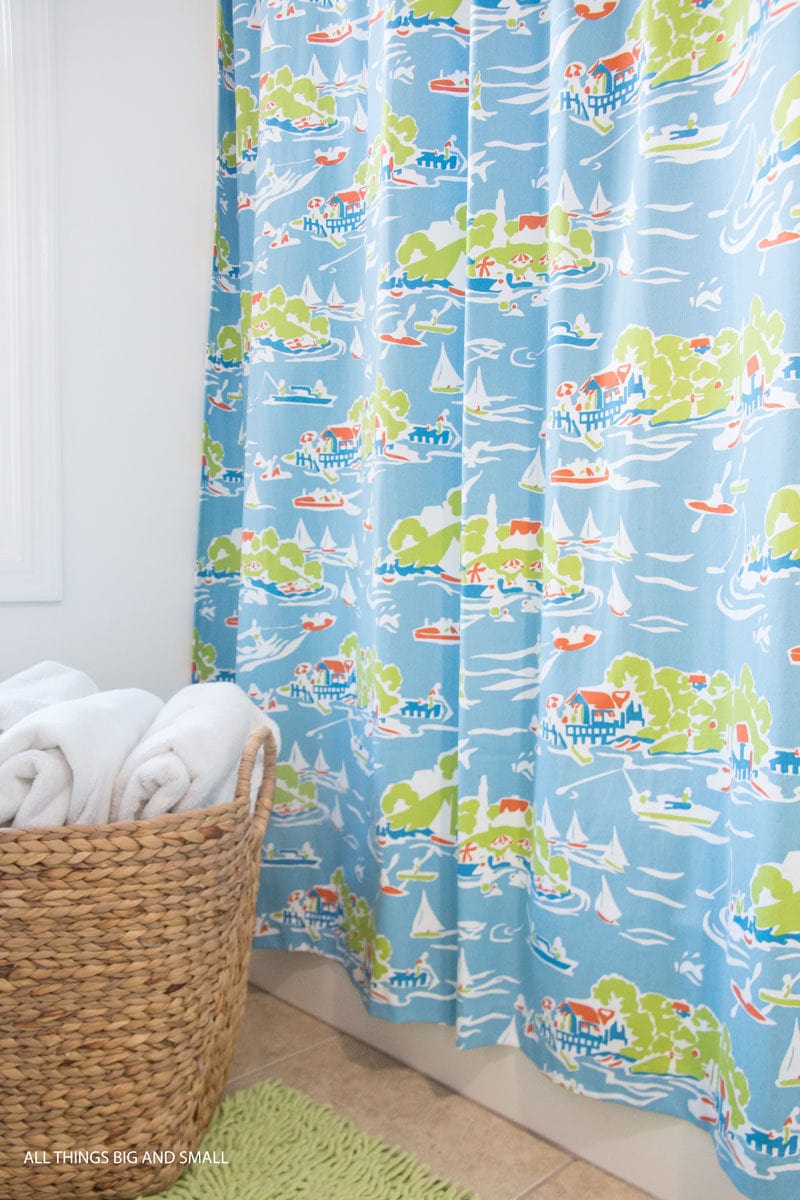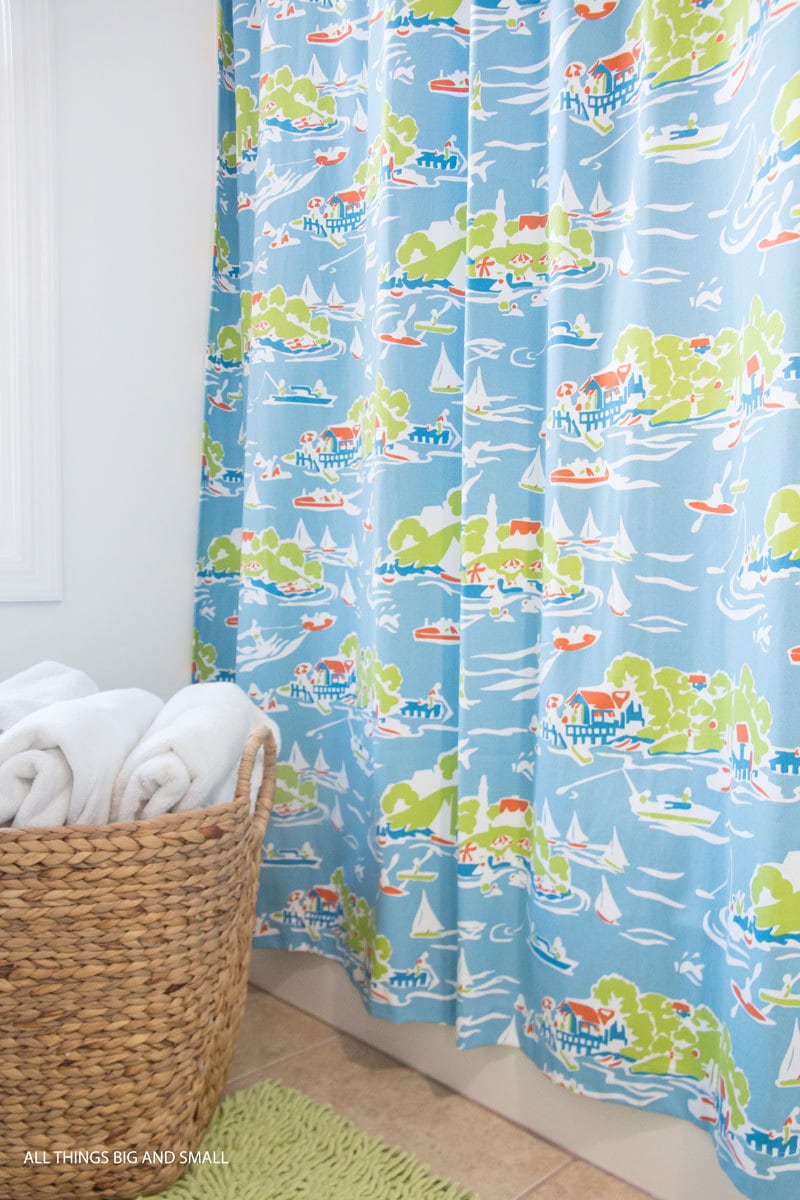 I believe in an organized home because it teaches my kids how to be responsible humans–they know what to expect every day, where they can find things (yay for independent kids!), and how to put their own toys away.
For me, organizing is more about having a place and a system for things, so you can easily tidy and clean. An organized home leaves you more time for the important stuff. So here are my home organization tips for REAL moms.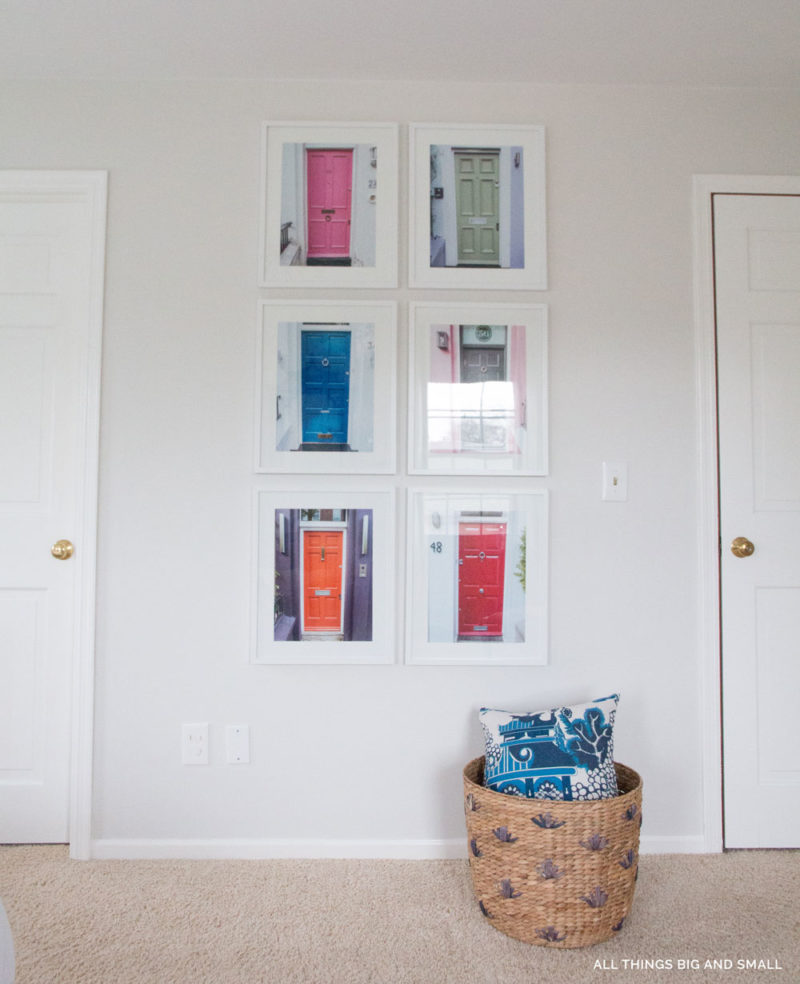 HOME ORGANIZATION TIPS
TIP ONE: EDIT, EDIT, EDIT
Yep, I said it. I know you've heard it a million times but you have to edit! We all end up with so much junk in our houses, they become full of things we don't care about. About once a week, I drop off items (usually about a paper bag full) at our local Salvation Army. I keep an ongoing drop-off box in our laundry room so anytime I get the bug to throw everything away, I just add the items in there. Anytime I am either rotating my kids clothes, or doing a big clean in a certain area, I make sure to edit first and pull out things that can be a) given away or b) thrown out.
I am constantly editing what I have out on our kitchen counter. All appliances have to fit on one counter underneath some cabinets, and the ones we don't use on a daily basis (like the mixer and the food processor) reside in the pantry. You will be absolutely amazed at how clean and big your home feels with an empty kitchen counter!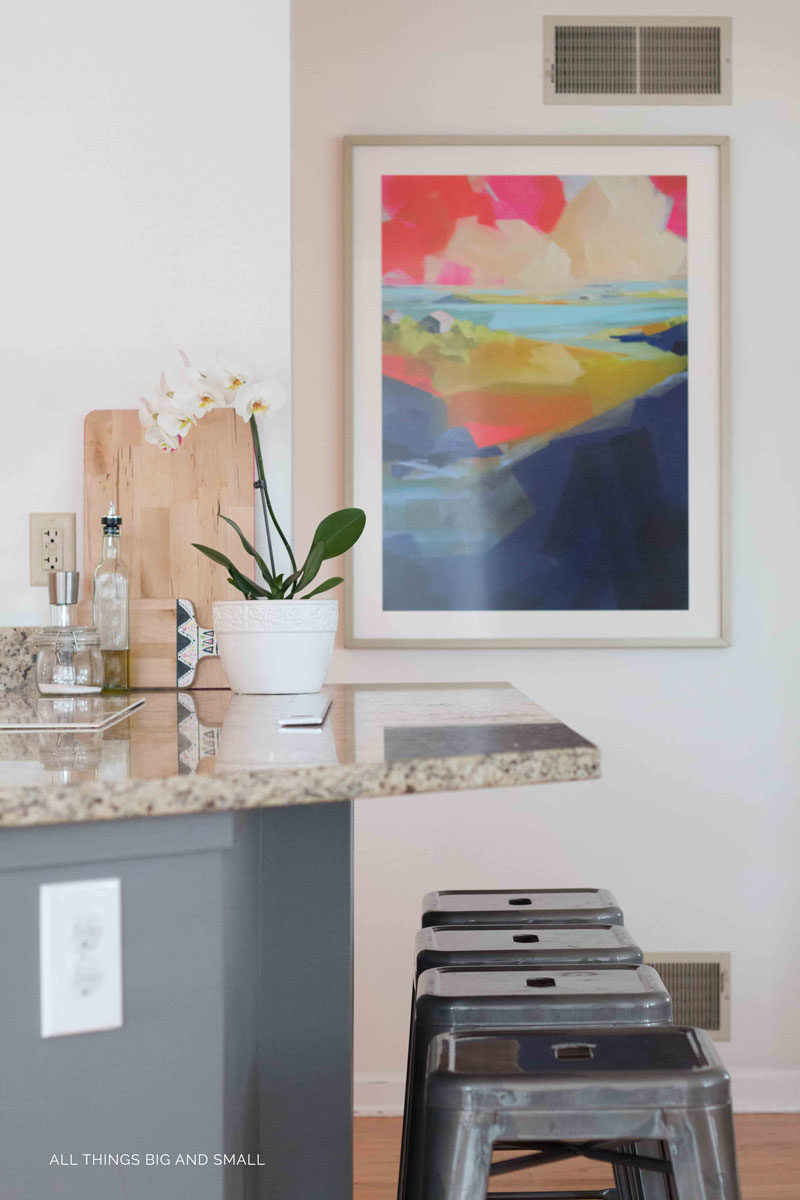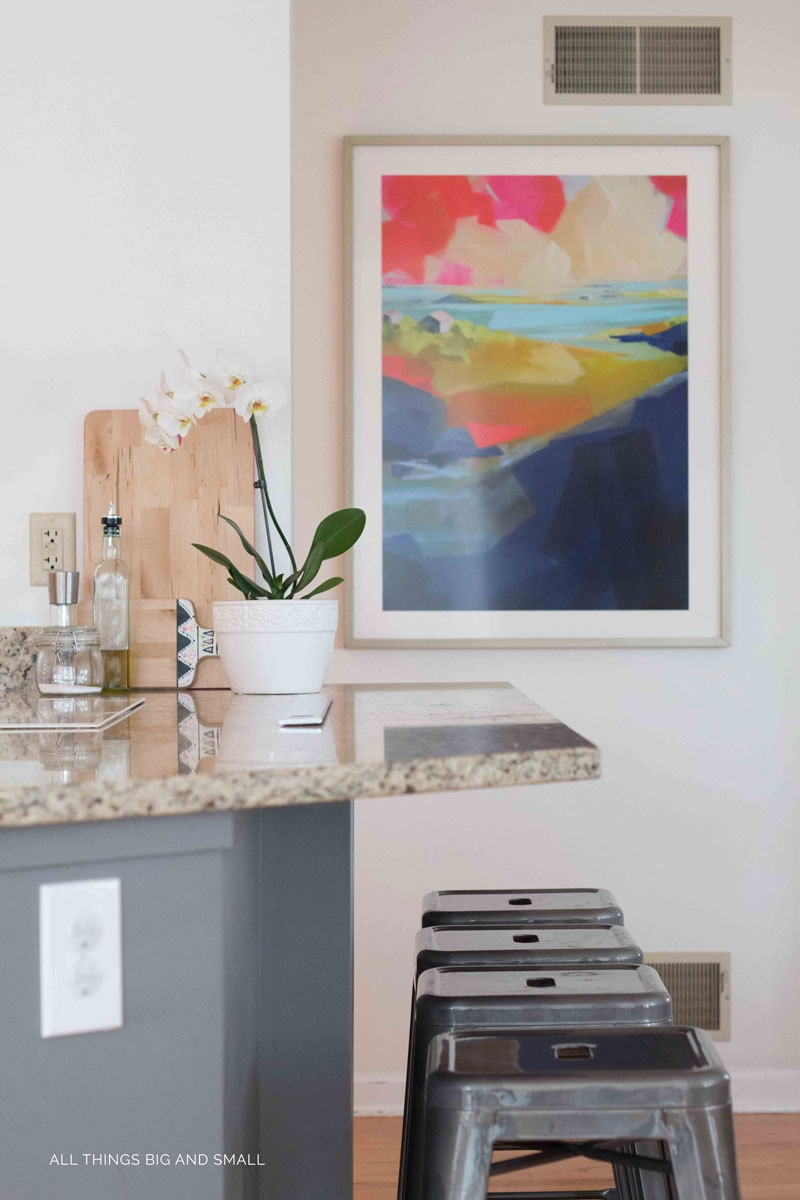 LIMIT THE INFLUX
My kids don't get a lot of toys. For Christmas, they get four toys (read, want, need, wear plus an item from Santa.) They also get a couple presents on their birthday; but other than that, we don't bring many more toys into the house. Nor do we have a lot of toys out period.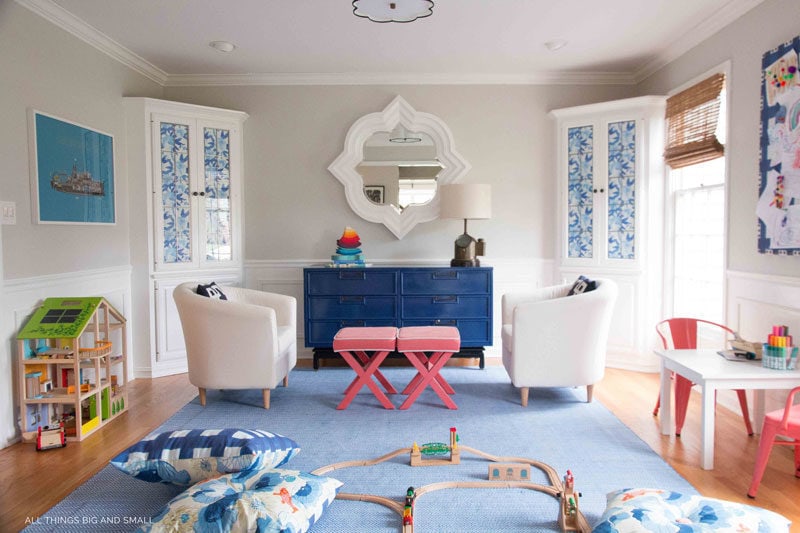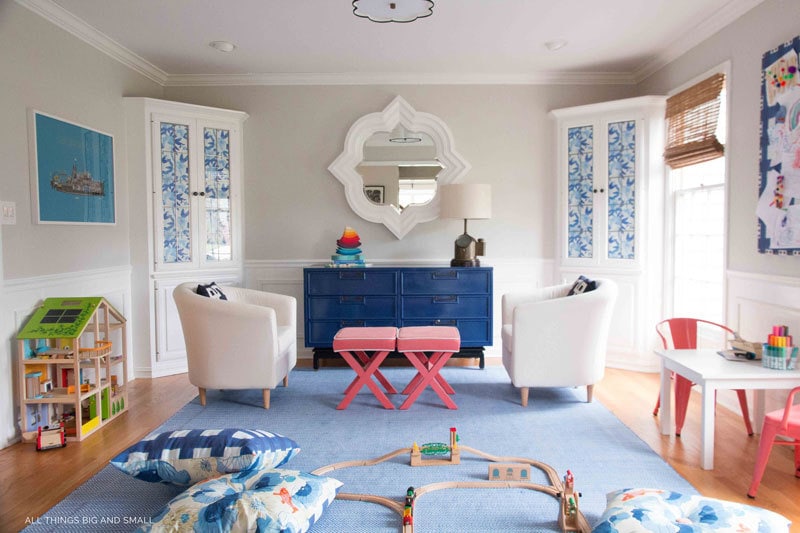 While it looks like family room might be chock-full of toys it actually is not. There are two or three big toys out (which we rotate): a toy kitchen, a dollhouse, and the train set. The dresser is empty, the china cabinets are filled with exactly that–china (and locked with these!)
We have a small cabinet, in which we have a total of four (shoe-size) boxes of toys out in our family room (two boxes of animal figurines, one box of Magnatiles, and one Barn.) We have a basket of books in our family room as well, and one small basket of baby toys and books for my youngest daughter, Brooke. We also always have craft materials available for the kids. But that's it on our first floor!
Each kid has a small number of toys in their bedrooms, and we store most of the toys in our basement. The kids can always play down there, but usually will contentedly play upstairs. Time to time, I will rotate the toys we have upstairs with those from the basement to increase excitement.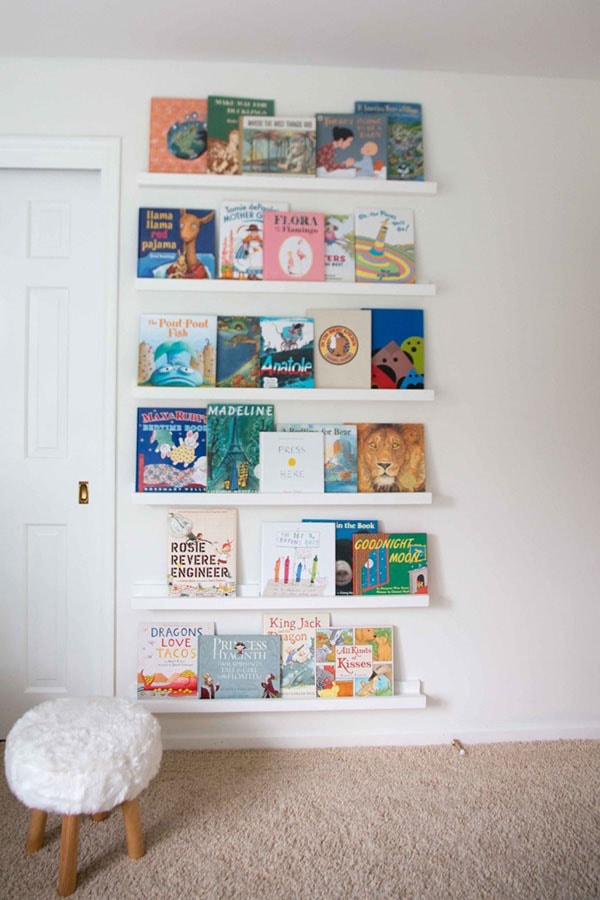 By limiting the number of toys we have out at any certain time, my kids play longer with what they do have access to, and have less to clean up. I swear this is one of my best home organization tips for moms–limit the number of toys your kids have out!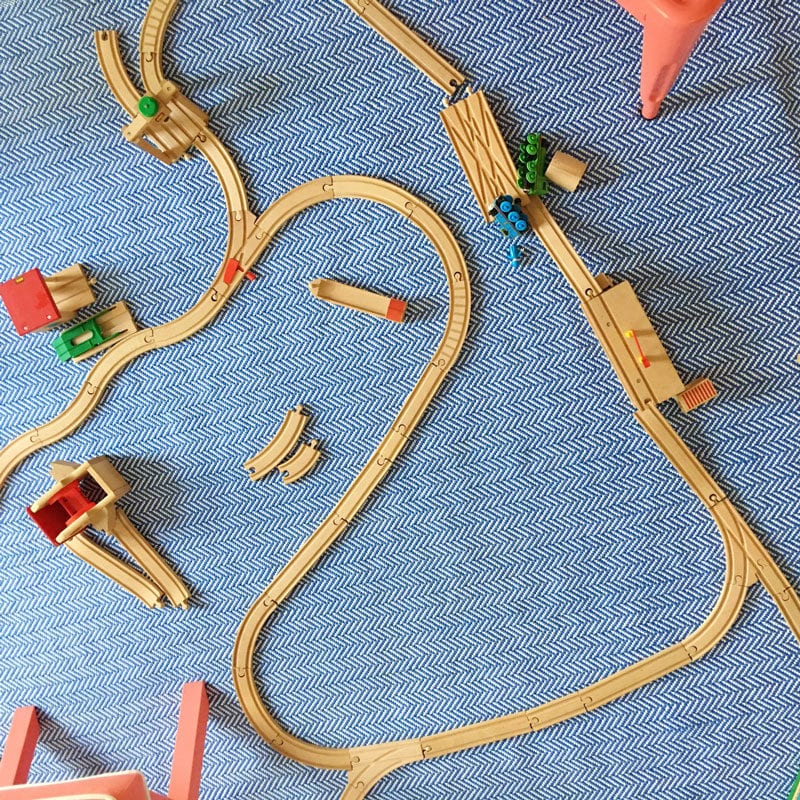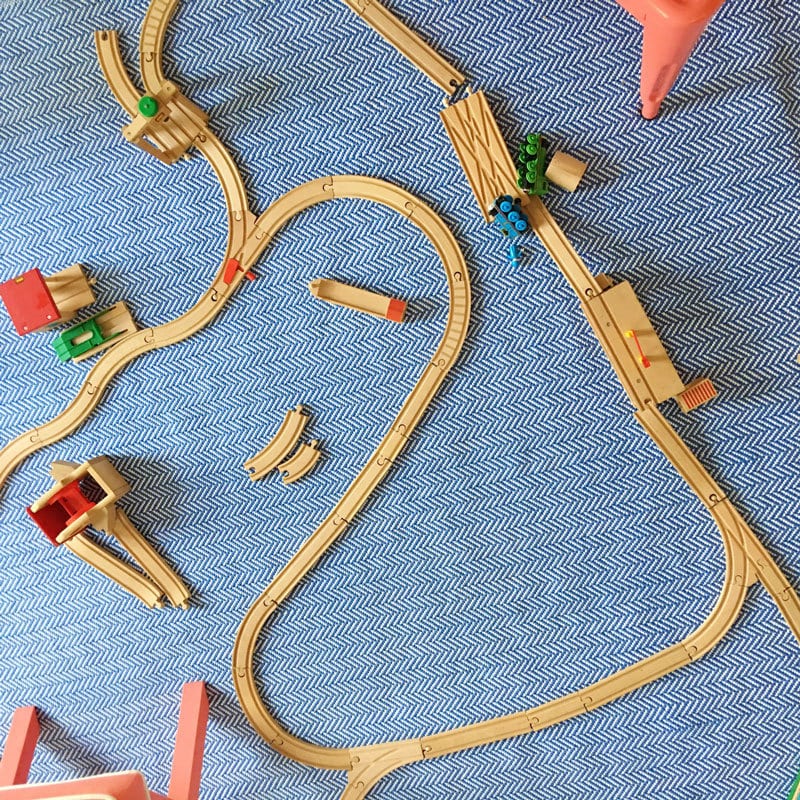 SET UP SYSTEMS
The key to an organized home is setting up systems that are easily replicated. You have to be realistic with how much time you really have. I like setting up routines that make it easy to stay organized and on top of chores. Our laundry room (which re redid over the course of a weekend last winter) is a case in point.
We have a whole wall of four laundry baskets that I can use for dirty or clean clothes. The top two shelves are for clean loads, and the bottom two shelves are for dirty clothes. I keep one basket to collect the daily kids clothes, kitchen cloths, and messes. The second basket, I keep reserved for our microfiber cloths or linens.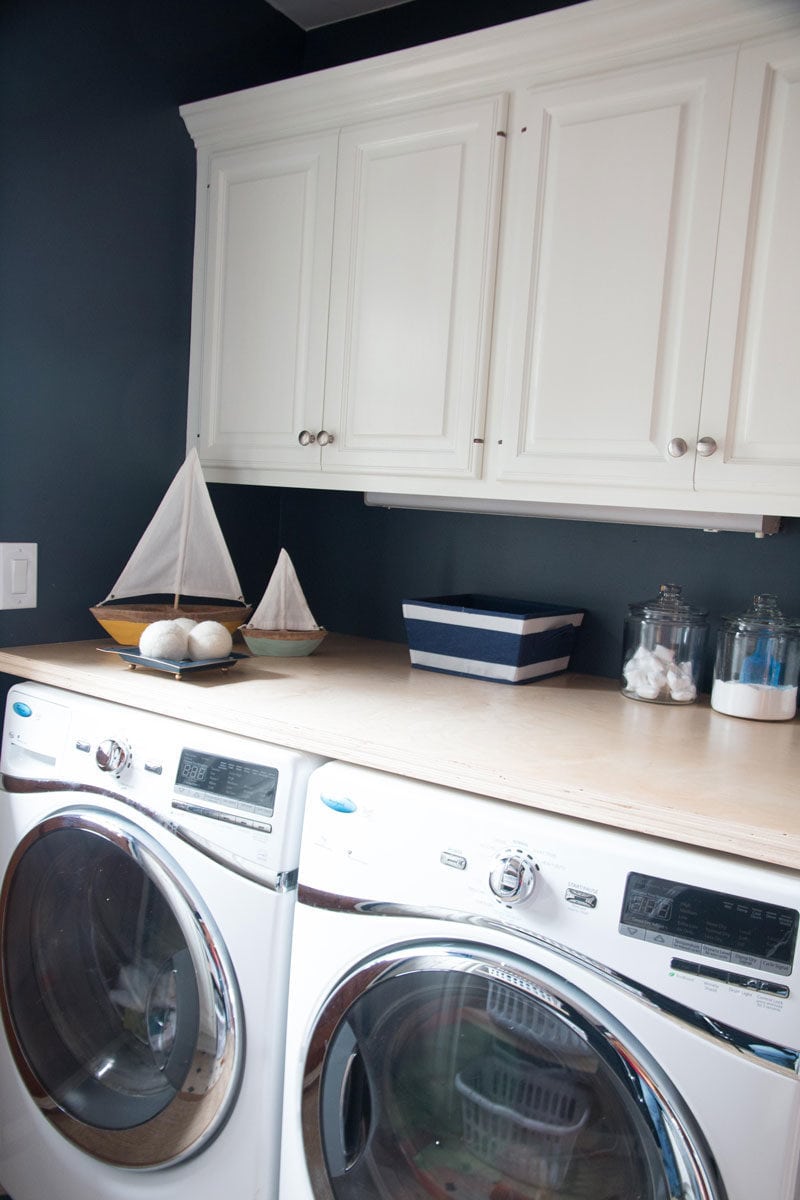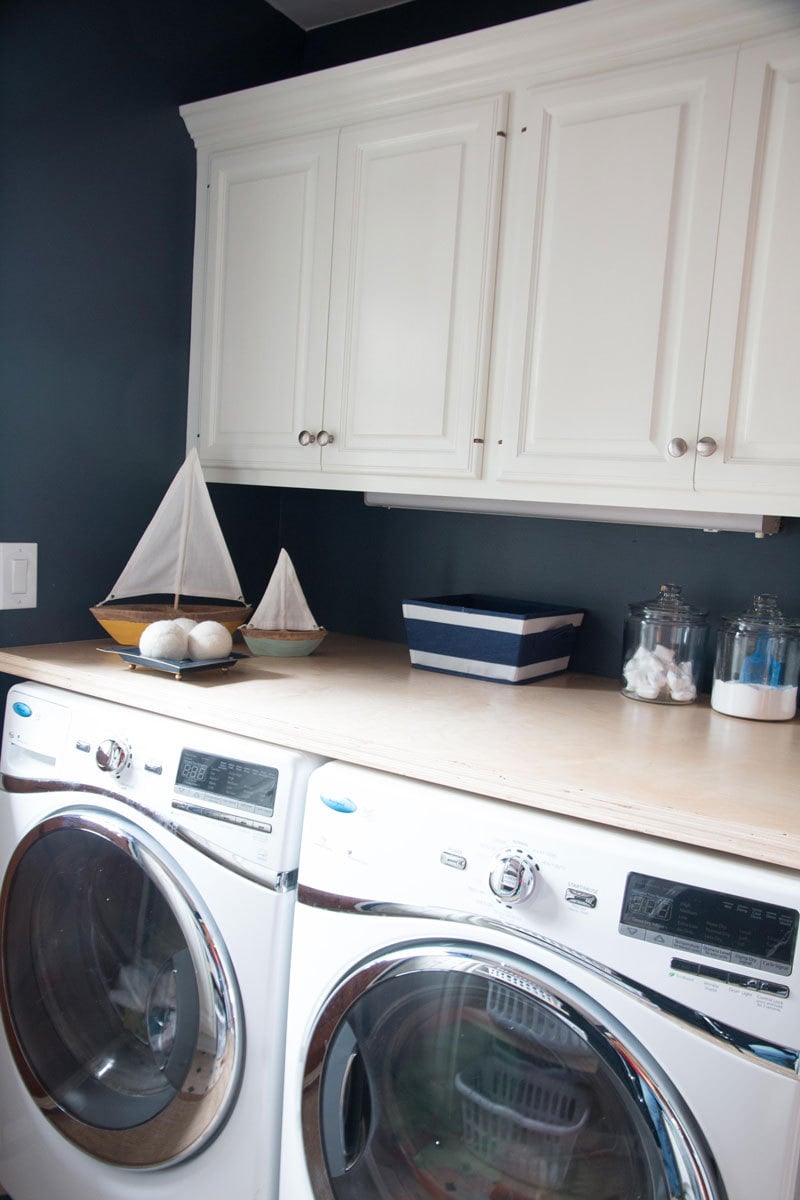 Each night, I gather the kids clothes from the day and any dirty laundry that has collected in our "dirty clothes" basket and I load them into the laundry machine. I add the soap (I use this powder), and schedule the laundry machine to run at 6:00 AM in the morning. That way, when I come down in the morning, I can easily switch it to the dryer.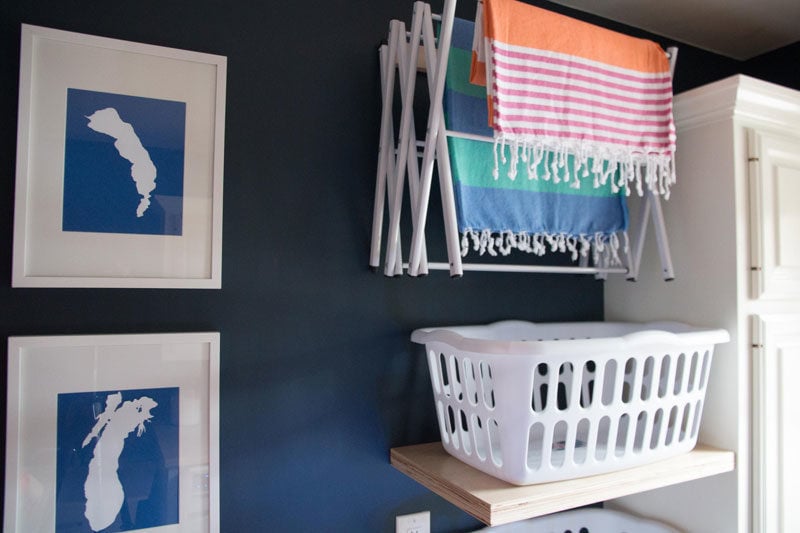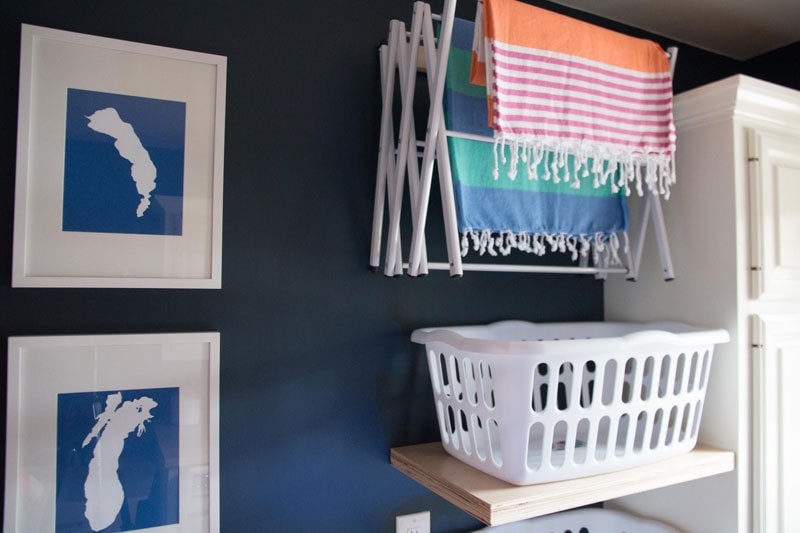 Kids backpacks and lunches are hung in our hallway (reveal coming soon). Each child has a hook, and as they hang up their coats and take off the boots, I empty take lunch box out of their backpack. Any remaining food they eat for a snack, and then I wash the box (we use these ones), and let it dry overnight. In the morning, the kids know exactly where their boots, backpack, and coats are for school (so we have a slightly better shot at arriving on time.)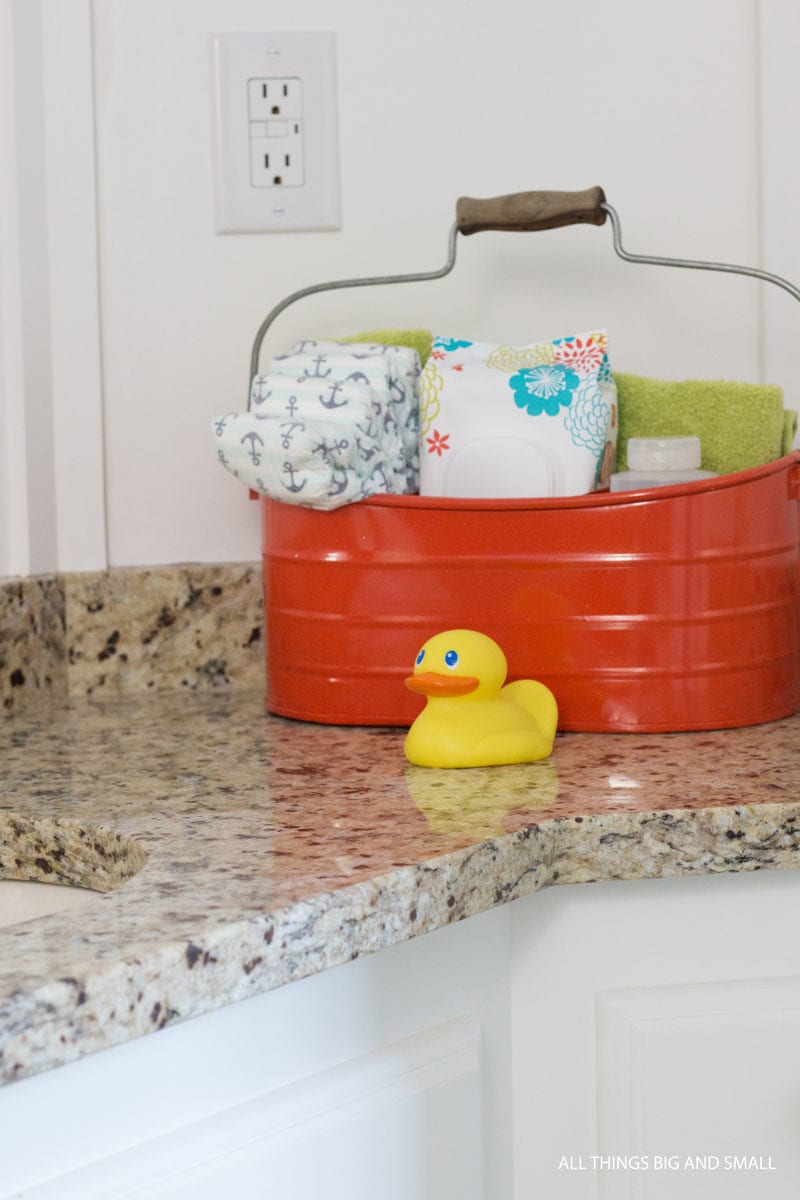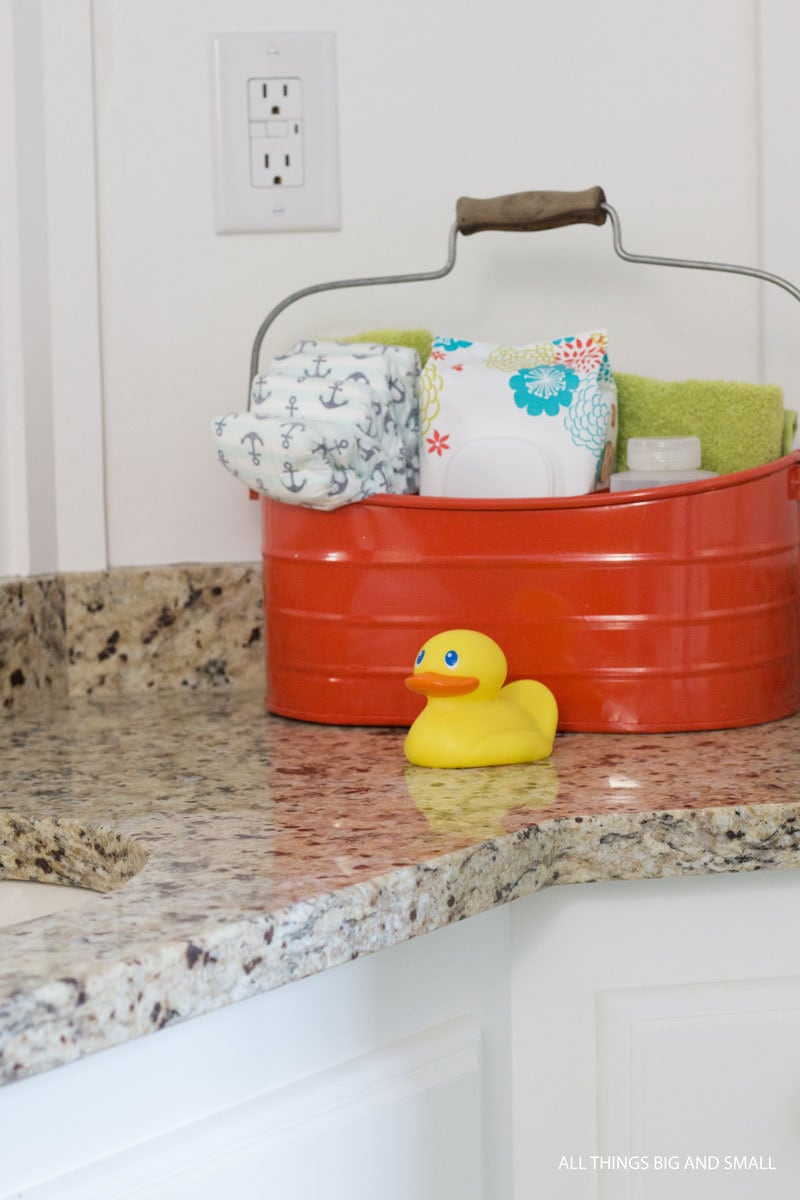 See the entire $400 renovation on our kids bathroom here
AUTOMATE AND EDUCATE
Once you have the systems set up, you can automate your home. But to do this, you have to educate any of the necessary people involved–ahem, that means your kids and your husband 🙂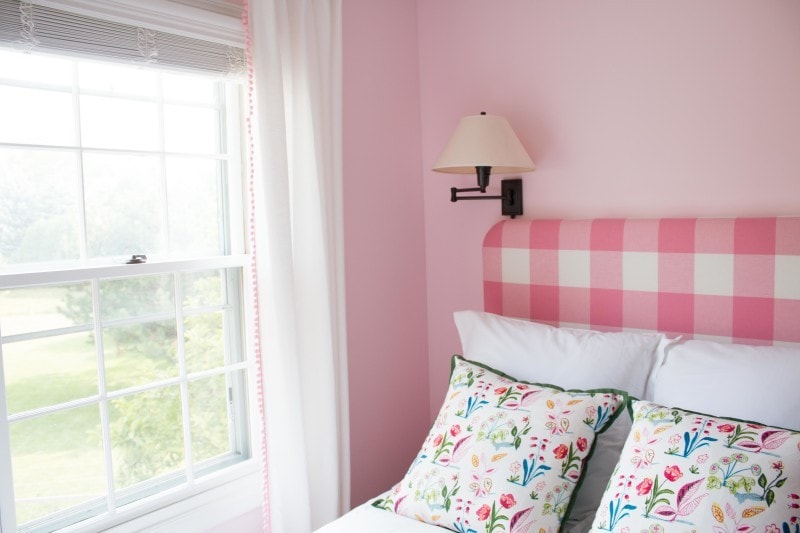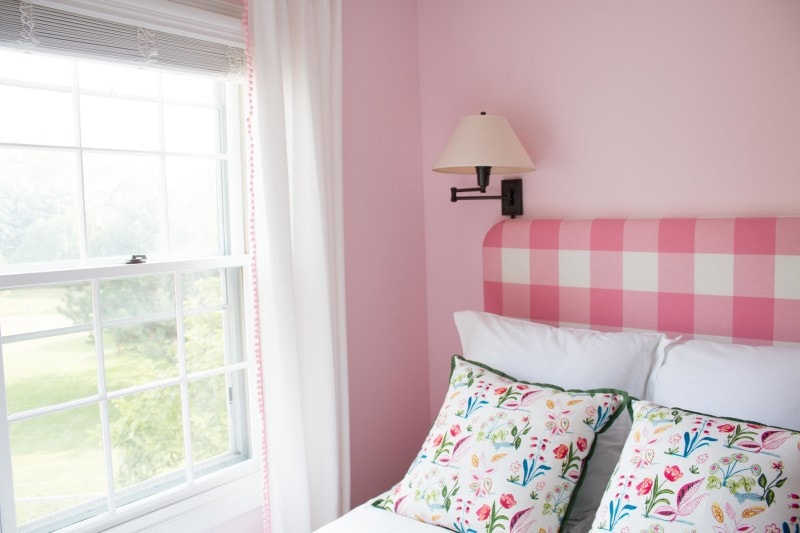 I have taught my kids that all of their dirty laundry must go into their dirty laundry baskets in their respective bedrooms. My almost five year old daughter is also responsible for making her bed every morning. After taking a bath, the towels must be hung up to dry in the bathroom (and each kid has one special towel which they LOVE!)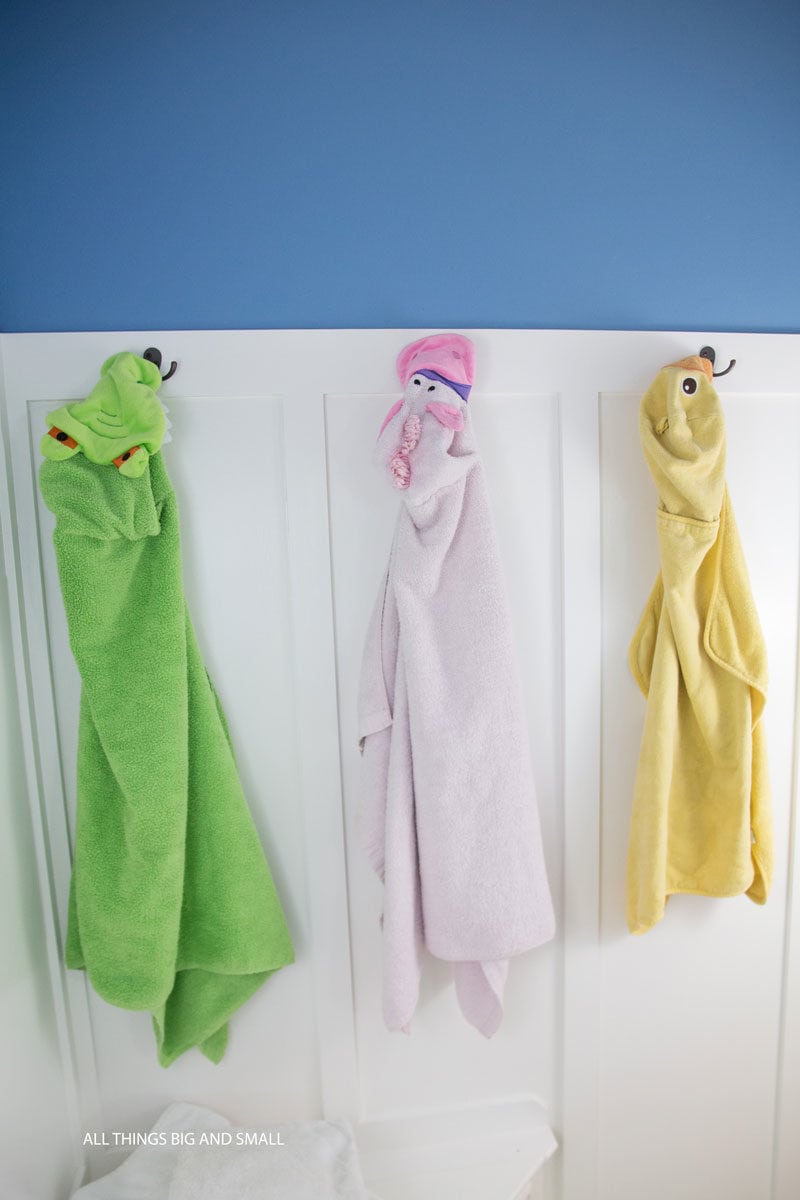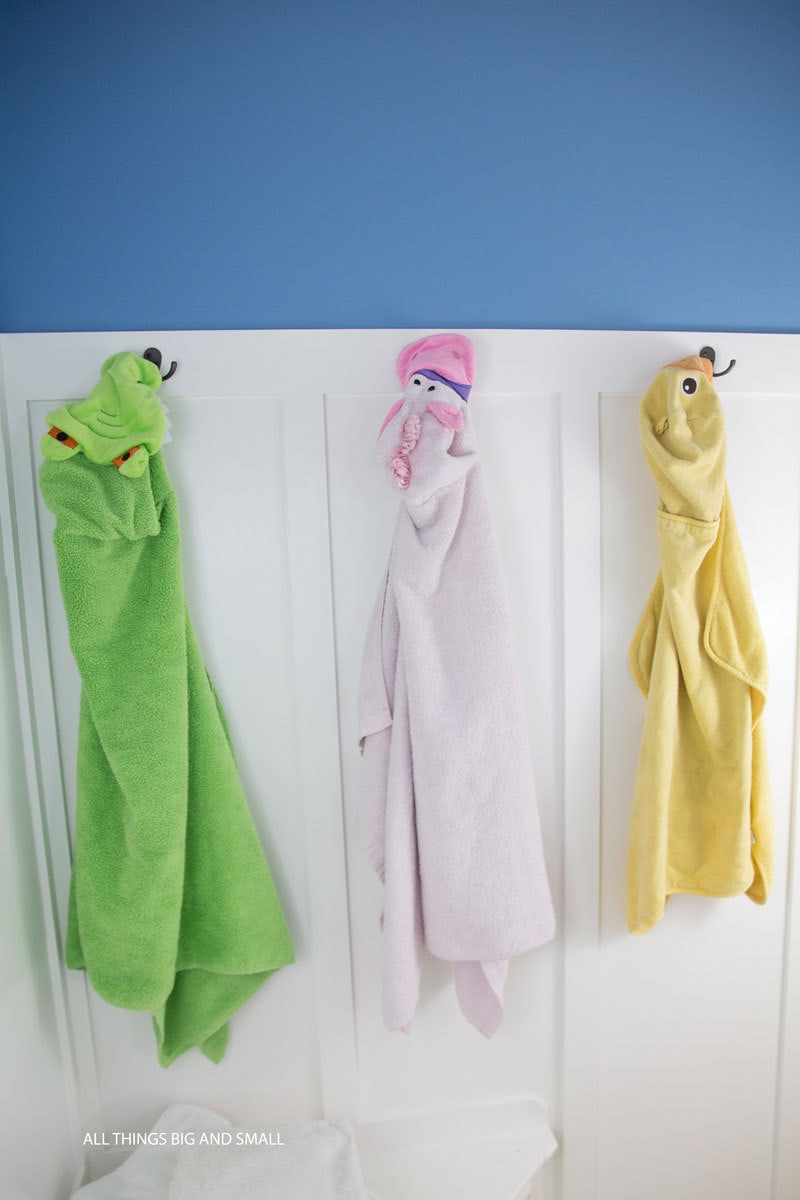 My husband helps out a lot with chores around the house because I have shared with him how to do them. No longer does he ask, "where is the children's medicine" because I have showed him exactly where it is, and also labelled it 😉 The fact that there is the dosage chart there, the syringes ready, and it's ready to go makes it turn-key! That way, he can easily help out when necessary, and when I have a screaming feverish baby at midnight I don't need to walk him through where to find it.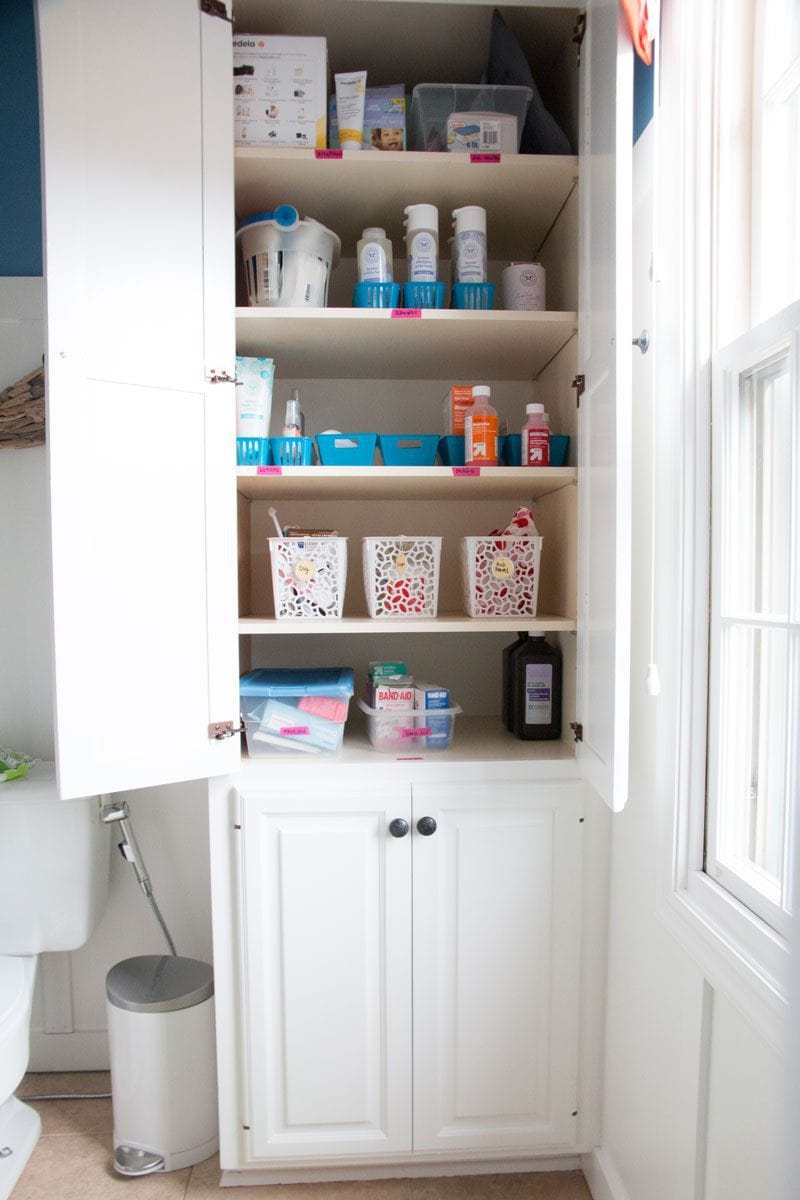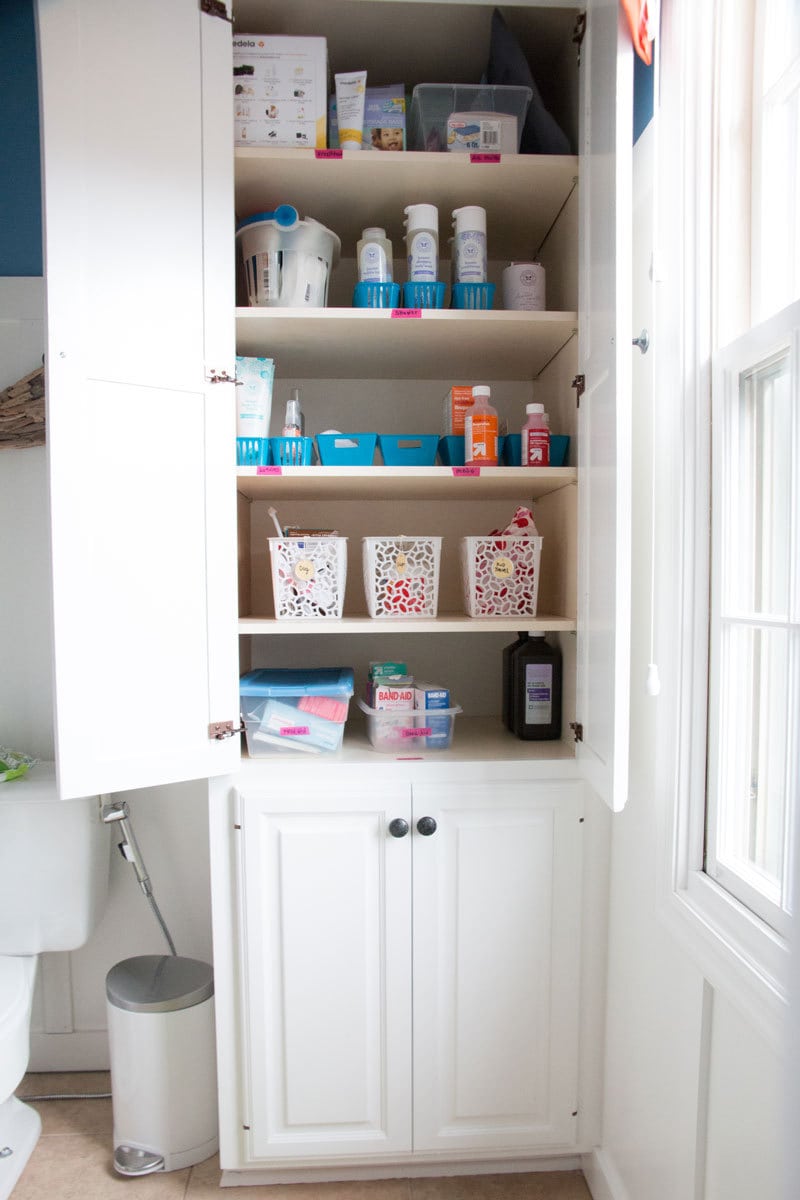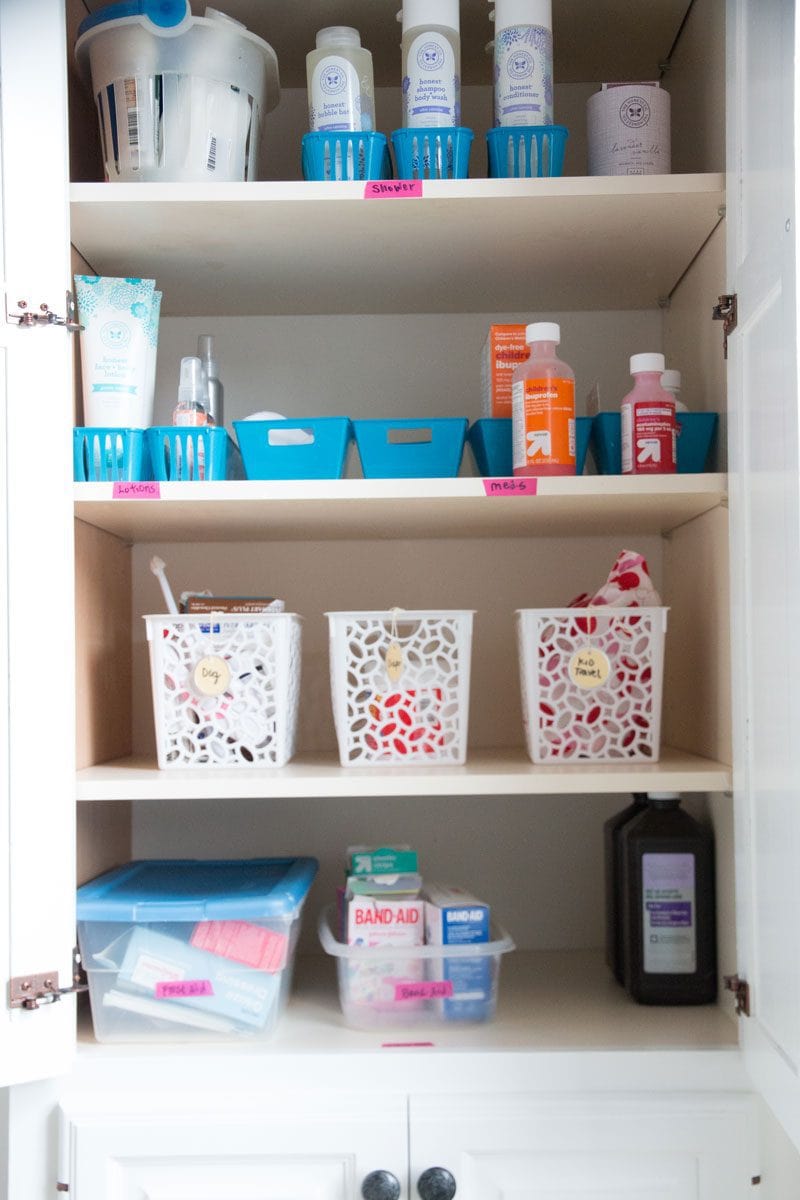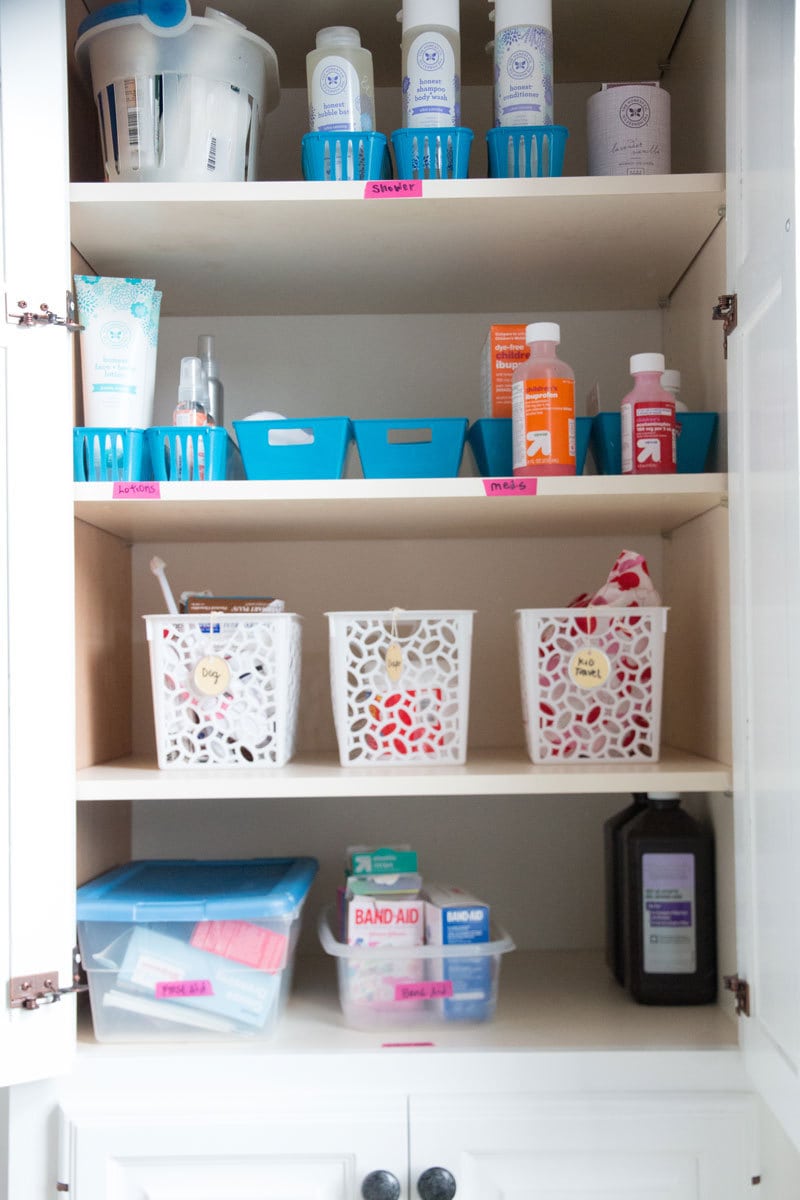 I have regularly recurring deliveries of diapers, wipes, vitamins, dog food, and have outsourced the majority of my daily cleaning with this. I wash the sheets for each bedroom one day a week (except the guest room which gets new sheets as needed). Because we keep the house so tidy, I am able to schedule our roomba to clean the floors every two to three days.
So tell me, what are your favorite home organization tips and tricks? Make sure to see all of them from the Real Moms Organize below!
See amazing tips of a mom of five for organizing with kids from At Charlotte's House! Read a detailed tutorial on how to get organized from Tasha at Designer Trapped! Hear Chelsea's favorite tried-and-true tricks for how to get organized. And see Chelsea from Two Twenty One's organized playroom shelves here (she also has the most organized nursery ever!)
Tell me in the comments–what area of your house are you working on organizing?