Playroom Ideas: Yes, if you think I am crazy, I most definitely am. I signed up for another six-week design challenge as a participant in the One Room Challenge. It isn't my first one, but it will definitely be jam-packed as we have one more baby vying for attention this time around. See my first One Room Challenge here (our nautical kids bathroom), my second ORC here (our powder room refresh), and this past spring's ORC (our master bedroom makeover).
PLAYROOM IDEAS
THE INSPIRATION
I have always wanted a dedicated playroom for my kids. As much as I want a beautiful dining room, at this stage in life, we need a playroom more! You can see, I have been pinning away inspiration images of playroom ideas for years and I am so excited to finally make my vision come to life (aka finally get it done!) You might guess I love blue and white 😉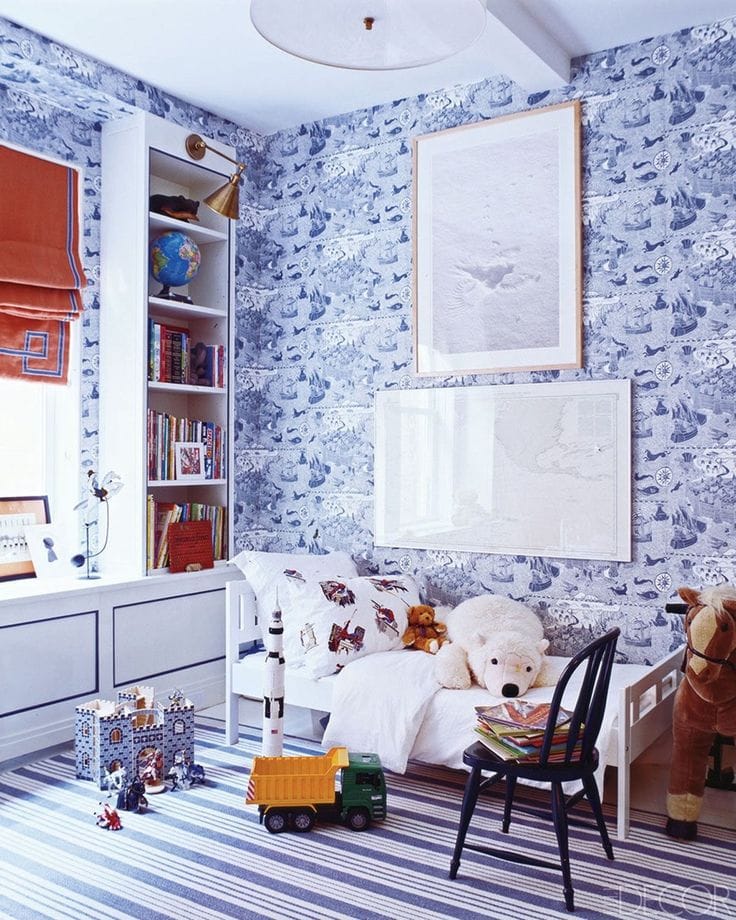 Source: Elle Decor
Source: Amy Berry Design featured on Design Chic
My husband and I are big sailors and actually met teaching sailing one summer. We live near Lake Michigan, and we love integrating slight nods to our love for sailing with nautical decor. I love this nautical flag DIY shown below from Oh Happy Day!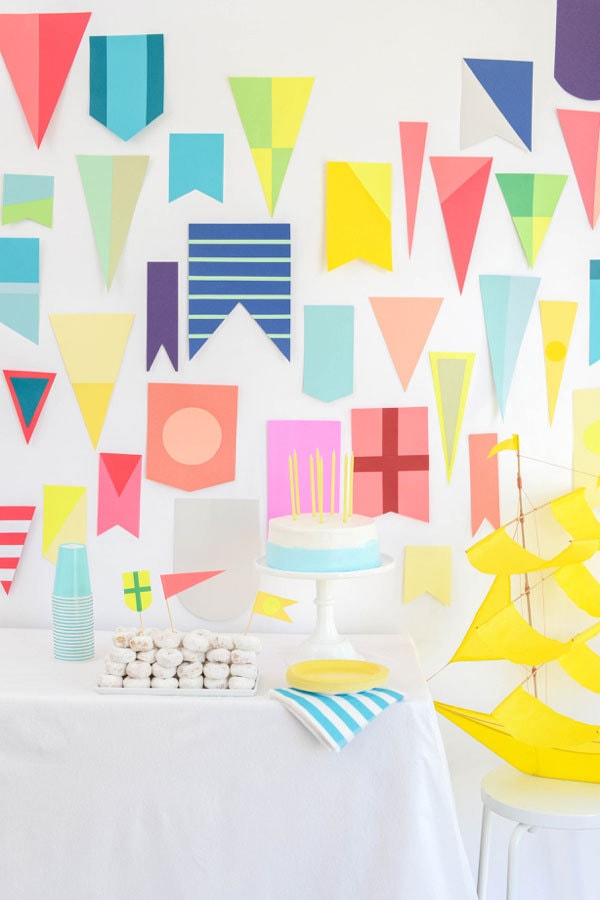 Source: Oh Happy Day Nautical Flags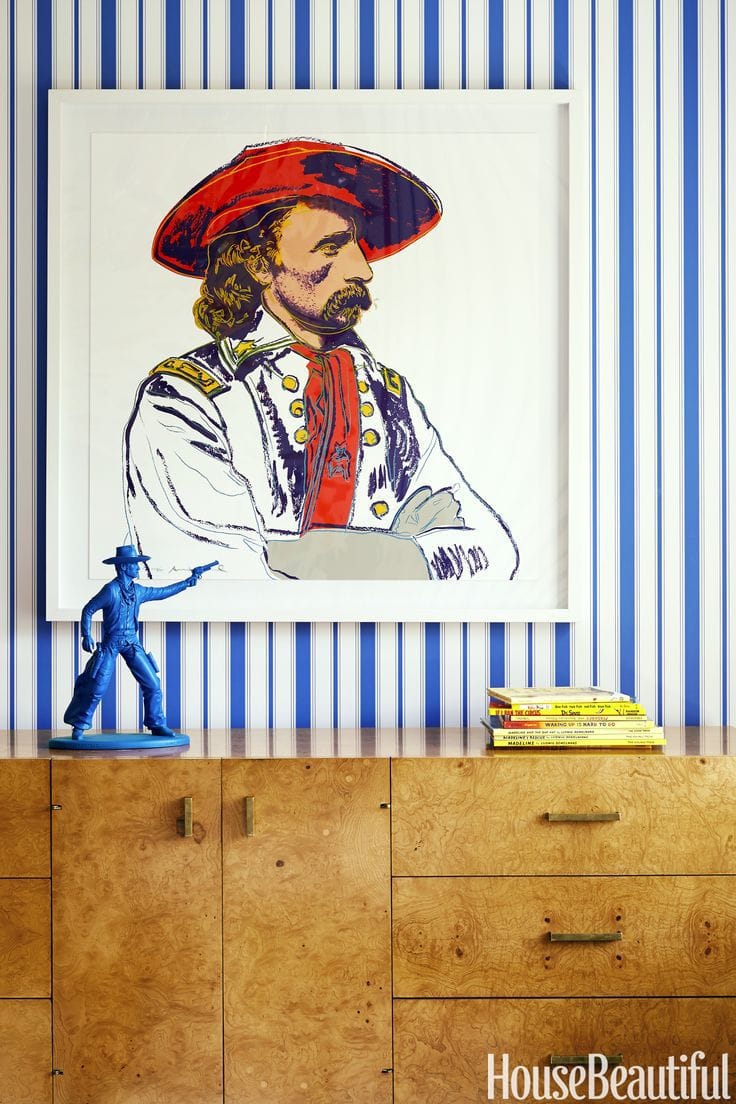 Source: Bailey McCarthy Design via House Beautiful
And Bailey McCarthy always slays it with her design. Her most recent spread in House Beautiful featured her son's room and it is stunning! I saved this image for some blue and white playroom idea inspiration!
THE PLAN/ PLAYROOM IDEA BRAINSTORMING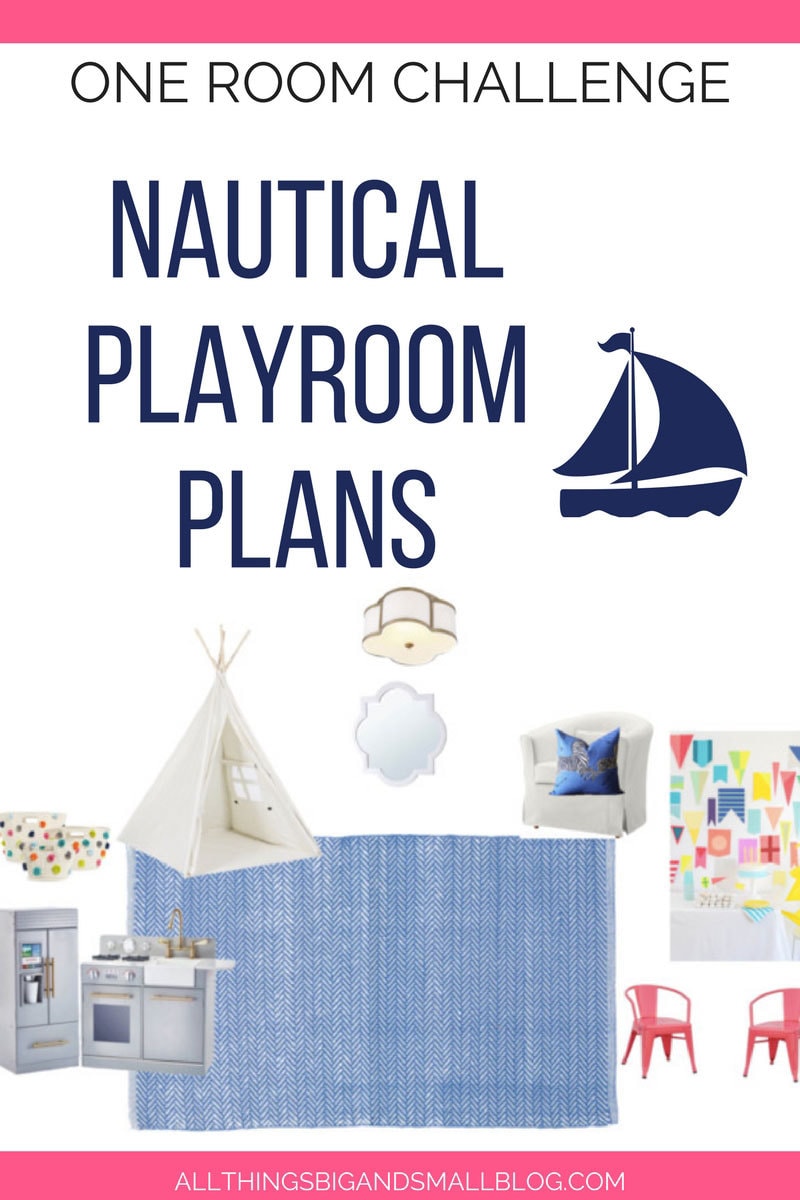 *affiliate links have been: if you happen to purchase something from one of these links, i might get a small commission at no additional cost to you. see my complete disclosure policy here.
Kids table and Chairs
DIY a Bulletin Board with Decoration and Kids Art
Play Kitchen

I love how this one looks which is a doppelganger for the more expensive one
But since we currently have a play kitchen, I plan on zhushing it up and will move it up from our basement
We will also bring up our play store which Santa DIYed (tutorial to come)

Paint Vintage Dresser/ Sideboard

We inherited a vintage dresser from my parent's cottage and it needs some TLC. It is a campaign-style dresser so we are going to paint it to match the melon kids chairs for a fun pop of color!

Lighting

We will be installing a new overhead light in place of the current chandelier (which will be relocated)
I will also be adding two new table lamps to the side table to warm up the space

Chairs

Currently, there is nowhere for an adult to sit except on the floor, I plan to add two chairs (possibly Ikea white Tullsta chairs that we inherited from my parents with new slipcovers.)

Floor Cushions

The new rug is amazing and softer than expected; but, some floor cushions would be a welcome addition since the kids play so much in there on the floor.
I am planning on DIYing some floor cushions in the shapes of nautical flags

Kid's Teepee with Burgees

We already have a DIY Teepee which the kids love, so I am going to make a cute burgee garland for it

Artwork

The walls are pretty bare. We have some artwork in there already but plan on adding more since what we currently have is too mature and not really "playroom-esque."

Paint Quatrefoil Mirror

The black quatrefoil mirror from HomeGoods that was previously in our family room, will be painted white and hung in the playroom. It is a large mirror which will reflect lots of light

Builtins with wallpaper fronts

The current builtins house all of my china; but, I don't want to move it all. And since we don't need more toy storage, I will continue to keep my china in there and just cover the glass windows with a fun wallpaper.
I think this wallpaper/ will bring a nice nautical touch.

Blinds

This room is on the south side of the house which keeps it nice and toasty warm and sunny. In the winter it is really nice, but it can get hot in the summer. So we plan to add some bamboo blinds to the windows.

Rug
THE TOY SITUATION
Surprisingly, we don't have that many toys out. We like to try to practice the Montessori approach at home with the kids, so they can always choose which toys they play with but they are limited in how many. We regularly rotate the toys. At any given time we will have out the play kitchen, the dollhouse, and/or the train set (we inherited my brother's old one and are borrowing it until he has kids). In addition, each toy has its own box and/or place. We have two small shoe boxes full of toys with small parts like Mr. Potato Head or all of our toy animals.
Even though many of the playroom ideas I have pinned over the years have tons of bookcases with toy storage, I am going to try to keep it minimal in here. Less out = less to mess up!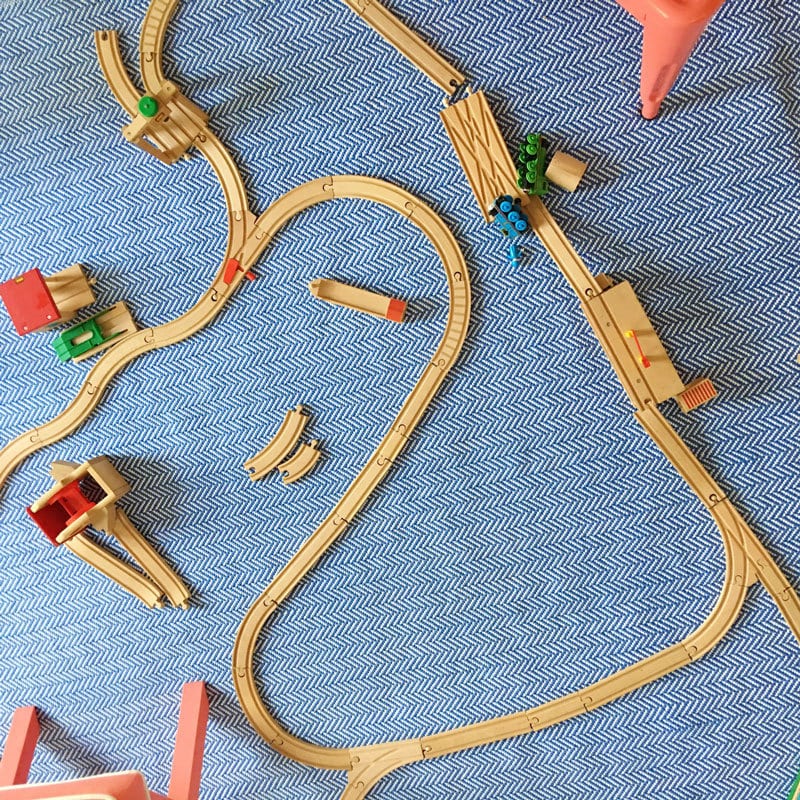 The kids are required to put their small-scale toys away every night. Their larger toys like train sets that span the entire playroom, they are allowed to keep out overnight (I mean, they work so hard setting it up!) Those will typically last a few days until we put them away. Read more to see our favorite Montessori toys for kids 0-4 years.
GET THE LOOK

It is going to be a very busy six weeks full of tons of design talent from other bloggers too! So make sure to check out all of the plans today on the One Room Challenge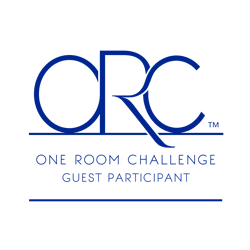 !