Welcome to the final week of the One Room Challenge–a six week challenge for participants and featured bloggers to redo a room! This is my third time doing it, see my first time, and second time here. But, for this round, we decided to tackle our master bedroom! After doing a nursery, a big girl room, and a guest room, it was high time for our ugly master bedroom to get some love!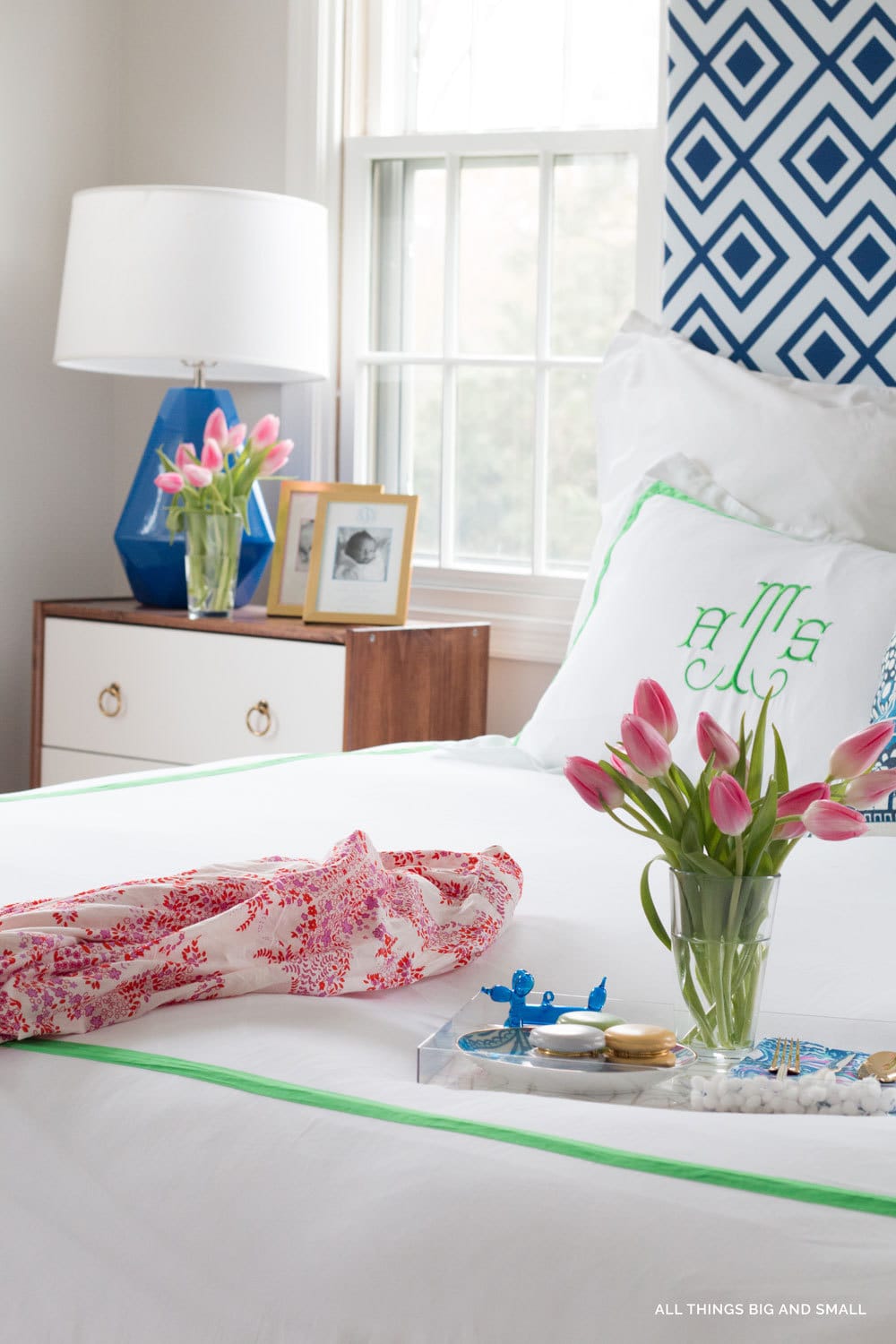 And we took it from this to this to drab brown room to…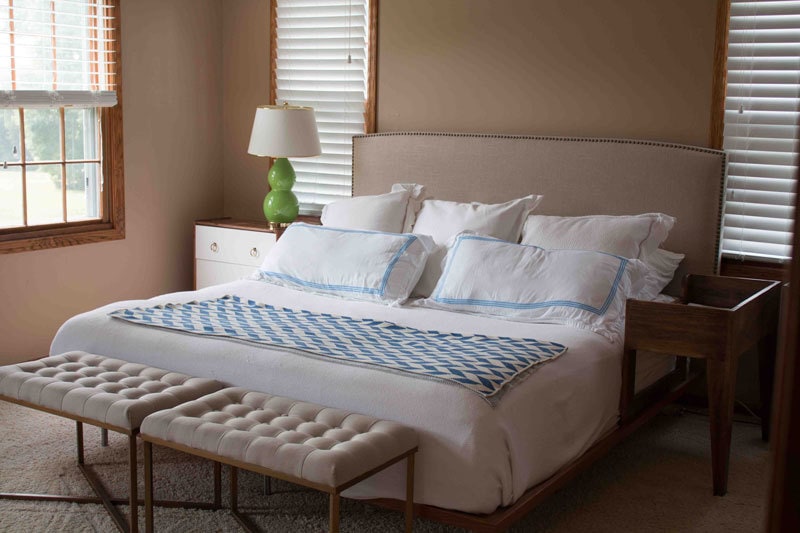 a bright clean and preppy sanctuary!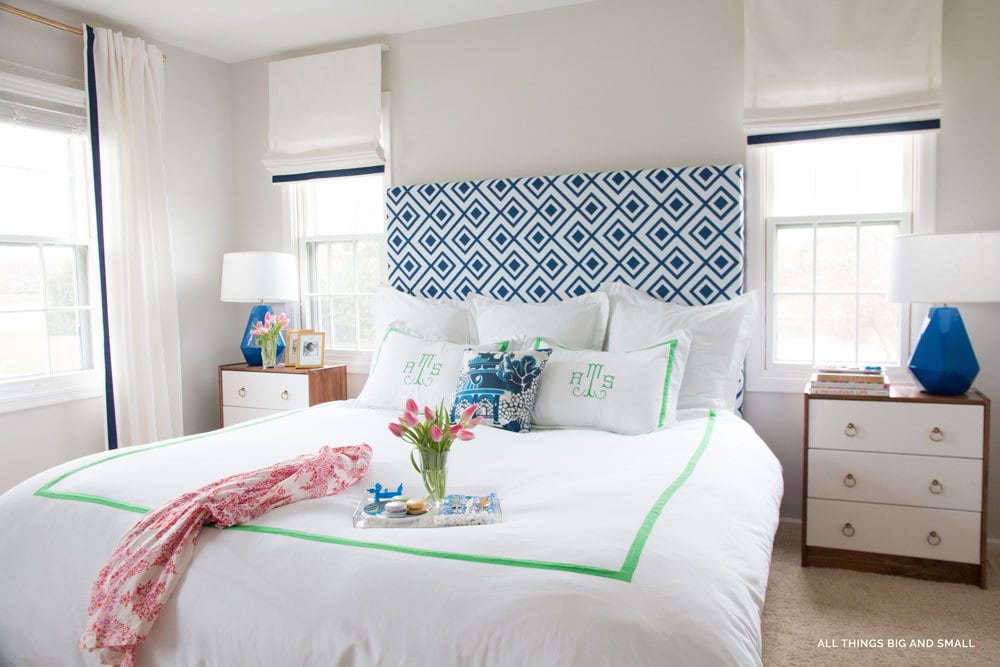 *may contain affiliate links at no additional cost to you, read full disclosure policy here
Bedding (similar here)/ Robe (similar)/ Blue and White Pagoda Pillow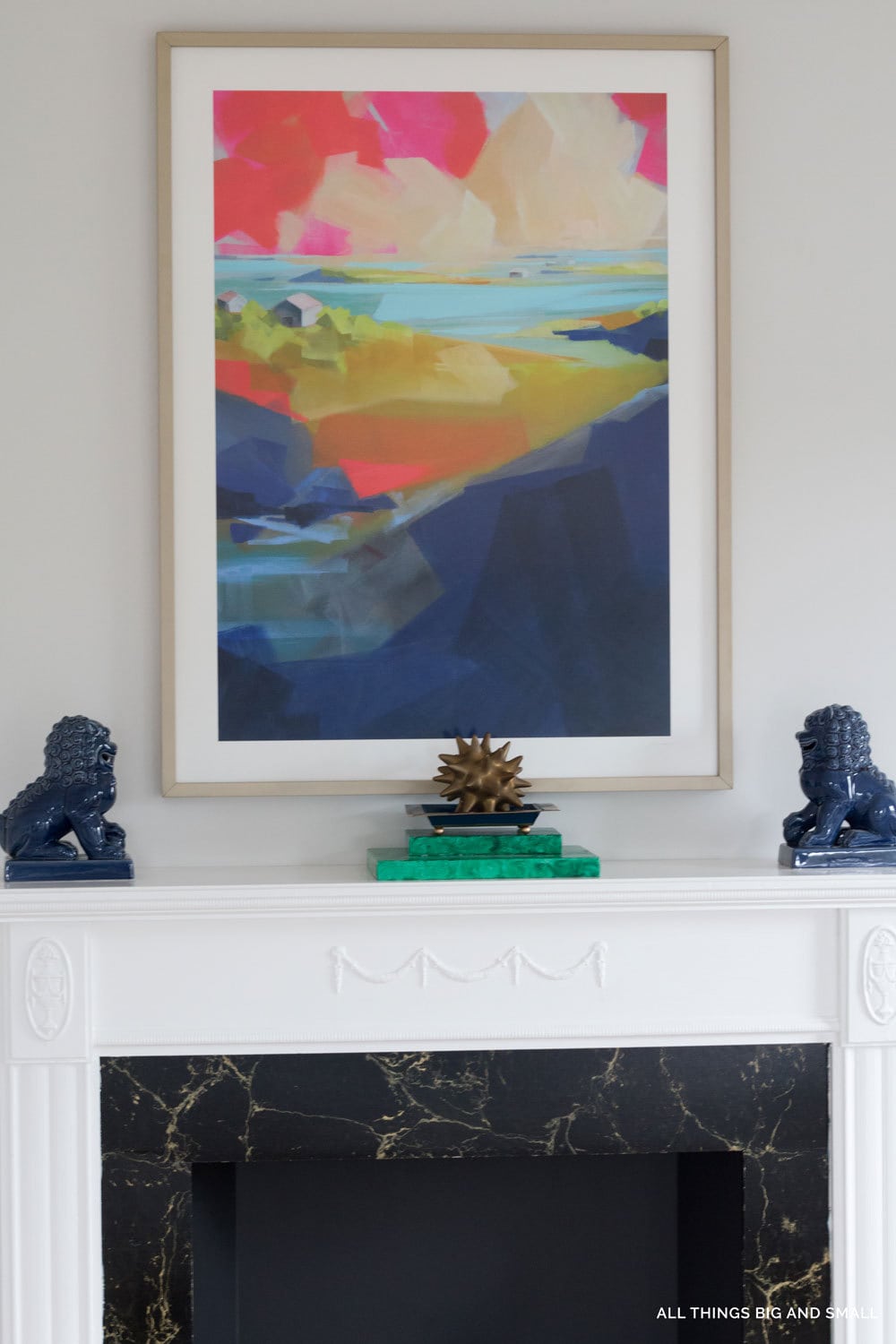 Lions (similar) / DIY Faux Malachite Boxes/ Tray (similar)/ Urchin/ DIY Faux Fireplace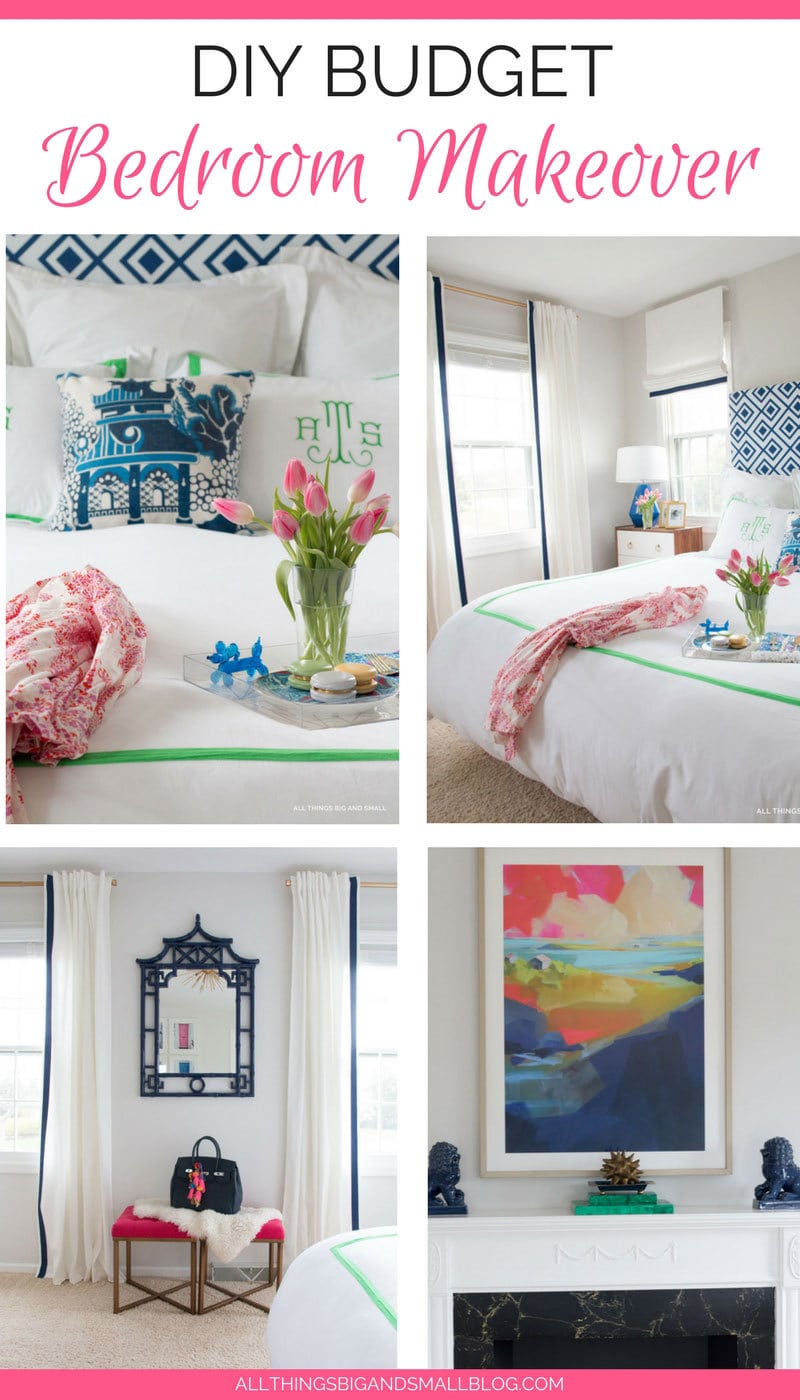 It took a lot of blood, sweat, and tears; but, we pulled it off! Like all of our projects, we tried to do it on a budget, and I will share the total when I get around to adding everything up, so you will see a whole lot of DIYs in this post for your perusal! And all of the furniture was recycled, or refurbished, which saved us a LOT of money! (all sources are listed at the bottom)!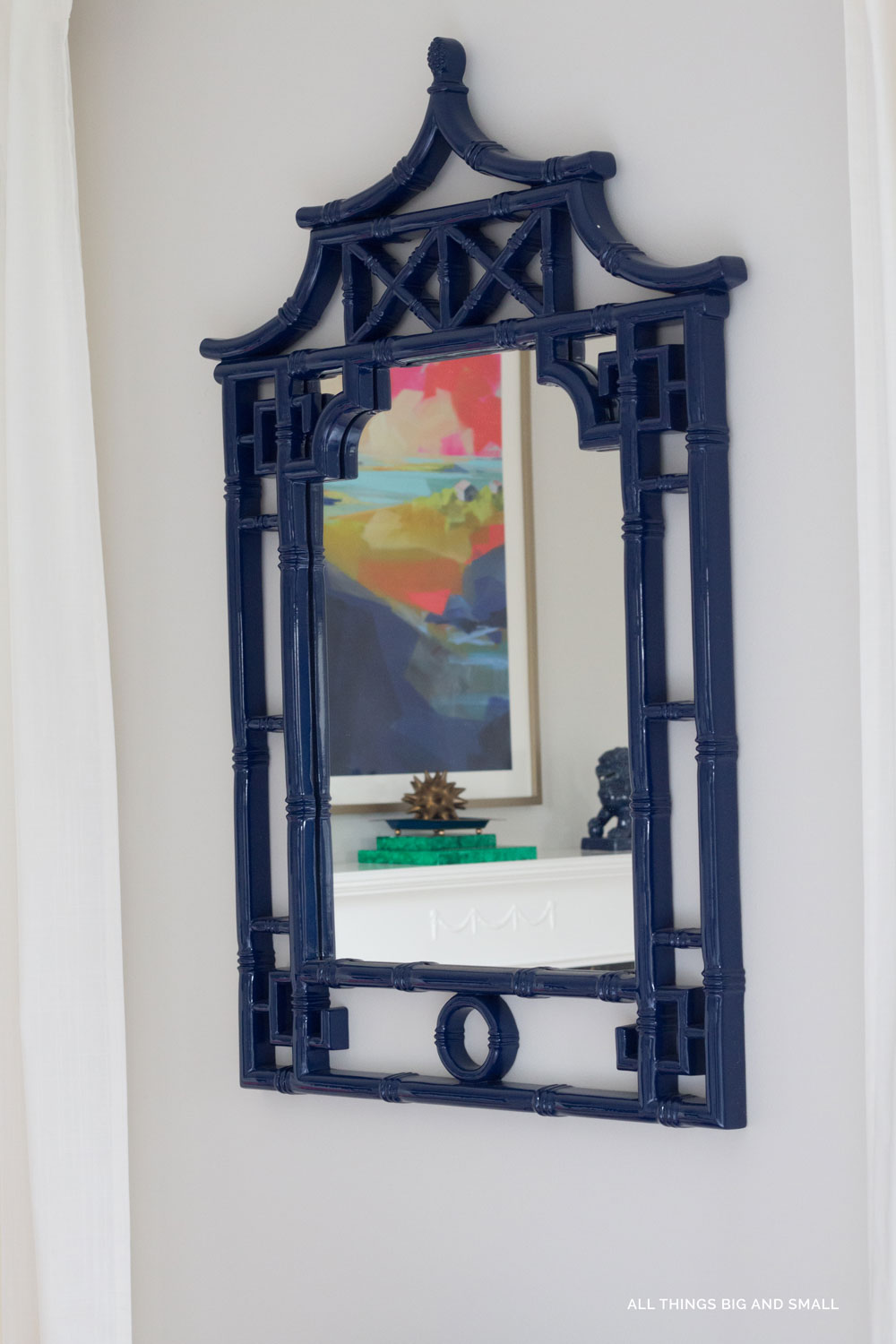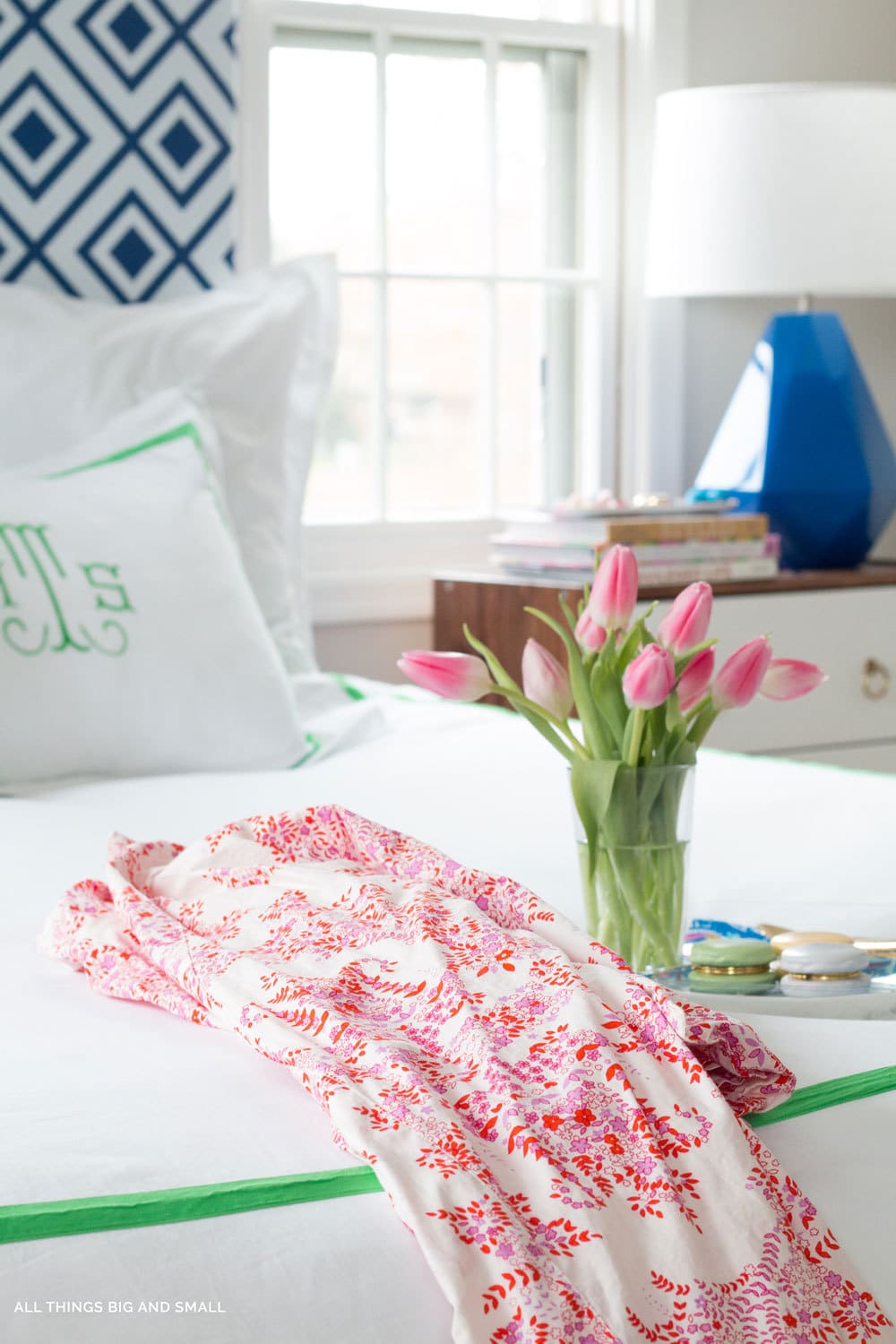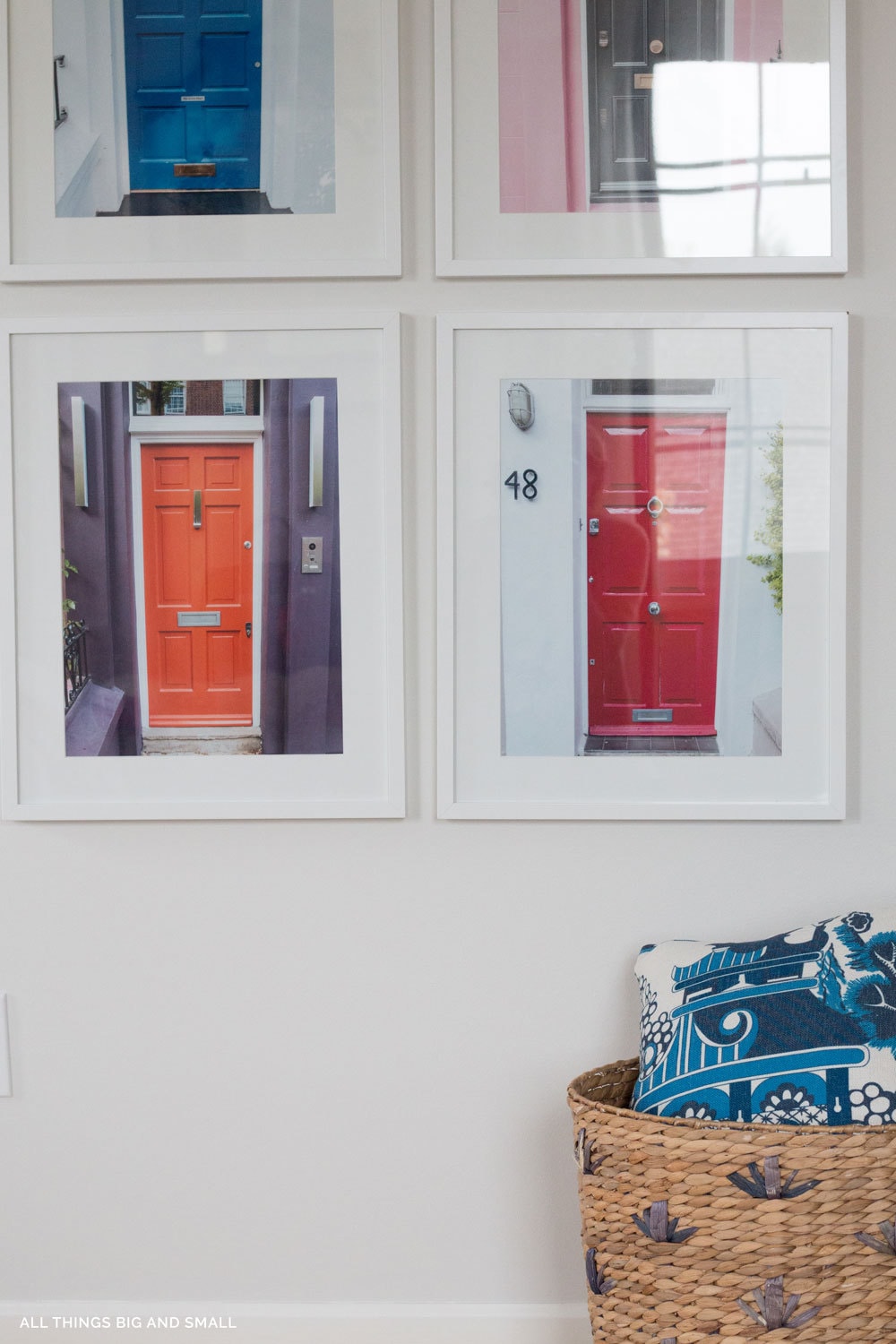 Photographs from recent trip/ Basket (similar)/ Blue and White Pagoda Pillow

Featured DIY PROJECTS
*may include affiliate links at no additional cost to you, read my complete disclosure policy here
DIY Tall Headboard– with downloadable directions
DIY Platform Bed- tutorial to come! This was a custom build we made in our old apartment to fit our king size bed!
DIY Roman Shades– used inexpensive fabric and this ribbon using this tutorial
DIY Curtains– same materials as above
DIY Mantel– we refurbished an inherited faux fireplace and added some modern art
DIY Faux Malachite Box– an easy DIY project I did years ago
DIY Gold and Lucite Tray– again, another easy DIY project that I made years ago
DIY Gallery Wall- photographs of our recent trip to Notting Hill
DIY Ikea Rast Makeover- tutorial to come, we did these when we moved 2 years ago and had zero money for dressers!
DIY Bedside Table Lamps– how to make touch less lamps!
Painted Wood Trim and Windows, and Walls- see my painting tips here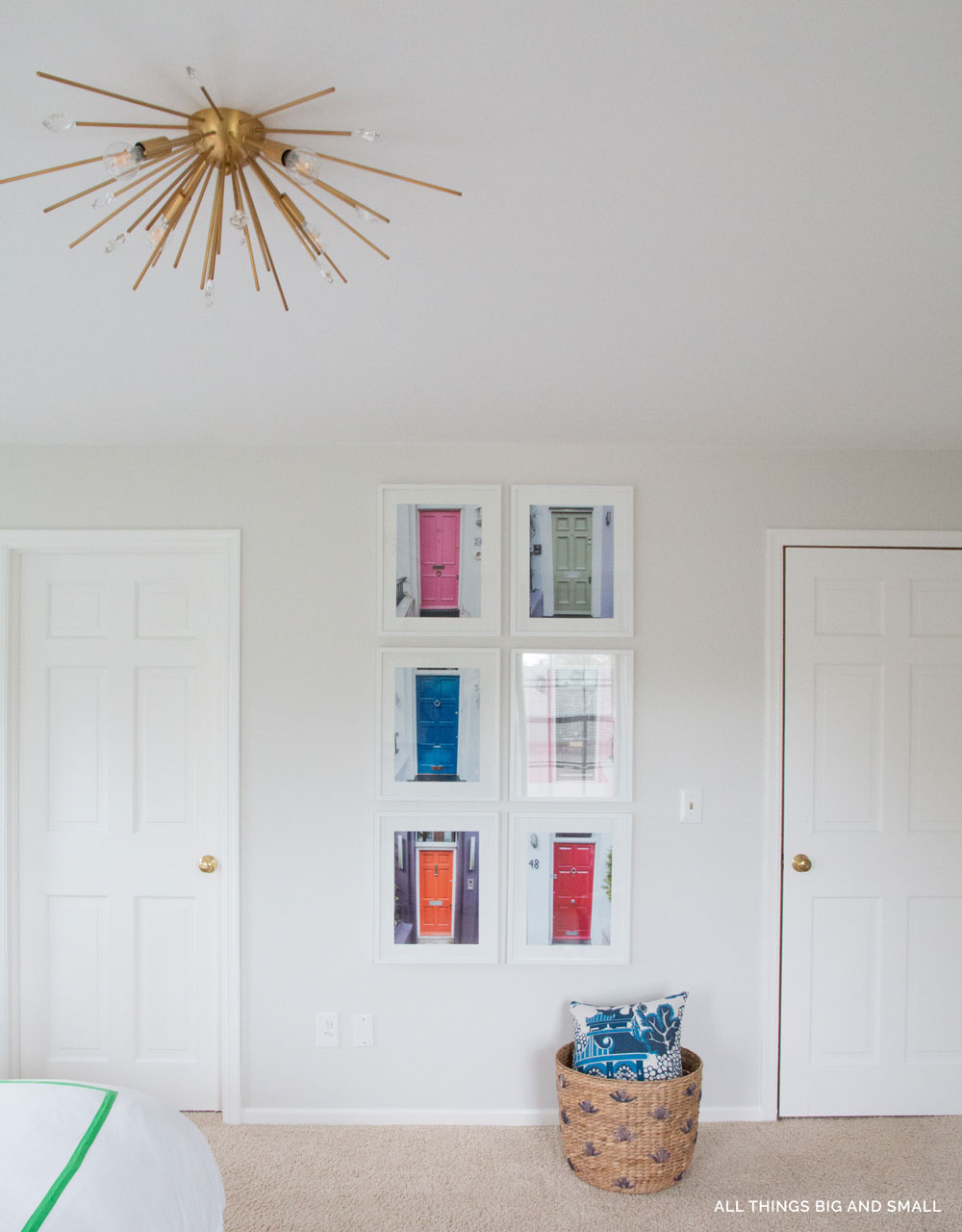 PROJECT TIMELINE
As far as our progress each week, we sought to conquer one project a week. With two little ones underfoot, and some international travel (oh, and being 30 weeks pregnant), we had to plan everything to a "t". It was a bit of a push some times; but, my amazing husband and family made it possible! My parents helped with babysitting while I painted the room/ wood trim/ windows, my father-in-law helped with electrical and lighting, my mother-in-law helped with the curtains and headboard, my husband helped with the DIY Mantel, spraying the doors, hanging the artwork, the list goes on…Suffice to say it was a team effort!
A huge thank you is also due to my sponsors, without whom, this wouldn't be possible! Thank you Lamps Plus and Minted! And thank you to all my readers–without you I would never get anything accomplished! #keepmeaccountable
Week 1– Plans and Painting
Week 2– DIY Faux Fireplace/ Mantel & Artwork
Week 3– DIY Curtains and electrical
Week 4– DIY Headboard and Mirror
Week 5- Lighting Upgrades and DIY Roman Shades
Week 6- (this week) FULL REVEAL, gallery wall, and paint doors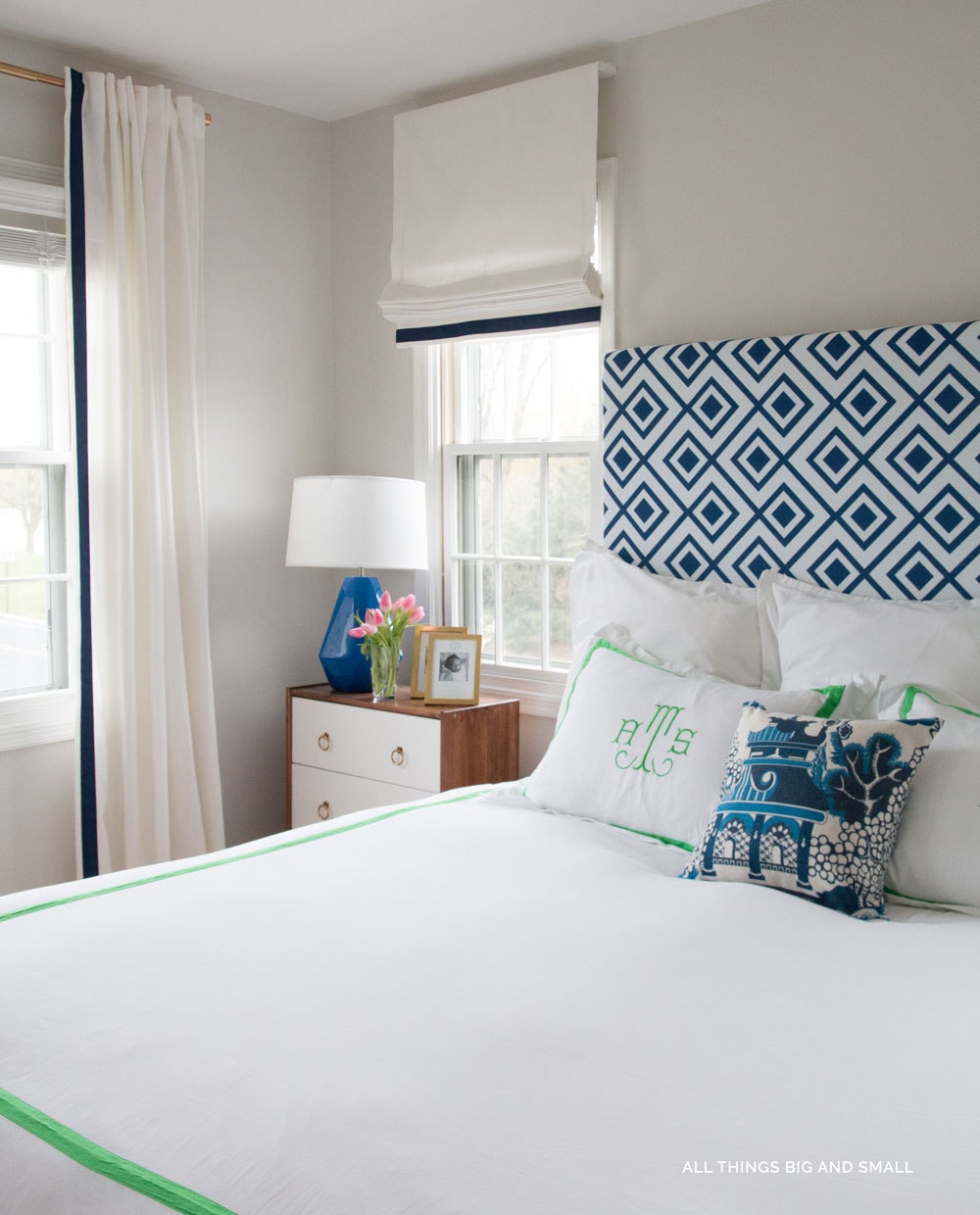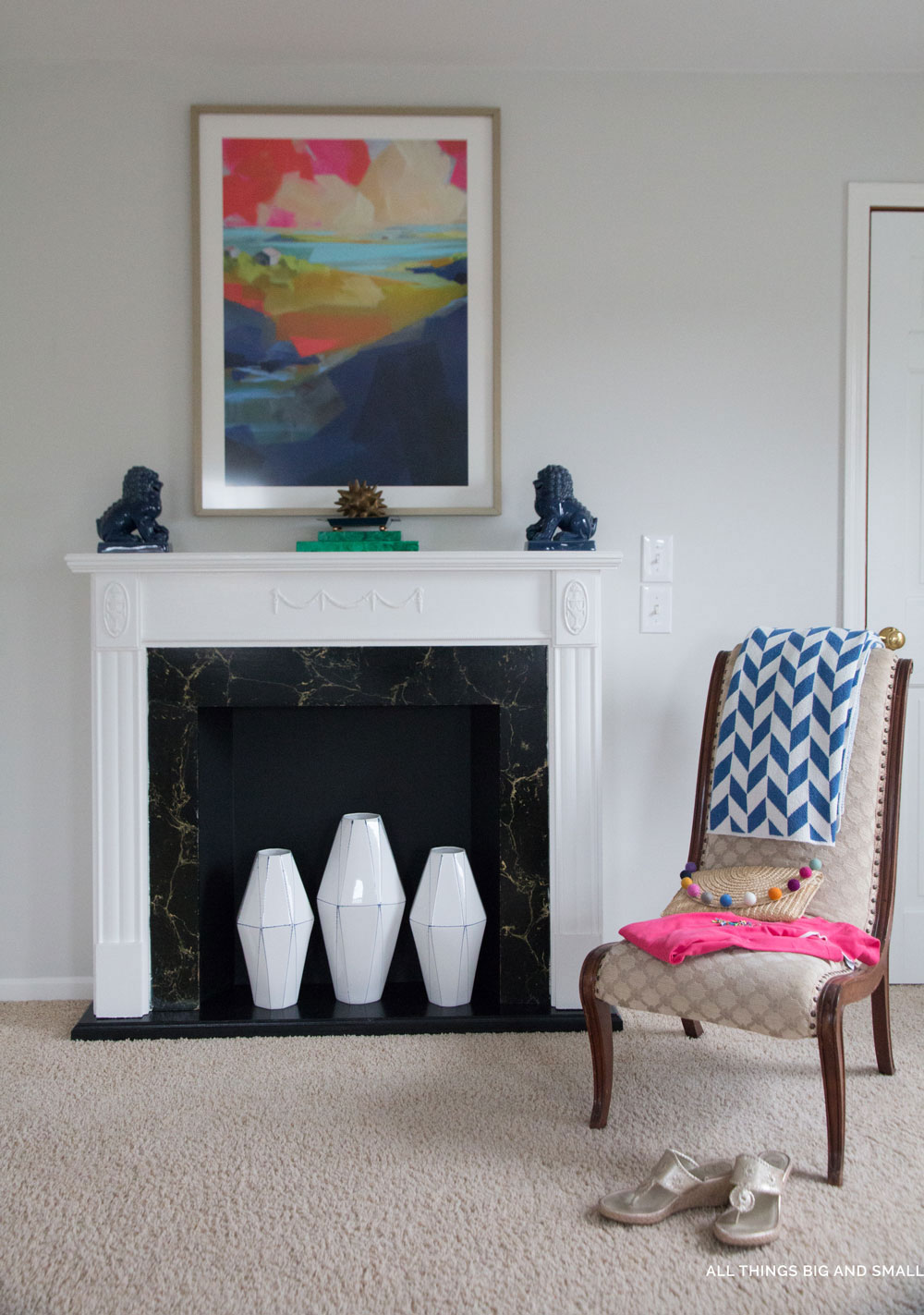 Artwork c/o / Pom Pom Clutch/ Blue Chevron throw (similar)/ Shoes (similar) / Vases from HomeGoods (similar)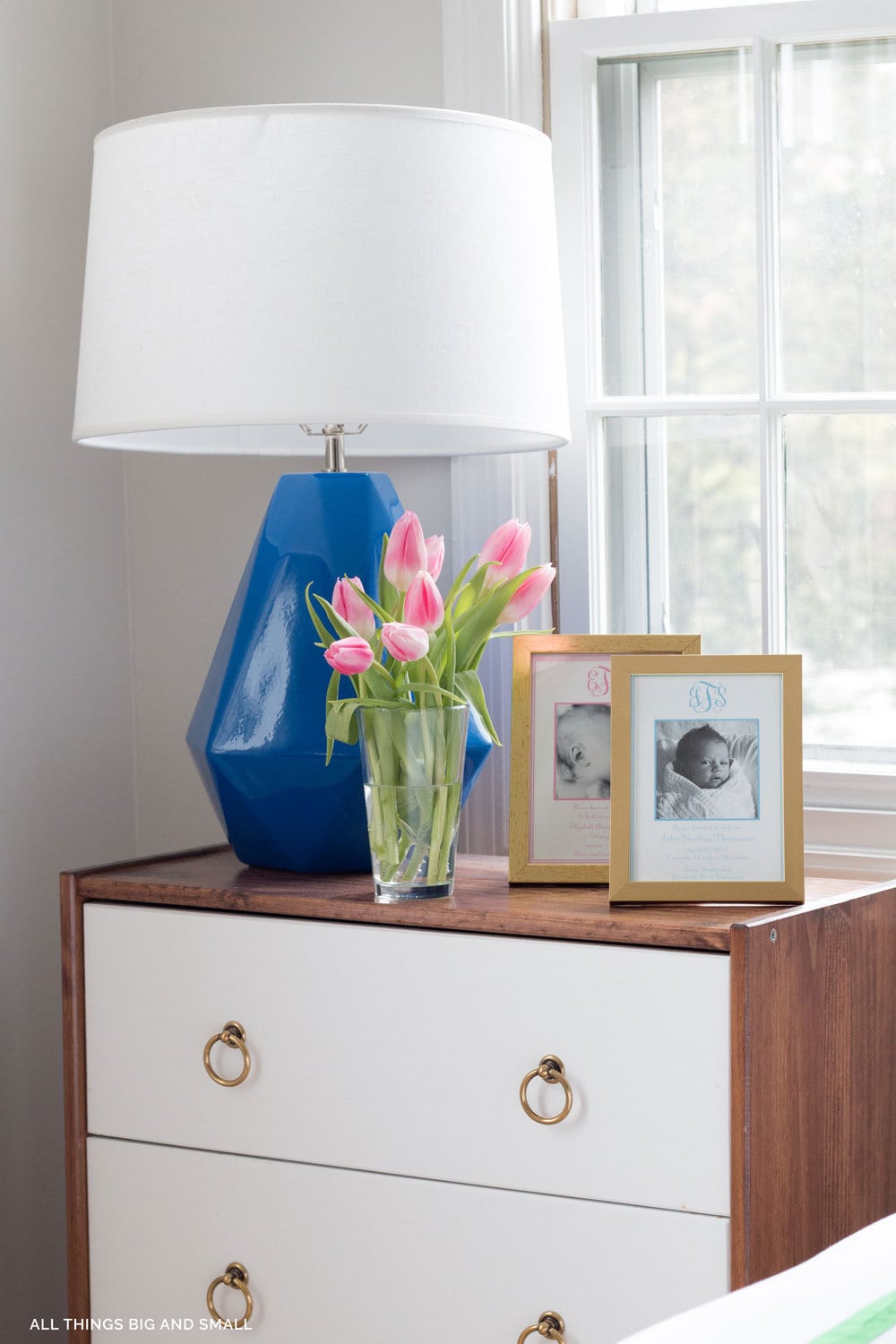 Lamp c/o / DIY Ikea Rast Dresser (tutorial to come)/ Frames (similar)
From design to the finished room, it stayed pretty similar. As it is our master bedroom, I wanted it to be bright and serene, while still reflecting my love for color. And I had to respect that it is my husband's room too–so, I tried to balance his modern aesthetics (and what we already had) with my more traditional taste. Just like marriage, pulling together a room is work and compromise 🙂
I fell in love with the Pagoda Mirror, and while it wasn't his taste, he tolerated it as we balanced its ornate nature out with clean lines in the curtains, artwork, and geometric patterns on the headboard.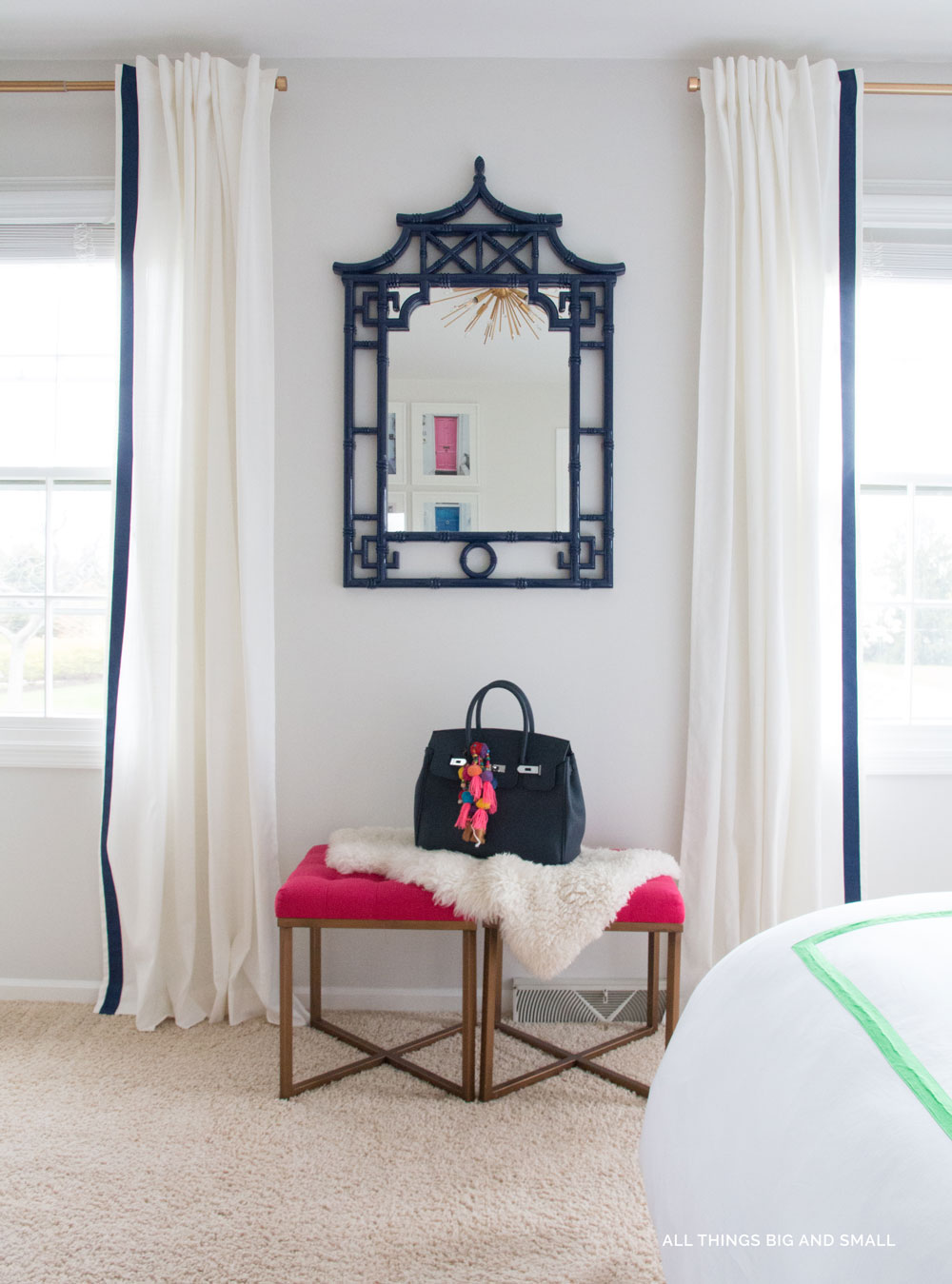 Pink stools (similar)/ Sheepskin throw/Pom Pom Keychain/ Curtain Rods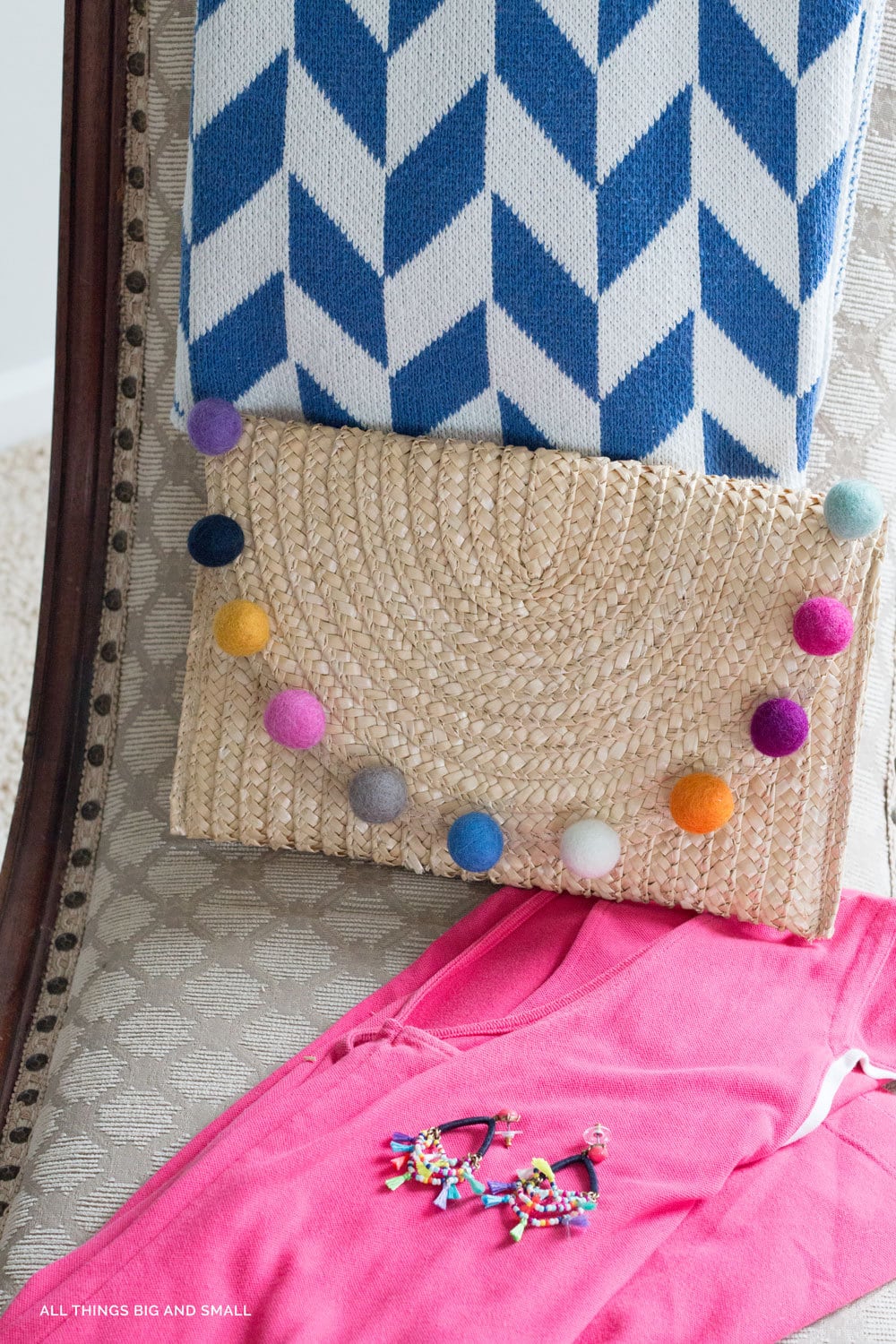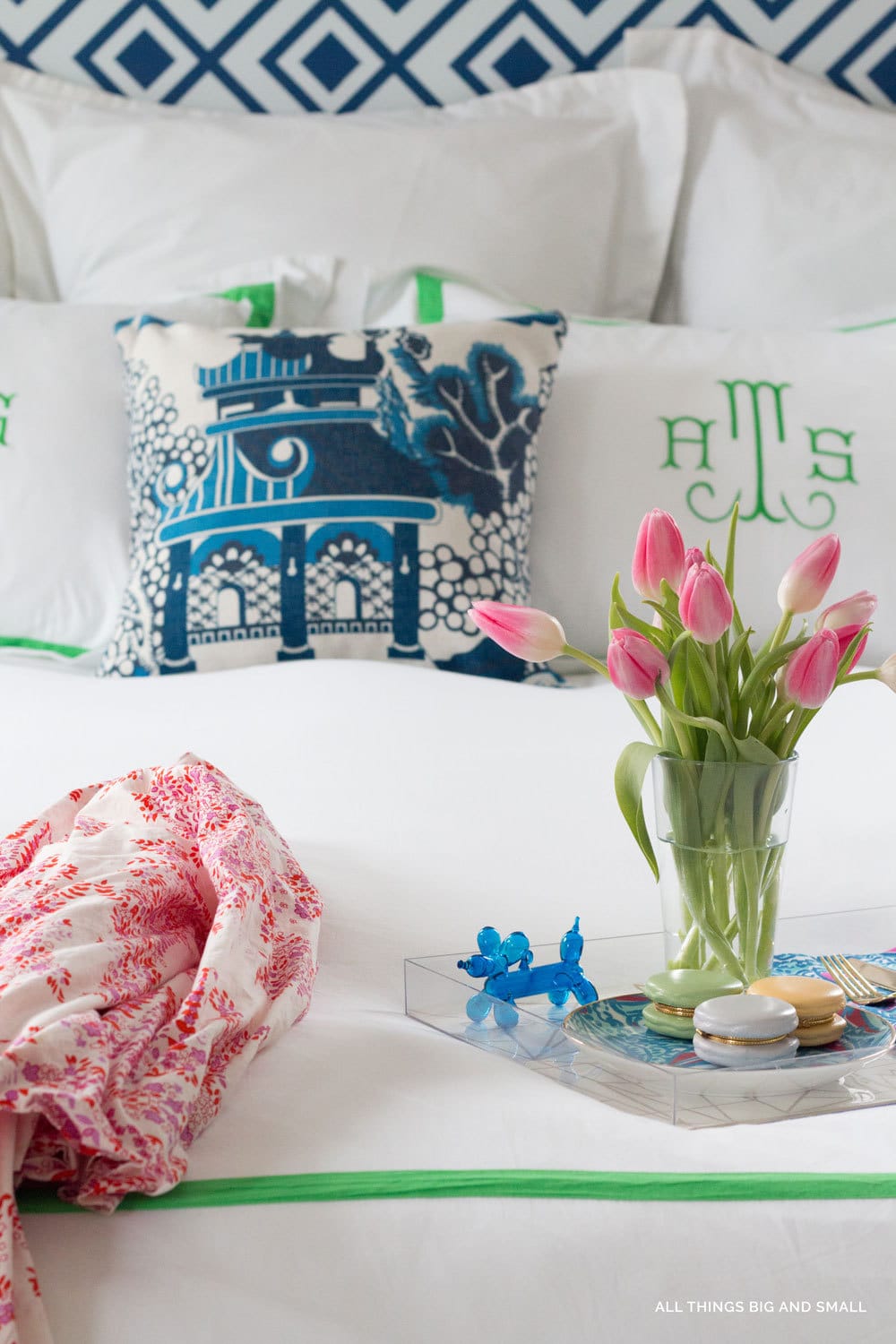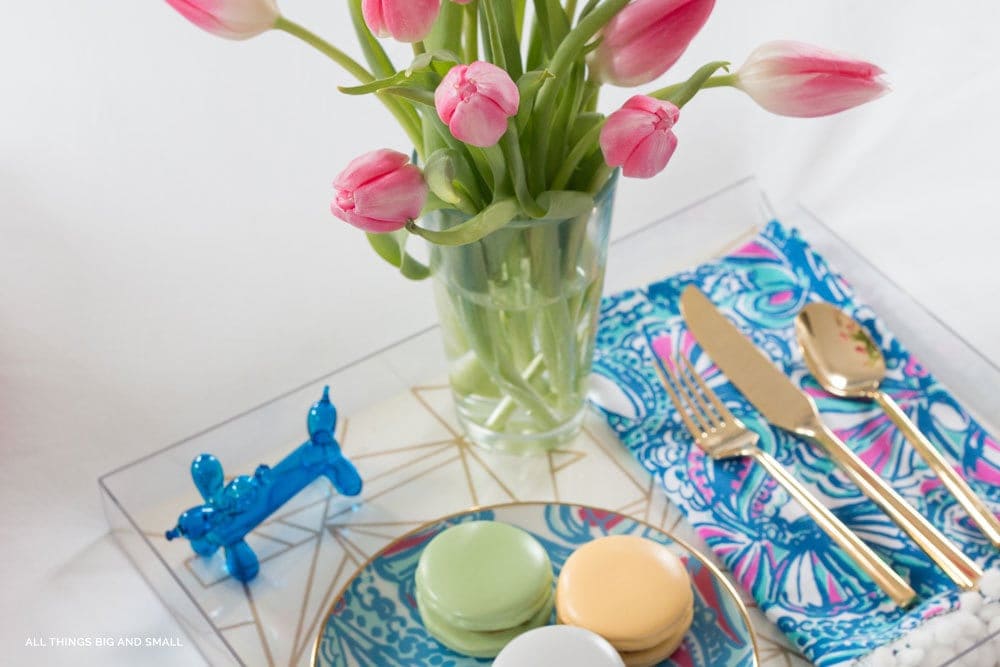 Mini balloon (Target Christmas ornament)/ Gold flatware / Faux Meringues/ Colorful plates (similar)/ Napkin (similar)/ DIY Gold & Lucite Tray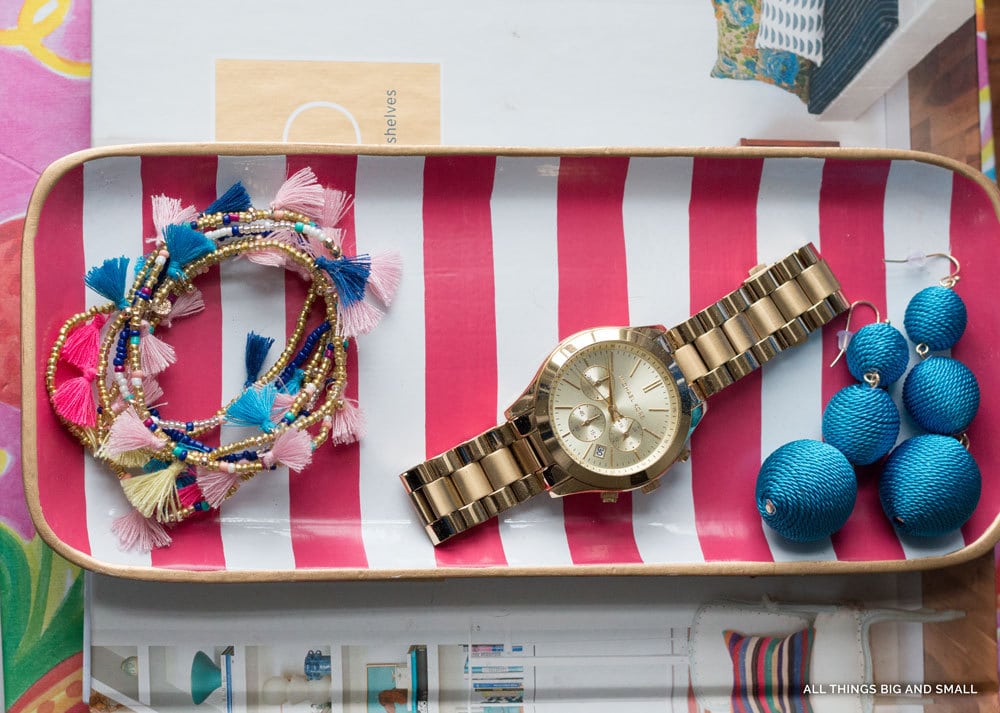 Earrings/ Pink striped tray/ Gold beaded bracelets/ Watch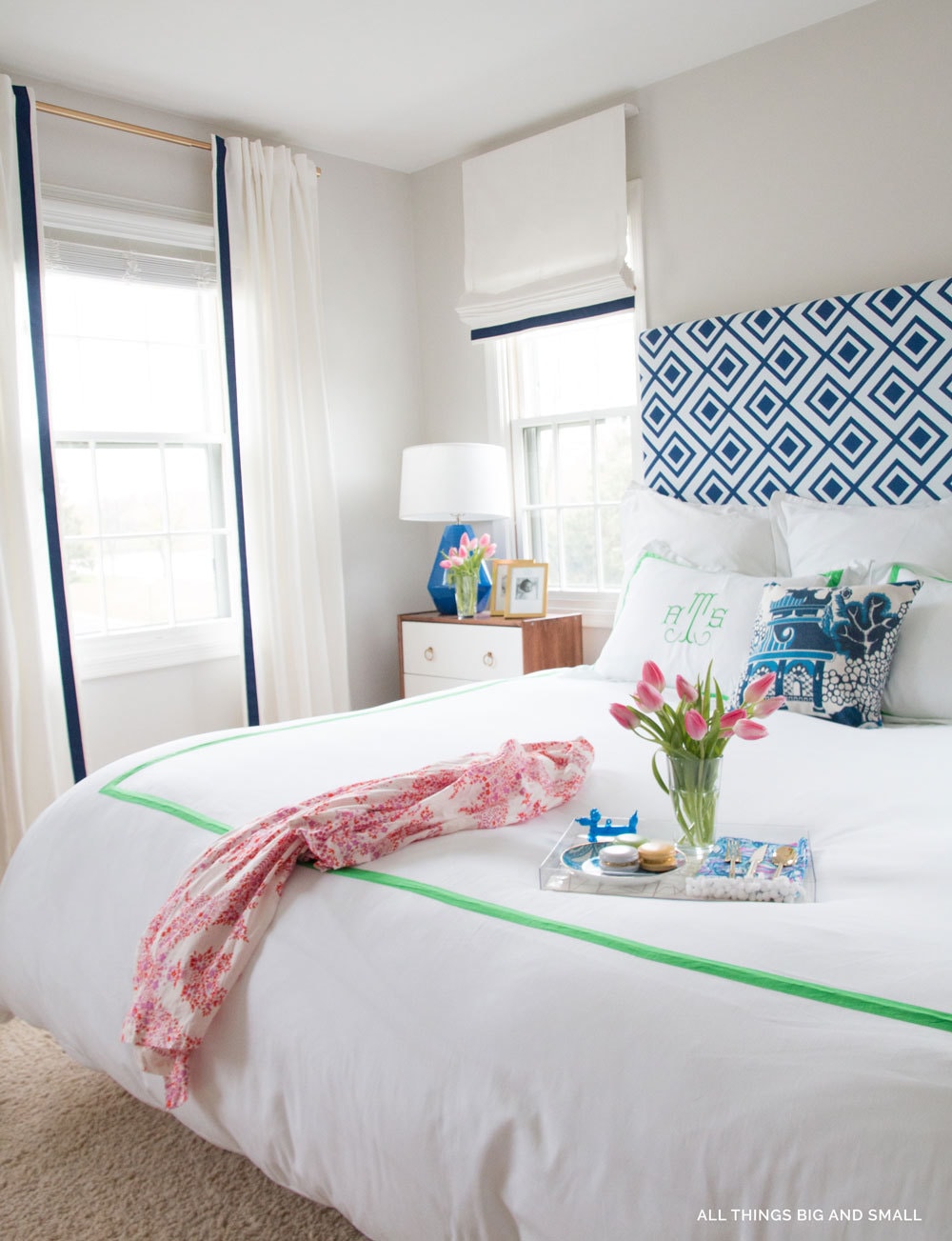 DIY Roman Shades/ DIY Curtains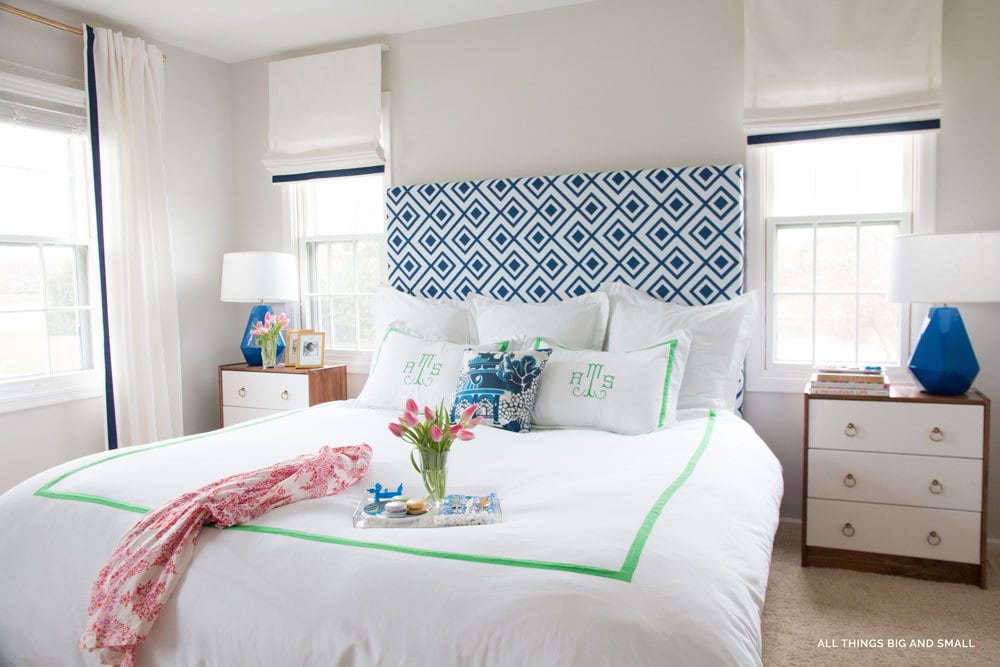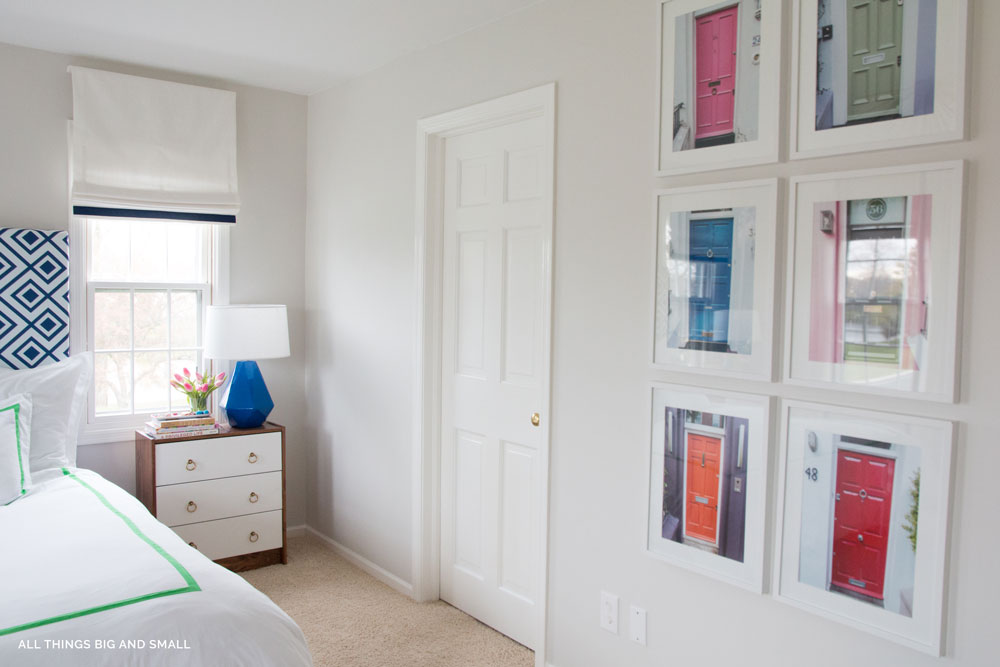 The door above is the door to our master bathroom, which we haven't touched since we moved in! Suffice to say, it will need a major overhaul one day #addittothelist!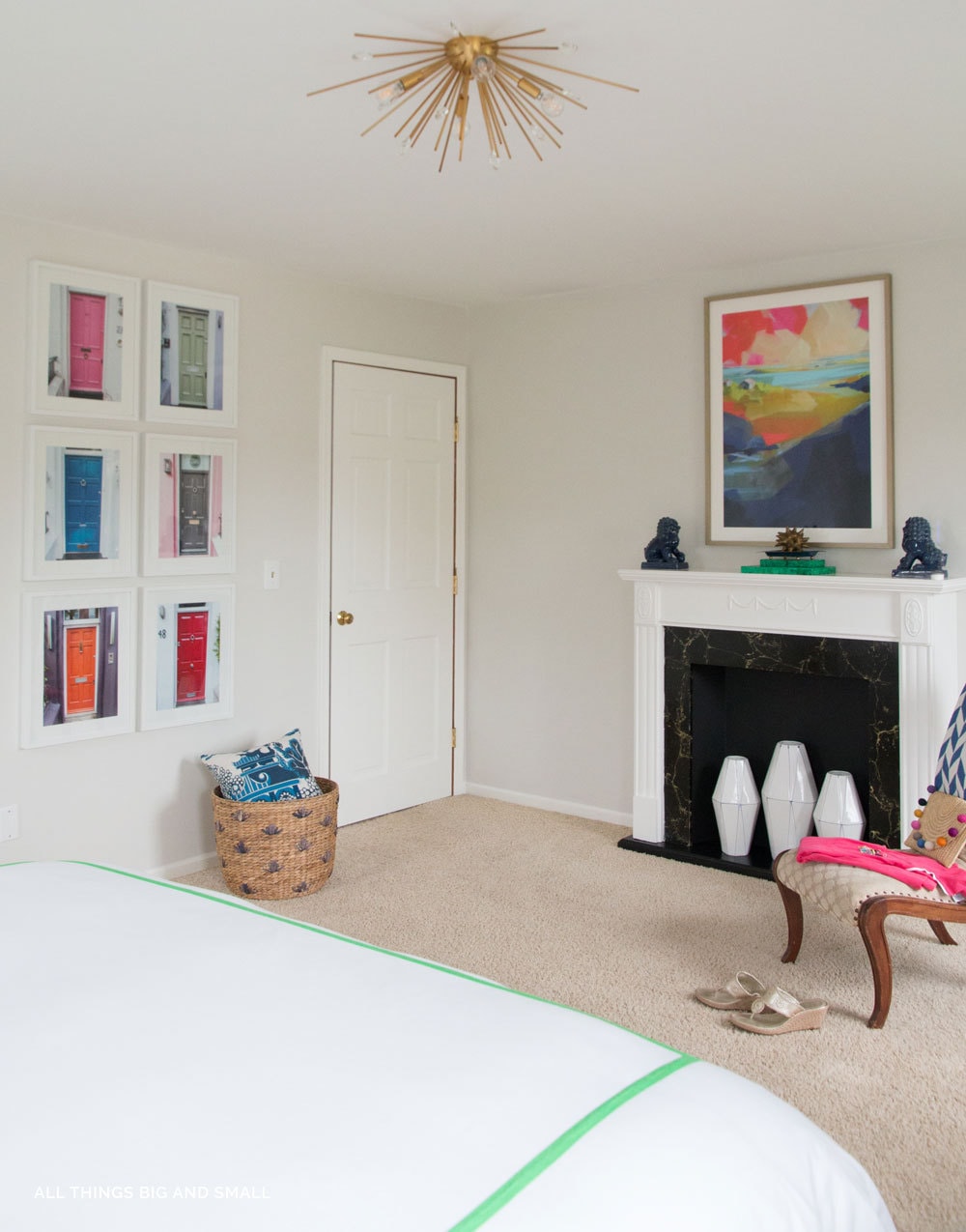 Overhead Light c/o (similar)
And the door on the right (pictured above) is to our hallway, which also has not been touched or painted!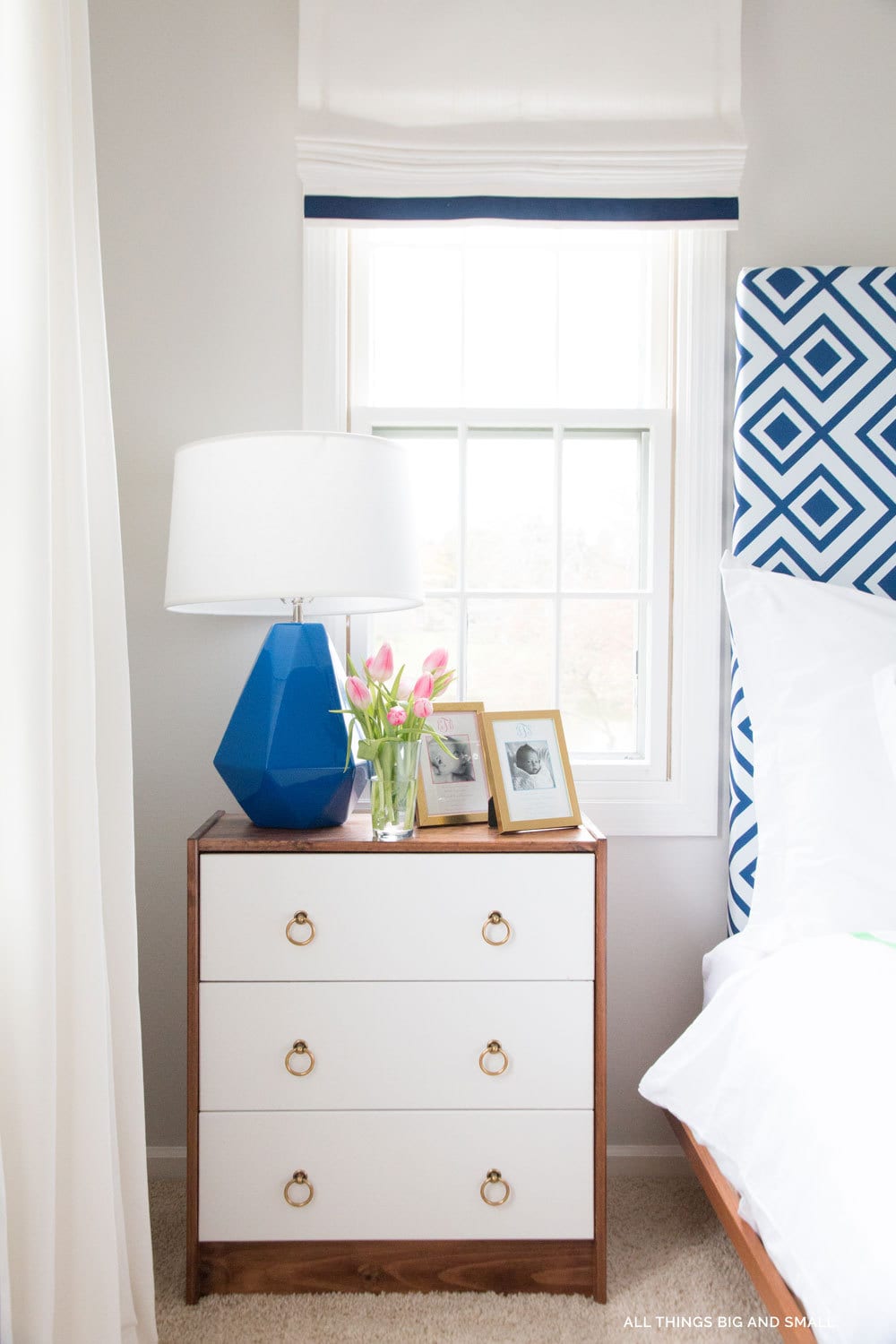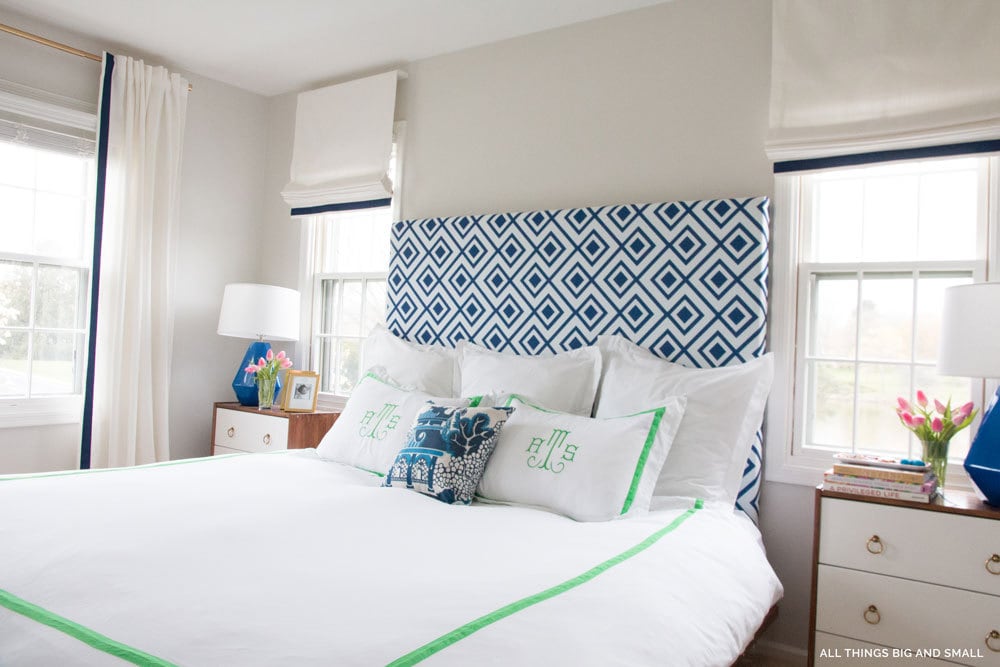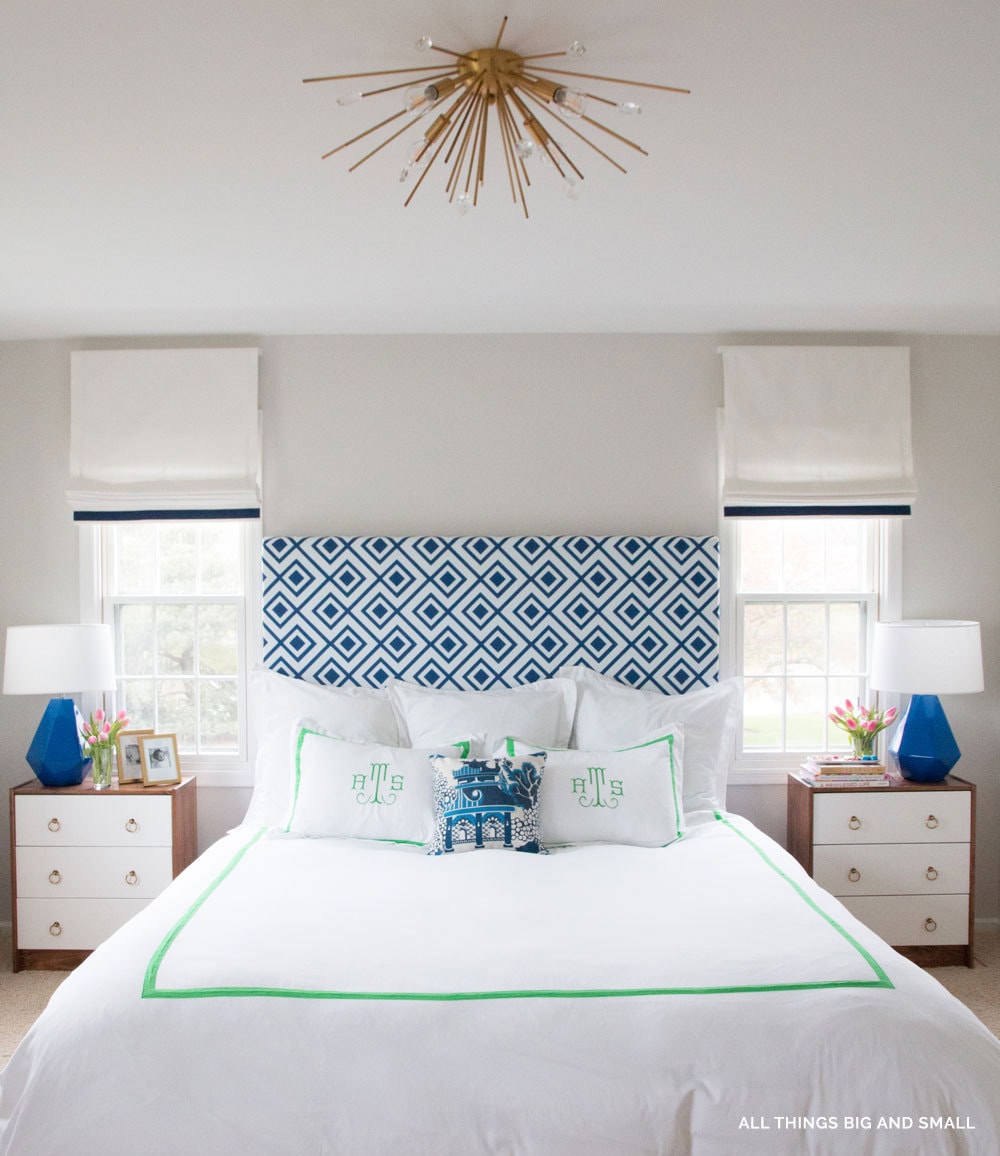 SOURCES
*may contain affiliate links at no additional cost to you. To see my complete disclosure policy read here.
Fabric: Spoonflower Connect the Blocks
Curtains: Inexpensive fabric curtains and this inexpensive grosgrain ribbon–full tutorial here
Curtain rod– Such a great deal and a look-for-less
Mirror– also available here and here
DIY Ikea Rast nightstands
Lamps (c/o) – Robert Abbey Delta Marine
Overhead light (c/o)- Euro Possini similar (same brand different model)/
Bedding from here no longer available (similar here, here, and here)
Blue and white throw pillows here–such a steal!
Pom Pom Keychain– (similar version)
Pom Pom Clutch – great look for less of the expensive one which is 4x the cost!
Earrings – from here, also available here
Gold frames on bedstand – Dollar Store- similar here
Blue Pagoda Lions from Target (discontinued) similar here
Artwork over mantel c/o – Minted
Greek Key Tray- from here from this artist (discontinued)
White vases in fireplace- HomeGoods similar here
Wall Color: Benjamin Moore Classic Gray
White Trim: Benjamin Moore Simply White
Blue Chevron Throw: similar here same print different color here
Shoes- similar here
Chair- inherited
Earrings- (on red dress- here on pink tray – here)
Pink striped tray here (scored on sale a year ago)
Watch here
Mini balloon dog from Target at Christmas (it's an ornament)
Gold flatware– such a steal!
Colorful plates- Lilly Pulitzer for Target, similar here
Napkin- Lilly Pulitzer for Target, similar here
Robe (similar available now) more prints available here
Gallery Wall- DIY photography using these frames
Woven Basket- similar here and here
DIY Platform Bed (tutorial to come)

IF YOU LIKE THIS, PLEASE PIN IT!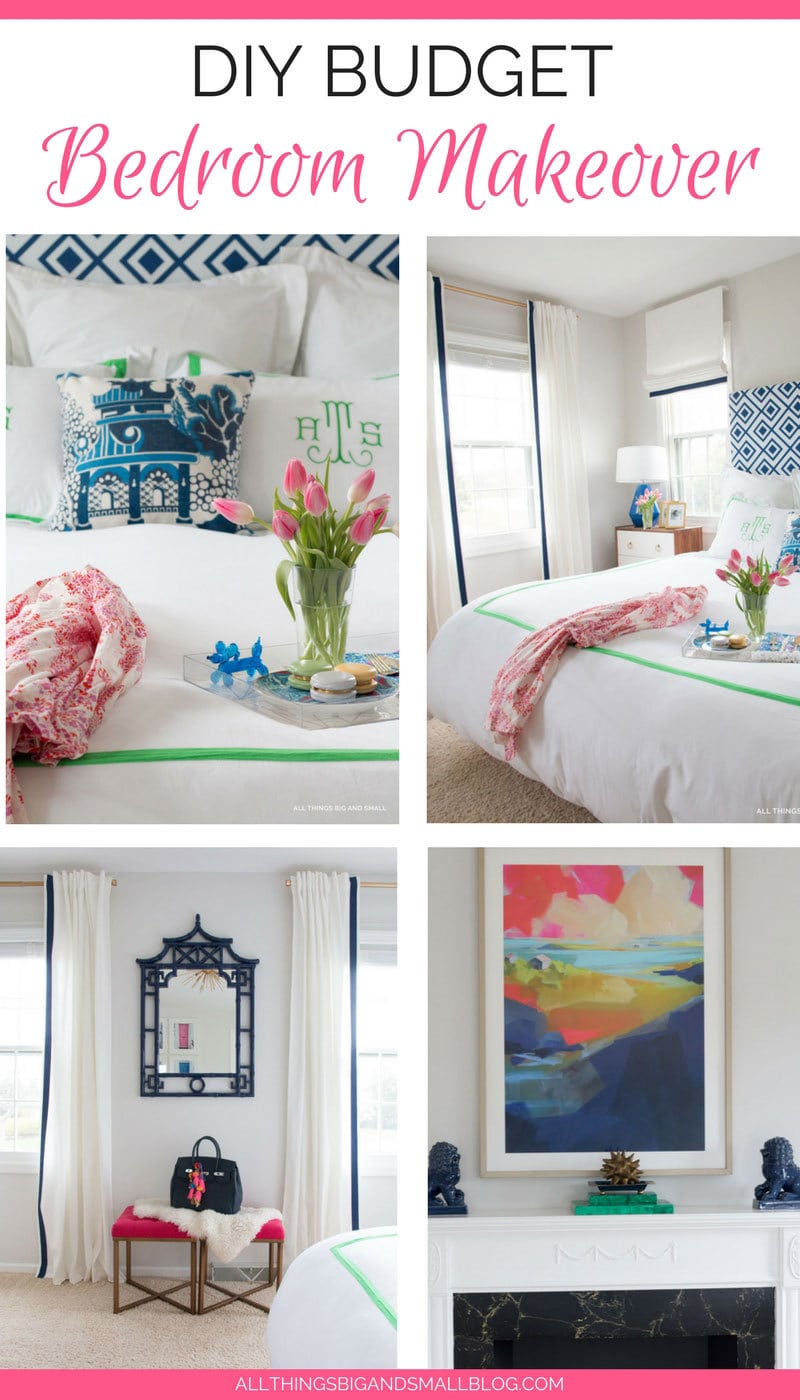 Make sure to check out all of the wonderful room makeovers on Calling It Home, and see over 200 amazing inspirational rooms! You will not believe how talented everyone is!