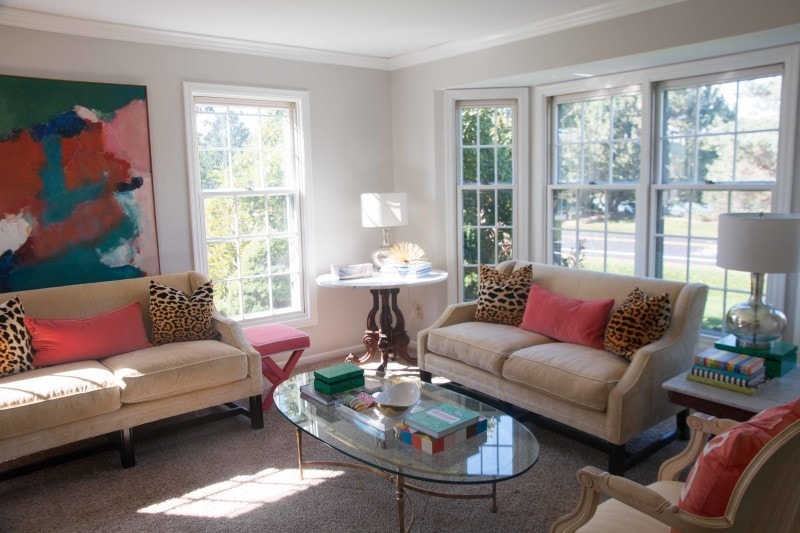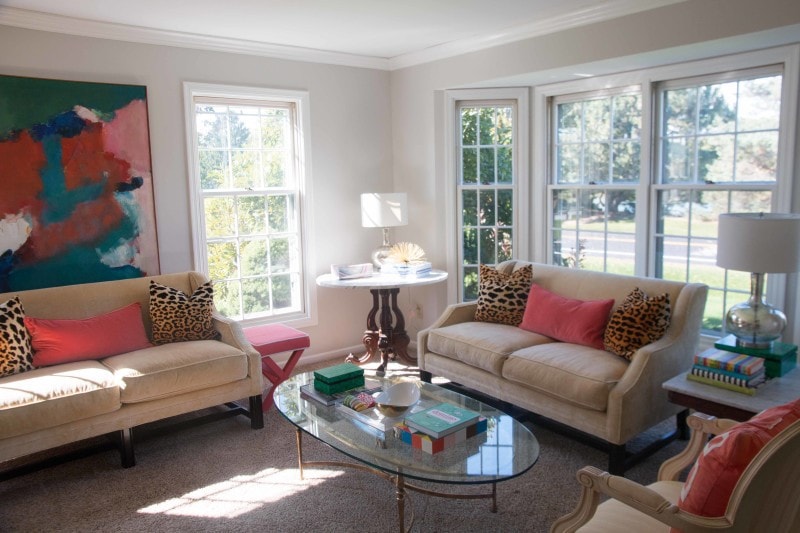 Most of the work we have done on the house has been painting. We are lucky to have bought a house that for now, just needs aesthetic fixes which can all be accomplished with paint–the budget-homeowner's favorite tool. Eventually, we will have to replace the roof and the cedar siding $$$$ but for now we are focused on saving our pennies and doing the little stuff we can do that doesn't cost too much.
It makes sense that paint makes the biggest difference–I mean, it literally covers the most surface area; but, I am always flabbergasted by power of a couple of gallons of paint to completely transform a room. Last week, I shared our hallway's makeover, and this week I want to share how our living room has evolved.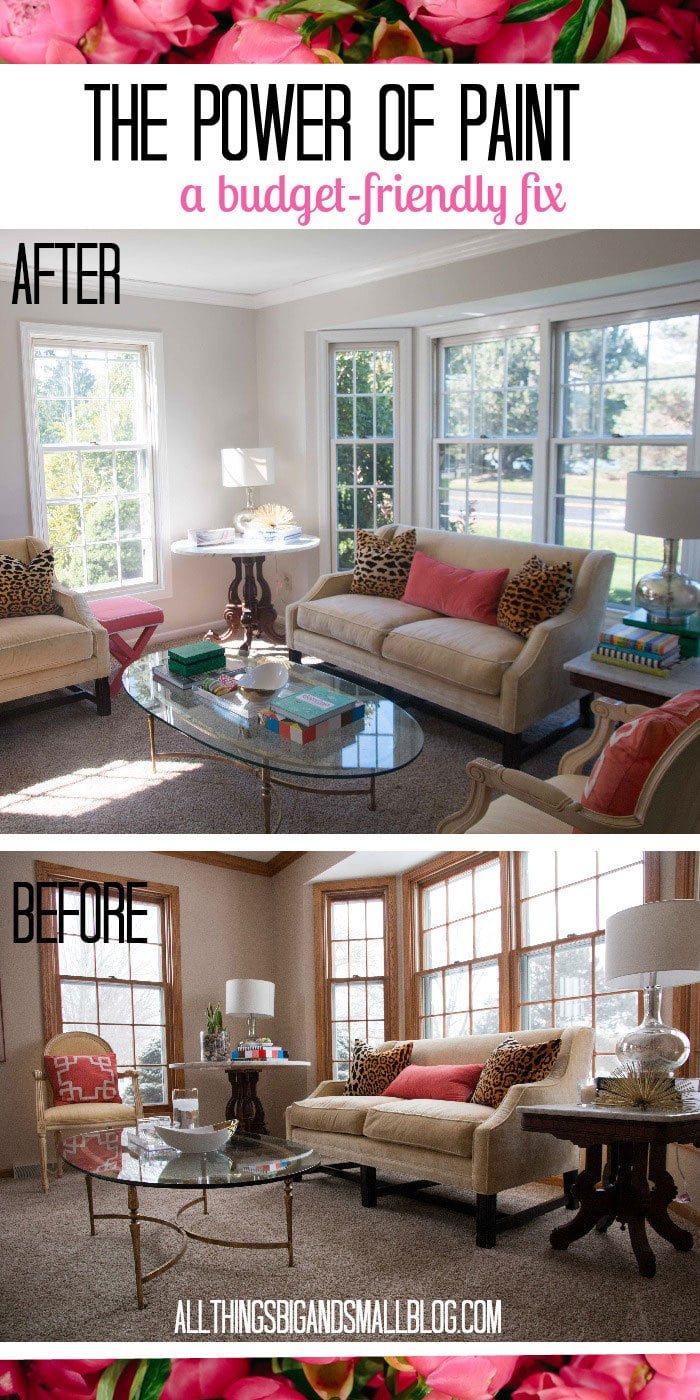 So much brighter! And your eyes don't stop at the wood trim and they finally go out to the beautiful views outside.
We used Benjamin Moore's Simply White in semi-gloss (Natura- zero VOC) on the trim and Benjamin Moore's Balboa Mist on the walls. I always use Zinnsser's Smart Prime on the trim first (two coats). I have a post in the works all about how to paint oak trim. The paint in this room cost $48 for the semi-gloss for the trim, half a bucket of primer ($19.75 or $10 for half), and $48 for one gallon of paint for the walls. I'd say for $110 it was a great bang-for-your-buck. If you opted to use less expensive paint, you could even save more.
I also switched up the furniture arrangement to open up the space. Although it isn't as classically pleasing as the symmetry was before, it works better for our lives. Eventually, we might have a piano in there so this new furniture arrangement opens up room for it. (In lieu of a piano for the time being we have a pack n' play and a firehouse toy. I'd say we are definitely winning in the elegance game 😉 Nothing says formal living room like a diaper changing station and plastic firemen figurines.
But, since switching the furniture configuration we have used the space a ton more. All of the furniture in here was handed down, aside from the Target stools and the marble top which we found at a garage sale for $18 and we retrofitted it to work with a hand-me-down table with a broken top. We have been very fortunate and I think that the warm hues of the furniture go much better with the cooler hues of the walls.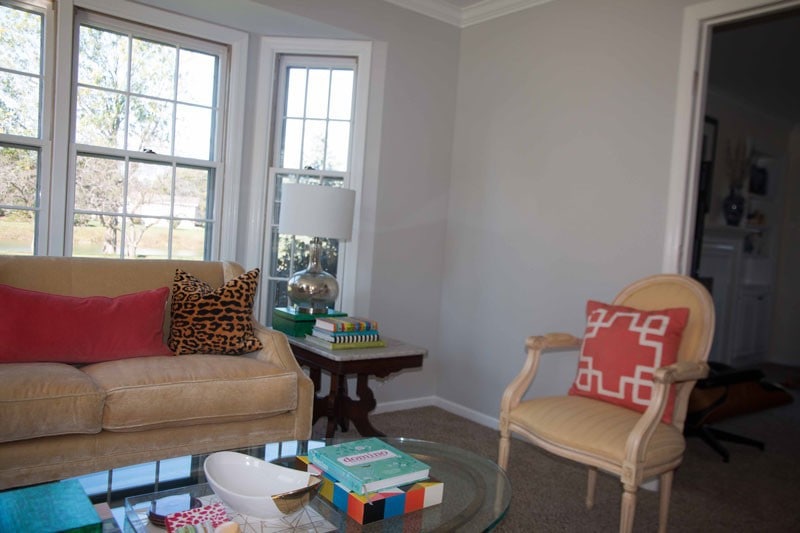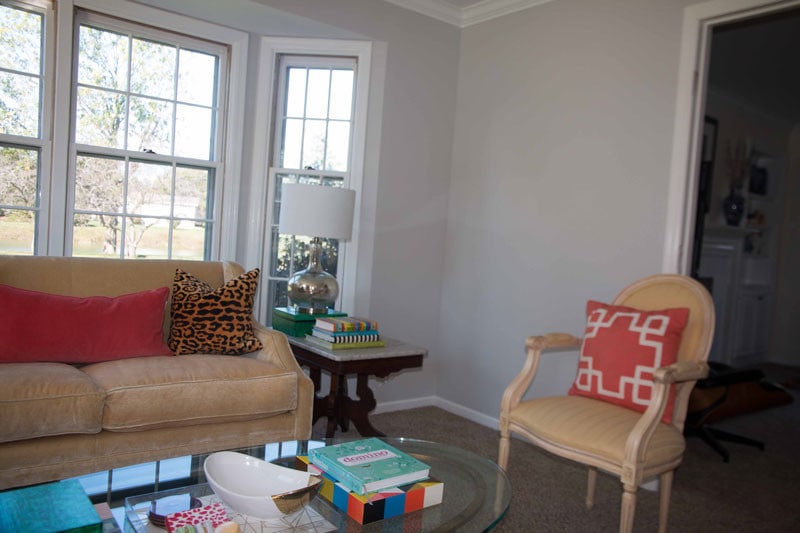 I still need to paint the french doors that go in the large doorway but that has been slated for another day….story of my life.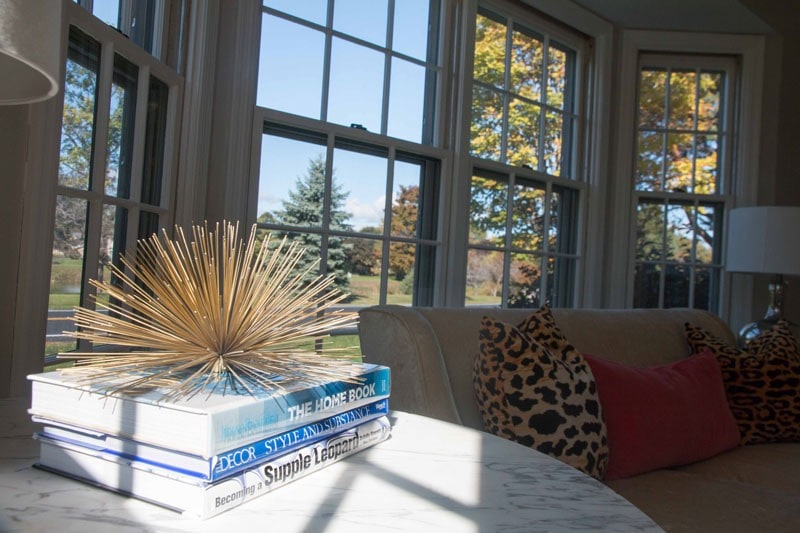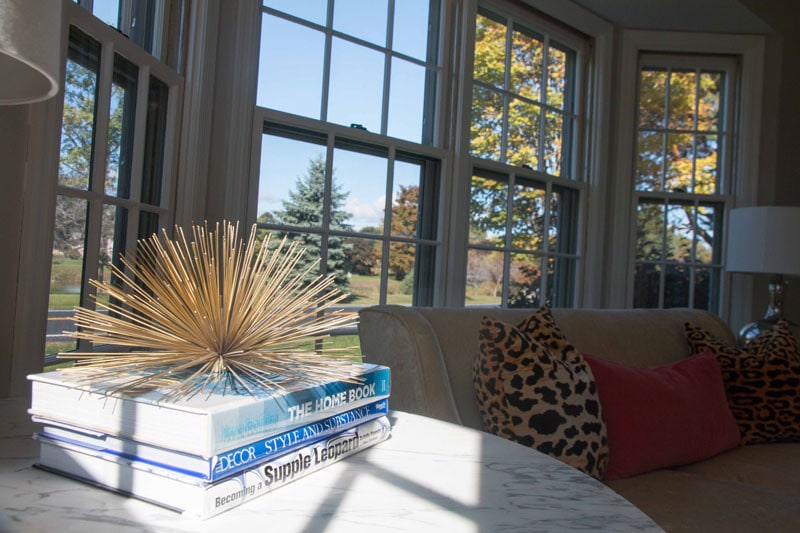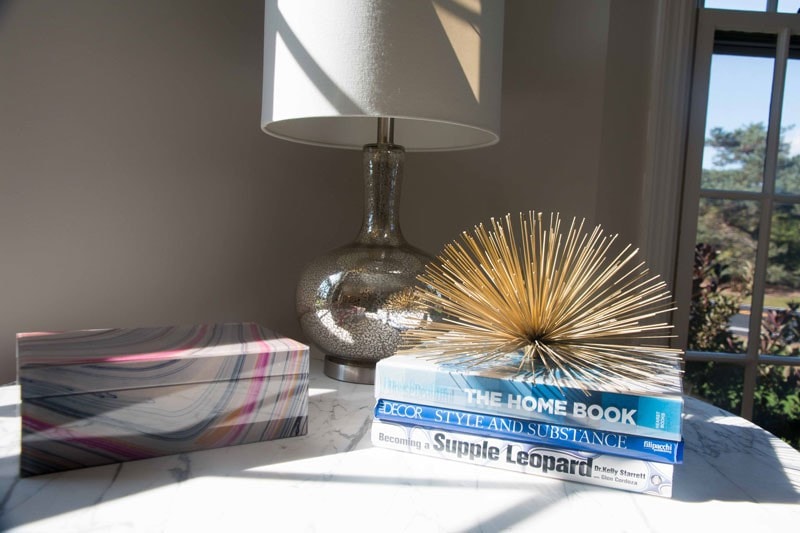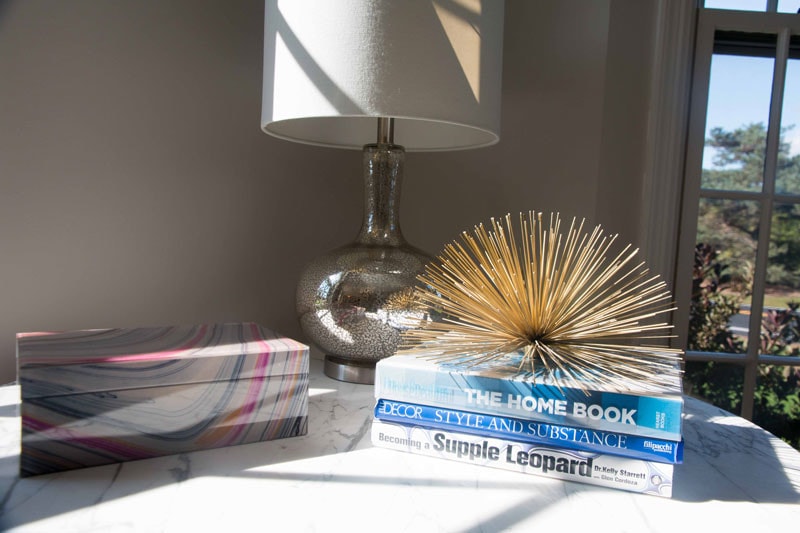 gold sea urchin size large/ the home book/ elle decor style and substance/ supple leopard (my husband's version of a coffee table book–I just like the colors!)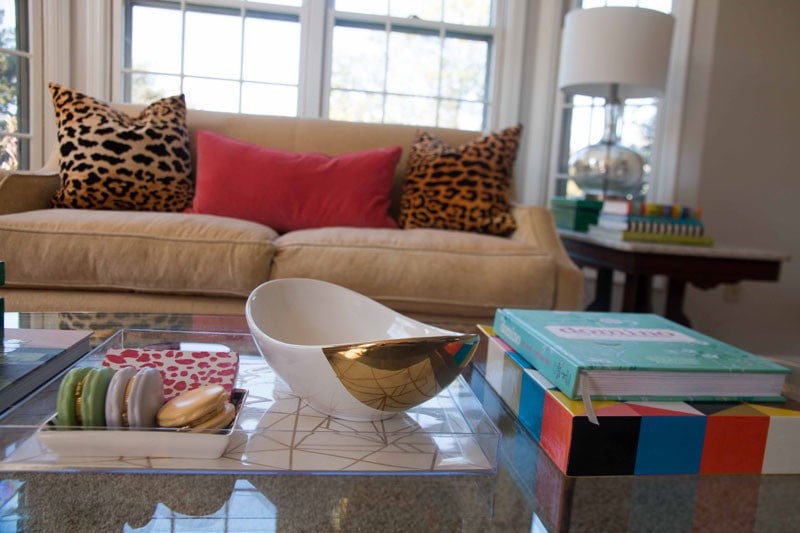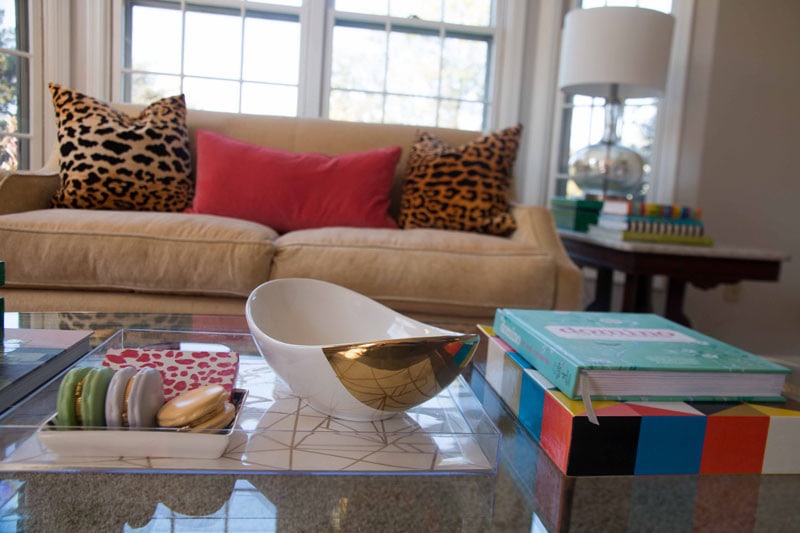 DIY gold and lucite tray/ gold dipped bowl (Target old)/ DIY leopard pillows/ domino book/ eames beautiful details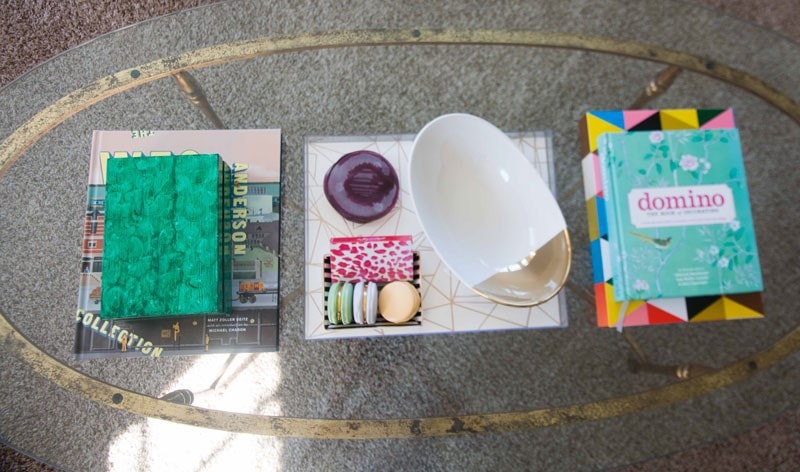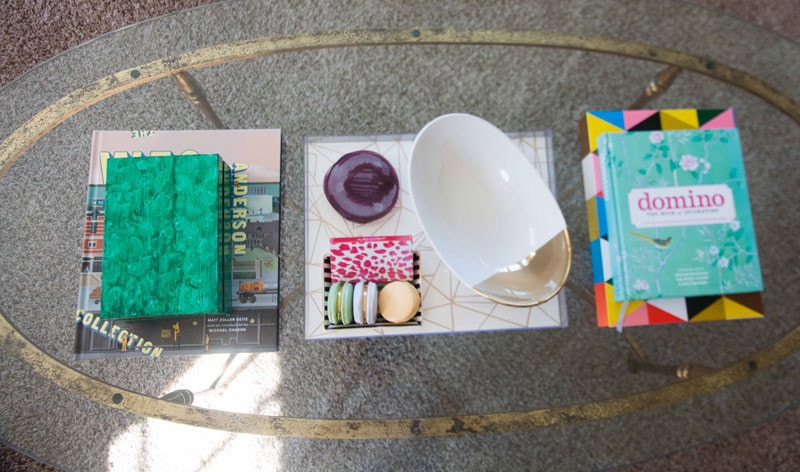 DIY faux malachite/ wes anderson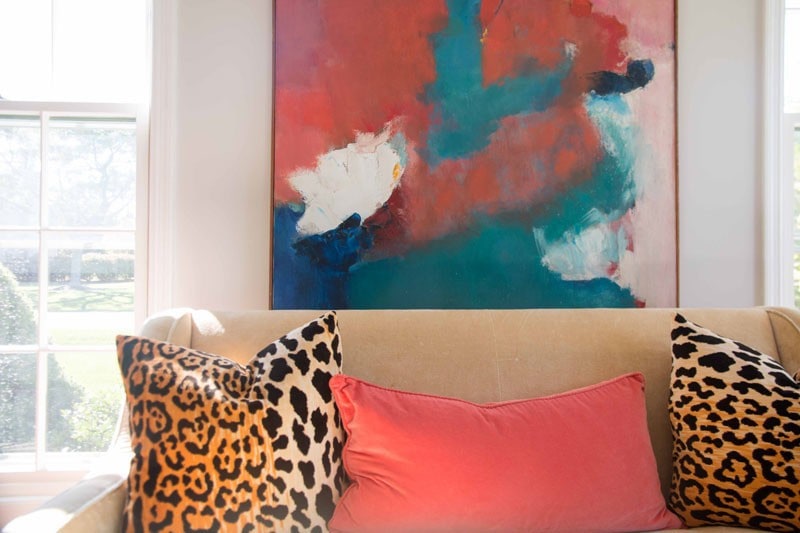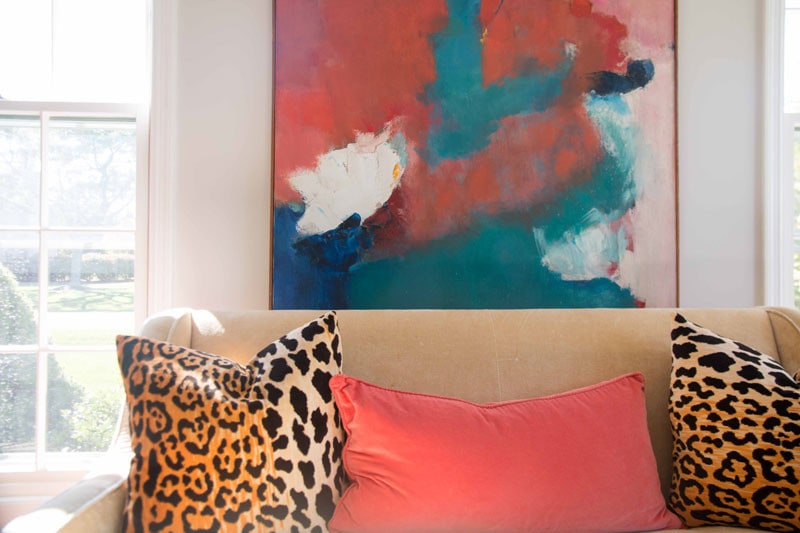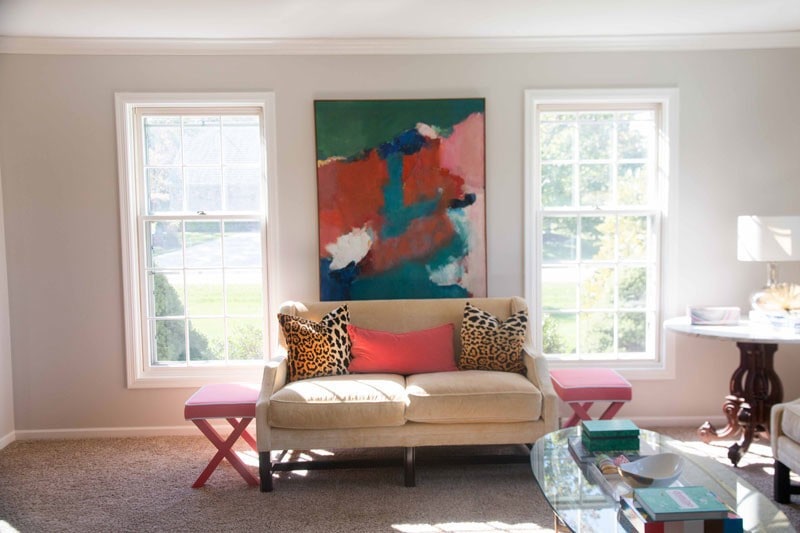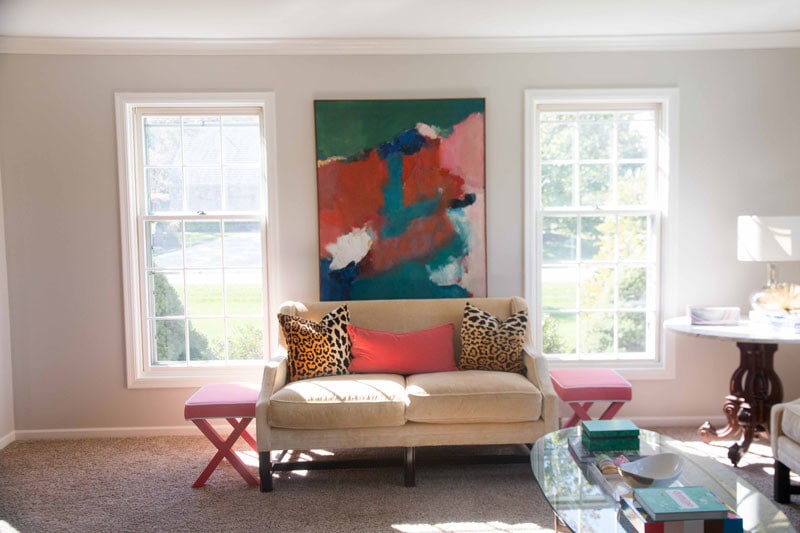 stools (Target old), sofa hand-me-down, painting- family, leopard DIY pillows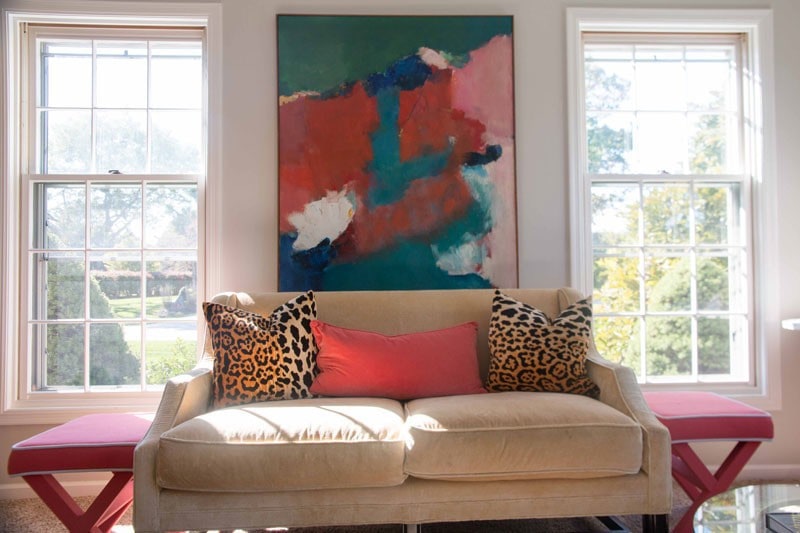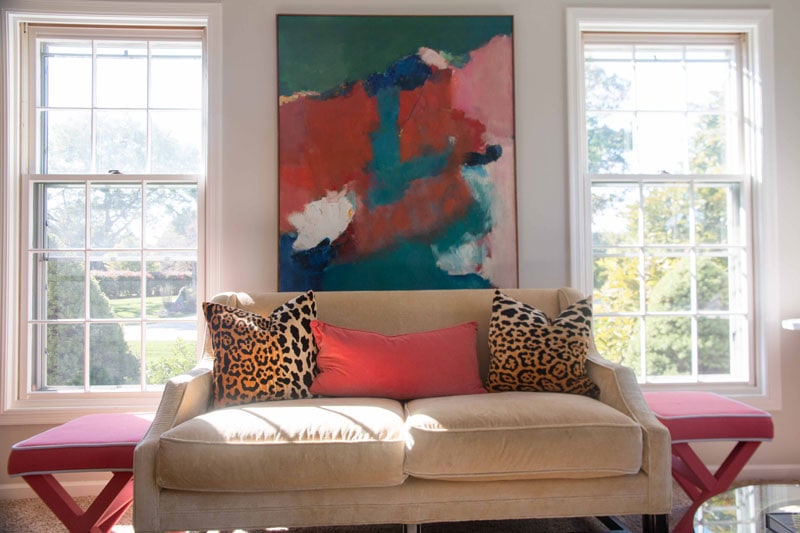 this view looks out from the family room into the front lawn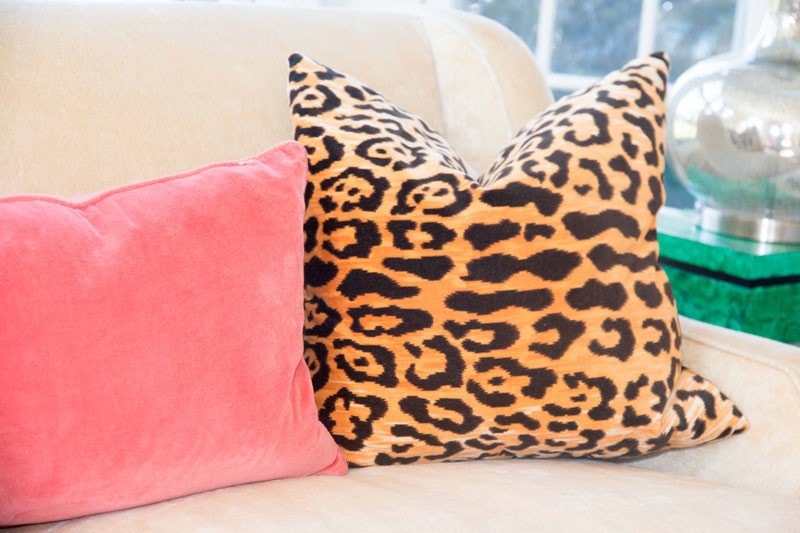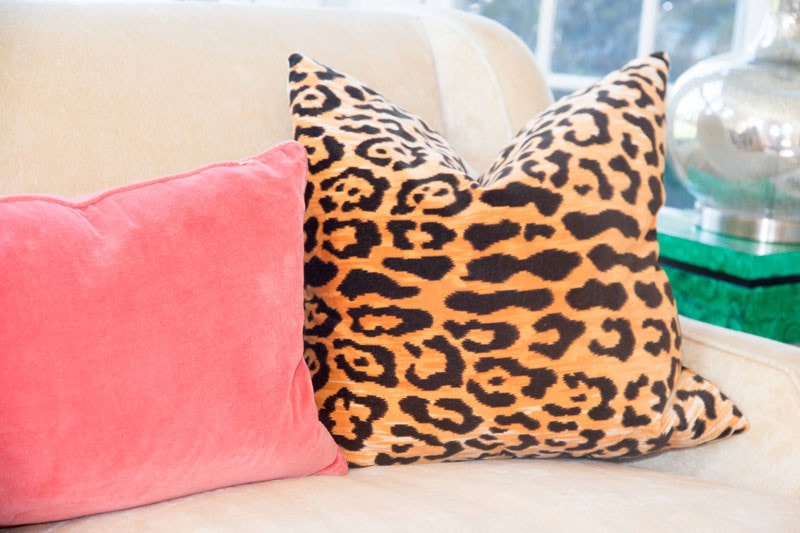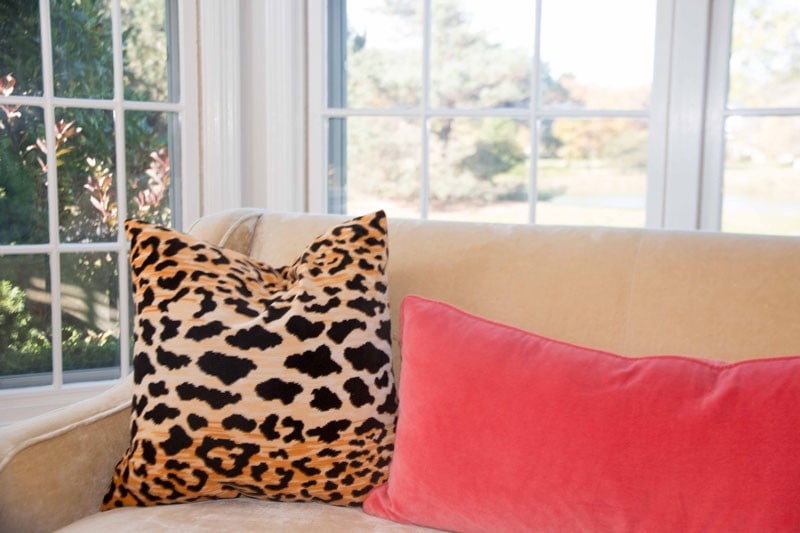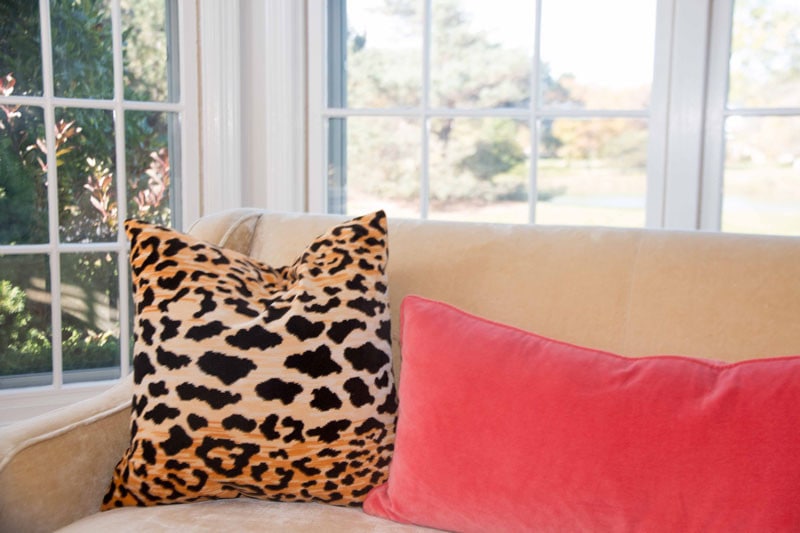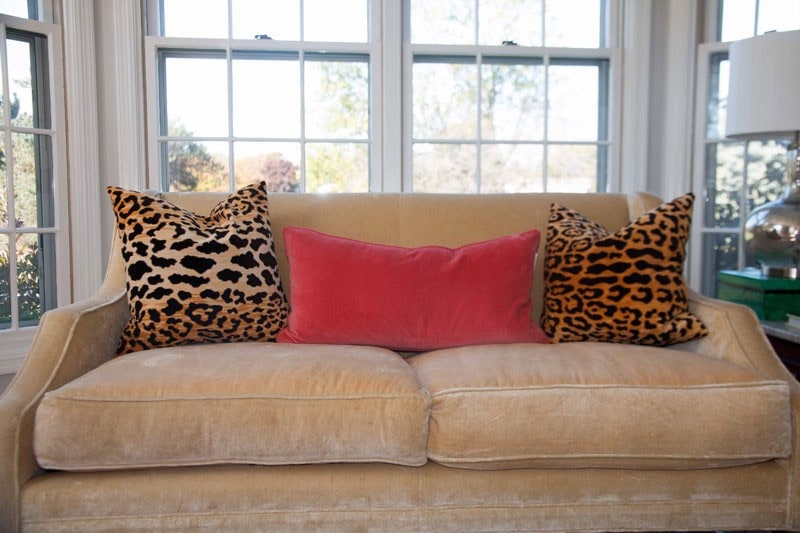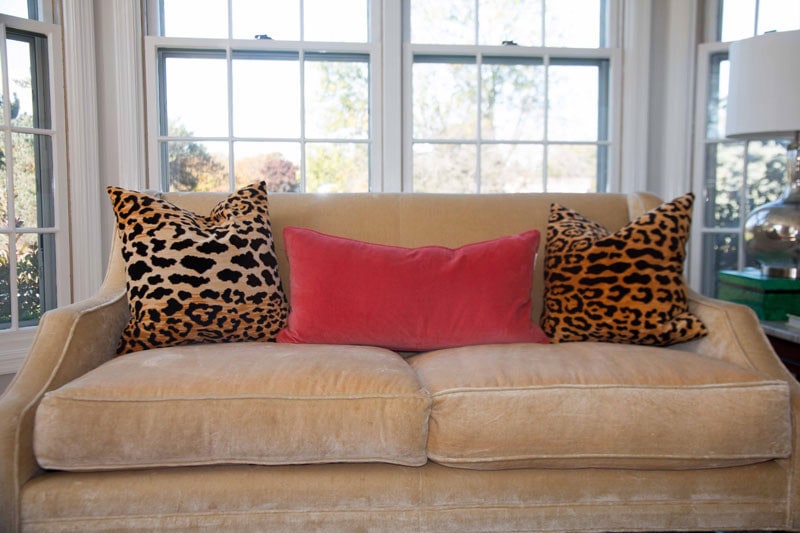 and this view looks onto the pond and meadow next to the house
Before, the room looked like this: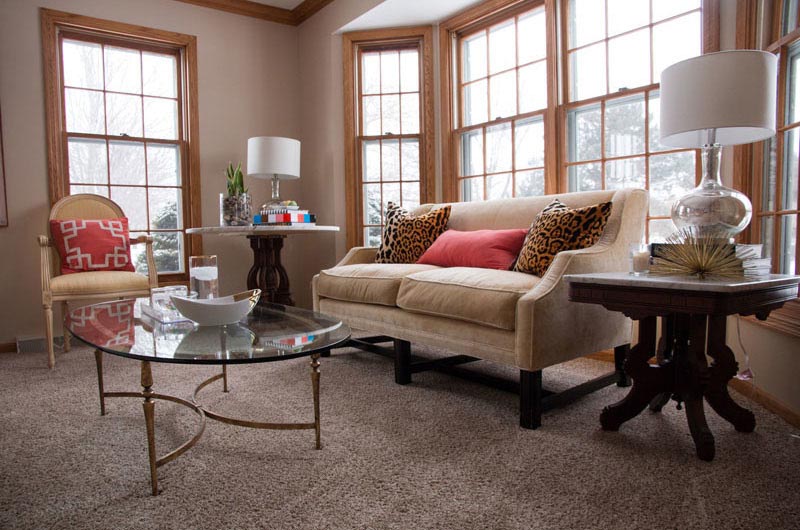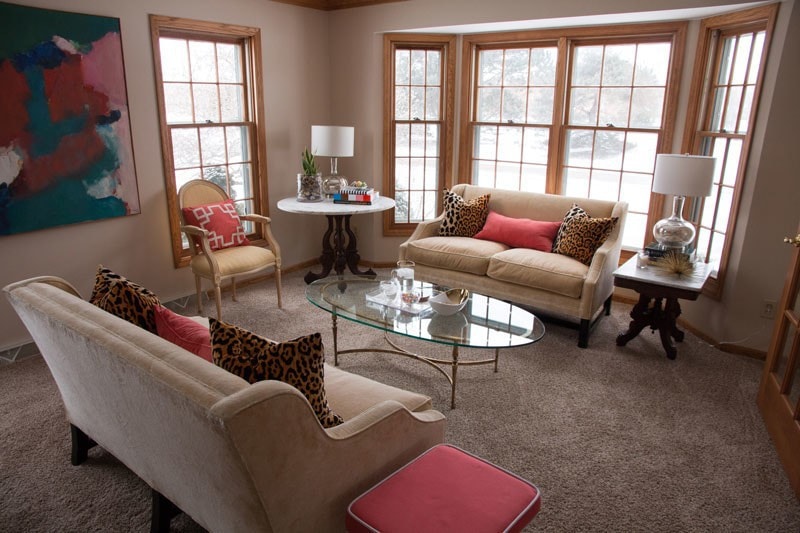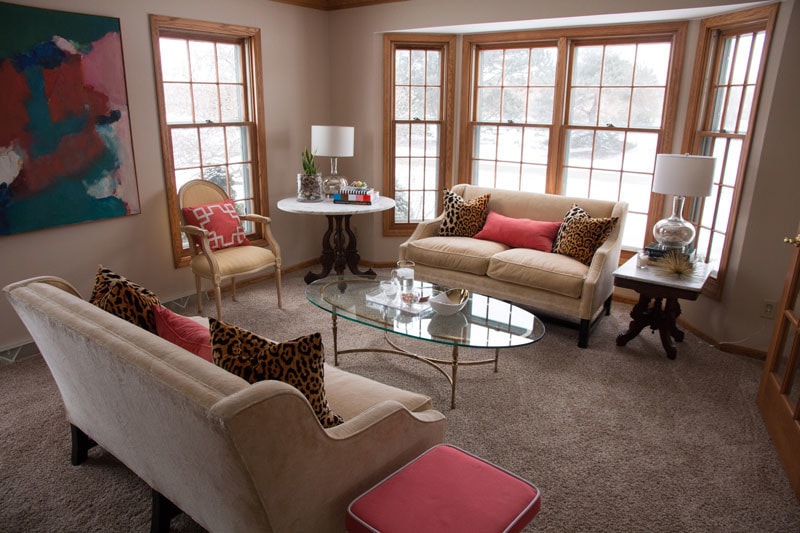 We couldn't be happier with the color. Have you painted any rooms lately? I have a post coming up with all the colors we have used in our house so far, and the general process I use in selecting paint colors, and which are my tried-and-true favorites because it is so overwhelming trying to find the right ones. What are your favorite budget-friendly fixes for decorating rooms? Do you like painting or despise it?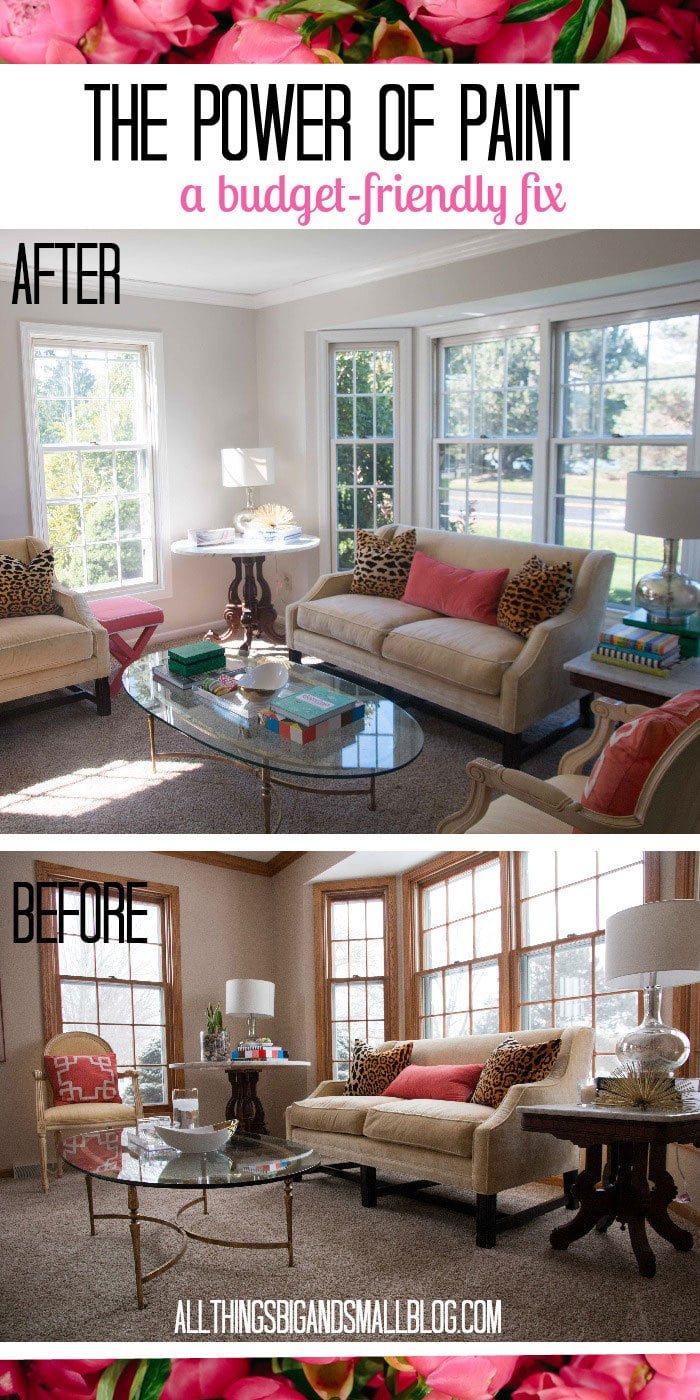 I am linking up with the "Get Your DIY On" Link party with Just a Girl and Her Blog, The Happy Housie, The Hankful House, Confessions of a Serial DIYer, and House by Hoff.