Window Valance Box: How to Make a Cornice Box That Looks Professional and Lasts for Years. Looking to make a Window Valance Box for your curtains? Three years after making our Cornice Box, our nursery curtains are still looking amazing–even after several changes! See how we made the Box Valance in this step-by-step tutorial.
WINDOW VALANCE BOX
For our nursery curtains, I knew I wanted to create a more elegant look, and with off-center windows, I knew that the best way to disguise it was making a large window valance box that would extend up to the ceiling and could trick the eye into thinking the windows were bigger and more proportional. By using inexpensive Ikea curtains to wrap the window valance box, and then go behind the valance box, we were able to make the curtains look much more luxe than they were in reality (inexpensive Ikea ones for $30!) Which just shows you again, you don't have to spend an arm and a leg on curtains! (See all my budget-friendly DIY Curtains here!)
We have also recently updated this tutorial with another take on it–a scalloped cornice board (see it here!)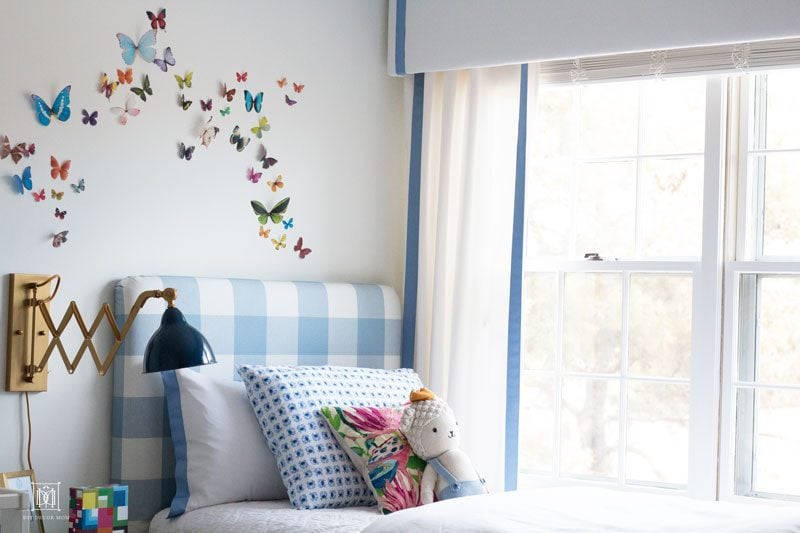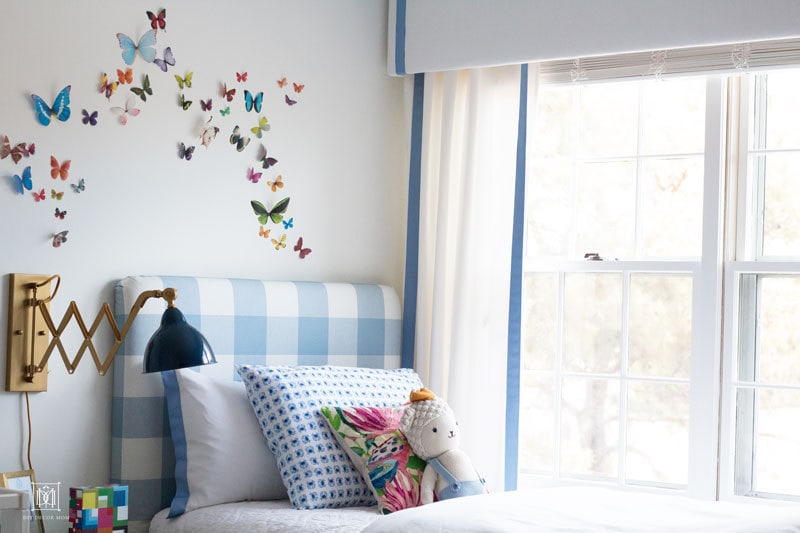 *This post has been updated since it was originally published as the curtains have changed since then but the instructions are the same–I have only updated the photography and the grosgrain ribbon! And oh my gosh, my original photography (insert emoji with hands over my face!)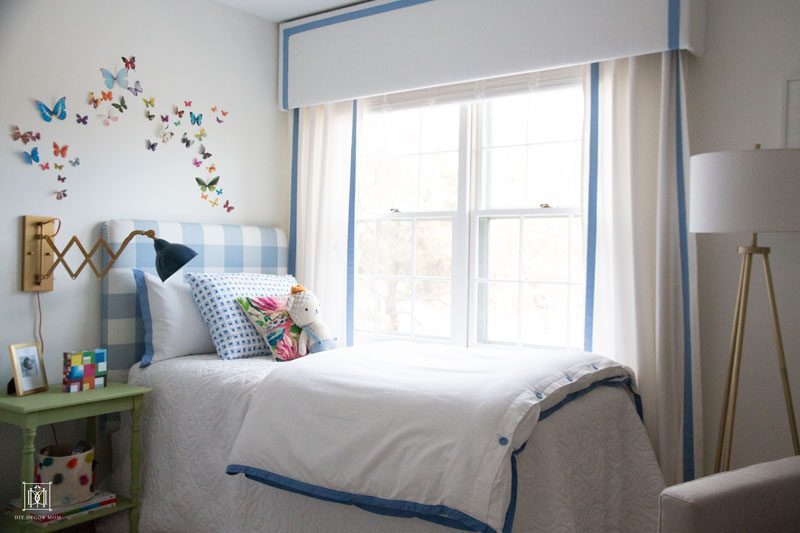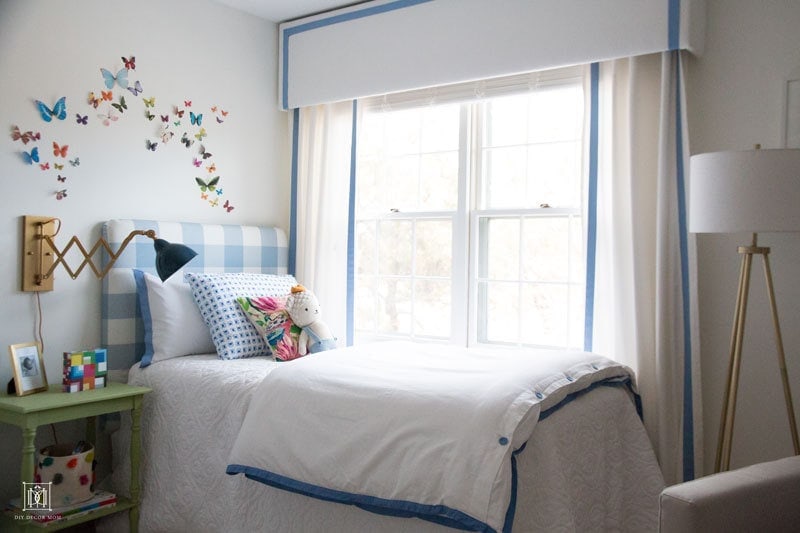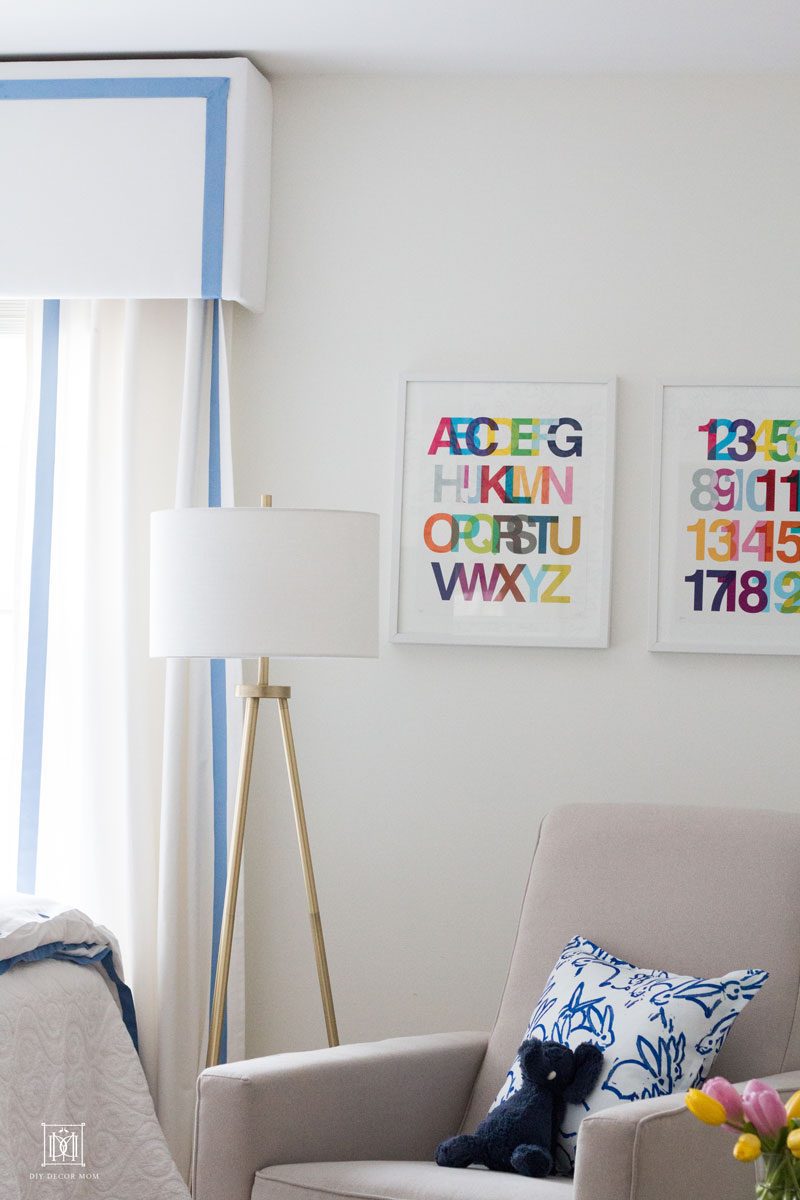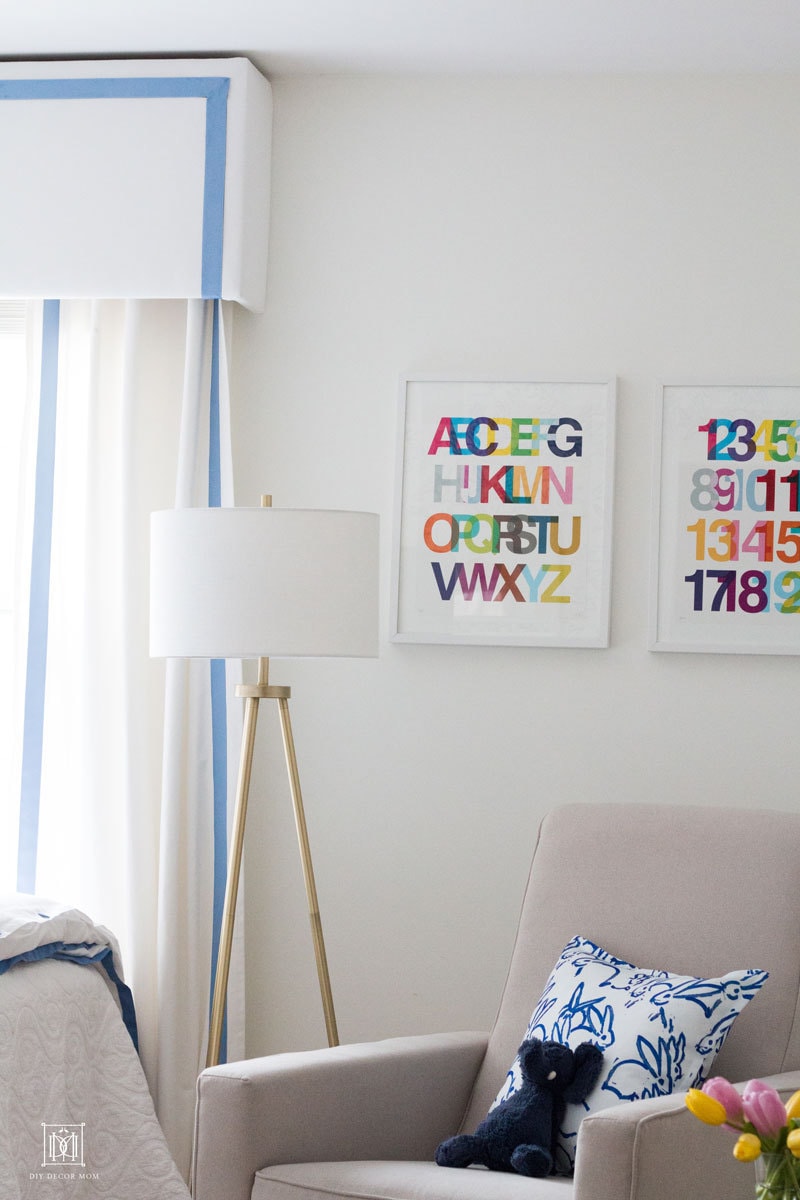 HOW TO MAKE A VALANCE BOX

REMEMBER THIS POST BY PINNING IT!
MAKING A CORNICE BOX
DIRECTIONS:
1.) Assemble the MDF Box. We wanted a light but stiff box that would maintain its shape. While some people chose to make their's out of poster board, I wanted one that would last years, so we went with MDF which is cheaper than plywood. You can see in the picture below how my husband assembled it (a three-sided box.) He glued the sides together with hot glue and then used a nail gun to drive the nails through.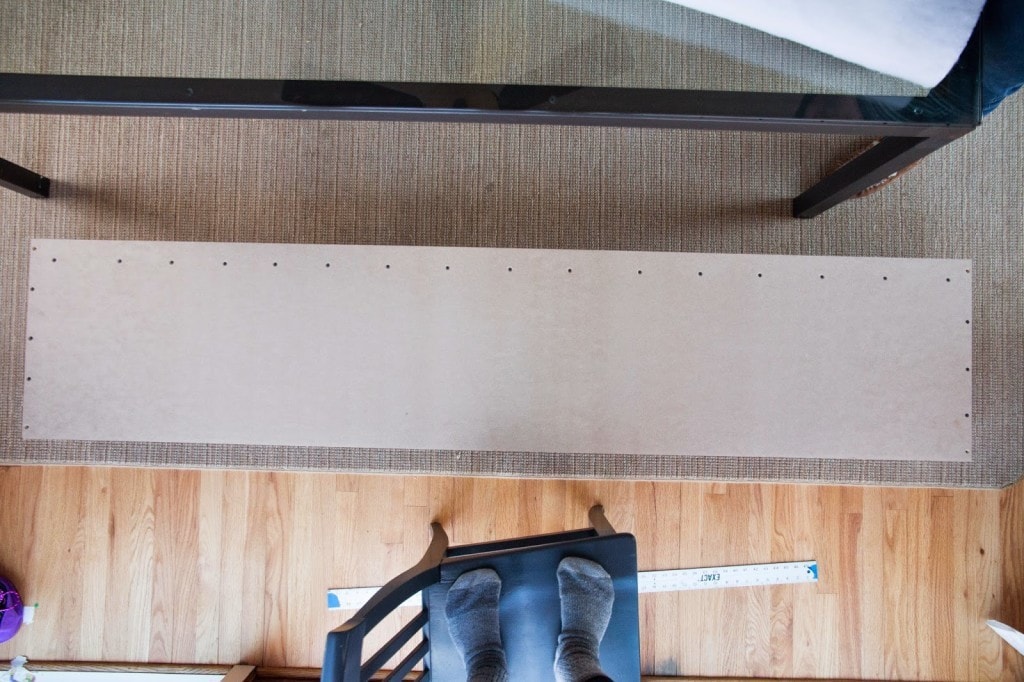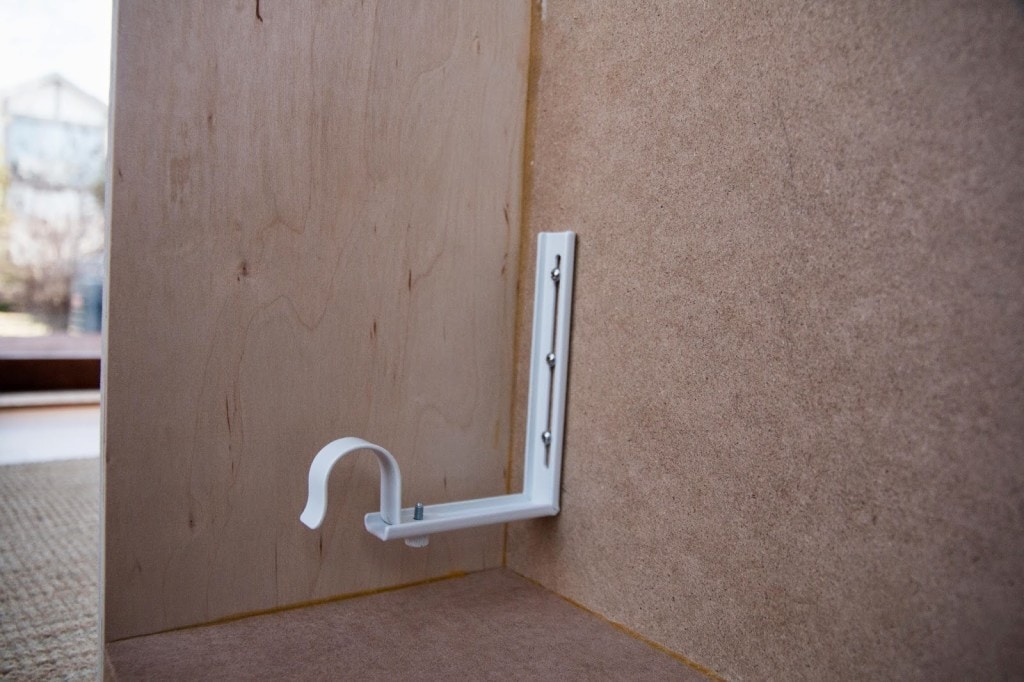 2.) Mount the curtain rod brackets. We used three Ikea Bettylig curtain rod brackets so the curtain rod would be well supported, mounting them on the front of the box.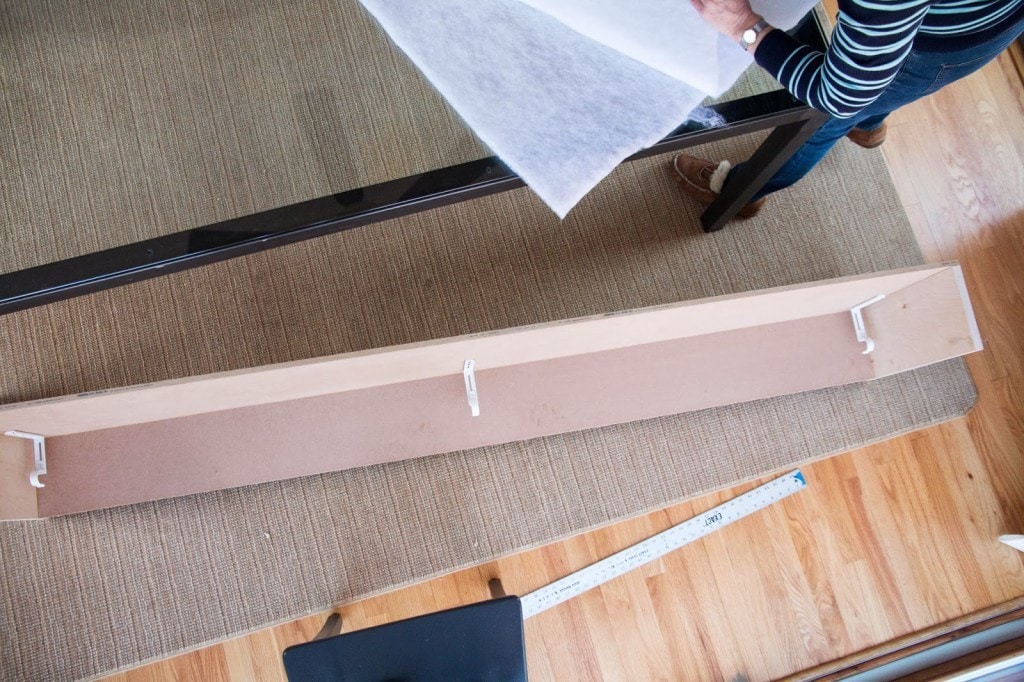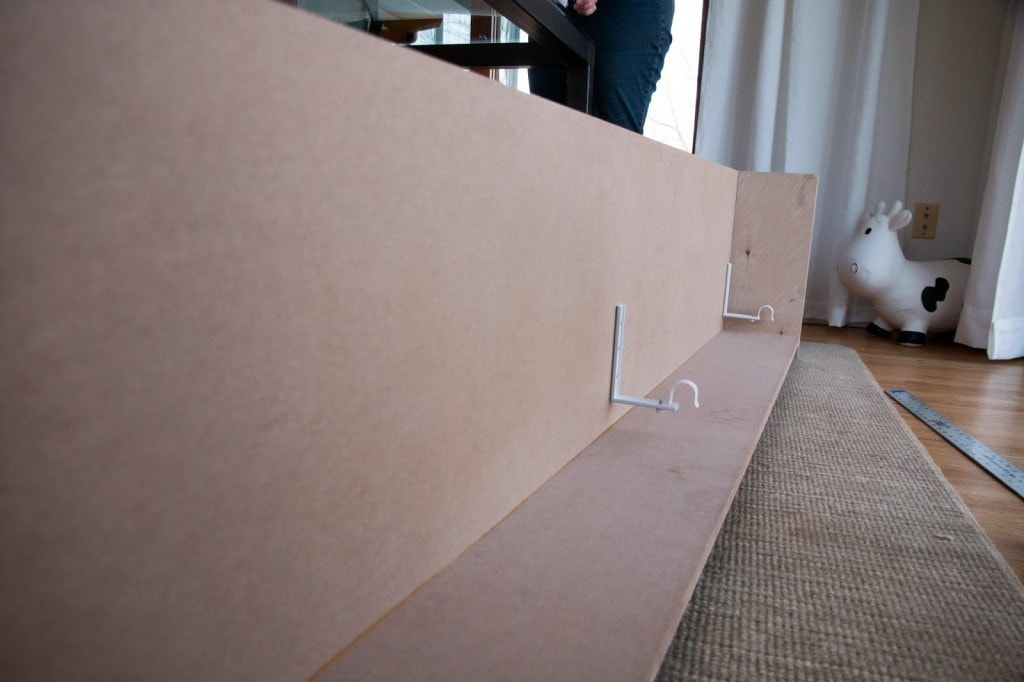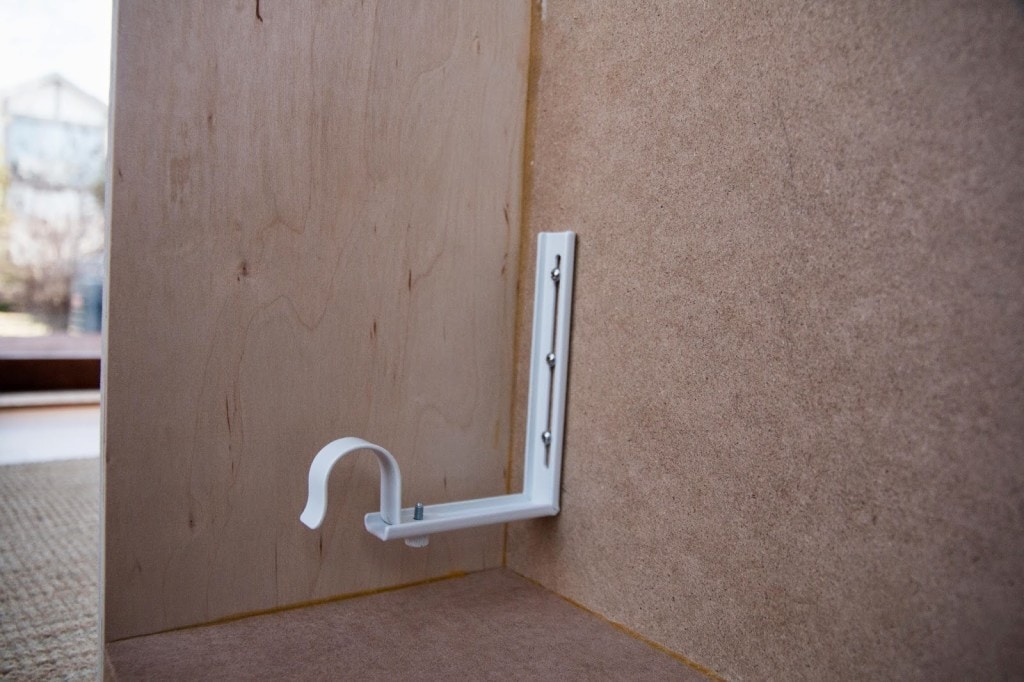 3.) Then cover the valance box with batting to make the corners and the edges softer. We used 4 oz. batting from Michael's that I had on hand. Cut enough so you have enough to cover all three sides plus an overhang of at least one to two inches on each side, so you have enough to staple to the inside of the box and wrap it. Use a staple gun to adhere the batting to the valance box.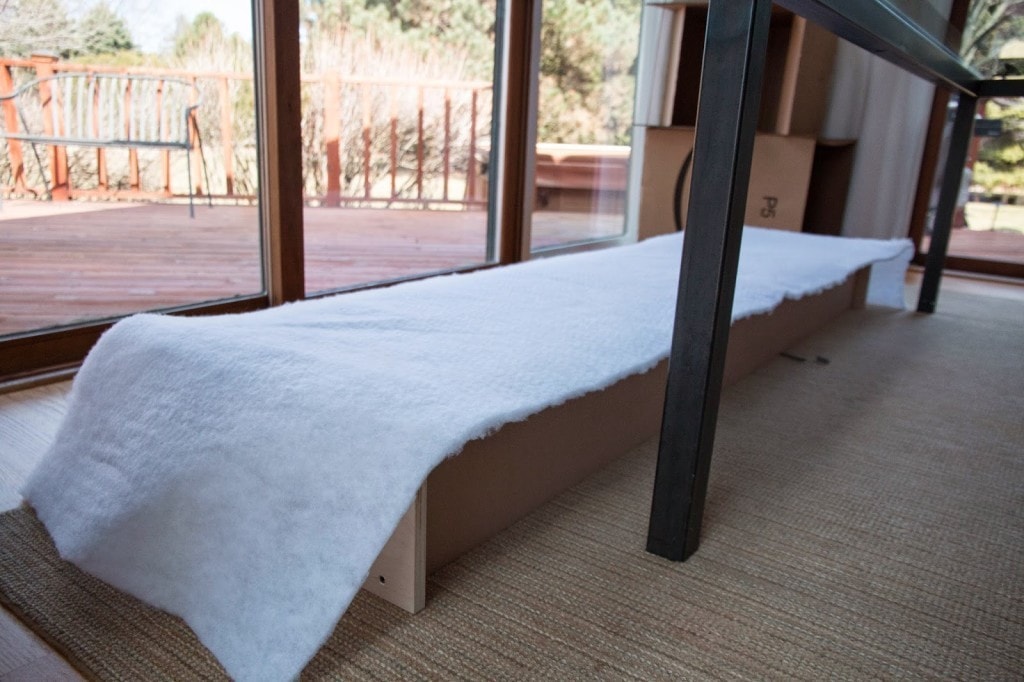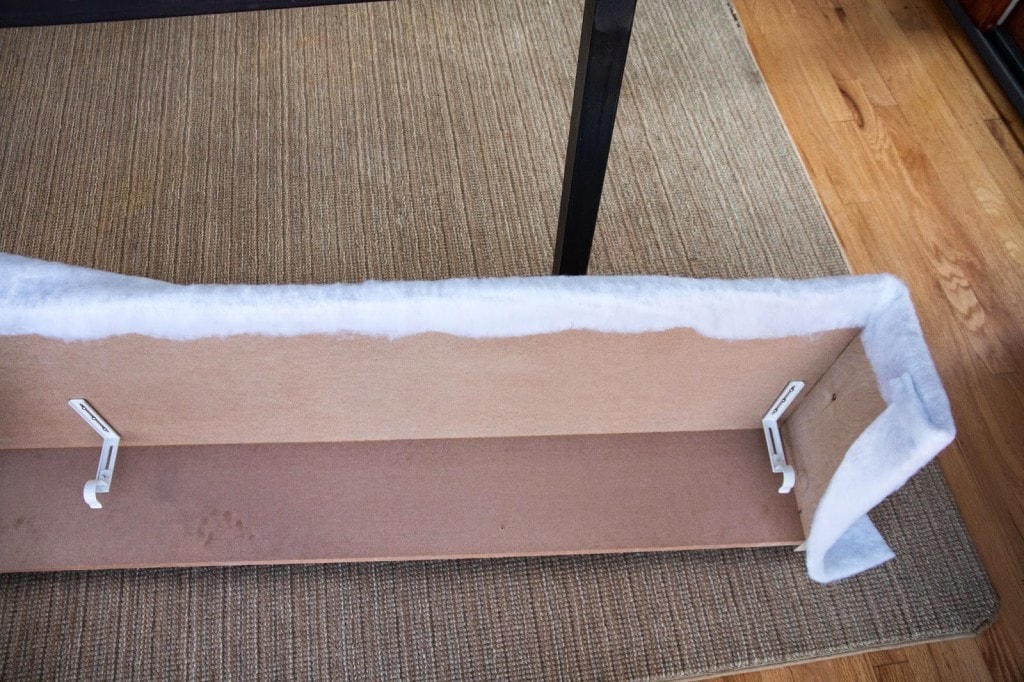 4.) Next, lay out the pre-cut curtain panel. I used a third Ikea Merete panel (from the second pack of Ikea curtain panels.) Agin, cut enough so that you have an overhang on each side to staple the fabric to the board and wrap each of the edges (top, bottom, and both sides).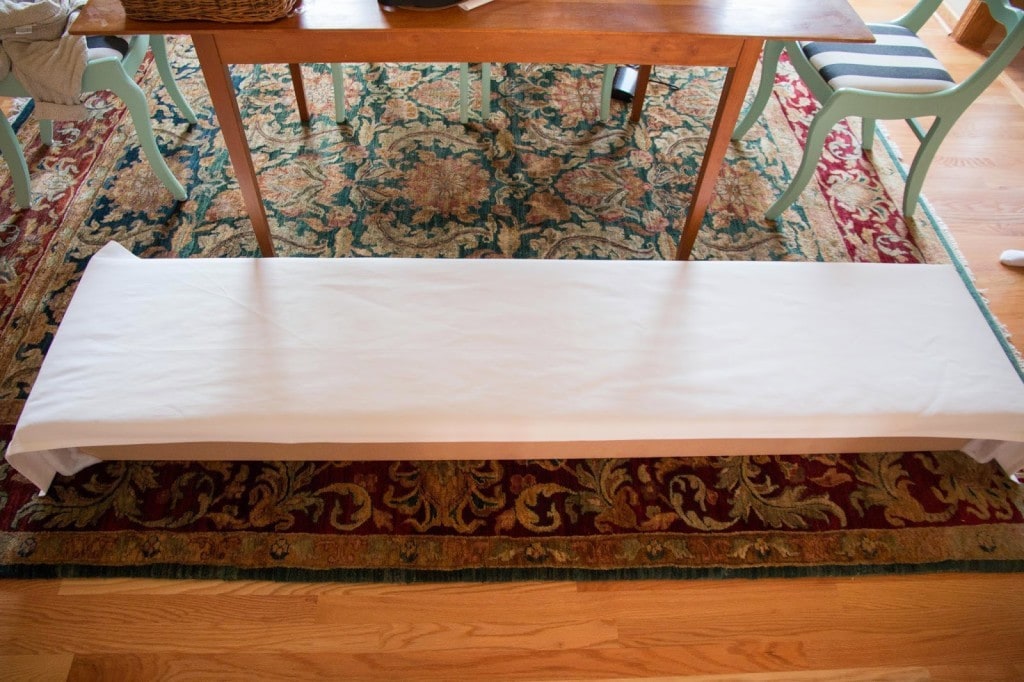 5.) Iron the curtains before stapling them to the cornice box. Then, it is time to staple the fabric to the valance box. You can see here a picture of my mother-in-law who always helps me with all my upholstery and sewing projects. When we originally did this I was 9 months pregnant with my second child Jack, and yikes that dining room looked so different than how it looks now! (
Playroom Makeover see here
).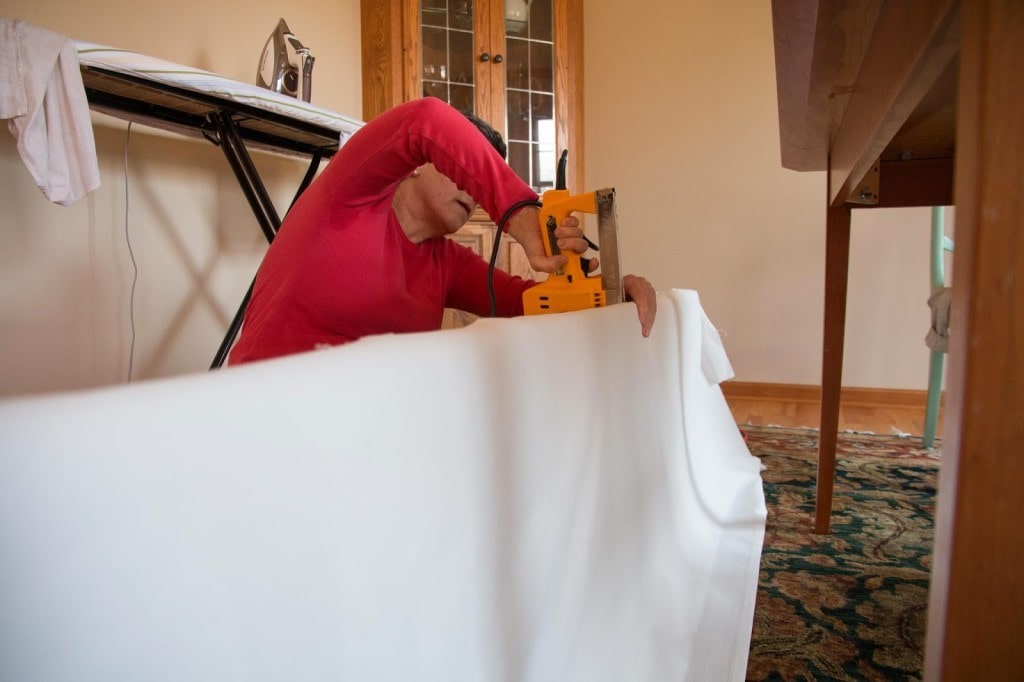 6.) Now it is time to put the grosgrain ribbon in place. Use a ruler to measure the exact position of the ribbon. I used the ribbon to create an equal space around the boarder (the edge from the ribbon to the edge is the exact width of the ribbon itself.) Use pins to secure the positions, and staple the two vertical sections so you have a solid working point.
Then we applied the Stitch Witchery to one side's vertical ribbon, and made our way around, ironing it on.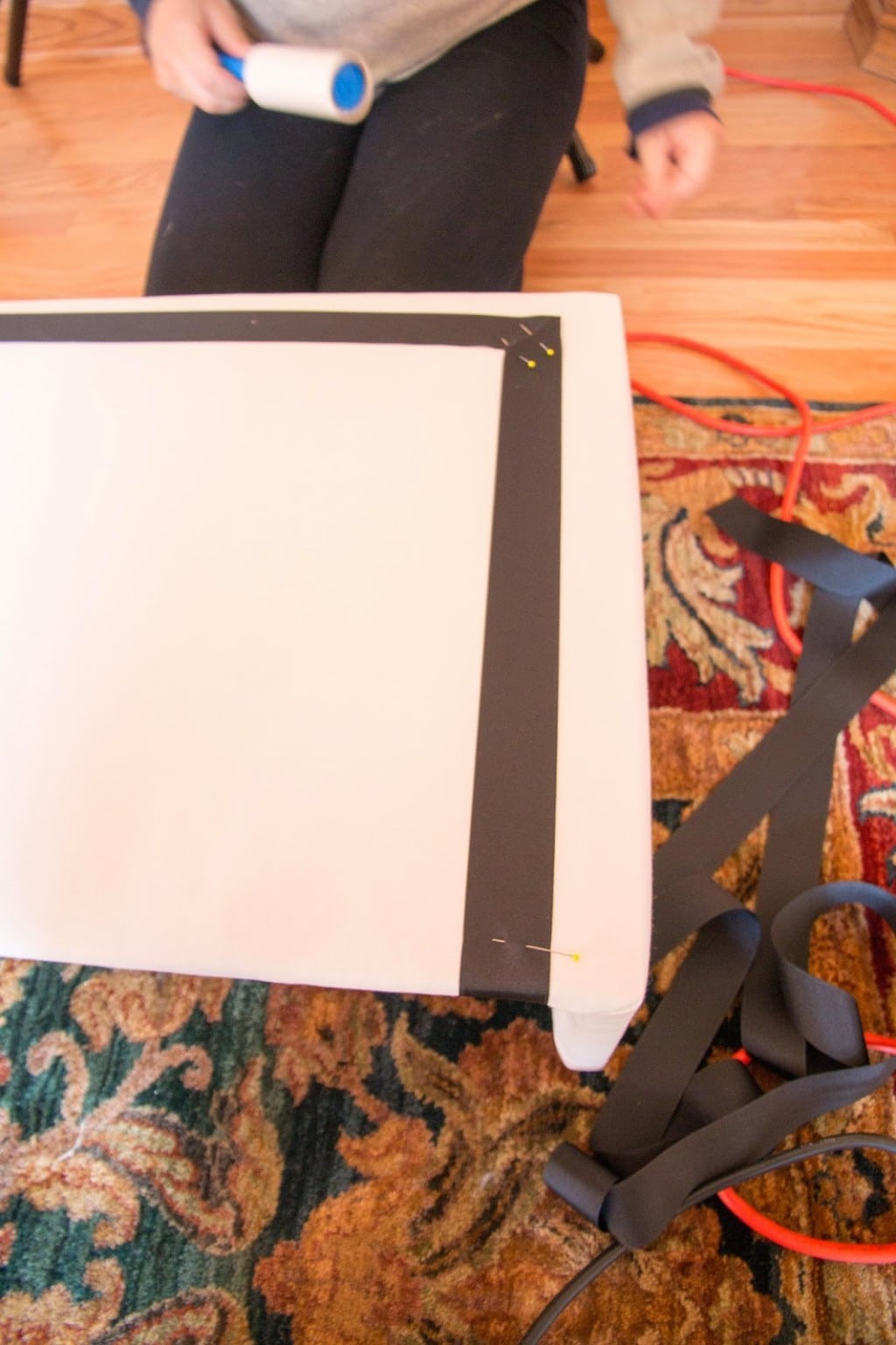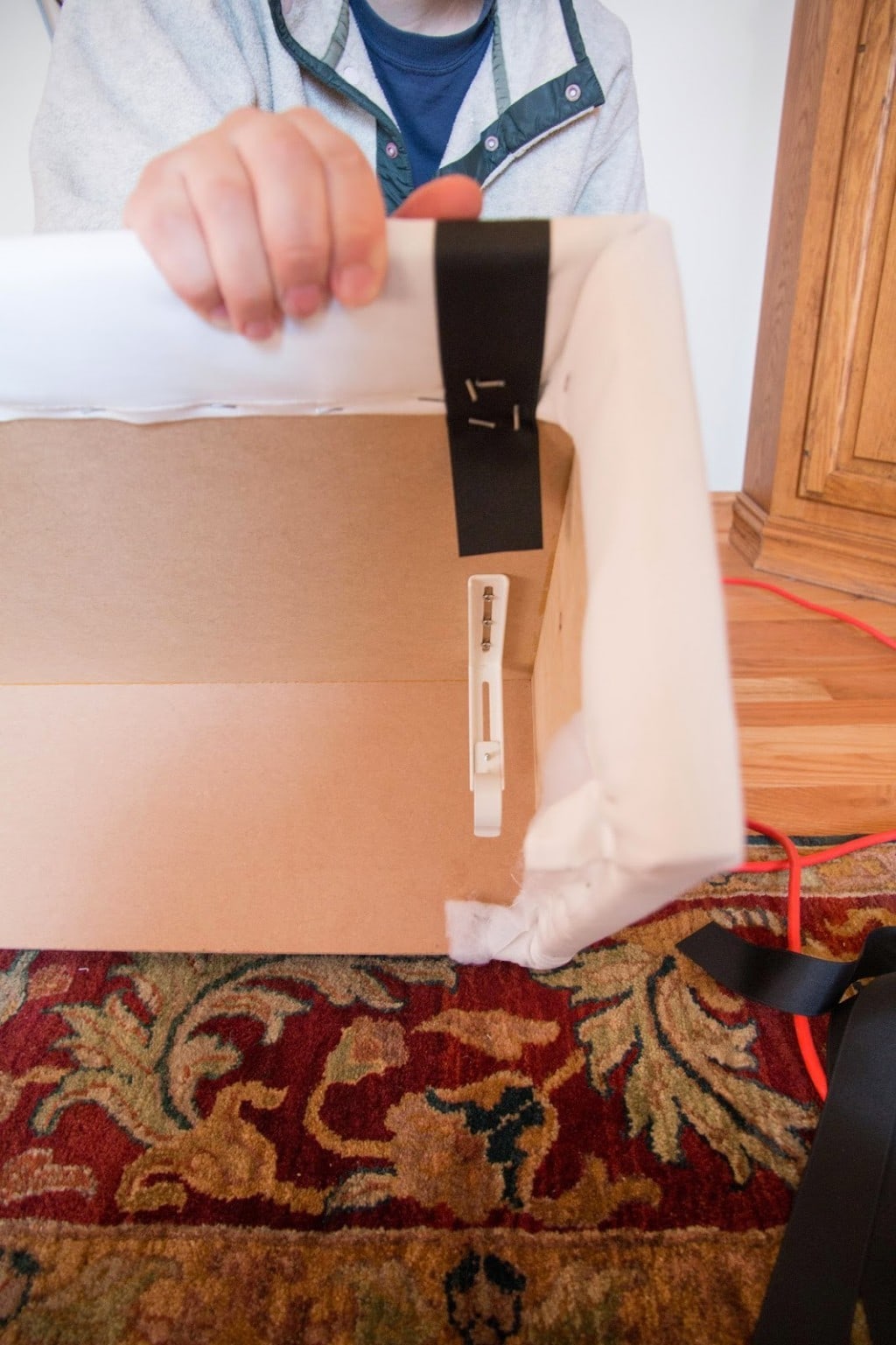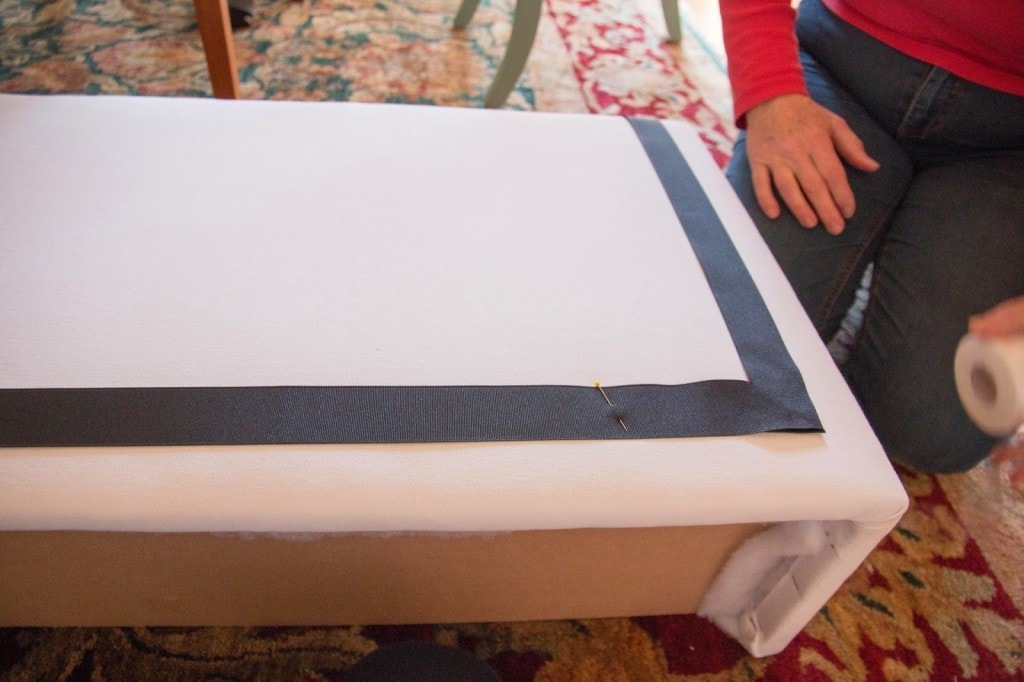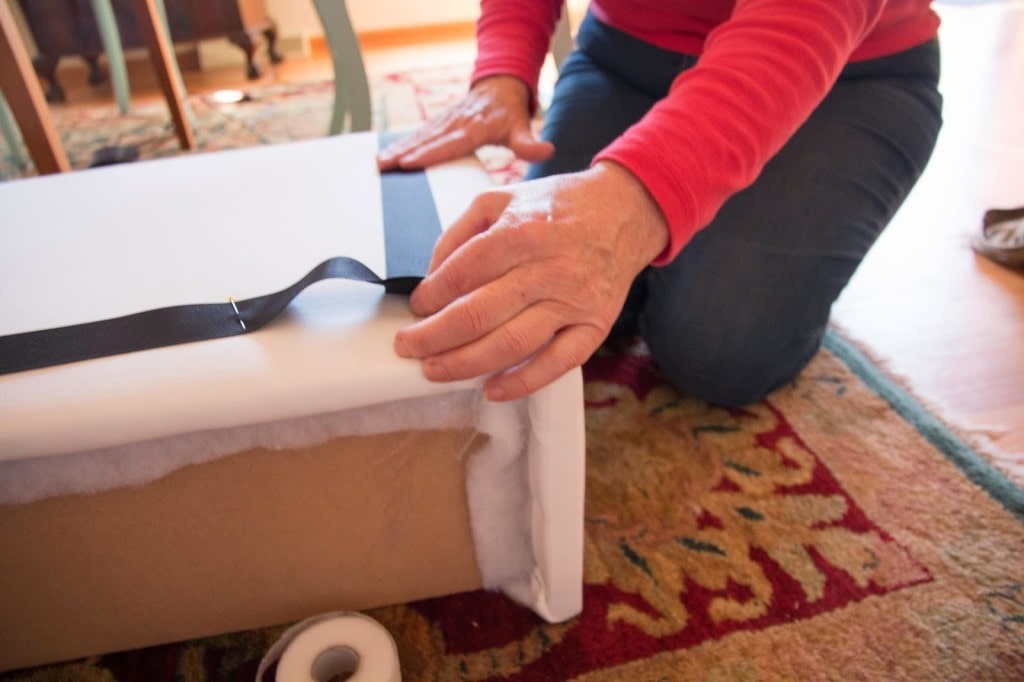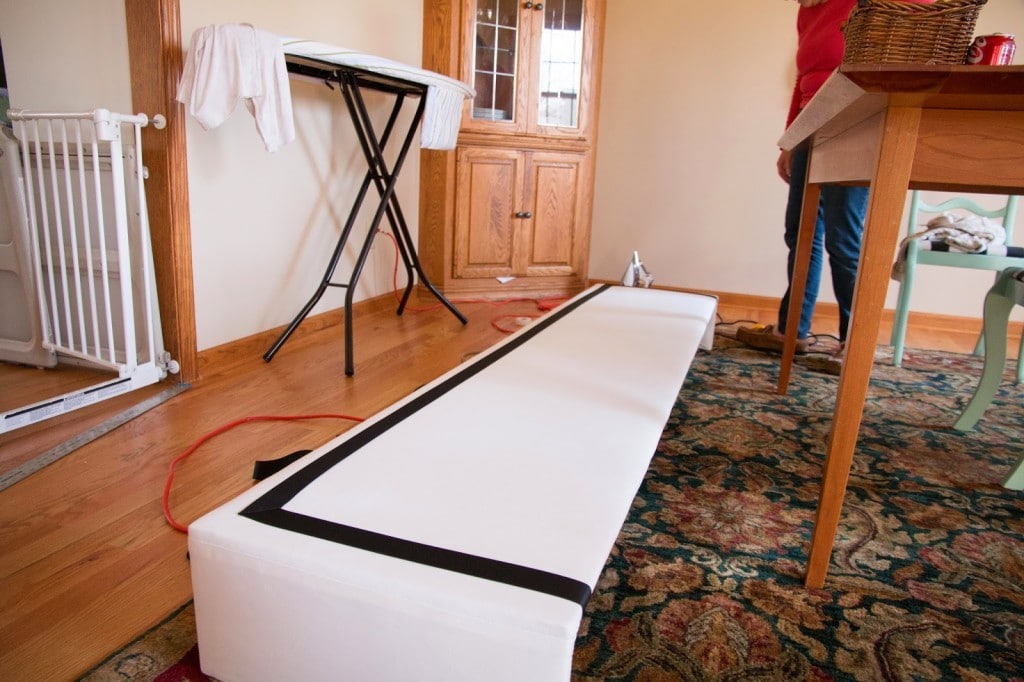 7.) Finally, it's time to mount and hang the curtains and the cornice box.
Since the originally making the cornice box and curtains, we have added two children to the nursery and changed the black grosgrain ribbon to french blue ribbon. Baby Boy Room Decor and Nursery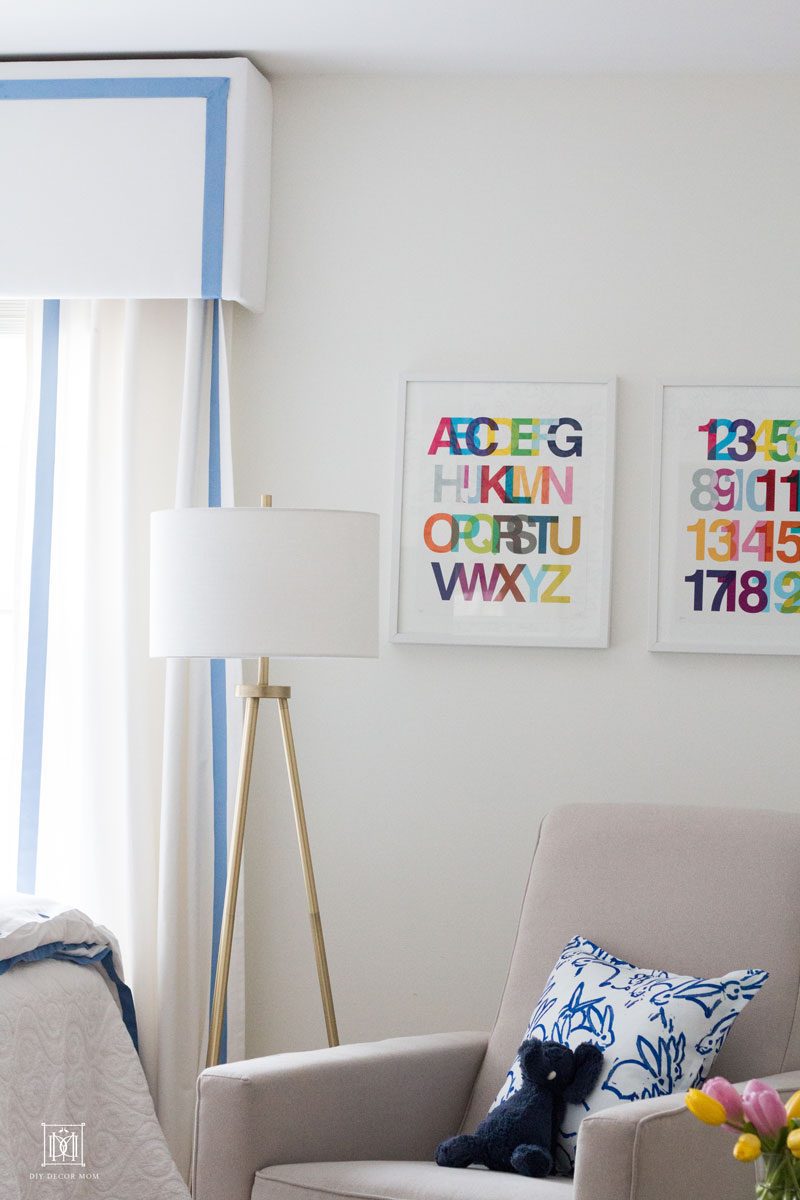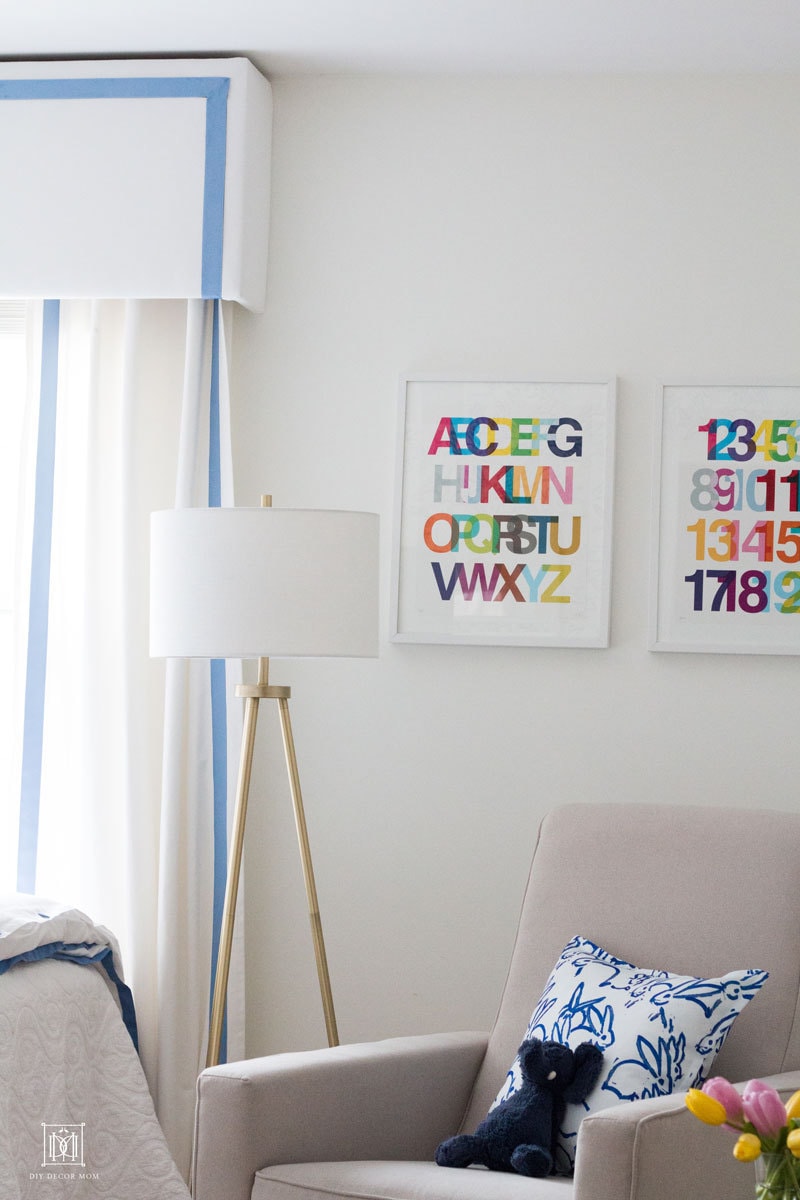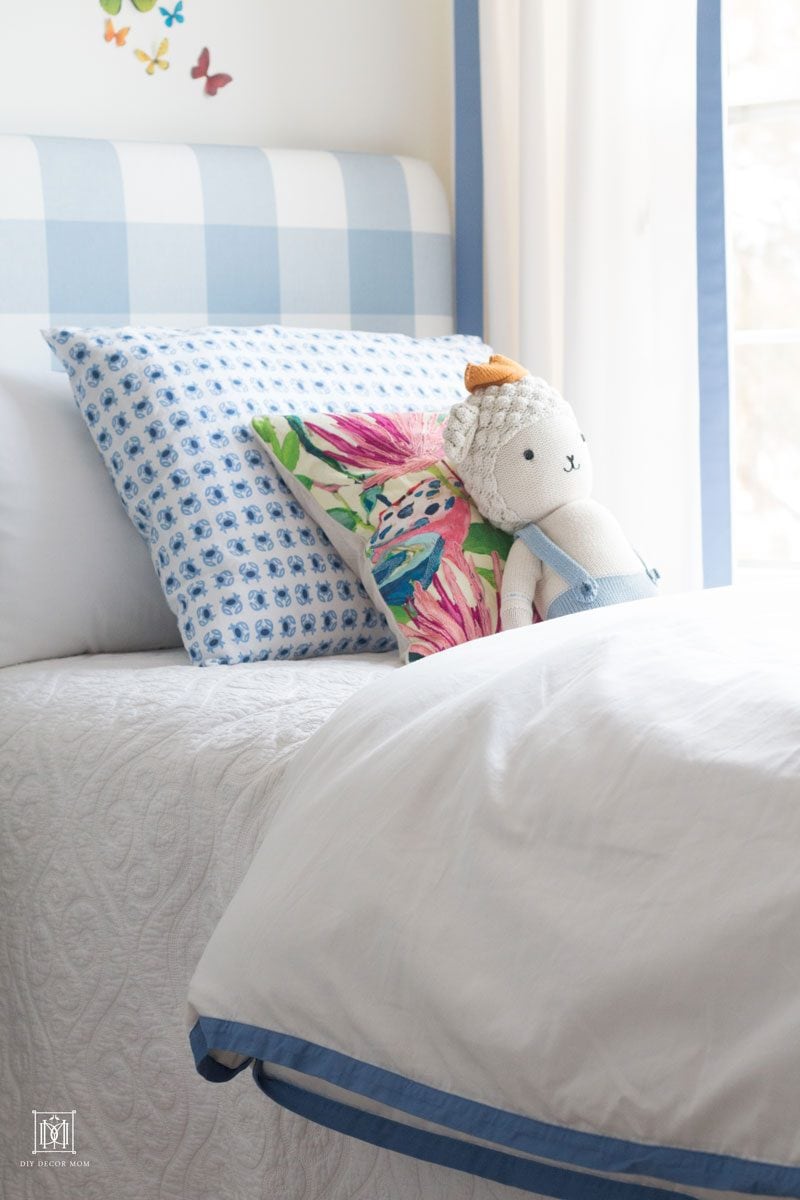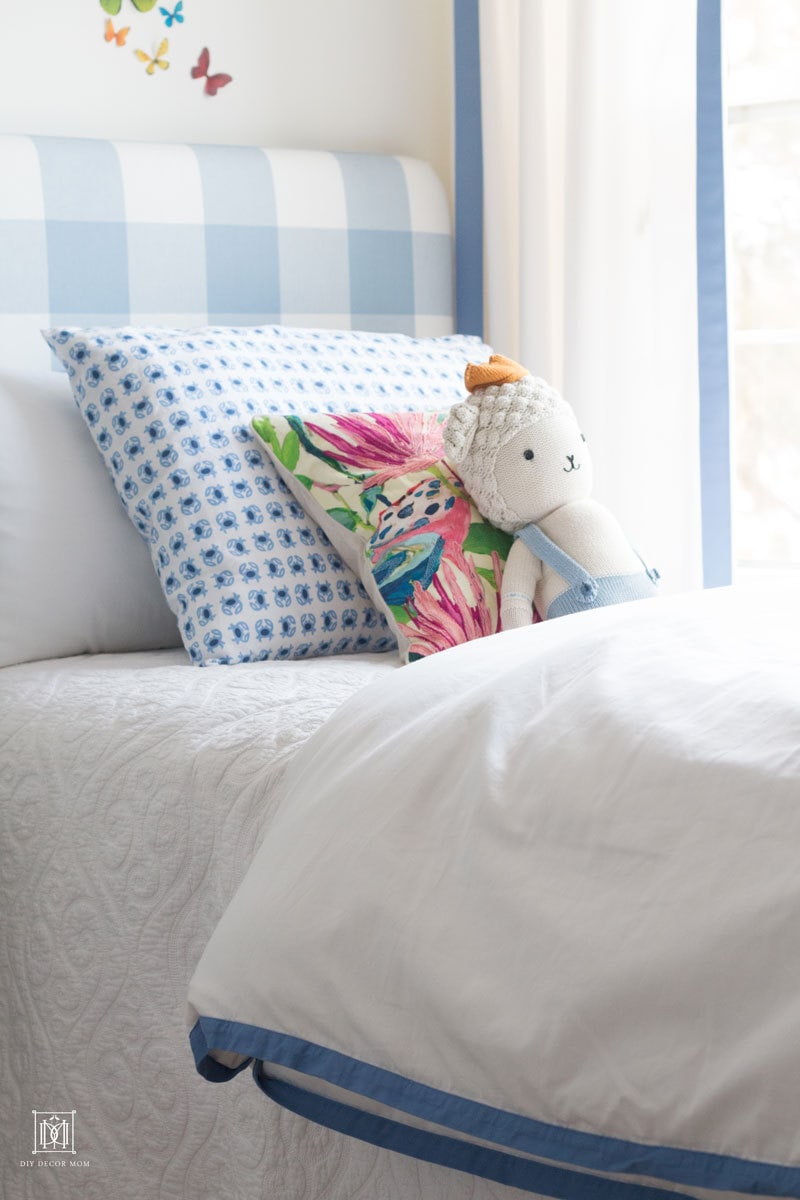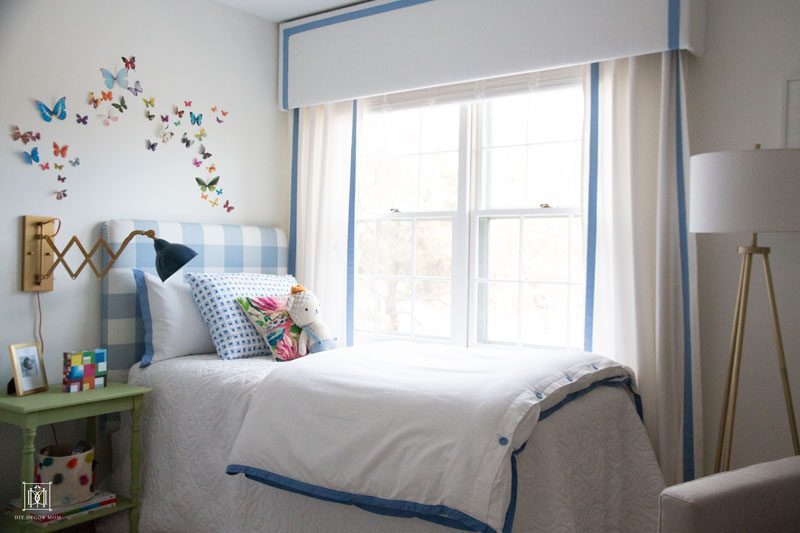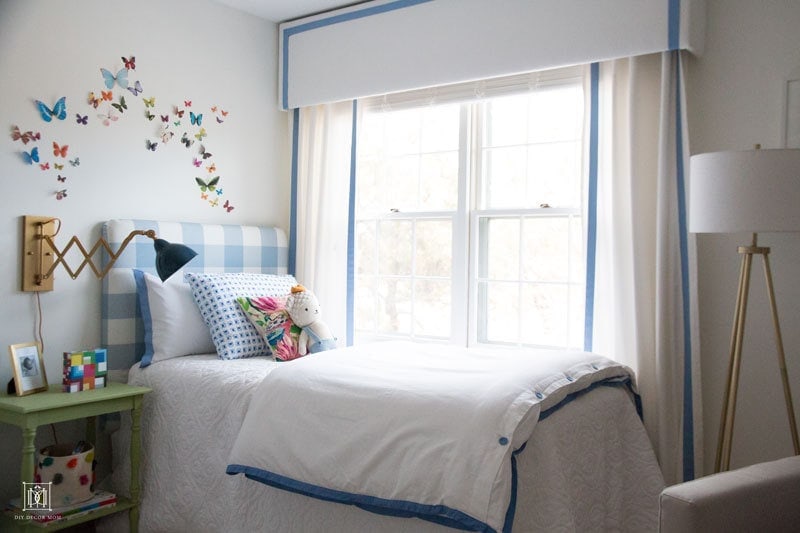 HOW TO MAKE YOUR WINDOW LOOK LARGER WITH A BOX VALANCE
Remember to hang your cornice box as high to the ceiling as you can. Doing so will make the window look larger. In addition, extend the width of the valance box approximately 10″ on either side of the window. To even out our asymmetrical windows, I extended the window box valance 6″ on the left, and 10″ on the right and pull the curtains across the windows so it looks like it is evenly spaced.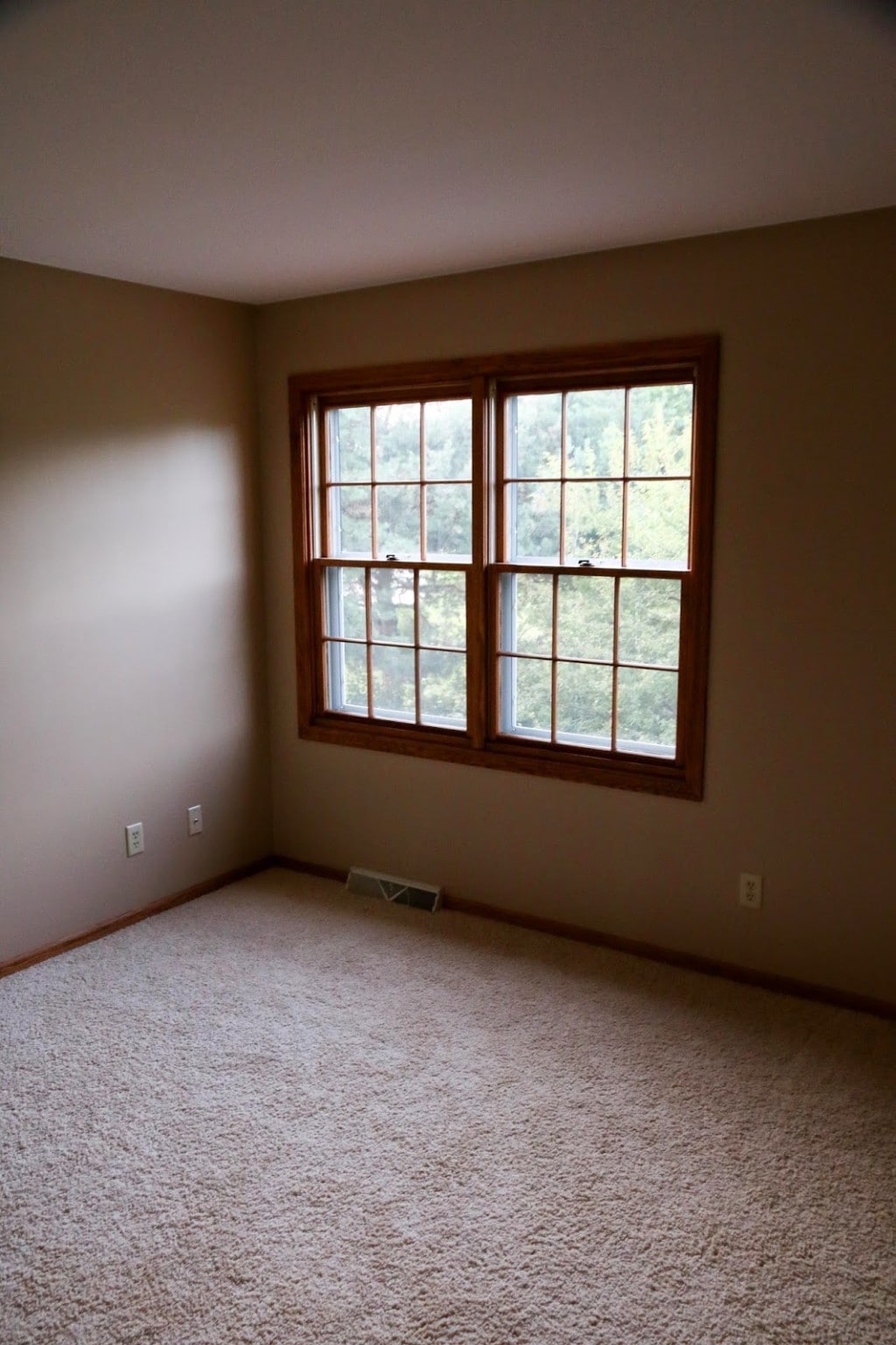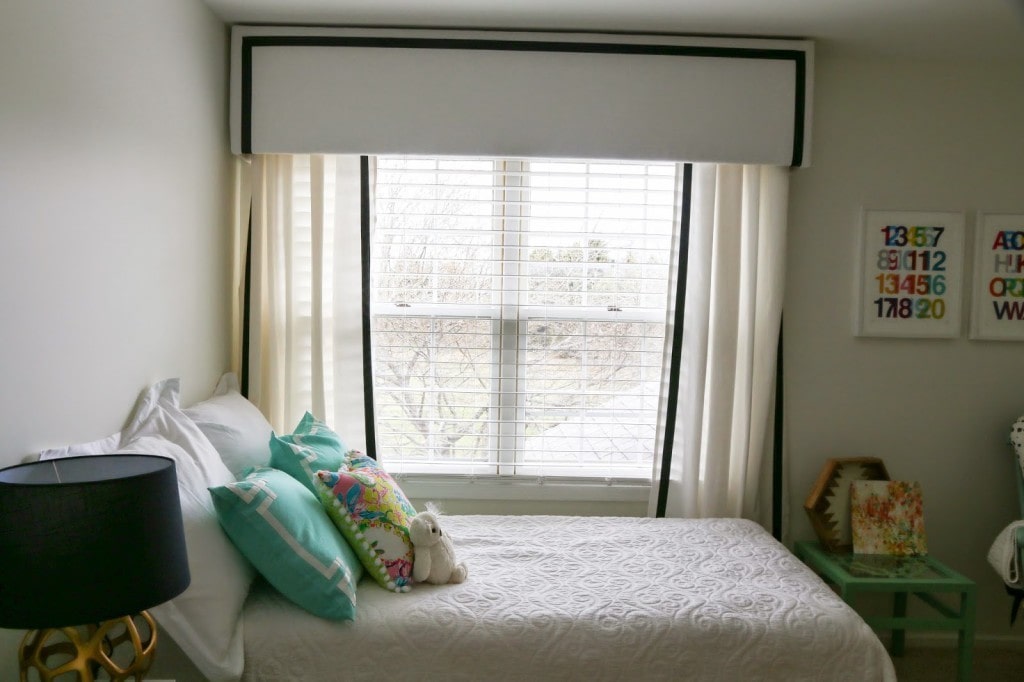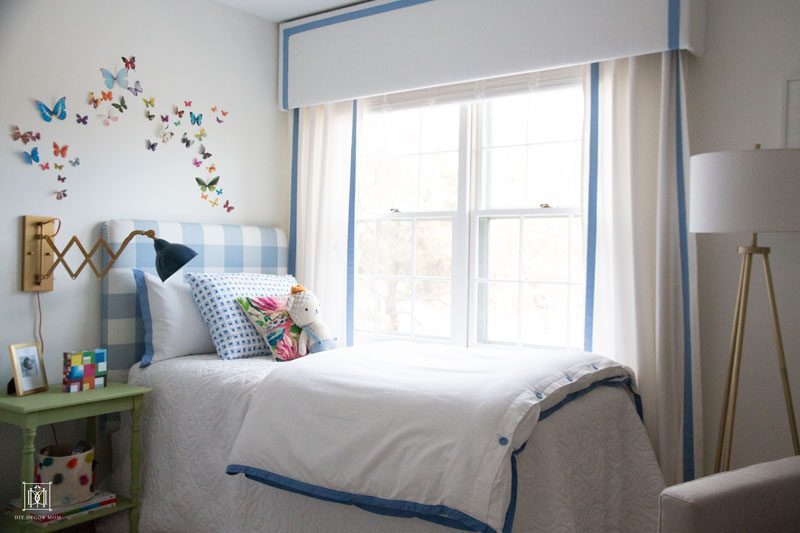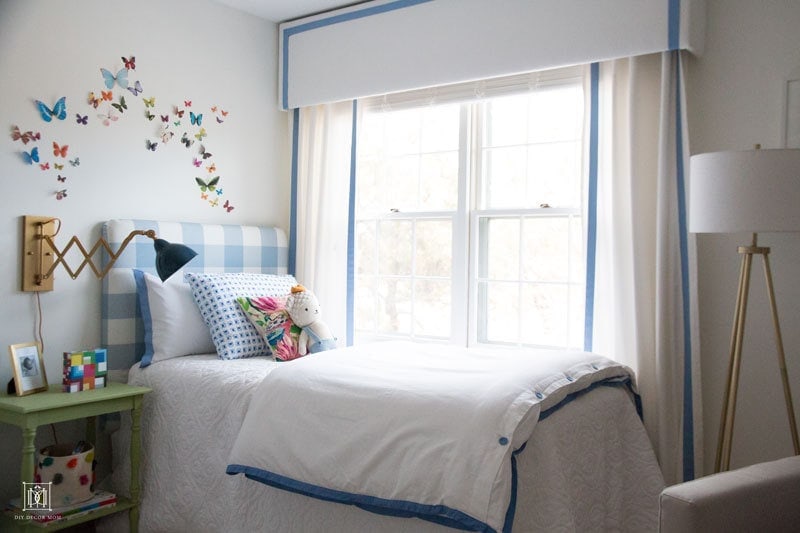 TAKE THE SHORT-CUT TO DECORATING YOUR HOME
Frustrated with stuff not looking "right" in your home? I've been there, and so many of my readers have too.
After years of answering questions and DMs about essential home measurements, I made a free cheat sheet that you can download. In it, I share the essential measurements like how high to hang your curtains, how long your curtains should be, how big a chandelier should be, what light bulbs to use in what room, and everything you need to have a beautifully decorated home! Gathering all these measurements have taken me years. But I've finally gotten it down to a science. Stop guessing with your measurements, and consult the cheat sheet!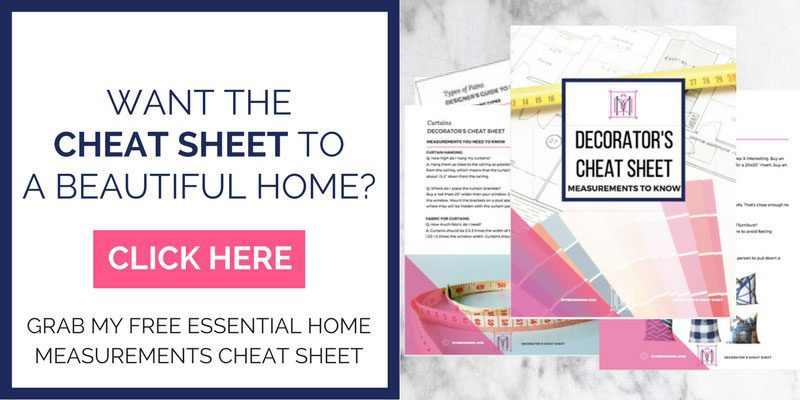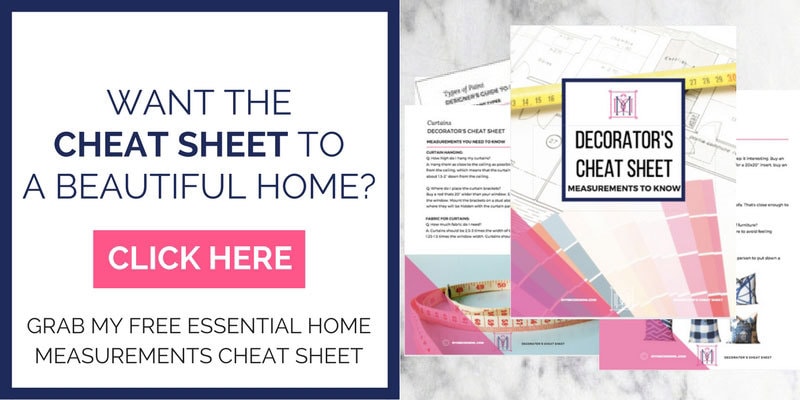 SHOP THE ROOM HERE:

DON'T MISS THESE POSTS:
How to Make Your Own Curtains and Save Money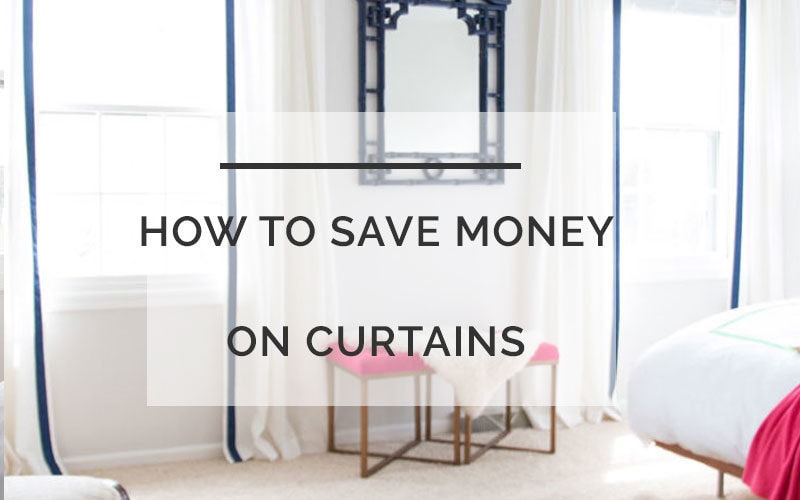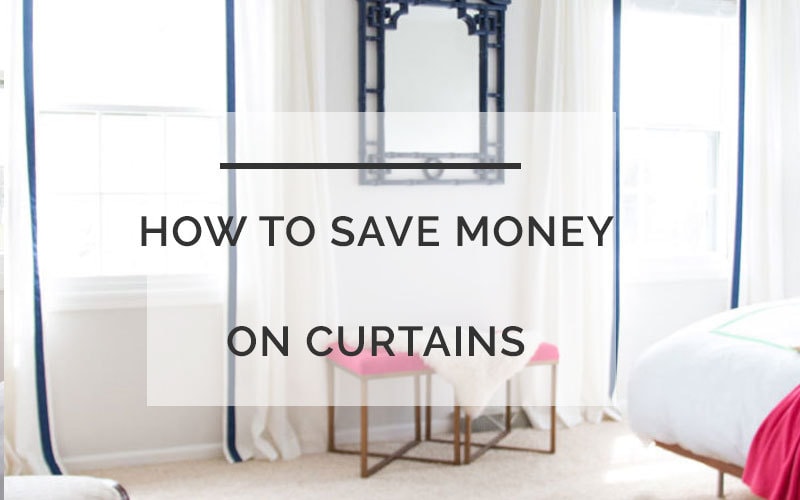 DIY Curtains–see all the DIY Curtains we've made in our house on the cheap!