Girl Nursery Ideas: 25 Ideas for girl nursery inspiration including color schemes, themes, and genius ways to decorate your baby girl's nursery!
GIRL NURSERY IDEAS
Starting to plan your baby girl's nursery? Here are 25+ girls nursery ideas, girl color schemes, and nursery themes that work for any nursery! First, I'll share my own three daughters' nursery which is pink and green and all things girly 🙂 Next, we'll go into the themes and decorating ideas, plus my favorite baby must-haves that have saved my sanity! And finally, you can get tons of girl nursery inspiration by perusing 25+ unique decorating ideas of my favorite bloggers broken down by theme or color!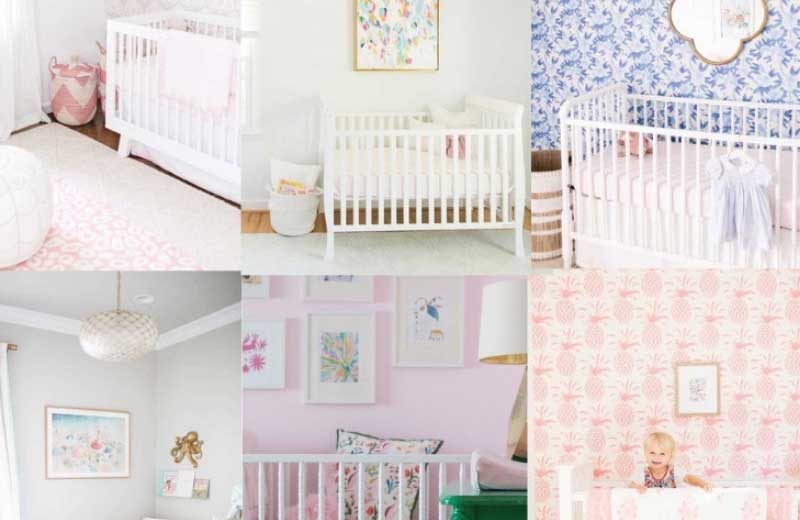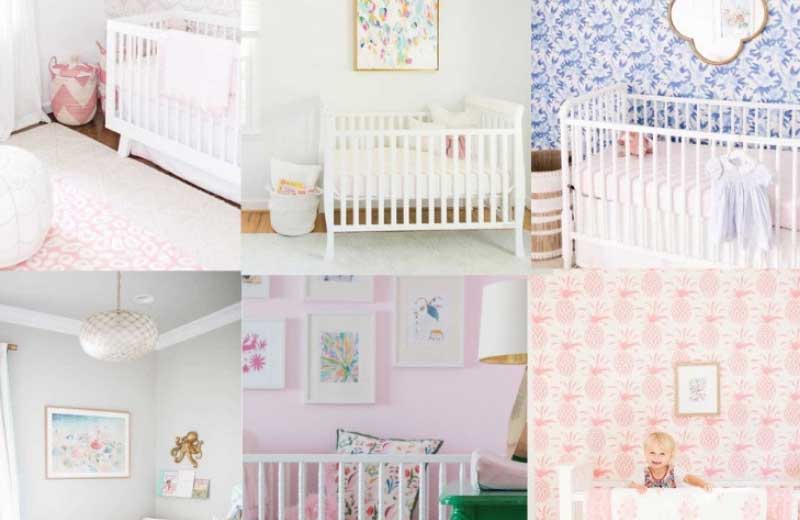 With our kids, we've always waited to find out the gender until they were born…which is fun for the surprise but it makes planning a lot harder! My two girls have shared a room on and off for the past year–we set the room up to be shared but then my baby girl needed a room a little quieter, so we moved her into her own nursery. You'll see both spaces here so you'll get lots of baby girl nursery inspiration using pink, green, and white AND blue, white, and pink!
*This post contains affiliate links at no cost to you. See my disclosure policy here.
PINK GIRLS SHARED NURSERY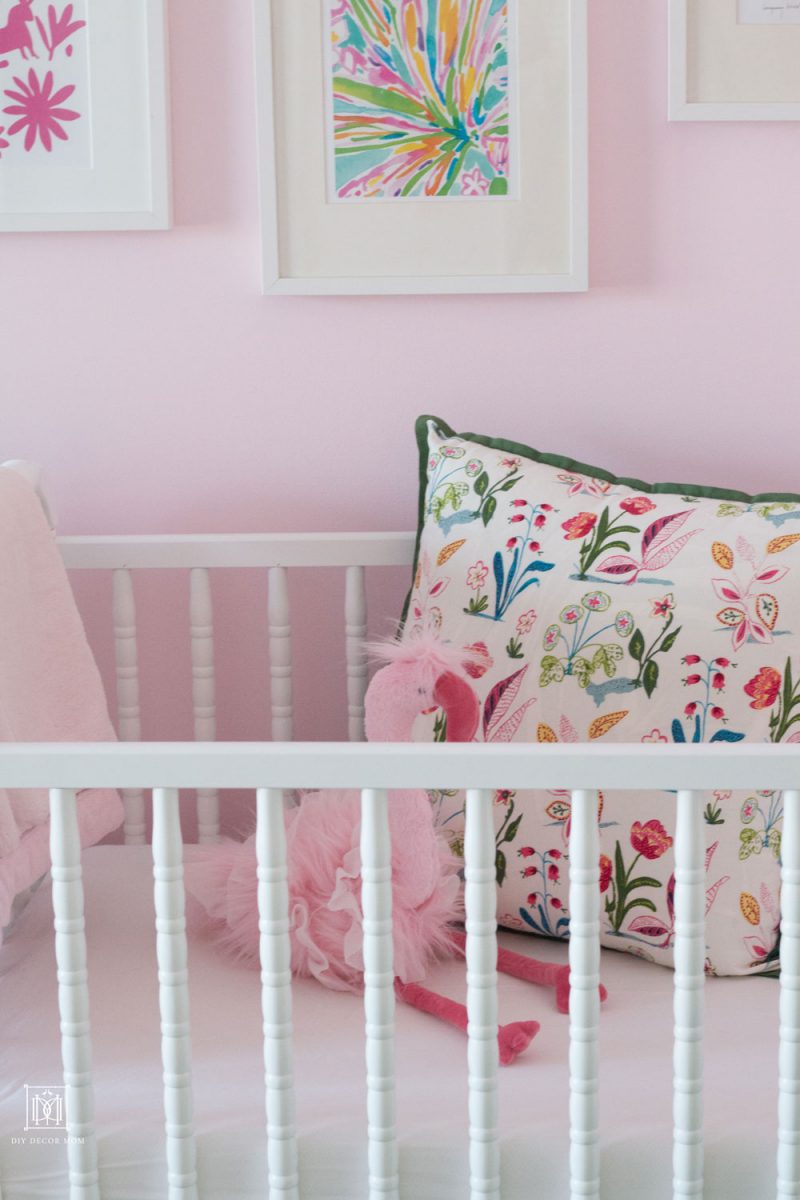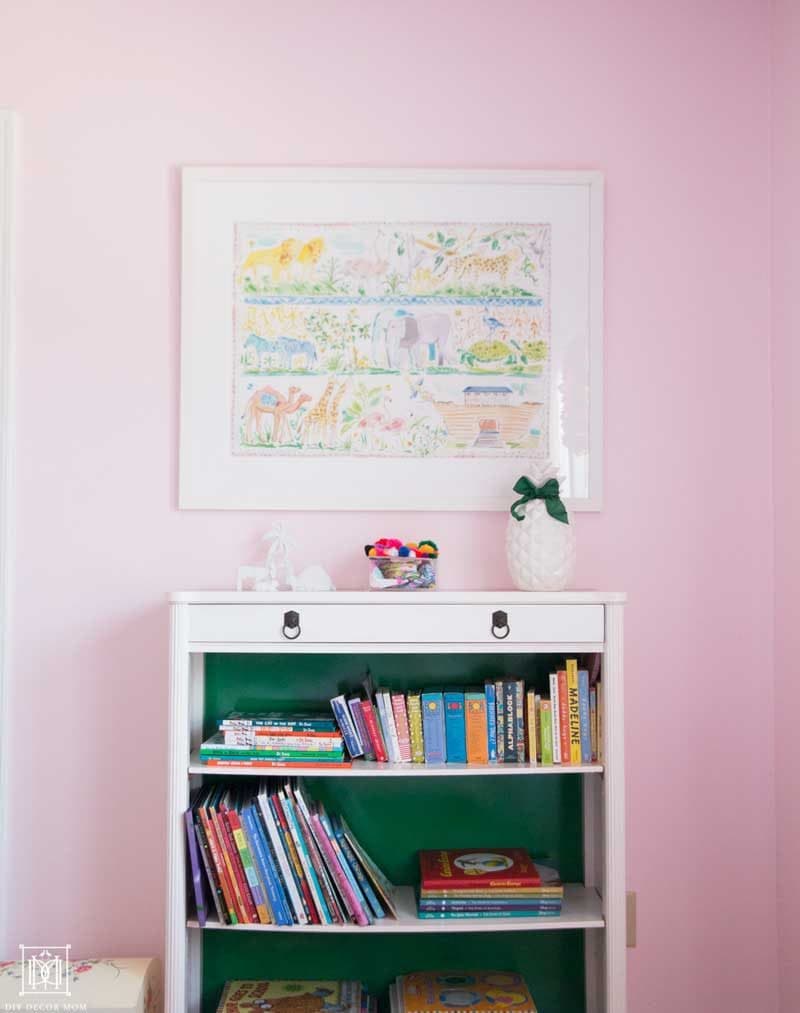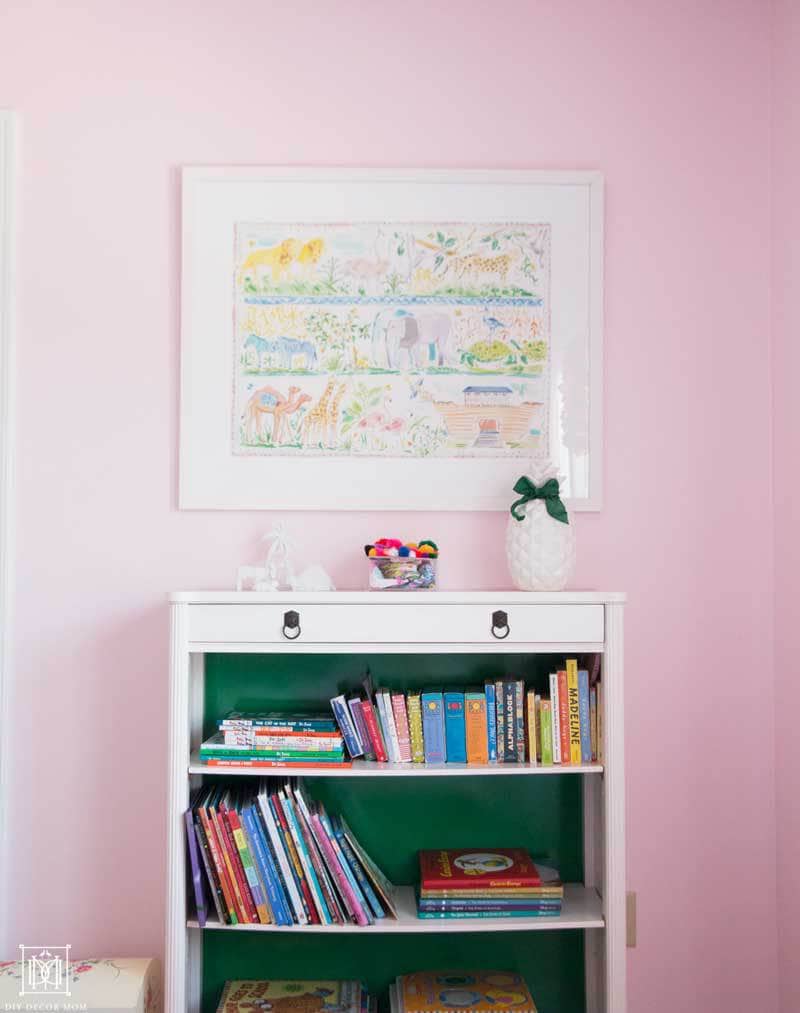 Since our girls share a nursery girls share a nursery, we loaded up their DIY painted vintage bookcase (we used the same colors as this dresser) (we used the same colors as this dresser) with lots of books for both age ranges!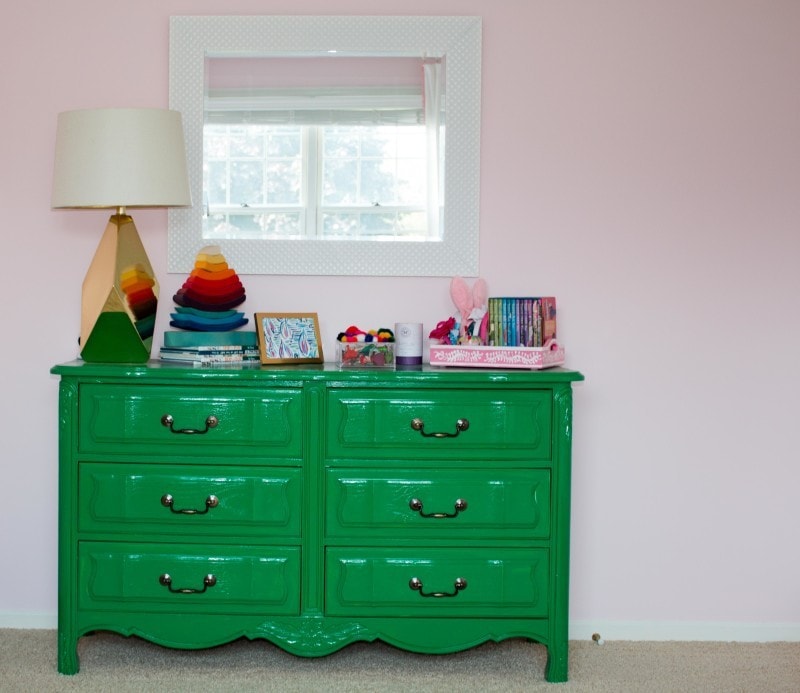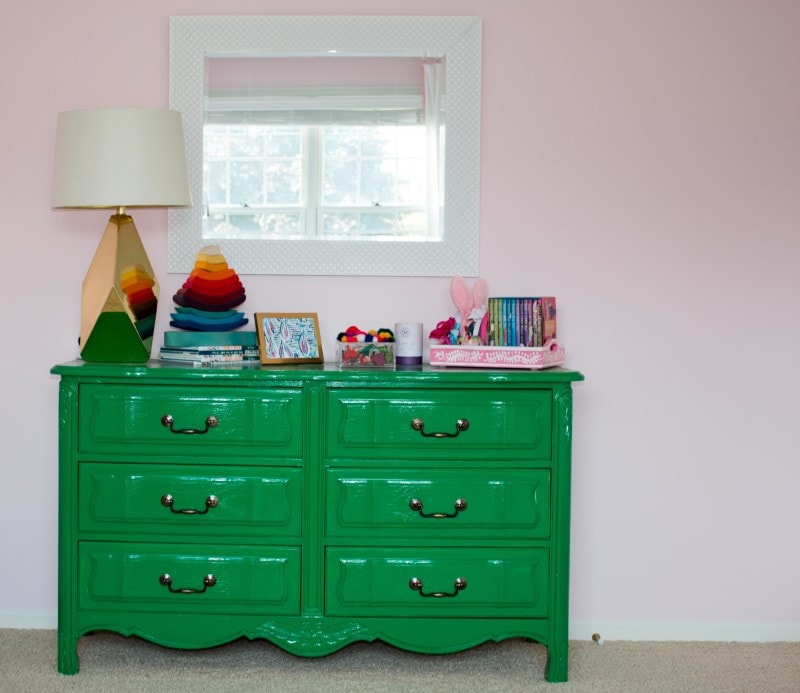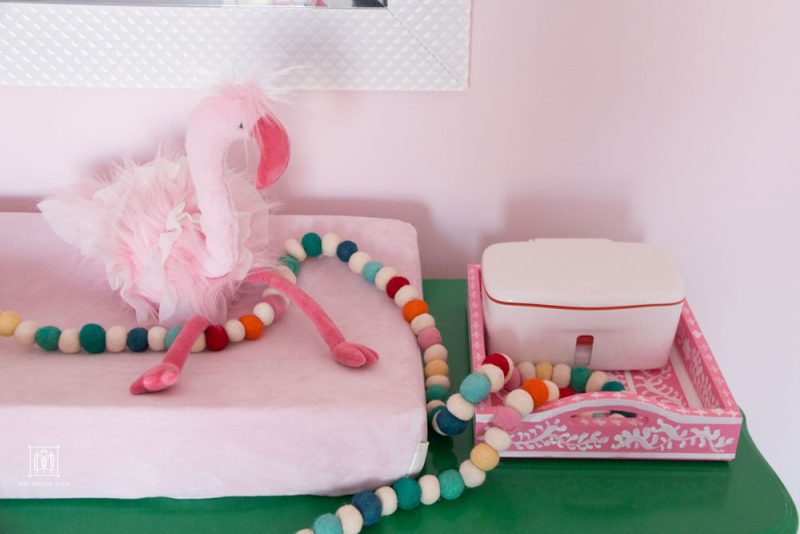 This dresser doubles as a changing table which comes in handy with a wiggly baby!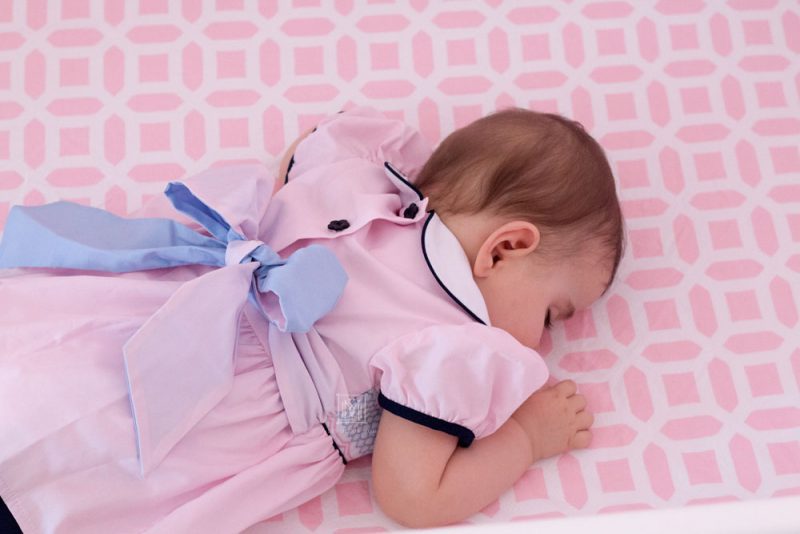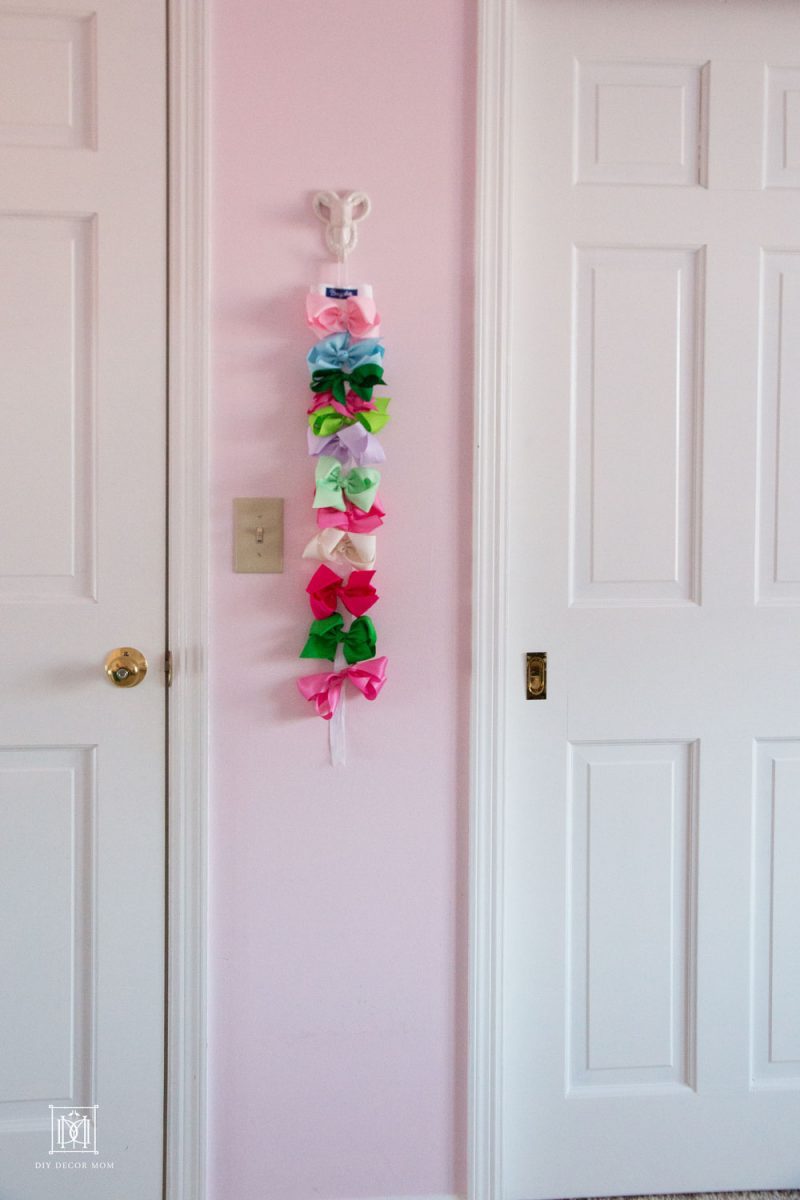 With an ever-growing bow collection, this simple ribbon helps us corral the big ones!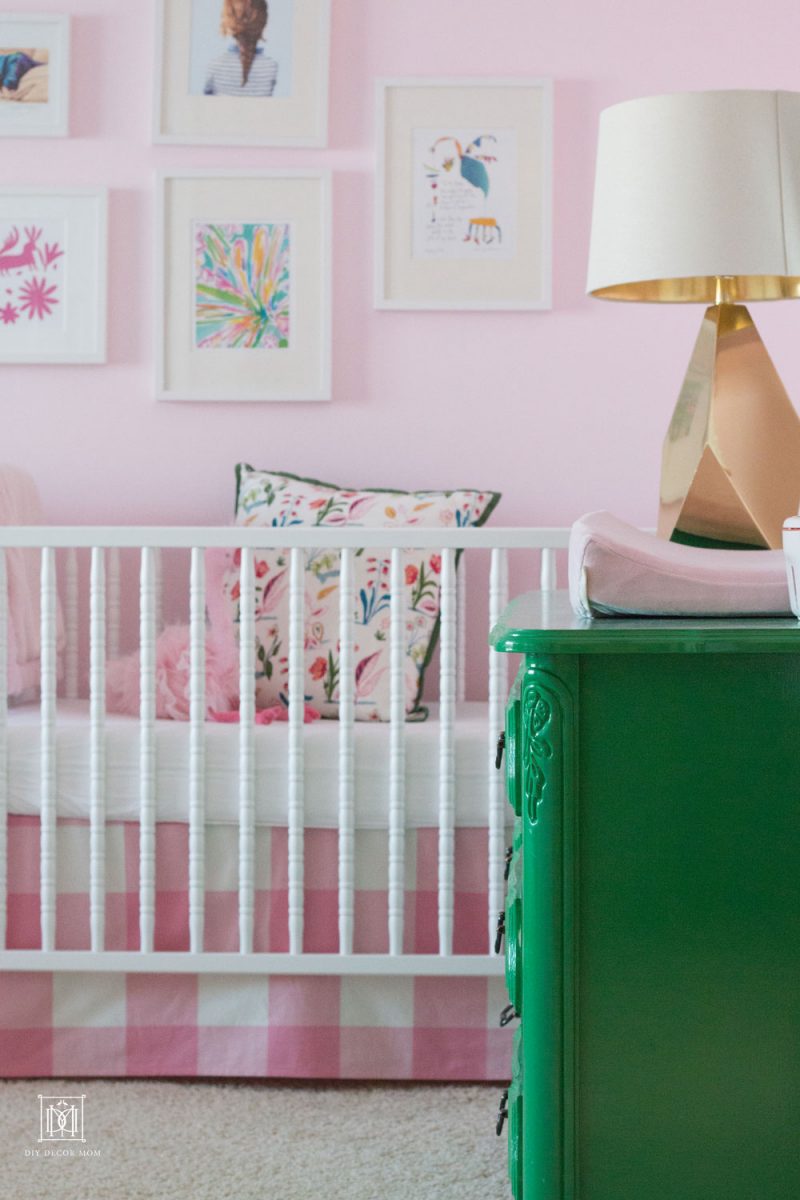 See how we made a DIY Crib Skirt here DIY Crib Skirt here.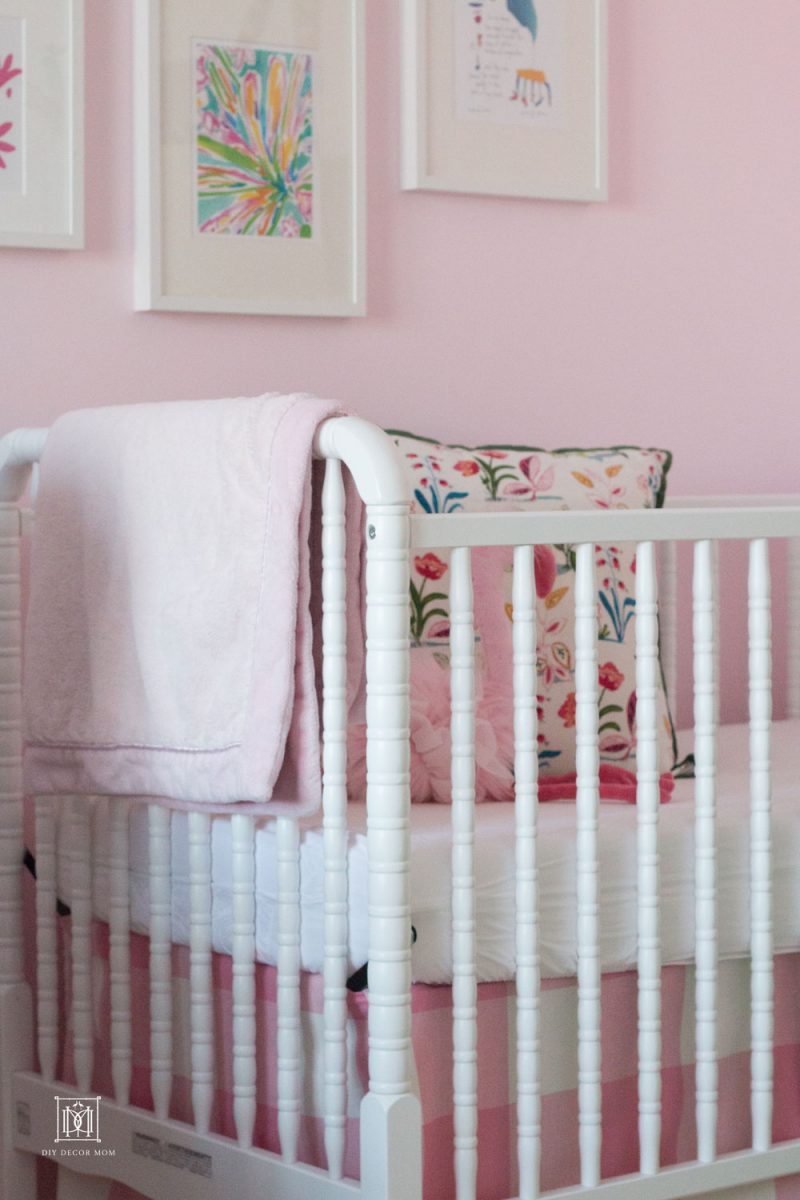 We DIYed the crib skirt to match my older daughter's DIY upholstered headboard. DIY upholstered headboard. Now they match and they look great together!


We recently replaced our green pillows (the ones seen in the crib below) with the bolster below. We plan on doing an accent wall (well, I ordered the wallpaper 9 months ago) in their room in the matching print so it's all pulled together!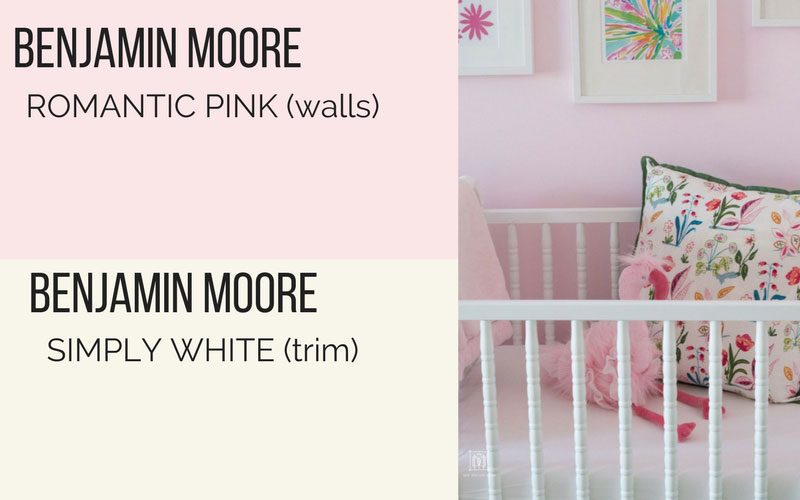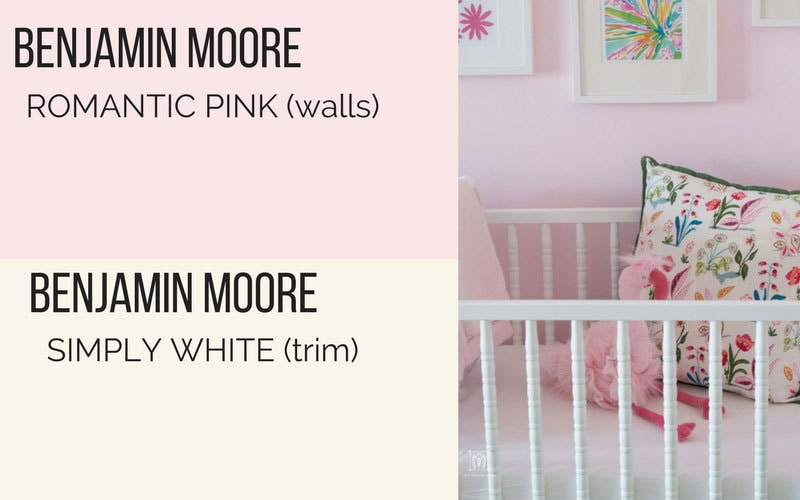 Sources:
Dresser: vintage painted
Bookcase: vintaged painted
Paint color: Benjamin Moore Romance Pink

BLUE AND WHITE GIRLS NURSERY
Next up, check out our darling youngest daughter's nursery which we just updated!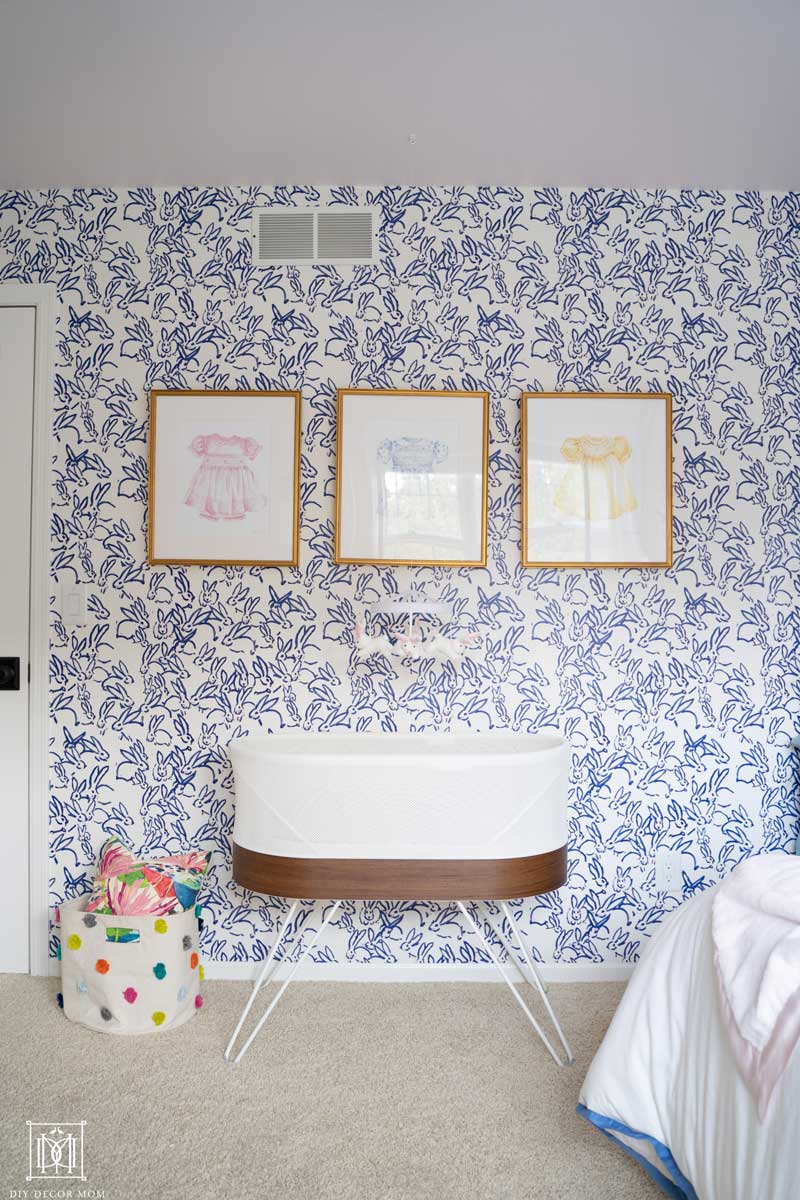 Related: Baby Girl Room Decor–see the whole nursery here
GIRL NURSERY COLOR SCHEMES
There are lots of options for girl nursery color schemes! Of course, you can go with the traditional pink and white, or you can mix it up with accent colors like we did (green.) You can also use yellow, blush, lilac, and blue are all great options as well! Below, I've broken down different girl nursery color schemes into the following: pink nursery color schemes (and blush), neutral wall nurseries, and accent wall and wallpapered nurseries so you can see all the inspiration!
PINK NURSERY COLOR SCHEMES
Here are four more great pink nursery schemes in a vast variety of color palettes ranging from pinky pink to blush! As you can see, there is so much room for interpretation!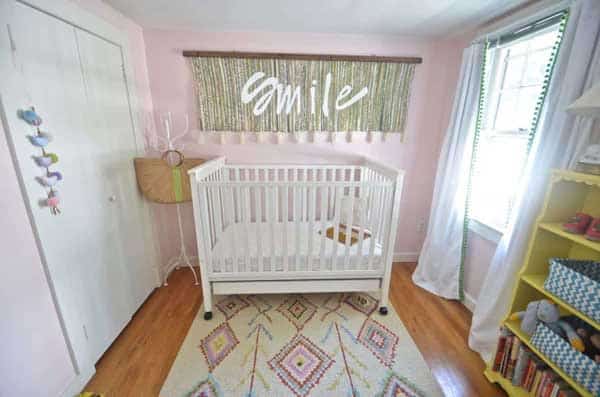 At Charlotte House shares her boho-eclectic nursery here. I love that DIY hanging over the crib and the rug is so fun!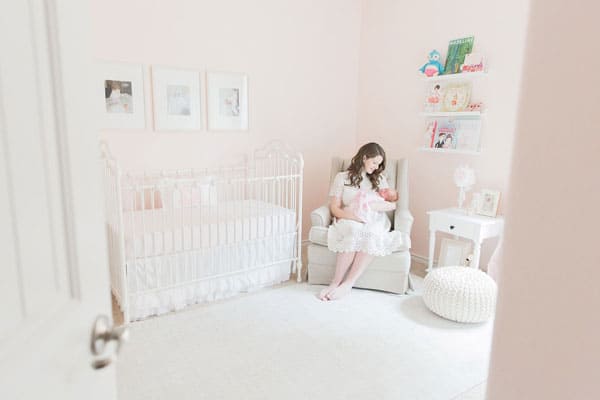 Victoria Strader shared her darling daughters blush and white nursery. All the details are so well thought out!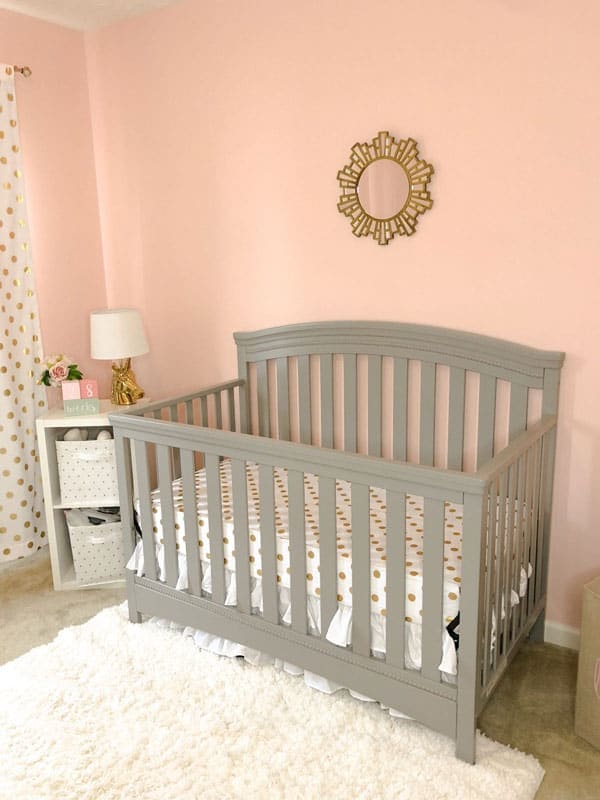 Bright on a Budget shows how fun pink, gold, and white can be in her daughter's nursery here.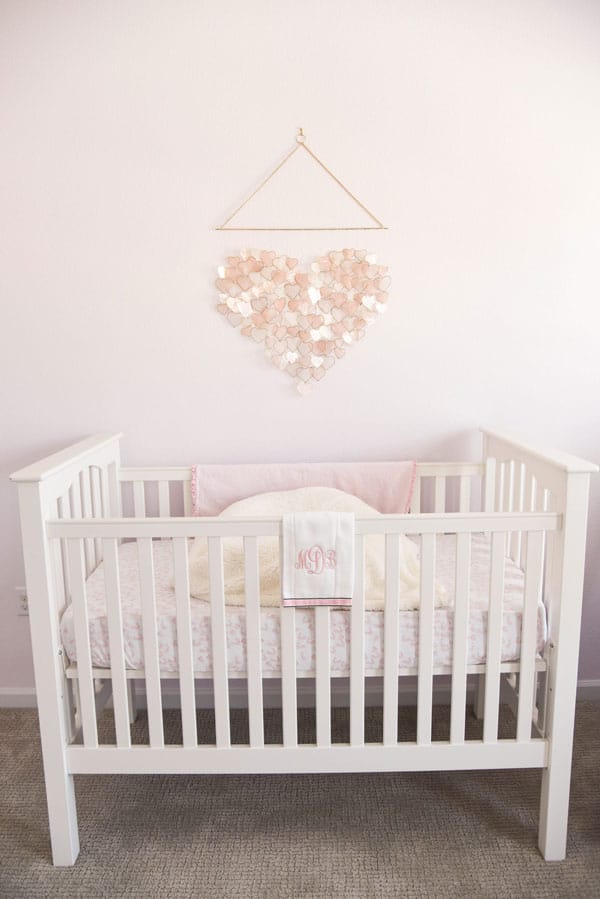 The Autumn Girl shows how peaceful light blush can be in her daughter's nursery here. I love that heart hanging above the crib!

Darling pink nursery by The Girl in the Red Shoes for her youngest daughter!
SEE MY NEWBORN MUST-HAVES I COULDN'T LIVE WITHOUT HERE
GRAY OR NEUTRAL BABY GIRL NURSERIES
Just because the walls aren't pink doesn't mean that you can't have a girly nursery! See below for fantastic examples of neutral wall nurseries with tons of girly personality!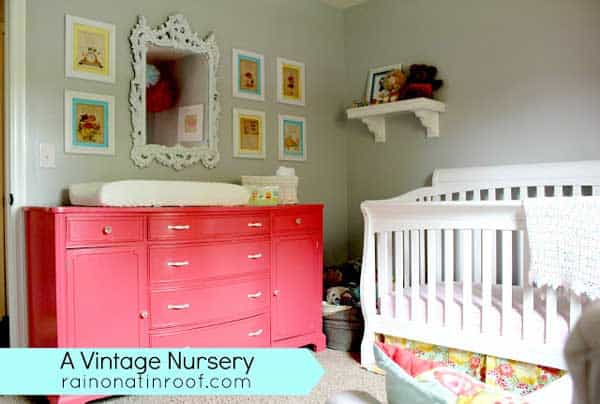 Jenna from Rain on a Tin Roof shares her adorable Vintage Nursery here.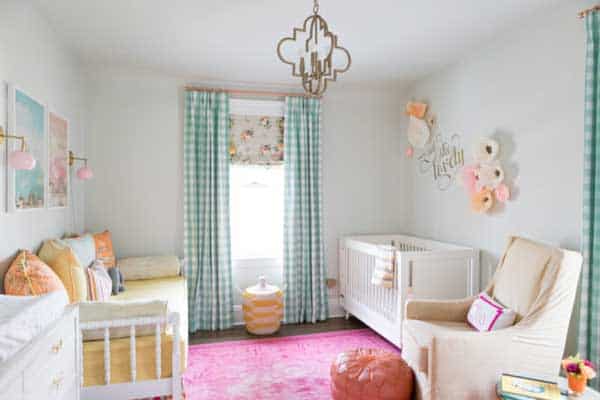 Camila from Effortless Style Blog shares this gorgeous floral chintz and gingham nursery that is after my own heart!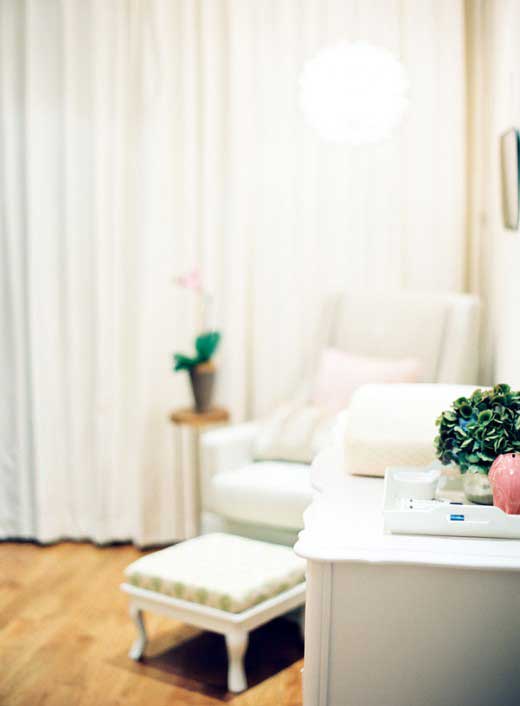 This ethereal and light nursery from Effortless Style Blog shows how fabulous white can be in a girls nursery!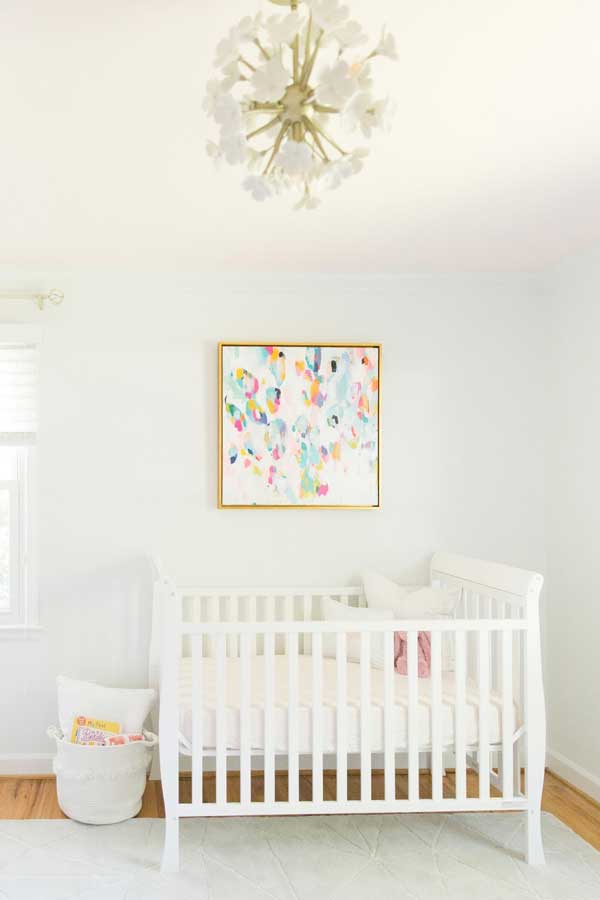 Olive & Tate shares her gorgeous baby girl's nursery here. I want that light fixture ASAP! And that artwork!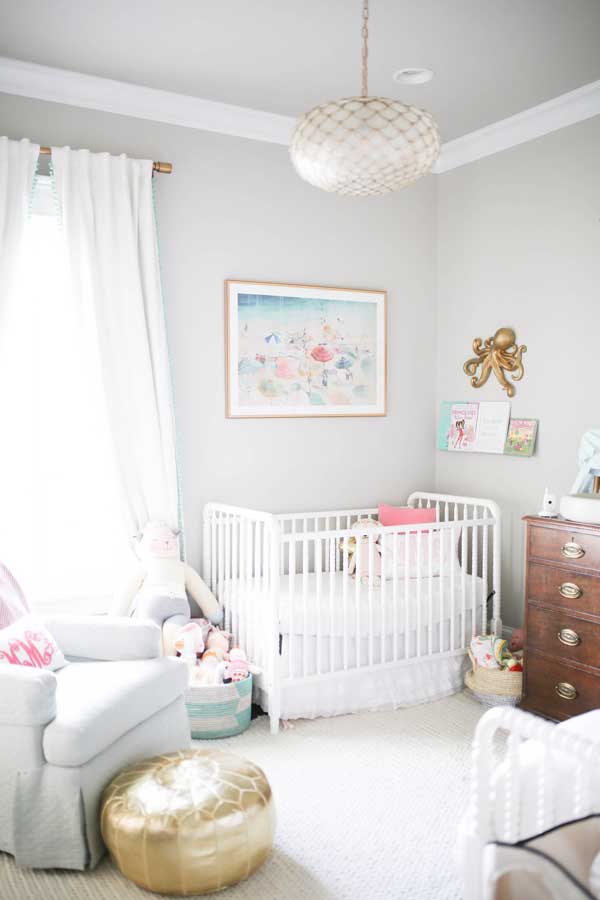 Annie from Home of Malones creates the cutest and fun little girl nursery for her daughter Molly.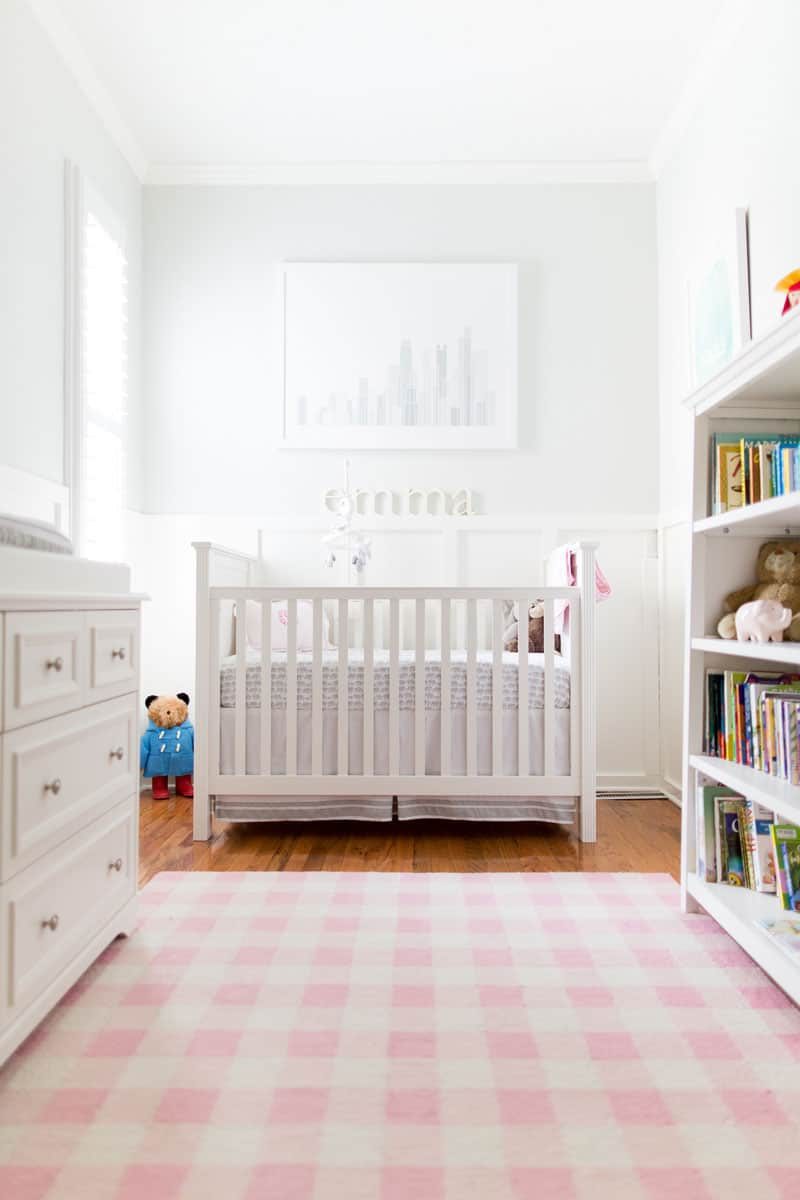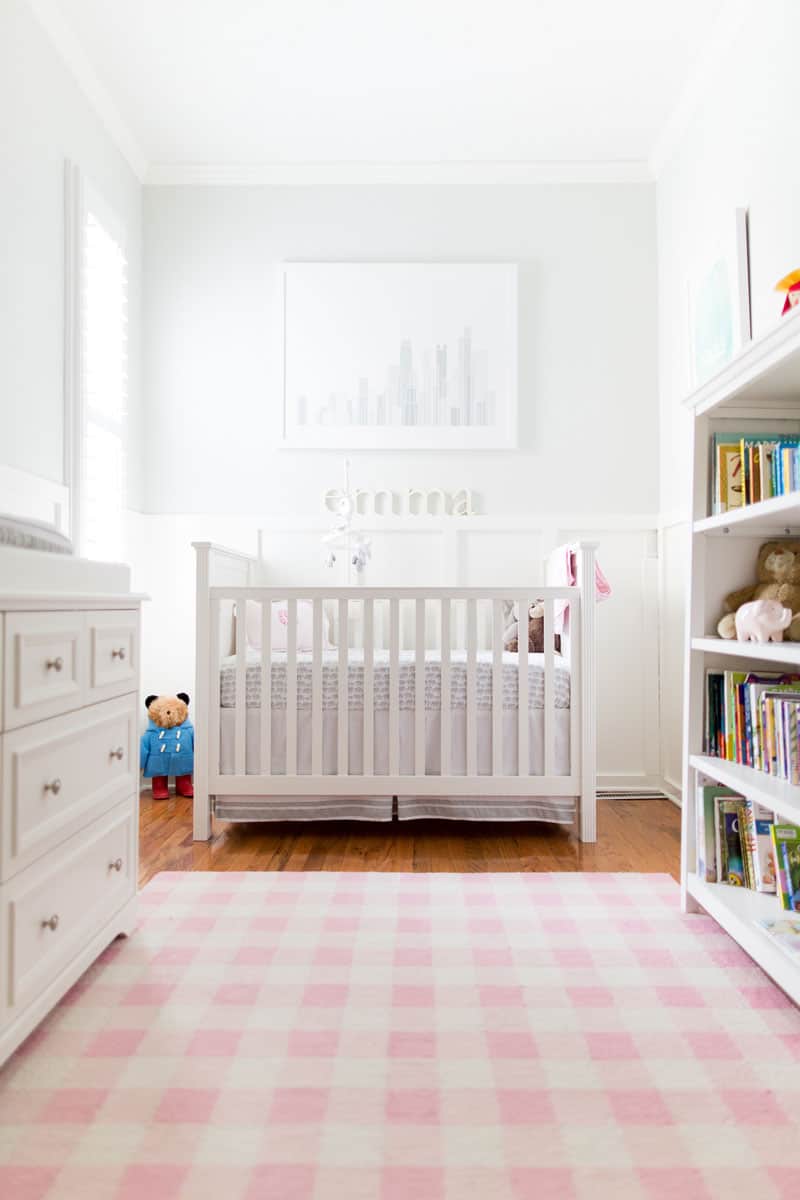 Kelly in the City shows how versatile a light gray room is in her darling Lincoln Park nursery for her daughter, Emma.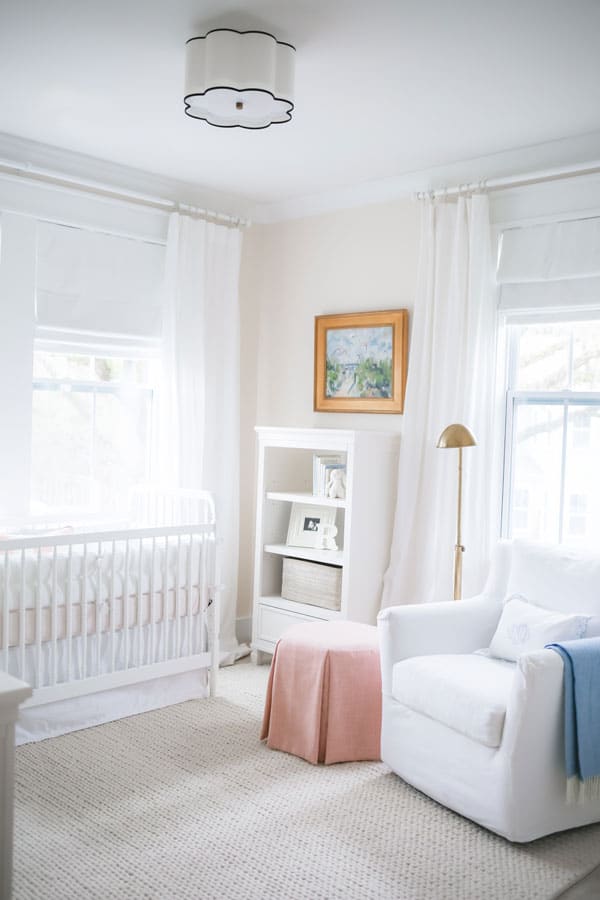 Rosie's nursery from Holy City Chic shows how relaxing and sophisticated a neutral palette can be!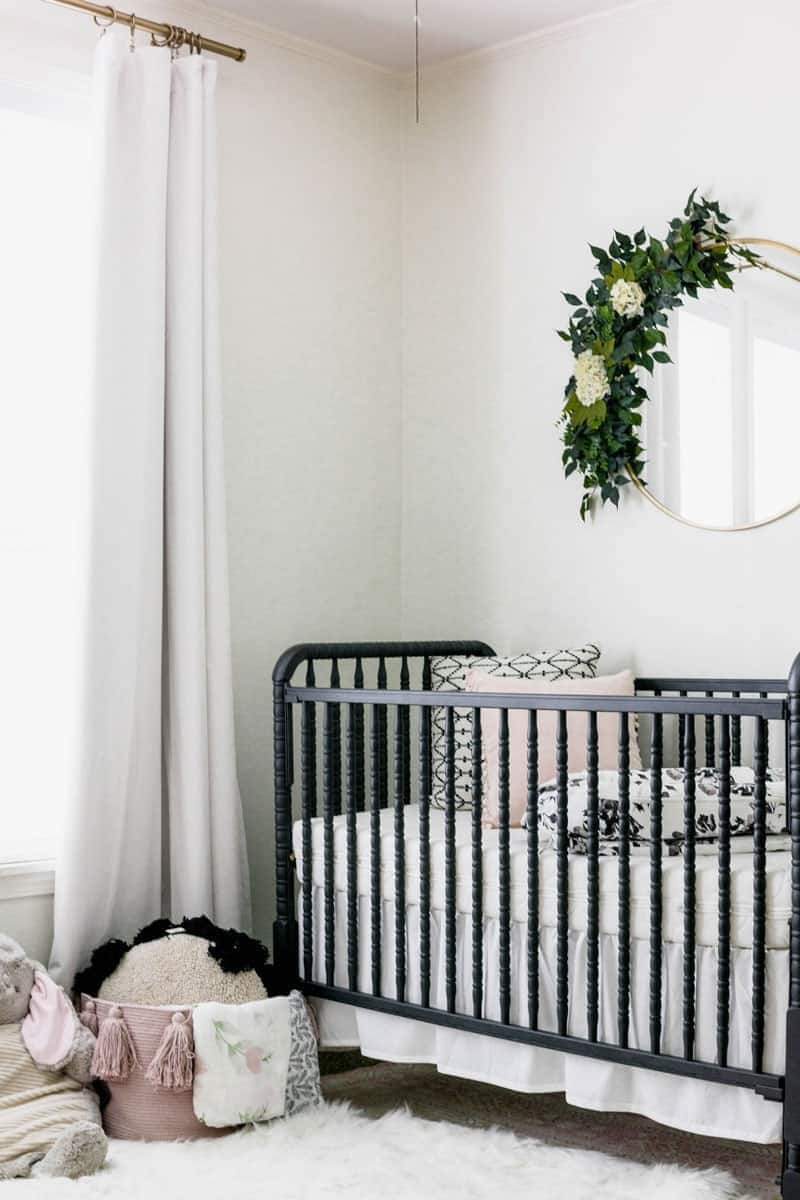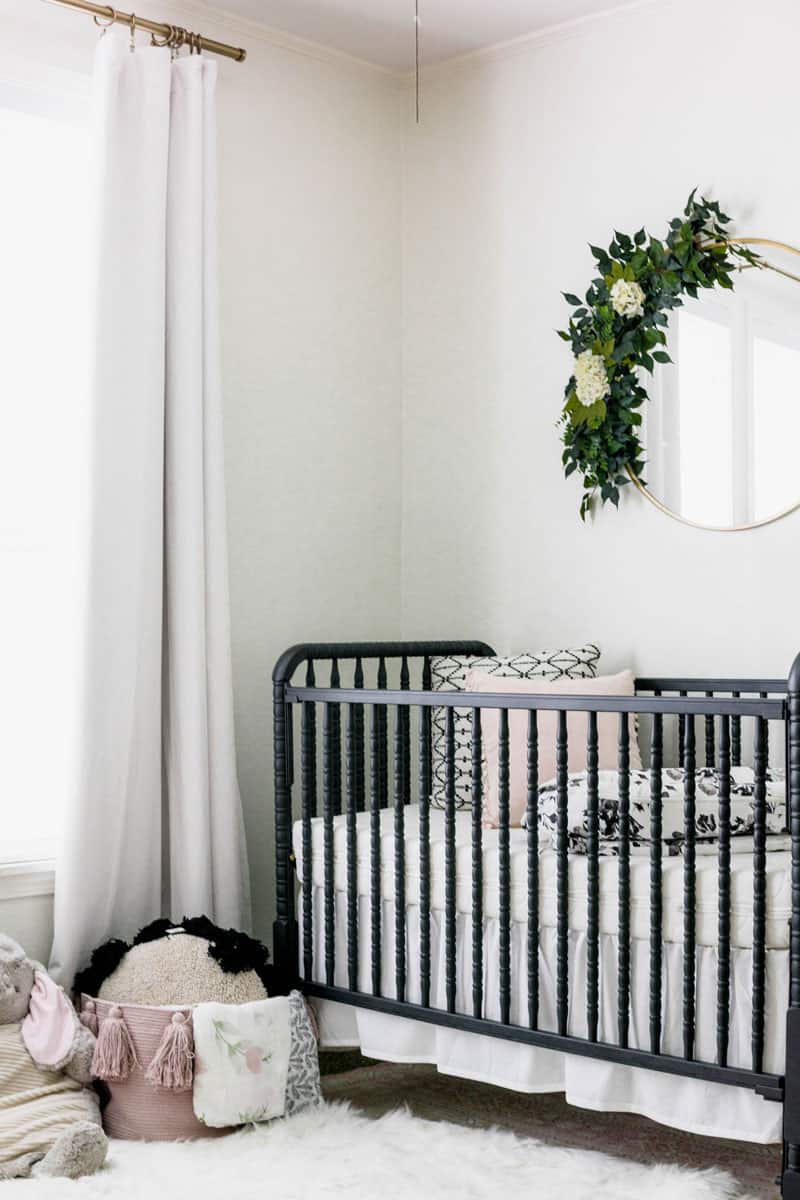 Kassy on Design shared her beautiful neutral girl's nursery here that is breath of fresh air. I love the leaves over the mirror!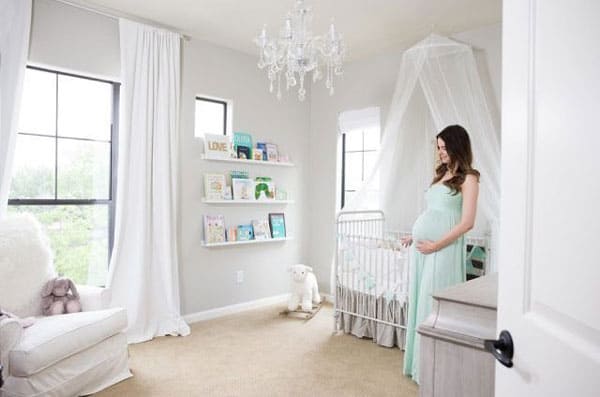 Veronika's Blushing shared her beautiful serene nursery here.
SEE EVERYTHING I WISH I COULD REGISTER FOR HERE.
BABY GIRL NURSERY IDEAS
Looking for something a little different? Not only can you experiment with wall colors in your baby girl nursery; but, you can decorate it with different themes and wallpapers! In addition to the traditional ideas of pink for a girl's room, you could decorate it like Swan Lake, do a bunny-themed nursery (what we did), a butterfly-themed girl's nursery, and a floral nursery! Just a few ideas!

WALLPAPER AND ACCENT WALLS IN BABY GIRL NURSERY
First, let's look at wallpaper and accent wall girl nurseries! I absolutely love these baby girl nurseries! We did a nursery accent wall in our baby boy nursery (which has also been changed into a baby girl nursery too!) Doing one wall of wallpaper is often, easier, quicker, and cheaper than doing an entire room of wallpaper.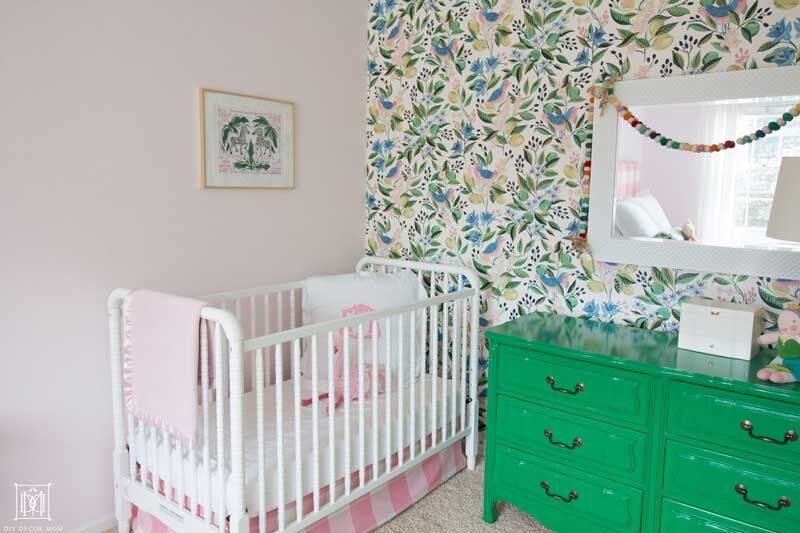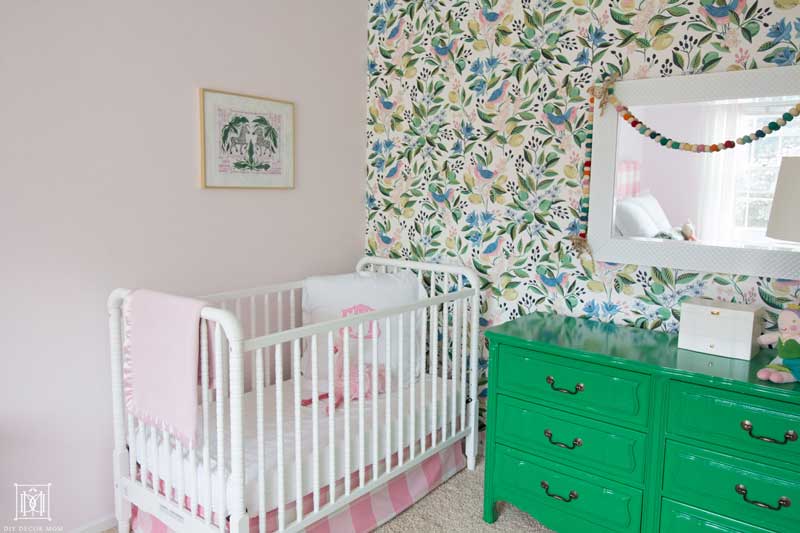 See how we updated our girls' room here with wallpaper and new paint!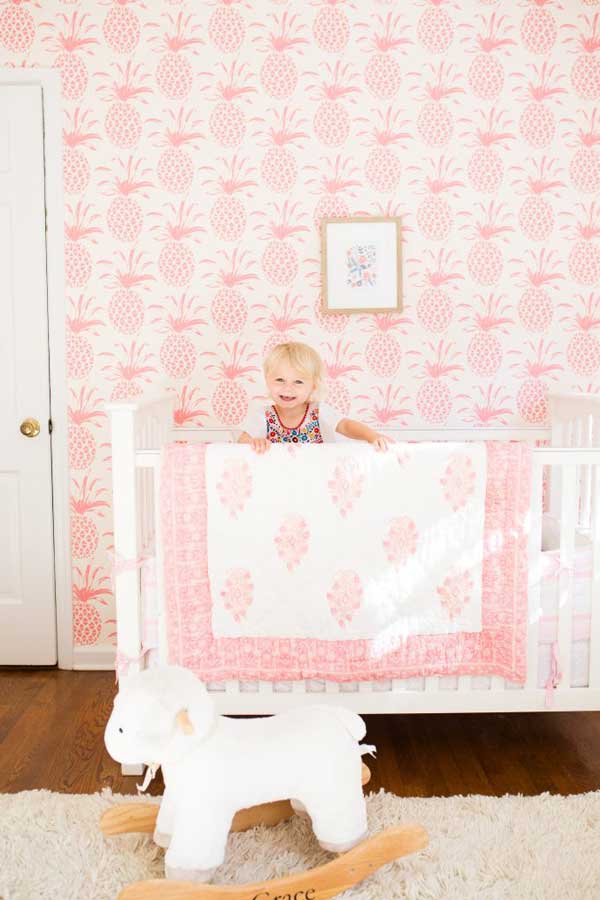 Pure Joy Home shares her adorable daughter's pineapple themed nursery! It just makes me so happy!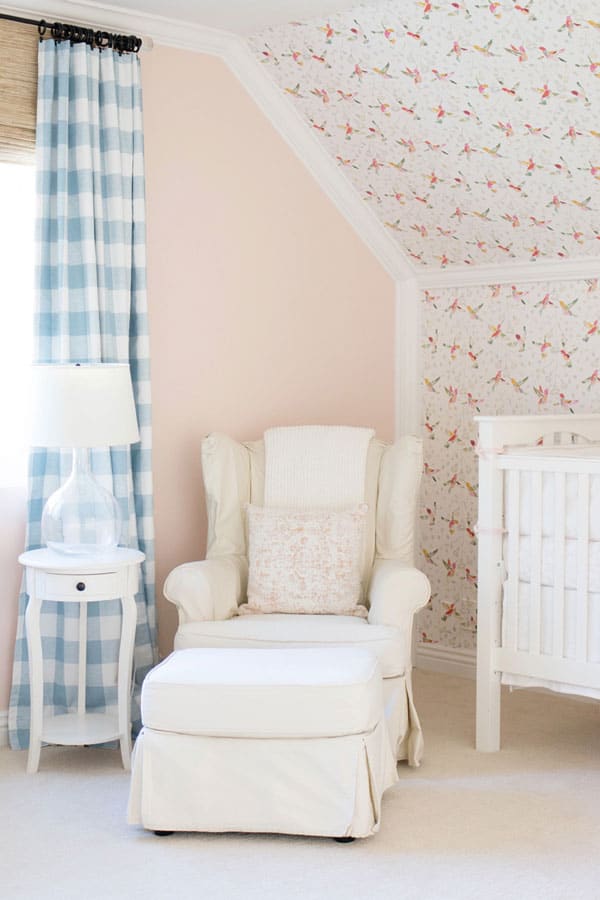 I am in love with Hannah Matthew's colorful girl nursery–I love the wallpaper and the blue and white buffalo check curtains!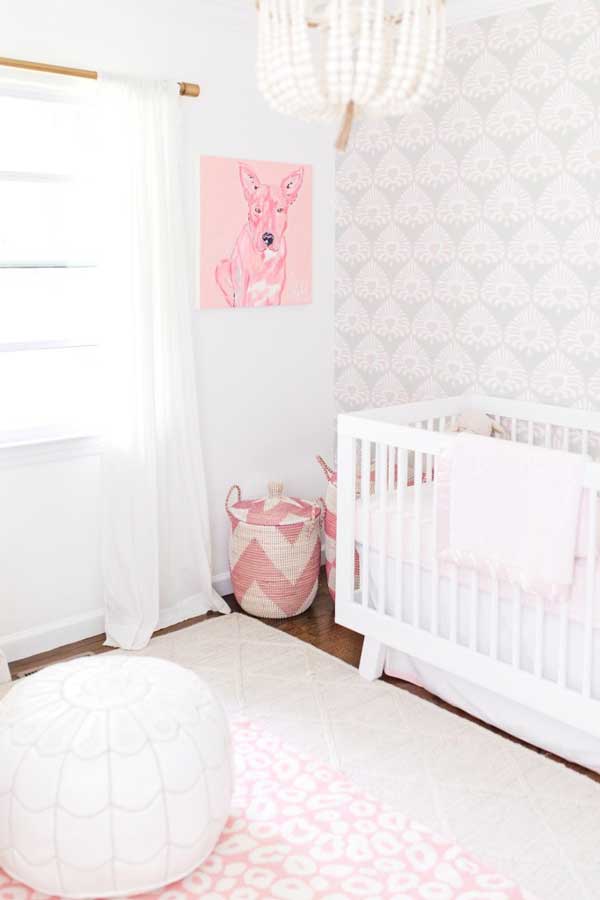 Lemon Stripes slays it with this preppy girls nursery !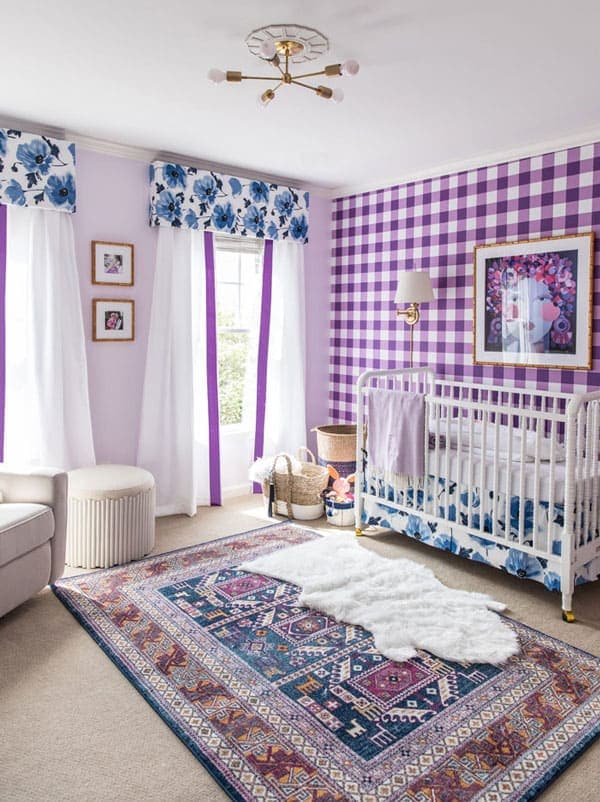 Style Your Senses slays it with her daughter Lawson's old nursery.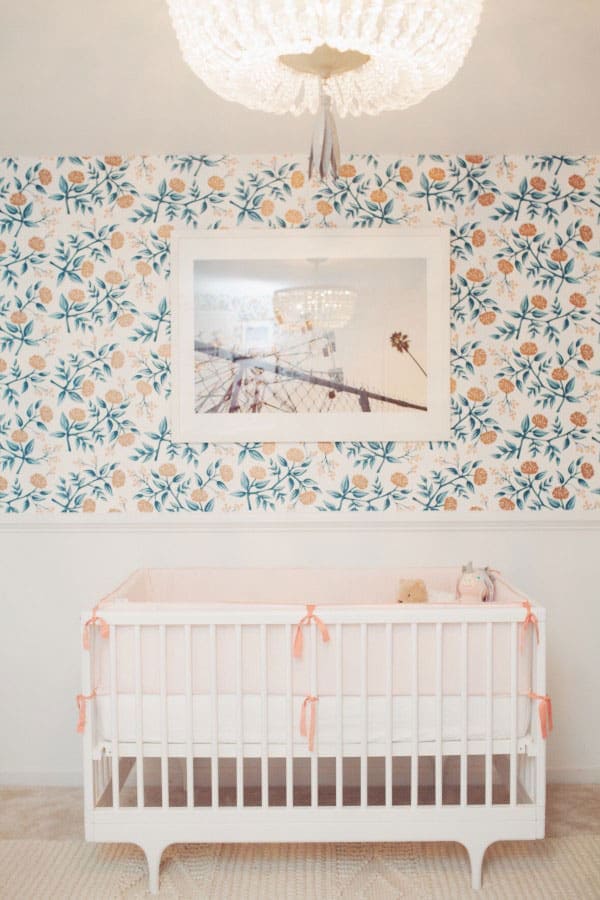 Comfy Cozy Couture shows how fun graphic wallpaper can look in her little girl's nursery here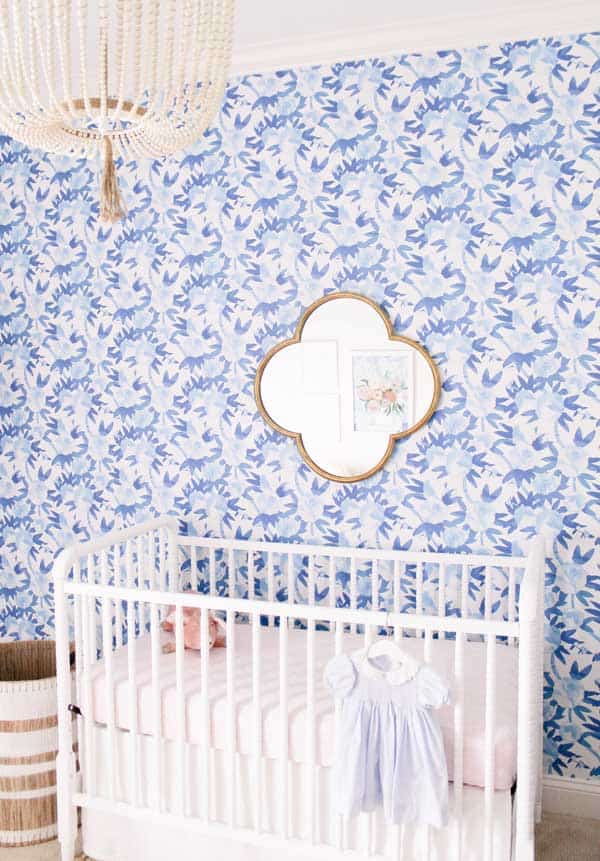 Somethin' Southern's beautiful blue and white nursery for a girl shows that girls can do blue too! We have this same wallpaper in our playroom!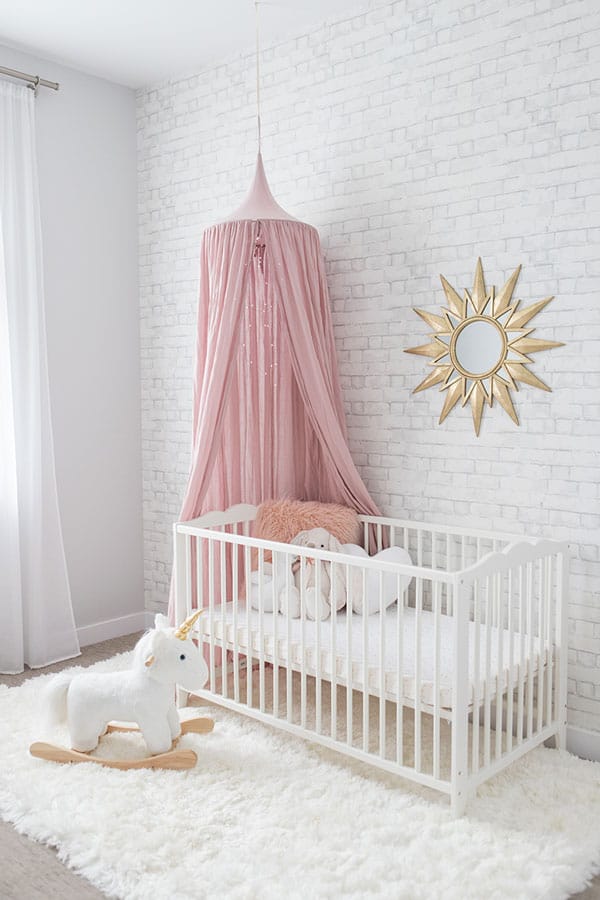 Pretty Little Details shares her fun accent wall in her baby girl's nursery.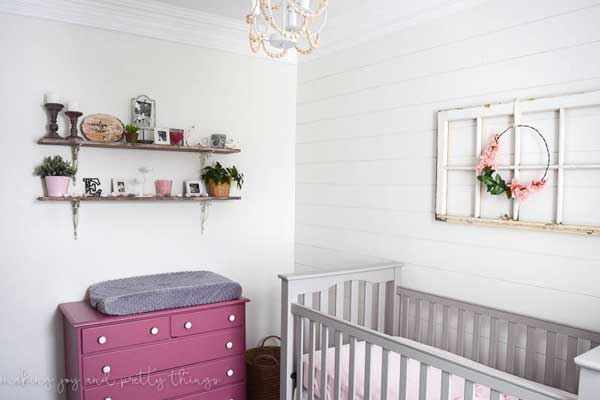 Making Joy & Pretty Things shows how to do an adorable farmhouse girls nursery with a DIY shiplap accent wall!
FLORAL GIRL NURSERY THEME
Oversize floral wallpaper is also a great baby girl nursery theme that never goes out of style. See these fantastic examples of floral nursery themes below!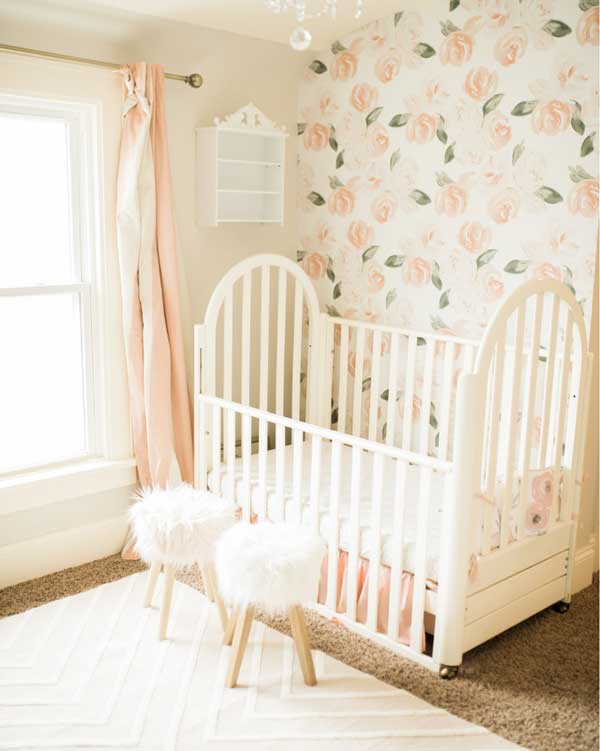 It's Simply Lindsay shows how to stylishly decorate a feminine and floral baby girl nursery!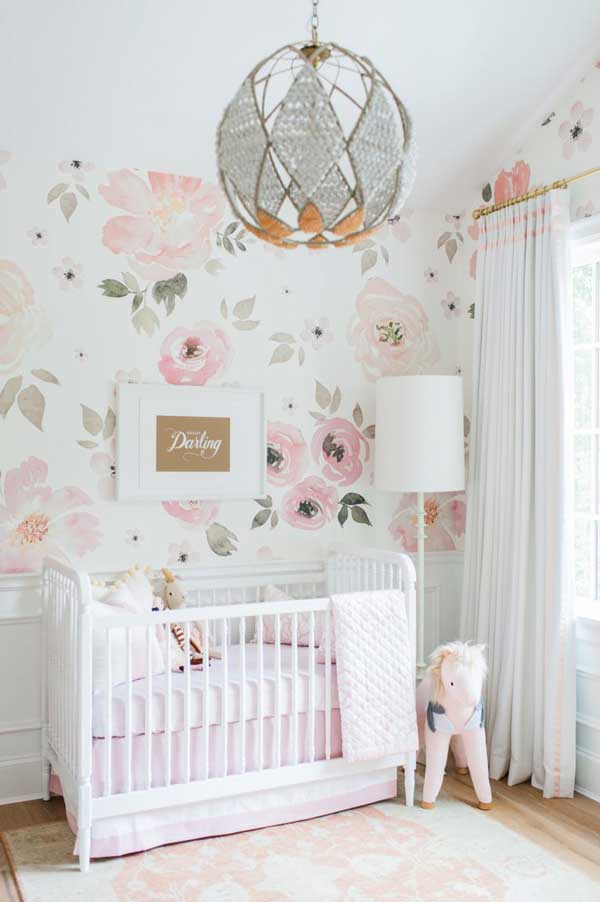 Monika Hibbs creates a simply stunning girl nursery for her daughter Lillya here.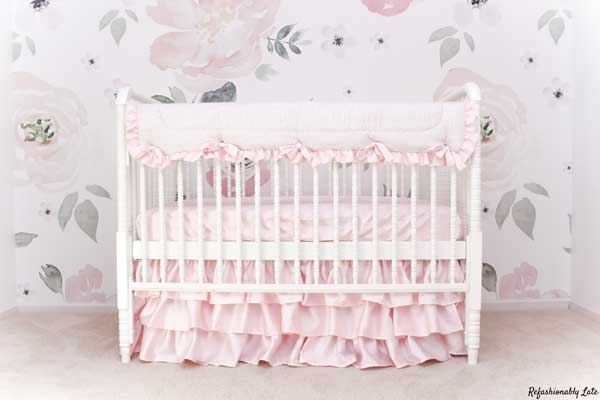 Refashionably Late shares her adorable floral girl's nursery that she completed in six short weeks!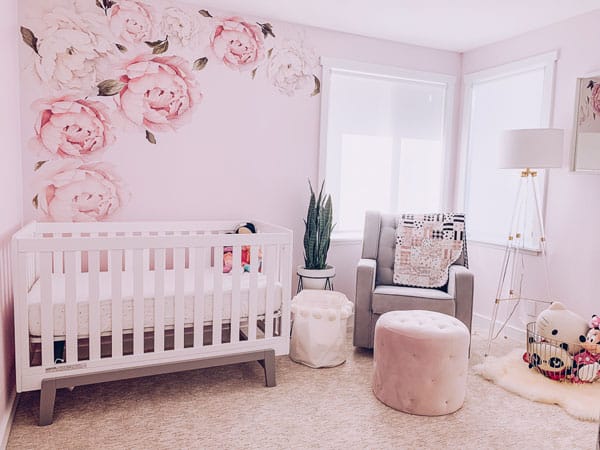 I am Style-ish shared her beautiful floral girl's nursery here!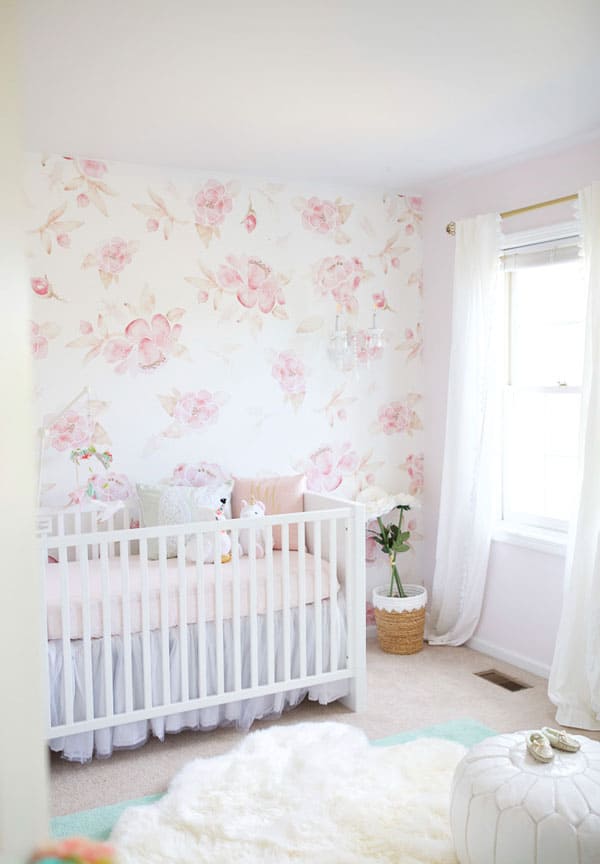 Happily Inspired shares her gorgeous floral nursery here for her daughter.
LIKED THIS POST? YOU'LL LOVE THESE: