Boy Nursery Ideas: Looking for adorable baby boy nursery ideas? Here are 17 of the best baby boy nursery decorating ideas and boy nursery themes! Plus, all the details on where to find the best baby boy bedding, curtains, and wall decor!
BOY NURSERY IDEAS
When you think of baby boy rooms, you might automatically think of pale blue and white. No doubt it's a classic that isn't going anywhere! Heck, I decorated my son's baby boy room decor in that exact colorway: navy blue, white, and french blue! It is still one of my favorite rooms! But if you want to do something a little different, the possibilities are endless! Here are several themes for baby boy nurseries that are absolutely classic and darling!
*affiliate links have been used at no charge to you see my disclosure policy here

UNIQUE BABY BOY NURSERY THEMES
Blue and White Bunnies Nursery: For my son's baby boy nursery room decor, I wanted to go with the classics–blue and white. I knew I wanted a bold blue and white wallpaper, so when I found our blue and white wallpaper (our's was discontinued–but this is exactly the same!) I knew I had to have it! See the entire baby boy room decor here!
Make sure you don't forget anything on your baby registry–see all my favorites here in one easy spot!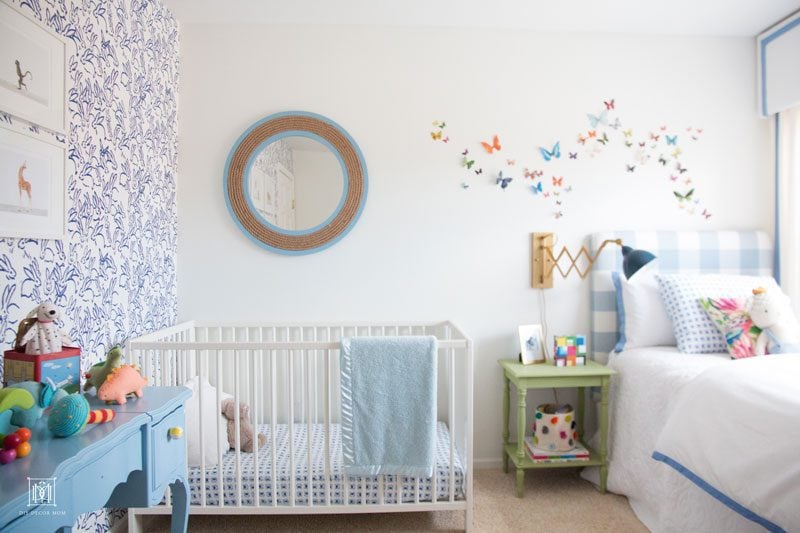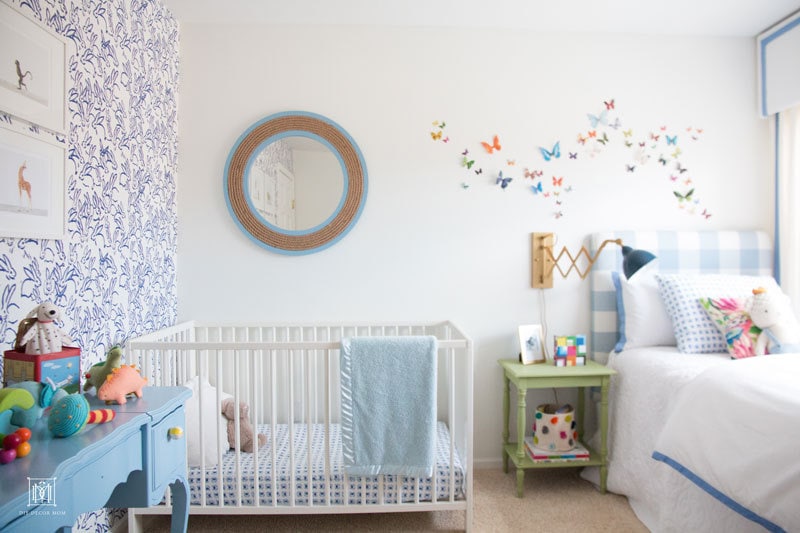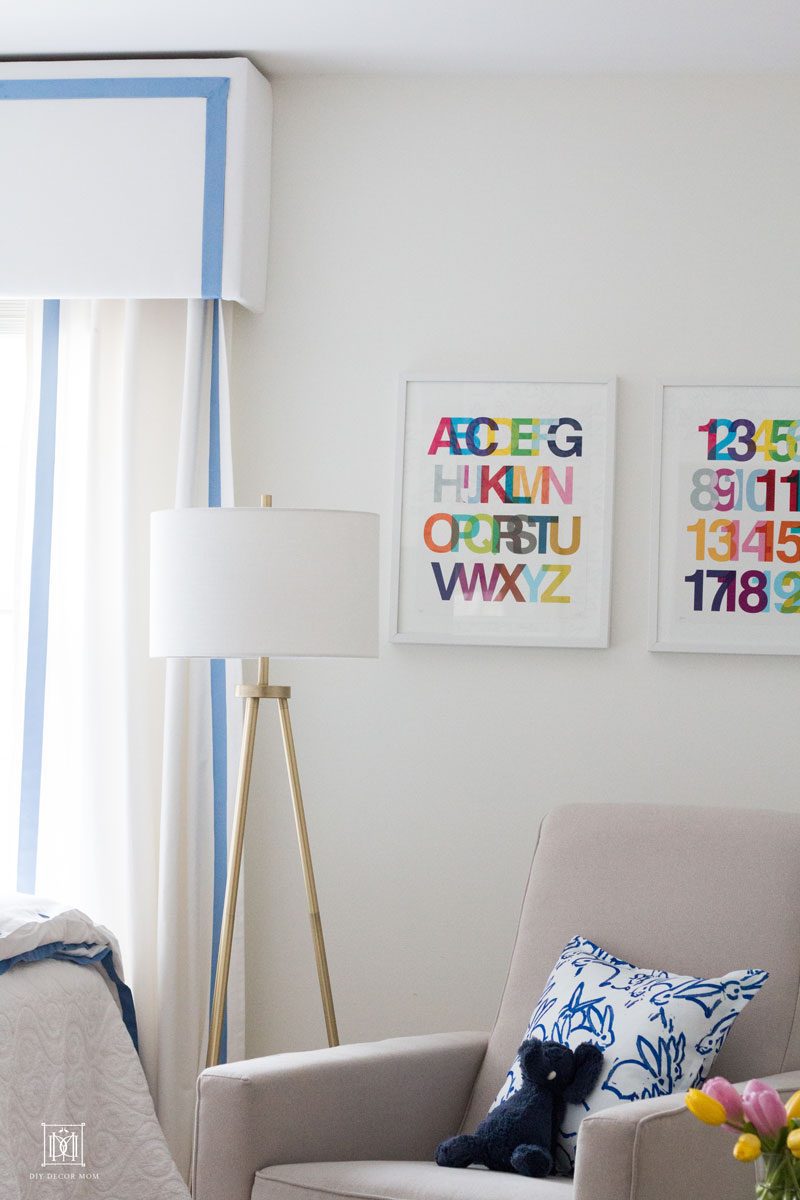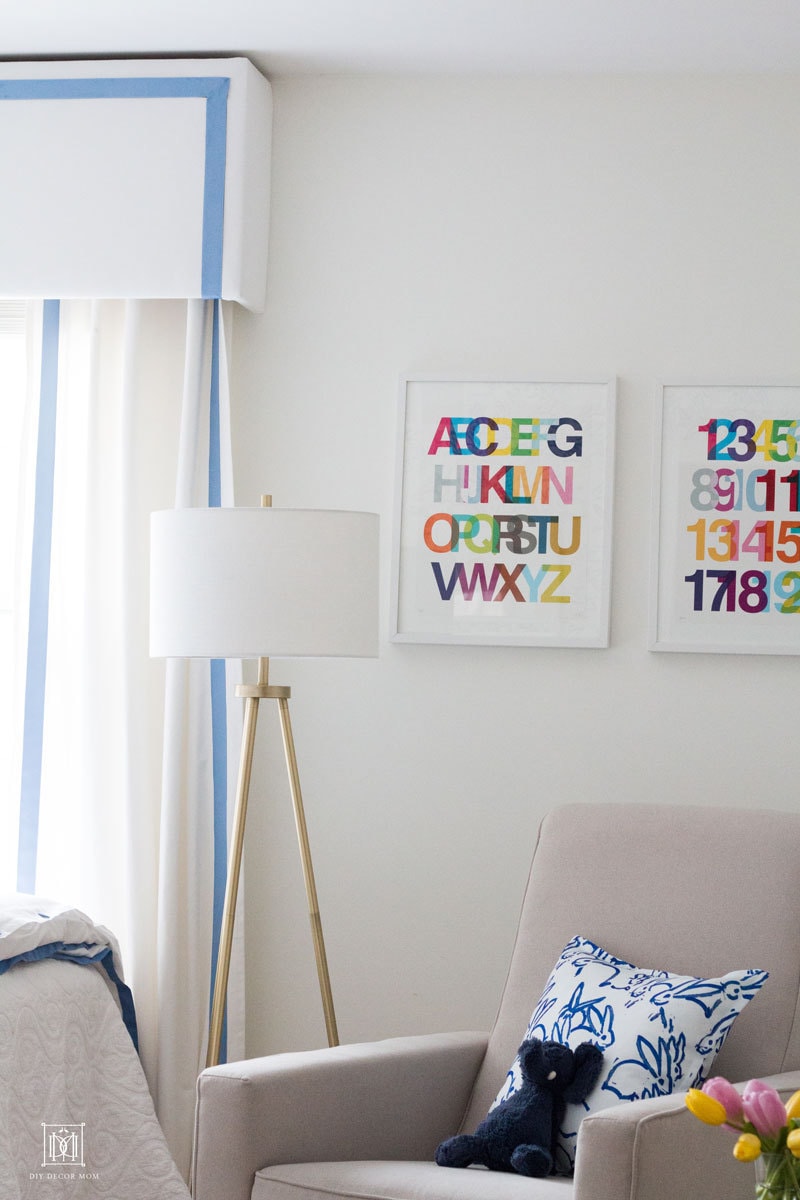 My son loves all things animal, so in addition to the blue and white bunny wallpaper, we added our favorite animal prints in inexpensive Ikea frames. See all the sources here including how to make the DIY window valance!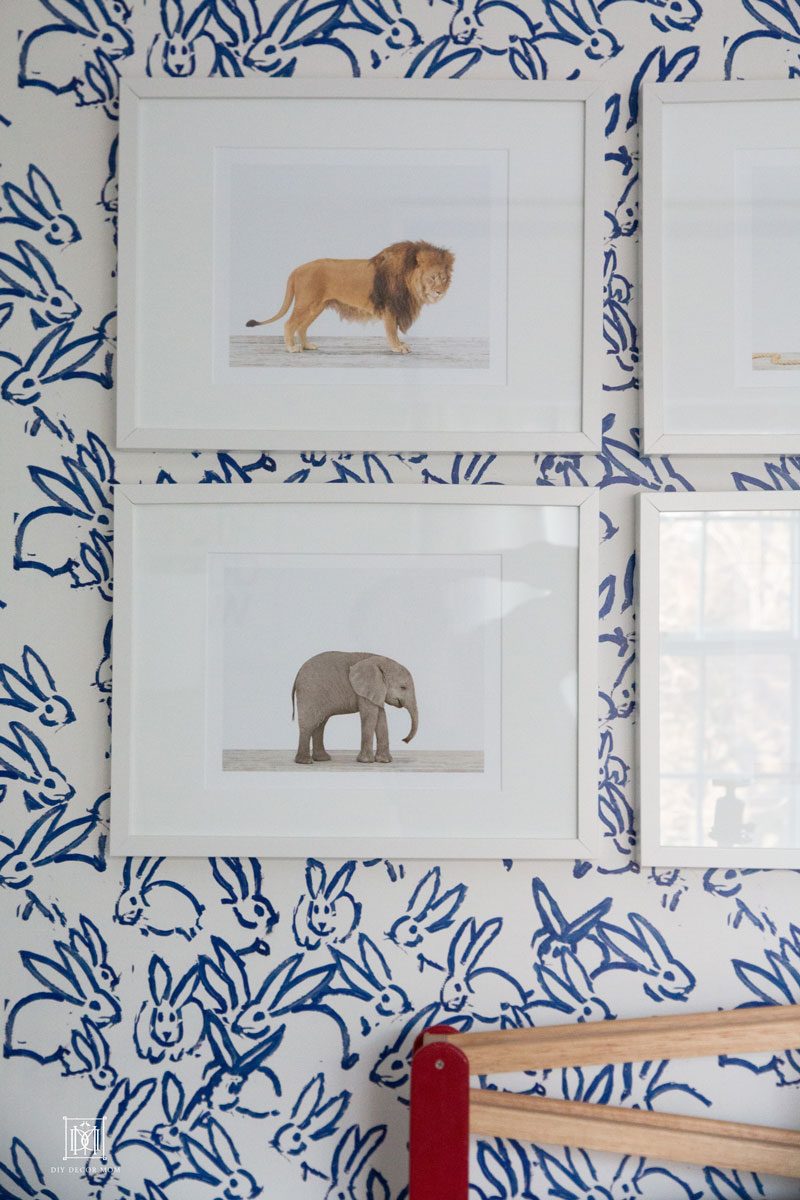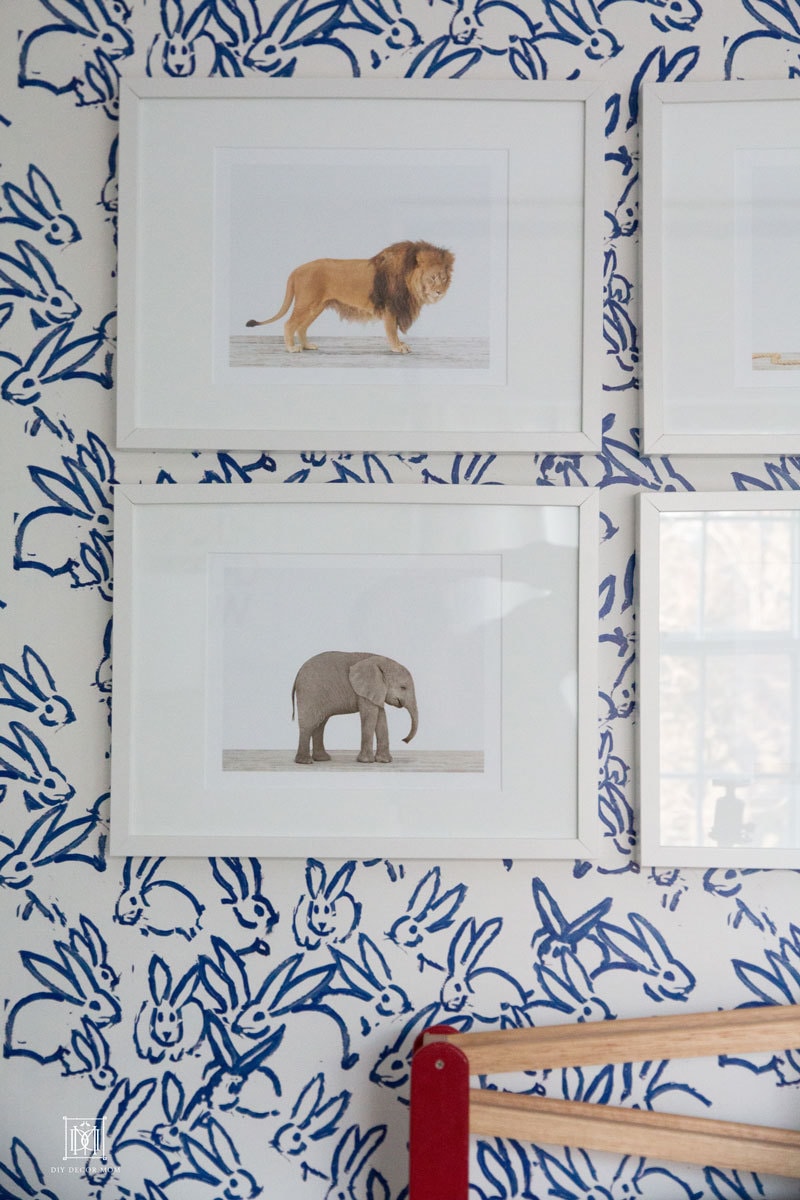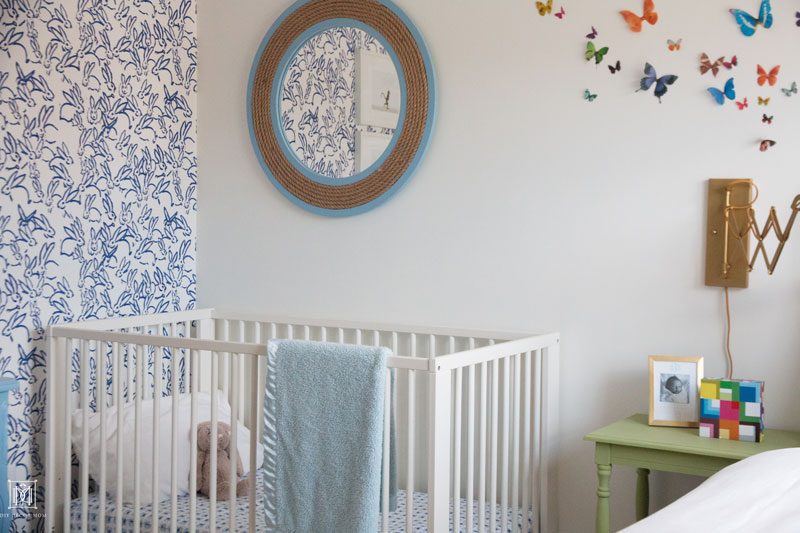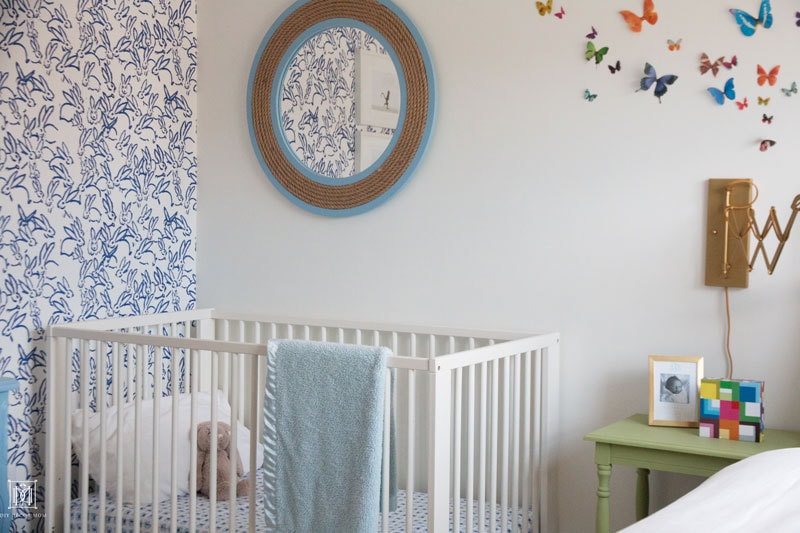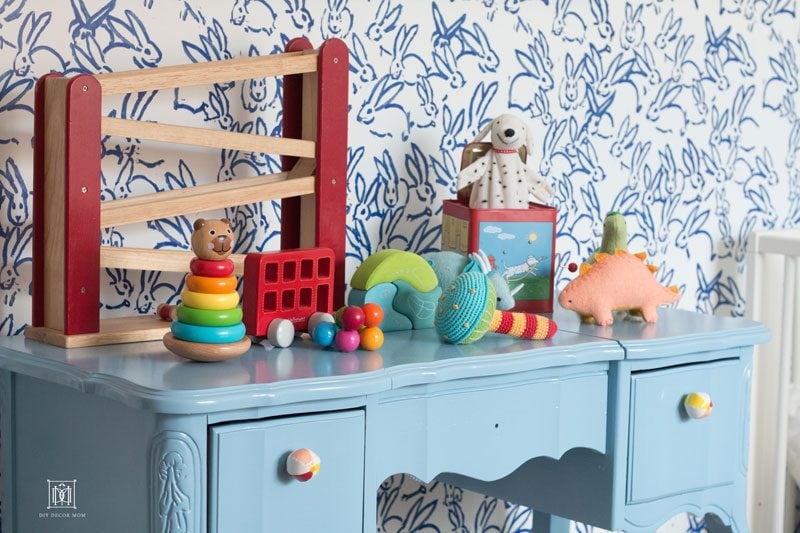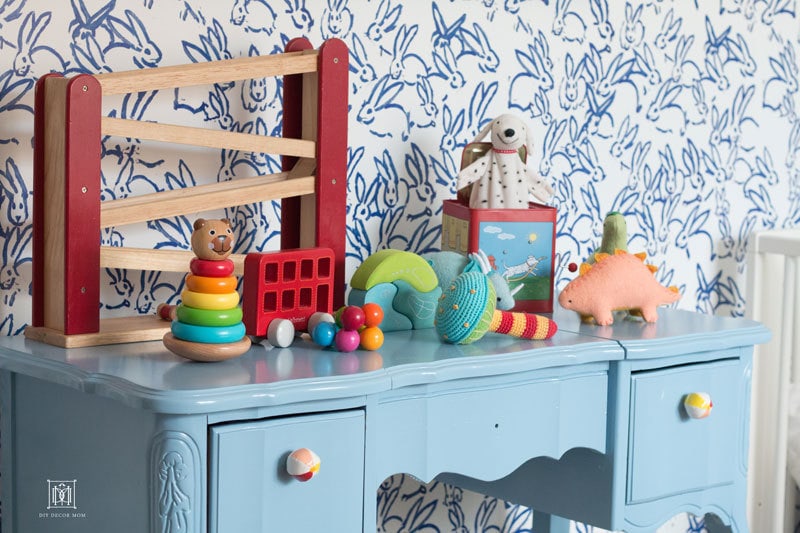 NURSERY IDEAS FOR BOYS
Blue and White Themed Boy Nurseries:
When designing our boy nursery, I found myself gravitating to French blue and white, and navy rooms on Pinterest, which helped me decide that I wanted a classic yet bold wallpaper to add some fun to our nursery. To keep it budget-friendly, we opted to only wallpaper one out of the three walls, but these rooms below can give you an idea of some more amazing blue and white wallpapered boy nursery ideas!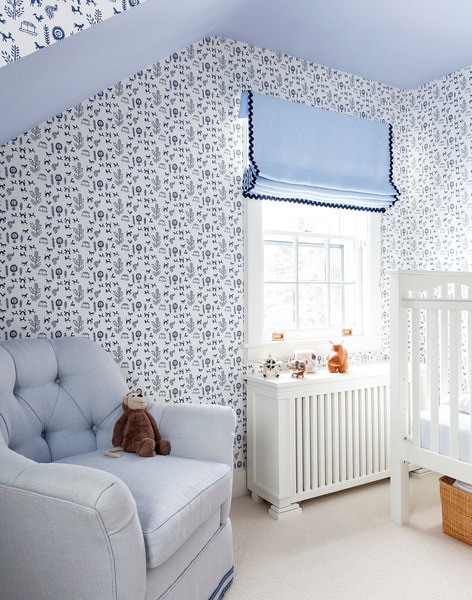 Celerie Kemble's preppy blue and white nursery is classic and unexpected at the same time. I love how she painted the angled ceiling to echo the linen shade, and that blue and white wallpaper is amazing!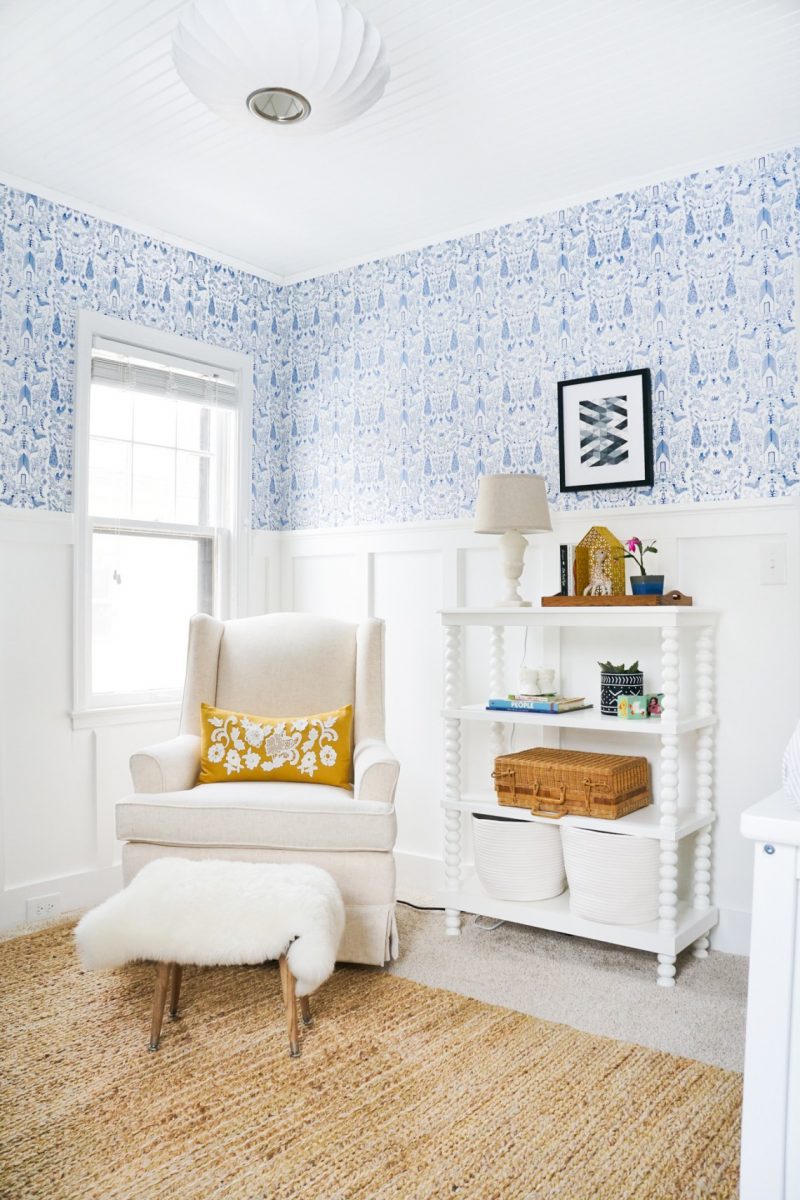 Francois Renovate's also played on a similar palette with this gorgeous light blue wallpaper! I love the board and batten installation–it keeps the room so airy (plus it's more robust for little fingers!)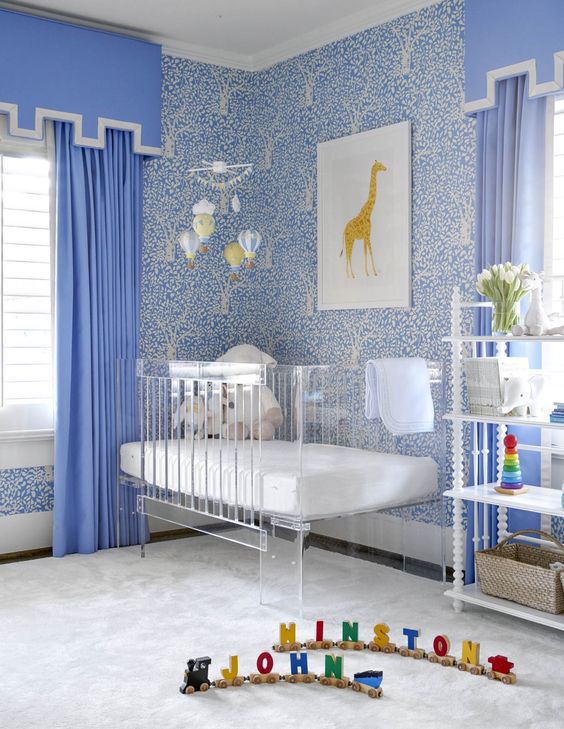 Amy Berry knocks it out of the park with this beautiful blue and white wallpaper nursery complete with the swankiest lucite crib I have ever seen. I might just have to move in 🙂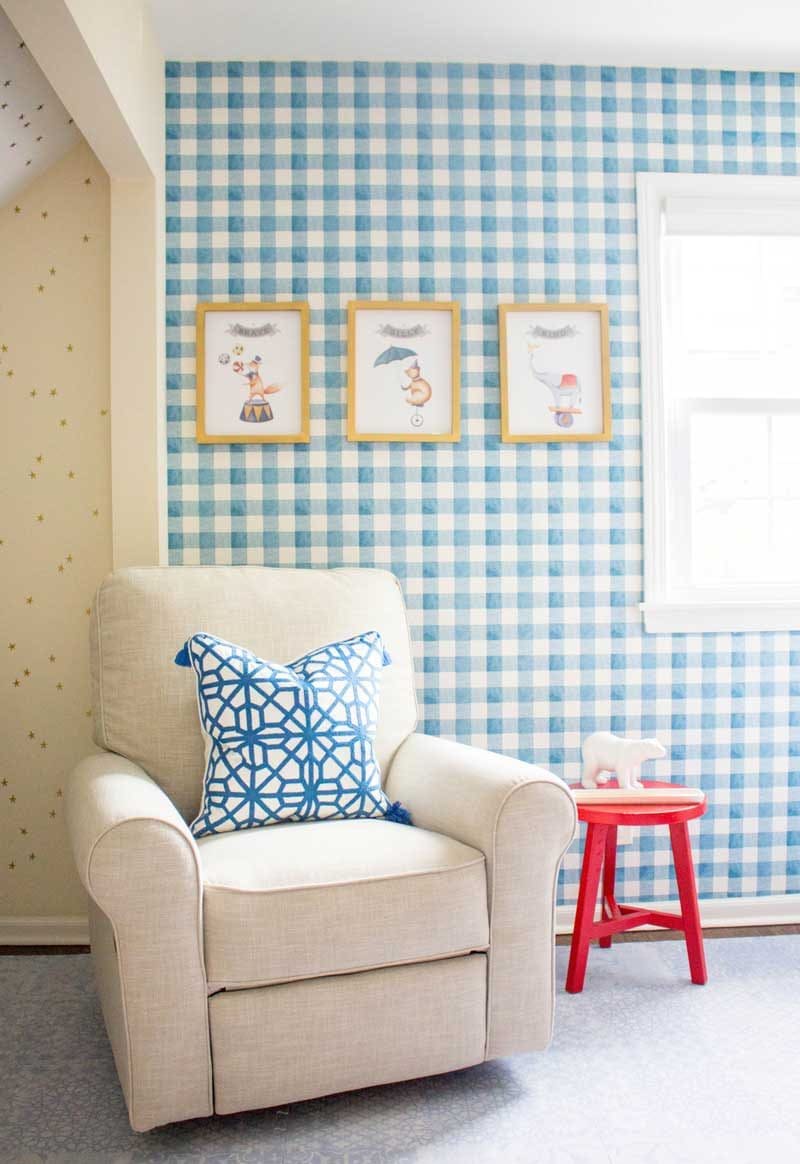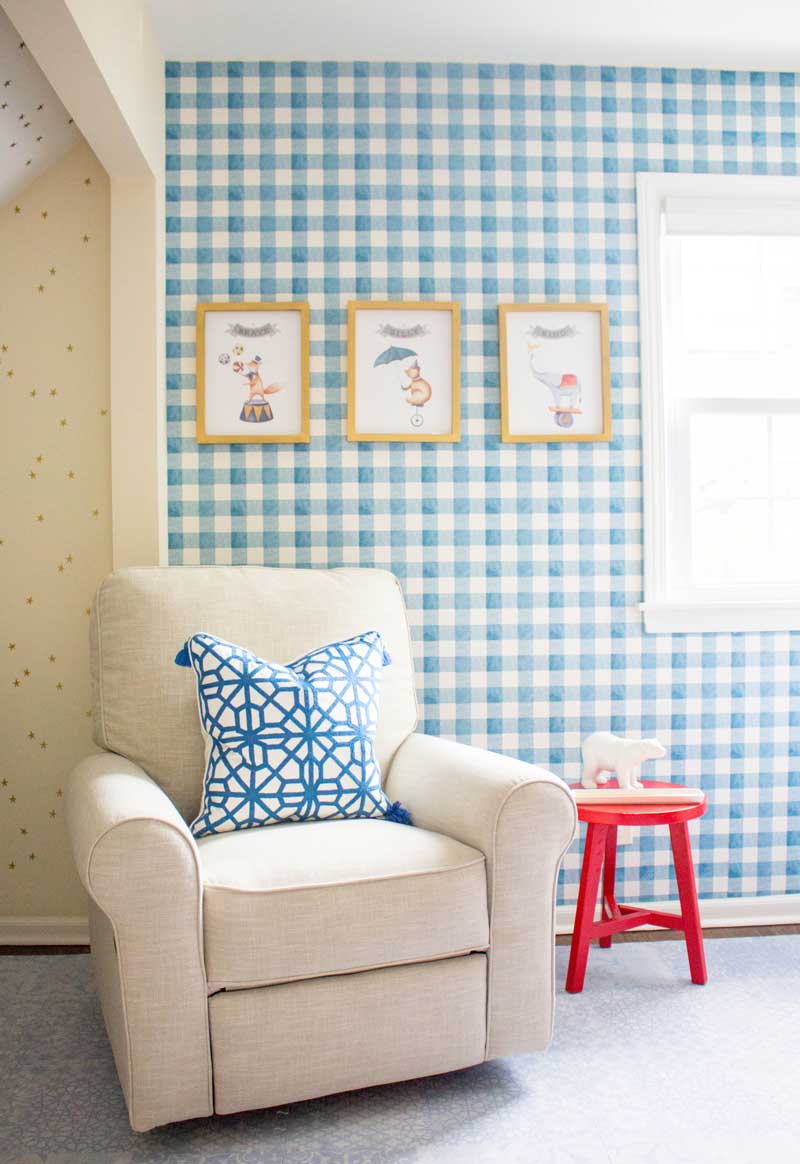 And can we just top a moment and appreciate this gorgeous blue and white buffalo check wall by my friend, Addie Gundry!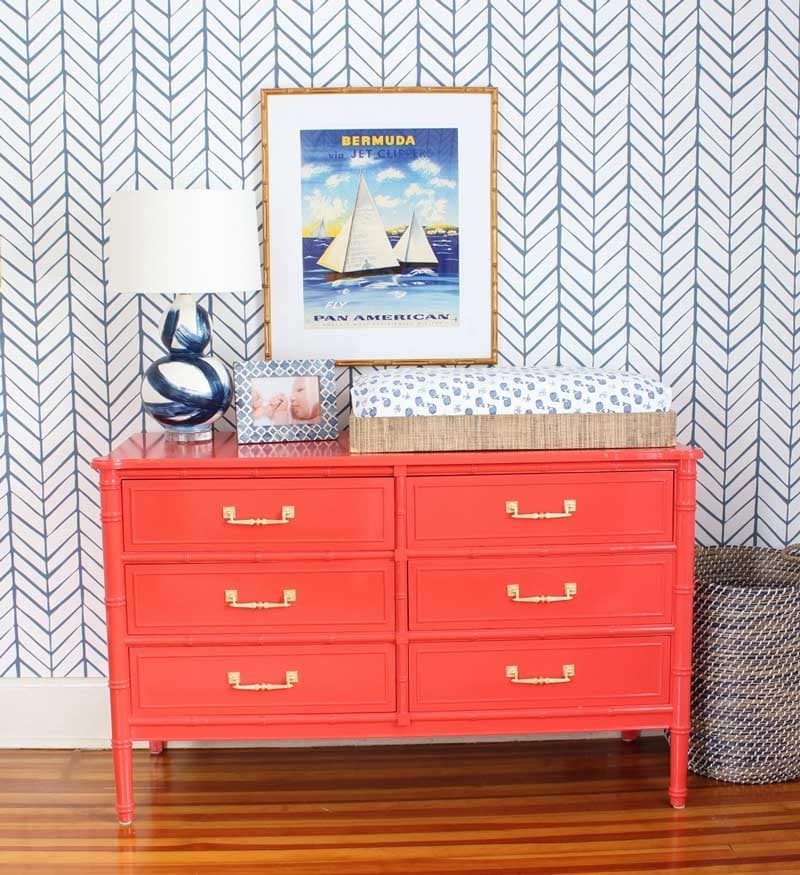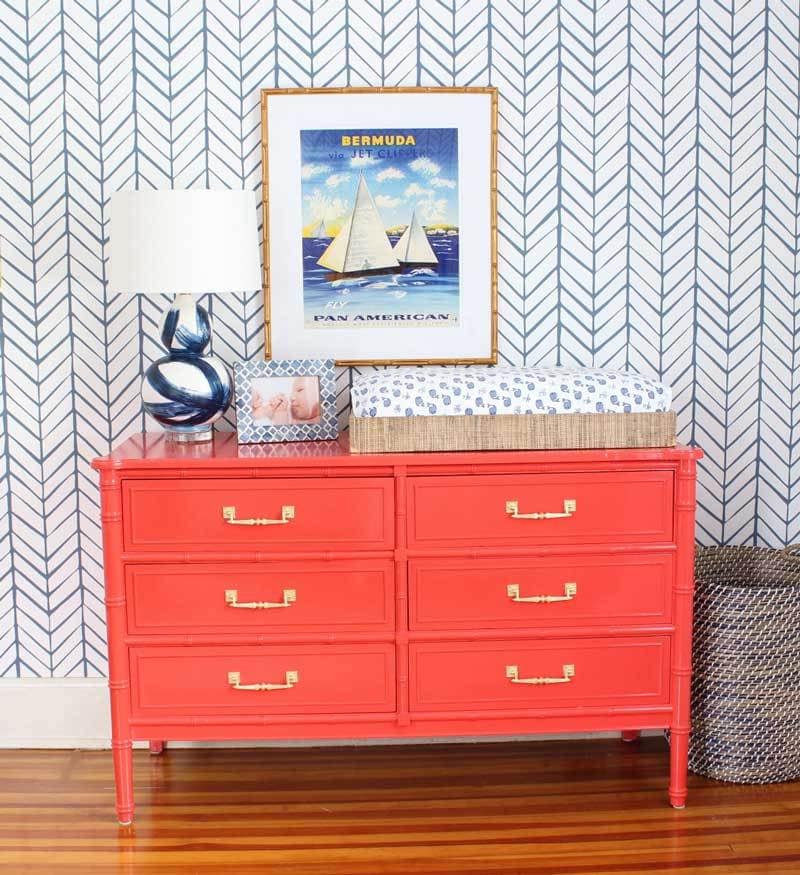 Kate Smith's preppy blue and white nursery has several of my absolute favorite fabrics!
RELATED: See NEWBORN MUST-HAVES YOU CAN'T LIVE WITHOUT HERE
PIN THIS FOR LATER SO YOU DON'T FORGET IT!

BABY BOY NURSERY IDEAS
Baby boy nursery ideas are so fun to come up with! To make it easier for you, I have broken it down into several different categories: neutral boy nursery ideas, modern boy nursery ideas, colorful boy nurseries, and unique boy nursery themes! Plus, I share even more unique boy nursery themes that would work great in any house!
Neutral Boy Nursery Ideas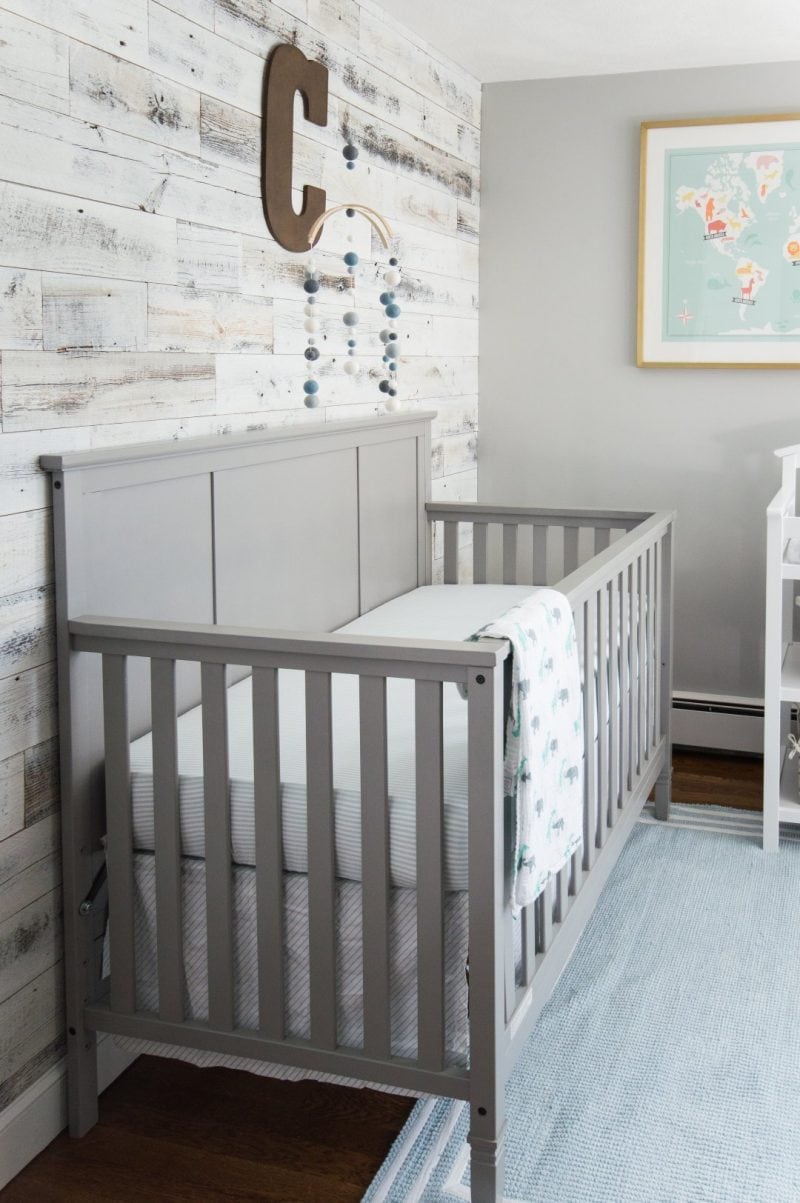 Jenna Kate at Home's Nursery Reveal gives me so many wonderful boy nursery ideas–I love that distressed wood wall!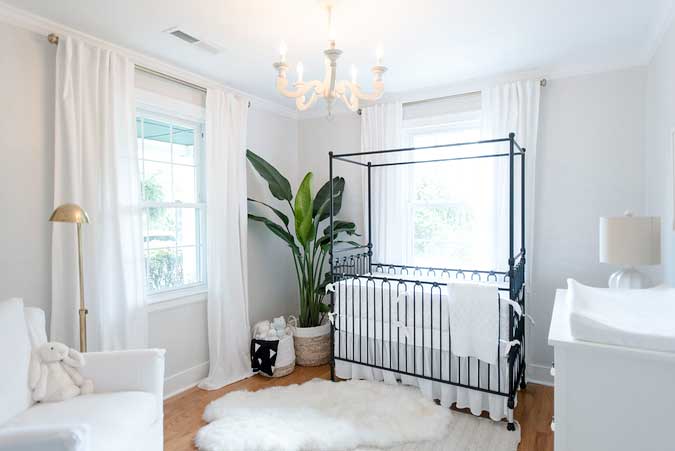 A calming yet beachy boy nursery from Holy City Chic is the perfect beachy Charleston nursery!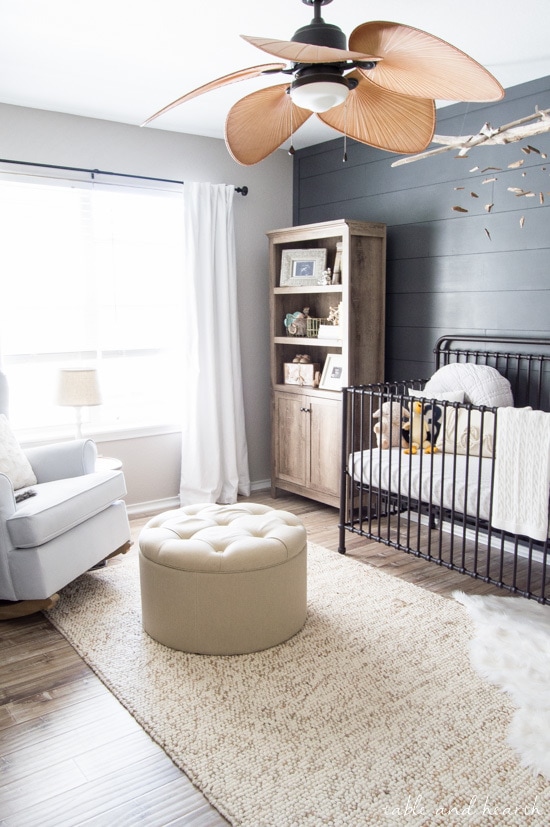 Table and Hearth's Calm and Coastal Neutral Nursery is stunning! I love that fan and the gray accent wall! This is a great room full of boy nursery ideas that will age well!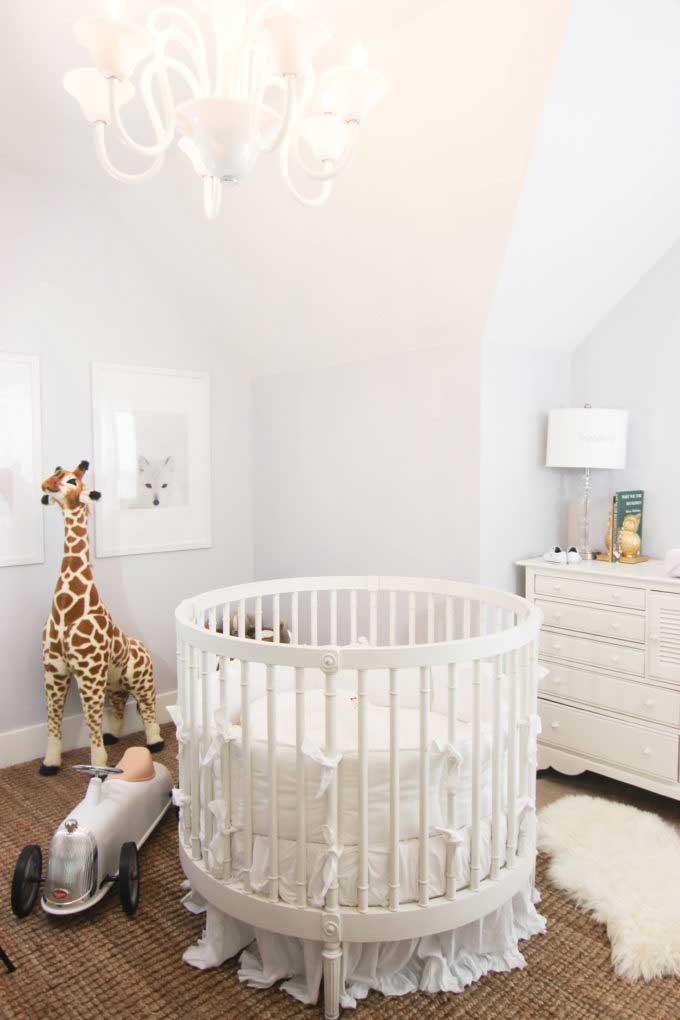 Serene Nursery by Simple Nature Decor Blog makes me crave all the neutrals! I love her crib and that shelf is to die for! So many amazing boy nursery decorating ideas!
SEE MY FAVORITE LIGHT GRAY PAINT COLORS HERE.
Baby Boy Nursery Ideas Modern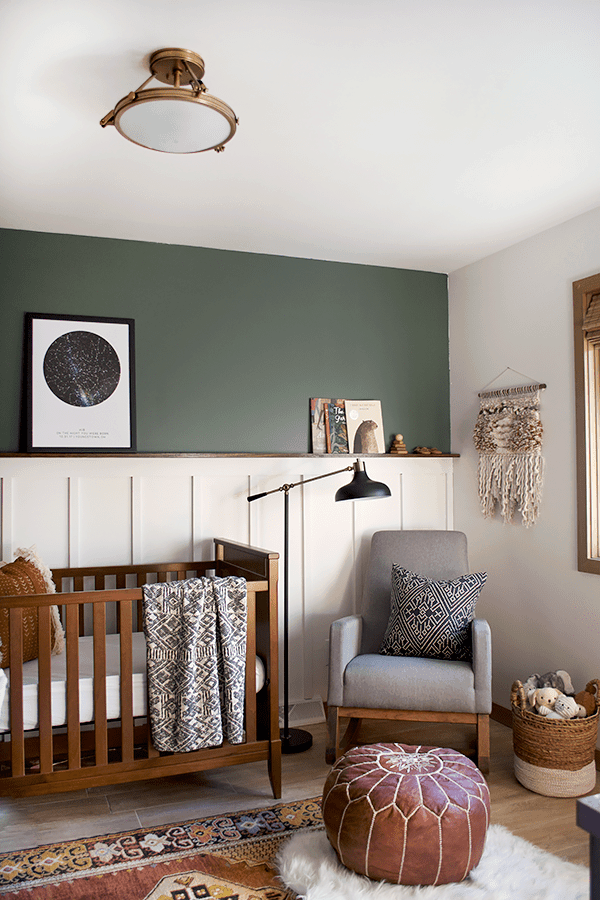 I love all the natural tones in this Modern Vintage Nursery by BrePurposed.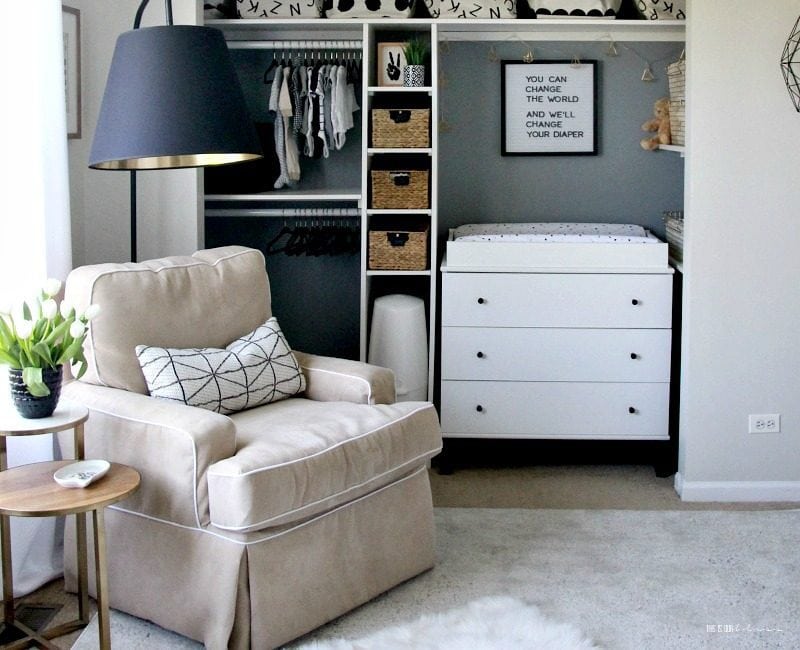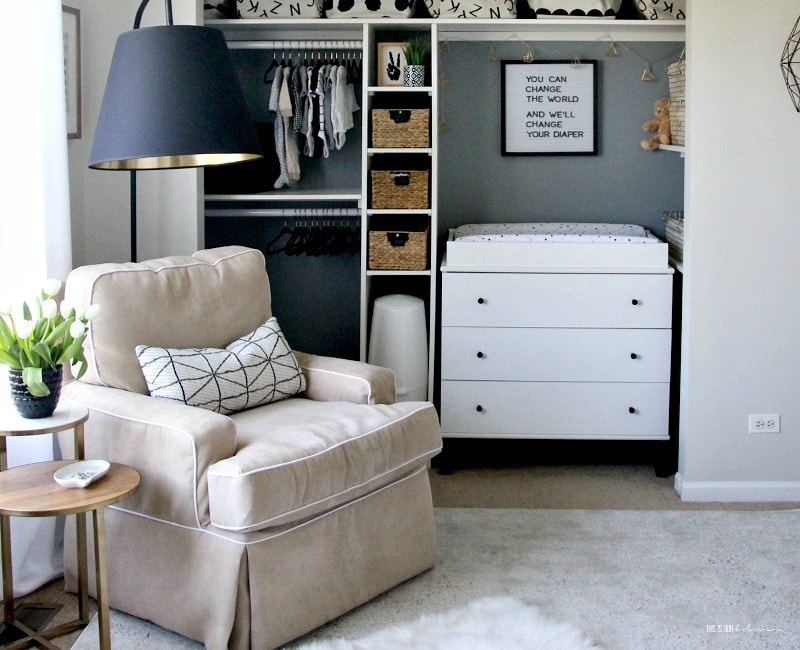 Sophisticated Gender-Neutral Nursery by This Is Our Bliss that my friend Rachel DIYed for the One Room Challenge while very pregnant!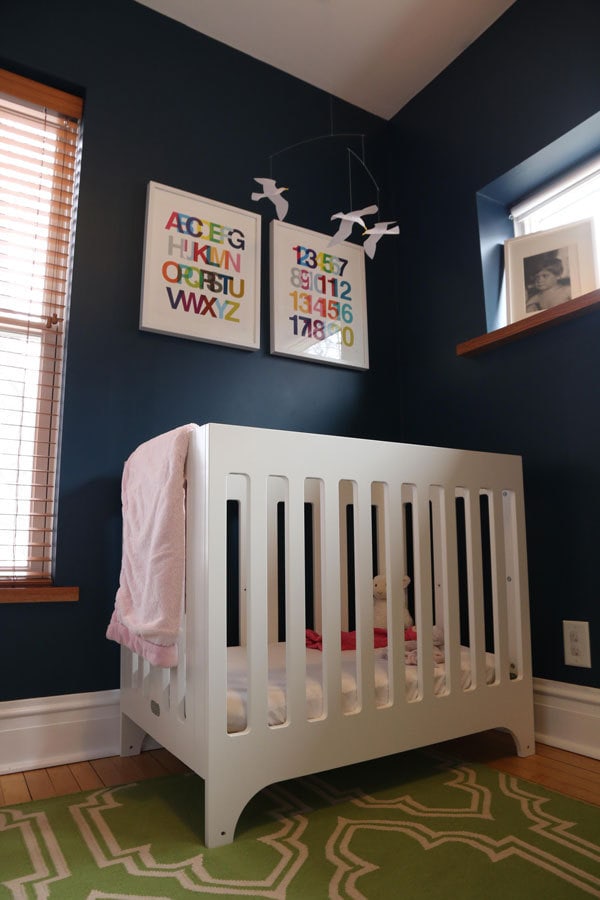 Our first nursery in our old apartment was blue and white with pops of pink. I was absolutely sure that our first was a boy (we waited to find out the gender with all three of my kids) and wanted our nursery to reflect our love of sailing, so we made a nautical nursery that ended up working great for a girl too!
Favorite Modern Nursery Decorative Items:

Colorful Boy Nursery Ideas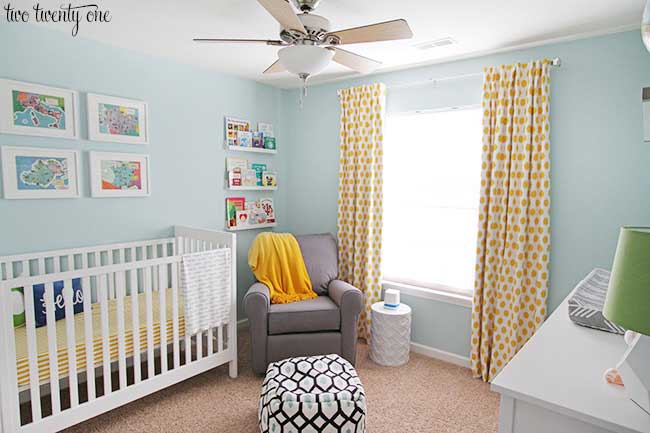 My friend, Chelsea, from Two Twenty-One made the cheeriest bright and colorful nursery! She recently had her second son, and I can't wait to see her second boy nursery for all the boy nursery ideas!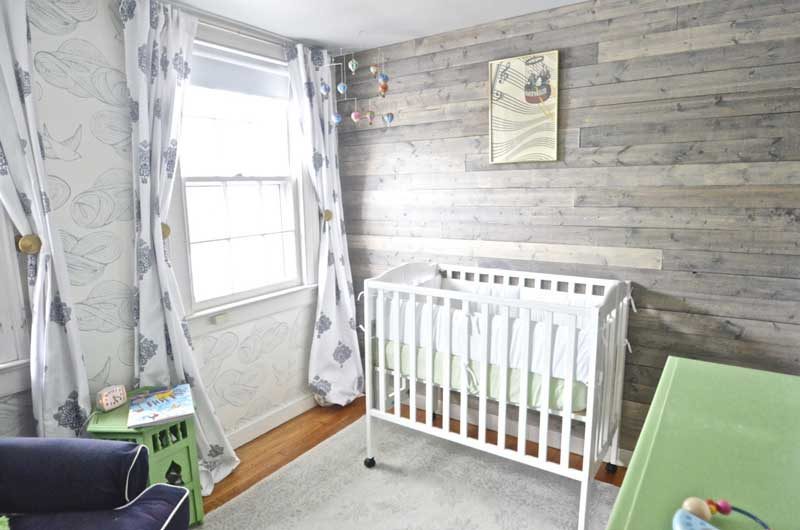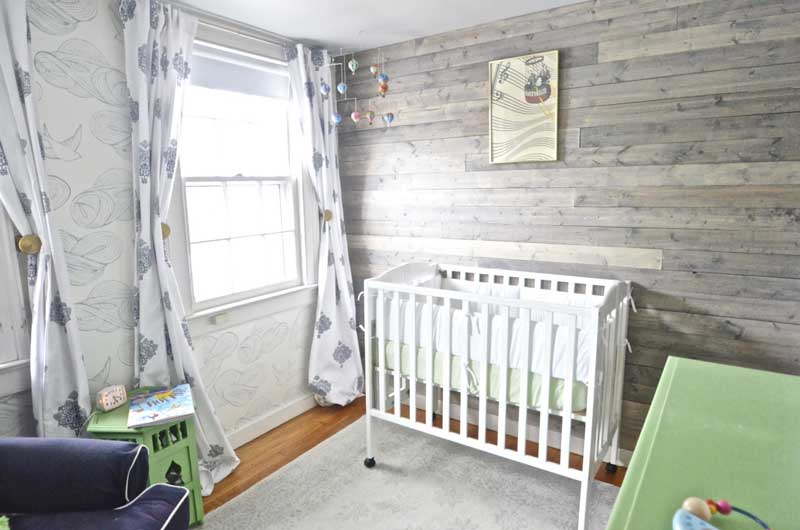 At Charlotte's House Neutral Nursery, you all know I love Charlotte, and don't think she can ever do any wrong with decor, and this gender-neutral nursery for her youngest son is a stunner.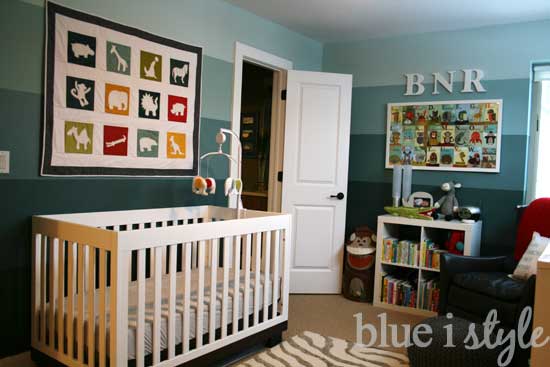 Gender-Neutral Colorful Nursery by Blue I Style shows how to combine a love for color in a gender-neutral nursery! I adore the giraffe decal on the wall! Such cute boy nursery ideas!
Here are some of my favorite colorful boy nursery decorative items:

Unique Baby Boy Nursery Themes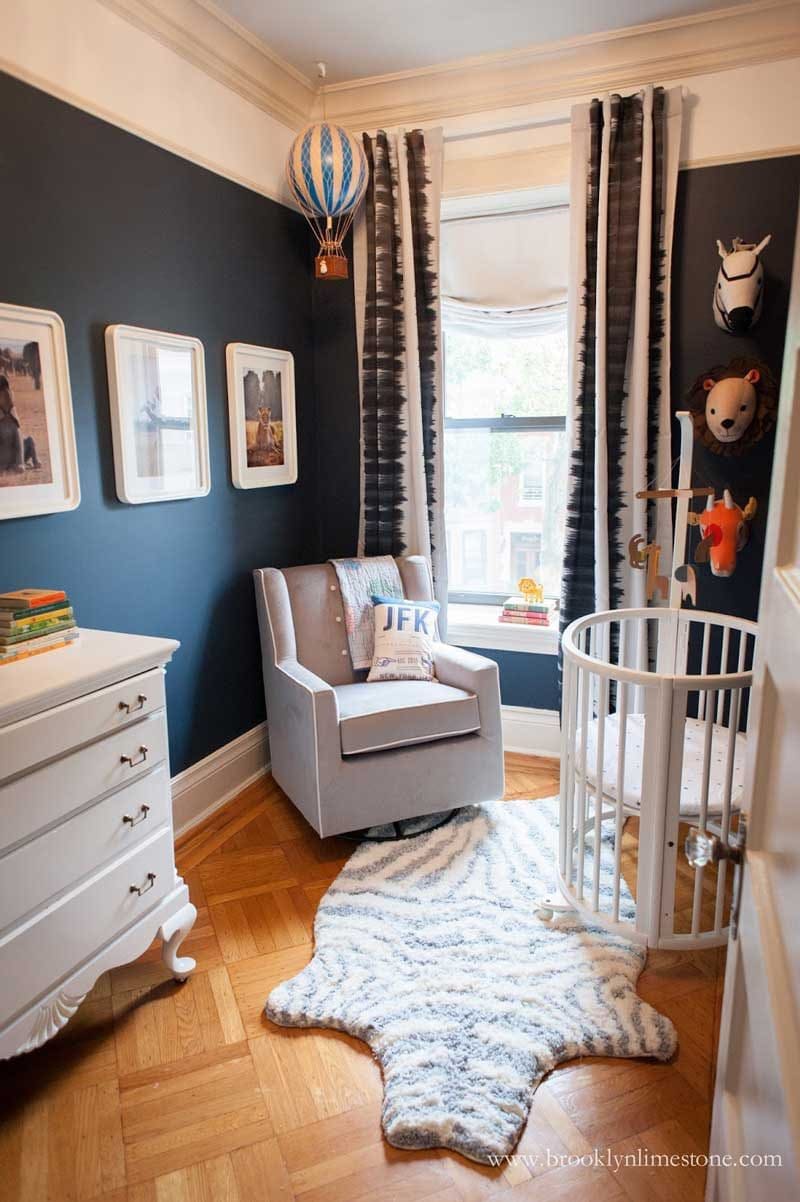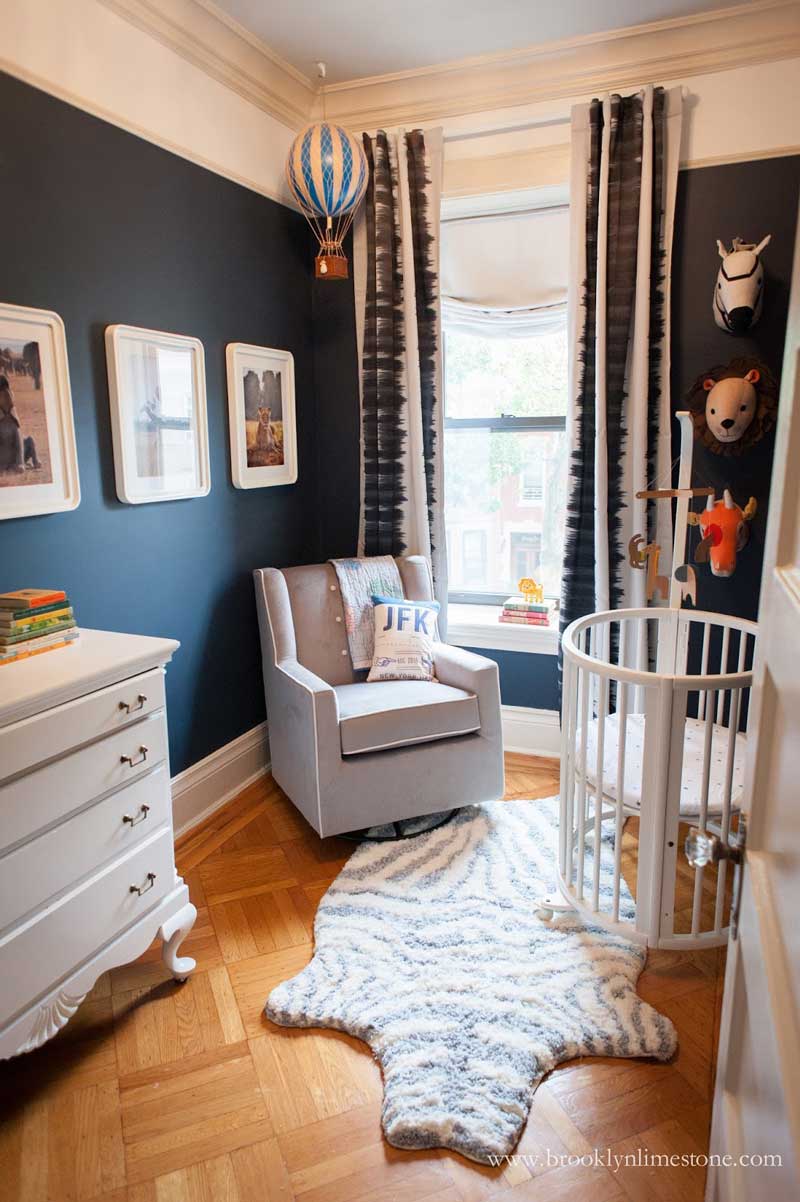 Safari Nursery by Brooklyn Limestone again drops the mic with this terrific safari-themed boy nursery! Those stuffed-animal heads mounted on the wall make me want to redecorate our boy nursery!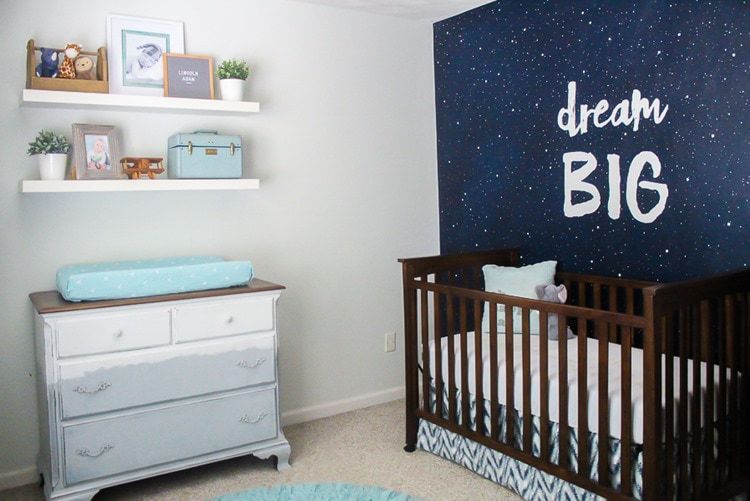 Starry Nursery by Lovely Etc is a classic combo and is full of creative ways to decorate your boy nursery!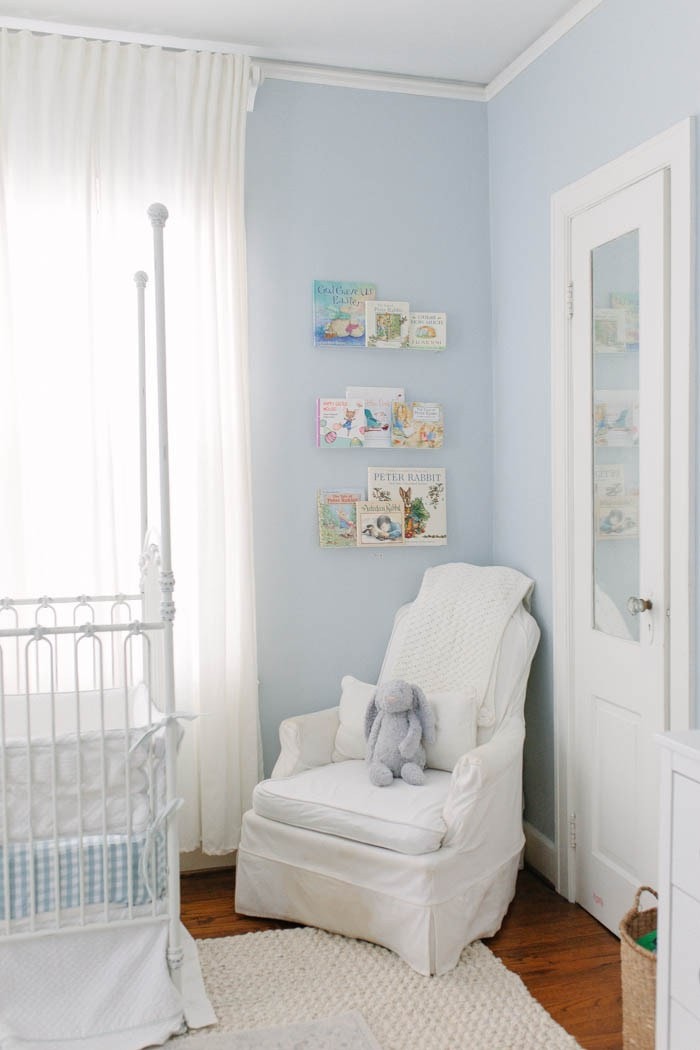 Puppy Dog Nursery by Southern Mama Guide makes me want to repaint our nursery light blue! And a puppy dog themed nursery is such a unique boy nursery idea I love i!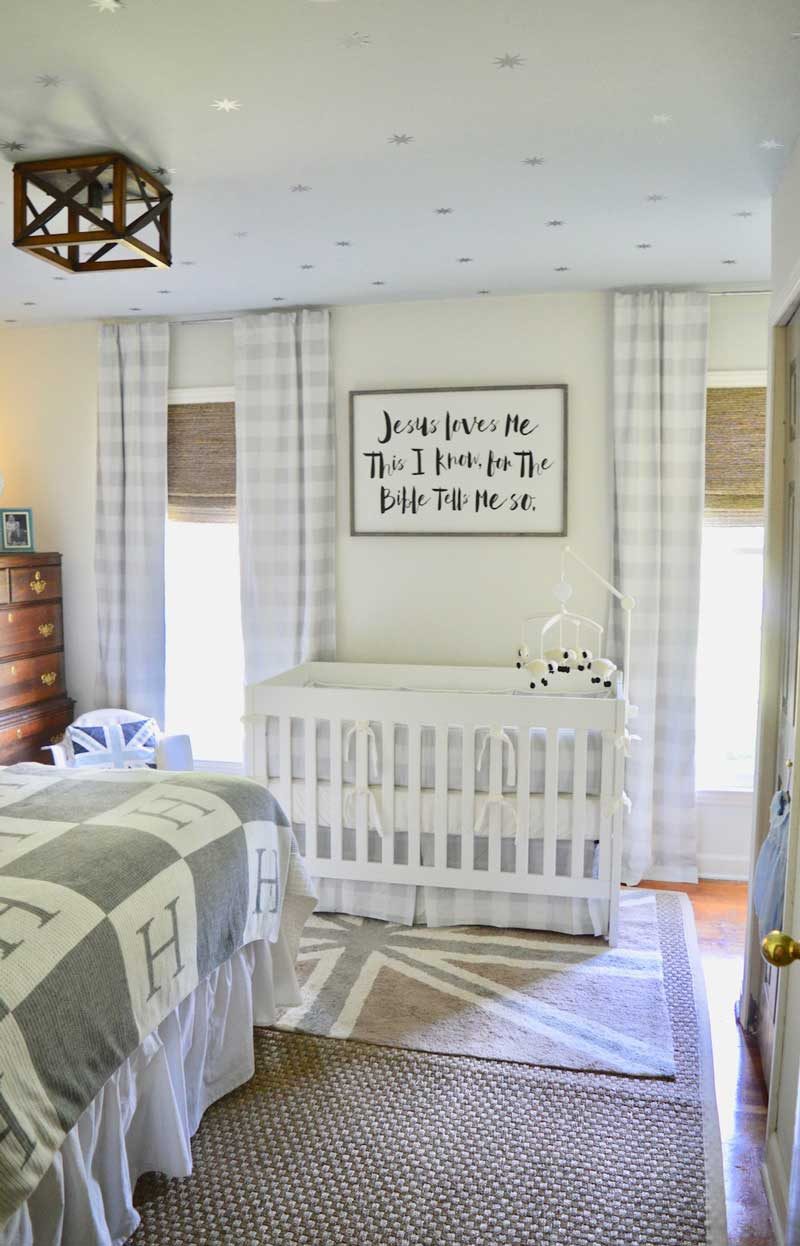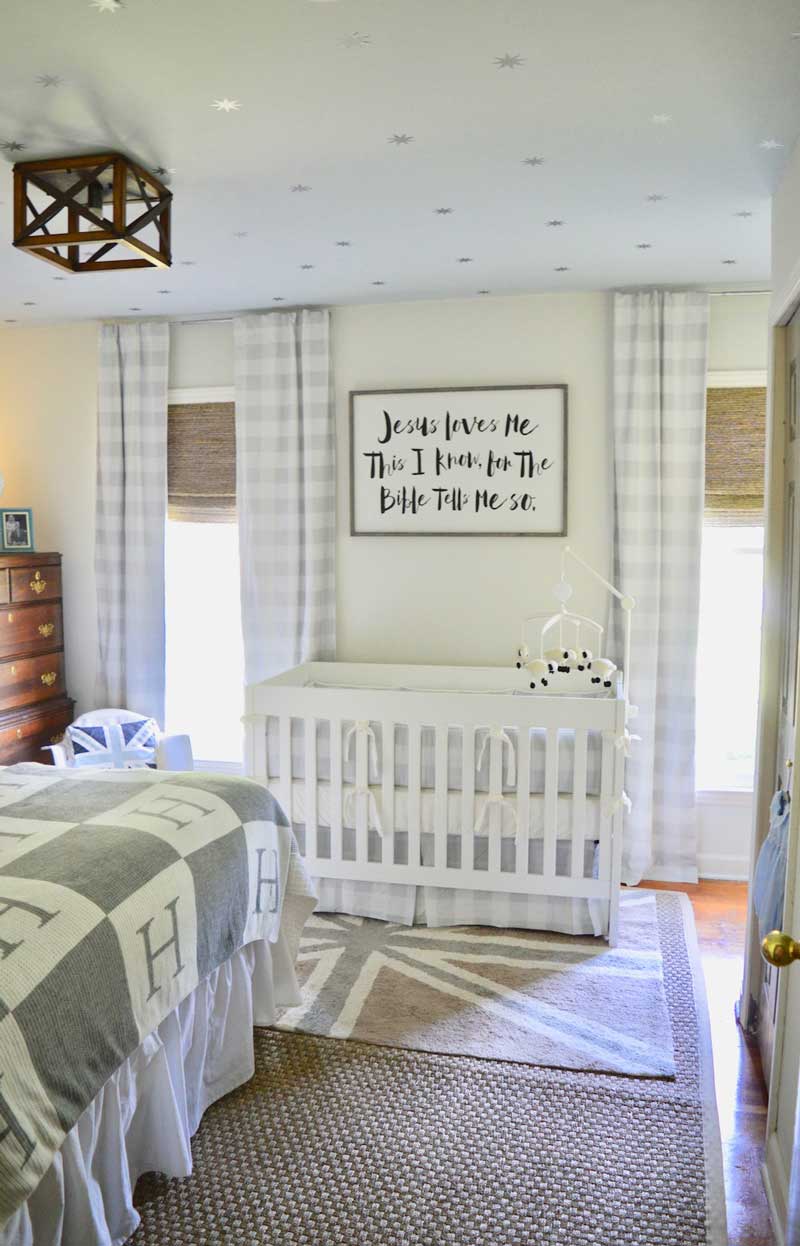 A Neutral English Nursery by Hope Heart and Home (formerly Elise and Hope Blog)–this was Elise's son, Sterling's nursery in honor of his father who is British. It is absolutely stunning!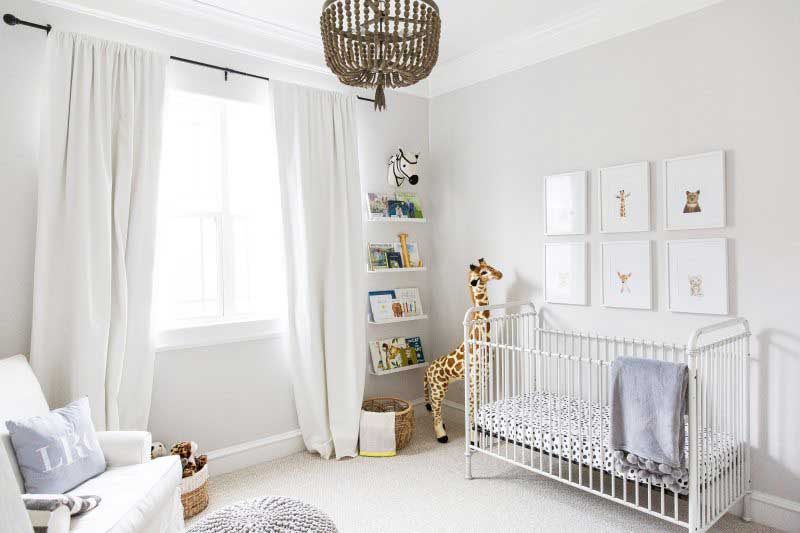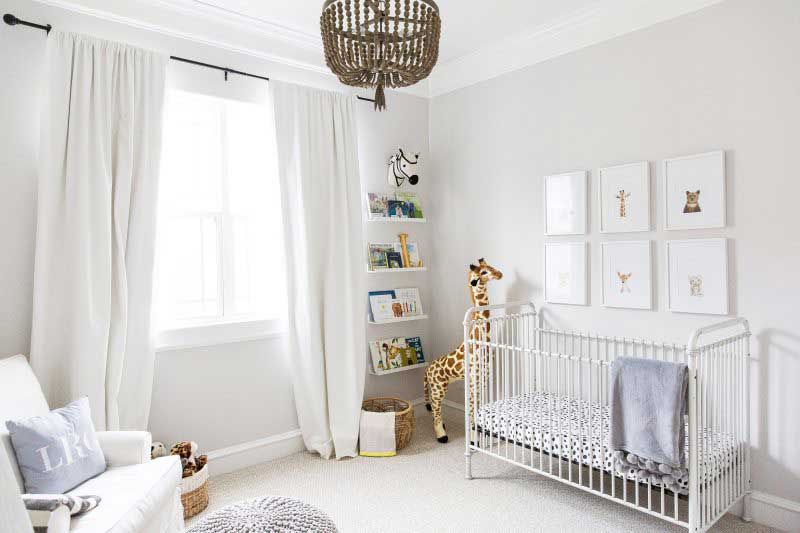 An animal themed nursery that is calm and playful by Veronika's Blushing shows that even with neutral walls, you can make a room boyish and fun!
Boy Nursery Themes:
Cowboy-themed nursery
Camping nursery
Little Prince nursery
Woodland-themed nursery
Under the sea nursery
sports-themed nurseries
outer space themed nursery
Peter Rabbit themed nursery
Wild West themed nursery
Where the Wild Things Are nursery
Little explorer themed nursery
Color Schemes for Boy Nurseries:
As you can see, the possibilities are endless with boy nursery color schemes! You can go rainbow, you can go classic blue and white, you can grow green (one of my favorites), or you can stick with the neutrals! If you want a neutral nursery, make sure to check out my favorite neutral paint colors here! And if you are wanting to go bolder, then check out my best navy paint colors here! (See all our entire house paint colors here).
My Favorite Boy Nursery Ideas for Decorating
Decorating baby boy nurseries are way too much fun! Below, I rounded up some of my favorite boy nursery accessories so you can design your own nursery easily for your little boy!
*affiliate links have been used at no additional cost to you see my complete disclosure policy here