Well guys, another week and not a ton to show as far as progress (the big pieces are being painted) but I wanted to share with you what has been done so far, and what I am working on. We had planned to paint this weekend but when it poured rain (we were going to use our paint sprayer) we chose to declutter the house instead. So, this week we have a fire under our butts to get stuff done!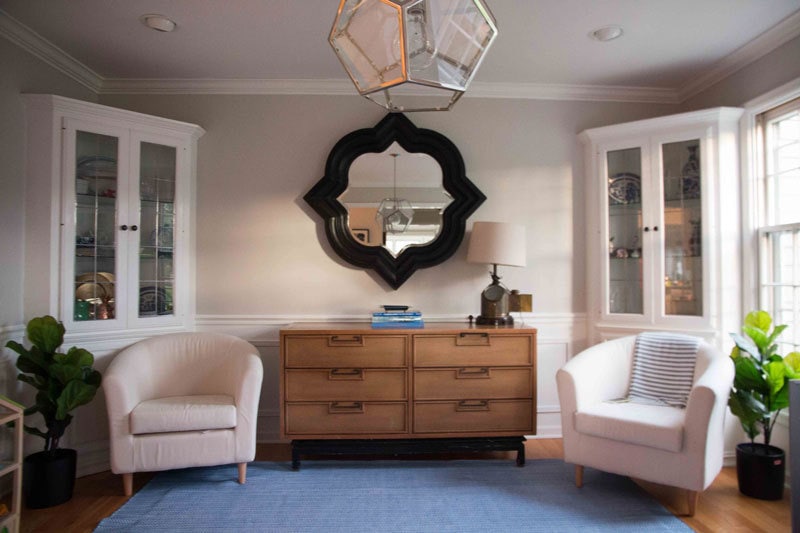 So to refresh, here is our To DO List: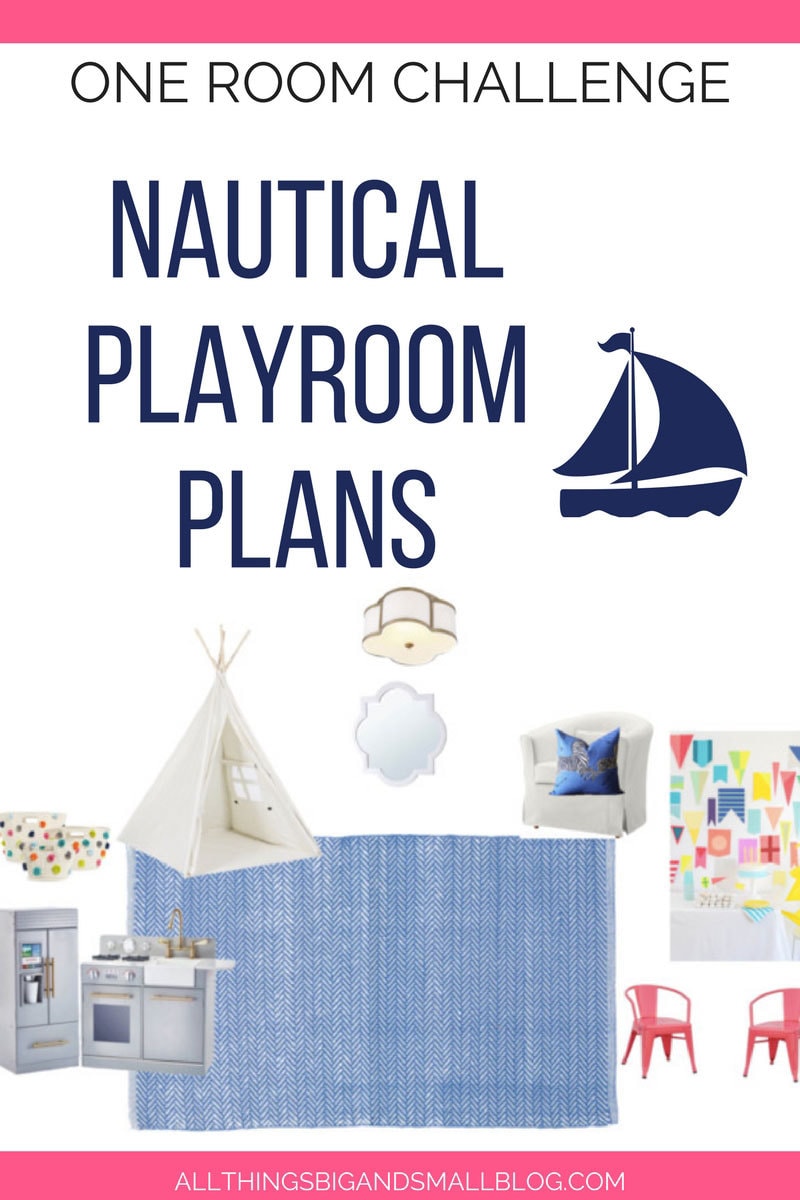 TO DO LIST:
Kids table and Chairs
DIY a Bulletin Board with Decoration and Kids Art-

I ordered the fabric and just need to buy some backing!

Play Kitchen
Paint Vintage Dresser/ Sideboard

We inherited a vintage dresser from my parent's cottage and it needs some TLC. It is a campaign-style dresser so we are going to paint it navy!
UPDATE: We have primed it and are in the process of painting it with our paint sprayer. Pics to come next week!

Lighting

We will be installing a new overhead light this weekend in place of the current chandelier (which will be relocated)
I will also be adding two new table lamps to the side table to warm up the space I have added one large brass lamp that I inherited from my mom. It is AMAZING and even has a compass in the bottom!

Chairs

Currently, there is nowhere for an adult to sit except on the floor, I plan to add two chairs (possibly Ikea white Tullsta chairs that we inherited from my parents with new slipcovers.) Added two Ikea Tullsta chairs to the space and am foregoing slipcovers until necessary
I am going to order two pillows (one for each chair)–can you guess which ones I am going to use?

Floor Cushions

The new rug is amazing and softer than expected; but, some floor cushions would be a welcome addition since the kids play so much in there on the floor.
I am planning on DIYing some floor cushions in the shapes of nautical flags with some fabric I had squirreled away

Kid's Teepee with Burgees

We already have a DIY Teepee which the kids love, so I am going to make a cute burgee garland for it

Artwork

The walls are pretty bare. We have some artwork in there already but plan on adding more since what we currently have is too mature and not really "playroom-esque."

Paint Quatrefoil Mirror

The black quatrefoil mirror from HomeGoods that was previously in our family room, will be painted white and hung in the playroom. It is a large mirror which will reflect lots of light. UPDATE: It has been sanded and is ready for primer.

Builtins with wallpaper fronts

The current builtins house all of my china; but, I don't want to move it all. And since we don't need more toy storage, I will continue to keep my china in there and just cover the glass windows with a fun wallpaper.
I think this wallpaper/ will bring a nice nautical touch. UPDATE: Depending on how busy everything is, we might use the wallpaper and might just keep it white or navy solid color.

Blinds

This room is on the south side of the house which keeps it nice and toasty warm and sunny. In the winter it is really nice, but it can get hot in the summer. So we plan to add some bamboo blinds to the windows which will match our living room.

Thermostat- UPDATE

We are adding this baby to the room so we can save on heating! Plus, it is SO MUCH cheaper than the previous models and I love the white!

Rug
Wallpaper???

NOPE. I am going to save my wallpaper for our guest bedroom and Brooke's nursery. Believe me, there will be plenty of wallpaper in this house. But, I couldn't find one that worked well in the playroom and would give us the flexibility down the line to make it back into a dining room.
And so you can see where we came from and where we are going:
PROGRESS OF THE ROOM:
Note: We moved into this house three years ago and have been slowly DIYing our way through the rooms, all while growing our family! When we moved in we had two dogs and one 18 month old. Now we have one dog, and 4.5 year old, 2 year old, and a 3 month old!
PHASE 1: BEFORE (this is what the room looked like before we did wainscoting and painted. YIKES!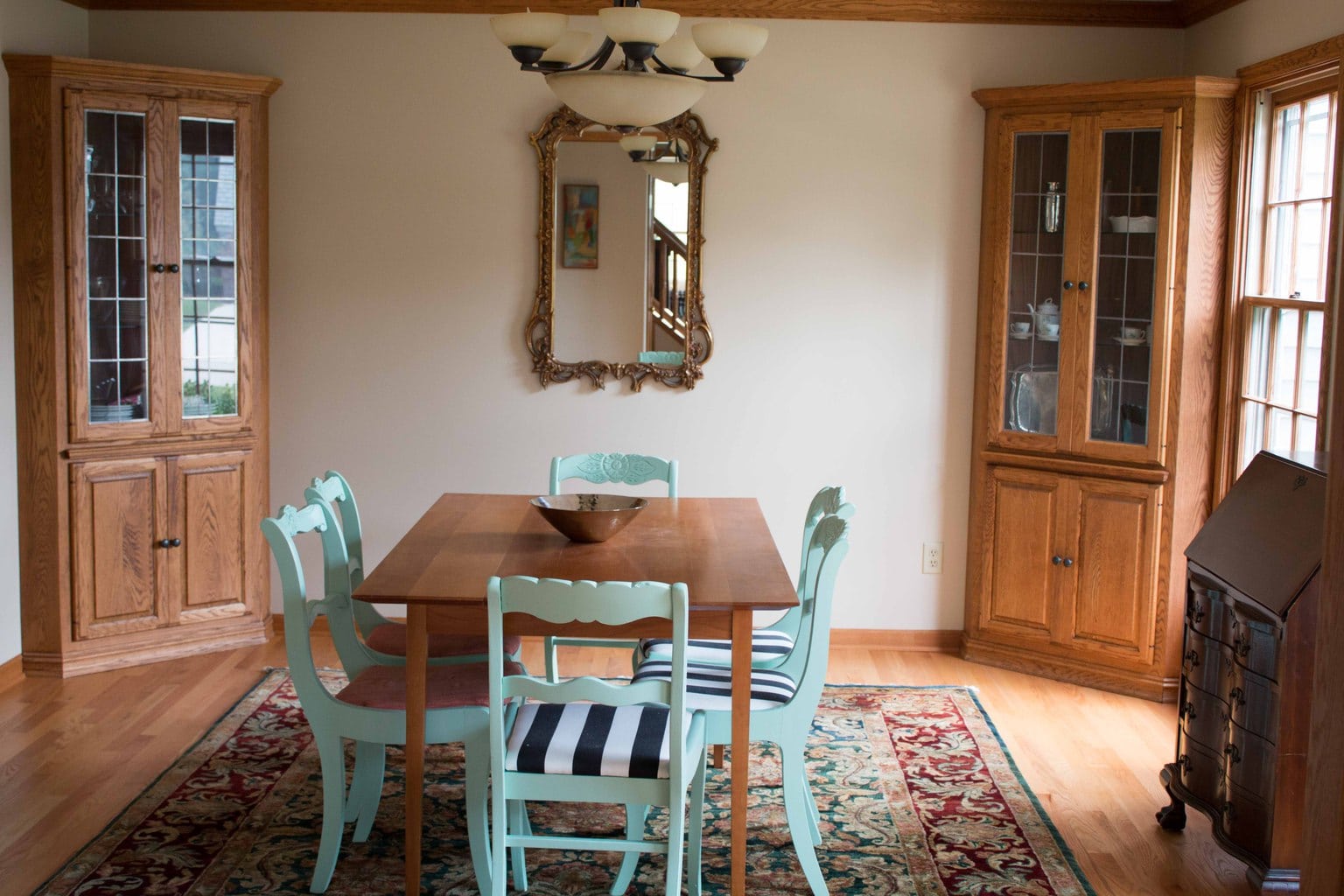 PHASE 2: Paneling and painted wood work and walls. We then figured out that we liked it better without the dining room table, so we left it like this and let the kids play in it for the next two years.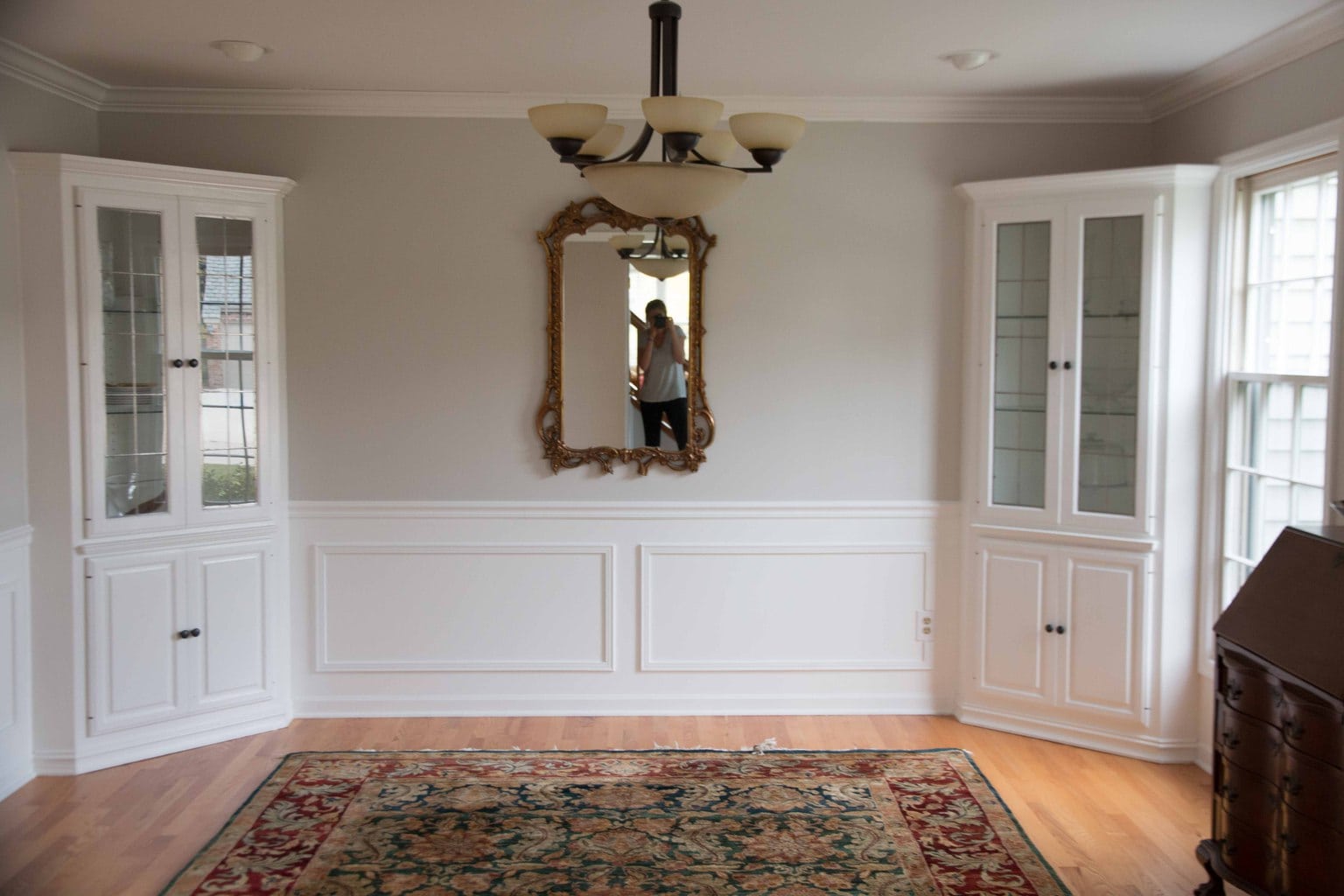 PHASE 3: Playroom with wrong chandelier, rug, and zero furniture. I don't want to know how many times I walked into that darn chandelier!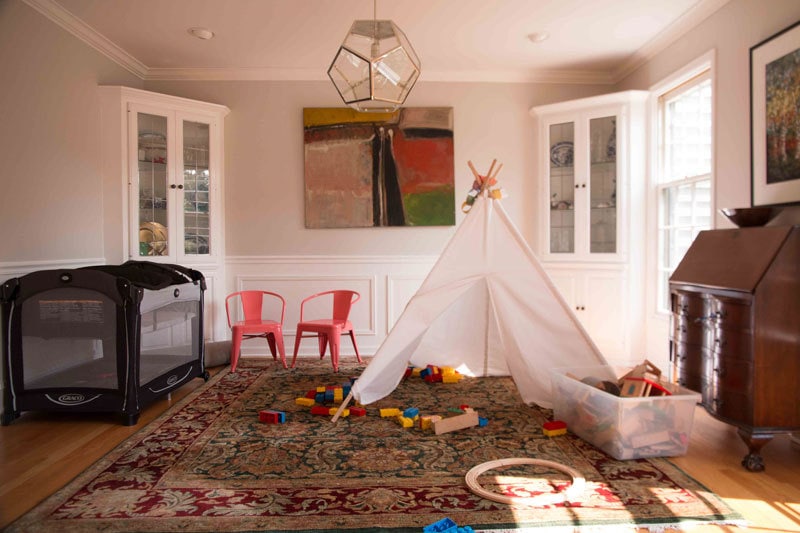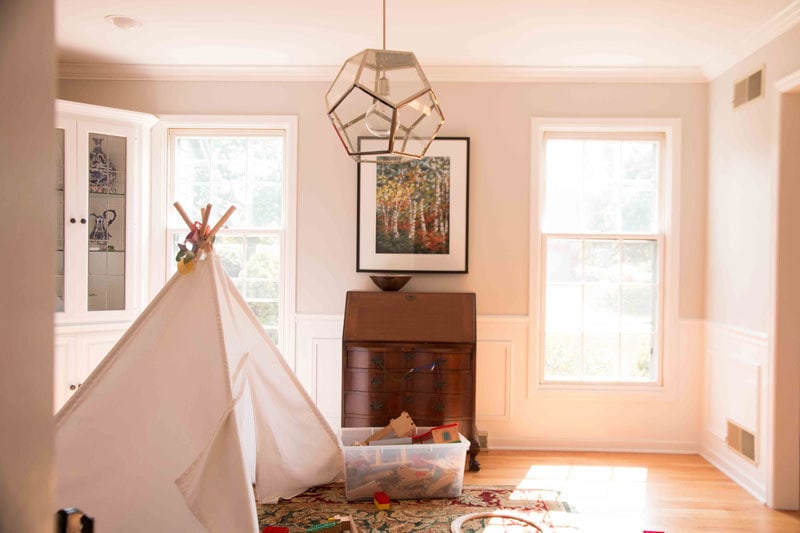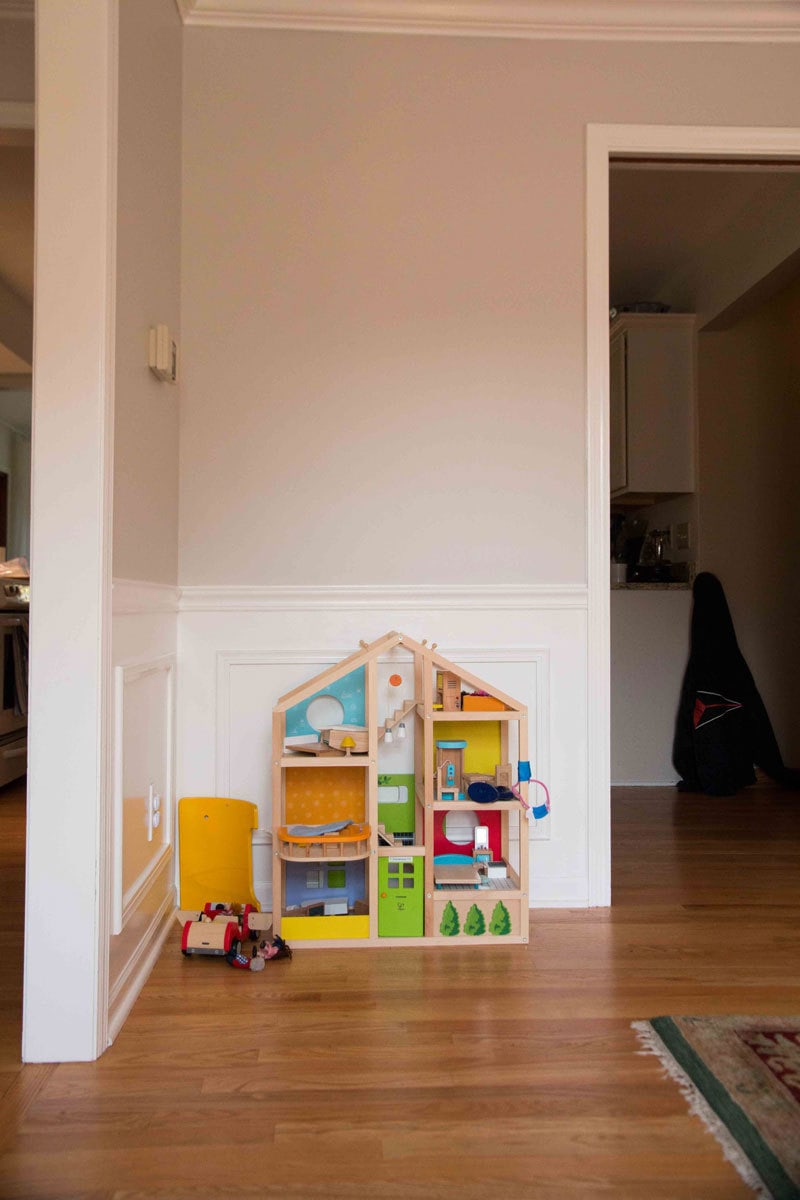 PHASE 4: ONE ROOM CHALLENGE TIME!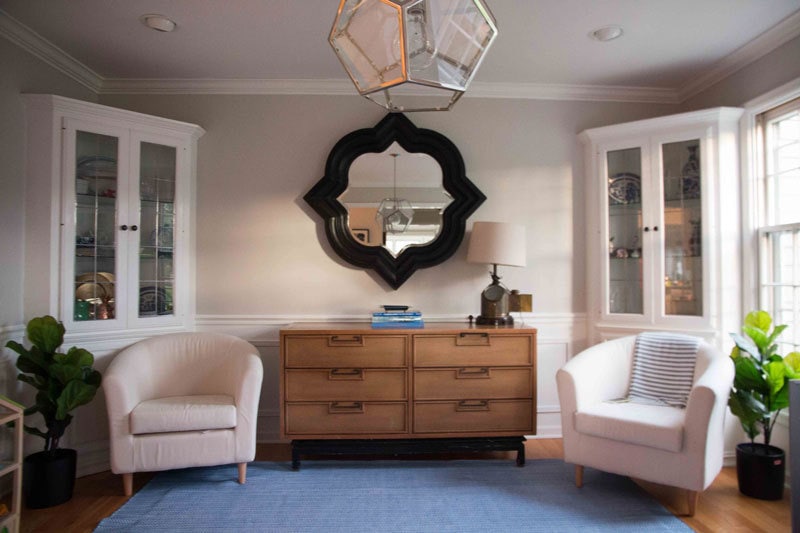 We have replaced the rug, added chairs, hung a mirror, are fixing up the vintage dresser, and re-arranged some toys! Can't wait to share what it looks like next week!
Make sure to check out all of the plans today on the One Room Challenge!
GET THE LOOK