*This post is brought to you by a partnership between Lamps Plus and myself. All opinions expressed are mine alone. Thank you for supporting companies I choose to work with, which help keep this site up and going (and me DIYing!)
Things are looking up this week thanks to some new lighting in our bedroom! We got rid of the ugly overhead fan! Cue the fireworks! And we added some beautiful table lamps for the bedside tables! We also got the Roman Shades up (after my mother-in-law selflessly sewed them all weekend!) Thank you MEL!!! If you want a full tutorial on how to make your own Roman Shades, check out this one I did last ORC.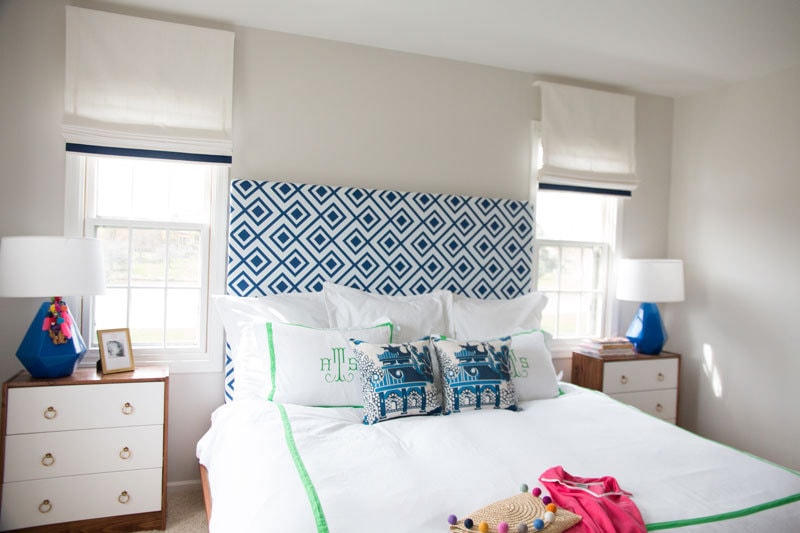 Additionally, some pillows I ordered came in and they look amazing! Finally, the room is coming together! It is funny how when you start designing a room in your head, you have a vision, and then you begin and you go through an awkward phase (and doubt yourself), just call it decorating adolescence! Usually, that coincides with repainting time when you have cut everything in, but haven't filled in the walls! Basically it's a room makeover's version of braces! So I am glad to say, it is coming out of its ugly adolescence! My ugly duckling room which started off like this is looking up!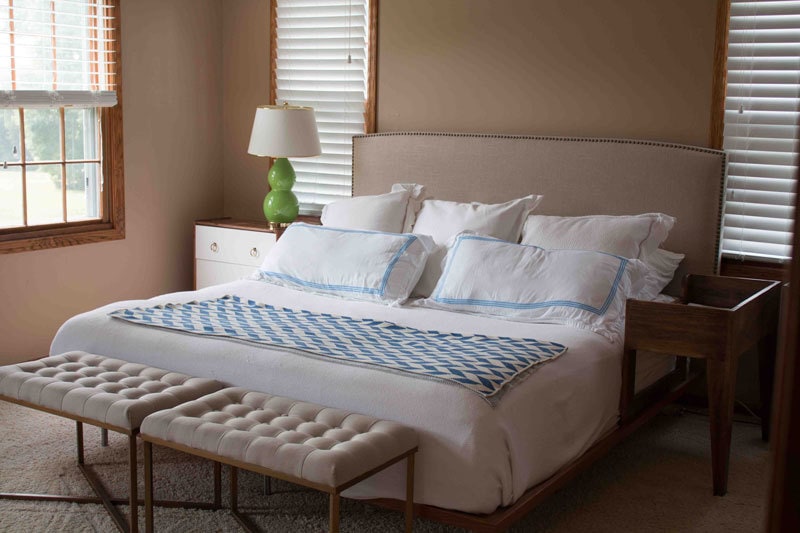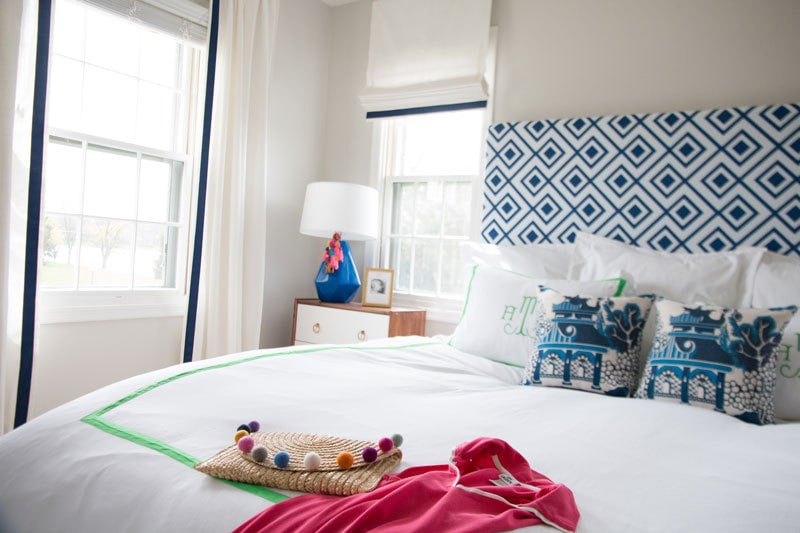 Anyhow, enough with the jabbering. Here are all the exciting details from this week! I still have a few things up my sleeve to tackle this weekend (including a solo trip with two kids to Ikea which is 1.5 hours away.) Send wine. I mean, send chocolate #pregnantladyproblems. We still have to tackle the gallery wall and silly me only bought five frames instead of six. Yes, I am kicking myself over and over again! Plus, I need some inserts for my new pillows (and I need to return the leopard ones that are hiding inside the new covers, and relocate them back to their spot in our living room!)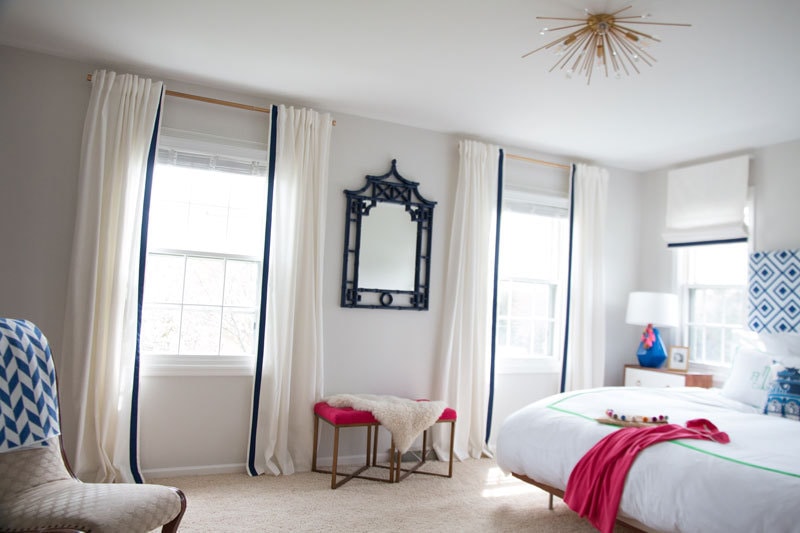 This room, like all of the rooms in our house, has standard 8 ft. ceilings. After growing up in an old Victorian with 10 ft. ceilings, it always makes me feel like our ceilings are so short. So I zhush it up by adding floor to ceiling curtains, and keep the lighting simple and close to the ceiling (and out of head banging height).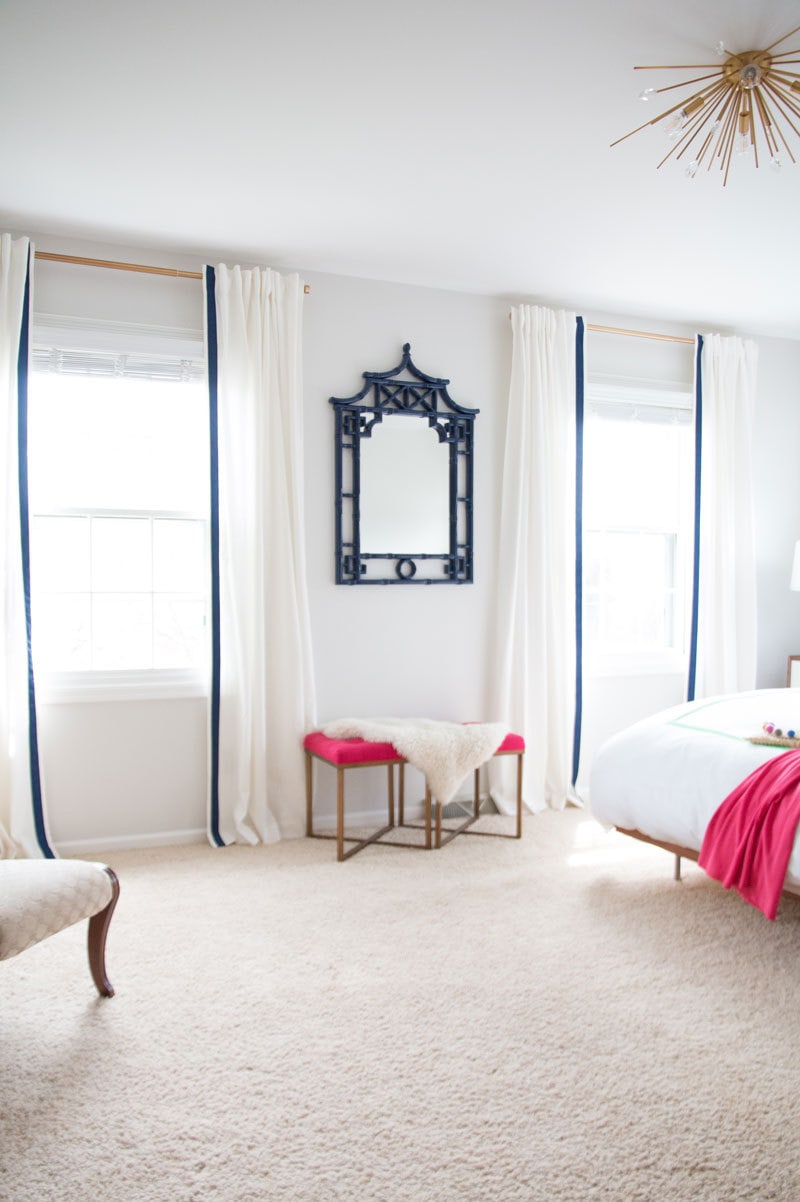 For our bedroom, I wanted something special, but not a chandelier. The light fixture is centered in the middle of our room and without moving it (I did not want to do drywall repair), we had to be conscious of making sure people wouldn't bang their head on it. So I searched high and low for a stylish semi-flush mount light. And I have to say, I am in love! I hit the jackpot! You know the old cartoons where they drew hearts coming out of the characters' eyes. Yep, that is me, every time I look at it. I wake up and no longer do I see bad faux wood fan blades; but, instead a beautiful gold fixture that throws the prettiest shadows at night!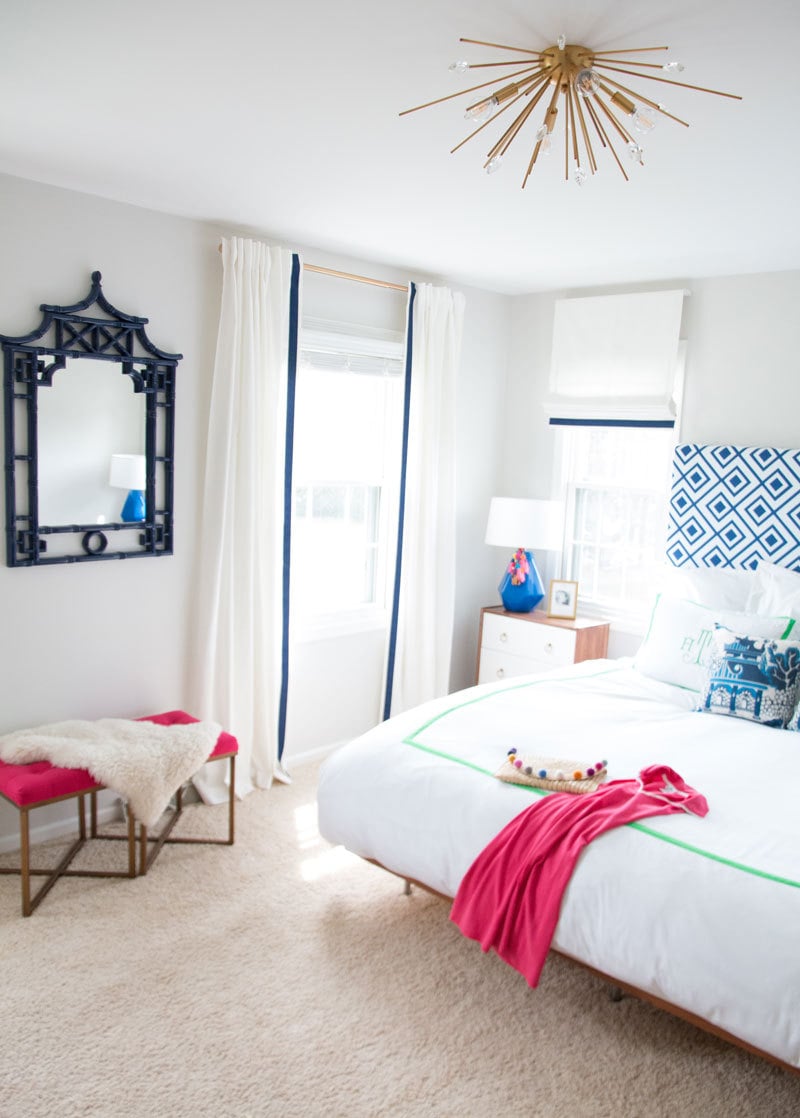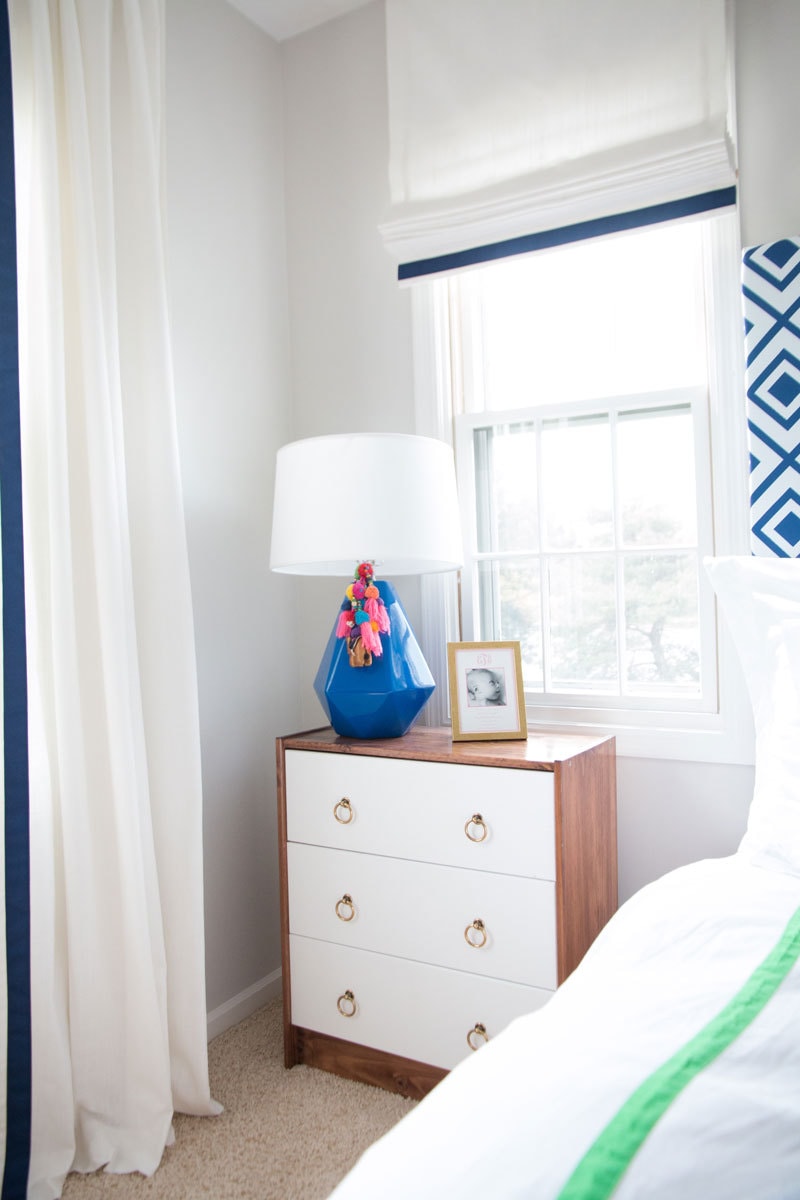 And my bedside table lamps, well they are getting pimped out even more this weekend! Yes, if you look closely, you can see how far away they are from our actual bed. This is because we love looking out the window at our view (our master bedroom looks onto our neighborhood pond.) And putting a lamp in front not only impedes the view, but it runs into the blinds. So I put them off-center on our DIY nightstands (tutorial to come!). But then, you can't reach them from bed. Well, lest you think I have Inspector Gadget extendable arms, I have a solution. And I can't wait to show you! It is super easy and cheap! And will make you feel like you have a butler. And don't worry, it is not a clapper! Although, that would be worth a good laugh!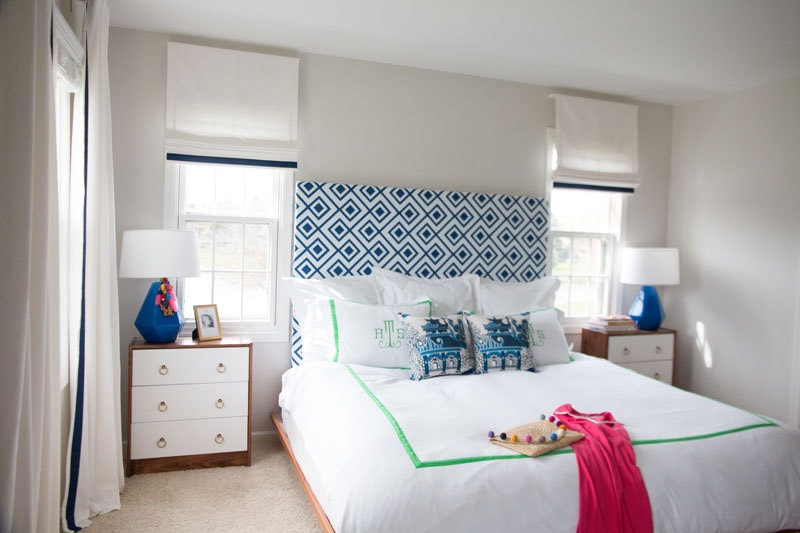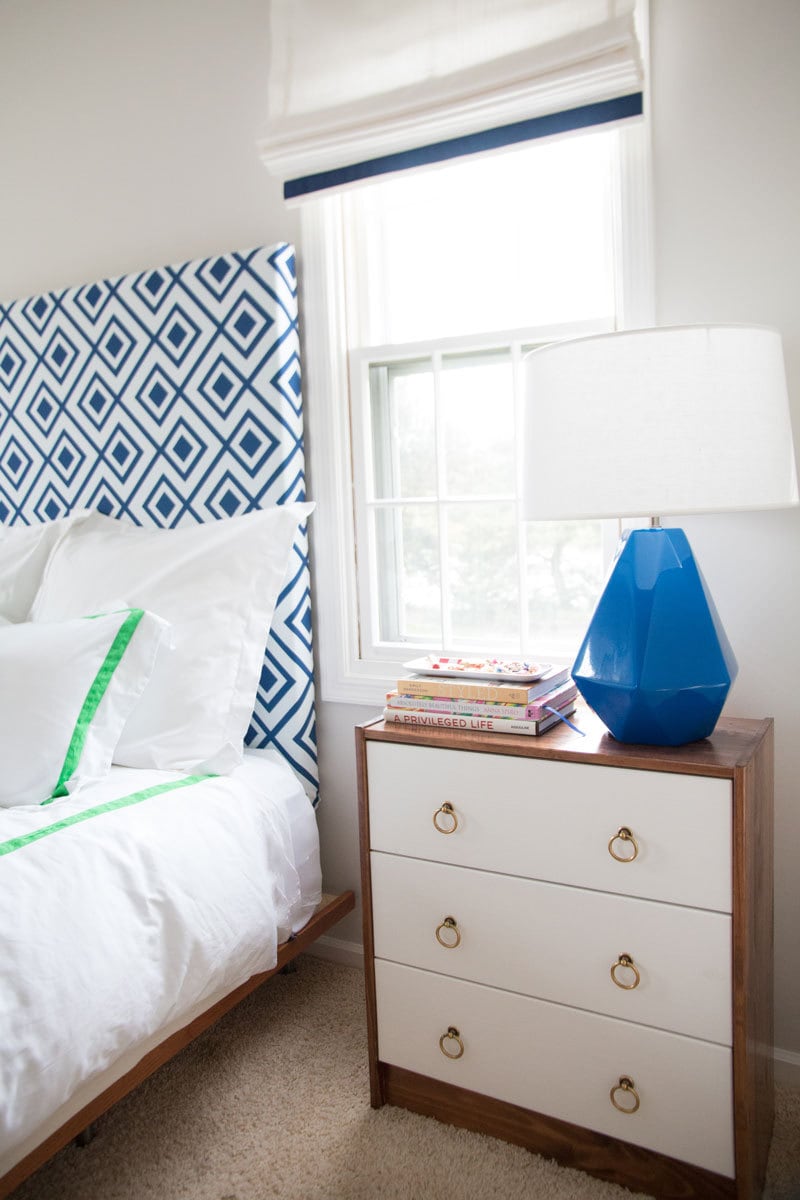 CATCH UP ON THIS PROJECT:
ORC MASTER MAKEOVER PLAN/ PROGRESS:
1.) Replace Lighting (table lamps and overhead fan)
2.) Add curtains and DIY Roman Shades
3.) New bedding
4.) Add mirror
5.) Install mantel and artwork
6.) Accent pieces and accessories
7.) Paint walls, paint woodwork, paint doors, paint windows
8.) DIY Headboard
9.) Install gallery wall with photos
10.) Make Roman Shades
*may contain affiliate links at no additional cost to you. To see my complete disclosure policy read here.
As you can see, we still have some work to do this weekend with the gallery wall and spraying the doors. We purchased this paint sprayer and hopefully we will be able to spray the doors much more quickly than painting by hand!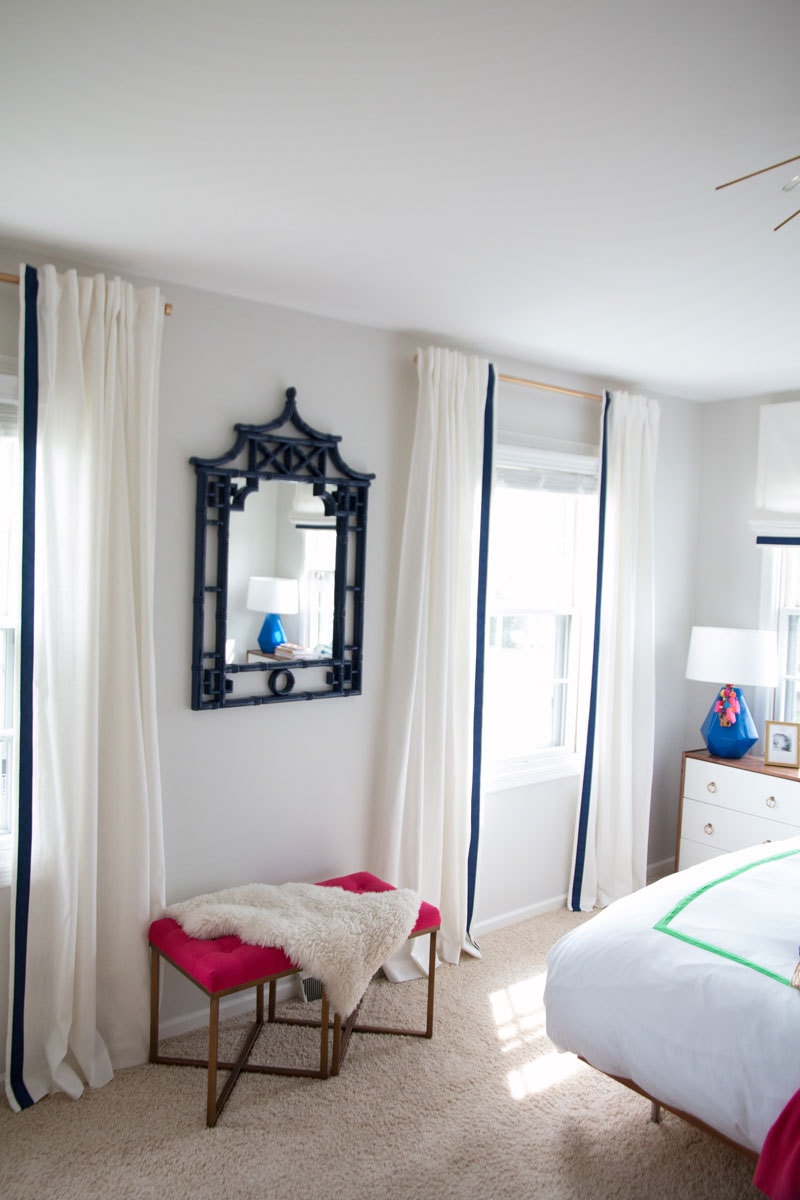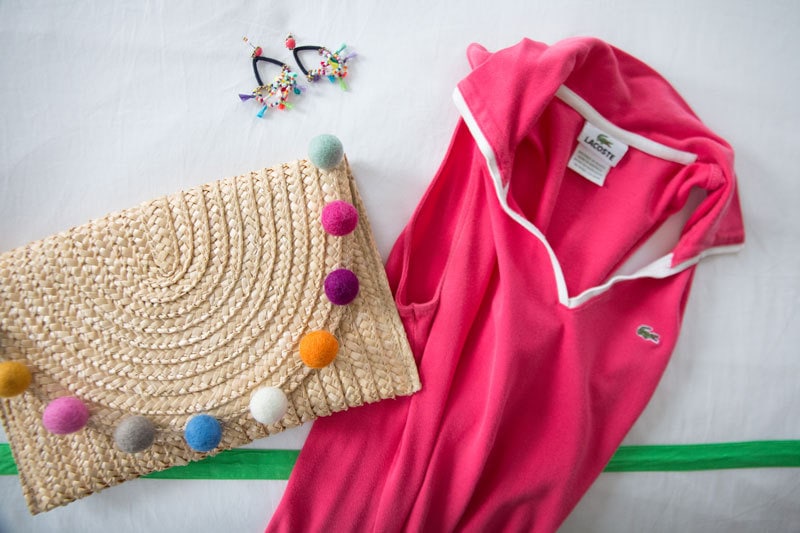 So, for all of you ladies out there with standard ceilings, I rounded up some of the best lighting solutions from my amazing partners, Lamps Plus. These are all the options I contemplated when designing our room. There are tons of price points, although I tried to keep it reasonable. Because, man, we have to put all these kids through college one day! I even marked the looks-for-less that look remarkably similar to the real deal!
GET THE LOOK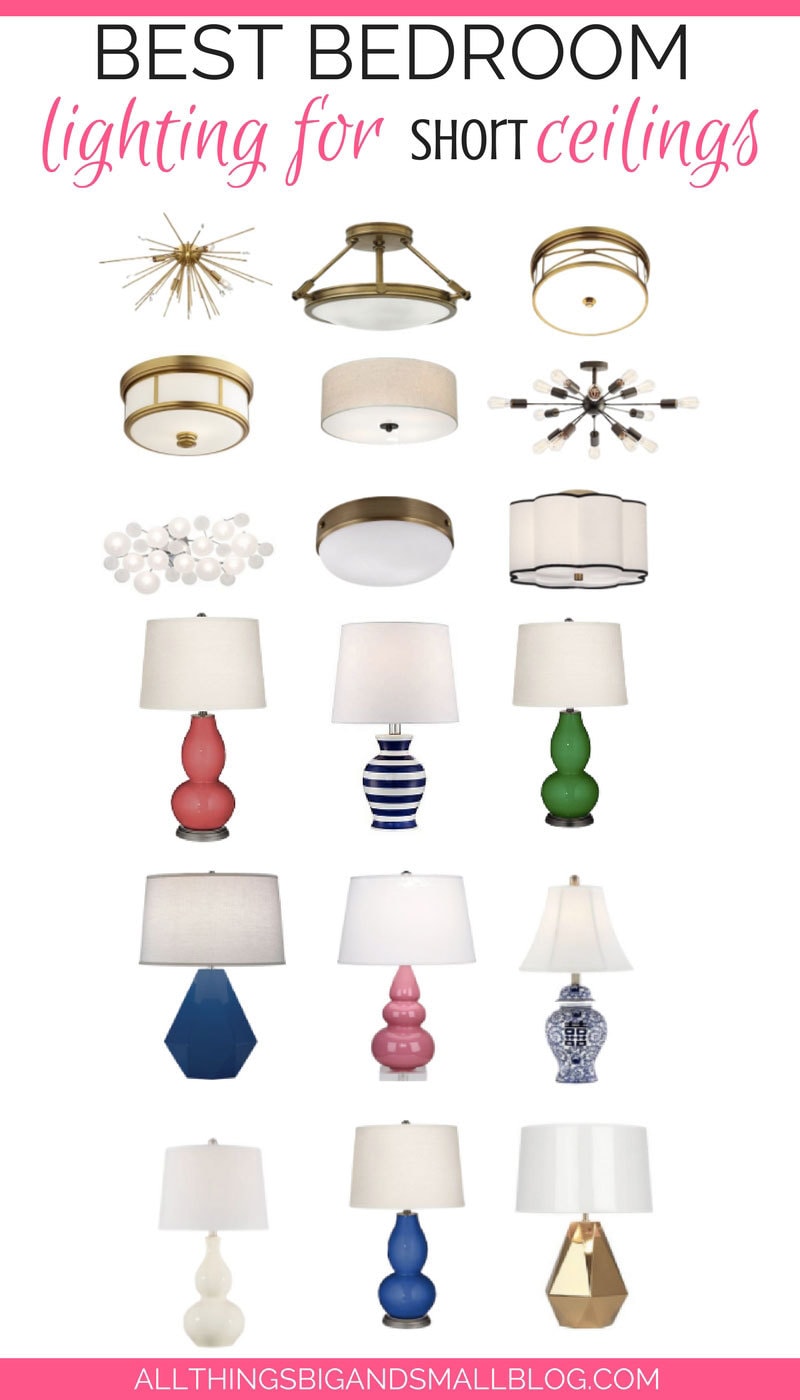 Euro Possini (same brand different model)/ Hinkley Collier High Heritage/ Robert Abbey Chase Brass/
Harbour Point **/ Bronze with Off White / Possini Euro Hemingson
Possini Euro Lilypad/ Feiss Cadence/ Robert Abbey Axis
Cayenne Double Gourd **/ Camden Blue Set of 2 for under 100 **/ Envy Double Gourd **
Robert Abbey Delta Marine/ Robert Abbey Triple Pink Gourd/ Beatrice Blue and White
Fergie Cream Ceramic **/ Dazzling Blue Double Gourd **/ Robert Abbey Delta Metallic
SOURCES
*may contain affiliate links at no additional cost to you. To see my complete disclosure policy read here.
Fabric: Spoonflower Connect the Blocks
Curtains: Inexpensive fabric curtains and this inexpensive grosgrain ribbon
Curtain rod– Such a great deal and a look-for-less
DIY Ikea Rast nightstands
Lamps– Robert Abbey Delta Marine
Overhead light- Euro Possini similar (same brand different model)/
Bedding from here similar here, here, and here
Blue and white throw pillows here–such a steal
Pom Pom Keychain– (similar version)
Pom Pom Clutch – great look for less of the expensive one which is 4x the cost!
Earrings – from here, also available here
SHOP THE POST

And now, make sure to check out all of the amazing transformations happening at the One Room Challenge with Calling It Home!