Painting Wood Trim White without losing your mind should be the real title of this post because, well I have done it the right way and the wrong way, and nearly lost my mind. If you've ever contemplated "should I paint my wood trim white?" then you're in the right place. I am going to share the easy way to paint wood trim in this step-by-step tutorial.
Let's start off with a crazy paint wood trim before and after. Then, we'll dive into the best materials and directions for painting wood trim white. Then, I will share my best tips on painting wood trim. Finally, I will answer the most frequently asked questions on the subject of how to paint wood trim. See the best white paint trim colors here.
PAINTING WOOD TRIM WHITE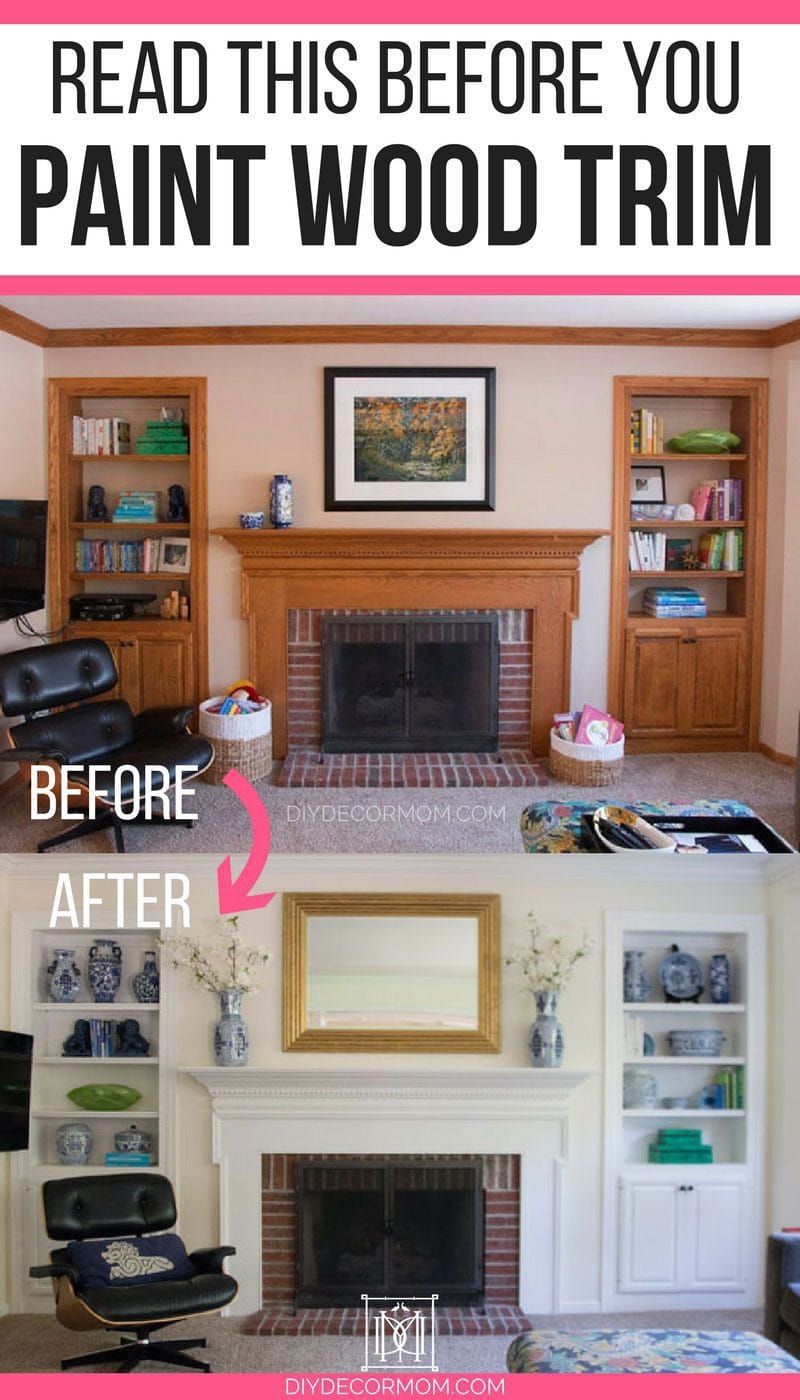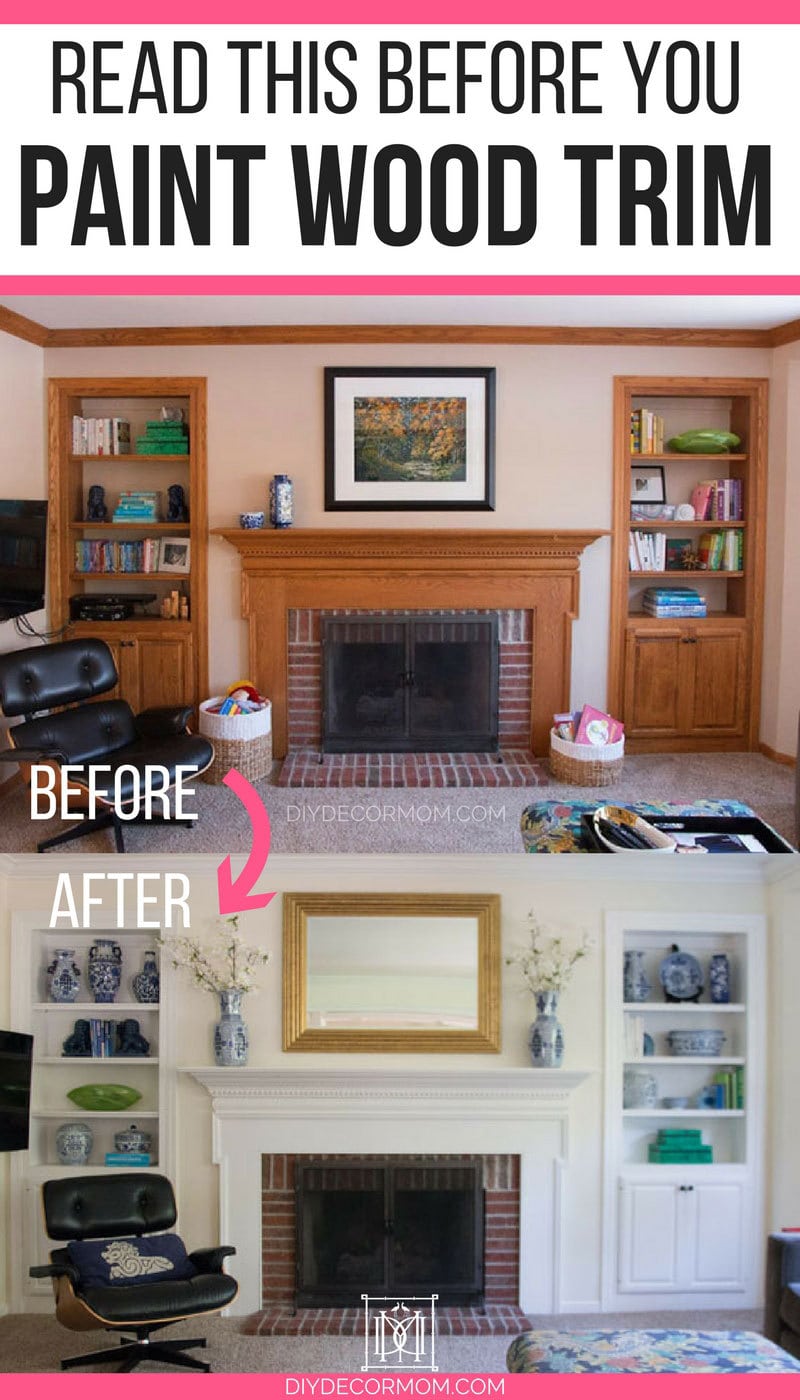 Now, let's delve into the materials needed for painting stained wood trim and the secret tool you need to use instead of sanding!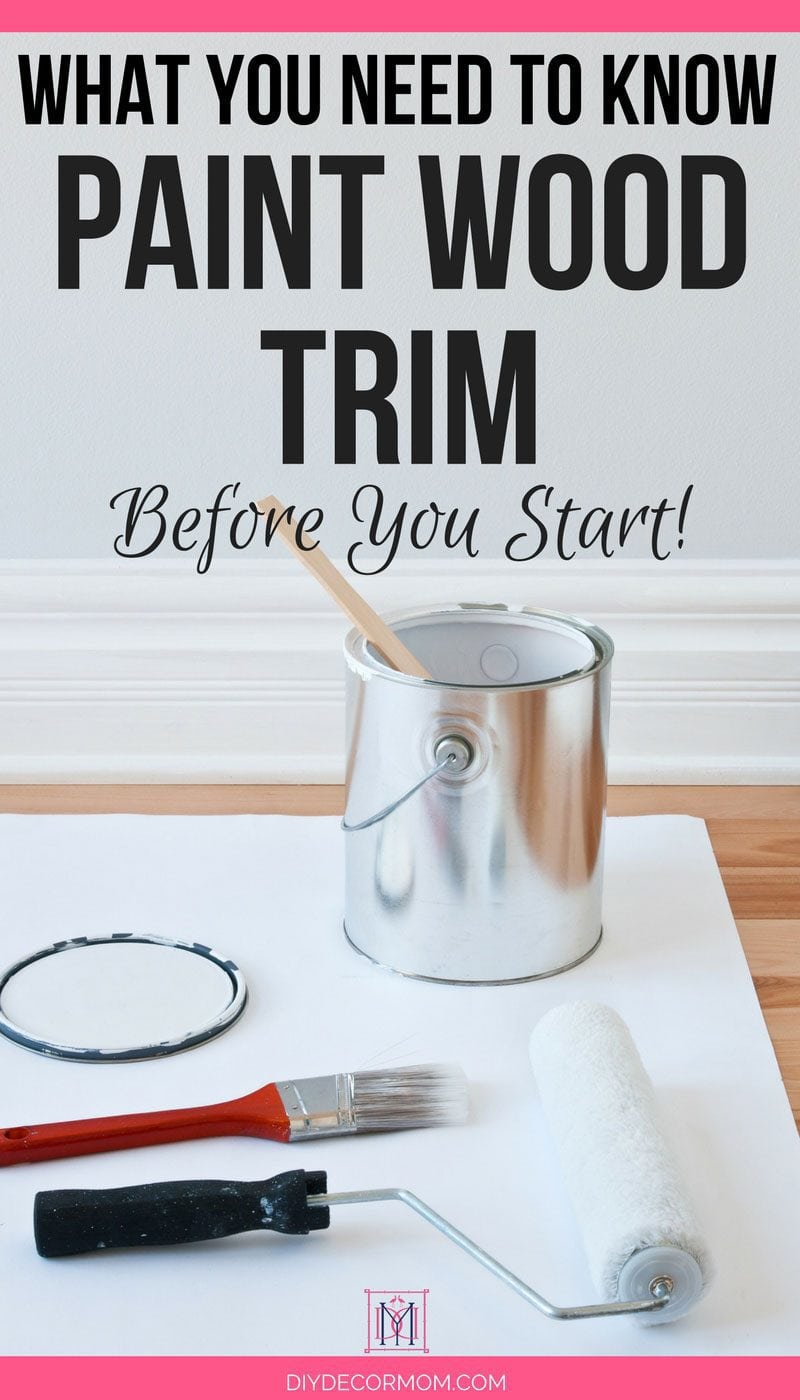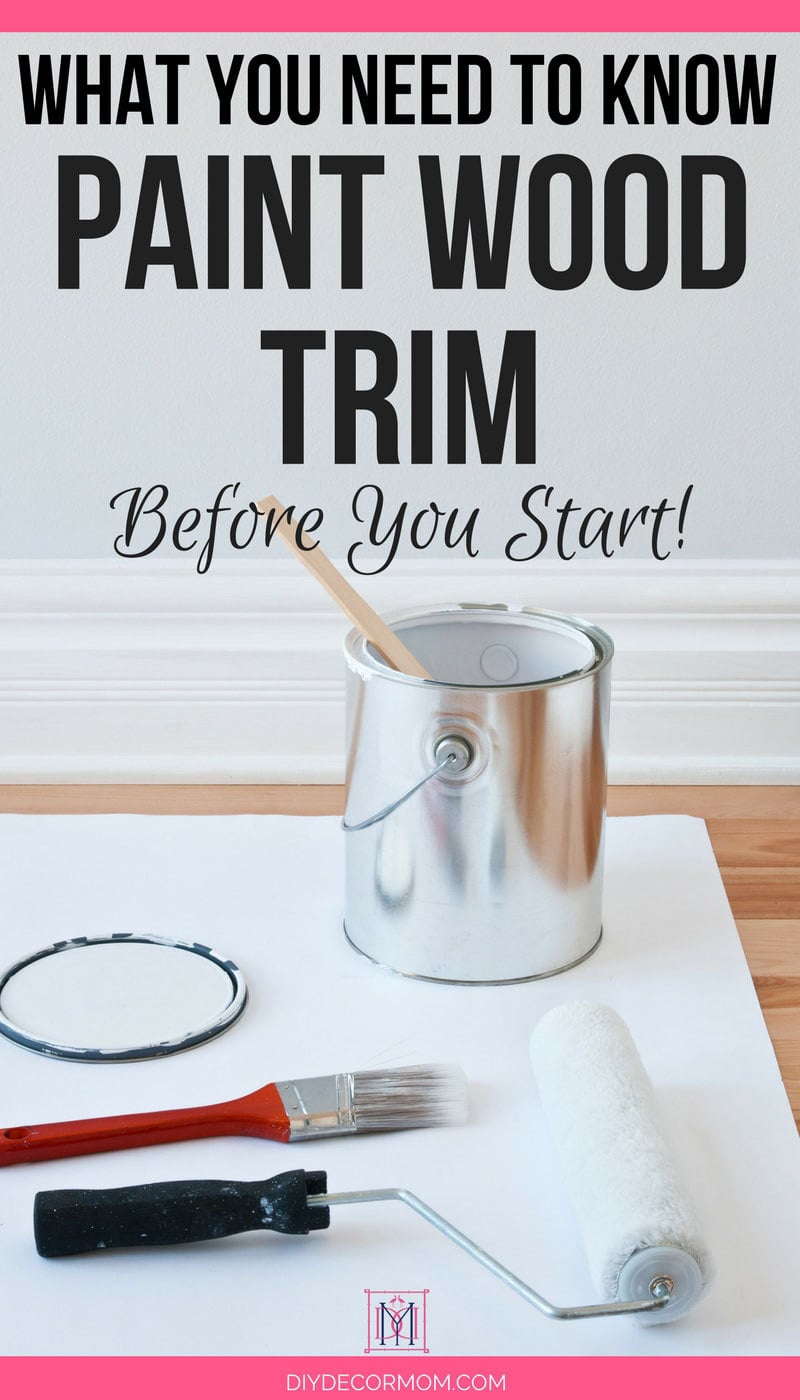 Now, let's talk about exactly how to paint wood trim like a pro:
DIRECTIONS FOR PAINTING WOOD TRIM
1.) Prepare the room for painting: Move furniture out of the room and lay down drop cloths on all floors/ carpet. Tape off any areas that you need to protect like floors.
2.) Apply wood putty to any holes in the trim. Wipe off the excess (and if you want to sand it lightly, but I never do–I just wipe off the excess with my finger so just the hole is filled.)
3.) Wipe down all of your trim with a damp cloth. If it is very dirty wipe it down with a mixture of vinegar and water; but, I just use my microfiber cloths.
4) DO NOT SAND with sandpaper. Instead, I recommend using these hand pads which have a mild abrasive surface. I give the wood a once-over to give the primer something to grab onto. Then, give them a once-over with a clean microfiber cloth to grab all the dust. GRAB THE ABRASIVE HAND PADS HERE TO USE INSTEAD OF SANDPAPER.
5.) Tape the baseboard and use a Paint Trim Guard if you are painting trim and baseboards.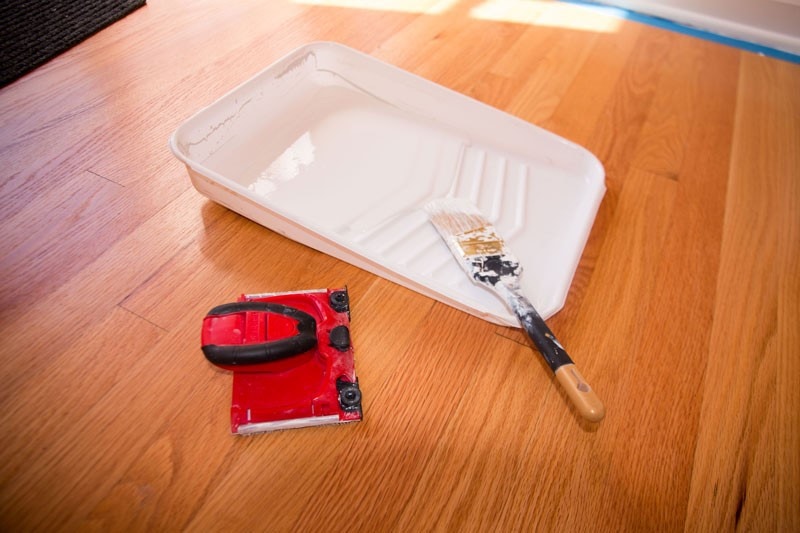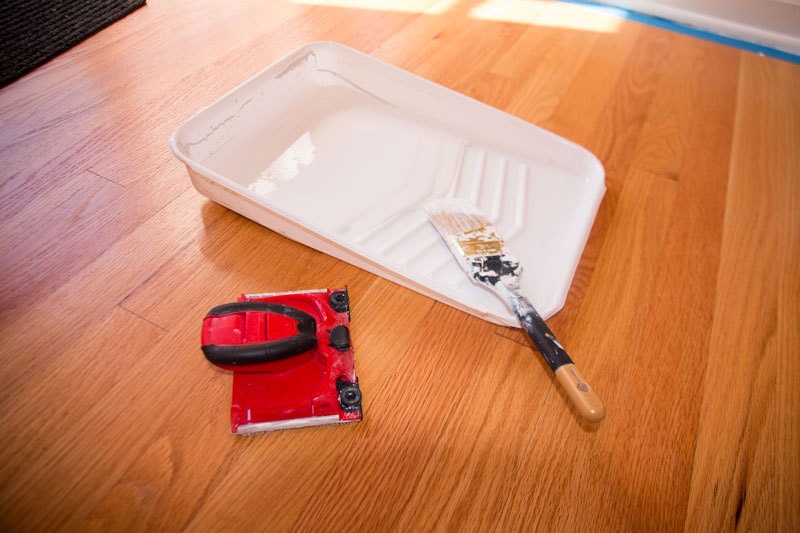 4.) Apply two coats of primer. In the past, I have always used Zinsser's Smart Prime which is a zero-VOC primer but it is getting harder and harder to paint, so now I use Zinsser's 1-2-3 which is comparable. Sherwin Williams also has a very good waterborne alkyd paint primer which is very good as well (however, I think it is low-VOC vs. no-VOC) so make sure to open up those windows!

5.) Finally, apply two coats of semi-gloss paint. More coats may be necessary depending on the condition of your wood. In our south-facing rooms where the varnish on the wood was the most deteriorated and the stain permeated the new white paint, I ended up painting four coats of semi-gloss paint in Benjamin Moore Simply White Natura (zero-VOC semi-gloss paint.)
QUICK TIPS FOR PAINTING WOOD TRIM WHITE
Painting Wood Trim Without Sanding:

YEP, I recommend this way for painting stained wood trim white. Why?

Well, we've done it both ways and have the best results when we did not sand. This might sound crazy; but, I swear it's true. I still recommend "roughing up" the wood trim with an abrasive hand pad but I do not recommend sanding it with a circular sander.
Why not? When you sand the protective varnish or sealant off of stained wood trim you are opening up the stain. Previously, the stain was "sealed" in the wood because there was a barrier (the varnish). If you sand off that barrier, your stain from the wood is going to permeate the newly white painted wood trim. It happened to us in our laundry room and we have these weird orangish waves all over our doors, seeping through the white paint.
Order of operations to paint wood trim in a room:

First paint wood trim, paint edges "or cut in" room, then paint the walls.

Invest in an edger (it costs less than $10) if you are painting a lot of rooms! It saves hours of time and will leave a nice sharp line and make it look like you know how to paint trim like a pro!


FREQUENTLY ASKED QUESTIONS & DIY SITUATIONS FOR PAINTED WOOD TRIM
What kind of paint to use on wood trim?

While you can use oil based paint on wood trim (like some experts recommend), I am uncomfortable using oil-based paint in our home with young children. Instead, I use a latex based paint, Benjamin Moore Natura, a zero-VOC latex paint in Simply White semi-gloss.

What color should you paint your trim?
Can you paint over trim?

Yes! We have painted over all of the wood trim in our house (see all the before-and-afters here in our house tour.)
Can you paint over stained wood without sanding?

YES! I would strongly recommend NOT sanding. When you sand wood trim vigorously, you are opening up the layer of the paint with the stained wood. The stain will spread to your white paint layers if you open it up.
Do you paint the trim before the walls?

Yes, I always paint the trim before the walls. It is easiest for me to paint the trim first, then cut-in the walls, and finally, paint the walls.
How do you paint wood french doors white? How do I paint paned windows?

The easiest way I have found to paint french doors is to first, take the doors off the hinges. Then prepare the woodwork like described above with the caveat that you don't have to tape the glass.
If I am spraying the woodwork, I will tape off the windows and cover them with a piece of paper and painter's tape. However, if I am painting my hand, I do not use tape. Instead, I paint as usual, and then afterwards I use Windex and a razor blade to remove the paint from the glass. Within 24 hours (before the paint hardens), spray the paint on the glass with Windex. Let it sit for a few minutes, then score the glass along the edge of the wood (where you want it to be a nice straight line.) Then, turn the blade sideways and scrape the paint off the glass. Wipe off the paint scraps and the windex and you've got a perfectly painted window!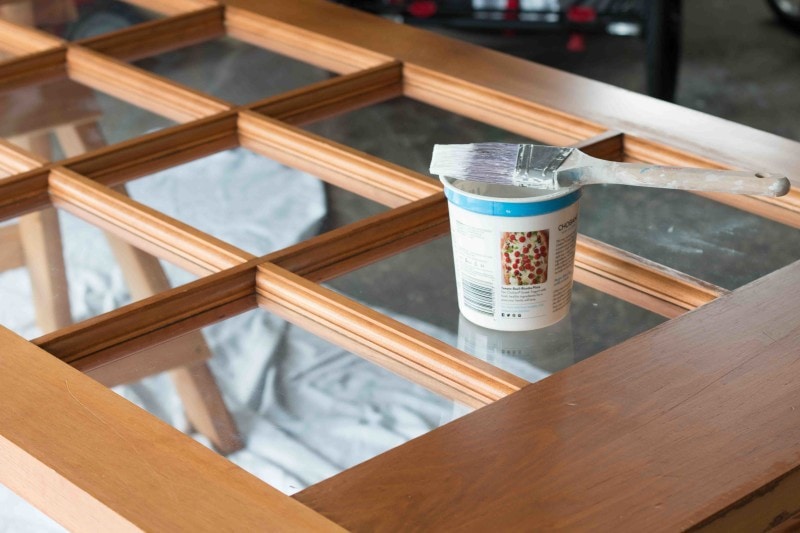 How do I repaint trim and baseboards?

Repainting trim and baseboards is easy, especially if there is already paint on there. Use the same process as above, but you can decide if your need or don't need primer. If there is white paint on there already, I usually just skip the primer and just apply another coat of white paint. That being said, I always make sure to sand lightly with the hand abrasive pads to even out any knicks or gouges before I paint. To protect the floor, make sure to use painter's tape and a painter's shield (like i did in the picture above.)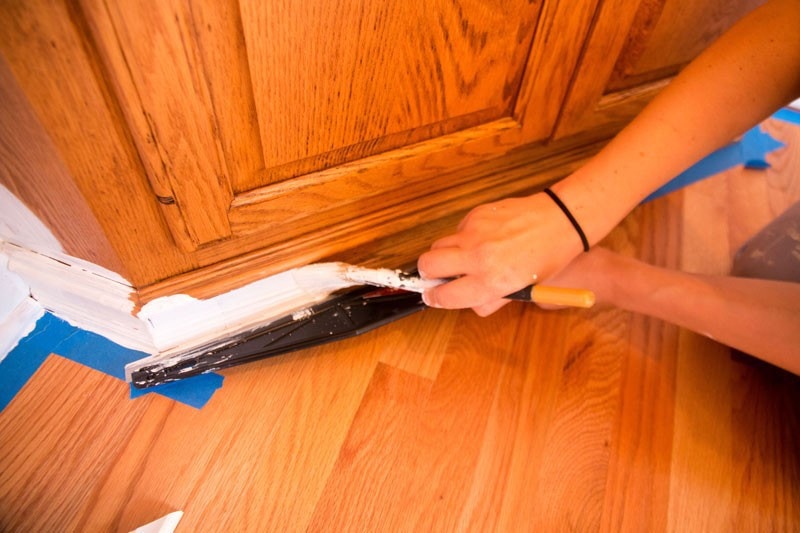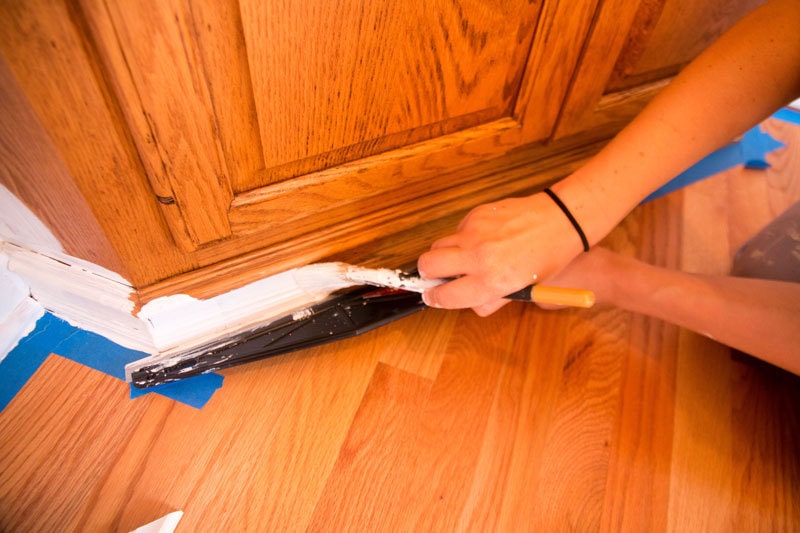 How do I paint wood trim over wall-to-wall carpets?

Prepare your area like you would if it was a baseboard and do steps 1-5 and use a paint shield to pry away the carpet from the baseboard trim that I am painting. The key is to pull the carpet away with one hand and paint with the other.
After you do one coat of paint on your entire baseboard, let it dry, come back a few hours later and pull the carpet away again before painting. Separating the paint from the carpet will help while it is still somewhat wet. The key to painting wood trim over wall-to-wall carpets is having a good paint shield and a rag on hand. You want to keep your paint shield clean, so clean it frequently with the rag.

Do I need to caulk after painting wood trim?

It's up to you. It's best practice to caulk after you paint wood trim because you will notice the imperfections, like the space in between the crown moulding and the ceiling much more; however, we haven't yet (three kids under our years old…but it's still on our to-do list.)

Should I use a paint-sprayer to paint wood trim?

We have done both. I would say for a small project, do it by hand. But, for a large project, I would recommend using a paint-sprayer. Here's why: it doesn't really save that much time with a paint sprayer if you aren't painting a large area.
There is a lot of set-up and prep work involved in using a paint sprayer–even more than painting because you need to watch out for overspray. That being said, you are going to save a lot of time and coats of paint using a paint sprayer. We were able to paint 8 wood paneled doors in one day with a paint sprayer–something that took us 3 days to do by hand.
The coats you get from a paint-sprayer are much thicker than those you get from painting wood by hand, so you need fewer coats (most of our doors required one primer and one coat of semi-gloss.)

Should I use oil based paint or latex based paint to paint wood trim?

For painting wood trim, we have found latex paint to be absolutely fine. Experts recommend using oil based paint, which will give you a harder finish; but, it's more difficult (and hazardous) to use. Because we have young children in our house and are painting wood trim white ourselves, the risks of oil-based paint outweigh the pros. We have been happy with high quality latex paints in our house.
YOU WILL ALSO LIKE…

BEFORE AND AFTER PAINTED WOOD TRIM GALLERY:
See our fireplace and built-in-bookcases before and after we painted wood trim: