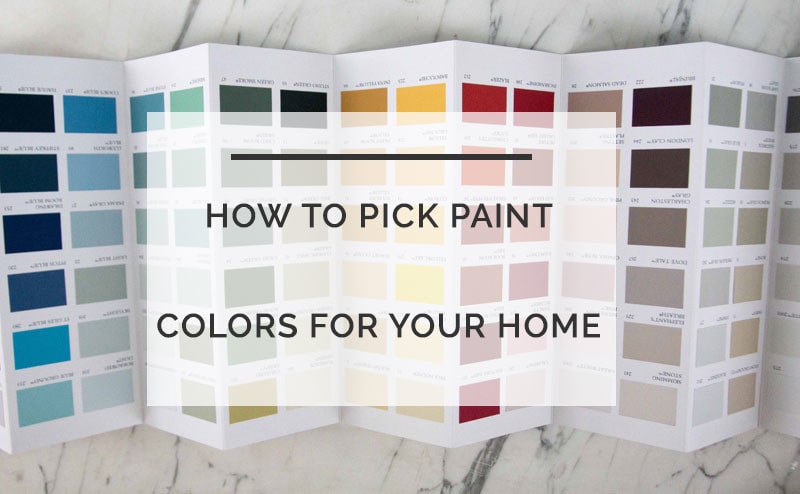 How to Pick Paint Colors: Picking out paint colors is one of the most intimidating things about painting. Looking at the all the paint chips seriously, almost induces a panic attack. Because where do you begin? I mean there are probably 40 different swatches of light grey paint alone, and how many chips per swatch?! But fear not my friends 😉 Here are my tried and true tricks for picking out winning colors, and what I learned from my early misses — I just may have painted my living room at our old apartment a bit too bright blue in 2009. It ended up being a little bit more "Aquafresh" than the Jonathan Adler look I was channeling! Live and learn. So with our current house I stand behind all of my picks, and only have one room which I don't absolutely love!

How to Pick Paint Colors for Your Home:
1. What feeling do you want to evoke?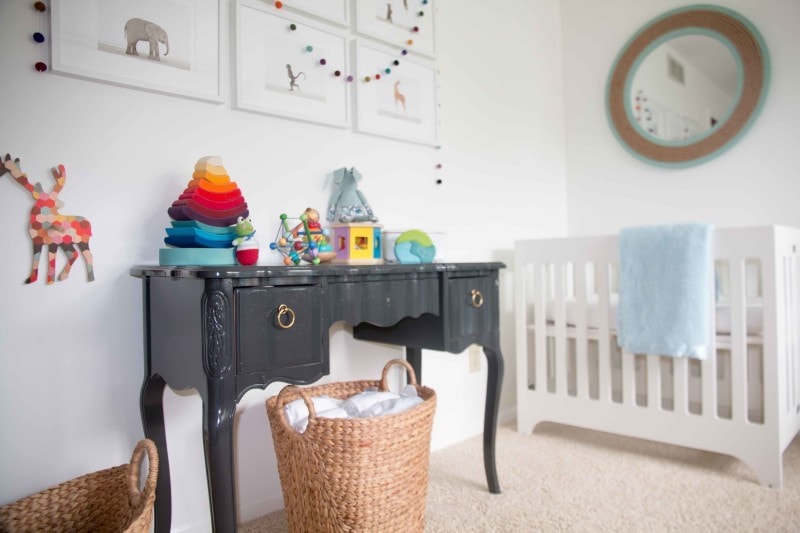 our nice and airy nursery in our current house
Deciding which feeling you want the room to give is the first step. Look at your favorite rooms on Pinterest (see mine here). Are they dark and moody? Or are they light and airy? Is there a common color that runs through all of the images? A red room might seem really fun at first, but are you going to want to murder your husband in a month because of it?
So decide what feeling you want the room to give. In our house, the front rooms (living room and dining room) get a ton of afternoon light. I wanted the rooms to be airy and light so I went with light grey. Whereas in our family room, which is in a darker part of the house, I wanted something warmer and cozy for those awful winter nights when it is grey outside, and all you want is to curl up next to the fire and watch Netflix. At our old house, I wanted Bowie's nursery to be really cozy so I went with a navy blue.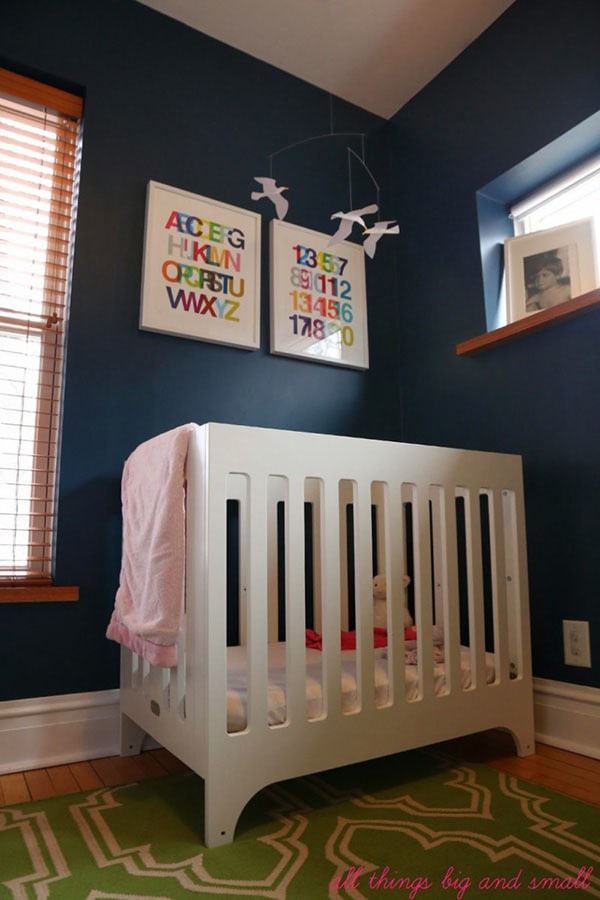 our cozy nursery in our last apartment in Benjamin Moore's Gentleman's Gray (similar to FB Hague Blue)
2.) Consult the Experts
While I wish I had a designer on hand 24/7 the reality is I don't. I don't even know any! And most likely, neither do you. So after deciding on the type of color I want (light grey vs. dark grey), I will go find my favorite designers and bloggers' rooms and see what specific color they used. For our living room, I knew I wanted a light grey, so I consulted Little Green Notebook's, Elements of Style, and Pawleys Island Posh, and wrote down what colors they used. Back in the day, I bought House Beautiful's Colors for Your Home. While it is still a great resource, do NOT rely on their paint swatches in the book because they couldn't be farther from the truth. November Rain looks like a dark grey in the book, whereas in real life it is a nice warm light grey. However, the beautiful pictures of rooms (with descriptions of the exact paints they used) will definitely help you choose. The book also provides lists of designers tried-and-true favorite colors which is always a good jumping off point. Here are my favorite colors that I have used in our first floor. For reference, our second floor only has two rooms painted (nursery which is Benjamin Moore Cloud White, and Bowe's room which is BM Romantic Pink.)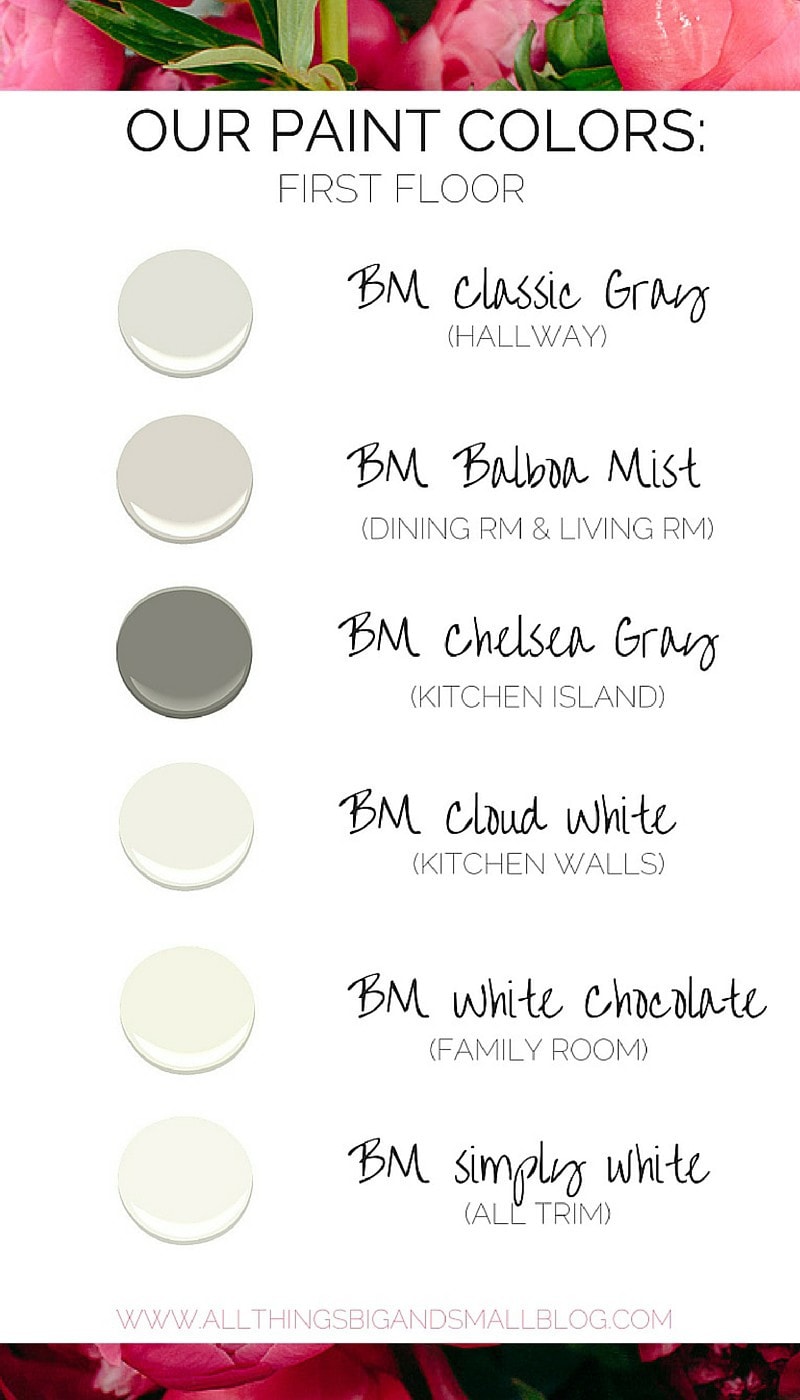 If you are still overwhelmed, I found that looking to Farrow & Ball was helpful. I ended up ordering Farrow & Ball's paint chips book (it is free!) They have only a limited number of colors (probably 200 or so versus 1000s from Benjamin Moore.) Farrow & Ball is very expensive so I just have the colors matched at the store, or find a similar looking one myself in Benjamin Moore paints. Designers love FB's colors and it is relatively easy to take your BM paint chips and match them. I found that Benjamin Moore's White Chocolate (used in our family room below) is very similar to Farrow & Ball's Pointing. BM's Gentleman's Gray is very similar to Farrow & Ball's famous Hague Blue (see nursery above), and BM Chelsea Gray is very similar to FB's Mole if anyone is interested!
3.) What is the size of the room and the lighting situation?
It is a fallacy that small rooms cannot be dark. Many times painting a small room a dark color makes it seem larger! The walls recede and you can't tell exactly where they end, giving the illusion of much more space. Furthermore, in a small space you can add a lot of drama with a paint color, in a room that might not physically have a lot else going on. Just look at Bowe's first nursery which was an 8′ x 9′ room with no door! It looked so much bigger when it was painted dark navy blue!
The front rooms in our house get a lot more light than the back half, so I knew that even though I wanted a light grey, I could and should go a little bit darker to make sure that it doesn't get washed out. In the back of the house, where it is generally darker, I wanted warmer colors to counterbalance the cool northern light. By going warmer in darker rooms, and darker in really light rooms in regards to the shade, the paint color will be truer to the one you envision. We went with Balboa Mist in the dining room and the living room in our house. I originally wanted to go with Balboa Mist in the hallway as well; but, knowing that it got pretty dark once you go up the stairs because the hallway has no windows, I went with a lighter shade in the same family–Benjamin Moore Classic Gray. These colors are very similar and read almost the same to the eye; but, Balboa Mist would have been too dark and bluish upstairs where there isn't a lot of natural light.
our living room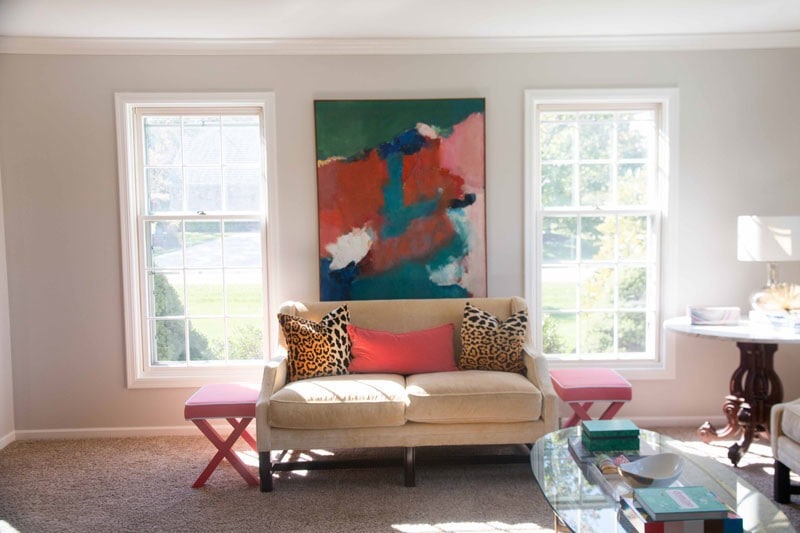 (Balboa Mist)
our hallway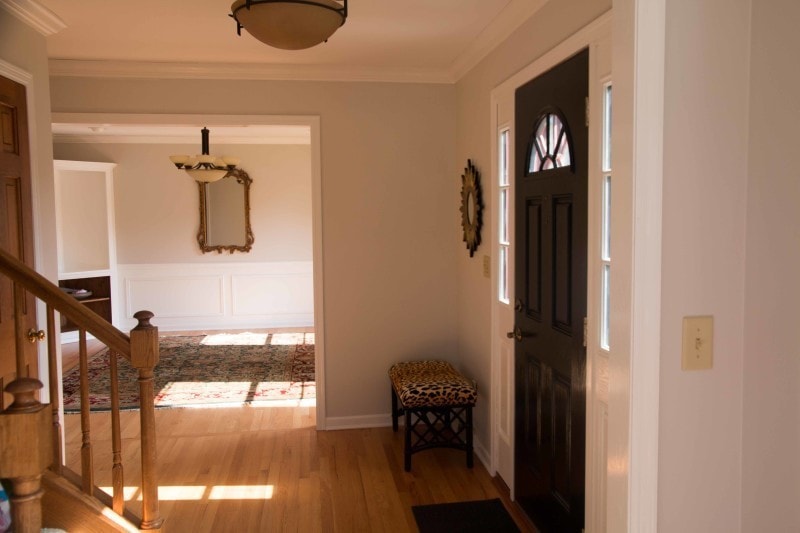 (Classic Gray) and dining room (Balboa Mist)
4.) Prototype it!
I have to confess that I have a large piece of paper taped on the wall of our master bedroom and it has been there for…wait for it…nine months! Now, you don't need nine months. A few days is probably more than sufficient! But by actually applying two to three coats to a square sheet of paper and hanging it on the wall in your room, you can see the paint in a variety of lights, on different walls (without actually having to paint the wall), and you can compare it side by side with other desired colors. Make sure it is at least 4″ wide and 6″ tall to get a good picture of what it will look like. Paint any other colors (trim) next to it so you can see the two paint colors together. Want to know another reason painting on a piece of thick paper is better than the wall (other than the obvious reason of not making your house look crazy and pissing off your husband)? Painting on white paper gives you a truer representation of what your wall will look like with the finished project because you aren't cover up your wall's color. To cover up the brownish tan, I would have to do probably at least three solid coats in my light colors just to see the sample. It only takes two on a piece of paper!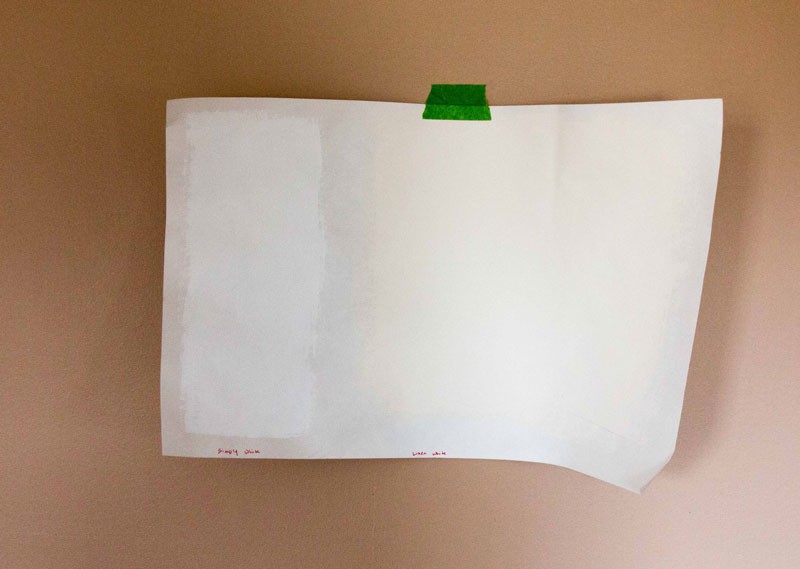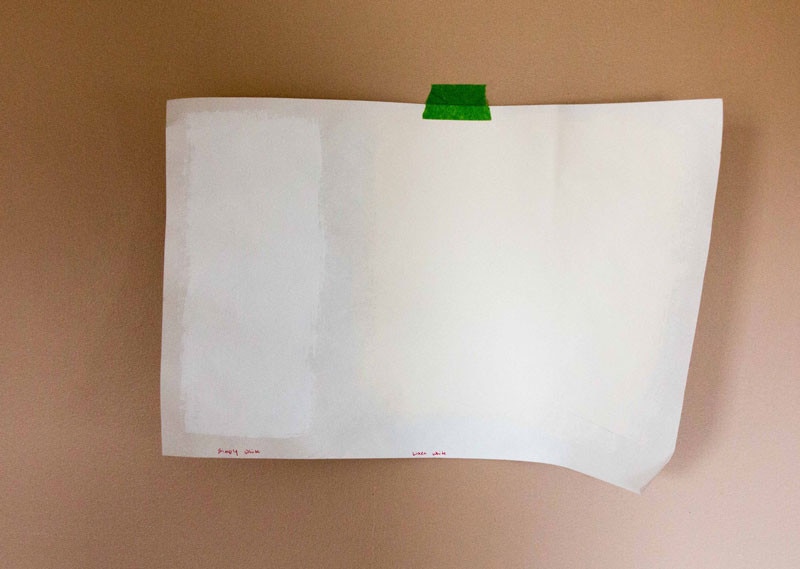 our prototype for our master bedroom. We are looking at painting in Benjamin Moore's Linen White with Simply White trim (left)
5.) We all get together, together, together…
our kitchen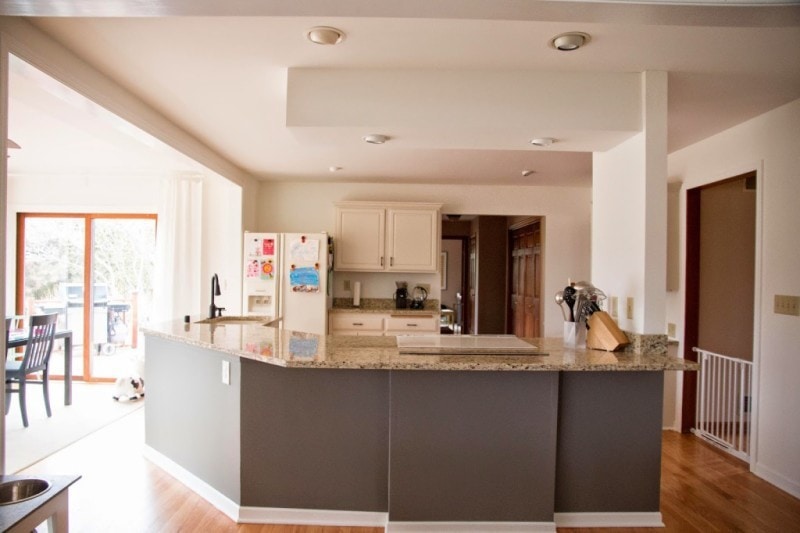 (before and after paint) using Benjamin Moore Chelsea Gray on island and Cloud White on walls.
See what your desired colors look like next to other rooms in your house, key pieces of furniture, carpet, and floors by taking that prototype around. More than likely, you aren't going to be switching everything at once. Or at least not in my house because big changes cost lots of money. Take that prototype swatch and move it next to the trim, next to the carpet, next to your couch! See what it looks like on different walls in the room because light hits it differently. Take it all into consideration. It doesn't need to be perfect but you want things to play nicely. When we painted the island in our kitchen, we took the paint swatches directly to the granite and tried to draw out colors that were already in there. With our carpeting, since I do not want to go brown, I just make sure that the colors play nice enough together. If you are planning on reupholstering something, or already have a print picked out, see if the colors of the wall are similar to colors found in your fabric. Many times you will find a common theme. For our living room, with all the warm colors of the upholstery, and the warm afternoon sunlight, I knew I wanted a cooler wall color to offset it. If I had gone yellow or cream with that room, it would have been too much with the yellowish furniture, and the warm color and leopard pillows. Contrast is good too!
our living room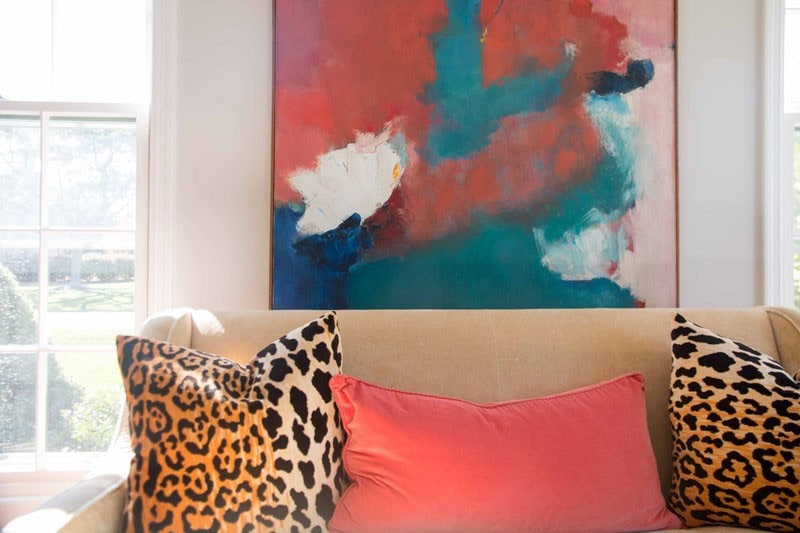 the cooler bluish gray of Balboa Mist balances the warm colors of the sofa and pillows
To sum up, this is exactly what I do for every room: First, I figure out what feeling I want the room to give off (light or dark? any specific color?) Next, I find a designer recommendation, go to the paint store and pull the neighboring one or two swatches on either side. Then I will take it home, pick out my top three colors, buy the samples, and prototype it. I move that prototype all around (and sometimes live with it up to 9 months,) and only then will I make the decision. What a color looks like can be completely different in your house than a room online, so test it out and see for yourself.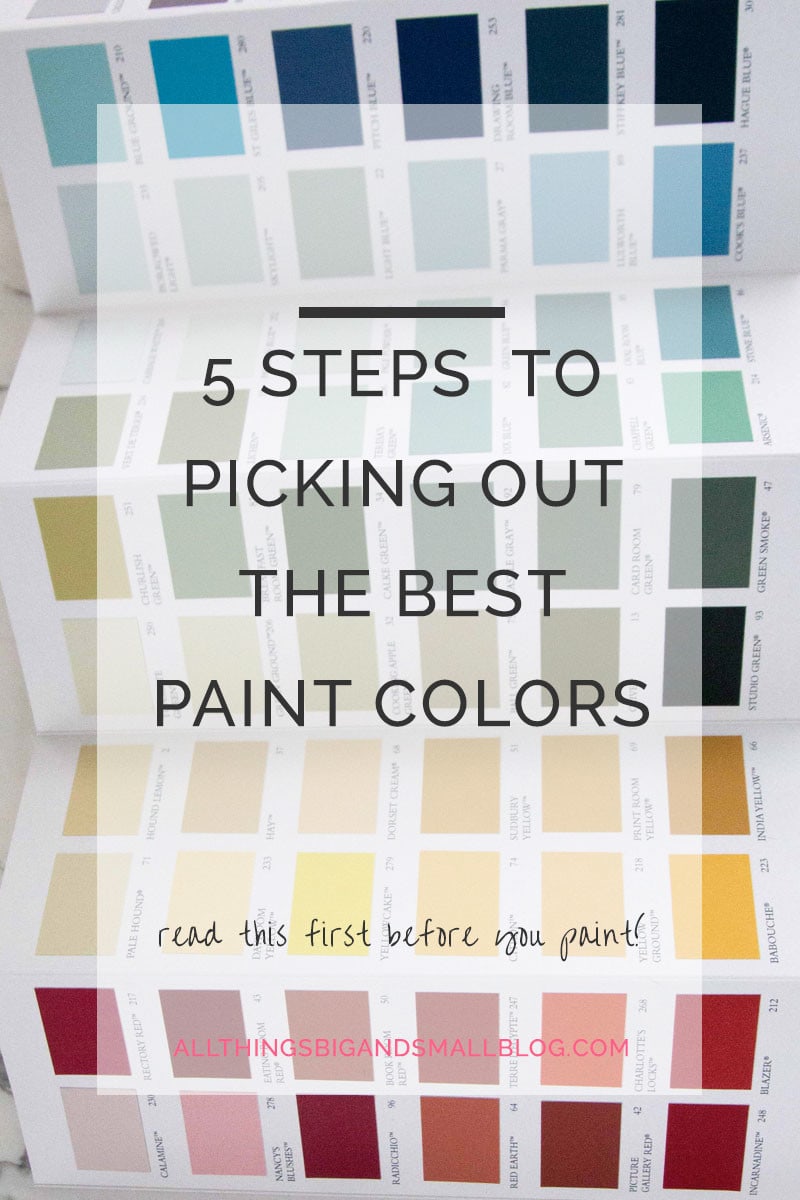 So have you ever made an awful mistake and had to repaint it? I got quite a lot of flack for having to repaint our living room in our first apartment; but, it was a good learning experience! Or so I tell my husband…
Linking up with Amanda at Meet at The Barre Oh Hey Friday with Karli and Amy; Five on Friday with Liz, Christina, Natasha, and Darci. Friday Favorites with Andrea, Erika, and Narci!