How to Pick Paint Colors: Picking out paint colors is probably the hardest part of painting a room, and the most common question on my blog. In this blog post, I'll share my secrets for picking out winning paint colors for your home to create a cohesive paint palette!
HOW TO PICK PAINT COLORS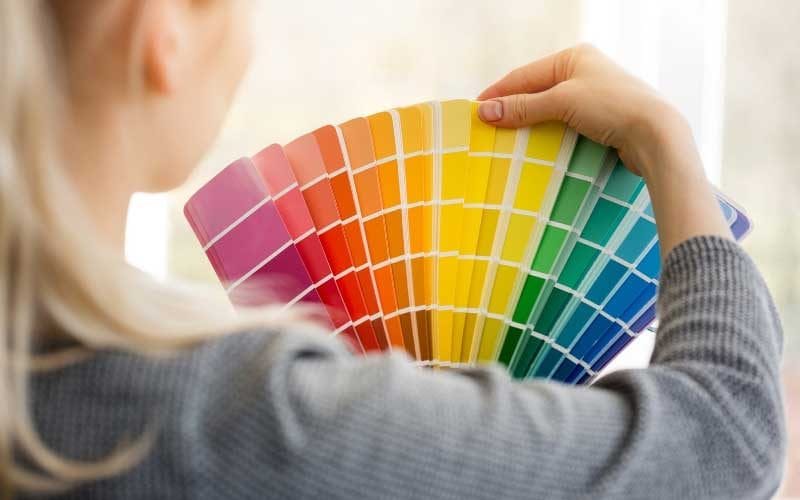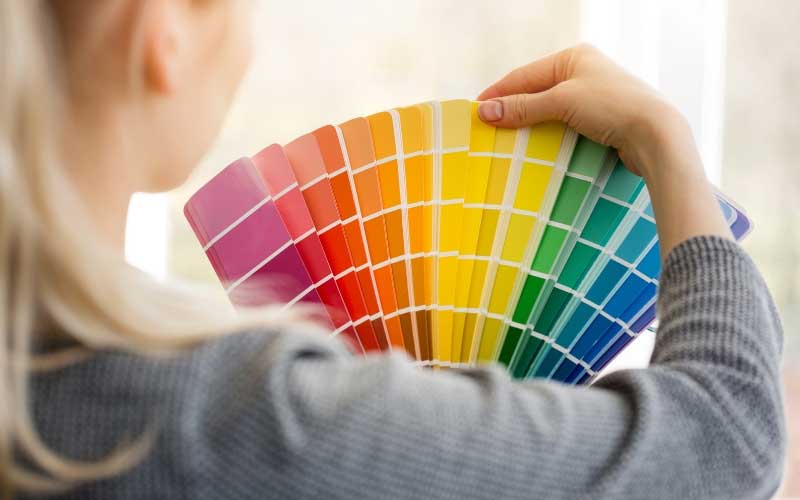 Believe me, I get it. The last thing you want to do after painting a room is to repaint it. I've been there! Before I knew the proper way to pick paint colors for your home, I made the mistake of choosing the wrong paint color for our first living room two times and ended up re-painting it twice in the span of three months! Let's just say, I was really good at cutting in by the third time 😉
Since then, I've learned the proper way to choose paint colors for your house, including how to make a whole house color scheme. Below, I'll go through each of my tips and share my tried-and-true paint colors that look good in any home! But make sure to download my checklist by clicking the image below!
STEPS FOR PICKING PAINT COLORS
1. IDENTIFY THE OVERALL LOOK YOU WANT FROM THE PAINT COLOR
What feeling do you want to evoke? Airy? Bright and colorful?
Deciding which feeling you want the room to give is the first step. Look at your favorite rooms on Pinterest (see mine here). Are they dark and moody? Or are they light and airy? Is there a common color that runs through all of the images?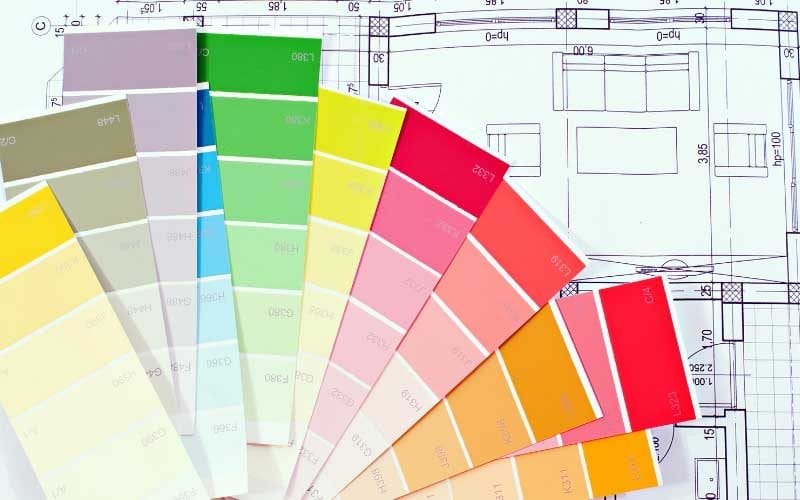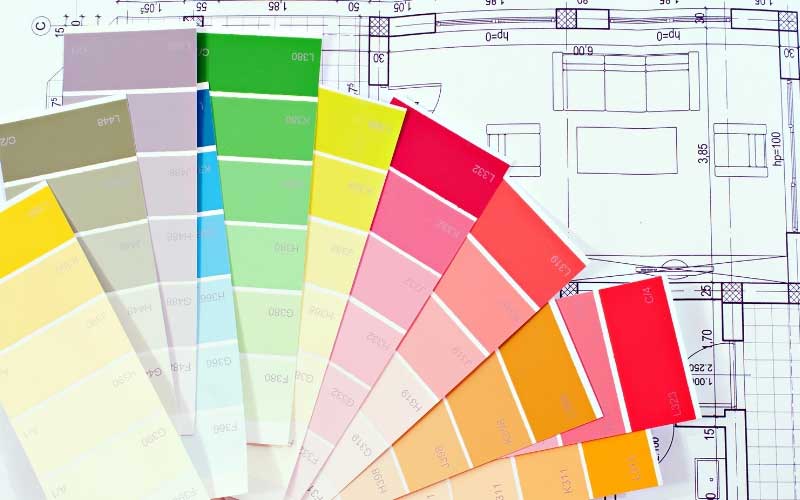 Although I absolutely love color, you might notice that 90% of my rooms in my house are either white or light gray. Just because you love color, doesn't mean you should paint your walls bright colors–I actually would urge you strongly NOT TO DO THAT. I am able to incorporate lots of color into our house while keeping the walls mostly neutral.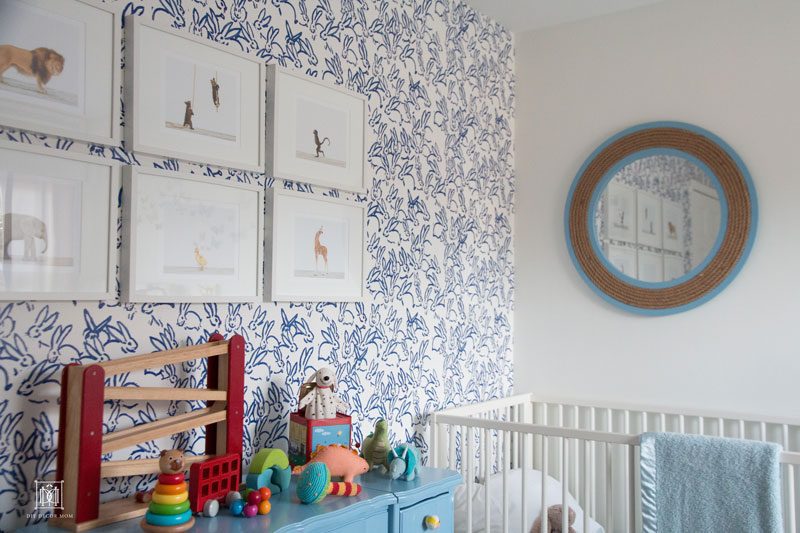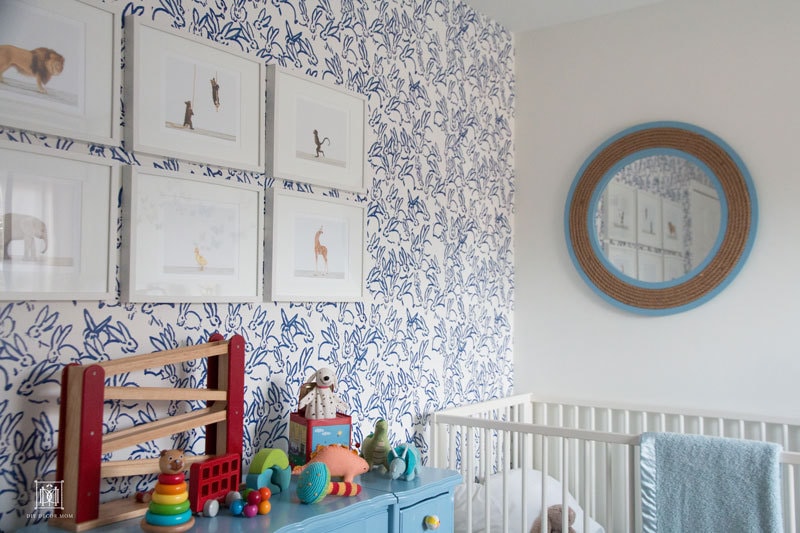 Baby Boy Room- while the theme is blue and white, 3/4 of the walls are Cloud White by Benjamin Moore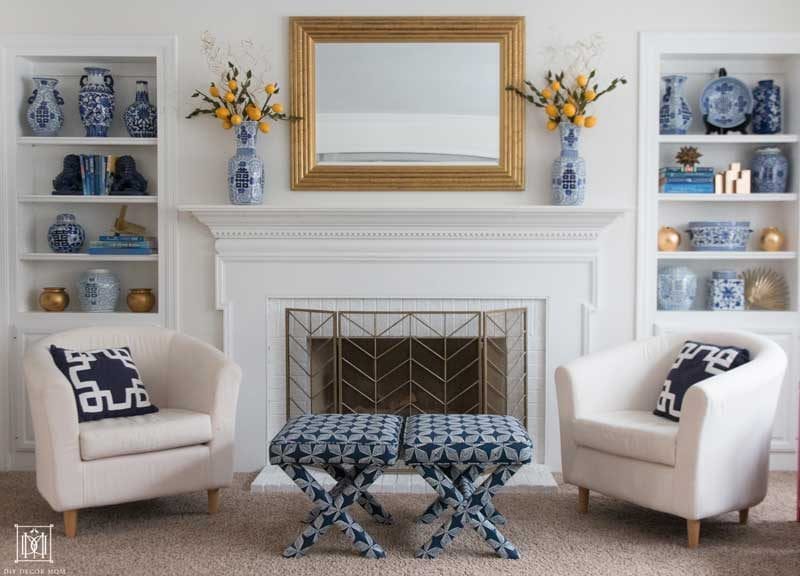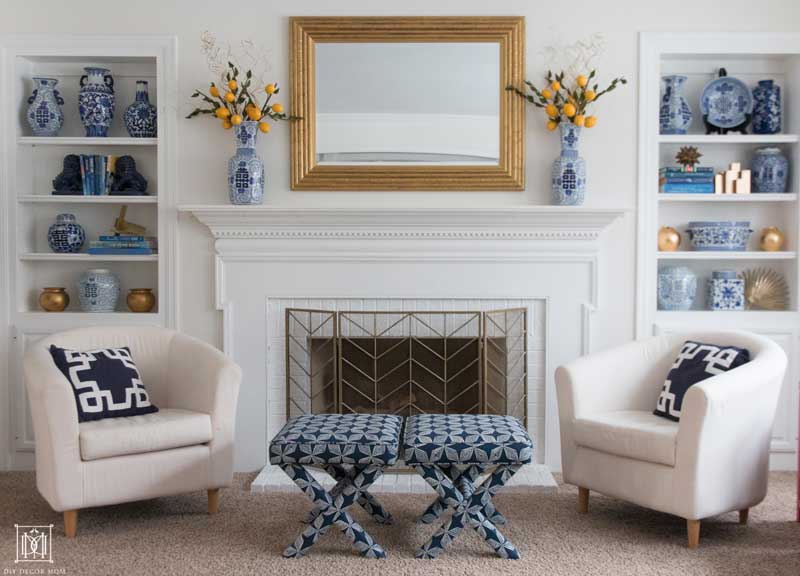 White Dove by Benjamin Moore Family Room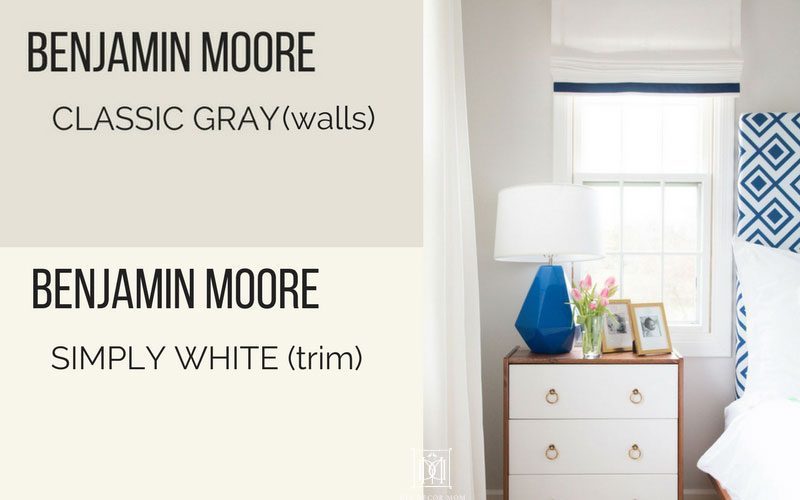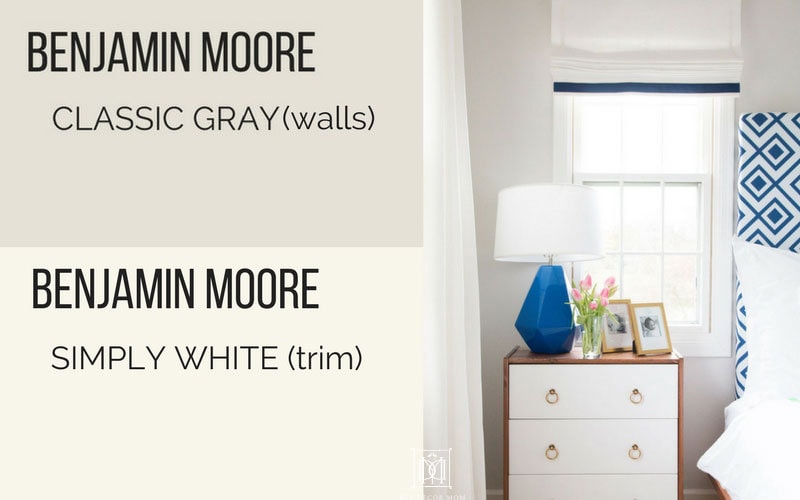 Benjamin Moore Classic Gray Master Bedroom but mostly blue and white themed
So decide what feeling you want the room to give. In our house, the front rooms (living room and dining room) get a ton of afternoon light. I wanted the rooms to be airy and light so I went with light grey.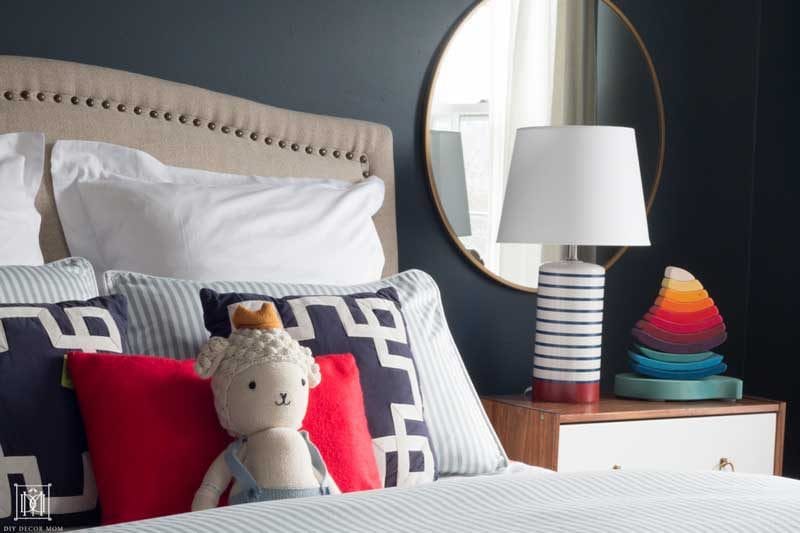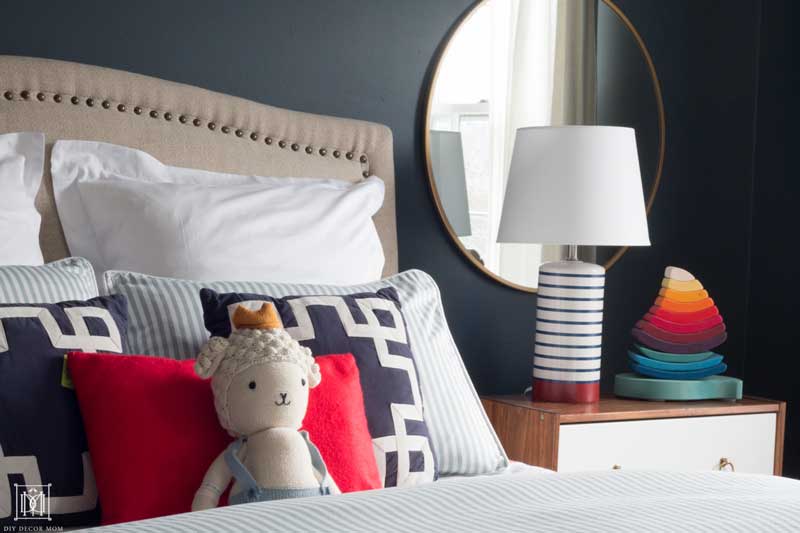 IF YOU WANT TO EXPERIMENT WITH PAINT COLORS:
Here are my tips: I like going bold in either children's bedrooms and/ or bathrooms! My son's nautical bedroom is painted Benjamin Moore Hale Navy–a deep navy blue, and my daughters' shared room is a light pink, Benjamin Moore Romance. These colors fit their personalities and are kiddish enough to balance out!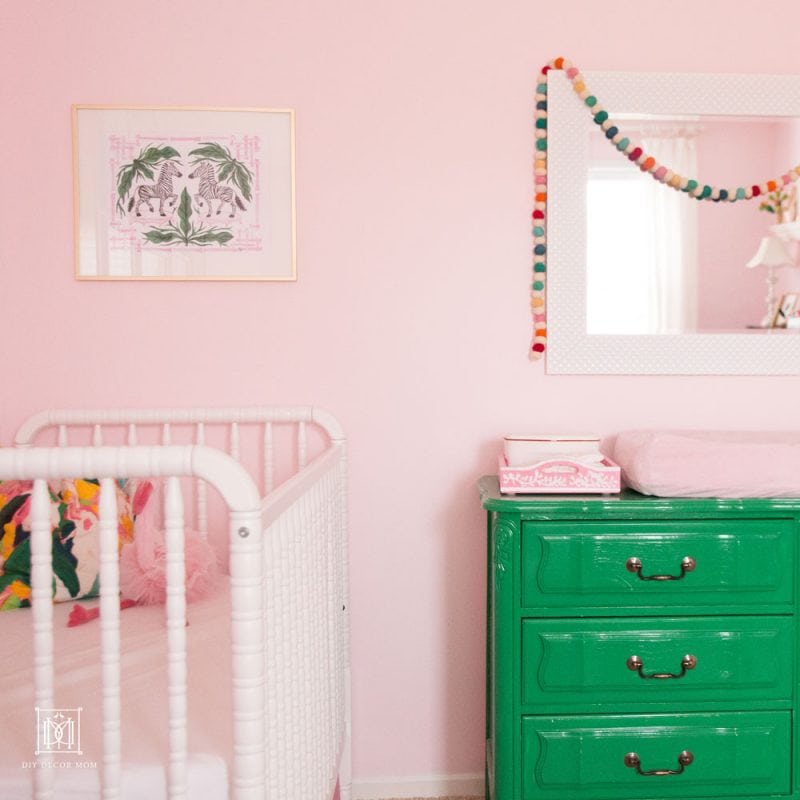 Bathrooms are also a great place to experiment with picking bold paint colors! I've used light blues on the walls above beadboard and/ or wainscoting which keeps 2/3 of the room white and bright! It's an easy way to experiment with little bits of color at a time and since bathrooms are usually very small, it's a small commitment!
2.) RESEARCH YOUR FAVORITE PAINT COLORS
Look at images on Pinterest that you are drawn to and write down their paint colors. It's not a guarantee of how the paint will look in your home–paint is incredibly temperamental and dependent on the light; but, it will give you a good starting point! I have tons of posts on paint colors on the blog here, if you are looking for a specific one, head on over here. You'll see my complete review of the color including any undertones, and see examples of it in real life blogger's homes!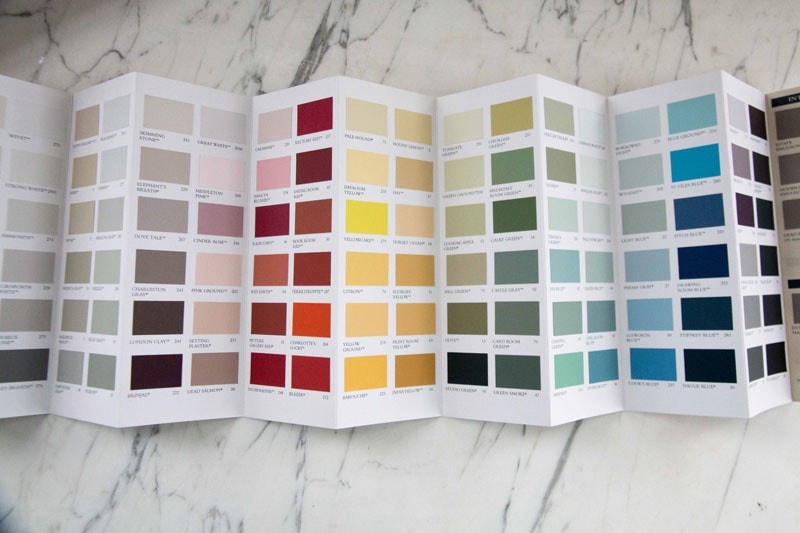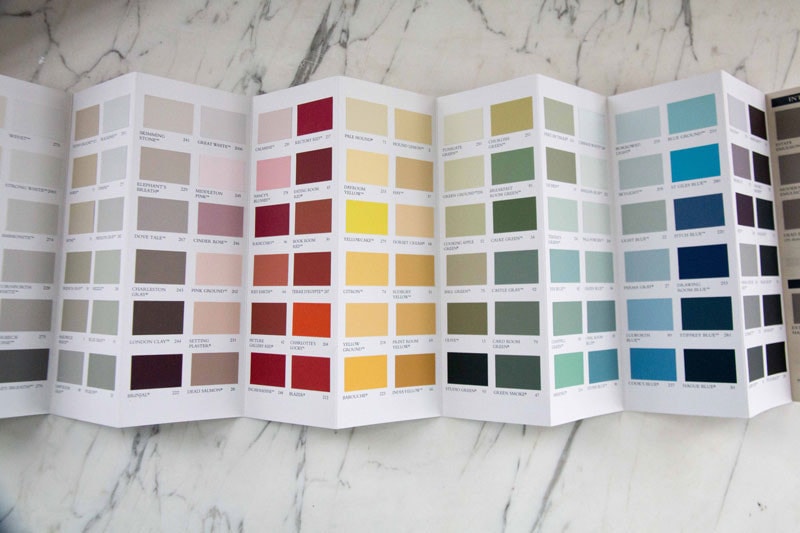 #3: CONSIDER LIGHTING & SIZE WHEN CHOOSING A PAINT COLOR
It is a fallacy that small rooms cannot be dark. Many times painting a small room a dark color makes it seem larger! The walls recede and you can't tell exactly where they end, giving the illusion of much more space. Furthermore, in a small space you can add a lot of drama with a paint color, in a room that might not physically have a lot else going on.
The front rooms in our house get a lot more light than the back half, so I knew that even though I wanted a light grey, I could and should go a little bit darker to make sure that it doesn't get washed out. In the back of the house, where it is generally darker, I wanted warmer colors to counterbalance the cool northern light. By going warmer in darker rooms, and darker in really light rooms in regards to the shade, the paint color will be truer to the one you envision.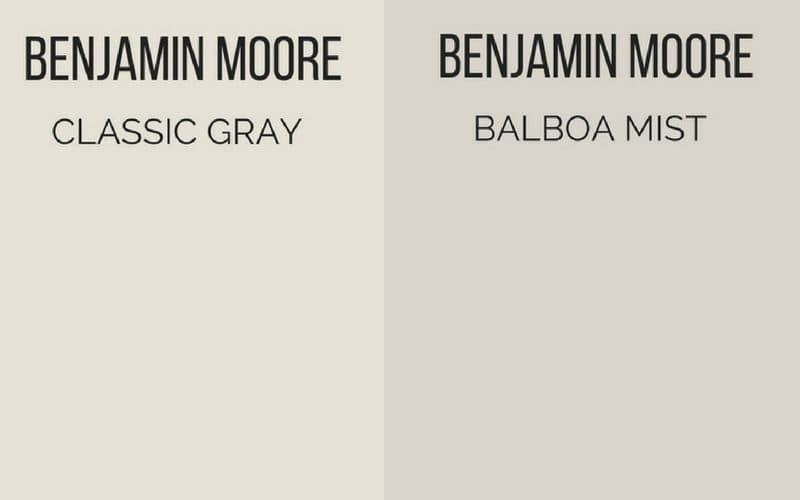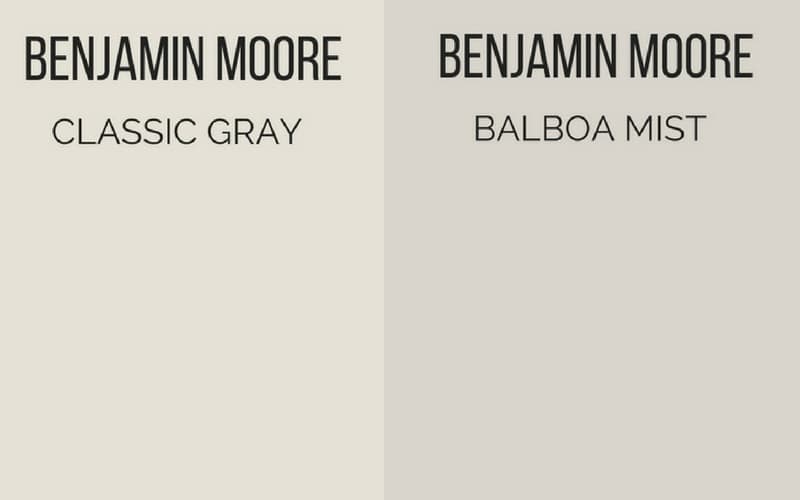 We went with Balboa Mist in the dining room and the living room in our house. I originally wanted to go with Balboa Mist in the hallway as well; but, knowing that it got pretty dark once you go up the stairs because the hallway has no windows, I went with a lighter shade in the same family--Benjamin Moore Classic Gray. These colors are very similar and read almost the same to the eye; but, Balboa Mist would have been too dark and bluish upstairs where there isn't a lot of natural light.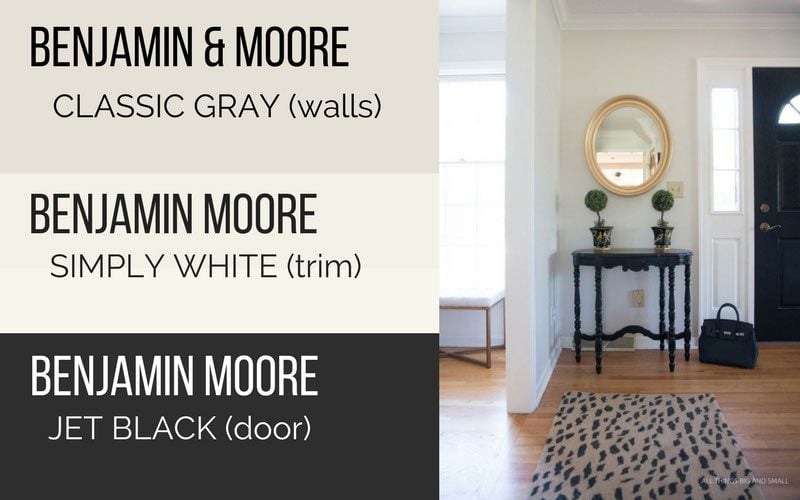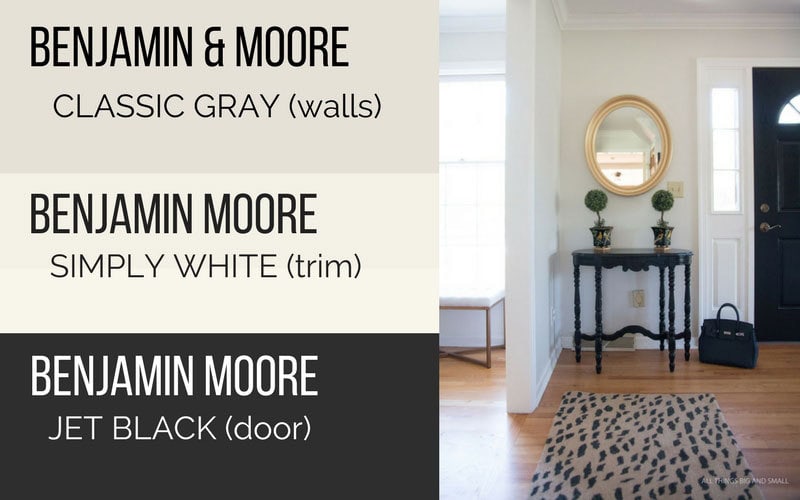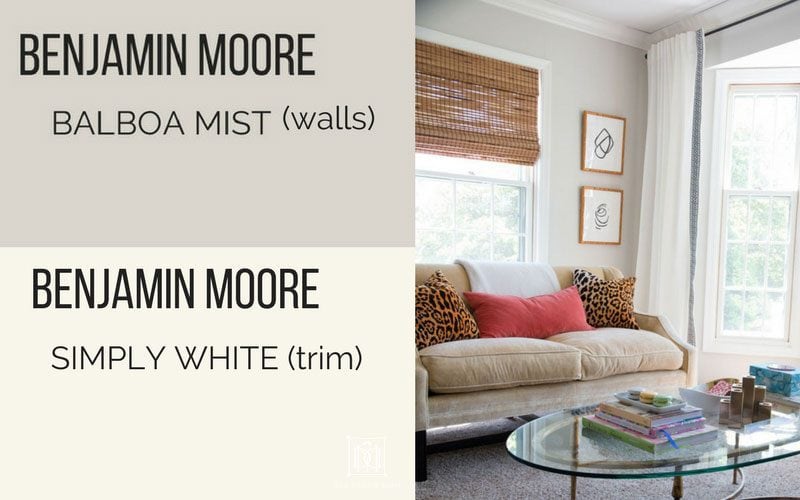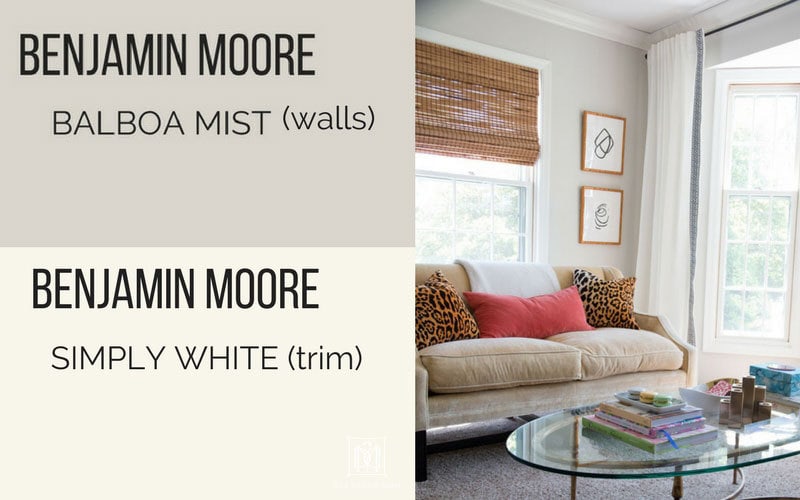 #4: PROTOTYPE YOUR PAINT COLOR CHOICES
Do you have trouble envisioning what a paint color will look like when you just have an itty bitty paint chip? I hear ya!
My favorite trick is to apply two to three coats to a square sheet of paper and hanging it on the wall in your room. Leave the sheet up over the course of a day at least so you can see the paint in a variety of lights. Move it from wall to wall, and down to the ground to see how it looks with your trim and your floor.
Note: Make sure it is at least 4″ wide and 6″ tall to get a good picture of what it will look like. Paint any other colors (trim) next to it so you can see the two paint colors together. Want to know another reason painting on a piece of thick paper is better than the wall (other than the obvious reason of not making your house look crazy and pissing off your husband)? Painting on white paper gives you a truer representation of what your wall will look like with the finished project because you aren't cover up your wall's color. To cover up the brownish tan, I would have to do probably at least three solid coats in my light colors just to see the sample. It only takes two on a piece of paper!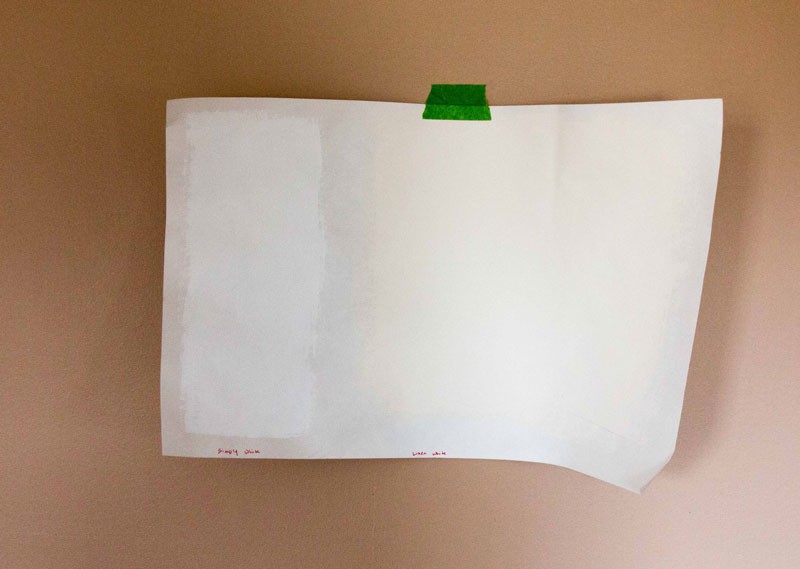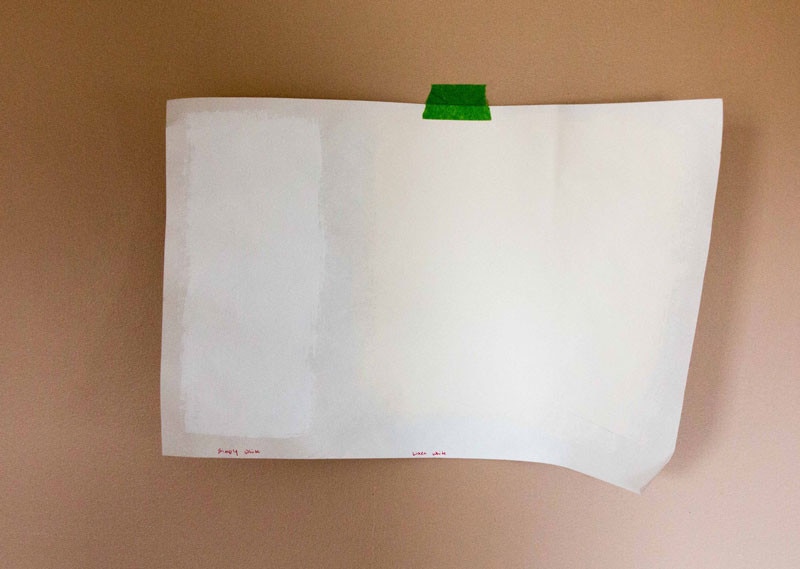 #5: PUT YOUR PAINT COLOR AND FABRICS TOGETHER
The best part of making a big old sample is seeing how your chosen paint color looks with your other features in the room!
More than likely, you aren't going to be switching everything at once. Take that prototype swatch and move it next to the trim, next to the carpet, next to your couch, next to any fabric samples you want to use.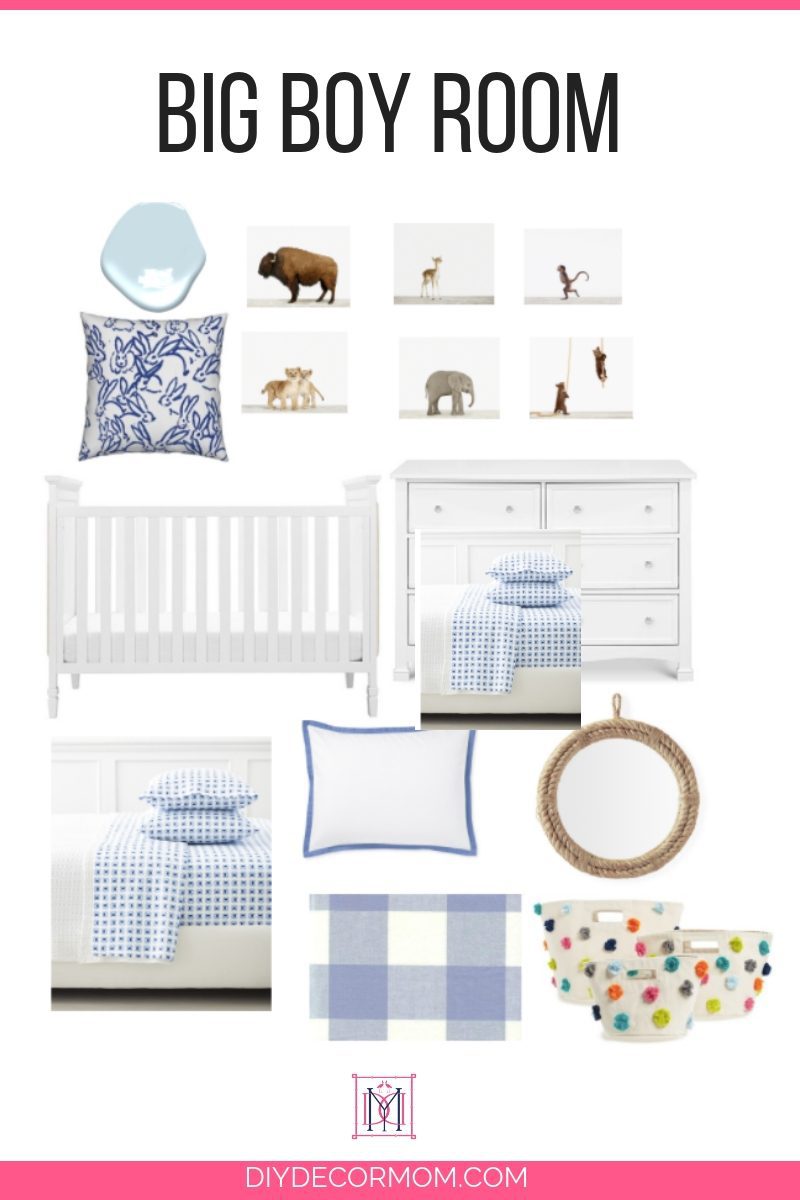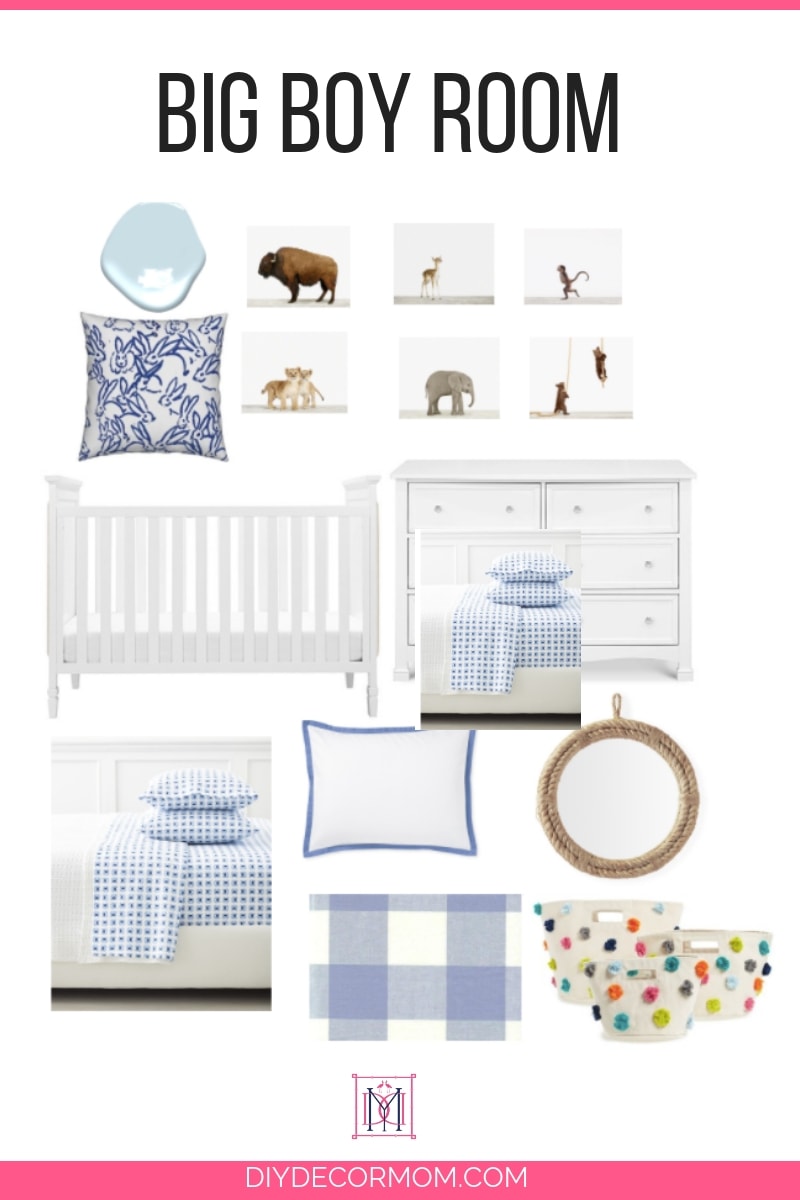 STILL STUMPED ON HOW TO PICK OUT A PAINT COLOR?
Check out my best gray paint colors and tips for picking the perfect paint color every single time here! You can even download a printable paint chip list for both Sherwin-Williams and Benjamin Moore, which highlights their most popular light gray paint colors. No more going back to the paint store because you forgot to pick up a certain chip!

MAKE SURE YOU DON'T MISS THESE GREAT POSTS ON OTHER LIGHT GRAY PAINT COLORS: