Christmas Mantel Two Different Ways: This year in the midst of all of the construction chaos (the entire exterior exterior of our house is being replaced which means that we can't have anything on any exterior walls), I have taken a more simple approach to Christmas.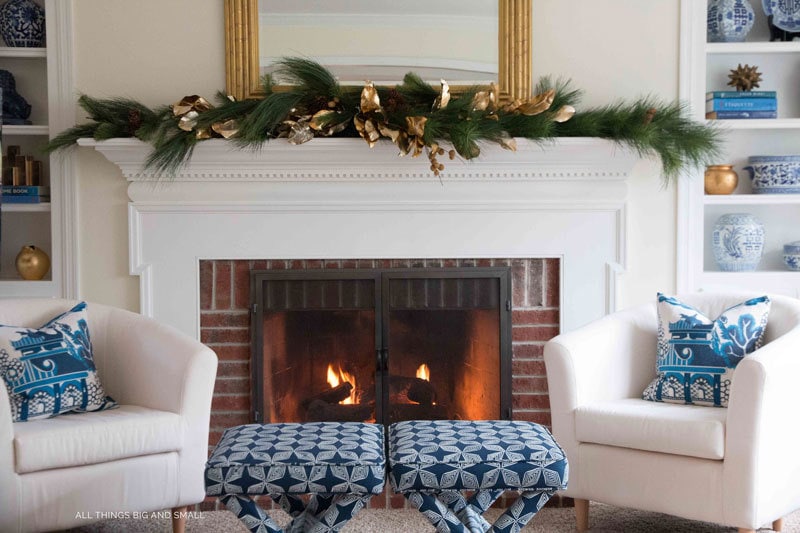 First, our Christmas tree will be two different colors (gold and blue to match the mantel) instead of all of our usual ornaments. Second, we are choosing not to bring out most of the Christmas decorations (like our nutcracker collection) simply because my entire china cabinet is currently all over our grand piano and formal living room. Third, exterior decorations are not happening at all simply because there is nowhere to attach wreaths! And fourth, our mantel has to be easily reproducible (I had to take everything down from the fireplace and bookcases this morning).
Strangely enough, I love how easy our Christmas decorations are turning out to be!
Our Christmas Mantel is the best example of how beautiful a simplified approach can be. See our mantel this year versus last year (first picture versus second picture below.)
This year: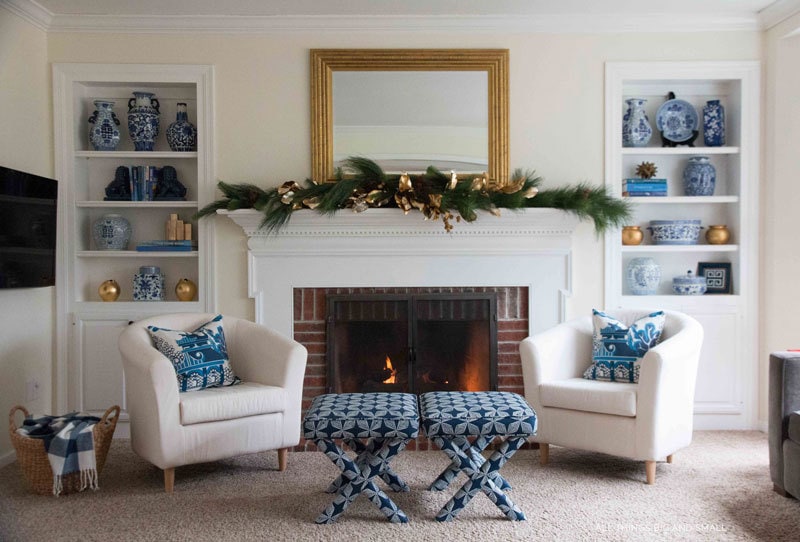 Last year:
DIFFERENCE #1: GARLANDS & ACCESSORIES
Last year, it took several hours to put together the mantel with all of the birds, garlands, ribbons, and lights.
Last year: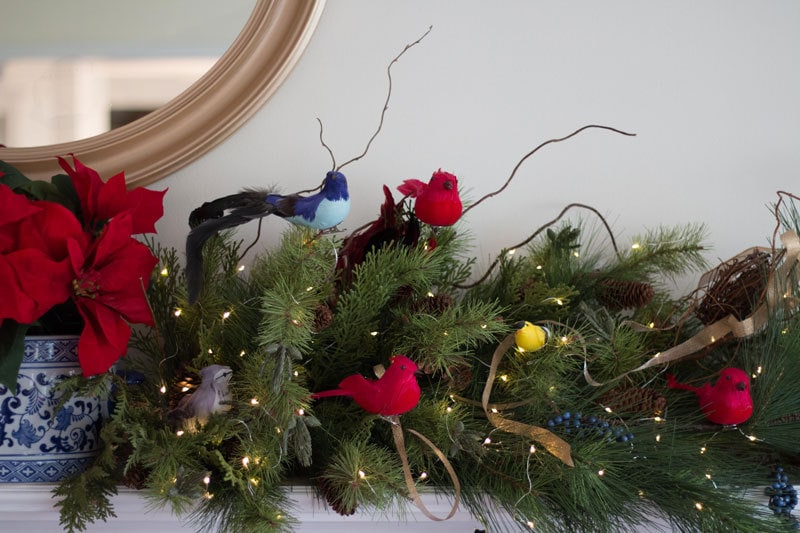 This year, I was able to assemble the entire mantel-scape in less than 30 minutes. Instead of four different garlands wound together, I used two: this gold magnolia garland and one evergreen garland.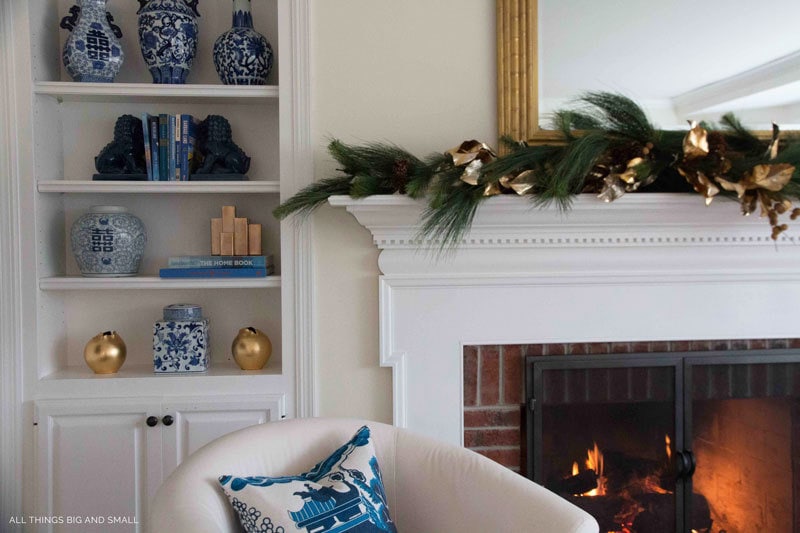 DIFFERENCE #2: MIRRORS
You might notice I switched out the mirrors as well–I chronicled how I did that in this post Gold Mirror DIY–I refinished both mirrors for under $30 and the current faux bamboo one cost under $30 to start with!
Last year: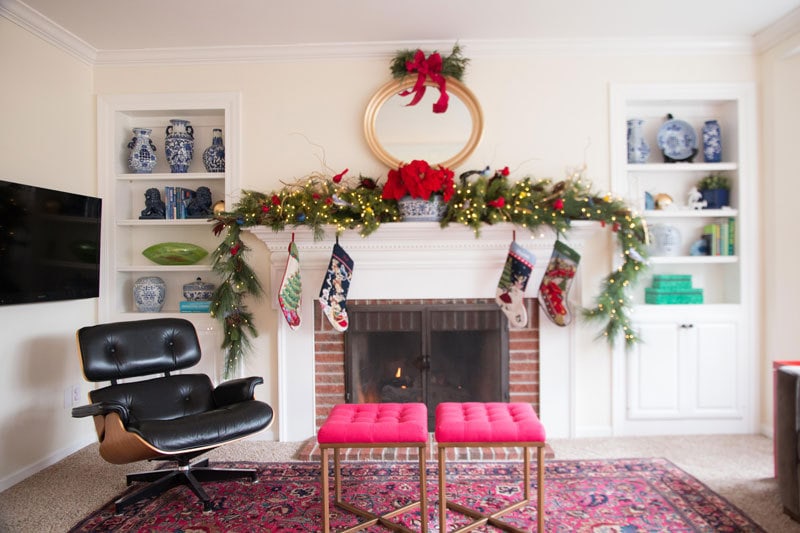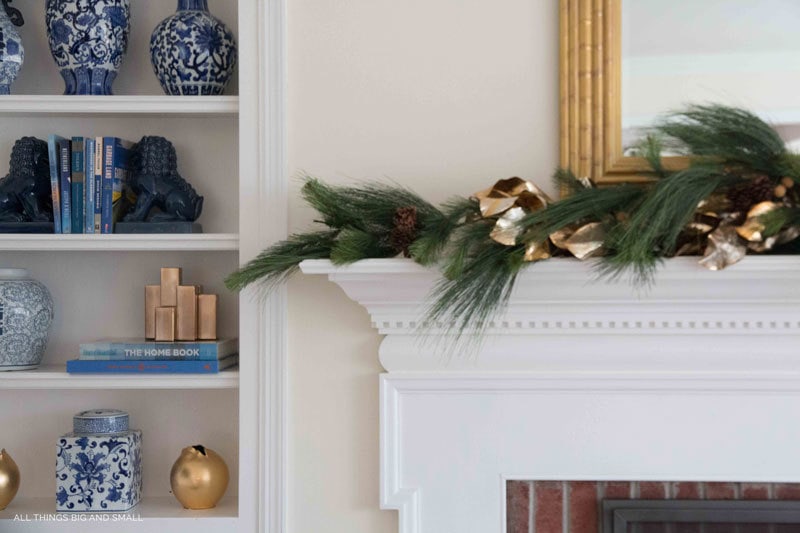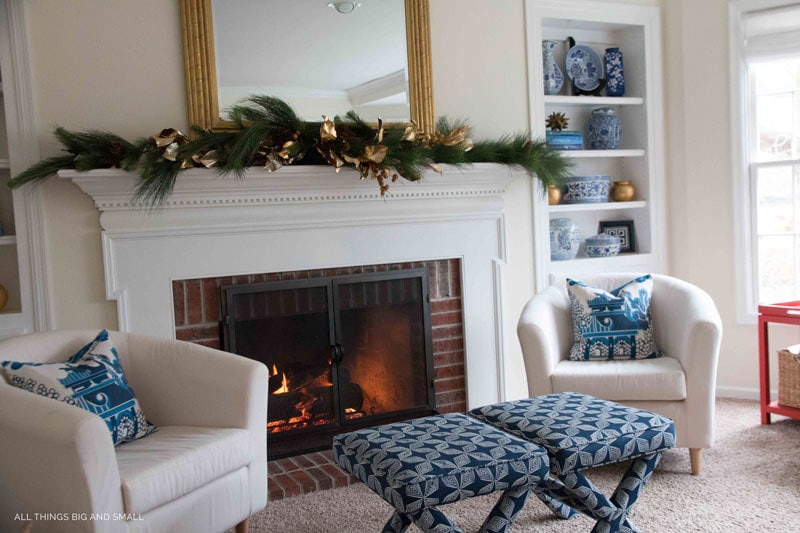 DIFFERENCE #3: FURNITURE
We relocated our Eames chair to our master bedroom (see our complete master bedroom makeover here), and I added some symmetry with two inexpensive white Ikea chairs here (they are under $99 which is a steal for such a stylish accent chair–see all my favorite affordable accent chairs here). I love how they balance the room better and are fantastic for creating better seating areas for conversation (see all my tips on how to arrange furniture in this post).
Last Year: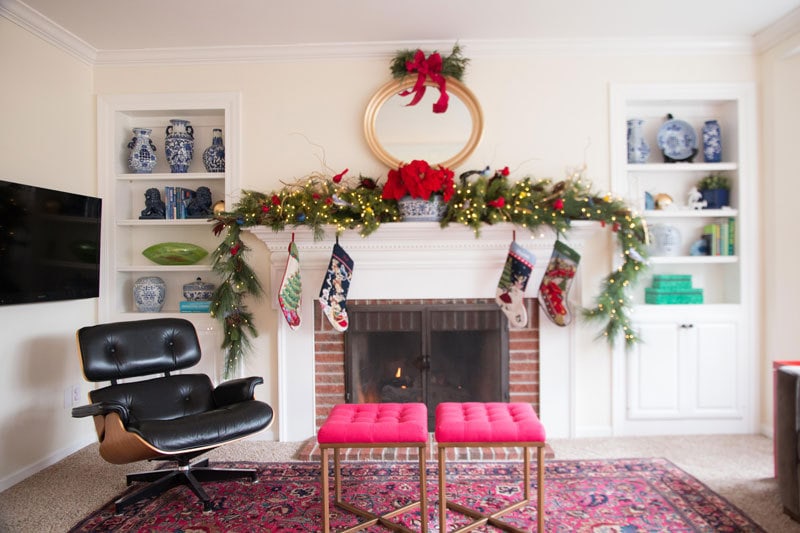 This year: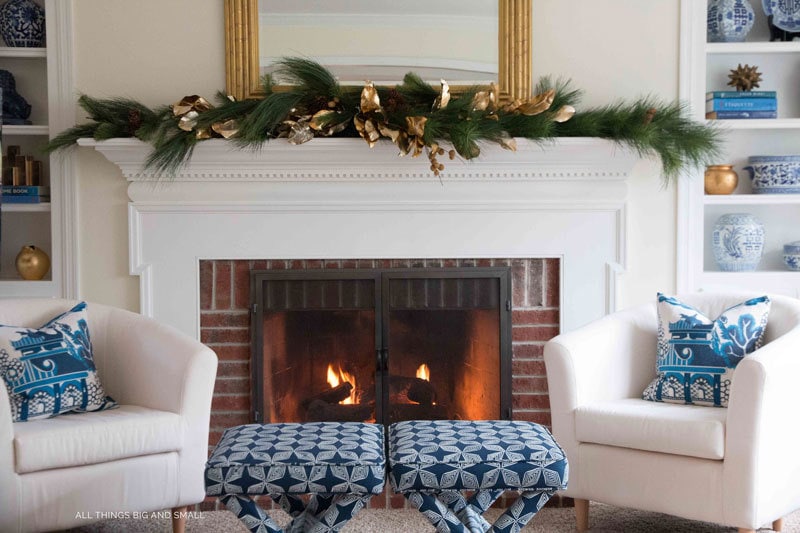 DIFFERENCE #4: PARING BACK COLOR
Instead of lots of bright colors, I have scaled back my color palette and focused on blue, white, and gold. As a result, I have a more sophisticated and calming display. The room feels more cohesive, and flows better with the other rooms in the downstairs (our recently redone playroom for the One Room Challenge, our living room which is going to get a mini-revamp soon), our downstairs bath–another One Room Challenge makeover, our kitchen, office, backhall (makeover happening this month!) and entryway.
Last year's bright colors: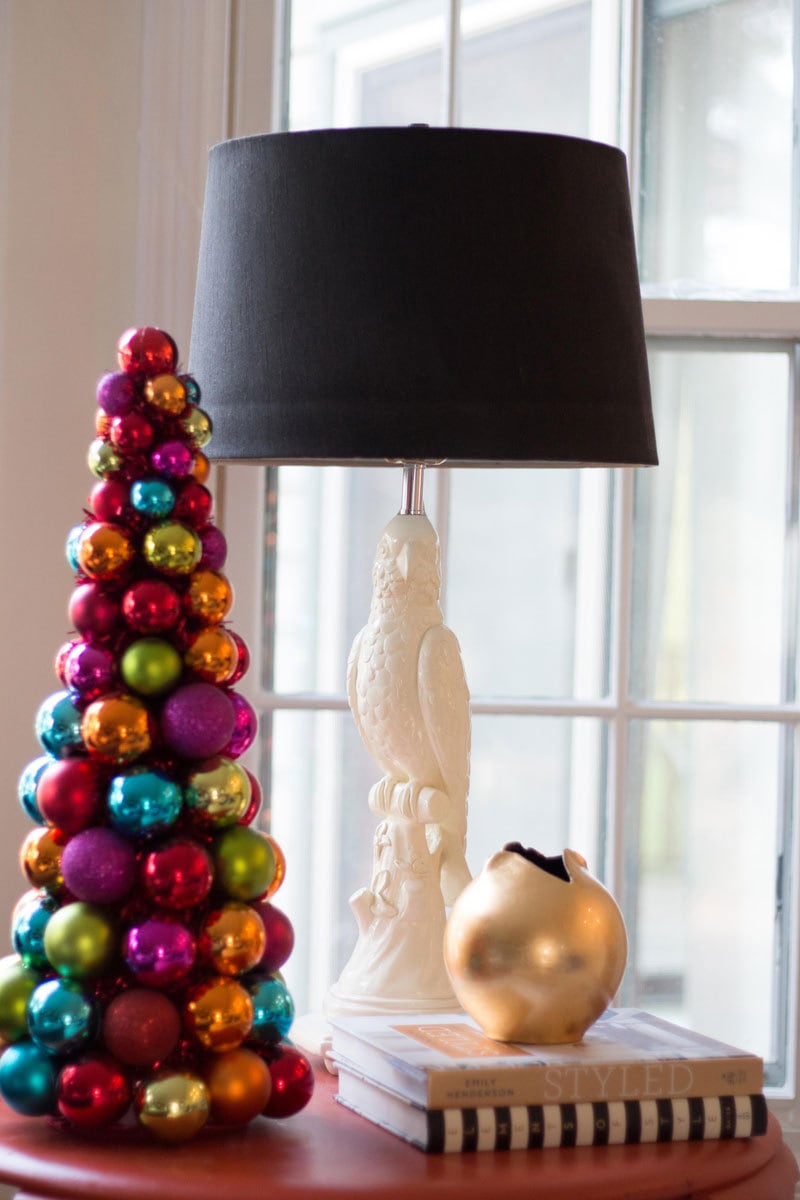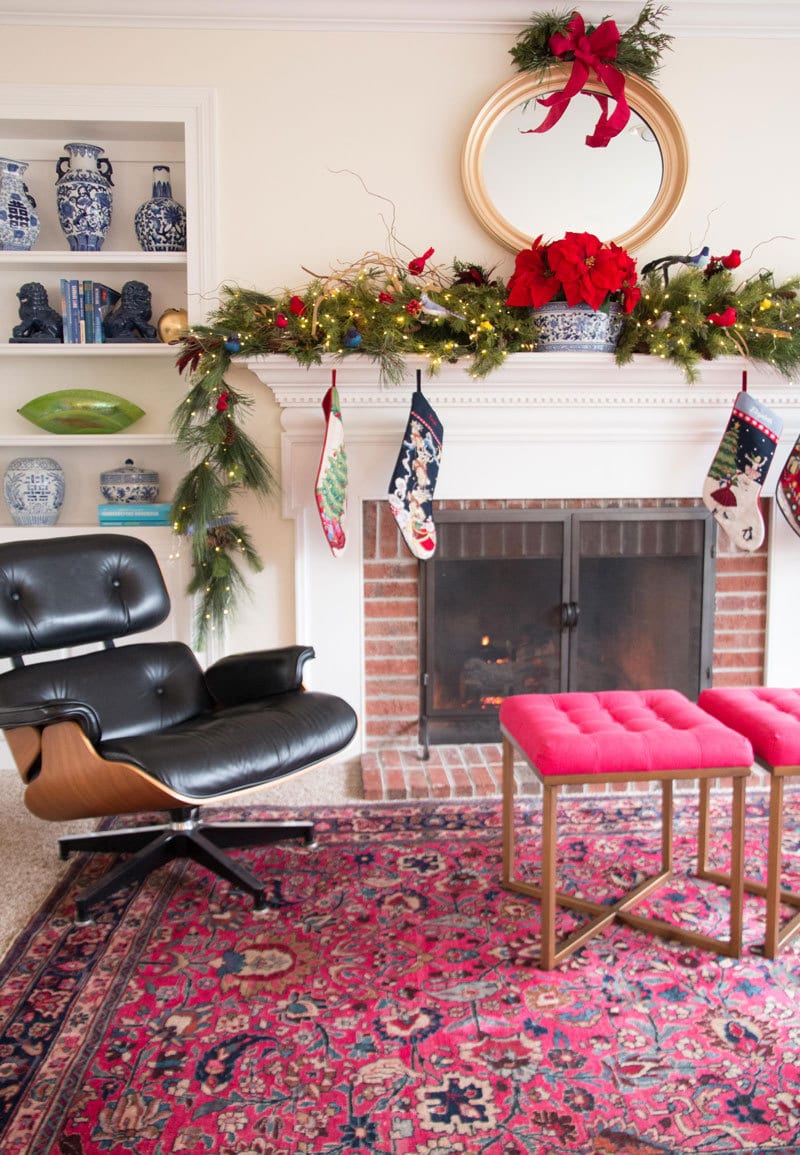 Versus this year's pared back palette: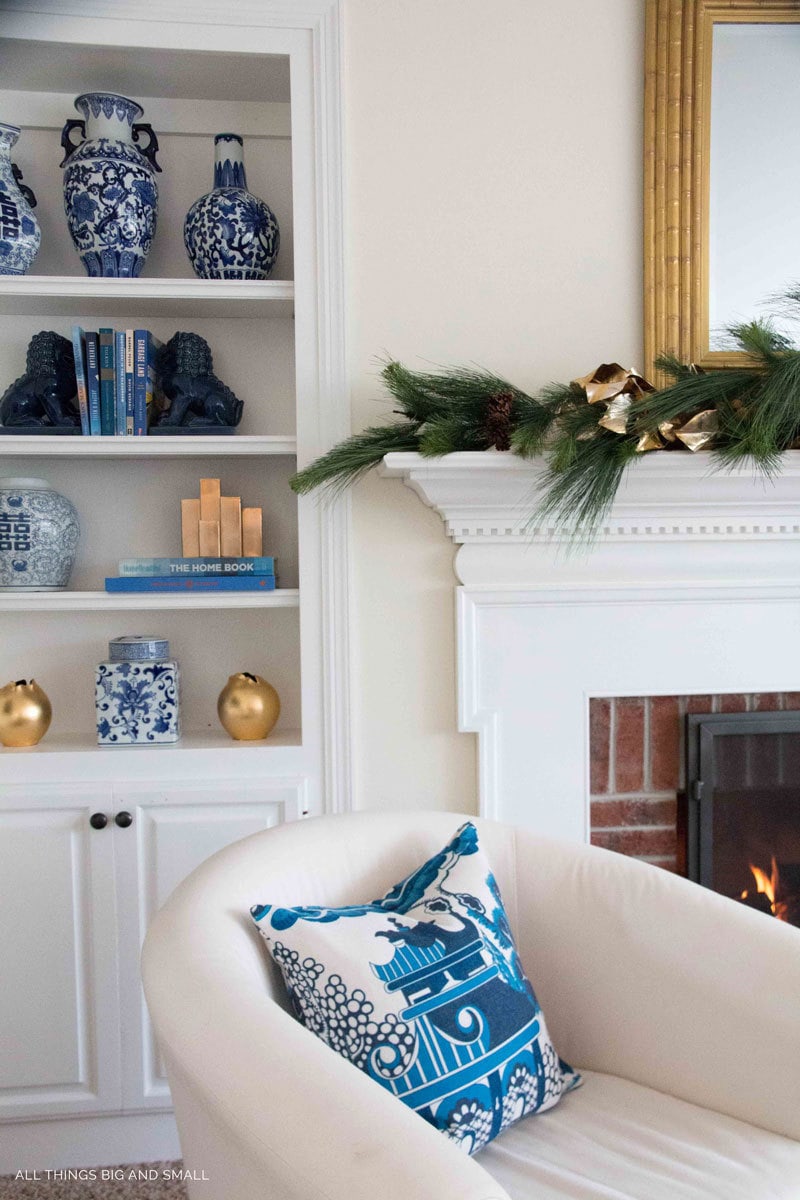 All together, the differences result in a calmer, more sophisticated focal point for our most-used room of the house, and I am loving how easily reproducible it is, how simple it is, and how cohesive it looks! Make sure to see all of the AMAZING Christmas home tours this week! I always love seeing how bloggers style their homes for Christmas!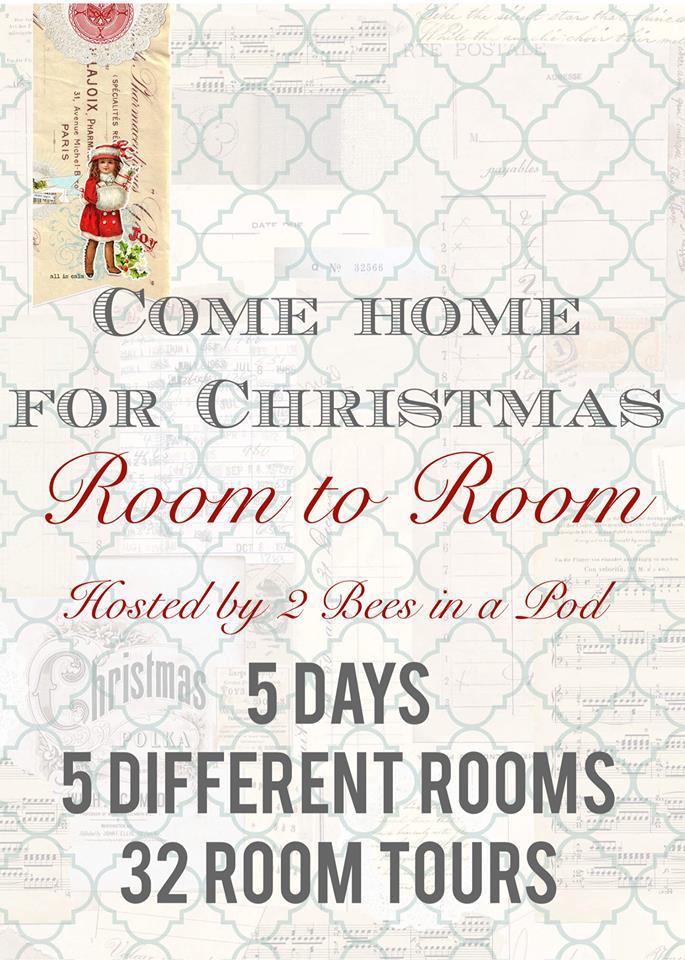 MONDAY
TUESDAY
Green With Decor
Little Red Brick House
Catherina's Creative Corner
Houseful of Handmade
WEDNESDAY
Bliss Ranch
Keys to Inspiration
THURSDAY
Little Bits of Home
Worthing Court
The Inspired Hive
DIY Beautify
Refresh Restyle
FRIDAY
2 Bees in a Pod – Jenn
Noting Grace
Home with Cupcakes and Crinoline