Nursery Furniture: Easy Updates for a Fresh & Functional Nursery PLUS a HUGE GIVEAWAY
*this is a sponsored post with DaVinci Baby but all thoughts and opinions are mine alone.
As Brooke is our third baby, we already had most of the nursery furniture under control. However, we still wanted to update the nursery and personalize it for our newest family member, and fix some of the inherent problems with the space; but, we didn't want to spend too much money. Now that we've addressed the problems, I wonder why in the world we lived with it not working for so long! *GIVEAWAY AT THE END!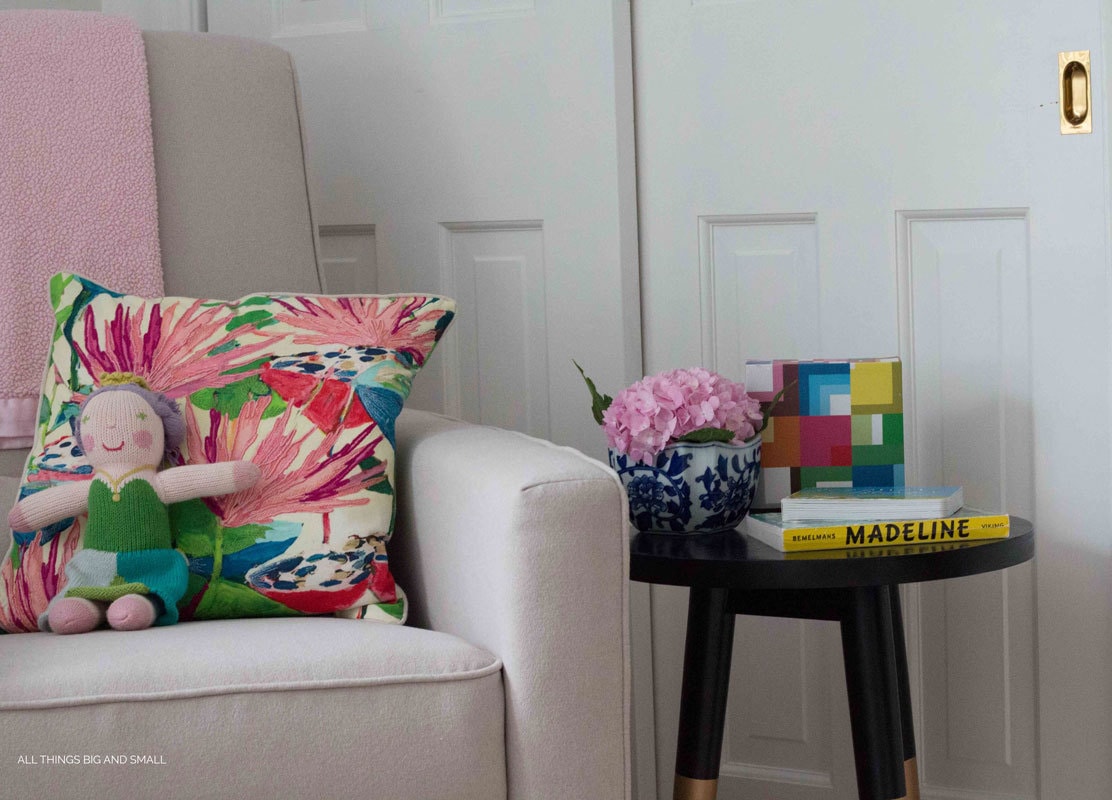 For budget reasons, we chose to utilize everything we already had from the first two kids–we reused the crib, changing pad, vintage desk, and side tables and all of the existing decor. But there were a few things in the room that had to go–I needed a glider or rocking chair that didn't hurt my neck during long nursing sessions. I loved my DIY Upholstered Rocking Chair but it had seen better days, and was never that great for the middle of the night sessions that always last longer than you want. And since my kids seem to sleep through the night only at 14 months (ARGH!), I knew that I was going to spend a lot of nights in the glider, so it had better be comfortable!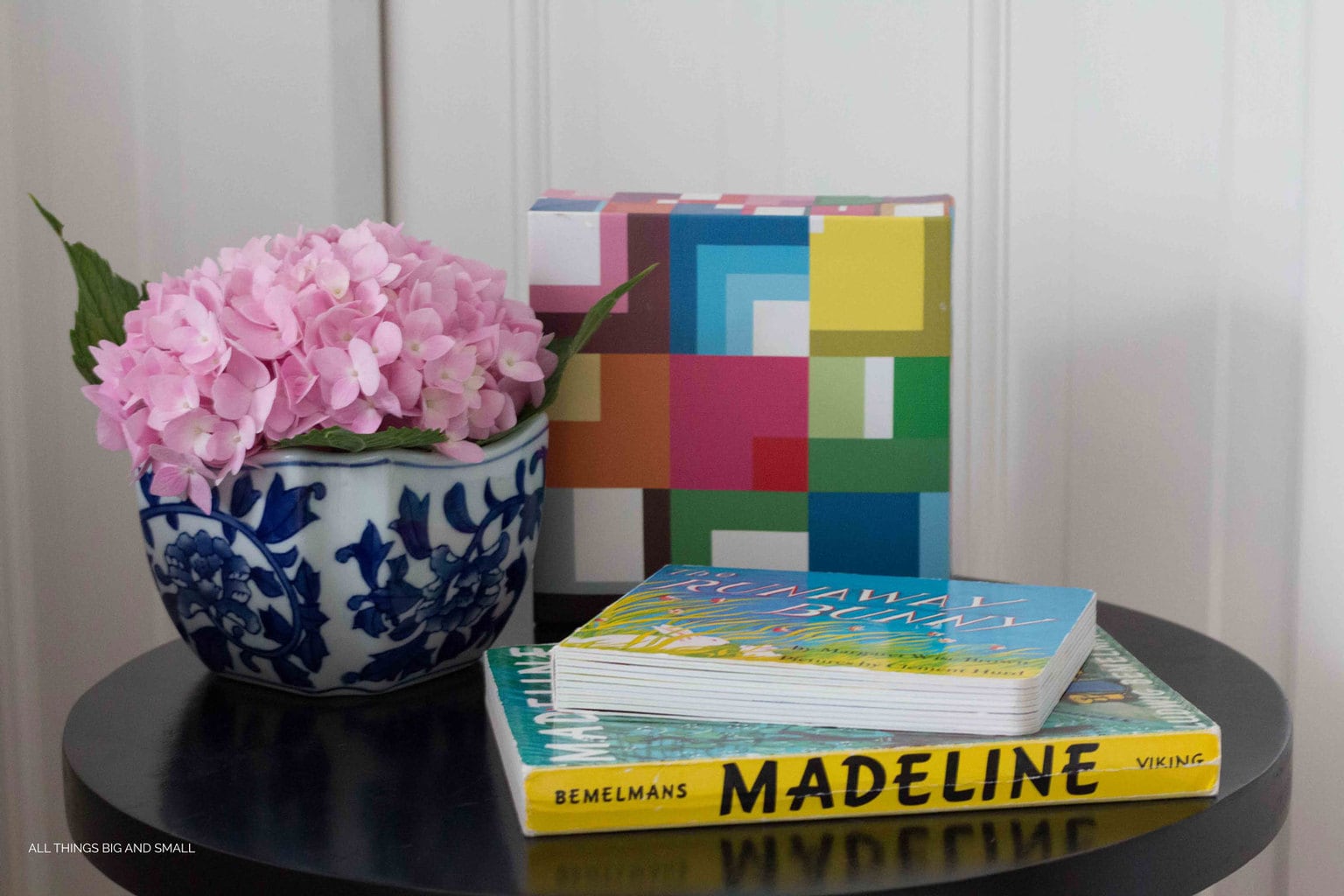 I also wanted to update the nursery so it looked a little more girly with some easy updates that didn't cost much money. These little changes served to make the room personalized, and make it special for our newest baby girl.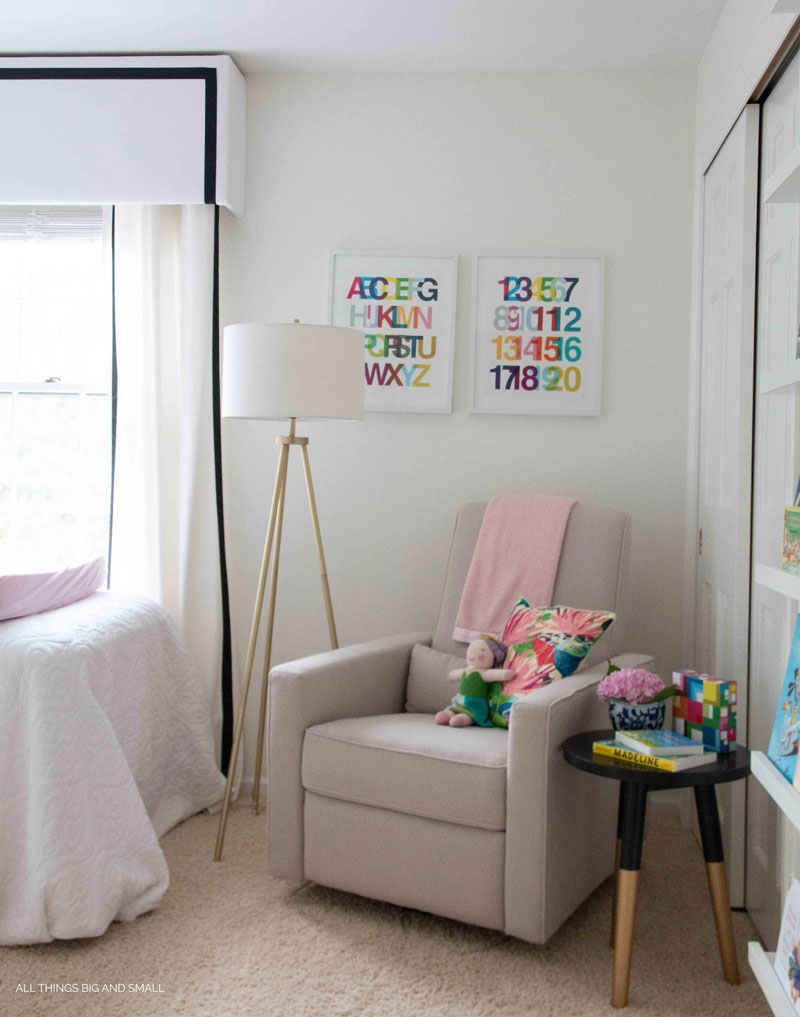 The Piper All-Purpose Upholstered Recliner and Glider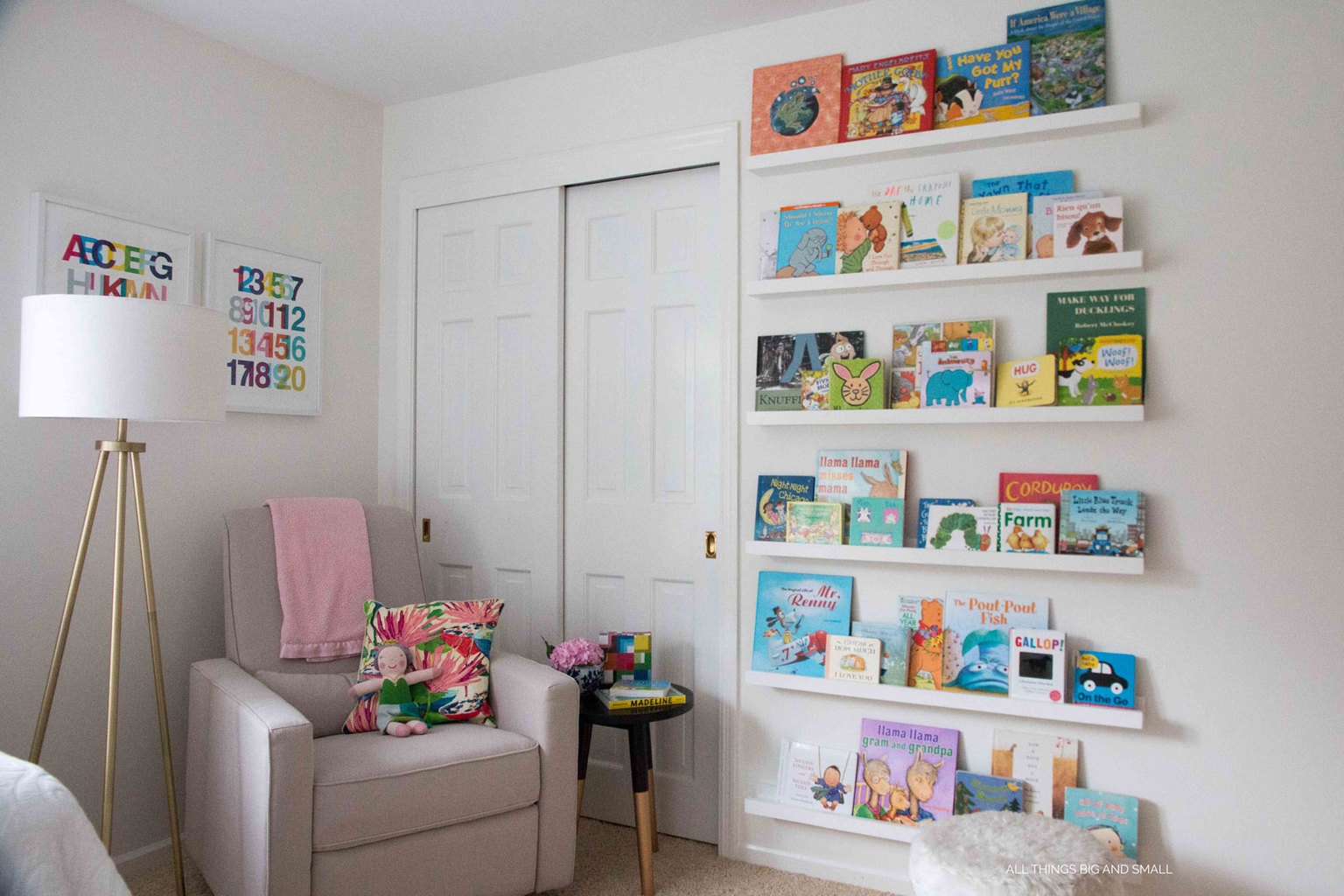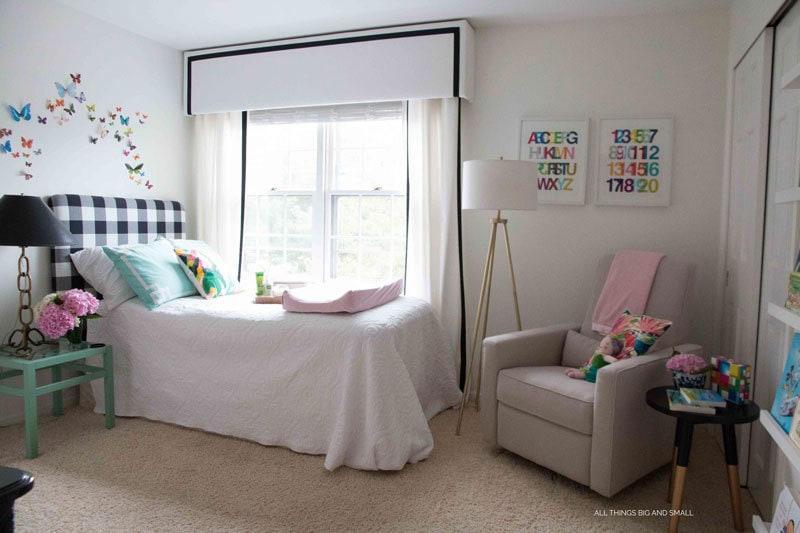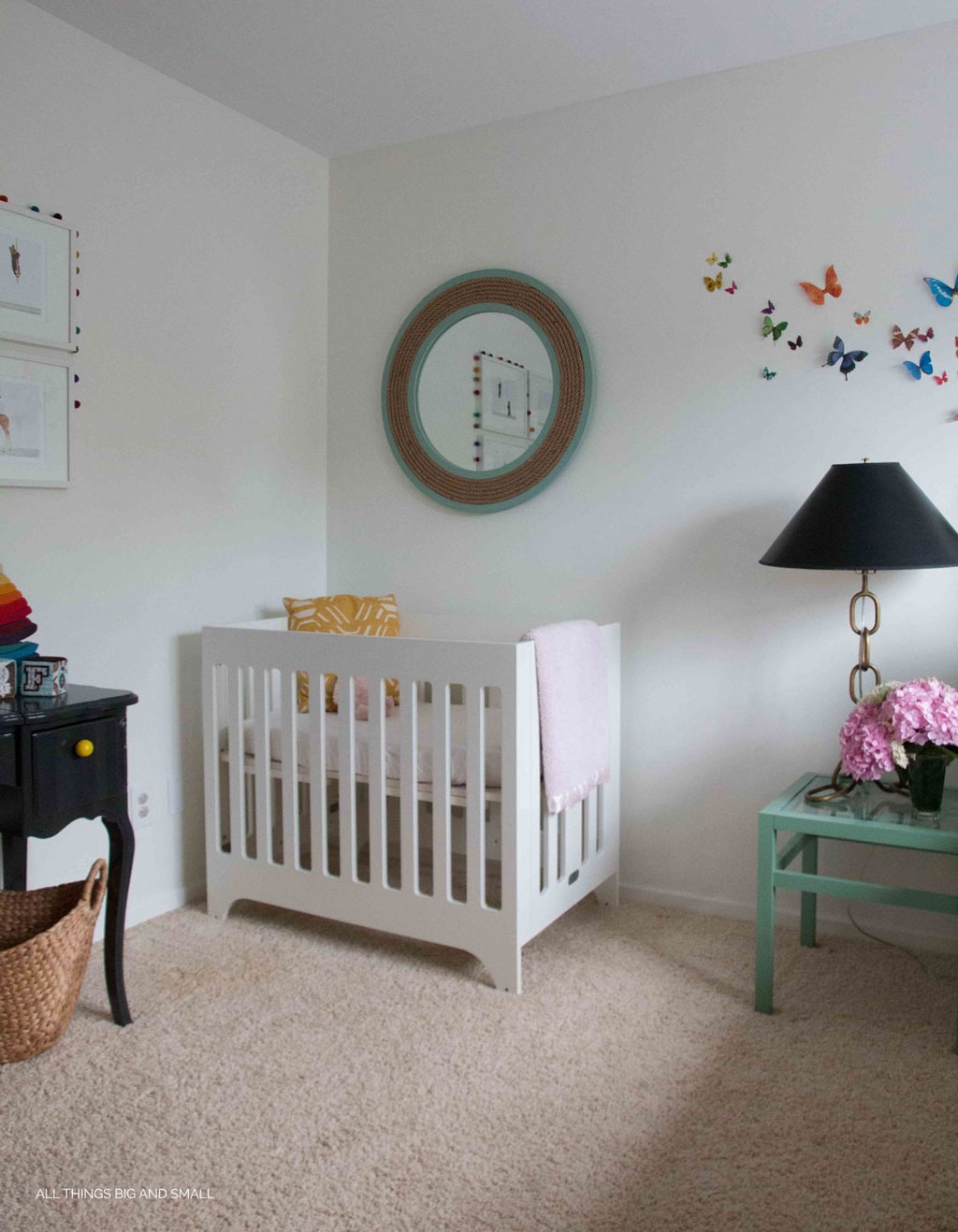 NURSERY FURNITURE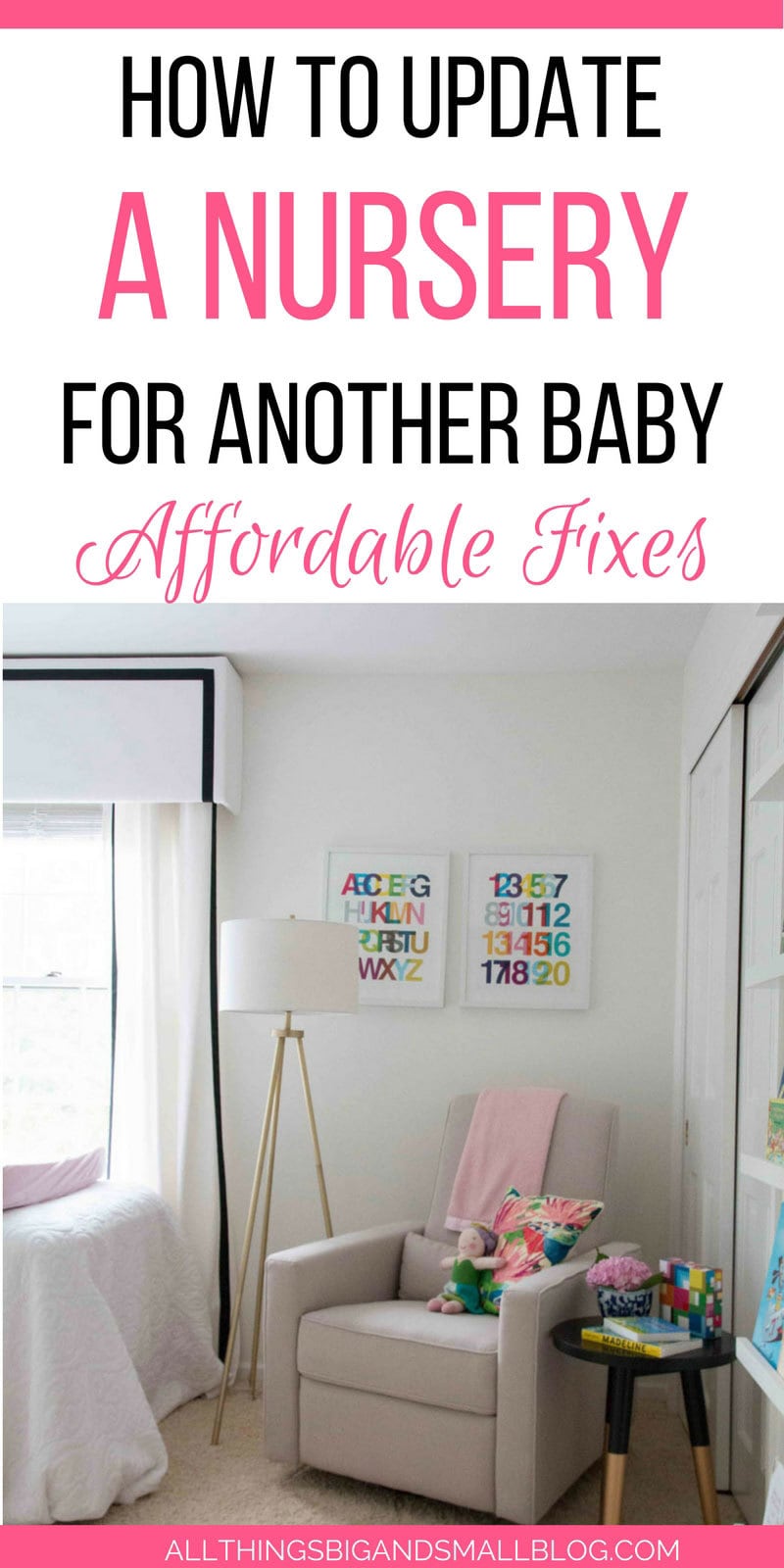 ROCKING CHAIR/ GLIDER
I cannot emphasize how much of a difference it makes to have a comfortable rocking chair. After nursing in an itty-bitty rocking chair with Bowe in our old apartment (her nursery was a 8'x9′ room without a door), and then nursing in a hand-me-down rocking chair that I improved with some new cushions (but still wasn't ergonomic), I couldn't have imagined how comfy a proper glider could be. The Piper All-Purpose Upholstered Recliner and Glider is easily the comfiest chair in our house and now I want one in our other rooms too! And that is saying a lot from a girl who had never even been in a recliner before (why even try it if they are usually so ugly!) But, this one was different! It was gorgeous and you couldn't even tell it was a recliner!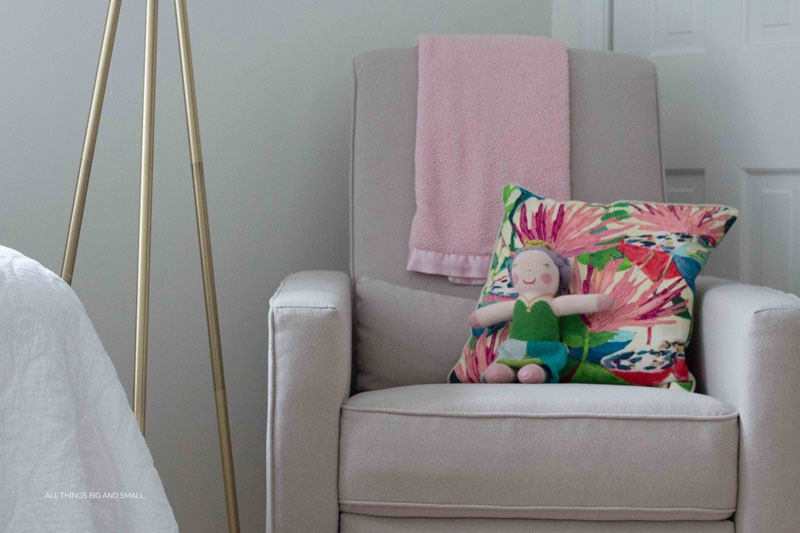 It didn't take long for the other kids to figure out that it was insanely comfortable either..the first day, I found my four year old daughter, Bowe, snuggled up in the chair with all of her books. She even figured out how to use the recliner (she calls it a secret handle)! It is her favorite place to read books while her brother naps in their shared bedroom.
These days, I love sitting in the chair with a glass of water on the side table, and catching up on my email (or Instagram let's be honest) while I nurse Brooke. At night–you know the dreaded 2AM-3AM feeding that seems interminable when you just want to crawl back into your bed, I pop up the leg rest using the "secret handle" and I am instantly much more comfortable reclining. And the small lumbar pillow they included makes it incredibly comfortable for your low back. It has a 360 degree swivel and the fabric is kid proof–we already have had some spit up on it, and it wiped right off! They truly designed this chair for nursing moms and parents because it is so comfortable and well-designed!

Buy the Piper All-Purpose Recliner/ Glider here and here
LIGHTING
Since I wanted a small side table to balance the recliner, and since we still use the closet to store her clothes it needed to be short enough to access the closet door, I just grabbed this one from our basement. It ended up being perfect–just big enough to rest a few items on like children's books, some pretty flowers, or a glass of water. However, there wasn't any room for a light. And I knew that I really wanted a second source of light in the room. So, I bought a standing brass one that could stand on the opposite side of the chair–and it is out of reach of any mischievous toddler hands! See our new brass tripod lamp below (all sources for the room at the bottom of post!)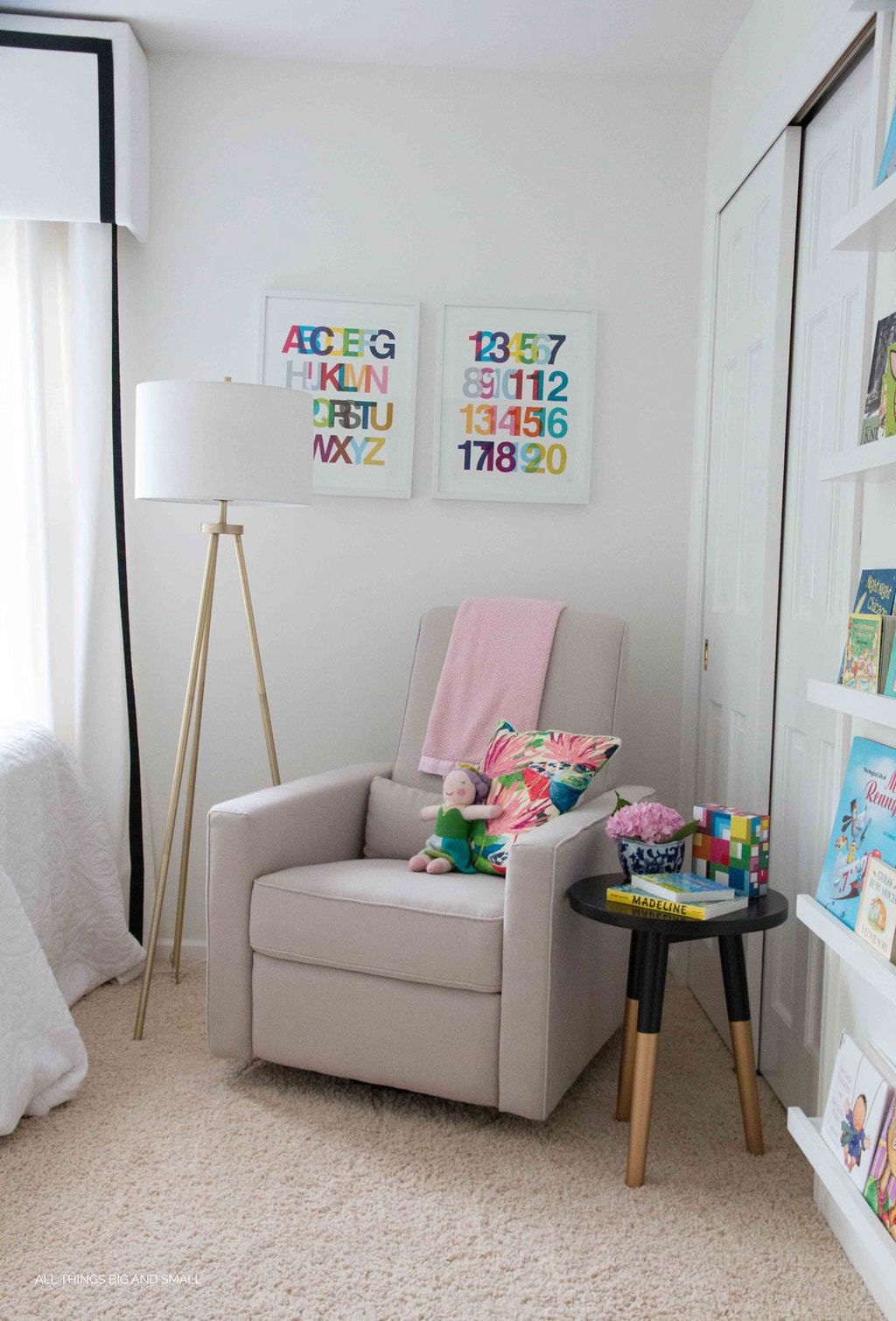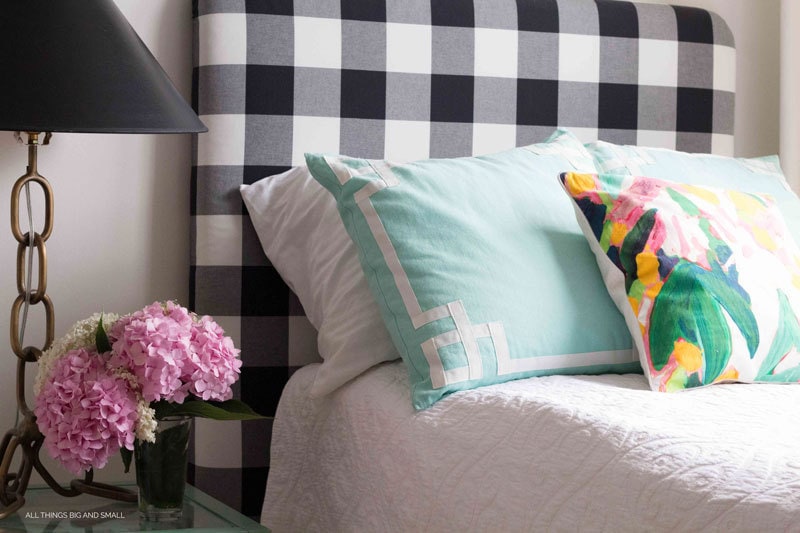 ACCESSORIES
To bring in some pink tones, I folded one of Brooke's pink blankets on her crib (it's only for pictures, don't worry! She does not sleep with loose blankets or pillows!) I also purchased two inexpensive floral pillows (sources at bottom of post). They tie-in perfectly with the colorful butterflies on the wall, and the toys on the opposite wall. I use one as a breastfeeding support in our rocking glider and one on the twin bed/ changing table.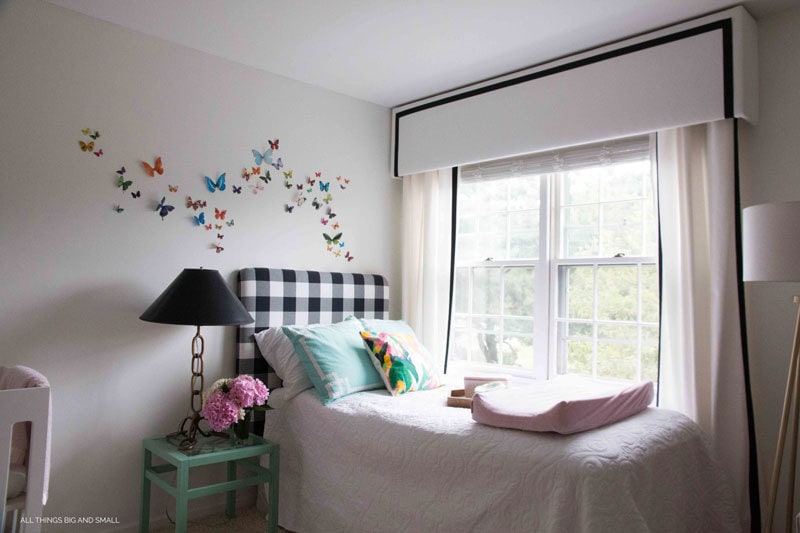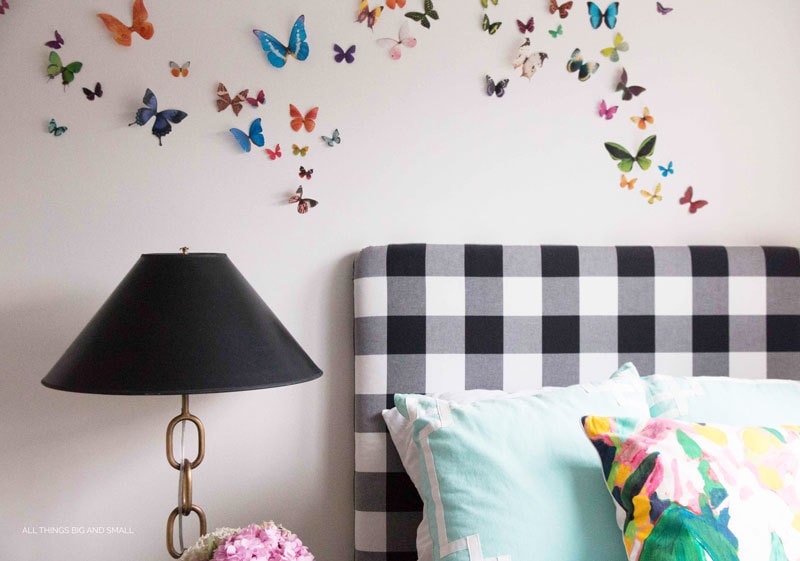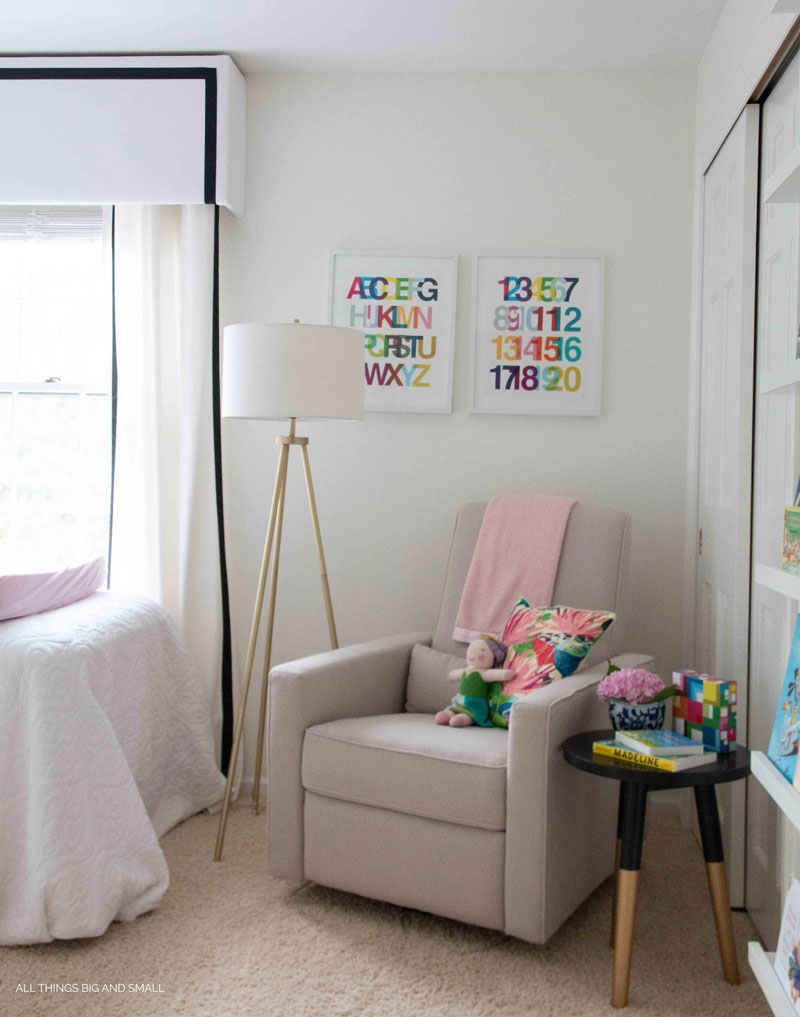 I also chose to switch out the knobs on our vintage vanity which we use to hold extra diapers, supplies, and toys for the nursery. The two new yellow knobs playfully reference the felt ball garland above, while holding their own against the charcoal black gloss.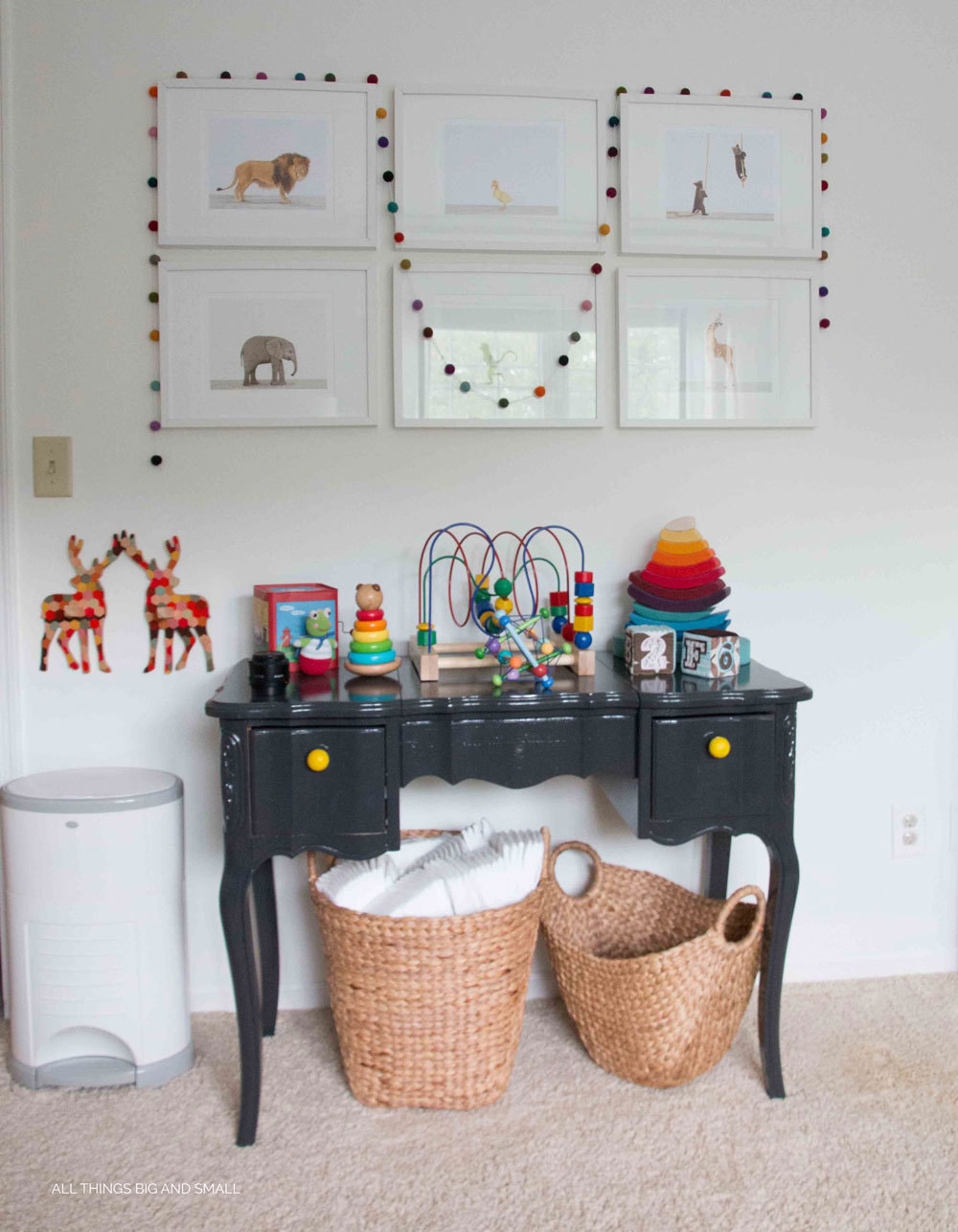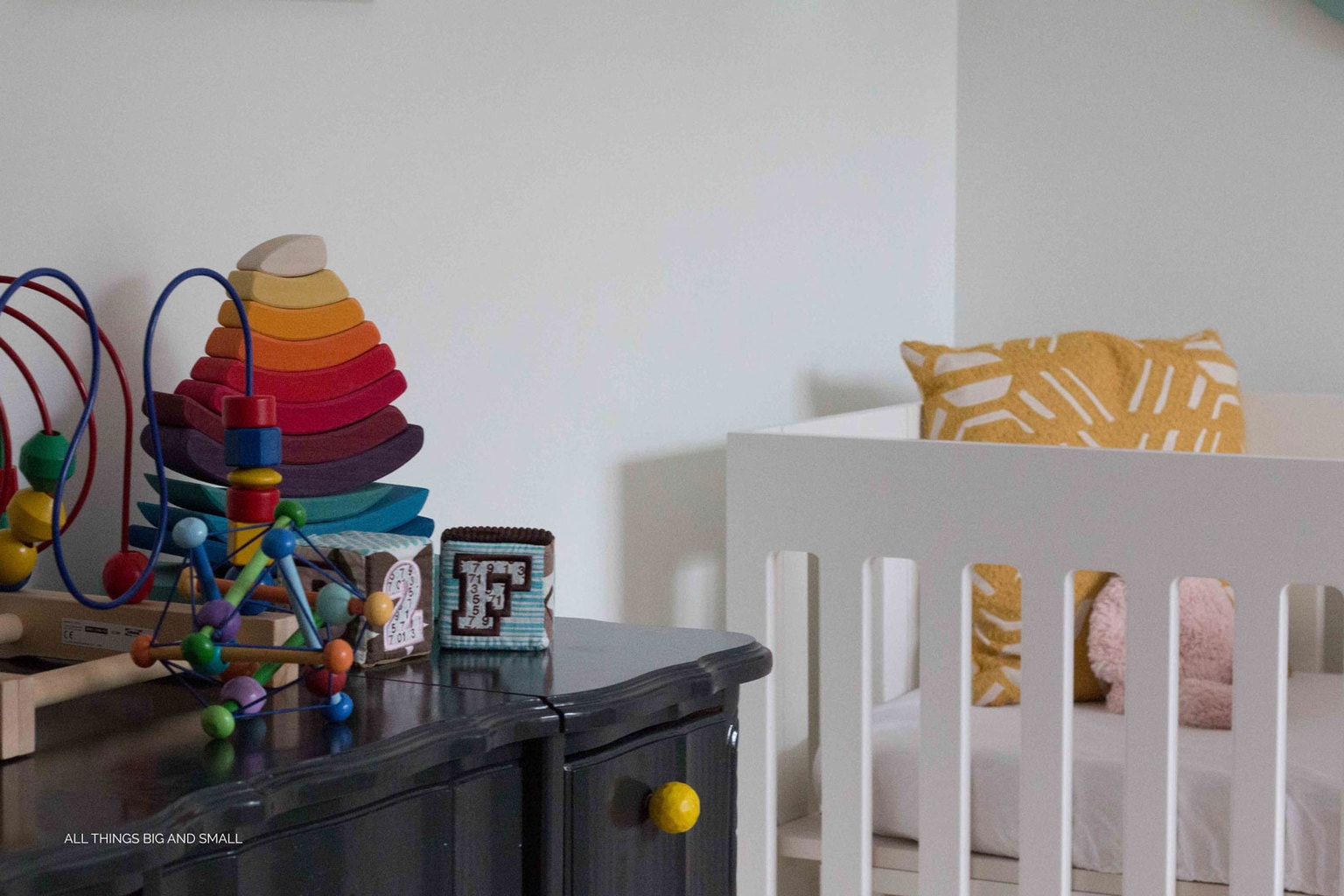 IN CONCLUSION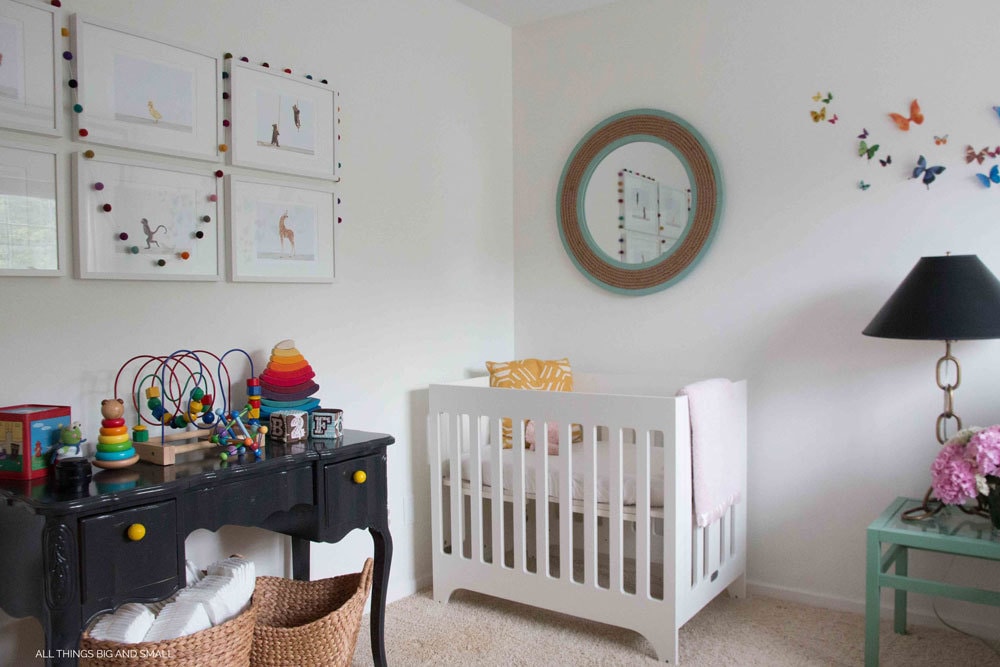 Together, these five updates (two big ones with the new nursery furniture, and three little easy decor updates) have made such a difference in the room! I finally feel like it is a space that reflects my tastes and aesthetics, plus it is way more functional! I was so happy to partner with DaVinci Baby USA on this project because they offer great design for nurseries at an affordable price. This rocker/ glider retails for less than $350 but looks and feels like the ones that cost 3x as much!
And if you are a mom like me who worries about new furniture off-gassing, I have to tell you that I was initially worried too. However, when I saw that DaVinci Baby USA products are formaldehyde and lead safe (the formaldehyde level for all of their furniture is undetectable), the chair is flame retardant free, and their cribs are Gold GreenGuard Certified all of my worries were assuaged! Read more about their policies here. I love it when I find a company who prioritizes the same things as I do–safety, design, eco-friendliness, and affordability!
GIVEAWAY TIME!
So now the exciting part…IF YOU WANT TO WIN A PIPER ALL-PURPOSE RECLINER/ GLIDER follow me and @DaVinciBabyUSA on Instagram, like the photo, and leave a comment. You can enter two more times by tagging up to two friends (one friend per comment). This giveaway will end on August 8th. Winner will be announced on Instagram on August 9th.
No purchase necessary. Void where prohibited by law. Your account must be made PUBLIC during this giveaway in order to be eligible to win. Fake or giveaway only accounts are not eligible. Open to all US residents. This giveaway is in no way sponsored, administered or associated with Instagram. By entering, entrants confirm they are 18+ years of age, release Instagram of responsibility and agree to Instagram's terms of use. Winner must have a valid email address for communications after to confirm shipping information.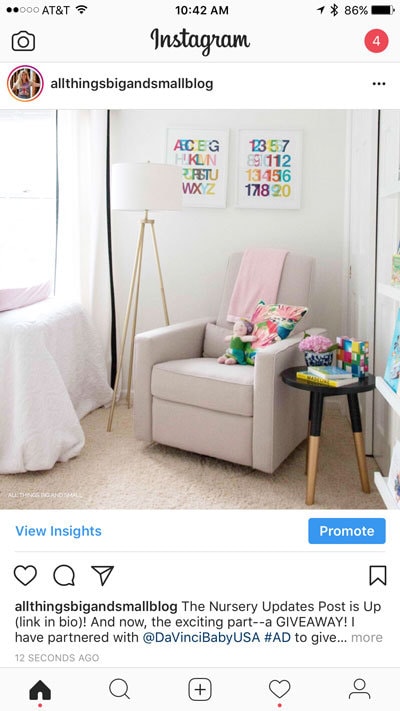 SHOP THE ROOM

DIY PROJECTS SHOWN