Baby Girl Room Decor: With three girls and one boy, I've designed quite a few nurseries; but, this iteration of our latest girl nursery is my favorite! If you're looking for baby girl nursery decor ideas and inspiration and practical advice to help you decorate your new daughter's nursery–this post is for you!
BABY GIRL ROOM DECOR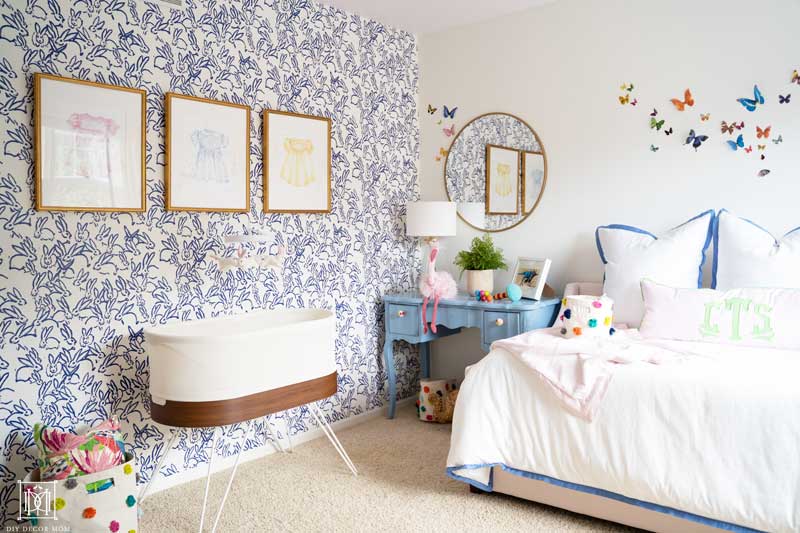 Decorating a baby girl's bedroom is way too much fun–I've decorated baby boy rooms and baby girl rooms, and I have to say, it's more fun with girls! There are just so many ways to make it adorable whether you want a princess theme or not (personally, I am over the princess themes!) Nevertheless, I do love a playful and slightly feminine theme for my daughters rooms (just look at my big girls room–it is all girl!).
*This post has affiliate links at no cost to you see my disclosure policy here.
Since we originally decorated our nursery with blue and white bunny wallpaper when it was a baby boy room, many of the colors in the room are still blue and white. And that's great (they are my favorite colors after all!) With the amount of white in the room, it was an easy palette to turn girl by simply adding a few pink accents, and painting the ceiling pink. I also rounded out the room by adding another coordinating color–light green. The light green pulled in the butterfly wall decor, the bookshelves, and the accent pillow for the daybed.
Looking for more Pinterest-worthy ideas and inspiration for your new baby girl's nursery? I've rounded up the best 24+ girl nursery ideas in this post–believe me, after you read it, you'll be dying to decorate a new nursery! And it doesn't mean just using pink–there are lots of ideas for neutral girl nurseries and floral girl nursery themes! It covers all sorts of themes, ideas, and creative ways to decorate your baby girl's nursery including:
Floral themed wallpapers
Pink nurseries
Geometric wallpaper accent walls
Non-pink nurseries
Themed nurseries
Related: 24+ girl nursery ideas in this post
BABY GIRL NURSERY WALL DECOR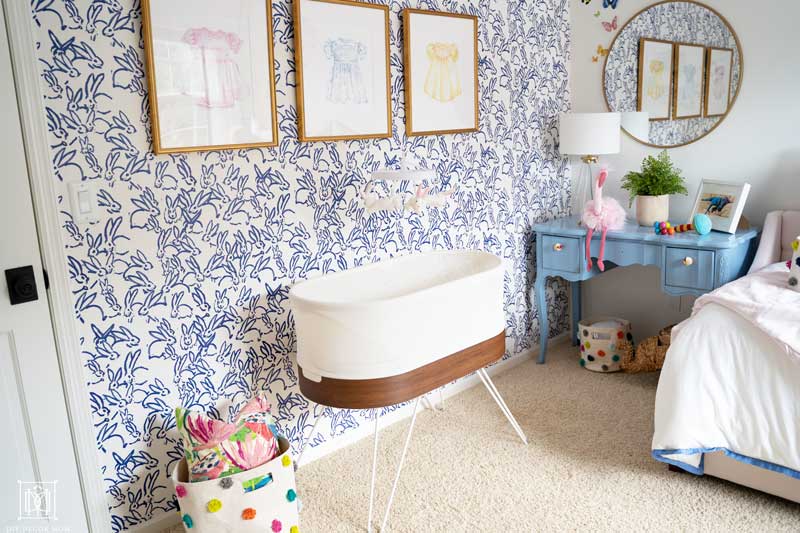 bunny mobile/ frames/ artwork/ bassinette/ basket/ pillow- old
Butterfly Wall Art:
We also opted to reuse the 3-D butterfly wall decor that we had in our initial gender-neutral nursery. It's an inexpensive way to cover a lot of ground. I personally like it much more than wall decals (not my favorite), and it's a fraction of what wallpaper costs. GET THE EXACT BUTTERFLIES HERE. We used two packs for the entire nursery (basically one pack per wall). We've had them up for four years now and I've only had one butterfly fall down and that was because Jack ripped it off the wall. So I guess, it's not technically falling down 😉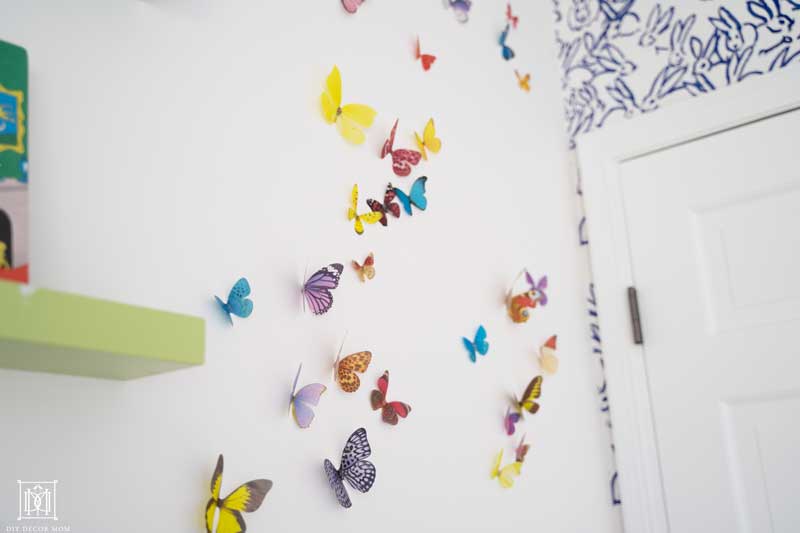 They attach with a tiny little adhesive spot and do not pull the wall paint off (thank goodness!) They do stick on quite securely so when you place it on the wall, make sure it's exactly where you want it; but, don't worry if you need to reposition it.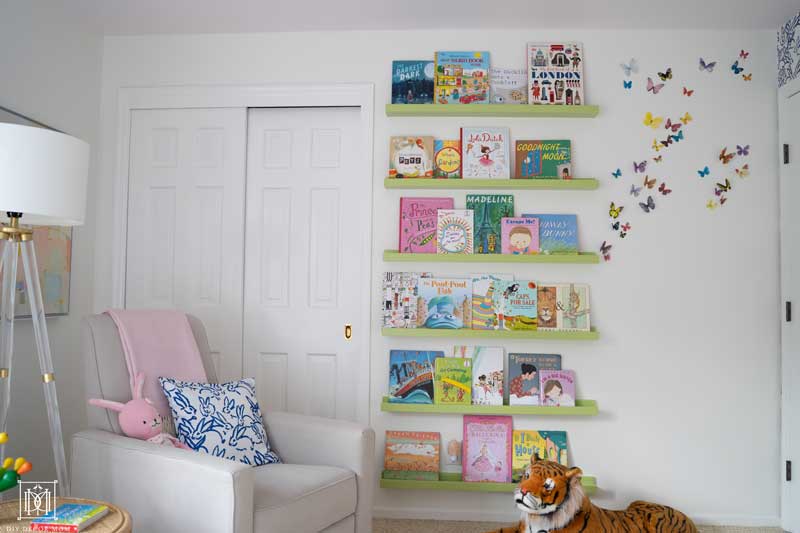 Floating Bookshelves:
We also reused the DIY book ledge we installed 4 years ago. Yeah, we pretty much reused everything! But, I painted them a bright green so they stood out more on the wall. The color is Benjamin Moore Stem Green.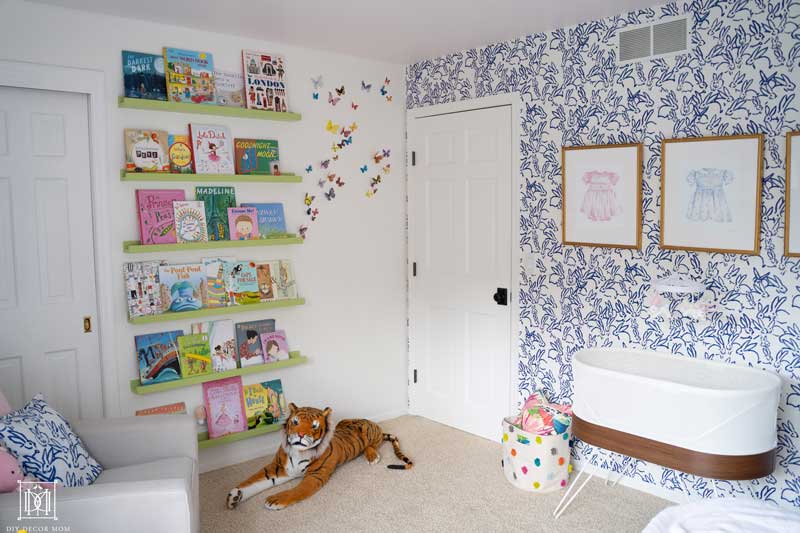 Wall color: BM Cloud White/ shelves= BM Stem Green rocking chair/ tiger
Watercolor Artwork:
I also replaced our original nursery artwork (see it here–it has been relocated to our playroom downstairs) with three watercolor dress prints from Jennifer Ashley Designs. I then had them framed by Framebridge. I love how they turned out, and everytime I look at them, I think of my three daughters. We centered them over the SNOO because it looks best that way. Eventually, we will put the mini crib back in the same spot when she outgrows the SNOO (see my complete review of it here.)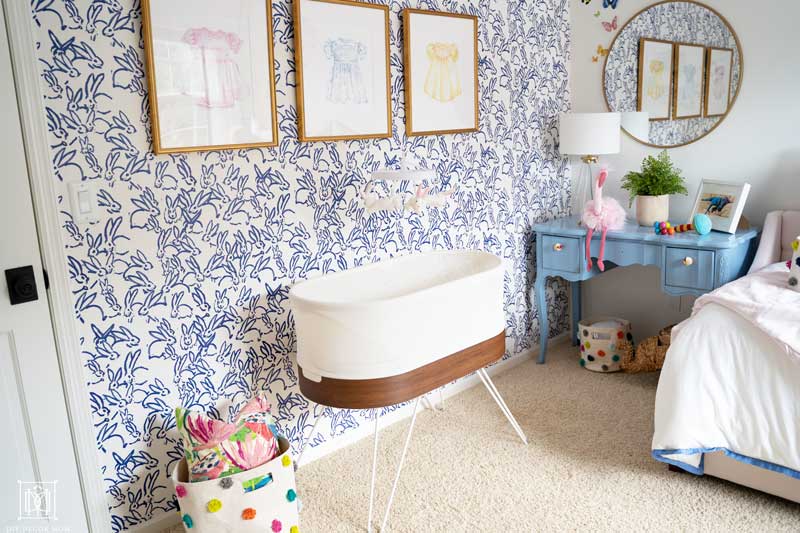 Abstract Painting:
We also relocated the alphabet artwork that I previously had above my nursery rocking chair. I wanted to imbue a bit more color into the room and the abstract painting was a steal! It came framed and while it's not original art, it looks way more expensive than it was! I put a few more butterflies around the painting to add a touch of whimsy.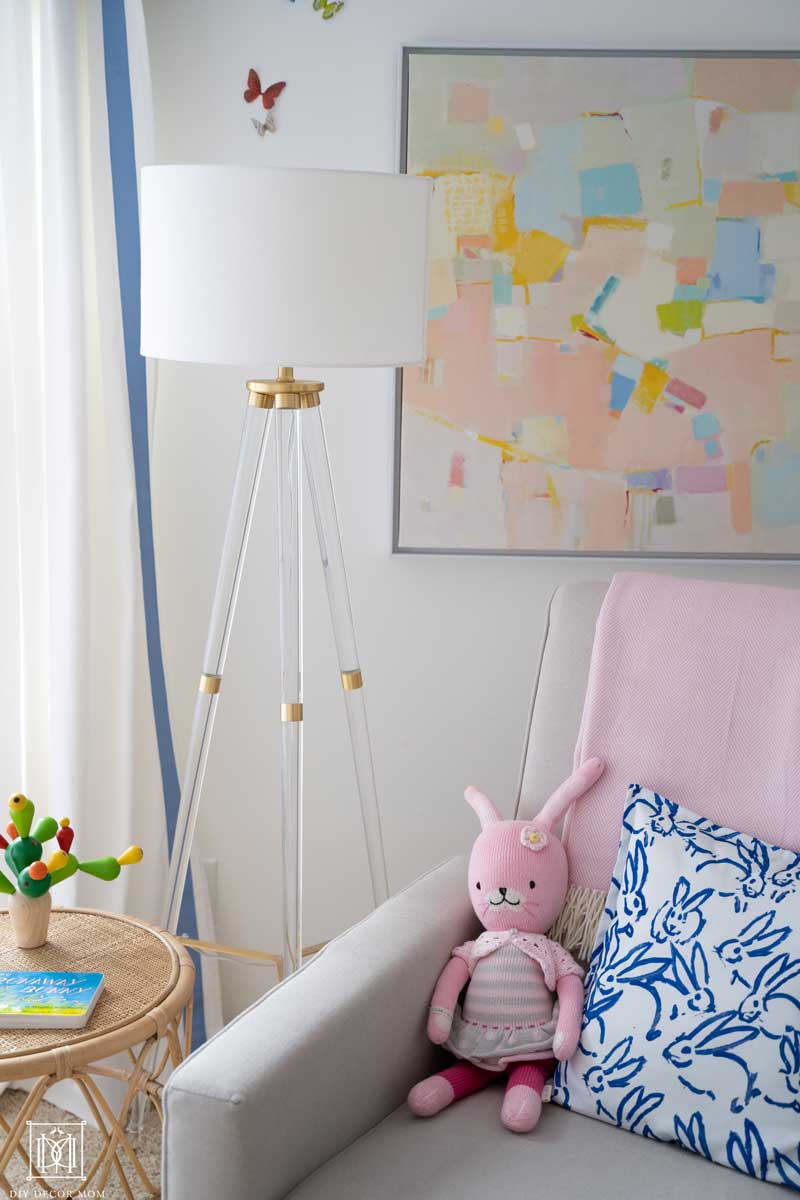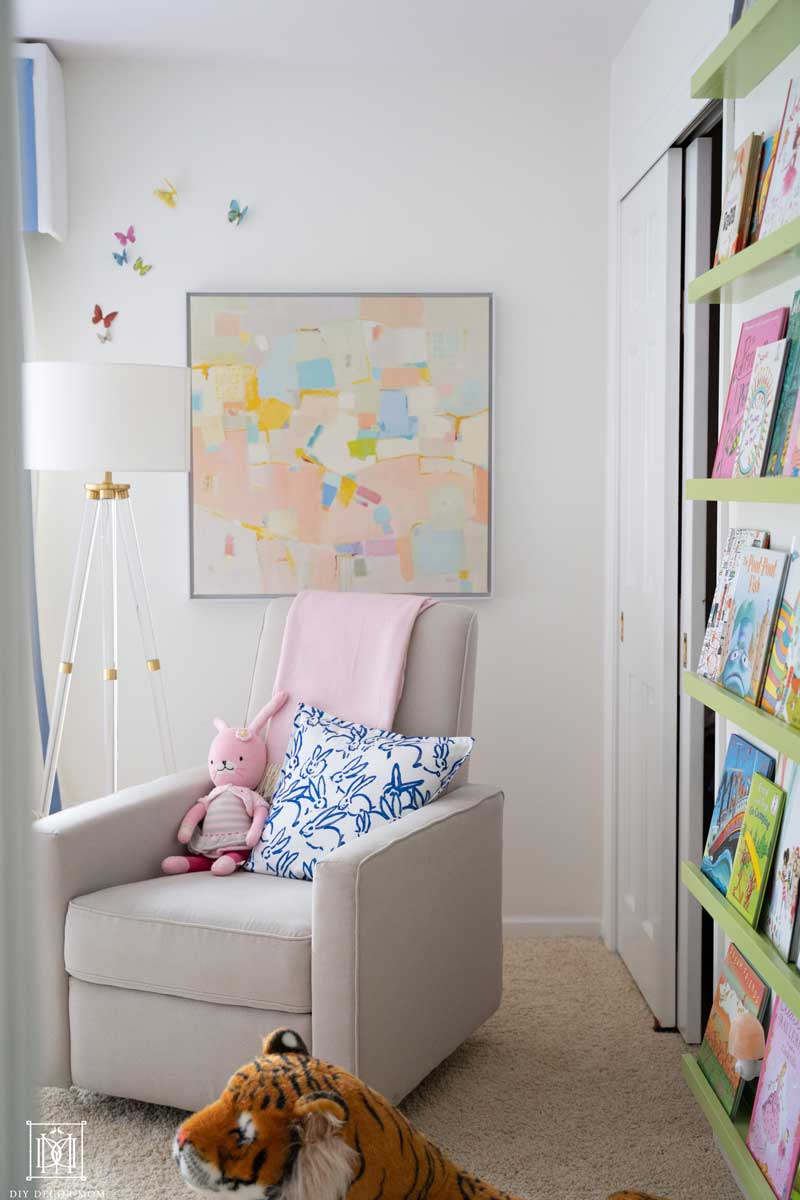 lucite lamp/ abstract painting/ rocking chair/ glider/ bunny pillow/ pink bunny- CuddleMe/ curtains- DIY Window Valance Box
BABY GIRL NURSERY WALLPAPER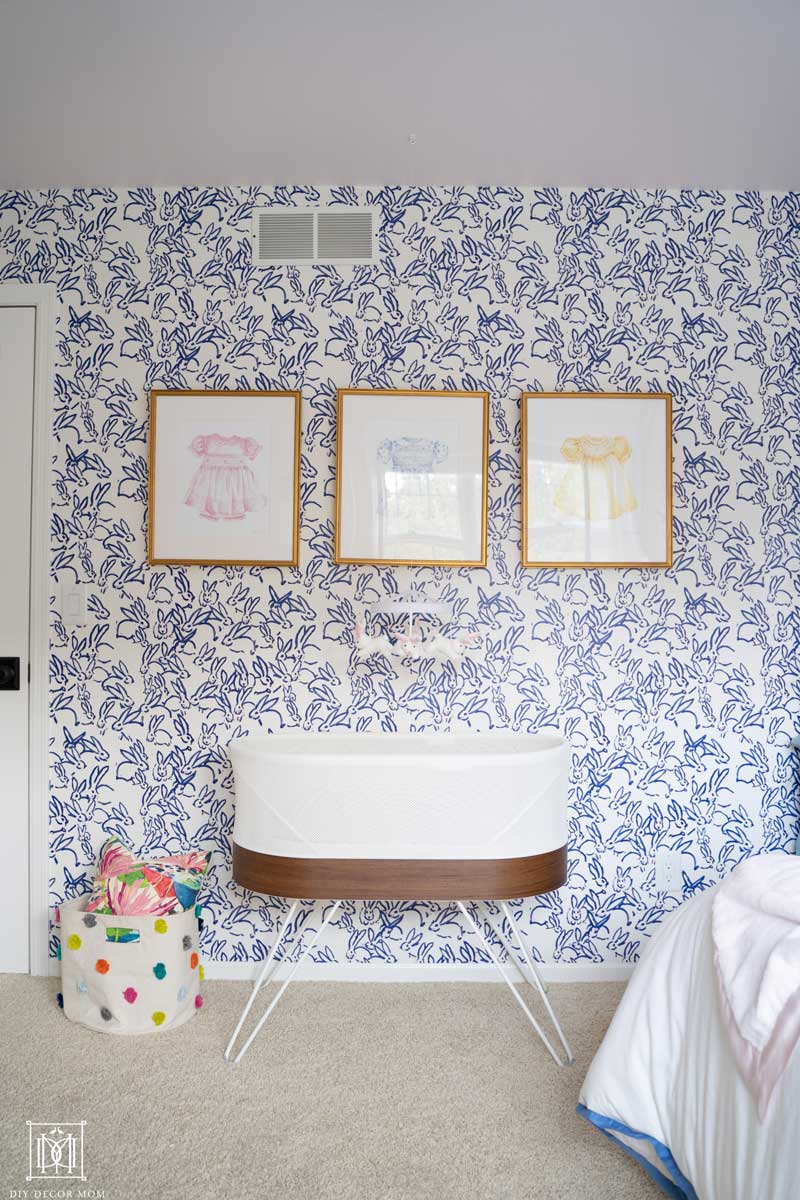 As I said, we opted to keep the blue and white bunny wallpaper (it's a favorite of mine, and I will most likely insist that it stays up long past when the children want it). But, there are so many beautiful options out there for baby girl nursery wallpaper.
BABY GIRL NURSERY DECOR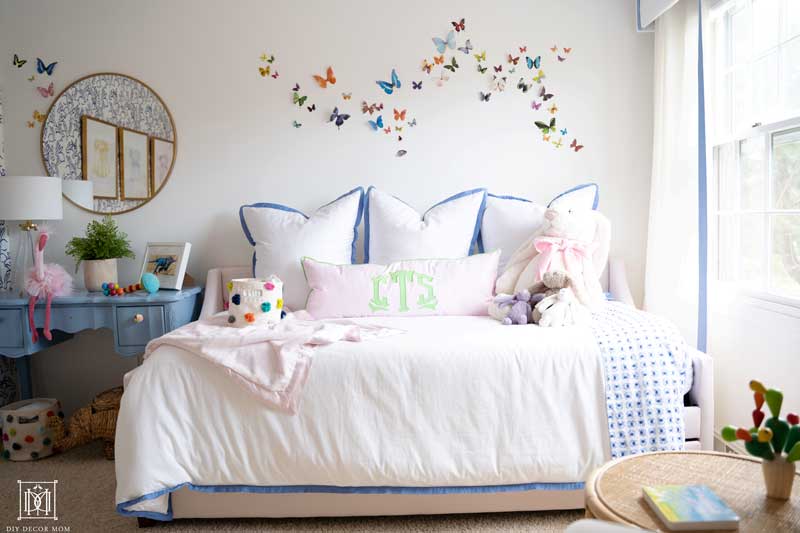 butterflies/ faux potted plant/ bedding/ pink blanket/ rattan table/ colorful basket/ monogrammed pillow/ giant bunny
Just because our little girl is a girl, doesn't mean we need Disney Princess crap all over the house. Instead, I purchased a few heirloom-quality accessories that remind everyone that it's a little girl's room.
Cute stuffed animals are my favorite way to do this (because kids love them and they are inexpensive,) but I also love framing the baby's birth announcement (I still need to do Caroline's), throw in a faux potted plant (real plants are not in my wheelhouse), and colorful baskets useful for corralling toys, baby blankets, dirty laundry, and breastfeeding supplies. I also love using a giant stuffed animal as a playful decor piece. Each of the big kids has two giant stuffed animals, so Caroline got her own with the giant bunny.
Girl Baby Room Accessories:
stuffed animals
framed pictures
bonnets/ framed outfits
wooden toys
faux plants
blankets
BABY GIRL NURSERY BEDDING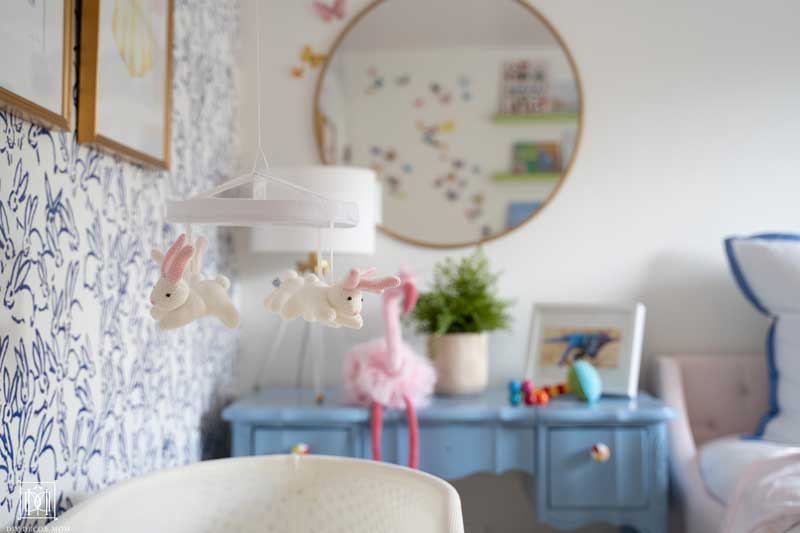 Because we are still using the SNOO (see my review of it here,) I don't have any bedding for her crib except for these new bunny printed sheets here. All of our beds have white bedding (it makes it easy to get any spots out), and the nursery is no different. I reused the blue and white sheets from my son's nursery, and brought in a pink daybed in place of the twin bed, and added a bolster pillow with her initials to make it girly.
Decor Tip: Repeating the blue and white bedding not only was cost-effective; but, visually brought the blue and white wallpaper color scheme to the adjoining wall.
FAQs ABOUT DECORATING BABY GIRL NURSERIES