Benjamin Moore Balboa Mist: If you are looking for a neutral gray paint color for your home, you can't go wrong with BM Balboa Mist. With Balboa Mist and Classic Gray, you can effortlessly create a cohesive neutral paint scheme for your home. With those two colors (see my reviews on Benjamin Moore Classic Gray here), we have completely made-over our living room, dining room, front hallway entrance, back mudroom, and master bedroom.
*affiliate links have been used see my complete disclosure policy here

BENJAMIN MOORE BALBOA MIST
BALBOA MIST VS. CLASSIC GRAY
Even my husband couldn't believe that our hallway (Classic Gray) is a different color than the adjoining living room and dining room which are both Benjamin Moore Balboa Mist. In a slightly sunnier room, BM Balboa Mist looks pretty much the same as Classic Gray. However, you can tell that it has a little more drama, contrast with our trim (BM Simply White) and a deeper saturation in identical lighting conditions (and in the graphic below.)
I like using Balboa Mist in rooms that I want a little more drama in–our formal living room and our dining room (which is not a playroom). Classic Gray, on the other hand, is a great light gray color which I like to think is a go-anywhere and blend in with the surroundings.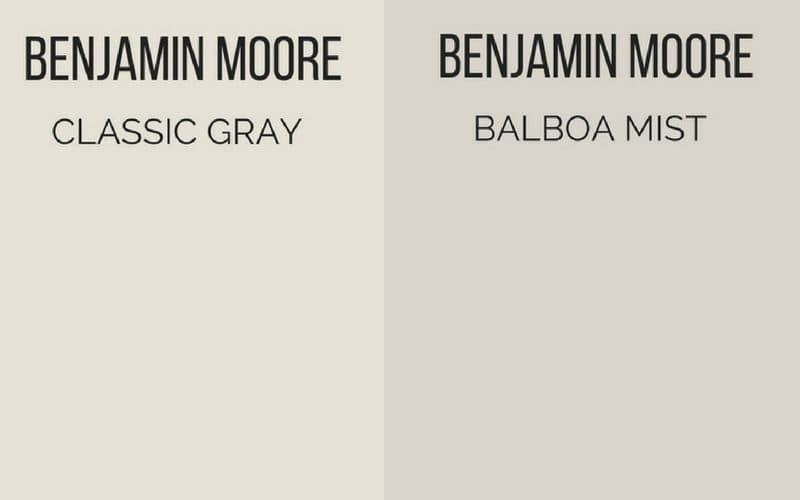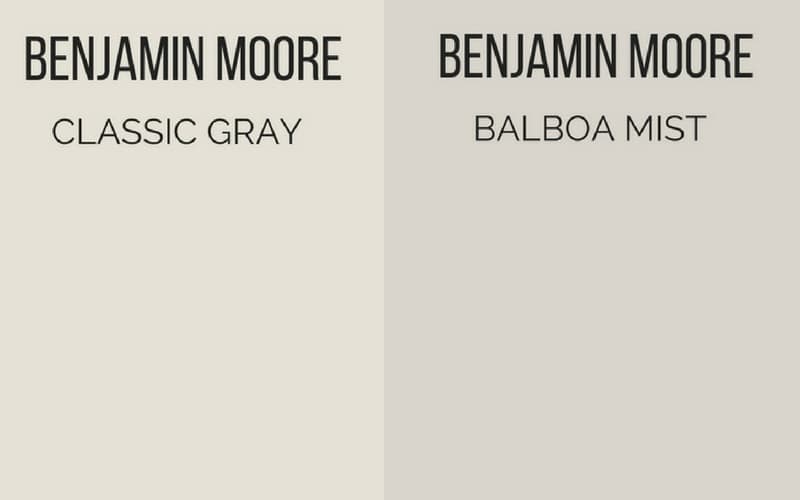 Here you can see BM Mist in our playroom (dining room turned playroom) in late afternoon Southern light. It is a still considered a warm light gray paint color even though it does have blue in it. It pairs really well with Benjamin Moore's Simply White, which we used for the wainscoting and all the trim in the house.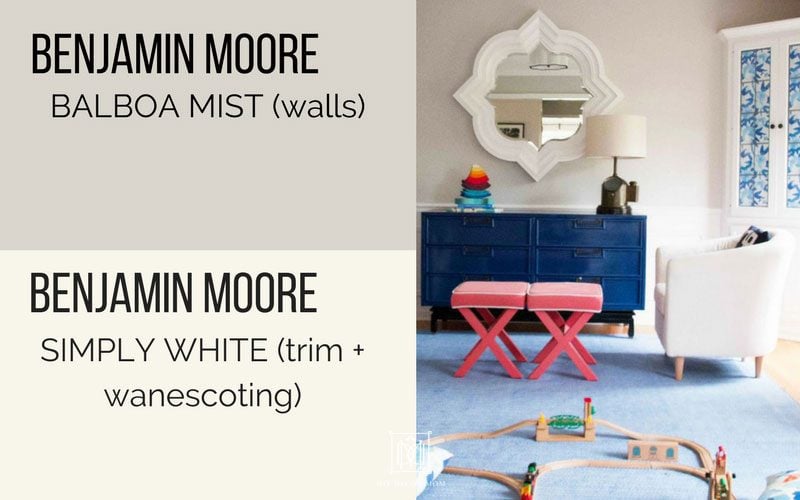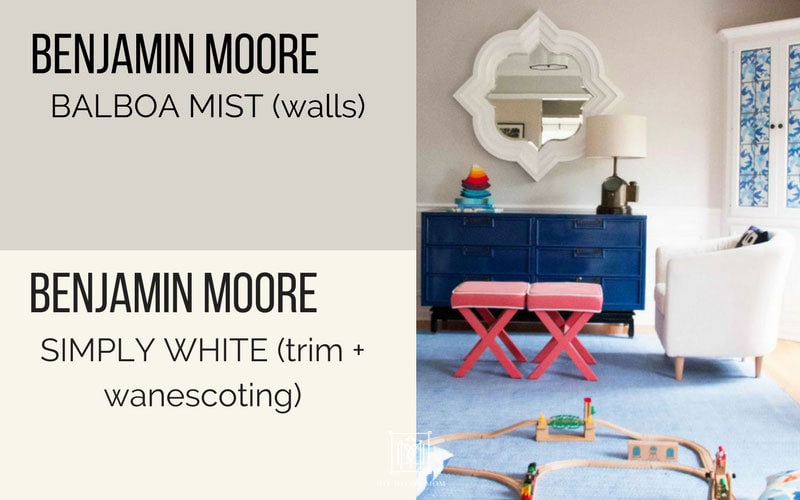 And here you can see it in our formal living room which receives even more light–it faces South and West. Whereas Classic Gray may have been washed out by the amount of light pouring in, Balboa Mist is able (because of its slightly higher concentration of color) to hold its ground.



PALE OAK VS. BALBOA MIST
The other color we considered in lieu of Benjamin Moore's Balboa Mist, was Pale Oak. You can see here how similar it is to Balboa Mist. It is another one of those beautiful light gray paint colors (see all my favorites in this post here on the best gray paint colors for your home!) Compared to Balboa Mist, Pale Oak is slightly less concentrated and while it's hard to see (even in the graphic below comparing Pale Oak vs. Balboa Mist paint swatches), Pale Oak read slightly more brownish to me. It is a little warmer of a light gray color with a little less blue.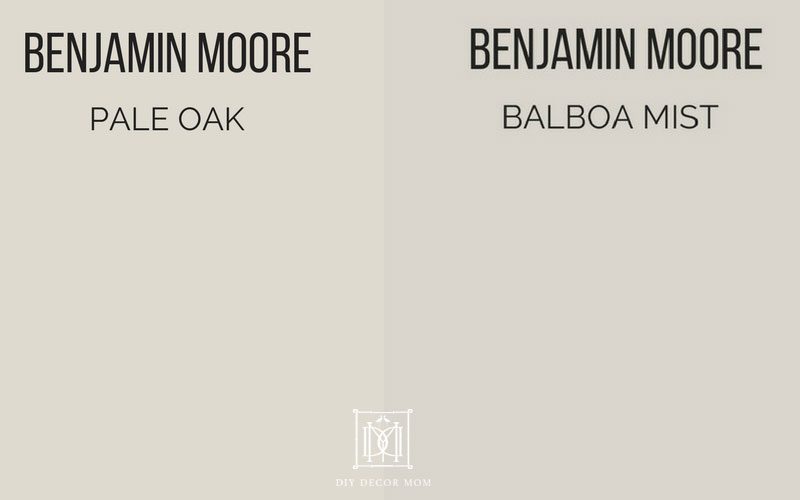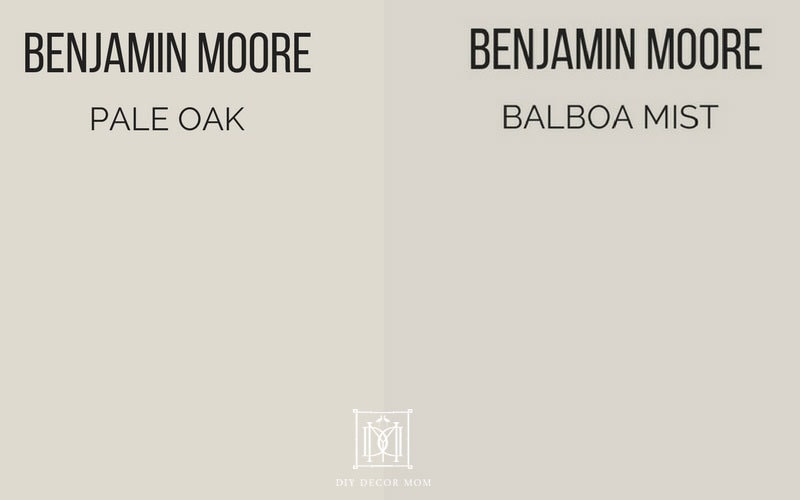 If you are trying to decide Pale Oak vs. Balboa Mist then my best advice is to buy a sample of both paint colors, grab a cheap white Dollar Store poster board, cut the board into strips, and paint two coats of each moving the boards up onto different walls so you can see how it looks! It's the best way to see what the paint colors will really look like on your walls without painting samples everywhere (plus you don't have to contend with trying to cover up the paint underneath!)
BALBOA MIST VS. REPOSE GRAY
Another one of the most popular gray paint colors is Sherwin-Williams Repose Gray. While I haven't used it in my own home, several of my friends have used it in theirs (see them in the post here). While they might seem like similar light gray colors when you put them head to head you can see how much greener and bluer SW Repose Gray is than Balboa Mist. They are two very different paint colors. I prefer Benjamin Moore Balboa Mist because it reads as warmer. With the majority of the year here in Wisconsin being color and dreary, I want a slightly "warmer" light gray for my home.
BUT WAIT! BEFORE YOU GO, SAVE YOURSELF HOURS OF WORK!
Here are my top tools that help me paint rooms fast! Since using them, our painting time has been cut in half! No more spending entire weekends painting a single room!
TOP TOOLS FOR PAINTING ROOMS FAST
This post contains some affiliate links for your convenience. Click here to read my full disclosure policy.
YOU WILL LOVE: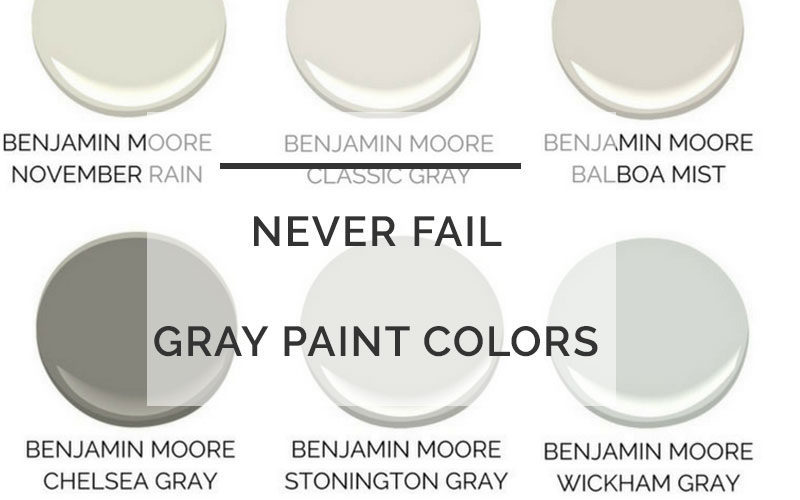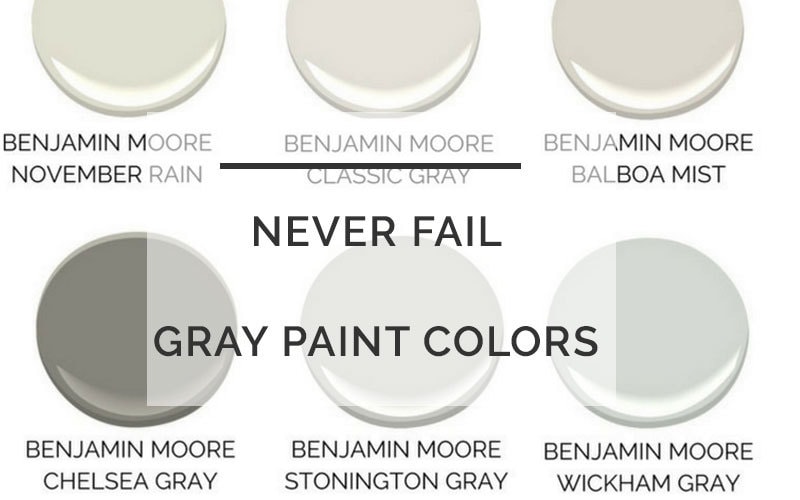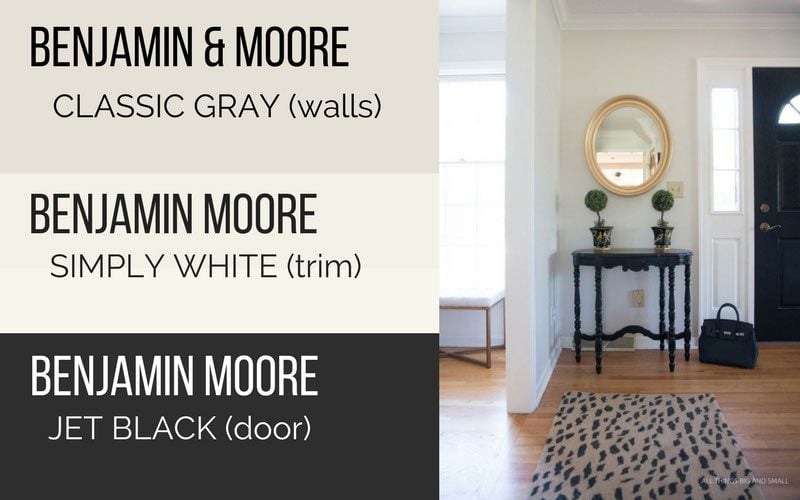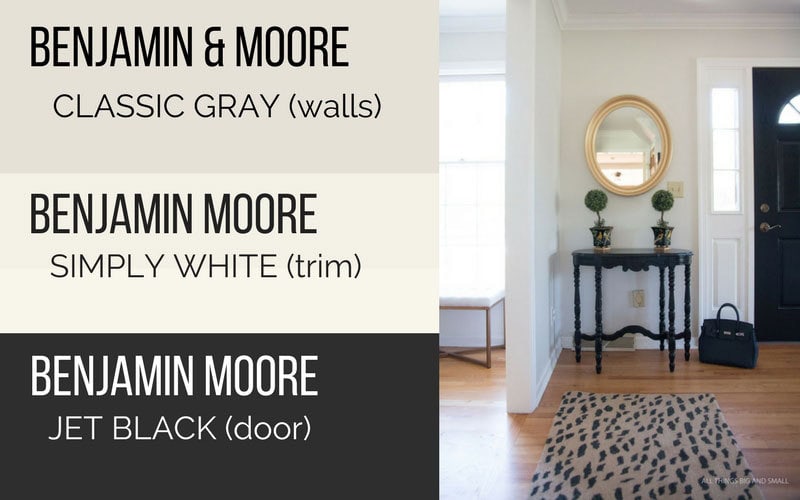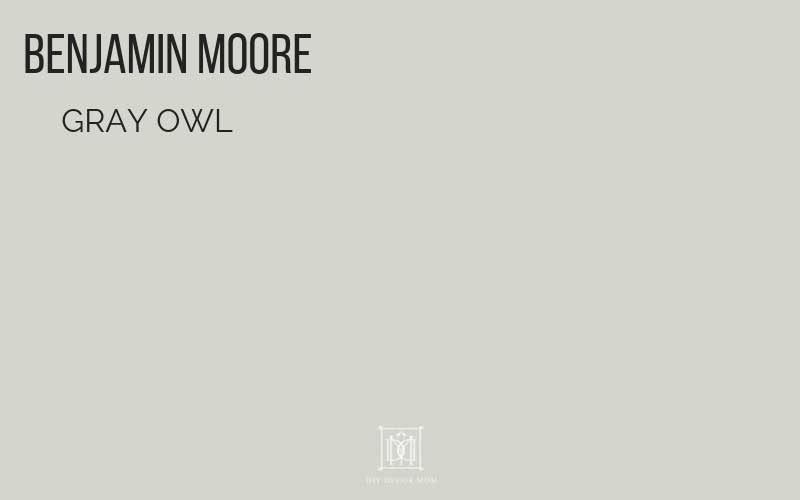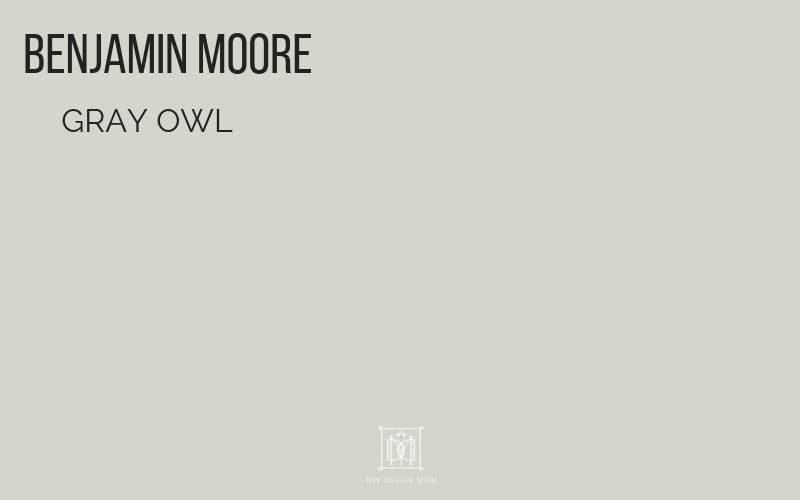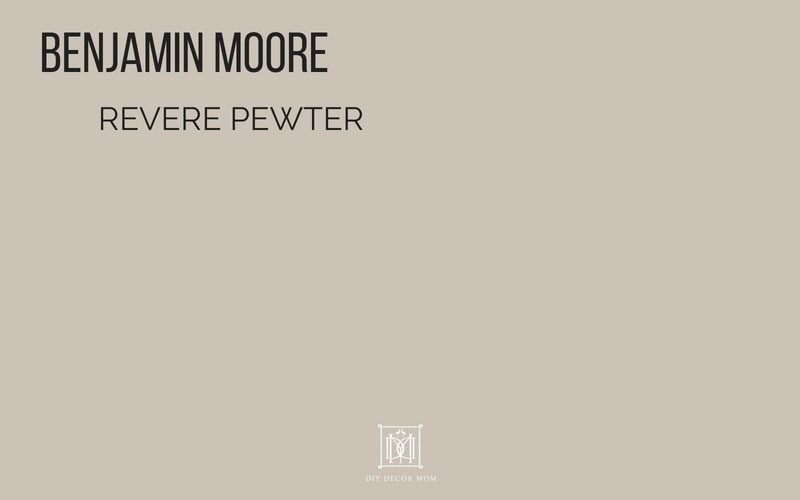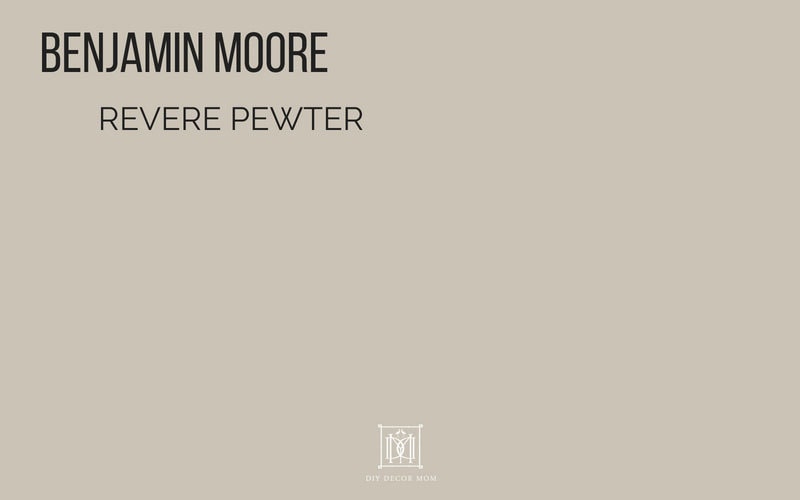 PIN THIS FOR LATER SO YOU DON'T FORGET IT!