Benjamin Moore Balboa Mist: If you are looking for a neutral gray paint color for your home, you can't go wrong with BM OC-27. It is one of my favorite warm gray paint colors and it looks good in any room!
Below, you will find a comprehensive color analysis including information on its LRV (light reflectance value), colors that go with BM Balboa Mist, and a paint color comparison with other warm light grays and greige paint colors!
BENJAMIN MOORE BALBOA MIST
BENJAMIN MOORE BALBOA MIST PAINT SAMPLES
*This post contains affiliate links at no cost to you. See my complete disclosure policy here.
It requires no schlepping to the paint store, no washing paintbrushes, and no wondering if you painted enough (ensuring you have a true representation of the color…)
Samplize will send you 12″x12″ paint samples that you peel and stick on your walls. At $5.99 a sample, it cheaper than my going to the paint store, buying samples, brushes, and poster boards. Plus, it's way EASIER and LESS MESSY!
Reasons Why I Love Samplize:
NO MESS or Clean-up
Color correct–they are a true representation of the colors because they are made with two coats of paint.
More affordable and time-friendly than buying samples/ making samples.
Samplize samples will arrive at your doorstep within 1-3 days from the time you order them! and of course easier and way less messy
BALBOA MIST UNDERTONES
The easiest way to see what the undertones are of any paint color is to examine it next to similar shades. On a paint chip, you can look at the most concentrated (or most saturated) paint colors. This helps you visualize what the undertones in a paint color are.
What are the undertones of BM Balboa Mist 1547?
With OC-27, you can see the slightly brown with a lot of gray undertones. It has a smidge of green in it too (it is the second one all the way to the left.)
Related: See the Top Paint Colors for Selling Your Home
But, the best way to see a paint's undertones is to get a sample and see it in your own home. Paint colors are finicky friends–they tend to change a lot depending on the light conditions they are in. The easiest way to get a sample that is true to life is through Samplize.
Within days of ordering, you will have a 12″ x 12″ perfectly painted swatch that you can peel and stick to any of your walls. It is true to life and won't leave any residue (nor will it have to fight against your other paint colors on your wall.)
What is Balboa Mist's LRV?
BM Balboa Mist OC-27 has a light reflectance value (LRV) of 67.37. It is very similar to Pale Oak (LRV= 69.89). Darker paint colors will have lower LRVs and lighter paint colors will have higher LRVs. For reference, most white paint colors have LRVs between 80-95. So, Balboa Mist is a solid light gray.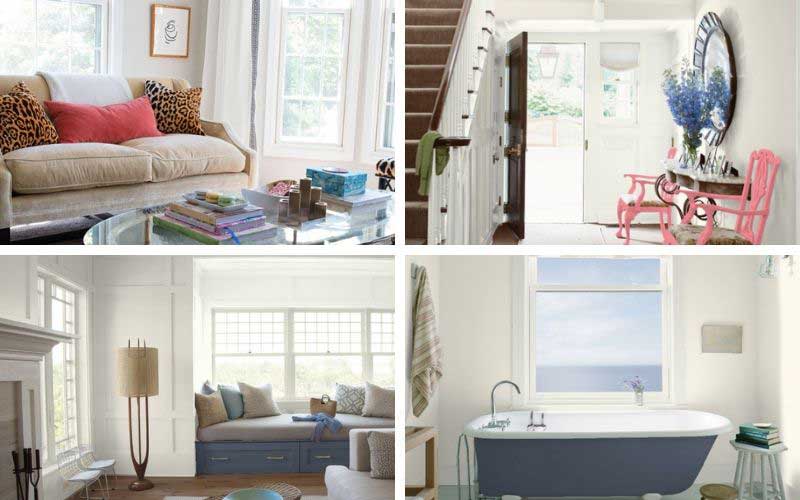 Is Balboa Mist warm or cool?
Balboa Mist OC-27 (also called Balboa Mist 1547) is considered a warm gray. Unlike other cool gray colors which have blue undertones, OC-27 has a slightly taupe undertone which reads warmer than others. It goes well with warmer white tones that have a bit of gray in them like BM Simply White, BM White Dove, and BM Cloud White.
Is Balboa Mist too light?
Balboa Mist is a light gray but it is not too light. It has a LRV (light reflectance value) of 67.37. By contrast, most white paint colors have LRVs between 80-95.
BENJAMIN MOORE BALBOA MIST COMPARED
Balboa Mist and Classic Gray are very similar paint colors. For the first several years of owning our house, we only used these two paint colors in the majority of our rooms and had great success. See my complete review of Benjamin Moore Classic Gray here.
In a slightly sunnier room, BM OC-27 looks pretty much the same as Classic Gray. We originally had painted our hallway Classic Gray and our living room Balboa Mist.
I like using Balboa Mist in rooms that I want a little more drama in–our formal living room and our dining room (which is now a playroom). Classic Gray, on the other hand, is a great light gray color which I like to think is a go-anywhere and blend in with the surroundings.
LRVs compared: BM is slightly darker (and has a lower LRV) than Classic Gray.

*affiliate links have been used see my complete disclosure policy here
Here you can see Benjamin Moore OC-27 in our playroom (dining room turned playroom) in late afternoon Southern light. It is still considered a warm light gray paint color even though it does have blue in it. It pairs really well with Benjamin Moore's Simply White, which we used for the wainscoting and all the trim in the house.
And here you can see it in our formal living room which receives even more light–it faces South and West. Whereas Classic Gray may have been washed out by the amount of light pouring in, Balboa Mist is able (because of its slightly higher concentration of color) to hold its ground and not be washed out.


PALE OAK VS. BALBOA MIST
The other color we considered instead of Benjamin Moore's Balboa Mist OC-27, was Pale Oak. You can see here how similar it is to Balboa Mist. It is another one of those beautiful light gray paint colors (see all my favorites in this post here on the best gray paint colors for your home!)
Compared to Balboa Mist, Pale Oak is slightly less concentrated and while it's hard to see (even in the graphic below comparing Pale Oak vs. Balboa Mist paint swatches), Pale Oak read slightly more brownish to me. It is a little warmer of a light gray color with a little less blue.
LRVs compared: Both paint colors are very similar with their brightness–only two points apart on their light reflectance values.
If you are trying to decide Pale Oak vs. OC-27 then my best advice is to get a sample–the easiest way to do it is through Samplize!
It's the best way to see what the paint colors will really look like on your walls without painting samples everywhere (plus you don't have to contend with trying to cover up the paint underneath!)
You can also always purchase a Samplize paint sample! They run about $5 and save you the hassle of painting (and cost about what a test size paint can does!)
Another one of the most popular gray paint colors is Sherwin-Williams Repose Gray. While I haven't used it in my own home, several of my friends have used it in theirs (see them in the post here).
While they might seem like similar light gray colors when you put them head to head you can see how much greener and bluer SW Repose Gray is than Benjamin Moore Balboa Mist OC-27. They are two very different paint colors. I prefer Benjamin Moore OC-27 because it reads warmer. With the majority of the year here in Wisconsin being color and dreary, I want a slightly "warmer" light gray for my home.
LRVs (light reflectance values) compared:
Sherwin-Williams' Agreeable Gray is one of their most popular paint colors. It is a lovely gray, and you can see how it looks in the paint chip below. But, by comparing it to Balboa Mist OC-27, you can see its warmer undertones. Benjamin Moore's OC-27 has slightly greener undertones; whereas, Agreeable Gray has a lot of brown and purple in it. Agreeable Gray is a darker paint color but is warmer in tone (this is reflected in the LRVs below as well!)
Two of Benjamin Moore's most popular paint colors, Edgecomb Gray and Balboa Mist OC-27 are versatile paint colors that look good in any room (and I use them all the time in my custom color schemes!)
While they are of similar brightness (you can see that with their similar light reflectance values listed below), Edgecomb Gray has more of a brownish undertone. It reads more "taupe" than Benjamin Moore Balboa Mist, which by comparison seems more greenish.
Also read: Edgecomb Gray: The Perfect Greige?
Revere Pewter is one of my favorite warm gray paint colors. It is similar to Balboa Mist, but quite a bit darker and warmer (as evidenced by its LRVs compared below.) Revere Pewter is very similar to Edgecomb Gray above and has a lot of taupe in it, and much more brown than Balboa Mist. Both are lovely colors but have distinctly different looks.
LRVs compared:
BM OC-27 IN REAL HOMES
BALBOA MIST KITCHENS
BM 1547 DINING ROOMS
BENJAMIN MOORE BALBOA MIST LIVING ROOMS
BM OC-27 BATHROOMS
BALBOA MIST BM 1547 BEDROOMS
BALBOA MIST EXTERIOR
BALBOA MIST OC-27 COLOR SCHEME
Wondering how to use OC-27 in your house? We've used Balboa Mist OC-27 in two of our rooms (our playroom and our living room) as shown above. But you can use it anywhere you like! It looks lovely in hallways, in kitchens, and even bedrooms. Below, I've created a custom color palette. Most of these paint colors are ones we have used in our own home.
WHAT COLOR GOES WITH BALBOA MIST?
Related: See my tips for picking a whole house color scheme here
WHAT ARE THE UNDERTONES OF BALBOA MIST?
YOU WILL LOVE:
PIN THIS FOR LATER SO YOU DON'T FORGET IT!