Best Paint Colors for Bedrooms: Find the best paint colors for bedrooms and how to pick out the perfect paint color! These relaxing bedroom paint colors are perfect for your master retreat! See the complete list below whether you want an airy and light or a dramatic and cozy master bedroom!
BEST BEDROOM PAINT COLORS
We all want to go to our bedrooms to relax, unwind, and get some sleep! According to a recent article in Frontiers in Psychology, blue is the best wall color for your bedroom because it helps you relax and sleep longer! Blue walls also have been correlated with feelings of protection and relaxation–which we all love!
Related: See the Best Blue- Gray Paint Colors here
*This post contains affiliate links at no cost to you. See my disclosure policy here.
Other colors that have been proven to help you sleep better include dark greens and dark gray/ charcoal tones–all "earthy" grounding colors.
Personally, I prefer an airy and serene space–so I went with an off-white/ light gray. The key to finding a master bedroom paint color that you love is embracing what you want and like! Even if you like getting more sleep, if you hate dark navy blue paint colors in the bedroom, you'll never be happy! So paint what is going to make you content!
Below, I rounded up the best paint colors and even give you specific paint colors to try! These are designer-vetted favorites that look good anywhere!
Light Blue
White Paint
Navy Blue
Light Gray
Green
Dark Gray
Aqua
Best Light Blue Bedroom Colors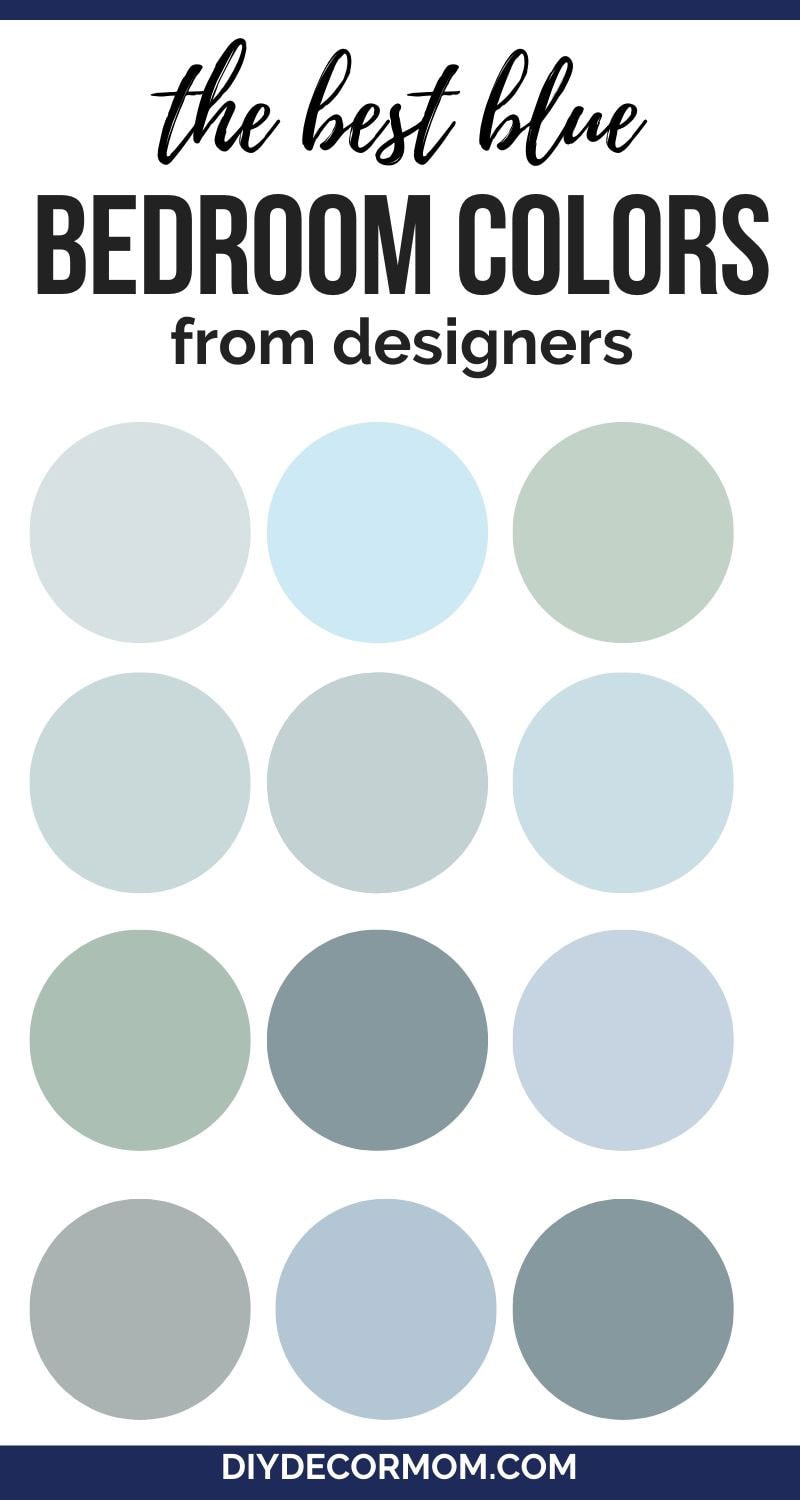 Best Gray Paints for Bedrooms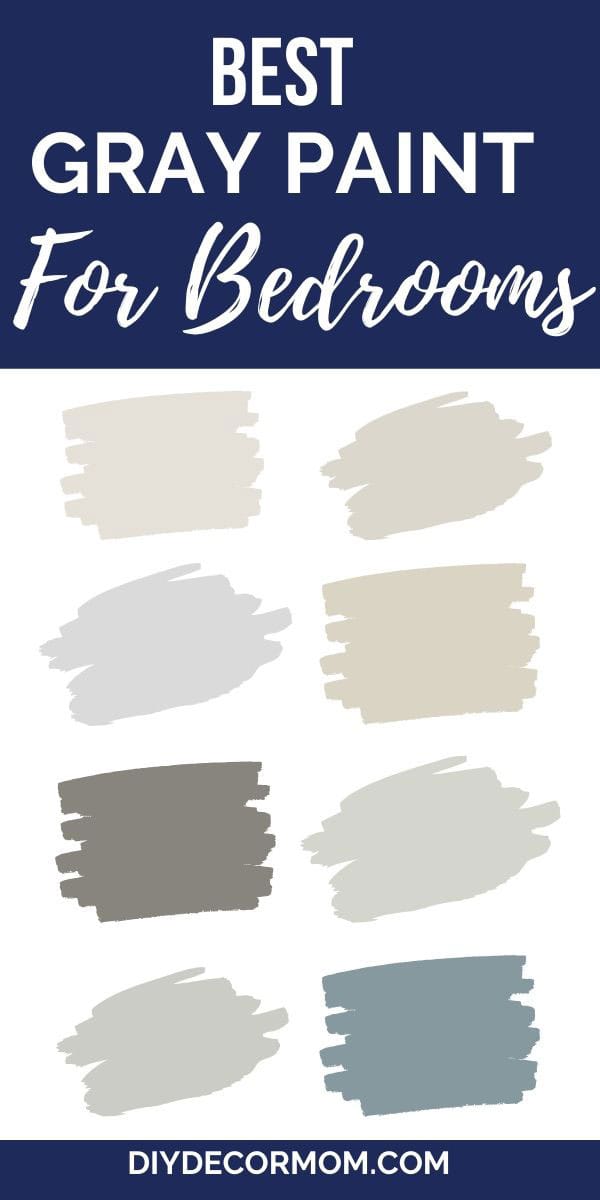 BEST AQUA PAINT COLORS: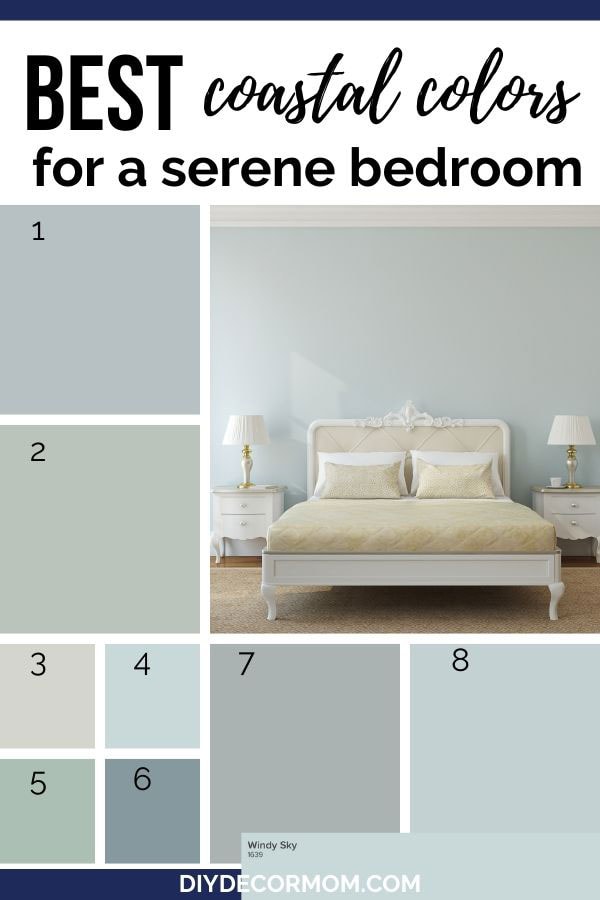 BEST WHITE PAINT COLORS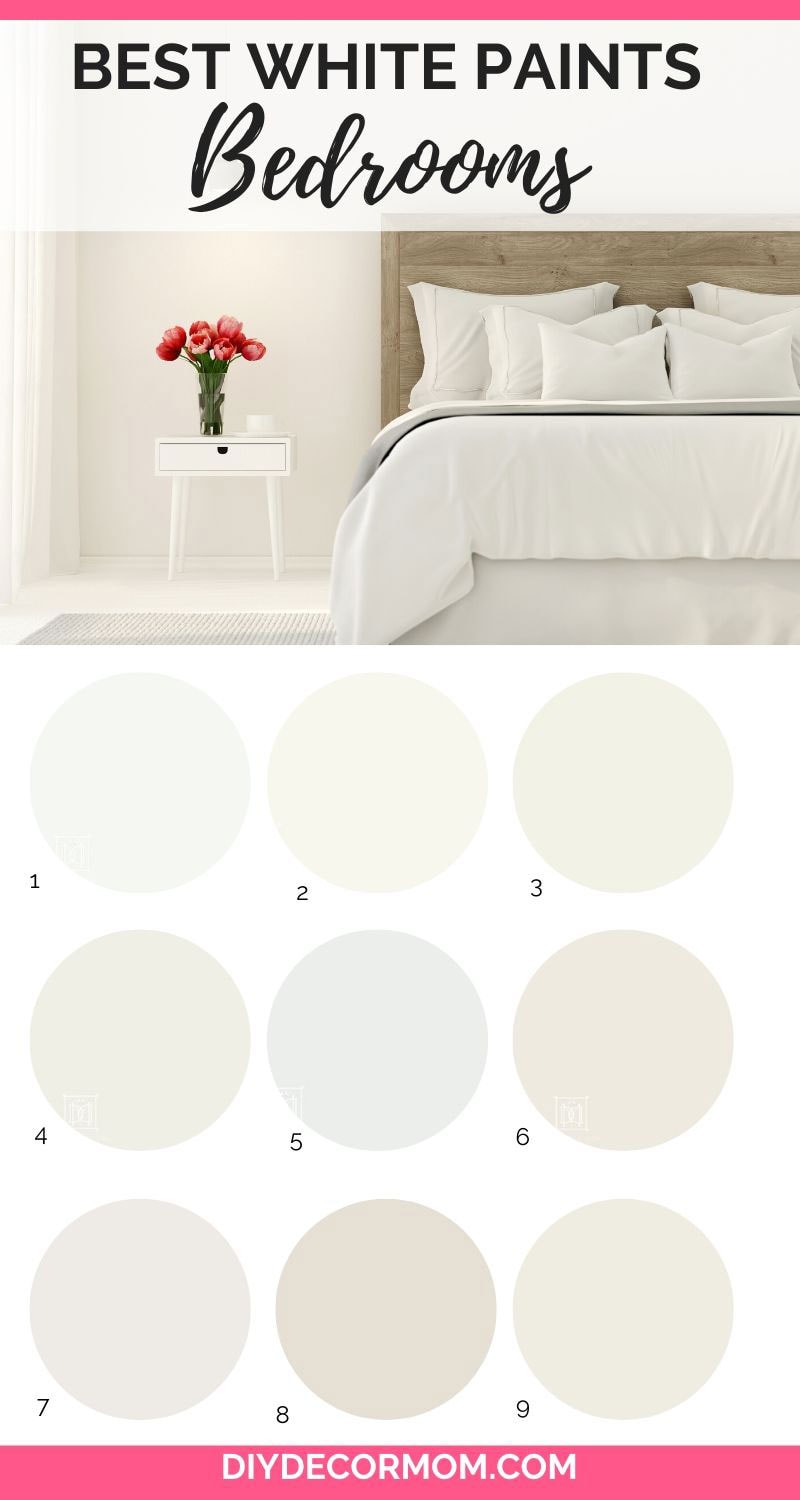 We used Classic Gray by Benjamin Moore in our bedroom, and if you are looking for one color to go-to for any room, I would say Classic Gray! It's the perfect color (in my opinion) for a bedroom–it is light yet warm and doesn't have brownish or purplish hues to it.
After you paint your master bedroom, don't forget these simple bedroom decorating ideas that will make your bedroom feel amazing!
DARK BLUE PAINT COLORS FOR BEDROOMS
DARK GRAY BEDROOM COLORS
NEUTRAL PAINT COLORS FOR MASTER BEDROOMS:
Using a neutral paint color in your master bedroom gives you the most flexibility for decorating schemes with the rest of your bedding, curtains, and accessories.
I liked using a neutral color because it gave me a fresh palette for our DIY upholstered headboard and bedding, where I added lots of drama! If you want a quick list of my favorite neutral paint colors for bedrooms, see them below! I have posts detailing most of them so you can see how they compare with each other and how they look in real rooms!
Favorite Neutral Paint Colors for Bedrooms:
Our master bedroom painted Benjamin Moore Classic Gray
For more of my favorite neutral paint colors for any room in your house, read this post and print out the cheat sheet! (This post is not exclusive to paint colors, which is why there are more listed there than above.)
*affiliate links have been used at no cost to you–see my disclosure policy here.
LIGHT BEDROOM PAINT COLORS:
These are paint colors I haven't used personally in my bedroom; but, lots of other talented bloggers have, so you can have a look at what their master bedrooms look like! Click on the link below each image to see room details!
SW Sea Salt
BM Edgecomb Gray
PPG Palomino Gray
SW Agreeable Gray
SW Alabaster
SW Dover White
PSSST! Want to paint a room fast? These tools save me HOURS!
SHERWIN-WILLIAMS SEA SALT
If you are looking for a lovely coastal paint color, Sherwin Williams Sea Salt is a fantastic color to consider. I actually know several other bloggers who have chosen to use it in their bedrooms with amazing success! It's a light blue but, it has lots of gray so it's sophisticated–and it's not too dramatic or dark! It looks so relaxing above in Life on Virginia Street's bedroom.
Sherwin-Williams Sea Salt by Life on Virginia Street
Edgecomb Gray is another favorite of mine to use. It is a soft greige that is warmer than most grays, but not too warm it reads "beigy." It creates a cozy relaxing master bedroom vignette in Young House Love's master.
BM Edgecomb Gray by Young House Love
See all my favorite painting tools here–these are our tried and true favorites!
SHERWIN-WILLIAMS AGREEABLE GRAY
Agreeable Gray is another tried-and-true best gray paint color, that is warmer than most but doesn't feel constrictive. See how lovely it looks below in Green With Decor's bedroom.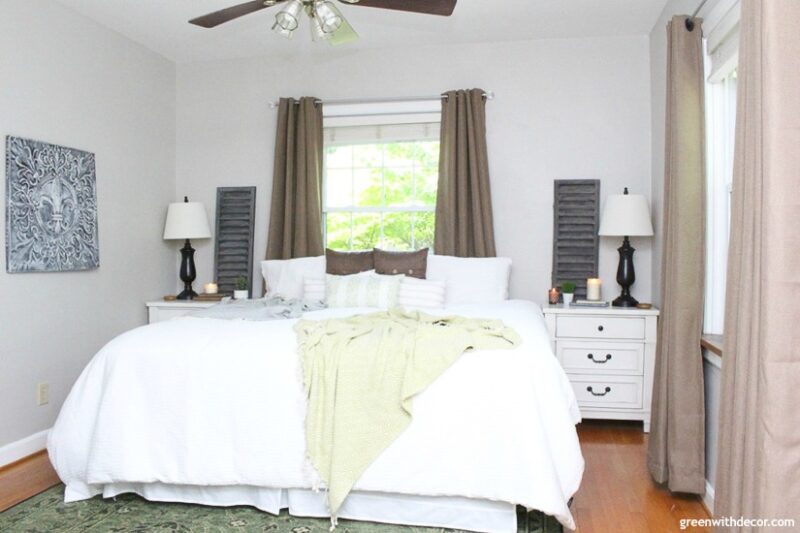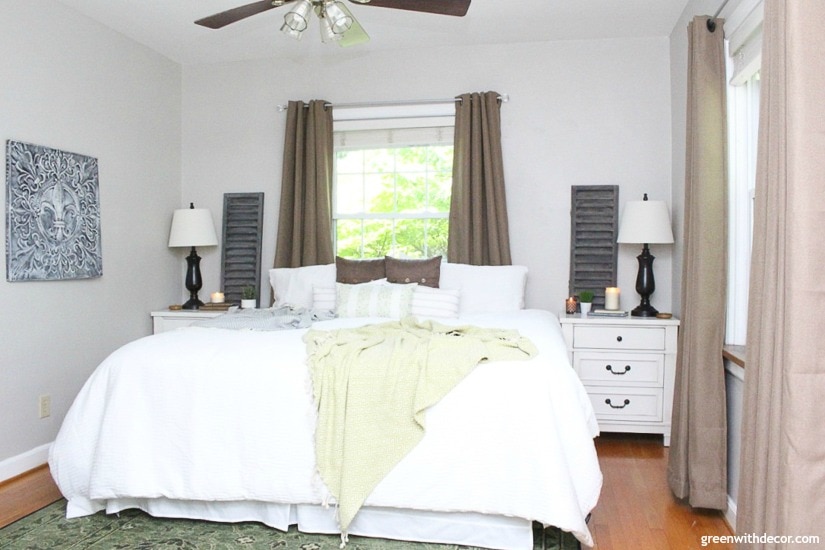 Green With Decor SW Agreeable Gray
SHERWIN-WILLIAMS ALABASTER
SW Alabaster is another one of the most popular warm white paint colors, and one of the top sellers from Sherwin-Williams, for good reason! Look how lovely it looks below in White Cottage Home and Living's master bedroom. It is a warm white that provides just enough substance to provide a contrast against the furnishings, while still appearing airy.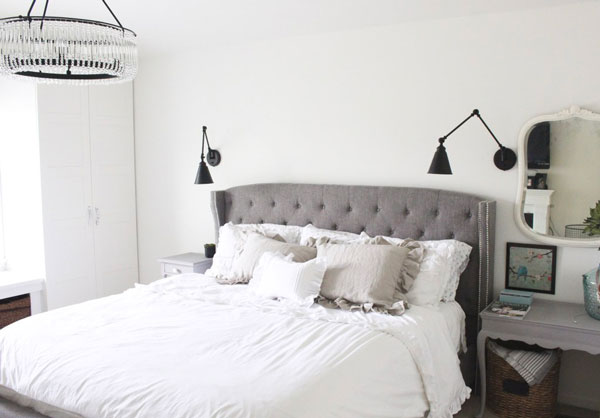 White Cottage Home and Living SW Alabaster
SHERWIN-WILLIAMS DOVER WHITE
Dover White is another new to me paint color, but it shouldn't be–look how amazing it looks below in Maune Legacy's master bedroom! It is a warm beige without brown undertones and lends a sophisticated yet cozy feel to her master bedroom. I love the contrast with the white curtains and of course the pops of blue and white!
Maune Legacy SW Dover White
DARK PAINT COLORS FOR MASTER BEDROOM
BM Hale Navy
BM Gentleman's Navy
Farrow & Ball Oval Room Blue
Sherwin-Williams Peppercorn
Benjamin Moore Kendall Charcoal
Benjamin Moore Chelsea Gray
If you are looking for a sophisticated, dramatic, and nautical vibe, look no further than Benjamin Moore's Hale Navy. It's one of my most popular posts for good reason–it truly is a fantastic paint color for any bedroom–including your master! See how we used it below to create a lovely guest bedroom.
Benjamin Moore Hale Navy
FARROW & BALL OVAL ROOM BLUE:
Farrow and Ball is a lovely paint company that truly has one of the best collections of paint colors. While their selection is smaller, it is carefully curated which helps homeowners and designers who might have paint color paralysis. Look how amazing it looks in House by the Bay Design's master bedroom below! Because it's not as widely available in all areas, I've had several Farrow & Ball colors color-matched by our local Benjamin and Moore (Parma Gray in our downstairs bathroom, and Cook's Blue in our upstairs bathroom.) Both blue colors I've absolutely loved! (See all our house paint colors in this post: Whole House Color Scheme)
House by the Bay Design FB Oval Room Blue
SHERWIN-WILLIAMS PEPPERCORN
SW Peppercorn is a fantastic dramatic master bedroom color that is perfect if you want to make a statement. A Crafted Passion shows how to do do it excellently below–it is probably the best sleeping bedroom color ever!
Sherwin-Williams Peppercorn A Crafted Passion
FAQs ABOUT MASTER BEDROOM PAINT COLORS:
How do I save time painting a bedroom quick?
Short of hiring out a painter, there aren't many things that will save you hours of work. But having these tools on hand has been a gamechanger for our family. We can now cut our painting time in half or by 2/3!