Benjamin Moore Revere Pewter: Looking to paint a room Revere Pewter and trying to decide if it's the right paint wall color for you? Here's everything you need to know about Revere Pewter by Benjamin Moore, its gray undertones, what it looks like in real rooms, and how it compares to similar gray and other "greige" paint colors,  PLUS why it's the most popular pewter color.
BENJAMIN MOORE REVERE PEWTER
There are a few gray paint colors I come back to time and time again, and Revere Pewter by Benjamin Moore is one of them. A warm gray, it has the warmth of beige and the drama of a gray. It is a fantastic greige if you are looking for a gray that is warmer and has more saturation and is the most popular pewter color. It pairs nicely with Edgecomb Gray (see examples below) and Repose Gray and is a fantastic gray with nice undertones, and Sherwin-Williams Sea Salt.
Benjamin Moore describes Revere Pewter adeptly as "A light gray with warm undertones, this classic shade creates a unifying look that calms and restores. A great transitional color, it's perfect for an open layout." In this blog post, we'll talk about the best rooms for HC-172, how to figure out its undertones, and how to decide if it's the right paint for your room!
REVERE PEWTER UNDERTONES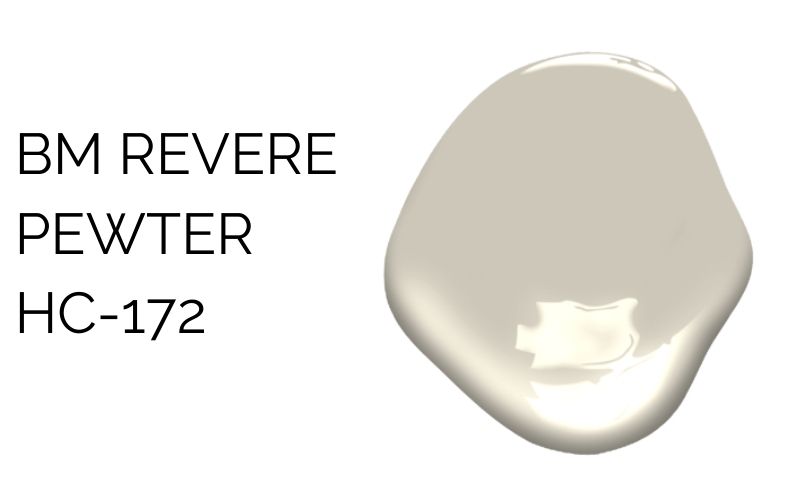 HC-172 Revere Pewter continues to be one of Benjamin Moore's most popular paints. While it reached it's height of popularity in 2018, it continues to be a classic paint color for interiors as you will see below! Now, whenever you are choosing a paint color, it's best to understand its undertones so you can see if it will look good in your house. What are undertones? They are the underlying color that you can't put your finger on–they give you the feeling of a paint color.
Gray paint colors generally run either cool or warm. Cool paint shades have a blue undertone. Warm paint shades have a reddish or yellow undertone.
What are Revere Pewter's Undertones?
HC-172 Revere Pewter has warm undertones that have quite a lot of red in them–it is what gives it the warmth. It comes off as a "ruddy" taupey gray. This is what gives it a lovely warm feeling. But it isn't so strong that it doesn't seem airy. Revere Pewter by Benjamin Moore is a versatile warm gray that maintains it's airy feeling and is great for open floor plans. The medium LRV (light reflectance value) keeps it from being too dark (more on that next!)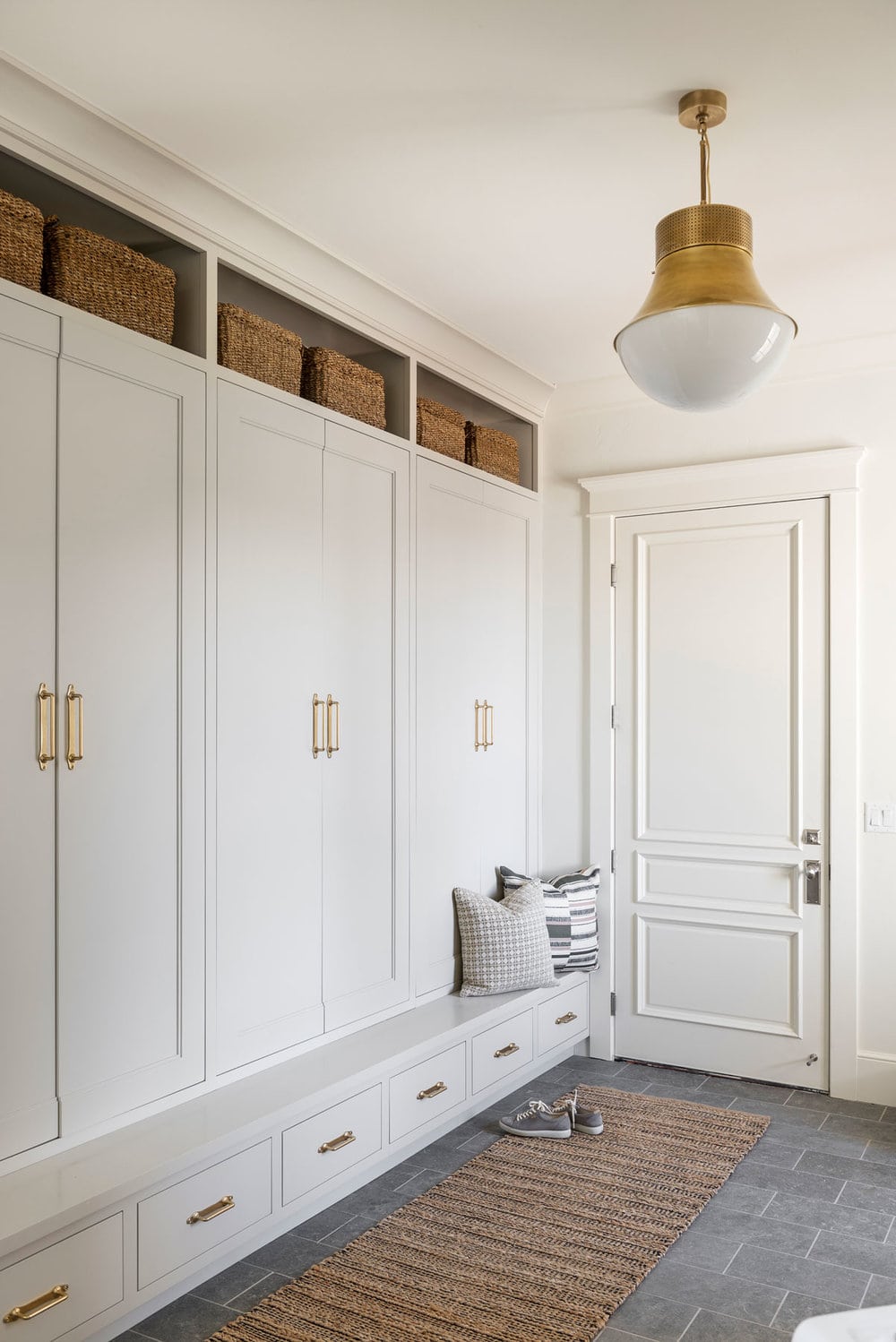 REVERE PEWTER LRV: 55.51
First, what is LRV? LRV is light reflectance value (or how much light a certain color reflects.) The higher the number, the more light it reflects. Revere Pewter is pretty much in the middle at 55.51.
It is darker than most of the colors I use in my house; but, that doesn't mean it isn't a fantastic color to use! It is terrific for open floor plans and is one of the most versatile colors you can choose. It is still considered a light gray paint color (or greige) and will add sophistication to your house! Overall, it one of the most popular wall paint colors for good reason!
REVERE PEWTER HC-172 PAINT CHIP COMPARISONS
See how Benjamin Moore's Revere Gray compares with some of the most popular light gray shades and greige paints by BM and Sherwin-Williams. These are gray paint tones that come up again and again in designer favorites for good reasons. But you have to know how they differ. See the paint chip comparisons below to decide!

BM Revere Pewter vs. Balboa Mist
First, let's compare how BM's Revere Pewter compares to one of my favorite gray toned paint shades–Balboa Mist. This is one of my favorites! You can see how it is more saturated and has more taupe and beige in it than Balboa Mist does. See how Balboa Mist looks in a real home here: Balboa Mist. Both paint shades are fantastic, and are popular paints for a reason–but I would use Balboa Mist when you want a more subtle look or have less natural light.
Revere Pewter vs. Agreeable Gray
SW Agreeable Gray is one of Sherwin-Williams' most popular paint colors. It is a true warm gray, and you can see it has less yellow undertones than Revere Pewter. Conversely, it has a slight purple undertone in comparison. Both colors look lovely in most houses, but the undertones Revere Pewter in my opinion is slightly more sophisticated and has more versatility. Both paint shades have similar light values.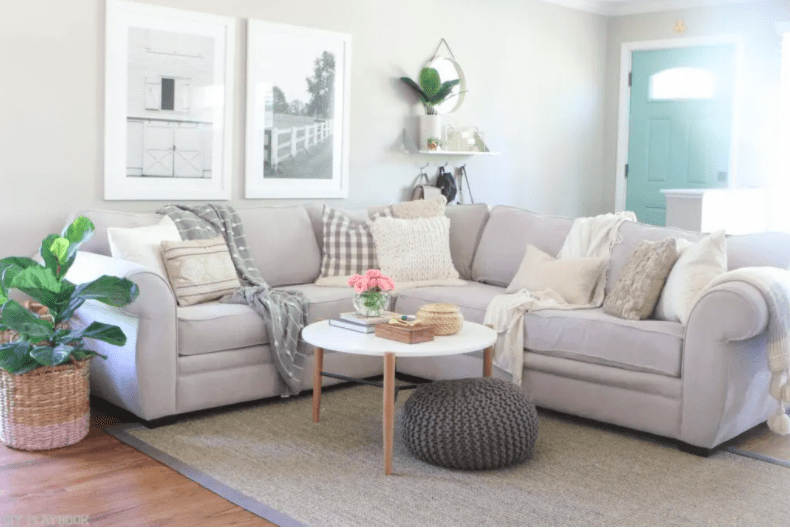 BM Revere Pewter HC 172 vs. SW Accessible Beige
Sherwin-Williams Accessible Beige is one of Sherwin-Williams' most popular gray paint colors. It is very similar to Revere Pewter–but more yellow and less gray. Accessible Beige is slightly lighter than HC-172 and will come off as more. of a beige and less of a gray than Revere Pewter. Both colors work well in most rooms–they are incredibly similar; but, Accessible Beige has more green and yellow undertones than Revere Pewter HC 172. Use Accessible Beige in a room that has cooler natural light.
Benjamin Moore Revere Pewter vs. BM Classic Gray
Benjamin Moore Classic Gray is another one of my Best Gray Paints. You can see again, similar to Balboa Mist above, Classic Gray pales in comparison to Revere Pewter. BM Revere Pewter is a much more saturated color and provides much more drama. I would recommend Revere Pewter in a room that either gets a lot of natural light, or one that you want to feel cozy and intimate. See how Benjamin Moore Classic Gray looks in real homes here.
Revere Pewter vs. Edgecomb Gray
If there's a more complementary duo, I can't think of one! BM Revere Pewter and BM Edgecomb Gray come from the same color family and both have warmth that many of the other gray's lack–their gray tones are lovely! See below how Young House Love used BM's Revere Pewter on their foyer ceiling and showed how good Revere Pewter can look when paired with Edgecomb Gray on the walls.
Revere Pewter vs. Chelsea Gray
Benjamin Moore Revere Pewter also pairs very nicely with the deep and dramatic Benjamin Moore Chelsea Gray, one of its most popular paints in the dark gray family. They both have the same warmth and beige undertones; but, Chelsea Gray has a larger saturation. We used Chelsea Gray on our kitchen island and in our old apartment's kitchen walls. See it here, and my favorite Gray Paint Colors.
Revere Gray vs. Owl Gray
Benjamin Moore's Owl Gray is another designer favorite. It has much more blue and green than Revere Pewter which is more of a putty. If you want to go lighter with a bluish-gray paint color, then consider BM Owl Gray–it has a lot of blue gray tones.
Revere Pewter vs. Pale Oak
Here's another fantastic pairing if you want a whole house paint scheme for your own home. Revere Pewter and Pale Oak both are warm grays but differ in saturation. While BM's Pale Oak is airier, BM's Revere Pewter is more dramatic and would provide a nice contrast to some nice white trim or wainscoting!
REVERE PEWTER HC 172 COORDINATING COLORS
Coming up with a whole house color scheme isn't easy–but it doesn't have to be hard! See my top tips on creating a whole house color scheme here. If you're looking for a quick go-to palette that complements Revere Pewter, consider the following colors:
Sherwin-Williams Revere Pewter Color Scheme:
Sherwin-Williams Alabaster (a lovey white color)
Sherwin-Williams Pure White (one of the most popular white paint colors)
Sherwin-Williams White Dogwood
Sherwin-Williams Misty
Benjamin Moore Coordinating Colors with Revere Pewter: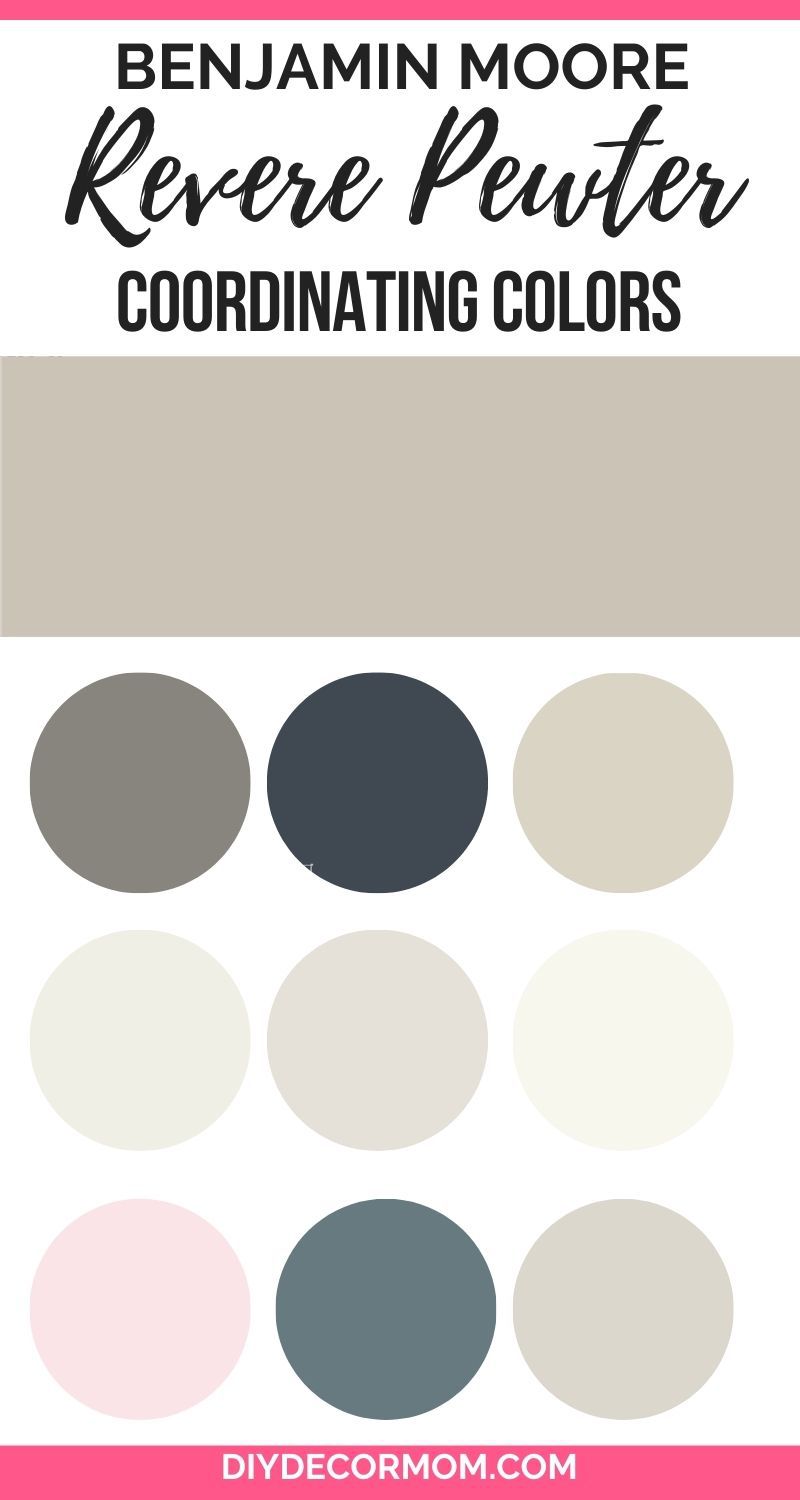 BM Chelsea Gray or Benjamin Moore Kendall Charcoal
Benjamin Moore White Dove (another fantastic warm white paint–looks lovey as a trim color too)
Benjamin Moore Simply White (my favorite white paint and a great trim color)
Benjamin Moore Romantic Pink
Benjamin Moore Providence Blue
Benjamin Moore Balboa Mist
REVERE PEWTER KITCHENS
BM Revere Pewter is a fantastic color for kitchens–whether you want to paint the kitchen walls or the kitchen cabinets. Using a greige paint like HC-172 is always nice with warmer tones of countertops. If you are thinking of using Revere Pewter for kitchen cabinets, make sure you use the best type of cabinet paint and use the proper technique for how to paint kitchen cabinets.
REVERE PEWTER BATHROOMS
HC-172 goes so well with marble and quartz–there's no doubt why it is one of the most popular bathroom paint colors. It gives a warm but fresh color scheme for any bathroom. See how designers used it in the beautiful master bathrooms below!

REVERE PEWTER LIVING ROOMS
HC-172 is a fantastic color for living rooms and family rooms–it gives you the homey feel. you want in your house without the dark weight most paint colors come with. See how it looks in these beautiful designer rooms shown below–each with their own unique lighting conditions. Note: The less light a room gets, the darker Revere Pewter will look.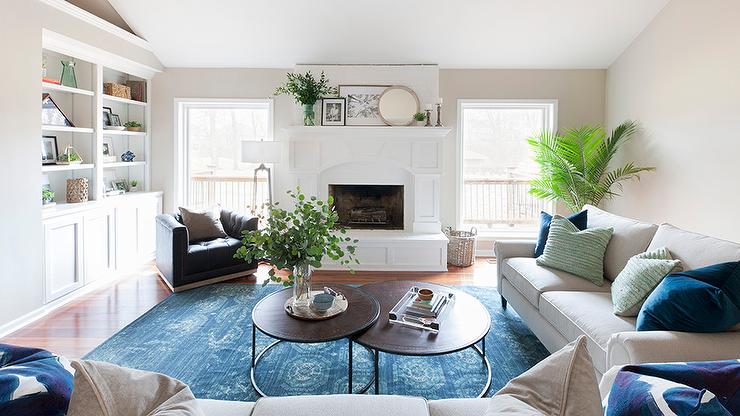 Revere Pewter Dining Rooms
WHAT WHITE TRIM TO USE WITH REVERE PEWTER?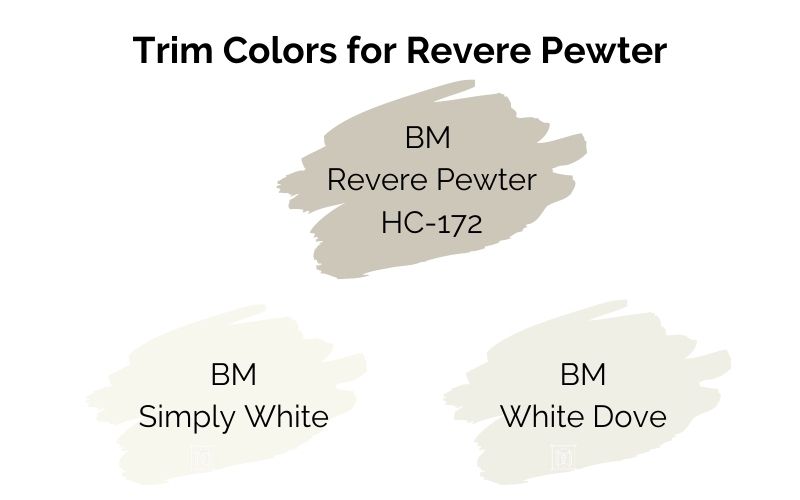 HC-172 goes with a variety of white paint colors, but I have two favorites to use it with. These are two of my favorite trim paint colors–and the most popular too! BM Simply White is what we use in our house on all the trim. Benjamin Moore Simply White is nice warm white color that pairs well with warm undertone shades like Revere Pewter paint. It has a slightly yellow undertone but never reads yellow–it just is warm. Benjamin Moore Simply White works great with both warm and cool paint shades.
BM White Dove is my second recommendation–it is a slightly warmer white paint color and is a great color for historical homes. BM White Dove has slightly grayer undertones. The warm undertones complement HC-172 well. Either paint color works well!
IS REVERE GRAY RIGHT FOR YOU?
Before you run out and buy Benjamin Moore's Revere Gray, make sure you've picked the right paint color. See my trick for picking out the perfect paint color ON THE FIRST TRY because let's be honest–who in the world loves painting a room twice? Not me! Plus, you'll get my entire list of Go-To Gray Paint Shades printed out so you can take it into the store with you to either Benjamin Moore or Sherwin-Williams and not forget any paint chips! Click below to snag your's!
Lastly, make sure you have all the right supplies for your painting project!
After painting almost every single room in our house, I've found a few tools that make the job so much easier! These painting tools seriously cut my time by 66%.
You also don't want to attempt to paint without this handy tool. It is an absolute lifesaver if you are painting baseboards over carpet. We have wall-to-wall carpet in over 50% of our house so this thing has logged some miles! It is also handy even if you have hardwood floors though to protect your beautiful wood floors!
Well, this painting tool makes painting walls go 10x faster and helps me great perfect lines every time. I totally thought it was a scam until we started using it. GAMECHANGER! It is worth its weight in gold and is seriously the only reason my husband will help me tie-in or edge a room!
FAQs about Benjamin Moore Revere Gray:
What color is Revere Pewter HC-172?
Revere Pewter by Benjamin Moore is a warm gray or a greige paint color.
Is Revere Pewter paint gray or beige?
Revere Pewter is a gray, while it is considered a "greige" or grayish-beige (see my favorite greige paint colors here.)
Is Revere Pewter a greige?
Revere Pewter is one of my favorite greige paint colors–it is warmer than most grays, and it is grayer than most beiges. It is the perfect greige, and my number one recommendation if you are looking for a versatile and neutral greige paint color for your home.
What number is Revere Pewter?
Revere Pewter HC-172 from Benjamin Moore.
What colors go well with pewter?
Revere Pewter, and other pewter colors are incredibly versatile paint colors that go with tons of paints. Here are my top two go-to paint colors that complement Revere Pewter: Benjamin Moore White Dove (a nice soft white), and Sherwin-Williams Sea Salt (a green-blue).
Why is Revere Pewter so popular?
Benjamin Moore HC-172 is so popular because it is a fantastic and versatile light warm gray paint that looks good in prety much any home, especially open floor plans. It lends warmth to a space while maintaining its airy looks. It's one of my foolproof paint colors!
What colors go with pewter?
Revere Pewter is. a very versatile neutral paint color, and it goes well with lots of coordinating colors. Some of my favorites are: Sherwin-Williams Repose Gray, BM White Dove, SW Sea Salt (a nice coastal paint shade), BM Chelsea Gray (to add a little drama), BM Hale Navy, BM Edgecomb Gray, and Sherwin-Williams Agreeable Gray.
Does Edgecomb Gray go with Revere Pewter?
Yes! Edgecomb Gray is a very complementary with Revere Pewter. Both are some of Benjamin Moore's most popular gray paints. See the comparison of the two and see how they look side by side above.